How to clean an electric skillet is a question that comes naturally after this appliance finds its place in your home. Even people who have used it for a while might still struggle with cleaning it.
Even when you have a modern new kitchen with a stove, it is hard to refuse the versatility of this appliance. There are many delectable ideas to cook with electric skillets. And the best thing is that you can cook anywhere with an electric power source.
Sometimes things can go wrong even with this practical and versatile skillet. Food may burn, or it can be greasy on the outer part, and you start wondering how to clean it, as electricity and water do not go well together.
So, how to clean an electric skillet without damaging it? Well, I've got you covered. This article will provide everything you need to know about cleaning this handy kitchen appliance!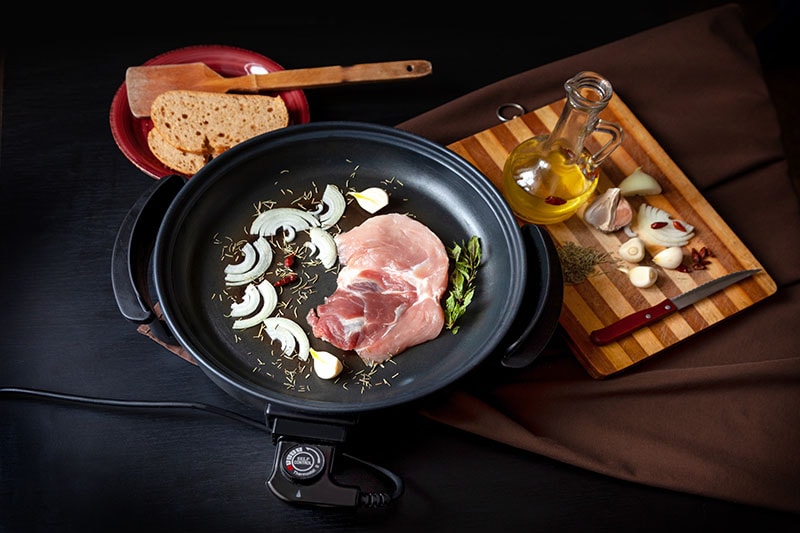 What Is An Electric Skillet?
An electric skillet is a skillet that heats up when plugged into the electric socket. It is used mostly for frying and slow cooking, but it can also be used for keeping your food warm.
It might be hard to differentiate frying pans and normal skillets. But in this case, an electric skillet does not look like a traditional frying pan. And you cannot use it as the regular ones.
The main advantage of the electric skillet is the even temperature contribution. Traditional stoves may heat your frying pans unevenly. The electric skillet keeps the temperature even, keeping it on the level you set it. Therefore, your food will be evenly cooked and your meal will be prepared much faster.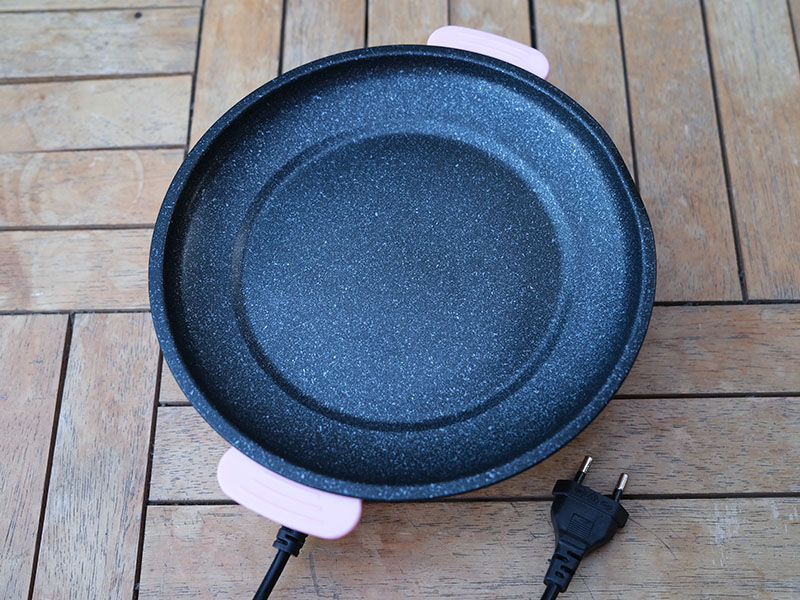 Electric skillets come in various shapes and sizes. They can be round, square, or rectangular, made of different materials. The size can vary from 12 by 12 inches which are considered smaller and can reach 18 inches for those larger ones used for professional purposes.
The inner coating is made of non-stick material that prevents burning. The price of the electric skillet is dictated by the quality of this inner coating. It is very important not to damage this coating as that will be the spot where your food may burn. And we do not want that to happen.
How Do You Use An Electric Skillet?
Electric skillets are versatile kitchen appliances that you can use to prepare dinner for your beloved family. You can cook, fry, or even bake your food with this tool.
They come in various shapes and sizes and usually have a lid that fits the pan. They are the perfect choice for those who do not own a traditional cooking stove.
An electric skillet can replace the traditional cooking stove in many ways. Its versatility allows you to cook just about anything in it. You can even bake pizza in it, and it will come out tasty and baked just like those from the oven.
Thanks to its non-stick coating made of ceramic or Teflon material, you do not have to worry about the food sticking to it. However, you should also be careful not to damage it by using metal forks or knives, as all those cuts can damage the surface and make the food stick to the surface and burn.
Check this video to see more about how to use an electric skillet.
How To Clean An Electric Skillet – Tips And Tricks
An electric skillet is a multi-functional appliance that is not expected to burn food. However, burns may happen because of the tiny scratches on the Teflon coating which cause the food to stick and burn. Also, the outer parts can become sticky and greasy from spilling or touching them with sticky hands.
No matter how you get your skillet dirty, you need to clean it. Answering the question can be quite simple, but some of the tips and tricks may surprise you.
Here are some of the most common ways to clean your skillet or any other electric cooking appliance after each use, for example, your high-quality donut maker. Check it out, guys!
Electric Plug And Cord
When you think of cleaning, you think of using water. However, water and electricity do not mix. So, for safety precautions, it is best to unplug the skillet and remove the connector from the skillet.
When you need to clean the plug and electric cord, do that using a soft kitchen wet sponge. Make sure that the sponge is not too wet to avoid soaking the plug with too much water. If your cord is too greasy, add a drop of detergent to the sponge and rub the cord gently to remove any sticking grease from it.
When cleaning the plug you would want to keep it away from water as much as possible. The part that goes into the socket should not be as dirty as the outer part, but if it is, take your time with cleaning as you should not use so much water with it. Use a wet toothbrush to clean it and immediately dry it.
Usual Skillet Cleaning
This appliance is easy to clean but there are some things regarding the cleaning that you should bear in mind. The electric skillet should be cleaned immediately after use. Do not let the food leftovers stay for too long in the pan as they will be hard to remove afterward.
The first thing to remember is not to allow it to come in contact with water. The inside of the skillet is safe but the outer part has a lot of openings that lead the way to electronics that can be damaged by water.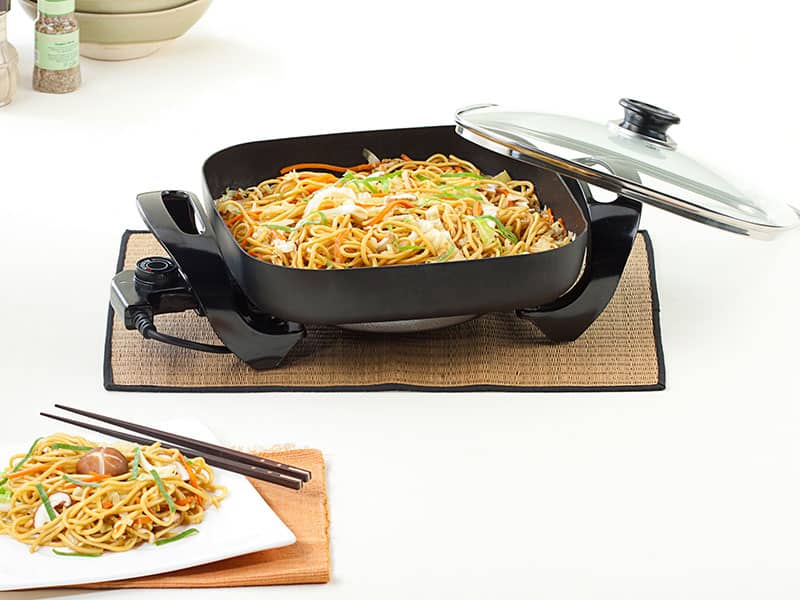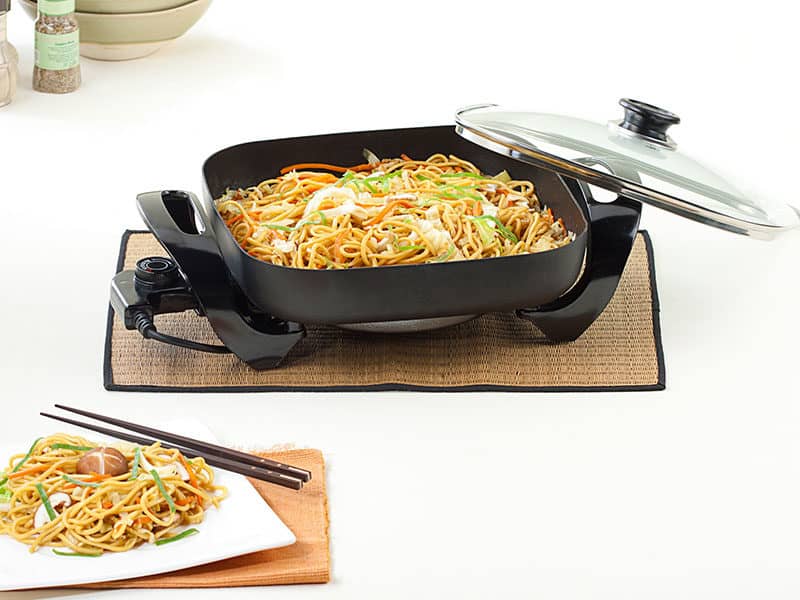 Always use a soft dish sponge wetted with warm water and mild detergent. Gently go over the pan to collect the food residue.
Wash the inside of the pan with soapy water and a soft brush or sponge. Similar to when you wash your most-liked saute pans, you should avoid using a metal scrub sponge that might damage the non-stick coating of your pan.
The outer part can be a bit tricky to clean because of possible contact with water. The outside cleaning needs patience because you can only use a wet soft dish sponge to remove the grease stuck onto the outer surface of the skillet. Prepare a dry cloth to remove any excess water dripping around.
Rinse the plate carefully with warm water. Make sure to be careful when rinsing to prevent the spilling of water on the electric parts of the skillet. After cleaning the inside and outside of the skillet, dry it with a soft dishcloth or paper towel and store it for the next use.
Cleaning The Burnt Skillet
The usual thought when it comes to cleaning an electric pan is to scrub it well with some metal wire scrub sponge together with some cleaning abrasive such as baking soda. But using that hard sponge is a big no-no when it comes to cleaning the sensitive non-stick surface of the electric skillet.
However, there is an easy way to deal with the burnt pan without using those wire sponges. Pour some water into the pan, and cover the pan with the lid. Turn on the electric skillet and let the water boil. The boiling water should dissolve the burnt area and help you clean the surface easily.
If that previous tip does not work, consider taking some baking soda and mixing it with water. Use the sponge and lightly scrub over the scorched area that you previously tried to dissolve with boiling water. Hopefully, the boiling water should help greatly with the rest of the cleaning process.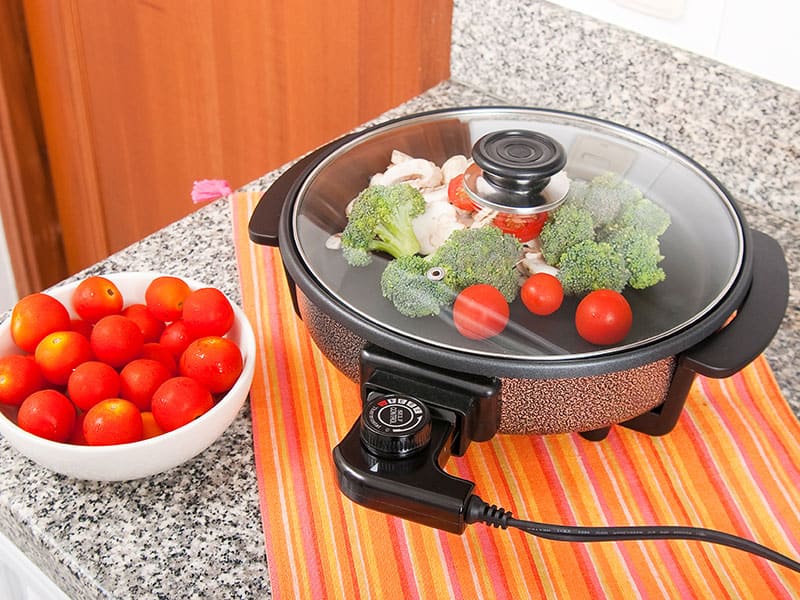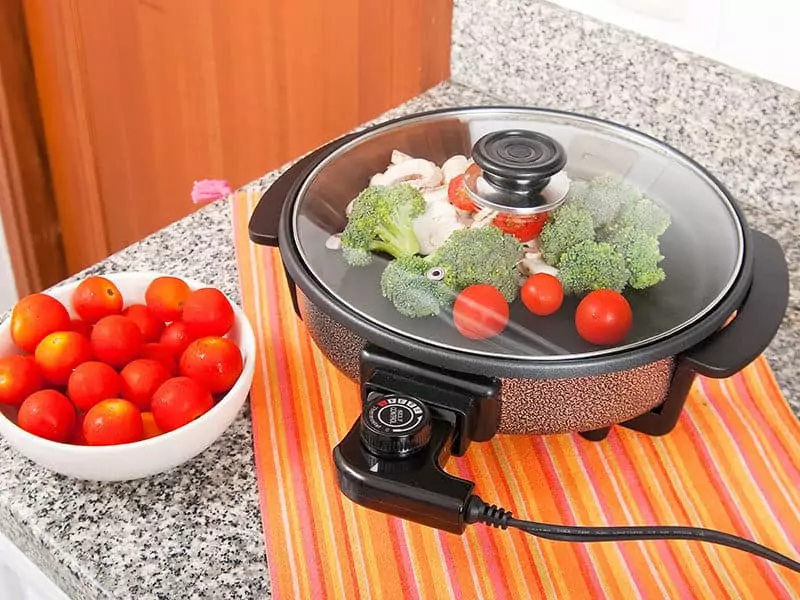 Cleaning The Lid
Lids are usually dishwasher safe so you can clean them in the same way as any other cooking lid. Of course, check the electric skillet manual to check that all the lid parts are safe for use in the dishwasher. The lid can be washed using a soft dish sponge and some mild detergent, too.
Drying The Electric Skillet
After you have cleaned all the parts of your electric skillet, you should dry it properly. You can use a dry kitchen cloth or paper towel and wipe it carefully to soak up any water left on the pan. It is especially important to dry up the outer parts of the skillet and the electric cord and plug.
After you dried it with a cloth or a towel, let it air dry for a while. That will help all the hidden water drops to evaporate and prevent any possible damage. Put it on the drying rack watching carefully so that nothing damages the non-stick coating.
Storing
An electric skillet can be quite big and can take up much space when not in use. They take up too much space on the kitchen countertop, too, and need to be stored properly to avoid damaging it. It is perhaps best to keep it in the original box and put it somewhere handy.
If you do not have a box to keep it in, make sure to store it separately. Try not to stack other cookware on it because when you want to take them out, you risk scratching marks on the pan. Although storing this appliance may sound troubling, it is still worth having this kitchen item.
Can An Electric Skillet Go In The Dishwasher?
Some electric skillets are safe to wash in the dishwasher. However, not all parts are safe to wash this way. This type of skillets has a detachable base and pan. Pans and lids are safe to wash in the dishwasher, and the base still needs to be washed by hand.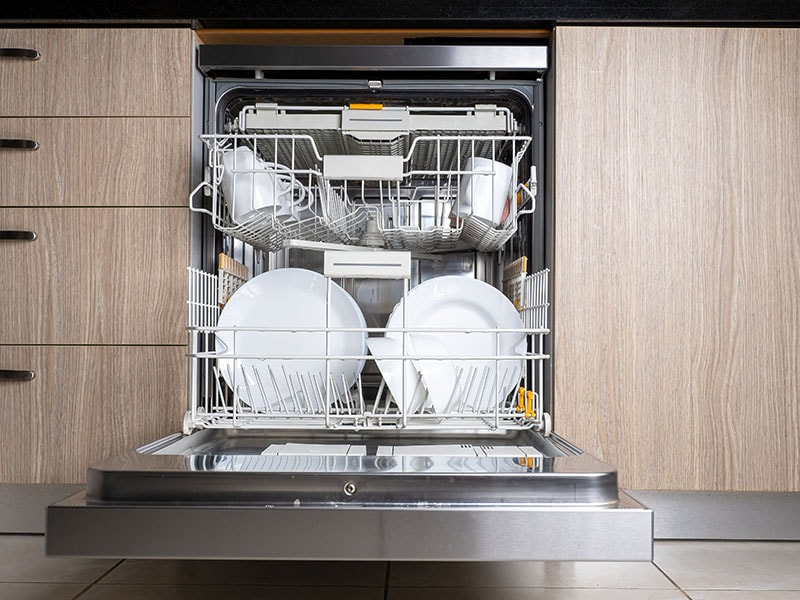 When cleaning the electric skillet in the dishwasher, you should follow the same instructions as in cleaning all other dishes. First, remove all the food residue from the pan and rinse it lightly with warm water. Then, it is safe to put the skillet in the dishwasher.
It is best to put the skillet on the lower rack for the best cleaning results. Make sure that the inner surface does not rub against any cutlery or other cookware that could damage the coating during the washing process. After the dishwasher finishes its cycle, dry out the pan and store it until the next use.
Additional Tips On Electric Skillets
Electric skillets are very useful kitchen appliances even when you have a traditional cooking stove. However, when choosing the best skillet for use, make sure to spend a little more to get the high-quality materials used for the skillet. This will improve your cooking and skillet maintenance.
Opt for those models that provide protection of the electrical parts as accidental water contact could always happen when you are not careful. The best options could be those models with a separate base and the pan that can be cleaned individually.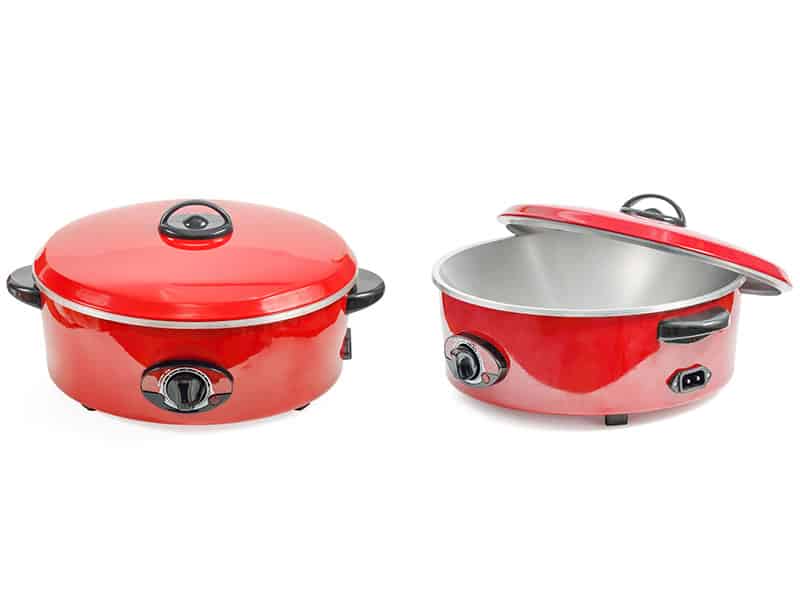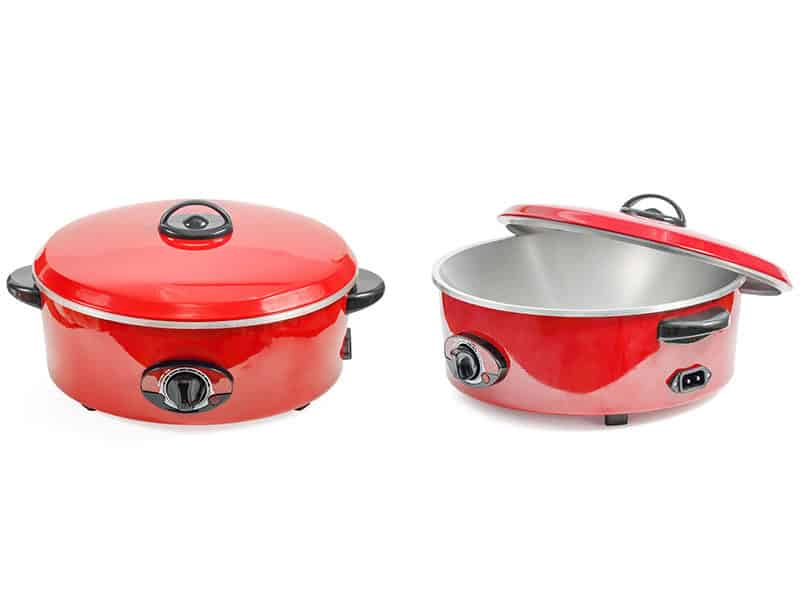 Clean your skillet after every use. When you use the skillet, make sure to have plastic or wooden kitchen utensils to mix the food. These will not scratch the surface of your pan as the metal forks, knives or spoons would, leaving the scratches prone to burns in the future.
Before you start cleaning the electric skillet, make sure it cooled down properly. Sudden changes in the temperature can also damage the inner skillet coating over time. Always use mild detergent, a soft dish sponge, and a soft dishcloth or paper towel for cleaning this versatile electric pan.
Safety Precautions
Another thing to keep in mind when using and cleaning the electric skillet is safety. Besides watching out that water does not come in contact with electric parts, you should also watch out where you place it as this appliance gets hot when in use.
Also, your kids should not be near this appliance when you use it. They may burn themselves by touching the hot skillet or hot oil from cooking may create burns on their skin. Also, if you are not using the skillet properly, you may cause fire and endanger yourself and everyone around you.
Check this video to see more about the safety consideration of an electric skillet.
Let's Wrap It Up
Electric skillets are great kitchen appliances that can substitute any traditional cooking stove in situations where you lack one. However, with great advantages comes great responsibility when it comes to cleaning these electric pans.
Make sure to follow all these tips and tricks to keep your skillet clean even when it gets accidentally burnt. When you keep it properly cleaned, you can use this appliance for years to come without the necessity to replace it with a new one.
Do you find cleaning electric skillets challenging? Are there any tips and tricks you would share with me? Write and share your cleaning ideas in the comments below.