How to steam tamales perfectly? Can I steam them if I don't own a steamer? If you're new to this delicious Mesoamerica dish, it's not a rare thing to be asking these questions.
Fortunately, there are plenty of ways to steam the tamales, even without a steamer specialized for tamales. In this article, I'll give you a detailed, step-by-step guide to all the viable methods to cook your tamales to perfection.
If you want to learn a thing or two about steaming tamales, what are you waiting for?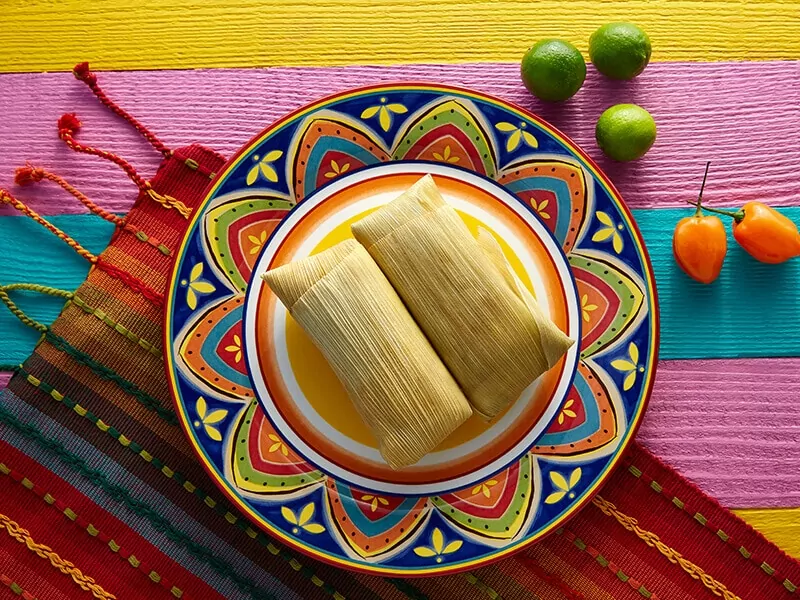 What Are Tamales Made From?
Tamales have been a traditional Mexican dish for thousands of years. They often come in a small, rectangular shape with a corn husk or banana leaf wrapping. The inside of a tamale is made from masa (corn dough) and either sweet or savory filling.(1)
You can find meat, cheese, vegetables, chilies, or even fruit inside a tamale. There's no real rule for what can not become a tamale's filling, so it's hard to answer whether your tamales are suitable for gluten-free diets.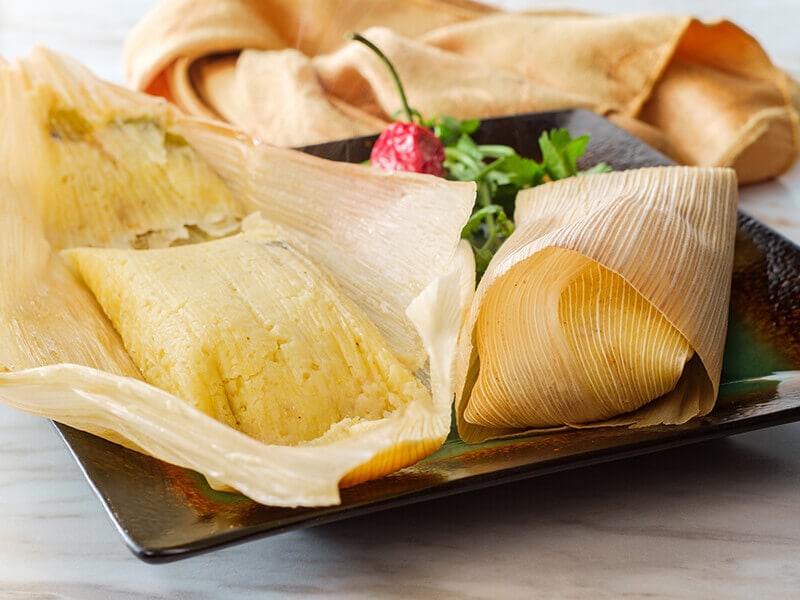 However, keep in mind that a perfect tamale should have about 60% masa and 40% filling. And whether they are uncooked or cooked, there are some notes about the shelf life of tamales stored in the fridge.
Moreover, although tamales can be cooked in many ways, the most common and also the method that yields the best result is steaming.
That's it; the definition of tamale is quite simple. But you're not here to learn about tamale's history or its characteristics; you're here to learn how to steam some. So without further ado, let's get steaming.
Important Notes To Remember
I know that you're super eager to get started with the actual steaming lesson, but hear me out because this is important.
Tamales Don't Bond Well With Water
Whatever cooking method you might choose, remember to keep the tamale away from the water. You're steaming tamales, not boiling them, which means you will want the steam to do the cooking part, not the water.
Trust me; you don't want to eat wet tamales. They are overly mushy, soggy and the texture is all over the place.
Fortunately, it's not that hard to prevent water from ruining your tamales. Simply follow these rules, and you're good to go:
When steaming the tamales lying down, keep the open part upward.
When steaming the tamales standing up, keep the folded end down.
In short, always face the water with the closed part of the tamale and avoid direct water contact.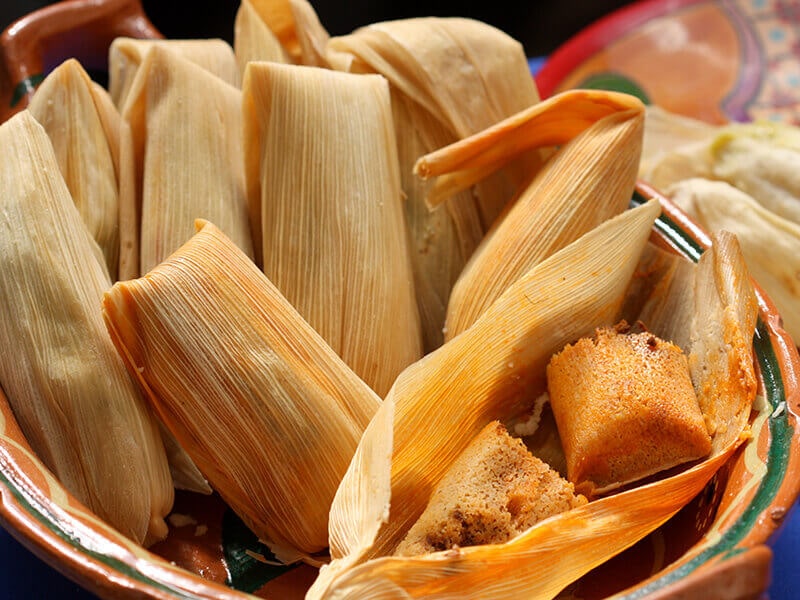 How To Check For Your Tamales Doneness
It's important to know if your tamales are fully cooked or not since no one wants half-cooked, raw tamales.
Since this information is crucial and applicable to all methods, I'll get it out first. Also, you don't want to read the same thing over and over again, right?
First, pay attention to the wrapping color. When cooked, the corn husk will turn into a yellowish color. Next, feel the masa dough texture. Cooked masa should be firm, not mushy or doughy.
You should also check to see if the husk still sticks to the masa or not. The wrapping on cooked tamales should be able to peel off easily.
After steaming, feel free to take one for checking. After taking it out, wait for about 1-2 minutes, then try peeling the husk wrapping off. If it is cooked thoroughly, the wrapping will come off smoothly.
And that's the two things to note down before starting. With the most important rules out of the way, let's get to the first method.
The Best Ways To Steam Tamales
There are plenty of ways to steam your tamales. The easiest, fail-proof way to steam a tamale would be to use a steamer.
By using the steamer, you practically eliminate all the nuisances and just need to focus on one thing: the amount of time required to fully cook your tamales.
What if you don't own a steamer? Worry not; you can also steam tamales by using a steamer basket, an instant pot, a pressure cooker, a rice cooker and even in the oven (I'll save these more advanced methods for later, though).
Steam Tamales With A Steamer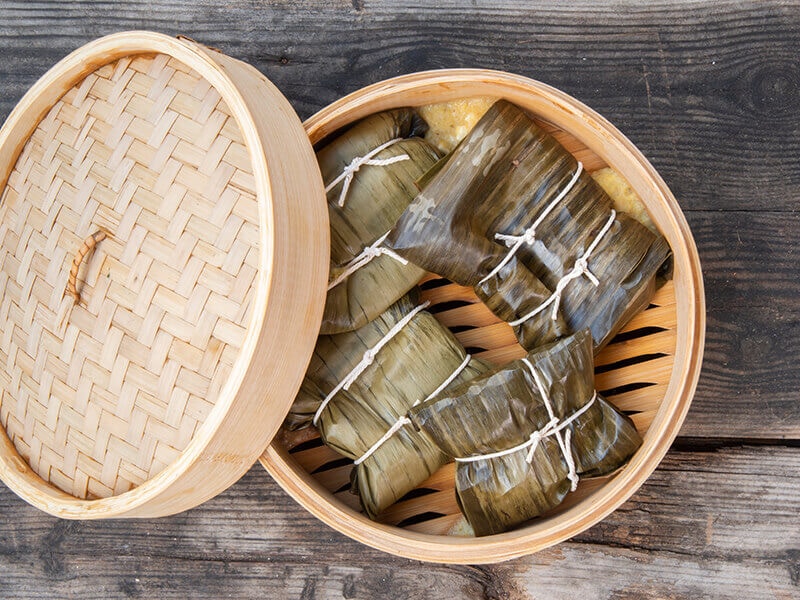 As mentioned above, this is the easiest method. The only downside is that you'll need to own a steamer, preferably a multi-tier one. A nice bamboo steamer can also work if you only have that.
Follow these simple steps to cook your tamales perfectly.
Step 1: Prepare The Steamer
First, fill your steamer with water. One good thing about the steamer is that you won't need to worry about the water wetting your tamales too much since most steamers are designed to prevent this from happening.
Just be careful not to overpour the water tray/ water pot of your steamer so you don't have to clean up later.
Step 2: Place The Tamales
Place the tamales evenly in the steamer. If you steam the tamales standing up (and it's recommended to do so), you can place a heat-proof cup in the center to help them stand better.
Step 3: Steam The Tamales
Boil the water by turning the heat to high. After the water is boiled, turn the heat down to medium and let the steam do its job.
Adding a layer of husks or a clean towel on top can also help with keeping the steam close to your tamales, thus cooking them more thoroughly.
For uncooked and frozen tamales, you'll need to steam them for about 90-120 minutes with the steamer's lid on.
Step 4: Refill The Water
While cooking, pay attention to the water. If the steamer has run out of water, don't hesitate to give it a refill every 20-30 minutes. Remember to avoid touching the tamales with water. One good way to do so is by pouring the water in through the side of the pot.
If you don't know when to refill, you can try the "coin trick". Drop a coin in your water tray and if you hear a clatter sound, the coin has touched the bottom of your pot. It's a clear sign that you need more water.
Step 5: Check To See If The Tamales Are Cooked
After about 90 minutes, check on your tamales to see if they are fully cooked or not. If they are still a bit raw, you can cook them for another 30 minutes.
After turning off the heat, you can leave the tamales in the steamer (lid on) for about 30 minutes. Doing this will make the tamales even softer and more flavorful.
Steam Tamales With A Steaming Basket
In case you don't have a steamer at home, a steaming basket is always a good alternative. The cooking process is fairly similar to that of a steamer, so it's also an easy method to follow.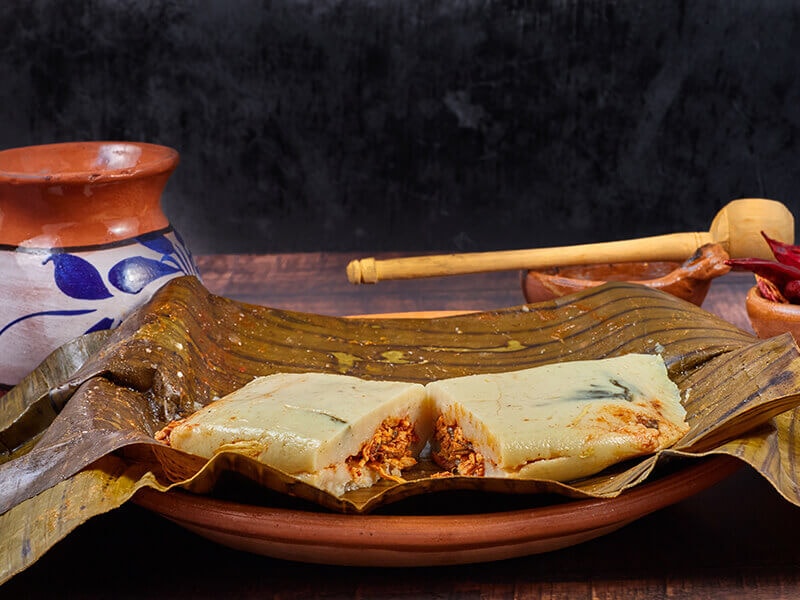 Step 1: Prepare A Pot
Since you don't have the convenience of a steamer's water pan, you'll need to replace it with a pot. Any kind of pot will do, though you should choose one that's suitable for the number of tamales you plan to steam.
Fill your pot with water. Ideally, the water should be just below the steamer basket. Don't overfill since if there's water on the inside of the basket, you will wet your tamales.
Step 2: Place The Tamales
For this method, you'll need to place the tamales vertically while keeping the closed end at the bottom.
Step 3: Steam The Tamales
After placing your tamales, boil the water with high heat. Once the water is boiled, turn the heat down to medium and start the timer. Remember to close the pot's lid while steaming.
It should take 60-90 minutes to fully cook the tamales.
Step 4: Refill The Water When Needed
Similar to the above method, remember to check on your water every 20-30 minutes.
Step 5: Check Your Tamales
After 60 minutes or so, check the doneness of your tamales. If they're still not fully cooked, add another 30 minutes.
Steam Tamales With A Cooking Pan/ Pot Without A Basket
You will need to be a bit more creative with this method since it's not really an easy way to steam food. One more downside about steaming without a basket is that you typically can only steam a small number of tamales at a time.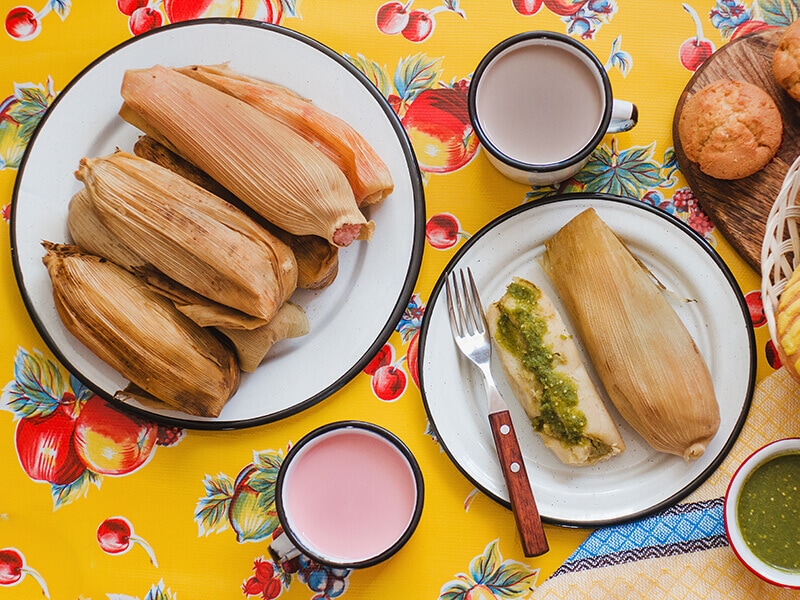 Step 1: Prepare A Cooking Pan/Pot And A Heatproof Plate
Make 3 aluminum balls by rolling aluminum foils. After that, place them in a cooking pan/pot in a triangle shape.
Next, you'll need to put a heat-proof plate securely on top of these aluminum balls. Thanks to the "triangle" you formed earlier, the plate should be able to stand firmly on these aluminum feet.
Step 2: Place The Tamales
Fill the pan with water but don't let the water get to the plate. When the pan is filled, place your tamales on the plate.
With this method, it's better to let the tamales stand vertically. However, if you find it difficult to steam the tamales standing up, you can also lay them horizontally. Remember to always face the open part upward, though.
Step 3: Steam The Tamales
To steam the tamales, first, you'll need to boil the water with high heat with the pan's lid closed. When the water is boiled, reduce the heat to medium and let steam for about 60-90 minutes.
Step 3: Refill The Water
As always, check to see if you need to put in more water every 15-20 minutes.
Step 4: Enjoy The Tamales When They Are Fully Cooked
Steam Tamales With A Pressure Cooker
Another choice for steaming tamales is to use a pressure cooker. If you're short on time, a pressure cooker will be a perfect option since it will take less time to fully cook the tamales.
With a steamer basket at hand, cooking tamales in a pressure cooker will be pretty simple and straight to the point.
Step 1: Prepare The Cooker
Fill your cooker with about 2 cups of water. Of course, you can always change up this number depending on your cooker's size. The point is to have the water right below but not touching the steamer basket.
Step 2: Place The Tamales
After that, put the steamer basket in the cooker and put the tamales in. It's better to have the tamales sit vertically with the closed side at the bottom.
Step 3: Steam The Tamales
First, close the cooker's lid and set the temperature to high so your cooker will reach maximum pressure.
Once it has reached full pressure, turn the pressure down to a minimum. Now just sit back and wait for your tamales to be cooked. This should take about 20-30 minutes.
Step 4: Release The Pressure And Check Your Tamales
After 20 minutes have passed, turn off your pressure cooker. Wait about 10 minutes so the pressure can be released naturally.
Next, open the cooker and check to see if the tamales have been cooked thoroughly or not. You can cook them for another 5-10 minutes if necessary.
Learn how to make and steam tamales with a pressure cooker. Watch this video:
Steam Tamales Using An Instant Pot
Next, you can use an instant pot to make this Mexican dish. As for the how-to, it's quite similar to the pressure cooker method.
Step 1: Prepare The Instant Pot
Use about 1 cup of water to fill your instant pot, then place a steaming basket inside. You can change the amount of water depending on the size of your pot. As long as the water doesn't touch the basket, you should be fine.
Step 2: Place The Tamales
Next, place the tamales vertically in the basket with the folded end at the bottom.
Step 3: Cook The Tamales
Put the pot's lid on and seal it securely as well as close the steam valve. After that, put the pot on manual and set it to high heat.
Set the timer to 30 minutes to pressure cook the tamales.
Step 4: Check The Tamales
Before opening the instant pot, don't forget to let the pressure out naturally first. Once the pin has dropped, you can open the lid and check your tamales.
If they still seem half-cooked, put them back in the pot and steam for an additional 3 minutes.
You can also use the medium heat to steam tamales in an instant pot (it will take a bit longer, though). Watch this video to know:
Steam Tamales Using A Slow Cooker
A slow cooker is a viable option for steaming tamales. However, it'll take much longer than the other cooking methods.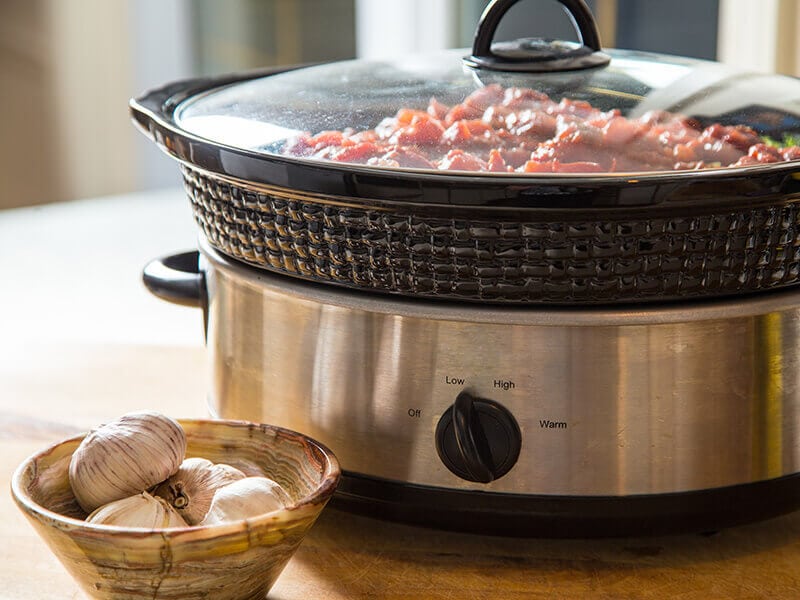 Step 1: Prepare The Slow Cooker
Place a steam rack in the crockpot and fill it with water so that it reaches right below the rack. Next, roll up an aluminum foil ball and put it in the middle of the rack. Alternatively, you can use a flipped bowl.
Step 2: Place The Tamales
With the support of the aluminum balls/bowl in the middle, place your tamales vertically on the rack. As usual, keep the closed end down.
To prevent the tamales from falling, you can use some aluminum foil or corn husk to fill in any extra room.
Step 3: Slow-Cook The Tamales
Slow-cook the tamales for roughly 3-6 hours with the lid on. When the tamales are cooked through, turn the heat off and leave them inside in the crockpot (cover off) for another 10 minutes.
Steam Tamales With A Rice Cooker
A rice cooker takes about as long as a steamer to thoroughly cook tamales. It's also better to use a rice cooker with a steaming function.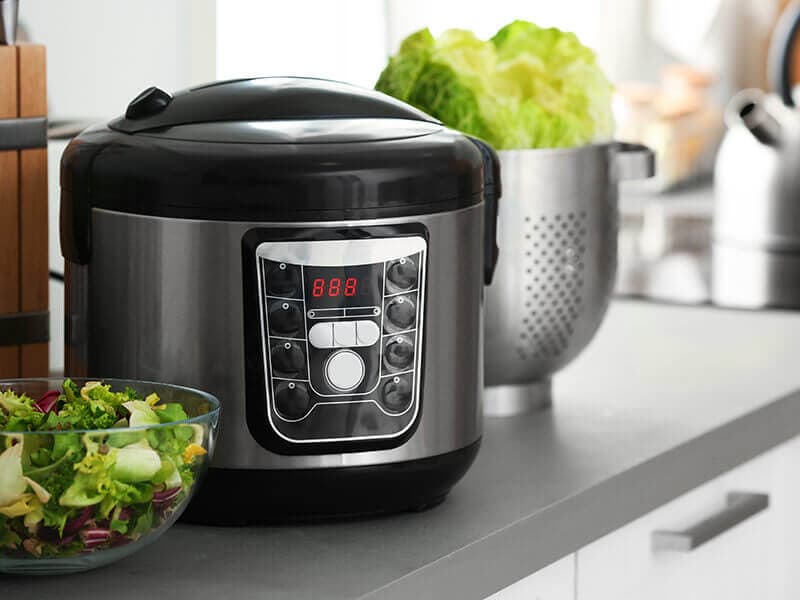 Step 1: Prepare Your Rice Cooker
Find a steamer basket that fits the size of your rice cooker. If your rice cooker comes with a basket, that's one problem out of the way. After that, fill the rice cooker with water and place the basket in.
Remember to leave some space between the bottom of the basket and the water.
Step 2: Place The Tamales
Put your tamales in the basket while facing the open part upward. You can cover the tamales with some husk if you want.
Step 3: Cook The Tamales
Steam the tamales for 60-90 minutes, refilling water accordingly. It's recommended to always keep the water level at at least 2 inches. Be careful not to touch the tamales with water while filling, though.
Step 4: Check Your Tamales
After about 60 minutes, check for doneness. If the tamales are adequately cooked, let them rest for about 15 minutes, then serve hot.
Steam Tamales With The Oven
Honestly, I'd only recommend cooking tamales this way if you're really in a pinch since the oven is not an ideal place for steaming food. But if there's really no other way, here is a step-by-step instruction.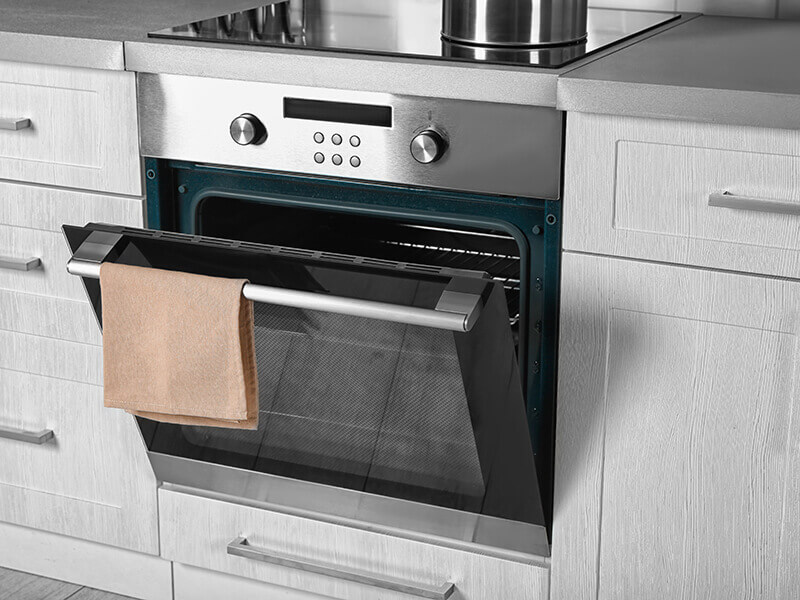 Step 1: Preheat The Oven
Although the oven can reach a really high temperature, in this case, you'll need it to do the opposite. Set the heat of your oven to the lowest option possible. You don't want high heat to dry the tamales out.
Step 2: Prepare A Cooking Utensil To Place Your Tamales
You will need 2 things for this step. First is a cooking utensil, preferably a Dutch oven or a casserole dish. Secondly, you will need a steam rack to place your tamales on.
Put the steam rack inside the Dutch oven/casserole dish and place the tamales horizontally on the steam rack while keeping their open end facing upward.
Step 3: Fill The Pot With Water
Before putting in the oven, you need to fill whatever you're keeping the tamales in with boiling water first. The rule is, as usual, don't let the water touch your tamales.
Step 4: Cook In Your Tamales In The Oven
After that, cook the tamales in the oven for 40-60 minutes. Always keep the temperature on the low to prevent the tamales from drying out completely.
What About Uncooked Frozen Tamales?
In general, steaming frozen tamales is similar to cooking fresh ones. You also don't have to do any defrosting beforehand, so that's a plus.
The only difference between steaming fresh tamales and frozen uncooked ones is the cooking time. I'd recommend using either a steamer or a steamer basket for easier timing.
Typically, you will need about 90 minutes to thoroughly steam fresh tamales. For frozen tamales, add at least 60 minutes to the timer depending on how thawed they are before cooking.
It's better to check for doneness every 15-20 minutes after 1 and half an hour to avoid overcooking the tamales.
Reheating Tamales? No Problem
Got some tamales that you want to reheat? This is the section for you. Reheating cooked tamales takes much less time than cooking new ones and can taste as good if done correctly.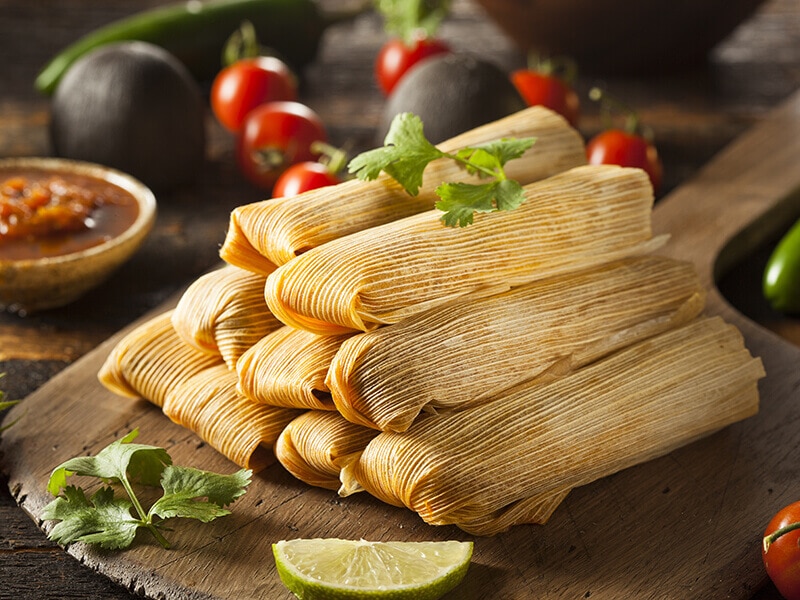 Reheating Tamales Using A Microwave
When it comes to reheating food, most people would turn to their microwave and for good reasons.
The first step to reheat tamales in a microwave is to wrap them separately using damp paper towels. After that, place them in a microwave-safe container of choice and pop them in the microwave for 1-2 minutes.
You should check on them every 30 seconds to prevent them from drying out.
For frozen tamales, thaw them in the fridge for a couple of hours before reheating.
Reheating Tamales Using An Air-Fryer
Apart from a microwave, an air-fryer also provides a fast and reliable way to give life to cold tamales.
To reheat tamales with an air-fryer, first heat the fryer to medium temperature. Next, use some cold water to add moisture to the tamales wrapping. After that, place them evenly in the air-fry tray and throw them in your fryer for 5 minutes.
Reheating Tamales Using A Steamer
As you've learned how to use a steamer for cooking tamales in the previous sections, you should have no problem using it to reheat them.
The only thing you need to do is change the steaming time to 15-20 minutes for cold tamales and add another 10 minutes for a frozen one.
Reheating Tamales Using An Oven
An oven is a solid choice for reheating tamales. First, you need to wrap them in 1 or 2 layers of aluminum foil. Make sure that they are airtight. After that, preheat the oven to 425°F and put your tamales in it for about 20 minutes. After 10 minutes, turn the tamales around.
Reheating Tamales With An Instant Pot/Pressure Cooker
Another option is to reheat tamales using an instant pot or a pressure cooker.
Before putting the tamales in, heat your instant pot to a high temperature. After that, use a little bit of water to make your tamales damp. Don't overdo it, though. You don't want to soak your tamales in water.
Finally, place them evenly in the pot and reheat for about 10 minutes.
FAQs
Here are some of the most asked questions regarding steaming tamales. If you still have something more to ask, don't skip this part.
Happy Cooking With Your Tamales
With the methods provided in this post, I'm sure that you can now steam your tamales confidently. As I've told you initially, with or without a steamer, cooking tamales will be a breeze after this post.
Let me know how these methods work out for you in the comment section down below. If you know someone that is struggling to steam tamales, remember to share this post with them!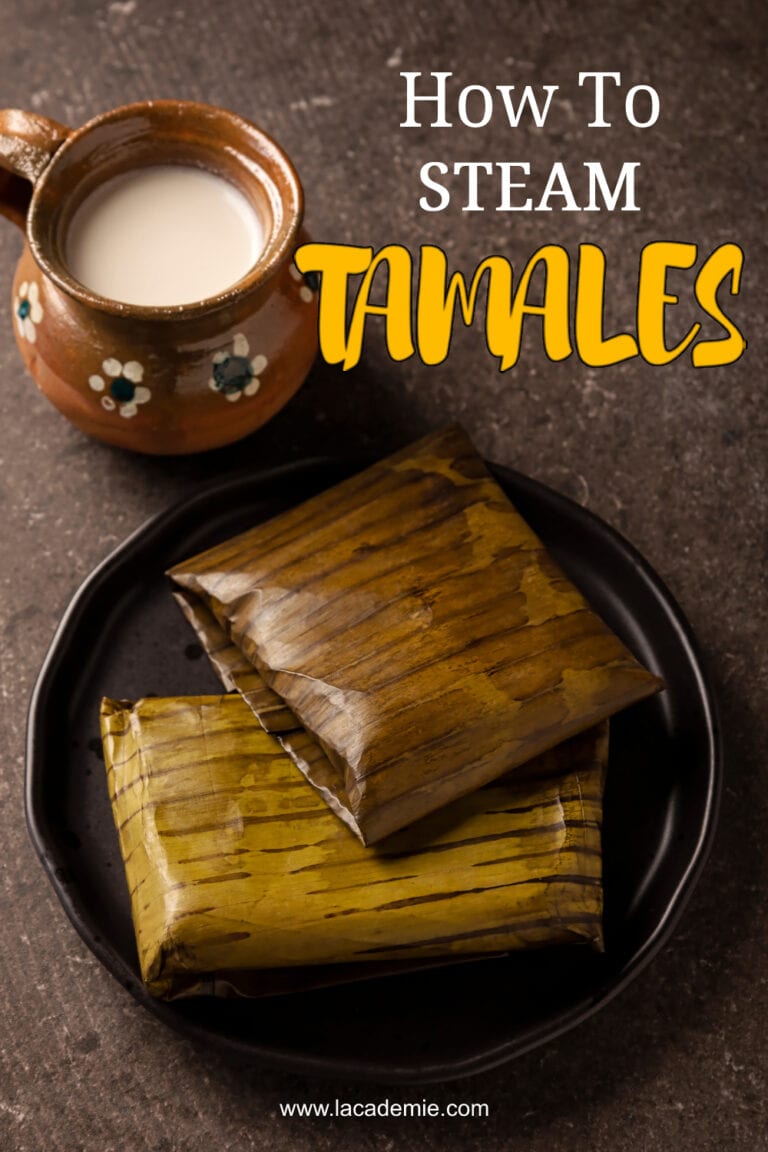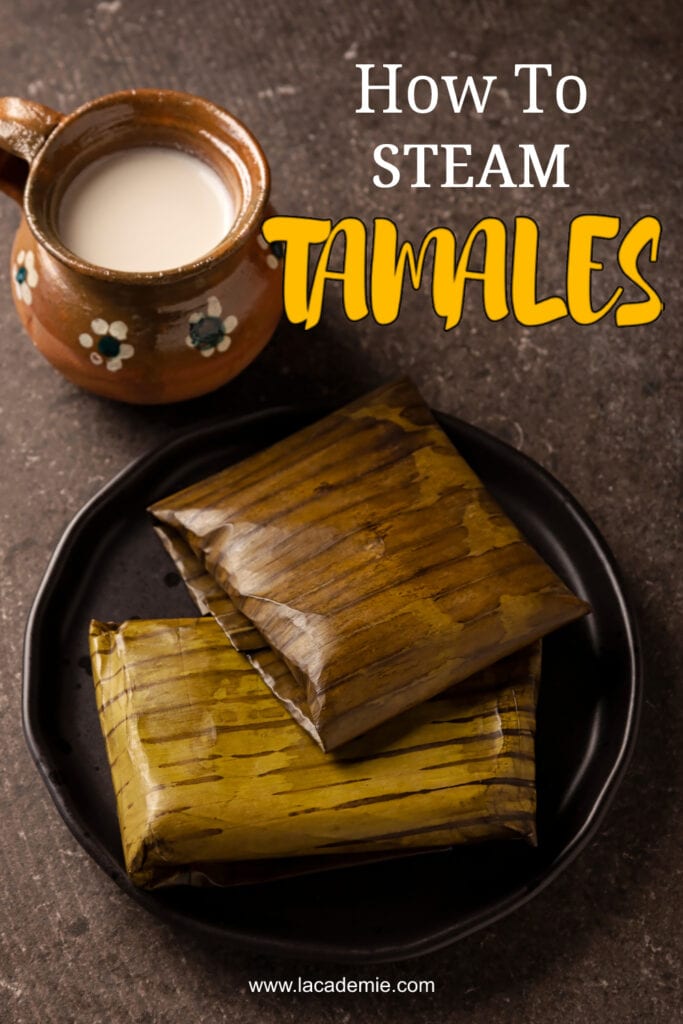 References
Contributors to Wikimedia projects, (2002). Tamale – Wikipedia.
Say No to Raw Dough! [online]. Centers for Disease Control and Prevention.