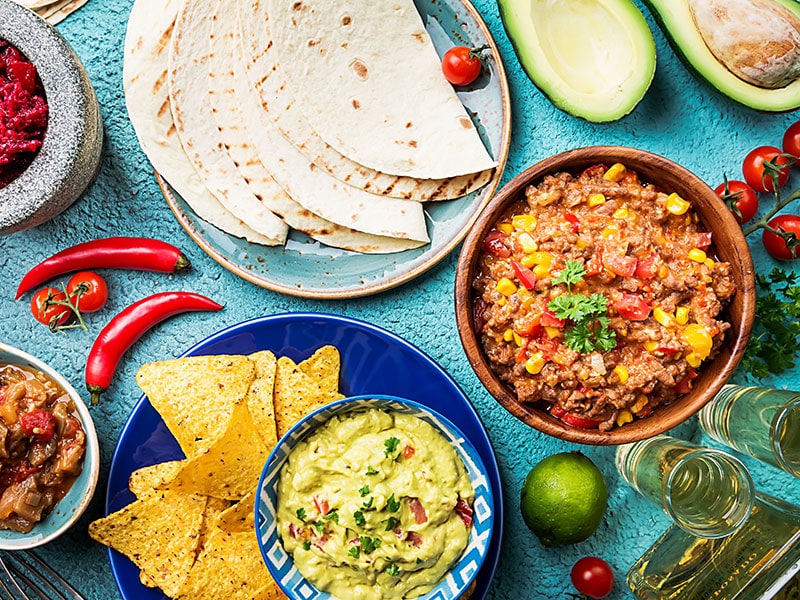 Mexican side dishes are a great way to take your meal to the next level. Balance out your meal and make it more interesting by adding some to the mix. Known for its wonderful blend of seasonings, spices, and ingredients, you can never go wrong with serving Mexican food.
One great thing about Mexican food, in general, is just how diverse and yet simple it is. From nachos to guacamole to chili, there is always something for everyone. Surprise your friends and family with the suggestions from this list of Mexican side dishes ideas.
Unbelievably Delicious And Simple Mexican Side Dishes Ideas
Here are some tasty Mexican-inspired dishes that you can serve as side dishes. These dishes have been put into three categories to make it easier for you to find what you need: salad, street food, and soup.
Mexican Salad Recipes
Quick Guacamole Quinoa Salad
Fish Taco Salad
Mexican Caesar Salad
Mexican Corn Salad
Mexican Potato Salad
Roasted Poblano And Corn Guacamole
Blueberry Salsa
Shrimpo de Gallo
Mexican Coleslaw
Mexican Street Food Recipes
Tater Tot Nachos
Chilaquiles Verdes
Vegetarian Calabacitas Quesadillas
Chorizo, Refried Beans and Cheddar Quesadillas
Smoky Barbecued Corn
Slow-cooker Chicken Enchilada Casserole
Mexican Street Corn Deviled Eggs
Mexican Brown Rice
Beef Soft Tacos with Mango Salsa
Chili-Stuffed Poblano Peppers
Mexican Soup Recipes
Crockpot Taco Soup
Mexican Pozole
Chunky Chipotle Pork Chili
Slow-Cooker Chicken Tortilla Soup
Mexican Chicken Corn Chowder
Fast Refried Bean Soup
Stuffed Sweet Pepper Soup
Mexican White Chili
Mexican Chorizo and Corn Soup
9 Colorful Mexican Salad Recipes To Keep You Healthy
If your priority is a quick and healthy side dish, take a look at these dishes that are filled with fresh ingredients. Bonus points are that not only are they unbelievably good, they also look great on your dining table.
Wonder what to enjoy along with your taco? Let this delicious guacamole salad give you the answer. Not only is it incredibly easy and quick to make, but you can also make as much of it as you want, thanks to some very simple ingredients.
This recipe brings you a mixture of whole-grain, fresh and nutritious veggies that keeps you healthy and energized all day long. You can make it as a side dish to your main course or even bring it along to work as long as it is kept at room temperature.
If you are sick and tired of regular salad, why not add a Mexican twist to your plate? Try this brand-new way of eating both salad and taco by combining the two dishes and find yourself a new favorite food.
You can also use this recipe to revive your leftover fish. It not only saves you time in cooking but also saves your budget to buy new food.
This incredible fish recipe from Mexico is the best of both worlds for those who enjoy some diversity in their meals. It brings you the freshness of vegetables and the exciting taste of well-seasoned fish. You can also add some extra crunch to it by sprinkling some tortilla chips on top.
Take a look at this video for a step-by-step guide on how to make this delicious salad.
Caesar is always everyone's well-liked side item in summer parties or potlucks. And I believe almost everybody knows or has tried Caesar salad before. If you are a fan of this salad and have been looking for a new way to eat it, try the Mexican version for some new experiences.
This recipe still stays true to the original Caesar salad, but the dressing is lighter and fresher. The creamy soft taste of this salad makes it the perfect side dish for all your Mexican-inspired dinners.
With summer around the corner, this salad is the perfect accompaniment to BBQ gatherings or Mexican feasts. It consists of grilled corn, jalapeño, hot sauce or chili powder, lime, garlic, and cheese, all drenched in a creamy dressing.
You often find this salad at large meals because of its sweet, tangy, and slightly spicy taste, which perfectly balances out the intense flavors of meat-filled main courses. This is a side dish that you shouldn't miss out on.
Another option for your summer get-togethers, from barbecues to picnics, this Mexican potato salad will go great with anything you make. It's a perfect little side dish for when you are looking for something that anyone can enjoy.
Much like traditional potato salad, it also consists of potatoes, cilantro, parsley, and mayo. However, this recipe is made more colorful and interesting by some added fresh corn, juicy ripe tomatoes, black beans, flavorful onions, and buffalo wing sauce.
Still can't get enough of guacamole? Here is another suggestion on how you can take this beloved avocado recipe to the next level. With this recipe, you can taste the sweetness of the charred corn at first bite while still sensing that spicy aftertaste from the poblano.
A diverse recipe through and through, you can have this dish in many different ways. Try it with some tacos, use it as tortilla dipping or even add it to your burgers. Whatever you do, I just know it will taste good.
Salsa is technically considered a sauce or condiment for Mexican dishes. However, it has evolved into a side dish over the years, used mainly as dips for any kind of tortilla chips. This recipe, for example, is a wonderful cross between a fruit salad and salsa.
If you are looking for something sweet but still flavorful this summer, give this salsa a try. This recipe features fresh plump blueberries as the main star and comes with a slight spicy kick from some jalapeño and bell peppers. It is best served with some chips and a cocktail.
Don't be fooled by its strange name. You can make this recipe the same way you make guacamole. It includes all the familiar ingredients of a Mexican side dish, such as avocado, cilantro, limes, onions, and tomatoes, with additional shrimps as the stand-out feature.
This dish is best accompanied by some tortilla chips. However, you can also have it over a barbecue with some grilled meat and hot sauce for a more flavorful meal.
Coleslaw is a side dish consisting mainly of shredded raw cabbage covered in salad dressing. One of the best ways to eat it is by accompanying it with enchiladas. ​With a Mexican twist, this recipe adds an extra layer of flavor to the regular creamy goodness that you love so much about coleslaw.
As a side dish, it pretty much pairs well with almost anything. You can't go wrong with adding it to your meal, considering how versatile in flavor it is. You can eat it with some tacos, put it in a sandwich, or even use it to add some crunch to your main dish.
10 Mexican Street Food Recipes That You Will Want To Try Again And Again
Mexican street food has everything that you want in a dish: nutritious ingredients, versatile taste, and appetizing appearance. Give these recipes a try for an unforgettable culinary experience.
Tater tots are deep-fried grated potatoes. As an individual side dish, they are pretty good, but everything just becomes a thousand times better when you combine them with nachos.
These tater tot nachos are very easy to make and quite fun to eat. You may have to take some time to deep fry the potatoes, but it is totally worth it. The result is an incredible side dish filled with cheesy goodness and crunchy potatoes; what's not to love?
Chilaquiles itself is a popular breakfast in Mexico. But what is Chilaquiles verdes?
This is a traditional Mexican dish consisting of fried tortilla strips soaked in green salsa. It is easy, simple, and very quick to make. In just under 30 minutes, with only leftover ingredients from your main dishes, you can have yourself a colorful and tasty side dish.
Like most Mexican dishes, you can have these with tortilla chips or combine them with various foods like scrambled eggs and chicken. You can even switch things up and try a different sauce to transform the flavor completely. The possibilities are endless with this one.
Take a look at this video for instructions on a classic dish of Chilaquiles Verdes.
Calabacitas is a type of summer squash called the zucchini. It is a very common ingredient in Mexican side dishes. If you are looking for a way to eat quesadillas without meat, have a look at this one.
This contrast in texture between the crunchiness of the tortillas and the softness of the squash makes quite an interesting combination. If you like your quesadillas a bit more sturdy, try filling it with some black beans or guacamole.
Never heard of chorizo before, so you can't be sure if this is a good addition to your meal? Don't worry, I'll explain chorizo's defining features to you so that you can decide whether to try out this tasty recipe.
Chorizo is a pork sausage that is highly seasoned, resulting in a very spicy and smoky flavor. Combine this heavenly sausage with some refried bean – a widely-used ingredient in Brazilian-style accompaniment, and cheddar for an unforgettable explosion of flavor in your mouth.
This recipe is perfect for those who like Mexican food in all of its glory: spicy, cheesy, and packed with incredible seasonings. I can guarantee there's nothing quite like biting into this and feeling the mixture of everything melting on your tongue. Try it out for yourself!
If you are having a summer barbecue and need a side dish that is quick and easy, consider these deliciously charred corns. Using standard grilling techniques with the ingredients being only corns and simple condiments, it should take you no longer than 10 minutes to make this.
As for the flavor, it is the perfect balance of sweet, tangy, spicy, and smoky. The sweetness of the corn is only intensified once grilled and combined with some chili peppers; the taste is nothing short of heavenly.
While it may seem complicated at first sight, I promise this dish is a lot simpler to make than it looks. Let your slow-cooker do all the work, and within 3 hours, your meal is ready. You can make this both as the main course and use it as a side dish for later meals.
I can't think of anything that isn't good about this dish. The sweet and spicy enchilada pairs so incredibly well with the chicken and the rice. You can eat it in so many ways as well: add some cheese and bake it into nachos, eat it with yogurt and lime or even turn it into a burrito.
Still curious about how to make this Slow-cooker Chicken Enchilada Casserole? Take a look at this video for more details.
If you have never heard of deviled eggs, they are a European side dish made of hard-boiled eggs that are cut in half and filled with different ingredients. The fillings will consist of egg yolks, mayo, cheese, corn, and other spicy condiments with this Mexican version.
You will be impressed at the very first bite by both the taste and the texture of this dish. The creamy egg yolks and cheese contrasting the crunchy corn is enough to keep you coming back for more. Not only that, but it will also stand out the most because of how eye-catching it is.
Easy and breezy, that's how I would describe the process of making this dish. With some basic ingredients, you can quickly whip this up in no more than 15 minutes. Try this out when you need something simple, flavorful, and still very healthy.
This Mexican brown rice dish will open your eyes to brand-new ways of eating rice. With every grain soaked in the pleasant mixture of salsa, chili, and black beans, there's never a dull moment with this dish. You can eat it as it is with some avocado and citrus toppings or stuff it in a burrito.
Tacos are perhaps one of the most famous and well-loved Mexican foods out there. They are simple, budget-friendly, and so incredibly flexible that there's always something for everyone. This recipe, for example, is perfect for you if you enjoy a good burst of different flavors in your meal.
While the seasoned ground beef may be the star of these tacos, the juicy sweetness of the mango salsa is not something you can ignore either. It really enhances the taste of everything else. You can serve them with some black beans, rice, and your preferred fillings.
How about making some of these tacos for your friends and family? Check out this video for instructions.
If you are specifically looking for a low-carb dish that is mildly spicy, take a look at this one. Poblano peppers definitely belong on the mild side of the spicy spectrum, so if you like a little spice in your food but don't want to burn your tongues off, try this out.
What I adore most about this recipe is how simple yet sophisticated-looking it is. You can make the savory chili in advance, then roast the peppers and add the fillings in no time. Since these are so flavorful on their own, you can just serve them with a simple coleslaw, rice, or mashed potatoes.
9 Heart-Warming Mexican Soup Recipes That You Need To Try
I have learned that nothing beats a good bowl of hot, steamy soup on a cold day. These Mexican soup recipes offer you a great range of flavors, from spicy, creamy, to anything else your heart desires. Check them out!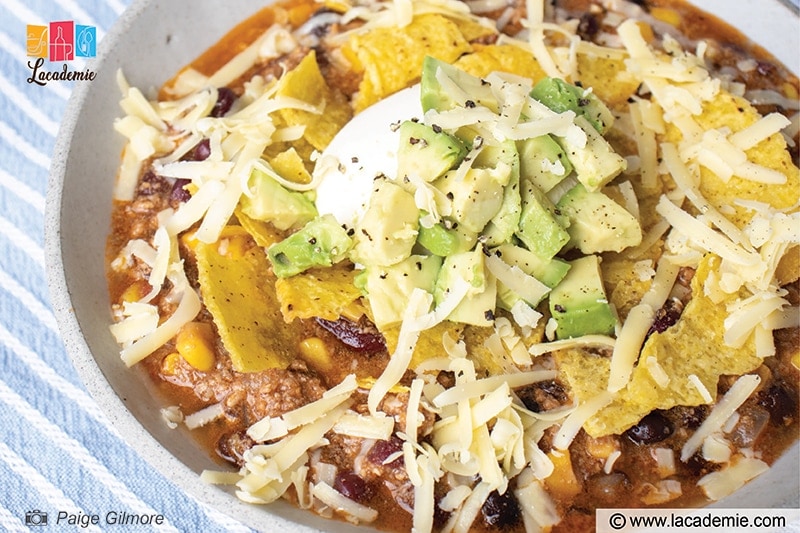 You can say this is a fun and creative way to enjoy soup. It is a delightful combination of beef, beans, veggies, corn, and some seasonings. It gives you the flavorful taste of a traditional taco and the lovely warmth of regular soup.
You can serve this soup with some classic Mexican bread or tortilla chips for a regular meal. If it's a side dish, it can accompany pretty much any Mexican plate, especially fajitas. If you want to make it more flavorful, add some avocado slices or grated cheese on top.
Pozole is a traditional soupy stew in Mexican cuisine that can be cooked in crockpots. Filled with meat and warming seasonings, this hearty soup is a source of comfort for many. More than just a side dish, it has become a staple meal in many households for breakfast, lunch, or dinner.
This soup can be eaten any time, but it perhaps is the best pick-me-up for a cold winter day when you are in need of something savory and toasty. It is also quite flexible, so you can adjust the ingredients however you prefer.
Exceptionally savory in flavor and deliciously thick in texture, this soup is fantastic for when you want something fulfilling and satisfying. After all, who doesn't love a good bowl of chunky, steamy chili beans and tender pork to accompany their meal?
My advice for making this soup would be to make the chili a day in advance so the ingredients can really set and make it taste better. You can enjoy this chili soup on its own or eat it with rice, any veggie that you like, or a bread bowl if you want something different.
For those who like a more mild and vegetable-based soup, have a look at this Slow-cooker Chicken Tortilla Soup. It has all the familiarities of a regular chicken soup that you love, with bonus crispiness from the tortilla and warming spices to really heat you up.
My favorite part of this recipe is how it is made with a slow cooker, meaning you can just add the ingredients to a cooker and have it ready in a few hours. You can also add some cheese, jalapenos, sour cream, or sliced olives for an extra special layer of flavor.
Take a look at this video for some detailed instructions on how you can make this dish.
Here is another recipe for all you chicken soup lovers. There is nothing quite like a good bowl of creamy chowder to get yourself warmed up. While it may take little effort to put together this soup, I can assure you the result will still blow you away.
This soup is happiness in a bowl to me because it is just full of tender chicken, sweet corn, cheese, and a hint of spice
On the other hand, you can prepare other dishes to go with your corn chowder. They will highlight the flavor of your meal and make you feel fuller.
This soup is happiness in a bowl to me because it is just full of tender chicken, sweet corn, cheese, and a hint of spice seasonings, all the best things you can expect in your soup. The flavors all blend so well together that you can't help but want more after each meal.
Want to make something that will instantly fill you up on cold days? Try this super quick, super thick, and unbelievably delicious bean soup. Within only 30 minutes, you can have a heart-warming soup to share with your family and friends.
This soup is loaded mainly with black beans and corn, so it is quite fun to eat. You can add rotisserie chicken or ground beef if you want some meat in the dish, or even make a soup topper out of some baked corn tortillas.
If you love a good dish of stuffed peppers but are too lazy to actually make one, try this delightful soup instead. This recipe brings you the same comforting mixture of peppers, tomatoes, and beef, only way faster and easier.
With this soup, you can get the spicy sweetness of the peppers and tomatoes as you chew on the beef and rice. You can also use sausage, pork, or turkey if you want something different. If you eat it as a main dish, keep it simple by serving it with some bread or vegetables.
White chili is a milder version of regular chili, with the main ingredient being chicken instead of beef. Nevertheless, you can still get that signature warmth from this Mexican dish because of all the cilantro and cumin in the seasonings.
This chili carries a quite unique flavor because it is just as pleasant as it is intense. Add some bacon or cheese toppings for a more exciting experience if you want. You can have it alongside some vegetable main courses for the chili to really bring out the flavors in those meals and vice versa.
Although there are several varieties of chorizo you can add to this recipe, I'd say that the best choice is Mexican chorizo. Use this to spice up your soup instead of regular beef or chicken. You can have this soup all year round because of how warming yet simultaneously light it is.
With this recipe, I love how well all the ingredients go with each other. The intense sausages, loads of sweet corn, some cilantro, and spicy seasonings, are all tied together by delicious sour cream that melts right into your mouth. Truly a must-try combination.
Don't Be Afraid To Try Something New!
Step out of your comfort zone and try making some of the dishes I suggested from this list. These recipes can become great additions to your daily meals. They are familiar enough with ingredients and cooking methods that I hope you will have no trouble whipping up a great plate.
Are you also a Mexican food lover, or is this your first try at making it? Have you tried making anything from this list? If you have, please don't hesitate to let me know how everything turned out. Share this list with your friends and family who might need it as well. See you soon!
Nutrition Facts
4 servings per container
---
Amount Per ServingCalories249
% Daily Value *
Total Fat 12.7g

20

%
Cholesterol 10mg

4

%
Sodium 286mg

12

%
Potassium 481mg

14

%
Total Carbohydrate 33.7g

12

%

Dietary Fiber 5.1g

21

%
Sugars 6.4g

Protein 6.8g

14

%
---
* The % Daily Value tells you how much a nutrient in a serving of food contributes to a daily diet. 2,000 calories a day is used for general nutrition advice.