Although easy Mexican recipes may not sound impressive to make, they will change your mind with the bold flavors and impressive textures. Whether you're looking for some simple Mexican dish for a snack or dinner, these recipes will never fail your expectations.
The country has a staggering number of Mexican dishes that utilize an array of ingredients for you to choose from. Let's strap on for an adventure with me to uncover all the simple dishes that you can make at home. I promise it's just a matter of time before you decide on your favorite.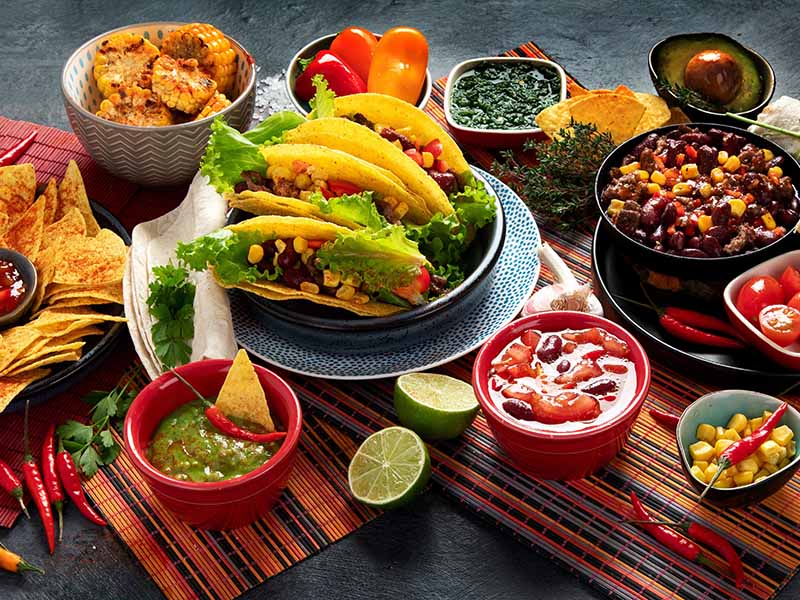 Irresistible Simple Mexican Recipes To Try Right At Home
Sometimes, it's difficult to suppress that Mexican craving of yours. Let's jump right into some of the easiest dishes that you can make from the comfort of your kitchen. Keep your expectations high because you will soon find a recipe that activates your taste buds.
Total time: 8 hours 5 minutes.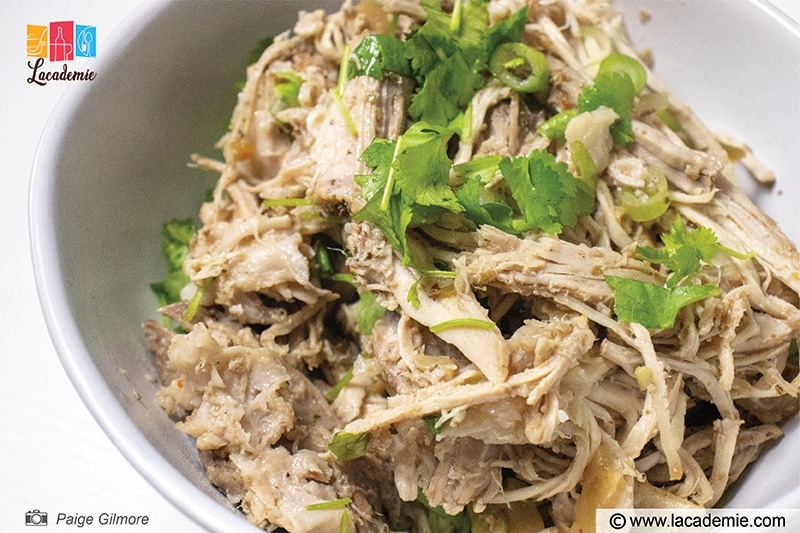 In Mexico, Barbacoa often refers to the cooking process of an entire sheep or goat in a fire pit for an extensive amount of time. The result is the soft meat texture that instantly melts in your mouth. In some regions, the locals will steam the meat instead.
Although people often prepare a whole animal, you can slow-cook a large chunk of pork to achieve the same effects. Seasoning is the key to achieving a flavorful Barbacoa, so you will need a mixture of dried oregano with chipotle seasoning and garlic to marinate the meat.
Typically, you can't go wrong with serving Barbacoa with burritos, nachos, or burger buns. You will surely love the tenderized pork with savory sauce from the grilling process.
Total time: 30 minutes.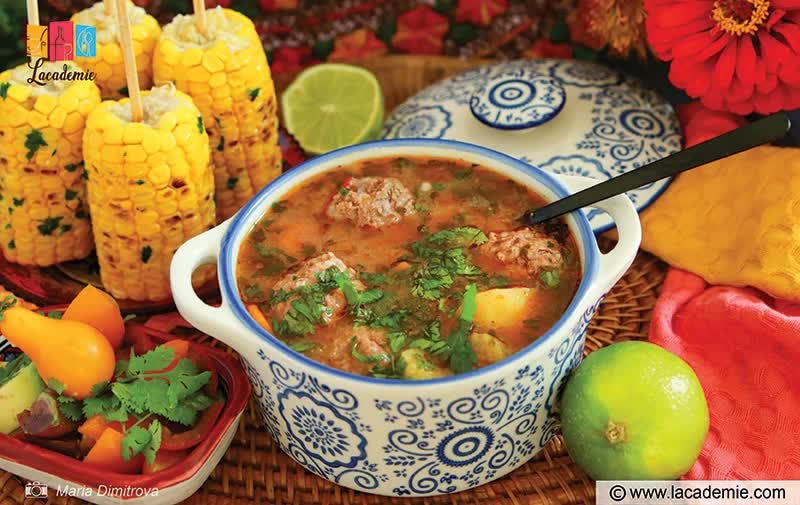 Albondigas has a long history with roots back in Spain. At first, Spanish residents were serving Alcondigas at bars and often accompanied by a glass of red wine. The dish made its way into Mexican cuisine through Spanish conquistadors in colonial Mexico in the 16th century.
The soup stands out from others, thanks to the signature meatballs bathed in a savory soup mixture. A hot bowl of Sopa de Albondigas is perfect for a light lunch. In Mexico, locals have Albondigas with rice as a side dish.
For a traditional recipe, my advice is to use ground beef because of its tenderized texture. To set the tone for the soup, you should use beef broth as it pairs well with the beef meatballs. Additional vegetables like tomatoes and carrots will greatly enhance the soup flavor.
Total time: 20 minutes – 1 hour 30 minutes (With 1 hour of marinating).
Let's start with one of the most iconic Mexican foods. Taco has to be in everyone's mind when they think of Mexican cuisine. A traditional Mexican Taco is a fried Tortilla (Mexican thin, circular flatbread), which people often fold in half before filling it with toppings.
The exciting part of a Taco is that you can freely customize the toppings according to your will. The crunchy shell of a Taco complements flavorful condiments and a meaty filling. Before serving, make sure you squeeze a light touch of lime juice to balance the flavor.
Although you can use any type of Tortilla to make Tacos, the Mexican locals prefer using the corn variety for its flavor and higher overall nutrients. Most often, people will cook the topping and the Tortilla separately before assembling them at the final stage.
Total time: Around 25 minutes.
A traditional Burrito comes from the Tex – Mex cuisine, where a flour Tortilla is wrapped around a variety of filling before it is lightly grilled or steamed. Different from a Taco, the Burrito is bigger with soft, not crunchy, Tortillas.
People often make the Burrito with a variety of savory fillings. However, you turn this into a vegetarian Mexican dish by only using beans. In addition, I recommend using cream cheese or cheddar to boost the creaminess of the bean Burrito.
To make the filling more diverse, adding colorful bell pepper with onion and cilantro will greatly enhance the overall flavor.
Learn how you can whip up a delicious bean Burrito right in your home.
Total time: 40 minutes – 1 hour.
In many Latin American countries, a Tostada is often served as a toasted Tortilla with savory toppings on top. The authentic recipe of Tostada favors corn Tortillas because of the extra crunchy texture.
Much similar to Taco in the filling, there's little limit to what you can put on a Tostada. However, Mexican locals use meat or refried beans as the filling with a variety of cheese for a creamy texture. Don't forget that lettuce is a crucial ingredient that adds texture and flavor to a Tostada.
Total time: 2 hours 25 minutes – 2 hours 55 minutes (both including 2 hours – 2 hours 30 minutes of marinating time).
Originating from the Tex – Mex cuisine, people refer to Fajita as a dish of strips of meat, pepper, and onions that go with various Mexican condiments. However, many Mexicans in the past also used the word Fajita to address the skirt steak used to make Fajita.
People tend to spice up the steak with a variety of condiments like chili powder, cumin, and garlic. To tenderize the steak, the recipe requires using a mixture of lime and orange juice to marinate the meat along with the condiments.
Steak Fajita makes for a solid main dish for dinner. The tenderized steaks are amazing when combined with colorful bell peppers for a filling over lightly toasted crunchy Tortillas.
Total time: Around 30 minutes.
Surprisingly, the Chimichanga is very similar to a Burrito. However, the key difference is the deep-frying stage that the Burrito doesn't have. Despite sharing many similarities in ingredients, Chimichanga was invented in Arizona state of the US instead of coming from Mexico.
A classic Chimichanga consists of refried beans, Salsa (Mexican iconic sauce), and cheese. For the meat of the filling, I suggest using chicken breast to keep it simple and easy for any homemade recipe.
Remember, after wrapping the filling with Tortillas, you will need to give it a quick pan-fry until the Tortilla shell becomes crispy. To accompany the Chimichanga, some avocado slices or sour cream will work wonders.
Chimichanga is not only simple to make but delicious at the same time when you make it by yourself.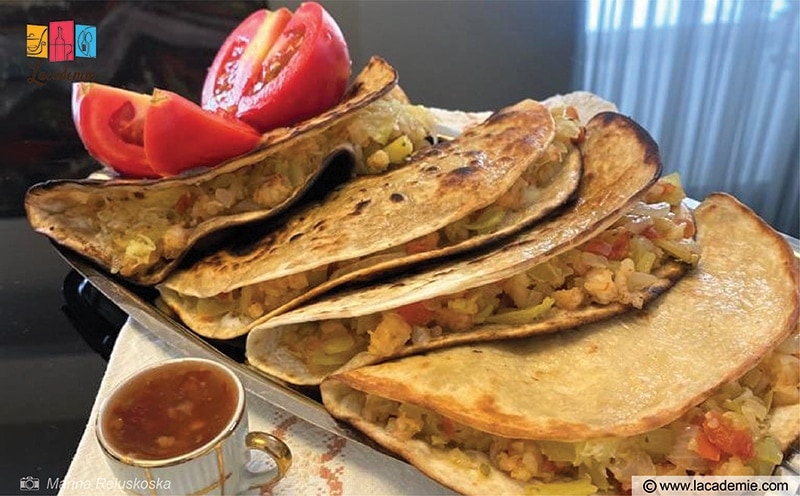 Do you like shrimp? If yes, check this recipe now! Gobernador tacos are loaded with flavors and textures, including shrimp, vegetables, cheese, and of course, crispy tortillas.
For a gluten-free dish, I use corn tortillas instead of those made from flour. And you should avoid flavored tortillas because they might affect the filling's flavor.
If you want to add a little twist to these tacos, you can use lobster or white fish in place of shrimp. And feel free to use quesadillas if you do not like taco shells.
Total time: 25 minutes – 1 hour 20 minutes.
If you're planning to have a big night ahead of you, then try out this amazing Tortilla pie recipe. This cheesy dish is irresistible for anyone looking for a Mexican-style dinner time.
For the base of the pie, you should use corn Tortilla for the best flavor. Then, layer the ingredients like chicken and cheese on top of the Tortilla. Repeat the layer until you reach your baking tray or skillet limit. Don't forget to top it off with extra sauce before baking it in an oven.
The star ingredient has to be the sweet and savory sauce. Although using canned Enchilada sauce will save up some time, I recommend customizing your sauce mixture. The best choice to make is tomato with chicken stock with condiments like cumin, oregano, and chili powder.
Total time: 1 hour 10 minutes – 1 hour 50 minutes.
Although the color of the Chicken Mole may look unappetizing, the dish will keep you coming back for more with its rich and decadent flavor. Despite the long list of ingredients, Chicken Mole is one of the easiest dishes for home cooking.
You must be wondering about the Mole sauce, right? I got you: the Mole sauce is a traditional Mexican sauce of the Puebla and Oaxaca states, made from a variety of ingredients. The sauce often has a viscous consistency and a signature brown color.
For this dish, you can use dark chocolate and tomato paste to make the base flavor for the sauce. Normally, a mixture of cumin, chili, and garlic is used for additional seasonings.
The Chicken Mole will steal the show with its tenderized chicken mixed with savory and rich mole sauce. I suggest having Chicken Mole along with Tortilla or warm rice for the best flavor.
Total time: 15 minutes – 4 hours 35 minutes (with 4 hours of chilling).
Gazpacho is a popular dish in the south of the Iberian Peninsula. Locals often serve the dish as an appetizer in hot summer as a way to cool themselves. Traditionally, Gazpacho is a cold soup with uncooked vegetables.
In Mexico, people use shrimp to modify the conventional Spanish recipe of Gazpacho. Typically, you will need diced tomatoes mixed with a variety of bell pepper and cucumber for the Gazpacho vegetable mixture.
As for the shrimps, I recommend grilling them before combining them with the Gazpacho.
Discover the simple steps to create delicious shrimp Gazpacho.
Total time: 35 minutes – 40 minutes.
The Quesadilla has a history that dates back to the colonial time of Mexico. A traditional Quesadilla recipe consists of a crunchy outer layer of Tortilla with cheese and meat as filling. The locals will grill the Quesadilla over a griddle or stove before serving it.
Quesadilla is versatile because you can combine any type of meat with a cheesy filling to create a tempting dish. In addition, I prefer introducing bell peppers to the filling mixture to diversify the flavor. A dollop of sour cream can make a fine addition to the creaminess of the Quesadilla.
Total time: 1 hour 5 minutes – 3 hours 30 minutes.
Though Pozole (stew) has diverse recipes in Mexican cuisine, the dish is often made by cooking hominy (dried corn kernels) to create the broth mixture. Commonly, Mexican locals use shredded cabbage or lettuce for garnish.
The Pozole broth color can vary based on the sauce used in the cooking process. In Mexican cuisine, white (Blanco), green (Verde), and red (Rojo) are the 3 most popular Pozole. While the Blanco uses no sauce, the Verde and Rojo get their color from natural ingredients.
Pozole Rojo often stands out with the signature red of the broth. Most often, people use a generous amount of red chilies to create the color. Locals prefer using pork shoulder to make Pozole as the meat texture gets better over a long period of cooking.
As for serving, you can use crunchy Tostada or avocado slices as garnish. The dish is best served when it's hot, but remember that the spiciness can get quite intense.
Uncover this amazing guide to making Pozole Rojo right here.
Total time: 20 minutes – 1 hour
Mexican cuisine has amazing ways to modify a recipe; take Tostada as an example. Changing the topping to a terrific Mexican shrimp recipe will give birth to an entirely new flavor. The recipe is super easy to make with ingredients available around you.
For the main star of the dish, you should sprinkle a generous amount of condiments on the shrimps before baking them in the oven. The shrimps bring a firm meat texture to the topping. Don't forget that you should always use Mexican cheese to enhance the Tostada flavor.
As a side note, you need to be careful not to overcook the shrimp since the meat texture can become chewy and rubbery.
Total time: At most 7 hours 41 minutes (Including 6 hours of marinating).
Maybe you're looking for a different kind of tacos to try, then I suggest giving Taco al Pastor a shot. In Spanish, Al Pastor means "shepherd style", referring to roasting meat on a vertical spit.
The main highlight of Taco Al Pastor is the well-marinated pork filling which people often cut into thin slices to put in the Taco. The best part of pork to use is the shoulder as it is fit for marinating and grilling extensively.
Although people tend to skewer the pork for grilling the "shepherd style", you can use an instant pot or a crock pot to cook it instead.
For the marinating sauce, you need to create a mixture of guajillo (dried mirasol chili), oregano, cumin, and pineapple juice. As a helpful tip, you should marinate the pork for at least 6 hours or, at best, leave it overnight for the best flavor when grilled.
Total time: 15 minutes (with regular cooking technique) – 4 hours 10 minutes (with a slow cooker).
If you're already fed up with Tortillas in many Mexican dishes but still craving that Mexican flavor, then I have the perfect dish for you. The Mexican Burrito Bowl is everything great you know about a standard Burrito, except there's no Tortilla involved.
The dish utilizes the Burrito filling to make a delicious main dish. Typically, people use beans, rice, and avocado for the mixture. Remember: the rice is inseparable from a delicious Burrito Bowl.
Therefore I recommend using brown rice for its nutritional value. But you can use any rice that fits you the most.
For the meat addition, I'm divided between chicken and ground beef as both of them taste amazing. If you're feeling fancy, you can try making some Mexican ground beef recipes to pair with your delicious Burrito bowl.
Did you know that it's entirely possible to make a Mexican Burrito Bowl with a slow cooker? Your cooking process is much simpler as you only need to bring the ingredients together in one pot. The slow cooker helps keep them moist and deliciously flavorful.
If you're tired of burritos, then try tweaking the recipe by making a Burrito Bowl instead.
Total time: Around 30 minutes.
Emerging as a staple dish of Mexican cuisine, Sopa Azteca, or Tortilla Soup, will surely impress you with its bold flavor and rich broth. The dish stands out from other Mexican soup recipes for incorporating tacos as part of the cooking process.
Mexican locals use chicken stock as the base for the soup, but you can get creative by using vegetable stock. Remember, the addition of tomatoes to the broth is a must as it helps increase the sweetness of the broth.
To turn up the heat, I recommend using Pasilla chili (a dried version of Chilaca chili) as it adds a bit of smoky flavor. In addition, you will need to shred your Tortillas into small strips for serving. For the topping, Sopa Azteca often accompanies avocado slices or sour cream for creaminess.
Total time: 50 minutes – 1 hour.
Prepare to have your mind blown with Enchilada, an interesting tweak you should take on your standard rolled tacos recipe. Local Mexicans tend to lay all the Tortilla rolls on a baking tray before drizzling a generous amount of Enchilada sauce over it.
Typically, the Enchilada sauce is made from tomato paste with condiments such as chili powder, cumin, and oregano. However, you can also cut down on your cooking time by using canned Enchilada.
Although any type of Tortilla will do great, my advice is to use corn Tortillas if you want a traditional approach to the dish. Don't forget you have the option to customize the filling to your will, but the most popular fillings are chicken and beef with cheese.
Total time: 30 minutes – 55 minutes.
If you're new to Mexican cuisine and can't handle the heat well, then I recommend trying Poblano chilies stuffed with chicken and creamy cheese. The dish only requires simple ingredients, so I'm sure you will be able to whip up one right in your home.
First, you need to know about the Poblano pepper: it has a mildly spicy flavor, almost similar to green bell peppers but with more kick. The Poblano is also fairly big, making it perfect to stuff with fillings.
Maybe you're wondering, why not just use bell pepper instead? It's because Poblano is thinner and cooks faster. In addition, the shape of Poblano makes it easier to work with. For the filling, simple shredded chicken with tomato and Mexican condiments should work wonders.
Don't forget you need to top the filling with cheese before putting the Poblano in the oven for baking. The dish is also a nice way for you to make full use of your leftover ingredients.
Poblano stuffed with chicken is surprisingly easy to recreate at home with this simple guide.
Total time: 20 minutes.
I didn't know that vegetables could taste this delicious with the Curtido recipe. The dish is popular in many Central American countries, although its origin is in El Salvador. Traditionally, people ferment the vegetable in a concoction before serving.
Curtido makes a fine addition to your Mexican salad recipes or filling for your tacos. The dish is a mixture of cabbage, carrot, and onion. For extra Mexican heat, I suggest using Jalapeno (an iconic Mexican chili) in the vegetable mixture.
Remember, your fermenting liquid will need to consist of vinegar as the base with salt and oregano for seasoning. It will take some time for the fermentation process to kick in so you should transfer the Curtido into a jar and store it in a refrigerator.
You should have the Curtido fermented at least overnight before it's good to consume. However, for the best flavor of Curtio, my suggestion is 3 – 4 days of fermentation in the refrigerator.
Total time: 10 minutes – 1 hour 5 minutes (including 1 hour of steeping).
The feeling of sipping a hot cup of chocolate is difficult to describe, especially if you're having Mexican hot chocolate. The drink is a staple Mexican beverage that dates back to the Mayan era of 2500 – 3000 years ago.
Interestingly, European countries only started drinking hot chocolate after Mexico introduced the beverage in the New World era. Some people in the 19th century even considered hot chocolate as a remedy for any kind of abdominal illness.
Different from other standard hot chocolate recipes where only chocolate and milk are used, the Mexican version includes spices for a unique flavor. Mexican hot chocolate makes for a good comfort drink as the creaminess and thick texture will surely relieve any sadness you have.
Total time: 50 minutes – 1 hour 30 minutes.
Sopa de Pollo is a traditional Mexican chicken soup with amazing nutritional values. Most often, Mexican locals leave the chicken and vegetables in chunks to serve. Sopa de Pollo is often served hot as a main dish on cold nights.
It's super easy to make this chicken tortilla soup (with a crockpot) from scratch. But if you don't have this cooking tool, you can still make it.
Use chicken stock as the base with some cumin, salt, and pepper to adjust the flavor. For a side dish to accompany Sopa de Pollo, rice is the best option to bring out the full flavor of the soup.
Don't just have regular chicken soup: delicious Sopa de Pollo is waiting for you right here.
Total time: At most 30 minutes.
Papa con Chorizo is a great way to start your morning full of energy. The dish is a simple mix of potatoes and flavorful Chorizo sausage. Papa con Chorizo requires little effort to make as everything can be prepared in one skillet.
For anyone unfamiliar with Chorizo, it's a Mexican sausage that has a distinct deep red color. Mexican locals use a variety of minced meat to mix with native chili to create Chorizo. People often describe the sausage as spicy and smoky.
For Papa con Chorizo, start by boiling your potatoes before transferring them into the skillet with Chorizo. Then, you need to give both ingredients a quick stir-fry on the skillet. The soft potato and savory Chorizo make for an impeccable duo to star in any meal of the day.
Total time: 25 minutes.
Mostaccioli is a dish from Italian cuisine, where people mix Mostaccioli pasta with tomato sauce and minced meat. However, the dish can have a Mexican twist to it by using Mexican ingredients. Mostaccioli makes for a fairly light meal with easy-to-find ingredients.
The highlight of the dish is the Mostaccioli pasta, a medium-size pasta with a cylindrical shape. For this dish to have a Mexican taste, the Picante sauce (a mixture of hot sauce and tomato) is a must-have ingredient.
Commonly, people will use ground beef with Mexican-styled cheese in the Mostaccioli mixture.
Total time: Around 35 minutes.
Quinoa seeds are surprisingly full of health benefits. They provide a good source of protein, making it a solid choice for a healthy vegetarian Mexican recipe. In addition, those seeds have a mild and slightly nutty flavor, so it's easy for beginners to eat.
Besides the nutritious Quinoa seeds, you will need to mix in tomatoes and beans to diversify the texture. As an optional choice, roasting the tomato will bring some smoky flavor to the dish. If you want some crunchiness in your Quinoa dish, corn kernel is an excellent choice for the mix.
Total time: 20 – 40 minutes.
In Spanish, people refer to Flauta as Taquito, meaning "small Tacos". Typically, the dish involves rolling a small Tortilla with filling and deep-frying it. Traditionally, Mexicans use corn Tortillas to make Flauta for a crunchier texture.
In other areas, people call Flauta a rolled Taco or Taco Dorados. Whatever the case, the dish is simple to make and allows an array of choices to customize the fillings.
Generally, it's perfectly fine to use flour Tortillas, but remember that your flour Flauta won't achieve the flavor or crunchy texture similar to the corn variety. People usually use shredded chicken with Mexican cheese to keep the filling mixture simple and delicious.
Try out Flauta for some new experience with Mexican cuisine.
Total time: 10 – 28 minutes.
The Longaniza is a Spanish sausage that has a similar flavor to Chorizo. Each region has a different version of Longaniza with slight modifications in the ingredients. In Mexico, Chorizo is shorter than Longaniza and has less kick in terms of spiciness.
The most common way to cook Mexican Longaniza is to slice the sausage into thin pieces to mix with eggs and cilantro for Longaniza con Huevo. The dish is popular as breakfast in Mexico because it is energy-packed and convenient to make.
Total time: 18 minutes – 40 minutes.
A famous dish of Mexican cuisine, Arroz Rojo often features as a side dish for other traditional foods. People in Mexico call this dish Mexican red rice because of the scarlet color of the rice, although it's commonly called Spanish rice around the world.
A common cooking method for Arroz Rojo is to sauteé the rice on a skillet until the color turns golden brown. To give the rice a red color, many will use tomatoes to achieve the effect. In addition, people will add warm broth with some vegetables to give Arroz Rojo more flavors.
A side note for you, it will take 15 – 20 minutes for the rice to fully absorb the water before it's entirely cooked.
Total time: 15 – 35 minutes.
Huevos Rancheros is a must-try breakfast for anyone who's on a trip to Mexico. The dish requires basic ingredients like eggs, Tortillas, and vegetables, all served on a kneaded plate. It's a hearty and fulfilling breakfast that will energize you for the day.
If you're already used to making sunny-side-up eggs, then Huevos Rancheros should be a breeze to make. To accompany the eggs, Mexican locals tend to use Queso Fresco (a Mexican cheese) for the creaminess. However, you also have the choice to add Jalapeno for spiciness.
Turn your next breakfast into a hearty meal by making Huevos Rancheros right in your kitchen.
Total time: 40 minutes – 1 hour 50 minutes.
Here's a recipe that any spicy food lover will instantly fall for, the Chili con Carne. Most Mexicans see it as a spicy stew of meat, beans, and chili powder. The dish's origin is speculated to be in the North of Mexico, although many think it could come from southern Texas.
Chili con Carne is usually featured as a side dish or ingredient for soup dishes. The earliest recipe of this Mexican ground beef delicacy dates back to the 1850s when people cooked it with dried beef with salt, chili pepper, and suet (a type of dried fat) in the army.
Traditional Chili con Carne has a thick consistency and dark red from the chili powder. For the chili mixture, you will need paprika, chili powder, and cumin. Don't forget that you need to use a thick concoction of tomato paste or tomato puree to achieve the desired viscous consistency.
Total time: 5 – 17 minutes.
It won't be a perfect compilation of Mexican dishes without featuring the iconic Mexican Salsa sauce. In Mexican cuisine, the Salsa sauce can be either raw or cooked. The tomato-based Salsa only gained popularity when Mexican restaurants started serving it in the 1980s.
For a simple tomato Salsa sauce, you can throw into your mixing bowl a mixture of chopped tomato, lime juice, onion, and coriander. However, my suggestion is to broil the tomatoes before mixing them with other ingredients for a smoky note.
The sauce is perfect for an appetizer or side dish. If you're having Tortilla chips lying around, then it's a perfect combo with the Salsa.
Total time: 30 minutes – 35 minutes.
Mexican pizza is surprisingly delicious, yet it doesn't require complicated preparation like a traditional pizza. The dish makes for an exciting dinner because of the strange combination of the Italian pizza concept and Mexican ingredients.
Instead of using dough as the base layer, Mexican pizza uses fried Tortillas to get a crunchy dish pizza. The topping usually consists of refried beans, ground beef, and a variety of cheese. However, it's entirely possible to add toppings that suit your taste to the Mexican pizza.
Mexican pizza is a hundred times easier to make than traditional pizza with this instructional video.
Total time: 10 minutes.
Bow down to the king of Mexican dipping sauces! Guacamole will have to be a part of your Mexican dinner time. The dipping sauce is mainly made from avocados, with each area in the country having a slight modification to the ingredients of the sauce.
For an authentic Guacamole recipe, you need to include tomatoes and lime juice with avocados to deepen the flavor. If spiciness is what you're looking for, then I suggest adding some Jalapeno slices.
My recommendation is to pair Guacamole with Tortilla chips or use the sauce to spread over tacos. I promise the nutty flavor and creamy texture of Guacamole will change anyone's mind when they have a taste.
Total time: 20 – 30 minutes.
Your liking of corn on the cob will increase even more with Elote, a classic Mexican street food where an entire ear of corn is grilled with flavorful Mexican seasonings. Elote is perfect for any barbeque occasion that you're planning.
Typically, Elotes are grilled until the corn kernels turn a little bit charred. A friendly reminder: you will need to pay close attention to the grilling temperature as corn kernels can get burned relatively fast.
Mexican vendors will coat the corn in a mixture of mayonnaise, sour cream (or, sometimes, yogurt), and lime juice. Next, Cojita cheese and ancho chili powder (dried Poblano chili) are sprinkled all over the corn to diversify the flavor.
Total time: 47 – 55 minutes.
Empanada is a popular dish in many Spanish-speaking countries that shares many similarities to a turnover. The dish's name comes from "Empanar", a Spanish word meaning "coat with bread". In Mexico, the locals tend to consume Empanada as either a savory or sweet dish.
Different from other varieties of Empanada, the chicken version is more widespread because of the availability of ingredients. You can make your Empanada more flavorful by implementing some interesting Mexican methods for cooking chicken for your filling.
Individual Empanada has a fairly decent size which makes it suitable for an appetizer or snack at any meal of the day. To give Empanada a beautiful golden color, you should brush the dough surface with a light egg wash.
Total time: Around 37 minutes (not including the 3 hours of chilling).
Marranitos are super cute sweetbread pieces that have a pig shape. Normally, locals consume this along with milk or coffee as a light snack. In some way, you may relate to this as a Mexican version of gingerbread.
To create the dough mixture, besides all-purpose flour, you will need to add milk and egg for basic bread dough. In addition, cinnamon and ground ginger will give the dough some depth in flavor. Before baking, make sure you chill the Marranitos for around 3 hours in the refrigerator.
For sweetener, I suggest using molasses (a product of the sugarcane refinement process) to enhance both the color and flavor. The cute pig shape can be made by using a cookie-cutter, but if you fancy doing it with a knife, it's entirely doable.
Discover how you can make these cute Marranitos as a gift for your friends and family.
Total time: 10 – 15 minutes.
Pico de Gallo is a fresh combination of everything you love about the traditional Salsa sauce. Mexican locals tend to refer to Pico de Gallo with many names like Salsa Fresca or Salsa Cruda. The dish is a refreshing experience because of a variety of fresh vegetable ingredients.
Unlike a standard Salsa, Pico de Gallo has no cooking process involved as the ingredients are assembled in one single bowl. Another distinct feature of Pica de Gallo is the consistency: it's more watery than regular Salsa.
A simple mix of Pico de Gallo includes diced tomatoes, Jalapeno, and onion. Typically, the mixture is well-tossed with lime juice and cilantro to balance the flavor. As you may expect from a close relative of Salsa, the Pico de Gallo is great for any Tortilla chip or Mexican dish.
Total time: 55 minutes.
Sopes are a specialty of southern and central Mexican cuisine, and many Mexican inhabitants sometimes refer to the dish as "Pellizcadas". Standard Sopes have thick fried corn dough as the base, which people often place various toppings over it.
In many regions, vendors sell Sopes as a tasty Mexican snack. As for the topping, common ingredients are refried beans, cheese, and meat of any kind. In addition, you need to feature Salsa sauce to highlight that Mexican flavor is your Sopes.
Total time: 1 hour 46 minutes – 2 hours.
The name refried bean can sometimes be misleading because the dish only requires frying the bean once. This Mexican staple dish has a creamy texture with a slightly sweet and earthy flavor from the beans. Each area in Mexico uses different types of beans to make refried beans.
For a traditional approach, my advice is to use Pinto beans, but you can also have red beans as an alternative option. People cook the beans for a long time before mashing them into a viscous mixture with onion.
When the bean mixture is soft enough, pour it into a hot oil skillet to fry. A friendly reminder, you will need to constantly mash the bean during the frying process for the best result. Refried beans are outstanding to serve with Tortilla chips or spread over Tacos.
Stop wasting your beans and make this delicious refried bean for your next.
Total time: 35 – 45 minutes.
Traditional Chilaquiles is a classic Mexican breakfast recipe that involves simmering Tortilla chips in Salsa sauce. Commonly, the dish has two colors: green (Verde) and red (Rojo), both of which utilize Salsa for their colors.
In this recipe, most locals employ corn Tortilla chips for combining the flavor with Salsa. The dish gets its red color from Salsa or tomatoes. For toppings, you must have Queso Fresco (Mexican cheese) not just for the added creaminess but also for the traditional taste.
Total time: 15 – 20 minutes.
Mollete is a common Spanish dish in which locals put a variety of toppings over an open-faced sandwich. In Mexican cuisine, the dish is a specialty of Mexico City where residents often use Bolillos (Mexican savory bread) as the base for the sandwich.
People usually hollow out the inside of the Bolillos to make room for the bean and cheese fillings. Commonly, you will use refried beans to spread over the bread. To make this unique Mexican bread more fragrant, you should lightly toast the bread and spread a bit of butter over the surface.
Total time: 10 – 30 minutes.
Mexican cuisine will never leave you disappointed with spicy dishes, Camarones a la Diabla is a stand-out example of that. Commonly, you will encounter this dish at restaurants near the coastal areas of Mexico.
To make the dish, locals tend to simmer shrimps in a spicy and delicious sauce concoction. The spiciness of the sauce comes from a mixture of Guajillo and Arbol (bird's beak chili) along with the tomato sauce to create a beautiful red color.
You need to sauteé the shrimp first before adding the spicy sauce mixture. When the sauce becomes thickened, kill the heat and serve it immediately.
Recreate that spiciness of Camarones a la Diabla right in your house with this simple guide.
Total time: 4 hours 15 minutes – 6 hours 15 minutes.
Carnitas is a traditional Mexican dish that originates in the Michoacán state of the country. Cooking Carnitas can take some time to cook because the authentic recipes require simmering or braising the pork until it becomes fully tenderized.
Despite the extended cooking time, you can turn Carnitas into a simple Mexican crock pot recipe to make the cooking experience more enjoyable. I promise you don't have to lay a finger because the slow cooker will handle most of the cooking process.
The key to making Carnitas is in the meat. In this case, people favor pork shoulder because of the texture and flavor. Before adding any ingredients, make sure you rub the pork chunk with oregano and cumin. Commonly, locals use orange juice for cooking along with the pork meat.
The result you get is juicy and tender pieces of pork that make a perfect duo with Tacos. Don't forget to drizzle the Carnitas juice over the pork for extra flavor.
Total time: 25 minutes – 1 hour.
Corn soup is a staple dish for many native American tribes. The dish will surely impress anyone with a rich flavor of corn and beautiful golden color. Better yet, Mexican corn soup is super easy to make with simple ingredients.
You need a condiment mixture of chili powder to go with the vegetable broth for this flavorful Mexican recipe. Chicken stock is also a fine substitution as a broth. To create a creamy texture, many locals use heavy cream or a mixture of sour cream and Cojita cheese.
Remember, you should add the corn kernels to the soup after finishing preparing the broth. People consume Mexican corn soup with a variety of garnish like a lime wedge, cheese, or sliced Jalapeno.
Total time: 10 hours 30 minutes (With 8 hours of resting).
In Spanish, Tres Leches cake or Pan Tres Leches means "three milks cake". It's a type of sponge cake that locals often combine with evaporated milk, heavy cream, and condensed milk to create the Tres Leches. The earliest recipe for the cake appeared in the 19th century in Mexico.
Although people tend to submerge the cake in a milk mixture, the cake texture doesn't become soggy like other types of cakes. For the milk to seep into every corner of the cake, locals poke little holes all over the cake with forks or skewers.
Pan Tres Leches cake makes for a terrific Mexican dessert for your family. The whipped cream is a fine addition to the cake's final step of decoration.
Homemade Pan Tres Leches is never this simple with this instruction.
Total time: 35 – 40 minutes.
The Arroz con Leches has to be one of the most classic desserts in Mexican cuisine. Mexican locals create the dessert by combining milk with rice. Most often, Arroz con Leches has sprinkled cinnamon for garnish and to enhance the flavor.
A traditional Arroz con Leches recipe is easy to follow as any type of white rice will do the job. However, for this recipe, you need to be meticulous with the milk mixture since it's a combination of condensed milk with whole milk.
Arroz con Leches has a thick and creamy consistency, but the dessert's flavor depends heavily on the type of milk you use. For garnish, my suggestion is a stick of cinnamon to mix and gives extra flavor to Arroz con Leches.
Tell Me Which Mexican Recipe Is Your Best Pick?
As you see, Mexican cuisine offers various recipes with most ingredients available around you. Your next meal will surely be a blast with one of these Mexican dishes. Don't forget it's the simplicity of these Mexicans that keeps everyone coming back for more.
To wrap up this post, I hope you guys enjoy this ultimate compilation and find a perfect recipe for your meal. Please feel free to let me know your thoughts right in the comment section. Sharing this post with your friends and family is a great way to support my next writing.
Thank you!
Nutrition Facts
8 servings per container
---
Amount Per ServingCalories389
% Daily Value *
Total Fat 16.2g

25

%
Cholesterol 146mg

49

%
Sodium 424mg

18

%
Potassium 763mg

22

%
Total Carbohydrate 8.3g

3

%

Dietary Fiber 1.2g

5

%
Sugars 5.6g

Protein 49.2g

99

%
---
* The % Daily Value tells you how much a nutrient in a serving of food contributes to a daily diet. 2,000 calories a day is used for general nutrition advice.