If you wonder whether you can freeze some leftover tortillas from the party you gave yesterday, then this is the right article for you. Tortillas taste so lovely when they are fresh and warm, but at one point, you just need to stop eating, despite having some left.
While tortillas need the soft and fresh taste and feeling to make the meal really delicious and authentic, it is still possible to freeze them if you adhere to a few simple but critical aspects.
In this article, I will tell you which tortillas you can freeze and what is the best way to do it, and how to defrost them later so that you will get the best feeling of freshness and taste. Furthermore, get some good advice on how to store and freeze food in general.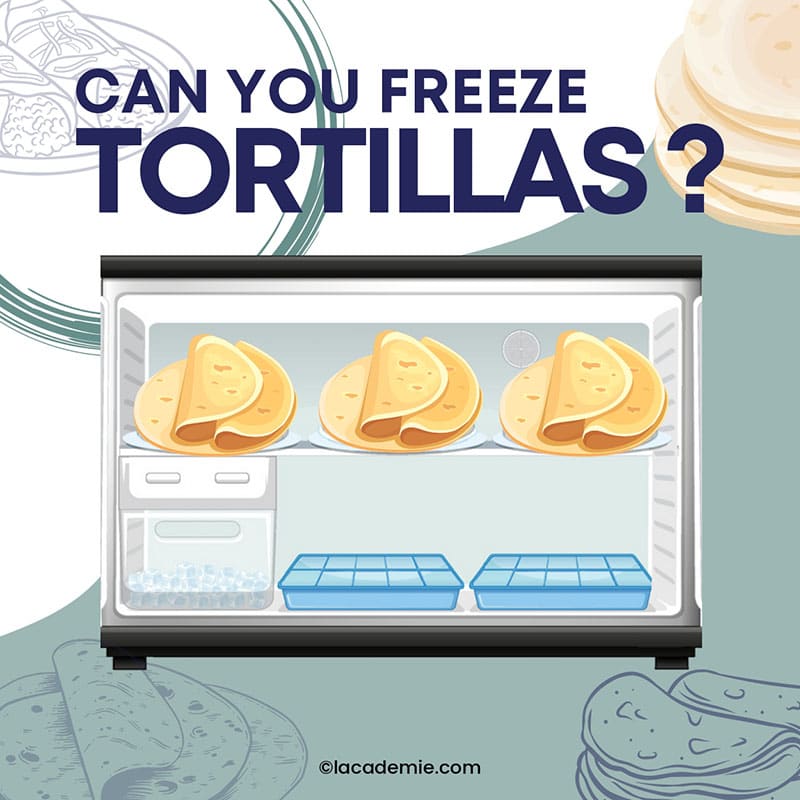 What Are Tortillas?
Tortillas look like skinny pancakes that are round and as large as normal dining plates. Being made from wheat and corn flour, tortillas have different styles with a significant, unique taste.
You'll find various ready-made tortilla chips in supermarkets; they are usually dry and will soften a little if they are heated up in the oven. Homemade tortillas are naturally soft, simply due to the fact that they are very fresh, supposing you managed to follow the recipe.
As tortillas are flexible to prepare dishes with, they have become trendy. They are most commonly eaten as "fajitas", a dish containing multiple ingredients. There are various dishes for you to enjoy with fajitas, like sauces, dips, or meat. Everyone can fill his/her own tortilla.
In addition, they are also known in the Enchiladas, which are filled already, and are served ready-to-eat in restaurants, often gratinated with cheese and accompanied with rice, beans, various dips, and guacamole.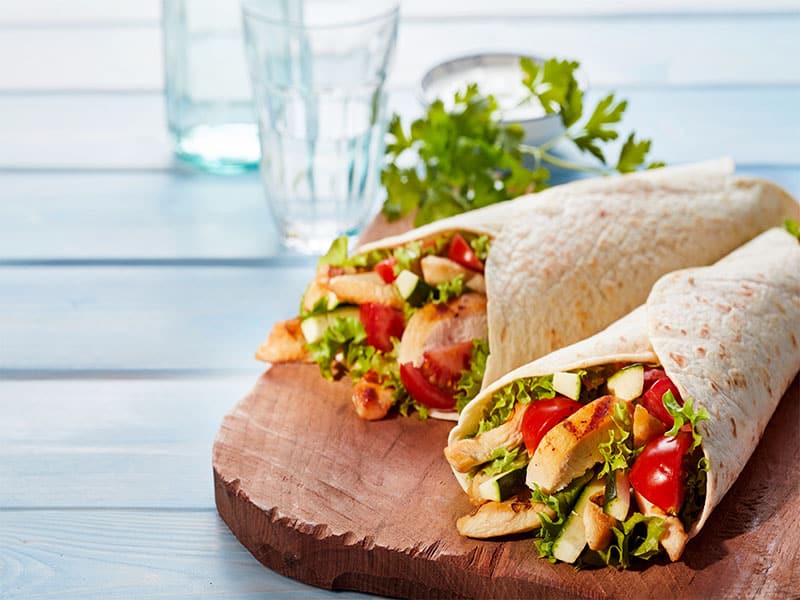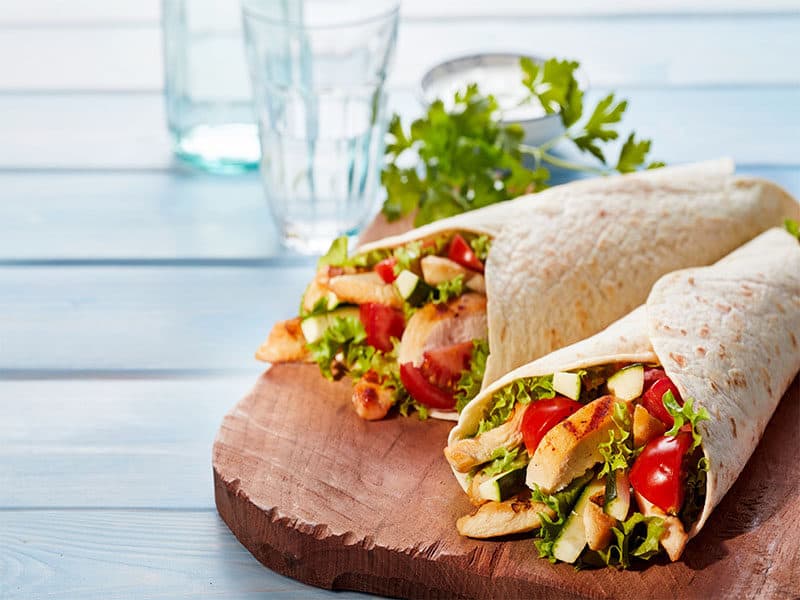 Can Tortillas Be Frozen?
In short, yes, it is absolutely possible to freeze tortillas. When you worry whether your tortillas can go wrong, the freezer will be safe for you. This way works even if you have made them by yourself at home or you have bought a pack in the supermarket!
However, it is essential that you are freezing them the right way, else you will not experience the full sense of freshness and taste later on. But no worry, I will explain to you step by step how to freeze tortillas the best way.
How To Freeze Tortillas The Best Way?
If you are curious how frozen tortillas will taste later, give it a try. Follow the steps below, and you and your guests will most likely not notice that you are using frozen tortillas.
Method 1: Freezing Homemade Tortillas
In this section, I will describe how you can freeze tortillas that you have made yourself at home.
What You Will Need:
Lockable box (as an alternative: freezing bags)
Labels
Step 1: Freeze As Early As You Can!
Once you have made all the tortilla sheets, freeze those you do not plan to eat within the next two days immediately. As they are fresh now, they will retain the current texture and consistency much better than when they are already dried out before you place them in the freezer.
Step 2: Let Them Cool Down First
If they are still hot, let them cool down first wholly. It can also help if you place them in the fridge. In the refrigerator, ingredients actually lose moisture which is excellent as fresh bakery items contain a lot of moisture, which will freeze to bothersome water crystals later.
Step 3: Find a Lockable Container
Next, it is crucial to find a good container that is freezer-friendly to store your tortillas while freezing. This may sound easier as it is, as due to the size and round shape of the thin pancakes, it can be challenging to have a box that meets these measurements.
Nevertheless, a container with an airtight lid is important as it will prevent the tortillas from moisture, frost, and the risk of drying out. In the event you cannot find a suitable box, then you can also use freezer bags. Those, however, should have a ziplock; if not, you really need to try your best to seal them as much as possible.
Step 4: Label The Box
As you are freezing homemade tortillas that do not contain any preservatives, you cannot keep them in the freezer for too long. To keep a better overview about how long they are there, stick a label outside and state on which day you baked them and froze them. Try consuming them within three to four months.
Step 5: Look for an Even, Balanced Space
Place the tortillas in your freezer. Make sure that they can lay flat and are not bouncing against other food items, as this will destroy their shape. Also, avoid placing other items on top of the tortillas as they will eventually break.
Step 6: Done
You are now done and can take out your tortillas whenever you are craving them.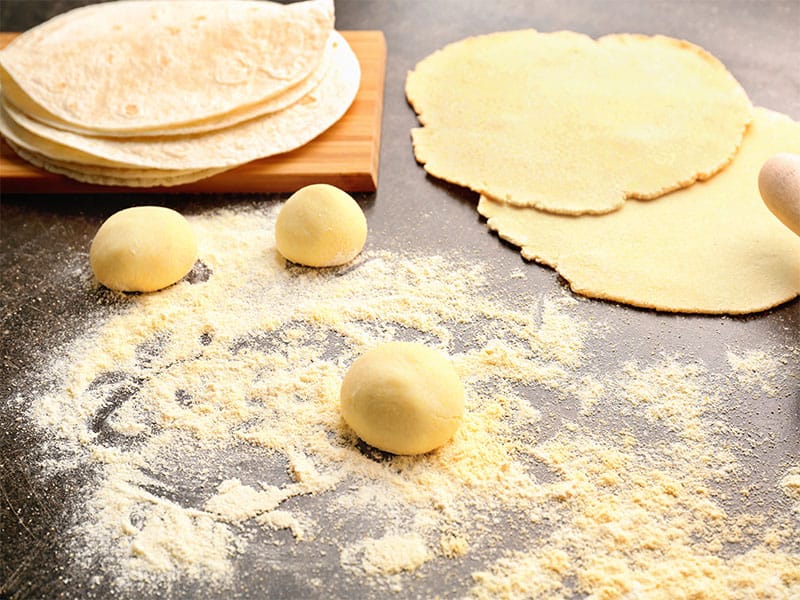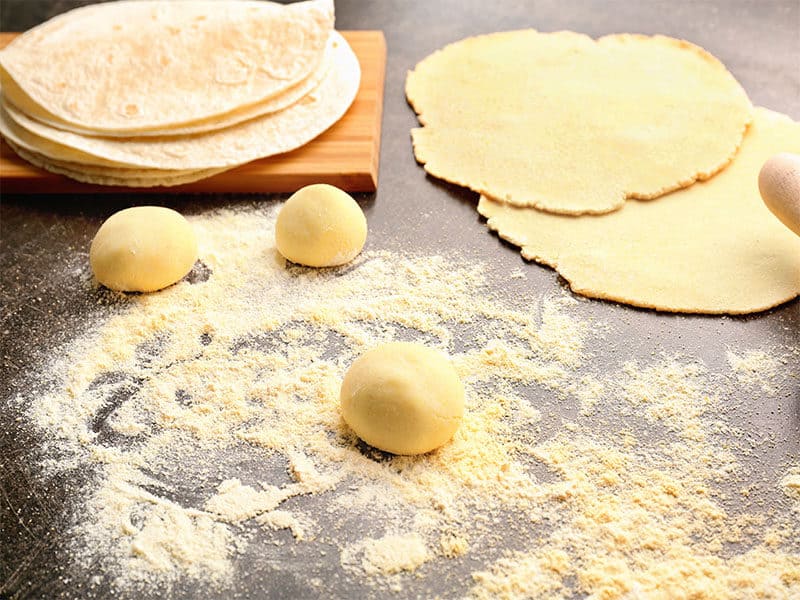 Method 2: Freezing Store-Bought Tortillas
While not too much different, this method below is the best way to freeze tortillas that you have purchased in a store and are industry-made. As they contain preservatives and other somewhat artificial ingredients, the freezing process is a little different.
What You Will Need:
Step 1: Divide Them Into Portions
Depending on how many tortilla sheets you have left, try to pack them in portion sizes convenient to you. Keep in mind that they will later stick together and are very difficult to tear apart. If you do not want to defrost all, pack them already in batches that match your needs later.
You may also place some divider sheets in between. This can be, for example, baking paper or layers of plastic foil, aluminum foil, or wax paper. This way, you can pack all tortillas in the same bag and still be able to separate them later, thawing only what you need.
Step 2: Pack Them Safely
As with homemade tortillas, you also should try to protect them from drying out. However, as the consistency is different to fresh tortilla sheets, freezer bags, or even plastic foil can already be enough to freeze them.
Step 3: Do not forget the labeling
As you have taken the tortillas out of the original packaging, there is hence no more description about what it is and how old it is. Therefore, stick a label on the outside of your freezer bag stating that you are freezing tortillas and the date you have frozen them.
Step 4: You Are Already Done!
That was it already, now check further down how to correctly defrost them later!
Watch this video to know more:
Defrosting Tortillas Again After Freezing
Once you have successfully frozen tortillas, the day will come where you want to use them again. Below you find a helpful guide on how to thaw them the right way so that you will keep all taste and shape.
Step 1: Take Only What You Need Now!
Maybe your mother was preaching that to you a lot of times already, but it is commonly known that one should not freeze in food again after it has been thawed. Therefore, make sure you take out only what you are planning to eat now or within the day.
Step 2: Carefully Separate
If you have not divided the tortillas into portions already or the servings are too large, you need to be very careful now. If you scratch or even break them, which happens very quickly when they are frozen, they become unusable for almost any type of dish.
If you need to separate them, try carefully cutting them apart wherever they started to stick together, using a thin knife. Cut slowly and with low pressure, as this causes the least damage.
Step 3: It Is Going Fast
As tortillas are relatively thin, thawing them takes only a couple of minutes. This is another reason why freezing them is a great idea as you can always take them out when you need them, and do not need to plan ahead, defrosting an evening ago as with other food items.
Place them on a plate at room temperature and turn them around after two minutes. If moisture has been created, wipe the plate dry in between.
Step 4: Heat Them Up
As with the ones you buy, you need to heat them up shortly to bring back the flexible shape. Heat your oven with 300 degrees F (150 degrees C), and place a cup or a bowl (oven-safe dish) filled with hot water into the oven, which will further help the tortillas to gain some moisture back and become softer.
When the oven is warm, lay the tortillas in. It is important to not stack them, so heat up one after another if you do not have enough space in the oven. If you have a BBQ, you can also heat it up on the BBQ for a few seconds, which will make it become very soft as well.
Alternatively, you can use a non-stick pan, but let the pan become hot first, and do not use any fat or oil.
Observe them all the time as the state from perfectly right quickly turns to get crispy, but you want them to stay soft. If you are afraid that they get brown, you can cover them with aluminum foil on the top.
Step 5: Use Them Immediately
As they have lost some of the moisture during the freezing and thawing process, they will not stay flexible as long as when they had been fresh. This is why you must use them rather immediately. If the dinner delays, try to keep them warm and humid, such as in a tortilla warmer.
Step 6: Bon Appetite
As already mentioned, enjoy them while they are warm and have a happy and tasty fajita or burrito party.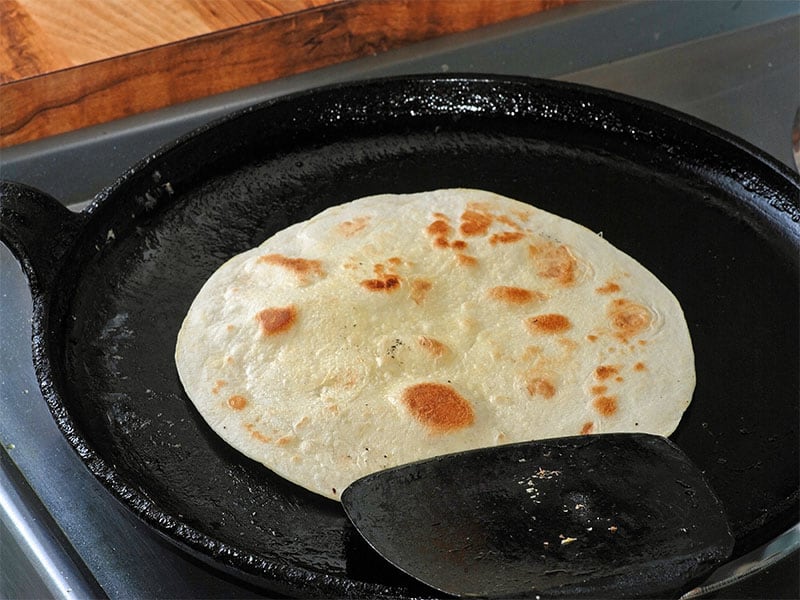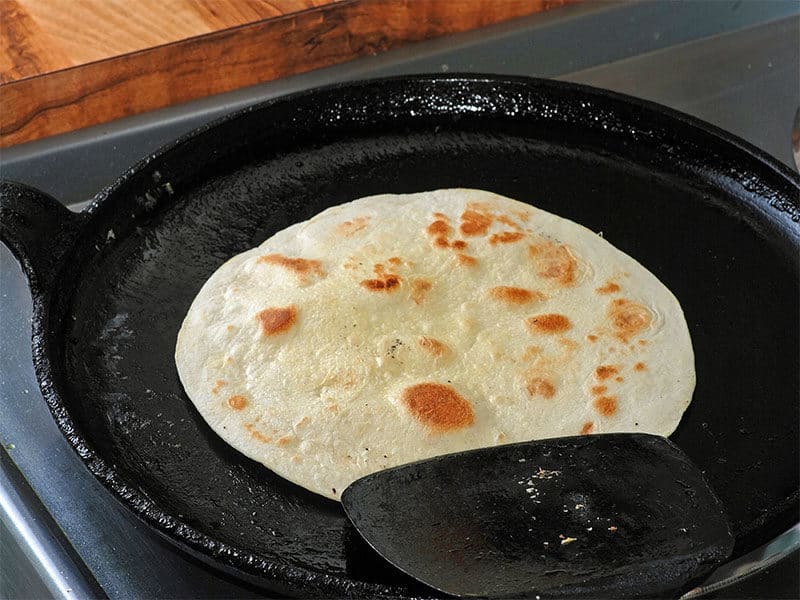 FAQs Regarding Freezing Tortillas
Apart from the step-by-step guide above on whether and how you can freeze tortillas, you can check out frequently asked questions from many people if you still are unsure about some aspects.
General Shelf Life Of Fresh And Frozen Tortillas
Whenever you are wondering how long you can keep tortillas, you will find it out exactly here below:
Homemade Tortillas
In general, homemade tortillas cannot make it too long. The raw dough should be processed into the thin cakes quickly and then baked, but you can prepare the dough a day before you need it.
Once the tortillas are baked, you can store them for about three days if you keep them in an airtight container. With the wheat dough, moisture is the biggest problem and leads to the quick growth of fungus, so find a dry and dark place.
Store-Bought Tortillas
Tortillas you buy ready to eat in the store or supermarket can usually be kept much longer. Make sure you store them out of sunlight and preferably in a cool place, but not in the refrigerator.
An unopened package can thereby be stored for a couple of weeks, sometimes even months, depending on how fresh the package was in the market and what the expiry date says. Once the package is opened, you should consume the tortillas within three days.
As however, most of the manufactured ones contain preservatives; you can store them for about one to two weeks if you place them in an airtight container.
Expectation Vs. Reality
To be honest, freezing tortillas and even thawing is not really a difficult thing, and you will quickly get used to it. If, for some reason, your frozen tortillas do not taste as well as you expected, or did not become soft, then this can happen as every freezer and oven is different.
Just keep experimenting a little such as using different containers or a new brand of freezer bags. When thawing, try to use boiling water, for example, when laying the tortillas in the oven, as this will increase the humidity.
Whether or not you are successful, I am happy to read how it worked out for you; maybe you even have some more suggestions for other readers. So, please leave me a comment below.