The world of Mexican food, especially tacos, is abundant with many types of tacos. Some are very famous; some might not. By reading this post, you will have a closer and more comprehensive look at the world of tacos in Mexican cuisine.
Indeed, they are abundant, especially in terms of ingredients and recipes. But overall, a taco is a perfect mixture of fresh ingredients like vegetables, meat, beans, etc., to provide you with a delightful dish packed with tons of flavors.
Alright! It is time to dig into this post and explore more about this world-renowned food.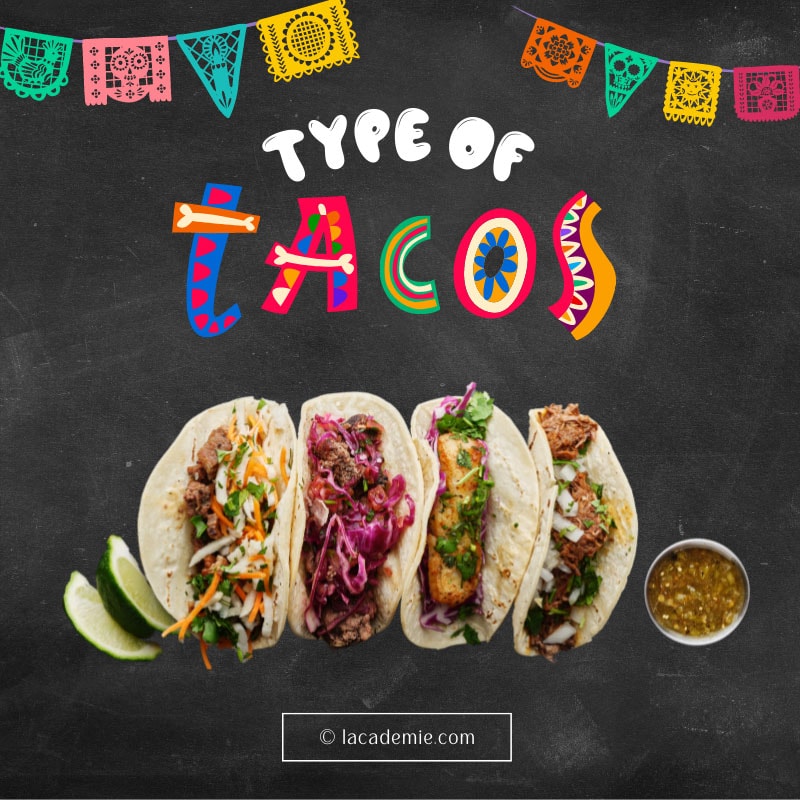 Tacos 101 – The Overview Of Mexican Delicacy
Tacos will never be boring dishes because the diversity in taco varieties is exceptional. The base of tacos is tortillas – a type of small flatbread that plays an essential role in Mexican foods.
There are several tortilla styles, and the most-used type in tacos is corn or wheat flour tortillas that can be either hard or soft.
However, what leaves the biggest impression in diners' minds must be the filling of tacos. It contains various ingredients, which can be meat, seafood, and garnished with fresh vegetables, sauce, cheese, or other items.
Hence, it is safe to say that the flavor of tacos can make your taste bud dance. Tacos are not so hard to find with their immense popularity in various countries.
If you have not tried tacos before or are still hesitant to experience these Mexican specialties, this post might change your mind with 29 fantastic tacos styles that will surely amaze you with their goodness.
16 Hearty Tacos Made From Various Kind Of Meat
Tacos with meat-based fillings are the typical styles you can easily find in most restaurants, especially those in Mexico. In this section, I also classify them into separate groups involving different types of meat, for example, pork, beef, or others.
What Are Pork-Based Tacos?
If tortilla and pork are your favorites, let's combine them to prepare yummy tacos. Here are 6 classic styles of tacos that use pork filling.
Pork-based Tacos
General Information
Basic Toppings
Al Pastor
A spit-grilled pork taco with a smoky hint and light sweetness from pineapple
Slow-cooked on a vertical rotisserie
Salsa, grilled pineapple, diced onion, and chopped cilantro
Arabes
Also a spit-roasted pork taco without the coloring agent (the filling does not have an orange hue Al Pastor tacos)
Spicy salsa, lime juice, cilantro, and diced onion
Chicharrón
Made with fried pork skin or pork belly, which is crispy and puffy
Avocado, cabbage, cilantro, and lime juice
Chorizo
Use chili pepper to season the fresh ground pork (for filling)
Cook until crispy
Salsa, crunchy onions, and cilantro
Carnitas
Braised (or simmered) pork in oil or lard for a long time at low heat to have a juicy and melt-in-your-mouth meat filling
Salsa, refried beans, chopped cilantro, and onion
Cochinita Pibil
Traditionally use suckling pigs but some versions use pork loin or shoulder part
The marinade heavily uses acidic juice from citrus fruit
The meat filling has a vibrant orange color (deriving from annatto seeds)
Pickled red onions and/or flavorful salsa.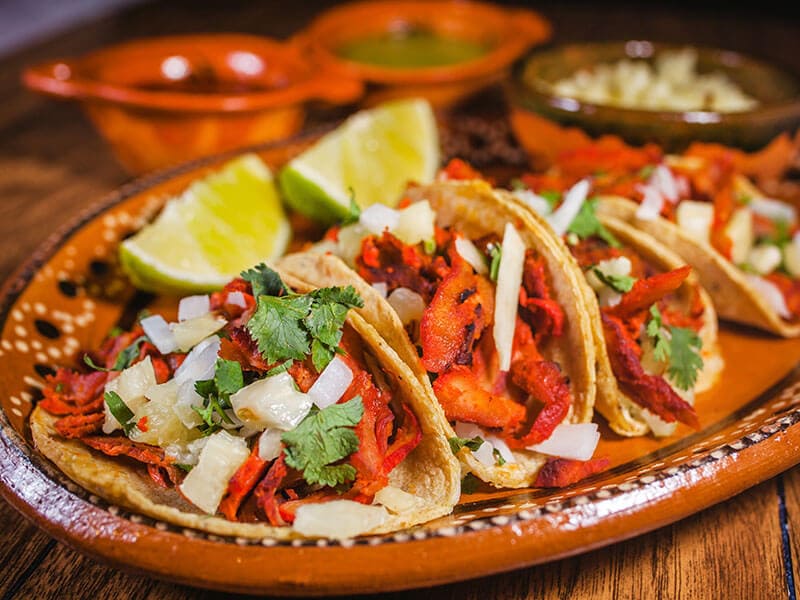 The main star in Al Pastor (aka Tacos Al Pastor or Shepherd's taco) is spit-grilled pork inspired by lamb shawarma that Lebanese immigrants in Mexico have introduced.
Moreover, Al Pastor is one of the most well-liked street food in Mexico. No wonder why many people claim this is the king of tacos. This is also Americans' favorite taco variety that you can order in many authentic Mexican restaurants in the USA.
So what makes it so well-loved? Before spit-grilling with a big skewer, people will marinate the pork meat with various spices, chilies, and pineapple juice, then slow cook it directly on a vertical rotisserie using gas or charcoal flame.
During the cooking, pork fat drips out across the meat surface, making the pork crisper when cooked. Once the outer layer is ready, people will cut it into slices with a sharp knife, then serve the pork with corn tortilla.
Of course, Al pastor is incomplete without the top of salsa, grilled pineapple, diced onion, and chopped cilantro. In short, this taco offers a smoky flavor with some light sweetness from pineapple along with the soft and well-seasoned meat, making it an irresistible food to enjoy.
This documentary about making Al pastor can make your mouth water.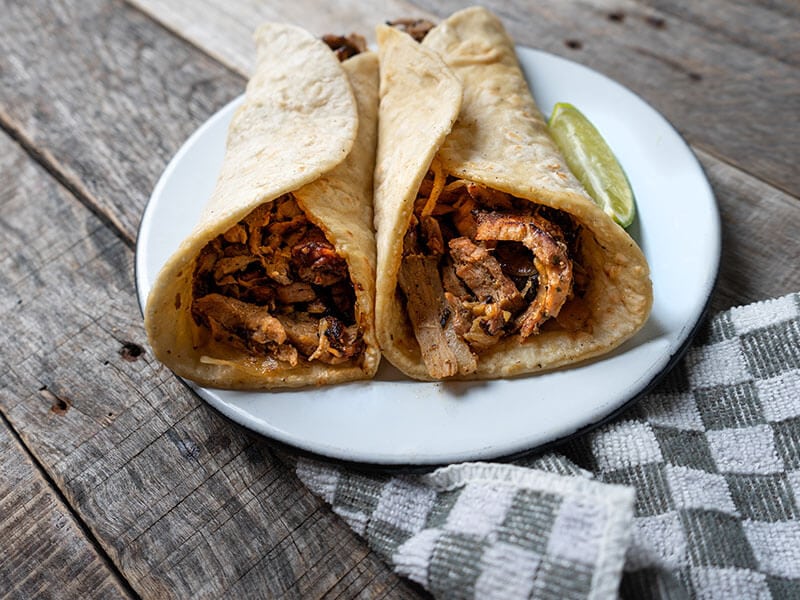 Arabes-style tacos are pork shawarma tacos deriving from Puebla city in Mexico. And as a type of shawarma, this one is also a spit-roasted dish served in thin slices.
Despite the name "Arab" tacos, it is not an Arab-origin one. In fact, the true root of tacos Arabes is quite blurry, but according to food research, the Middle Eastern immigrants brought this specialty to Puebla around (or after) the First World War.
The key difference between Arabes and Al Pastor is the coloring ingredient. Arabes has no coloring agent, so the meat filling does not have an orange hue like those in Al Pastor.
Of course, the beauty in Arabes is the marinade. Herbs and spices are essential components in this case. After the meat is done, you can assemble the tacos with flour tortillas. The ideal complements of Arabes are spicy salsa, a little lime juice, cilantro, and diced onion.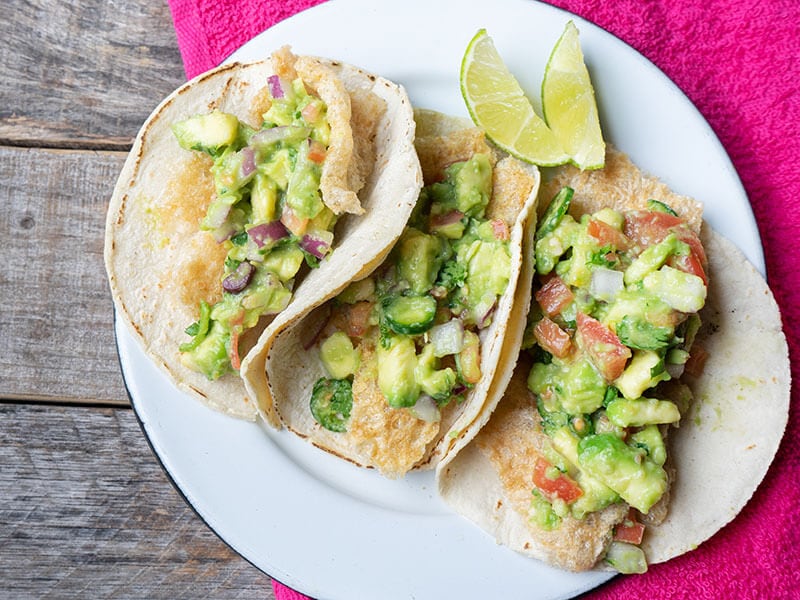 If you have a huge love for Spanish cuisine, Chicharrón might not be a strange term. It is a dish typically made with fried pork skin or pork belly. You can make it yourself or use a store-bought one in several groceries, especially Mexican-style stores.
Chicharrón itself is a common snack loaded with flavors. It is crispy and looks quite puffy, and one of the most popular ways to consume Chicharrón is with the taco in Mexico. In reality, Chicharrón can also act as taco topping in some cases.
Serve your taco with avocado, cabbage, cilantro, and squeezed lime juice for the best result. Additionally, this taco variation is relatively versatile as you can enjoy it as an appetizer, snack, or main dish.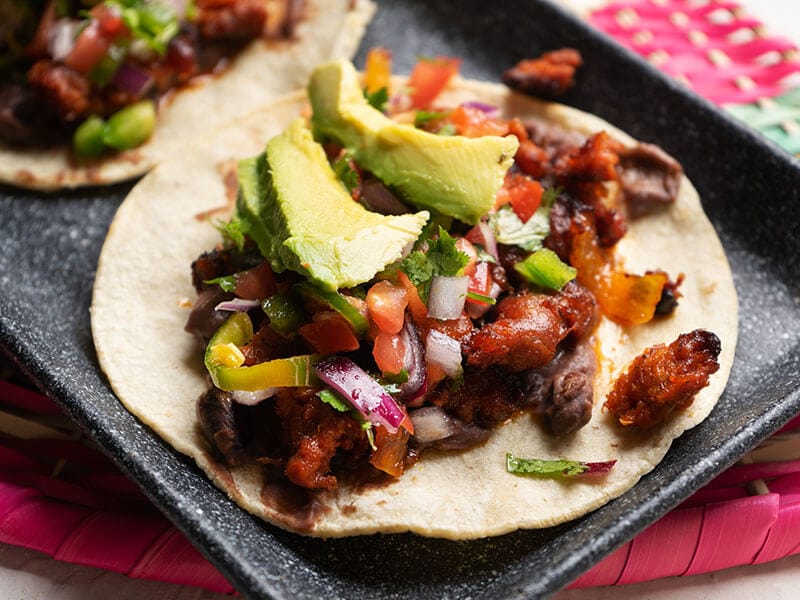 There is a considerable difference between Spanish Chorizo and Mexican Chorizo. While the Spanish version comes with cured pork, the Mexican style comprises fresh ground pork.
Though this style of taco might not be as juicy as you expect (due to the ground meat), it is still a delicacy you cannot help but devour after the first bite. So if you have leftovers, please learn some tricks to reheat tacos so it will not compromise any deliciousness.
The fresh ground pork is well-seasoned with chili pepper and cooked until crispy. To enhance the flavor kicking, it is terrific to sprinkle a bit of salsa, crunchy onions, or cilantro on the top of your food.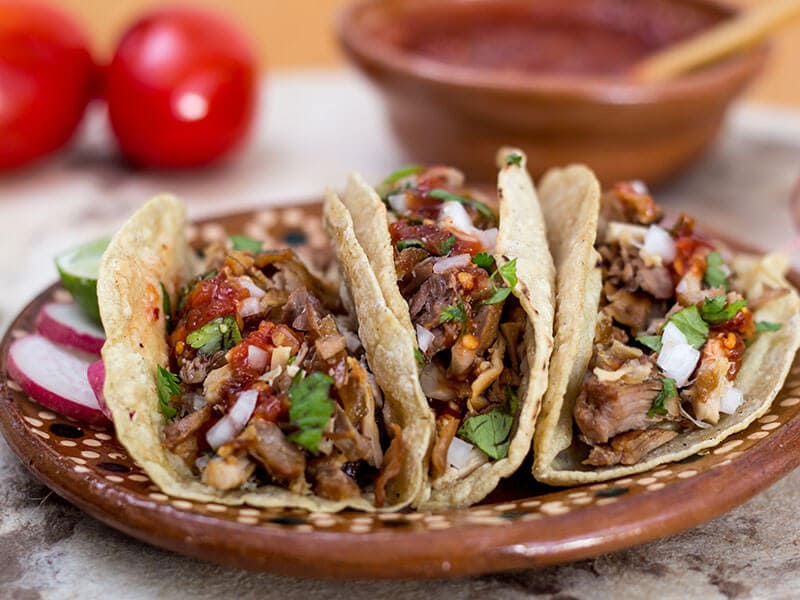 It is hard not to love Carnitas tacos since it comprises incredibly juicy and melt-in-your-mouth meat filling. How come the meat can be soft like this? Carnitas are braised (or simmered) pork-based dishes which require a certain time (3 to 4 hours) to cook in lard or oil.
For more specific, people will cover the dish with an appropriate amount of lard (based on the meat amount) first. After the lard melts, they add seasonings and pork, then cook at very low heat until the pork is tender.
At this stage, all the meat collagen has broken down, so people can easily shred it with a fork or hand. Besides serving Carnitas in tacos, tamales, burritos, or tortas is also ideal. If you want to add flavors and textures to your tacos, salsa, chopped cilantro, onion, or refried beans are preferable.
Speaking a bit about its origin, Carnitas originates from Michoacán state in Mexico. So if you have a chance to visit here, it is not too hard to spot these carnitas tacos from the street vendors or in restaurants.
Do not miss any chance to try Carnitas tacos. Otherwise, you will regret it later.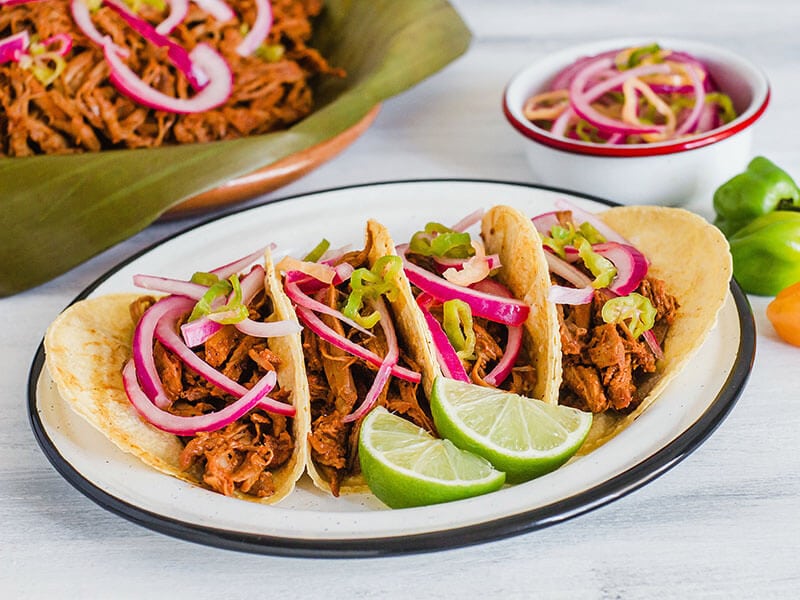 In Mexican, cochinita refers to immature pigs, and the traditional Cochinita Pibil uses the suckling pigs (from 2 to 6 weeks old). However, you can use pork loin or shoulder part to make this taco filling more convenient.
Cochinita Pibil is an iconic dish in Yucatán Peninsula cuisine (southeastern Mexico) with a special preparation. Traditionally, the marinate is an essential part of deciding the tastiness of this food. It heavily uses acidic juice from citrus fruit (like bitter oranges, limes, or lemons).
Due to the high acidic level and the slow-cooking method, the meat will come out tender, no matter how tough they are at the beginning. The meat also has a vibrant orange color as people cook it with annatto seeds (a red-orange condiment from the achiote tree).
For perfect Cochinita Pibil tacos, you should enjoy them with pickled red onions or flavorful salsa.
Hearty Taco Varieties Made With Beef
Next to pork, beef is also a widely-used component for taco fillings. Here are some typical examples under this circumstance that offer you more options for simple Mexican-based dishes. Keep scrolling down and see!
Tacos Comprising Beef
General Information
Basic Toppings
Suadero
Use thin cuts of beef or pork (brisket or flank steak) and fry or confit it in lard
Inexpensive street food
Fresh onion, cilantro, and lime juice
Campechano
Combine several kinds of meat (traditionally including beef slices and spicy pork sausage)
Have spicy and savory taste paired with crunchy tortilla shells
Raw vegetables, radishes, sour cream, guacamole, cheese, or other items
Cecina
Use salted and dried meat that can be either beef or pork
Ideal for serving with hot corn/flour tortillas with a smoky undertone
Salsa, lime, and raw veggies
Bistec
Made with low-cost beef cuts that need to be marinated before cooking
Take a little time to cook
Raw chopped onion and cilantro
Carne Asada
Grilled beef (sirloin or tenderloin) is a primary component with a smoky scent
Should cut beet cut into small-sized before assembling tacos
Red, green salad, sour cream, guacamole, chopped onion, etc.
Arrachera
Comprise thinly sliced and seasoned skirt steak (which is also one of the most expensive parts of beef)
Do not cook it for a long time
Fresh lime juice, salsa, spring onion, cilantro, or more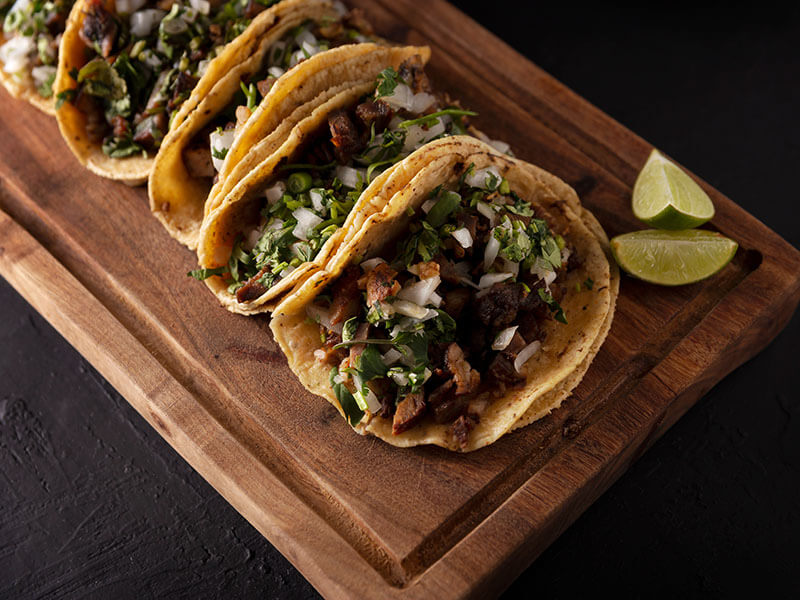 Suadero refers to the thin cut of beef or pork, which generally runs from the belly and the leg. However, those made from beef seem to be more prominent than other meat. The ideal cut for making Suadero can be brisket or flank steak.
The standard cooking method to prepare this delicacy is fried or confited in lard, and people usually enjoy it with corn tortilla. In Mexico, Suadero is one of the most famous street foods because of its inexpensive price and tastiness.
The top place to enjoy these tacos is in Mexico City, and they are a well-loved treat for locals to enjoy late at night. Be sure to garnish it with fresh onion, cilantro, and lime juice.
Rich, soft, and a bit greasy; no wonder why Suadero is so appealing.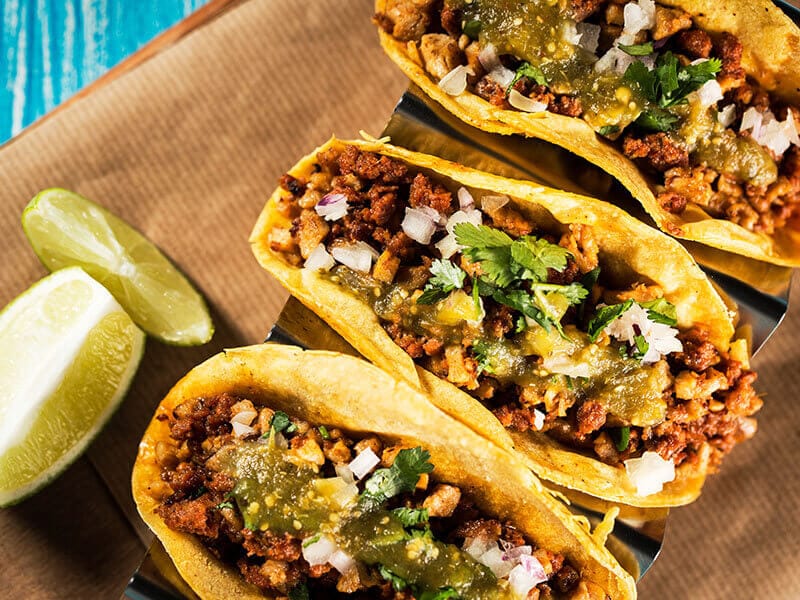 Campechano is the mixture of several kinds of meat which traditionally include beef slices and spicy pork sausage. However, some versions might come with more than 2 ingredients, for example, crispy chicharrónes (pork rinds) beside 2 main components.
Speaking of its root, this street taco originates from Campeche state, where Campechano makes an enormous gastronomic contribution to the state cuisine. So if you want to enjoy the authentic Campechano tacos, you must try them there.
You can also spot this specialty in Mexico city or other regions in the country. In short, spicy, savory, and crunchy, all packaged together in a bite of Campechano.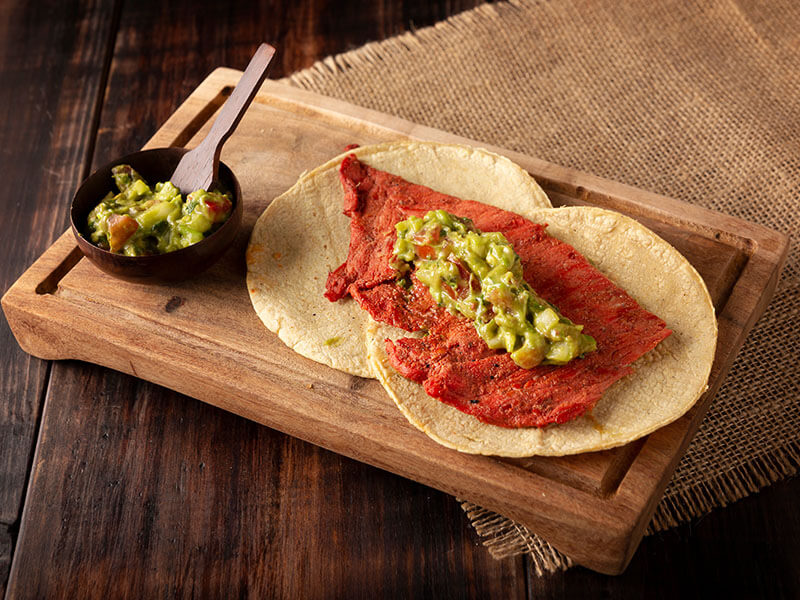 Cecina, in Spanish and Mexican, refers to salted and dried meat. In reality, Cecina can either use beef or pork in Mexico. Nevertheless, different meat requires different methods to prepare.
For the beef, the natives will salt and marinate, then dry them under the sun. You can consume it uncooked. In contrast, Cecina made from pork must undergo a cooking process before eating it.
Regardless of what meat type, adding Cecina to your hot corn/flour tortillas never gets old. A bit of smoky undertone with a robust hint of seasonings, Cecina tacos are hard not to love.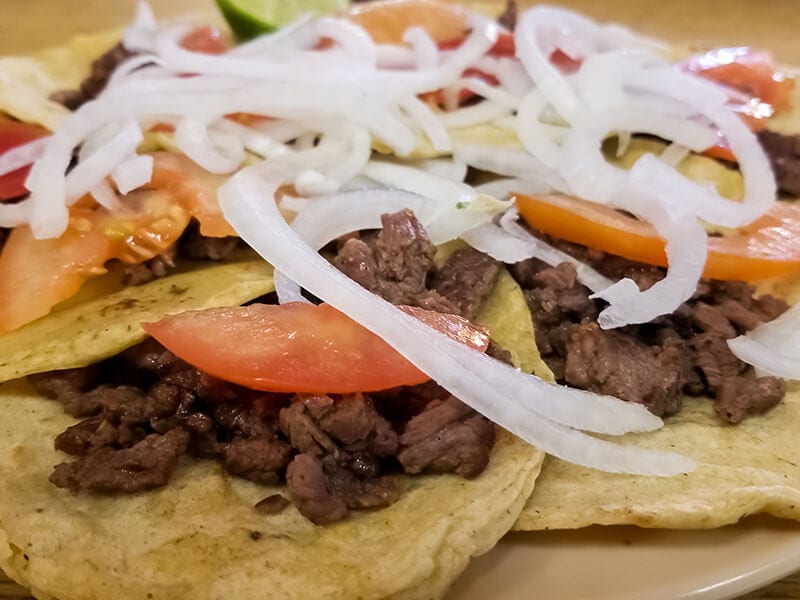 For 100% beef-based tacos, Bistec, Carne Asada, and Arrachera are 3 classic names to save in your list. Let's start with Bistec!
Compared to the other two, Bistec is the most basic and less expensive so you can buy it from almost street vendor in the country. Indeed, the main component here is low-cost cuts of beef that will be marinated before cooking.
It does not take too much time to cook either. But please ensure you marinate the meat ahead of time so the flavor can blend well. Finally, consume it with some raw chopped onion and cilantro.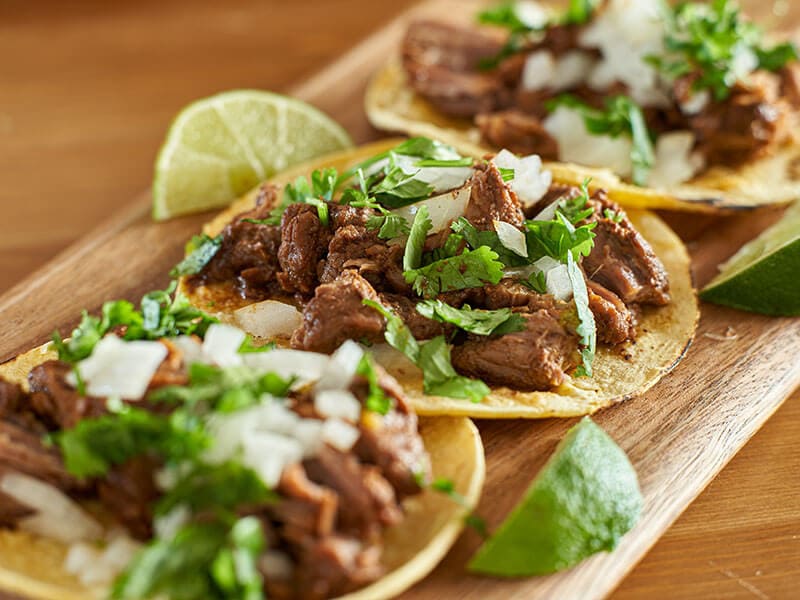 Another steak taco in this part is Carne Asada. Many non-local consumers find it hard to differentiate between this taco style and Bistec, but there is a major factor to tell them apart.
Carne Asada is grilled beef (typically sirloin or tenderloin) that uses hot charcoal to cook. So when it comes to the signature flavor of the Carne Asada taco, the smokiness in the meat is robust, along with other tastes deriving from marinating.
You can enjoy Carne Asada alone, but it would be better to stuff these small-sized meat cuts into tortilla shells. For the best experience, you should try these delicacies in the Northern part of the country.
If you are throwing a Mexican-themed party this weekend, try to impress your guests with these Carne Asada tacos.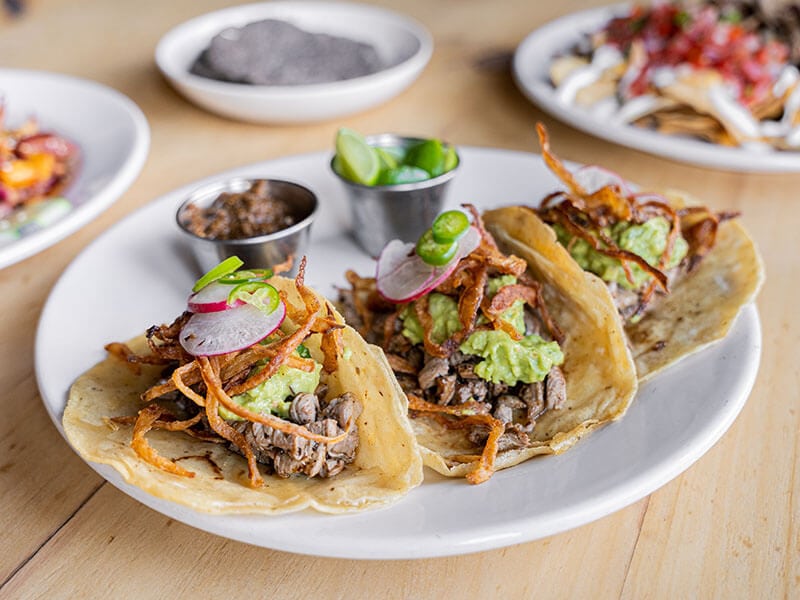 The last beef-based type is Arrachera. These tacos comprise thinly sliced and seasoned skirt steak, making it different from the above taco variety. For your information, skirt steak is a long, thin meat strip that also is the second most expensive cut of beef.
Therefore, Arrachera is mostly found in restaurants, especially those in Northern Mexico, where they produce the highest-quality beef cuts. But you can still spot them in other places like Guadalajara or Mexico City.
If you want to prepare it yourself, you should marinate the meat at a particular time. The longer it takes, the more flavorful the skirt steak is. However, do not cook them for an extended period as it might result in tough meat. In this instance, Arrachera is best as a grilled dish.
Other Meat-Style Tacos That Worth A Shot
There are other taco types that require other meat, such as chicken, goat, lamb, etc. So what are they? The following part will tell you.
Tacos With Other Meat
General Information
Basic Toppings
Birria
Origin: Jalisco state
Include slow-cooking goat stew (there are other meat like beef, chicken, or lamb outside Jalisco)
Finely chopped cilantro, onion, and fresh-squeezed lime
Tinga
Contain well-seasoned and juicy chicken (shredded) with smoky chipotle, tomato, onion, and more
Cheese, lime, cilantro, onion, etc.
Dorados
Are fried tacos filled with different meat kinds, then rolled tightly
Deep-fried tacos, resulting in crispy texture and attractive golden appearance
Sour cream, cheese, chopped lettuce, or salsa sauce
Barbacoa
Refer to slow-roasting meat over an open fire flame or cooked in the pit (traditionally use whole goat or sheep)
Avocado, sauce, vinegar, shredded cheese, sour cream, or other items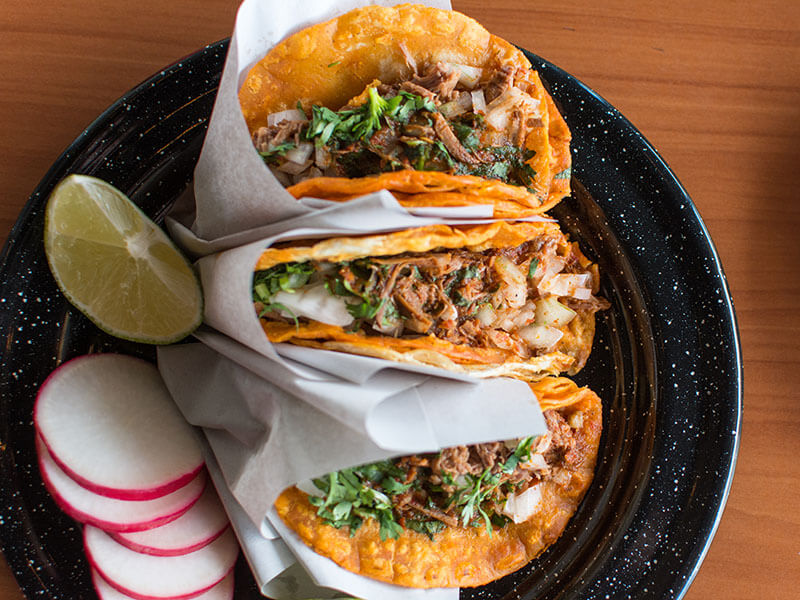 The origin of Birria is from Jalisco state (in western Mexico). Traditional Birria is a goat stew – a flavorsome food for Christmas in Mexico. However, you can find some variations cooked with beef, chicken, or lamb outside Jalisco.
Generally, this is a slow-cooking stew cooked in a pot (called olla). As a result, the goat meat is so soft, making it suitable to serve as a taco filling. Plus, it is not too hard to buy them at restaurants or street vendors across the country, especially in Jalisco and Michoacan.
Before cooking the meat, the meat must be marinated well so it can come out flavorful. With dried chilies, cloves, cumin, etc., you can feel the light spiciness in this food. Of course, serving your tacos with cilantro, onion, and fresh-squeezed lime is a must.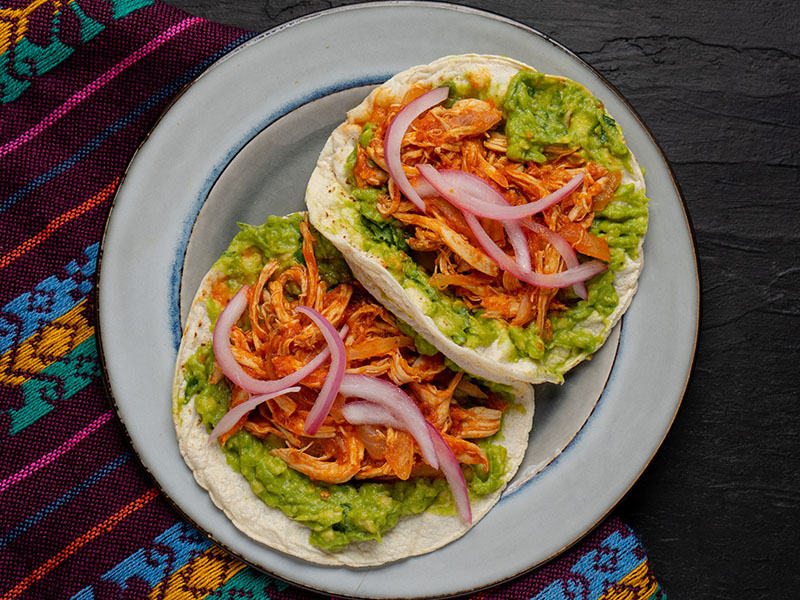 Tinga tacos highlight the appearance of well-seasoned and juicy chicken in every mouthful. Furthermore, the addition of smoky chipotle, tomato, onion, and other components, will surely enhance the overall flavor of these delicacies.
Spicy, savory, and hearty without asking for too much effort, Tinga tacos are such a good idea for the home cooks. In case you want to experience the best Tinga in Mexico, you should go to Puebla state.
Plus, as "tinga" literally means "torn", chicken meat must be shredded before combining with other ingredients.
Let's immerse yourself in these chicken Tinga tacos. It will never be enough.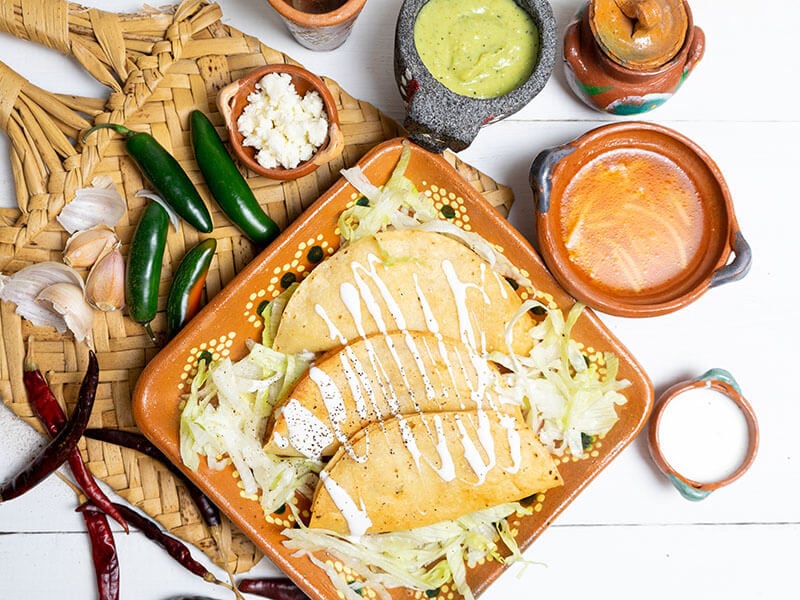 Tacos Dorados, actually, does not refer to meat-style tacos. Instead, this is a type of fried taco filled with different meat kinds (beef, barbacoa, or chicken), then rolled tightly that make it look like a cigar.
Therefore, the most recognized trait of Dorados tacos is their crispy texture with a very attractive golden appearance due to the deep-frying method. But please be sure that you roll them tightly so the filling cannot leak out during the cooking.
You can secure your rolled tacos with a toothpick if you want, but as long as you roll your food carefully, you can skip the toothpick part. Garnishing it with sour cream, cheese, chopped lettuce, or salsa sauce is indispensable.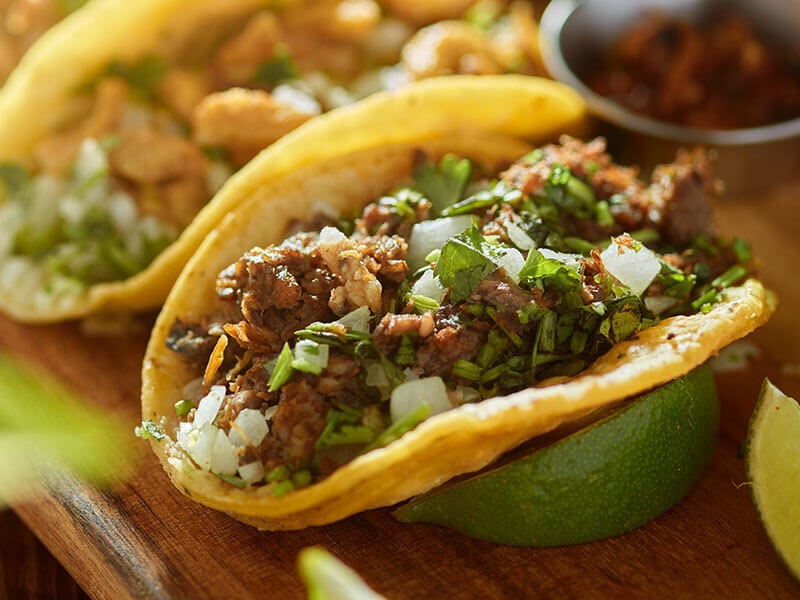 Similar to Dorados, Barbacoa itself indicates a cooking style, which is slow-roasting meat over an open fire flame or cooked in the pit. The traditional meat used in Barbacoa is a whole goat or sheep, but some versions might come with other kinds of meat, depending on the location.
As Barbacoa requires a special cooking method and a long time to cook, these tacos are usually for big parties or events. But if you travel to Mexico City, Barbacoa seems to be an iconic treat on Sunday.
Obviously, Barbacoa can be a scrumptious taco (or burrito) filling. If you prefer a homemade one, you can use your crockpot to make it.
Other Taco Variations Comprising Different Ingredients
The diversity in taco filling is impressive because humans' creativity is unlimited. Indeed, the plain taste of tortillas goes well with other food items, regardless if they are plant-based or non-vegan ingredients. There are also various side orders to pair with tacos to try out.
With the below parts, you can open your mind to other types of tacos containing seafood or other unique components. And you will be stunned by how amazing they are.
Seafood Tacos – The Awesome Combination Of Tortillas And Ocean Creatures
The variety of seafood tacos is not as many as meat tacos. However, they still deserve a try because these dishes are equally delicious as those with meat. Check the 4 tacos below for more details.
Tacos With Seafood
General Information
Basic Toppings
Pescado
Origin: Baja California
Mostly use battered and fried fish
Sour cream, salsa, and shredded veggies
Cazon
Contain dogfish shark (has a mildly sweet flavor and is quite flaky yet firm)
Lettuce, salsa, or sauce
Camaron
Shrimp tacos
Will not take too much time to prepare
Chopped vegetables, queso salsa, avocado, cilantro, or sour cream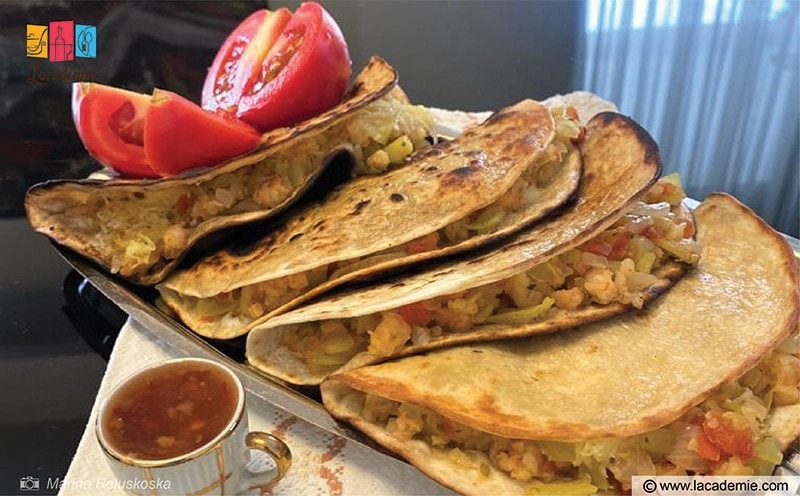 Gobernador taco (also known as governor's taco) is a delicacy from Mazatlan, Sinaloa, Mexico. People believe the original Gobernador was made for the governor of Sinaloa, hence the name.
The main protein in these tacos is shrimp, accompanied by vegetables and melted cheese. Some of you might think seafood is not ideal to pair with cheese, but this type of taco proves the contrary.
For the best meal with them, you can enjoy tacos with salad, salsa verde, white rice, or a cup of cold beer.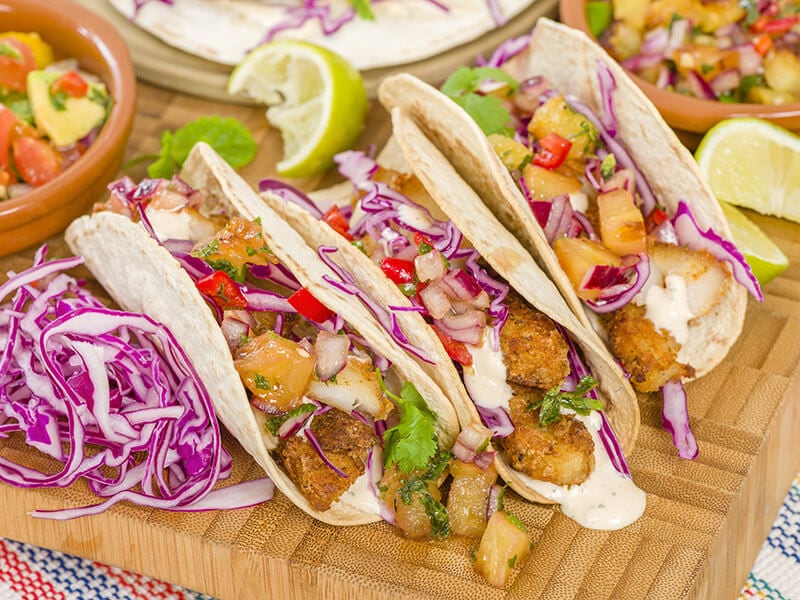 The best places to try tacos de Pescado or fish tacos are in coastal areas in Mexico. The birthplace of Pescado tacos is Baja California, which also has a long coastline and many beautiful islands on the sides.
Different places might have distinctive ways of preparing Pescado, but many of them use battered and fried fish. This is also the authentic style of fish taco served in Baja California.
The typical fish species in Pescado is white fish, for example, cod, halibut, snapper, etc. After frying (or grilling), people fill these flaky filets in tortilla shells and top them with sour cream, salsa, and shredded veggies (like cabbage or lettuce).
Speaking of Mexican-origin casserole, Pan de Cazon is a famous dish using dogfish shark as the primary ingredient. Therefore, tacos de Cazon's main star is also the same as the casserole's.
In reality, the term "cazon" refers to "dogfish" as well. This fish species fall under the shark family and has a mild sweetness flavor. Dogfish meat texture is quite flaky yet firm, making it another excellent item to go with tacos.
You can quickly spot them at fish markets in Mexico. And if you want to taste the authentic version of tacos de Cazon, let's travel to Yucatan Peninsula or Veracruz state in this country.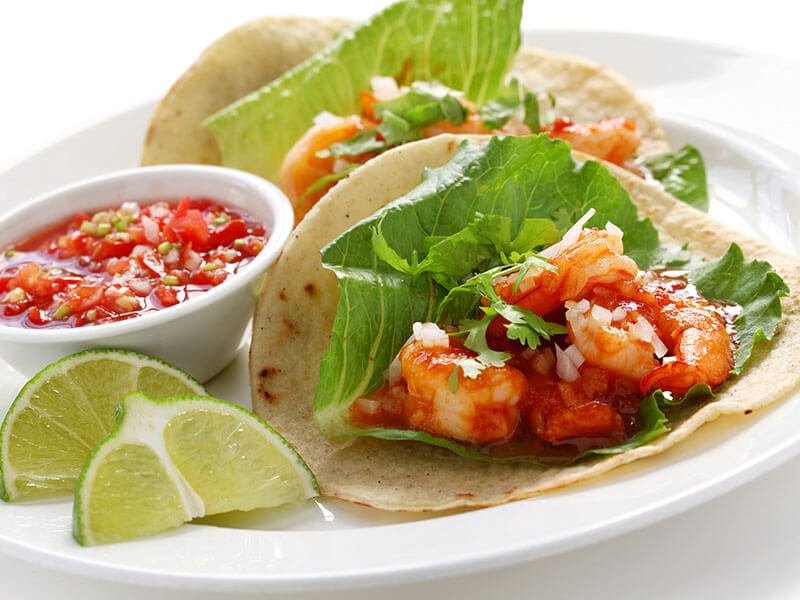 Another signature taco in the Pacific coastal area of Mexico is tacos de Camaron, also known as shrimp tacos.
Among several seafood species, shrimps are easy-to-buy ones, and cooking them is hassle-free work. Thus, preparing Camaron tacos is very simple and quick with only a few ingredients: large shrimp, corn tortillas, seasonings, and toppings with chopped vegetables.
Every single bite of these tacos bursts in flavor with various textures. Healthy, yummy, and convenient, you might start your cooking journey, particularly with a taco theme, with tacos de Camaron.
Want to make a simple yet super tasty dinner? Check this guide to make shrimp tacos!
And Do Not Miss These Tacos With Special Fillings
What else can you find in the universe of tacos? Make sure you do not skip the last 9 taco varieties made with different fillings. Some are very strange that might shock you when you know the ingredients of these types.
Other Varieties
General Information
Basic Toppings
Canasta
Also known as basket tacos that street vendors usually keep in a basket
Can be prepared ahead of time
Have moist and soft texture
Fillings vary (potato, chicharrón, bean, or adobo stew)
Guacamole, pickled chilies, spicy sauce, etc.
Buche
Main ingredient: pig's stomach
Have soft and slightly chewy texture after a few hours of slow-cooking
Diced onion, cilantro, salad, or crema, and a bit of fresh lime juice
Tripitas
Use beef intestines or beef tripe for the filling
Chewier and spongier
Finely chopped onions, cilantro, lime juice, and more (based on your preference)
Lengua
Key component: beef tongue with tender texture if cooked properly
Relatively high in total fat
Fresh toppings such as avocado, onion, cilantro, and salsa
Cabeza
Aka head tacos, which use the whole head of the cow (mostly the cheek) for making the filling
Slow-cook (steam or grill) the cow's head until tender and the flavor mingle with seasonings
Salsa, white onion, cilantro, shredded cabbage, etc.
Papa
Suitable for vegetarian or vegan diets
Mashed potato is the main component filled in deep-fried tortillas
Crunchy veggies (diced onion, shredded cabbage), or tomatoes
Chapulines
Made with grasshoppers - a type of insect
Grasshoppers have subtle smoky undertones with high nutrients (protein, vitamins, and fat-free)
Guacamole, chili, lime juice, garlic, or more.
Nopales
Ideal for vegetarian or vegan 
Primarily comprise nopales (cactus pads) with a subtle taste, soft and relatively sticky texture
Cilantro, avocado, salsa, etc.
Cueritos

Main ingredient: pickled pork skin
Cuerito is a thin strip of skin without fat attached

Chopped cilantro and onion, hot sauce, and avocado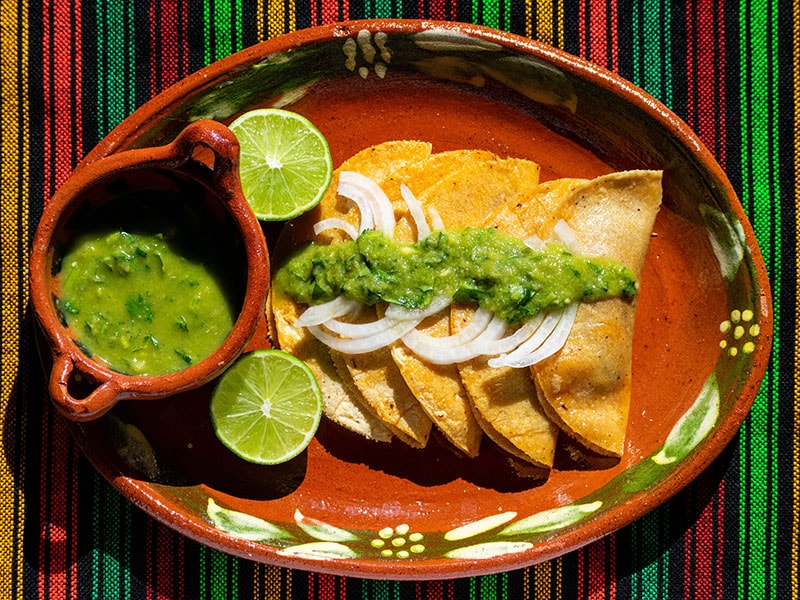 Tacos de Canasta, which means basket taco, is a special variety compared to others. Most tacos are best to enjoy immediately while they are still hot, but this one is a flawless type that you can prepare ahead of time so the flavor can mingle as it sits.
Canasta is one of the most emblematic street foods in Mexico that you can easily find from street vendors, especially those that come with a bicycle. The seller always keeps them warm in a large basket to carry around the city, hence the name basket taco.
The preparation of Canasta is distinctive. The taco itself is famous for its moist and soft texture because people typically bathe it in melted butter or oil. Canasta's fillings vary as well, but the most common ones are potato, chicharrón, bean, or adobo stew (made with beef brisket).
In Mexico, Canasta's price is extremely affordable yet packed with flavor. Therefore, if you spot any taco vendor with a basket on the back of the bicycle, let's grab a Canasta and see how tasty it is. For garnishing, pickled chilies, spicy sauce, or guacamole are traditional ones.
If you have not visited Mexico, you might want to check this instruction for making nice tacos de Canasta.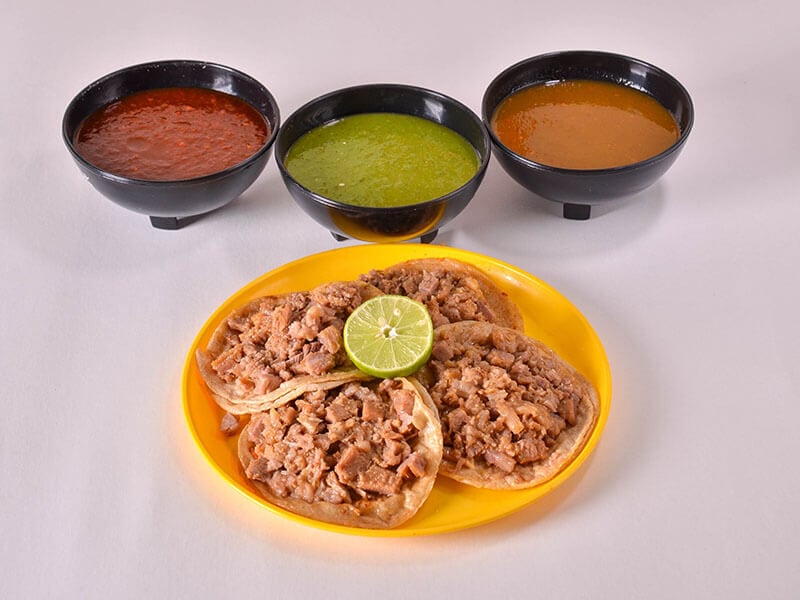 Buche refers to a pig's stomach, indicating the main ingredient in this treat. It undergoes a slow-cook process (in a few hours) so the stomach can come out soft and slightly chewy.
Finding tacos de Buche in any Mexican vendor or food truck is not so time-consuming. But if you want to test your cooking skill, here are some ground rules you should remember to prepare Buche.
First, a pig stomach has a pungent odor that you have to clean thoroughly with vinegar and water to temper the smell. Then you should parboil it in boiling water before cooking it with other seasonings.
If you do it right, the stomach will not have a feral smell and weird taste after cooking. The ideal toppings for Buche tacos are diced onion, cilantro, salad, or crema (Mexican-style sour cream). Drizzling a bit of lime juice is also a great idea.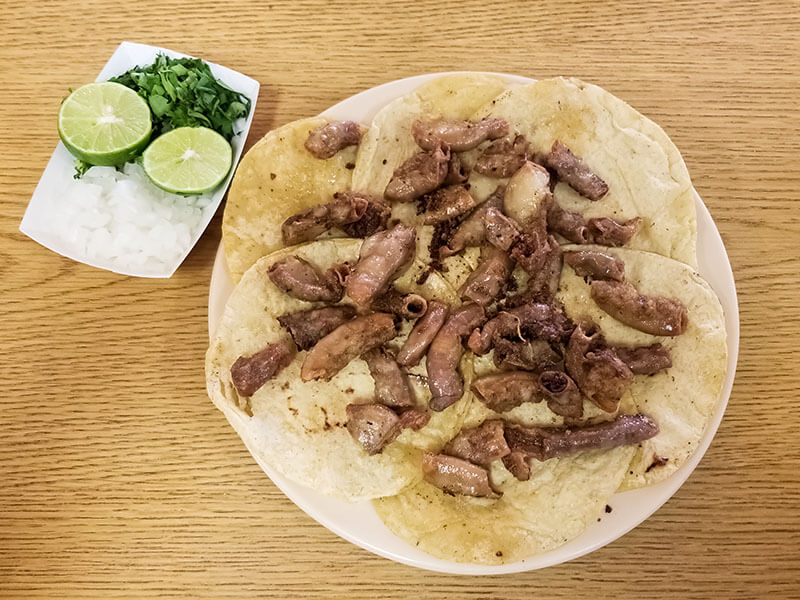 Another offal-based taco variation is Tripitas (aka beef intestines or beef tripe). And compared to the above taco style (Buche), Tripitas is chewier and spongier.
The popularity of this one is also tremendous like other taco variations, despite the fact that animal intestines are not a common food ingredient that many people are willing to opt for.
But it will not cost anything to give Tripitas tacos a shot. In case you want to make them right at home, remember to clean and rinse beef tripe thoroughly and quickly. This part of the animal can turn rubbery if you leave them too long in the water.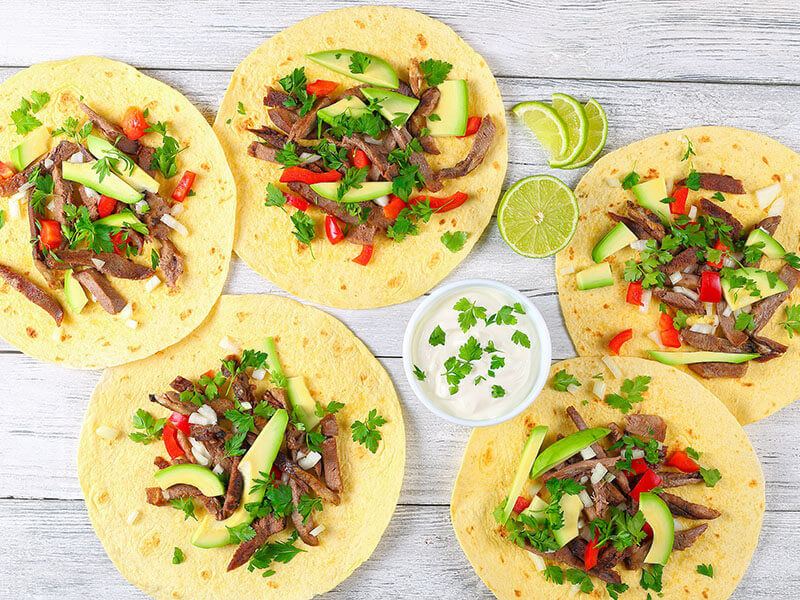 Beef tongue is a fantastic component of taco (or burrito) filling that you can find across the country. It is also one of the best-loved types of taco here, thanks to its tender filling and various fresh toppings like avocado, onion, cilantro, and salsa.
It might take a little time to prepare lengua as you need to cook it until soft. Otherwise, uncooked lengua is very chewy, making it difficult to enjoy the food.
However, 3-ounce of the cooked beef tongue has 19 grams of total fat, which means this ingredient is relatively high in fat. So if you are a weight watcher, please be more cautious in consuming this taco style.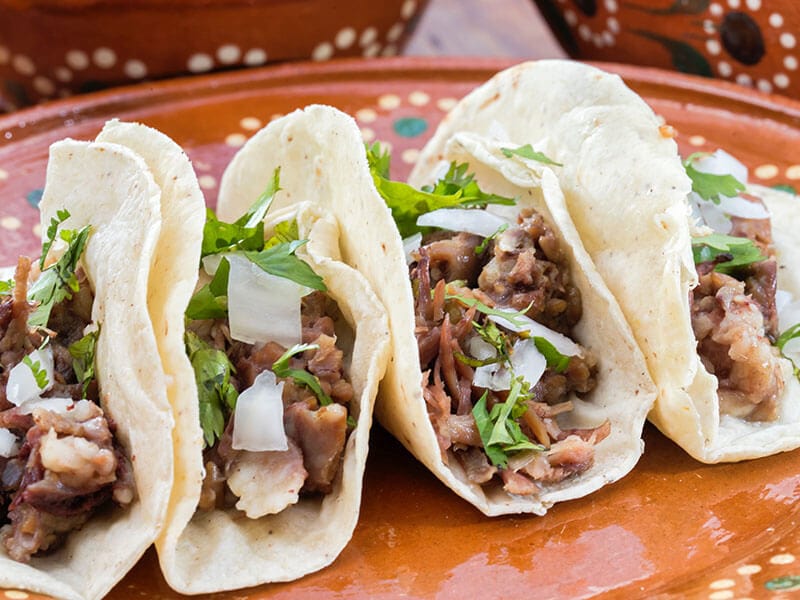 Cabeza tacos, or head tacos, use the whole head of the cow (including ears and cheek) to prepare the filling. However, people do not use the animal's tongue to make Cabeza as this is for Lengua, which I just introduced above.
To prepare Cabeza, people slow-cook (steam or grill) the cow's head until the meat tenderizes and blends well with seasonings like spices. Then they put the meat into tortillas and top them with basic taco toppings to assemble a Cabeza taco.
The meat from the cheek part is the most wide-used one rather than the whole head. I know it might sound scary to some of you, but Cabeza is super delicious. That's why their popularity in Mexico, especially in Mexico City, is massive.
If you are searching for a vegetarian dish in a Mexican theme (or for vegan diets), tacos de Papa is the best idea. In Mexico, the locals love to enjoy these treats during Lent – a period of 40 days which is extremely important to Christians. However, it is not too hard to find them all year long.
The critical component here is papa, which is potato, to go along with deep-fried tortilla shells to make tacos de Papa.
For adding more flavors and texture, a touch of crunchy veggies like diced onion, shredded cabbage, or tomatoes will complement the softness of cooked potatoes excellently.
So in case you are a beginner in cooking, you can try this treat at home because it is so simple to process the filling, sauce, and tacos. Do not forget to mash the potatoes before putting them into tortillas.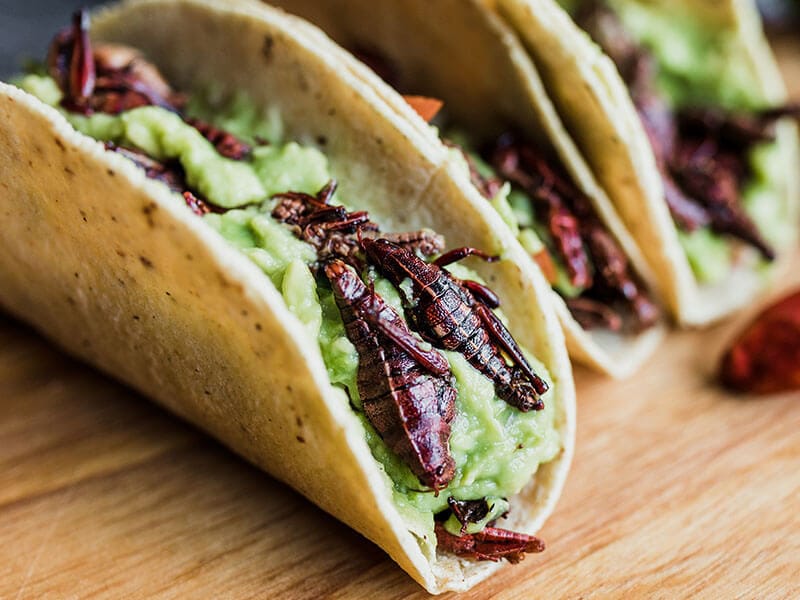 Little heads-up: Chapulines are grasshoppers – small insects that are prominent in Central Mexico.
Thus, tacos de Chapulines are just simply grasshopper tacos that people usually serve with smooth guacamole to pair with crunchy chapulines. Chili, lime juice, or garlic are also acceptable toppings for consuming this taco variety.
So if you are willing to eat insects, you should not miss this specialty. Grasshoppers, in fact, are a good source of protein, vitamins, and fat-free. Their flavor is subtle with a mild smoky undertone. You can eat grasshoppers alone if desired.
Do you dare to try grasshopper tacos? It is actually healthy food.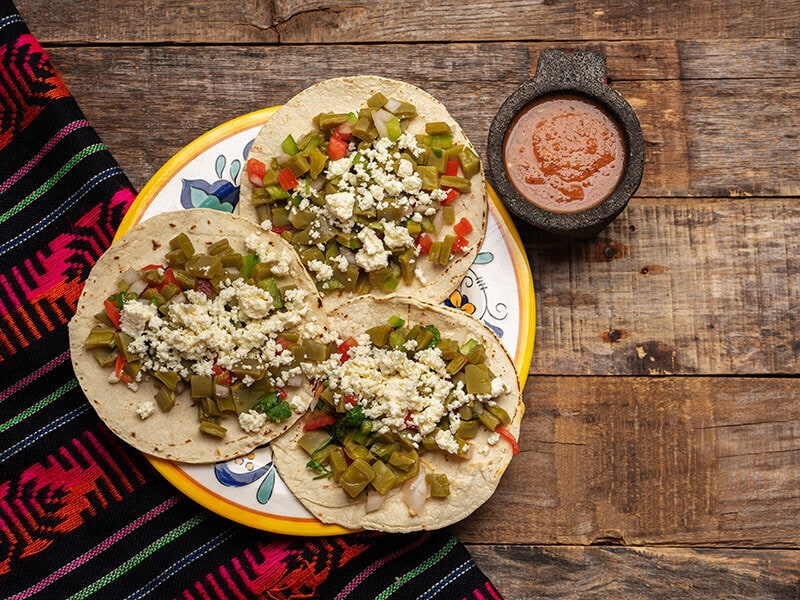 Nopales tacos are a vegetarian-style (or vegan) style comprising a specialty of Mexico – nopales, which are the cactus pads. This ingredient is very well-known in Mexican cuisine, and using it for making salad or tacos is a perfect choice.
The cactus pads themselves have a mild taste that somehow resembles the crossed flavor of asparagus and okra. You can also sense its slight sourness. Nopales' texture is quite similar to oke, which is soft and relatively sticky. Some parts of them can be crunchy as well.
Apart from being tacos fillings, nopales can be taco toppings too! If you want to prepare these tacos at home, make sure that you remove all the cactus spines before cooking this ingredient.
With a high level of fiber, vitamin C, and low saturated fats of cactus, tacos with nopales are not only tasty but also healthy. Enjoy them with fresh toppings like cilantro, avocado, or salsa for better taste.
29. Cueritos
The last taco style includes pork skin as the main component. Compared to Chicharrón, which uses deep-fried pork rinds, Cueritos use pickled thin strips of skin in seasonings, flavorings, and vinegar.
To be more specific, the seasonings and flavorings contain peppercorns, pineapple, oregano, chile de árbol, and cloves.
Moreover, Chicharrón, in Spain, refers to the rind with attached fat, while Cuerito contains no fat attached. But overall, either they are fried or pickled pork rind, these tacos are delicious and irresistible.
Taco – A Humble And Sophisticated Dish In Mexican Cuisine
Regardless of what taco varieties, they all share one characteristic: the goodness (from preparation to flavors) in every piece. And after reading this article, now you can be a taco expert to impress others with your comprehensive knowledge.
The possibilities in taco ingredients are endless, resulting in many cooking recipes for these foods. But here are 28 classic yet distinguished taco styles that you can start with.
Lastly, I hope you have a good time immersing yourself in these wonderful tacos. And if you like my post, please do not hesitate to click like or share it with others. Your opinions are also welcome here, so if you have any, please write them down in the comment.
Thank you, and have a nice day!