Mexican street food might be the best choice if you're searching for your new culinary experience! Suppose you're in love with the delicacies of your local Mexican restaurant, why don't you travel to Mexico for a comprehensive view about their signature foods? 
When coming to this beautiful country, your stomach and taste bud will be fulfilled by just wandering the streets and trying new d. The friendly street food stalls offer deliciousness that is way more than your expectation!
Moreover, these dishes can fit better for your budget as well! Thus, perhaps you'll need a shortlist to cover your plan then and there. Allow me to walk you through this article with some of Mexico's most famous street food!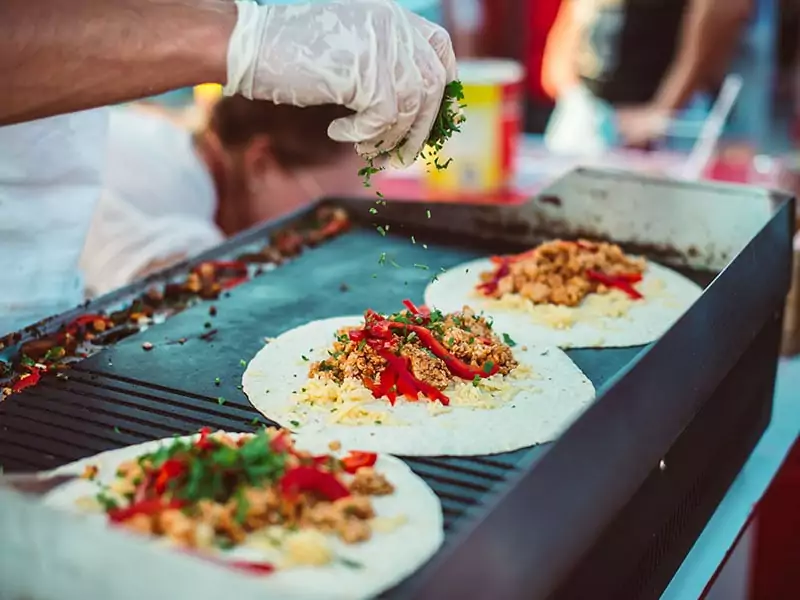 Foods That You Can Find Everywhere In Mexico
Interestingly, while you can assume that Mexico has 5 main regions by the directions and the central like most other countries, its culinary areas are divided quite differently.
In fact, there are 7 of them, which are the Central, the North, the North Pacific coast, the South, the South Pacific coast, the Bojia, and the Gulf.
Each region has its own identity, but before getting to that, let's find the delicacies that you can find anywhere across the country.
1. Tacos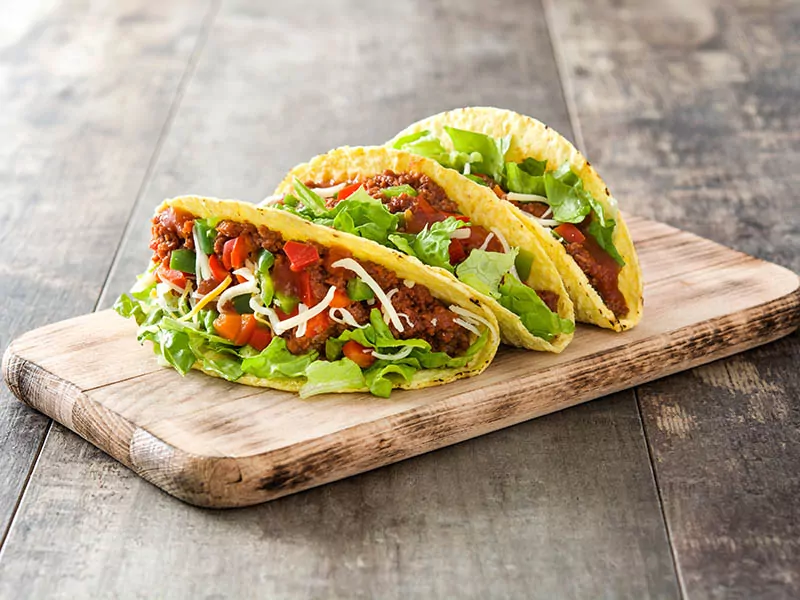 Let's get started with the most popular and perhaps the all-time favorite street food of the Mexicans – Tacos! Interestingly, while it's hard to address the first Tacos since it has a long historical story, it only had a specific name later in the 18th century.
During this period, the silver miners used gunpowder wrapped in a piece of paper to excavate the ore from the mines, and they called this invention "Taco". Afterward, people began to use this name for the food since it's somehow similar in the wrapping.
Nowadays, Tacos have become the national dish of Mexico and one of the most popular street foods on earth. Basically, Tacos consist of a wide range of toppings and condiments on tortillas – a famous Mexican unleavened flatbread from corn or wheat flour.
From here, you can find countless variations of Tacos selling across Mexico streets. On a side note, despite many dissimilarities between Japanese and Mexican cuisines, the Japanese have their variety of taco called taco rice. This list will cover some of the most delicious versions for you to enjoy!
2. Taquitos – Rolled Tacos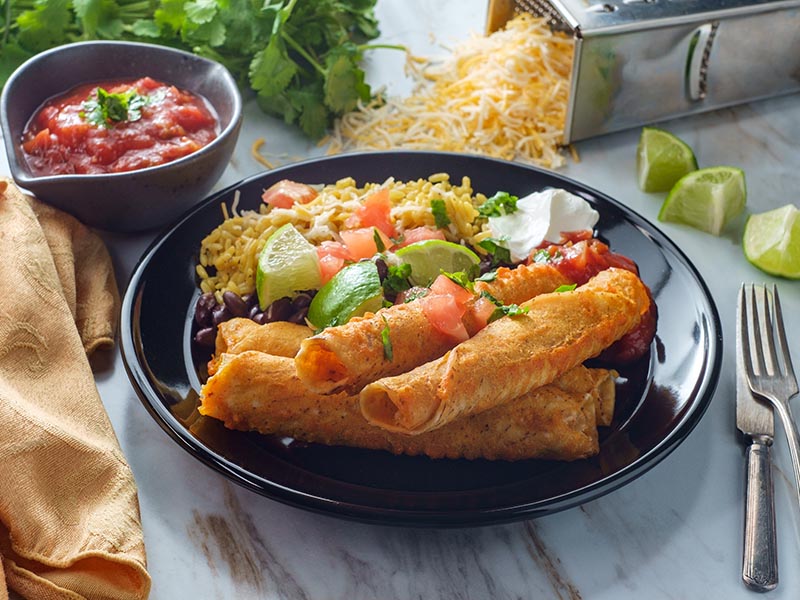 While most Mexicans may insist that this is one of their inventions, other reliable information links its root to Southern California in the 1920s. Despite that, Taquitos has gained its reputation to the world as a Mexican-American dish.
Basically, the street cooks make Taquitos by rolling the wheat tortillas and filling them with meat, vegetables, and condiments. They will then deep fry these rolls until they're perfectly crispy, and the locals also call this gourmet dish Tacos Dorados.
If you don't want the food to be so oily, you can try baking them at home instead. They're also one of the tastiest Mexican treats to make with an air fryer.
Mexicans usually enjoy these crispy rolls with guacamole and sour cream. It's also among the earliest Mexican dishes available frozen. Therefore, if you didn't get the chance to travel to Mexico to enjoy this delicacy, you can simply purchase it in your nearby supermarket.
In addition, though there are many similarities between them, you should not mistake Taquitos with Flautas, which follow the same recipe but use corn tortilla instead.
3. Esquites – Mexican Street Corn Salad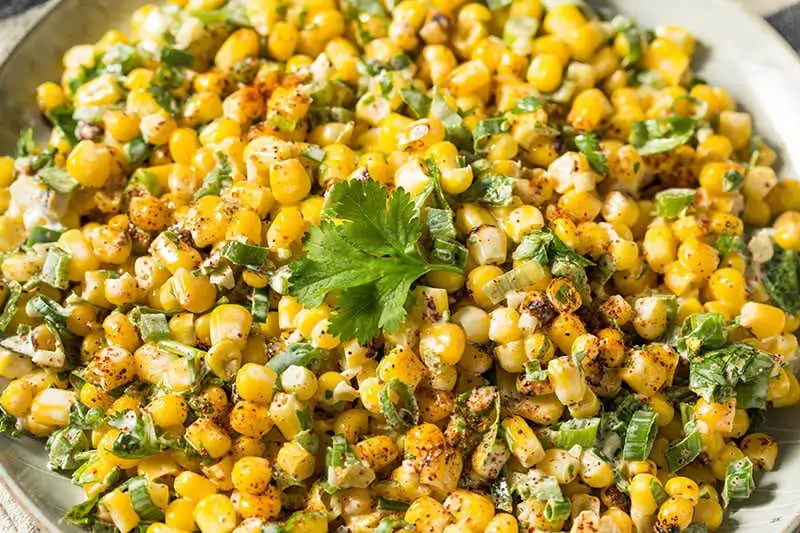 Interestingly, the Mexicans have a specific term to call their snacks – Anjitos, and Esquites are among the most common Anjitos. Traditionally, the street cooks make Esquites out of mature corn kernels, either toast or cook it with epazote – a Mexican cultural herb.
The Mexicans typically enjoy this street snack on the go in a small cup that also includes chili peppers and lime juice. Some vendors may elevate the flavor by adding mayonnaise or cotija cheese – a national cheese made of cow's milk.
Other recipes may also comprise sour cream as a topping. The name of this flavorful snack originates from the word "izquitl" in the Nahuatl language meaning "toasted corn".
4. Elote – Grilled Mexican Sweet Corn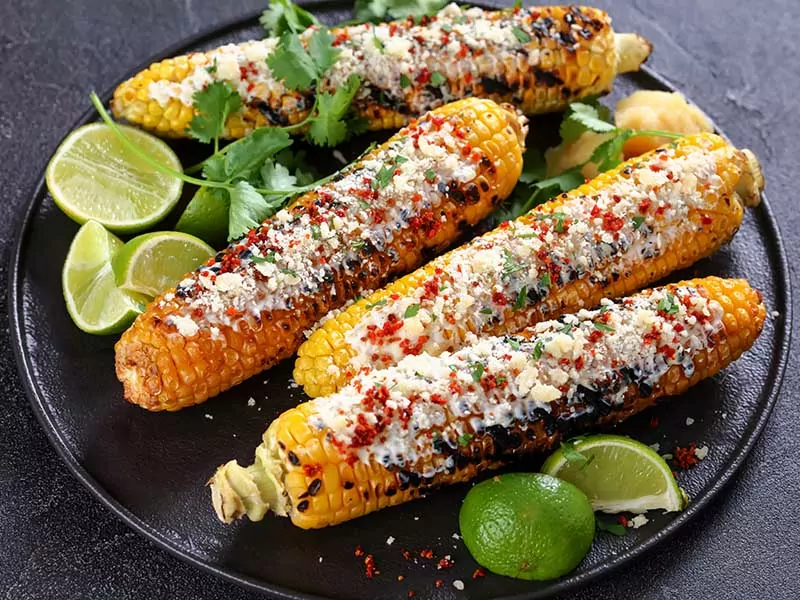 Though Elote is a word that indicates corn in Spanish, it's a popular street snack in Mexico. The locals make Elote by simply grilling a whole cob of corn on open flame after removing the husk and coating the corn with lime juice, mayonnaise, and crumbled cotija cheese.
As with Esquites, Elote is also an on-the-go food, and the street carts usually sprinkle some chili powder on it before serving it to you. Some upscale restaurants in Western even sell this treat as an international gourmet dish.
5. Tostadas – Toasted Tortilla Dishes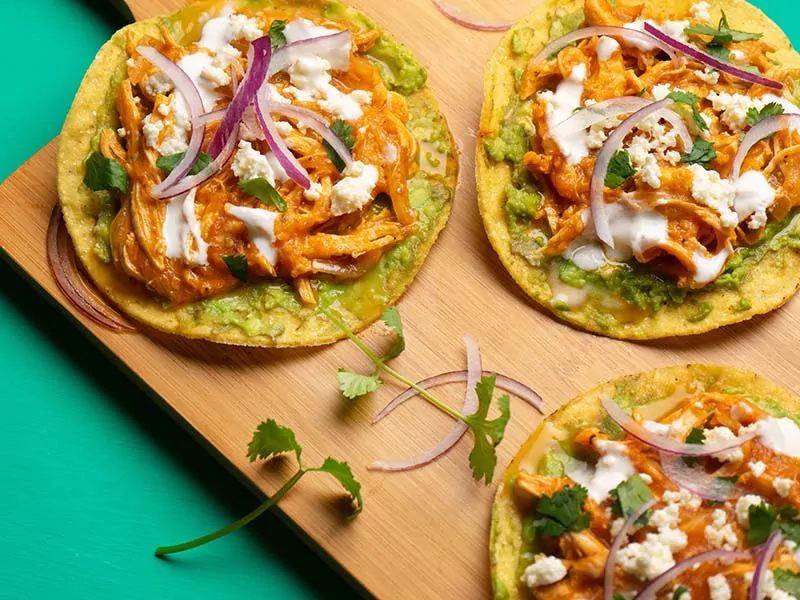 In the old days, Tostadas was the utilization of the creased or stale tortilla. The Mexican will pan-fry these tortillas until they're golden brown and perfectly crispy. From here, you can have it as a standalone snack by the crispiness.
However, the Mexicans top it with anything you can imagine. Therefore, you can assume that the variations of Tostadas are just as much as Tacos do. Despite that, the most common Tostadas you can find there are shredded chicken, cheese, and avocado slices.
6. Gringas Tacos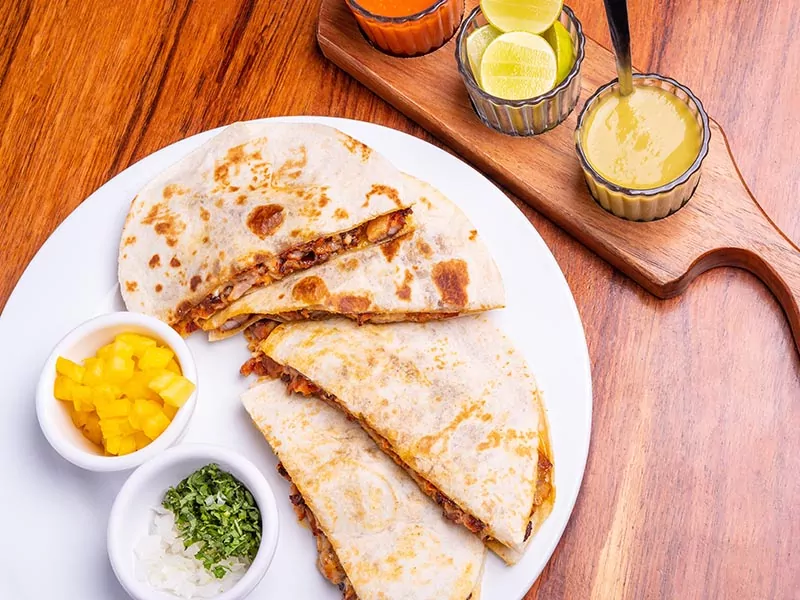 Gringas is a feminine form of the word Gringo in Spanish, indicating a type of grilled tacos. It consists of wheat flour tortilla, condiments, cheese, pineapple slices, and al Pastor – typical cultural grilled pork I'll cover further down.
After stuffing them, the street cooks will grill these Tacos to form mouth-watering Gringas. In addition, Gringas are more prevalent in Northern Mexico, and it has a counterpart – Quesadilla, which uses corn tortilla instead.
However, these terms are interchangeable since most Mexicans assume they can make Gringas out of corn tortillas and vice versa.
7. Tripas Tacos – Beef Intestine Tacos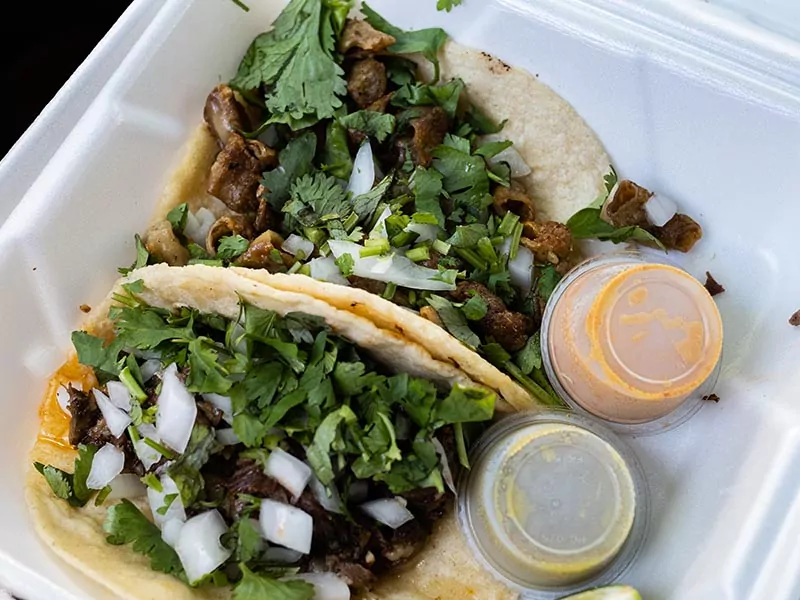 Tripas, also known as Machitos or Carne Asada Tripas, is another typical filling for Tacos. The Mexicans utilize cattle intestines and tripe for Tripas. They'll first well-clean it, then boil it before grilling, though some regions may prefer to deep fry.
You can find this rustic dish across the country, especially in Tianguis – the traditional air-open market in Mexico. And the stalls usually serve it with coriander, onions, and chill when it comes to Tacos.
In addition, the locals mostly use pig and cow intestines for Tripas. They also need to prepare it with a proper technique since these ingredients are so hard to chew, either undercooked or overcooked.
In Central Mexico
Mexico City is perhaps the most famous state of Mexico that influences from and to around the world. Nevertheless, neighboring cities such as Puebla and Tlaxcala have also contributed a wide array of cultural dishes to this area.
8. Tacos Al Pastor – Pork Tacos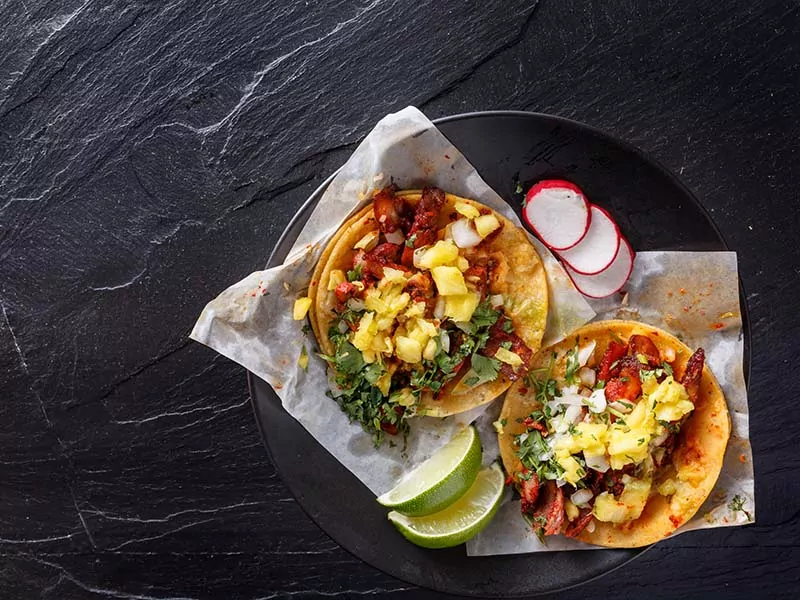 Tacos al Pastor is among the most popular variations of Tacos, and it's a proud invention of the Mexican. It's actually a descendant of Shawarma that the Lebanese have brought to Mexico during the immigration of the late 19th century.
Initially, the cooks will layer thin meat slices into a stack, skew them onto a rotating spit, then cut it after grilling and place the small fallen meat to a tortilla alongside many accompaniments.
The secret is to use pineapple in the marinade paste to make the meat more tender and juicier. Tacos al Pastor uses different spices and pork in place of lamb. Accompanying the traditional Mexican salsa sauce, it has become a staple in Mexican cuisine nowadays.
Tacos al Pastor was first to appear in Puebla, and it also means the "shepherd-styled tacos" in English. Though you can find Tacos al Pastor almost everywhere, from Mexico streets to your nearby Mexican restaurants, it's best to enjoy this gourmet food in its homeland.
9. Tacos De Canasta – Basket Tacos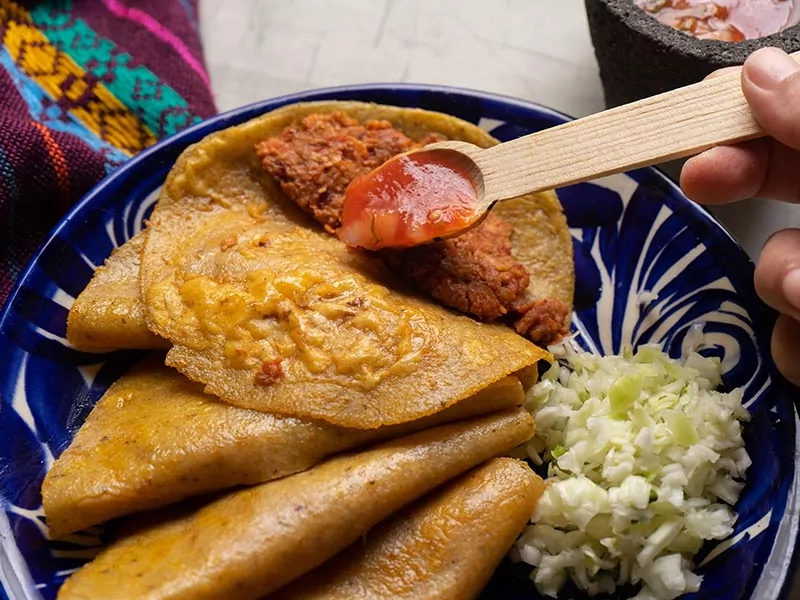 Besides frying the tortilla until crispy to make Tostadas, the Mexicans have another way to utilize their tortilla, which is to steam them to form soft and moist Tacos De Canasta. The name of this delicacy derives from the cloth-covered basket which houses it.
It's also known as one of the classical Mexican breakfasts since the locals often purchase it from the street vendors in the morning. The traditional filling comprises shredded chicken, potatoes, beans, and Mole Verde – a green sauce from green chile and pumpkin seeds.
Nowadays, you can find many other variations of Tacos De Canasta in the City of Mexico. However, it actually stems from Tlaxcala, a neighboring city to the east.
10. Barbacoa – Slow-Cooked Meat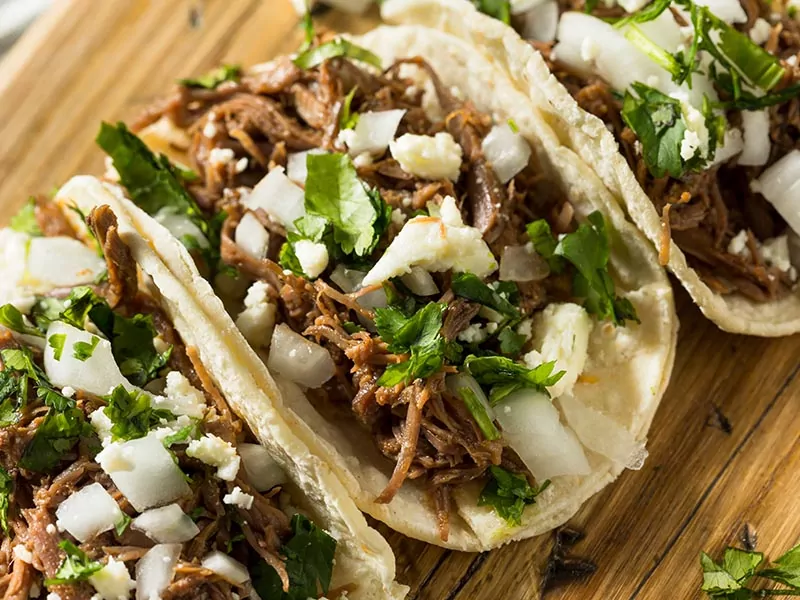 There are few street foods that travel to Mexico and gain the locals' love as Barbacoa does. There's a long history behind this delicacy; the people in the Caribbean regions had prepared it centuries before the Mexican gave it a twist and built its reputation.
In Mexico, the locals use beef, lamb, mutton, or goat to make their Barbacoa. Traditionally, they will slowly cook the meat in an open flame or in a ground hole that they have covered with American aloe leaves. These days, they usually steam it until tender.
Interestingly, though Barbacoa refers to both a dish name and a cooking method in Mexico, people in Texas have changed the wording. It only indicates the process of cooking – Barbecue. Thus, now you know what's the origin of the worldwide BBQs.
11. Cemita Poblana – Puebla-Styled Sandwich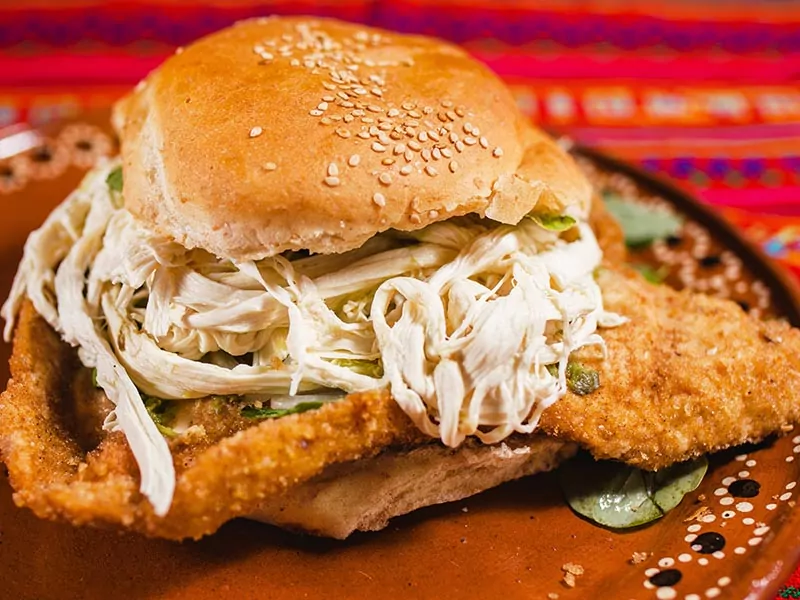 Cemitas refers to both the sandwiches and the buns themself. Typically, it's a local rolled bread that tops sesame seeds and excludes egg in the ingredient. Cemita is an invention of the people in Puebla, and they usually stuff it with a deep-fried breaded cutlet.
As with burgers, the meat bases for Cemitas usually are chicken, beef, or pork. The traditional accompaniments for Cemitas include avocado slices, shredded cheese, pickled green chile, and palpable – a local herb with a unique flavor.
Today, the street cooks usually add lettuce, tomatoes, and mayonnaise to their Cemitas to elevate the deliciousness.
12. Chalupas – Boat-Shaped Tacos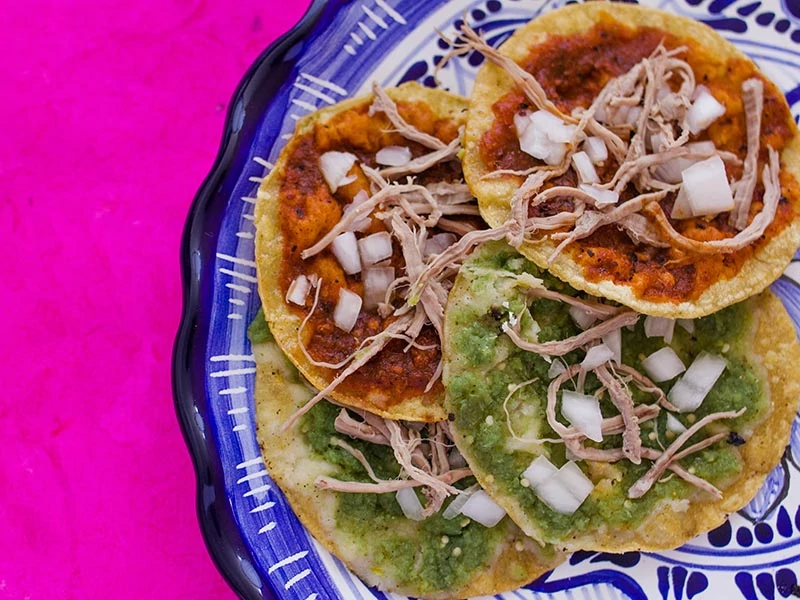 Chalupa is one of the North American recipes that have been around since the pre-colonial period. It comprises a crispy tortilla and a wide array of toppings from cheese, condiments, and meat bases such as shredded chicken, pulled pork, or ground beef.
To form the traditional bread base for Chalupa, the Mexicans first press the masa dough (a type of maize dough used to make corn tortilla) on the outside of a boat-shaped mold, then bake and deep fry it. Thus, Chalupa got its name after the small cultural boat of Mexico.
However, most Mexican restaurants in the United States and other countries offer Chalupas in Tacos form, not in a boat shape. Therefore, you might want to travel to Mexico and have Chalupas as street food for an authentic experience.
13. Enchiladas – Tortilla Rolls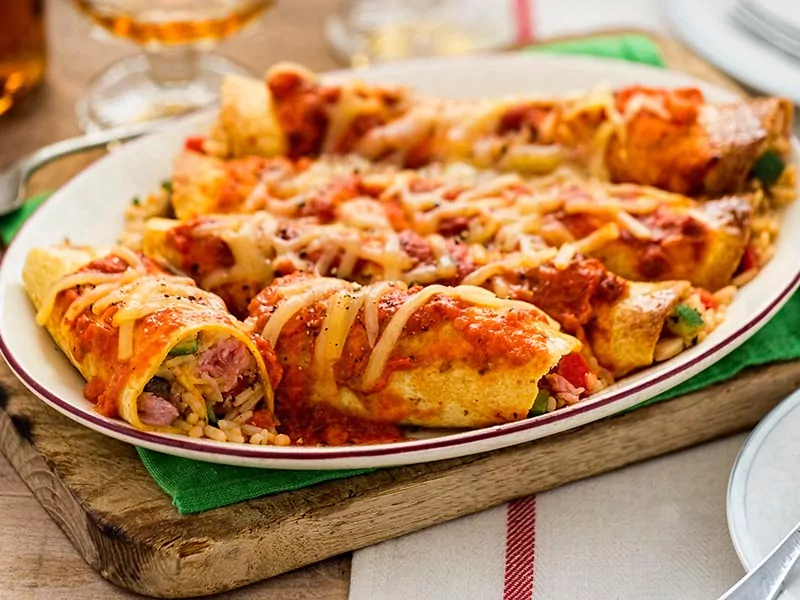 Enchilada is famous in the United States as a Mexican baked dish consisting of tortilla rolls with chili sauce, meat fillings, and cheese toppings. However, the traditional Mexican recipes for Enchiladas are not something like that.
It's a descendant of the Mayan dish Papadzules. In Mexico, people prepare it with pan-fried corn tortillas, dip them in chili sauce, then wrap the fillings and serve without baking. Its name derives from the Spanish word "enchilar", which means "to season with chile pepper".
Despite that, Enchiladas have a wide range of variations nowadays, like open-faced or baked by layers. This delicacy gains its supreme reputation in the United States and even has its own celebration, which is Cinco de Mayo or the International Enchiladas Day.
14. Camotes – Sweet Potatoes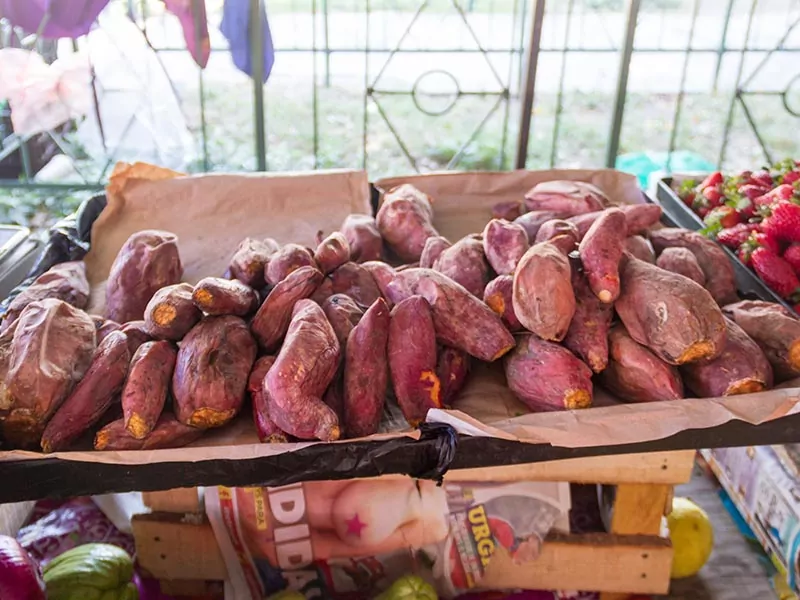 Here's an interesting fact, sweet potatoes were likely first to appear 5000 years ago in Yucatan, Mexico. Today, you can find Camotes or sweet potatoes almost everywhere in Mexico City and its neighboring areas.
One of the traditional ways is to top the cooked Camotes with jam and condensed milk and have it as a simple Mexican sweet treat. This dish is abundantly available across Mexico City streets. If you want to taste the Camotes solely, it's best to eat them grilled or toasted.
Another note for travelers who want to find these potatoes is to listen to the sound. Carts steaming Camotes usually create the high-pitched, whistle sound that is easy to recognize even blocks away.
15. Churros – Deep-Fried Doughs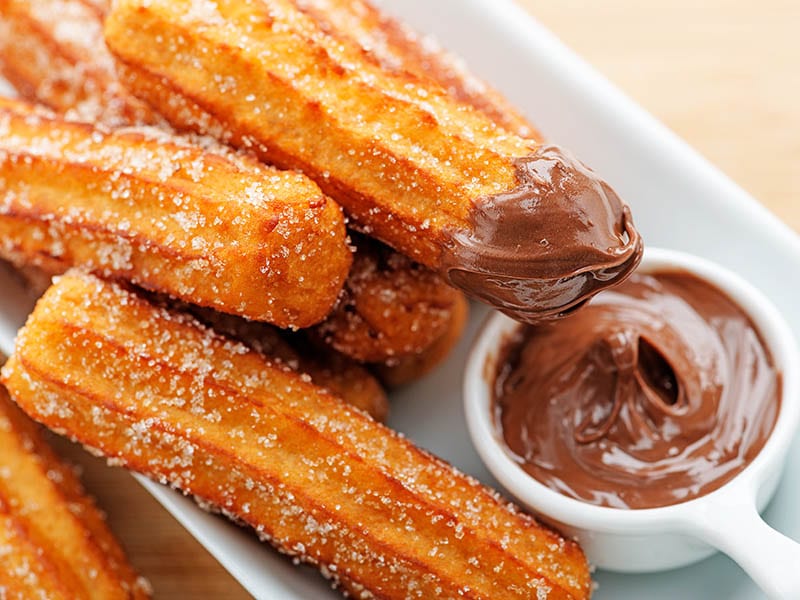 Churro is a world-famous sweet that stems from Spanish and Portuguese cuisine, and it's also a staple in Mexican street food. Basically, Churro is a crispy deep-fried dough that comprises wheat flour, water, and salt, though it could also include butter, milk, and egg.
It usually appears prism-shaped that is either straight, curly, or spiral. Churros have ridges on their surface due to the fact that people pipe the dough out of a syringe-like tool with a star-shaped nozzle called Churrera.
In Mexico, street food vendors usually sprinkle Churros with a mixture of cinnamon powder and sugar and fill them with Cajeta. This cultural sauce is similar to Dulce de Leche. The chocolate filling or non-filling ones are also abundantly available.
In North Mexico
This area borders the Southern United States. As a result, the locals here, as well as those living on the other side of the border have created the famous Tex-Mex cuisine. It's also the largest culinary region of Mexico both in the amount of dishes and the geographical aspect.
16. Carne Asada Tacos – Grilled Beef Tacos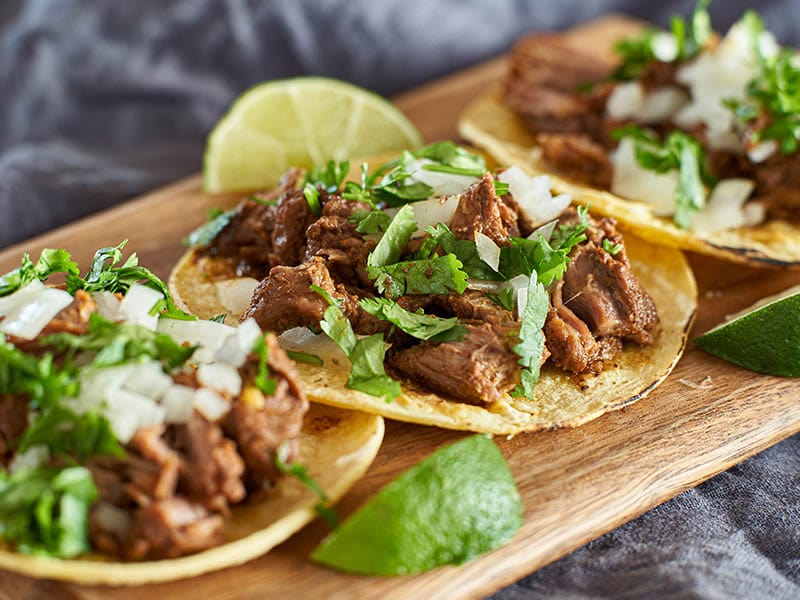 As mentioned above, the Mexican has eaten Tacos for centuries before giving it a justice name, and Carne Asada Tacos is the best example. In fact, these Tacos have been around since the 16th century, and they're the first version as well.
The Mexicans prepare this delicacy by marinating beef in lime juice and locals seasoning, grilling it on the hot charcoal, then cutting it into small pieces and placing on the tortilla bread. The accompaniments for Carne Asada Tacos are guacamole, lime juice, and onions.
Interestingly, the term Carne Asada indicates both the beef grilling method and the BBQ social events in North Mexico. The locals typically prepare Carne Asada for celebrations and parties where they gather around the griller and enjoy the meal together.
17. Tacos De Pescado – Fish Tacos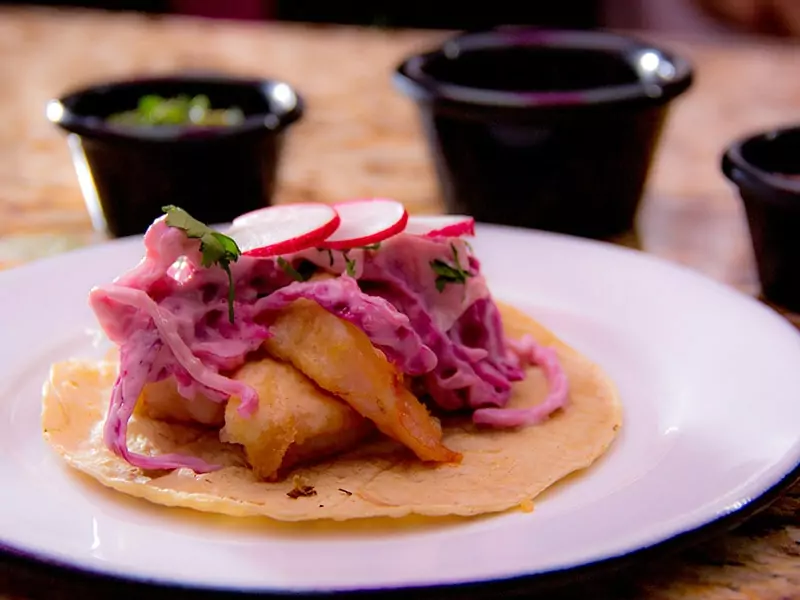 If you're living in California, suppose you've seen Tacos de Pescado at street food carts or even have tried it. This is an invention of the locals in Baja California, a northern region of Mexico where fish are abundant.
While the American stalls serve Tacos de Pescado with coleslaw, the Mexican ones prefer to use lettuce or cabbage. Other irreplaceable ingredients for the correct Taco de Pescado are corn tortilla, grilled or fried fish pieces, and sour cream or mayonnaise.
18. Tacos De Camarones – Shrimp Tacos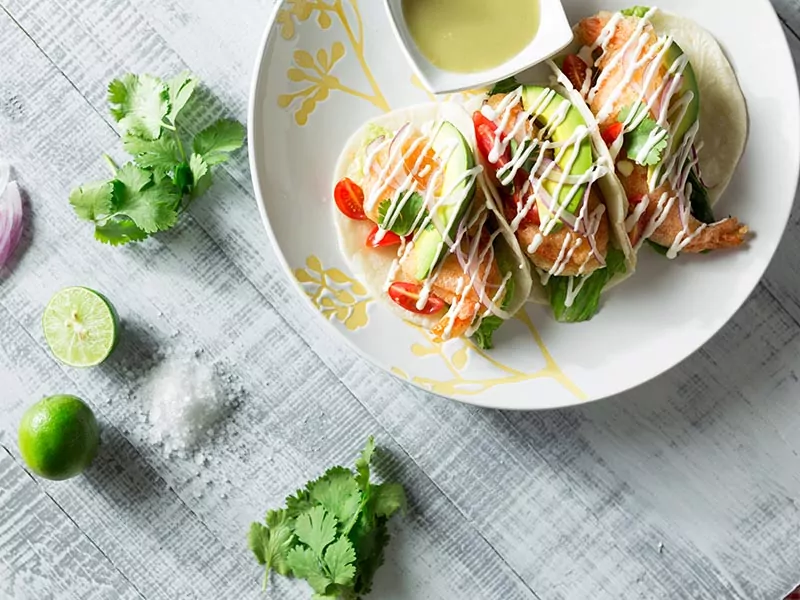 Tacos de Camarones share some similarities with the previous dish, including seafood base, corn tortilla, and originate from the Baja California region. Thus, it often comes side by side with Tacos de Pescado. However, they differ more than just substituting fish with shrimp.
Tacos de Camarones usually go with several light Mexican accompaniments with high acidity, such as tomatoes and lemon wedges. The signature of this dish also consists of pico de gallo – a typical salsa of the Mexicans with aromatic serrano peppers and cilantro.
Street food stalls use either grilled or fried shrimp for Tacos de Camarones, and they often add some avocado slices alongside sour cream to enhance the flavor of this delicacy. The citrus sauce is a rare accompaniment for this dish that is totally worth your searching.
19. Burrito – Tortilla Wrap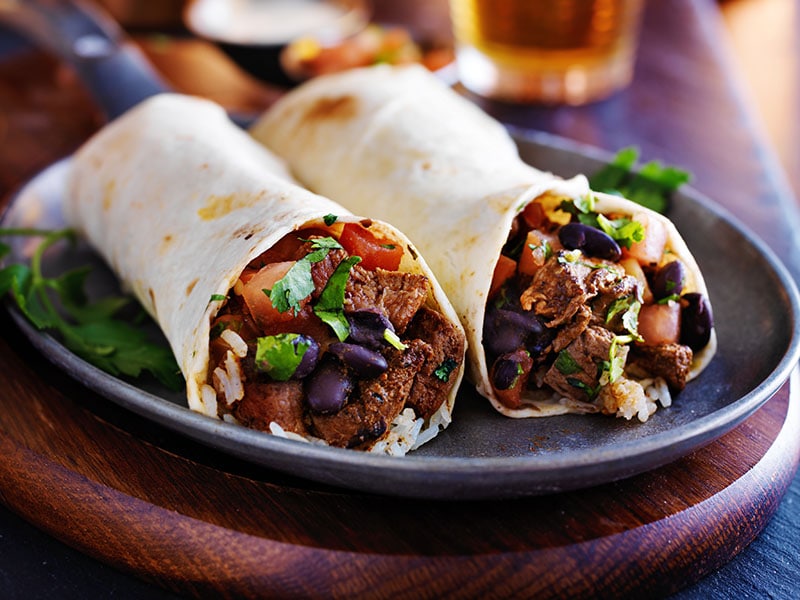 Whether talking about Mexican gastronomy or just its street stalls, it's hard not to mention Burrito. Anywhere selling Tacos, there's a high chance that you can get Burrito there as well. However, for the best Burritos, come to Ciudad Juarez, a northern Mexico city nearby Texas.
Burrito is a rolled dish that uses a thin tortilla as the wrapping. As with Tacos, the Mexicans have created numerous variations of Burritos throughout the countries, even with the juicy stew stuffing. Despite that, the common recipe consists of grilled meat and guacamole.
The origin of Burrito is still a fuzzy question today. People are still debating on whether it associates with the Tex-Mex cowboys in Northern Mexico, the miners from the Sonora state of the Northwest, or the farmers in California.
Despite that, all the information links its roots back to the 19th century. The name Burrito means "little donkey" in Spanish. From here, people believe it's derived from the bedrolls and packages on the donkeys' back during that era.
20. Nachos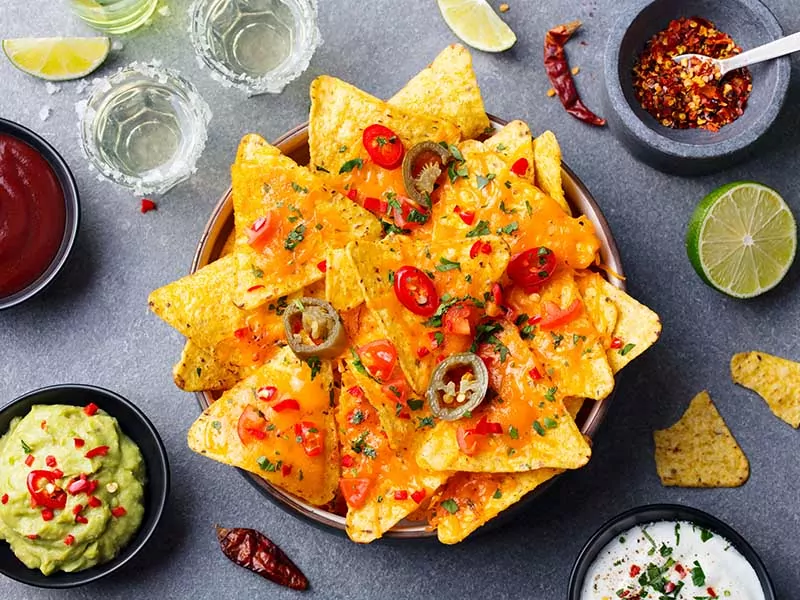 Nachos is one of the most famous Mexican starters, and guess what? This simple snack also has its festival – International Nachos Day, held in October annually in Piedras Negras, its homeland! The celebration is for both the dish's deliciousness and the history behind it.
Originally, the Victory Club restaurant owner, Ignacio "Nacho" Anaya, first made it for the United States military officer's wives in 1943. He couldn't find the cooks at that time, so he decided to utilize what was available in the kitchen to serve the women.
These women were satisfied, and the restaurant's owner, who eventually became the head chef a few years later, called it "Nacho's Special" after his name. The women asked for the recipe and carried it to the United States, where it began to gain reputation even further.
After several events, Nachos gained the heart of the American eaters; some of them were confused that it was an invention of their country. On the other hand, many will consider Nachos as either a cultural interference or a gem of Tex-Mex cuisine.
Initially, Nachos is a combination of crispy tortilla chips, melted cheese, and jalapeno peppers. Nowadays, you can easily spot street stalls serving this dish in both countries, with multiple additions such as guacamole, elote corn, vegetables, or meat.
21. Tortas – Mexican Sandwiches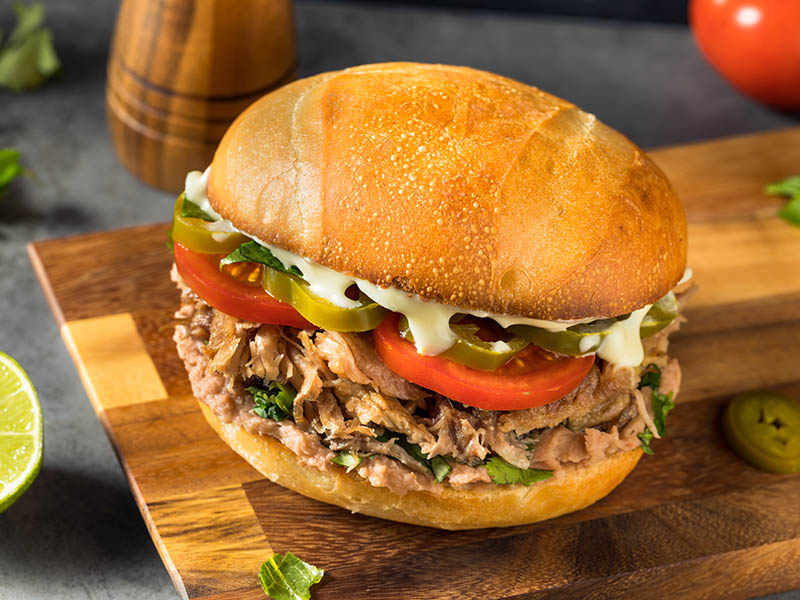 Tortas are highly associated with Mexican lunch recipes; many in the North dearly called them "lonche". While in many other regions, Tortas are flatbread, cakes, or even omelets, the Mexicans use this term for sandwiches, and there are two types of Tortas.
Though both are bread rolls, the first one is Bobillo, which is a French culinary influence to Puebla and is similar to a baguette. The second one is Telera, it's an invention of the Mexicans based on the first type, but they made it in a flat and oblong shape.
As with Tacos, the Mexicans literally stuff anything you can imagine to Tortas, and you can find different variations due to the regions. Still, the locals usually name Torta after its main ingredients, and the most popular versions are ham, avocado, chicken sope, and meat.
22. Fajitas – Stripped Grilled Meat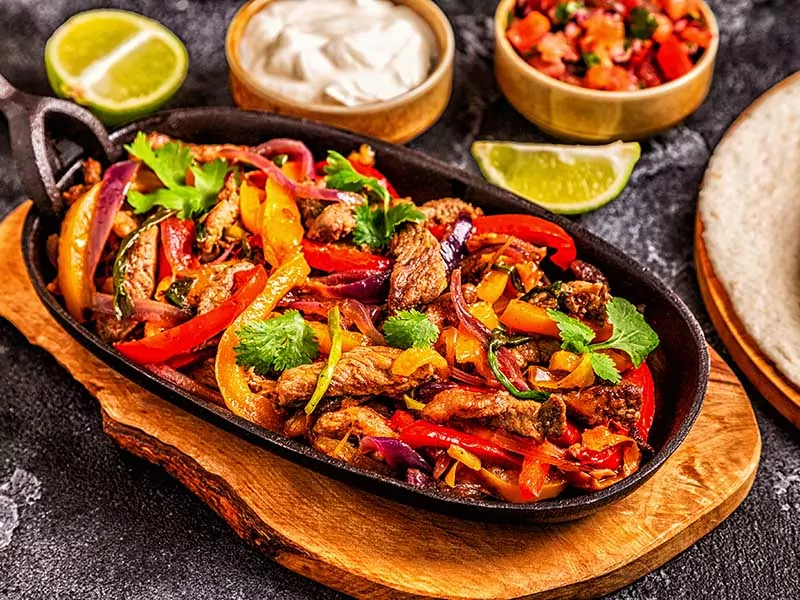 The first appearance of this dish's name is traceable to 1975 in North America. After a decade, Fajitas have become a representative of Tex-Mex cuisine. However, the root of this delicacy actually dates back to the 1940s when the Mexican ranch workers first made it.
They used the skirt steak but tenderized it by marinating it in lime juice and pounding it before grilling over hot charcoal. Thus, Fajita got its name after the term "faja" in Spanish, meaning girdle or strip, something generically undesirable.
Nowadays, most Mexican street food stalls make Tacos out of this gourmet dish, alongside guacamole, lettuce, and other condiments. However, due to the reputation of Fajitas, it's no longer just made of skirt beef, but the more proper type of beef or chicken, shrimp, pork, etc.
23. Chicharrón – Fried Pork Rind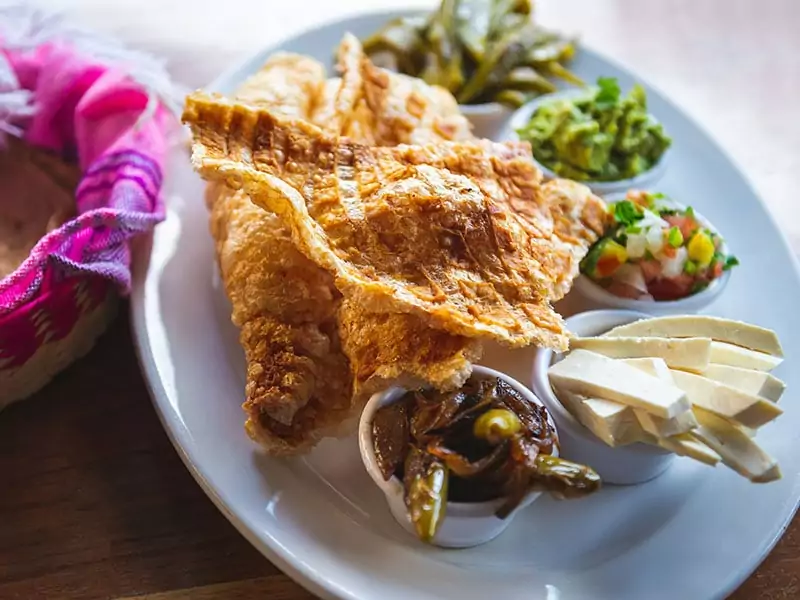 Chicharron or fried pork rind is a famous snack worldwide. In Mexico, the locals use both the rind and the fat, and it also makes a great pair with Tacos. You can tell that the Mexican can stuff their Tacos with almost anything at this stage, and this combination won't let you down.
Crispy Chicharron alongside avocado, sour cream or cheese, and chili sauce on top of the tortilla might be just what you need for a lip-smacking light meal.
You might want to try Chicharron in northern Mexico for a unique experience. The locals here use pork belly for their Chicharron so that the result has more meat than just rinds like what you usually have.
In South Mexico
Also called the Yucatan peninsula, Southern Mexican cuisine is influenced by numerous dishes from France and the Caribbean sea. However, every street cart in this beautiful peninsula has a twist to remember.
24. Cochinita Pibil – Yucatan-Style Barbecued Pork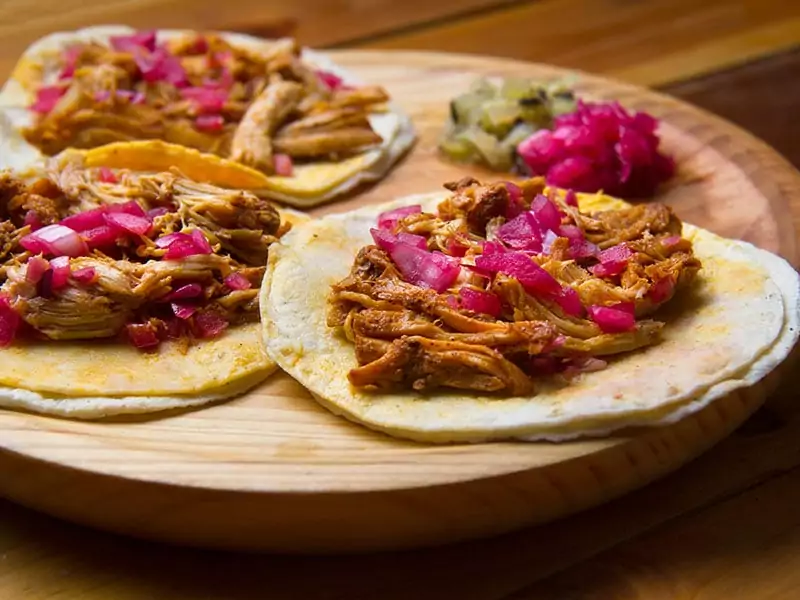 For the representative of the Yucatan regional cuisine, Cochinita Pibil perhaps is the brightest candidate. The recipe is a Mayan influence on Mexican food. Additionally, people in Belize also adore this dish. The word "Cochinita" means baby pig, and "Pibil" means buried.
Thus the traditional way of cooking this dish is to bury a whole immature pig to slowly roast it. Originally, the locals marinate the pork in sour orange juice, garlic, and the signature spice, annatto seeds paste. This paste gives Cochinita Pibil a recognizable red color.
These seeds also contribute a slightly sweet and peppery flavor to the dish. In the old days, people wrapped the marinated pork in banana leaves before burying it for the roasting process. Restaurants and street vendors nowadays will bake it in foil wrap.
Though you can enjoy it in many ways like other grilled dishes, the Mexicans prefer to combine Cochinita Pibil with tortilla, onions, and salsa for a mouth-watering Taco. It's also a Sunday ritual for many families here to enjoy these Tacos at home.
25. Panuchos – Black Bean Filled Tortilla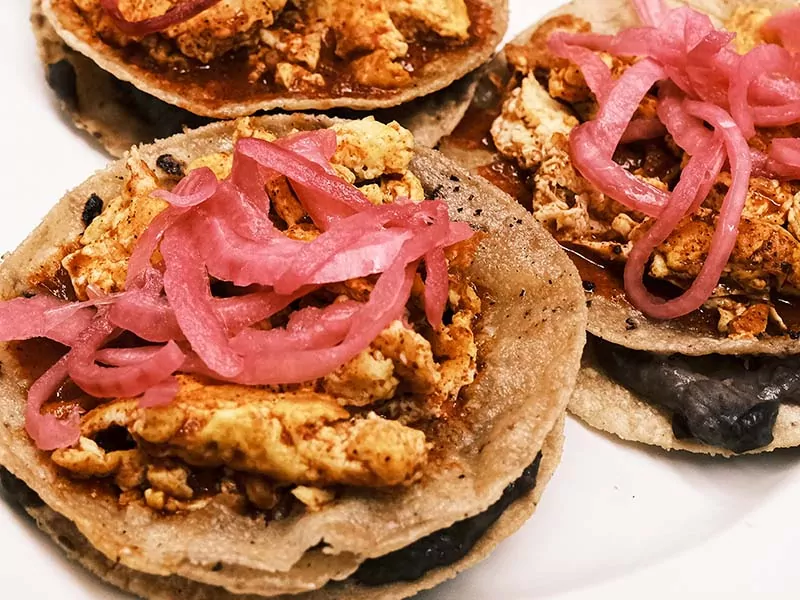 At first sight, Panuchos look quite like Cochinita Pibil Tacos. It's also an originated dish in the Yucatan peninsula. Still, the locals give a little addition to this appetizing dish. Panuchos comprise refried black beans, either ground or paste form.
Some street vendors may spread the bean bases between two refried tortillas, while others use them as toppings. Panuchos usually accompany shredded chicken or fish, alongside multiple condiments such as salsa sauce and avocado.
In addition, if you're clueless about finding a good spot to sample Panuchos, ask the locals for Panucherias. That's the term for eateries that solely sell this delicacy in Mexico.
26. Marquesitas – Yucatan Crunchy Crepes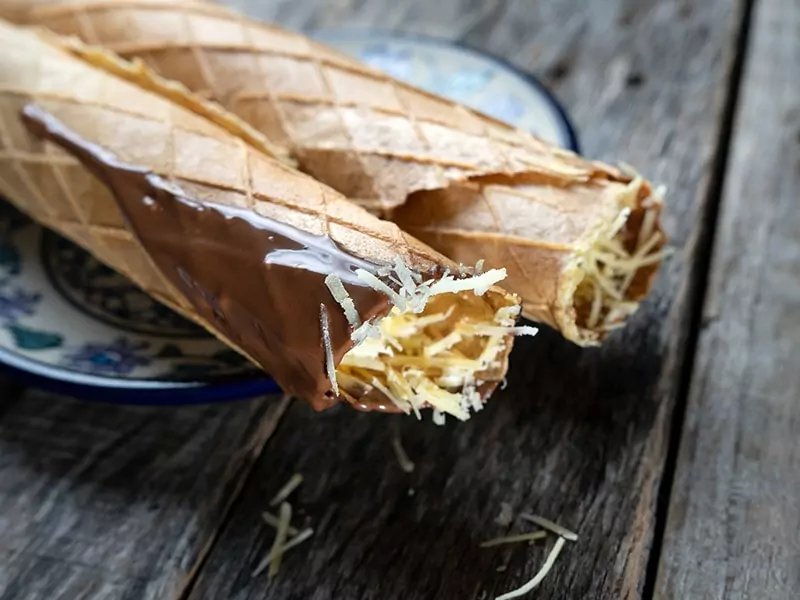 First, let's clarify that the Mexicans' Marquesitas is a wholly different manner to the Spanish's Marquesas. While both are delicious desserts that can satisfy your sweet tooth, Marquesas are cupcakes, and Marquesitas are pancakes indeed.
Marquesita is an invention of an ice-cream business owner, Leopoldo Mena, in the 1930s. Originally, due to the lack of sales during the winter, he created this sweet comprising sweet crepe, jams, and salty queso de bola, the so-called Edam cheese.
Later on, his recipe succeeded in saving his business and also became a staple in the Yucatan peninsula. Nowadays, the street carts sell Marquesita by multiple fillings across the country, and perhaps the most common ones are banana and Nutella.
Along The South Pacific Coast
The gastronomy of the South Pacific coast is quite distant from other regions in Mexico due to its complexity, and the same thing occurs on the street.
The most significant state is Oaxaca – the Land of Seven Moles. Allow yourself to wanderlust there to get more street food choices as well as understand better the culture of this region.
27. Tlayuda – Oaxaca Pizza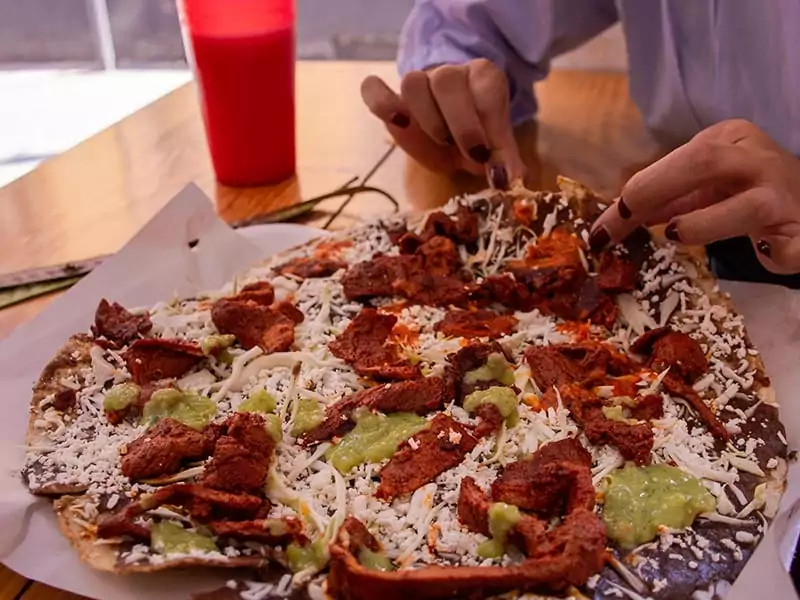 While most parts of the world know of Tlayuda as the Mexican pizza, the nations here actually call it the Oaxaca pizza or Clayuda. Basically, its baking method is similar to the famous Italian recipes, but the ingredients are far distanced.
The first difference is Tlayuda uses a large corn tortilla as the base, and the name refers to both the type of tortilla and the dish itself. The locals use refried bean paste instead of tomato sauce. It also consists of Asiento – regional lard of unrefined pig fat.
Tlayuda also appears in the Central area, and street vendors nowadays offer vegetables, herbs, spices, and meat options that differ from region to region. Still, the irreplaceable topping is Oaxaca cheese, also widely known by the world as Quesillo.
28. Tamales – Steamed Corn Cake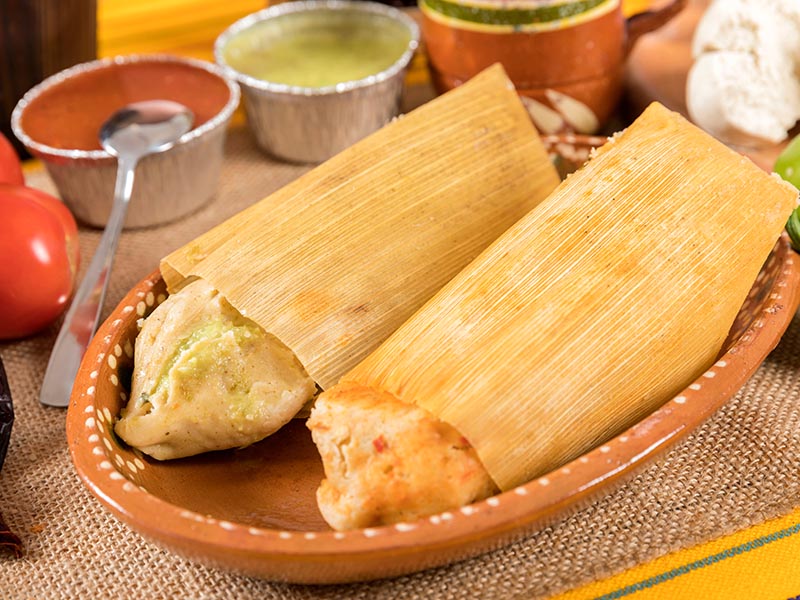 Here's another celebration, the National Tamale Day, held annually in March. Today, you can find over 500 variations of Tamales around the world. Though the first written information about Tamales is in the 1550s, it is actually traceable to Aztec cuisine.
Therefore, you can consider this international dish as a Mexican original. Initially, the locals made Tamales by wrapping masa dough in corn husks and steaming them. Unlike other foods in Mexico that are accompanied by countless condiments, Tamales are usually eaten plain.
Nowadays, the Mexicans mostly prepare this delicacy for special celebrations, and it's typically famous along the South Pacific coast.
Some most common fillings for Tamales are Roji (shredded meat and red chili sauce), Verde (shredded meat and green Mexican husk tomato sauce).
You need to know this exciting information about the ancient Tamales.
29. Chapulines – Fried Grasshoppers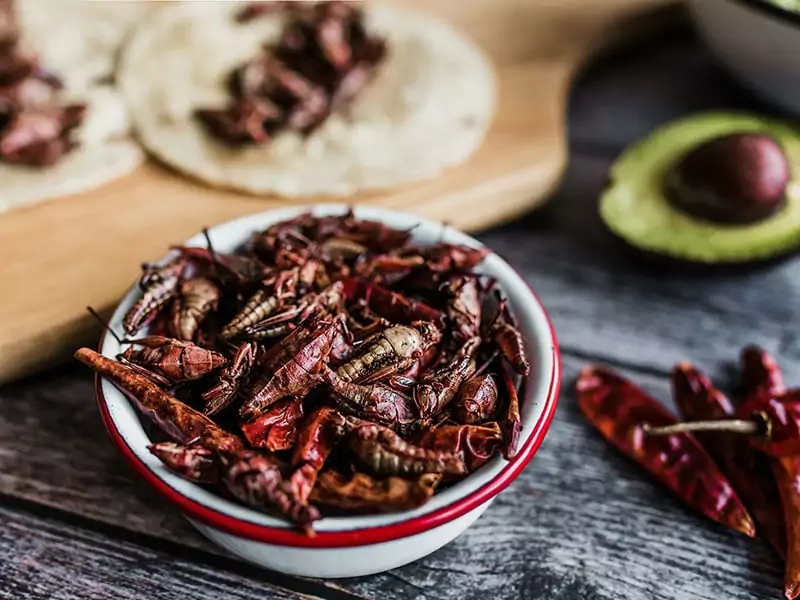 Eating bugs is strange in the United States. Still, it's definitely worth trying when you travel to Oaxaca, especially when this is a seasonal food only available during the grasshopper hatching from May to the early autumn.
Chapulines is the generic term indicating fried grasshoppers in Central America. Traditionally, the locals will pan-fry these insects and season them with garlic, chili pepper, and lime juice.
The Mexicans also use Chapulines as an extraordinary topping for their traditional Tacos or even for Tlayuda. Though grasshoppers are full of nutrients, mainly protein, you might want to sample this dish at proper eateries to avoid health risks.
In Bajio Region
While exploring Bajio region, you might feel the foods here are quite similar to the colorful Spanish cuisine. That's because Bajio is among the first places under colonization.
Its street foods, on the other hand, are creations of the locals themselves and have formed for centuries before the Spanish came.
Bajio area is smoothened with mountains, and it stretches from the southeast coastline to the West of the Central region.
30. Corunda – Michoacan Tamal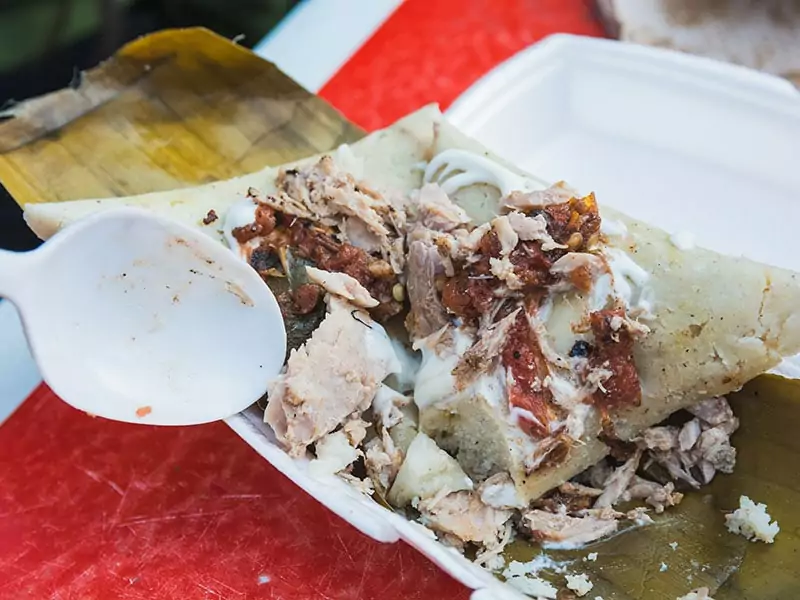 Though Corunda is also a type of steamed corn cake, it got its specific name due to the recipe in Michoacan. These cakes also consist of masa dough, but they come in triangles or spherical shapes. The Purhépecha villagers from Pátzcuaro are who first made it.
Unlike Tamal, which usually houses fillings and is eaten plain, Corunda most often does not include any stuffing. The locals enjoy it with red salsa sauce and crema – a typical sour cream from Mexico.
However, you can find some street carts or restaurants serving Corunda with fillings in Michoacan as well, and they usually sell this treat in dozens. Even though you can find it year-round, the Mexicans often prepare Corunda to celebrate the Day of the Dead.
31. Carnitas – Slow Cooked Pulled Pork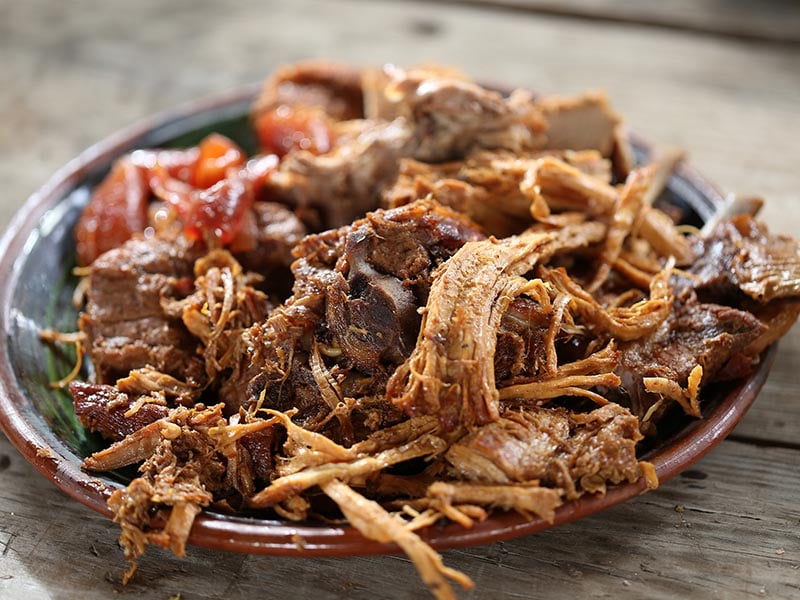 Carnitas is one of the delicacies that you can't skip while exploring Mexican street food. It's a famous dish available in many nations across the world, and you can find Carnitas in almost any Mexican restaurant.
However, it stems from Michoacan, and you will only get the best authentic experience here. In the Spanish tongue, Carnitas means "little meats". The locals will slowly braise the pork in lard or oil for 3 to 4 hours, then chop it into tiny pieces.
This rustic dish's juicy and tender meat will satisfy even the most fastidious taste. Though you can enjoy Carnitas on its own, the Mexicans prefer to use it as a stuffing for Tacos, and families often prepare it for special celebrations like Christmas or birthdays.
Indulge Yourself In The Incredible Street Food Of Mexico
You may notice that I haven't mentioned the food in the Gulf and North Pacific Coast regions. These areas indeed are not significant in street food but still worth your culinary exploration with outstanding cuisine.
There's no need to comfort yourself in a luxurious Mexican restaurant; the vendors are all you need. Although you can explore the endless list while wandering in Mexico, the above information is the most famous street foods that you need to try.
I'm positive that you've found the treasure, but is there any dish you'd like to add? Have you got some experiences for the travelers in Mexico? Let me and other readers know in the comment section! And please, don't forget to share this article if it helps you!