Spanish foods are loved all over the world. If you have not had a chance to try them yet, it is time to pack your bags and head to this beautiful country to discover this long-standing and diverse cuisine right away.
You will need to know about typical Spanish recipes in advance to get a brief understanding of this cuisine before the trip. So keep reading, take notes, and enjoy them all.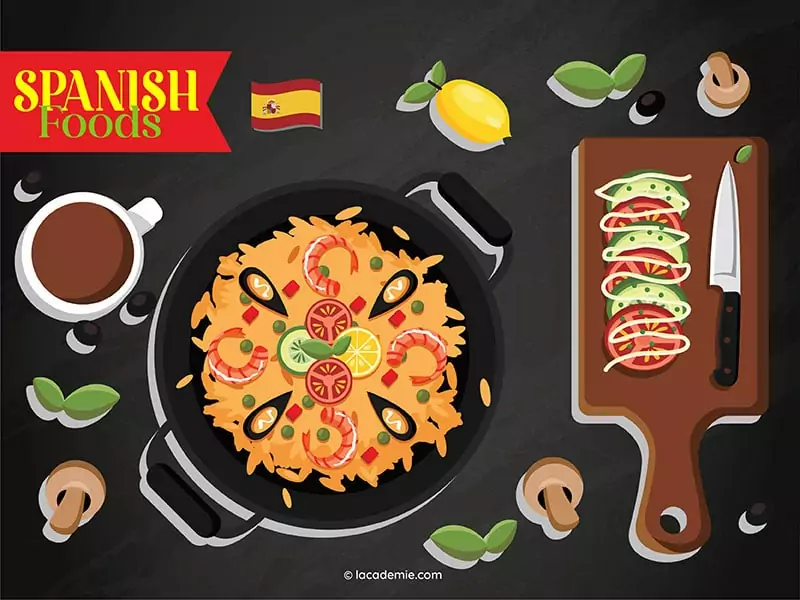 Spanish Main Dishes
You will need the main dishes in this section to fill your hungry stomach quickly after a long journey of discovery. I hope you will love them after tasting them.
1. Paella – Rice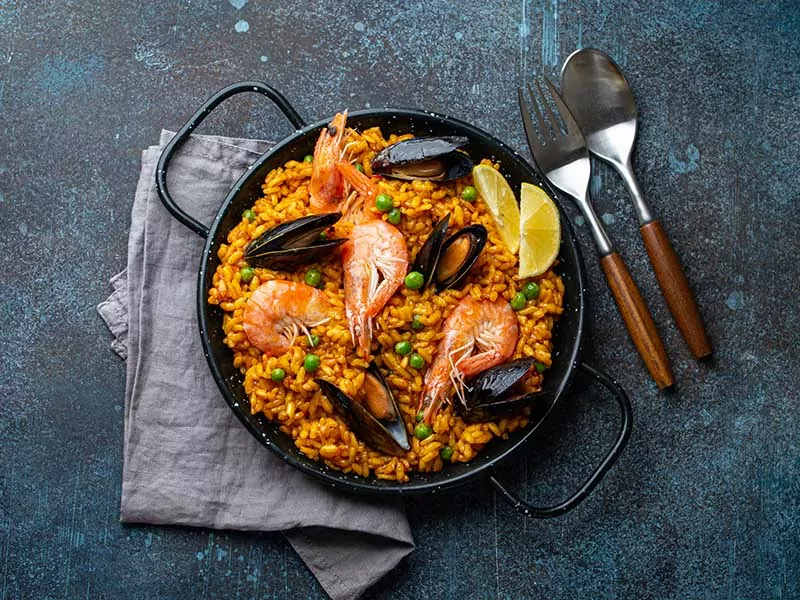 Paella is a must-try dish on your list of Spanish lunch dishes. This national rice dish was first born in a small fishing village of the Valencia region. Its name is derived from a type of pan used to prepare it.
This food is a combination of rice with other ingredients. The original version of it contained exactly 10 components. When you have the chance to try Paella, remember to pair it with an array of yummy Spanish side dishes to maximize its tastiness.
You can find many different Paella variations like Meat Paella, Seafood Paella, Vegetable Paella, or Mixed Paella.
2. Rabo de Toro – Oxtail Stew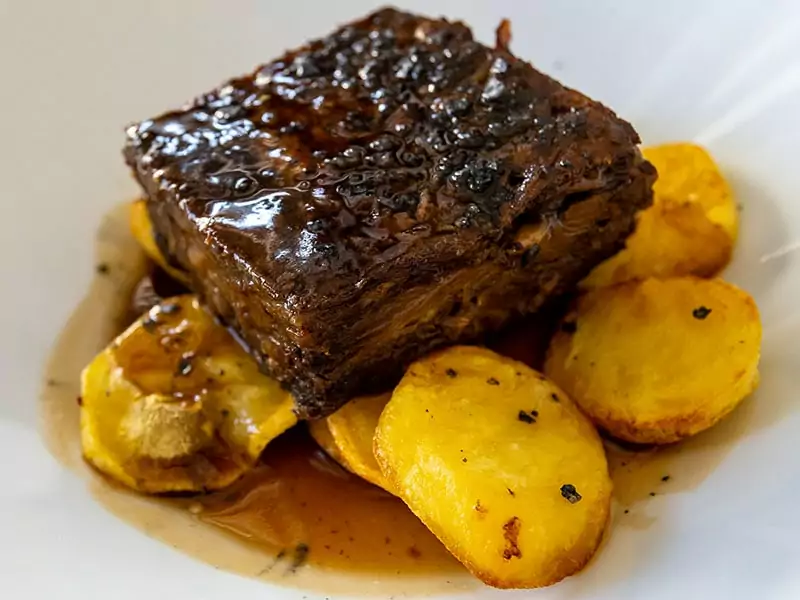 Spain is the land of bullfighting, and Rabo de Toro is an iconic dish made from Spanish cows. The chef will stew the oxtail with red wine, garlic, and other seasonings until perfect softness is achieved. This recipe is usually prepared after bullfighting matches.
It has become a Spanish tradition and is standard across the country. However, this food is most prevalent in Madrid, where the most bullfights occur. The Andalusians from the Roman era created the first version of it.
3. Gazpacho – Cold Tomato Soup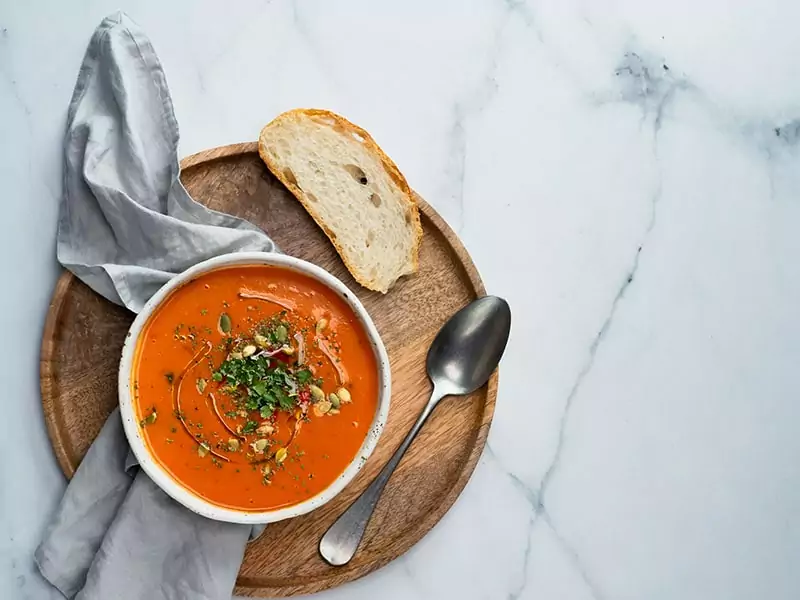 Gazpacho soup is one of the most well-liked soups in Spain. This savory tomato soup originated in the Andalusian region and gradually spread throughout the territory. This recipe often serves as a Spaniard's favorite appetizer.
Wives often bring this food to husbands who are working in the fields to cool their bodies in the heat of summer. In addition, it is also an option to end a large meal.
This food is so popular that Spain has chosen December 6 as National Gazpacho Day. This food tastes better cold, but do not let it freeze. Initially, the preparation of it required a mortar to pound the ingredients.
4. Fabada – Broad Beans and Pork Stew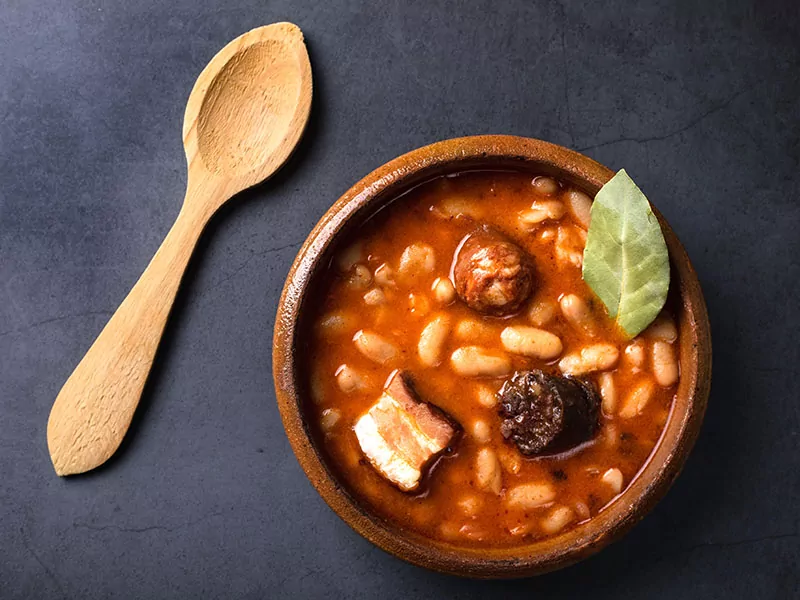 Fabada is a nutritious and delicious Spanish pork dish for your mid-day meal. The stew will have a rich flavor with white beans, pork, chorizo, and black Spanish sausage. You will love the perfect tenderness of the pork and the porosity of the beans when stewed.
This particular recipe originates from the North of Spain. There are two other variations of this delicious stew that you can enjoy, including Spanish Olla Podrida and southern French Cassoulet.
5. Jamon Iberico – Iberian Ham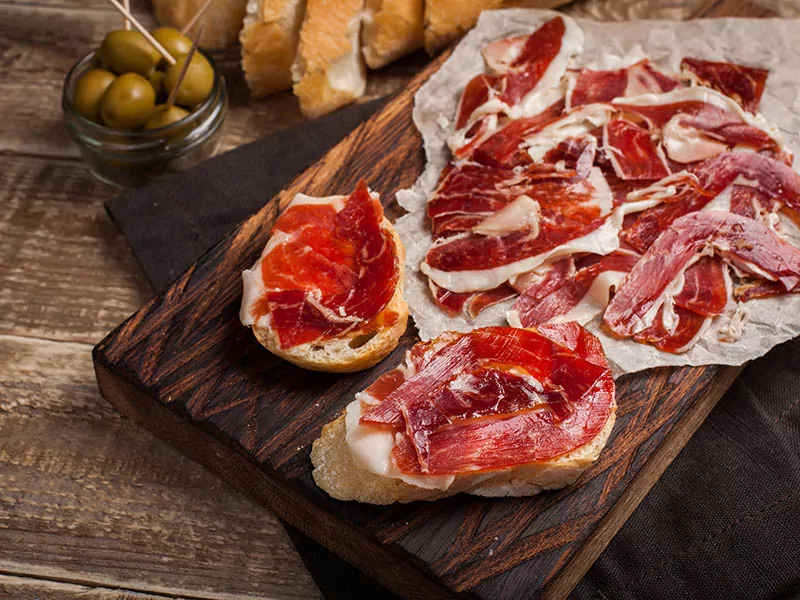 Spain is the world's largest maker and consumer of ham, with about 40 million hams produced a year. That is why the Jamon Iberico is one of the most common dishes here. Salted and air-dried cured ham is available in most Spanish restaurants.
This food originated in Spain when the Muslims occupied Spain in the 15th century. There are two main types of cured ham in Spain, including Jamon Serrano and Jamon Iberico. Compared to the other version, Jamon Iberico has better quality and is more expensive.
It is a rather exciting fact that the export of Jamon Iberico to the United States of Spain was banned for a long time, and it became legal only in 2005.
6. Puchero – Meat and Veggies Stew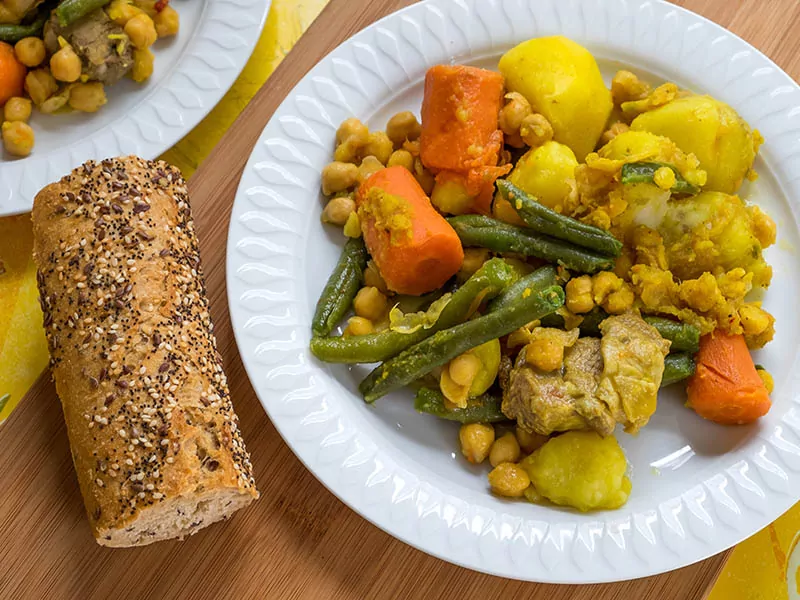 Spain has a famous stew called Puchero. Ingredients such as meat, noodles, rice, and veggies contribute to the exquisite taste of this food. The name "puchero" means "stewpot," stewed in a clay pot.
Puchero is an invention of the Spaniards. In addition, it also has many other variations in many countries around the world. The Filipino version is a combination of beef, veggies, and plantains. Puchero of South American countries has the same cooking method as Spain.
Spanish Tapas
In Spain, tapas or appetizers are a distinctive feature of Spanish cuisine. Therefore, you should not miss the incredible tapas of this beautiful country.
7. Albondigas – Meatballs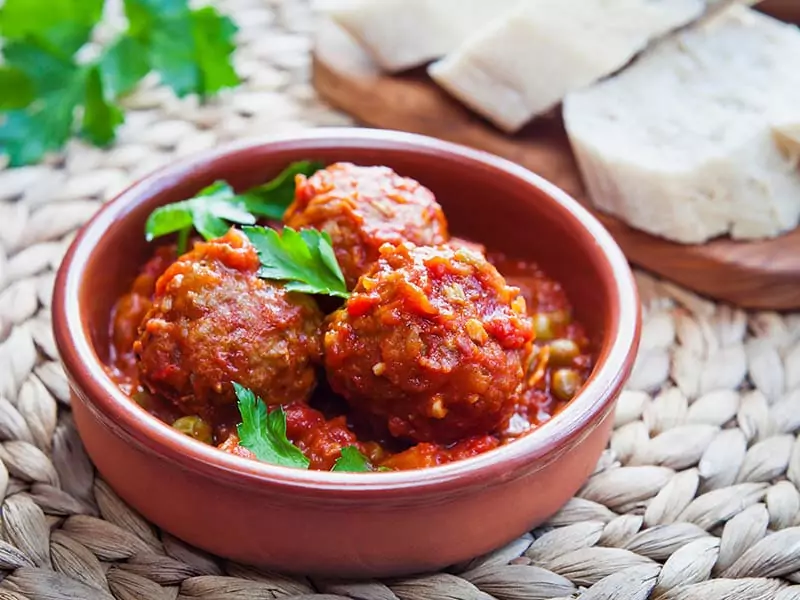 The menu for Spanish dinner recipes cannot be complete without excellent albondigas. You will go crazy with these carefully seasoned meatballs served with tomato sauce or almond sauce for a change of taste. People also utilize this delicacy to make mouth-watering albondigas soup.
This incredible recipe has its roots in Arabic or Berber cuisine and was found in Spain during the Muslim rule. It is a traditional tapas dish in Spain, and it will occasionally appear on the main course menu.
8. Gambas Al Ajillo – Garlic Prawns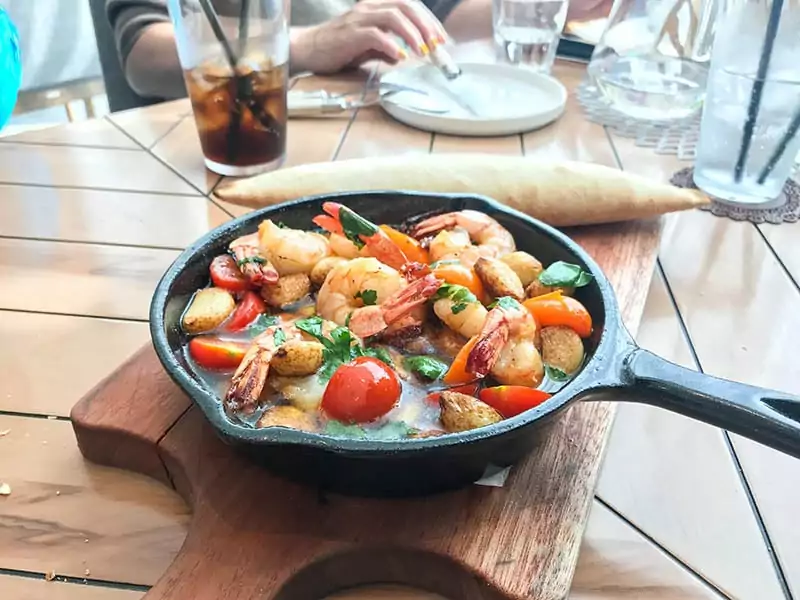 If you are looking for a famous Spanish seafood recipe, Gambas Al Ajillo is a suggestion you should consider. This favorite dish is a suitable combination of roasted garlic, prawns, chili, and olive oil to bring an irresistible overall taste.
This beautiful dish originates from the Andalusian region and appears on the menus of most tapas restaurants across Spain. The tapas tradition dates back to the time of King Alfonso X when he recovered from an illness after drinking alcohol with small dishes.
9. Empanadas – Pastries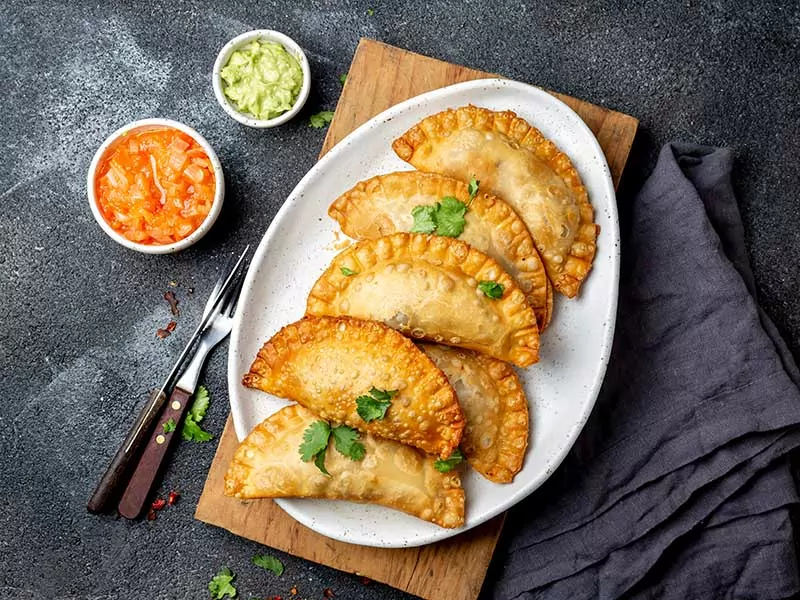 One of the most delicate pastries that appears in countless famous Spanish cookbooks is the Empanada. This dish also appears in many parts of the world. The salty or sweet filling will be covered with a layer of dough. The salted filling will contain meat, fish, and cheese. And the sweet version includes fruits.
This wonderful recipe originates from the Galician region in Northwest Spain. It first appeared when Muslims attacked the Inberian peninsula. A cookbook mentioned this wonderful food in 1520.
10. Caracoles – Snail Tapas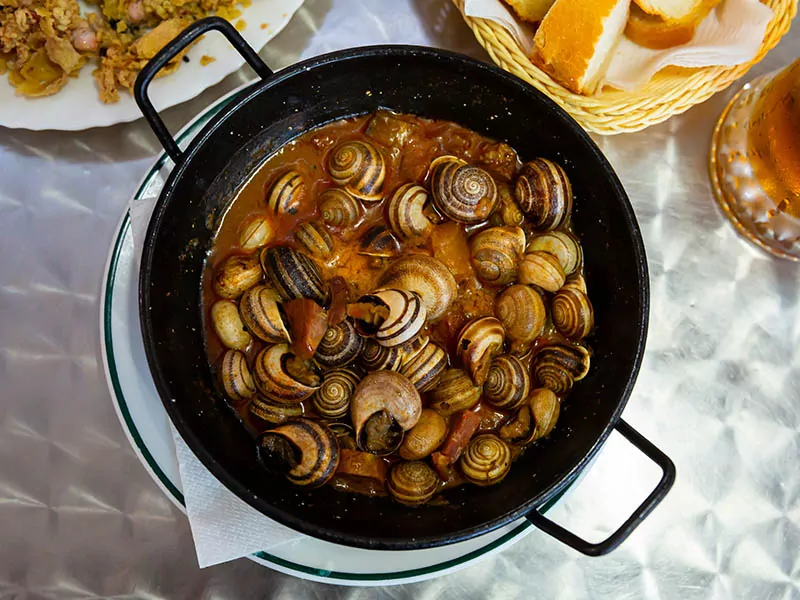 If you want to enjoy a unique dish of Spanish cuisine, you can opt for Caracoles. Snails are a traditional Spanish dish and a much-loved tapa. This dish is odd, but its taste will make you think again.
In Spain, snails usually grow and thrive in May and June. Therefore, you will easily find this food when you come to Spain at this time. Especially in the spring, almost all Spaniards want to enjoy this incredible snail dish.
11. Garbanzos Con Espinacas – Spinach with Chickpeas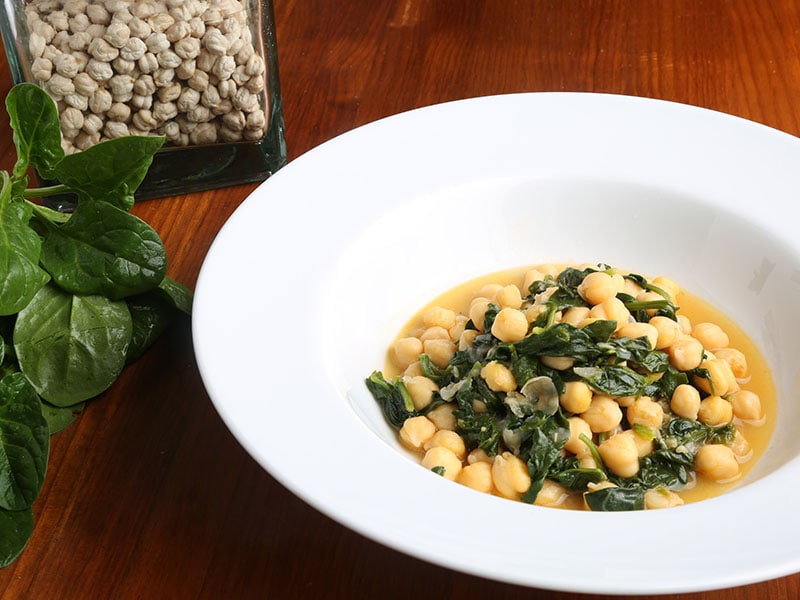 Garbanzos Con Espinacas is the next dish I would recommend to you. This is a plant-based recipe and a healthy tapa option. Spinach and chickpeas will be cooked together to form a harmonious blend of flavors.
This delicious dish originates from Seville, Spain. The Muslims brought chickpeas, spinach, and cumin to Spain in the time of Al-Andalus. This stew was very popular in the Andalusian region, and Christians loved it.
12. Croquetas – Croquettes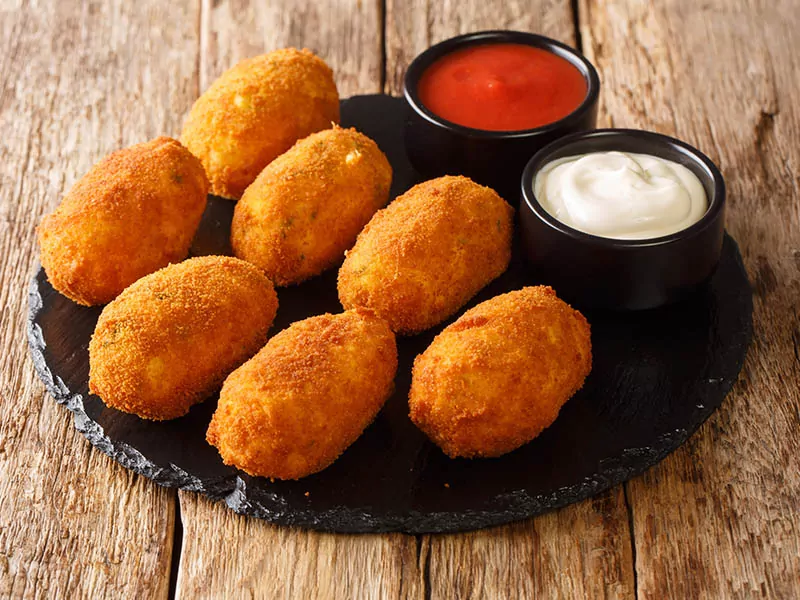 It is impossible not to mention Croquetas when it comes to Spanish tapas. This recipe was born in France and is commonly known as a Croquette. A French chef brought Croquette to a royal banquet in 1817.
When enjoying this food, you will be awakened by the mesmerizing crunch of the deep-fried breadcrumbs on the outside. You will be even more surprised by the potatoes and Bechamel sauce filling.
Fabada is a nutritious option for your mid-day meal. The stew will have a rich flavor with white beans, pork, chorizo, and morcilla – an exquisite kind of sausage made from blood. You will love the perfect tenderness of the pork and the porosity of the beans when stewed.
13. Boquerones Fritos – Fried Anchovies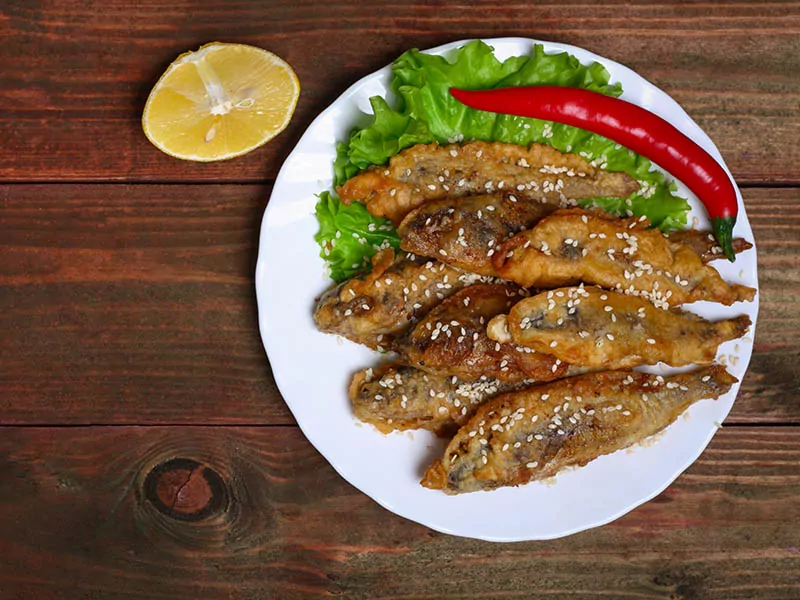 I am sure you will enjoy sipping a few beers with the famous Spanish Boquerones Fritos. If you go to tapas restaurants, it is easy to see it on the menu. You will immerse in the crispness and deliciousness of fried anchovies.
People in the Andalusia region made this food first. When you take a bite of Boquerones Fritoss, you will feel the crunchiness of the dough's outer and the chewiness and tenderness of anchovies.
14. Bacalao Al Pil Pil – Basque-Style Fried Codfish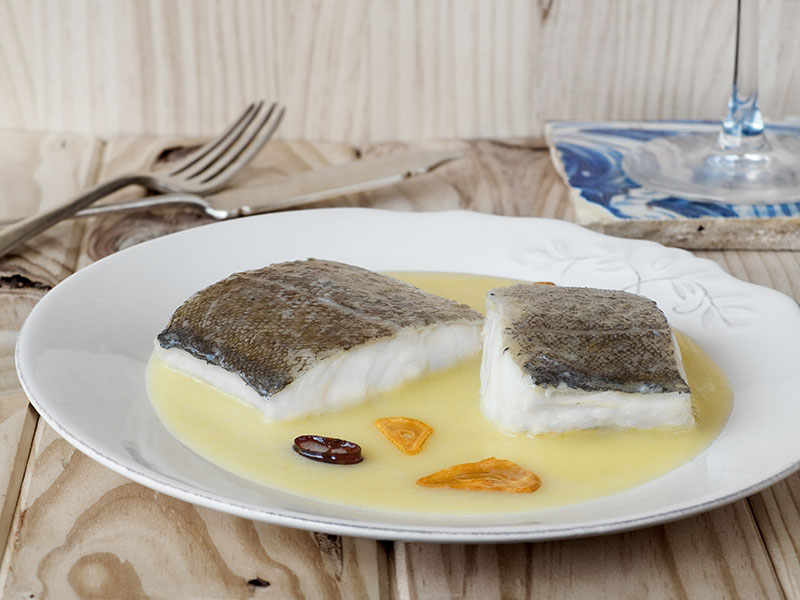 Bacalao Al Pil Pil is a traditional dish born in Basque. There are many theories that this unique dish of Spain was cooked during the 2nd Carlist War. Before Bilbao was attacked, a merchant bought 20 to 22 acres of cod.
A unique feature that you will miss when enjoying this dish is the Pil Pil sauce. This sauce goes through a meticulous emulsification process where the chef has to simmer salt cod, garlic, and olive oil in a small pot.
15. Tortilla Espanola – Omelet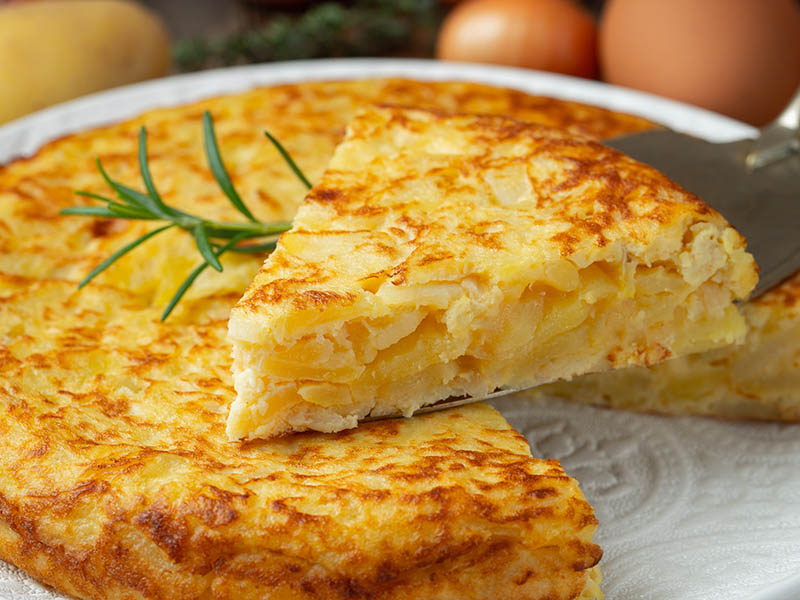 Tortilla Espanola appeared in Spain in the 19th century when poor people could not afford to purchase eggs and vegetables continuously. Hence, they put potatoes in omelets to create this excellent food.
Today, the Spanish omelet comprises eggs, potatoes, and caramel onions. The chef cuts a Tortilla Espanola into bite-sized slices when you order a Tortilla Espanola. Also, you can find it in sandwiches and bread.
16. Montaditos – Finger Sandwiches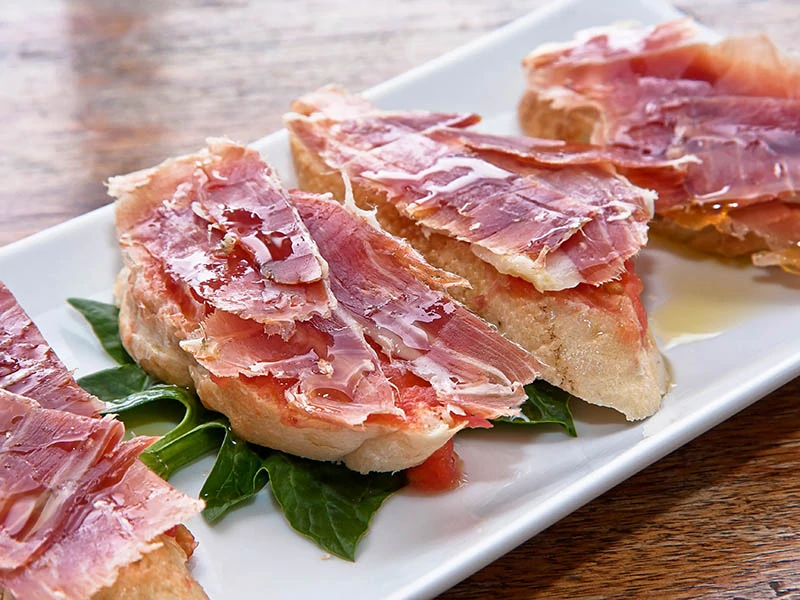 You can choose small Montaditos to kick-off your party. It is considered Spain's oldest sandwich and is a crucial patas. Small pieces of bread will be covered with cheese, sausages, meat, and other toppings.
This incredible dish dates back to the 15th or 16th century. Its name "Montaditos" is derived from the word "montar", which means mount. It is explained that the toppings are mounted on the top of the bread.
17. Migas – Scrambled Bread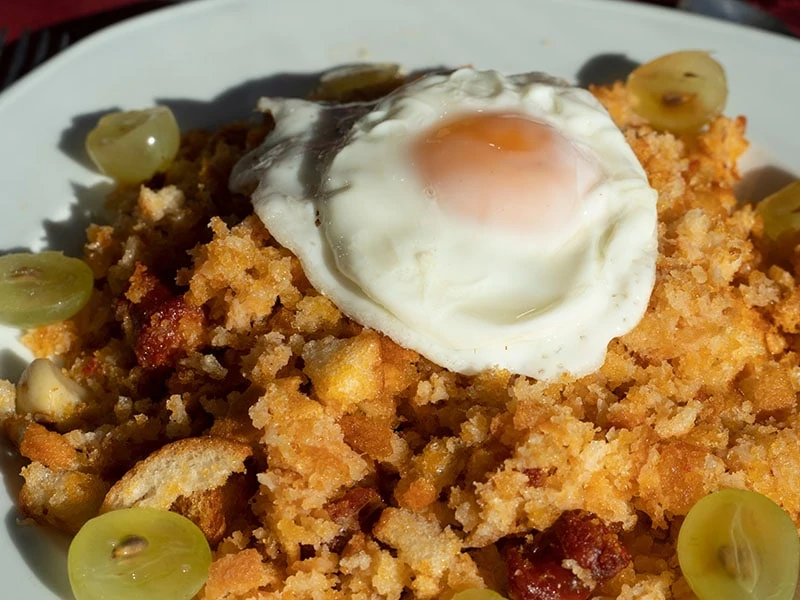 Migas is a beautiful Spanish recipe. The Spaniards used leftover bread or tortas to create this attractive dish. For a variety of flavors, the chef added bacon and Chorizo. In addition, it is served with grapes in the Extremadura province.
Meanwhile, the southeastern Spanish variant does not use bread but flour and water instead. This food is the invention of shepherds and is a favorite breakfast dish of hunters. Corn-based dishes or flour tortillas are also called Migas in Mexican and Tex-Mex cuisines.
Spanish Breakfasts
Breakfast is an important meal of the day that you should focus on. If you do not know what to eat when you come to Spain for breakfast every morning, you can refer to the dishes that appear in this part.
18. Pan Con Tomate – Spanish Bread with Tomatoes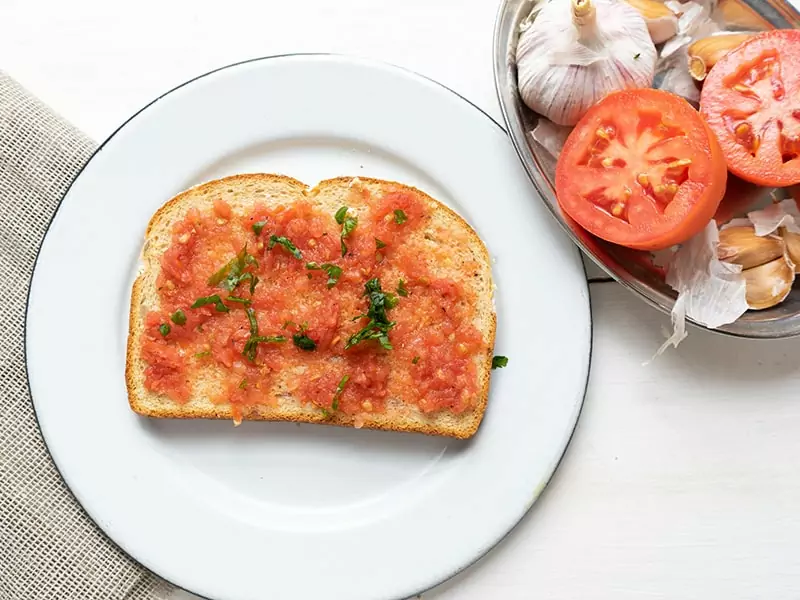 Have you ever tried to enjoy bread with tomatoes? You will have the chance to experience the essence of this cuisine in the famous Pan Con Tomate. This is a great Spanish breakfast dish for you. Toasted bread with grated potatoes will be served with tomato paste.
This food comes from the Catalan region. Tomatoes have been grown in America for a long time, but they only appeared in this dish in the 18th century. The first record of Pan Con Tomate was found in 1884.
19. Bocadillos – Baguette Sandwiches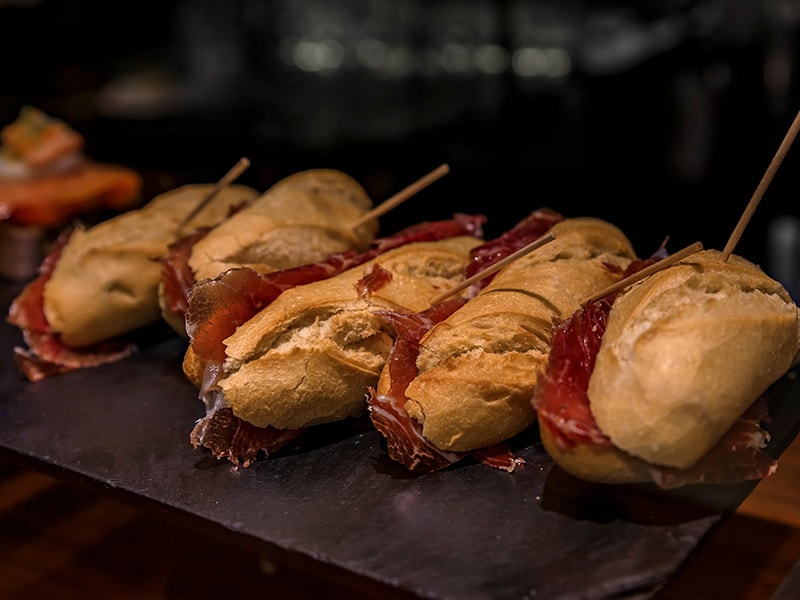 Bocadillos sandwiches are a must-try street snack when you come to Spain. It is made from baguette-like bread. You will enjoy this food with sauces like mayonnaise, ketchup, or tomato sauce. This is the perfect choice to pair with beer, wine, and tapas.
Jose Luis Cabeza Hernandez was the first to make Bocadillo in the 1970s in Sevilla. This traditional recipe comes with variations, such as omelet Bocadillos, Vegetarian Bocadillos, Egg Bocadillos, Meat Bocadillos, and Sweet Bocadillos.
20. Chorizo – Spanish Sausage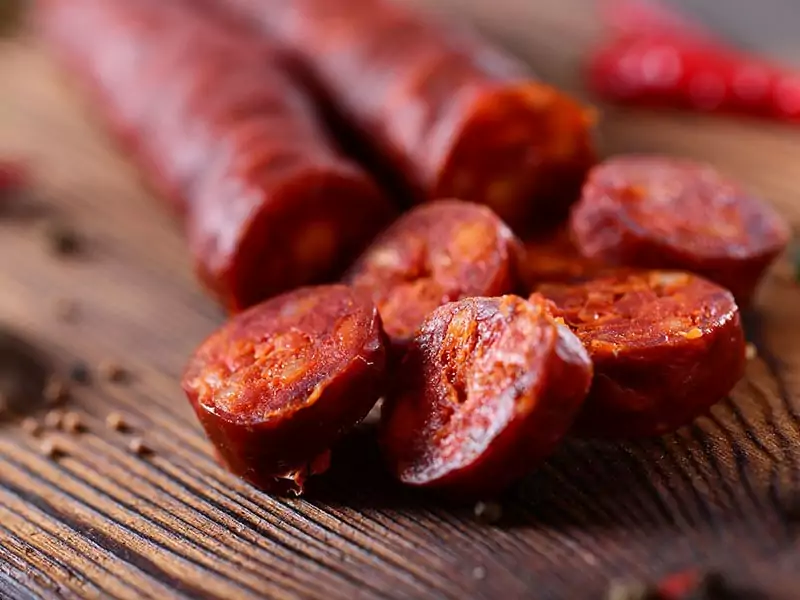 You are missing out if you do not enjoy delicious Spanish sausages. The chef will season the minced pork with Spanish paprika, including spices, white wine, and herbs to bring out the charismatic and distinctive flavor.
The famous sausage recipes have been popular in Spain since 1519 and gradually spread to Mexico and many other countries. Chorizo exists in different variations such as sweet, spicy, fresh, smoked, unsmoked, dry-cured, and a vegetarian version called Soyrizo.
21. Torrijas – Spanish-Style French Toasts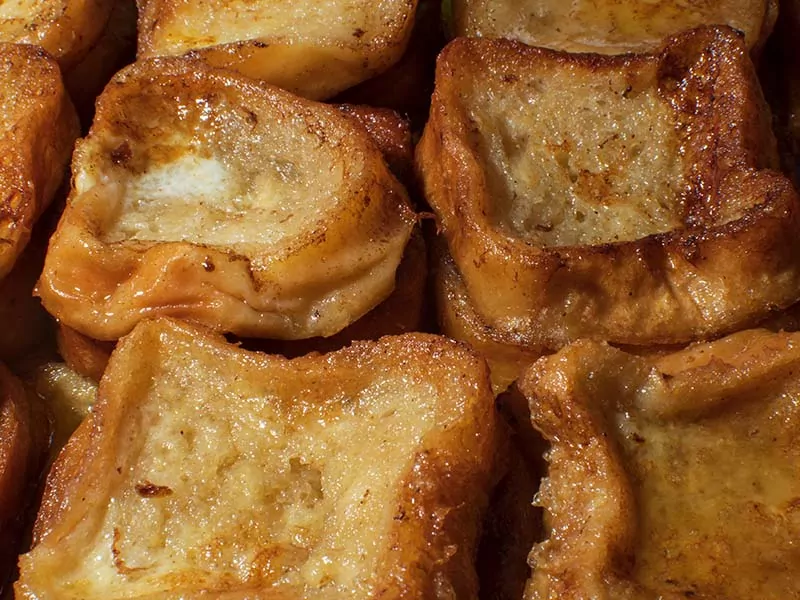 If you have tried French toast, Torrijas are a similar selection of Spanish cuisine. This recipe was born in the 15th century when the nuns made it. This food is an essential part of Lent (40 days of fasting) and Holy week.
You will fall in love with the crispy and delicious Torrijas. Slices of bread are bathed in milk, wine, and seasonings like lemon rid, cloves, or cinnamon before frying in hot oil. You should not miss this tasty dish.
Spanish Desserts
Desserts are the essence of every meal because they leave a sweet and unforgettable aftertaste in your heart. It is time to refresh your taste buds with these amazing treats.
22. Membrillo Con Queso – Quince Jam With Cheese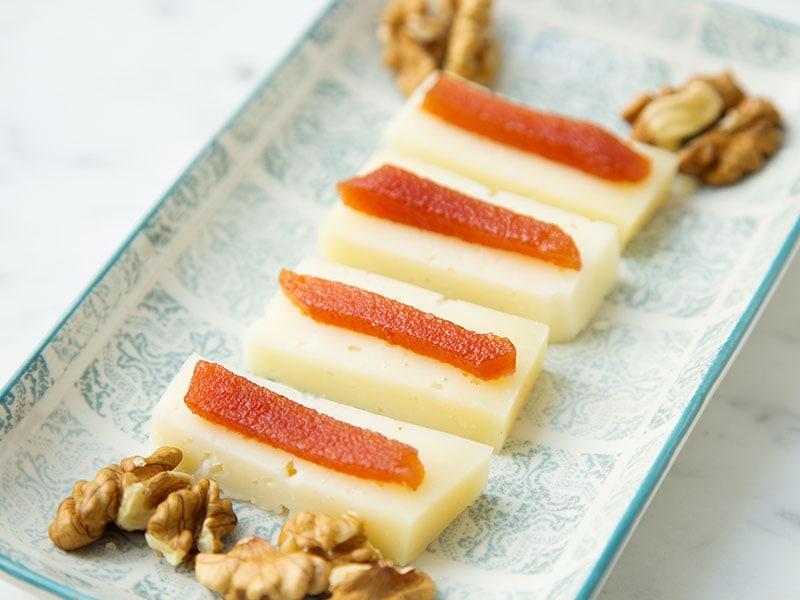 Backyard quince trees were planted in Spain a long time ago. The Spaniards took advantage of its fruit to make delicious jams. Today, you can find this tree in old houses or in the countryside.
You will regret skipping this wonderful Spanish dessert. Membrillo Con Queso is a harmonious combination of quince jam and manchego cheese. The sweet flavor of the jam is balanced with the mild salty taste of the manchego cheese.
23. Arroz Con Leche – Rice Pudding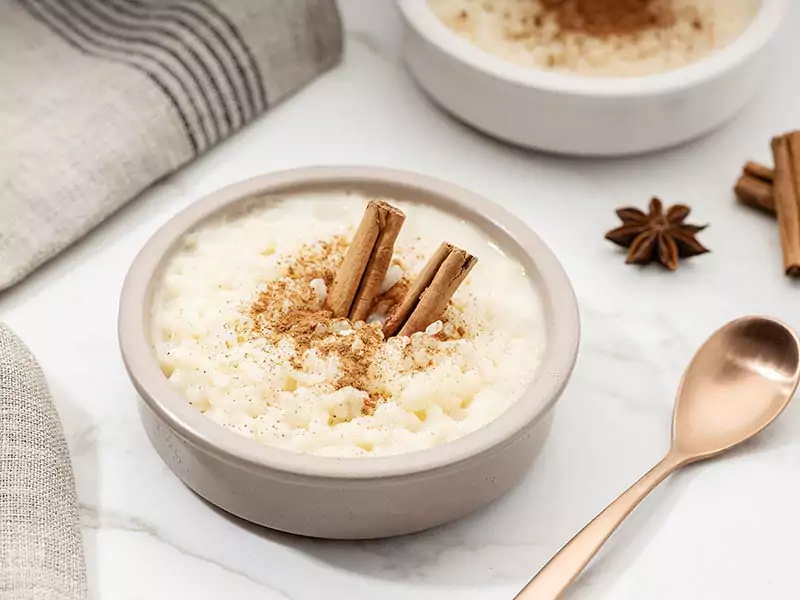 Arroz con Leche has a long association with the development history of Spain. The Spaniards combined rice with sweet cinnamon and fresh lemon to make this perfect dessert recipe. Its sweet and creamy taste will make you flutter.
The Moors brought this wonderful recipe to Spain when they occupied the Iberia Peninsula. Besides the Spanish version of rice pudding, many other South American versions appeared when the Spaniards invaded the area.
There are many ways to prepare this delicious Spanish Christmas treat, but the most popular is to bake in the oven or stovetop. You can choose to eat warm or cold depending on personal preference. A little cinnamon makes the dish more eye-catching.
24. Crema Catalana – Caramel Custard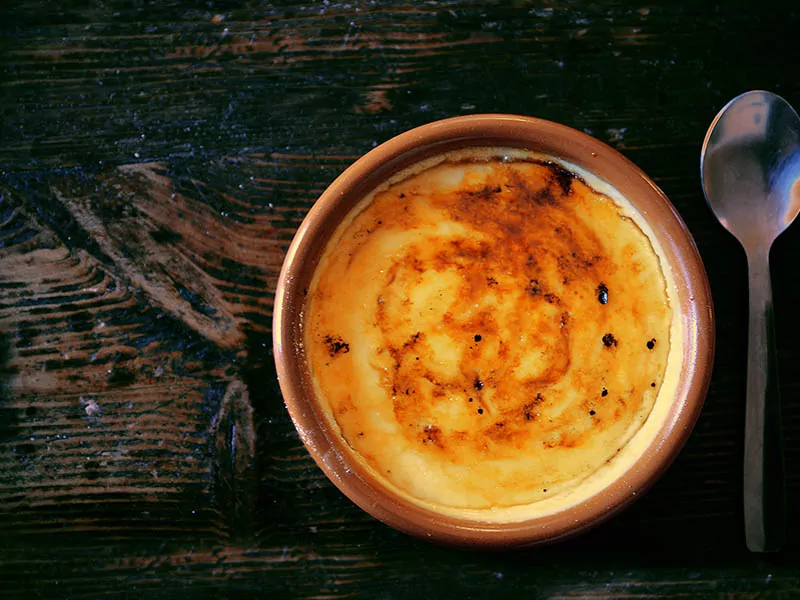 I will suggest you a great summer Spanish dessert. Do not miss the Crema Catalana! You will love the caramel topping of this dessert. This food includes milk, eggs, and cornstarch. In addition, you will feel the flavor of lemon peel and cinnamon.
Many records suggest that Crema Catalana was a product of the Jews of the Catalonia region. Because of their sweet taste, they combined milk and eggs to create the first version. This delicacy first appeared in cookbooks in the 14th century.
25. Churros Con Chocolate – Fried-Dough Pastry With Chocolate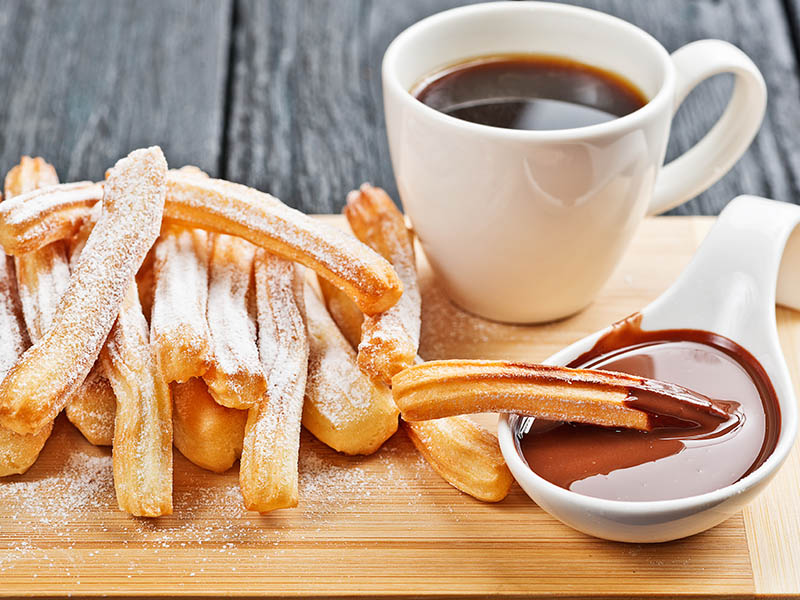 The Spaniards invented Churros and brought them to South America in the 1500s when they invaded the area. So, this food is pretty standard in this area. The Spaniards combined cane sugar with cacao to create hot chocolate to eat with Churros when returning to Europe.
I recommend ordering this food at Spanish restaurants to enjoy the authentic taste of this beautiful dessert. You can eat this recipe with a cup of coffee every morning to start a new day full of energy.
26. Turron – Nougat Candy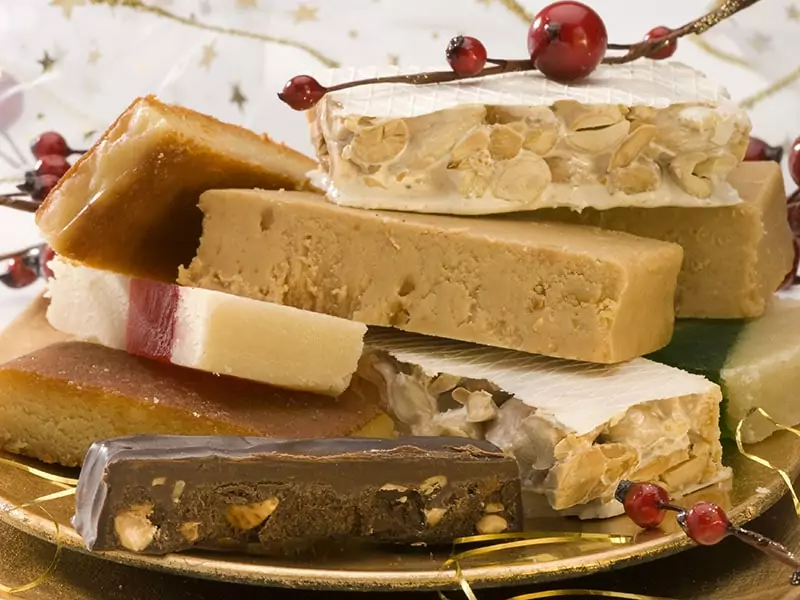 Turron is a pride of Spanish cuisine. It is called by different names in various regions. It is known as Torro in Catalan, Torrone in Italy, or Tarrao in Portugal. This wonderful dessert recipe appeared in Spain when the Moors invaded the country in the Middle Ages.
Gradually, this sweet candy with great toasted nuts became famous all over the country. There are two main versions of the Turron, including the Turron de Alicante and the Turron de Jijona.
Turron de Alicante is the hard version with 60 percent whole almonds in a mixture of eggs, honey, and sugar. Meanwhile, the soft version Turron de Jijona with 64 percent almonds and the appearance of oil makes it softer and more sticky.
27. Basque Cheesecake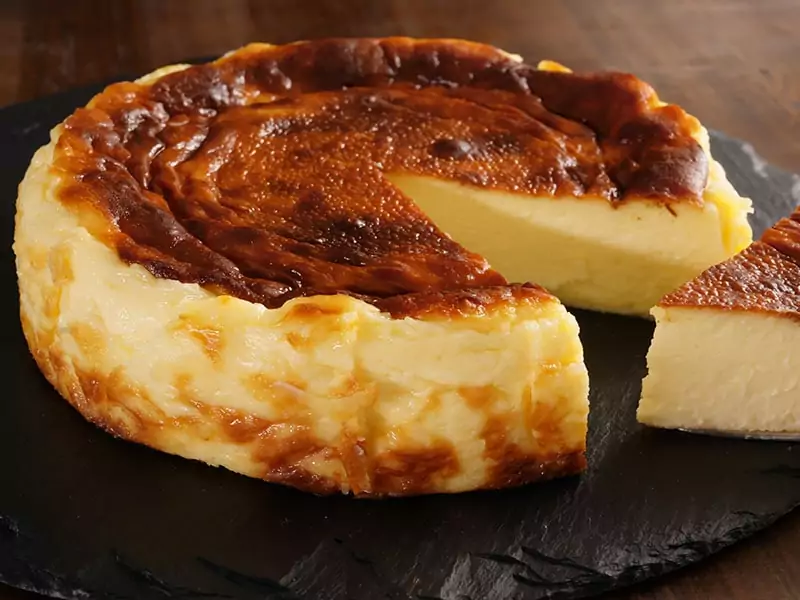 Basque cheesecake or burnt cheesecake is a great dish that cannot be missed on this list. This food looks outstanding with its dark-coated surface. This wonderful recipe was born in 1990 in San Sebastian, Spain. It needs to be made 3 days before serving.
The distinctive sweetness, cream, and caramel flavor of this cake will make you remember it forever. Unlike American cheesecake, there is no crust in this cake. In addition, this type needs a short baking time and high temperature.
28. Magdalenas – Muffins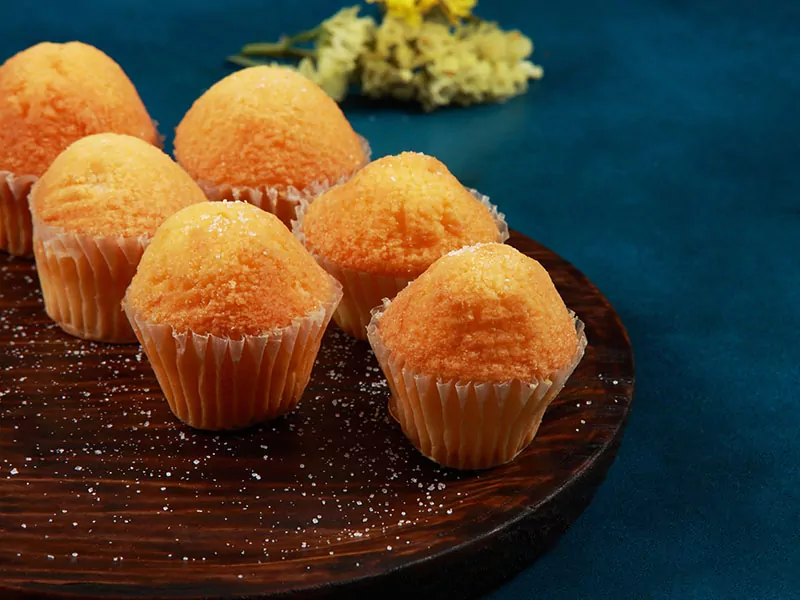 Magdalenas are a famous muffin of Spanish cuisine. Spaniards always want to eat fluffy Magdalenas when they come to Spain. You will feel the outstanding lemon flavor in this food. You can easily find it at coffee shops in Spain.
There are many anecdotes about the birth of Magdalena, many claiming that women on Madeleine made this sponge cake. Meanwhile, some other opinions suggest that it was created by a chef named Madeleine Paulmier in the 18th century.
Go to the kitchen to create fantastic Magdalenas for dessert.
29. Tortas De Aceite – Olive Oil Biscuits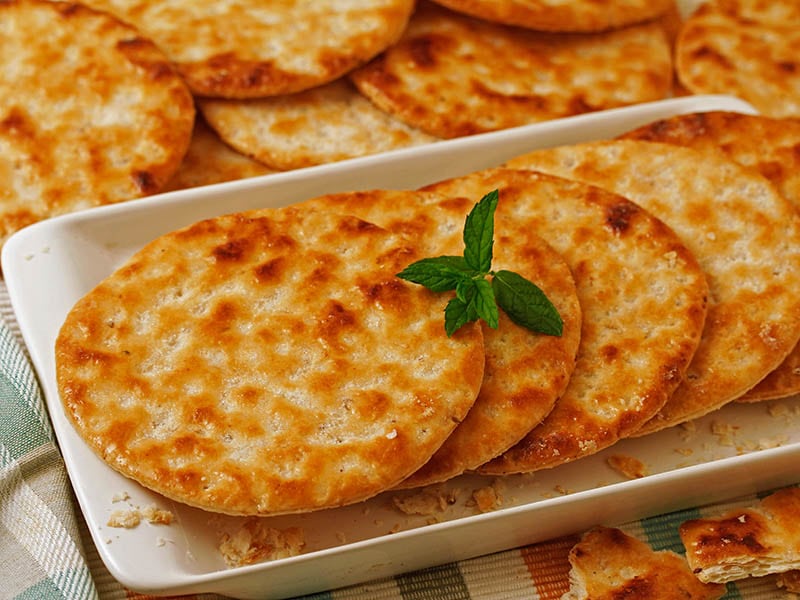 One famous Spanish biscuit that you should not ignore is the Tortas De Aceite. You will find flavors of egg whites, almonds, sesame seeds, and the sweetness of sugar. The crispiness of these biscuits will make you go crazy.
The exact origin of the Torta De Aceite is still unknown. However, many people believe that the ancient Arabs invented this dish. In Spain, it first appeared in the south of Spain and gradually spread throughout the country.
30. Leche Frita – Fried Milk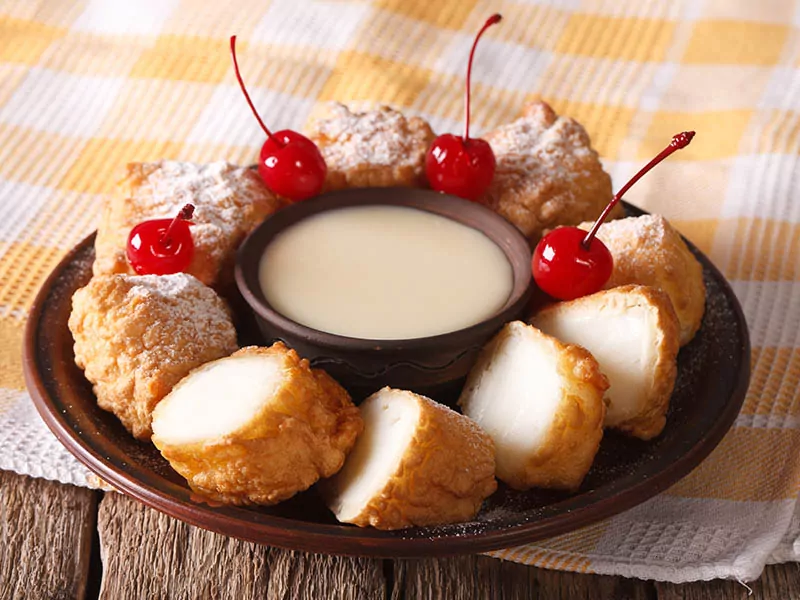 In the list of outstanding desserts of Spain, it is impossible not to mention Leche Frita. Northern Spain is considered the home of this delicious fried milk. It is an essential food during Easter.
The chef has skillfully combined the ingredients to create a perfect product. After whipping, the milk, egg yolk, and flour mixture will come together. The breadcrumbs on the outside will give an excellent crunch.
31. Tarta De Santiago – Spanish Almond Cake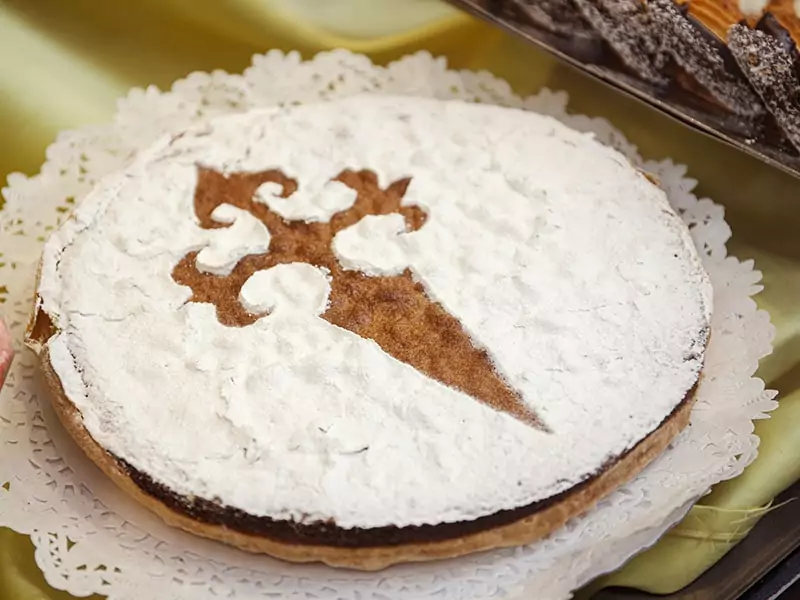 The Tarta de Santiago will not let you down. Its name is often interpreted as Cake of St.James because its main ingredient is almonds and is embellished with a St.James cross in the center of the cake.
This is the famous cake of Santiago de Compostela and dates back to medieval times. Spaniards have been consuming this dessert since the 1500s, but it became widely known in 1838. It is also commonly known as "torta real" or "royal cake".
In May 2010, this dish was set PGI standards by European countries. A qualified cake needs to be made in the Autonomous Community of Galicia and include at least 33 percent almonds.
32. Natillas – Milk Pudding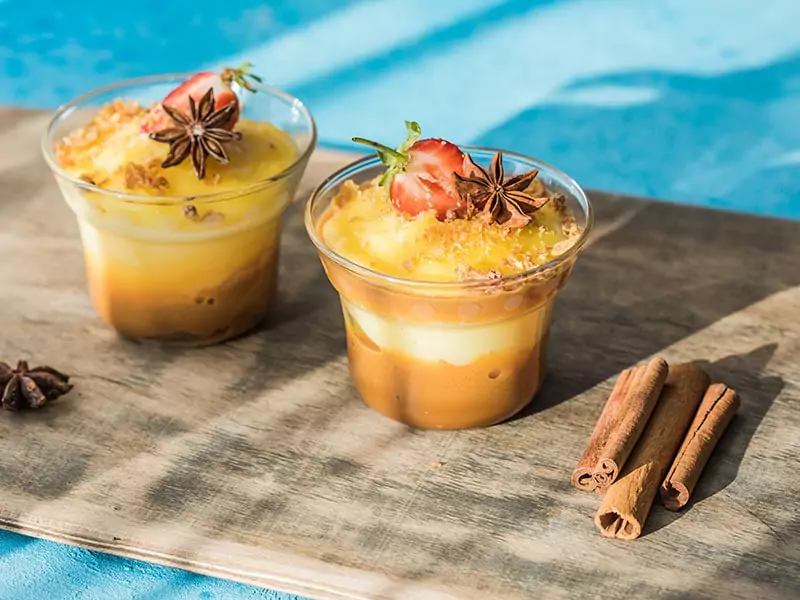 Spanish desserts always leave an indelible impression after enjoying; Natillas are one. The smooth texture of the boiled milk, egg yolk, flour, and vanilla mixture will make you remember it forever.
The nuns invented this excellent Mediterranean dessert when they made it at fairs in Europe. Gradually, this recipe became widely available and became a preferred choice of Europeans and Spaniards.
Spanish Drinks
Spain is famous for its fantastic variety of wines and drinks. Here are the outstanding Spanish drinks that you should try to understand the culture and traditions of this country better.
33. Cerveza – Spanish Beer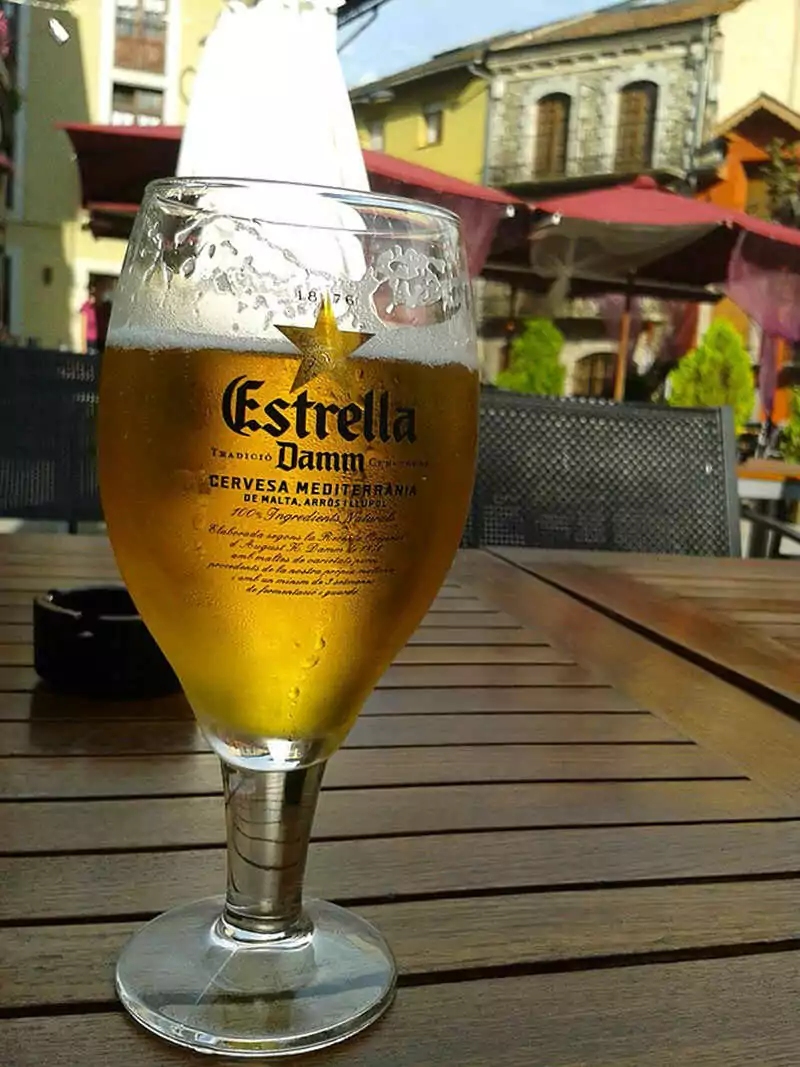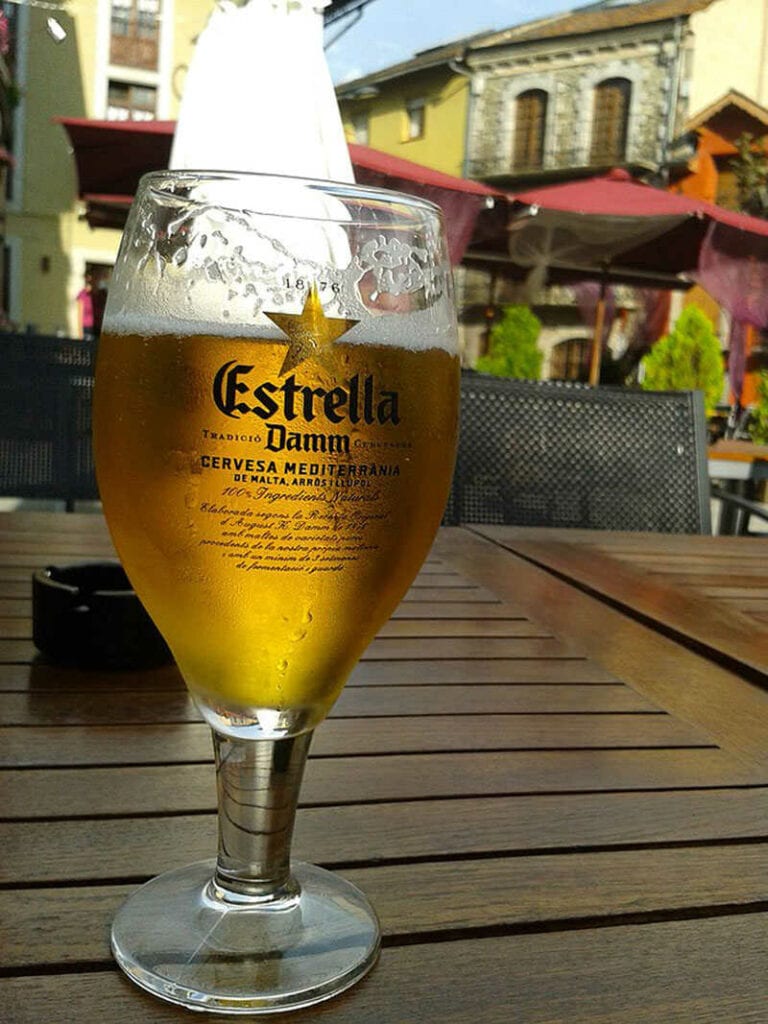 It is a shame not to drink Cerveza when you come to Spain. It is great to sip a couple of cold beers with Spanish tapas. Spain is considered one of the largest beer-consuming countries in the world.
Not many people in Europe knew about Spanish beer until King Charles V arrived in Spain. After it became famous, many beer factories were born. In the Madrid capital, the first brewery opened in 1611.
34. Sangria – Spanish Cocktail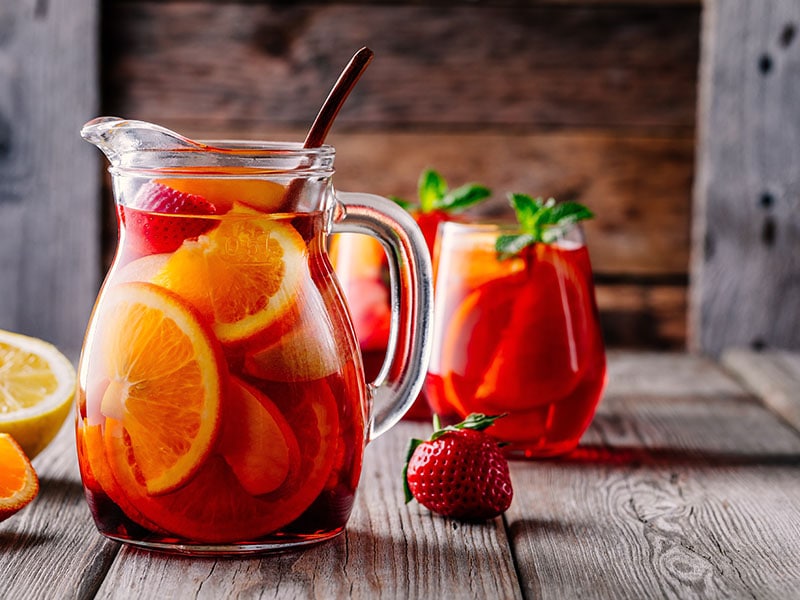 If you are looking for a great drink to quench your thirst, you should consider Sangria. This recipe is pretty popular on vacations and holidays in Spain. The combination of red wine and sweet fruit will make a perfect whole.
Sangria has a long history when it first appeared in 200 BC. Nowadays, December 30 is chosen as National Sangria Day every year. This drink was introduced in the US in 1964. You can try a Mangria version with 3 parts red wine, 1 part orange juice, and 1 part vodka.
35. Sherry – White Grapes White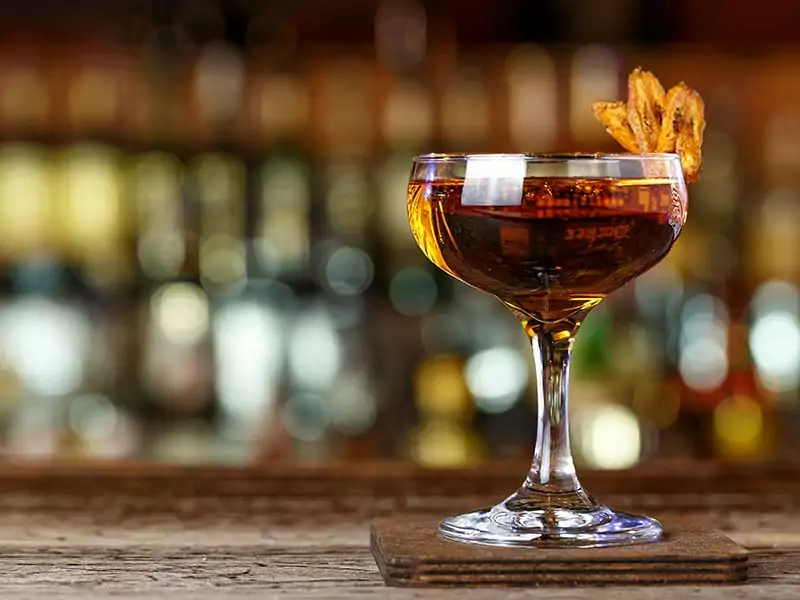 Sherry is a pride of the town of Jerez in the Southwestern part of the country. During the Moorish rule of Spain, Sherish was its common name. Its name is derived from a Moors word for Jerez.
This is a deliciously sweet dessert wine. White grapes are the main ingredient of this drink. You can find various versions of it. Sherry Fino is the driest, and the rich flavor belongs to the Sherry Manzilla Posada.
Sherry Amontillado will bring you a medium sweetness when enjoying it. If you want Sherry with rich color, you can choose Sherry Oloroso or Jerez Dulce.
Boost your knowledge with extraordinary things about Sherry.
36. Tinto De Verano – Wine Drink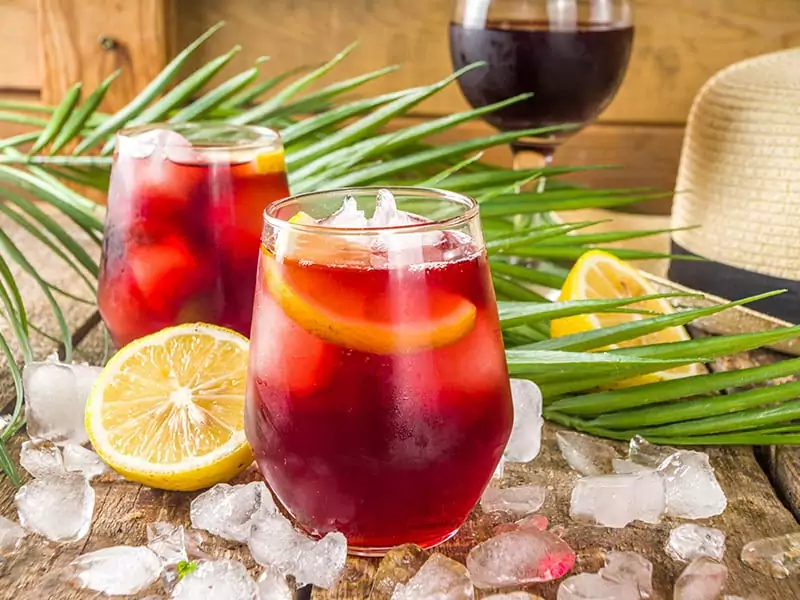 If you go to Spain in the summer, Tinto De Verano will be just what you need to cool down. That is why it is called "Spain summer wine". The combination of 1 part red wine, 1 part soda, and lemonade results in an excellent and refreshing product.
This cocktail full of Spanish flavor first appeared in the 1900s at Cordoba's Venta de Vargas bar. It comes in many variations with special concoctions, such as a mixture of red wine and lemon or orange soda and red wine with cola.
37. Zumo De Naranja – Fresh Orange Juice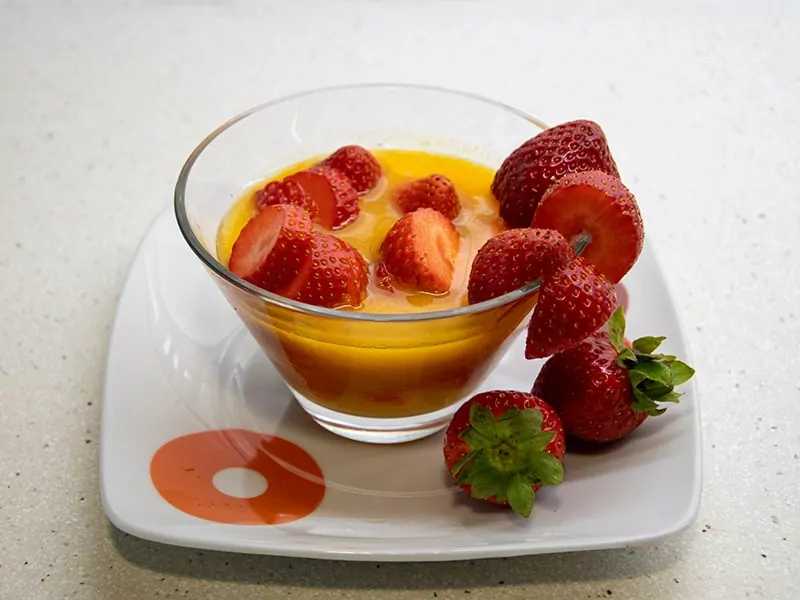 One of the great Spanish drinks you should not miss is Zumo de Naranja. You will have the chance to experience the authentic taste of orange juice pressed from sweet oranges in the Valencia region.
This is the area with the most enormous orange production reserves globally. You can find this drink in Spanish bars or restaurants. Start your breakfast with a glass of orange juice to add a large amount of vitamin C to the body.
38. Cava – Sparkling Wine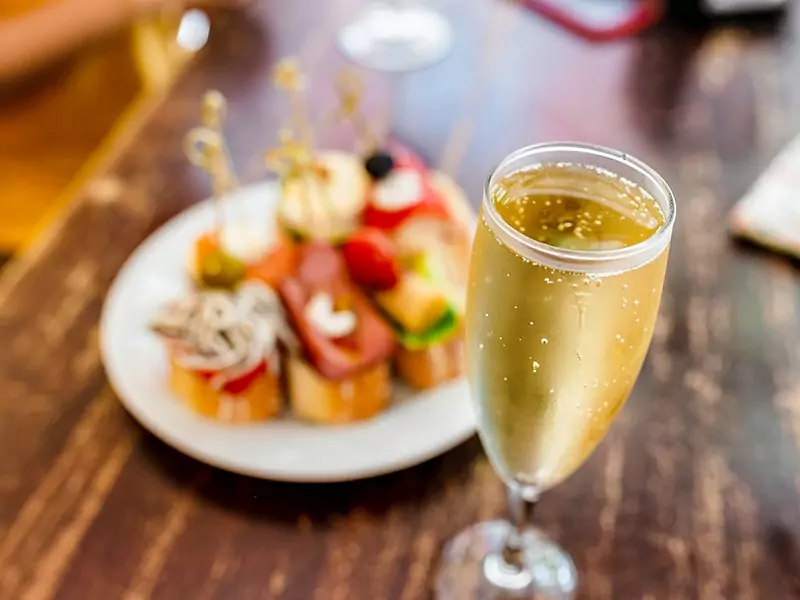 Cava originates from the Catalonia region of Spain. You can easily find it in the Basque Country, Valencia, Navarre, La Rioja, and Aragon. This drink has processing similar to champagne. This distinctive taste of the Parellada grape is its highlight.
Spaniards often combine it with Manchego cheese, egg dishes, and Spanish seafood. Cava exists as dry and sweet. Brut Nature is the driest with the least sugar, and the following grades include Extra dry, Dry, Semi-Dry, and sweet.
Other Spanish Dishes
Besides the above recipes, Spain also has many other incredible dishes. This section will introduce to you some other delicious recipes that you can find in Spain.
39. Queso Manchego – Manchego Cheese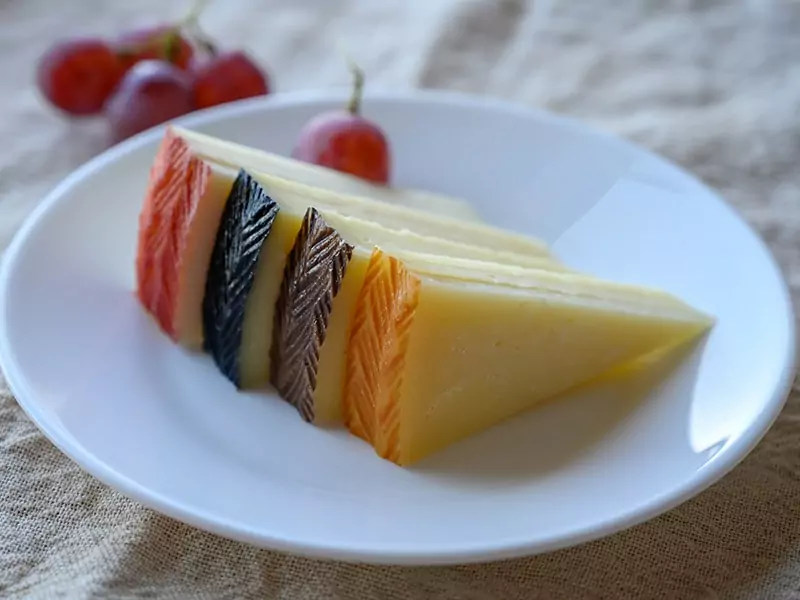 Queso Manchego is a semi-hard cheese with the milk of Manchego sheep of the La Mancha region of Spain as the main ingredient. This is a traditional and famous Spanish cheese with an appealing caramel sweetness. You can serve with honey, fruit, and membrillo.
This cheese appeared in the novel Don Quixote in the 1600s. However, it came out a long time before that. Many archeologists have discovered this fantastic cheese on sheep farms from before the time of Christ.
40. Pinchitos – Grilled Meat Skewers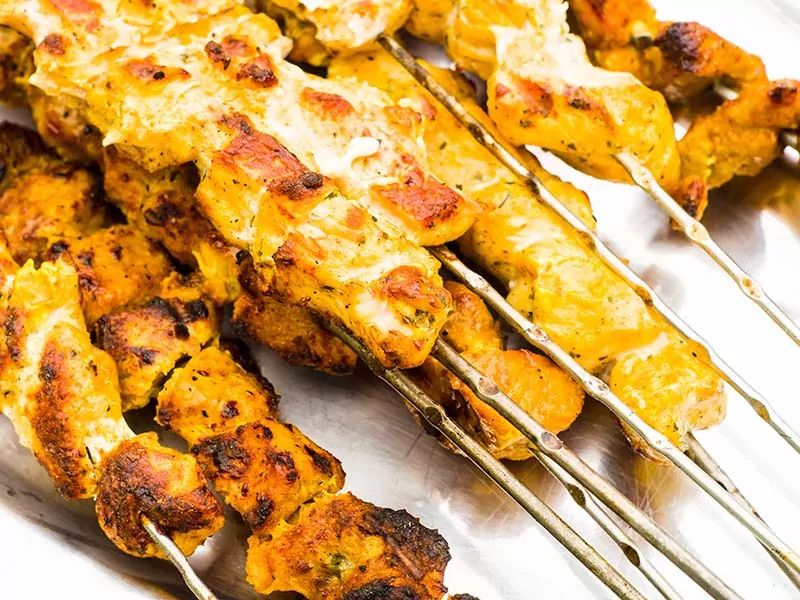 Pinchitos is a dish that promises to awaken your taste buds. These barbecue skewers are associated with the Moors of Spain. They brought this fascinating dish from the Middle East to Spain and made it familiar all over the country.
The meat is skewered on wooden sticks and grilled over a charcoal fire, giving an ecstatic aroma. In Spain, lemon wedges and bread are common dishes that appear with Pinchitos. Also, you should enjoy it with a glass of wine.
---
Pick Your Favorite Spainish Delicacies!
Here are the most outstanding dishes when it comes to Spain. I hope your belly will not be afraid of going hungry when traveling in Spain. I am happy to bring outstanding information to make your life easier and better.
Therefore, do not forget to like and share the article with others to support me. Besides, please leave your questions and suggestions in the comment section; I will respond as soon as possible. Thanks for reading!