Spanish street food is the first thing you should look for if you have the chance to visit this beautiful Mediterranean nation.
Known for its sandy coastline and magnificent mountain ranges, Spain is without a doubt the dream destination of many drifters and adventurers.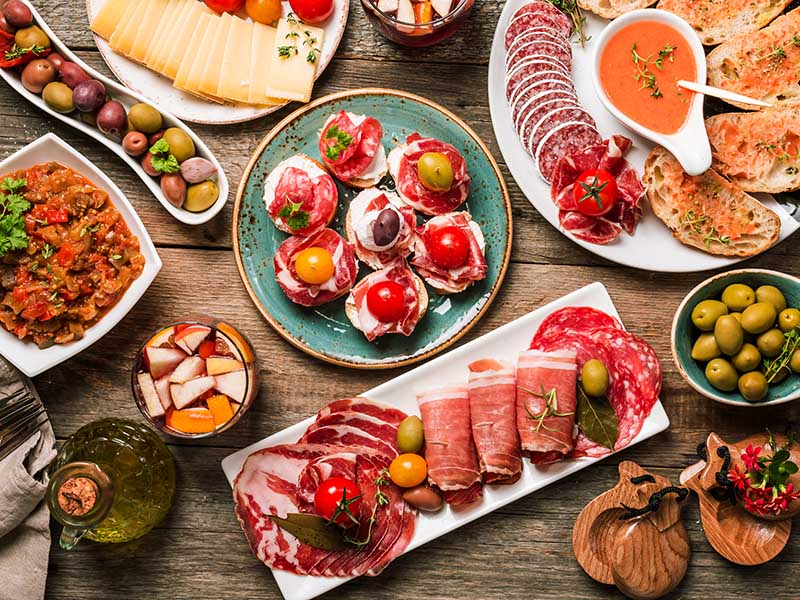 Although the natural scenery in Spain is already impressive enough to attract travelers, the one-of-a-kind cuisine of this lovely nation is the true deciding factor.
During your trip to Spain, besides sampling traditional Spanish foods at fine dining establishments, you should also look for the road nourishment of this country. Here are some of the best street food options; let's take a look!
Meat
Street food has its very own notoriety in Spain. Since they are so popular worldwide, you might have heard about some of these meat-based dishes before. Regardless, eating them directly at a Spanish street vendor will be a totally different experience.
1. Bocadillo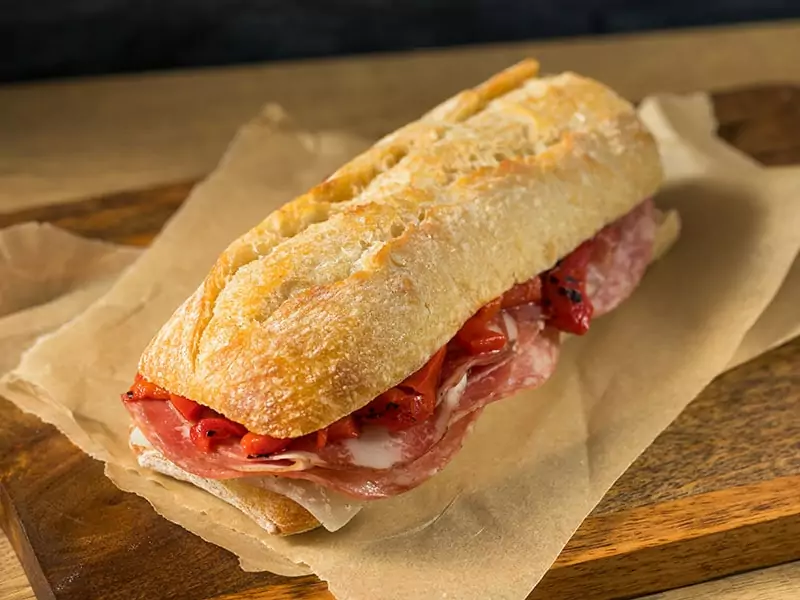 Although sandwiches are the ultimate lunch option, they can become boring from time to time. But this will never be the case with Bocadillo – the iconic Spanish sandwich stuffed with cured meat and flavorful seasonings like mustard, tomato sauce, or mayonnaise.
Bocadillo frequently appears in Spanish lunches as a fast, tasty, and fulfilling meal. The locals often enjoy it with all sorts of classic Spanish beverages like beer, wine, or, to be more workplace appropriate, a simple cup of coffee.
The traditional sandwich has always been one of Spanish most famous street foods. Due to its popularity, Bocadillo has many variances. Besides ham, the locals might fill it with an omelet, cheese, fish, and even chocolate.
2. Jamon Iberico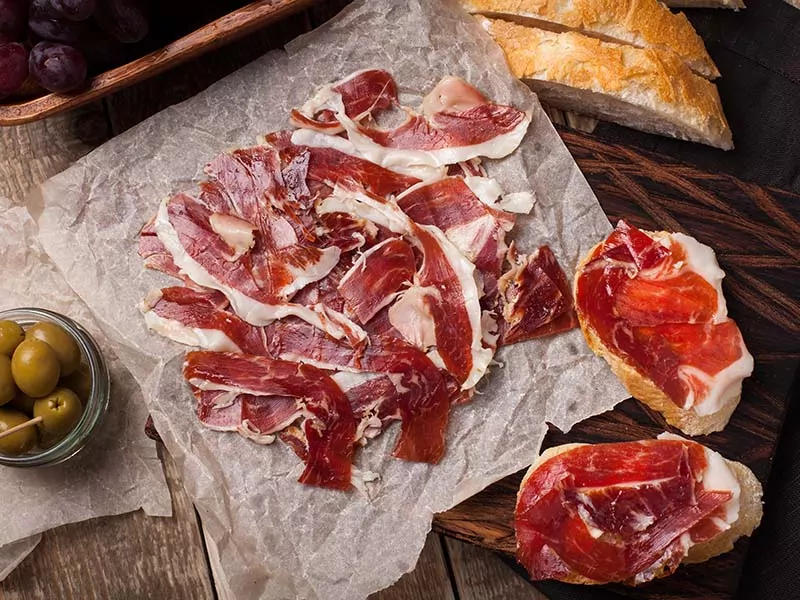 The truffle of the ham world, Jamon Iberico, is one of the most expensive cured ham out there, as a leg of this ham can set you back a few thousand dollars.
Jamon Iberico is made by salting an Iberian black pig leg, preferably the front leg as it has a more slender shape. After salting, the pork is left to dry through the winter months.
With explosive flavor and intense taste, eating this pork delicacy from Spain is considered one of the life-changing culinary experiences in a person's life.
You can find Jamon Iberico served on a luxurious charcuterie board alongside various cheeses or with simple white bread to bring out the best of its flavor.
Want to know why Jamon Iberico is the most expensive ham in the world? Check this out!
3. Pinchitos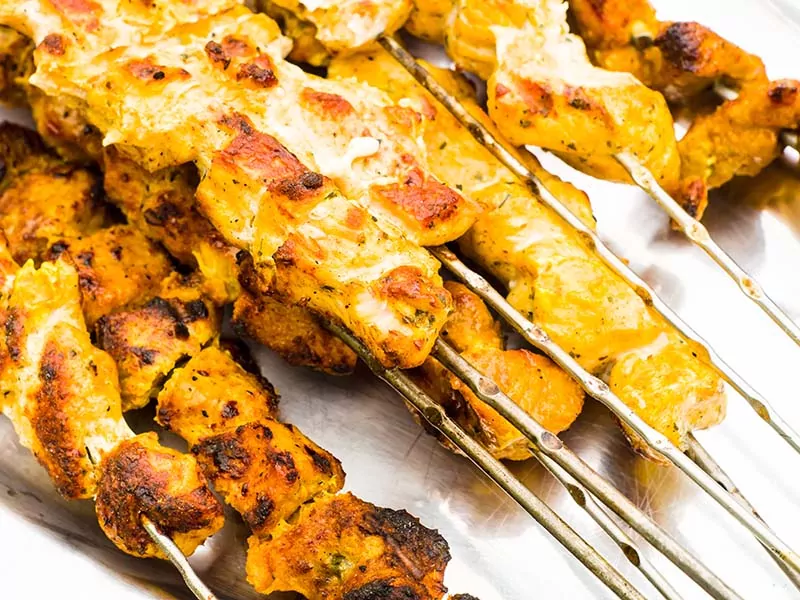 Even though Kebab is not a traditional Spanish food, the interpretation of this dish has made its way into every Spanish household.
Pinchitos, or Pinchos Morunos, are essentially skewered meat cubes (usually pork or chicken) cooked in an open flame. The dish was first introduced to Spanish cuisine by the Moors that came to the country in 711 AD.
Due to its long history with Spanish culture, this dish has earned an irreplaceable place in the country's cuisine. Overall, this dish is truly a must-have in Spanish steakhouses or local restaurants.
4. Chorizo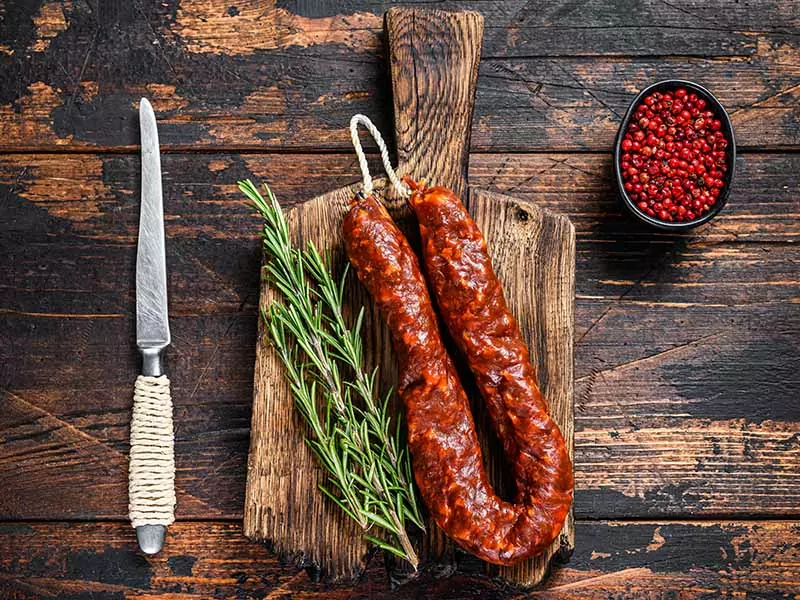 Chorizo is undoubtedly a Spanish cuisine icon since it is one of the first things that came to foreigners' minds when asked about Spanish food.
Even though similar dishes can be found across Europe, this special Spanish red sausage is fermented, smoked, and cured to create a unique and intense flavor profile that can not be mistaken for any other dishes in the world.
Spanish people use a lot of pimentón, dried and smoked red peppers, to give the dish a smoky taste, vibrant color, and a bit of a spicy kick. Chorizo can either be boiled in apple cider or served in sandwiches; both methods have a divine and distinctive taste.
5. Empanada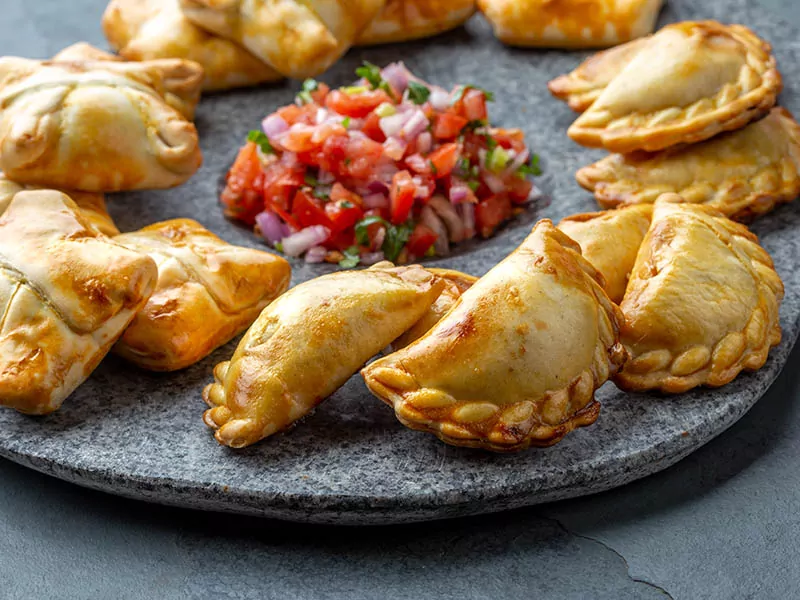 I bet everyone can recognize these Spanish turnovers with their unmistakable crescent moon shape and the crusty golden brown exterior.
Essentially, Empanada is made with flaky pastry dough wrapping around meat, vegetable, and sometimes cheese filling. Once wrapped, these beautiful turnovers will be baked or deep-fried to perfection.
Empanada is extremely famous both inside and outside Spain. It is a typical dish in most Latin American households as it is pretty easy to prepare and has a universal taste.
This dish was first mentioned in written documentation in the 1500s. This cookbook stated that Empanada was a dish originating in Galicia, an autonomous community in Spain's northwest. Despite the long history, this dish is still enjoyed today as it was all those years ago.
Seafood
As you can already tell, most of Spain is surrounded by water. In fact, the Spanish coastline is 4,964 kilometers long! Because of that, this country has many irresistible seafood options that can blow your mind. Let's check them out!
6. Paella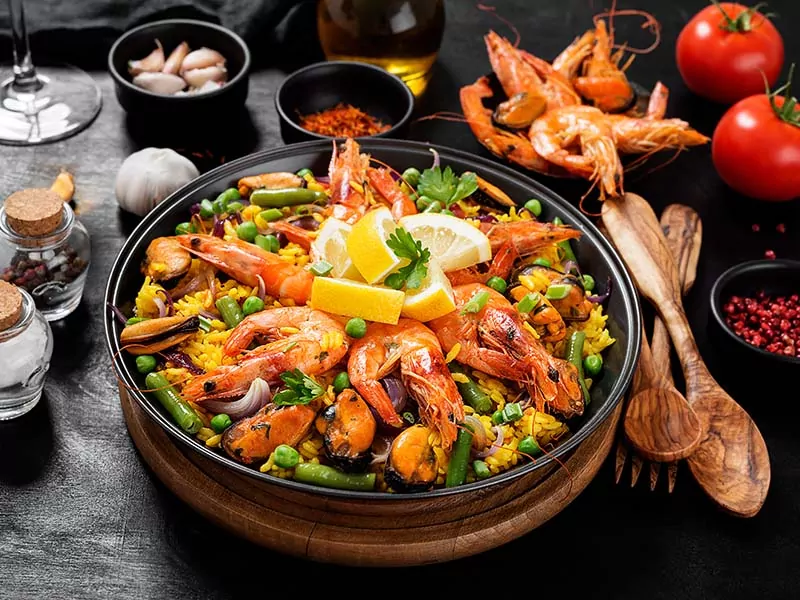 Paella, the quintessential dish of Spanish cuisine, is a type of mixed rice dish with all sorts of proteins. Originated in Valencian, Paella is one of the few Spanish seafood dishes that gain worldwide popularity.
This Spanish recipe is vibrant with the yellow-colored short grain rice cooked with all kinds of vegetables. Since it is nutritious and filling, Paella is often served at bullfighting events or in everyday lunches.
The most well-known Paella variance is Paella de Marisco, or seafood Paella in English. This dish contains various seafood like shrimps, mussels, and chopped cuttlefish. Besides seafood, some Paella recipes call for chicken, duck, or rabbit.
If you want to try making Paella at home, here is a detailed recipe!
7. Tortillitas de Camarones
(Shrimp Fritters)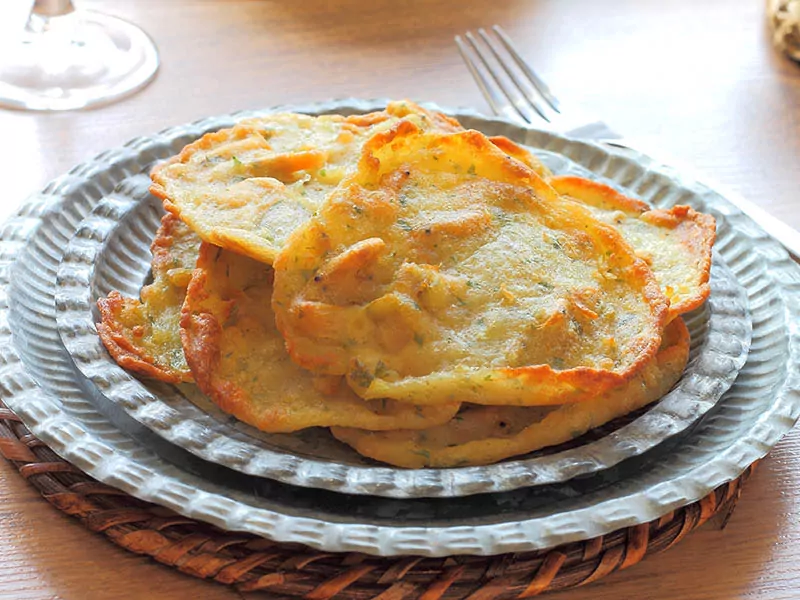 Tortillitas de Camarones originated from the Cadiz province in Andalusia, where most of the Cameronese shrimp population can be located and harvested. Many claim that the dish rose to fame in the 19th century.
These traditional shrimp cakes are made with a thin batter mixture of chickpea powder, wheat flour, parsley, and of course, Cameronese shrimp. After deep-frying them in olive oil, the locals will serve these crispy fritters with several Spanish side dishes.
You can find Tortillitas de Camarones in almost every restaurant across the Mediterranean areas. But according to the locals, these Spanish shrimp fritters taste best in Andalusia.
8. Rabas
(Fried Squid Rings)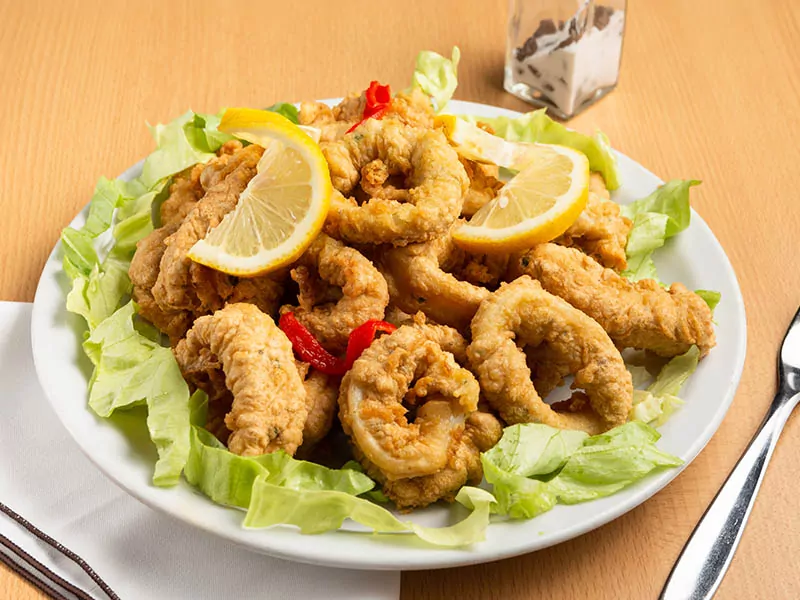 You can't leave the beautiful region of Cantabria without trying Rabas! This tasty dish is made with sliced squid rings that are lightly battered and fried to crispy perfection, although some cooks will go for squid strips or different shapes to make the dish unique.
This Cantabrian seafood tapa is best enjoyed with salt and fresh lemon juice. Rabas on the Cantabrian coast is always made out of the freshest squid to ensure the final dish's best texture and flavor. Fresh Rabas will have a natural seawater taste that no one can resist.
9. Espetos
(Grilled Sardines)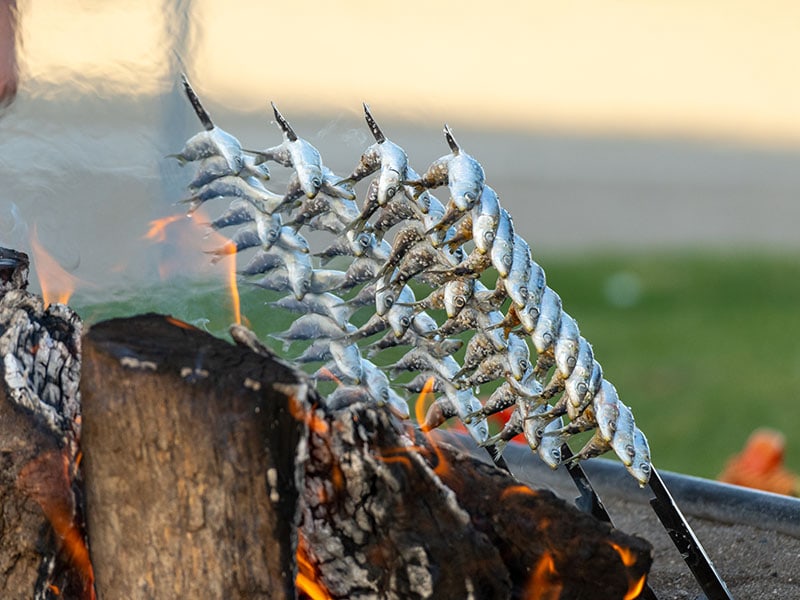 Grilling sardines has been a tradition in Malaga, a port city on southern Spain's Costa del Sol, since the late 19th century, when fishers skewered and cooked fish in their tiny boats.
Nowadays, the vendors often put 6 or more sardines on a skewer and grill them over an open flame after seasoning them with sea salt.
According to the locals, sardines taste best from May to August since they are fattier and richer in flavor. The Spaniards love to enjoy this dish with olive oil and lemon juice along with beer, red wine, sangria, or soft drinks.
Veggie-Based Snacks
Spain is widely known for its creative takes on potato dishes. The snacks shown below are not only popular in Spain, but they are also well-loved in countless countries across the world. So if you are a potato fan, this article will make you drool!
10. Patatas Bravas
(Fried Potatoes)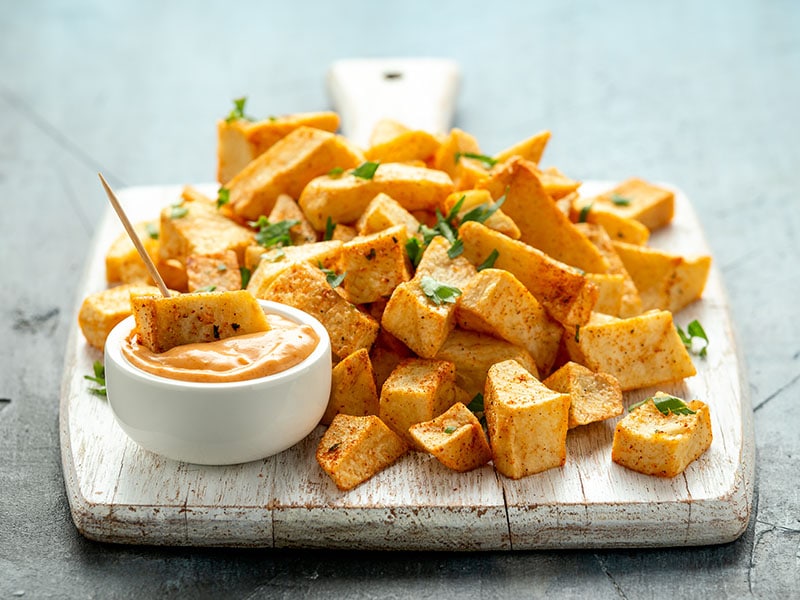 Patatas Bravas is a Spanish answer to America's regular French fries. This tapa (appetizer) is made out of irregularly shaped potatoes. Once they are deep-fried to golden perfection, they will be seasoned with a variety of spicy sauces, which is why it has the name "spicy potatoes".
Because this dish is so simple, affordable, and delicious, it has become one of the most well-loved street snacks in this country. This basic street dish can be found all around Spain, especially at the bars.
11. Tortilla Espanola
(Potato Omelet)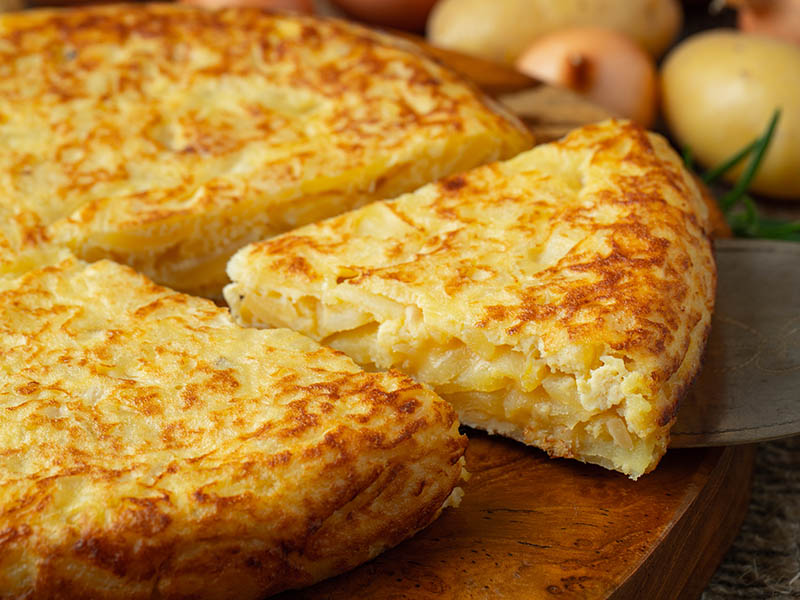 Although this might look like the typical American-style omelet, this Spanish version has an interesting twist. The Tortilla Espanola contains basic ingredients like potatoes and eggs. Besides them, you can also add onions, Chorizo, peppers, and many other toppings.
The Spanish consider this worldwide famous European dish their national dish and an essential cuisine element.
According to legend, Spanish captives at the Battle of Montes Claros in 1665 were the ones who learned and brought the recipe to the country. Nowadays, Tortilla Espanola is often served as a tapa at room temperature.
12. Croquetas de Jamon
(Spanish Ham Croquettes)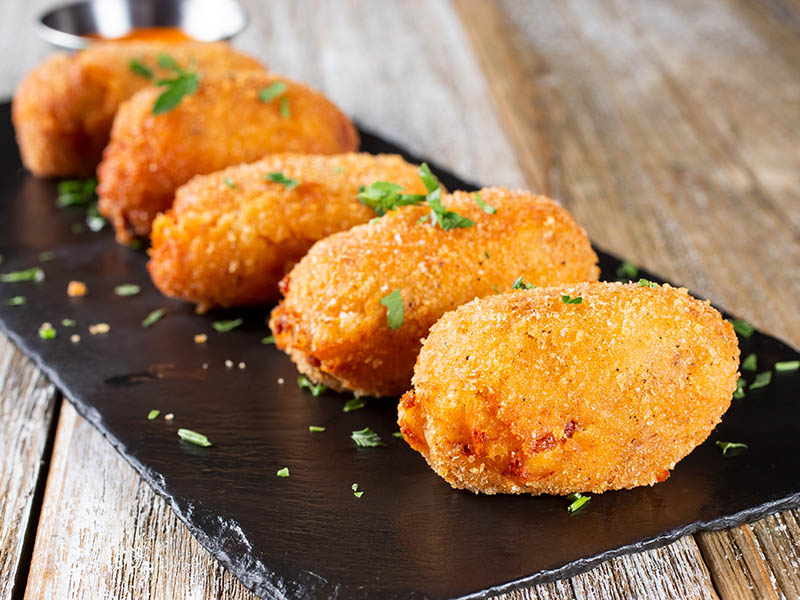 Crispy on the outside and packed with a creamy bechamel-based sauce on the inside, this Barcelona tapas dish is truly mouthwatering.
Many believe this dish originated in France since ragout-filled croquettes have been a significant part of French cuisine since 1691.
Traditional Spanish croquettes are typically filled with Jamon Iberico, chicken, or salt cod. Nowadays, many bars and restaurants offer less conventional versions of Croquetas with fillings like portobello mushroom, ox meat, or spicy chili with beans.
Desserts
Now that I have covered the savory treats, allow me to introduce you to the colorful world of Spanish desserts! Some of these street snacks might sound foreign to you at first, but you will be wholly smitten once you try them!
13. Churros
(Fried Dough)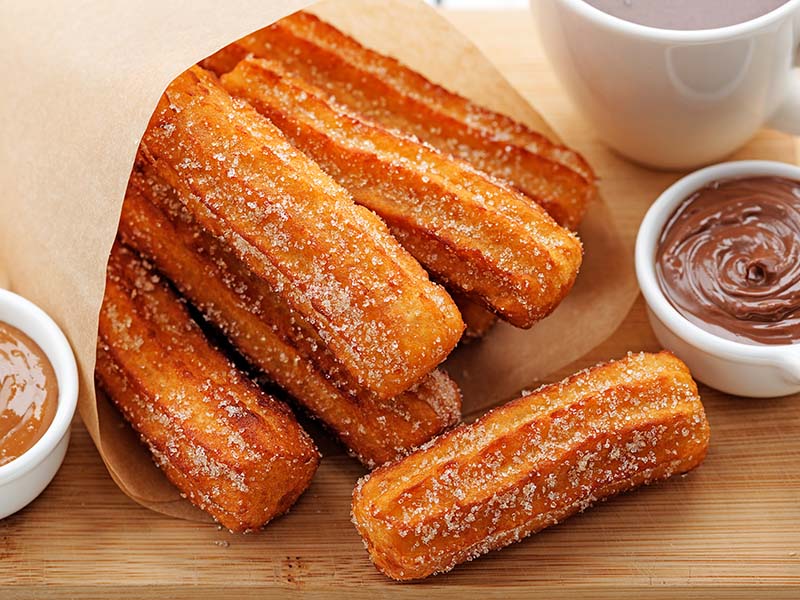 When people think of Spanish desserts, this will undoubtedly be their first thought. Invented by Spanish shepherds who used to cook them in a pan over an open fire, these strangely-shaped, cinnamon sugar-dusted twists are now a national snack and breakfast option.
The street shops in Spain usually coat the fried dough in melted chocolate to make it even more irresistible. Similar versions of Churros can be found anywhere around the world, especially in America.
This is how the Spanish street vendors prepare Churros for their customers!
14. Leche Frita
(Fried Milk)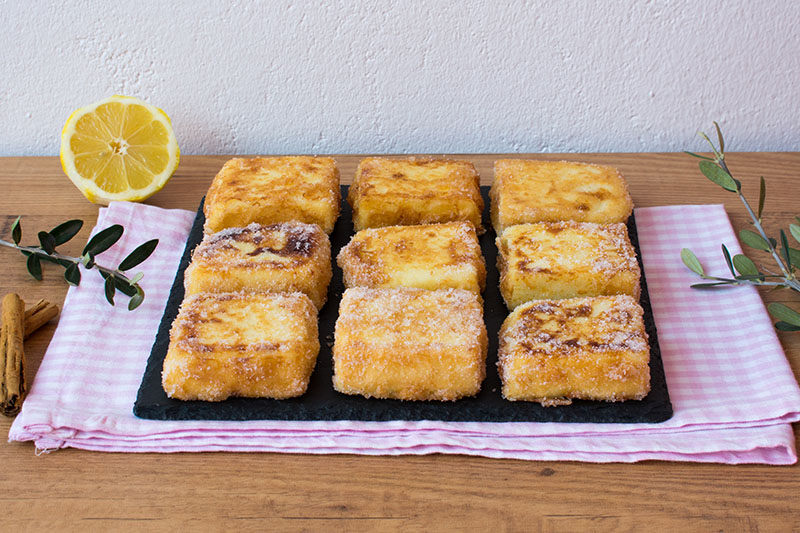 Fried milk, is that even possible? This dish is not an irrational food creation; it is a delectable delicacy in northern Spain.
Leche Frita is made by cooking milk, flour, sugar, and butter until the mixture thickens. The firm milk dough will then be portioned, deep-fried, glazed with cinnamon sugar, and served hot or cold. The locals often enjoy this dish with an ice cream scoop on the side.
Although several places claim to have developed the dish, its origin is still unknown. Most locals assume it originated in the Province of Palencia. According to them, the original recipe was made by nuns who sold them to raise funds for their convents.
15. Buñuelos
(Fried Dough Fritter)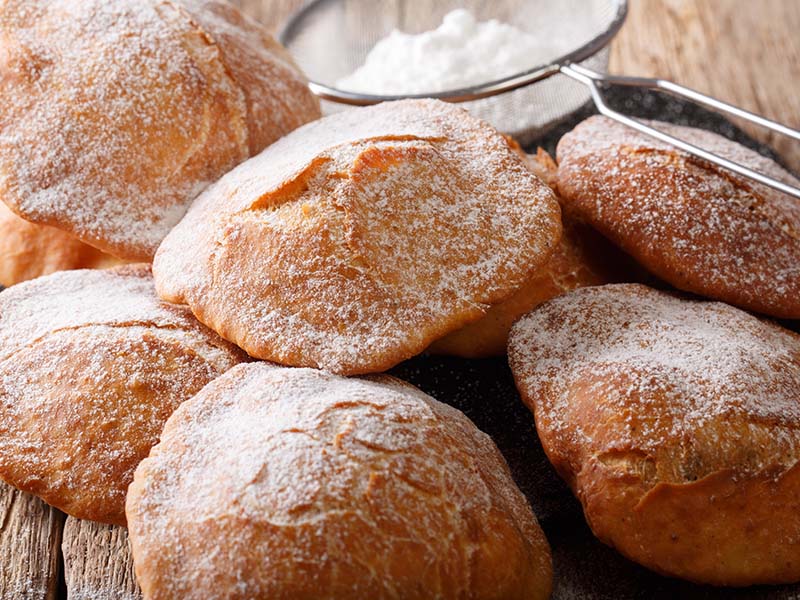 This crispy, golden Spanish invention has become an internationally renowned dessert. Sephardic Jews invented this dish in the Iberian Peninsula. And through colonization, these tasty fritters made their way to Latin America, where they are still popular.
Buñuelos are one of the staple Hanukkah desserts among Jewish communities. During the Christmas season and All Saints Day, people will make and enjoy these fluffy fritters along with other festive dishes.
Although this dish is more common during the holidays in Spain, you can still eat these bite-sized doughnuts as a snack at any time.
There is a savory version of this dish called Buñuelos de Bacalao. This dish is made with dried salt cod, flour, eggs, and different herbs. Both savory and sweet versions of Buñuelos are essential to the cuisine culture of this country.
Don't Miss Out On These Spanish Delicacies!
Spain has a truly diverse cuisine culture, especially when it comes to street food. If you want to learn about the local culture during your visit, the easiest and most effective approach is to explore this country's street cuisine. So be sure to jot down these dishes and try them all out!
Have you ever tried Spanish street food before? If so, which one is your favorite? Can you find your go-to snack on this list? Tell me more in the comment section below.
Also, after reading this article, don't forget to leave a like and share it with your travel buddies. This might motivate you guys to plan a trip and explore this unique cuisine face to face. I wish you all the best, and I hope to see you soon. Goodbye!