Can you really call yourself a sweets lover if you don't know anything about German cookies? Although it's hard to learn about every dish in Germany since there are so many, you shouldn't miss out on any of these delectable treats.
There are countless desserts from this country that have made a massive international impact, but the cookies here are truly exceptional. From nutty biscuits to buttery pastries and jam-filled cookies, there are so many options to explore.
If you don't have the opportunity to buy these treats from German local markets or bakeries, my recipe list below will help you explore this country's cuisine in the comfort of your home. Let's check them out!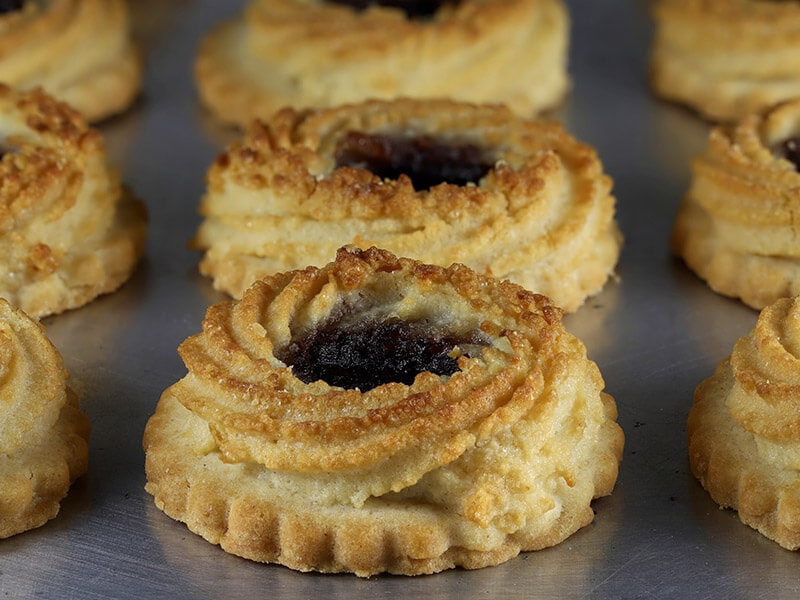 In this section, besides learning a few things about the most popular cookies in Germany, you will also get to know some simple cookie recipes. So take a look and find out the ones you like most!
Cooking time: Ready in 40 minutes.
Although this confection originated from Vienna in Austria, it has played a significant role in German cookie tradition. Vanillekipferl is an everyday treat in several other European countries. German locals usually bake it during the holiday season.
These crescent-shaped cookies are coated in vanilla sugar and filled with different types of nuts. The traditional recipe calls for walnuts, but you can also use hazelnuts or almonds if you like.
Vanillekipferl usually tastes better after being stored, so feel free to make a big batch of this sweet treat and eat it throughout the holiday season.
Want to learn how to make Vanillekipferl at home? Check this out!
Cooking time: Ready in 25 minutes.
If you're a fan of nutty pastry, these delicious hazelnut cookies are definitely a must-try. Made from toasted ground hazelnuts, this yummy German dessert has a rich and toasty flavor that you can hardly resist.
Besides hazelnut cookies, there are many traditional German sweet recipes that call for roasted hazelnuts, so remember to roast as many as you can if you're planning a German-themed feast.
Cooking time: Ready in 1 hour and 45 minutes.
These rich and buttery cookies will definitely knock your socks off! Heidesand, which translates to "heath sand", is a super cheap and easy-to-make shortcrust pastry. This easy German recipe only calls for pantry staples like butter and sugar and half an hour to prepare.
This sweet treat got its name because the cookie dough has a pale beige tint, similar to sand. Locals also believe this name refers to its Luneburger Heide, a heathland area in Germany and its origin place.
Cooking time: Ready in 35 minutes.
With a subtle sweetness and crumbly texture, this melt-in-your-mouth treat can take you to dessert heaven! Kipplen is the German equivalent of Mexican wedding cakes – a staple Christmas dessert in many countries.
Since Kipplen is covered in powdered sugar that looks like snow, locals usually place it next to other German Christmas dinner items. It indeed makes the holiday dining table more festive.
Cooking time: Ready in 30 minutes.
Linzer cookies are shortcrust pastry sandwiches with a sweet and fruity jam in the middle. Crispy, buttery, and chewy, who can resist these tempting tiny munchies?
The name Spitzbuben, meaning "mischievous boy", is common in the Southern region of Germany and Switzerland. This interesting name refers to the term "spy" since you can "spy" on the colorful jam through the hole of the pastry.
Similar to many other cookies I have mentioned, Spitzbuben is an excellent holiday treat. If Christmas is around the corner, consider making a big batch of these sandwich cookies and give them to your friends. I'm sure this traditional dessert will make their day.
Cooking time: Ready in 3 hours and 25 minutes (at most).
Pfeffernüsse has the perfect balance between sugar and spices. Since the 1850s, the cookie has played an essential role in yuletide celebrations in Germany.
The name of this dessert directly translates to "peppernuts," however, it does not include any nut. Instead, this unique confection contains all types of spices like cinnamon, cardamom, star anise, and cardamom. To add a hint of sweetness, bakers will use brown sugar and molasses.
These spiced cookies may remind you of the worldwide famous gingerbread, but they are a hundred times more flavorful and aromatic. The Germans also prefer having Pfeffernüsse for Christmas over gingerbread.
Chef Anna Olson is here to show you the perfect Pfeffernüsse recipe!
Cooking time: Ready in 1 hour.
These crunchy, nutty, buttery cookies are sure to tickle your taste buds. Nussecken, also known as Nut Corners, contains a layer of shortbread, a layer of apricot jam, and sweet hazelnut topping.
Every layer of this triangle pastry is delicious on its own, but it will truly explode with flavors once combined. To make this old-fashioned German cookie even more mouth-watering, you can coat it in melted dark chocolate.
Nussecken originated in Germany, possibly in Franken, Bamberg, or Nürnberg. Although it can be found and enjoyed all year, it becomes even more popular at traditional German markets when Christmas comes.
Cooking time: Ready in 2 hours.
The first thing most people notice when they look at this dessert is its unique crescent shape. This might be the reason why most foreigners call this German dish "almond crescents" or "almond horns".
Mandelhörnchen is a chewy cookie consisting of marzipan, almond flour, and sugar. Once baked, you can sprinkle more almond flakes on top and dip them in chocolate. If you want to save time, you can use store-bought marzipan for this recipe.
Cooking time: Ready in 45 minutes.
Here is another delicious treat for all the chocolate lovers out there: Schokocrossies! This is a super easy and quick no-bake recipe. Only 45 minutes for a batch of crispy and chocolatey cookies; who could possibly say no to this?
These choco crossies or cornflakes cookies are made with crunchy cornflakes, sweet chocolate, and nutty coconut. All of these ingredients are pretty ordinary; however, they can become super addicting when combined.
Cooking time: Ready in 1 hour.
Nearly every European country has its own version of this jam-filled confection, and Germany is no exception. In this nation, it is called Engelsaugen, meaning "angel eyes" (Engel is "angel" and Augen is "eyes").
These bite-sized cookies are packed with flavor with a simple pairing of shortbread cookies and jam. Engelsaugen can truly be the dessert star of the show during a Christmas feast.
According to the locals, this dish originated in the 19th century under the name Hallongrotta, meaning "raspberry cave". Other countries also have various unique names for this dessert.
Watch this video: Master your culinary skill with this detailed Engelsaugen tutorial!
Cooking time: Ready in 1 hour.
Just look at these colorful tiny cookies; doesn't that just make your mouth water? Although there are hundreds of different types of butter cookies out there, this version truly stands out with the addition of rainbow sprinkles.
As you can probably tell, this treat is very popular among youngsters. So if you're looking for the perfect holiday dessert for your kids, this is the one!
Cooking time: Ready in 25 minutes.
Amish sugar cookies, also known as Nazareth sugar cookies, made their first appearance in the mid-eighteenth century. Many believe the Moravians from Germany were the ones who created it.
Although it was invented a long time ago, it is still one of the most well-known and well-loved desserts in this country. This sweet treat will definitely get you hooked after the first bite with its buttery taste and melt-in-your-mouth texture.
These cookies taste great on their own, but you can also top them with a sugar glaze to make them even more mouth-watering.
Cooking time: Ready in 3 hours and 45 minutes.
With its delicate layers and twists, this beautiful and delicious dessert will surely take your breath away. The rich sour cream is the key ingredient in this recipe.
Although these German sour cream twist cookies are pretty challenging and time-consuming to make since you have to cut and shape the dough multiple times, all your hard work will pay off once you bite into this soft and flaky pastry.
Cooking time: Ready in 22 minutes.
This might not be the first time you hear about this treat, especially if you're a fan of coconut. Makronen is arguably the easiest German dessert you'll ever make, consisting of only shredded coconuts and sweetened condensed milk.
If you want it to be even more tempting, you can add melted chocolate to the mixture before baking or drizzle it on top of the baked cookies. Some people also use egg whites and vanilla to take this dessert to the next level.
If you want to make Makronen, follow this simple recipe, and you will master it in no time!
Cooking time: Ready in 30 minutes.
If you love the taste of those coconut macaroons but want to spice things up, let's elevate them with some hazelnut! You don't need to do much; just make the regular mixture for Makronen, add some egg whites with ground hazelnuts, and you're good to go!
These hazelnut-flavored macaroons can be now called Haselnussmakronen (Haselnuss means "hazelnut"). This simple addition makes the macaroons extra nutty, chewy, and addicting.
Cooking time: Ready in 8 hours and 27 minutes.
This simple treat will definitely fill you with joy and the holiday spirit. Similar to the Butterplätzchen, this German Christmas cookie recipe calls for multicolored candy sprinkles. This colorful addition makes this treat much more suitable for kids.
Besides the rainbow sprinkles, the main ingredient of this dessert is ground hazelnuts. From here, you can already tell how nutty and irresistible it can be.
Cooking time: Ready in 1 hour.
Zimtsterne (German for "cinnamon star") is a delicious and adorable star-shaped cookie with egg whites, almonds, powdered sugar, and cinnamon. Some recipes also call for Kirschwasser, a cherry-flavored brandy.
During Advent and Christmas in Germany, these sweet-spicy cookies are usually served to visitors or given as presents.
Zimtsterne is also a well-known dessert in Switzerland and other German-speaking nations. Although many people know it originated in Swabia, no one is sure about when it began. The oldest recorded reference to them dates from 1538.
Cooking time: Ready in 24 hours (rest time) and 23 minutes.
Originated in Swabia, Germany, this crunchy and chewy dessert is unbelievably addicting. The name of this confection actually means "little jumpers" in German. It is named this way since it tends to jump (or rise) while baking.
The honeycomb-like texture of these cookies comes from a foul-smelling leavening agent named ammonium bicarbonate. The Germans used to bake all their sweets with this ingredient since baking soda and powder weren't available.
The cookie's origins may be traced back to the 14th century in southern Germany (namely in Swabia) and the neighboring territories.
Cooking time: Ready in 45 minutes.
Locals have been making and eating these soft, chewy, and delicious German Christmas cookies for centuries now.
Besides the almonds and hazelnuts, this lebkuchen cookie recipe also calls for a spice blend of cinnamon, nutmeg, and cloves. All these ingredients give this iconic treat its distinctive flavor and aroma.
This gingerbread-like traditional cookie is available in various shapes and sizes, with a variety of icings, glazes, and nut toppings.
Check out this Elisenlebkuchen recipe and make it in your next family get-togethers!
Cooking time: Ready in 20 minutes.
Bethmännchen is a delicacy of the central German city of Frankfurt. During Christmas, you can often catch sight of these tiny ball-shaped biscuits in the street stalls at the city's local markets.
This treat is made with marzipan, flour, eggs, rosewater and garnished with three almond slices on top. Delicious and beautifully decorated, this treat is definitely a must-try Christmas delicacy.
Bethmännchen used to have four almond slices, each of which represented a son of Simon Moritz von Bethmann, a German merchant and banker. However, people removed the fourth almond after the death of one of his sons in 1845.
Cooking time: Ready in 1 hour and 5 minutes.
Not only are these cookies a common sweet snack year-round, but they are also an irreplaceable treat on the locals' Christmas cookie tray.
German parents usually spend afternoons baking this dessert with children during Christmas time. Each family often has its own recipe, and parents will pass it down to their children.
The shape of Spritzgebäck varies from round, straight to S-shaped. Besides their beautiful and festive designs, these spritz cookies are buttery, soft, and crunchy. You can even dip the ends of the cookies in melted chocolate to make it more appealing.
Cooking time: Ready in 1 hour and 12 minutes.
Who knew a simple combination of flour, butter, sugar, and ground walnuts could create such a delightful treat? You can often catch sight of this well-loved German dessert on the Christmas dining tables of the Germans.
When making this treat, locals usually cut the dough into circles, but some might use other unique shapes to get into the holiday spirit.
Cooking time: Ready in 1 hour.
In German, these beautiful spice cookies are called Spekulatius, but people from other countries might call them Dutch windmill cookies. Spekulatius comes from the Latin word "speculum", meaning "mirror". It got this name since its shape mirrors a wooden mold of a windmill.
Spekulatius was traditionally served on Saint Nicholas Day. So back in the day, it used to come in the shape of Saint Nicholas.
Although Spekulatius originated in the Netherlands, it is still a typical dessert of German cuisine. In Germany, these shortcrust biscuits are sold exclusively during the Christmas season. So if you want to enjoy them all year round, you have to learn how to make them yourself.
If you want to perfect your Spekulatius-making skill, take a look at this tutorial!
Cooking time: Ready in 2 hours and 30 minutes.
Dominosteine is a chocolate-covered layered cookie. This treat was created by Herbert Wendler (a German chocolate maker) in 1936. Then, it was popularized during World War II as a substitute for praline.
Traditionally, Dominosteine only contains layers of gingerbread and marzipan. But there is a more complicated version with an extra layer of jam called Doppelt-Gefüllte (double-filled). This treat is ubiquitous during Christmas in Germany as well as Austria.
Germany Is Blessed With Extraordinary Food Culture
If you have the chance to travel to Germany, then good for you! You will now have the opportunity to experience this country's culture as well as explore the most beautiful traditional sweet treats with the locals.
However, if you don't have the time and money for a trip here, you can still experience German cuisine by making these iconic desserts at home! Try them all out if you can. Life's short; enjoy yourself!
I hope you enjoyed reading this article; remember to leave a like and share this article with your friends to help them learn more about German cuisine. Thank you and goodbye!
Nutrition Facts
40 servings per container
---
Amount Per ServingCalories75
% Daily Value *
Total Fat 4.5g

7

%
Cholesterol 9mg

3

%
Sodium 23mg

1

%
Potassium 20mg

1

%
Total Carbohydrate 7.9g

3

%

Dietary Fiber 0.5g

0

%
Sugars 3.9g

Protein 1g

2

%
---
* The % Daily Value tells you how much a nutrient in a serving of food contributes to a daily diet. 2,000 calories a day is used for general nutrition advice.