Since German Christmas cookies recipes are becoming more and more popular, you can easily find these lovely treats in your local bakeries.
But why should you buy store-bought cookies when you can make your own? This Christmas, let's elevate your holiday dinner table with a few batches of warm, freshly-baked German cookies. I'm sure Santa will prefer homemade baked treats to store-bought ones!
The Germans have a range of cookie recipes with distinct tastes, aromas, and textures. The variety may appear overwhelming, so I have narrowed down a short and helpful list of the best authentic Christmas cookies that you can make at home. Let's get started!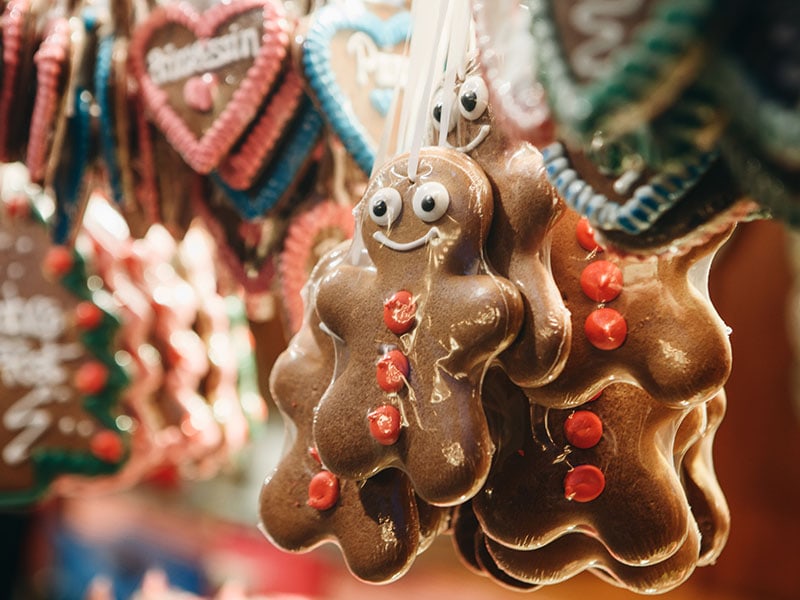 As you probably know, each dessert represents a different occasion or event. For example, cakes are for birthdays, candies are for Halloween, and cookies are for Christmas. So if you want to make your home merry and bright this Christmas Eve, don't forget to jot down these recipes!
Total time: Ready in 3 hours and 25 minutes (at most).
When it comes to Christmas desserts, nothing associates more closely with this cozy holiday than gingerbread. That's why Pfeffernüsse is my first option for you.
Pfeffernusse are Christmas spiced gingerbread-like cookies. These yummy baked goods perfectly illustrate the warm Christmas spirit with a hint of cinnamon, nutmeg and cloves. The addition of molasses and powdered sugar also elevate the taste of this traditional treat.
There are countless variants of this iconic German recipe. Some people love to eat them fresh, while others prefer to let them firm for a week and dip them in coffee.
Total time: Ready in 1 day, 1 hour, and 10 minutes (at most).
In traditional German cuisine, anise plays a vital role as a flavoring agent with various health benefits. So don't be shocked when this ingredient makes its way into many authentic dessert recipes in this country.
Every German has fallen head over heels for Springerle, an anise-flavored South German cookie. As these cookies tend to "jump" while baking, Springerle is known as the "little jumper" or "little knight".
The flavor and texture of Springerle taste better after 3-4 weeks, so make sure to plan your cooking far in advance during the holiday seasons.
Curious about the preparation of Springerle? Check this out!
Total time: Ready in 2 hours and 45 minutes (at most).
While the Germans tend to embrace the Christmas cuisine with fruit cakes or puddings, Lebkuchen always has a spot on their Christmas dinner table. This beloved festive treat will surely brighten the dark winter months.
Even though Lebkuchen is quite similar to gingerbread cookies, it is softer and cakier. If you've never tried these holiday cookies before, try to resist the urge to eat them immediately since they'll taste better over time.
Although most people usually make these special cookies for the holiday season, feel free to bake and eat them all year round if you like.
Total time: Ready in 4 hours and 20 minutes (at most).
Christmas in Germany will be incomplete without Spekulatius. These spiced buttery cookies are must-have treats in every festive celebration in this beautiful country.
The aroma of these tiny cookies is so alluring that it can instantly bring you feelings of nostalgia. With the addition of warm spices such as pepper, cinnamon, and ginger, they are perfect for warding off the bleak winter season.
Spekulatius already tastes fantastic as it is. However, you can enhance the warmth and freshness of these cookies with a cup of tea or hot chocolate. These are truly a killer combo for your taste buds.
Total time: Ready in 1 hour and 15 minutes (at most).
These crescent-shaped cookies are the pride of Nördlingen, Bavaria, but they are also prevalent throughout Germany and other European countries. The traditional recipe calls for walnuts, but hazelnuts and almonds are excellent alternatives.
Vanillekipferl is super addictive, especially with a layer of sweet vanilla sugar on top. Remember to only add this coating a few minutes after baking to avoid melting the vanilla sugar. These cookies can stay fresh for up to 4 weeks, but I bet they will disappear in less than a week!
Total time: Ready in 2 hours and 57 minutes (at most).
Zimtstern is another must-try German cookie during the festive season. These German "cinnamon stars" contain almond flour, cinnamon, and ground nuts (usually almonds, but hazelnuts are also well-loved).
If you're lactose intolerant or on a diet, Zimtstern also has a gluten and dairy-free version, which is a Southern German specialty.
Even though these cookies are ideal for the most wonderful time of the year, you can still serve them on regular occasions. I recommend pairing this sweet treat with mulled wine or hot coffee for a true German experience.
Dive into this detailed instruction to learn more about how to make Zimtstern!
Total time: Ready in 1 day and 35 minutes (at most).
Aachener Printen has long been associated with Christmas celebrations in German culture. This treat is always present on the dinner table along with many other Christmas dinner items in Germany.
The Aachener Printen dough is made with flour, sugar, and exotic spices like aniseed, ginger, or cinnamon. These cookies are usually hard, but the soft version of this treat is also a hit. Nowadays, they have a wide range of flavors and shapes.
Traditionally, people have to make Aachener Printen in wooden molds in the shapes of saints and warriors. But to save time, you can cut them into rectangles and decorate them with different toppings. German bakers also prefer making this simplified version.
Total time: Ready in 40-45 minutes.
In the past, Bethmännchen cookies were made to honor the Bethmann family. However, these beloved treats have successfully stolen the spotlight during every Christmas dinner and become a must-have holiday treat.
Because marzipan is one of the primary ingredients, I'm sure these Bethmännchen will appeal to marzipan lovers. Thanks to the crunchy almonds on top, these lip-smacking cookies are crisp on the outside and chewy on the inside.
Total time: Ready in 2 hours and 30 minutes (at most).
Heidesand is another all-time favorite German dessert around Christmas time. It is a traditional Christmas cookie with a nutty and caramelized flavor. Based on the name, you can link the light beige color of this treat to sand.
Before baking, the edges of these cookies are rolled in turbinado or pearl sugar. This simple addition turns these ordinary treats into something spectacular. Since this dessert is quite basic, you can elevate it with chocolate icing.
Follow this straightforward Heidesand tutorial and make your own batch for your loved ones!
Total time: Ready in 35-40 minutes.
Coconut, either you love it or hate it. For me, coconut is a wonderful flavor enhancement, especially for sweet dishes. The Germans must have thought the same since Kokosmakronen, a coconut-based treat, is one of the most iconic desserts in this country.
Kokosmakronen is chewy on the inside and crunchy on the outside. Some recipes will suggest adding blanched almonds on top or covering the cookies in chocolate.
If you want to go wild this Christmas, pair these treats with a Coquito cocktail – a famous German drink. Since this traditional Christmas drink is also coconut-based, you can already tell that they will be a perfect match.
Total time: Ready in 1 hour and 20 minutes (at most).
Let's be honest, who doesn't love jam? Even if you're not a fan, you still have to admit that the sweetness and tanginess of jam go well with countless dishes, especially cookies. Spitzbuben is an excellent example of this concept.
This traditional Christmas cookie comprises two shortbread cookies stacked on top of each other and a jam filling in the middle. You can easily see the bright red jam through the hole in the cookie, which explains why the name of this cookie is derived from the term "spy".
Redcurrant jam is the most common filling for Spitzbuben, but you can substitute it with any jam you like, such as strawberry, plum, or raspberry jam. People often eat Spitzbuben a day after baking; however, it can last for 2-3 weeks in the fridge.
Total time: Ready in 3 hours (at most)
Here's another jam-filled cookie recipe that can make you drool: Angel's Eyes cookie! Such an interesting name, isn't it? The origin behind this holy name is unclear, but it definitely suits the Christmas spirit.
Like Spitzbuben, you can fill these versatile cookies with various jams such as raspberry, marmalade, or cherry. If you want, you can add ground almonds or coconut flakes into the dough to make the cookies extra crunchy.
Learning how to make Engelsaugen is a piece of cake!
Total time: Ready in 25 minutes.
Hazelnuts are not only a well-loved German snack but also a terrific complement to a variety of dessert recipes. That's why German hazelnut cookies are prevalent in this country.
Packed with these light, crunchy and healthy nuts, German hazelnut cookies can surely brighten up your Christmas day or a mid-day in the summer. Even if you're not a hazelnut fan, these delightful sweet treats will make you fall in love.
Total time: Ready in 35-40 minutes.
Another fantastic German cookie for you and your kids to enjoy during the holiday is Spritzgebäck. As the name suggests, these pretty cookies are shaped by squirting the dough through a cookie press or pastry bag.
Spritzgebäck is available in many unique and fun shapes, such as S shape, C shape, circle, and flower. Feel free to express your creativity with this dough.
Although Spritzgebäck is just a plain flour and butter cookie, it's a must-have Christmas dessert for many family gatherings. You can even bring this festive treat to the next level with colorful sprinkles or melted chocolate.
Total time: Ready in 3 hours (at most).
Due to the affordable price, Dominosteine was a real "pop star" with the German citizens during World War II. At the time, food shortages were prevalent, so this hearty sweet treat filled not only their belly but also their heart.
The original recipe contains a layer of marzipan topped with gingerbread and marmalade or jam, which are some familiar ingredients for Christmas desserts. That's why you will commonly find these lip-smacking treats on this holiday.
These multilayer sweets might look challenging at first, but they are pretty fun and straightforward to make. However, it might take a long time to assemble them all.
Total time: Ready in 1 hour and 10 minutes (at most),
There must be a million cookie recipes in Germany. However, these simple butter cookies are among the most well-known, as they are a favorite of any child, and they are fun to make and decorate.
Butterplätzchen only requires basic ingredients like butter, flour, and eggs. Once baked, these light-colored buttery treats will make the perfect canvas for you and your kids' creativity.
You can cut the cookies into fun shapes, glaze them with icing or top them with colorful sprinkles; the possibilities are endless! This is such a fun activity to bond with your children; plus, you get to enjoy your one-of-a-kind decorative creations in the end!
With this Butterplätzchen tutorial, you can make these lovely cookies with your eyes closed!
Total time: Ready in 1 hour and 30 minutes (at most).
Despite being a Swiss delicacy, Basler Leckerli still plays a big role in the German Christmas tradition. Basler Leckerli means "small delightful things from Basel", and that's exactly what these chewy bars are.
Basler Leckerli is full of warming ingredients like almonds, cinnamon, and cloves. Once the dough is cooked, you will need to coat the dough with a sweet glaze while hot and let it soak for a while. Then, slice the gingerbread into bar-sized chunks.
Leckerli will taste better over time, be sure to plan to make it a couple of weeks before. It can also stay fresh for over 1 month if you keep it in a tin.
Total time: Ready in 3 hours (at most).
The name of this yummy sweet treat actually means "house buddies" in English. This makes perfect sense since Hausfreunde is the go-to dessert for German families to give their guests during their visit on Christmas day.
To make these awe-inspiring cookies, you need to spread apricot jam on layers of crispy shortcrust pastry and top it with sweet almond paste. Then finish it with caramelized cashews and dark chocolate. The crowd-pleasing effect of these cookies isn't a joke!
Total time: Ready in 1 hour (at most).
These popular Nussecken, literally translated as "nut corners", are one of the most talked-about desserts in Germany. These triangular nutty snacks are so alluring with many different flavors and textures. Plus, the chocolate coating on top also makes them look more mouthwatering.
Each component of Nussecken is delicious on its own, but when combined, they will arouse your Christmas feast. Simultaneously crunchy, soft, and chewy, who can resist a treat like that?
When you want to store these cookies, remember to place a layer of greaseproof paper between each layer. They will last for up to 2 months like this.
Total time: Ready in 2 hours and 55 minutes (at most).
If you're a marzipan lover, then Mandelhörnchen will be another right fit for you. With a name that means "little horns", this description perfectly matches the crescent-shaped, almond-covered marzipan cookies.
The best part about Mandelhörnchen is that it's easy to make. The dough for these cookies comes together very quickly with a food processor. Once baked, the cookies become chewy on the outside and slightly crisp inside, almost like a celebratory almond macaroon.
This step-by-step Mandelhörnchen tutorial will turn you into a baking pro!
Total time: Ready in 35 minutes (at most).
Kipplens are similar to pecan snowballs or Mexican wedding cakes, except they're made in Germany. These cookies are somewhat sweet and incredibly soft; it's almost like they can melt on your tongue.
This dessert is one of the most festive-looking Christmas treats since the powdered sugar coating on top looks just like snow.
This adorable confection is also incredibly simple to make. The recipe calls for only the most basic baking materials and takes only 35 minutes to prepare.
Total time: Ready in 10 minutes.
Schoko Crossies is one of the easiest cookie recipes in this country. All you have to do is combine cornflakes, almonds, and chocolate. Then voila, you have successfully made a batch of delicious chocolate-covered cornflakes cookies. How easy is that!
You can use any chocolate you want for this no-bake recipe. Most people use milk chocolate, but you can switch things up with white and dark chocolate.
These delightful nibbles are deliciously sweet, crunchy, and chocolatey. The combo of sweet chocolate and crisp cornflakes is incredibly addicting, so be careful!
Total time: Ready in 2 hours and 30 minutes (at most).
As I mentioned earlier, this nation's cuisine utilizes many warming spices in its baking recipes. Besides anise, cardamom is among the most popular spices in the rich baking traditions of Germany.
These flavorful German cardamom cookies, also known as Kardamon Plaetzchen, have an amazingly delicate and comforting flavor, perfect for the winter months. Plus, the floral scent of cardamom will help you reduce gastrointestinal problems.
Total time: Ready in 1 hour and 40 minutes (at most).
Saving the best for the last, Rumkugeln is another super delicious no-bake treat you need to try this holiday season. Since this lip-smacking dessert contains a small amount of booze, it surely won't be a party let-down.
Although you can purchase a store-bought version of this lovely treat in supermarkets, chocolate shops, and Christmas markets, making it at home will be more meaningful. These delicious cookies will make the best traditional gifts for your beloved.
And there you have it, everyone, 24 stunning cookies recipes to enjoy during Christmas Eve! Every single one of these recipes is magnificent and worth exploring, so be sure to try them all.
Also, don't keep these Christmas blessings all for yourself; your yummy homemade cookies will make a fantastic gift for your friends, coworkers, or family members.
Which cookie recipe is your favorite? I'd love to hear more about it in the comment section below. Also, if you have time, don't forget to like and share this article with your fellow sweet lovers; consider it your early Christmas present to me! Thank you so much for your support!
Nutrition Facts
29 servings per container
---
Amount Per ServingCalories96
% Daily Value *
Total Fat 3.4g

5

%
Cholesterol 14mg

5

%
Sodium 60mg

3

%
Potassium 64mg

2

%
Total Carbohydrate 15.1g

5

%

Dietary Fiber 0.3g

0

%
Sugars 7g

Protein 1.2g

2

%
---
Calcium

35

%
Iron

1

%
Vitamin D

3

%
* The % Daily Value tells you how much a nutrient in a serving of food contributes to a daily diet. 2,000 calories a day is used for general nutrition advice.