Let's explore the outstanding German foods together to have a profound and extensive view of German cuisine. Indeed, Germany has a long-history and decadent gastronomy, so this topic will fulfill your curiosity.
In this article, the list of incredible German recipes and basic information about them will be a valuable document for you during your travels to Germany. Therefore, you should not ignore any of them.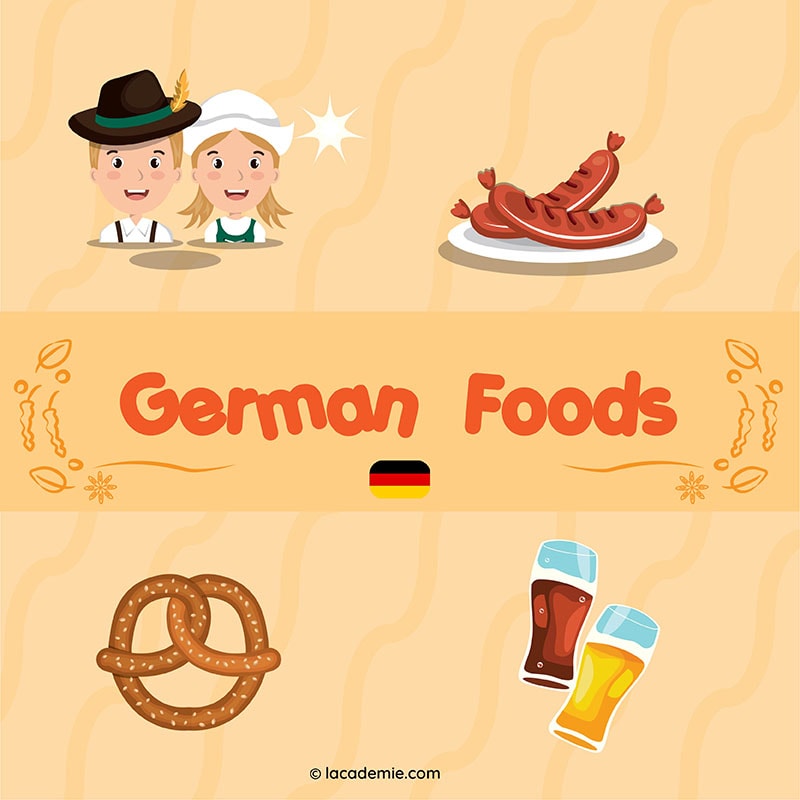 German Main Dishes
The German food paradise has many fantastic main dishes to help you quickly fill your hungry stomach. This section will introduce you to these beautiful foods.
1. Rouladen – Beef Rolls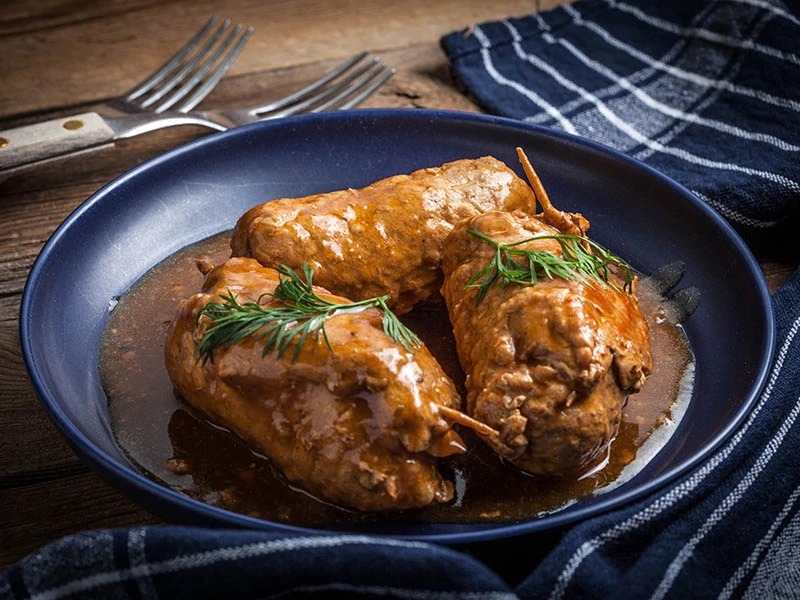 Rouladen is one of the top preferred German dinner dishes. Rolled beef will become more flavorful after being stocked. The highlight of this food is the appearance of gravy. This recipe goes well with mashed potatoes.
Its name "roulade" comes from the French word "rouler", which means "roll". It often appears during holidays or family celebrations. This recipe is often served with bacon strips, sliced pickles, carrots, bread, or rolled into small logs.
2. Schnitzel – Breaded Cutlet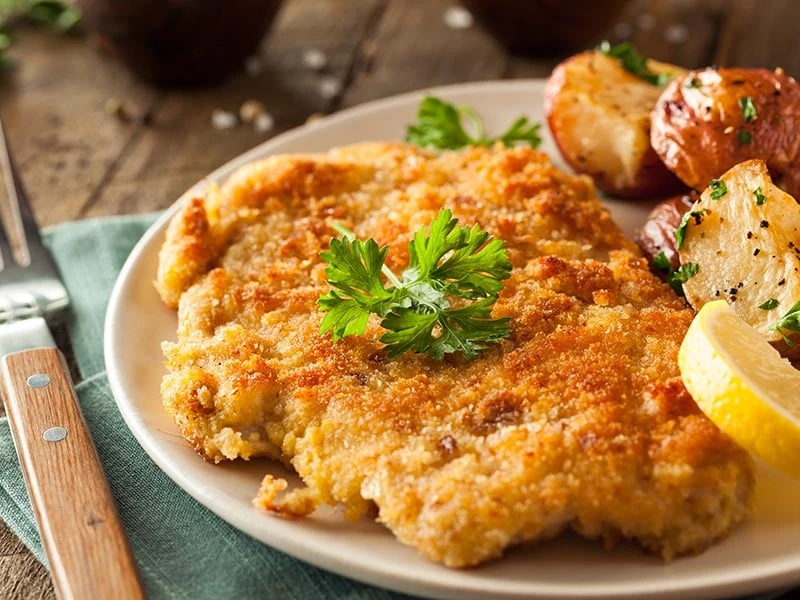 I always hope to have the chance to return to Germany to enjoy a fine Schnitzel. Flat slices of meat covered with a layer of bread will become crispy when fried in hot oil. If you need a pork-based dish in German style, this one is ideal. 
This recipe first appeared in Germany at the end of the 19th century, and it was represented in the cookbook in 1831. Besides Germany, this is a national dish of Austria. September 9 every year is chosen as National Wiener Schnitzel Day.
3. Maultaschen – Meat Dumplings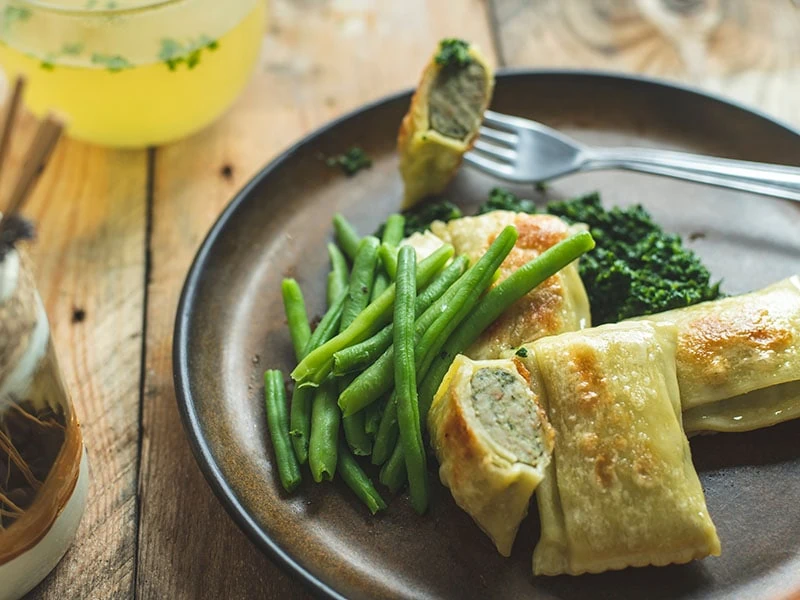 Until now, I still cannot forget the attractive taste of Maultaschen or meat dumplings of German cuisine. The pasta sheets will cover minced meat, or some versions will use smoked meat, sausages, and various herbs.
Monks in the Swabia region in Southwestern Germany invented this delicious recipe in the 17th century. It is an essential part of Germany's 40-day fast. A German astronaut ate this food outside of Earth in 2018.
4. Sauerbraten – Pot Roast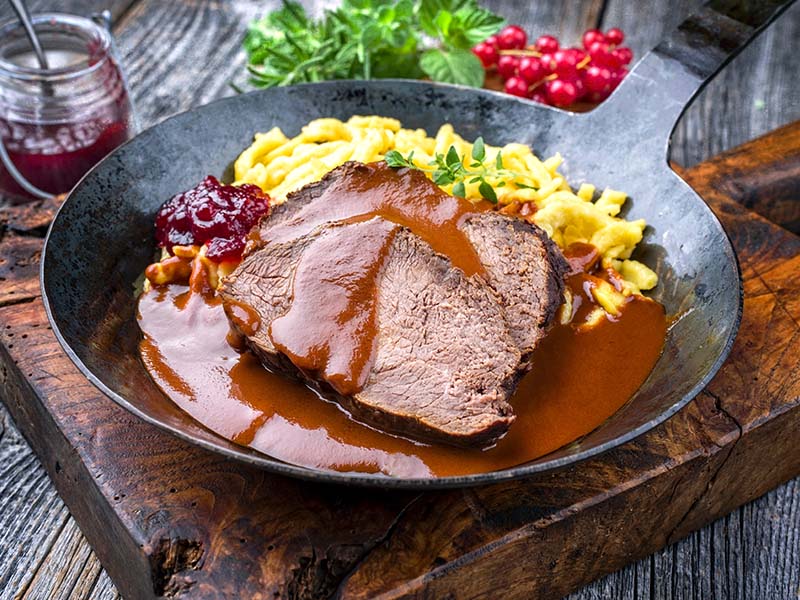 When it comes to great German culinary recipes, it is impossible not to mention Sauerbraten. It is also known as a German pot roast or "sour roast". You will feel the sour and sweet taste of the sauce in this food.
You can choose from beef, veal, or pork versions to eat. After being marinated for many days, the rich flavor and tenderness of the meat will make you remember it forever. Charlemagne was the first to make this impressive dish in the 9th century.
The 13th century was the period of popularity of this food. Most restaurants at Saint Albertus Magnus or Saint Albert the Great have this food. People love it for Sunday dinners, and they will use beef and venison more often than horse meat.
Take a trip to Germany to explore all things about Sauerbraten.
5. Kassler – Salted and Smoked Pork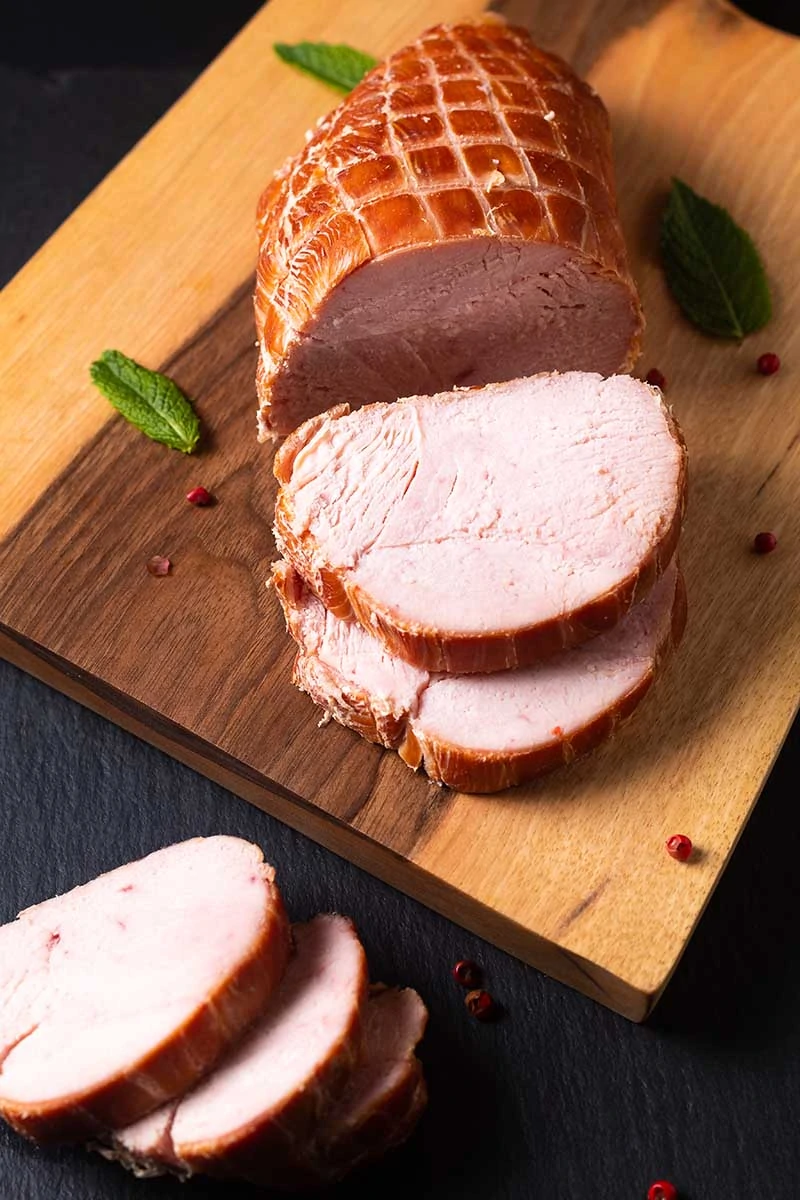 Kassler is a perfect addition to your German lunch dishes. This is a famous German Oktoberfest food. Smoked pork is the key ingredient of this recipe. It will taste better when combined with sauerkraut and mashed potatoes.
There is still no specific and exact information about the origin of this fascinating dish, but many think that its name comes from the name of a Berlin butcher named Cassel. He was the first to make the cut in the late 19th century.
6. Spanferkel – Roasted Suckling Pig/Hog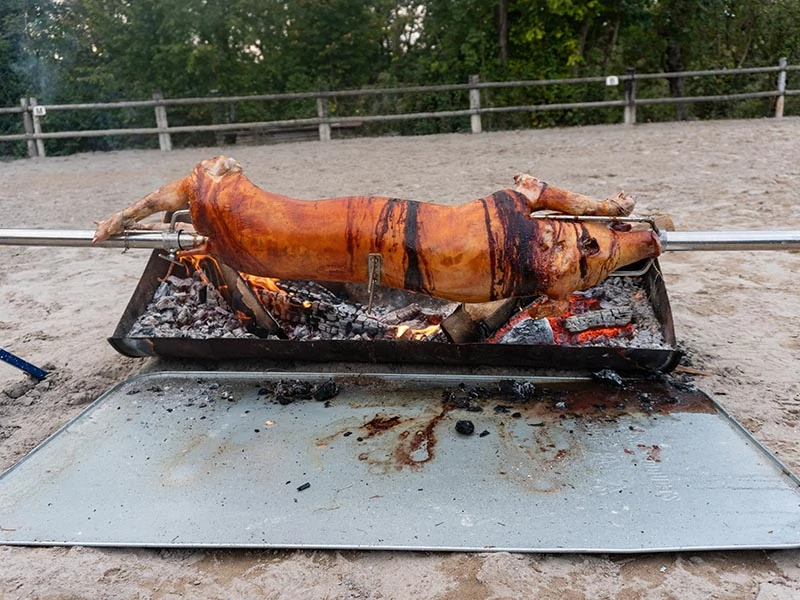 Spanferkel, also known as suckling pig, is a tasty dish that everyone wants to try. This roast pork dish originates from Roman and Chinese cuisine. This was a dish with a long history when ancient people began to raise cattle.
Pigs used in this beautiful dish will be about 2 to 6 weeks old. Pork has a beautiful golden brown color after roasting. You will love the crispness of the pork skin and the tender and succulent meat inside.
Germans often eat this food on essential occasions or festivals. They created a wonderful sauce from meat drippings, salads, and vegetables to go with the suckling pig.
7. Labskaus – Mashed Potatoes and Beets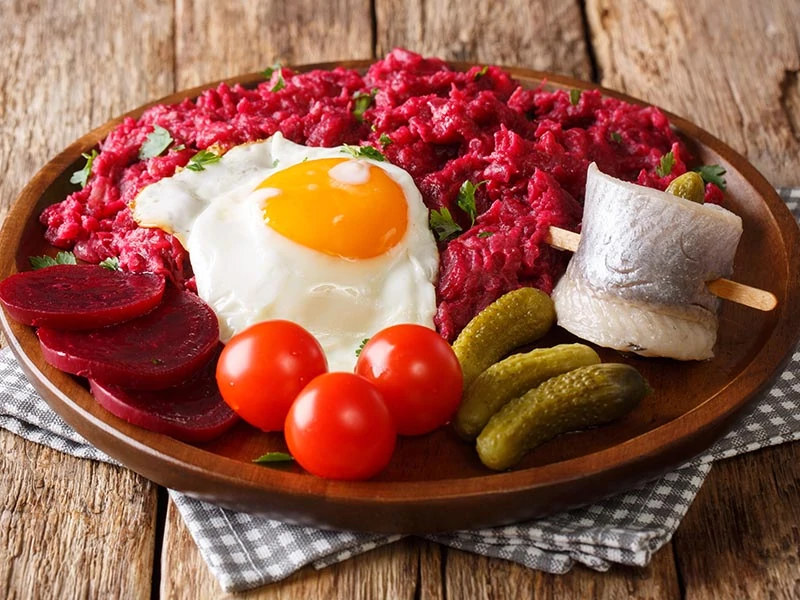 Labskaus is a great German lunch recipe you should try. The chef will mash salted beef, onions, gherkins, potatoes, pickled beets, and various spices to create a dish with a distinctive pink color.
German sailors invented and developed this wonderful dish in the 16th century when they used the leftovers on board to create a dish to fill their stomachs. Its Scandinavian variant has no herring, and the Danish version will have gravy added.
8. Eintopf – One-Pot Stew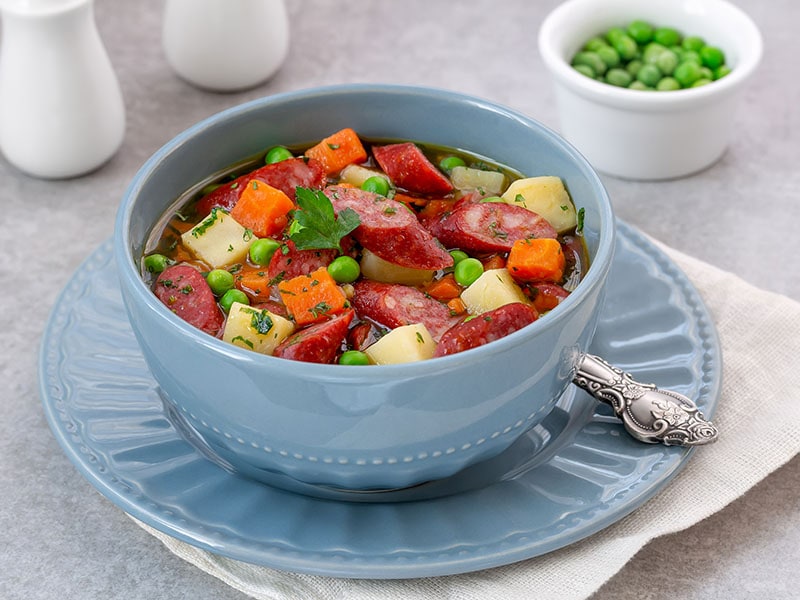 Eintopf is a stew/soup associated with many Germans back in difficult times when people did not have much money to buy delicious food. So they gathered meat and vegetables to make the famous one-pot stew.
The food is a combination of vegetables, meat, and broth. This delicious recipe is often served with bread. Different regions of the country will have different variations with more ingredients added.
Go to the kitchen to make awesome Eintopf to treat your family.
9. Konigsberger Klopse – Meatballs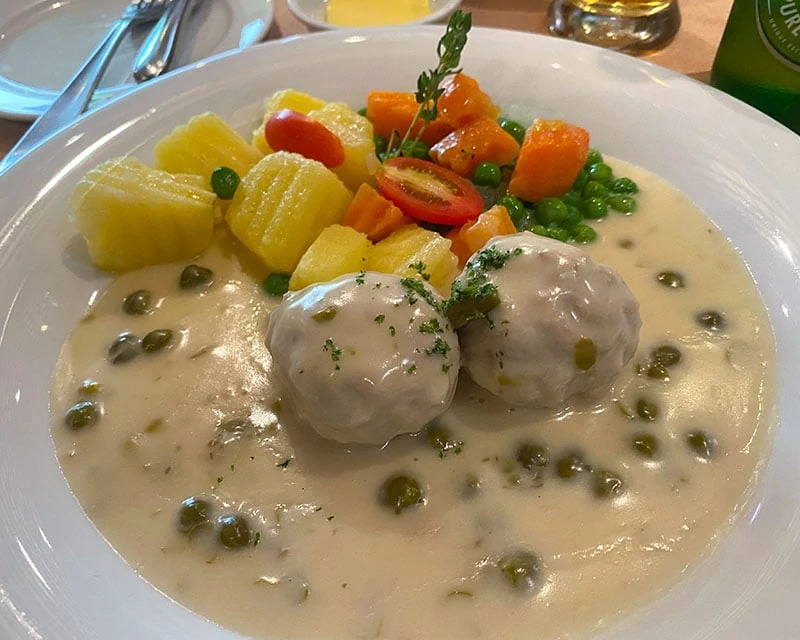 It is a shame that this list does not include Konigsberger Meatballs. This food comes from the Konigsberg region in Eastern Germany. Also, its name comes from this city and now Russia's Kaliningrad after Russia occupied it in World War II.
Minced meat, stale bread, and onions make delicious and appealing meatballs. The sauce with cream, capers, eggs, and broth will make you fall in love. You can enjoy this food in a cold state.
German Snacks
Snacks are an essential part of what you can enjoy during mid-day side meals. And right now, you might be thinking some delicious cookies from Germany. However, today I'll introduce other suggestions that you can refer to when coming to Germany.
10. Bratkartoffeln – Fried Potatoes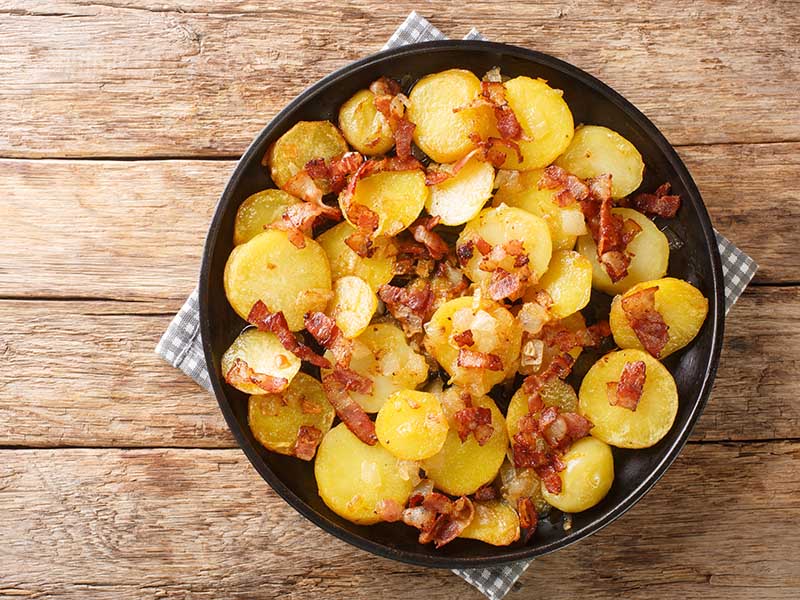 You should start your day in Germany with this yummy idea. Bratkartoffeln is a famous German dish with potatoes as the main ingredient. The chef will fry the potatoes, onions, and bacon in butter until the desired crispiness is achieved.
German fries have a long history and are common in various countries worldwide. It appeared in British and American cookbooks in the 1870s. The German army brought this recipe here during World War I in America.
11. Kartoffelknödel – Potato Dumplings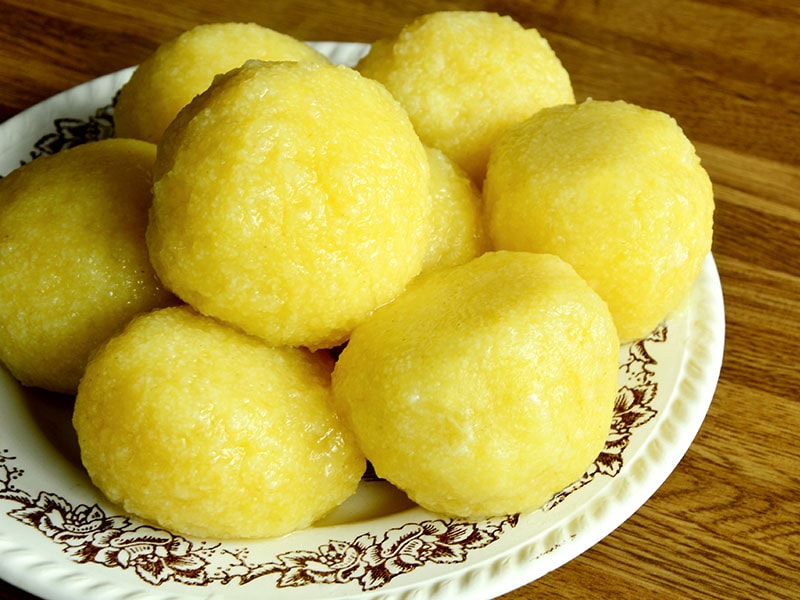 Kartoffelknodel, or German potato dumplings, is a famous German side dish. Restaurants often add spices and croutons to this food during processing. You will be immersed in the softness and deliciousness of boiled potato dumplings.
Its name is derived from "knode" which means "little knot". Records of this food first appeared in the 18th century. This incredible food is famous in Germany and many other countries.
You can find different dumpling variations. In Germany, there is a dumpling version containing quark cheese. Bread dumplings are another of my favorites. In Brazil, flour, eggs, and rice are the primary ingredients of dumplings.
12. German Potato Salad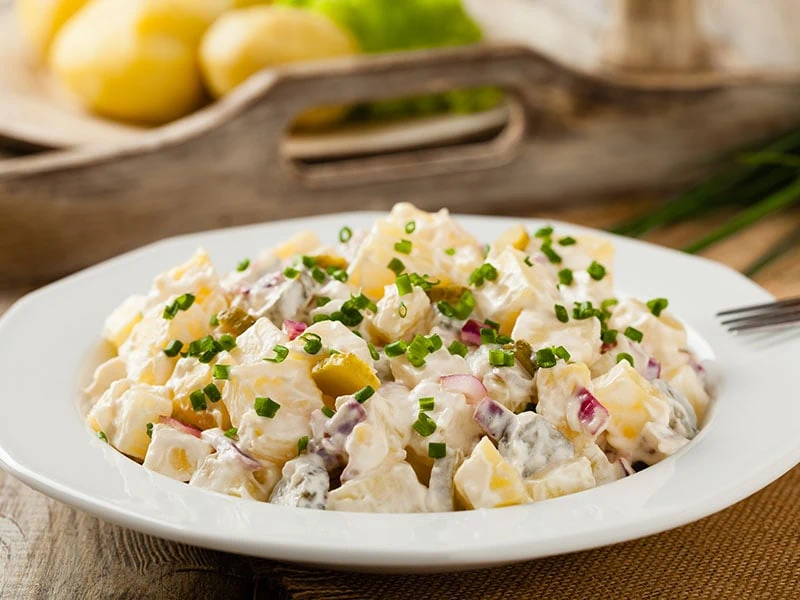 Potatoes are a favorite ingredient of German cuisine. The South of the country is an excellent environment for growing and harvesting potatoes, so there are countless varieties of potatoes to be found in Germany.
The Bavarians used the elements they had at their disposal to make this fabulous potato salad. Bacon, vinegar, and sugar are the key ingredients that make this dish delicious. Germans often call it Hot German potato salad because of its warmth.
Let's discover three common German potato salads.
13. Reibekuchen – Potato Pancake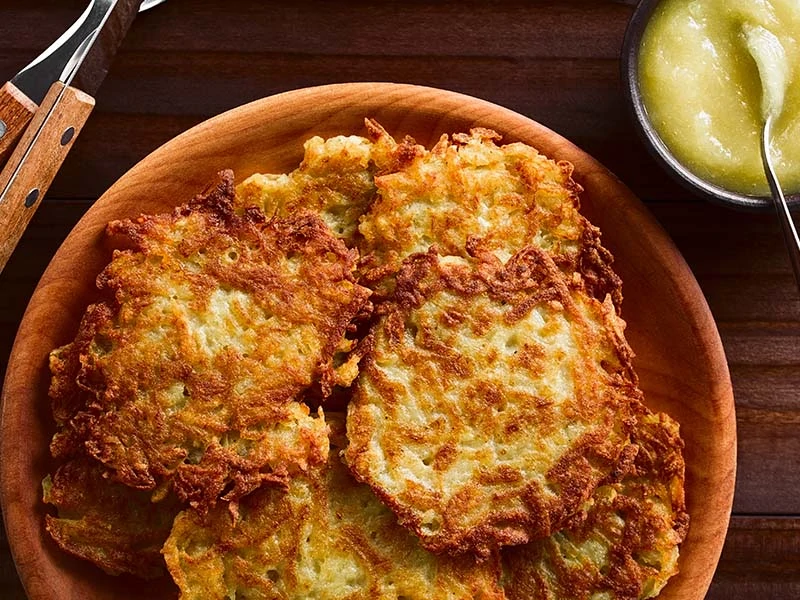 You will regret skipping this iconic German appetizer or snack when you set foot in Germany. Reibekuchen is a pancake made with grated potatoes, eggs, and flour. After pan-frying, this cake will be crispy outside and soft inside. It will taste better when eaten with apple sauce.
This food is a pride of Germany's Rheinland cuisine. Germans often call it by another name, Kartoffelpuffer. The name " Reibekuchen" is inspired by the land name that produces this savory dish.
If you go to the markets in Germany around Christmas, you will find many reibekuchen vendors with hundreds of potato pancakes born on this day.
14. Currywurst – Curry Sausage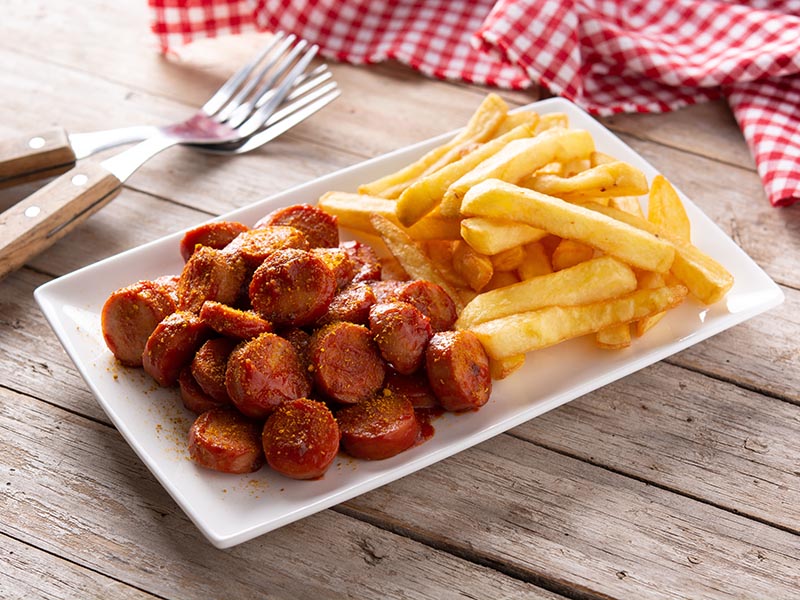 Currywurst is a unique sausage variety that will leave an indelible impression on your mind. This is a popular sausage recipe in Germany as Germans consume around 800 million Currywurst in a year. This dish appears a lot at stalls and vendors in cities and towns.
This scrumptious dish dates back to September 4, 1949, in Berlin. Herta Heuwer combined ketchup and curry powder from the British army to create a mixture served with grilled sausage.
Currywurst is one of the most famous sausages in Germany, and it is also honored in museums. This food is often served with fries and bread rolls in Berlin and Hamburg.
15. Flammekuechen – Tarte Flambee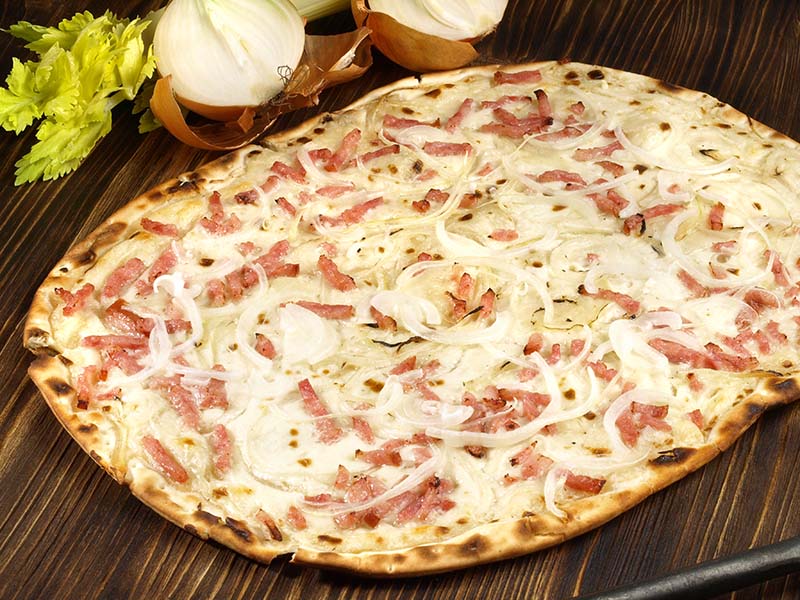 I believe you will be addicted to Tarte Flambee after enjoying it. It resembles the French onion tart version and has the same preparation. Thin slices of bread covered with sour cream, onions, peppers, and bacon will make the perfect whole.
This unique dish comes from the farmers in the Bas Rhin, Alsace, and Palatinate regions, who bake bread once a week. You can choose from variations like Gratinee with Gruyere cheese, Munster with Munster cheese, or the sweet version with apple.
16. Frankfurter Grüne Sauce – Frankfurter Green Sauce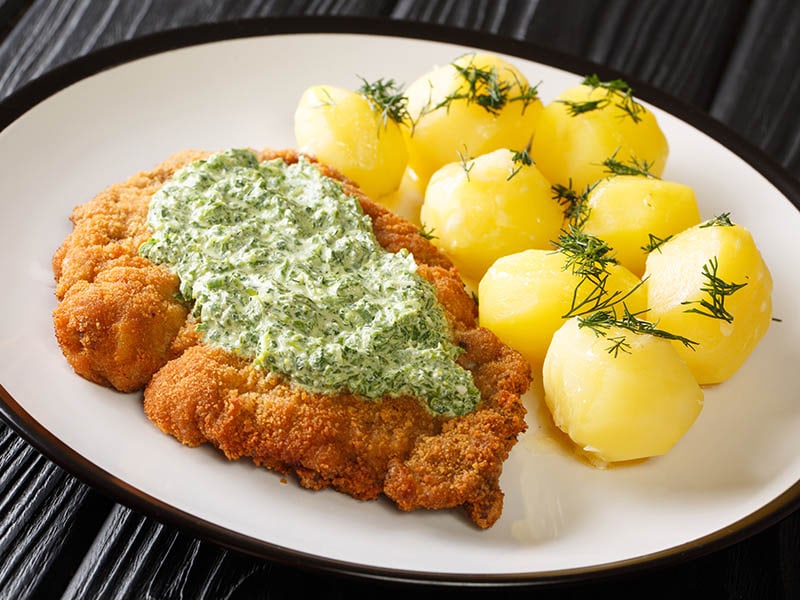 Frankfurter green sauce is one of the famous German sauces. It is the ideal choice to serve with potatoes or bread. This wonderful recipe includes green herbs, sour cream, lemon balm, and various spices.
There is much controversy about the origin of this sauce. The most famous myth is that it was invented by the mother of Johann Wolfgang von Goethe. This recipe first appeared in a cookbook in 1860.
Let's take part in Frankfurt's Green Sauce festival to gain a lot of helpful knowledge right now.
German Sausages
German sausage dishes always cause nostalgia for those who have tasted it once. You should not miss the opportunity to taste the famous German sausages.
17. Bratwurst – Grilled Sausage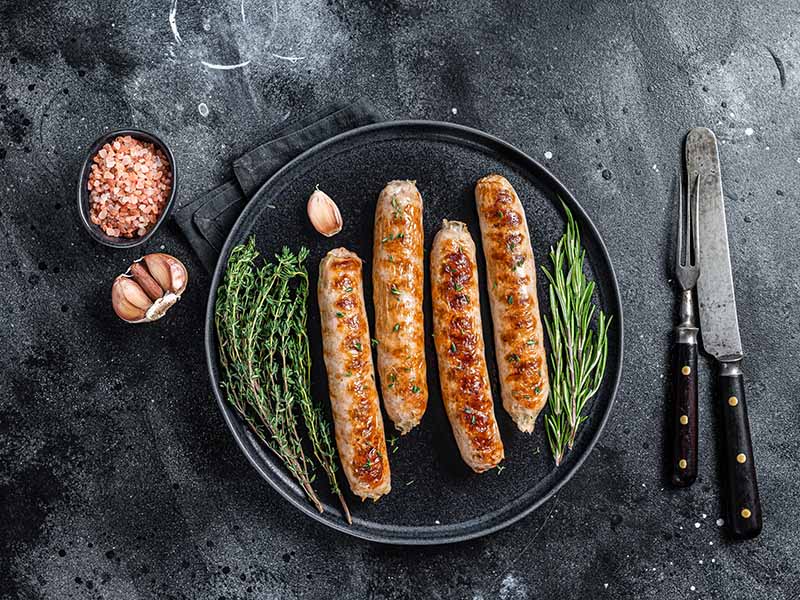 It is a pity if you do not enjoy this famous German sausage. The combination of ground pork, veal, or beef and spices creates Bratwurst sausage. You will love the crispy outside of the sausage when it is grilled. You will serve with mustard topping.
This food was born in Germany long ago when the Germans used all the leftover meat to create this tasty sausage. It became popular in America in the mid-19th century.
Nowadays, it's an essential street food in Germany, especially during Oktoberfest. There are more than 42 variations of it in Germany.
18. Weisswurst – White Sausage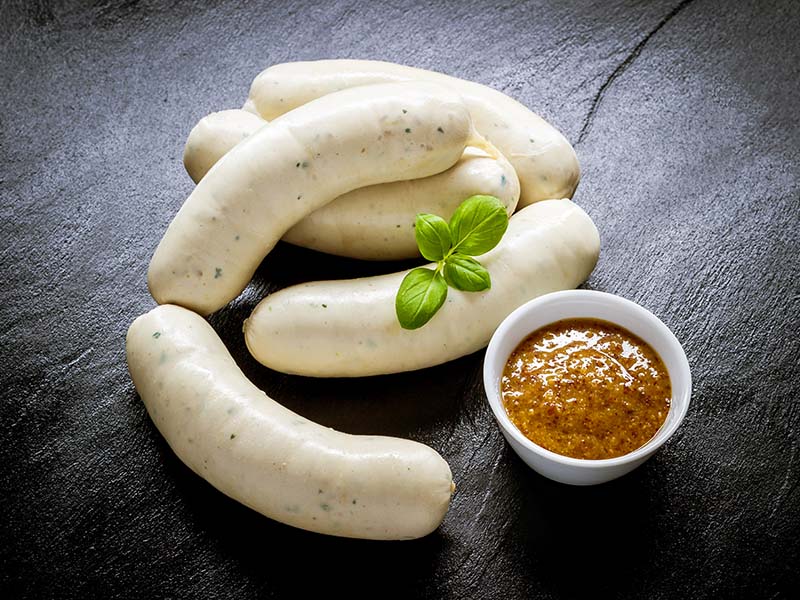 If you come to Bavaria, Germany, everyone knows the famous white sausage. It has become a national dish of this region. In particular, this sausage is not a favorite nationwide as it is pretty rare in the Northern part of the country.
It is a wonderful creation of Sepp Moser in 1857 while working for a restaurant next to the butcher's shop. It is an iconic dish of the Munich city. You can eat it in mid-morning and do not forget to eat it with sweet mustard and a beer.
These eye-catching opaque white sausage bars will be suitable for combining many different recipes. Veal, pretzel, and sweet mustard are its main ingredients. The marinated veal will bring a rich flavor to the sausage.
19. Blutwurst – Blood Sausage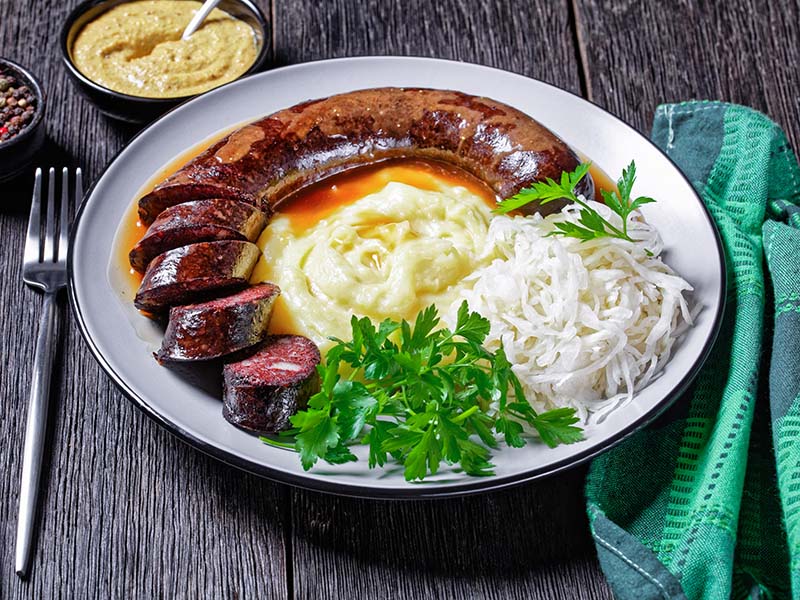 Blutwurst is one of those sausages with a long history in German cuisine. The Germans will use pork, fat, animal blood, and various spices to make this blood sausage. You can find Blutwurst in many different sizes and types.
Diced bacon and innards are two common types of Blutwurst. This recipe dates back to ancient times when soldiers made blood sausage on the battlefield. In Roman times, this food was crucial in festivals.
German Desserts
Germany has many tempting desserts. You should not miss these wonderful dessert recipes. I am sure you will be satisfied with the taste it brings.
20. Donauwelle – Wave Cake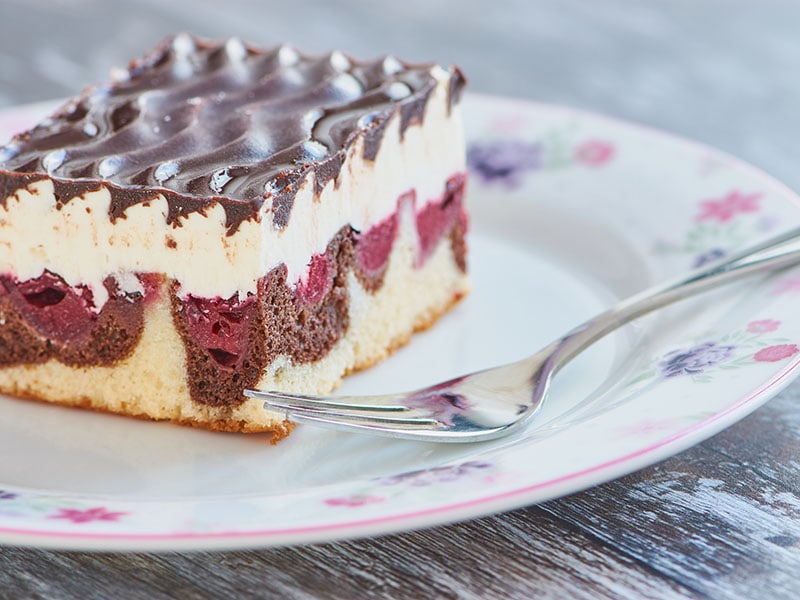 Your list of German desserts will be more complete with the appearance of Donauwelle. This cake is famous in Germany and widely loved in Austria. This cake usually has two layers, vanilla, and chocolate.
The wavy decorative motifs inside and swirled chocolate inspire its name. Furthermore, it has another name, Schneewittchenkuchen, which means Snow White cake, and Schneewittchentorte for its white, black, and red colors.
21. Stollen – Fruit Cake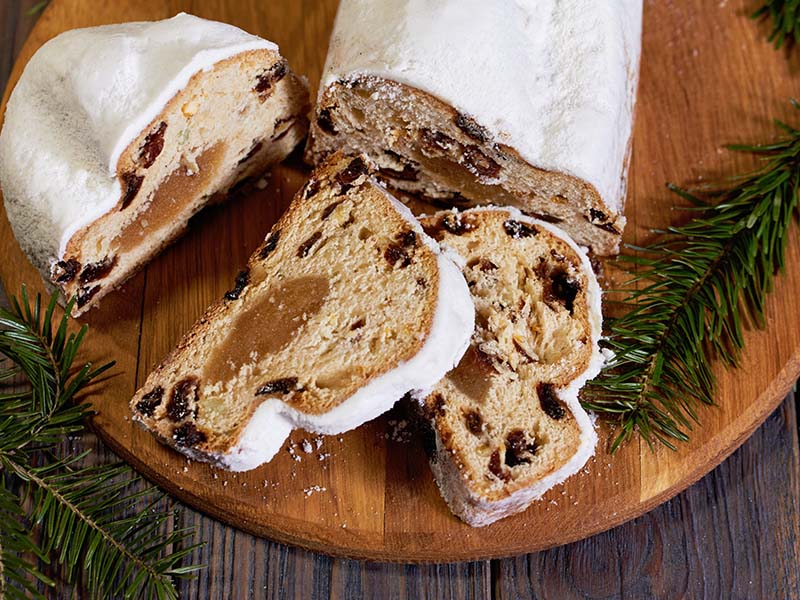 You may know some eye-catching German cookies for Christmas, but do you have the chance to enjoy this traditional fruit cake? You will love its softness when you bite into these pieces of flatbread. Dried and candied fruit will add extra flavor.
This iconic fruit cake is the inspiration for Pan De Pascua – a Christmas bread in Chilean food culture.
This Christmas bread first appeared in 1545 at the Council of Trent. Initially, it was made of flour, oil, water, and yeast. Before 1918, Stollenfest took place in Dresden and stopped until it was reorganized in 1994.
It is time to boost your knowledge with incredible things about Stollen.
22. Spaghettieis – Spaghetti Ice Cream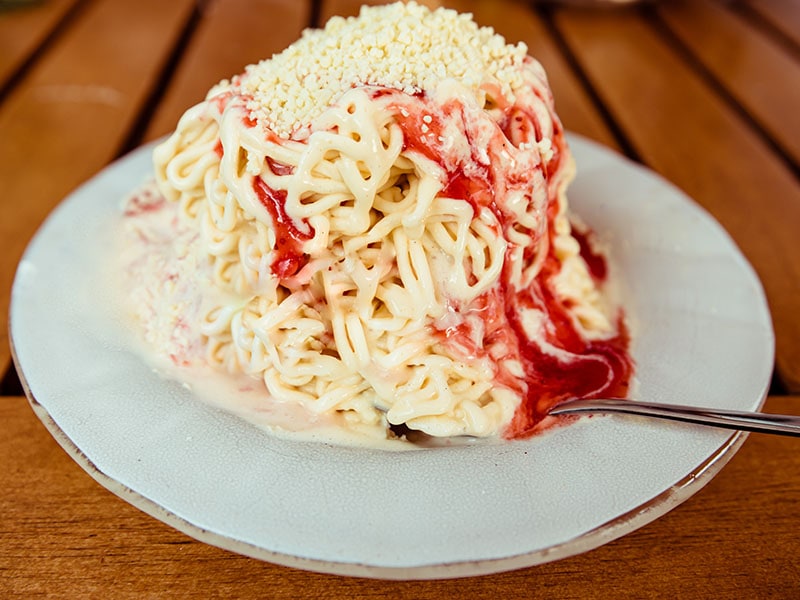 Cool down with Spaghettieis ice cream when traveling in Germany. Not only that, but it is also a famous recipe across many European countries. Its appearance is pretty similar to Italian spaghetti, hence the name Spaghettieis.
The chef will use a noodle press or potato ricer to press the vanilla ice cream to make strands that resemble the shape of spaghetti. If you do not pay close attention, you could be mistaken for a plate of spaghetti.
Dario Fontanella invented this noodle-like ice cream in Mannheim in the late 1960s. It was an accidental creation as he made it to comfort crying children asking for ice cream. The medal "Bloomaulorden" is a well-deserved achievement for his invention.
23. Apfelstrudel – Apple Strudel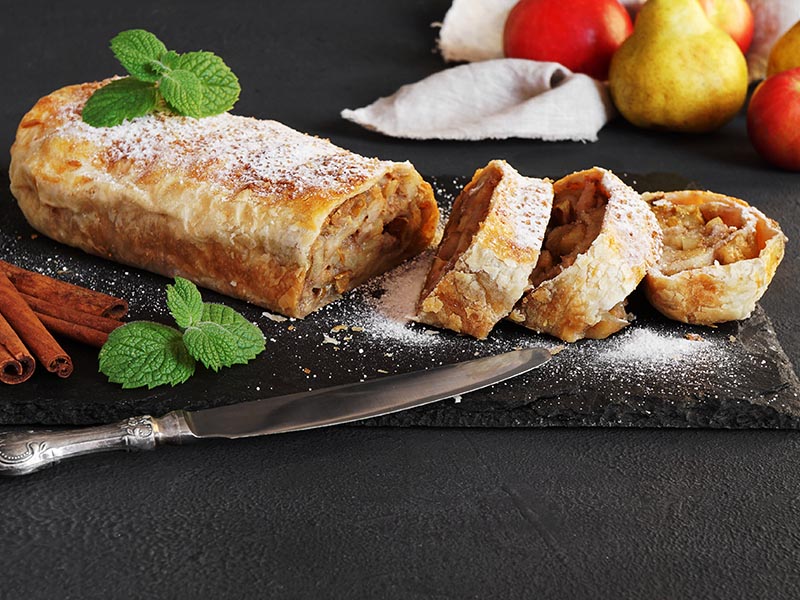 Apfelstrudel is a popular treat in Germany, but it's an Austrian native dish that originated in Vienna in 1697. Today, you can find it in the cookbook at the Vienna Town Hall Library. This food was prevalent in the 18th century.
June 17 is considered National Apple Strudel Day. The word "Strudel" in its name means "whirlpool". You will go crazy with its sweet and buttery flavor and light texture. It is fantastic to enjoy it with vanilla ice cream.
24. Schwarzwälder Kirschtorte – Black Forest Gateau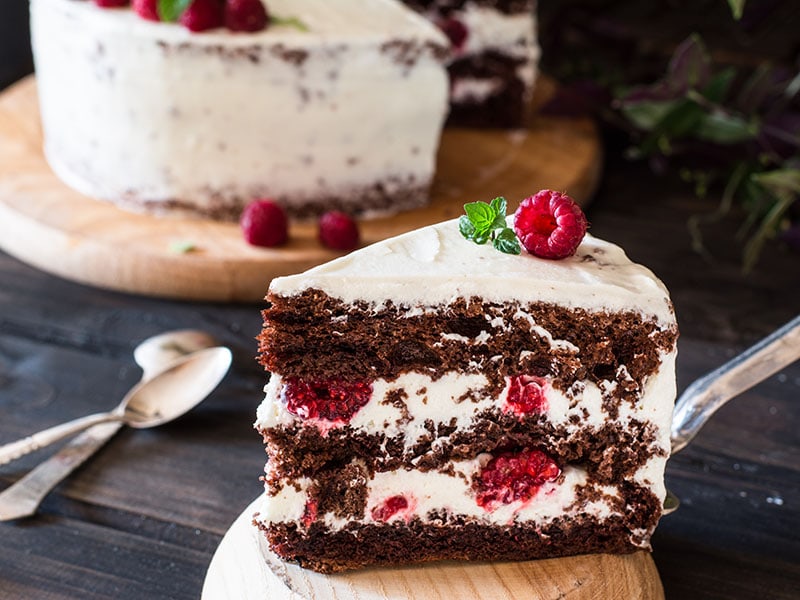 Black Forest gateau is one of the typical cakes of German cuisine. It is native to the Black Forest region of southwestern Germany. This is a sponge cake with layers of chocolate and whipped cream.
The first version of this cake was Schwarzwalder Kirschtorte which means Black Forest Cherry Torte or Gateau. The most giant cake weighing about 300 kg was made on July 16, 2006, by K&D Bakery.
Traditional German Breads and Sandwiches
Germany is famous as a bread power globally with about 3200 different types of bread. Therefore, bread plays an essential role in German people's life. In this part, I also introduce a famous sandwich idea that you can try at home if desired.
25. Fischbrotchen – Fish Sandwiches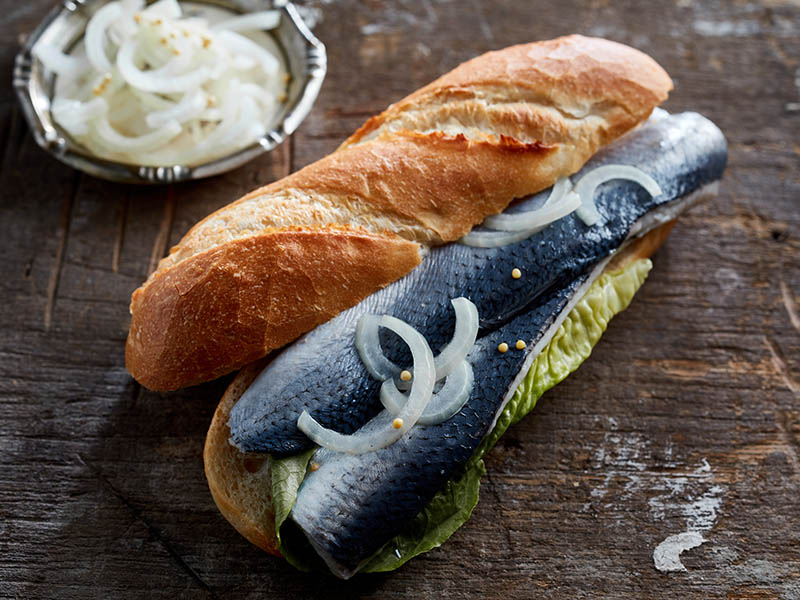 If you travel to Germany, I recommend you to enjoy Fischbroetchen in the North of Germany. The combination of fish, bread, lettuce, remoulade, and other ingredients gives an irresistible taste on the first bite.
There are different versions of this dish, depending on the type of fish used in the dish. You can choose from versions with herring, salmon, sprat, or mackerel to enjoy.
26. Brezeln – Pretzel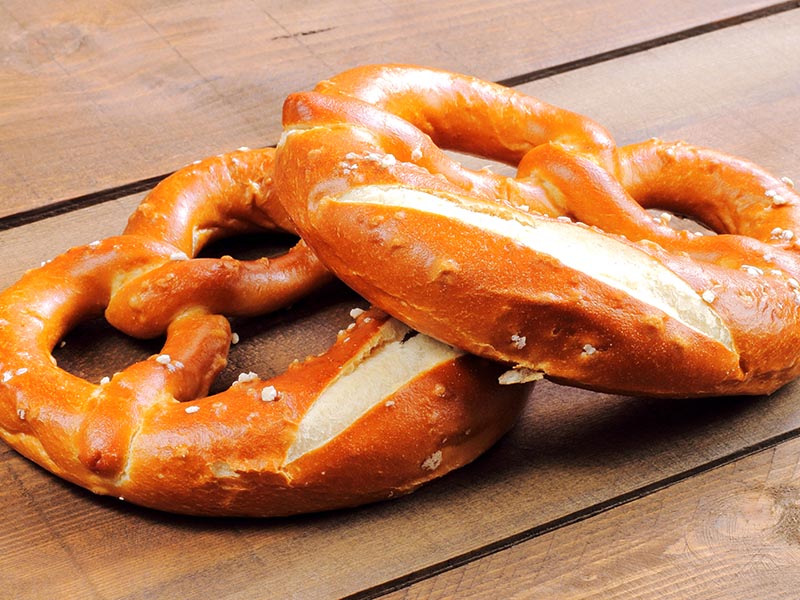 Brezeln or pretzel is a bread dish with wheat dough as the main ingredient. In particular, you will be impressed with its knots. The softness of the bread will make you fall in love. You can serve it with salt or cheese if you want it salty.
The monks created this bread, so it is associated with religion. It represents good luck, so it often appears on the necks of German children on New Year's Day. Austrians have often used it to decorate Christmas trees since the 16th century.
Germans eat this food a lot on April 26 because it is National Pretzel Day. In addition, October is considered National Pretzel Month. It first appeared in America in the late 18th century when German immigrants brought it.
27. Vollkornbrot – Brown Bread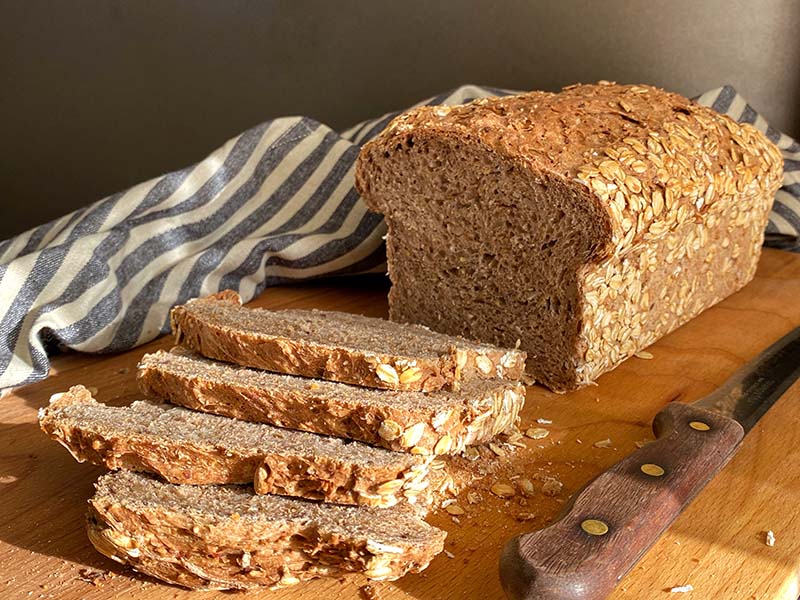 You will be impressed with this Vollkornbrot brown bread in no time. German bakeries use whole-grain flour to make this sweet bread. Moreover, the presence of wheat berries and sesame seeds enhances the flavor of the food.
The flour that makes up this bread is pretty famous. It is known as Einkorn and appeared pretty long ago. It is digestive-friendly as it can be digested easily. Germans often use it for sandwiches, toast, or with jam.
28. Pumpernickel – Rye Bread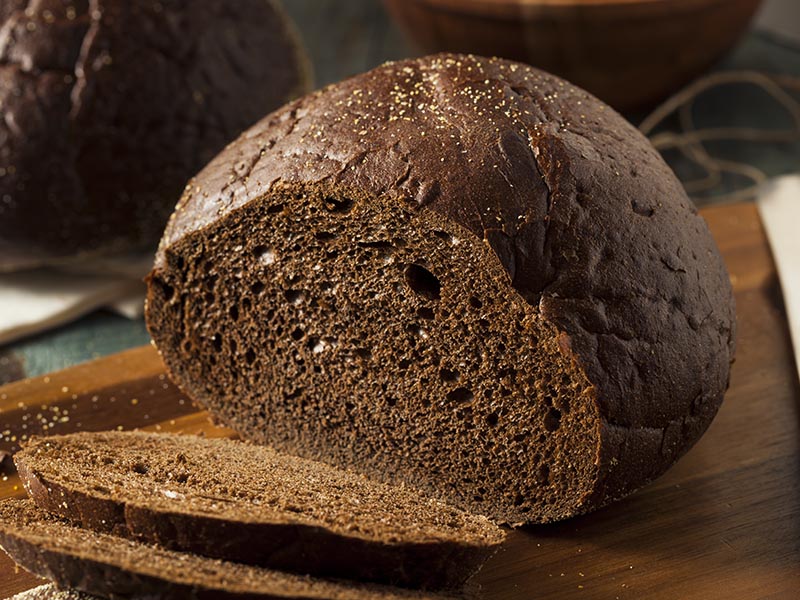 Pumpernickel is one of the most popular types of bread in Germany. Spicy is the outstanding flavor of this bread. The dark color of the bread will leave a deep impression on your heart. Rye grain is the main ingredient that makes it up.
Pumpernickel means "devil's fart", this concept is recognized by many dictionaries but it sounds strange. Instead of using colored lice, pumpernickel relies on the Maillard reaction to get the brown color, sweetness, earthy flavor, and aroma.
This bread recipe was born in the 15 century in Osnabruck on the Western border of the country during a famine. There are also many views that it has its origin in France and was brought to Germany by French merchants.
29. Bauernbrot – Farmers Bread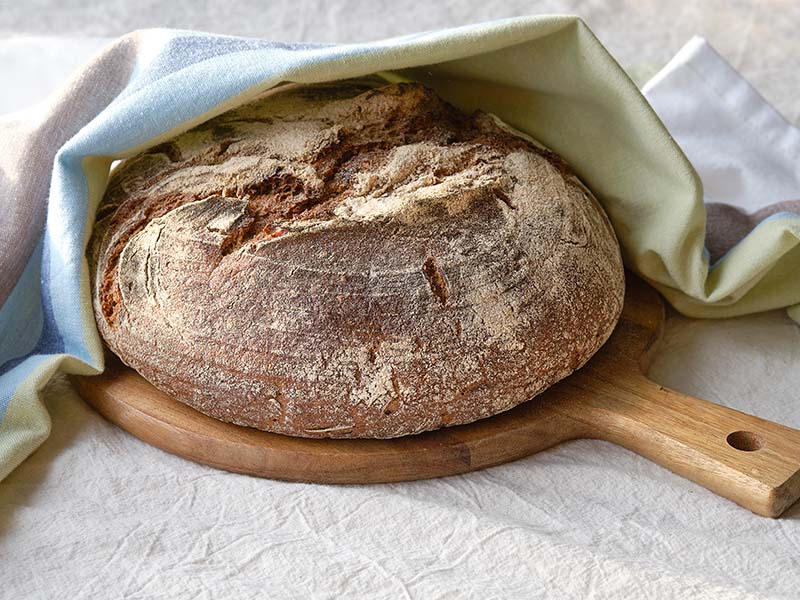 Bauernbrot or German farmer bread is a popular dish throughout Germany. True to its name, it is associated with German farmers when they bake it to eat and work for a long time. Barley flour, caraway, and fennel are its main ingredients.
There is still no exact information about its origin. Many people think it was made in Switzerland by Ecole Professionnelle de Richemont in 1955. This was an accidental creation when they looked for a recipe to utilize surplus milk.
30. Brötchen – Bread Rolls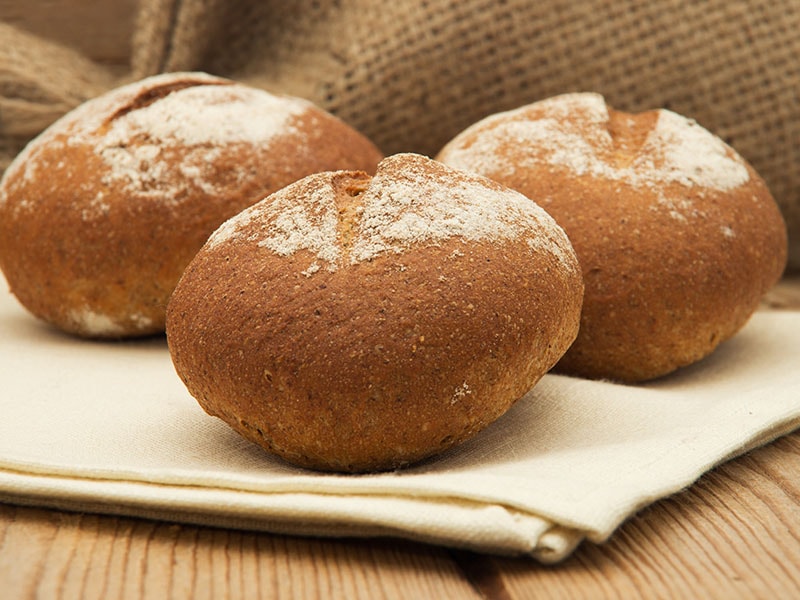 Brötchen literally means "small bread" in English. Indeed, they are cute small bread rolls that Germans often eat wholemeal rolls for breakfast or snack. This type of bread appears in almost all bakeries in Germany.
There are different varieties like wheat rolls, wholemeal rolls, whole grain rolls to enjoy. And they all feature crunchy exterior and soft interior. Moreover, these bread also contain many good nutrients for your health.
---
Which dish on this list would you most like to try? Do you want to enjoy all of them? It is time to plan a meaningful trip to Germany with this list of great dishes. I am sure you will fall in love with their taste immediately.
Feel free to like and share if you find this article helpful. In case there are some questions stuck in your mind, please share your opnion in the comment part. Thank you!