Haven't found any suggestions for Hawaiian foods yet, and your trip to this dreamland is getting closer? Don't hesitate and take a look at my humble article!
You can find everything you need in this post, from delicious main dishes to luscious desserts. All that is left to do is to bring your luggage and enjoy your trip there. No more beating around the bush; many quintessential Hawaiian specialties are waiting for you in the upcoming sections!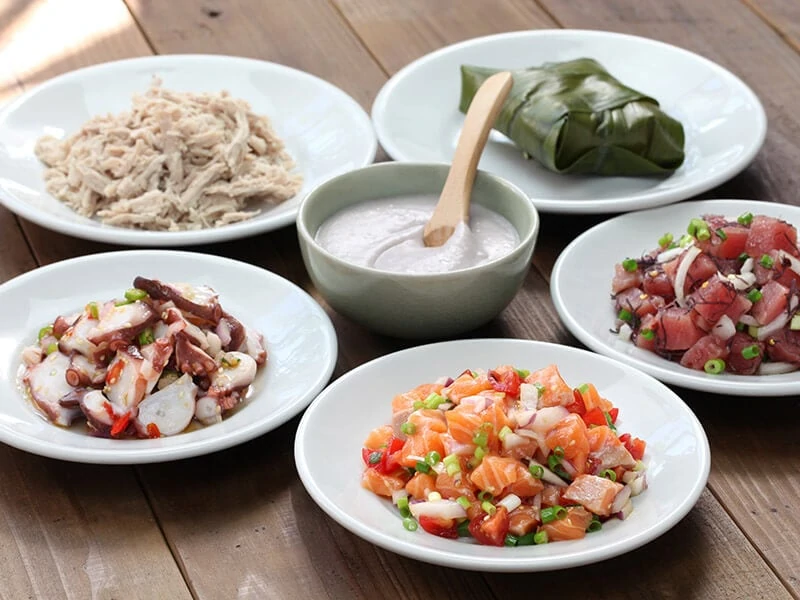 1. Poke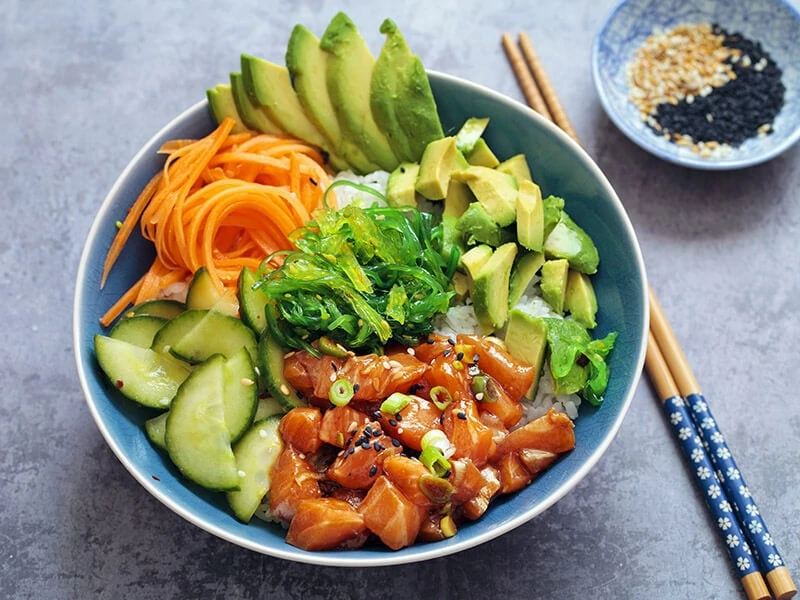 Poke in the Hawaiian vernacular means "small pieces." Plus, it is also similar to kinilaw – an indigenous dish in the Filipino cuisine, and Japanese sushi.
However, unlike sushi, in which the fish is thinly sliced or rolled, Hawaiian raw fish is cut into small cubes and mixed with other ingredients in a bowl.
This dish is colorful and attractive, with various bright hues from various components. You can relish it as an appetizer or a main course. FYI, a Hawaiian will love to have a full poke bowl with fresh salmon and salads.
A standard poke bowl usually consists of 4 parts: the base (with rice or salad), the fresh seafood (salmon, ahi, tuna, octopus, etc.), the seasonings (soy sauce, sesame oil, sauce), and the topping (corn, onion, seaweed, sesame, fish roe, or chopped kukui nuts or macadamia nuts).
2. Poi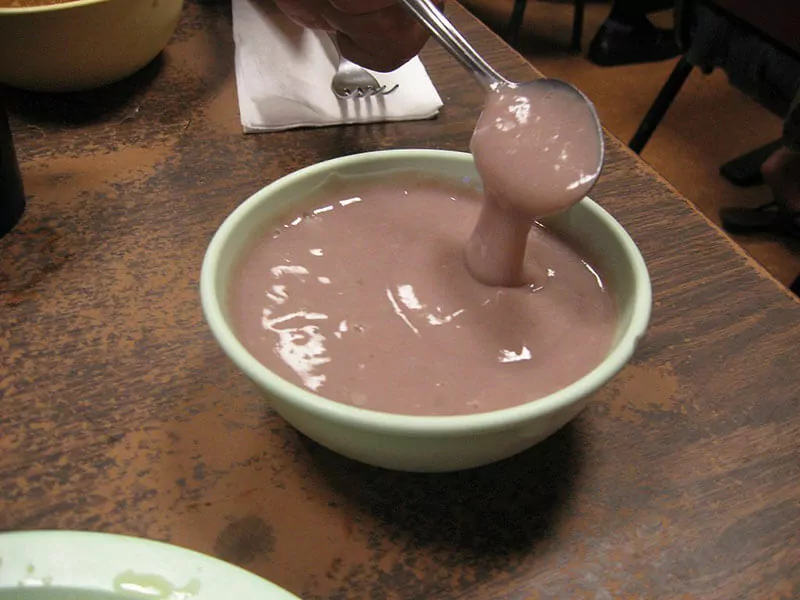 Taro is one of the oldest crops globally and was brought to Hawaii by the first Polynesians. And the key component to make Poi is taro's root. Plus, next to the unique flavor of taro, you can even use its leaves to make Lau Lau, a special dish of Hawaiians which I will discuss later.
Let's talk a bit about Poi's origin! Invented by native Hawaiian around 400 AD, this dish still has a sacred existence in their daily lives.
Hawaiians have an exciting way to test how thick/dense the texture of Po is, which is by scooping the food with their fingers. They usually classify it as "one finger," "two fingers," etc. And the lesser finger they use means the food is denser.
It might look less tempting at first because of its brownish-gray color and wet paste-like texture. Yet, the unique flavor of Poi (which resembles unsweetened yogurt) might enchant you. Furthermore, some versions use breadfruit (alu) or sweet potato instead of taro.
Besides Hawaii, Poi is also an iconic Samoan dish. In Samoa, Poi is known for its rich vanilla fragrance and sweet banana flavors. There's also a touch of zesty taste from the sour lemons.
3. Hawaiian Sweet Rolls or Hawaiian Buns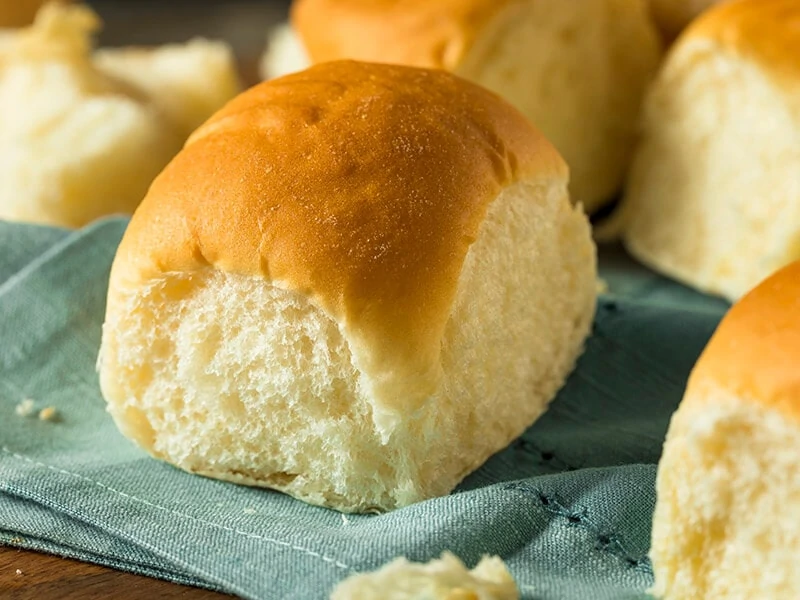 These gorgeous sweet rolls are a type of bread roll. They are familiar side dishes in Hawaiians' meals, particularly in holiday gatherings, and can be matched with many other foods.
These rolls first appeared in the 1950s and started from Robert Taira's bakery in Hilo (the capital of the Big Island in this country). Today, you can easily buy them in bakeries across the island.
They are soft, fluffy, and slightly sweet, with a golden-brown exterior. They also require some pineapple juice in the recipe so that you can expect some hints of tangy and tart flavors.
4. Spam Musubi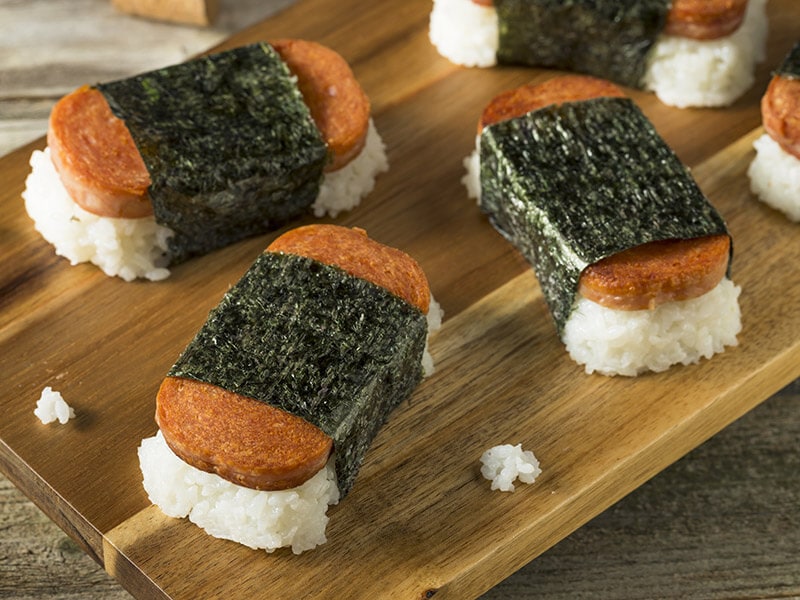 It is said that this food appeared during the same period of World War II when American soldiers brought canned meat (especially spam) into Hawaii. Premium spam packed in a can is renowned worldwide for its versatility and easy-to-eat taste.
When looking at this delicacy for the first time, you might immediately think of Japanese rice balls known as Onigiri. It is because the nori (dried seaweed sheet) wrapped the sticky rice and one to two pieces of spam.
This food might look basic, but the taste will be quite appealing and perfect for busy people's meals or snacks. Also, it is often eaten on the go, such as during a beach day or road trip. And you can even make it at home with a musubi press or a carefully opened can of Spam.
5. Chicken Long Rice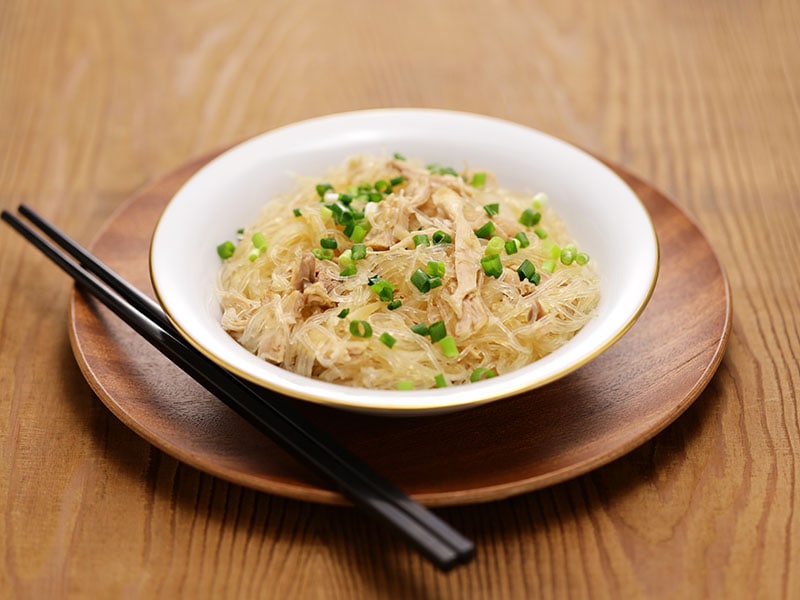 Chicken Long Rice is a popular dish in Hawaii with Chinese origins. Though there is "rice" in the name, it is a combination of tender chicken and long mung bean noodles.
To prepare Chicken Long Rice, the chicken is first cooked in a flavorful broth made from chicken stock, ginger, and garlic. Once the chicken is tender, it is removed from the broth and shredded.
Finally, the dish is garnished with green onions and served steaming hot. Now they are ready to be enjoyed as a satisfying side in Hawaii's meal, or a light, standalone treat.
6. Pastele
In the early 1900s, more than 5,000 Puerto Ricans moved to Hawaii for employment, and this is the roots of this delicacy in Hawaii.
Pasteles is a traditional Puerto Rican specialty, and they have played a special part in Hawaiian cuisine. In fact, this dish, referred to as "Pateles" in Hawaii, as it is pronounced with a silent "s" in the local dialect.
The primary ingredients in Pasteles include plantains, then fill it with seasoned meat, typically pork, and wrapped in banana leaves before being boiled or steamed.
In addition, Hawaii is the only place where you can find Pastele stew, which is a local adaptation of the original dish. This stew consists of the pasteles' main ingredients, but it is prepared in a more liquid form.
7. Loco Moco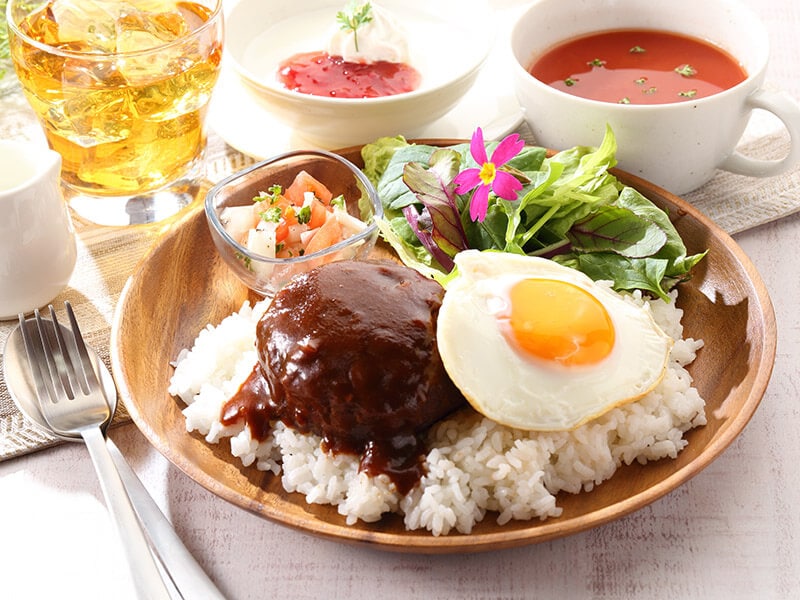 In actuality, there are numerous Loco Moco varieties across the world, but the authentic version is still the best. It consists only of white rice, hamburger meat (meat patty), and a sunny-side-up egg.
Despite its simplicity, the dish is sufficient and nutritious for a light Hawaiian mid-day meal. The first loco moco dish was sold in Lincoln Grill restaurant in 1949, in downtown Hilo. Its name means "crazy snot" in Spanish. How interesting!
Loco Moco is one of the most popular street foods in Hawaii. You can also opt for this dish first as an easy-peasy "warm-up" before trying the other palatable foods on this island.
Loco moco and its best taste test you definitely should take a look at!
8. Saimin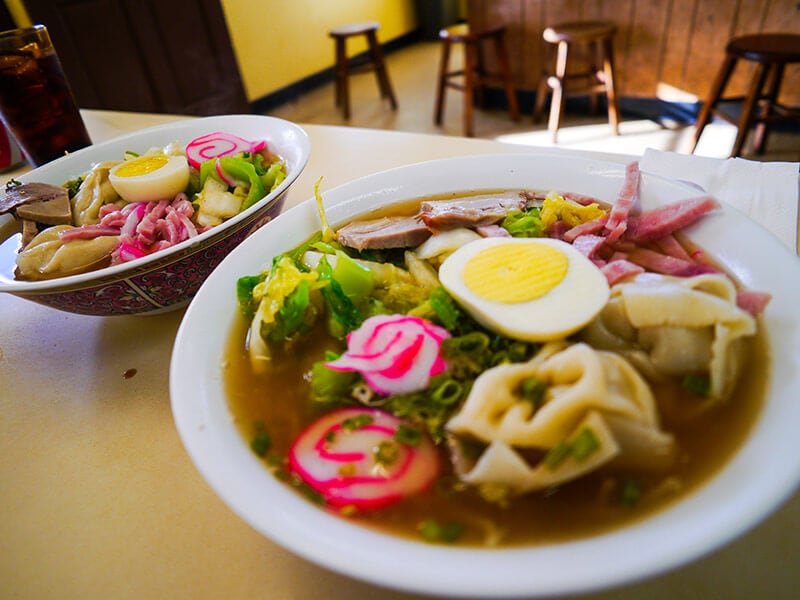 Saimin is a unique Hawaiian noodle dish inspired by Filipino, Japanese, and Chinese noodles since the late 1800s, when various ethnic groups move to Hawaii to work.
In fact, the term "saimin" is derived from two Chinese words—sai, meaning thin, and min, referring to noodles. The overall appearance of Saimin is fairly similar to a bolw of Ramen, but they are different in terms of noodles, broth, and flavor.
Saimin noodles are thiner and contain more eggs. Therefore, the flavor of the noodles itself is stronger than Ramen noodles. Saimin's borth is also lighter.
In generall, a stardard bowl of Saimin include noodles, tempting broth, and several toppings like boiled eggs, spam (or sliced meat), fish cakes, and green onions.
9. Spam Fried Rice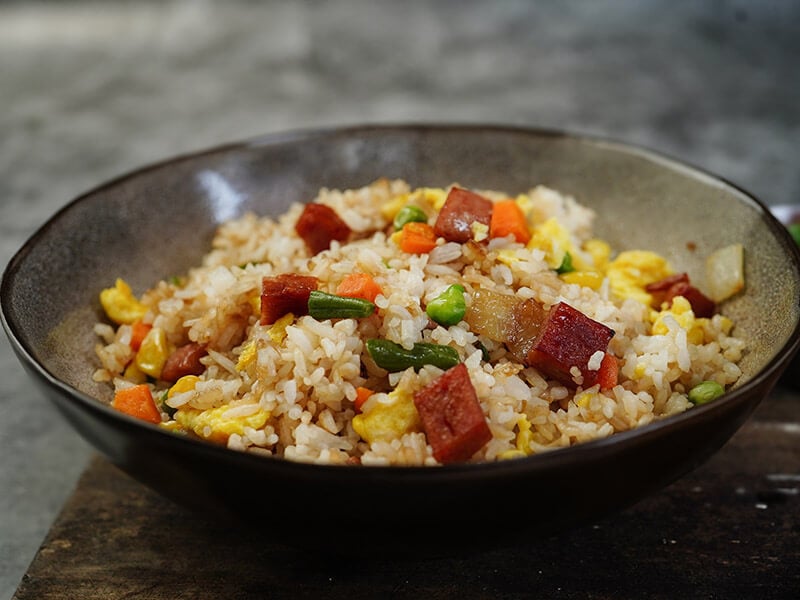 Spam is incredibly popular in Hawaii, with 7 million cans sold every year. Why? Because Spam is more affordable compared to other fresh meat and can be used in variety of dishes.
Besides using to make Spam Musubi, Spam fried rice is another simple, delicious breakfast dish loved by many Hawaiians.
Like other Asian fried rice dishes, Hawaiian fried rice is also processed until the rice is firmer and more evenly crispy. This creates a pleasant feeling when chewing and will also help increase the appetite of the eaters.
10. Manapua (Hawaiian Steamed Buns)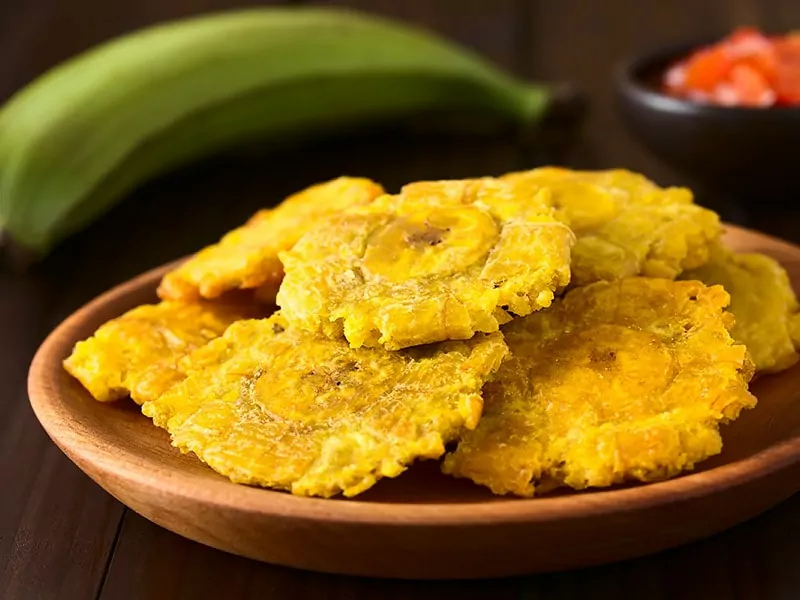 This Hawaiian-style steamed bun is derived from the Chinese's famous traditional baozi, and it also has a spongy, white exterior. It is prevalent here, so you can easily find this dish in any Hawaiian-Chinese restaurant.
Its name, manapua, is the shortened version of "mea ono puaa" ("delicious pork pasty") or mauna puaa ("pork mountain") in Hawaiian. Yet, its fillings now are varied from many things rather than only pork.
Some might contain char siu (Chinese barbecued pork) or other meats. Some have sweet fillings like red bean, sweet potatoes, etc.
11. Huli Huli Chicken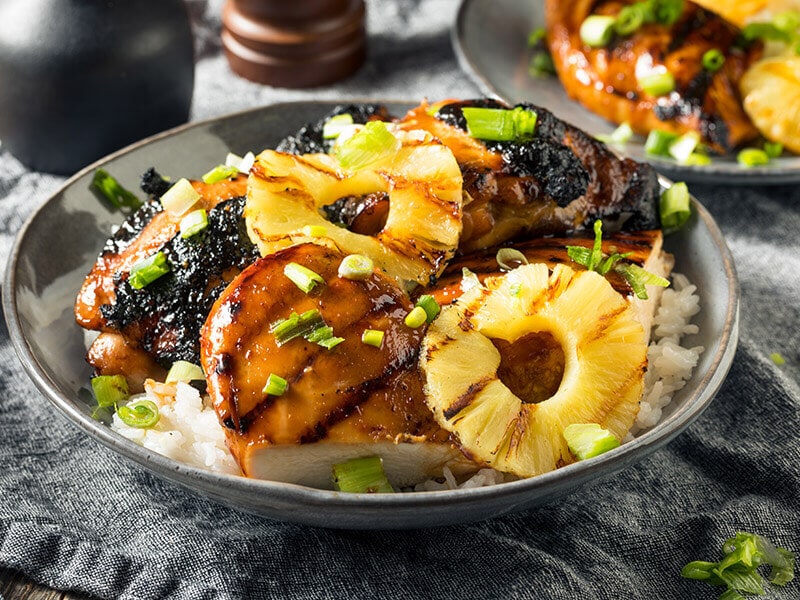 This grilled chicken dish is from Honolulu, an island in Hawaii, and you can easily find the island's vibe exuding from this delicacy.
Its main ingredients are quite simple, including fatty chicken, ginger, coconut, pineapple juice, and a few other things. You will experience all the aroma, spicy, pungent, rich taste thanks to the contribution of Honolulu's one and only Huli Huli sauce.
To eat this dish properly, you must eat it while it's still hot. Therefore, it is best to eat it right after it comes out of the charcoal stove, like at a garden BBQ. It will be even better if you dine with a bottle of Hawaiian specialty fruit wine, such as the appealing pineapple wine.
12. Shoyu Chicken
In appearance, there is not much difference between this Shoyu chicken and the previous Huli Huli chicken, but the taste and processing method are a bit different. One is grilled, and one is simmered.
Hawaiian Shoyu chicken is derived from the recipe of Japanese chicken teriyaki with a garlicky, gingery soy sauce base. This one-pot recipe is usually served in Hawaiian meals alongside white rice or macaroni salad.
Believe me, white rice will be a better option since the bland rice base will help balance the flavors of this flavorsome food. Finally, Shoyu chicken is a staple of Hawaiian plate lunches.
Quick fact: Shoyu is the term to refer Japanese-style soy sauces.
13. Lau lau (Meat Wrapped In Leaf)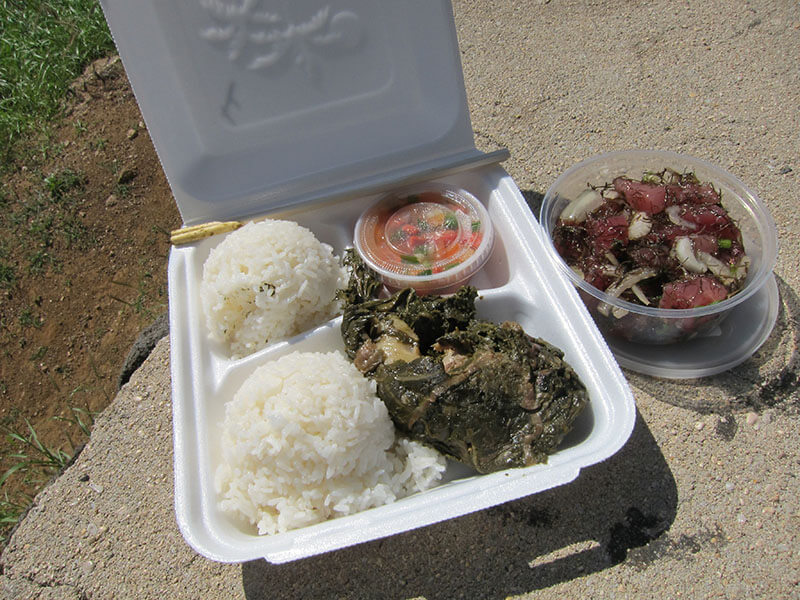 Kalo (taro) plants grow a lot on the island of Hawaii and are an essential part of the life and culinary culture of the people here. Therefore, Hawaiians utilize kalo (leaves and roots) in their traditional dishes.
Lau Lau is a traditional Hawaiian dish that includes various meats, from pork, chicken, and beef to small fish. All will be marinated thoroughly, then wrapped in the cleaned taro leaves before steaming.
Lau Lau is often served with light starches, such as rice or pasta. The note-worthy charm of this dish lies in its rusticity. Plus, it is especially served in luau feasts.
14. Garlic Shrimp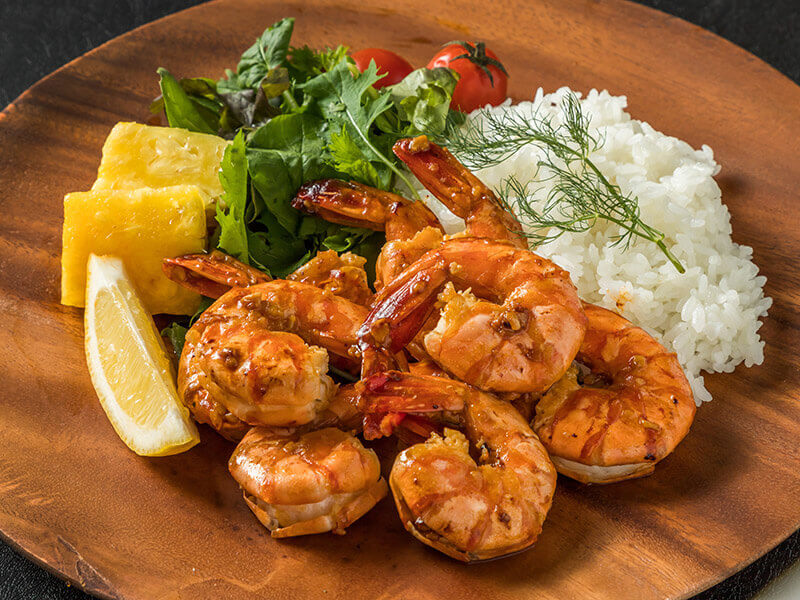 The weather in Hawaii is perfect for farming shrimp, leading to various uses of this ingredient in Hawaiian recipes. And garlic shrimp is a dish you can prepare with leftover shrimps and new shrimps alike. It doesn't take great skills to prep this simple yet tasty Hawaiian dish.
This garlic shrimp is a prevalent local dish on the North Shore of Oahu ( an island of Hawaii). And many people come there just to visit a particular truck that sells this delicacy year-round.
The food is absolutely delightful with mildly sweet, buttery, and saucy layers; Hawaiians will serve this garlic shrimp with rice so you can enjoy it as a complete meal.
15. Kalua Pig / Pork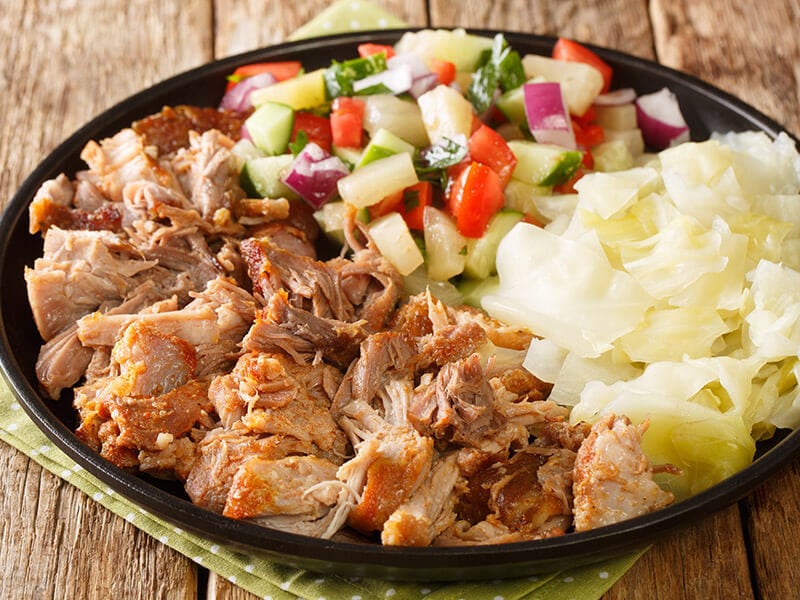 Here is another common dish that locals usually bring to the luau – the Hawaiian feast or party.
Referring to the oldest dish of native Hawaiians, it is impossible not to mention Kalua pork as a prime example. Preparing this dish requires many relatively complicated steps, but its tastes are well worth the time and effort.
To put it simply, Hawaiians would salt a cleaned pig, put it in an ima (a pit inlaid with hot volcanic lava), and close the crater with "ti" (a unique local leaf) and banana leaves.
Kalua pig needs to be cooked underground for up to 20 hours. After that, people will eat it with hot rice or noodles.
16. Hawaiian Plate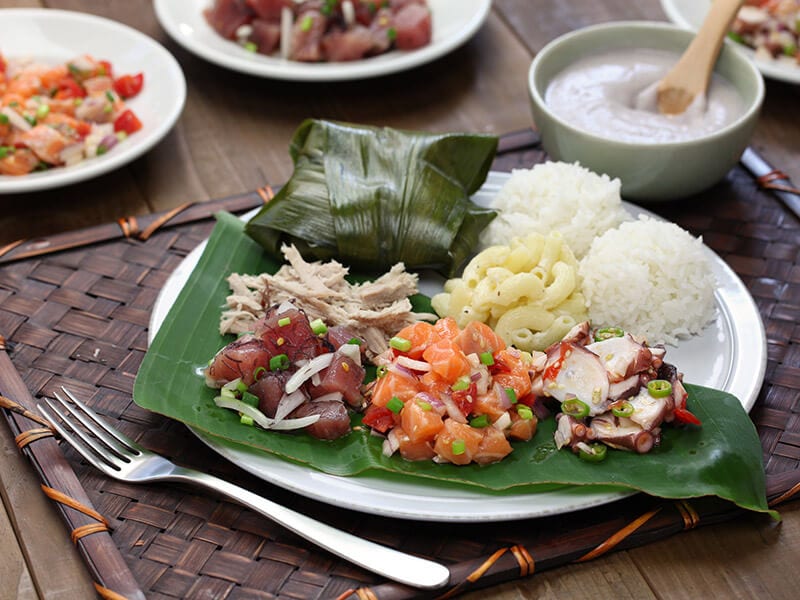 If you cannot choose which dish above to try first, how about having them all in one? Since there are many palatable options, you can experience them all scoop-by-scoop.
This combo is served in various Hawaiian restaurants so that you can order them easily. The best match for a standard Hawaiian plate includes Lau Lau, salmon, octopus, Kalua pig, and rice.
You can pair it with other iconic Hawaiian dishes, such as pipikaula (dried beef), and have haupia (coconut pudding) for dessert.
You might not want to miss this Hawaiian plate's most detailed review!
17. Mochi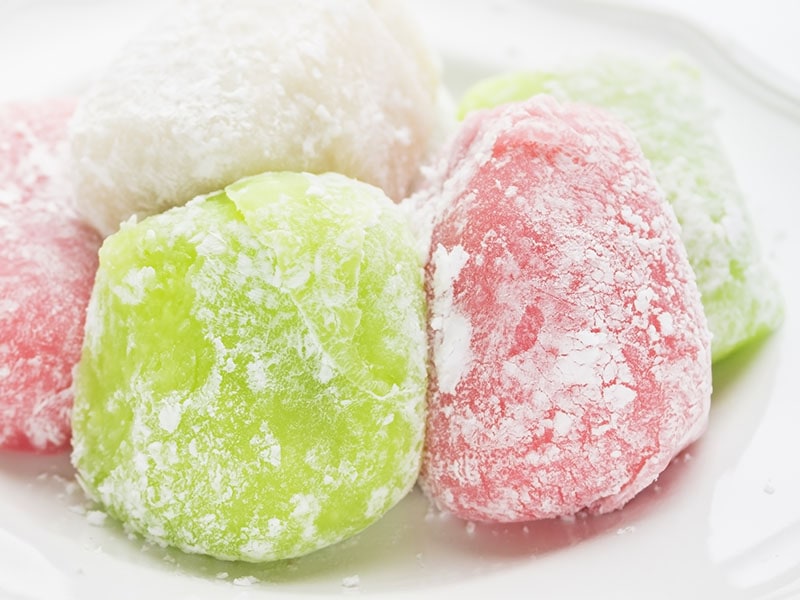 Hawaiian mochi, while originating from Japanese mochi, has evolved into its own distinct "local touch". The main ingredients of mochi include glutinous rice flour, water, and sugar, which are combined to form a dough that is steamed or cooked.
There is a wide variety of Hawaiian mochi available, showcasing the creativity and flavors of the islands. A popular variety includes strawberry daifuku, which encases a fresh strawberry in mochi dough. Other inventive iterations have fillings like peanut butter or even ice cream, providing you more options to opt for.
Mochi is not only enjoyed as a tasty treat but also has cultural significance in Hawaii, especially Japanese-Hawaiian families, as it is associated with the mochitsuki ceremony, a New Year's tradition aimed at bringing prosperity, good health, and happiness.
18. Haupia (Coconut Pudding)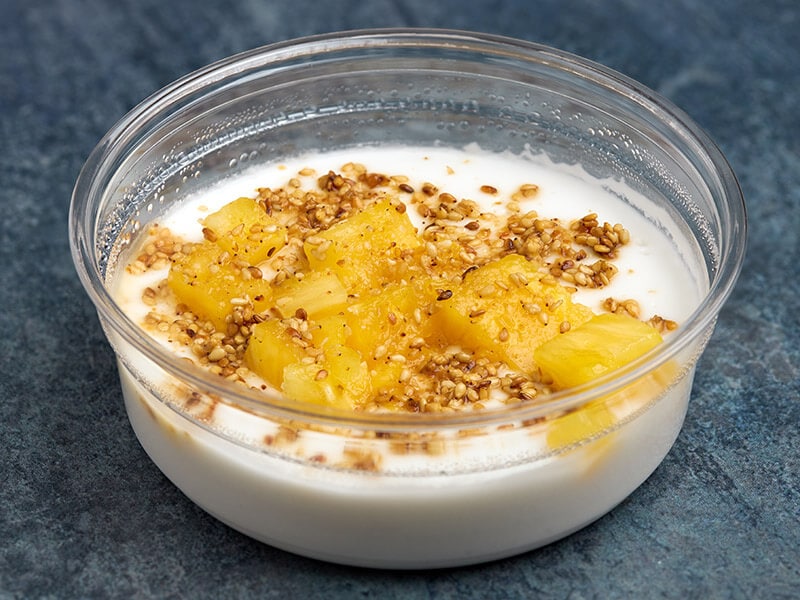 Haupia used to be a luxurious and scarce delicacy provided only to the tribe's elders at meetings due to the lack of a proper preserving method. Nowadays, it's the ultimate dessert for coconut lovers due to its rich, creamy flavors derived from coconuts.
In fact, the name "Haupia" reflects the cool and refreshing flavor of coconut, as "hau" means cool in Hawaiian. "Pia" is the Hawaiian word for arrowroot, which was traditionally used to thicken this luscious pudding.
These white puddings deliver a rich coconut taste, balancing supportive flavor from sugar and salt that make everyone swoon for them.
Haupia is now becoming more prevalent thanks to the appearance of gelatin and the fridge in the 1940s. This authentic Hawaiian sweet treat is now essential for Hawaiians' daily lives or meaningful occasions such as weddings or ceremonies.
Something you should know about making a perfect haupia.
19. Haupia Pie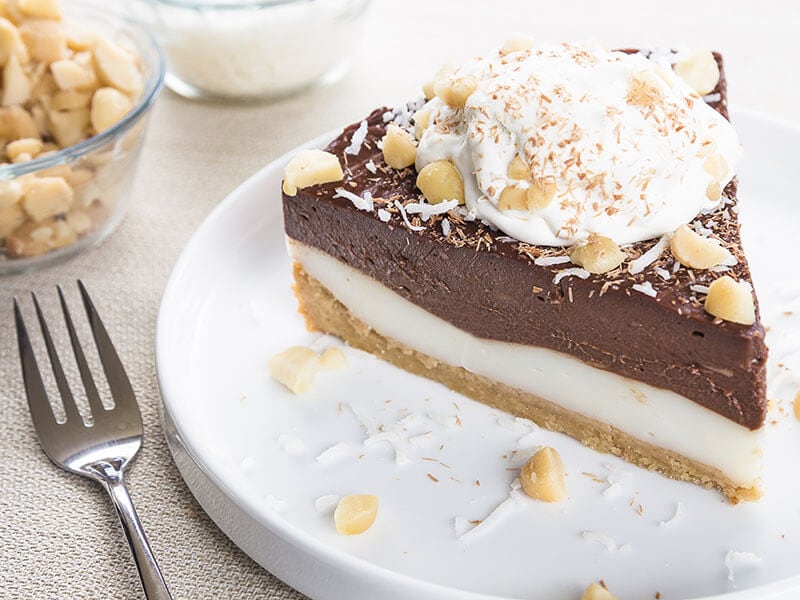 Haupia Pie is ideal Hawaiian dessert that you need to try once. This can be seen as a variation of traditional Haupia.
The main ingredients in this pie include a pie-crust or macadamia-nut base, layers of chocolate pudding and Haupia (a gelatinous coconut pudding as I described above), and a whipped cream topping.
The chocolate pudding provides a decadent base, while the haupia layer adds a creamy and refreshing taste of the tropics. This combination of flavors creates a truly satisfying treat.
The pie is typically enjoyed chilled, which adds to its quality and makes it an ideal dessert to savor on a warm Hawaiian day.
20. Coco Puff (Cream Puff Pastry)
Coco Puffs – a tasty filled cream puff, has become a beloved treat in the Aloha State. These pastries contain 3 key parts: chocolate pudding, cream puff shell, and topped with macadamia nut chantilly frosting.
As for the texture and flavor of Coco Puffs, you can expect a harmonious balance of soft, creamy, and slightly crunchy elements. The delicate cream puff shell provides a light, airy base, while the chocolate pudding filling adds a rich, velvety dimension.
Typically served chilled, Coco Puffs offer a refreshing and indulgent dessert experience. Moreover, the best place to savor delicious Coco Puffs is Liliha Bakery, an iconic venue in Honolulu that has been serving great baked goods to patrons since 1950.
21. Acai Bowl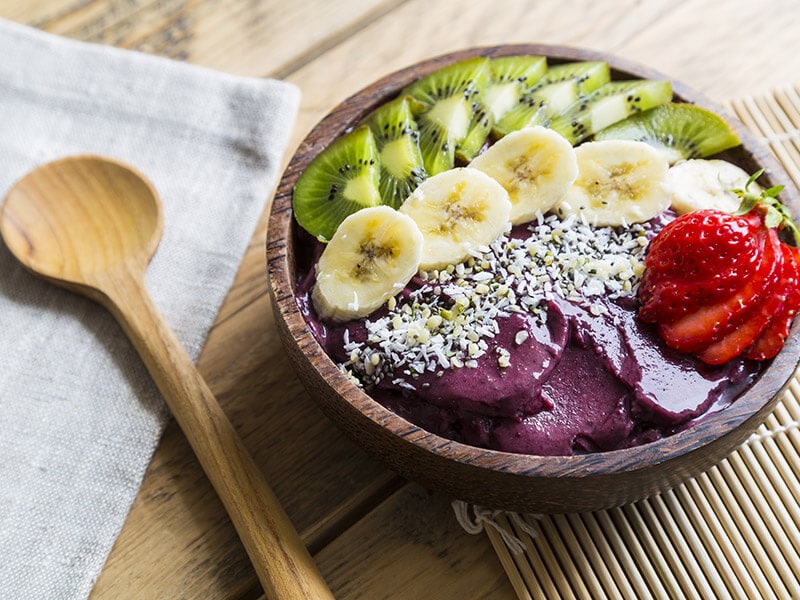 Being seen as a tropical paradise, Hawaii has a wide variety of fresh fruits served year-round.
This Brazilian-originated Acai bowl includes a thick smoothie base, fruit topping, chia seeds, granola, and honey). The base is made from acai berries, which are considered a superfood due to their high antioxidant levels.
So it is clear to see that a standard Acai bowl is full of sweet and nutritious fruits. Therefore, they are often enjoyed as a breakfast or snack option. You can find them at numerous vendors across Hawaii.
22. Mai Tai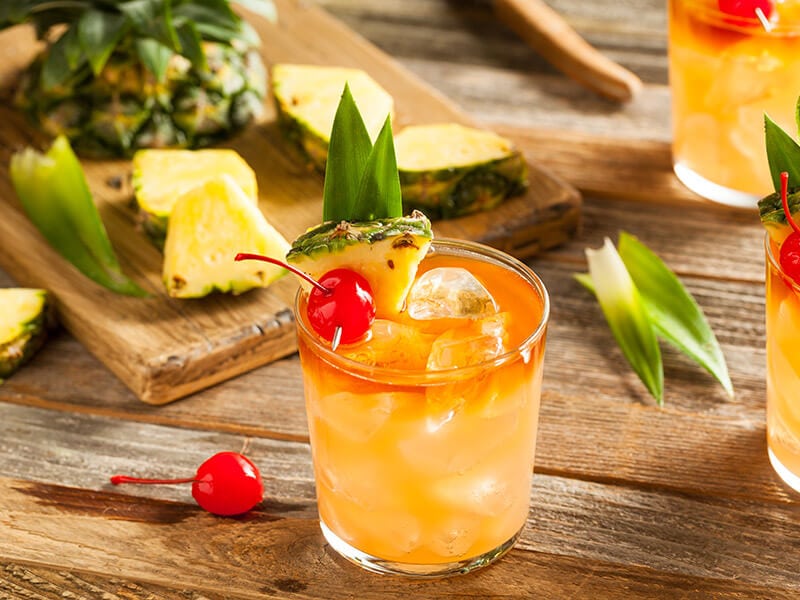 An alluring point of Hawaiian cuisine is the combination of fresh, natural ingredients with various other manufactured components. Mai Tai, a tiki cocktail that got its name from a Tahitian word, also delivers all the signature goodness.
Besides Rum, Curacao, and lime juice, this classic Hawaiian-originated cocktail also features special yellow syrup. The harmonious mix of components creates a unique, unforgettable impression.
Enjoying a glass of Mai Tai next to the sunny white sand beach, under cool green coconut leaves, is a travel experience you should not miss.
23. Guava Chiffon Cake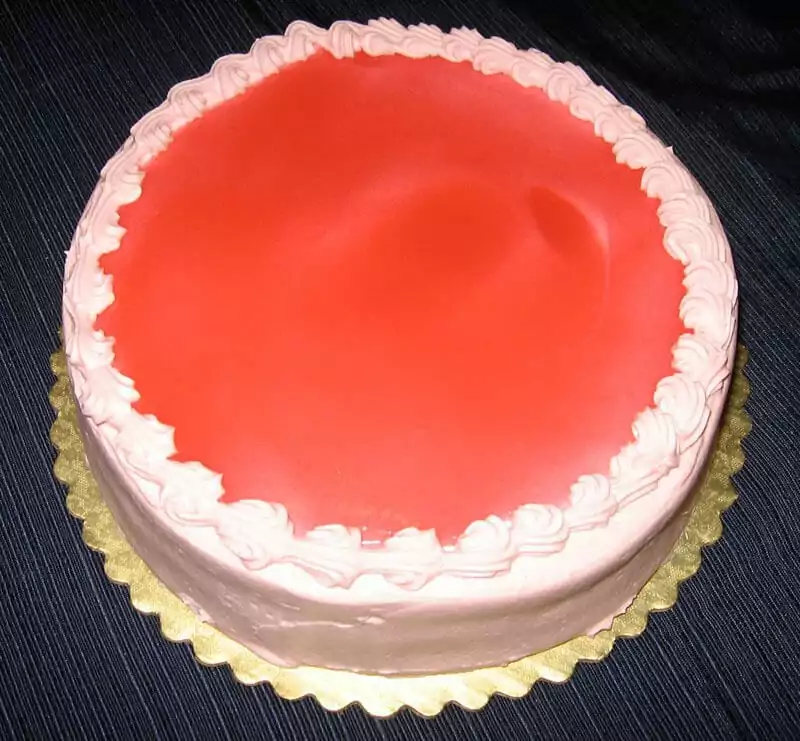 Since guava is a very popular tropical crop in Hawaii (besides lilikoi), here is absolutely a sweet recipe that calls for guava you should not miss.
Although there are many other variants of guava cakes, the Hawaiian version will be the best one you have ever known. The distinctive nectarous flavors that come from guavas are the highlight point of this treat.
The Hawaiians prefer to make their fluffy cake pink and taste extra creamy with more whipped cream in the ingredient list.
24. Lilikoi Bars (Passionfruit Bars)
Lilikoi bars – the Hawaiian variation of lime/lemon bars, are renowned for their catchy tangy and sweet tastes.
You will love the flavors of passionfruits as the variety used for these sweet treats are not regular purple ones, but the golden cultivars with bright yellow skin and mellower flavors.
The dessert includes two layers of shortbreads to balance the taste of the jelly-like passionfruit part. I am sure you will want to eat the food more and more.
For more information, these lilikoi fruits are grown prevalently on the islands, and Hawaiians usually collect/harvest them in winter or fall.
25. Malasadas (Yeast Doughnut)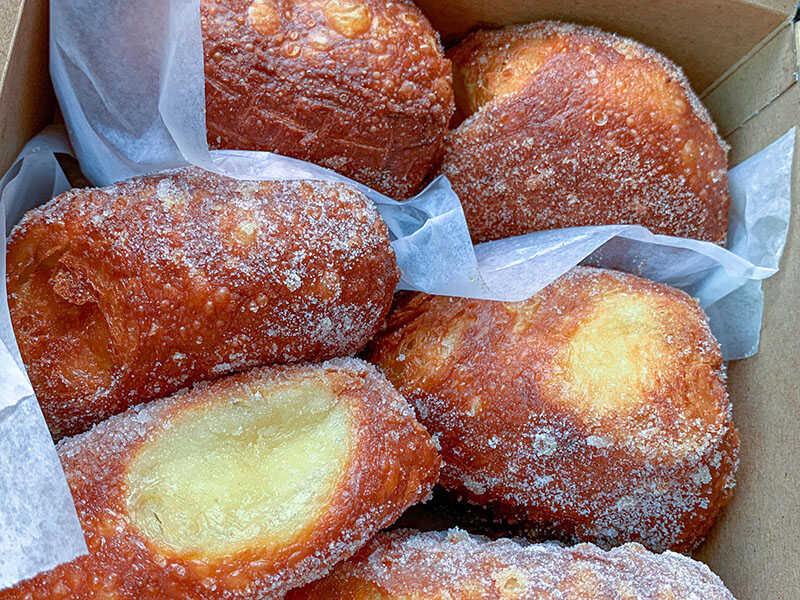 The history of malasadas in Hawaii began with the arrival of Portuguese immigrants in the late 19th century. Nowadays, Malasadas are a delectable treat that has found a special place in the hearts of island residents.
These cute pastries differ from traditional donuts in that they are made from a yeast-leavened dough enriched with eggs, butter, and evaporated or fresh milk. After frying, they are rolled in sugar, resulting in a delightfully crispy exterior and a soft interior.
One of the best places to experience authentic Hawaiian Malasadas is Leonard's Bakery – Hawaii's original malasada bakery. Here, you can savor these doughnuts in various styles as the bakery offers different coating and filling options.
26. Shave Ice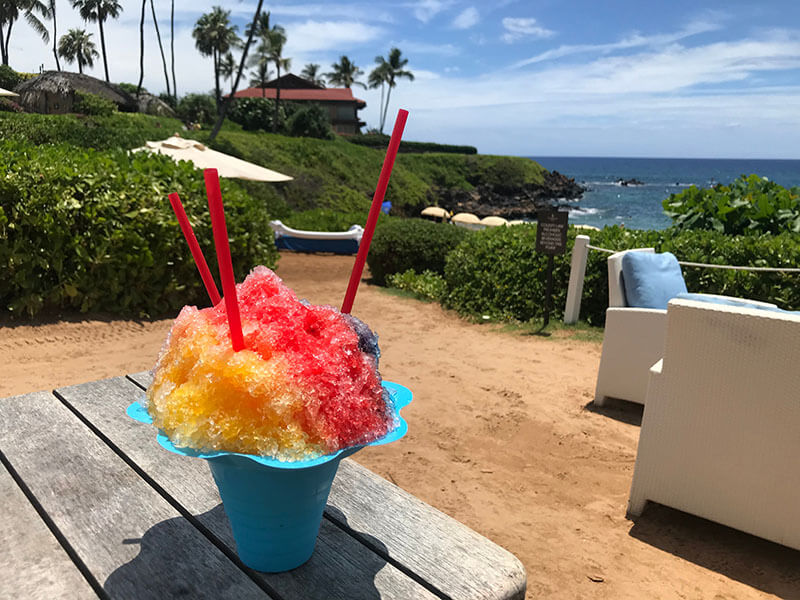 With a history dating back to the early 20th century, Hawaiian shave ice evolved from the "cool cones" brought over by Japanese immigrants working on the sugar plantations.
The main ingredients of this refreshing dessert are finely shaved ice and fruit-based juice or syrup. In this food, shave ice machine plays a critical role since it transforms a block of frozen ice into a bowl of fluffy, snow-like crystals.
The shaved ice is then generously topped with juice (syrup). Common flavors of Hawaiian shave ice are coconut, mango, lilikoi (passionfruit), and pineapple.
The best areas to enjoy shave ice in Hawaii are scattered across the islands. Matsumoto's Shave Ice on Oahu's North Shore has been a renowned destination since 1951. On Kauai, Waikomo Shave Ice distinguishes itself by using all-natural ingredients and serving this refreshing treat in a coconut shell.
For those visiting Maui, Ululani's Hawaiian Shave Ice offers a selection of island-inspired flavors, such as passion fruit, lychee, and even pickled mango.
A Quick Guide To The Best Local Foods In Hawaii
Aloha foodies, before diving into these exotic and yummy foods, let's take a quick look at some delights regarding the amazing Aloha State cuisine. Let's begin with the influences of Hawaiian culinary culture.
Culinary Cultural Influences
Hawaiian cuisine is a beautiful fusion of different culinary influences. It has been shaped by the native Polynesians, as well as immigrants from countries like China, Japan, Korea, Portugal, and the Philippines.
Essential Ingredients
One of the best things about Hawaiian specialties is locals prioritize the use of fresh and locally-sourced ingredients. Therefore, many island dishes are fresh and flavorful.
These key components in their meals include seafood (like fish, shrimp, and octopus), taro (a starchy root vegetable used to make Poi), and pork.
Additionally, rice, sweet potatoes, and various types of seaweed are commonly used in their traditional recipes.
Popular Fruits
The island is known for its abundant tropical fruits. Some popular Hawaii's fruits are passionfruit (aka lilikoi in Hawaiian), guava, mango, papaya, starfruit, and even rambutan.
On top of that, Hawaiian noni, also known as Indian mulberry, is an exotic fruit here. Noni is loved for its potential health benefits. People normally consume it as a juice, which is made by fermenting the ripe fruit and straining the liquid.
FAQs
Want to learn more about this cuisine? Here, you can find answers to commonly asked questions about Hawaiian culinary practices. Check them out!
---
E 'ai Kākou! It Is Time To Try Some Hawaiian Dishes!
The Hawaiian dishes that I present to you today are both attractive, rich in flavor, and highly nutritious. Therefore, as soon as you have the opportunity to enjoy these specialties, you should seize them immediately.
I hope that my advice today will assist you and your loved ones in having a wonderful Hawaiian vacation and discovering all of Hawaii's culinary treasures. Feel free to comment about your taste experience to share it with me. Loving is sharing!