You spend a lot of time searching for foods that start with Q and want to know which delicacies are perfect for your health, tasty to try, suitable for your quick meals; reading this article will show you this essential information.
The number of foods starting with Q is uncountable because they come from every single part across the world, even though you may have heard of this food for the first time. For this reason, this post will help you grasp a better idea about some must-try dishes starting with the letter Q.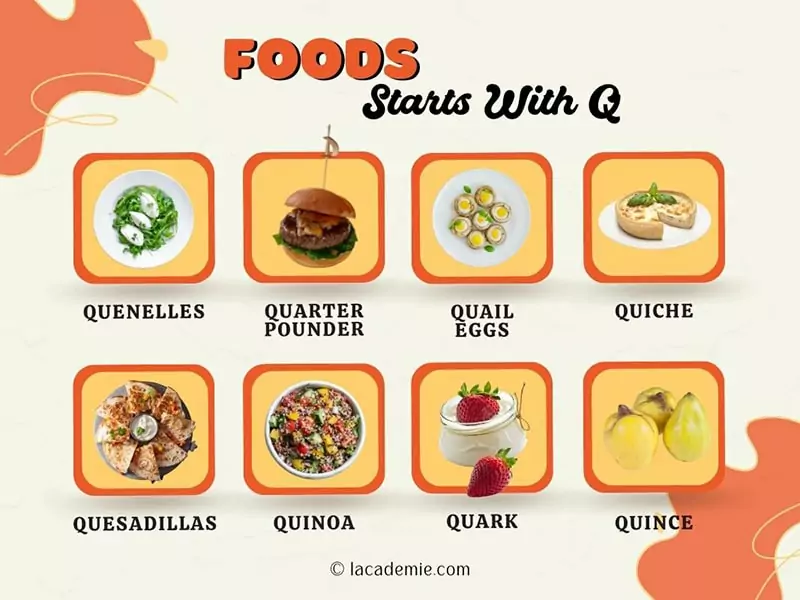 What Are Foods That Start With The Letter Q?
There have been numerous foods with the name beginning with Q, but below are the top 20 amazing foods that never let you down when enjoying.
Quadretti Pasta
Quahog
Quails
Queenfish
Qeema
Quenelles
Quail Eggs
Quarter Pounder
Quiche
Queen of Puddings
Quesadillas
Quinoa
Quorn
Quark
Qatayef
Quindim
Queen Thiti Pineapple
Quince
Quenepas
Quandong
To get you to follow easily, I would categorize those mentioned foods into 5 clusters, including savory foods, fast foods, vegetarian foods, desserts and fruits.
Do Savory Dishes Beginning With Q Taste Special?
Savory foods are the main foods in your meals. They play a vital role to provide your body with essential nutrients. You may be curious about how different savory foods start with the letter q taste. Now let's check them out!
Quadretti Pasta
Quadretti Pasta is a special food that comes from the leftover dough of pasta. Traditionally, Italian people thought nothing was wasted; they used the redundant ingredients to create a new dish that is not less attractive and delicious.
Quadretti Pasta is a fascinating food to improve your health when it is combined with meat or chicken. The food can help to recover your health when you feel under the weather.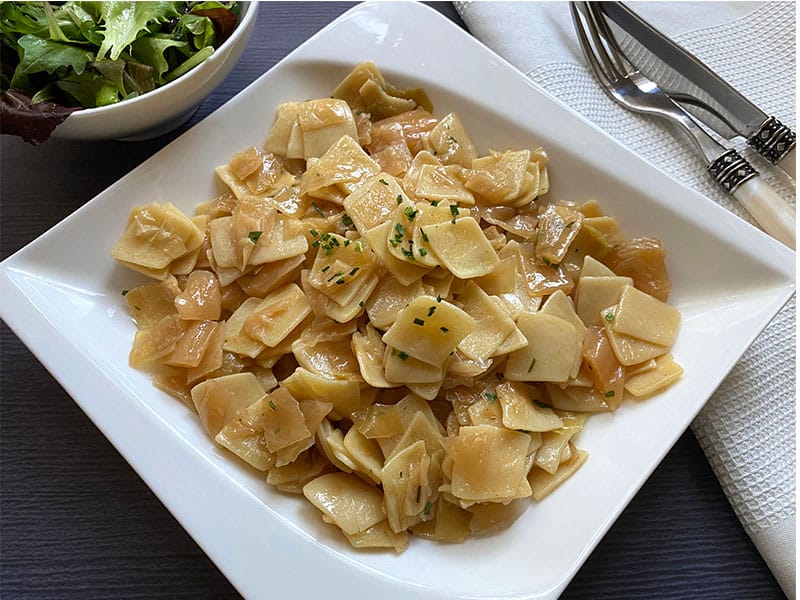 Benefits:
It can help supplement protein for your body and make it more energetic.
Reduce the risk of obesity and promote digestive health due to the number of beneficial carbohydrates in it.
Limitations:
If you eat the food very often, it can increase the risk of blood pressure, heart disease, or developing diabetes(1).
Considerations:
Please pair your Quadretti Pasta with other healthy ingredients, such as red bell pepper, fresh tomatoes, red onion, to make your foods more attractive.
Quahog
If you are a seafood lover, quahog will be a perfect choice for you to taste. Quahog is also known as a hard-shelled clam species and native to the eastern shores of North America.
Quahog can be steamed, grilled, baked, and cooked with various ingredients, which makes your dishes more tasty and attractive. In addition, some people are keen on eating raw quahogs with lemon, cocktail sauce or horseradish.
Quahog is beneficial for your health when it comes to nutritional values. It is rich in protein which provides your body with some vital amino acids. Besides, vitamin B12 and Omega-3 fatty acids found in quahogs are considered essential in the diet.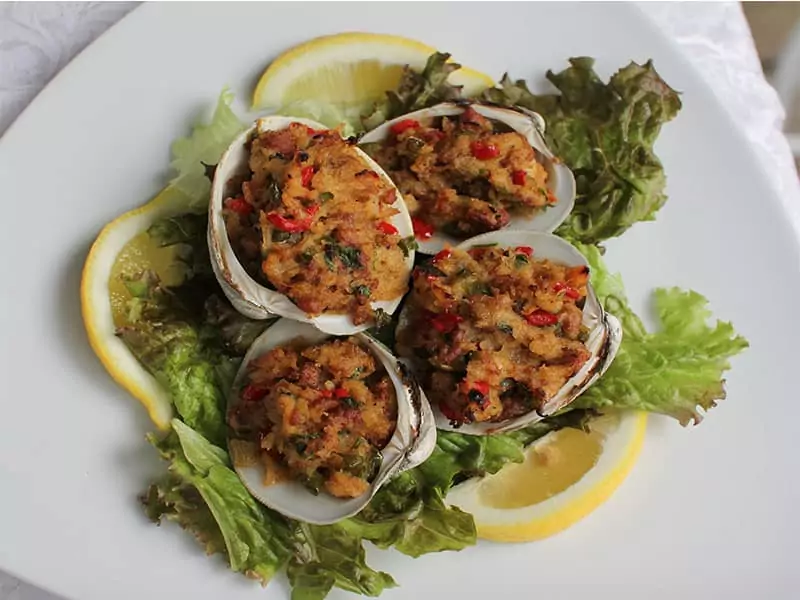 Benefits:
Maintain the nervous system and blood cells thanks to vitamin B12.
Promote heart health, the body's immune, the cardiovascular system due to Omega-3 fatty acids.
Limitations:
Quahogs also contain cholesterol, so it would be better if you consume them not excessively.
Considerations:
Quahogs grown in clean water and appropriately harvested are safe for you to eat; however, if they are not farmed in a safe way, hazards and pollutants can occur. Therefore, be wise to choose a good and reputable food supply source.
Quails
Quails, a kind of edible birds, are a typical food across the world because of their tasty and charming flavor after being cooked. The combination of quail meat and some added ingredients, such as mushroom, green onion, parsley, and butter makes your food more incredible.
The two most prevalent ways to cook quails are grilling and roasting, and then they can be served with a sauce made by honey and orange, cherry and red wine, or even bourbon cream whiskey.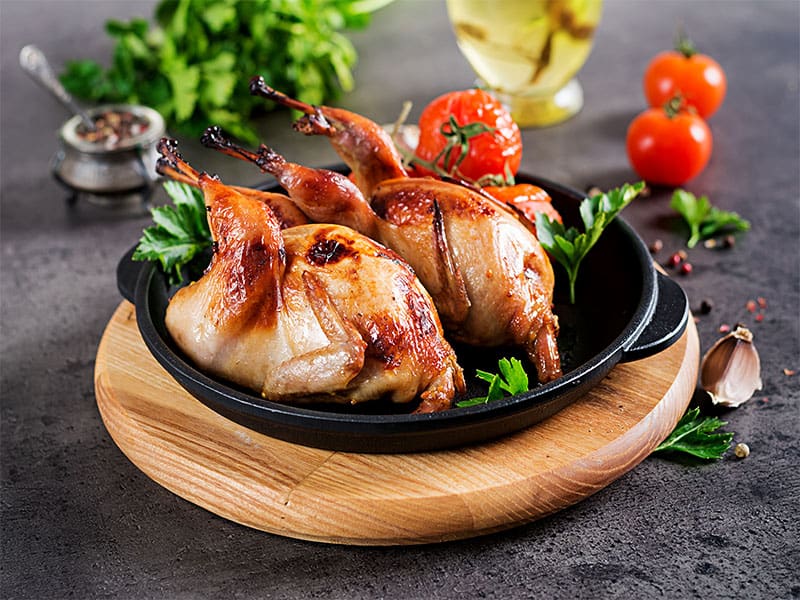 Benefits:
Quails are high in protein; thus, their meat would supply you with a great source of energy.
Vitamin C in the meat is an essential part of forming bone, blood vessels and tendons.
Support healing and immune system thanks to the presence of zinc.
Limitations:
It is difficult for you to know whether quail meat bought from the market is safe or not; thus, you had better raise them for your foods to ensure your family health.
Considerations:
You are not highly recommended to fry quails because the involvement of unhealthy cooking oils would impact the taste of foods.
Queenfish
Queenfish, native to the Pacific coast of North American, has a firm and white meat with glamourous flavor. After capturing, those queenfish are bled and iced for nutrition preservation.
You can cook with the flesh of queenfish in various ways, ranging from grilling, frying to baking. In addition, fillets from the fish can be served with salads to get a perfect meal.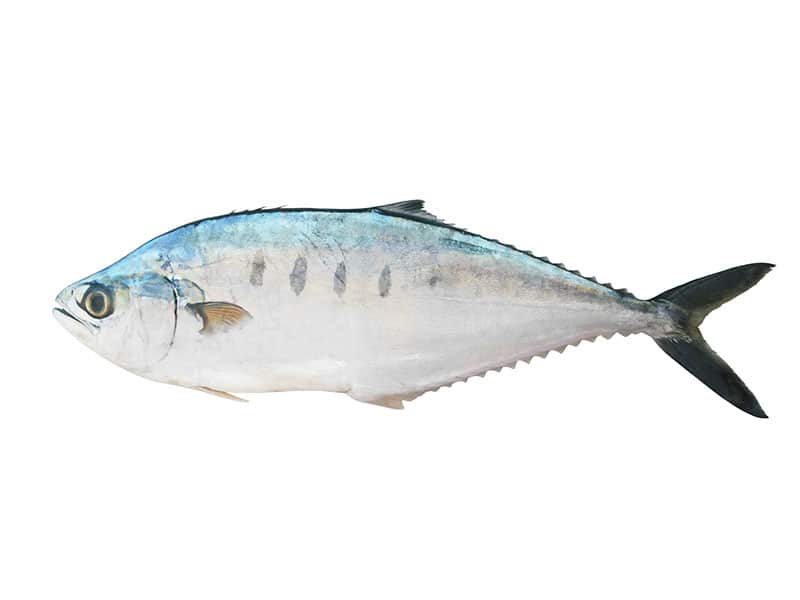 Benefits:
The fish is a rich source of Omega-3 fatty acids, which can help with reducing heart diseases and support brain health.
Limitations:
You can buy this fish from June to October with a limited supply.
Considerations:
If you use a dry heat method to cook the fillets, marinate them first to make them more flavors.
Qeema
Qeema, also called Keema Matar, is served at special occasions and events of the royal Indian family. The food is a harmonious combination of minced meat and pea. Also, the food can go well with rice, bread, rotis or naan.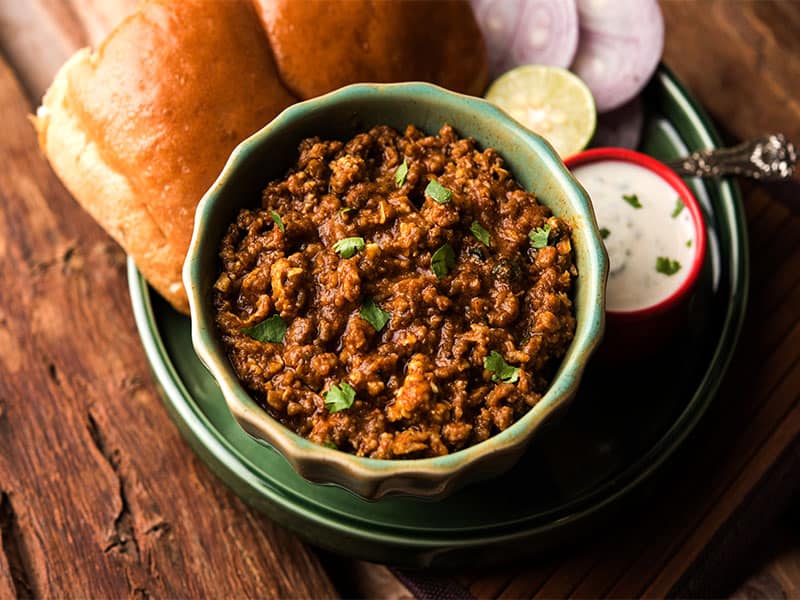 Benefits:
The high amount of protein in Keema Matar provides your body with energy.
Reduce blood pressure and water retention because of potassium in Keema Matar.
Qeema also supports red blood cell formation and nerve function.
Limitations:
Overeating the food can cause high cholesterol in the blood.
Quenelles
Quenelle is a dumpling of diverse shapes and includes creamed fish or meat, breadcrumbs and a light egg binding in combination. Besides, there are some types of quenelles, such as pike quenelle, the Lyon quenelle, quenelles of marrow, and liver quenelles.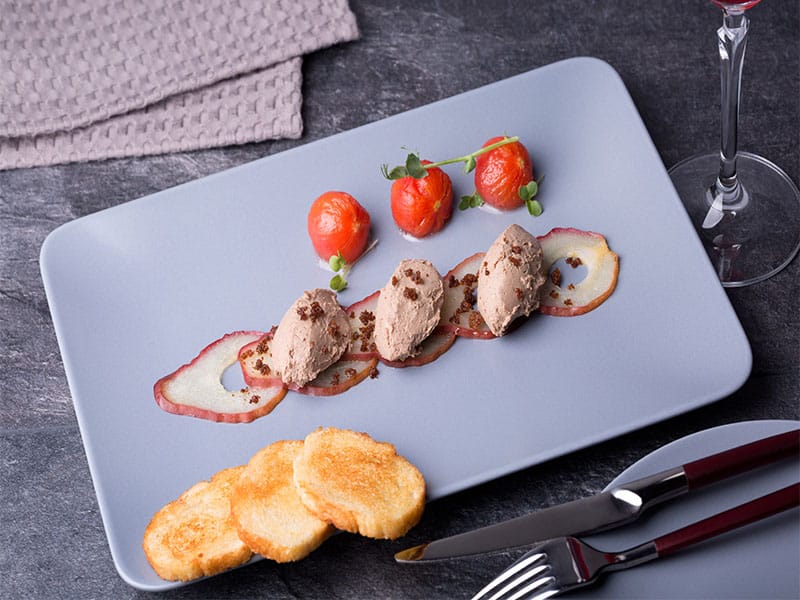 Benefits:
Containing a high level of carbonates and protein, Quenelle helps you with controlling weight and providing energy for your daily activities.
Limitations:
Excessive consumption can increase cholesterol levels in your body.
Quail Eggs
Quail eggs are a popular delicacy in various parts of the world. You can cook a number of tasty dishes with quail eggs, ranging from quesadillas, hot dogs, hamburgers, pizzas to potato rosti.
Quail eggs can go with thousands of added ingredients; you can add quail eggs into many dishes to make them delectable and even fry or boil them to finish a meal.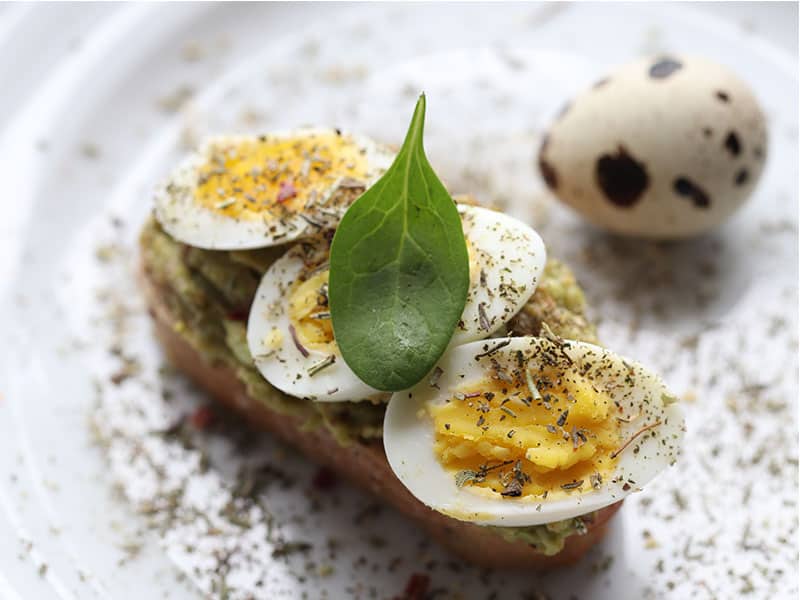 Benefits:
Including antioxidants, quail eggs play a vital role to prevent chronic diseases.
Support metabolism thanks to essential vitamins in it.
Potassium contained in quail eggs helps reduce blood pressure.
Limitations:
Regular consumption can lead to some stomach related- problems.
Considerations:
You should purchase tested quail eggs from reputable sellers and ensure that they do not contain fatal viruses.
How About Fast Foods With Q At The Beginning Of Their Names?
Fast foods are trendy now, finding fast foods beginning with q doesn't matter to you but which one should be tasted instead of the others.
Quarter Pounder
Quarter pounder is a hamburger delivered by one of the most renowned international fast-food chains McDonald's, and is often used as breakfast, lunch, or even dinner. The food now is prevalent, so you can buy it with ease or make it by yourself.
There are some kinds of a Quarter pounder, such as the deluxe quarter pounder with cheese, quarter pounder with cheese and bacon, and quarter pounder, so you can opt for whatever you want.
As this dish is quite heavy in calories, some people might not finish the whole one in 1 time, including me. Therefore, it is also critical to learn some tricks to reheat burgers correctly. So no more food waste and you can save the environment.
But they are also high in nutrients. Eating quarter pounder can provide your body with essential nutritional values, ranging from vitamin A and B-9, calcium, iron, magnesium and sodium.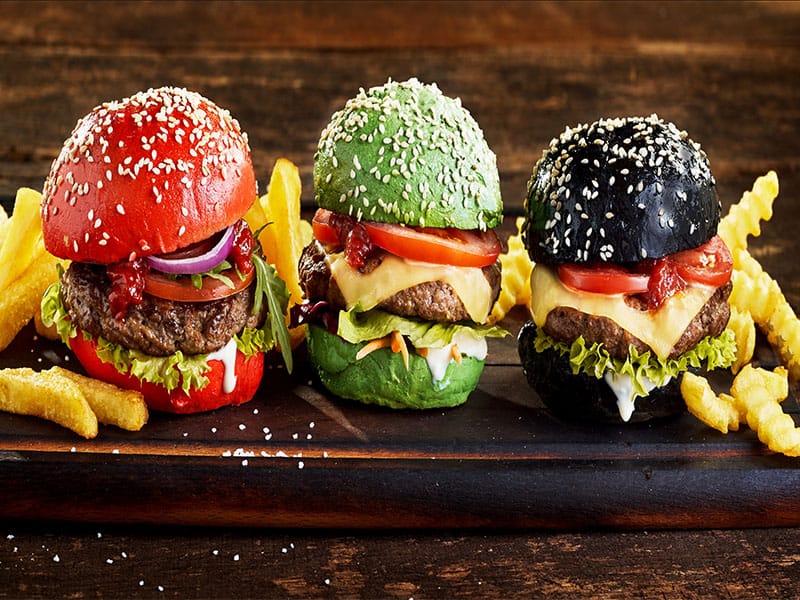 Benefits:
Vitamin A contained in quarter pounder plays a vital role to improve skin health, bone metabolism, immune health and gene transcription and reproduction.
Vitamin B-9 also facilitates digestive systems and supports your hair, skin, kidneys and eyes.
The amount of calcium in quarter pounders is high so that the food can make your bones, teeth, and heart strengthen.
Having included magnesium, the food benefits energy production, regulates the immune system and muscle function.
Limitations:
Overeating quarter pounder can cause obesity(2).
Containing a large amount of sodium, the food can increase the risk of blood pressure.
Considerations:
To enjoy healthier and fresher quarter pounders, you should make them by yourself so that you can add as much or as little of everything you want to it.
Quiche, a French dish, has a pastry crust and a filling of eggs and milk or cream. The food can also be made with vegetables, meat, and seafood.
And quiche is an ideal dish for your picnic breakfast to make it more special. What would be better to enjoy the fresh air in the park and a bite of delicious quiche?
Plus, quiche is easy to cook, but it takes much time to cook, around an hour, so this kind of food is the perfect choice for dinner meals. You can enjoy cooking quiche with your family members, so let's try it this weekend!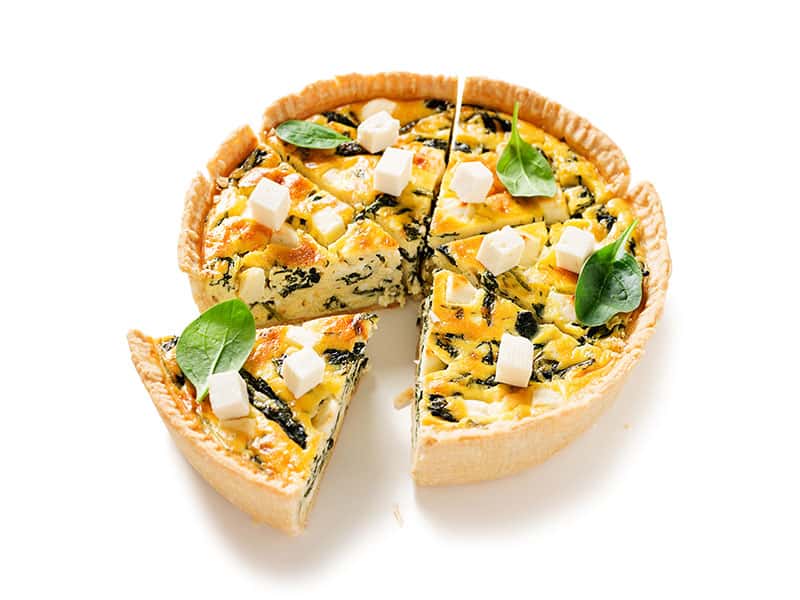 Benefits:
Containing a rich source of protein, quiches can provide all the essential amino acids for your body to maintain healthy tissue.
Enhance the health of your nervous system due to vitamin B in the food.
Vitamin and minerals in vegetables are a vital part of healthy immunity and bones.
Limitations:
Like other foods, it is harmful to overeat.
Considerations:
You should make sure that your fillings are dry enough to fill in the bake so that you can have more tasty quiches.
Queen of puddings is the traditional British dessert, consisting of a baked breadcrumb-thickened mixture, jam, and meringue. The food is a great example of a dish that just includes the simplest of ingredients but tastes and looks divine. It's light, fluffy, and the ultimate comfort food.
To make the queen of puddings, you would prepare a lot of ingredients, such as sugar, butter, breadcrumbs, milk, lemon, zest, egg yolks, jam and of course, meringue. Also, what you need to do is go through some simple steps to make a fabulous queen of pudding dessert.
Benefits:
Provide your body and brain with energy due to containing the high amount of carbs.
Support your digestive health and reduce the risk of heart disease thanks to the quantity of fibre in it.
Low in calories, so it is also suitable for those who would like to get diet meals.
Limitations:
You should not eat queen of puddings if you are allergic to any ingredients in the food.
Considerations:
When purchasing the queen of puddings, you should go through nutrition values to ensure the food is good for your health.
Making it yourself should be considered because you can control the quantity of sugar and salt added to the bake.
A quesadilla is a Mexican cuisine dish filled with cheese, meats, spices, and many other fillings and then baked on a stove. In order to make your quesadilla party have more flavors, do not forget to prepare some side dishes for your quesadillas! Your friends will be wowed for sure.
Quesadillas are easy to cook, so they would be a good but nutritional breakfast for you and your family members. Baking a quesadilla takes 5 minutes, but you can add into the cake your favourite fillings, such as chocolate, caramel, eggs, cheese, bacon, different fruits and so on.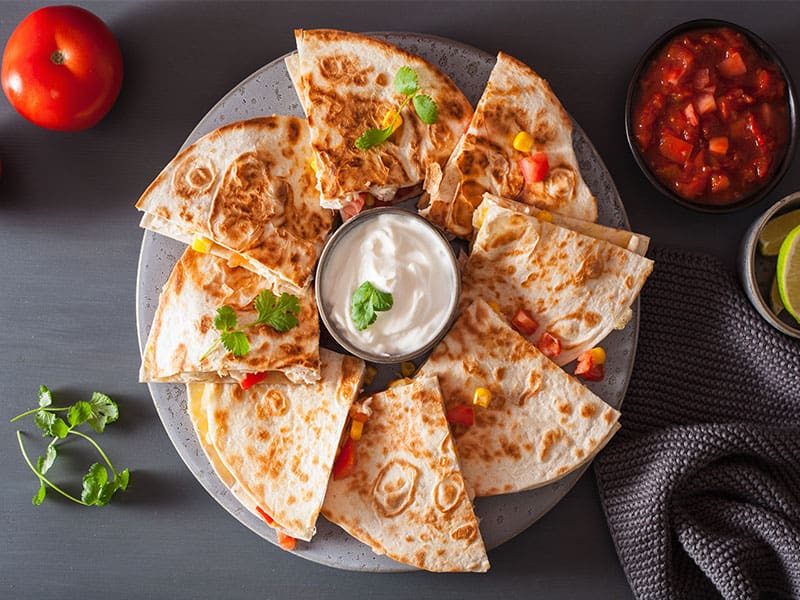 Benefits:
Provide essential amino acids which your body can not create.
Make your bones and teeth stronger thanks to the calcium contained.
Quesadillas also supplement niacin that is vital for mental health and the digestive system(3).
Limitations:
Regular consumption can cause health problems related to blood pressure or obesity.
Considerations:
Quesadillas with too much cheese or meat contain many calories, so they are not suitable for those on a diet.
It would be safer and healthier if you make quesadillas at home.
If you are curious about how to make wonderful quesadillas, you can find some quesadilla recipes and choose the most suitable one for your taste to follow.
Vegetarian Foods With A "Q" As A Starter?
If you go for vegetarian foods, these foods below should be on your list.
Quinoa is a South American plant grown for its seeds, you can use these seeds as food, and in some way, they can be used to produce alcoholic drinks.
Quinoa seeds are considered one of the World's healthiest foods due to the nutritional values they contain. Quinoa seeds can provide your body with a large amount of nutrition, ranging from manganese, magnesium, protein, minerals, fiber, etc.
There are a lot of ways to cook with quinoa seeds; you can use them to make healthy breakfast salad, quinoa pancakes with blueberry and syrup, crispy quinoa bites, roasted shrimp quinoa spring rolls, sweet potato quinoa soup, broccoli quinoa quesadillas, etc.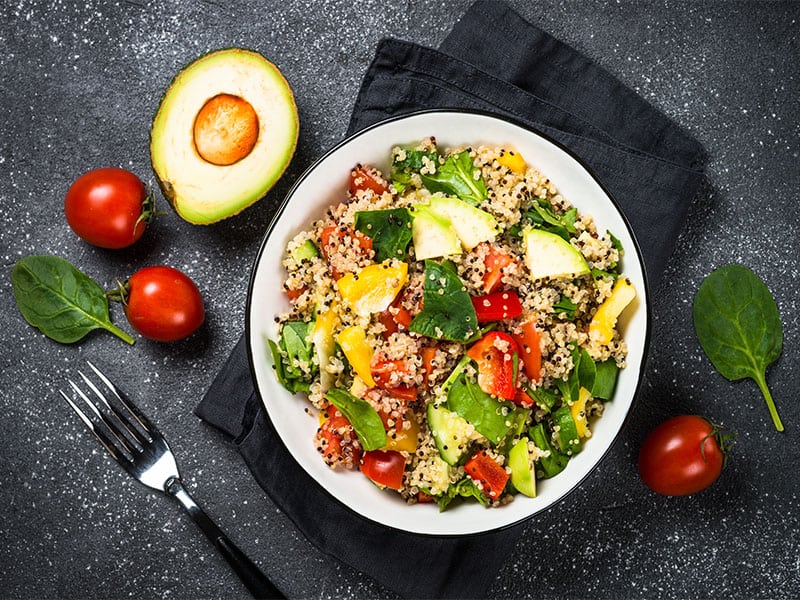 Benefits:
Provide a significant amount of complete protein for you who are on a diet, supplementing essential energy sources for your body.
Improve blood sugar control.
Fight inflammation thanks to containing antioxidants.
Limitations:
Phytic acid contained in quinoa seeds can impact mineral absorption, increasing deficiency risk.
This food should be avoided by those who are likely to develop kidney stones due to oxalate in it.
Considerations:
Saponins in the seed's outer shell are harmful to your health; however, you can eliminate the vast majority of them by rinsing or boiling for 15 to 20 minutes.
Quorn
If you search for a natural source of great protein and fiber, Quorn should be considered. Basically, Quorn is a meat substitute product and sold as a cooking ingredient. Quorn is made by a type of fungus whose name is Fusarium venenatum.
The fungus is fermented to grow the mycoprotein which is made into various Quorn products. Mycoprotein greatly contributes to the nutritional values of products made by fungus when it contains calcium, potassium, magnesium, and selenium, which are suitable for your body.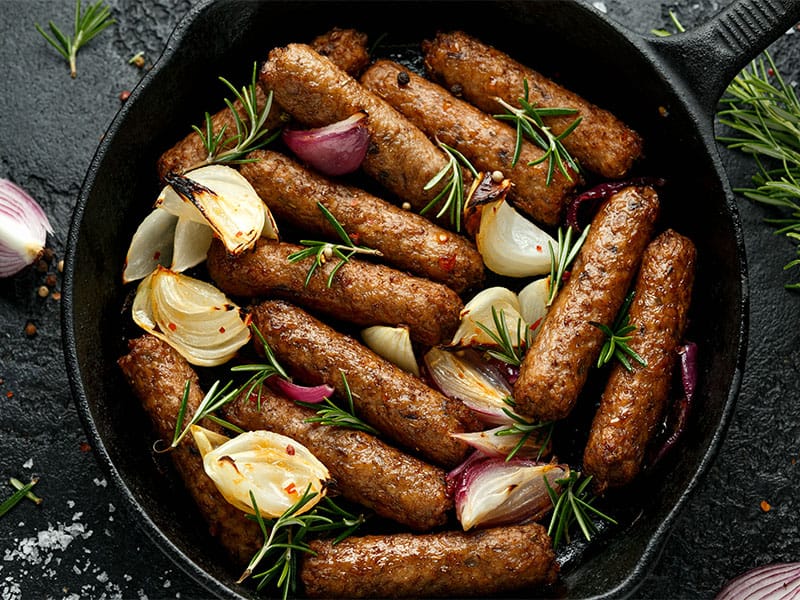 Benefits:
Strengthen your bones and teeth thanks to the amount of calcium.
Control the balance of fluids in the body.
Support wound healing.
Facilitate the normal function of the immune system.
Provide vegetarians with healthy protein.
Limitations:
Mycoprotein also has the potential to cause an allergic reaction.
Considerations:
You should take time to read labels if you buy Quorn products because some added ingredients can alter the nutritional value.
Outstanding Desserts Whose Names Begin With A "Q"
The answer would be yes, the harmony of main foods and desserts would decide whether your meals are perfect or not. Let's see some incredible recommended desserts here.
Quark
Quark is known as a type of fresh dairy product produced by heating sourced milk until the desired amount of curdling is met and then straining it, so in other words, you can call it quark cheese.
Quark cheese taste is the combination of greek yogurt, cottage cheese and sour cream, making it popular for all ages, especially vegetarians, because it contains no rennet.
Because it has the same taste as yogurt and cream, you can add quark cheese to some dishes like mashed potatoes or cheesecakes instead.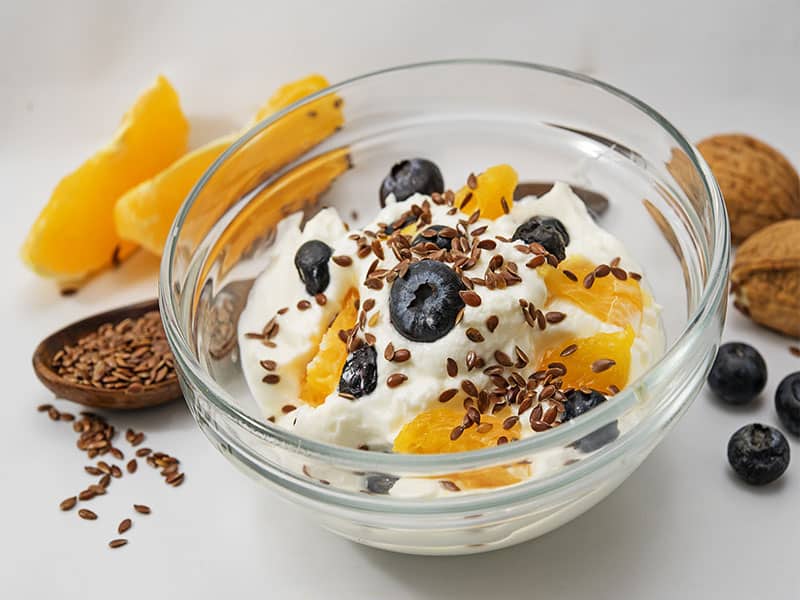 Benefits:
Beneficial probiotic bacteria included in the food improves your gut health and supports immune function.
Low in sugar, carb and salt, the food is so perfect for those who are on a diet.
Limitations:
The food is not suitable for people who are intolerant to lactose or have dairy allergies.
Considerations:
Not all quark cheese is low in sugar, so you need to check nutritional information carefully before purchasing.
Qatayef
Another dessert you could consider for your meals is Qatayef, commonly known as a type of dumpling added by cream, cheese, raisins, almonds, pistachios and nuts. This food is popularly served in Arabic regions during Ramadan month.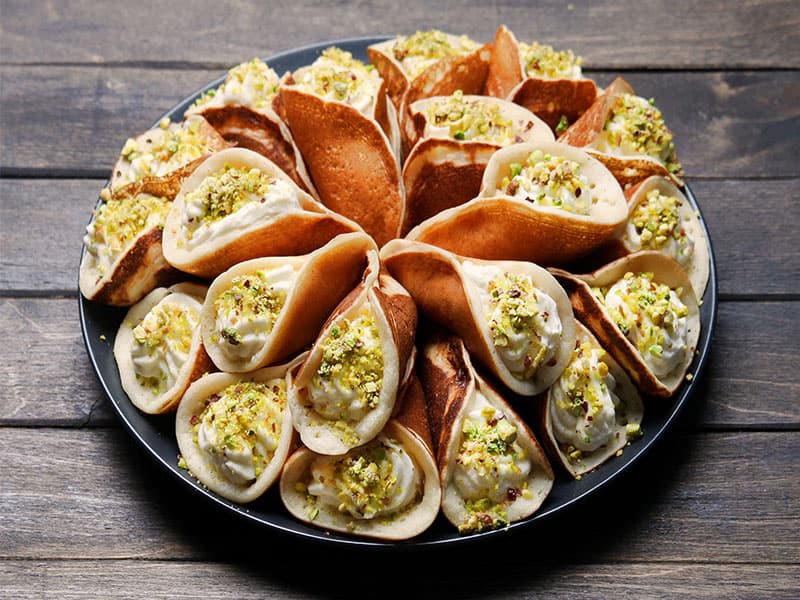 Benefits:
Rich in carbs, Qatayef can facilitate the energy-boosting process.
Support the digestive system due to the high amount of fiber in it.
Limitations:
However, containing 5 percent of saturated fat, the food can encourage the harmful development of cholesterol in your blood if you consume it very often.
Quindim, a type of custard, seems to be a special dessert for Brazilian people. The custard dessert is creamy and sweet; thus, it will be a perfect choice if you are a sweetness lover.
The main ingredients for making quindim dessert are caster sugar, egg yolks, unsalted butter and milk. It takes you just around 45 minutes to finish quindim for your beloved family members by following this precisely quindim recipe.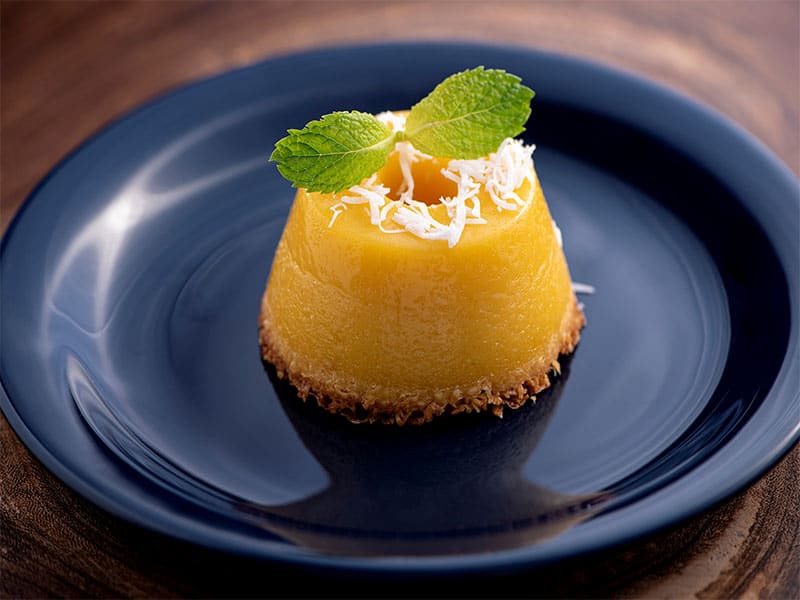 Benefits:
The dessert contains lutein and zeaxanthin, which helps you with your memory.
Reduce tiredness and support concentration thanks to essential irons.
Including vitamin B-12, the food can make a great contribution to your immune and nervous systems.
Limitations:
A large amount of sugar would make the quindim tasty, but it is not an excellent idea for those who go on a diet.
Considerations:
This custard dessert stored in cold temperatures would taste divine.
Are Fruits Beginning With The Letter Q Nutritional As Others?
You love eating fruits because of their flavours and nutritional values, but do you think fruits containing the letter Q at first will taste like other fruits? Keep reading to find the answer right now.
Queen Thiti Pineapple
Queen Thiti Pineapple is a healthy fruit with succulent and bright yellow flesh that you can eat. It is sweet and juicy with a highly fragrant taste. It is often used to produce juice, topping for cocktails and wine; sometimes, it can be added to a hot pot to make the broth tastier.
Chunks of Queen Thiti Pineapple are used in desserts or pizza toppings. Besides, it can make a great contribution to producing beverages, yoghurt, jam, sweets, and ice cream.
This fruit is a rich source of vitamins, enzymes and antioxidants, but low in calories despite its sweetness. Therefore it is always a perfect choice for diet meals.
Benefits:
Containing bromelain enzyme, this fruit would help you with digestion.
Manganese contained in it makes your bones strong and your tissues connective.
Fight heart disease and joint pain risks thanks to having vitamin C.
Limitations:
Eating too much Queen Thiti Pineapple can cause tenderness of lips, tongue and cheeks.
Considerations:
Tenderness can be resolved within a few hours by itself.
You can keep a Queen Thiti Pineapple for two days in the refrigerator.
Quince
If anyone asks you what kinds of vegetables or fruits begin with the letter Q, do not forget quince.
Quince is a typical healthy and tasty fruit cultivated on all continents in warm-temperate and temperate climates and harvested in late autumn before the first frost. The fruits are often left on the tree until they ripen fully to preserve nutrition in it.
Some varieties of Quince do not require cooking to eat, such as Kuganskaya, but most types of Quince are too hard, sour, or astringent to eat raw. Thus, quinces are often used to make jam, jelly, quince pudding, and especially quince juice.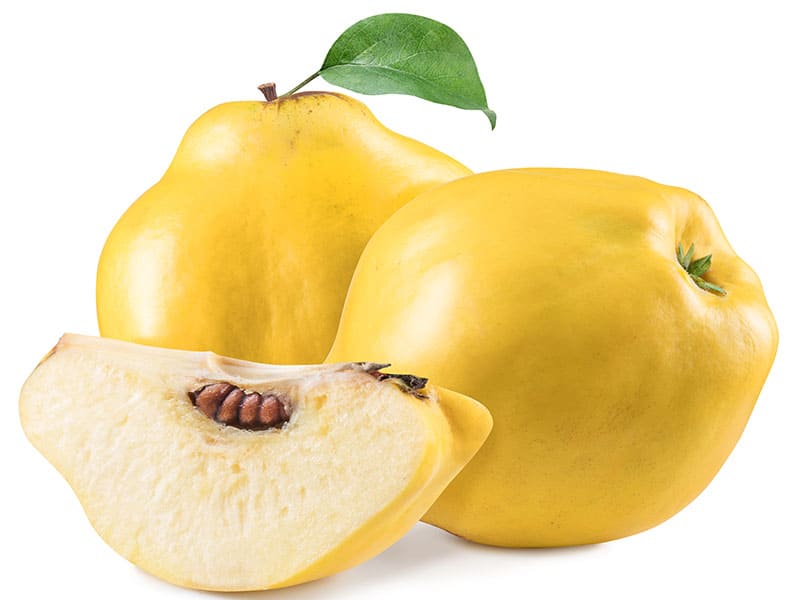 Benefits:
Rich in vitamins and minerals, eating quince is good for skin health, inflammation treatment, weight loss, and cancer-fighting.
Keep blood pressure at a healthy level thanks to potassium in it.
Regulate bad cholesterol in the blood, support the liver and reduce stress because of its antioxidant.
Quince juice helps in respiratory diseases, such as asthma and anaemia.
Limitations:
It would cause eye discomfort when being used as a lotion.
Considerations:
The quince seeds contain cyanide that might not be safe for your health; please don't use them.
Be careful to use products made by quince during pregnancy and breastfeeding. Ask doctors for advice.
Quenepas
Quenepa, a small and grape-like fruit, has a thin layer of sweet and fleshy pulp covered by green skin. The pulp can also be used to produce refreshing beverages by adding limes or gingers and alcoholic drinks.
Additionally, the pit of quenepa is also edible after being roasted. Majority of indigenous residents who live in the Orinoco river use them as a cassava substitute.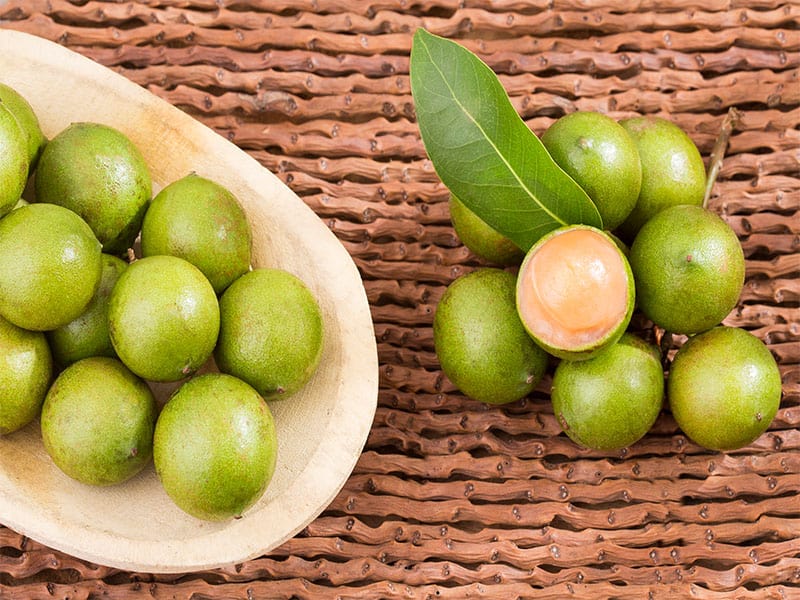 Benefits:
Enhance bone strength and resilience as you age as quenepas contain a comparatively high source of calcium(4)
Stimulate blood cell information thanks to including vitamin C.
Aid sleep due to the presence of tryptophan
Low in calories, quenepas help promote weight loss.
Limitations:
Overeating quenepas can impact the digestion system and nutrient absorption process.
Considerations:
You should consume quenepas when they are fresh and cooled for better taste.
Quandong
Another fruit beginning with q is quandong, a good food supply of Australian people. The flesh of quandongs has good taste with a balance of slightly sour and salty. Also, you can eat raw quandongs or store them for future use.
When quandongs are plentiful, you can dry and store them for delectable taste and nutrition preservation.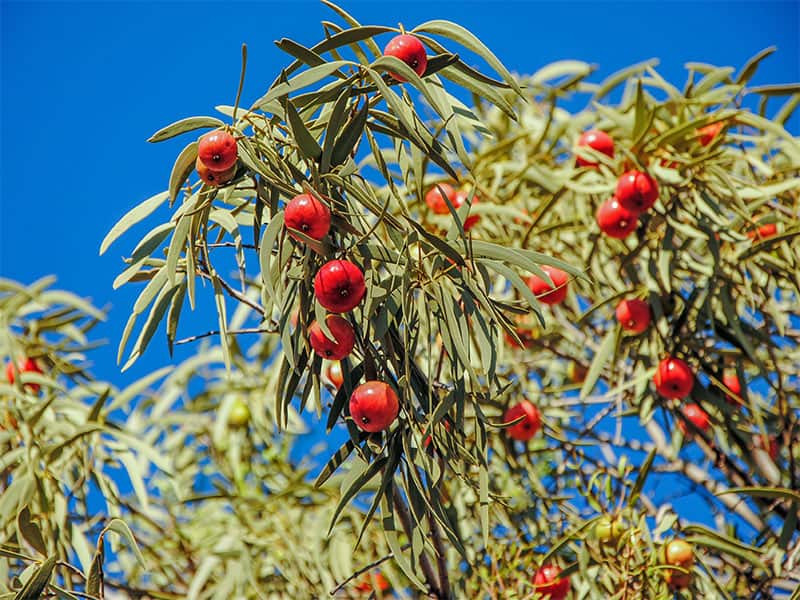 Benefits:
Protect your body from some health problems about the cardiovascular system, immune system and Alzheimer's disease(5).
Reduce the risk of eye problems and skin thanks to the high quantity of vitamin C in it.
Improve blood cell production due to contained iron
Limitations:
Quandongs are incredibly rich in vitamin C, so consuming them too much can cause digestive distress and kidney stones.
I have just recommended you to the most 20 commonly-used but fabulous foods that begin with q. Like other things in the world, each of them has its own benefits and downsides.
If you take a fancy to any mentioned foods beginning with q, try them but don't overeat them because excessive consumption will cause something bad.
If you have experienced these kinds of foods or found some more catchy ones, feel free to share them in the comment section.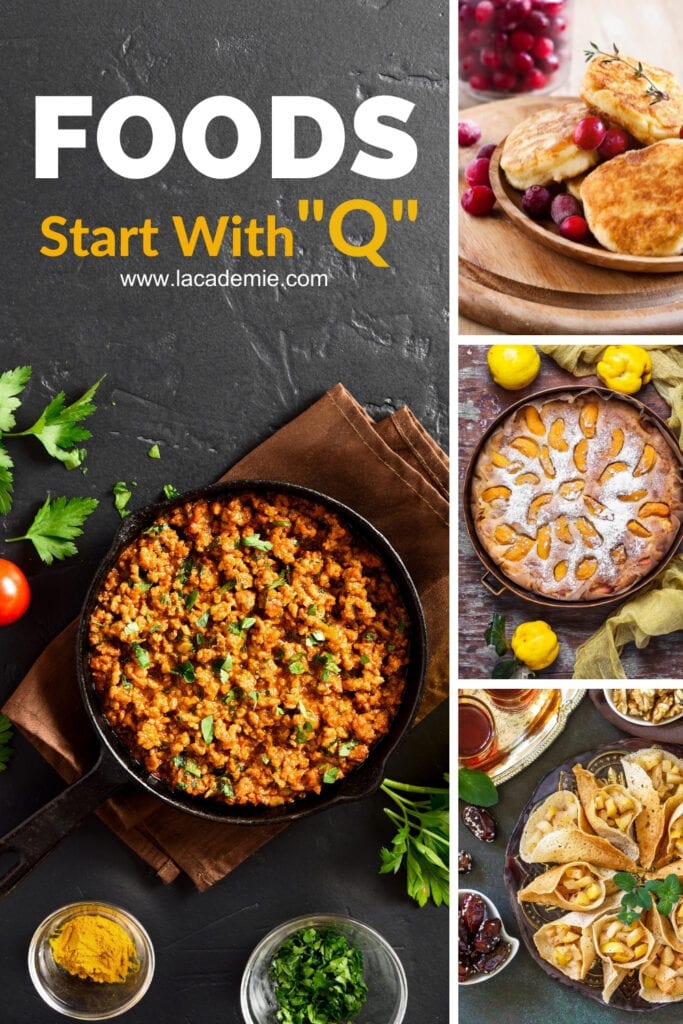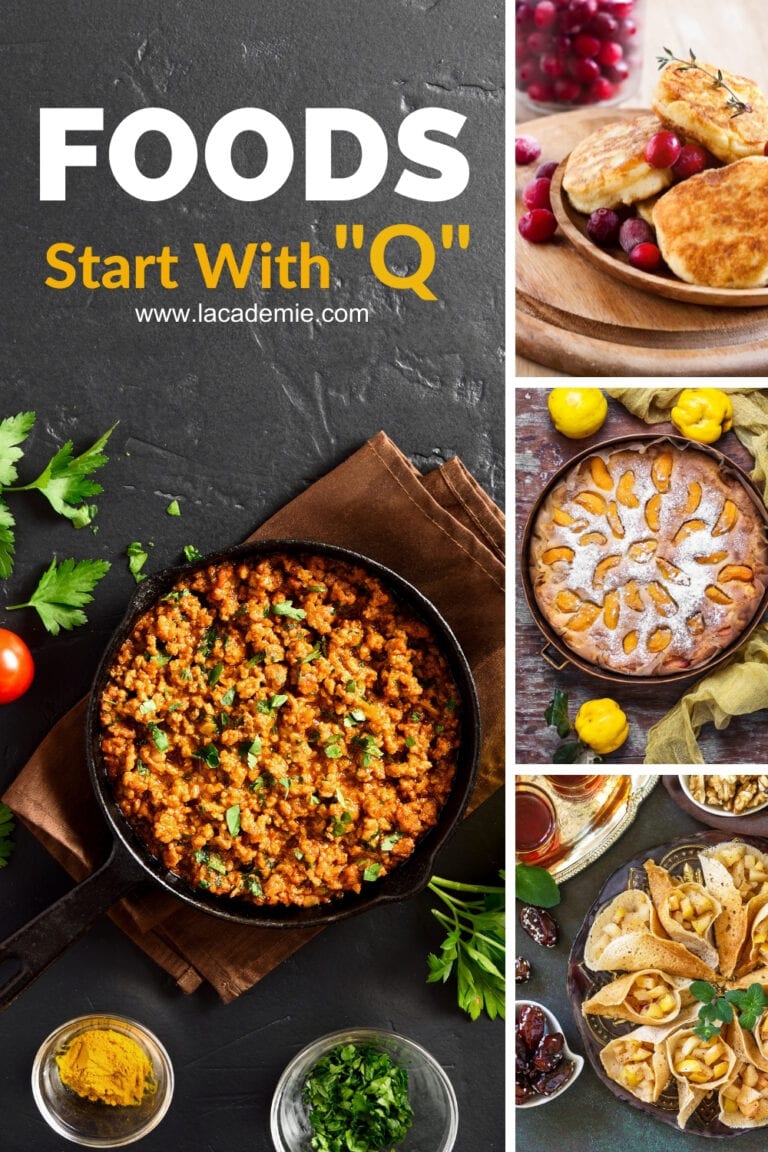 References
Eat This Not That. 2021. 5 Ugly Side Effects of Eating Too Much Pasta, According to Science | Eat This Not That. [online] Available at: https://www.eatthis.com/news-ugly-side-effects-eating-too-much-pasta/
Eat This Not That. 2021. Ugly Side Effects of Eating Too Much McDonald's, According to Nutritionists | Eat This Not That. [online] Available at: https://www.eatthis.com/news-ugly-side-effects-eating-mcdonalds/
drhealthbenefits.com. 2021. Health Benefits Of Quesadillas [online] Available at: https://drhealthbenefits.com/food-bevarages/snack/health-benefits-of-quesadillas.
Health And Love Page. 2021. Quenepas: 12 Healthy Reasons to Eat Spanish Lime – Health And Love Page. [online] Available at: https://healthandlovepage.com/quenepas-health-benefits/
The Australian Superfood Co. 2021. Quandong – The Australian Superfood Co. [online] Available at: https://austsuperfoods.com.au/quandong/