If you're looking for foods that start with X, you've come to the right place. While they may be small in number compared to other letters in the English alphabet, they score big in terms of uniqueness. From succulent fruits to fragrant spices, X-foods can greatly spice up your menu.
This exploration of X-foods is an odyssey that transcends borders: you will also discover foods that start with X in other languages, not just English. Fasten your seatbelts and buckle up your aprons; you're about to dive into the world of X-foods with gusto!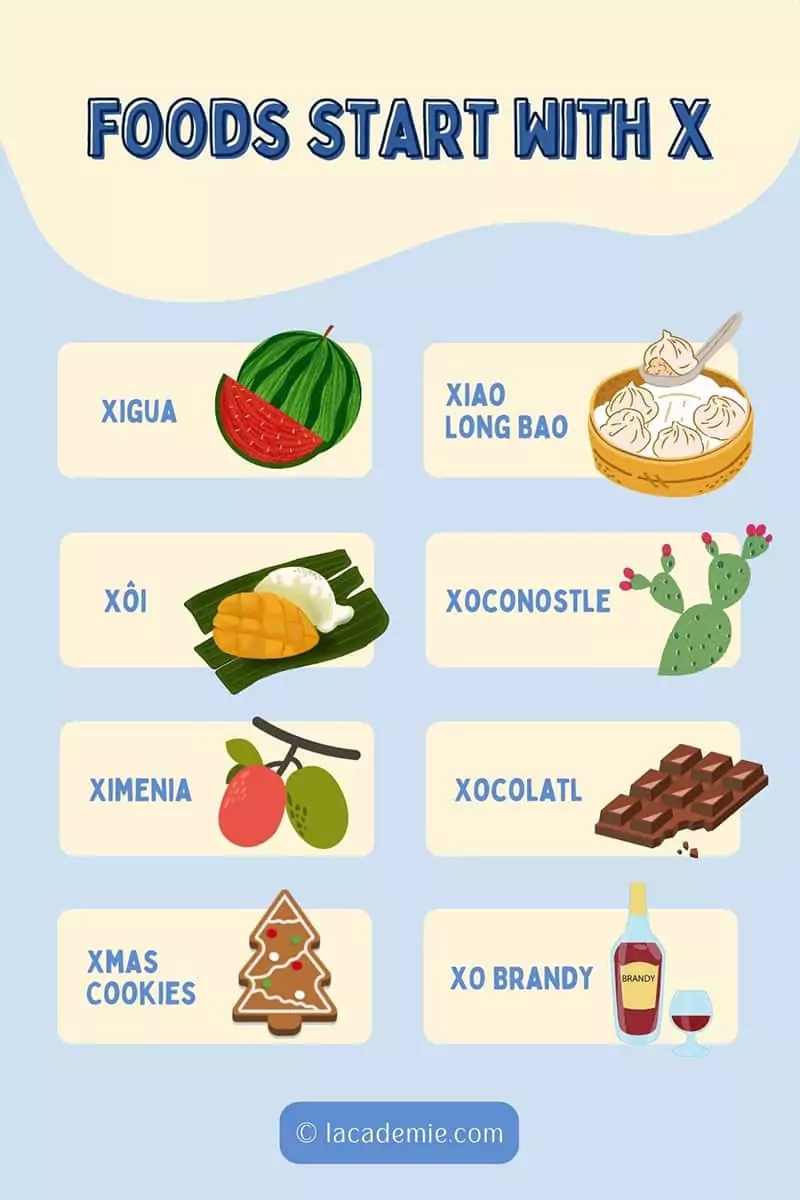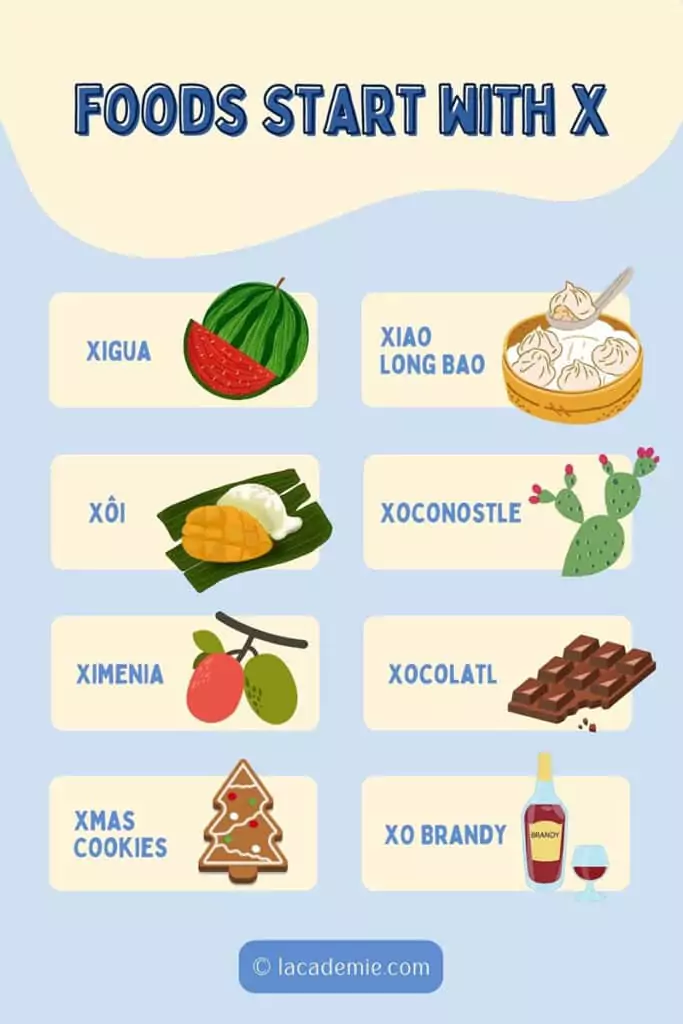 The X-Files Of Foods: Unraveling The Mysteries
Fruits
Xoconostle (Cactus Fruit)
Ximenia americana (Hog Plum)
Xinomavro Grapes
Xoài
Xylocarp
Xiangjiao (Banana)
Xilacayota Squash
Xihongshi (Tomato)
Main Dishes
Xigua (Watermelon)
Xacuti (Goa-style Curry)
Xôi (Vietnamese Sticky Rice)
Xavier Soup
Xampinyons en Salsa (Mushrooms In Sauce)
Xouba (Small Sardine)
Xavier Steak
Xidoufen (Boiled Pea Meal Soup)
Xiphias gladius (Swordfish)
Starters And Desserts
Xiaolongbao (Chinese Steamed Bun)
Xingren Doufu (Almond Tofu)
Xmas Cookies
Xi Gua Lao (Chinese Chilled Watermelon Jelly)
Xigua Popsicle
Xmas Cakes
Spices And Ingredients
Xiami (Dried Shrimp)
XO Sauce
Xanthan Gum
Xylitol
Xnipec
Xiangcao Jing (Vanilla Extract)
Beverages
Xocolatl (Aztec Hot Chocolate)
XO Cognac
Xalapa Punch
Xanthia Cocktail
Fruits And Vegetables
1. Xoconostle (Cactus Fruit)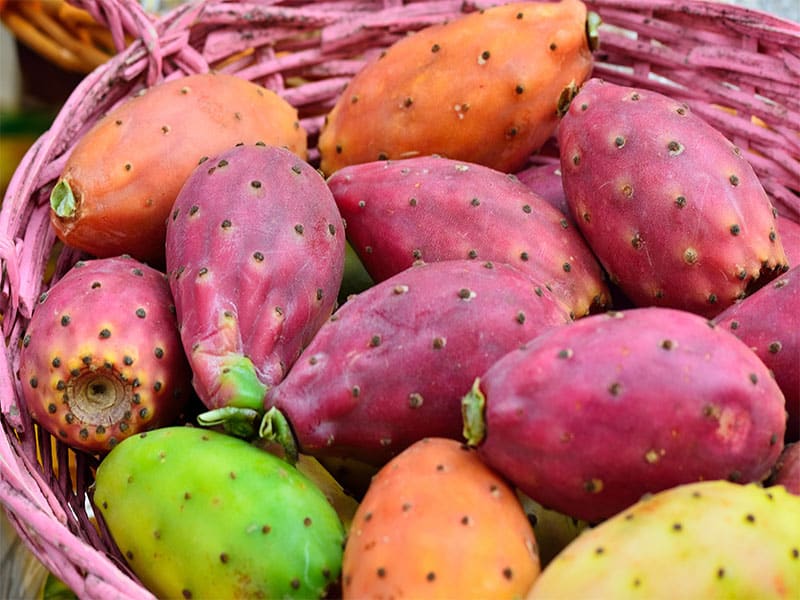 Can you eat the fruit of a cactus? If you're talking about the Xoconostle, the fruit of the prickly pear cactus originating from Mexico and known as Opuntia matudae, then the answer is a big yes. In fact, Mexicans usually eat it raw, roast it, or make a salad with it.
This exotic fruit looks like a small pear with waxy skin ranging from pale green to dark pink in color. Some people describe its flavor as similar to watermelons and bubble gums but milder and mixed with a considerable tartness. Perhaps pickled watermelons are more like it.
Besides the exquisite taste, the impressive nutrition profile of xoconostle is another reason to incorporate this fruit into your diet. It is rich in fiber, calcium, vitamin C, and antioxidants.
2. Ximenia Americana (Hog Plum)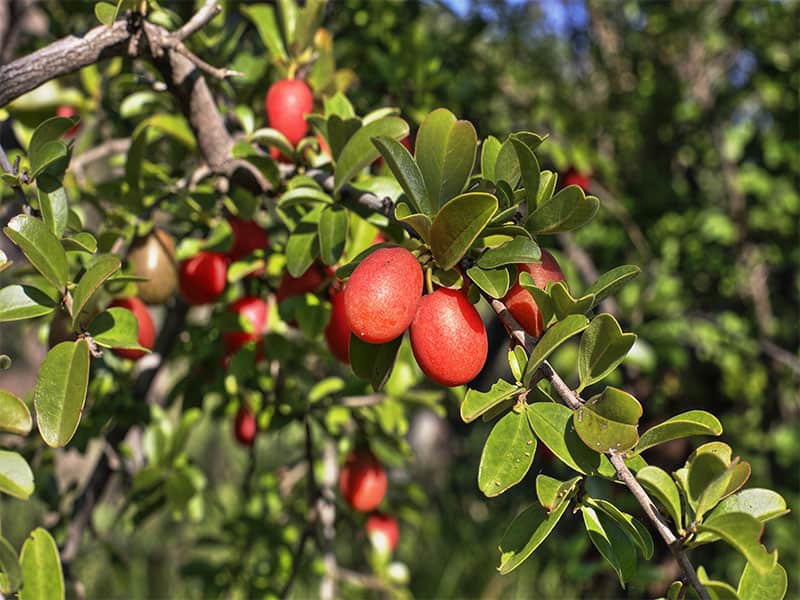 Ximenia americana is a common sight in numerous countries. It is present on many continents around the world, from Africa to Australia. You may know it as hog plum, tallow wood, or yellow plum.
The tree mainly grows in the wild and produces edible pulpy fruits with yellow or orangish-yellow color. The flavor of such fruits can range from bitter to very sweet, suitable for raw consuming or making dishes like pickles and jams. The fatty kernels can be extracted for oil.
Ximenia americana also offers medical values. While the most valuable part for this purpose is the leaves, the fruits can be consumed to treat constipation (1).
There is a similar tree called Ximenia caffra (or sourplums). Its fruits are quite sour but can be eaten raw or turned into jams, desserts, and beverages.
3. Xinomavro Grapes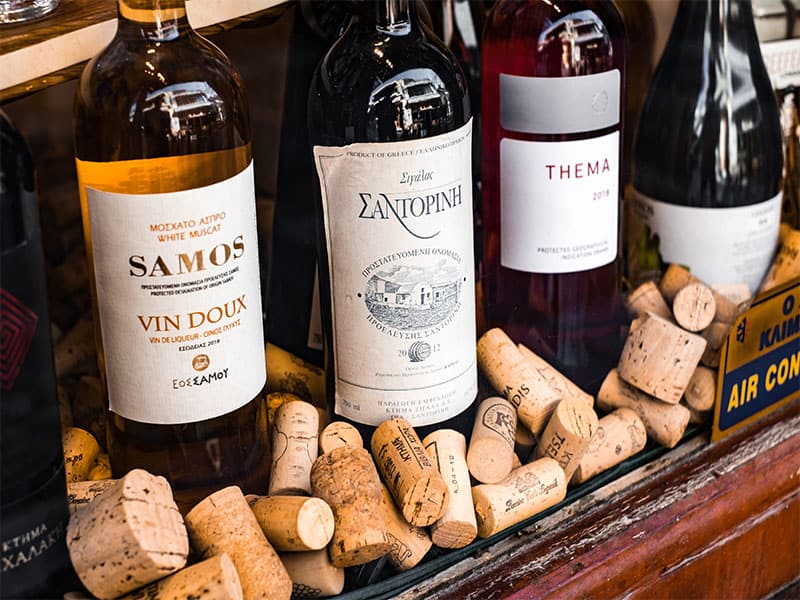 Since Xinomavro grapes are considered the finest red wine grape variety in Greece, it is surely unthinkable to eat them raw. Instead, their high acidity and tannin levels lend themselves to making rich and full-flavored wines with fruity aromas none can resist.
Xinomavro is a combination of two words "xino" and "mavro," which mean "sour" and "black." That nicely represents the appearance and flavor of this fruit.
This type of grape is challenging to grow, requiring a delicate balance of heat and humidity and careful management (as it is a late-ripening cultivar).
4. Xoài (Mango)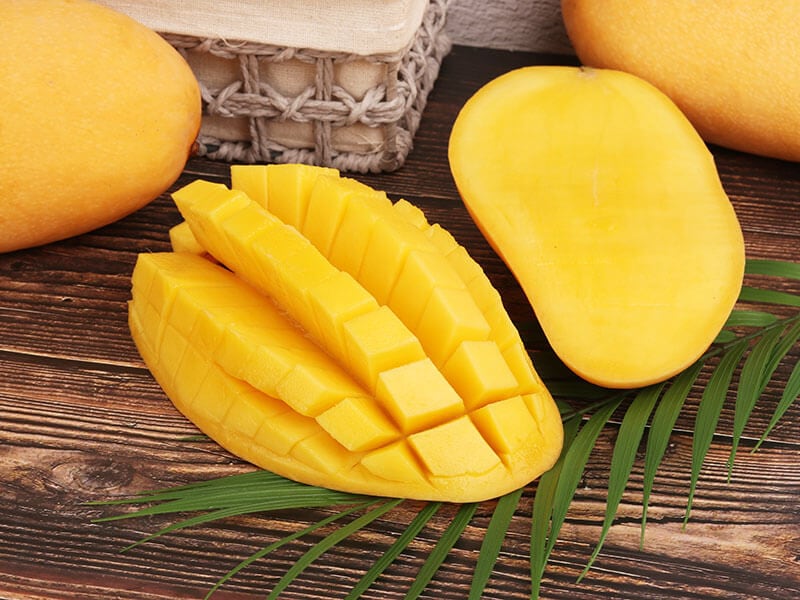 "Xoài" is what Vietnamese people call mangoes, a tropical fruit found in every corner of the country. However, the Mekong Delta in the southern region is home to the biggest mango-producing provinces in Vietnam.
The most renowned mango variety you can find in this Southeast Asian nation is probably the Hoà Lộc mango, named after its birthplace (a locality in Tiền Giang province). It boasts thin yellow skin and juicy, non-fibrous flesh with great sweetness.
Other wonderful varieties are the Thanh Ca mango (which is affordable and has light yellow skin and firm flesh) and the Australian mango (which is known locally as "Xoài Úc" and has pink skin).
5. Xylocarp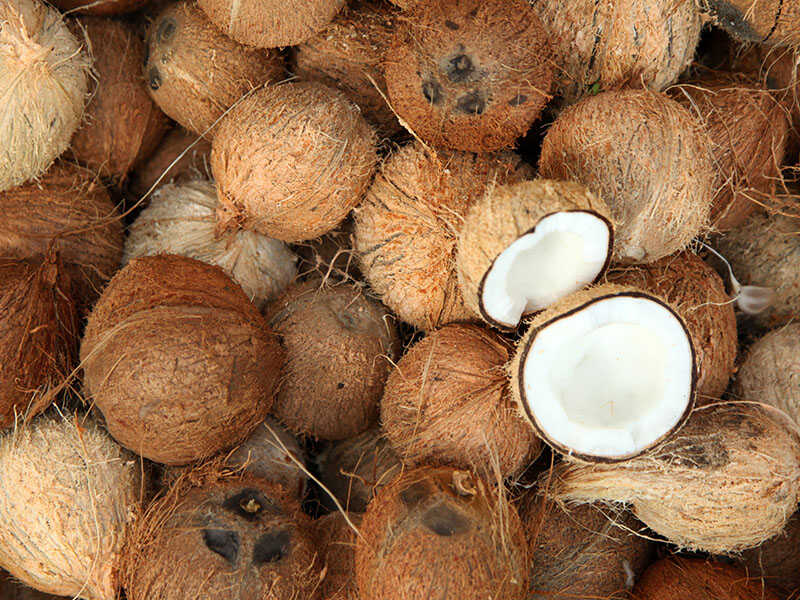 This is a botanical term for fruits with a hard, woody pericarp (outer shell). The most popular example is probably a coconut. You can also count a durian or a jackfruit as a xylocarp.
6. Xiangjiao (Banana)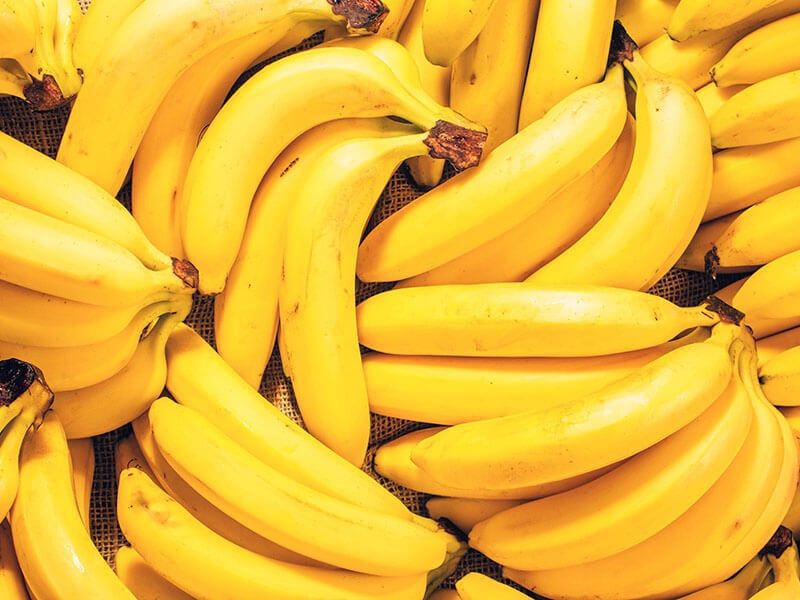 "Xiangjiao" is the word for "banana" in China, which is the world's second-largest banana producer. Bananas spread to China in the 2nd or 3rd century and remained an exotic fruit for most of the time. Only by the 20th century did they begin to gain widespread popularity.
But that didn't stop banana trees from becoming a recurring decorative motif in Chinese porcelains. They can symbolize a successful business, prosperity, and unity. Since bananas are a tropical crop, they are cultivated mainly in the southern region.
7. Xilacayota Squash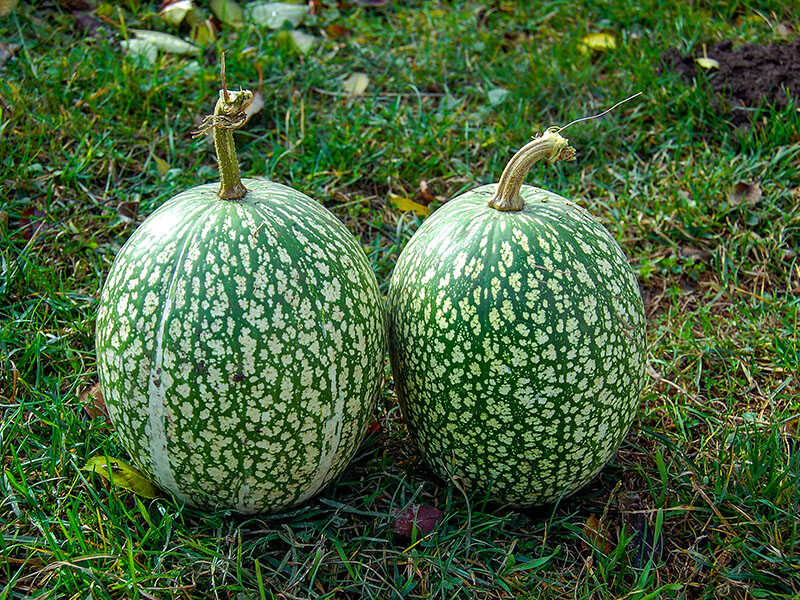 Xilacayota squash is an alternative spelling for chilacayote squash (Cucurbita ficifolia). This vegetable of Central American origin has many other names, such as fig-leaf gourd, Asian pumpkin, or Malabar gourd. Its leaves, fruits, and seeds are all edible.
In its raw form, the ripe squash has a melon-like smell and flavor, while the cooked form of the immature fruit has a mild taste and can absorb the flavors of other ingredients.
Therefore, you can deal with the ripe chilacayote squashes the same way as with melons: eating them raw, adding them to smoothies, or using them in desserts and confections. Meanwhile, the seeds can be roasted to enjoy like peanuts.
8. Xihongshi (Tomato)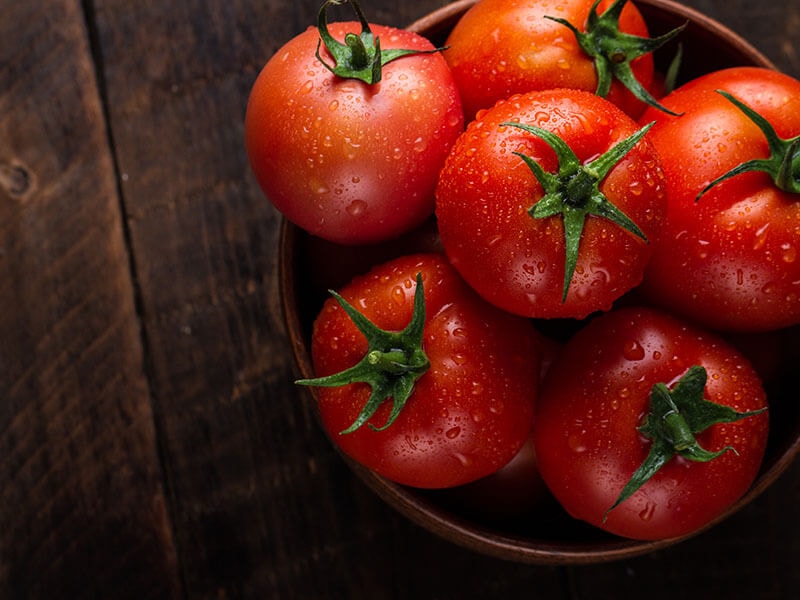 Those juicy vegetables are called "xihongshi" in Chinese. But when they first arrived in China through Macau or the Philippines in the 16th century, their original name was fānqié ("foreign eggplant"). For a long time, few Chinese chefs were willing to cook with this Western vegetable.
In the 1920s – 1930s, tomatoes began to gain widespread acceptance from the Chinese populace. Today, you can find many Chinese dishes with tomatoes in them, such as tomato egg drop soup, tomato beef (a stir-fry with tomato slices and beef), and scrambled eggs with tomatoes.
However, tomatoes aren't still as popular as other New World crops, like sweet potatoes. That doesn't stop China from becoming the world's largest tomato producer, with Xinjiang in the northwest as the main cultivation region. Chinese people love fresh tomatoes; ketchup isn't common.
Main Dishes
9. Xigua (Watermelon)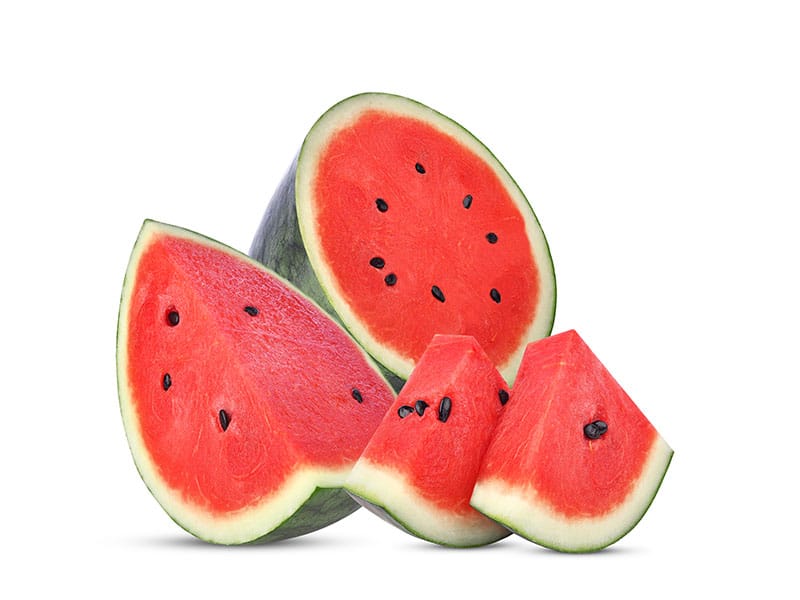 Xigua is the Chinese word for watermelon and is pronounced as she-gwa. Do you know that China is the world's largest producer of watermelons, accounting for nearly two-thirds of global production?
Hailing from deserts in northeastern Africa, watermelons arrived in China in the 10th century and have been well-liked ever since. Like watermelons in other countries, Chinese varieties come in many shapes and sizes: oblong, oval, round, etc.
They usually have a thin rind, which is green outside and white inside, and ruby-red flesh. While the juicy pulp is the most popular part, the white exterior of the skin can be used in some salad or stir-fry recipes.
Since watermelons contain up to 92% water and a high amount of potassium and vitamins A and C (2), they are a perfect treat for Chinese people during summer. This fruit is also significant in Chinese culture as it symbolizes prosperity and good luck.
10. Xacuti (Goa-style Curry)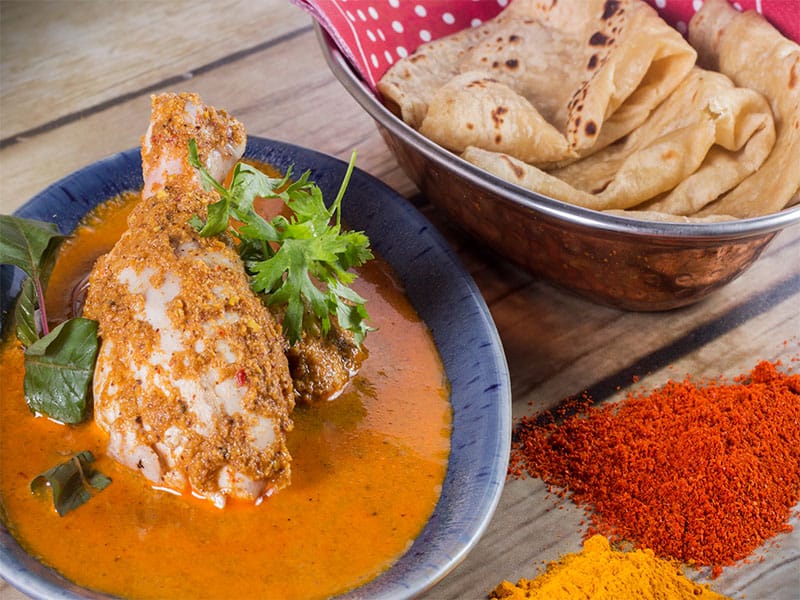 Alternatively spelled as Xacutii or Chacuti, this special curry hails from Goa, India. It can get extremely rich and spicy thanks to a combo of dried red chilis, grated coconut, and white poppy seeds. This flavorful curry goes with a side of fragrant rice.
The traditional source of protein for the dish is chicken. When the Portuguese ruled Goa, they influenced the recipe by bringing other meats like beef and lamb to the recipe. Nowadays, there is another vegetarian version made with mushrooms.
Cooking Xacuti will be a piece of cake with this guide.
11. Xôi (Vietnamese Sticky Rice)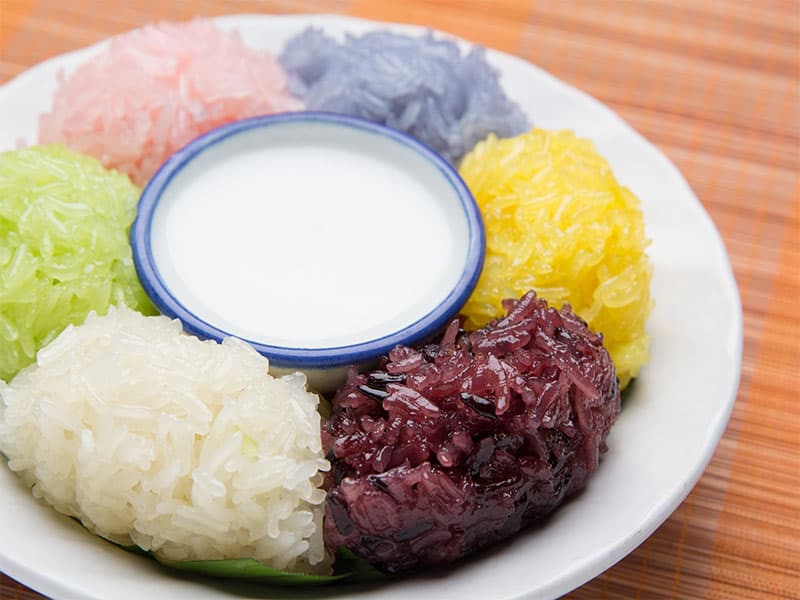 Sticky rice is a popular dish in many Asian countries, especially Vietnam, where locals refer to it as "Xôi." You can find it everywhere in this Southeast Asian nation, from street food stalls to special parties.
Xôi can boast many colors, with the red hue from gac fruit extract and the green hue from pandan leaves as the most common. There are two main Xôi categories: sweet and savory.
The former usually serves as desserts and snacks, while the latter can be a full meal, usually breakfast or brunch.
The distinction lies in the add-ins. Sweet Xôi include beans, corn, fruits (such as durians and mangoes), or coconut milk. By contrast, the savory variety consists of meaty ingredients like chicken, fish, fried eggs, Chinese sausage, and so on.
You will cook Xôi Mặn (savory Xôi) like a Vietnamese chef after watching this tutorial!
12. Xavier Soup
Xavier soup is an appetizing Italian dish made of chicken and parmesan dumplings. It is named after St. Francis Xavier, one of the founders of the Society of Jesus, who greatly aided the establishment of Christianity in many Asian regions. He is the patron saint of missionaries.
The soup carrying his name is often served on his feast day – December 3. Its main star is the dumplings bathed in rich chicken stock, which are made from a mixture of flour, butter, heavy cream, egg yolks, and parmesan cheese. But the key flavoring is a handful of fragrant parsley.
13. Xampinyons en Salsa (Mushrooms In Sauce)
Want to add a vegan dish full of flavors to your diet? Look no further than this Catalan recipe from Barcelona! It consists of white mushrooms cooked in a rich sauce of tomato puree, sauteed onions, sherry wine, and seasoning. This dish is simple to prepare and delightful to enjoy.
14. Xouba (Small Sardine)
This seafood recipe hails from the autonomous region of Galicia (Spain). Xouba refers to small, blueish sardines, especially those caught from the Galician estuaries. Locals often grill and serve the dish with cornbread, pickle it, or use it to fill empanadas (Spanish turnovers).
However, the most popular serving idea is probably to stew Xouba and pair it with Cachelos (a Spanish dish made from boiled potatoes). This combo is a Spanish summer delicacy you won't regret trying.
15. Xavier Steak
To put it simply, Xavier steak is a combo of grilled steak and asparagus covered with Swiss cheese. The tender asparagus stems are put on the steak before you pour the creamy cheese on top.
This nourishing dish apparently debuted in 19th-century New York, but the origin of its name remains a mystery to this date.
16. Xidoufen (Boiled Pea Meal Soup)
Originating in Yunnan, a province in the southwest of China and having great ethnic diversity, Xidoufen is a warm and spicy soup that will warm you up on cold days. That magic comes from the impressive list of spices, including coriander, dry chili flakes, ginger, Sichuan pepper oil, etc.
These things flawlessly complement the comforting flavor of the main ingredient, which is boiled pea meal. You can replace it with standard yellow pea flour. As for side dishes, flatbreads or Youtiao (Chinese deep-fried dough) won't go amiss.
17. Xiphias Gladius (Swordfish)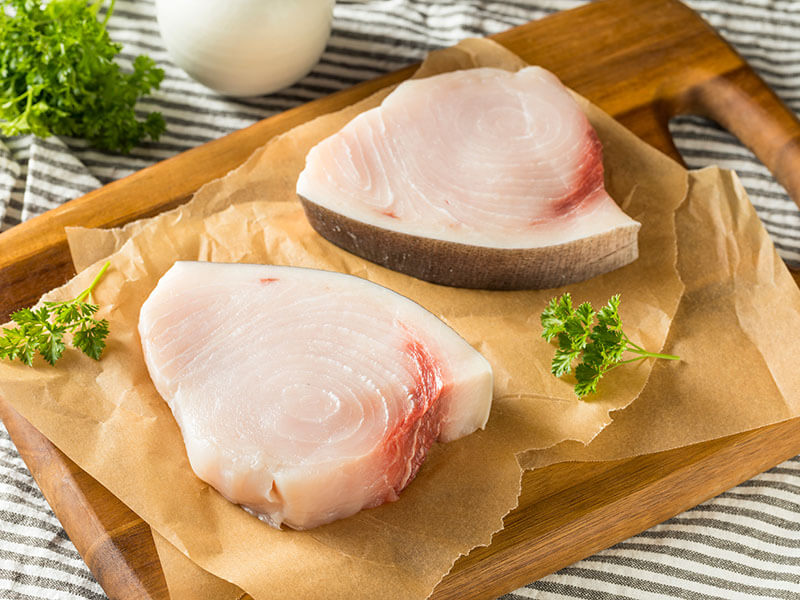 Xiphias gladius is the scientific name of swordfish, a delicacy you can find at high-end seafood restaurants. I say "high-end" because this fish is rather expensive, but its moist, dense texture and mild, subtly sweet flavor won't let you down.
In fact, swordfish are so mild-tasting and non-fishy that I find them similar to beefsteak (from the seas!). The high price tag comes from the difficulties of catching them, as swordfish can grow to be very large (the record is 1165 pounds) and move extremely fast.
The most popular ways to cook swordfish are grilling and barbecuing, but you can try more adventurous options like eating them raw or adding them to seafood chowders. They are available year-round and rich in vitamin B12, zinc, selenium, and omega-3 fatty acids.
Starters And Desserts
18. Xiaolongbao (Chinese Steamed Bun)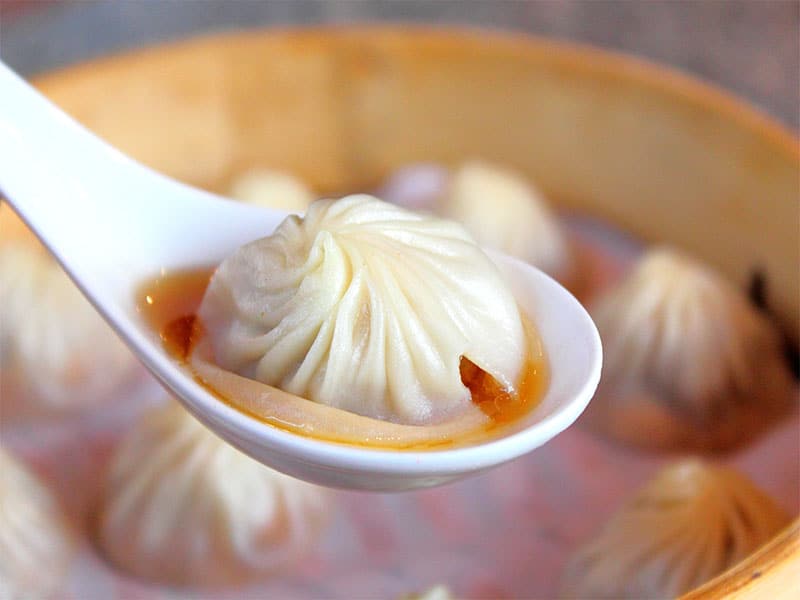 Xiaolongbao means small steamed buns from China. This popular dim sum (Chinese breakfast or brunch) item originates in Jiangsu province on the eastern coast of China.
Its name comes from the small bamboo steaming basket locals use to make it, which is called xiaolong (literally "little dragon").
Minced pork is the standard ingredient for the filling, but modern versions can include plant-based food, seafood, or Western delicacies like foie gras and black truffles.
This small Chinese dish should be enjoyed hot since you can bite through the delicate, almost transparent wraps and taste the savory juices oozing out from the rich filling.
While it is often served on its own or with sauces (such as a mixture of soy sauce and rice vinegar), locals may enjoy it with a clear soup, creating a kind of dumpling soup.
This guide will provide insight into the making of Xiaolongbao.
19. Xingren Doufu (Almond Tofu)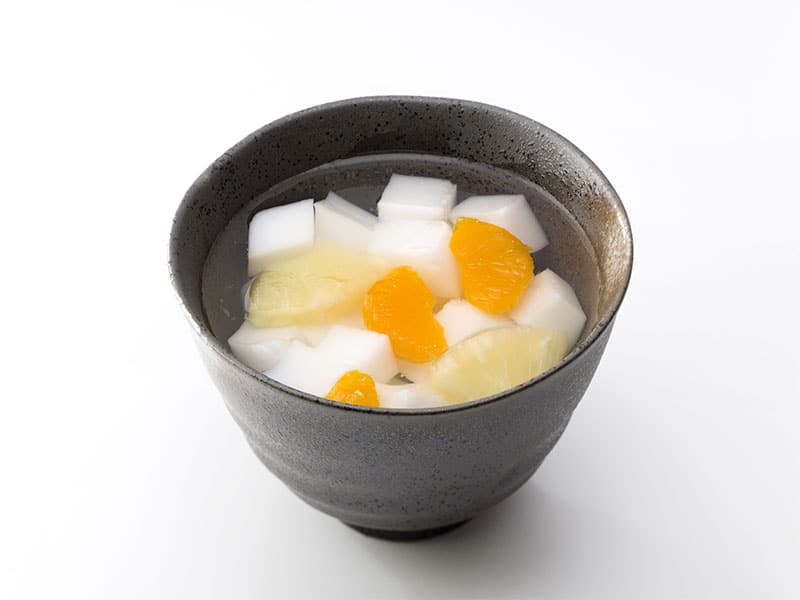 The name of this creamy Chinese dessert translates to "almond tofu" or "almond jelly" in English, but it only refers to the silky consistency of the dish. The main ingredients are almond milk, sugar, and agar (or gelatin), with no traces of soybean.
But almond milk isn't the only suitable ingredient for this almond-named treat. Many Chinese people like to substitute it with apricot kernel milk, which is made by grinding soaked sweet apricot kernels (the seed inside the apricot stone).
While the traditional recipe is completely plant-based, modern variations can contain dairy products for more flavors. In addition, you can buy an almond tofu instant mix in supermarkets or online stores to save time.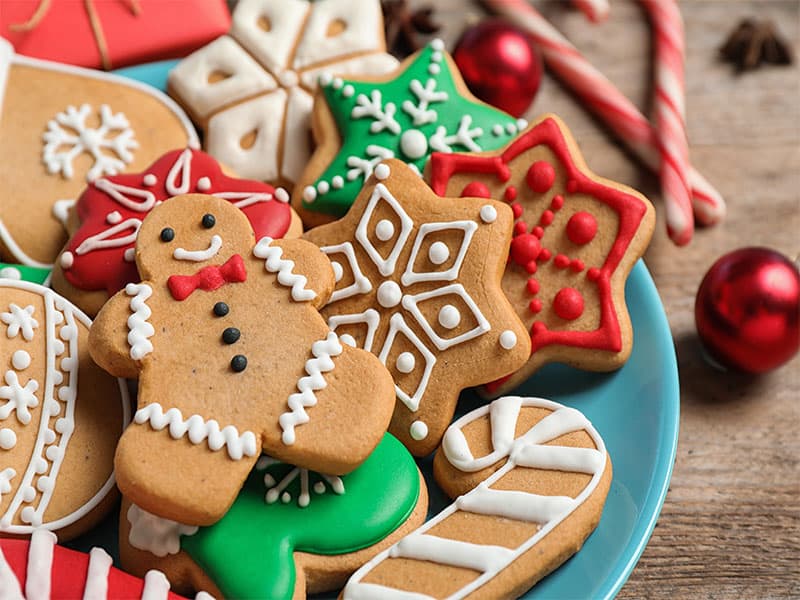 As you can guess, Xmas is just an informal name for Christmas, and cookies are a seasonal staple. Available in various shapes, colors, and sizes, from a small star to a big pine tree, Christmas cookies add so much joy to the spirit of the season.
The connection between cookies and Christmas goes back to medieval times when families baked biscuits from flour and lard as food reserves for winter. Those cookies were often given as Christmas gifts to friends and relatives.
When spices and dried fruits from the East became popular, they made their way to sweet biscuits. Then, Dutch immigrants brought cookies to America in the 17th century. In fact, "cookie" was derived from the Dutch word "koekje" for "cake."
There are many types of Christmas cookies you can try: gingerbread men (allegedly inspired by Queen Elizabeth I of England), sugar cookies, thumbprint cookies, snickerdoodles, etc.
Learn how to prepare gingerbread cookies for Christmas with this detailed walkthrough.
Gingerbread cookies are always a meaningful Christmas.
21. Xi Gua Lao (Chinese Chilled Watermelon Jelly)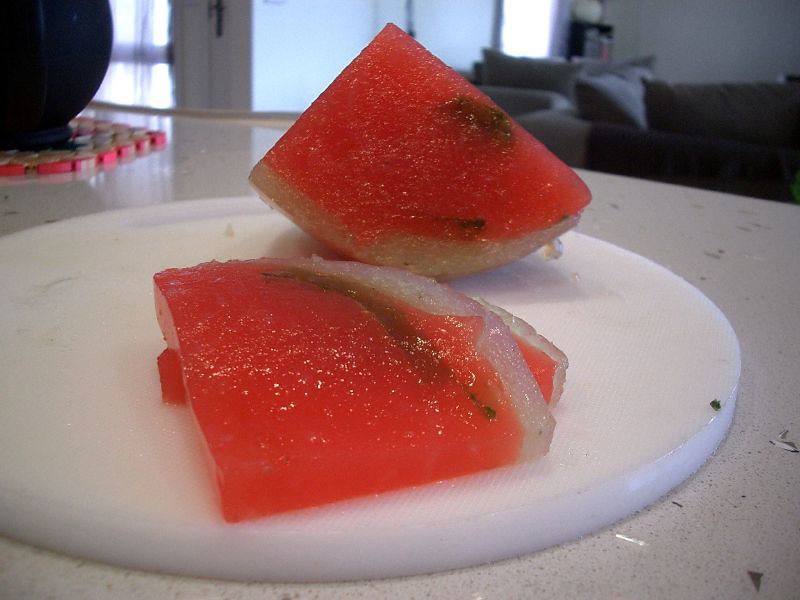 This jelly dessert is a popular summertime treat originating in Beijing. Locals prepare it by crushing watermelons into juice, which they mix with a boiling syrup of water, sugar, agar, and vanilla powder. When the mixture cools down and thickens, it is chilled before being served over ice.
22. Xigua Popsicle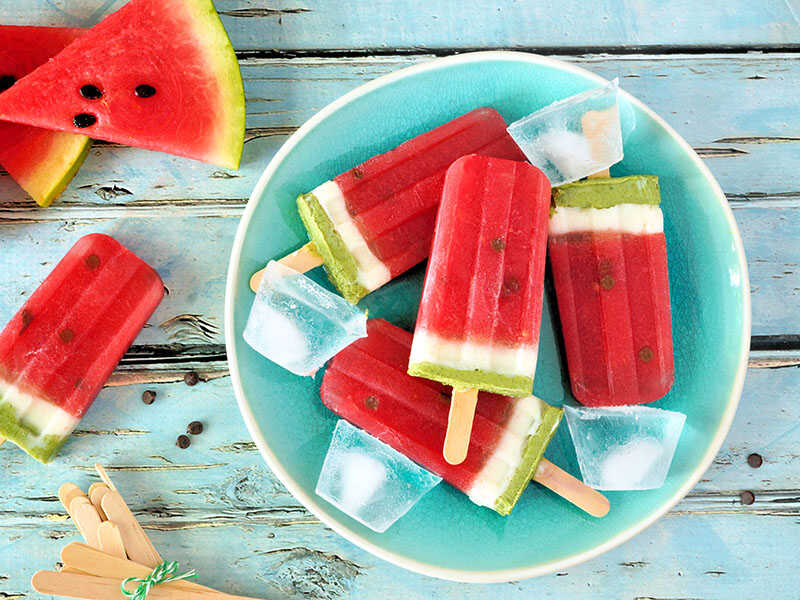 As you can guess, this is simply a watermelon popsicle in China. It is a popular summertime treat in the country and appears in many viral TikTok videos (which are another Chinese product).
You can easily make it at home by blending the watery red flesh (without the rind), sugar, lime juice, and water in a food processor, then pouring the mixture into popsicle molds and freezing it.
23. Xmas Cakes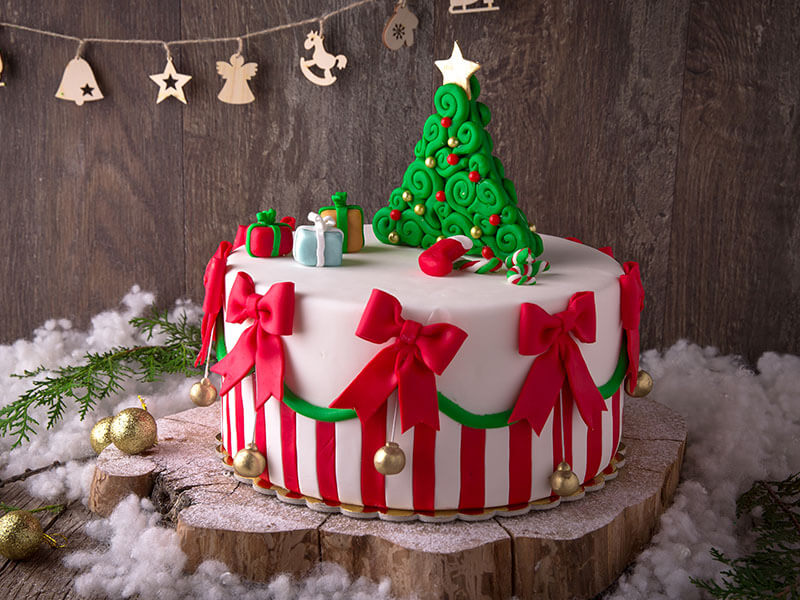 Christmas cakes, known informally as Xmas cakes, are a hallmark of any Christmas celebration. They are usually made from an ordinary cake, ideally a fruitcake, that contains a lot of alcohol-soaked dried fruits, spices, and colorful icing.
This type of cake is a common sight in many Western countries as well as a few Asian ones, such as the Philippines, Japan, and India. It often boasts a rich, moist texture, a deeply sweet and flavorful taste, and an excellent shelf life.
Spices And Ingredients
24. Xiami (Dried Shrimp)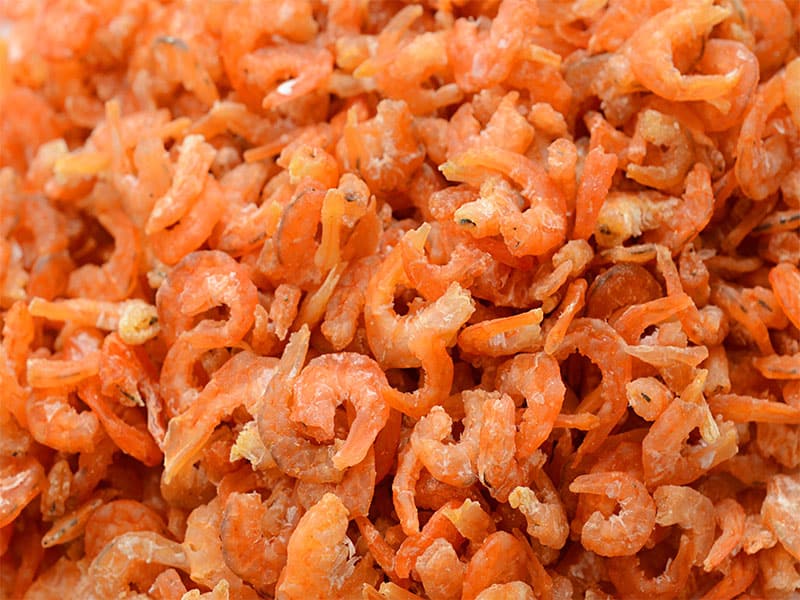 When you visit Asian markets or grocery stores, xiami (or hamai) is an item you usually come across. It's the Mandarin name for dried shrimp, an umami-packed condiment in Chinese and Southeast Asian cooking.
People may or may not deshell the shrimp before drying it, either with sunlight or artificial heat. Seasoning the shrimp with salt and spices is an optional step, though it will help the shrimp last longer. Dried shrimp can be eaten right away and make a terrific snack.
However, the best way to use dried shrimp is to impart a uniquely sweet and savory flavor to your dish. Its taste is more concentrated than that of fresh shrimp. Add no more than a handful to your broth, stir-fries, curries, or salads, and they will have a superb seafood taste.
Dried shrimp should be stored in the fridge to achieve its maximum shelf life, usually from 3 to 4 months. After that, it will start losing flavor.
25. XO Sauce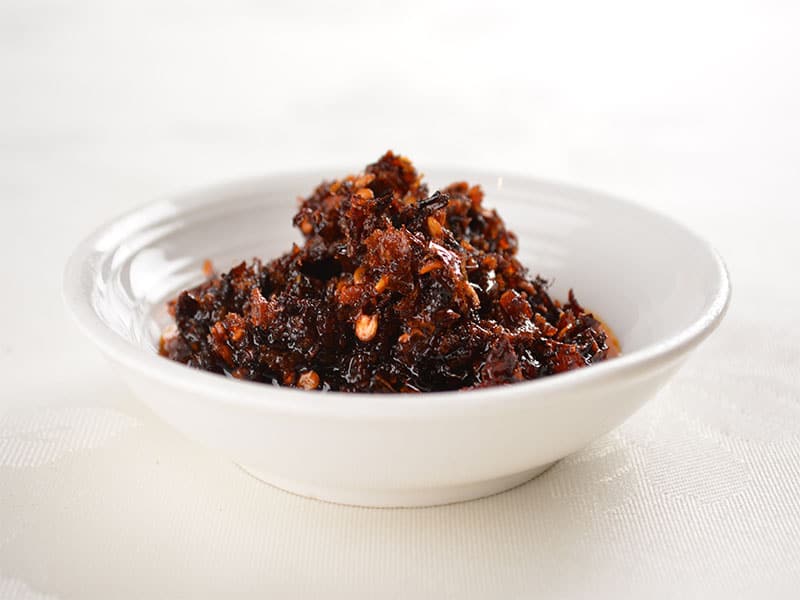 This expensive sauce, nicknamed "caviar of the Orient," is a must-try delicacy if you visit Hong Kong or the southern provinces of China. It was created in the 1980s by the chefs of colonial-style hotels in Hong Kong (which one is a debatable matter).
While the name "XO" came from XO cognac (as in "extra old"), this sauce doesn't contain this liquor at all. Its main ingredients are seafood (such as dried scallops and shrimp), Jinhua ham (a premier dry-cured ham), and spices. They are costly foodstuffs, hence the high price tag.
So why XO? At that time, XO cognac was a trendy beverage whose value matched the exquisite sauce, so the connection led to the current name.
The possibilities with XO sauce know no bounds: you can add it to virtually any dish, from meat and seafood to tofu and noodles. Its complex flavor profile, comprising sweet, savory, and smoky notes, won't let you down.
26. Xanthan Gum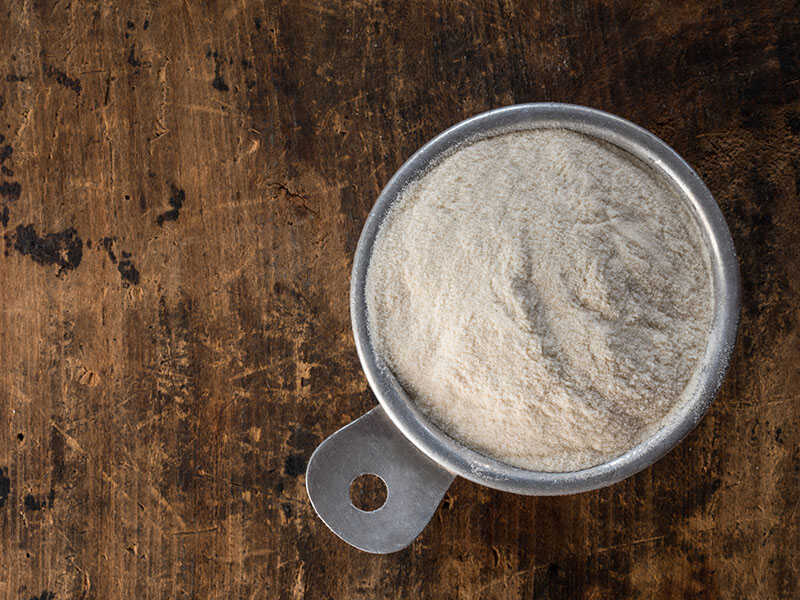 Xanthan gum is a popular food additive made by fermenting simple sugars with bacteria Xanthomonas campestris. Since the sugars are derived from such sources as dairy, wheat, or soy, xanthan gum may not be suitable for a dairy-free or gluten-free diet.
However, it is safe for most people, even if used in large amounts. Its primary use is to thicken foods, keep their textures from changing, or work as a stabilizer to keep the ingredients in place.
Nutrition-wise, this food additive doesn't provide many calories or nutrients. But it does have a few health benefits, such as lowering cholesterol, stabilizing sugar levels, or giving a laxative effect. Wheat-free xanthan gum is a commonly-used thickening agent in gluten-free food.
27. Xylitol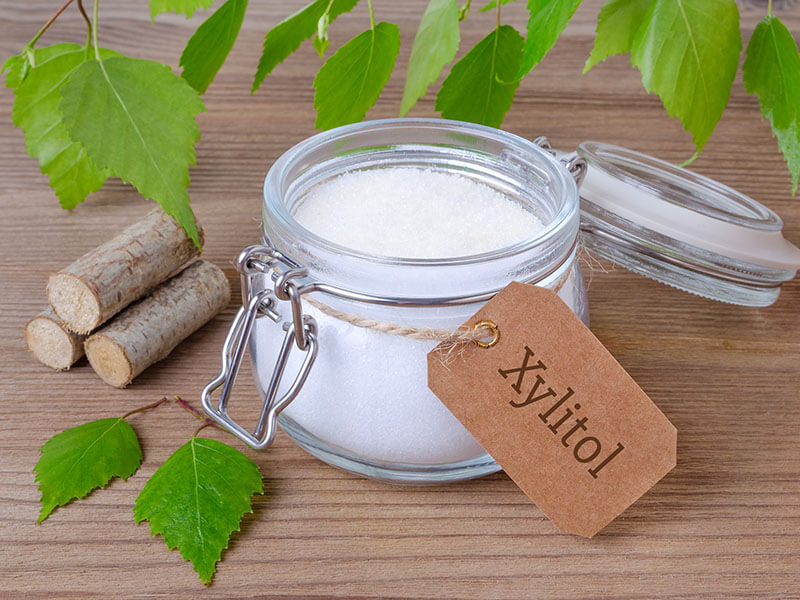 This artificial sweetener is classified as an alcohol sugar because its structure is similar to both alcohol and sugar. It is available in the form of white or colorless crystals that can dissolve easily in water.
Xylitol is derived from xylose, a sugar isolated from wood. Its production involves a process called catalytic hydrogenation.
While not popular with household cooks and bakers, it has widespread uses in many manufactured products, such as chewing gums, confections, drugs, etc. One reason for this is perhaps that it doesn't caramelize like sugars.
Xylitol is as sweet as sucrose but doesn't cause tooth decay and can promote dental health (3). In addition, it has minimal effects on blood sugar levels and is safe for people with diabetes. But don't feed it to your dog because it is toxic to canines.
28. Xnipec
Alternatively spelled as Xnipek or Ni'peek, Xnipec is a sour and spicy sauce made with habanero peppers, bitter orange juice (or a mix of orange juice and lemon juice), onion, spices, and salt.
The Yucatán peninsula, which includes parts of Mexico, Guatemala, and Belize, is home to this tongue-burning sauce. Its literal translation is "dog snout" because people say that it is so spicy (made with habanero peppers) that anyone who eats the sauce will have a runny nose like a dog's.
Xnipec can go with a variety of Mexican dishes. It is similar to salsa, especially the pico de gallo variety. You may find it in restaurants under the name of Yucatecan sauce.
29. Xiangcao Jing (Vanilla Extract)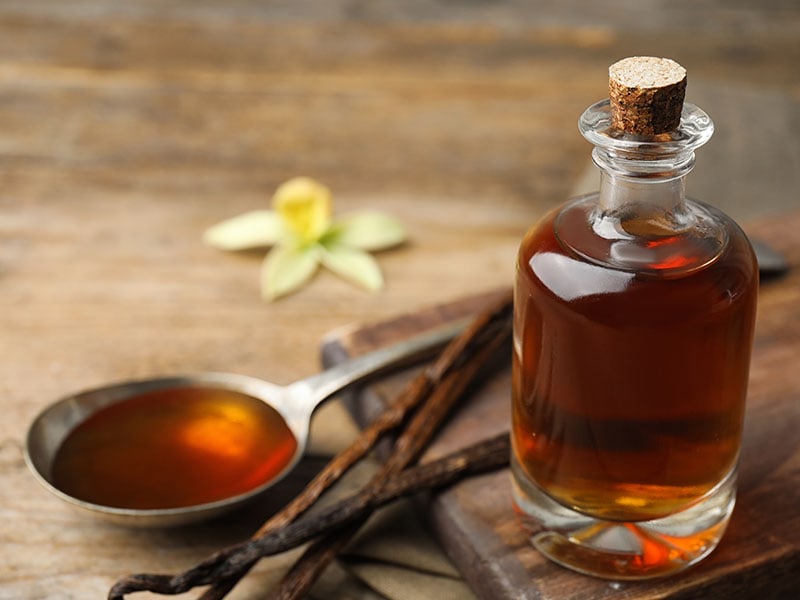 Here is the Chinese name for vanilla extract, which is derived from pure vanilla beans and offers a more natural and pronounced taste than vanilla flavoring or vanilla essence.
While it wasn't a popular ingredient in traditional Chinese cooking, many cakes and confections contain it nowadays.
Beverages
30. Xocolatl (Aztec Hot Chocolate)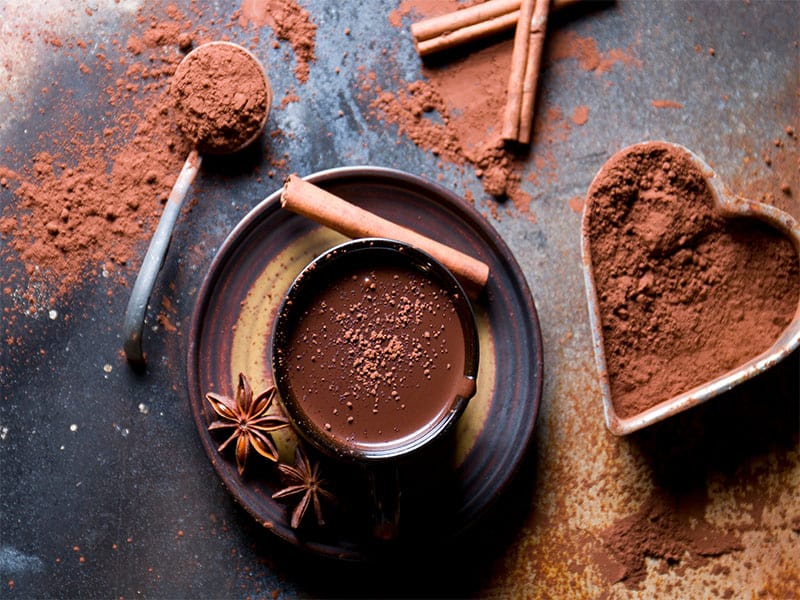 Once a revered drink in Mayan and Aztec cultures, hot chocolate is now a casual drink in many countries around the world. While the versions in America are usually sweet, the original recipe contained no sugar and was quite bitter.
Therefore, the Mayans called it "chocolhaa" ("bitter water"), which became Xocolatl in Nahuatl, the language of the Aztecs. Today, many people in Mexico and several other Latin American countries continue to enjoy this traditional version.
Xocolatl consists of unsweetened cacao powder, water, chili pepper, and cinnamon (optional). The result is a spicy and bitter drink that may raise your eyebrows at first before winning your heart with its raw deliciousness.
Of course, you may add some honey, chocolate chips, and vanilla to make it more drinkable.
31. XO Cognac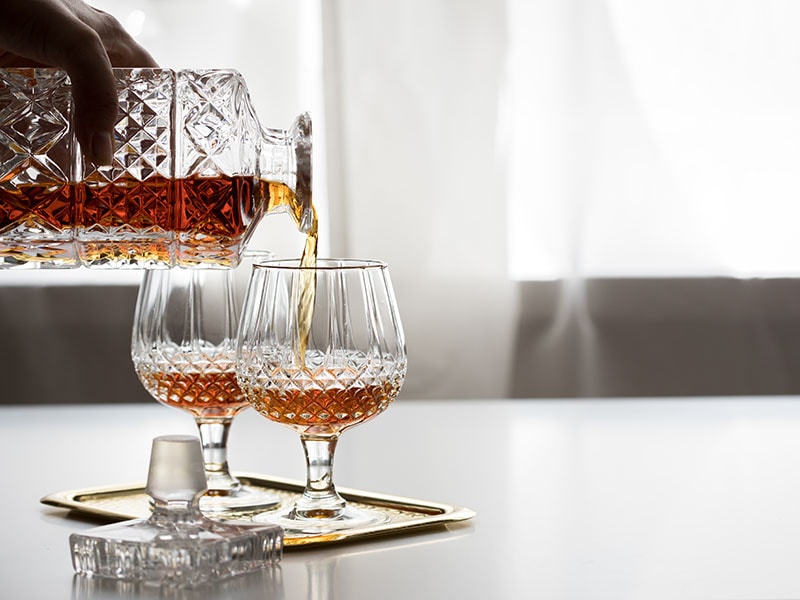 Here is the inspiration behind XO sauce! Made from double-distilled grape brandy that undergoes strenuous barrel-aging, this luxury beverage has a buttery texture and a sweet flavor full of fruity and nutty notes that will stay on your palate for a long time.
Generally, there are three types of aged cognac: VS (Very Special), VSOP (Very Superior Old Pale, and the cream of the crop XO (Extra Old).
The first two designations require at least two and four years of aging, respectively, while XO cognac can't be complete without being aged for six years.
32. Xalapa Punch
This party punch is named after a horse breeding stable near Paris, Kentucky. It is a refreshing mix of rum, black tea, apple brandy, citrus fruits (such as oranges and lemons), and sweeteners (like honey). The result is an exciting drink that can enliven any party or special gathering.
33. Xanthia Cocktail
The catchy name of this drink may either refer to the characters going by the name "Xanthe" in Greek mythology (including a sea nymph and an Amazon) or a vibrantly colored moth species called Xanthia tatago! Well, which theory is more feasible is up to your imagination.
Basically, this cocktail consists of one part gin, one part brandy, and one part yellow chartreuse. The result is a beautiful amber-hued beverage whose color suspiciously resembles that of the Xanthia moth. But you can replace brandy with red cherry to get an orange-pink cocktail instead.
FAQs
Let's Move From X To Exquisite!
X-foods have played a role in shaping the gastronomic landscape, from ancient cultures to modern-day kitchens. You've learned not only about their definition but also their historical and cultural significance. You're not just a foodie now: you're also a food historian and explorer.
Let me know what X-something food is your favorite in the comments, and feel free to recommend more X-factors. Thanks for reading this post, and don't forget to share it with your friend.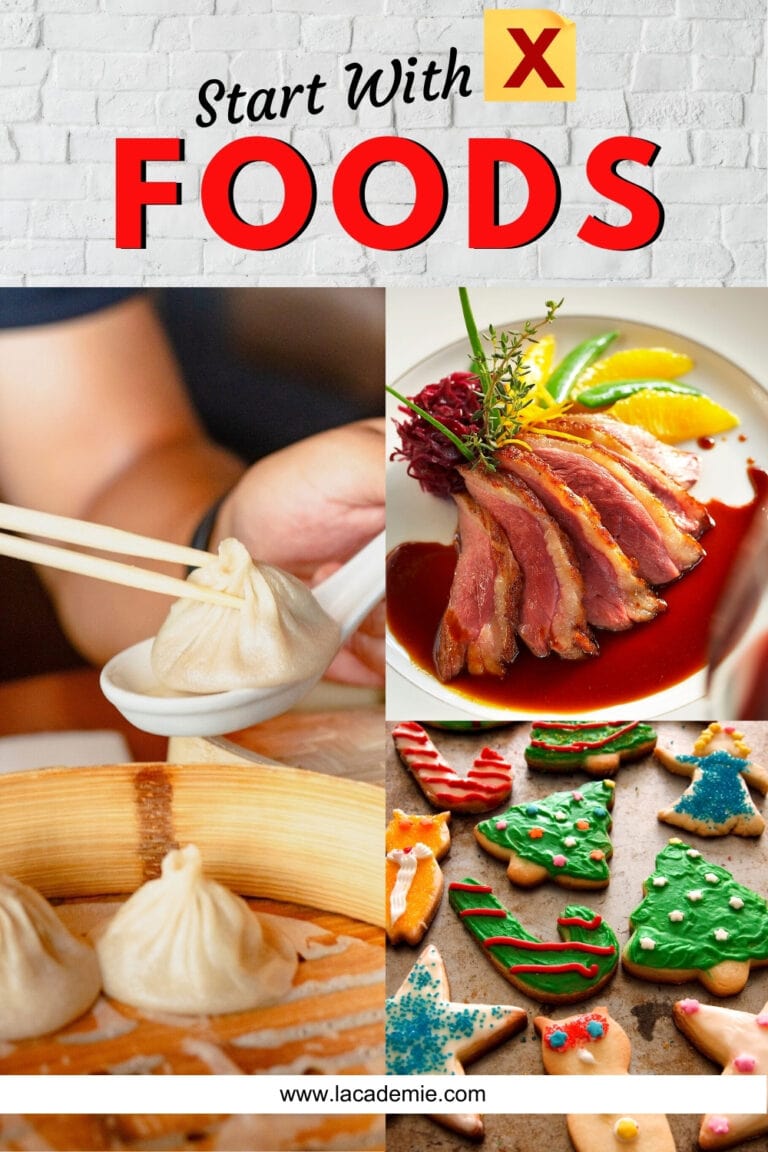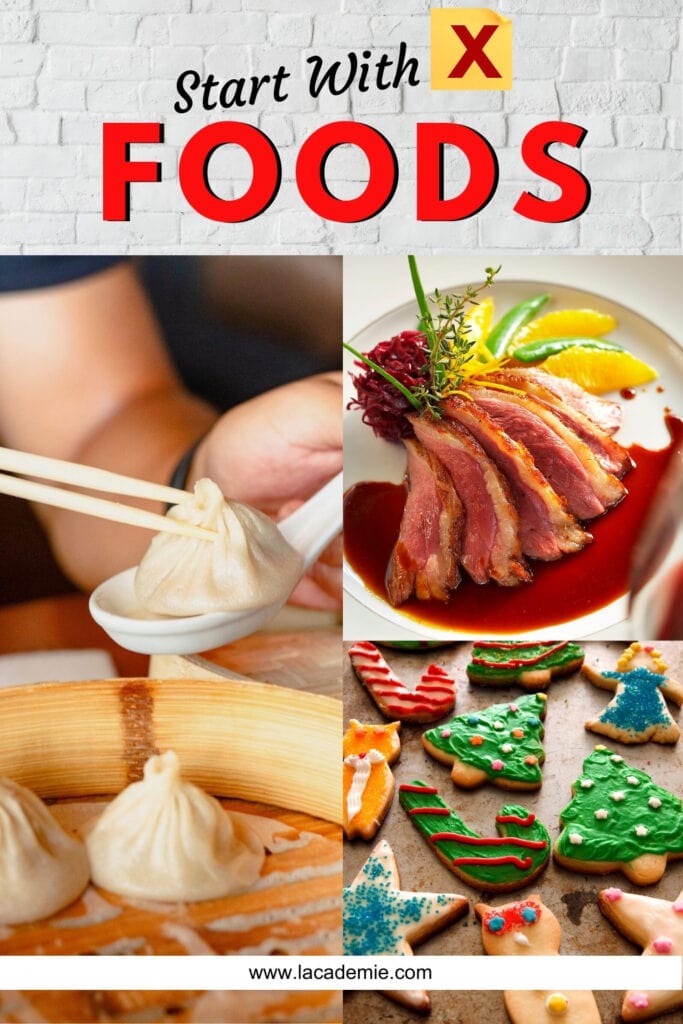 References
Kefelegn, G.A. and Desta, B. (2021) ximenia americana: Economic importance, medicinal value, and current status in Ethiopia, TheScientificWorldJournal.
Kristi Wempen, R.D.N. (2021) The wonders of watermelon, Mayo Clinic Health System.
Gunnars, K. (2018) Xylitol: Everything you need to know, Healthline.