If you're stuck with the list of foods that start with "Z", let's read my article. Trust me, and you'll be surprised later when you discover tons of ideas about foods that come with "Z" that you don't even think about before.
Let me take you on the food journey of the magic letter "Z". If you love playing a listing game of foods with their starting letters organized in alphabet order, there are endless ideas for you to choose from.
25 Best Tasty Foods Start With The Letter "Z"
Below are 25 foods that begin with "Z". These are some of my suggestions for this topic, and each one goes with several eye-opening information that you can discover along the way. So stay tuned! I'm going to take you to the world of "Z-food".
1. Zucchini
Zucchini (some places call courgette) comes from the Cucurbitaceae plant family. Some people say it's a summer squash; others say it's a fruit. You might think of zucchini as a vegetable, but it turns out to belong to the fruit category, usually harvested before it fully matures.
When it's fully grown, it's easy to mistake it for marrows. Its color can be various, from a deep yellow to dark green. We can make use of the whole zucchini, including the skin, seeds, and flesh. All are edible and full of phytonutrients.
When it comes to zucchini cooking recipes, the creativity is almost limitless with this veggie. Its flavor isn't overwhelming, making it a flexible element to both sweet and savory dishes, whether combined with fresh herbs and feta cheese or with cinnamon, sugar, and cocoa powder for bread and cakes.
You can use zucchini for a more salty meal, such as soup, salad, noodles. People love zucchini because zucchini is a versatile cooking ingredient and an excellent food source for health.
Not sure if zucchini is a healthy addition to your meals? Anyone who has ever followed a diet with paleo and vegetarian dishes will know that zucchini are one of the few ingredients that are nutritious, healthy, and tasty. So don't hesitate to make zucchini a frequent ingredient in your meal!
There are many proven pieces of evidence of zucchini's benefits. It offers you a pretty wide range of nutritions, brings you several antioxidants, bolsters healthy digestion, reduces blood sugar levels, and even improves your heart and your eyes.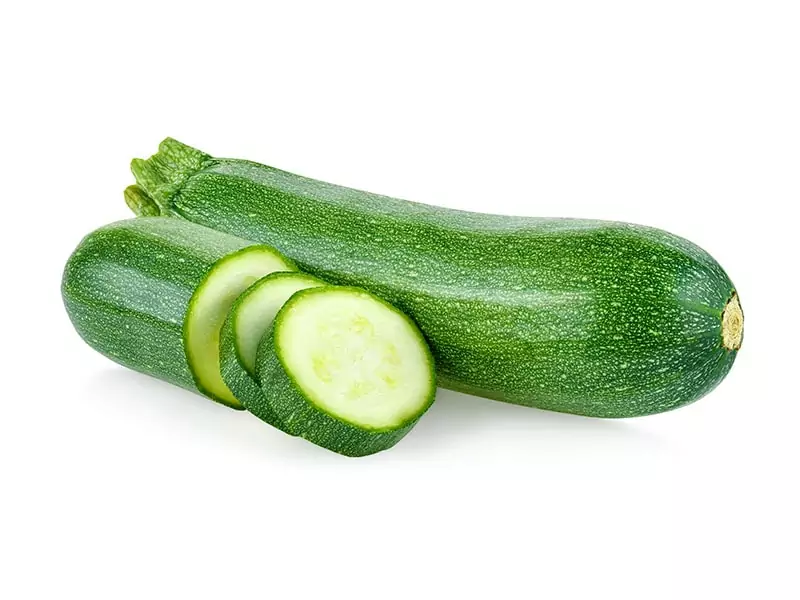 2. Ziti
Ziti is a long, wide tube pasta noodle that comes from Campania. Appearance-wise, ziti might appear somewhat similar to penne. The differences between ziti and penne only become noticeable upon closer inspection, with penne boasting a sharper angle than ziti, for example.
Before cooking, instead of putting them all in the pot and waiting for the heat to melt until it's soft like most usually do with pasta, you're supposed to break ziti into pieces and cook.
In the USA, Ziti is well known as Italian-American pasta or baked ziti with all kinds of meats, lots of cheese and immersed entirely in sauces. The shape of the noodles helps absorb the sauce easier and melts faster in our mouths.
Ziti has a distinctive flavor, a non-resistant smell, and an eye-catching appearance. It's the superstar of the party to connect strangers and the soul in a big, comforting dinner to strengthen the relationship among family members. It also can be kept in the fridge for a few days if you have leftovers.
With baked ziti, you can have pretty much countless recipes to serve with it. You can eat baked ziti with salad to reduce the sweetness from cheese and the salty from the sauce. Or you can have garlic bread served on the side to balance the robust and complicated flavor of ziti.
If you want to have a more healthy choice with ziti, especially with baked ziti, you can eat with ground turkey or turkey sausage and low-fat cheese instead to eliminate the fatness in the dish.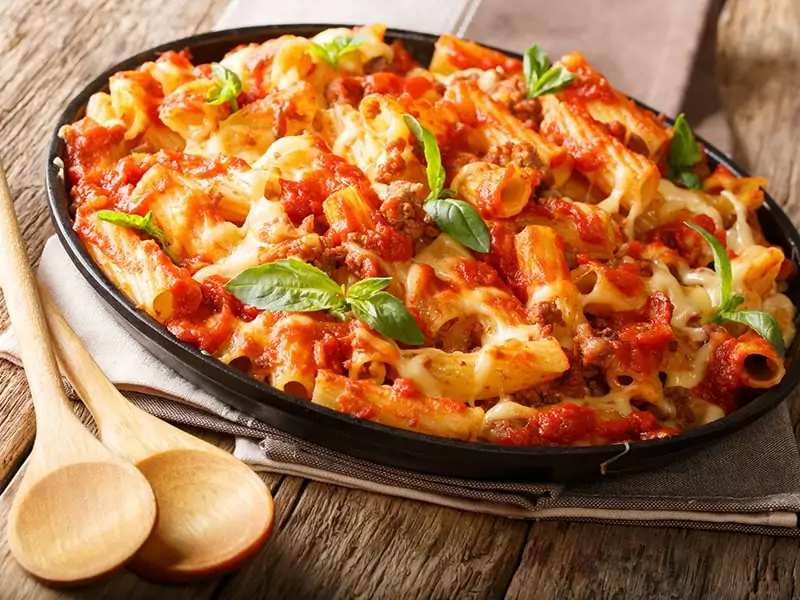 3. Zest
I immediately think of a food ingredient with the distinctive character of intense lemon/citrus flavor and a slight bitterness when it comes to zest.
Zest is the thin peel skin of citrus fruits, such as lemon, orange, citron, and lime. It has a shiny, bright color that could be used to garnish or season in your meal. People can use the whole citrus fruit, usually by grating its skin for zest and squeezing its carpel with luscious vesicles for juice.
When you want to add a zingy, sweet citrus flavor to food, the juice is good, but the zest is even better. It has natural oils that will impart way more flavor than you'll get from juicing. Freshly-grated orange, lime, or lemon zest can upgrade your dish to a new level of cuisine.
Zest is often used to add flavor to different sweets and pastries, such as chocolate, candy, puddings, biscuits, cookies, cakes, and even yogurts and ice-creams. Zest also is added to certain dishes, lime chutney, lemon pickle, salads, sorbets, sauces, and marmalades.
Zest not only has a great taste and aroma but also has an eye-catching color, so it is often added to cocktails and wine.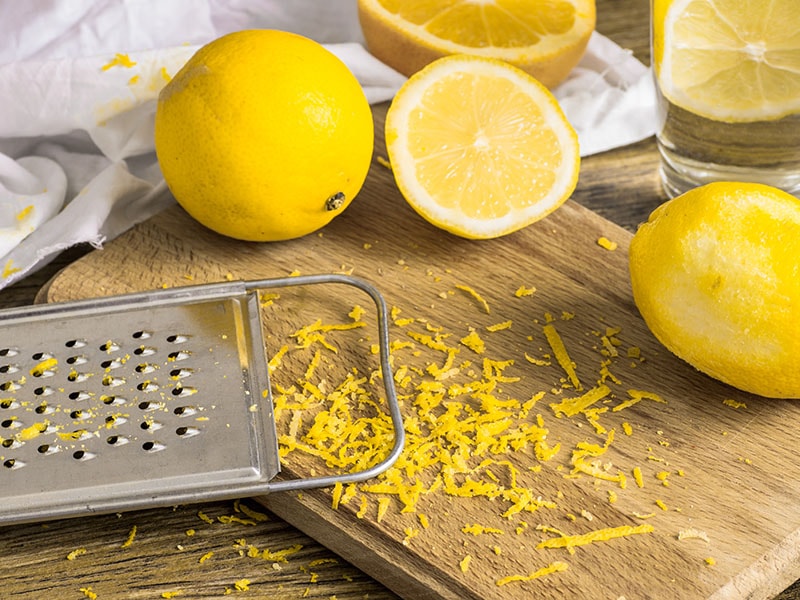 4. Zeppole
Zeppole are Italian doughnuts. You would see Zeppole most frequently on St. Joseph's Day in Italy, also called the Italian Father's Day. Although Zeppole is a classic dessert in Italy, it's not uncommon to serve them for breakfast. The Italians really know how to enjoy life, huh!
If you have a chance to come to Italian, especially during the carnivals or festivals, you should try this Zeppole in small paper bags covered with a lot of powdered sugars or Cinnamon sugars. I promise you, the experience is so much more fulfilling.
Zeppole is made from pate choux dough. You could taste this same dough flavor in Cream puffs, Eclairs and Churros.
One tip for you if you want to make Zeppole is to taste the doughnuts while frying. If you see the skin is golden, crispy and the texture inside is tender, then you know the result is perfect.
This pastry is one of the fluffiest doughnuts I had ever tried, like tasting a balanced, foamy cloud. These little doughnuts are such a delectable treat with a coat of sugars (powder sugar, cinnamon sugar, granulated sugar).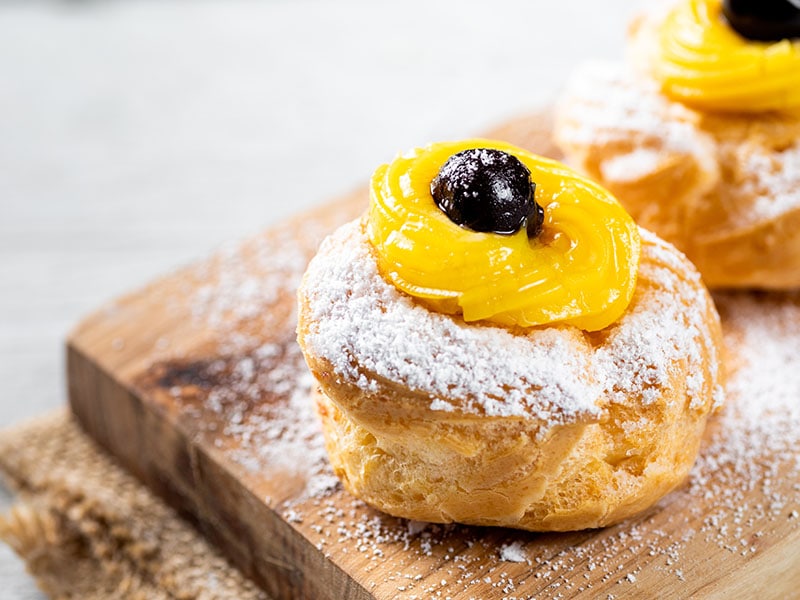 5. Zwiebelrostbraten
What is your first impression of this dish? Probably the odd name, am I right? So yes, this dish does not originate in the United States. It actually came from Australia, and it means roasted beef in onion sauce.
Beef is one of the most popular foods in Australia. But you don't have to be the Australian to fall in love with the Zwiebelrostbraten. And what ingredient serves best with meat? My answer would be onions.
The secret of this dish lies in its mouth-watering sauce and the fried onion rings. I mean, the quality of the meat does bring a tremendous effect on the taste of the dish, but that's not the critical element that makes Zwiebelrostbraten shine.
You don't need to have high-training chef skills or a list of complicated ingredients whose names are trying to sound weirder to feel high-end in order to cook Zwiebelrostbraten. All the ingredients can be found in the supermarket.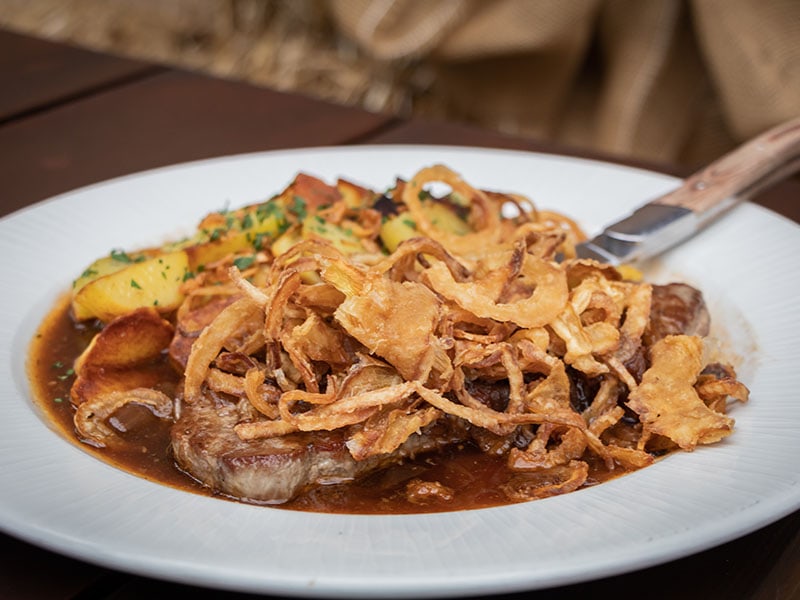 6. Zimtstern
A Zimtstern is a star cookie, which comes from Southwest Germany. It's ubiquitous during the Christmas holiday. I can guarantee you; the holidays won't be the same in Germany if you don't pack yourself with some of these little Zimtstern cookies.
These Zimtstern cookies (cinnamon stars) are among my favorite things during the Christmas holiday, even when I'm not a German. Look at the shiny little stars in a tiny, warm store with tons of lights and magic; I mean, who can say no to that?
But what I love most about these cookies is not because of their attractive appearance but more of their fantastic taste and easy-making process. It was made almost entirely of ground nuts (almonds or hazelnuts) with a thick layer of sprinkling cinnamon.
Since it is more prevalent in Germany, it's pretty tricky for me to find those Zimtsterns in American stores. But that's not the problem because it's effortless to make yourself a tray of these Christmas cookies.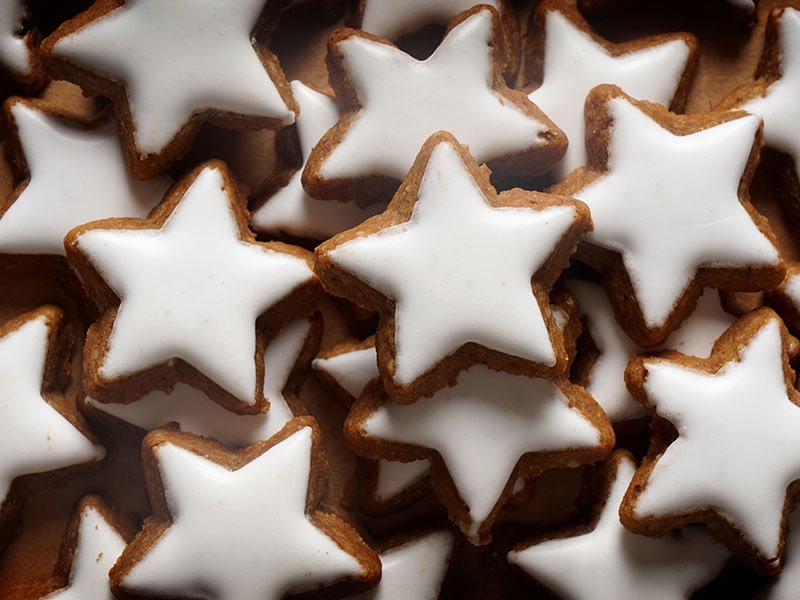 7. Zinger Burger
The Zinger is chicken breasts, or thighs fried patty placed between two slides of a hamburger bun, served with lettuces, mayo sauce, and a lot of cheese. Zinger Burger is made by KFC (short for Kentucky Fried Chicken). The Zinger burger is the first fried chicken sandwich to be made by hand, daily in-house, and has been in the works for years.
Zinger burger has already existed in over 120 countries, and in most of those countries, it's still a star on the menu. According to the KFC statement, the Zinger burger is made with 100 percent real chicken from farms without any antibiotics.
Zinger burger is the main reason explaining why I still stick to the KFC until this day, among the intense competition among the Big Four — KFC, McDonald's, Burger King, and Wendy's. I love everything about Zinger, from the eye-catching outlook and the particular smell to the perfect combination of all ingredients and the after-taste.
"The burger boys sell over 2 billion of these fried chicken sandwiches a year," which is what KFC president Kevin Hochman says in an interview. And now, the Zinger burger can surprisingly beat the burger boys in terms of its quality and taste.
That's quite solid proof for us – as loyal customers to the KFC that they can bring a delicious and quality dish at a reasonable price so we can enjoy the fullest experience when eating at the KFC.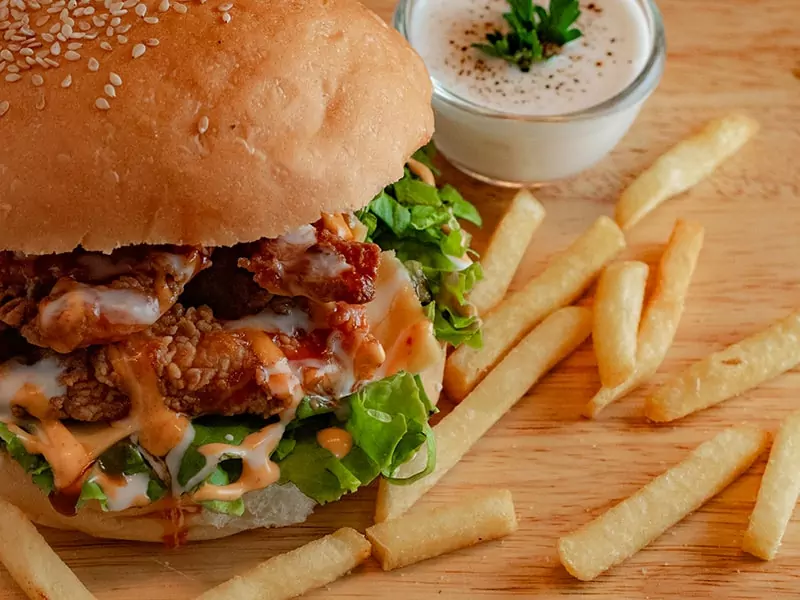 8. Zuccotto
Zuccotto – one of Italy's most popular chilled desserts, is made from Alchermes, cakes, and ice creams. Zuccotto translates into the Italian language as "a little pumpkin". That's why the shape of Zuccotto is similar to the pumpkin.
As being said, I can assure you, the Zuccotto is much more delectable than a pumpkin! The dessert is originally from Florence, started out as a chilled dessert made with an Italian Sponge Cake, the Liquor Alchermes, and a creamy Ricotta filling.
With its soft, heavenly sponge cake texture combined with its foamy, buttery cream and its sweety after-taste, all of these details make Zuccotto one of the best cream cakes ever. The best thing is, Zuccotto is chilled and fresh, perfect for the summer or even in the middle of the Winter on Halloween day!
Whenever I'm in a bad mood, a Zuccotto can save the day. That's why I tried to make this cake to indulge myself when rainy days pass by. Compared to its simple look, this dessert is pretty tricky and complicated if you're not familiar with making cakes (like me).
However, I tried to make this cake once in the past to celebrate my first Halloween with my ex-boyfriend. It turned out not as I expected, but still, it's worth trying! If you or your friends don't know what a Zuccotto is, you should eat this dessert at least once in your life!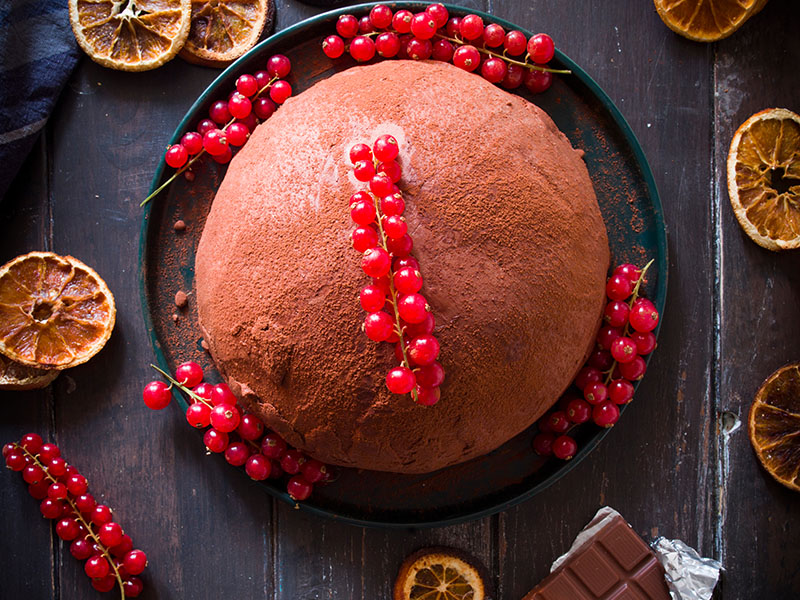 9. Zesty Doritos Snack
These Doritos – the Zesty Cheese Doritos snack-are slightly different from the standard Nacho Cheese but still keep the typical Doritos shape and its distinctive orange color.
Each Zesty Doritos chip is made with a combination of parmesan and cheddar flavor, mixed with a delicious tangy kick. The surfaces had more bubbles than the original Doritos.
I usually replace popcorn with this Zesty Doritos during movie nights when I want to change the taste a little. It does boost the mood a little, and I guess it's just me being addicted to this flavor.
I like the package of this Zesty Doritos. To be honest, I'm not a fan of orange color. I'm more like a monochrome type of person. But there is something about this package that unexplainably attracts me. Maybe I'm just so into its taste that I can temporarily love all of its appearances.
Its taste is a little bit different from Nacho Cheese. The smell is more pungent, in my opinion. The chip came crispy and crumbly whenever I took a bite. Everything is great, except that I have to order online for this small package of snacks. I don't know why they don't sell it here in the US. But then again, the eating experience is eventually worth the wait.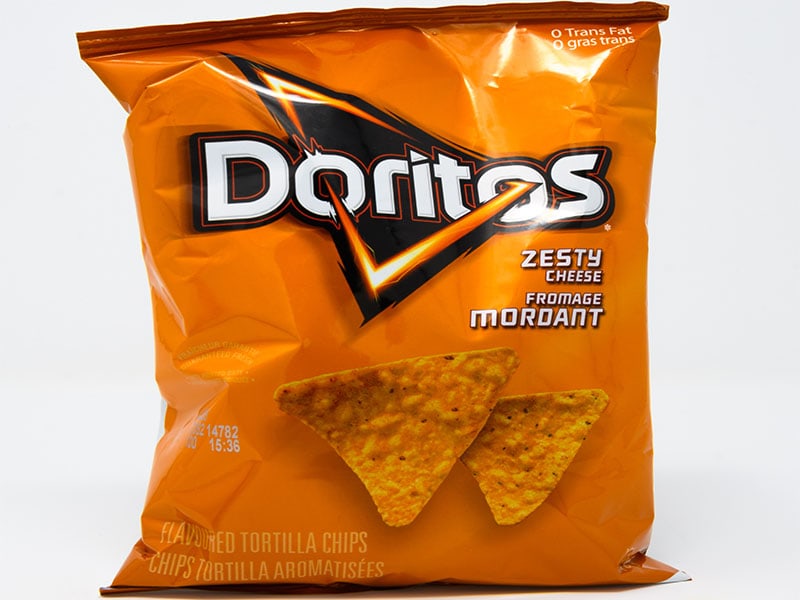 10. Zebra Striped Donuts
I have to admit that my greatest store-bought guilty pleasure is a Zebra striped donut. I'm crazy about these donuts. I love the soft yellow cake filled with a marshmallow creme on the inside, covered in vanilla icing sugars, and topped with their signature chocolate strips that are the same as the classic zebra.
The best part is that they usually come packaged in a pair, so you have to eat both right away in one sitting. If you ask me the perfect balance for any dessert, my instant answer would be the Zebra striped donuts.
Plus, you can make Zebra striped donuts at home simply and quickly. With just a few simple ingredients, you've got these lovely donuts.
The tricky question is, how to keep these cute Zebra striped donuts in a stable condition for a few days (ideally two days maximum). The answer depends on the type of donuts. With the Zebra striped donuts, you let them stay at room temperature instead of putting them in the fridge like other donuts.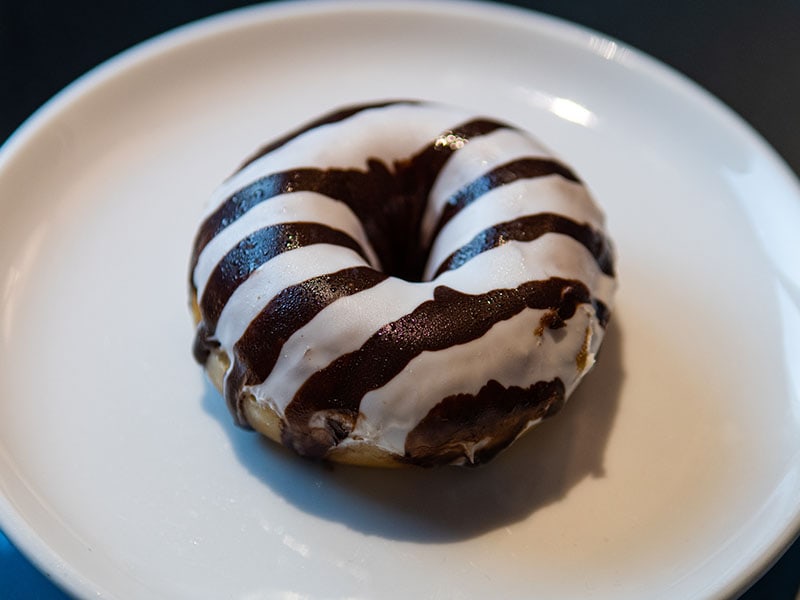 11. Zebra Meat
Zebra meat is a type of red meat with medium protein and distinctive flavors. It has a massive demand in the US.
It also has some healthy characteristics: low in fat, low cholesterol, and high protein. Like many high-protein types of meat, zebra is packed with zinc and omega-3 fatty acids that improve heart health and help reduce high blood pressure, maintaining the immune system and muscle repair.
The best way to eat zebra meat is in thin strips cooked over a hot stone, so it becomes easily digestible. Or zebra meat can be served rare to medium for best results, be careful not to overcook as the meat will quickly dry out.
One exciting fact about Zebra meat is the leanest source of animal protein. If you are on a diet, you must be familiar with this type of meat, or at least you should.
For those people who can not stand the smell and the taste of zebra but still want to eat it for the sake of health, you can buy the zebra sausage, the jerky zebra to reduce the intense character of the zebra meat.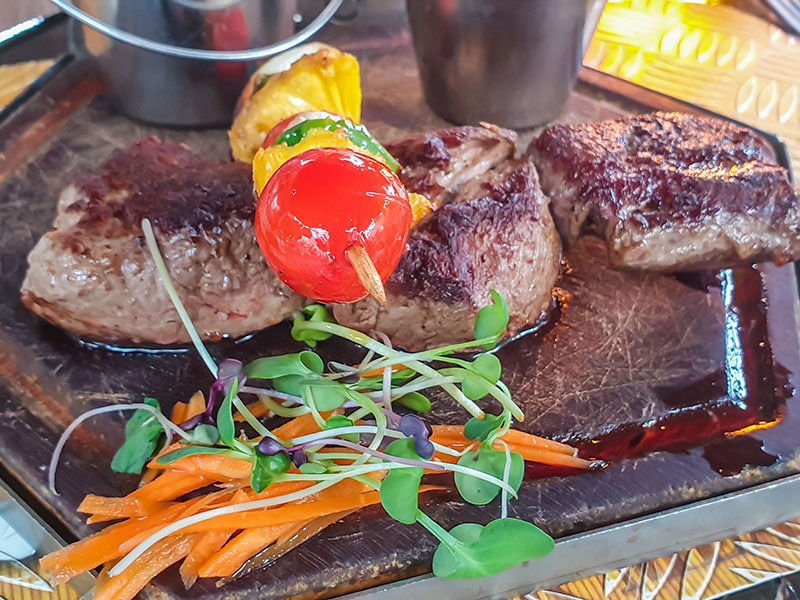 12. Zaatar Spice
Zaatar Spice is a flavorful Middle Eastern spice blend used in many dishes throughout the Middle East. Nowadays, Zaatar spice has become more and more popular in America since it's so flexible.
Zaatar has a really complex flavor since it's a combination of many different ingredients. In a small batch of Zaatar, you can find the dried oregano or thyme (the greener the better since it shows the freshness of the herb), the marjoram or the sumac (which brings the tangy and acidic taste), and some toasted seeds that are slightly crushed. Salt is optional.
Zaatar can be used to season vegetables or meats. This is why you'll sometimes see zaatar used as a replacement for poultry seasonings. You can also sprinkle this herb on hummus to increase the flavor.
However, the applications for zaatar don't just end there. People eat Zaatar with Labneh (Strained yogurt) or serve with bread and olive oil in some countries. Sometimes, I even find the signature Zaatar taste in some soups and dressing salads.
People love Zaatar not only because of its flavors but also its health benefits. Some of essential benefits are improving our immune systems, taking care of our skin, enhancing our brain functions, and even lifting our moods. You'll be hard-pressed to find a savory food that doesn't benefit from some Zaatar.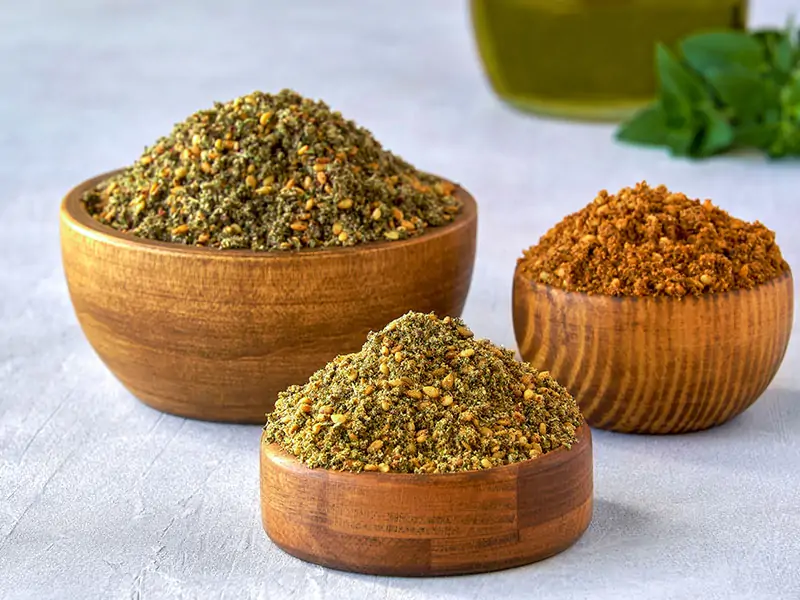 13. Zander
The zander is a freshwater fish that comes from Eastern Europe. The meat of Zander is firm and tender, which brings the same level of deliciousness as any other high-end fish. You can find Zander most frequently at the lakes or rivers, especially in France and North America.
Zander is served best when you grill, bake or fry. You can eat this fish with vegetables to balance the taste and add freshness to your dish. I enjoy Zander with soup and a bowl of parsley and cucumber salads.
I'll give you some interesting facts about Zander. Zander lives longest for approximately 17 years, and it's typically fully matured at the age of four. Particularly in Finland, there is a law that allows people to eat Zander until it grows up to a certain size (which shows that the fish is matured enough to be consumed)
This fish is beneficial for both mental and physical health development. One incredible thing about Zander is that it has intensely low-fat content but still contains much helpful protein at the same time. It provides vitamin B1 and B2, which help improve the nerve system and metabolism.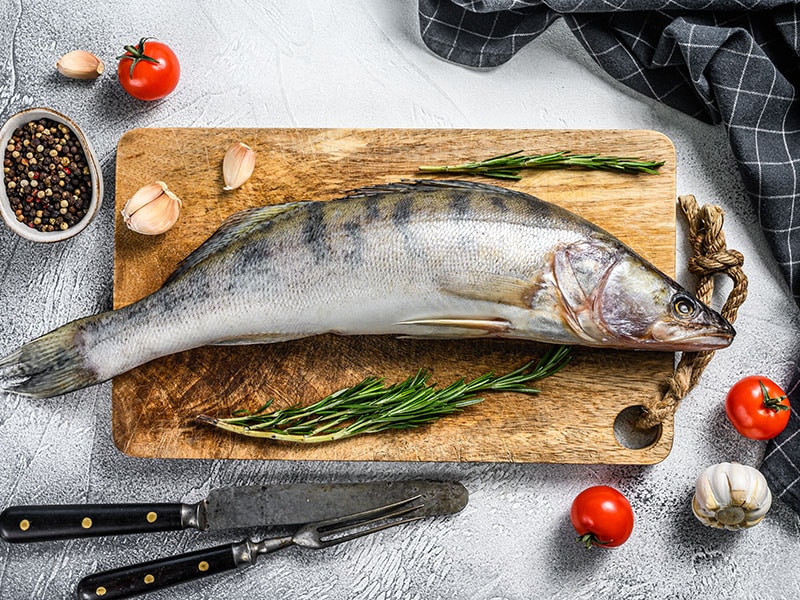 14. Zabaione
Zabaione is one of the most basic yet delectable desserts of Italy. With three simple ingredients: egg yolks, sugar, and Marsala wine, you can make yourself a traditional Zabaione to enjoy whenever you want.
Suppose you want to add more characteristic flavors for this dessert. In that case, you should consider a few drops of vanilla, ground cinnamon for sweetness, and grated citrus fruit (zest, for example) for a more balanced taste.
This egg and sweet wine cream are particularly popular during Christmas and Easter time. It is perfect with traditional cookies like Savoiardi and Amaretti, with berries and chocolate or heavy cream for the toppings.
Let's treat your loved ones to this classic Italian dessert. It's so simple to make and incredibly tasty and elegant. Let's spend your Sunday making this dessert and comment for us on your results. We love to see your cake and listen to your opinions.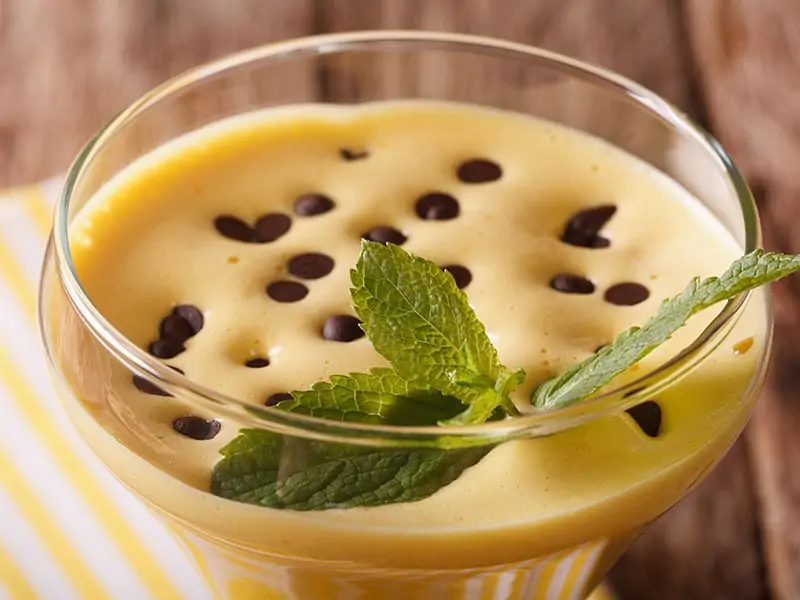 15. Zinfandel Grapes
Zinfandel is a black and blue-skinned grape variety that's most notably grown and incredibly popular within the United States, but this is a food that originated from Croatia. You can find Zinfandel grapes mostly during the Fall.
People usually use Zinfandel Grapes for wine, especially red wine or "white zin". Due to its high-sugar sources, it elevates the level of alcohol in wines up to 15 percent. The ripeness of this Zinfandel Grapes also notably affects the taste of the wine.
Zinfandel grapes are terrific sources of vitamins A, C, and K. This fruit beginning with Z is not only good for our skins, eyes and keeps us hydrated, but it is also very flexible with applications.
You can taste Zinfandel grapes in wines or cocktails. Some people slice those grapes and put them in salads. Others prefer jellies and jams with the Zinfandel grapes flavors. Moreover, this fantastic fruit is also used as a decoration for cakes or creams. The best thing is, it can serve well with tomato-based cuisines such as pasta or pizza, hamburgers, or barbecued meats.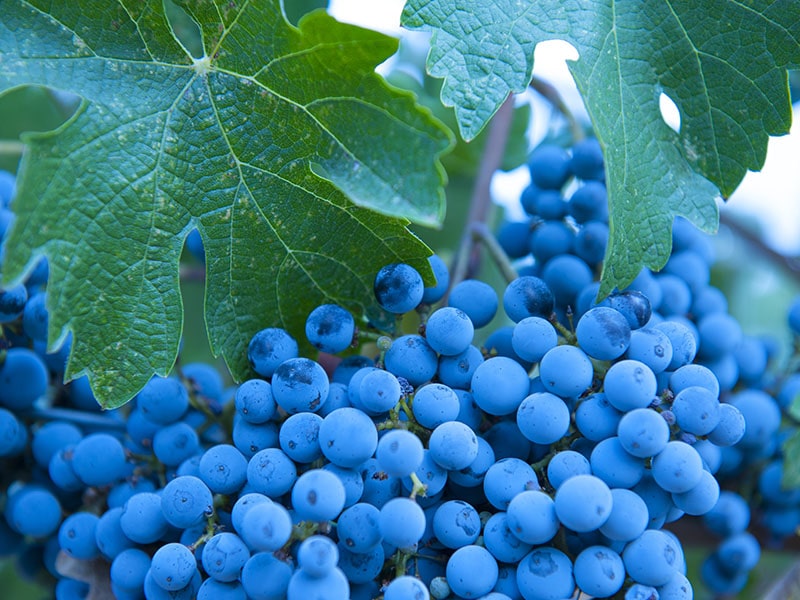 16. Zerde Dessert
Boasting a vibrant yellow color, this delectable treat from Turkish cuisine is a sweet pudding made from rice and garnished with saffron or beans. You can see this dessert mainly at weddings or birth celebrations or in many Turkish restaurants.
It's incredible to think of Zerde as a very yummy dessert that is easy to make but at the same time a good food source for health because it contains many nutritions and is super low in fat. And of course, we can not ignore the saffron – one of the most expensive spices in the world is also doing us a favor in improving our health.
The main ingredient for this dish is rice, but the main clear yellow color comes from the saffron soaked in the rosewater (this can be done the night before), and a bit of turmeric.
This pudding might be one of the most healthy and delicious desserts on earth. When serving, keep it cold and garnish it with saffron or other toppings, such as groundnuts, beans, or fresh pomegranate seeds.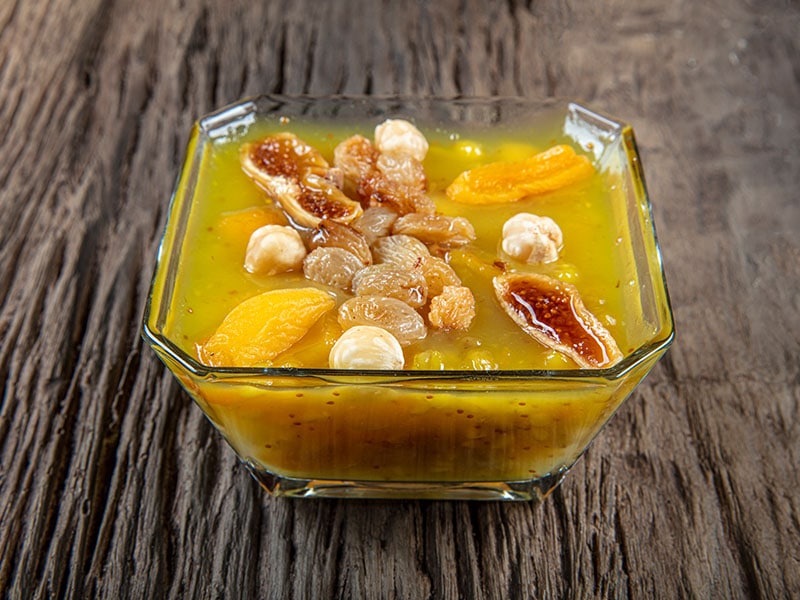 17. Zopf Bread
You might not be familiar with the bread's name, but when you look at the picture, your memory might be triggered by the well-known braided shape and the particular yellow color of the famous Zopf bread – the Switzerland national bread.
Zopf is the short version of Butterzopf that Americans usually call this bread. In French, people call Zopf under the name Tresse and Treccia in Italy. In Swiss where the bread was born, Zopf also has another name called Züpfe.
Each place has its creative expression, but the bottom line is, they all have the same thing: It's made from flour, yeast, sugar, milk, salt, eggs, and a whole lot of butter; it has the braided form, the irresistibly buttery smell, the golden crust, and a hollow but soft texture inside.
Zopf is perfect from its flavor, its structure to its appearance, and its aroma. Traditionally, people pick Zopf for breakfast served with fruit jams or chocolate sauce. While enjoying that sweet breakfast, have yourself a cup of hot tea to balance the taste and start your day wildly!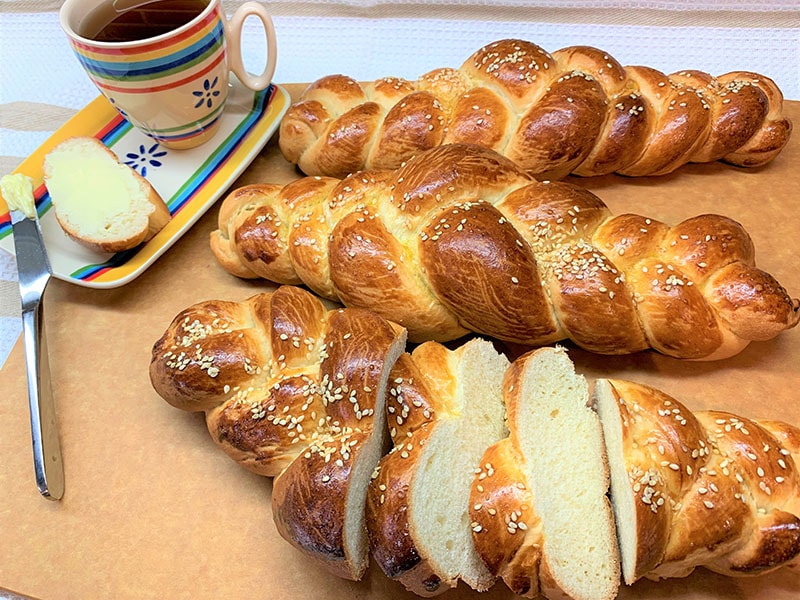 18. Zarzuela
Zarzuela is the abbreviation of the Zarzuela de Mariscos – a shellfish and seafood stew that originated in the Catalan coastal – Spain. It has the alluring orange color, the piquant mixture of many kinds of seafood, the rustic and pungent smell that you could hardly say no from the moment you see this dish.
People fill and cook Zarzuela with fresh fish and vegetables; season with herbs and spices; immerse in the tomato-based broth. The combination turns the stew into a rich, hearty, cozy cuisine perfect during the winter or on rainy days.
The reason why Zarzuela is top-seeking Spanish seafood lies not only in its exquisite looks and pleasing tastes but also in its considerable health benefits. Needless to say, the advantages of seafood is prominent
Since it is very flexible, you can add any fresh fish, shellfish, and seafood available to you. The more you add in, the better the taste. For a more smoky, rustic flavor, you can add thyme or rosemary for garnishing.
The one fixed thing is don't forget to mix the ground almonds in the soup because without almonds, Zarzuela is not Zarzuela anymore.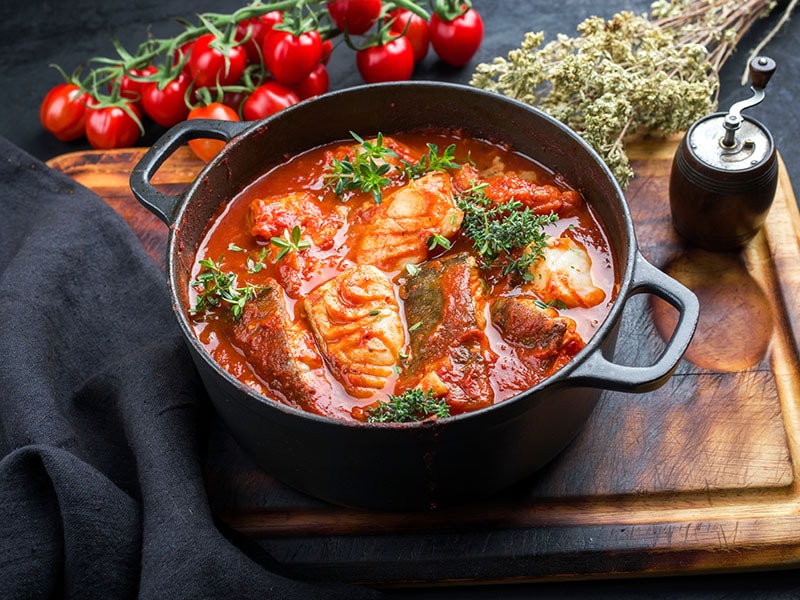 19. Zoni Soup
Zoni, often goes with "o," as in Ozoni, is a traditional Japanese culture soup that people usually eat during the cold winter days or celebrate the New Year. The main ingredient in this soup is mochi rice cakes. Other elements include vegetables, dried foods, seafood, all in the Sumashi-jiru clear stock soup.
As with any other Japanese cuisine, the cooking process of Zoni soup is meticulously prepared. There are two types of Zoni soup based on religion: the Kanto style and the Kansai style. The difference between them is the shape of the mochi and the taste of the soup.
The appearance of this Zoni soup also tells a lot about the Japanese style. To have a more elegant and attractive bowl of soup, people usually cut the vegetable in flower shapes or any other form that looks interesting. The color in the soup is also in harmony with the taste, not too bright, but not that plain.
If there is one thing you have to try about the Japanese culture, I suggest you eat this Zoni soup. I promise you; it'll be worth the wait.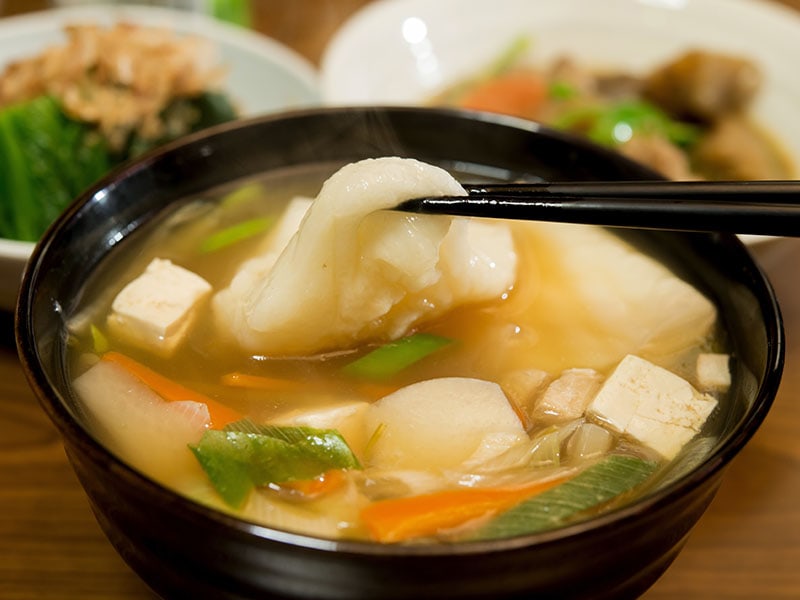 20. Zwetschge
Zwetschge is actually a German word, referring to a fruit that we usually call the Prune plum. This fruit has many names, such as blue plum, damask plum, sugar plum, European plum, Gage, garden plum. But it all means a fruit that is one of the genus Prunus of the Rosaceae family.
These Zwetschge fruits are available during August and September in the Northern Hemisphere. It's used to create flavor in desserts, jams, smoothies, cocktails, and even salads.
Since the Zwetschge prefers a sunny, well-drained, fertile soil, it's usually cultivated in Southwest Asia. The color of this fruit changes as they grow, from green to red or purple-black or golden yellow.
Believe it or not, this small, decent fruit has tremendous health benefits, from preventing cancers to improving Cardiovascular Health. It's also very tempting with its delightful aroma and its sweet, tart taste.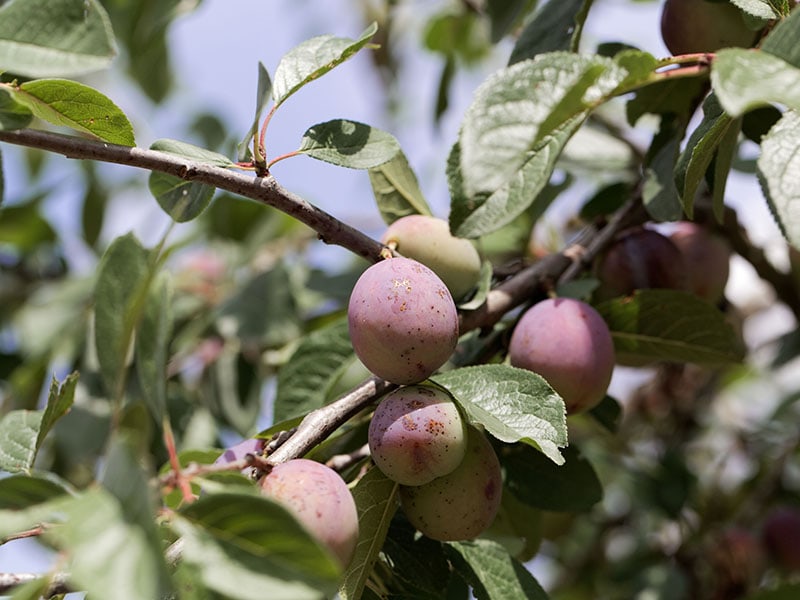 21. Zereshk Polo
Maybe the first reaction of anyone when they see this cuisine is amazed by the outstanding colorful appearance from all the ingredients. Zereshk Polo is a reputable Persian dish that is both easy enough to make and nutritious enough to enjoy every day.
Zereshk Polo is the perfect combination of the three main ingredients: chicken (thighs or breasts), Barberries (fruits that are usually called Zereshk in Iran), and Persian steamed rice (Polo). People usually savor every bite of Zereshk Polo with a salad bowl or a particular soup, such as Soup é Jo.
If you come to any fancy restaurant in Iran, there is a high chance you will see "Zereshk Polo" in the list of food names on its menu. This traditional food of Iranians might sound strange to you, but it certainly can be seen anywhere in Iran.
Even though it's a little challenging to pronounce the correct name of this dish, it's satisfying to enjoy this cuisine. The harmony among the tenderness of meats, the sweetness of red Zereshk berries, and the fluffy, chewy little grains texture of the rice makes Zereshk Polo deserve a place in your bucket list.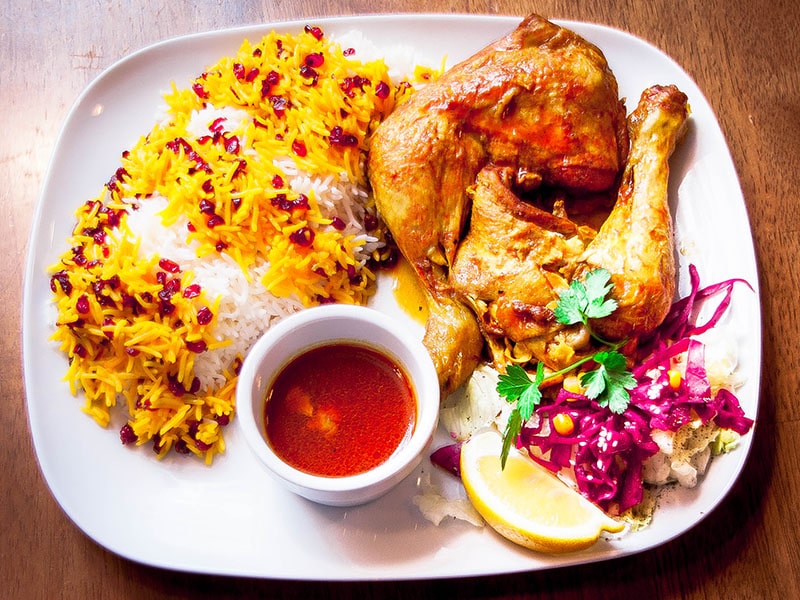 22. Zwieback
Zwieback is a type of hard and dry bread that comes from German. Zwieback is made from three usual, standard ingredients: flours, eggs, and sugars. As you can probably guess, it's crisp, sweet, and smells so good.
Zwieback has two types: one is served as soft rolls, the other is served as crumbly, crispy little slices of bread. I prefer the later version since it's tastier and more of a sweet-scented smell.
The "Biscotte" in French and "Fette Biscottate" in Italian are pretty the same as Zwieback: same taste, same smell, same origin.
One tip that I think is pretty helpful to anyone who read this article: if you have a stomach ache or you are not feeling good with your belly, Zwieback can be the first solid food for you to eat.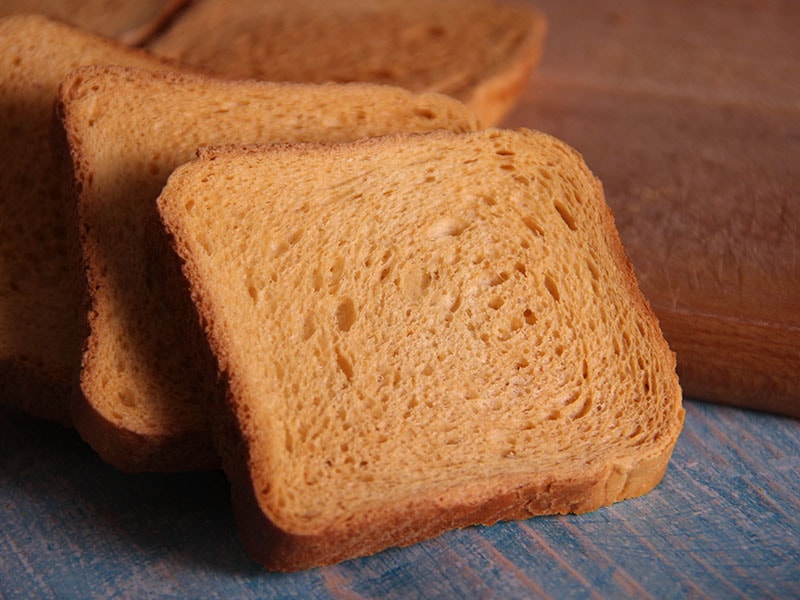 23. Zhe Fruit
Zhe or Che is a fruit that natives to East Asia (mainly in China, Japan, and Nepal), familiar with the scientific name as Cudrania Tricuspidata or Maclura Tricuspidata. It's a small, round fruit with bumpy and wrinkled skin.
The flesh of Zhe fruit is crunchy, firm when it's immature and soft, semi-chewy when it ripens. You would see a lot of Zhe fruits during the fall and winter. Zhe fully grown fruit is sweet, juicy, and fresh when you eat it straight.
Zhe fruits bring many health benefits. Like any other typical fruit, Zhe provides vitamin C, which improves the immune system and reduces inflammation. Some micronutrients in this fruit are also healthful.
Besides, you can blend Zhe with milk to make smoothies or slide and put it in lemonade juice. Zhe fruits are one of the key ingredients for wine and cocktail flavors. With desserts, people use Zhe fruits often for topping. Dried Zhe fruits are used to make jams and jellies. Due to its health benefits, some people put Zhe fruits in salads.
Although you might think they are like mulberry if you look at Zhe fruits, they are not actually one of the mulberry members.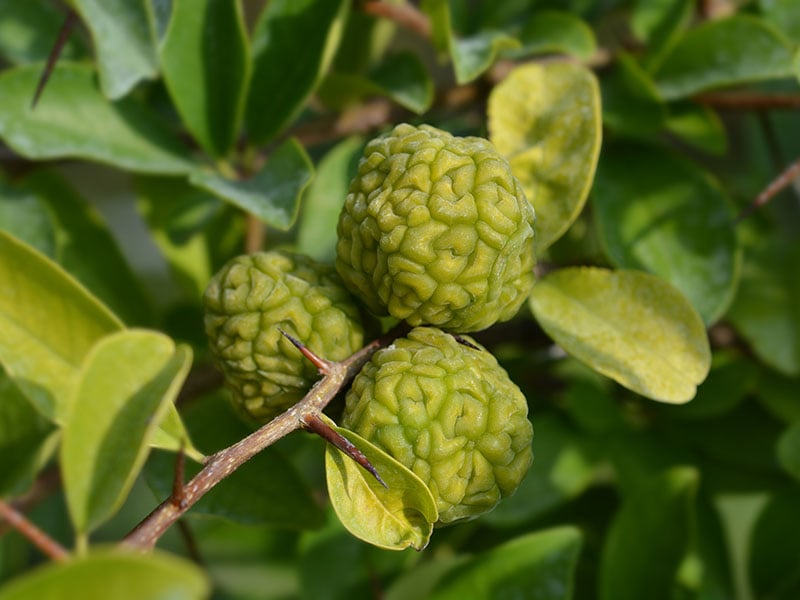 24. Ziziphus Fruit
Anyone who has tried this Ziziphus fruit before should agree with me: Ziziphus Fruit is a magic fruit since it's both delicious food and useful medicine.
Ziziphus fruit has a crispy texture with a mild flavor. You can eat this fruit freshly picked, or dried up in jams, or cooked in soups. Because Ziziphus is not common in the US, you might find it's hard to see this fruit in American supermarkets. Instead, you can buy this in some Asian stores.
Besides their unique taste, Ziziphus fruits are famous for their herbal medicine, health food supplements, and skincare products. Ziziphus fruits offer tremendous nutritional benefits, such as fiber, vitamin B, C, and some valuable acids.
Even though there is no proven scientific evidence to support these health conditions, people still traditionally use Ziziphus for dry skin, diabetes, insomnia, anxiety, or high cholesterol levels.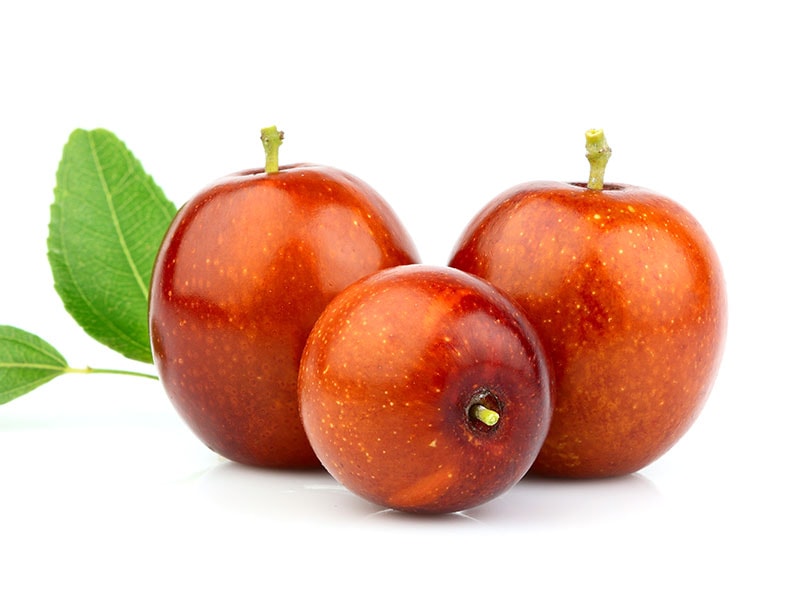 25. Zuppa Toscana
Zuppa Toscana is a beautiful dish that contains Italian sausage, bacon, potatoes, chicken broth, onion, garlic, and kale. For the topping, Zuppa Toscana usually has cheese and cream for a more extra creamy flavor.
I don't know about you, but the moment I saw this dish, I immediately fell in love with the silky, smoothy soup with a little touch of bacon in pieces. I also love the lovely color mix from all the ingredients. Everything about Zuppa Toscana soup is not outstanding, but somehow it makes me feel at home.
One ingredient that you must never forget when making this soup is garlic. I say 10 large cloves of garlic for one serving, yes, but don't worry that you will be overwhelmed with the smell and taste of garlic because it perfectly harmonizes with other ingredients.
Zuppa Toscana is a very healthy food because it is gluten-free and grain-free. However, if you add too much heavy whipping cream and cheese for topping, you will do many exercises to make up for the huge calories you just take in.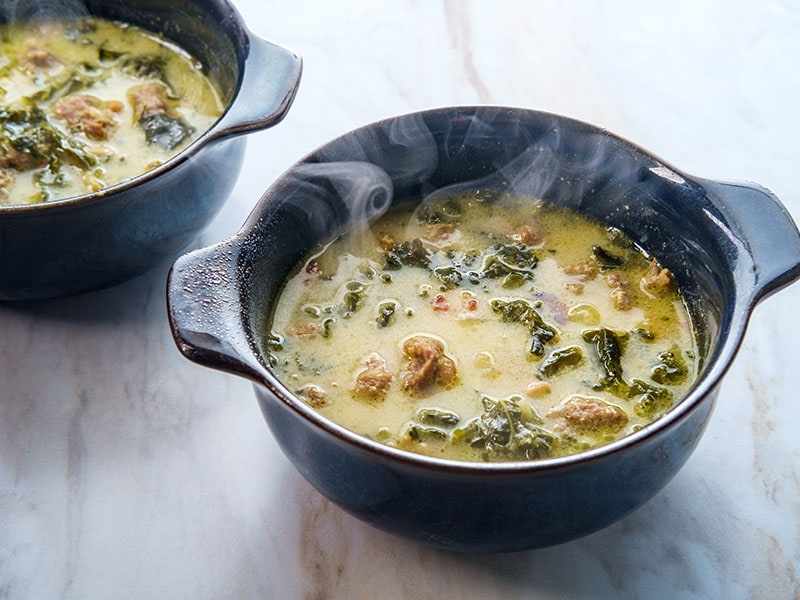 Any Interesting Food Ideas About Foods Begin With "Z"?
I have countless ideas with foods that begin with any alphabet letter that I can't wait to share. This "Z" letter is one of my favorite ones, so I really appreciate your efforts if you can read till this line.
If you have more ideas on this topic, please comment down in the box. I love nothing more than hearing feedback and opinions from you guys. If you have any questions, just let me know. I'll use all resources to help you figure it out.
Thanks for reading my suggestion! Please subscribe and follow us to receive even more exciting articles!