It is time to finally learn the ziti vs. penne differences. As pasta is one of the most delicious and comforting foods for your Italian-styled dinner, it is worth learning more about it.
Over the years, I perfected my pasta cooking skills, so I want to share my knowledge to help you become a pro yourself.
There are multiple varieties of pasta, over 100 if you add the differences in length. Ziti and penne are widely available, and they are similar at a glance.
However, a closer look reveals differences that skilled chefs know to utilize to get the best out of their meals.
Ziti and penne are basic pasta shapes, and you can get them in every supermarket, and make them at home as well. They don't only differ in shape and length, there are more differences worth mentioning.
Join me on this pasta trip and you will maybe get an idea of what to cook for dinner!
Before we move on to the differences and best recipes for ziti and penne, let's learn more about their history. That way, you can share some historically accurate trivia next time you cook for your family!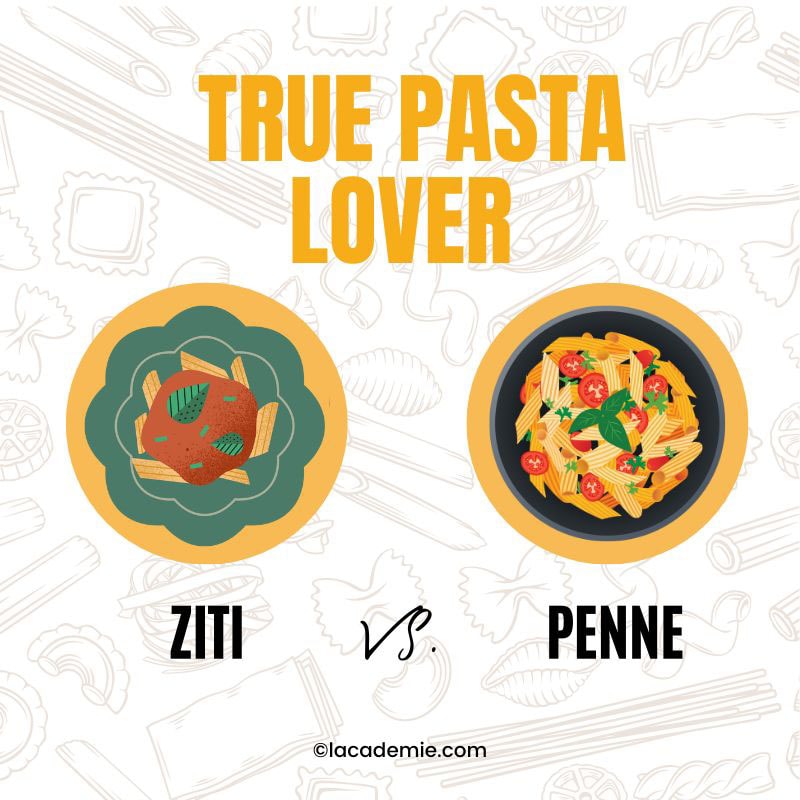 Origin Of Pasta
Nowadays everyone associates pasta with traditional Italian cuisine, but some other nation we have to thank for this marvelous food.
Many historians agree today that the pasta we know today has roots in traditional Chinese noodles. However, when you compare noodles and pasta, you will realize they are two different dishes, despite their shared origin.
The word pasta refers to food made from ground durum wheat, egg, and water, cut in different shapes. Traditional Chinese noodles don't use durum wheat, which is dried gluten.
The preparation process includes making dough from the basic ingredients, pressing it, cutting in the desired shape, and cooking with different sauces.
However, we have to thank Marco Polo, who is believed to have brought pasta to Italy several centuries ago. Still, some historians disprove Marco Polo's involvement in pasta popularization in Italy. Whoever brought the pasta to Italy, many people thank him to this day.
Italians perfected and came up with delicious recipes to cook it. During that time, the Americans have developed their love and interest in the three-ingredient food.
Types Of Pasta
Pasta comes in many shapes and lengths, including basic shapes such as ziti and penne. However, the different shapes are invented just for the appearance.
Chefs noticed that different shapes hold specific sauces better than others and developed suitable recipes for them. For example, long flat pasta is best for creamy sauces, while pasta with rigs or hols is suitable for vegetable and meat-based recipes.
Some are best when cooked in boiling water, while others are perfect for baking or stuffing.
Ziti and penne are suitable for a variety of sauces, but still, learn their features and uses in traditional Italian cuisine.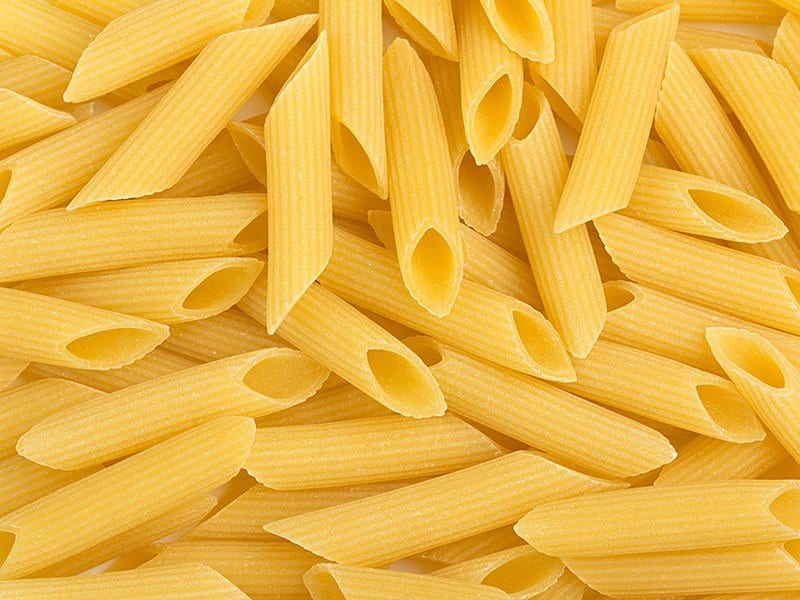 Fresh Or Dried Pasta
Now, we are moving on to some pro tips and information about pasta. The pasta you can get in the supermarket, packed and ready for cooking is dried pasta, prepared in factories and with low moisture content. It allows it to remain in its shape for longer and stay fresh when packed properly.
Also, dried pasta often isn't made with eggs, but with different flour types.
Opposite, fresh pasta is tender, contains eggs and more water than dried pasta, so it needs less time to cook.
While you can store dried pasta almost indefinitely at room temperature, fresh pasta needs to be stored in a refrigerator.
For me, fresh pasta tastes better, and if you have ever watched culinary shows, you might have noticed that every professional chef makes fresh pasta with a pasta machine.
If you have one at home, ensure you use and clean your pasta maker correctly to keep the best quality for your fresh pasta. However, if you lack skills, time, or tools, dried pasta can be perfect.
Ziti and penne are often used dried, because of their specific shape. Pappardelle, oreccihette and ravioli are best when cooked fresh.
Ziti Vs. Penne – The Primary Differences
Ziti and penne are cylindrical and hollow pasta types. They are moderately large and easy to use for sauces with meats and vegetables. Both are delicious. But, how do ziti and penne differ? Let's find out!
Origin
Even though pasta comes from China, Italians developed the art of pasta to unprecedented proportions. Ziti pasta is developed in Italy, more specifically in the Sicilian region.
The worldwide known dish with ziti, highly popular in the US is baked ziti with tomato sauce and cheese.
On the other hand, there is more information about who invented penne. A pasta maker from Genoa, Giovanni Battista Capurro created penne in 1865, after building his diagonal-cut machine.
His patented machine was able to cut penne in size from 1 inch, and 2 inches. The 1-inch penne was called mezze penne or half pens, while longer, more common 2-inch were called just penne.
The most famous dish with penne is Penne alla vodka. This is when it gets interesting, some historians believe that an American from Columbia University has developed this delicious meal with penne, cream. Therefore, the Americans are to thank for the popularization of the Italian-originated pasta penne.
Watch this video to know more:
Appearance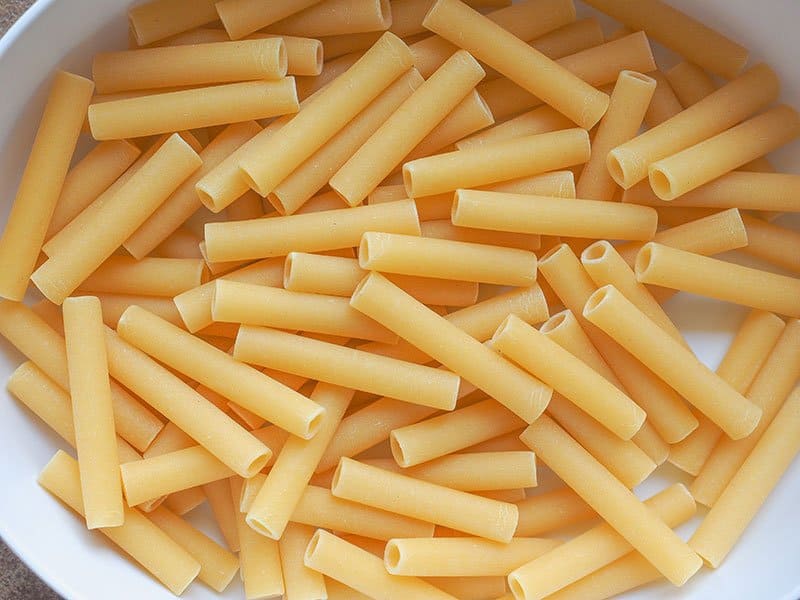 The shape is probably the easiest way to distinguish these two pasta types.
Ziti and penne are pushed through tubular shape in the creation process in a pasta machine. Therefore, they have circular, hollow shapes. Therefore, ziti and penne have almost the same diameter and have similar lengths.
The average length of penne is 2.12 inches, while ziti is slightly shorter with 2 inches in length. The width is the same 0.4 inches, while wall thickness also varies. Ziti is slightly thicker with 1.25 mm, compared to 1 mm thick wall of penne.
However, these differences are not visible to most people. What is the most significant difference is the cut shape and the texture.
Ziti pasta has square angles, so they look longer and perfectly tubular.
Penne pasta is always cut at a sharp angle, so they look different.
Additionally, penne has ridged texture on the outside in most cases, but you can find smooth penne in specialized stores.
Ziti always has a smooth texture, which makes them soft and creamy when cooked. Because of the ridges, penne pasta retains a hardy texture even after cooking.
Watch this video to know more:
Variations
The word penne originates from the Italian word meaning quill. The pasta got its name by its looks because the tubular shape enables the sauce to be dragged into it.
The two available variations of penne differ in structure.
Smooth penne are called lisce, while ridged, more available and more common are rigate.
Penne rigate is sturdy, while the lisce version is softer.
Ziti, on the other hand, is always made in the same shape and size, there are no actual variations to this pasta type.
Cooking
Ziti and penne have different uses in recipes. Ziti is mostly used in baked dishes, which request to use them undercooked to avoid mushy pasta. If you cook ziti all the way through and then bake them in cheese and sauce with ingredients, ziti pasta will lose most of its texture and end up too soft, almost muddy.
For baked dishes with ziti, boiling them in water for five minutes is enough. They will get completely cooked in the oven. Make sure to drain ziti well and toss them in hot sauce and preheated oven for the best results.
Because ziti will cook in half in boiling water when you toss them in hot sauce, the pasta will continue to cook in one continuous process, until you get a perfect creamy texture. If you toss them in cold sauce, the cooking process will stop and you will end up with sinewy pasta.
Penne takes a bit more time to cook until you get the perfect texture, approximately 13 to 14 minutes in boiling water. Don't forget to add enough salt and remove the lid when the water starts to boil.
Watch this video to know more:
Use In Recipes
Ziti is smooth pasta, so you would think that it goes better with creamy sauces. However, that is when the true pasta magic art reveals. This food starting with the letter "Z" is best when baked in the oven with chunky sauces because baking gives the extra punch in the texture and flavors.
If you would pair ziti with creams, you will end up with just a cream dish. The taste would still be delicious, but the dish presentation and form won't be as good. Therefore, it is good to have different pasta types to experiment with, until you get the best dishes.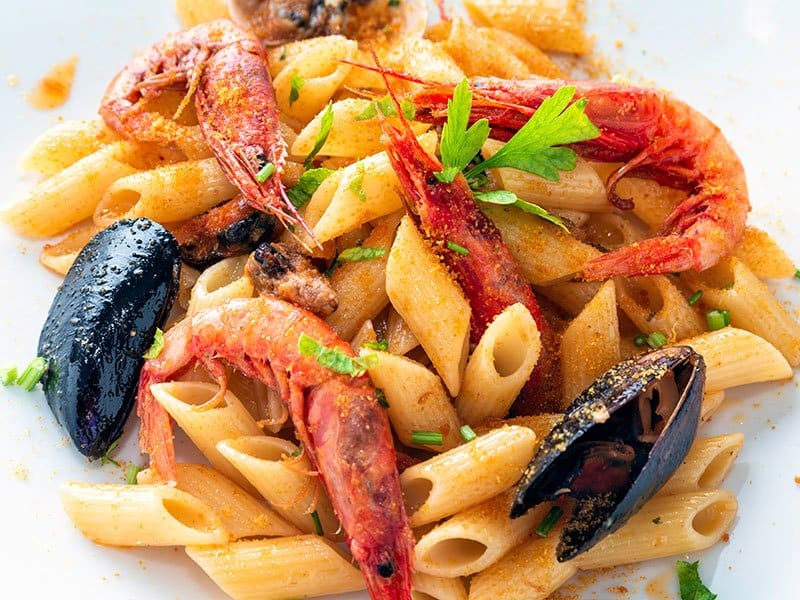 Ziti pasta is also great for stir-fries and as an addition to fresh salads with large and crunchy chunks of vegetables.
On the other hand, penne is excellent for cream sauces because of the ridged texture. They pair well with cream sauces and meat and vegetable dishes.
You shouldn't pair ziti with shaved cheese, because of its tender texture. But, sturdy penne pasta is excellent for it. Also, cheese sticks better than penne.
Thicker sauces such as carbonara, pesto, and ragu are great for penne. If you want to serve ziti with sauce instead of baking, I recommend using thinner sauces and vegetables, such as celery, carrots, and onions.
It is because the smooth texture of ziti will make the thickest sauces slide off the pasta. The angled penne ends capture sauce better, but you can also bake penne instead of ziti.
In general, penne is a more versatile pasta compared to ziti. Also, most chefs serve penne al dente, which means firm to bite. Or there is another way to make your pasta meal more special, which is making accompanied dishes for your pasta. I bet you will devour them in a snap.
Still, my favorite use for ziti is in baked dishes with molten cheese.
Watch this video to know more:
Can You Make Ziti And Penne Fresh?
Ziti and penne are pasta types that are extruded through a pasta machine to get their tubular shape. You can make both of them at home, but you will have to use the suitable machine and appropriate dyes to get the shape and texture you want.
The basic recipe for both of them includes flour, eggs, and oil. You shouldn't add water because the dough needs to be firm enough so the pasta should hold its shape, but tender enough to be able to use with the extruder. It takes a bit more skills and experience to perfect the dough, and it is more complicated than making fresh, flat pasta types.
The recipe that works for me includes 3 1/2 cups of all-purpose flour without soy enrichments, five eggs, and two tablespoons of olive oil. However, it is important to add one egg at a time, and slowly make the dough. If it seems too dry, you can add a bit more oil.
Once you make the dough, assemble the extruder and make your pasta using ziti or penne attachment.
Remember, practice makes perfect, so once you make fresh ziti or penne a couple of times, you will know what texture works the best. However, if you don't have a pasta extruder, you can use store-bought, dried pasta in all recipes.
Watch the video: How to use a manual pasta extruder
Don't Confuse Ziti And Penne With Rigatoni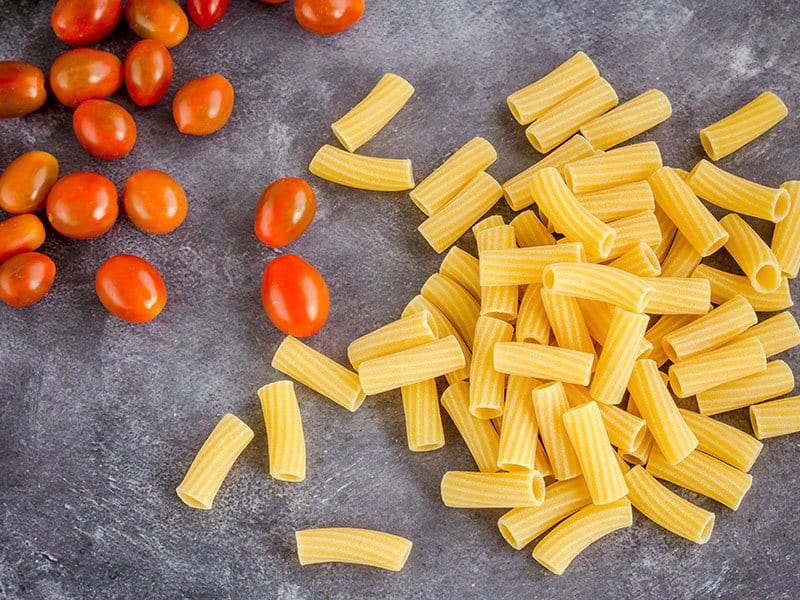 Rigatoni is another tubular, extruded pasta type and quite similar to ziti and penne. However, rigatoni pasta is significantly shorter but wider than ziti or penne. It can be cut straight or curved with square-cut ends. Rigatoni is better for shaved grated cheese and can also be used in baked dishes instead of ziti.
Best Penne Recipe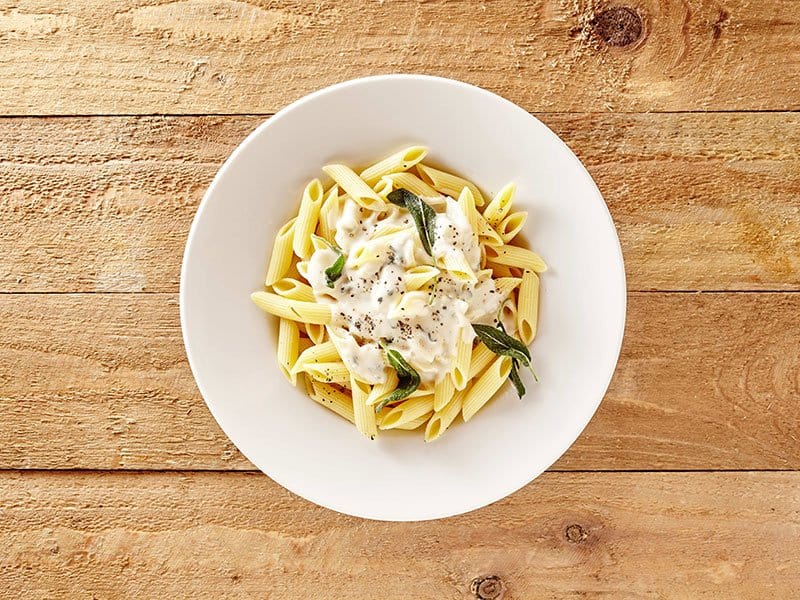 I will share with you my favorite recipe with penne. I am talking about creamy garlic penne pasta. The dish is easy to make, affordable, and doesn't take some high cooking skills. I made it a thousand times, and it always tastes good.
Here is what you need:
Penne – 1 box
Butter – 2 tablespoons
Garlic cloves – 3
Flour – two teaspoons
Chicken broth – 1/2 cup
Milk – 1/2 cup
Spices – salt, pepper, parsley
Cheese – parmesan, 1/2 half cup
Mince your garlic cloves and add them to the melted butter in your pan. Cook garlic and butter for two minutes, and add the flour. Stir the mixture all the time, and add chicken broth with milk. Then, lower the heat and let the sauce thickens on its own. Don't forget to stir it frequently.
During that time, you should cook penne according to the instructions on the box. Add your spice and cheese to the pan, and drain pasta.
Plus, you should buy a convenient and high-rated pasta pot to cook penne. A specialized design will prevent any unexpected accident while cooking and draining pasta.
After finishing cooking, please toss penne in the sauce, turn off the heat, and stir until the cheese melts.
Serve hot and garnish with some grated parmesan cheese and fresh parsley on top!
Best Ziti Recipe
Here is my favorite heartwarming baked ziti recipe. It takes an hour to cook entirely, but the preparation only takes around ten minutes.
You can substitute some of the ingredients with something of your preference, but this is how I make it.
You need:
1 box of ziti pasta
Ground beef – 1 pound
Onion – 1, chopped
Garlic – 2 cloves, minced
Rosemary – 1 tablespoon, fresh, minced
Red pepper flakes – 1 teaspoon
Tomato sauce – 1 jar – 32 ounces
Salt, pepper, olive oil
Oregano – 1 teaspoon
Basil – 1 teaspoon
Thyme – 1/2 teaspoon
Cheese mozzarella, ricotta, and pecorino – 2 1/2 cup total
Start by browning the meat, onion, and garlic in a large pan. Boil the ziti pasta for five minutes, dry it with a colander and put some olive oil to prevent it from sticking. When the meat is brown, add salt, pepper, and all other spices.
Reduce the heat and cook for five more minutes, and stir occasionally. Turn your oven to 350 degrees Fahrenheit and prepare the casserole by spreading some olive oil at the bottom.
Add the tomato sauce to the pan with meat and spices and let it simmer for a few minutes.
Here is how to layer the dish:
First, put the layer of sauce, and add ricotta cheese and a handful of pasta on top of it. Repeat the process with all remaining ingredients, and put fresh mozzarella cheese and pecorino cheese on top.
Bake it for 20 to 25 minutes. It will be enough for the cheese to melt and the pasta to cook entirely.
You can use easy to melt cheddar cheese for your baked ziti if you overcook pasta before putting it in the oven. It will need less time baking, but the cheddar will melt quicker than other cheese types.
Let it cool down for a couple of minutes and serve hot!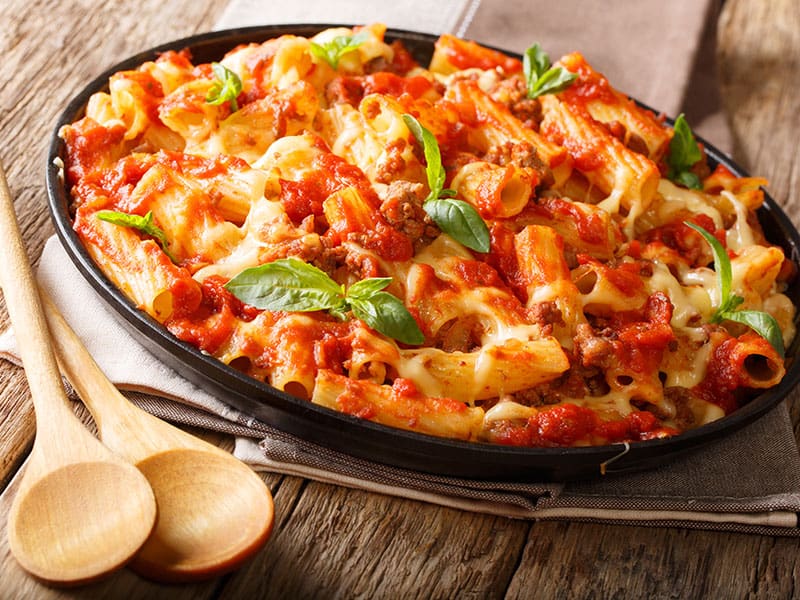 Know Your Pasta To Become Pro
If you have been wondering, yes you can use ziti and penne interchangeably. But, if you want to cook pasta like a true Italian, you use ziti for baking and penne for cream sauces.
There are plenty of recipes you can find online for both pasta types. I recommend you try a couple of them and practice until you are completely satisfied with the flavors and texture!
Share your favorite penne and ziti recipes in the comments!
If you enjoyed my ziti and penne comparison, please consider sharing and liking the article!