Are you looking for the best Hawaiian cocktails to keep cool all summer long? You're in the right place. The urge to sip on cool cocktails under the burning sun sounds so illogical, but there's no need to question our national desires, especially when it comes to Hawaii.
Undoubtedly, Blue Hawaiian and Mai Tai are no strangers to drinking aficionados worldwide. On islands where you can't be too far from the nearest coconut and pineapple trees, there're endless options to enjoy on your vacation or simply at home by the pool.
Here's a compilation of the most famous cocktail recipes in Hawaii that will create fireworks in your mouth. From the frozen drinks to classic Mimosas and exotic concoctions you've never seen anywhere else, I'm sure you'll want to devour them all.
Now, fill a glass and celebrate the seasons with these back-porch beverages from Hawaii!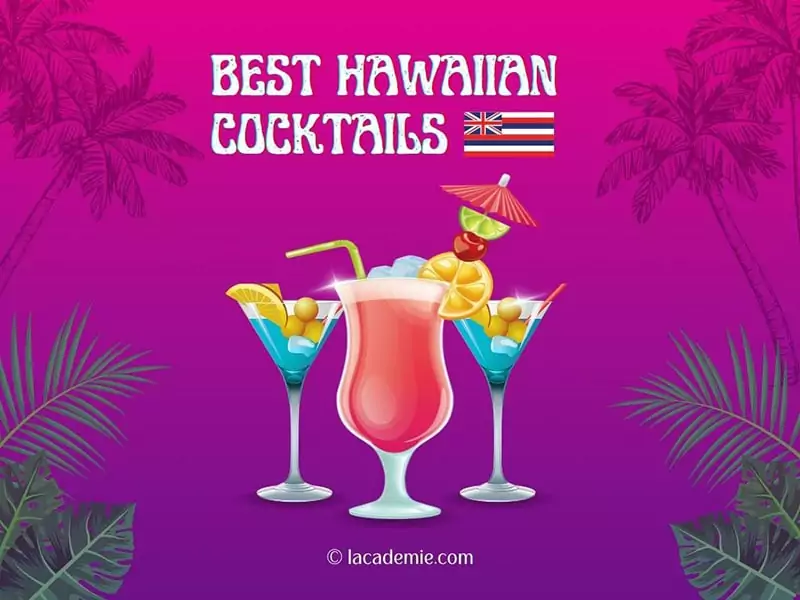 Fascinating Facts About Hawaiian Cocktails For The Next Party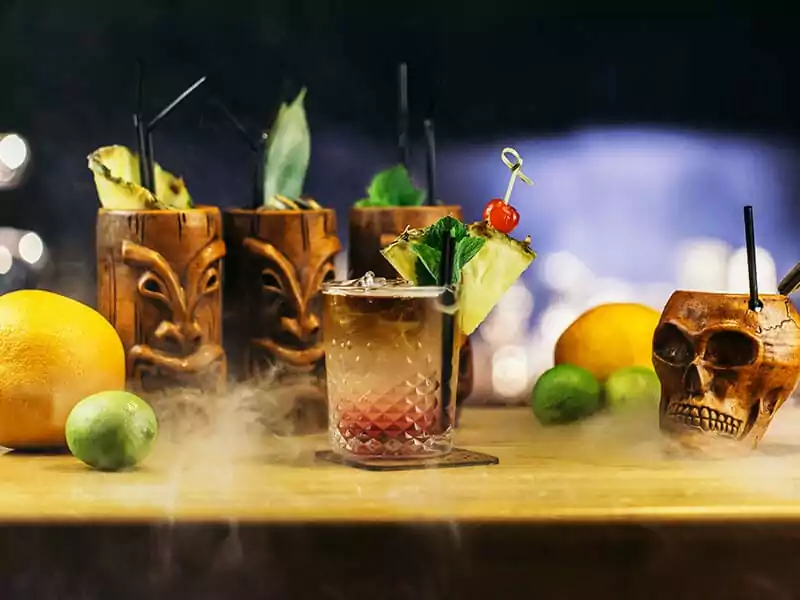 People in Hawaii sure know their boozes. Indeed, in an archipelago considered the world's most remote island chain, there's something about Hawaiian cocktails that always make us happy and like no other place.
Blessed with temperate and warm weather, various tropical fruits thrive on the islands year-round. The state has a good supply of products like coconut and pineapple. Plus, with its history of sugarcane production, it's quite the perfect place to make high-quality rums.
You'll quickly find these signature ingredients in Hawaiian's tropical blends. One of the things which put them apart from the crowd is their unique Hawaiian-style names, such as Chi Chi, Lava Flow, and Mai Tai.
If you're a twenty-one-and-above vacationer, sipping the Tiki drinks is essential to enjoying your vacation to the fullest. The colorful liquid is often served in a festive glass garnished with a lovely cocktail umbrella and other unique elements.
The truth is, the advent of Tikidom doesn't have its origin in Hawaii but in a man named "Don the Beachcomber" in Hollywood, California. But what better place to sip on these colorful and toothsome beverages than in Hawaii, with the palm trees and sandy beaches?
Is It Illegal To Drink Alcohol On Hawaiian Beaches?
Grabbing a cold drink, relaxing in the summer sun, and taking a sip with the waves rolling on your feet may be tempting enough, but it's both unsafe and illegal to do so. As with most Americans, it's illegal to drink cocktails on Hawaiian beaches.
But it does not mean you have to give up on the pleasure. If you're keen on drinking and swimming, I suggest staying at your hotel pool. And you can purchase their iconic cocktails in various bars, lounges, and restaurants. Take your time on this boozy treat!
22 Most Popular Hawaiian Cocktails To Get In The Spirit
Check out these incredible Hawaiian cocktails if you're ready to give your taste buds a tropical explosion. Don't be shy to make them at the next Tiki-themed party or just a happy hour by the poolside!
Total time: 5 minutes
Nothing screams the spirit of Hawaiian vacation like a glass of Blue Hawaiian Cocktail. Thanks to Curaçao liqueur, this classic drink features a signature blue shade that radiates a fun and refreshing energy even before the first sip.
The basic version of this tried-and-true blue cocktail utilizes white rum and Curaçao at its alcoholic base. The light, sweet orange flavors with citrus notes and a bitter finish towards the end are perfectly complemented by a touch of coconut cream's richness.
If you plan to host a tiki party, this summery beverage is your best bet! Every sip feels like a tropical paradise in your mouth. You can mix everything up in a cocktail shaker. Or else, simply give the assembly a few whirls in a blender until the mixture is smooth!
Wow, your guests at the next party with this Blue Hawaiian Cocktail recipe!
Total time: 12 minutes
Let's be honest! Whether it's an afternoon by the poolside or a weekend treat with your friends, it's always a good time for some Margarita. This tropical tequila delicacy is effortless to make and customizable to your desires.
With no blender required, you need to mix all the elements and give them a good stir. Tequila and Grand Marnier serve as the base for this concoction, which pairs beautifully with the sour, sweet, and salty flavors coming from Li Hing Mui powder.
Simple yet exotic, this Hawaiian Li Hing Mui Margarita recipe is a must-know for every tropical tequila lover. Make two servings for you and your special someone for a relaxing night by the beach, or whip up a huge batch for a big tiki-themed party. It's up to you!
Total time: 5 minutes
Visiting the bars and resorts of Hawaii, you'll come across the Lava Flow, one of the most popular cocktails on the islands. Visually speaking, the drink mimics the look of a real-life volcano, with two distinct layers that combine as you sip.
This Hawaiian treat is a beautiful cross between a strawberry Daiquiri and a Piña Colada at its most basic. Coconut rum and light rum serve as the alcoholic base for this drink, offering a sweet but subtle flavor with a creaminess that feels like the tropics on your couch.
On the other hand, a load of frozen strawberries lends themselves to a gorgeous color on the bottom half of the glass. This attractive cocktail umbrella or some pineapple wedges make a lovely contrast without looking overwhelming.
This frozen cocktail doesn't hold up well in the fridge, so you won't be making it in advance. But considering that the whole assembly is ready in 5 minutes, making this drink should be easy!
Don't miss out on the whole summer essential: Hawaiian Lava Flow!
Total time: 5 minutes
What I love about this recipe is that all it takes is only five ingredients to bring it to life! In a nutshell, combine cold champagne, fruit-orange-guava juice, and coconut-flavored rum to whip up this beverage for a special happy hour treat.
This Hawaiian cocktail is a fusion of tropical goodness when it comes down to flavor. The sweet, citrus, and crisp taste with bubbles will satisfy your summer cravings. It's quite the go-to cocktail for brunch, a birthday party, or simply a happy hour for yourself.
For the best result, champagne is the top-notch option to lend a crisp and velvety mouthfeel. However, other sparkling wines such as Prosecco cold and cava get the job done. Go ahead and add a pineapple ring for a final elegant touch!
Total time: 5 minutes
Just from its name, you can quickly tell that the Hawaiian Hammer packs quite a good punch! Beware, with three ounces of different alcohols, this drink soon knocks the senses out of you if you don't sip on it in moderation.
Nice and easy, this tropical cocktail comes together in just 5 minutes. You'd need to shake up all the ingredients with ice before straining it into a highball glass. Plus, the drink can be made ahead and easily multiplied, making it a dream come true for party hosts.
The Hawaiian Hammer gives off an instant kick and a fruity, refreshing taste when it comes down to the flavor. One sip is what it takes to transport your taste buds to a bit of vacation in the beachside bars of Hawaii.
As soon as summer rolls around, gather up a big batch of banana and coconut, and treat yourself to this incredible cocktail!
Get to know the basics of the Hawaiian Hammer Cocktail right here!
Total time: 5 minutes
As far as the story of Tropical Itch goes, this taste explosion was first mixed in 1957 by Harry Yee, a bartender at the Hilton Hawaiian Village, Waikiki. A sight to sore eyes and a delight to the taste buds, the drink perfectly captures the spirit of a Hawaiian vacation all in one glass.
Featuring vodka, dark rum, and a blend of orgeat syrup and passionfruit juice, this easy and tasty mixed drink is refreshing and delicious. The taste of passionfruit shines through in a fragrant, fruity, and tart blend.
Don't be shy to add a lovely paper parasol and an itch stick for a finishing touch. A small lime wedge on the rim of the glass also creates an eye-catching look that feels like a tropical paradise, whether it's on the islands or in the comfort of your summer backyard!
Total time: 5 minutes
Arguably the signature cocktail of Hawaii, Mai Tai's reputation has spread in and outside the islands. Nowadays, it's no doubt that each Hawaiian bar and restaurant strives to create their version of the iconic drink.
Despite its sunset hue and tropical flavors, the story of Mai Tai started on the calm shores of California, not Hawaii. Legend has it that "Trader Vic" Bergeron first created the drink in 1944 to serve his two Tahitian friends before being brought to Hawaii in 1953.
This island cocktail features two types of rum, pineapple juice, and POM Wonderful. The result is a fun and refreshing treat with prominent rum flavors. It's not a particularly sweet drink, but you can switch it up with simple syrup to suit a sweet tooth!
Have yourself an irresistible Mai Tai with this step-by-step guideline!
Total time: About 5 minutes
Tangy, bubbly, and looking like summer in a glass, Maui Mule is essentially the Hawaiian rendition of the classic Moscow Mule. The drink is no less than a frizzy tropical perfection featuring vodka, sparkling water, and lots of ice!
Did you know that this delightful cocktail is also effective in greatly benefiting your health? That's right! Thanks to ginger, the drink is a rich source of anti-inflammatory and antioxidant properties, making it a natural remedy for digestive issues and colds.
Rather than a glass, the Maui Mule is commonly enjoyed in a copper mug, with a slice of lime or two to enhance its visual. For extra texture dimensions, some crystalized ginger also works well and is extremely easy to make from scratch.
Total time: 35 minutes (Including steeping time)
The Zombie Cocktail is the perfect fun Tiki drink if you can get past its horrific name. The truth is, they're as many variations of the glass as there are bartenders. But at its base, it's a high-proof rum harmony that features any type of rum you can get your hands on.
This terrific Halloween cocktail made its debut in late 1934 by Donn Beach, the "founding father of the Tiki culture". The reason for its birth is that a bartender wants to make a strong cocktail enough to make his customer feel like a zombie.
With Halloween around the corner, this tried-and-true recipe is just the ticket to any spooky shenanigan that you may be planning. Sweet and perfectly balanced yet highly potent, beware of the number of glasses. Before you know it, all of your senses will be knocked out.
Rock Halloween this year with the one and only Zombie Cocktail!
Total time: About 5 minutes
Out of all Hawaiian beverages, it's safe to say that the Bahama Mama perfectly captures the island's spirit. With some of the region's most cherished products like orange, pineapple juice, and coconut rum, this cocktail will take you somewhere sunny in a flash!
In a nutshell, combine all the elements in a hurricane glass. A splash of grenadine is excellent for adding complexity to the flavor and bright red color with a ruby undertone. And if time's on your side, this tasty drink pairs well with a slice of orange and a juicy cherry for garnish.
Undoubtedly, the Bahama Mama is the ultimate thirst quencher for a sunny afternoon near the pool. The silky, smooth, and sweet-tart flavor with citrusy notes is sure to create fireworks across your tongue. Sit back, then chill with a lovely glass on hand!
Total time: 10 minutes
One of the finest vodka cocktails that Hawaii offers, this Tropical Island Breeze will do precisely what its name implies. It gives off an ocean breeze vibe on the sandy stretch of coastline, and it also tastes like one!
Making this treat is a piece of cake. Pour coconut rum, bourbon, and pineapple juice into a glass and mix it nicely. This refreshing pineapple cocktail is sweet with a sour edge.
I love visiting Hawaii because you're never too far from the nearest pineapple tree. Therefore, this concoction is a must-try for anyone setting their feet on the islands. Don't be shy to multiply it for party hosts and treat your guests to the best summery drink ever!
Total time: 5 minutes
Let's be honest! This tropical treat looks drop-dead gorgeous; it'll look like you spent a whole day hand-crafting it. However, it's the recipe that gets ready in 5 minutes without fuss. You'll want to keep this Chi Chi cocktail recipe for the next sultry summer day.
While this drink owes its roots to Puerto Rican cuisine, it's considered a Hawaiian treat because of how much it's sipped on during tourists' vacations on the islands. Essentially a vodka twist on Piña Colada, this excellent frozen cocktail will keep you cool in the summer.
The key to the frothy and indulgent texture lies in one ingredient: cream of coconut, which is a lot sweeter than coconut cream. Meanwhile, pineapple and lime juice render a sweet, tart, and refreshing taste to bump up the flavor.
Since you can't taste the vodka in this drink, you can use a low or mid-priced bottom instead of a top-shelf one. Set your imagination free and create an attractive drink with garnishes like maraschino cherries or pineapple slices when it comes to presentation.
Whip up the classic Chi Chi Cocktail today for a taste of Hawaii!
Total time: 10 minutes
It truly doesn't matter where you're at or what kind of weather; there's always room for a glass of Mojito or two. This Hawaiian riff on the classic version stars coconut rum, club soda, and a pineapple coconut mixer that takes your happy hour to the next level.
By muddling fresh mint leaves on the bottom of the glass, the light and refreshing flavor is released, balancing out coconut cream's rich, indulgent taste. This specific version has a bright and light green color, making it the perfect party treat for a lovely summer evening.
Any tropical sparkling water will do. It doesn't necessarily have to be club soda. If you want to turn this concoction into a pretty-in-pink cocktail, you can replace the pineapple coconut mixer with some blackberries or a splash of Hibiscus tea in a pinch.
Total time: 5 minutes
Pineapple juice and coconut rum come together in this Hawaiian rendition of the good old Martini. Nice and easy, this taste explosion is full of tropical flavors and will have you daydreaming about summer!
The abundance of fruitiness in this timeless Martini cocktail is the perfect contrast to the alcoholic taste and neutral grain signature in a vodka drink. Some cherries or a pineapple slice will make an elegant garnish without too much time or effort.
I love this delicious orange juice-flavored cocktail because every ingredient is likely available in a drinker's home bar. Plus, it makes an easy recipe to serve a crowd so that throwing a Hawaiian-themed party is a piece of cake.
Close both of your eyes, take a sip, and imagine yourself under the Hawaiian sun with this delicious Martini recipe!
Making a Hawaiian Martini is easy as a piece of cake with this recipe!
Total time: 7 minutes
Do tropical drinks get any more delicate than Lychee Martini? Between the stunning look and the complex flavor profile, it's easy to imagine you're somewhere magical. Yet, this cocktail can be pulled together with just five ingredients on hand.
Have you ever heard of lychee? This toothsome fruit is native to Southeast Asian countries and has been around since ancient times. The sweet, aromatic flavor masked inside the rough skin renders a mildly sweet and sour bite with floral hints that make a cocktail unique.
Generally, the taste of this cherished lychee-centered cocktail is a combination of vodka's kick and fragrant, sweet flavors. Meanwhile, orange liquor like Cointreau and Triple Sec is utilized to bring a citrusy punch to your concoction.
Simple yet incredibly sophisticated, Lychee Martini is a real treat for any seasoned drinker. This cocktail deserves a spot at your next Hawaiian backyard barbecue party. As the evening approaches, sip this drink to appreciate the beauty of Hawaii and Aloha!
Total time: 10 minutes
There's nothing like the Scorpion Bowl when you need an impressive cocktail. This exquisite tiki delicacy is like no other for how it's presented and enjoyed. While the drink's origin remains a mystery, many believe it was first poured in The Hut, a Honolulu bar, in the 1930s.
Traditionally, Scorpion Bowl is a combination of rum, brandy, orange juice, and orgeat syrup. The assembly is served in a communal volcano-shaped bowl. The crater in the center is filled with rum and ignited to emulate a volcano and often enjoyed by a group of folks.
As a blend with different types of alcohol, this flaming drink gives off a delightful complexity in flavor. It's so spicy, sweet, earthy, and can be easily tweaked to suit your desire. You'll also want to grab a long straw to keep the fire away from your hair while devouring the drink.
Visiting Hawaii, this signature cocktail could be so much fun shared with your friends and family. However, beware that this is real fire mixed with lots of booze, so you have to be cautious when pulling this off, especially if you want to try it at home.
Hear it from the professional to see how you can make the Flaming Volcano at home!
Total time: 15 minutes
It's fizzy; it's tropical; it's delicious! The Hawaiian Fizz has what it takes to keep the summer blue at bay. To prepare this cocktail, I recommend making the pineapple coconut mixer beforehand so that it has time to chill in the fridge.
Coconut milk, cream, and frozen pineapple juice concentrate come together in a sweet, candy-like, and creamy taste. The alluring aroma is enough to conquer any drinker in an instant. Thanks to the club soda, the bubbles pleasantly tickle your tongue as you sip.
Simply omit the coconut rum if you want to turn this into a kid-friendly mocktail. The classic and effortless way to elevate its appearance is with a slice of pineapple. It won't be the last time you whip up this summery treat!
Total time: 5 minutes
Cocktails are about the visual as well as the flavor. And the Hawaiian Sunset is no exception! The drink packs a fusion of sweet, rich, tart flavors with subtle hints of citrusy with every sip. The lovely and burny taste of rum makes it suitable for folks who don't drink a lot.
Starring strawberry puree, rum, and pineapple juice, this boozy Hawaiian treat is an explosion of flavors. It yields two servings at a time, so don't be shy to treat your special one to this pretty-in-pink beverage.
The secret behind its drop-dead beautiful pink hue is strawberry puree. Sweeten it to your liking with extra-fine sugar. You can also use a few slices of strawberries for a final touch on its appeal. I can't think of one guest who will complain about this beverage!
A Hawaiian Sunset Cocktail made easy in this virtual tutorial!
Total time: 3 minutes
Hawaiian Sea Breeze, or a Bay Breeze, is quite the epitome of summer tropical cocktails. This quintessential cranberry cocktail is such a breeze to whip up, starring just three main attractions.
Don't confuse it with Sea Breeze, another drink that gets its primary flavor from grapefruit juice instead of pineapple juice and cranberry juice. A standard Bay Breeze boasts the perfect balance of sweetness and tartness when done correctly.
The use of cranberry juice and pineapple juice indeed renders a prominent fruitiness that screams tropics in every palatable sip. For those who aren't fans of tart cocktails, a good trick is to replace cranberry juice with a blend of cranberry and pomegranate juice!
Total time: 5 minutes
Cream of coconut, pineapple juice, and rum, what's more Hawaiian than that? While the earliest story points its origin to a Puerto Rican pirate, another myth says a bartender named Ramón "Monchito" Marrero first mixed it at Caribe Hilton in 1954.
Ever since, Piña Colada has taken the whole world by storm, rising to become one of the most famous summer drinks of all time. The name translates to strained pineapple, an essential element used in the drink's preparation.
This drink feels like a cocktail-slash-dessert treat. Thanks to the thick, sweetened cream of coconut, it'll send your mind to the sunny beaches and your worries away. Meanwhile, a light rum lends a sweet and light-bodied flavor that pairs well with the fruity pineapple juice.
However, this creamy and indulgent drink might not be the best addition to a healthy diet. It's loaded with saturated fat, sugar, and calories, which may cause negative impacts on your health if not consumed in moderation.
Take a quick vacation to the sunny islands with the timeless Piña Colada!
Total time: 10 minutes
Whether you're enjoying it for brunch or relaxing after a long day, the Green Hawaiian Cocktail will have your boozy needs met. Instantly recognizable from its bright color, this gorgeous green cocktail is meant to please your eyes before taking your taste buds to heaven.
You know it's a simple recipe when all the ingredients can be counted on just one hand. The show's star, a green melon liqueur, is the key behind the vibrant green hue. Flavor-wise, its sweet melon taste is a match made in heaven with light rum's subtleness.
With this recipe, you can make six servings at once, so it's a breeze to treat your friends and guests to one of Hawaii's prettiest cocktails. Don't be shy to add some cuteness with a cocktail umbrella, especially if you're enjoying it under the sun.
Total time: 5 minutes
Yes, please! One sip of this Strawberry Mojito is enough to give you all the summer feels while taking the hassle out of being your bartender. Whenever you need a cocktail to pair with an appetizer, this recipe will help you party in style.
Typically, this cocktail calls for fresh strawberry, lime juice, and light rum. You can also toss in some fresh pineapple for a signature touch of Hawaii. Finally, a splash of club soda topped off the whole drink to make it even more summery.
Strawberry Mojito boasts a minty, fizzy, and delicious flavor at its finest. Packing tons of fresh fruits, this boozy treat makes for a beautiful brunch cocktail or happy hour drink after a hard day at work.
Soak Up The Summer Sun With These Hawaiian Cocktails!
Have you picked out your favorite boozy treat, an eye-catching Flaming Volcano, an easy-as-a-breeze Hawaiian Mojito, or a Tropical Itch to behold before your eyes? If you're overwhelmed by the vast selection, take your time and listen to your taste buds.
There's always time to emerge in the quintessential Hawaiian drinking culture, especially if you're any summer lover like me. A good-old Tiki cocktail might just come in to save the day with the stretch of high temperatures!
If you find this boozy round-up helpful, share these exciting treats with your friends and loved ones. With a cocktail party, the more, the merrier!
Nutrition Facts
1 servings per container
---
Amount Per ServingCalories252
% Daily Value *
Total Fat 10g

16

%
Sodium 19mg

1

%
Total Carbohydrate 43.3g

15

%

Dietary Fiber 0.5g

0

%
Sugars 42.8g

Protein 0.3g

0

%
---
* The % Daily Value tells you how much a nutrient in a serving of food contributes to a daily diet. 2,000 calories a day is used for general nutrition advice.