Flank Steak Fajitas is a very tasty, flavorful dish suitable for a family celebration, and because it is a Tex-Mex dish, it is rich in spices with delicious flavors. This combination is so amazing and delicious that it will easily bring the whole family around the table!
The most suitable meat for Steak Fajitas is the flank steak, which is marinated for about 2 hours in authentic Mexican spices and then grilled to perfection. The vegetables for this dish are sautéed peppers and onions, which pair perfectly with the flavorful Flank Steak Fajitas.
Flank Steak Fajitas are easy to prepare. You can cook it on the grill or the stovetop. But surely, each of your guests will be fascinated by the taste of this amazing dish! Here is an easy-to-follow guide for making this delicious Flank Steak Fajitas recipe at home.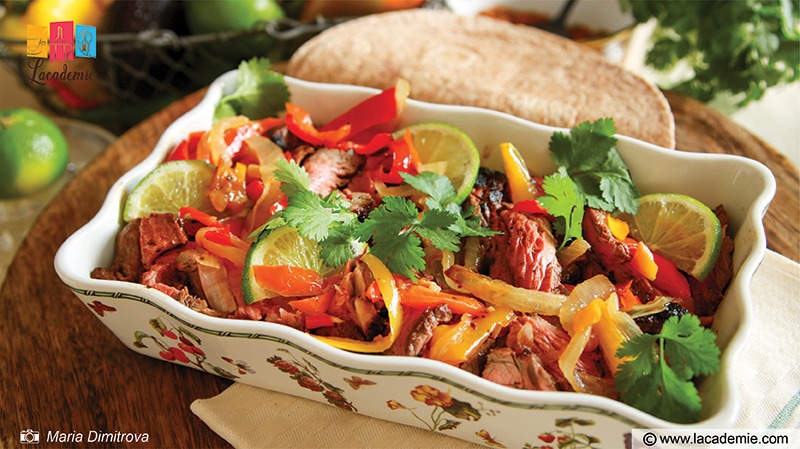 Let's Learn A Bit About Flank Steak Fajitas
Fajitas are a dish of Tex-Mex cuisine that includes three main components: stripped grilled meat, peppers, and onions. The name of this delicacy comes from the Spanish "faji", meaning belt or strip. It was not until 1971 that the word "Fajita" appeared in printed documents.
People originally used skirt steak to make this delicacy. Nowadays, however, other beef cuts, such as flank steak, chicken, and vegan meat alternatives, have become popular choices. Flank Steak Fajitas are a perfect choice for a large family lunch or dinner.
Tools
What you should prepare to make this Flank Steak Fajitas recipe
Grill pan: You will cook the meat in the grill pan.
Stovetop pan – medium size: For sautéing the vegetables for the dish.
Kitchen turner: Helps with the sautéing part.
Cutting board – large size: You will need a large cutting board to thinly slice the already-cooked meat.
Cutting board – medium size: For cutting the vegetables.
Food thermometer (optional tool): You can easily control the meat cooking process using this tool.
Garlic press (optional tool): If you don't own a garlic press, you can just chop the garlic very finely or use a mortar.
Bowl: You will prepare the marinade for flavoring the meat in this bowl.
Ceramic tray: For marinating the meat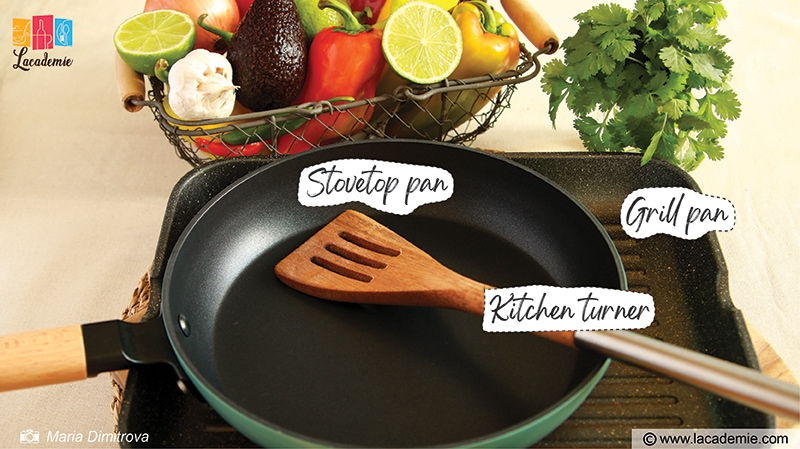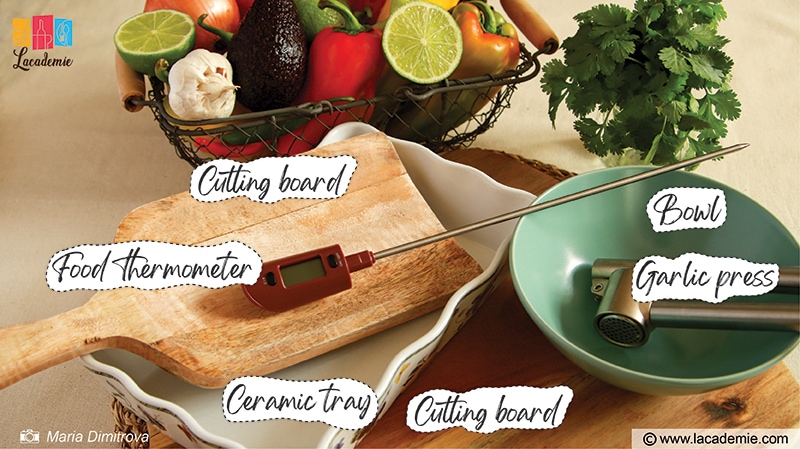 Ingredients For Flank Steak Fajitas Recipe
To make the Flank Steak Fajitas, you need the following ingredients:
Beef – The most suitable meat for Steak Fajitas is the flank steak. Flank steak is a cut of beef that is boneless and tender, takes marinade very well, and is perfect for grilling at high heat. All tendons must be removed from the meat.
The meat for this recipe can be grilled or cooked on the stove using a grill pan. If you use a food thermometer while cooking the meat, it will be easier to control the process of cooking. The inner temperature in the thickest part of the meat should be at least 145 degrees F.
Fajita seasoning – This is a ready-made spice mix that is sold in packets in the stores, but if you can't find it, I'll also include a simple homemade recipe below.
Lime juice – Only freshly squeezed.
Vegetable oil – In this recipe, I used sunflower oil.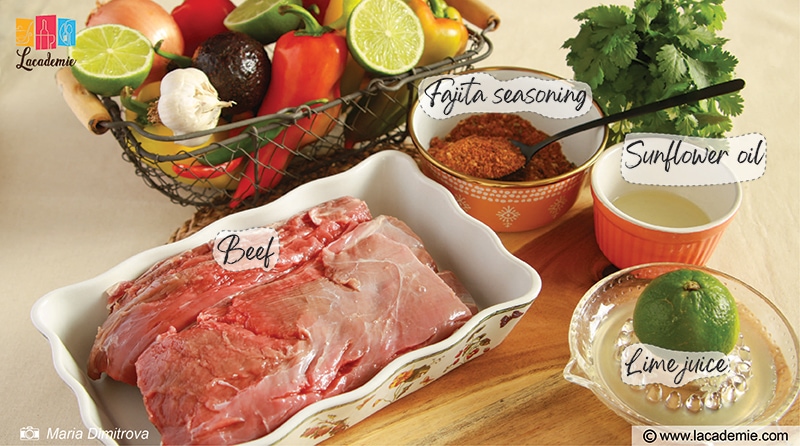 To make the sautéed vegetables, you need:
Vegetables – Colorful peppers and yellow onions are perfect for this dish.
Garlic – Use fresh garlic cloves. They give a stronger flavor to the dish.
Vegetable oil – I used sunflower oil in this recipe, but canola oil, olive oil, or avocado oil are also suitable.
Salt and black pepper – Sprinkle the vegetables with salt and pepper to taste.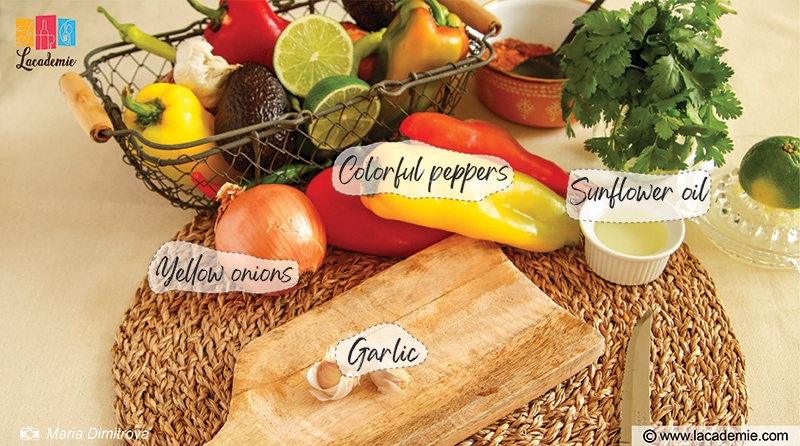 Seasonings – Sprinkle the dish with fresh cilantro and lime juice.
Serving – Serve with avocado slices, tortilla, and hot sauce.
Detailed Instructions
Are you getting hungry yet? Let's waste no more time and get to the kitchen right away!
Step 1: Marinate The Meat
Start making Flank Steak Fajitas by first marinating the meat. You need a large piece of flank steak, about 2.2 pounds (1 kg). If you can't find a whole piece of meat in the butcher shops, just get a few steaks that weigh about 2.2 pounds in total and work with them.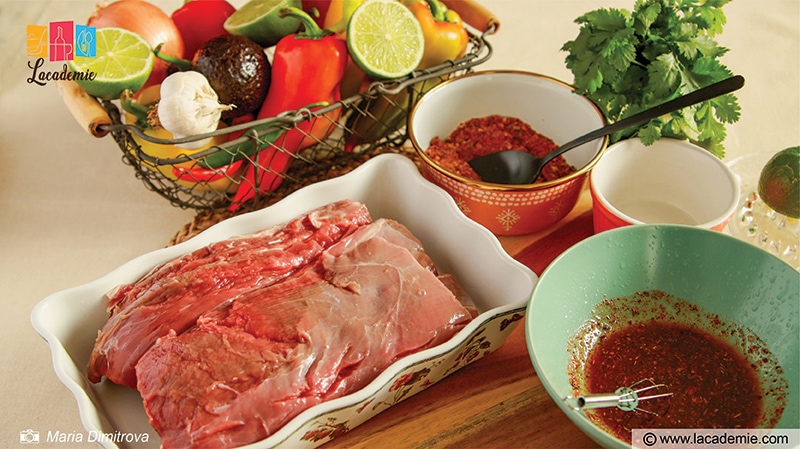 In a bowl, mix dark brown sugar, ground cumin, salt, smoked paprika, dry oregano, garlic powder, hot pepper, nutmeg, dry thyme, and dry rosemary well. Your Fajita seasoning is ready.
In a bowl, mix well the ingredients for the marinade – fajita seasoning, lime juice, and oil and firmly press/rub the spice mixture over all sides of the beef. Leave the meat to marinate in the refrigerator for about 2 hours.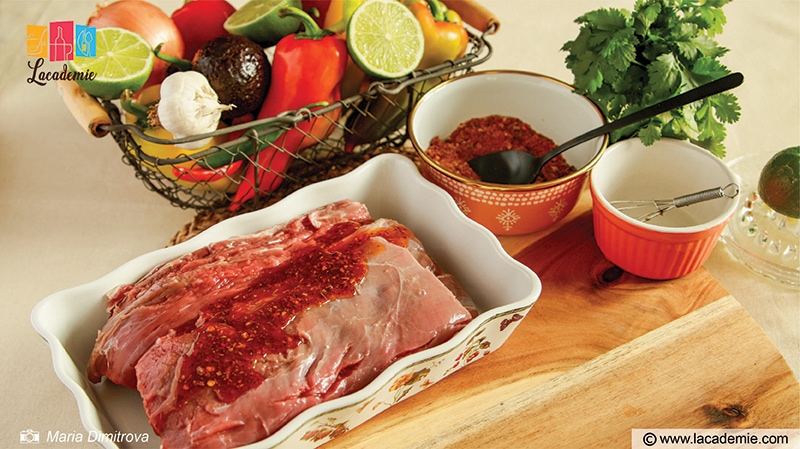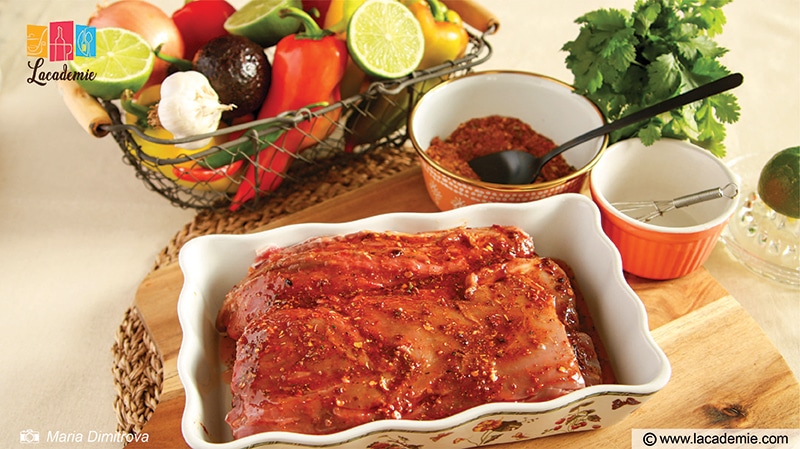 Step 2: Cook The Vegetables
While you are waiting for the beef to marinate, you can prepare the vegetables. Cut the onion and peppers into strips and sauté together with the crushed garlic, salt, and pepper in a stovetop pan until the vegetables are soft and slightly caramelized.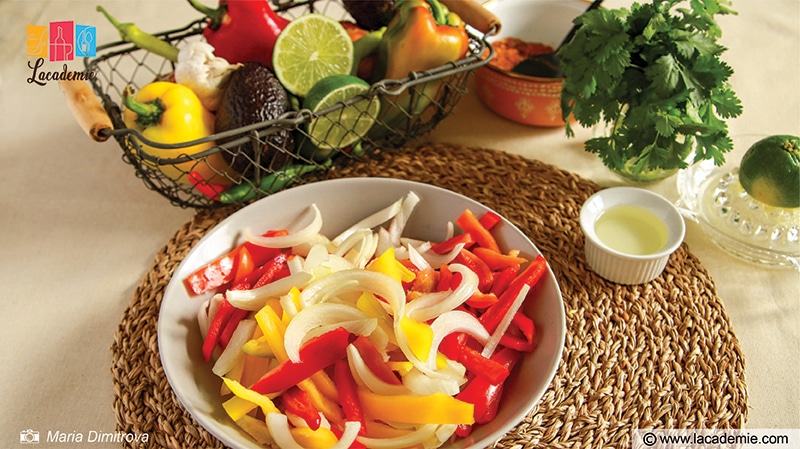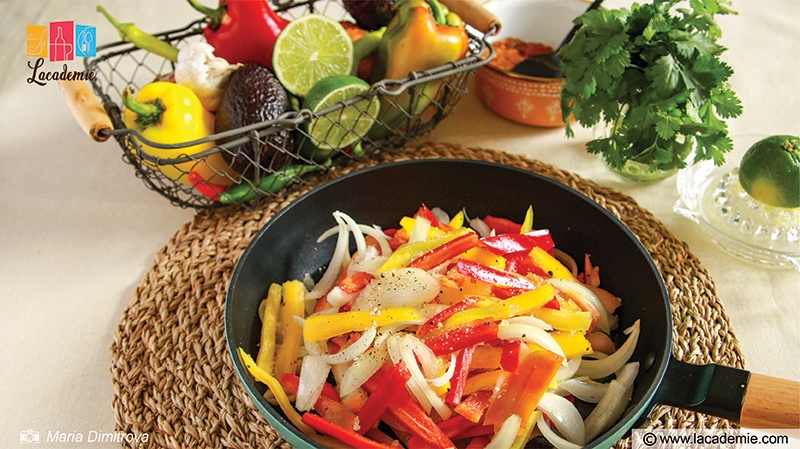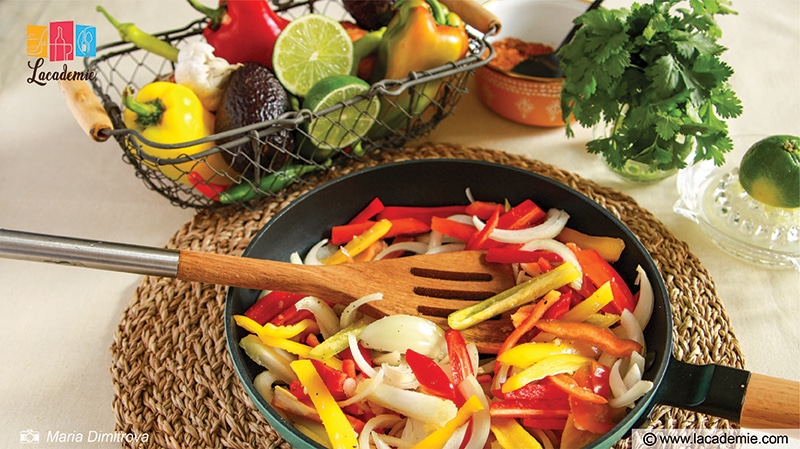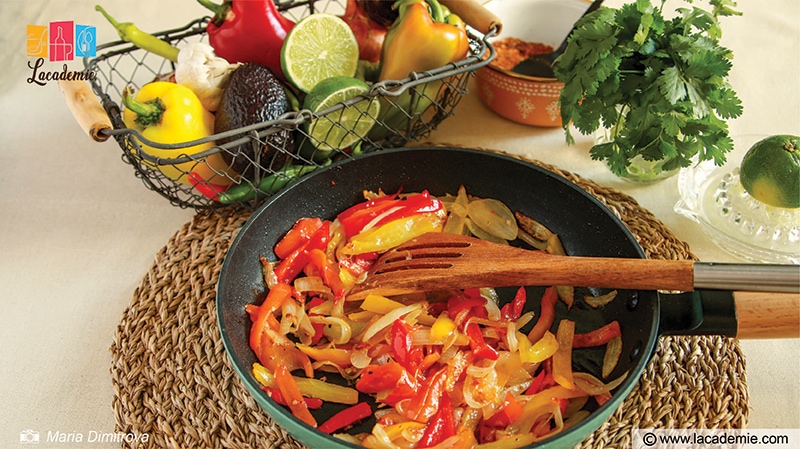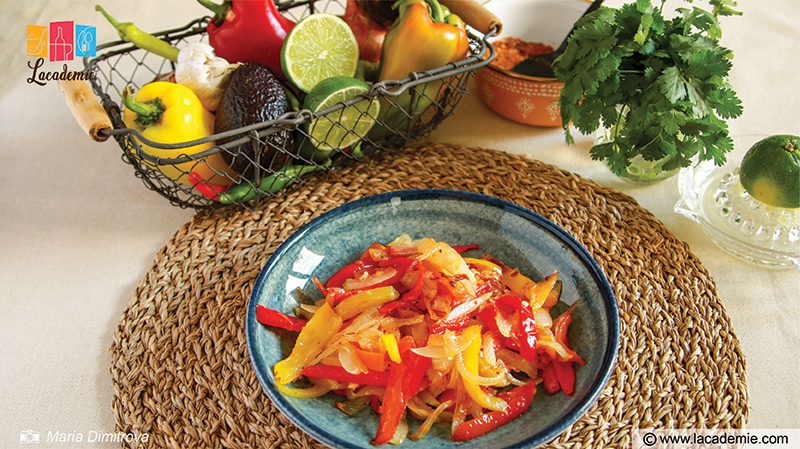 Step 3: Cook The Flank Steak
To cook the flank steak – Heat the grill pan well and put the meat in. Grill each side, depending on the thickness of the meat, for 5 to 8 minutes. If you measure with a food thermometer, the thickest part of the meat should reach at least 145 degrees F.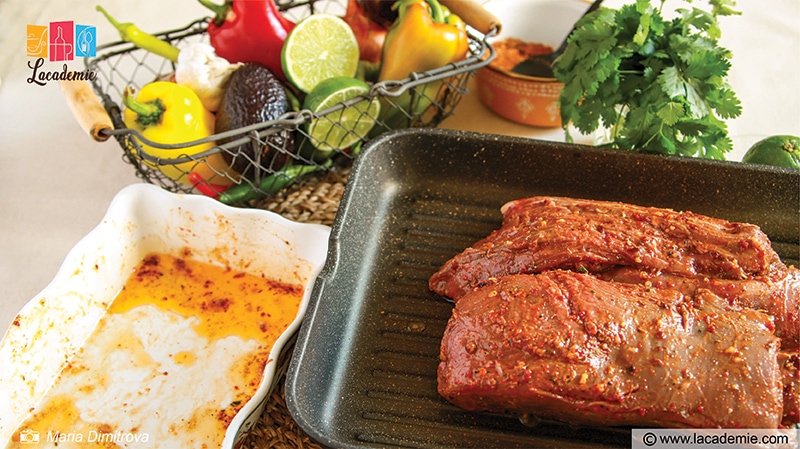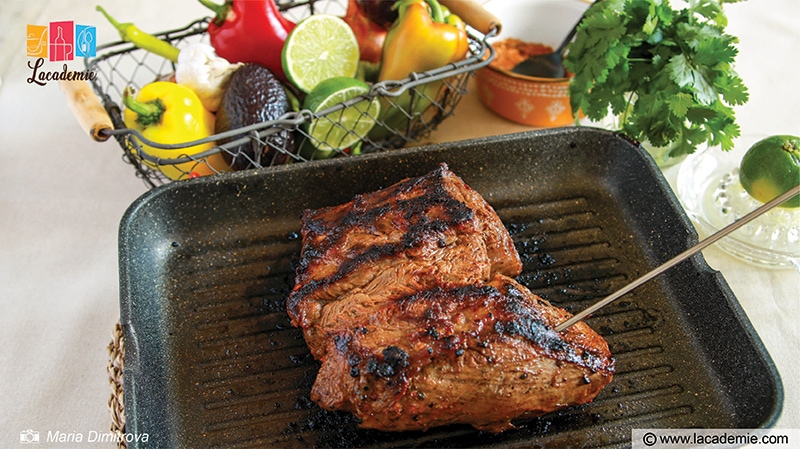 Once the meat is cooked, transfer it to a large cutting board. Let the meat rest for about 10 minutes to retain its juices, and, using a sharp knife, cut the flank steak into thin slices.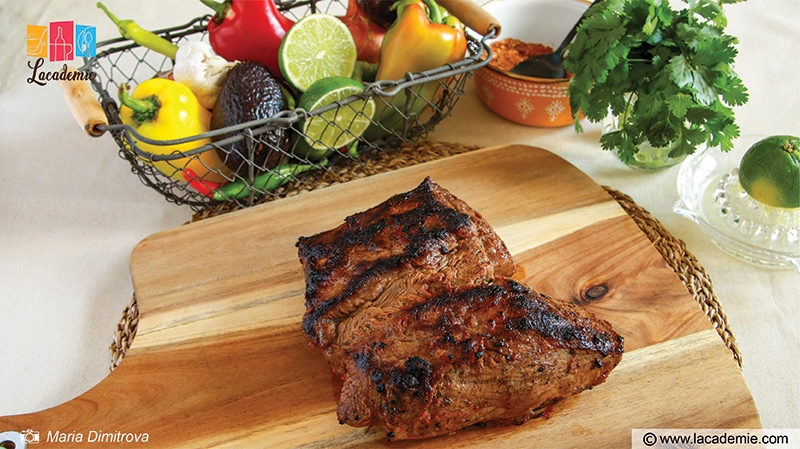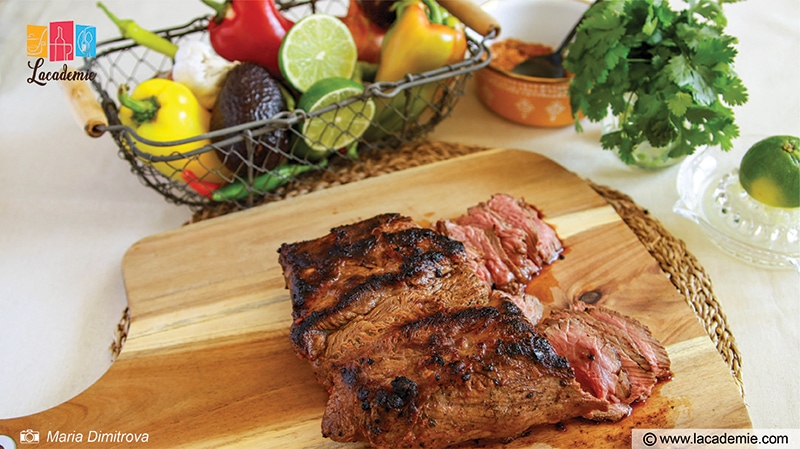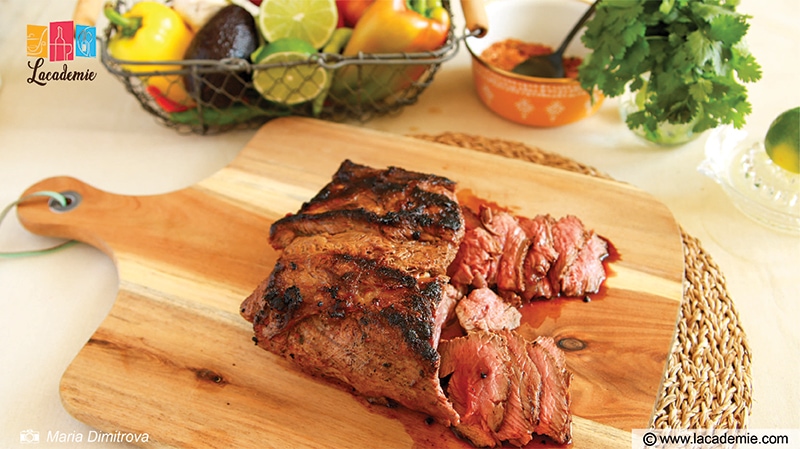 Step 4: Enjoy!
Arrange the meat slices and sauteed vegetables on a serving plate, sprinkle with fresh cilantro and lime juice and serve with avocado slices and tortillas.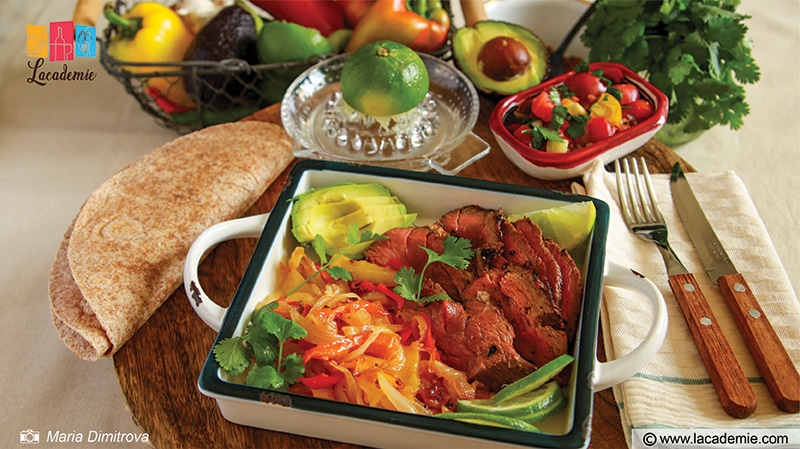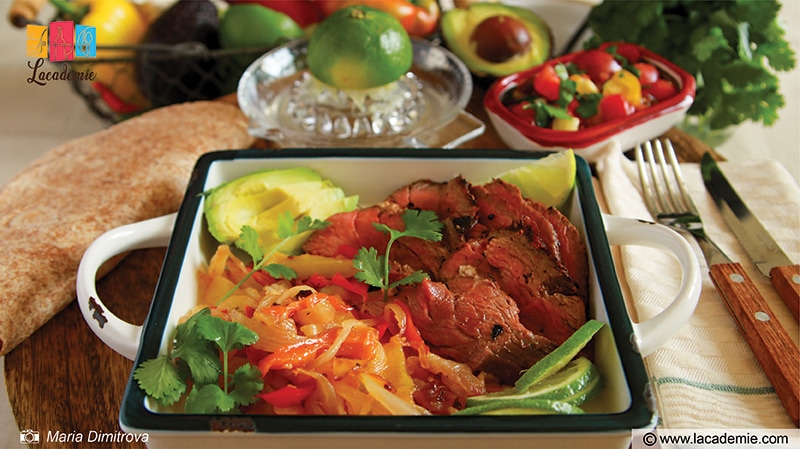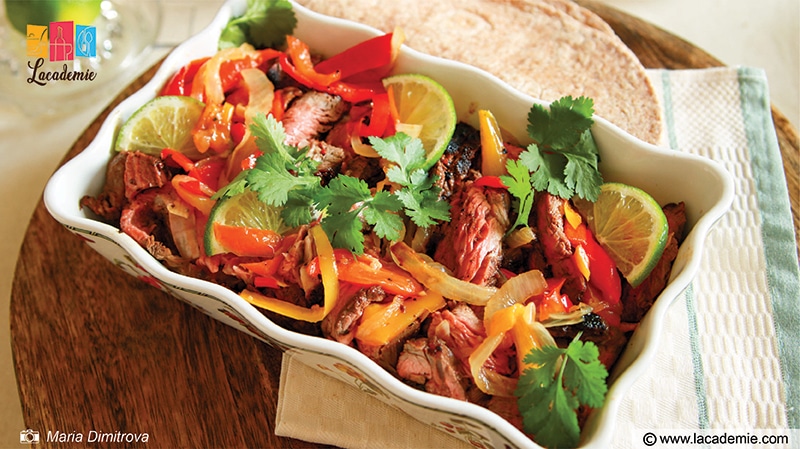 Don't Miss These Cooking Tips
If you're having trouble making this recipe, here are some tips that will surely be of great assistance to you.
If you want more sweetness, try adding orange juice or honey to the marinade mixture.
Besides tortillas, Flank Steak Fajitas taste exceptional with burritos, salsa, Mexican rice, pico de gallo, guacamole, and sour cream.
Skirt steaks and sirloin steaks are great alternatives for flank steaks.
Always cut your steak against the grains and avoid cutting parallel to them.
Bring This Tex-Mex Delicacy To Your Dinner Table Today!
As you can see, Flank Steak Fajitas is an extremely flavorful dish made from simple ingredients. If you exclude the marinating time, this dish literally takes less than an hour to make! If you're looking for a fulfilling meat dish for your next family dinner, this is the one!
When are you going to make this Flank Steak Fajitas recipe? Tell me what you think about today's post in the comment. If you think that the recipe is delicious, don't hesitate to share it with other people!
Nutrition Facts
10 servings per container
---
Amount Per ServingCalories351
% Daily Value *
Total Fat 25.8g

39

%
Sodium 522mg

22

%
Potassium 130mg

4

%
Total Carbohydrate 8.3g

3

%

Dietary Fiber 1.1g

4

%
Sugars 5.1g

Protein 19.8g

38

%
---
* The % Daily Value tells you how much a nutrient in a serving of food contributes to a daily diet. 2,000 calories a day is used for general nutrition advice.