American recipes are so diverse in taste and cooking methods that they might overwhelm you. America is a country of different cultures, and each culture has a distinctive feature contributing to the diversity of this country's cuisine.
It's not an exaggeration to say that you can find almost any cuisine on the globe in this country. From Asia, Latin America, or Europe, culinary aspects will appear in many American foods. Doesn't this sound amazing to you? Let's dig in.
43 Heavenly American Recipes For A Wonderful Savory Experience
If you can't think of any recipe to make for your family, these American dishes will be a great inspiration. Well, let's stop all the delays and explore now!
Nothing is more familiar to Americans than baked beans. And now, these beans are even tastier with tons of bacon and canned pork. I suggest preparing Worcestershire sauce, soy sauce, and BBQ sauce for various flavor layers. They'll harmonize beautifully with each other.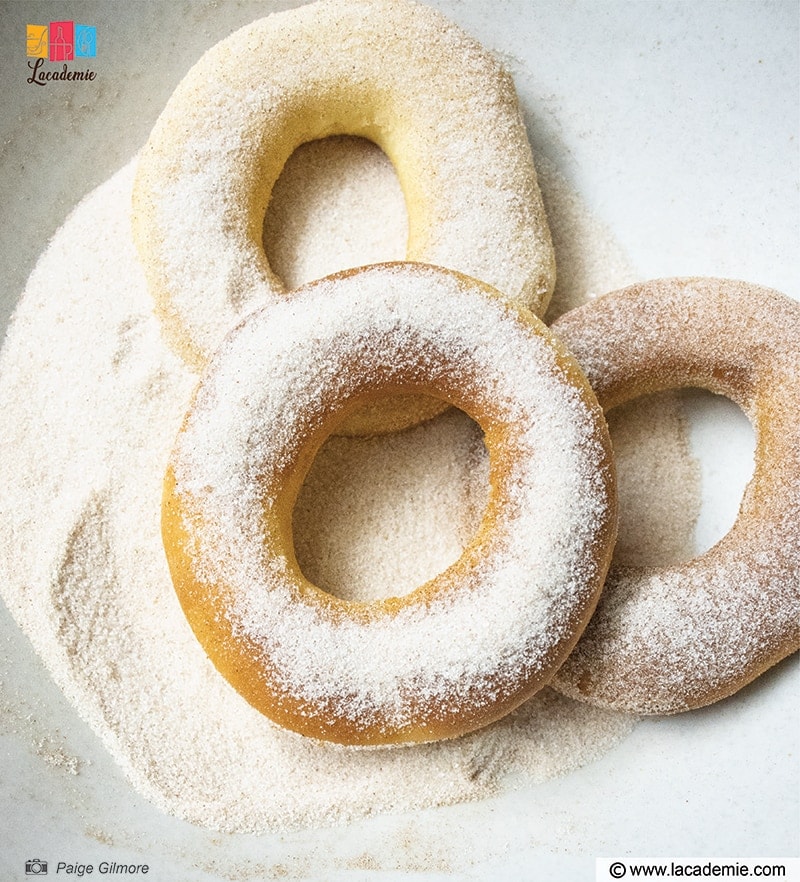 You want to make some mouthwatering varieties of donuts this weekend? Let's check out this air-fried recipe with an exciting cinnamon sugar coating on the donuts. The layer will enhance the dish's sweet taste and give it an exciting crispy texture.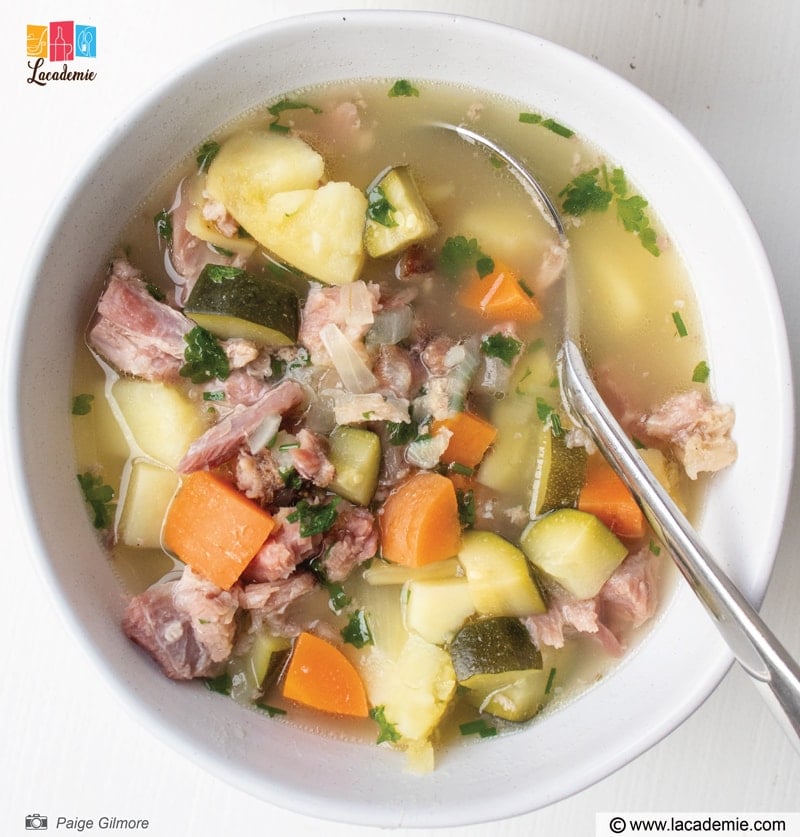 Nothing can warm me up better than this ham bone soup! Spend some time simmering your ham bone, and it'll deliver a fragrant and rich dish. It's already delicious on its own, but you can add some sour cream to diversify the flavor.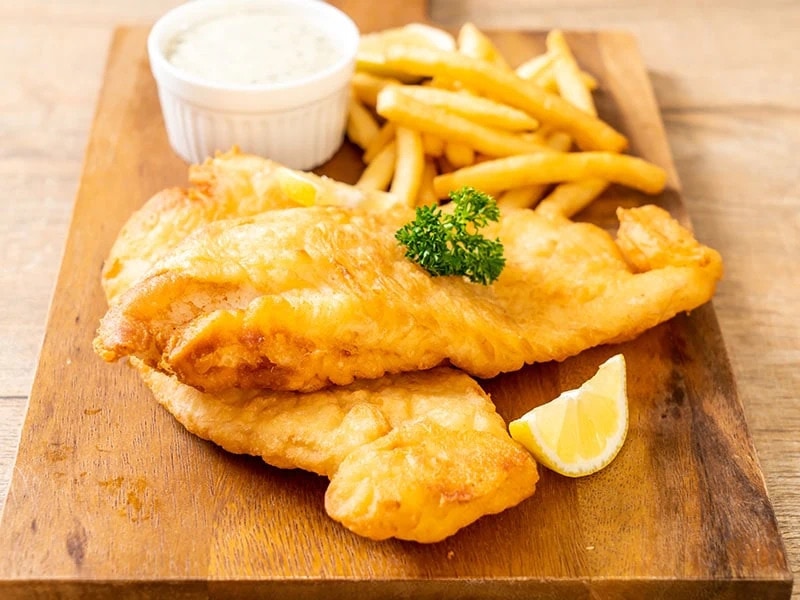 I bet many of you are regular customers at Long John Silver's restaurant. But now, you can create its signature fish batter right at home. This recipe is hassle-free and so easy that even a beginner can make it. And it only takes less than half an hour to finish.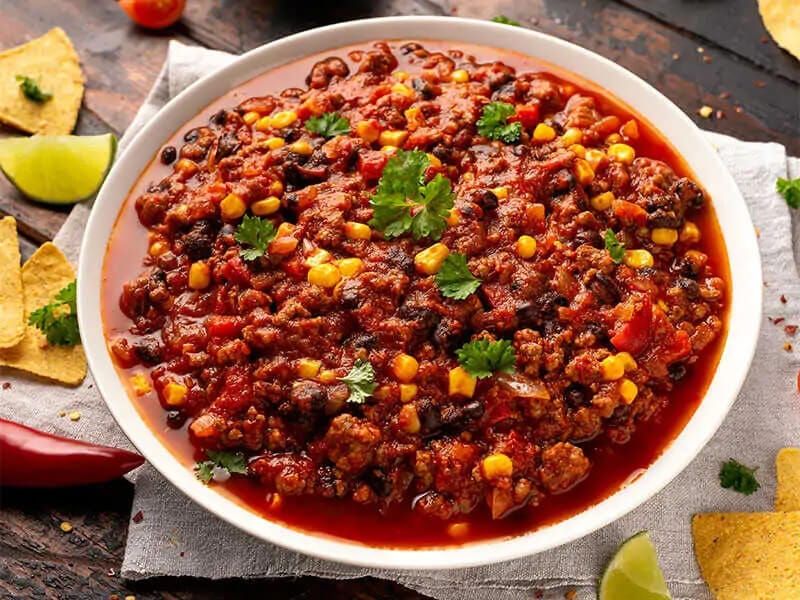 While chili originated from Mexico, it has become a familiar face in many American meals. And some of you may have heard of the iconic chili at Wendy's restaurant. Now, you can create it at home in about 2 hours.
Seeking a tasty breakfast dish from America? You should try this quick and easy fry bread recipe. You can expect the bread to have a lovely crispy cover that melts right in your mouth. The interior is thick and soft and gives you a pleasant feeling in every bite.
What else could give a more warming feeling than a hot and soft loaf of sandwich bread? The bread has a mild flavor and scent that can go well with any sandwich choice you want. If you can't finish the whole loaf, you can store it in the refrigerator and use it the following day.
Hey! Do you want to try an authentic and famous American sweet course? Apple pie is a dessert that you should never miss. It has a crunchy and crispy pastry dough cover that highlights the delightfully sweet apple filling.
Don't skip this apple pie recipe because its mesmerizing taste.
American cuisine is famous for rich and greasy recipes that make your mouth water. This hamburger recipe is an excellent representative of this country's cuisine. The buns are soft, while the slice of meat is incredibly juicy and matches the cheese's flavor.
Here comes an astonishing American dish perfect for dinner. The T-bone steak has a melt-in-the-mouth texture that will amaze your family members. You can pair the steak with some potatoes or sweet potatoes to complete the meal.
Give your traditional pizza a twist with this New York-style recipe. The pizza has a thin bottom with a soft texture in every bite. The cheese and tomato sauce give a creamy and savory sauce that makes the pizza so irresistible.
Hey! Don't you want to try a pizza with a splendid spice? Try this New York-style recipe.
Hey! Who loves a mild flavor from potatoes? This potato salad adds a creamy and refreshing touch to the potatoes using mayonnaise and other veggies. You can also feel a spicy kick from yellow mustard that brings an exciting flavor to the dish.
Let's enlarge your lunch menu with an American dish. The flavor of this cowboy casserole will please your taste with its creaminess and savory meat filling. You can freeze this casserole if you can not finish the entire dish.
Hey cheese lovers! This macaroni and cheese recipe will suit your taste. With the use of cheddar cheese, you will feel all the creaminess dancing in your mouth. There are various variants of macaroni and cheese recipes, but you will find that they all share a memorable rich flavor.
Let me welcome you with this signature American dish. The juicy and savory hot dog is sandwiched in the middle of soft buns. You can complement the dish with the taste of yellow mustard or Jalapeno pepper.
There are tons of recipes in the States, but this delicious American appetizer might be the unique one. The cake has that ocean-like flavor of fresh crab meat or can crab that ties with the crumbly and crispy edges. You can refrigerate the patties before frying them to avoid the cake from falling apart.
Let's make this classic American crab cake to treat your family.
Imagine the creamy taste combined with the refreshing and crunchy veggies, tasty, right? Macaroni salad is a lovely choice to bring this flavor to your family. The well-cooked macaroni has a slightly chewy texture that makes the salad perfect.
How about a sweet potato dish for breakfast? Sweet potatoes have a naturally mild sweetness that will make your morning dish more memorable. You can add some spicy flavor by using Jalapeno pepper or paprika.
This classic American treat has a different texture compared to other biscuit recipes. These powder biscuits are thicker and less dense than the normal ones. Their texture is soft and melty that will amaze you.
Bathe your creamy cheese in an alluring smoky smell by grilling the dish. After being grilled, the sandwiches have a crispy texture that will dissolve immediately right in your mouth. Your favorite chili will be the best savory option to complete the dish.
What if you have a package of chocolate chips in your fridge? You can bake a batch of sweet cookies to treat your kids or serve as a delectable dessert at your party. These cookies are soft and chewy that leave a pleasant sugary taste in your mouth.
OMG! I bet you will lose your head over this chocolate chip cookie recipe!
You can add a hint of creaminess to your bananas with this traditional American banana split recipe. The dish is super easy to make; you just need to place peeled bananas on a dish and apply whipped cream on them. You can add cashews or other fruits for extra flavors.
Here comes another banana recipe to satisfy your desire. Banana pudding originates from the southern region of America. Creamy, sweet, and a hint of crumbliness from wafers will make this cake become one of your favorite desserts.
Speaking of America, you can not forget to mention cheesecake. New York cheesecake has a smooth cheese filling that highlights the crumbly bottom. To balance the rich taste, you can top this cheesecake with fruity jam or fresh fruit.
If you are a fan of pie, America will be your paradise with various pie recipes. This pecan pie is perfect for those who love its nutty flavor. Then toss some pecans on top of the pie before baking, and you will have a beautiful brown dessert.
Doesn't this pecan pie look incredible? It's time to taste it!
Why don't you turn your favorite chocolate chip cookie into a cake? Yeah, this recipe enlarges the size of the ordinary cookie to a massive cake. The cake is a suitable option for any birthday party that requires a bold and sugary flavor from chocolate.
Here comes great news for chocolate lovers! You can turn it into a pudding with this recipe. The paste is so smooth and creamy that it is rich in chocolate flavor. Before serving, you can toss some fresh berries or apply whipped cream to the dish.
If you are out of ideas for the next BBQ party, you can try this American BBQ sauce. The sauce has a flavorful taste from Worcestershire sauce and a hint of molasses flavor. This BBQ sauce is perfect for marinating chicken or pork.
Craving for some smokey and juicy brisket flavor? You can make this BBQ brisket to serve at a warming dinner night. The brisket is deliciously tender with a brownish golden color. The sauce coating the brisket will bring you to heaven at a BBQ party.
Do you hear me? You may have tried all kinds of brownies in the world. But the gooey and fudgy texture of these little chocolate brownies will surely capture your heart again. Chocolate provides a sugary taste and a touch of bitterness to the sweet treat.
Ready to feel the fudgy and moist chocolate brownies? Let's Go!
These BBQ meatballs are infused with an incredibly flavorful taste. The meatballs are cooked to perfection that will welcome your mouth with juicy water. The smooth and thick BBQ sauce covering the meatballs will make your day.
Let's kick the scorching summer heat with an Italian-originated beverage. The drink has a beautiful and gentle flavor from espresso that ties with the milky cream and sweet caramel sauce. Add some ice cubes and your drink is ready to serve.
What if you love mac and cheese flavor but can't finish the whole dish? You can try this mac and cheese bites recipe. These bites are deep-fried to have a magnificent golden cover. The warm and creamy interior is waiting for you to taste it.
When you have no idea how to frost your cupcakes or muffins, you can cover it with a rich, nutty, and a little earthy flavor. A gentle hint of vanilla will complete the frosting recipe with a slight fragrance. This peanut butter frosting will drive your kids crazy!
America is such a humble country for sandwich lovers. Club sandwiches have many versions in each region of this country. You can have a traditional one with a savory flavor in every bite or serve as a topper for a beautiful glass of Bloody Marys.
Such a breath-taking club sandwich with a creamy taste. Don't you want a bite?
Use bacon to wrap your turkey, why not? This is a brilliant twist to your ordinary turkey dish on Thanksgiving. The turkey is perfumed with a smokey and juicy bacon cover. You have to watch out for the turkey while baking because the bacon layer might make the interior raw.
Have you ever thought of frying sweet Oreos? The crispy deep-fried batter will complement the chocolate and bold Oreos flavor. You can garnish these fried Oreos with powdered sugar for a lightly sweet taste and powdery texture.
Let's add a twist to your chicken wing dish with a tangy and sweet Mango-Habanero sauce. The chicken wings have incredible crispiness that will treat your toughness pleasantly. Paprikas add a hint of piquant taste to the sauce, amazing!
The special feature of this maple walnut ice cream is the egg custard that creates the mesmerizing base for the ice cream, not to mention the sweet maple syrup and the nutty flavor from walnuts. A scoop of this ice cream is a delightful treat at the end of the day.
If you have a headache while finding recipes for your ground turkey, you can try this turkey meatloaf with an American style. The savory taste from Worcestershire sauce infuses the meatloaf forming a wonderful dish that is hard to resist.
You will be overwhelmed with the savory taste of this turkey meatloaf.
A great salad is on the way! You can make this beautiful salad like a side dish to switch with regular lettuce ones. The dish is accompanied by plenty of peas and peanuts; the salad gives you a super nutty and earthy taste that you will love so much!
If you are looking for a good American soup recipe, chicken noodle soup is perfect. The soup is a gentle kiss of a beautiful lady that is charming and cozy. You can taste how sweet and savory the dish is versus succulent egg noodles that will comfort your craving stomach.
You want to make some mouthwatering varieties of donuts this weekend? Let's check out this American-styled recipe with an exciting glaze coating the donuts. The layer will enhance the dish's sweet taste and give it an exciting crispy texture as well.
Why don't you try to make an excellent batch of buckeye candy for your family and friends? Trust me; you will have a lot of fun during cooking time. After you shape the peanut butter balls, cover them up with dark chocolate to give them a vibrant and nutty flavor.
I want to introduce you to a perfect dessert for everyone to enjoy. Beignets or puff puffs are excellent American pastries in that their texture is like filled-up donuts. However, you can tell that beignets are rich in egg taste and are eaten with powdered sugar on top.
Who wants some delicious pancakes for this brunch? Trust me; the dish is the most simple recipe that you can try to make at any time.
Plus, pancakes can go perfectly with various dishes. For example, an additional sweetness from maple syrup is a nice accompaniment to the buttery, mild taste of the pancakes.
These pancakes can not wait any longer to melt in your mouth. Yummy!
Live In The Dream Of American Taste
What a paradise of flavorful food, right? All other nations' cuisine has formed a sophisticated and distinctive culinary feature in American food. Get your apron out and make your favorite American recipe right now.
I hope this post inspires you to make a wonderful American meal. Surprise your family with your cooking skill. Feel free to like and share this post with your friends.