Want to create a party full of classic American desserts? Or do you want to upgrade your daily dessert recipes? My list full of delectable treats from America will address all your concerns.
America is a multicultural country. Therefore the cuisine from this country is diverse from region to region. However, I can tell that most of the dessert recipes will be sweet and creamy.
There are plenty of desserts in America that you can make for your family. However, to pick out the most iconic American desserts, my list varies from pie, cake to cooling ice cream. Feel free to choose the most suitable dessert for you.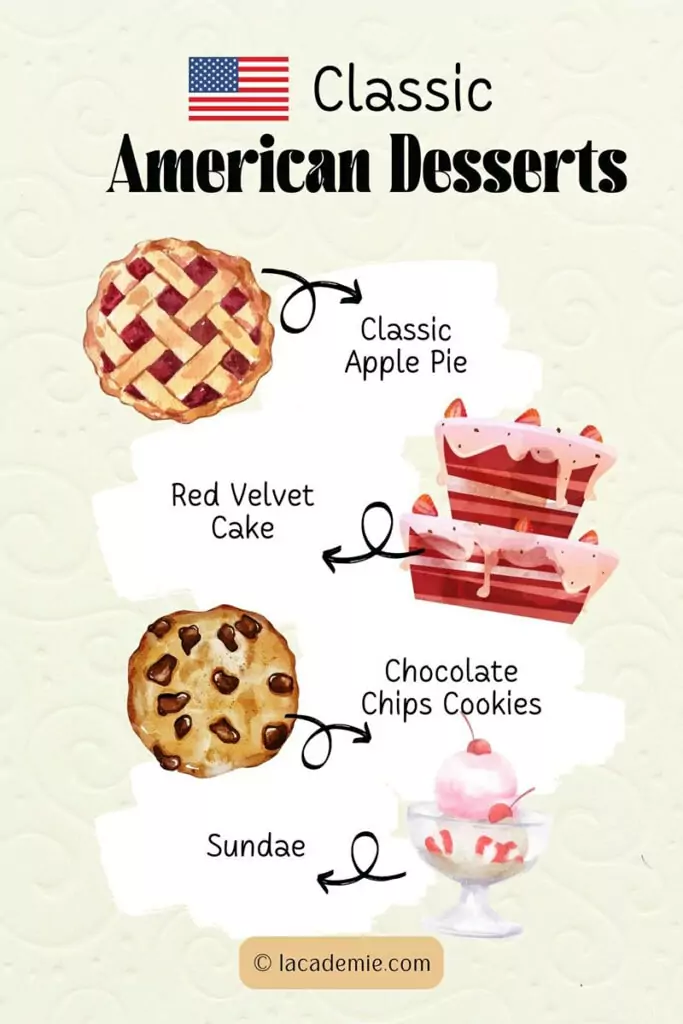 Best 26 Recipes For Classic American Dessert
Here are my favorite picks for 26 classic desserts in American cuisine. I'm sure you will find the recipe that fits your needs. Now, let's dig into my list right now!
Pie
Classic Apple Pie
Marionberry Pie
Moon Pie
Mississippi Mud Pie
Boston Cream Pie
Cake
Dirt Cake
Texas Sheet Cake
Berry Cobbler
Red Velvet Cake
Chocolate Chiffon Cake
Hummingbird Cake
Dairy Queen Ice Cream Cake
Pudding
Persimmon Pudding
Hasty Pudding
Banana Pudding
Cheesecake
New York Cheesecake
Oreo Cheesecake
Cheesecake Brownies
Other Desserts
Ambrosia Salad
Apple Pie Milkshake
Chocolate chips cookies
Bourbon Pecan Pralines
Chocolate Oreo Muffin
Cheesecake Snickerdoodles
Peanut Butter Balls (Buckeyes)
Sundae
For more details, all you need to do is scroll down!
Top 5 Ideas For Tasty Classic American Pie
America is famous for different kinds of pie. They all have crispy crusts and sweet fruit filling inside. Now, let's have a look at these iconic American sweet treats.
Every time someone mentions the most popular dessert, the first thing that pops into my head is the American apple pie. Baking the apple pie reminds me of my mother's fresh from the oven pie that its fragrance will spread to every corner of the house.
The original pie has a super crunchy crust that is stacked onto the apple filling like a net. In my perspective, the pie should be enjoyed with some ice cream or cheddar cheese will be the best.
The Apple Pie recipe you have been looking for is right here. Watch this video:
Another version of apple pie has been upgraded with a sweet blackberry hybrid that will make it more diverse. The pie origin comes from the marionberries with the taste of different berries in one. Thus, it makes the Marion pie become a signature.
In general, the mixed berries filling has given the pie a varied flavor that you will never forget. The pie may be a bit sweet, but it is an excellent combination of pie that you should try.
In my viewpoint, this is a delightful treat with marshmallows that every generation loves. You can probably see it at every grocery store as a widely manufactured product, but fortunately, you can make it at home.
The chocolate moon pie is pretty chewy and has a sticky marshmallow filling in the middle. Therefore, generally, the moon pie will give a tremendous flavor and some sort of muted graham taste.
Here comes a typical sweet dish from the South. Mississippi mud pie is a moist chocolate dessert with a gooey chocolate filling covering the top of the chocolate crust.
The pie crust is made of the well-known oreo cookies that give it a perfectly crunchy crust.
In addition, it is created by lining up different layers of chocolate and last with some whipped cream on top. Plus, sprinkling some almond nuts on the whipped cream is not a bad idea.
There are many names for this pie, such as cream pie, chocolate pie, or custard cake. No matter what it is called, the Boston cream pie is always something you will never forget.
The famous tasty pie is filled with creamy creme, some unique ingredients. The pie has a rich and chocolatey flavor, plus it is incredibly soft and spongy as well.
How About This Top 7 American Cake?
Cakes are fluffy and spongy with a gentle, sweet flavor. In America, cakes have different shapes and textures; here are five signature American cake recipes that you must try!
As a fan of Oreo cookies, you can not skip this attractive dirt cake. It seems like a combination of pudding and a variety of ingredients to create an incredible cake like that.
In general, the cake has a crunchy layer of crushed oreo that makes it look like dirt. Plus, you can try to add some gummy worms to make it look like real dirt. Believe me; kids are going to love it.
Okay, it seems like I have already given so many chocolate suggestions. But stay calm; this Texas sheet cake will never disappoint you. Thus, the fantastic cake has full chocolate fillings and a super interesting coating.
In my perspective, it is super simple to make. You can probably do it just by using a jelly roll pan, and it is also perfect for a party or potluck.
Want to try some old-fashioned dessert that can be everyone's favorite cake. The berry cobbler is something that you should give a shot.
You just need to mix all the ingredients in your chosen cake pan to create this dessert. The combination of crispy, buttery biscuits versus some juicy sweet berries will make a nice dessert for a summer night with your family.
If you are a fan of berries, this Berry Cobbler is a must-watch:
When it comes to classic American desserts, how can I skip this one? The cake is a superfusion of Holland red cocoa and cream cheese.
In general, the red velvet cake is incredibly creamy and not really sweet. I mean, you can tell that the whole combination is so great and has a very spongy texture. Thus, it is delicious to enjoy the chilled cake and served with a nice cup of ice tea that is super satisfying.
Somebody may wonder what the difference between a chiffon cake versus a spongy cake is. Well, the spongy cake consists of artificial leavening like baking soda and baking powder. On the contrary, chiffon is made of beaten white egg making it more organic than the other.
In general, the chocolate chiffon cake does not taste very different compared to the spongy one. In fact, they are both likely the same flavor, and maybe the chiffon is a bit creamier. To be honest, I prefer the chiffon cake and am willing to try it several times.
Hummingbird cake has a unique flavor, it is a combination of bananas and pineapple and a bit of aromatic scent from cinnamon and nutty taste from pecans. Finally, a creamy cover made from cream cheese is a lovely layer for this cake.
The cake is crumbly but still has a moist texture inside. If you love rich and fruity cake, try this one, it is absolutely tasty.
Let's make this Stunning Hummingbird Cake in just some simple steps. Watch this video:
For those who just fall in love with Dairy Queen Ice Cream, I have a fantastic recipe that combines cake and Dairy Queen Ice Cream for you to try right now!
Oreo crumbs perfectly match the chilling taste of vanilla and chocolate ice cream. The cake is frosted with a rich layer of whipped cream with colorful sprinkles. I'm sure the kids will be obsessed with this lovely cake.
Three Creamy Cheesecake Ideas From America
Cheesecake is one of the most iconic symbols of American cuisine when it comes to desserts. Check out these cheesy desserts, which have such detailed instructions that you won't have to wonder about the differences between yellow or white American cheese. Everything is simple!
If you have friends that are fans of Oreo cookies and cheesecake, you have to make them this recipe. The texture is mixed with softness and crunchiness in every bite of the cake.
Oreo crusts will take this cheesecake to another level. With just a touch of chocolate flavor in this recipe, your friends will never forget this cake. Also, it is super simple to make with the no-bake recipe; try it now!
The top is a creamy cheesecake layer, and the bottom is a fudge, rich brownie layer. This combination creates a sweet, chewy, and dazzling sweet treat.
You can add some seeds like pecans, almonds, or walnuts on top to form a bit of nutty flavor for the dish. Plus, if you are a fan of chocolate, feel free to create a thin layer of chocolate syrup, it is super tasty.
The New York cheesecake has a super-rich flavor and a dense texture that makes it a signature compared to the other ones. And while it has the average shelf-life of most cheesecakes, this New York delicacy will make you wish that it could last forever.
Furthermore, this yummy cheesecake variety also has a crumbly crust as a base of the cake, and then the cheese mixture coats it in a perfect shape. In addition, the unique thing about the crust is that it is made of sugar, butter, egg, and flour, whereas the others are made of graham crackers.
This is definitely my favorite New York Cheesecake recipe, so creamy! Watch this video:
Hey! Look At These Pudding Ideas. They Are Really Tasty
Soft and jiggly puddings are clever choices for making desserts. Here, let's find out how Americans make these yummy desserts.
One of the traditional American desserts is made of persimmon fruit which is hardly found in some places. In fact, it is a favorite fruit of Indiana, and the locals love it so much.
In general, the pudding flavor is pretty buttery, merging with a delightful taste of persimmon. Thus, the whole combination is made of the acid fruit taste versus a sweet flavor of moist pudding, which creates an excellent dessert for you.
"And there we saw the men and boys, as thick as hasty pudding, Yankee doodles keep it up". Some of the lyrics from the famous song Yankee doodles mentioned the hasty pudding in the 18 century.
The famous pudding has become a great tradition. It is popularly made of cornmeal versus wheat flour and milk to create a lovely fusion for the dish. The consistency is pretty stunning. And, you can indulge the word both warm or cool as your favorite selection.
As a famous classic American dessert, it has something exceptional that has become an excellent treat for your family.
The dish is made by placing some custards and fresh bananas into milk, eggs, and vanilla extract. And just like that, you layer them all together and let it chill in the fridge to let the combination be dense to eat.
8 Other Delightful Desserts From America That Will Amaze Your Guest
Cooking is a fun and creative process. There are many brilliant ways to create stunning desserts. Here are some of my favorite picks for American dessert ideas. I'm sure they will amaze you.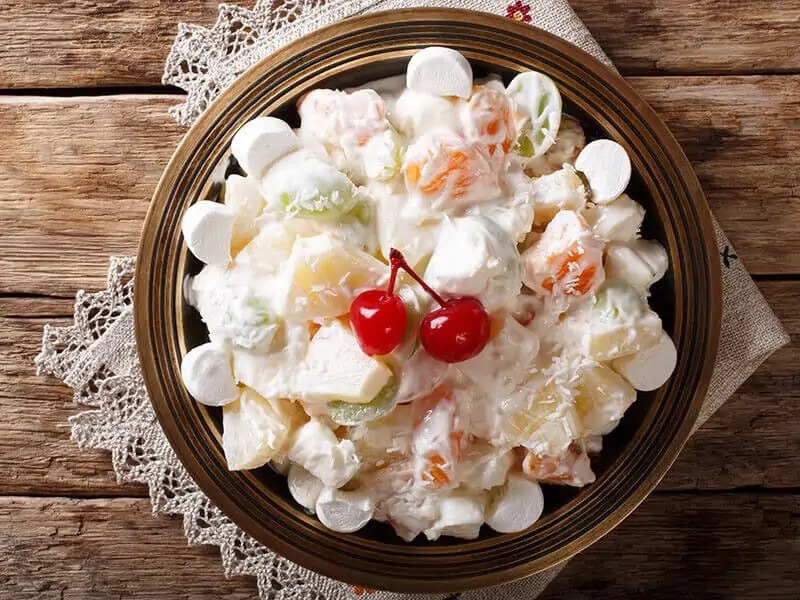 Ambrosia fruit salad is a cool dessert you can enjoy anytime. It is made of favorite cut fruits and covered by a nice coat of Greek yogurt to balance the dish's flavor.
In general, the salad taste is not as sweet as its colorful appearance. In fact, it is pretty sour and mild thanks to the involved fruits and sour cream.
Combining apple pie and milkshake is the most brilliant idea I have ever heard. This dish is irresistible with the signature taste from apple pie with fresh apple slices and the sweet, cooling flavor from the milkshake.
Place some whipped cream and top some seeds like almond or cashew, the dessert is ready to serve.
A typical treatment of the American that you can not skip. Chocolate chips are pretty popular and have become everyone's favorite snack.
You can easily get some of them from the grocery store or even make some by yourself. A "fresh from the oven" batch is nice. But make sure you know how to make your cookies softer as they may come out a bit hard.
With a glass of milk, these cookies are an incredible treat for the young generation.
Crispy edge and gooey center chocolate chips cookies are right here, yummy!
Here comes a perfect Southeastern America snack that is also very attractive and tasty for you. The pecan pralines candies are made with pecans, syrup, brown sugar, and a gentle hint of bourbon whiskey that makes it so unique.
In general, the candy flavor is a bit sweet, but the nutty and crunchy taste from pecans will save it all. Furthermore, pecan is also a good source of calcium and contains some healthy fat and proteins that may support your nutrition requirement.
A rich chocolatey cupcake that you may fall in love with. Actually, you will like the crunch of oreo and the gently moist texture. It's a must-try cupcake recipe on Valentine's Day.
A great time to enjoy the muffin may be right the time it retains the hot temperature. In addition, adding some crunchy almond and crushed oreo cookies on top will make it tastier.
Buckeyes balls are made of peanut butter and covered by a delightful chocolate coat. In general, the dessert flavor is pretty creamy, nutty, and delicious in its own way.
In fact, it is intentionally made to look like the nuts of the natural buckeye. Therefore, the buckeye's appearance has a wonderful light yellow peanut butter filling like the nut and a crust of dark chocolate. Plus, it is super delicious to enjoy chilled buckeyes from the fridge.
Cheesecake inside a cookie, I do not see that coming. To be honest, it is the most satisfying combination that I have ever tried before. The cookie rolled is sprinkled with a soft layer of cinnamon, a buttery and sweet of snickerdoodles. That is what we are looking for.
In general, it is perfectly mixed with the creamy, chewy, and soft cheesecake inside the crumby of the cookie dough. That makes it a lot better to be indulged at any time on any day.
Snickerdoodles with cheesecake filling are so irresistible! Watch this video:
The image of a fancy glass of sundae at Wendy's brings the ice cream spirit to the world. I have to say the stunning look of the ice cream makes everyone want to try it right away.
It combines 2 or 3 ice cream scoops versus an excellent cover of caramel or fruit syrup. Plus, adding some colorful sprinkles on the top of the ice cream glass will make it more attractive a hundred times.
Let's Try Something New!
If you are seeking some awesome recipes to try, I hope this list meets your needs. The greater number of recipes you take, the more skillful you will get.
Believe me, you will become a master of American desserts after trying all the listed ideas. You can begin with the "Pie" section because this part includes the most signature recipes from this multicultural country.
Let me know if you find your favorite idea.
Nutrition Facts
8 servings per container
---
Amount Per ServingCalories200
% Daily Value *
Total Fat 15.3g

24

%
Cholesterol 13mg

5

%
Sodium 54mg

3

%
Potassium 191mg

6

%
Total Carbohydrate 32.5g

11

%

Dietary Fiber 2.9g

12

%
Sugars 23.5g

Protein 2.6g

6

%
---
* The % Daily Value tells you how much a nutrient in a serving of food contributes to a daily diet. 2,000 calories a day is used for general nutrition advice.