Are white and yellow American cheese different? What are the features of white American cheese and its yellow counterpart? Is the only difference between them lies in color? And can you use white or yellow interchangeably in any recipe that calls for American cheese?
This is not entirely true and can result in funny, inappropriate food. Therefore, you should learn about the differences between these two similar-looking kinds of cheese. As a result, you can apply them more appropriately in your formulas.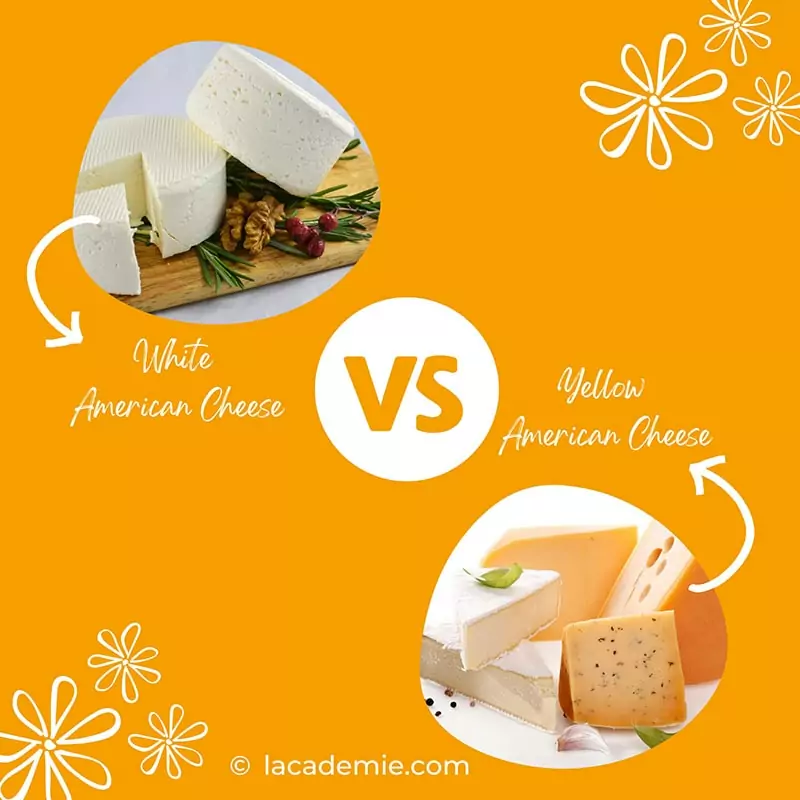 White and Yellow American Cheese: The Similarities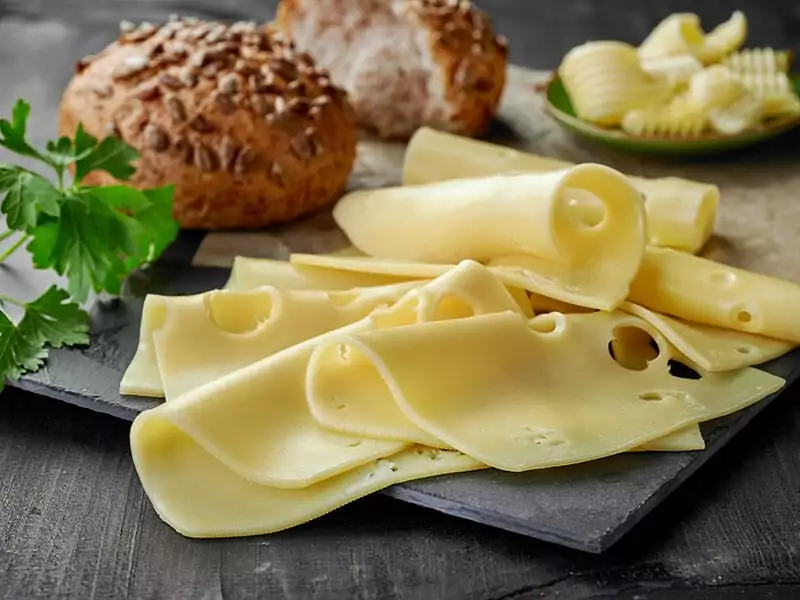 White and yellow American cheese are both processed cheese varieties from America (1). Their official name is "pasteurized processed cheese food." They belong to the American cheese group, which has been used widely all over the world in the food industry.
They are both made from animal milk by the coagulation method. White and yellow American cheese is generally sold in many forms along the lines of wrapped slices (so they are commonly called "singles"), shredded cubes, solid blocks, spread, etc.
People usually use white and yellow American cheese to add a cheesy and creamy taste to the recipes, as the accompanying foods for sandwiches, hotdogs, or something like that. They also have a high-fat content to contribute to the dishes.
What is American cheese really made of? Learn more now!
All Differences Between White and Yellow American Cheese
Before going into details, let me show you an overview comparison about white and yellow American cheese – all are summed up in the table below:
| Comparison Factor | White American Cheese | Yellow American Cheese |
| --- | --- | --- |
| Producing Process | Remove and strain any excess liquid whey | Drain extra liquid out of the curds |
| Color | Whitish (due to the citric acid) | Yellowish (due to the beta-carotene) |
| Taste | Salty and mild | Strong, sharp, and tangy |
| Texture | Dry, crumbly, spreadable | Soft and smooth |
| Applications | Lasagna, grilled cheeses, hamburgers, hotdogs, etc. | Sandwich, hotdog, burger, salad, etc. |
| Nutrition Content | Less fat content Vary due to the produced form | More fat content Vary due to the added color and flavor |
Different Production Process
There are many differences in the process of making white cheese and yellow cheese. These minor differences can lead to significant differences in all the characteristics of these two kinds of cheese. Therefore, you should learn about it first:
The Making Process of White American Cheese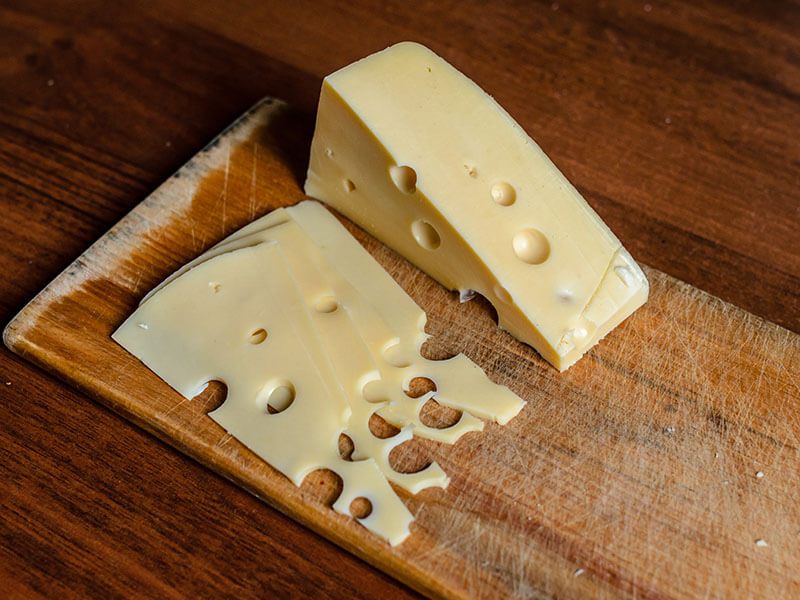 Making white American cheese requires time and effort. People usually follow these steps to produce quality white cheese:
Step 1: First, to make the milk solidify into lumps or curds, people add a coagulant (you'll often see that's calcium). By removing and straining any excess liquid whey out of the combination, the curds are generated.
Step 2: In this process, the curds are drained for a shorter time than yellow cheese, resulting in a lower fat content.
Step 3: After that, all the curds will be heated in a large hot-water pot to pasteurize the cheese and prevent any development of harmful bacteria.
Step 4: Then, people add enzymes called brine and rennet to the mixture. This action will cling to the small curds together.
Step 5: Finally, let the cheese sit at room temperature for many hours and wait for the result.
The Making Process of Yellow American Cheese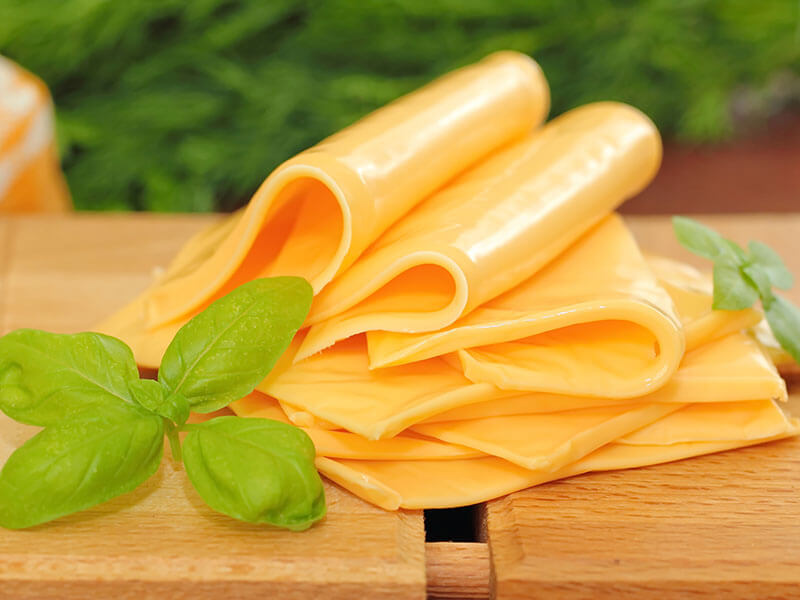 The manufacturing process of yellow cheese is so much similar to white cheese, except for some differences that lead to the changing results:
Step 1: Use a coagulant to solidify the milk. The manufacturing process is different in that yellow cheese is the curds that drain out more extra liquid rather than straining out and discarding the surplus whey like the production of white American cheese.
Step 2: In this process, drain the milk much longer than the draining time of white cheese, so the yellow has more butterfat. On the other hand, the liquid whey omitted from white cheese is a significant component of yellow cheese.
Step 3: Add cheese cultures (a strain of bacteria) to create a richer flavor and help develop good bacteria in the milk.
Step 4: Add the spices and seasonings to enhance the cheese taste. You can add annatto if you want more yellow color for your cheese.
Step 5: Later, use yellow cheese whey to make other dairy products along with yogurt and cottage cheese lines. And ricotta is also made by the excess liquid from the yellow cheese production process.
Discover this easy-peasy homemade American cheese recipe!
Different Color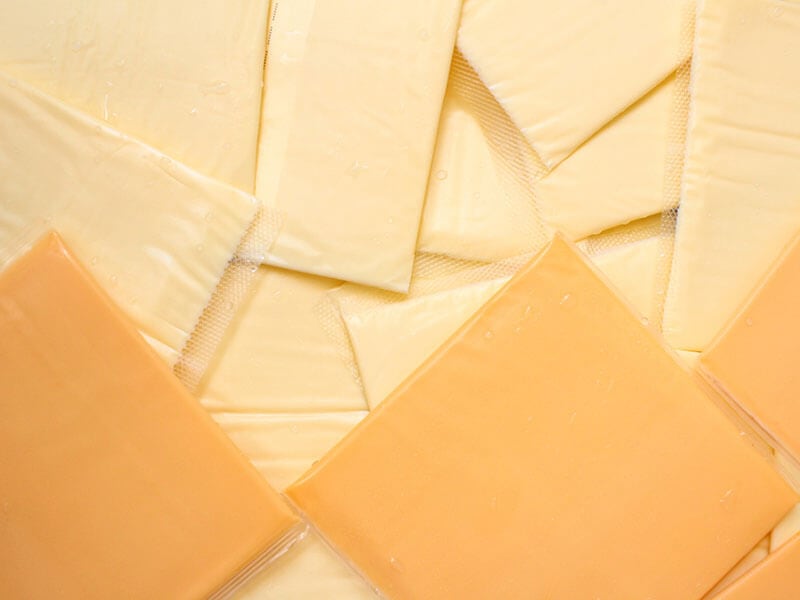 As the name implies, these two kinds of cheese are definitely different in color: one is white, and the other is yellow. This is the result of some differences in the production of each cheese.
The white American cheese has a particular whitish color due to one step in the production process. Before draining and curdling, citric acid is used to treat the milk for a short time. This is the particular reason why white American cheese has its color.
In the process, calcium chloride can also be added as a coagulant, and it will give the spotless white color a slight yellowish tint.
Unlike white cheese, yellow American cheese has its yellowish color thanks to the draining out of the whey. In this process, beta-carotene, a kind of protein in the milk, contributes to creating a yellowish color. This beta-carotene is a result of the grass and vegetables that the cow eats.
Different Taste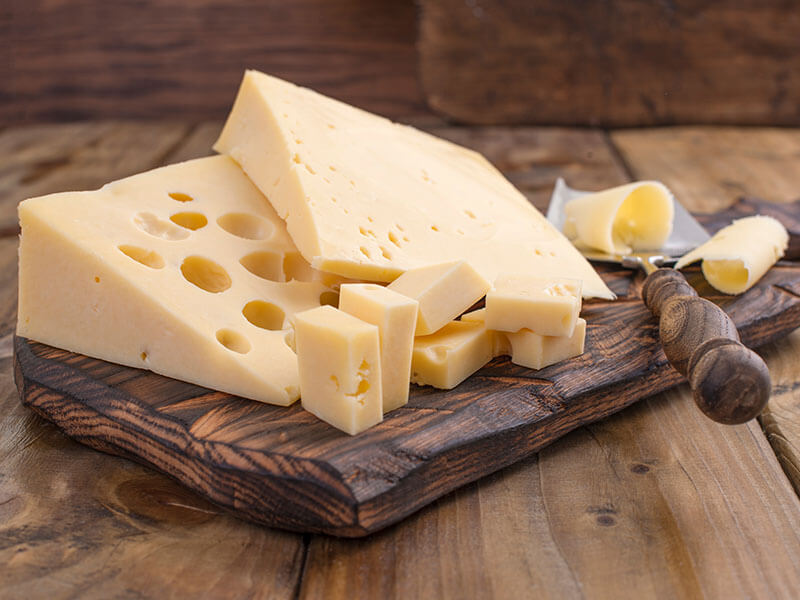 The taste of white vs. yellow American cheese is not so similar. Again, this difference is created by the production process. White cheese usually has a mild and salty taste, contrasting with the strong, sharp, and tangy flavor of yellow cheese.
Yellow cheese tastes richer than white cheese; the particular reason is the addition of many extra spices and ingredients, according to the manufacturers. Besides, different cultures added (bacteria) can create a different taste from brand to brand.
On the other hand, people add nothing (no spices, no seasonings) in the production process of white cheese. Therefore, this cheese has a blander and milder taste when compared with yellow cheese. And the salty taste is caused by the salt added when making white cheese.
Different Texture
These two kinds of cheese also have relatively different textures. White cheese usually has a drier and easily crumbles texture since it has a lower fat content due to the shorter draining period. For this reason, it is preferred to spread on bread or crackers without any backend.
In contrast, yellow American cheese has a longer draining time, making it much softer and smoother than white cheese. That makes it hard to spread directly onto foods without butter or oil in advance, but it still melts well and creates a smooth texture.
Different Applications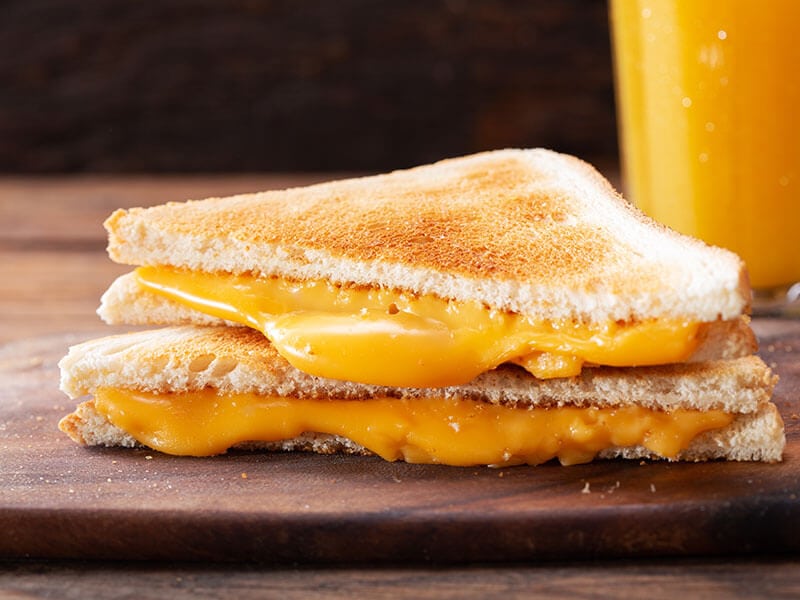 White American cheese is famous as the favorite cheese of chefs in restaurants. This cheese can melt and hold up very well in the way of dishes. It is also crumbled and spreadable, which is easy to use in many different recipes.
You will often see white cheese melted in some regular American food courses, such as lasagna, cheeseburgers, grilled cheeses, etc. People also use white melted white cheese inside hamburgers and hotdogs or spread it on the surface of crackers and bread.
On the other hand, yellow American cheese doesn't melt or hold its shape well as white cheese. It can also be runny quickly after melting. It is commonly used in the food industry. It is often paired as a topping for a sandwich, hotdog, burger, or salad to complement the cheese flavor.
Easiest American cheeseburger? Find out this particular recipe now!
Different Nutrition Content
The nutritional content of white and yellow American cheese can be so similar. Both two have high calories and high-fat content, just like other kinds of cheese, with the fat content from 30% and up.
A 1-ounce single slice of general American cheese provides (2):
Calories: 102
Carbs: 1.3 grams
Protein: 5 grams
Fat: 9 grams
Calcium: 23% of the Daily Value (DV)
Sodium: 21% of the DV
Phosphorus: 14% of the DV
Vitamin D: 11% of the DV
Vitamin A: 10% of the DV
Zinc: 6% of the DV
The difference you should notice here is white cheese has a bit less fat content than yellow cheese. The particular reason is curds are drained for a shorter time in the white cheese-making process, while yellow cheese has a more extended draining period.
However, you should also note that the nutritional content can vary depending on the form these two kinds of cheese are sold in, e.g., spreadable or sliced, etc. Also, depending on the manufacturer, added colors and spices can cause vary in nutrition content.
And another significant difference is that if you are allergic to dairy products, you can still eat white cheese, but definitely not yellow cheese because the milk content in yellow cheese can still be quite a lot to cause you to have an allergic reaction.
Flavorsome Recipes With White and Yellow American Cheese
White and yellow American cheese can bring some recipes to the next level – so much better taste compared with other cheese using. Let see what they can do:
Believe me; your American grilled cheese cannot be any better when you do it with white cheese! The mildly salty, cheesy taste and the gooey texture of white American cheese go so well with the soft sandwich, making it a perfect combination!
Still want to elevate your grilled cheese to a new caliber? Pair the grilled cheese with compatible foods such as tomato soup, pickles, or fries!
Use American cheese to make your best version of grilled cheese sandwiches!
No need to go to a fancy restaurant; you can still enjoy authentic Mexican white cheese dip at home with some American white cheese in the fridge! The rich texture and saucy taste combine so well with all the herbs, contributing the mouth-watering cheesy flavor to your main dishes.
The rich cheesy taste of yellow American cheese plus the smooth texture make your yellow queso more delicious than ever! The yellow cheese pairs so well with cheddar, cream cheese, sour cream, and all the seasonings to create fantastic queso.
This flavorful yellow mac and cheese will never let you down. Yellow American cheese creates a much creamier texture and saucier taste for your mac and cheese. Don't forget some yummy mac and cheese side dishes! All melting in your mouth with an unexpected pleasant feeling!
FAQs
Discover more about white and yellow American cheese with all their characteristics that you may wonder about in this Q&A section:
Now You Can Distinguish Your White and Yellow Cheese!
To sum up everything that has been stated so far, I would say these two kinds of cheese are definitely different. They are even different in all the aspects that you can talk about. Therefore, make sure you understand them and use them precisely from now on.
I know this post can help you do that! And if it does, why not leave a comment, like, and share my article so that everyone can distinguish white and yellow American cheese? Go right to the kitchen and do something with these cheese right now!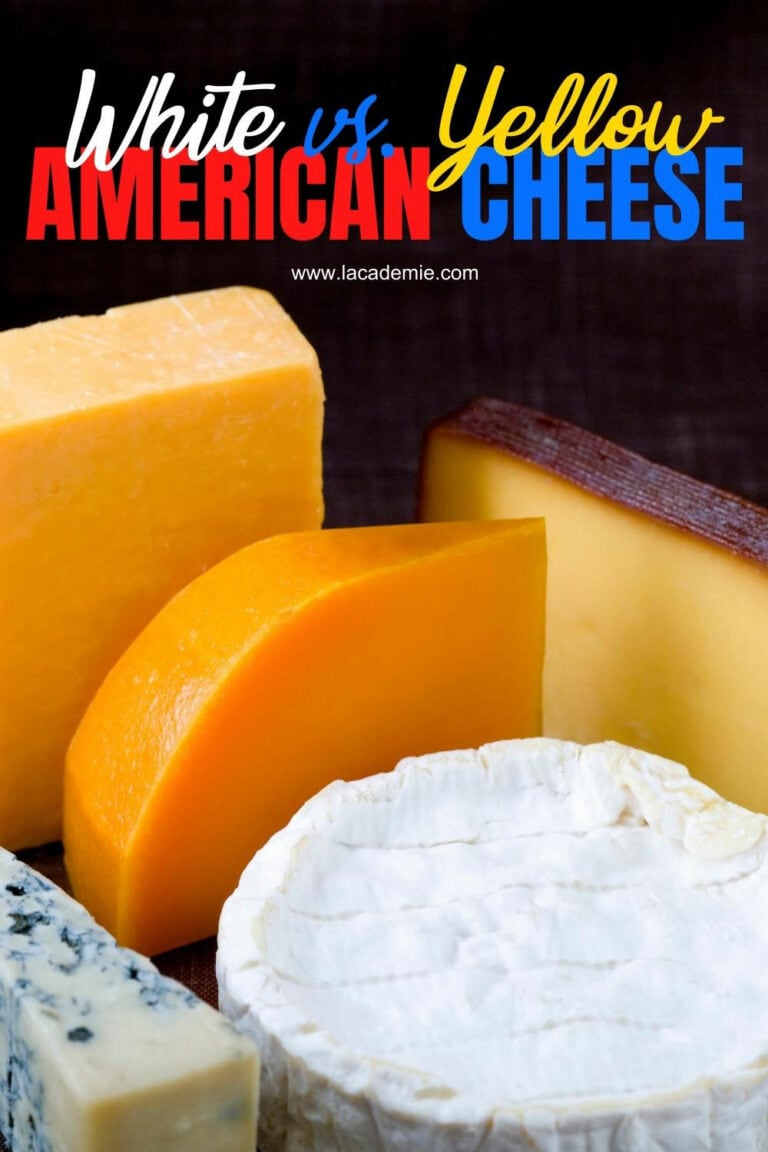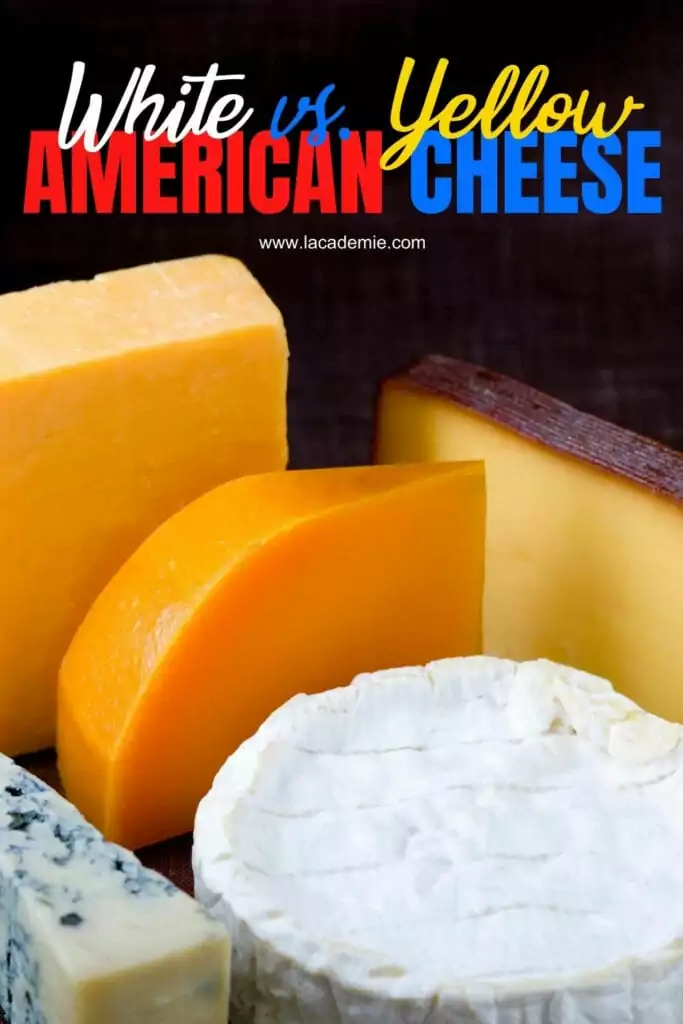 References
Anon, 2021. American cheese. Wikipedia.
Lang, A., 2021. American cheese: Ingredients, nutrition, benefits, downsides. Healthline.