Early mornings don't seem so bad when you have these American breakfast foods to enjoy. From easy to complicated, it's up to your preference, but the taste they can bring won't disappoint you. They are healthy, tasty, and super-family friendly.
You don't need to take time to search through the most popular American cookbooks to find these exquisite delicacies. They are right here in this post.
Not only their names, but you will also get to know how to create them and how to eat them for the best taste. Are you interested in learning about these wonderful treats? Check this out!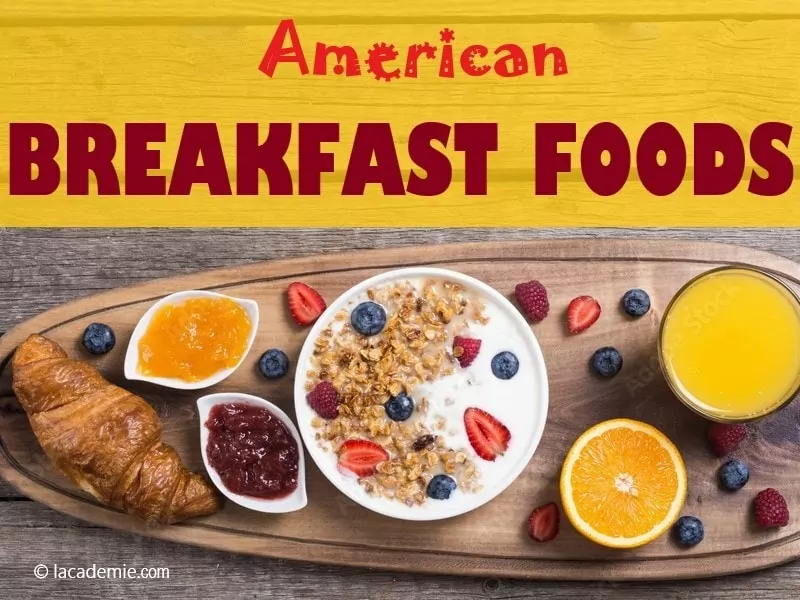 American Breakfast Foods To Satisfy Your Taste
There are a variety of delicacies from America you can consider for your healthy mornings. They can range from different types of simple bread to more complicated recipes. Let's take a look to find your new favorite things.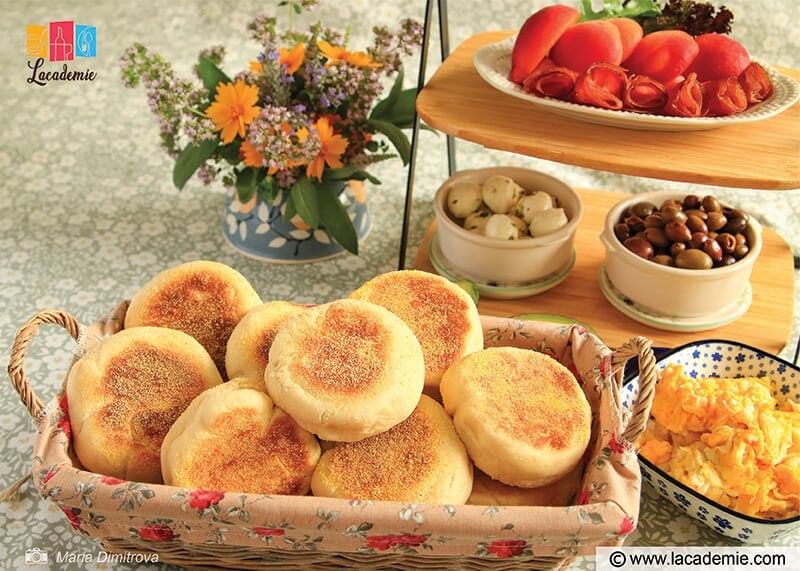 I know this dish uses English muffins, but scrambled eggs are a traditional morning meal in every American family. So, leaving this dish out of this list would be a waste.
For those who don't know, English muffins are more like bread than a cake in the US since it uses bread and dry yeast. You can find them in the egg benedict or other English breakfast sandwiches.
But in this recipe, I'll turn them into a nice American dish with soft, fluffy scrambled eggs. Other recipes may tell you to add milk or cream to this side dish. But as the muffins are quite sweet, it's better to leave these ingredients out.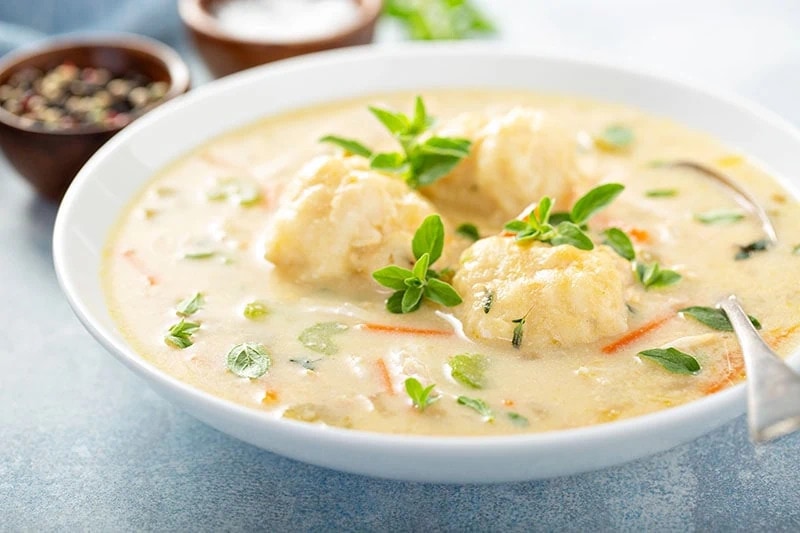 Bisquick mix often appears in pastries or pies. But you can turn it into flavorful dumplings by mixing it with milk, cheese, and herbs. Then, cook them in a pre-made stock for 20 minutes. You'll get a steaming hot meal to start your day!
If you don't have milk, you can replace it with water. However, the result will be a bit drier than usual. Or try plant-based milk (almond, coconut, or soybean) for a flavor change and more nutrients.
Total time: 40 minutes.
To start this interesting breakfast list today, I would like to recommend you a specialty from South America, Biscuits And Gravy. Americans love preparing this delight for breakfasts since it's delicious, filling, and convenient.
Remember that you don't need to include sausage in your gravy because this doesn't affect your dish's taste. Let's start with making your biscuits by combining flour, baking powder, butter, and milk. A touch of butter makes your biscuits creamier with a note of sweetness.
While baking your biscuits, you can prepare the gravy with other ingredients. Don't forget to stir this mixture constantly to make sure that your gravy doesn't clump. Moreover, you can adjust the amount of milk to make your gravy suitable for your taste.
The flaky-textured biscuits blended with the thick gravy are ideal to start a new day full of energy. You can serve them with egg benedicts, diced hash brown, or corn pudding to make your mornings more exciting.
Total time: 10 minutes.
You just need to spend only 10 minutes having a delicious sandwich for breakfast. I'm not kidding, this is the truth. This Everything Bagel Breakfast Sandwich recipe will give you 100% confidence in my words.
Although this delight takes a short time to complete, it's easy, satisfying, and melt-in-your-mouth delicious. Utilizing spreadable cream cheese, buttery avocados, and eggs as the filling, this treat won't disappoint your taste.
Red onions also play an important role in boosting the flavor of this bagel sandwich. They give a spicy hint to your dish, making it more addictive than ever.
Total time: 1 hour (excluding at least 6 hours of chilling time).
If you are looking for a versatile dish, don't ignore French Toast Bake, an ideal breakfast option. Moreover, it is also suitable for an American-style dessert or even a midday snack. Is it very convenient, right?
To have a delicious French Toast Bake, you need to divide your prepared ingredients into two parts. First, you need to mix sourdough bread with eggs and creamy heavy cream.
At the same time, mix other components like flour, butter, and cinnamon in a bowl. Place both the mixtures in the fridge overnight. The final step is to sprinkle the second combination over your bread mixture and bake it.
This delight derives the crunchy texture from the bread and has a slightly sweet flavor. I also suggest you add some orange zest or dried fruits to improve the flavor of this recipe before serving.
Preparing this French Toast Bake will be easier if you follow this guide.
Total time: 1 hour 10 minutes.
If eggs alone make you tired of breakfast, try an upgraded version of this ingredient with other healthy things. With a beautiful golden surface, Sausage Egg Casserole is tender and nutritious enough for you to enjoy.
Besides eggs, this delight consists of Italian chicken sausage and fresh spinach with a mild and slightly sweet taste. And Greek yogurt will add a creamy texture to your dish. Never forget to top your casserole with some cheeses and tomatoes to make it more colorful.
Packed with a good source of vitamins and minerals from spinach, a healthy breakfast is not as complicated as you thought. Moreover, Dijon mustard, with its tangy, sharp flavor and a bit of spice, is also an important flavor booster for this recipe.
Total time: 1 hour.
Do you want to enjoy a Cheesy Bacon Hash Brown Pie with sour cheese, a few chives, a slightly oniony taste, or even a fried egg in the morning? Who can resist yourself in front of this attractive scene?
From its name, you can easily guess that bacon and hash brown are the main ingredients of this delicacy. Cooking bacon is also the first step that you have to complete. Remember that your bacon result has to get a crispy texture after cooking.
Next, mix eggs, bacon, and hash browns, which have a taste reminiscent of potatoes, and bake the mixture for about 30 minutes. A touch of cheddar cheese also boosts the pungent flavor of this recipe.
Total time: 5 minutes.
There is nothing better than enjoying a glass of refreshing smoothie to start a new day. That's why smoothies are always a priority for those who want to follow a healthy diet.
Easy, quick, yummy, and healthy, that's everything about Strawberry Pineapple Smoothie. This is a perfect blend of various healthy fruits like strawberries, bananas, and pineapples.
This combination results in an amazingly sweet glass of smoothie with a creamy and smooth texture. Moreover, a hint of cayenne pepper also adds a peppery flavor to this delight, making you want to ask for it over and over again.
Total time: 20 minutes.
Known as one of the most popular foods in American, Crispy Cheesy Hash Browns is a must-try for you. Coming with an attractively golden appearance, this treat is a nice combination of flour, potatoes, eggs, and butter.
First of all, you should boil the potatoes. However, remember to keep your potatoes firm enough to grate. Next, just combine the other ingredients, including eggs, flour, and grated potatoes, and then shape the mixture into patties.
You will get golden and creamy results after frying them. Different egg dishes such as fried, boiled, and other delicacies like crushed potato chips and sandwiches always make a great partnership with Hash Browns.
These Crispy Cheesy Hash Browns are very luscious. Check this tutorial to make them right away.
Total time: 1 hour 5 minutes.
After learning about this delicious recipe, you won't have to put up with other boring bread. With its versatility, you can enjoy Banana Bread as a breakfast, a midday snack, or even a dessert. Moreover, if you are practicing a vegetarian-friendly diet, don't miss this breakfast bread delight.
Known for its deliciously moist texture, Banana Bread contains some easy-to-find ingredients such as butter, baking soda, flour, and other things. Moreover, the inclusion of Greek yogurt makes your bread creamier than ever.
This wonderful delight takes the sweetness from bananas. Never forget to choose ripe bananas because they play a key role in enhancing your dish. You can toast your bread with creamy butter to improve your experience.
Total time: 35 minutes.
It will be a serious omission if this list doesn't include the second most popular fast food in America, pizza. Being one of the loved dishes, pizza is always a priority for busy mornings.
Consisting of crispy chopped bacon, creamy butter, and pepper jack cheese with a spicy taste, this Breakfast Pizza is filling, impressive and palatable.
A bowl of warm American-originated soup or salads will perfectly complement your pizza. And now, what are you waiting for without trying this wonderful breakfast treat?
Total time: 55 minutes.
Known for one of the most popular dishes served on Thanksgiving Day, Cinnamon Rolls are gooey on the inside as well as sweet, crispy frosting on the outside, making them a perfect choice for hungry mornings.
Being the main ingredient, cinnamon is also the primary flavor booster of this delicacy. This popular component, characterized by its delightful aroma, adds a sweet and woody taste to this treat.
Moreover, a touch of cream cheese with a mild, sweet taste with a pleasant slight tang also significantly contributes to these luscious Cinnamon Rolls. Some good drink options like orange juice, coffee, or milk are always the perfect side orders for this recipe.
Follow these step-by-step instructions to have tasty Cinnamon Rolls for breakfasts.
Total time: 48 minutes (plus 2 hours of rising time).
Let's continue today's list with one of my favorite treats from Puerto Rico. Consisting of bread flour, yeast, egg yolks, and butter, these bread rolls are plump, fluffy, and supple with an amazing buttery flavor.
This recipe begins with creating the dough base with some necessary ingredients and letting this mixture rise for about 2 hours. The next step is to shape it into the coined buns. If your dough base doesn't work well when rolling, just let it rest for a few minutes and start again.
The final thing you need to do is top your baked goods with neutral-sweet powder sugar and enjoy this delectable delicacy with a cup of coffee to suit your appetite better.
Total time: 6 minutes.
When mentioning rice dishes in American cuisine, it is necessary to talk about Breakfast Rice Porridge. An authentic American recipe made from rice will remove your craving.
With just a few simple ingredients like rice, milk, cinnamon with a woody flavor, and naturally sweet dates, you will have a delicious and healthy treat for mornings. What can be simpler than mixing all the above components and cooking the mixture for 6 minutes?
Yes, you are not mistaken. That's everything you need to do for a thick and creamy bowl of porridge. An addition of some of your favorite toppings, such as buts, seeds, and other fruits, will be a good accompaniment for this porridge.
15. Eggs, Mushroom, With Spinach Breakfast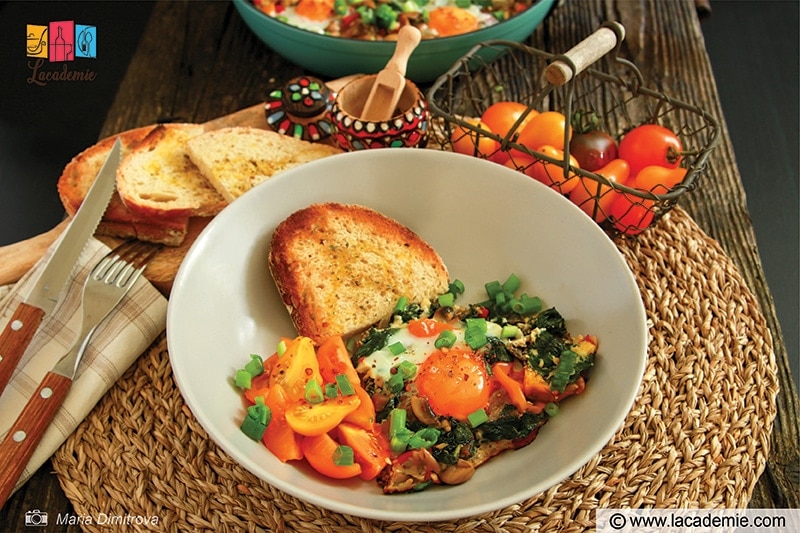 Nothing can challenge you in creating this recipe. With around a half hour (or less), you can whip up a yummy and nutritious breakfast for you and your family.
Indeed, the combination of nutrient-dense ingredients like spinach, mushroom, and eggs will never disappoint you. What's more, they are keto-friendly, low-carb, and gluten-free.
You do not need an oven to make this cooking idea either. With a skillet, everything will be taken care of excellently.
Total time: About 5 minutes (excluding 8 hours of placing the oat mixture in the fridge overnight).
Tasty and creamy Peanut Butter Overnight Oats will be an ideal option for you to treat your family. You don't need to spend much time preparing this hearty breakfast.
You can call Peanut Butter Overnight Oats a wonderful blend of flavors. With a little salty and nutty hint from peanut butter, plus maple syrup's sweetness, this delight also possesses a creamy texture, thanks to Greek yogurt.
All you need to do is create the oat mixture by combining all the ingredients together. Before serving, you just need to stir the combination and decorate it with your favorite toppings, such as blueberries and chopped peanuts.
Total time: 35 minutes.
When it comes to the yummy casserole in American, Bisquick Breakfast Casserole usually earns a high place. This delight only takes you about 35 minutes to complete.
To make this casserole, you just need to combine the necessary ingredients such as the Bisquick mix, pungent cheddar cheese with a slightly earthy flavor, and eggs. After getting the desired mixture, just pour it over the fried sausage you have prepared.
Baking is the final step to help you have a complete dish. If sausage is not an ideal choice for you, you can replace this component with cooked meat or even cooked diced ham.
You don't need to worry about the change in taste because I'm sure that every variation will give you a new experience.
Total time: 6 hours 5 minutes (including 6 hours cooking the oats).
If you are a fan of chocolate, Crockpot Hot Chocolate Oatmeal is made for you. It is a perfect combination of chewy steel-cut oats with a nutty taste, hot chocolate mix, and brown sugar.
The real preparation begins when you cook the steel-cut oats. This process will require about 6 hours, but you can make it ahead and reheat the oatmeal if you want to enjoy this treat in the mornings.
Delicious, healthy, and chocolaty, this treat will become a tremendous hit when you add some chocolate chips or mini marshmallows to your dish.
Total time: 10 minutes.
If you think Avocado Toast With Eggs is a recipe, I will change your mind immediately. Learning how to make this delight will help you have the three new options for your meals. Are you curious about my words? Keep reading to get the answer!
Only the avocado toast is fixed in this recipe, and the egg toppings will vary depending on your preference. It can be fried, poached, or even scrambled eggs. The inclusion of creamy avocados gives this delight a slightly buttery and nutty flavor.
Moreover, thanks to this component, your dish is packed with a lot of nutrients good for your health. Crunchy with bread, smooth with avocados, don't miss this perfect blend if you are an avid foodie.
How to make Avocado Toast With Eggs? Check this tutorial to get the answer now!
Total time: 26 minutes.
If you are getting rid of cookies made from unhealthy refined sugar, Oatmeal Breakfast Cookies are made for you. Instead of this refined sugar, this recipe uses bananas and honey to add sweetness.
Almond butter, which has a flavor similar to peanut butter but is nuttier and richer, plays an important role in this recipe. With a creamy and smooth texture, this ingredient adds a nutty flavor to this delight.
A touch of cinnamon, together with dried blueberries, also gives this breakfast treat a sweet taste with a bit of acidity. Delicious, filling, and healthy, these golden-brown cookies will please your taste buds.
Total time: 40 minutes.
Colorful, healthy, and delicious, Smoked Salmon Egg Benedict is the perfect blend of these elements. This delight is loaded with a lot of healthy nutrients thanks to smoked salmon and eggs as the two primary ingredients of this recipe.
Moreover, you only get the best taste of this treat when you have a ridiculously delicious, thick, and creamy Hollandaise sauce. It is a nice combination of egg yolks, lemon juice with a citrusy flavor, and butter.
The pairings of Smoked Salmon Eggs Benedict are unlimited. Some cherry tomatoes and cucumbers on the side also make it more attractive. Moreover, you can serve this wonderful dish with sauteed spinach and sliced avocados to satisfy your taste.
Total time: 25 minutes.
With only 25 minutes, you will have a savory specialty from North America to start the day off on the right foot. Sausage And Egg McMuffin Style Breakfast Sandwich is exactly what you are looking for.
All you need to prepare for this American-style sandwich is fried eggs, toasted English muffins, the sausage patties with sausage and maple syrup, and other necessary spices. Assembling the sandwich is, of course, the final step of this recipe.
However, you should note some important things while making this dish. First, you should place your eggs in the ring to keep them in perfect shape.
Secondly, store your prepared sausage patties in the fridge to help them get a firm texture before cooking. Chewy muffins with a bland flavor blended with the saltiness of the sausage create your perfect morning.
Total time: 13 hours 50 minutes (including 8 hours of chilling).
Are you interested in enjoying some croissants with a cup of coffee, ice cream, or chocolate-covered strawberries to start a day full of energy? Stay tuned because Homemade Flaky Croissants will give you the answer.
These light croissants come with some easy-to-find ingredients such as flour, yeast, milk, and unsalted butter. Making the butter square by blending the flour and butter is the key factor in making these golden croissants more irresistible.
Although this recipe requires you a lot of time, the results will deserve your time and effort. These baked goods come with a flaky texture and a deliciously creamy and sweet taste, making you want to try them for the second time.
You will get to know how to make these croissants through this guide.
Total time: 15 minutes.
Even if you are the laziest person in the world, this Oatmeal recipe is also suitable for you. Don't hesitate to spend only 15 minutes on a healthy breakfast.
Bringing this Oatmeal to your breakfast table requires mixing all the ingredients such as coconut flour, chia seeds, almond milk, etc. After that, cook it for about 10 minutes or until you get the thick texture of this combination.
Mild and sweet coconut flour blended well with rich and creamy heavy cream, creating a wonderful treat for breakfast. Don't forget to add some nutty pecans and maple syrup to make this delight more delectable than ever.
Total time: 35 minutes.
If you claim to be a passionate fan of dumplings, ignoring this recipe is the biggest shortcoming in your life. To start this simple recipe, you should create the stuffing by stirring eggs, sausage, and scallions until the eggs are soft.
The next step is to stuff the filling into the dumpling wrappers. Remember that all the edges of your dumplings are sealed, and the filling is not protruded from the covering. You will get pouches with creamy goodness after cooking them.
The sauce also plays an important role in enhancing the overall flavor of your dumplings. If you love something a little spicy, go for the spicy dipping sauce. On the other hand, give the mustard sauce a chance.
Total time: 30 minutes.
American Breakfast Bake is one of the easiest dishes for a simple yet delicious breakfast. This is another perfect combination of bacon and eggs, and all you need to do is bake.
Let's start with baking your bacon. After this component is cooked, just continue to bake your grated potatoes, which are loaded with a lot of health benefits, for about 15 minutes. Don't forget to season your potatoes with some necessary spices like pepper, sea salt, etc.
The final step is to make your eggs work well with other ingredients. Don't break the egg yolks during cooking because this will make your delight less attractive. A touch of chives with an oniony taste will increase the flavor of your breakfast treat.
Total time: 35 minutes.
Simple, easy, and splendid, there is no reason making you want to skip these beautiful Bacon, Eggs, And Toast Cups. With just some convenient preparations, you will have a wonderful option to refresh your boring menu.
Let's cook this uncomplicated but mouth-watering dish right now! Shaping your bread to fit the muffin cups is the first step of this recipe. After that, you should begin to bake bacon.
To get the best quality of this delicacy, you should make sure your bacon is crispy after cooking. All that's left is to assemble bacon and eggs over the bread. With the greasy taste of melted butter, this delight will surely satisfy your expectations.
Thanks to this instruction, you will have luscious Bacon, Eggs, And Toast Cups to enjoy.
Total time: 25 minutes.
If you are a fan of cookies, these Breakfast Cereal Cookies will satisfy your taste with their crunchiness and attractiveness. Making them to enjoy on the weekend mornings will be a wise decision.
This is a nice combination of cereal flakes, oats, and dried cranberries with a characteristic tart flavor. This results in golden cookies with a crispy texture and luscious taste.
To have luscious cookies, you just need to mix all the above ingredients until they are perfectly combined. Baking for about 12-15 minutes, you can sink your teeth into their delicious goodness.
Total time: 49 minutes.
Are you practicing a keto-friendly diet and struggling to find a good option on this list? Don't worry because this Paleo And Cocoa Puffs recipe will satisfy you.
All you need to do to have these crunchy cocoa puffs is create the dough base by combining flour, cocoa powder, keto maple syrup, and egg white together.
The next step is very interesting. You can choose among the three ways to shape your dough depending on your preference. Finally, just bake them for about 13-15 minutes, and you will have chocolaty keto cocoa puffs to enjoy.
Total time: 50 minutes (excluding 13 hours of resting time).
Salted Butter Caramel Brioche Doughnuts are the specialty ending today's list. Coming with a brown color and light and dense texture, these doughnuts will surely be your favorite dish after reading this article.
Let's start with creating the brioche dough base with flour, yeast, and eggs until you get a smooth base and place the mixture in the fridge for about 12 hours. Next, you need to make salted butter caramel with salted butter, sugar, water, and heavy cream.
The final step is to shape your brioche dough and fry your doughnuts. After whisking the caramel over your results, you can enjoy this wonderful delight.
American Breakfast Foods – So Much More To Explore
Delicious, healthy, and attractive, these American delights are worth being your priority to start the day off on the right foot. Don't hesitate to utilize these recipes to make your morning meal less monotonous and healthier.
If you love this article above, please leave a comment to tell me what you think. You can also share this post with the people around you or your beloved ones so they can see it. Finally, thank you for your attention, and hope to see you next time.
Nutrition Facts
16 servings per container
---
Amount Per ServingCalories179
% Daily Value *
Total Fat 6g

10

%
Cholesterol 25mg

9

%
Sodium 176mg

8

%
Potassium 50mg

2

%
Total Carbohydrate 26.9g

9

%

Dietary Fiber 0.9g

0

%
Sugars 3.1g

Protein 4.2g

8

%
---
Calcium

29

%
Iron

2

%
Vitamin D

3

%
* The % Daily Value tells you how much a nutrient in a serving of food contributes to a daily diet. 2,000 calories a day is used for general nutrition advice.