When it comes to cuisine, Spanish snacks are one of the most popular in the world. Spain has a huge selection of both savory and sweet light dishes. This is due to the country's own geographic and cultural diversity, spanning from Central Europe to the Northern Mediterranean.
And the best thing is that you can make most of these snacks with simple ingredients like milk, sugar, and eggs. These are the stuff that you can find at home, or through a quick Amazon order.
New Content That's right, it's finally time to throw away those boring bags of Hot Cheetos and Doritos because this list of great and healthy snack ideas will revolutionize your snack time. What are you waiting for then? Just jump right in.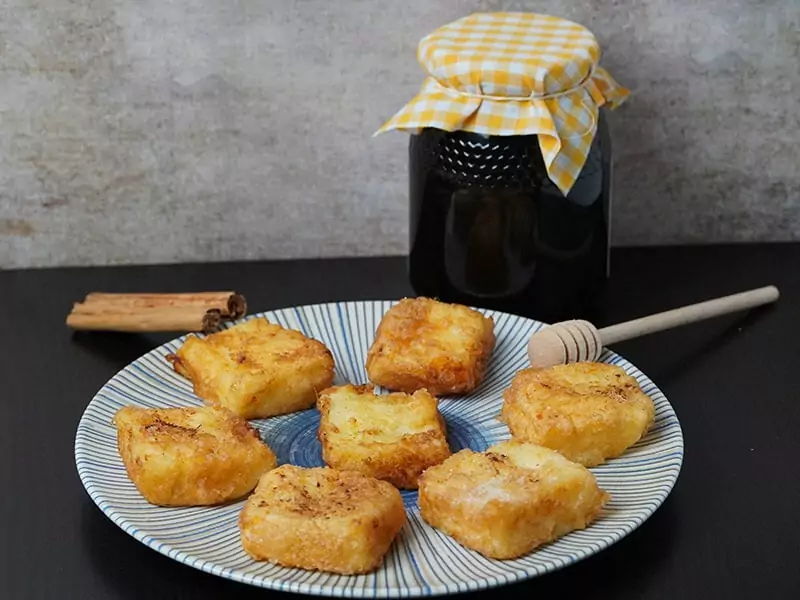 When it comes to Spanish snacks, Churros often take the top spot since it is one of the most popular Spanish desserts in the world. It's really impressive that a simple fried stick of dough can make a difference in the world of snacks.
No one exactly knows how Churros got its start. One popular theory suggests that Portuguese explorers bought this recipe from China to the Iberian Peninsula. However, others said that this type of dish came from Spanish shepherds who wanted to have a replacement for baked goods.
No matter what sort of origin Churros has, a lot of people can agree that this snack is one of the best they have tasted. The simple combination of flour, milk, and sugar can create such an interesting dish.
From the crispy exterior to the creamy interior, every bite will give you such an indescribable feeling. If you want to enhance the taste of Churros some more, you can sprinkle a bit of powdered sugar on top and dip it in a hot cup of hot chocolate.
In Spain, you will find Churros coated with sugar while the Mexican variant has both sugar and cinnamon. This snack is usually available in a type of cafe (Cafeteria) called Churreria.
This Churros recipe offers a quick and easy snack during your break.
If you've heard of French Toast, this next little snack might be more familiar to you. The Spanish Toast, or what the locals like to call, Torrijas, is a cross between normal French Toast and bread pudding.
Torrijas seems to have existed for a long time when a Spanish poet named Juan del Encina mentioned its name in 1496. Some even speculated that this delicacy was created as far back as the 5th century.
This dish is a snack you often see during religious holidays like Lent and Holy Week, which takes place a week before Easter in Spain.
Much like French Toast, the ingredient list requires many slices of bread. You dip the bread slices in a mixture of milk, egg, and various seasonings. This process helps the seasonings to infuse inside of the bread much better.
You can use a frying pan to crisp up the bread. Once everything is done, the result is a very crunchy toast that has a very moist interior. The sweetness from the toast explodes inside of your mouth with every bite. To top it off, sprinkle a bit of cinnamon to improve the dish.
Empanadas are one of the staple Tapas (small dishes) in Spanish cuisine. It is a type of turnover, which is a type of pastry that requires you to fold a sheet of dough around any filling. This dish is available in many different Spanish-speaking cultures.
It is unclear when Empanadas got its start in Spanish history. However, a version of this dish already appeared in a cookbook in 1520. The author of this book, Robert de Nola, described the dish as having a seafood filling.
Nowadays, seafood is not exactly the most popular filling for Empanadas. Instead, Spaniards prefer marinated meat, cheese, and vegetables. The crusty outer shell of the delicacy consists of a sheet of puff pastry.
Since the snack is pretty easy to make, it's a popular bar food in most Spanish cities. Once you get a taste of that meaty and cheesy goodness, you will want to eat it again.
You can experience a Spanish summer with this well-known Spanish side dish called Boquerones Fritos, or Fried Anchovies. Many people like to have it with a cold glass of Sangria cocktail (red wind and chopped fruits).
The main ingredients you will need are anchovies, egg batter, and bread crumbs. In Spain, there are two types of anchovies: cured anchovies (Anchoas) and fresh anchovies (Boquerones). For this recipe, I chose to use the fresh kind.
The process is simple; you only need to dip the anchovies in the batter and bread crumbs before frying them.
Different types of anchovies will produce different flavors. If you use Anchoas, the dish will have a bit of subtle saltiness. On the other hand, the Boqueros version has that tangy flavor and crispy texture.
In Spanish cuisine, Pinchos is a type of light snack that has a skewer or toothpick. You can find many different versions of Pinchos in various bars and pubs across Spain. This type of snack comes from the Basque Country region.
However, there is one version that completely wins over others. That version is Pinchos Gilda. This version originates from Casa Valles during the 1940s. Spaniards named the dish after actress Rita Hayworth for her movie "Gilda".
This version includes main ingredients such as Manzanilla olive, Ortiz anchovy, and Guindilla pepper (or Peperoncino). The preparation for this dish is rather quick since you just skewer all of the ingredients together.
Since each serving of Pinchos Gilda is rather small, one bite is enough to finish the whole dish. But that one bite packs a lot of different flavors, from tanginess to saltiness and a bit of spiciness. That's what is so good about Pinchos Gilda.
Do you know that Spanish is the 2nd biggest exporter of almonds? Thanks to the abundance of almonds in Spain, the country's cuisine utilizes this type of nuts in many of its dishes.
The dish I am about to show you is one of the tastiest Spanish cookies. Almendrados is Spain's own version of Almond Cookies
The earliest reference to this cookie came from the age of the Spanish Inquisition. Ever since the 15th century, Almendrados has become a popular Christmas treat amongst Spaniards.
For the ingredients, you will need almonds, eggs, and sugar. Unlike other cookies, you don't need flour or any baking powder. Instead, you grind the almonds into a powder. After this step, mix every ingredient into a bowl and shape the mixture into round cookie doughs.
After the preparation is done, you just bake the cookies for 8-10 minutes. The result is a very crunchy, tasty, and sweet dessert. Almendrados doesn't have flour, so you can incorporate this into your low-carb diet easily.
Cookies and cakes are some of the most popular treats in the world. But what if you can combine both into one? Let me introduce you to Mantecados, or Spanish Crumble Cake. This snack is somewhat of a mix between a small cake and a cookie.
This is a very popular Christmas snack in Southern Spain. Mantecados got their name from "manteca", which means lard in English.
This is because people used lard to make this type of pastry back in the 16th century. This cake is also crumbly, that's why its English name is Crumble Cake.
The ingredients of Mantecados are still mainly flour, eggs, and sugar. Nowadays, people prefer to use butter instead of lard to prepare this cake.
You only need 15-20 minutes to finish making this dish. Once you're done, the result is a very sweet snack. If you want a bite, you have to be careful since the crumbs might get all over your desk. However, the rich flavor of this dish is worth the trouble.
This next dish that I'm about to show you will be perfect if you want a high-calorie Spanish pork delicacy that can fill you up for a few hours while you're working hard. The name of the dish is Torreznos, which is a type of deep-fried pork belly. It's a popular snack, especially in the city of Soria, Castilla-Leon.
In order to make this dish, you need either bacon or pork belly. You cut the meat into thick strips and dry them for 24 hours. After that, you need to prepare the oil for deep frying. Before frying, you have to cut the meat into cubes.
You deep fry the meat until the exterior looks crusty with air bubbles forming on the skin. Once you're done, place the Torreznos on top of some paper towels. The paper towels will absorb the leftover oil.
The result is a very crunchy type of meat. If you use bacon for this dish, the meat has a hint of salt and spices. The outside crunchy has a good layer on top of the chewy meat. This dish goes well with either red wine or beer.
Without a doubt, the Spanish Omelet, or Tortilla De Patatas, is the most popular small dish of Spain. It is one of the main pillars of Spanish cuisine; even other Spanish-speaking countries have their own version of Tortilla De Patatas.
The earliest mention of Tortilla De Patatas came from a document in the Navarra region in 1817. The dish consists mostly of eggs and potatoes. The simplicity of this dish came from the need to feed many people while saving food at the same time.
For this dish, you need to whip the eggs and cut the potatoes into thin slices. When you're done, you need to stew the potatoes slowly in a pan. When the potatoes are almost done, you remove them from the pan and mix them with the eggs. The final step is to fry this mixture on a pan.
The end result will leave you very surprised. The dish is simple in ingredients, but the taste is far from being simple. With each bite, you can taste those crispy potatoes. The eggs are firm and fluffy. Both eggs and potatoes make a good contrast with each other.
You can make a Spanish Omelet in just one pan.
For a dish that is really simple to make, why don't you choose a delicious Spanish appetizer called Pan Tumaca? The dish is a combination of chopped tomatoes and a slice of toast.
In Spain, the dish has other names like Pa Amb Tomaquet and Pan Con Tomate. This Catalonian delicacy originated from the coast of Spain in the 19th century.
In order to make the dish, you need tomatoes, olive oil, and a slice of toast. First, you grate the tomatoes into a pulp. Season the tomato pulp with a little salt.
For the bread, you brush a bit of olive oil and toast it until the bread turns crispy. Then, you cut the garlic in half and rub it on the bread. Season the bread with a bit of salt as well. The final step is to spread the tomato pulp on the toast.
Despite the simplicity of the dish, Pan Tumaca packs quite the punch when it comes to flavors. The tomatoes already have a slight umami taste. The extra seasoning only enhances them. The toast also adds a bit of crispiness to the whole dish.
When it comes to staple snacks in Spain, one cannot go without mentioning Croquetas. The delicacy is the Spanish version of the French Croquette.
Unlike Croquettes in other countries, where they use mashed potatoes as the main binder, Spaniards choose to use a type of flour and milk sauce called Bechamel for the Croquetas.
The most popular Croqueta is the Croqueta De Jamon, which means Ham Croquette. In order to make this dish, you will need ham, butter, and Bechamel. You mix everything together in a bowl, then refrigerate overnight. The mixture will thicken up, and you can scoop up each portion.
After you're done frying the Croqueta, the result will be a very creamy snack. The ham adds a hint of saltiness to the dish. The best part about eating Croqueta is when you open the snack, the creamy sauce will start spilling out.
This Croqueta recipe will help you impress friends and family.
In case you want a dish that is easy, quick, and does not require many ingredients to make, let me introduce you to a dish called Tigres. This is a popular small snack in the Bilbao region of Spain. It's a seafood variant of a Croqueta.
To prepare the dish, you need the main ingredient, which is mussels. You chop the mussels up, season them to your taste and mix the mussels with Bechamel sauce. The next step is to roll the mussels in egg batter and bread crumbs.
Once you're done, put the mussels back on top of their shells and deep-fry them under medium heat. The final result is a tasty breaded mussels dish that contains a lot of flavor on the inside. The slightly salty mussels complement the creamy Bechamel sauce.
You can add a bit of hot sauce to the top to give a hint of spiciness as well.
If you have visited a Spanish-speaking country, you definitely will come across a snack called Bunuelos. This snack is basically a deep-fried piece of dough, sometimes with extra filling as well. Despite its simplicity, Spaniards really love this dish.
In Spanish culture, you will see this dish in a lot of holiday celebrations like Christmas, Muslim Ramadan, and Jewish Hanukkah. The earliest history of this small dish came from the Morisco population, which were Christian converts of Muslim origin in Spain.
To prepare this dish, you need sugar, butter, and flour. You mix everything up into a bowl of dough. If the dough is too thick, you can add water. When the mixture is ready, you scoop up a string of dough and deep fry it.
The finished pastry will be very light and fluffy to the taste. The buttery flavor goes through every single bit of this pastry. To top it off, you can sprinkle some powdered sugar to add that extra sweetness.
If Bunuelos does not satisfy your sweet tooth, then may I suggest another Spanish snack that you can try? Introducing Miguelitos, a type of flaky puff pastry that will steal your heart once you have a taste of it.
The creator of Miguelitos first introduced this snack in Pamplona in 1960. This snack consists of two layers of puff pastry. In the middle, you have a type of filling, mostly custard or chocolate sauce.
The main ingredients of this dish are flour, eggs, and butter. After mixing these ingredients into a single piece of dough, you need to fold that dough repeatedly to create layers. The layers are how you create that flaky texture of most puff pastries.
After you're done with the baking process, cut down the Miguelitos in the middle before filling the inside with egg custard. You can sprinkle a bit of powdered sugar on top. The texture of the dessert is very light and crumbly. The flavor is very deep, from the butter to the filling.
"Potato" and "snack" are the two words that go really well together. Many of the world's snacks come from potatoes, like potato chips, French Fries, and Tater Tots. Of course, Spain has to come up with its own version. And that's why Patata Bravas appears on this list.
This is a very popular bar snack across Spain, especially in the capital city of Madrid. This dish is very simple to prepare; you only need to cut the potatoes into either slices or cubes. Then, you pan-fry the potatoes under medium heat until they turn a bright yellow.
As a result of being fried, the potatoes become very crispy on the outside, but the inside still has that starchy texture. In most places, a dish of Patata Braves will have a sprinkle of paprika powder on top. The dish goes well with mayonnaise or aioli (olive oil and garlic sauce)
Ensalada Rusa will prove to you that a Spanish salad dish can be a good type of snack. That might be a little strange, but trust me when I say that it's a lot healthier than those bags of chips you keep eating.
The creator of this dish was a Belgian – Russian named Lucien Olivier. The Olivier Salad first became popular in Moscow, Russia before spreading to many European countries. Spain adopted it into their cuisine and renamed the salad Ensalada Rusa.
True to its name, the dish's main ingredient is potato. Aside from that, you can also add in other ingredients, including carrots, canned tuna, and mayonnaise. For the vegetarian option, you can swap out the tuna for beans and peas.
Since it's a salad, you can taste an assortment of different flavors. Potatoes are often the most noticeable with their starchy taste. Tuna provides a hint of saltiness to make the dish less bland. And last but not least, the mayonnaise adds a creamy overtone to the whole dish.
Spanish chef Omar Allibhoy teaches you how to make a good Ensalada Rusa.
What if you're craving something sweet? Well, this might be a suitable choice for you. Turron is a staple Spain Christmas food that comes from the province of Alicante. This dish is also available in Portugal, Italy, and Latin America.
The ingredients for the dish are quite simple. You need egg whites, honey, and sugar to make the base of Turron. Most recipes require you to add almonds to this confection as well. You make Turron by mixing everything in a bowl and leaving this mixture overnight inside a fridge.
Depending on how to prepare the almonds, there are two types of Turron: Alacant (hard Turron with whole almonds) and Xixona (soft Turron with ground almonds).
If you prefer a harder, more brittle confection, you might want to try Alacant Turron since it gives that satisfying crunch after each bite. But if you have more sensitive teeth like mine, Xixona is the best because it's chewy, similar to marshmallows.
Most of the time, Spanish bread takes a backseat compared to French bread when it comes to recognition. However, once you get a taste of Fartons, you will never forget it. And that is true for many residents of Alboraya in the Valencia region. It's also where Fartons originated from.
In the 1960s, the Polo family created a sweet oblong breadstick with a chewy core and a sugary exterior. Their main ingredients are flour, eggs, and baking powder. What makes the bread different from others is its ability to absorb liquid really quickly.
That's the reason why many people like to dip Fartons in their drinks. For the town of Alboraya, that drink is Horchata. In the Spanish version, Horchata is made from tiger nuts while the non-Spanish versions consist of other plants.
Horchata also originates from the same town as Fartons. The spongy texture of Fartons goes really well with Horchata, latte, and hot chocolate.
Next on our list is a popular light snack before a meal. The Manchego cheese is the cheese from the milk of the Manchego sheep. It originates from the La Mancha region of Spain. In order to make the cheese, the sheep milk needs to age from 60 days up to 2 years.
Depending on how long you age this cheese, Manchego will have different classifications: Fresco (aged for 2 weeks, but it's not considered a genuine type of Manchego cheese), Semicurado (aged for 3-4 months), Curado (aged for 3-6 months), Viejo (aged for 1-2 years).
There are many ways you can prepare this cheese. First, you can deep fry the cheese alongside egg batter and bread crumbs. This accentuates the firm texture of Manchego with a bit of crunchiness from the breading. It goes well with a mayonnaise dip.
The second method is to marinate it in olive oil and herbs. You need to heat up the oil with the herbs so the oil can absorb all of its essences. Then, you pour the oil on top of the cheese. The flavor of the seasoned oil will seep into the Manchego cheese.
Yemas De Santa Teresa is a staple snack from the region of Avilla. Since most Spaniards prefer to prepare this pastry on St.Theresa day on October 15th, they call it Yemas De Santa Teresa, or Yolks of Saint Theresa.
The history of Yemas is a little unclear. However, thanks to the popularization of this delicacy through Don Isabelo Sanchez and his bakery in 1860, it became a popular snack in Avilla and across Spain.
In order to make this dish, you need to whip egg yolks inside of a bowl. At the same time, you also have to prepare a type of syrup with water and sugar. Once the syrup is done, pour it into the beaten egg yolks. You shape this mixture into small balls and put them in your fridge.
Since there is no need to bake Yemas, it's quite a quick snack for you to do. It doesn't contain any carbs inside, so you only need to track the amount of sugar. This can be a better alternative to other pastries on the market.
In this entry, I will be talking about Coca, or Spanish Flatbread. This type of pastry originates from the Autonomous Region of Catalonia. Today, you will see a lot of Coca variants in Valencia, the Aragonese Strip, and the Balearic Islands off the coast of the Iberian Peninsula.
The name comes from an ancient Dutch word that has the same roots as the word "cake". Coca has a lot of varieties, including Coca with topping, Coca without topping, and Coca with filling. There are also sweet and savory kinds. I will focus more on savory Coca with topping.
You can consider this variant of Coca a type of Spanish Pizza. Instead of making the dough round, bakers will shape it into a square. The topping can differ based on where you get this dish. It can be cheese, cured meat, or just tomato sauce.
The finished product will be a dish that tastes quite like a pizza. However, the shape of Coca is an oval, not a circle. Coca dough is usually thicker so you get a much bigger crunch. The topping is where Coca usually gets a lot of its flavor.
Are you interested in a unique snack that you can show off to others? Well, you're in luck because I have just the thing you need. Introducing Leche Frita, or Fried Milk, a type of confection that helps you turn boring milk into a mouth-watering dessert.
Like many other Spanish dishes, there is not a clear history of Leche Frita. However, a lot of people believe the dish originated from the Palencia region in Northern Spain.
The ingredients you need are milk, flour, and sugar. The first step is to heat the milk in a pan. Once the milk starts boiling, you take the milk off the heat before mixing in both sugar and flour. The cubes will go through an egg batter before frying.
If you closely follow the instructions for this recipe, the result will surprise you. The milk holds together like glue. The caramelization of the Leche Frita adds a deeper flavor. Once you bite into the milk, the sweetness explodes instantly. It's a taste you will never forget.
Thinking of a night snack? You can try Leche Frita.
Carquinyolis offers a more interesting Spanish bread recipe for you to try instead of the bland white bread. You can keep munching on this nutty snack while working on your next big project.
Hailing from the region of Catalan, the main ingredients for Carquinyolis include flour, sugar, and eggs. But the dish also contains a secret component, which is almonds. Most pastry chefs soak unpeeled almonds before adding them to the dough.
Almonds are what make Carquinyolis such a delightful snack to have. The fluffy bread already feels great when you bite on it, but the crunch from the almonds takes the texture another step further. Plus, the nuttiness from the almonds is heavenly.
The recipe for Carquinyolis does not have butter or oil. If you're on a diet, this means you can always keep your weight in check even when you eat this snack.
For this entry, I'd like to introduce you to my favorite midnight snack, Calamares. It's a very popular dish in many Mediterranean cuisines. Thanks to its simple recipe, Calamares has also been gaining a lot of recognition overseas.
Due to differences in regional culture, Calamares has a lot of different variants within Spain. There is a deep-fried version of Calamares. There is also a Calamares dish with black sauce. In some cases, Spaniards use baby squids as an alternative to adult squids.
In order to make great Calamares, you need fresh squids and deep-fried batter. Cut the squids into thin slices. For the batter, you mix milk, seasoning flour, and eggs together in a bowl.
Since Calamares use a quick fry technique, the batter will create a crunchy outer layer around the squid. At the same time, the inside of the squid will remain a bit chewy, but not too hard. This creates an exquisite duo texture. Garnish the dish with a squeeze of lemon for better flavor.
It's time to make Calamares that go well with your beer.
Aside from Calamares, Southern Spain also has another popular squid snack called Chopitos Fritos. Instead of using adult squids, this dish utilizes baby squids. It's unknown how Chopitos Fritos got its start, but many believe this Southern Spain specialty has existed for centuries.
Unlike Calamares, you don't have to chop the squids into thin slices since baby squids are already small. You only need to prepare the batter to dip the squids in. This batter consists of eggs, water and flour. Once you completely cover the squids in batter, deep fry them.
Once you're done, the squids will be very crispy. Baby squids have a more spongy texture compared to Calamares; that's why it's a lot easier to chew. You can put hot sauce or lime juice on top of the squids. Chopitos Fritos would go well with a glass of cold beer.
If you want to experience a true Spanish delicacy, this last entry will be a great choice. Jamon Iberico, or Iberian ham, is a delicacy that comes from the Black Iberian Pigs. The delicacy is very expensive due to the amount of time and effort going into making the ham.
The Black Iberian Pig lives around the Central and Southwestern region of the Iberian Peninsula. This includes both Spain and Portugal. This breed eats mostly acorns and chestnuts.
Due to their diet, the meat has a very earthy flavor to it. When you cut into the meat, it gives off a very shiny sheen, likely due to the marbling of the fat inside. The meat is very tender, that's why the slicing process needs to be careful,
In Spain, a lot of parties and weddings serve this dish due to its value and prestige. Iberian ham with some broad beans and a slice of garlic bread seems to be the most popular combination.
Nutrition Facts
24 servings per container
---
Amount Per ServingCalories82
% Daily Value *
Total Fat 0.3g

0

%
Cholesterol 1mg

1

%
Sodium 102mg

5

%
Potassium 20mg

1

%
Total Carbohydrate 18.4g

6

%

Dietary Fiber 0.3g

0

%
Sugars 8.8g

Protein 1.6g

2

%
---
* The % Daily Value tells you how much a nutrient in a serving of food contributes to a daily diet. 2,000 calories a day is used for general nutrition advice.