Spanish appetizers will pave the way to your guests' hearts with just a few basic ingredients and straightforward cooking methods. From soup to skewers, these dishes are excellent choices for any occasion, whether you're hosting a large party or simply making dinner for your loved ones.
Not only are they versatile and easy to make, but these dishes are also very healthy. They are made mainly from vegetables and natural herbs, so you can enjoy some tasty food while giving your body the right nutrients at the same time. I can't think of a better way to start a meal.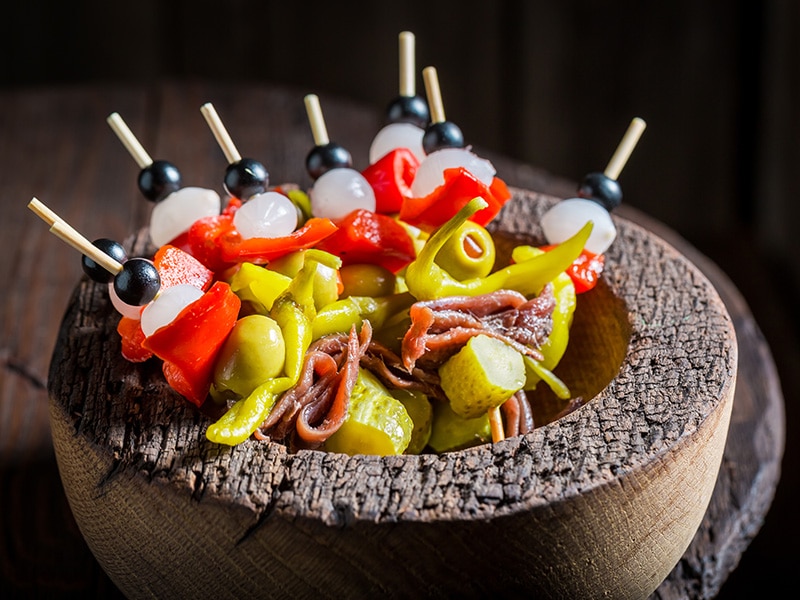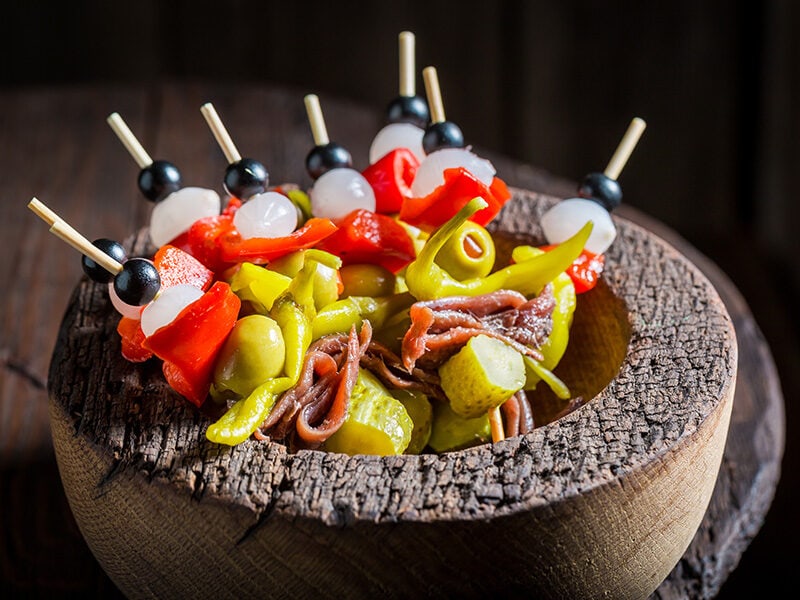 Spanish food offers a great variety of food to choose from. With this list, I have categorized the spanish appetizers based on what they are primarily made of, such as tomatoes, vegetables, meat, seafood and other ingredients.
Tomatoes
Gazpacho
Rice Stuffed Tomatoes
Bean And Tomato Dip
Pisto (Spanish Vegetable Stew)
Pipirrana (Spanish Summer Salad)
Pan Con Tomate (Spanish Tomato Toast)
Vegetables
Patatas Bravas (Spicy Potatoes)
Champinones Al Ajillo (Spanish Garlic Mushroom)
Spanish-Style Green Beans
Spinach And Chickpea Stew
Banderillas (Pickled Vegetable Skewer)
Pan Fried Spanish Cauliflower
Meat and Seafood
Gambas Al Ajillo (Spanish Garlic Shrimp)
Albondigas (Spanish Meatballs)
Bacon-Wrapped Dates
Spanish Crab Cakes
Pimientos Del Piquillo Rellenos De Atún (Tuna-Stuffed Red Peppers)
Other Ingredients
Tortilla De Patatas (Spanish Omelette)
Croquetas De Jamón (Spanish Ham Croquettes)
Marinated Manchego
Tomatoes
Tomatoes are very well-loved in Spanish cuisine. They are delightfully sweet with juicy cores that will immediately transform any dish they appear in. These are some suggestions for tomato-based appetizers you will absolutely love.
You can find this delicious Spanish dish almost everywhere on the streets during summer. Made mainly with tomatoes and other vegetables, this soup from Spain is vibrantly sweet and surprisingly refreshing. The rich texture makes it incredibly filling and easy to eat as well.
Even though it is a tomato-based soup, you can always create different variations to try out. You can make it with other fruits like melon, watermelon, strawberries, or spice it up with some jalapeño for some extra heat.
Stuffing rice inside soft and tender tomatoes is not only possible, but it's also unbelievably good. These baked tomatoes act as bowls to hold the rice, allowing it to completely soak in the juice and become intensely sweet.
You can eat these tomatoes as an appetizer to a hearty late-summer meal or a light lunch accompanied by some toasted bread and salads. Whatever it may be, this flavorful dish is always a great addition to your meal.
Step-by-step guide on how to bake the most delicious rice stuffed tomatoes:
Keep yourself warm this coming fall with this simple Spanish dip featuring tomatoes and butter beans. It's easy, affordable, and the end result is nothing short of perfection. The incredible toastiness from the ingredients makes it the ideal companion for all of your cold nights.
Even though this is a very creamy dip, the beans aren't blended, so it still has a very fun chunky texture to eat. Serve it alongside some crispy bread to make a delightful appetizer, or turn it into a main dish with some white rice or pasta.
For those looking for a healthy and vegan appetizer, take a look at this deliciously hearty vegetable stew. The essential ingredients of this dish are tomatoes and peppers, but it's very adaptable, so you use almost any veggie you like to complete the recipe.
Pisto is great as an instant appetizer, but you can also serve this Spanish recipe as a side dish, or enjoy it as breakfast with eggs and bread or other meats for a fulfilling lunch. The dish might take a bit long to prepare, but your time is never wasted.
Let this colorful salad accompany you on all your marvelous summer getaways and picnics. It's a luscious mixture of ripe tomatoes, fresh vegetables, and some aromatic olive oil. There are many ways to play with these ingredients, but turning them into a salad is the easiest one.
Even though this salad uses very simple ingredients, it still makes a fascinating dish because of all the different vegetable textures. You can always add some hard-boiled eggs or even grilled meat if you want a little bit more versatility.
Tomatoes and toast are a surprisingly good combination many like to eat as breakfast. The contrast between the crunchy bread and the marinated tomatoes makes it an absolute delight to have. The best part is, it's so simple that anybody can make it at any time.
You can create this dish using some very basic ingredients straight from the pantry, like bread, vegetables, olive oil, and seasonings. For an even better dish, top the slices off with some cheese, anchovies, ham, or sausage for an extra layer of flavor.
Simple guide on how to make Pan con Tomate in just less than ten minutes. You can see this video to know more:
Vegetables
Spanish recipes, in general, feature a lot of vegetables being made in very diverse ways. If you're looking to incorporate more healthy food into your menu, these appetizers are excellent beginning choices.
This unique kind of fries is a fun and flavorful twist to your regular, traditional homemade potato dishes. It consists of bite-sized chunks of fried potatoes drenched in olive oil and drizzled in an addicting spicy sauce called Bravas.
Patatas Bravas is the ideal appetizer for all your meals, whether it's a casual dinner or a large gathering. After all, who doesn't love a plate full of golden and crispy potatoes covered in a vibrant, slightly spicy, and tangy sauce?
Vegan, gluten-free, and undeniably delicious, this garlic mushroom dish is a dream come true for those who love to eat healthily. It's a gorgeous blend of vegetables and incredible seasonings, giving you a side dish everyone will drool after.
Besides the mushrooms, the highlight of this dish is the thick saucy mix of olive oil, garlic, and cayenne pepper. It's flavorful, spicy, and absolutely unforgettable. It works well not just with this recipe but also any other veggie dish you want to bring new life to.
You can see this video to know more:
Green beans contain a lot of great nutrients like vitamins and minerals. Make them a part of your daily menu by grilling or frying them with your favorite veggies and other seasonings for a tasteful and healthy meal starter.
This quick and easy dish can be made in just under twenty minutes. It's the perfect and yet unexpected addition to all your barbecue meals. From grilled meat, seafood to vegetables, these tender yet crispy beans will complement anything they are served with.
If you've fallen in love with the spicy and aromatic chickpea stew, a delicious dish from Lebanese cuisine, you gotta check out this Spanish spinach and chickpea stew. It's a hearty dish that can warm you up even on the coldest winter night.
So, bring some warmth to all your nights with this healthy and easy stew. It's a hearty combination of spinach, chickpeas, and delectable spices. It may not sound like anything exciting, but this stew will blow you away with just how flavorful it really is.
On top of being delicious and good for your health, this stew is also a great choice if you are busy and want to cook many meals in one go. It can be eaten as a main dish, but also saved and reheated as your next meal's side dish and appetizer.
Make the most of your pickled vegetables with this quick and easy recipe. It requires almost no cooking at all, just gather up all your favorite bite-sized food like olives, pickles, artichoke hearts, cheese, sausage, etc. and put them through a toothpick.
The main point of this colorful appetizer is to stimulate your appetite and get you ready for the main dishes, so you don't have to worry too much about making it filling or overly impressive. It really is just a great way to start all your Spanish-inspired meals.
Here's an exciting way to get your kids to eat their veggies. Lightly coat these cauliflowers in breadcrumbs or beaten eggs to fry and you can have an easy, breezy plate of appetizers in just less than thirty minutes.
Of course, cauliflowers alone aren't all that fun to eat. You can give them an extra spicy kick with some paprika, or serve them with any of Spain's infamous sauces to take the dish to the next level. Before you know it, everyone will be nibbling on them like there's no tomorrow.
Meat and Seafood
These meat appetizers are nothing like the ones you would typically find. They are fun, different, and unbelievably exciting to eat. The best part is, they are pretty simple to make despite their complex appearance.
Brightly colored shrimps covered in olive oil and garlic sauce are one fantastic way to start your meal. This classic Spanish appetizer tastes just as impressive as it looks. It also comes together surprisingly fast, in just less than fifteen minutes.
You can pair these big juicy shrimps with some toasted bread. The savory and caramelized garlic sauce will soften the crusty edges, giving you a heavenly taste with every bite. It will also make for an elegant and simple dinner with some rice or pasta.
You can see this video to know more:
You can find these juicy meatballs in any restaurant in Spain. They are saucy, irresistibly good, and here is some good news: they are also relatively easy to make. Using only typical ingredients and simple methods, you can whip up this delightful appetizer in no time at all.
Homemade meatballs can make very good companions for quesadillas and many other dishes. You can make a large batch, eat some right away, and then save the rest for another day. Drench them in a rich and savory tomato sauce, and they will taste brand new each time.
Dates are edible sweet fruits that are very popular in many tropical regions. They are very sweet in taste with a caramel undertone that completely melts in your mouth with every bite. Wrapping them in bacon will bring all the best flavor contrast you could ask for in an appetizer.
This recipe only calls for three basic ingredients: bacon, dates, and almonds. However, you can always add a tangy taste to these small treats with various cheeses. It will give the crispy bacon and cozy dates an even more exceptional layer of flavor and texture.
Crab cakes are pretty good on their own. They are crispy and savory with a tasteful hint of seafood sweetness. Make them even better by bringing a Spanish twist to them through some paprika seasonings and a creamy red pepper sauce.
Needless to say, these crab cakes served with compatible sides will become even more addicting. They might be small, but they're still filling with an addictingly good sauce. There's no telling how fast people will go through these savory and spicy treats.
This is a cozy and healthy Spanish seafood dish to enjoy both tuna and vegetables in one go. These small peppers are a great source of protein. Stuffing them with a mixture of tuna and cheese will fill you up with not only great nutrients but also flavorful and delicious foods.
This recipe uses Piquillo peppers, a species of chili pepper that originated in Spain. However, if you can't find them, you are more than welcome to use regular bell peppers to replace them. They have been known to be very similar in their levels of sweetness.
Other Ingredients
These are the classic choices when it comes to Spanish appetizers. They are simple, both in ingredients and cooking methods, and pretty much anyone will enjoy them.
Say hello to one of the most popular dishes in Spanish, Tortilla De Patatas. You will find it at any time of the day as a breakfast, light lunch, or dinner appetizer. This is because of its simplicity in ingredients and versatility in eating styles.
The main things you need to make this dish are eggs, potatoes, and onions. You can make it in a traditional way and have a quick, hearty dish in less than fifteen minutes. However, you can also get creative by adding cheese, asparagus, hams, or any other foods to fit your preferences.
Detailed instruction on the best way to make this Spanish Omelette:
Get ready to blow your guests' minds away when they find out that these crispy fried balls with creamy insides don't include any cheese. They are, instead, filled with a rich and tangy bechamel sauce that will have your taste buds burst with flavors the second you bite into them.
If you have any leftovers, these balls are also a great way to deal with them. Even though the traditional recipe calls for hams, you can always substitute or add other foods into the mix. From mushrooms, bacon, peas, to fish, there's a version of croquette out there for everyone.
Manchego is a Spanish delicacy that has reached worldwide popularity. This semi-hard cheese has a mixture of intense flavors, from buttery, sweet, nutty to slightly tart. Marinate it with some olive oil, garlic, and fresh herbs, and you can have a simple yet undeniably delicious appetizer.
If you're having concerns about how the cheese alone can make good appetizers, don't worry. You can always serve it with some crusty bread, sun-dried tomatoes, crackers, or red wine for a little sophistication.
Start Your Meal The Right Way!
Spanish appetizers are always delightful to try, no matter what they are. They use some very familiar ingredients and easy cooking methods, yet the result is astonishing each time. Creative yet effortless, what more could you ask for?
First impressions are important, so don't be afraid to take some risks and let these Spanish dishes be the starters to your meals. Your guests will undoubtedly fall in love with these authentic and tasty recipes. So try them out and tell me all about how your meal goes.
Nutrition Facts
4 servings per container
---
Amount Per ServingCalories143
% Daily Value *
Total Fat 11g

17

%
Sodium 301mg

13

%
Potassium 485mg

14

%
Total Carbohydrate 12.1g

4

%

Dietary Fiber 2.6g

8

%
Sugars 6.4g

Protein 2.2g

4

%
---
* The % Daily Value tells you how much a nutrient in a serving of food contributes to a daily diet. 2,000 calories a day is used for general nutrition advice.