Why Spanish recipes? Because Spain has a long history, culture, and cuisine with vibrant and irresistible dishes. When it comes to food, this is a topic I'm incredibly excited about!
The Spaniards get their food mainly from the land and the sea. Their cuisine is not flashy or famous like France and Italy but has its own unmistakable features.
To be fair, Spain was a bit late in discovering the global power of food. While Italian and French cuisine is in the limelight, Spain is still waiting for its time.
However, this country's cuisine has gradually become known for its different flavors and rich products in recent years. The soul of Spanish cuisine lies in keeping the original culture's taste. If you love this country's cuisine, then this will be an article you should refer to!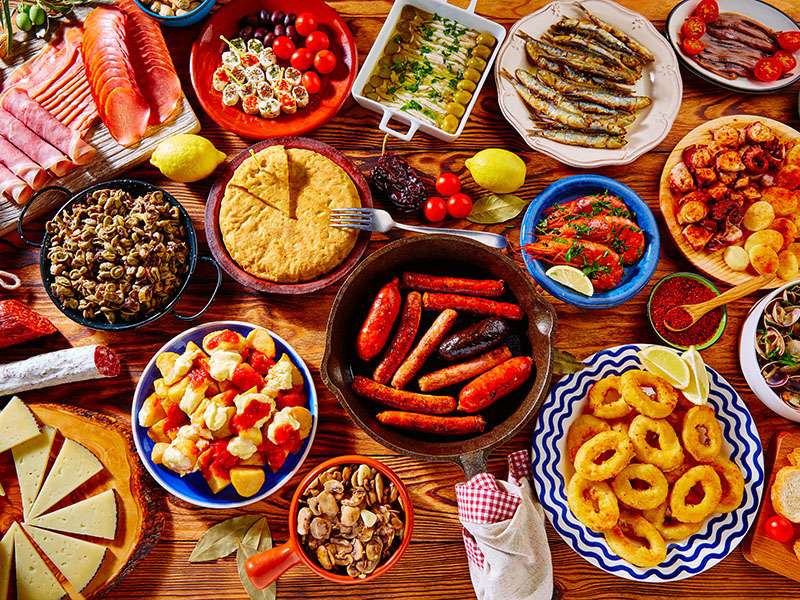 You should try 30 amazing dishes from Spain below once because it will be great to enjoy the stunning flavor from the rusticity of Spanish cuisine:
Vegetables & Fruits
Patatas Bravas (Spanish Fried Potatoes)
Pimientos de Padrón (Padrón Peppers)
Watermelon Gazpacho
Salmorejo (Cold Tomato Soup)
Fabada Asturiana (Spanish Pork and Bean Stew)
Spanish Chickpea Stew
Spanish Pisto
Ajillo Mushrooms (Spanish Garlic Mushrooms)
Seafood
Bacalao (Salt Cod Stew)
Caldereta (Spanish Seafood Stew)
Spanish Sardines on Toast
Octopus in Tomato Sauce
Fried Squid (Calamares Fritos)
Meats
Albondigas (Spicy Spanish Meatballs)
Croquetas de Jamón (Spanish Ham Croquettes)
Smoked Paprika Chicken Stew
Bacon-Wrapped Stuffed Dates
Spanish Chicken and Rice (Arroz Con Pollo)
Eggs
Flamenco Eggs (Spanish Style Baked Eggs with Chorizo)
Spanish Tortilla (Tortilla Española)
Rice & Pasta
Paella
Fideua (Pasta Paella)
Spanish Rice Pudding (Arroz Con Leche)
Bread
Spanish Migas
Torrijas
Catalan Tomato Bread (Pa Amb Tomaquet)
Other Spanish Recipes
Churros
Spanish Fried Milk (Leche Frita)
Red Sangria
Spanish Custard (Crema Catalana)
When it comes to Spain, do not miss these 30 best recipes. Each recipe that I introduce to you below is imbued with the wonderful rustic flavor of this lovely country:
Vegetables and Fruits
Just like other countries' cuisine, vegetables and fruits play an important role in Spanish culture. Try some of these signature recipes for a healthier meal:
Patatas bravas, also known as patatas a la brava or papas bravas, both mean "spicy potato". This dish is commonly served in Madrid and throughout Spain as part of tapas in restaurants and bars.
The excellent combination of crispy fries and the delicious spicy sauce has conquered your taste buds, especially when there is alcohol like Cointreau and its alternative drinks. Wine with bold flavors like Chardonnay, Barbera, Côtes du Rhône are also excellent options.
This seems to be a simple and easy dish to make, but with different chefs, you will notice the difference between the same dish in the shape of the potatoes and the consistency in the sauce's flavor. Let's try it!
Just like Patatas bravas, Pimientos de padron is also one of the popular appetizers in Spain. These are small peppers about 5cm long, with a color ranging from bright green to yellow-green, and sometimes red.
In Spain, Padron peppers are made into an appetizer by frying, then sprinkled with a bit of salt. The impressive thing when diners enjoy this dish is the unexpected hot and spicy taste while enjoying the sweet taste of the Padron peppers.
Yes, their unique feature lies in the fact that their taste is especially spicy. You can smell each piece of cooked Padron; this is an excellent way to determine its spiciness before you decide how many padron peppers you need for your recipes.
And you won't believe how these padron peppers can be so delicious!
Known as a popular dish for first course in Spain, gazpacho can simply be understood as a soup of fresh vegetables or fruits (in this case, watermelon), chilled and served with buttered, sugar-dried bread or garlic bread.
This dish originates from the Andalusian region and is especially popular on these hot summer days. Besides being a nutritious and fabulous Spanish soup, watermelon gazpacho also scores points for its simplicity and ease of processing.
As long as you know how to cut and mix, you can already show off your cooking skills. All you need to do is chop the available ingredients, season to taste, mix well and chill. A Spanish-style cold watermelon is waiting for you to enjoy.
What's a delicious Spanish food that begins with the letter "S", and is cooked with ripe tomatoes to create a special red color? That's right, it's Salmorejo – a famous Spanish soup that is usually refrigerated before eating.
Not surprisingly, since this dish comes from a hot region, the weather is dry, and the temperature is high, cold soup is a good choice to cool down and purify the body.
In addition to tomato soup, there is also a lot of low-fat olive oil, pepper, garlic, and it is often served with bread. If you love Spanish food, try this frugal and cool dish in the summer.
Fabada asturiana, commonly known simply as fabada, is a rich Spanish white bean stew that is widely sold throughout Spain and in Spanish restaurants worldwide.
This can be a hot and heavy dish. Therefore, you should eat this tasty Spanish pork recipe in winter, and it is the biggest meal of the day, lunch. It is usually served as an appetizer but can also be the main course of a meal.
As a rich source of protein, iron, calcium, folic acid, etc., chickpeas have many health benefits, especially for vegetarians, children, and also pregnant women.
With two effortless, easy, and delicious Spanish-style chickpea recipes that I recommend, you can apply and try this dish to combine cooking with stews, salads, porridge, soup for loved ones.
Today, I want to introduce you to the perfect companion dish from Spain so you can start a new week healthy and full of energy. Pisto is a traditional recipe that has been consumed in Spain for a long time.
This is a Spanish vegetarian dish for all ages and is eaten as a main course. With this pisto, you will get all the nutrients you need without any added side dishes.
An attractive and easy-to-make Spanish dish at home is garlic mushroom. Both sweet and fatty mushrooms are stir-fried in the same turn with garlic, combined with the rich taste of olive oil to create a fragrant flavor that hits people's sense of smell right away.
The natural sweetness of button mushrooms is the first thing you feel when enjoying this dish. The pulp is both crispy, chewy, and succulent. Serve this dish with other main dishes, and it is delicious.
This sauteed Spanish mushrooms with garlic and paprika will blow your mind! Watch this video:
Seafood
Spanish seafood is a great feature of the cuisine here. Let's see some highlight seafood recipes:
This dish is highly appreciated in Spain. There is usually no salt cod in Spain, so that the main ingredients will be brought in from far away. Therefore, this dish is often a favorite Spanish dish reserved for Christmas.
Try this dish, and be careful not to eat a lot at first because your stomach may not be used to it. It is recommended to eat this dish after having eaten the other appetizers introduced above.
Zarzuela will definitely make you flutter because of its pungent smell, but this food with Z-something name is delicious from the first bite. Just hearing it makes you hungry, right? Let's cook this unique Spanish seafood stew!
When you're done, scoop this dish out into a bowl or deep plate, and serve it as a tapa. You will enjoy and feel the fresh, sweet taste of seafood and the unique spicy taste of peppers. Surely your whole family will never forget the unique taste of this delicious Spanish seafood stew. Enjoy your meal!
Try this super traditional dish with the definition of Spanish flavor! See the video below:
Sardines are small fish in the family Clupeidae which is very well-known in Spain. This type of fish is usually processed in canned form, so it is called canned sardines. And Spanish sardines on toast will make your meal more enjoyable than ever with the Spanish style.
Spanish sardines on toast include the fatty and nutrient-rich sardines blended with crunchy, juicy red bell pepper pieces and other condiments, creating a delicious and attractive dish. Moreover, sardines on toast also contain omega 3, calcium, etc. to nourish your bones and are good for brain health.
Octopus is a dish that rarely appears in family meals. Today, try making octopus according to the Spanish tomato sauce recipe for the whole family to change the taste—a delicious octopus dish with tomato sauce, attractive color, eaten with a hot main course.
The attractive and novel flavor of the dish will bring a delicious meal. To complement the rich menu, you can stir-fry a vegetable dish with some fresh chili for extra flavor!
Crispy squid is an attractive Spanish seafood dish of any age because of its crunchiness and characteristic flavor. Let's go to the kitchen and try two ways to make crispy fried squid, delicious fried squid with me!
Each piece of fried squid is golden and round, the crispy crust blends with the sweet and fresh squid inside. You can garnish with herbs to your liking. Deep-fried squid with chili sauce is delicious or can also be dipped with other favorite dipping sauces.
Fried squid with an aioli dipping sauce is absolutely delicious! Watch this video to know more:
Meats
No matter what, there should be no shortage of meat recipes: chicken, pork, bacon, etc. Spanish cuisine offers you a variety of great recipes that you can try to freshen up your meat right now:
Albondigas – Meatballs are a popular appetizer in Spain. This dish is on the menu at almost every restaurant and appears in many Spanish cooking recipe books. Chefs often prepare Albondigas by rolling them by hand, then cooking them by frying, grilling, or sautéing it with a special sauce.
Many types of meat are used to make meatballs, but the main ones are still beef, fish, pork, or chicken. The meatball will be topped with almond or tomato sauce. In Spain, people often eat this meat with potatoes that are lightly fried.
Made with Jamon as the main ingredient, this is a hugely popular dish when it comes to Spanish cuisine. It is breaded and fried and served as a side dish, a snack, or fast food around the world.
This dish originated in France, and when it came to Spain, it became different when it changed the main ingredient to bechamel sauce. Croquettes are often served with cold beer, milk, or wine. This will melt in your mouth from the first bite.
If you are a fan of stews and want to enjoy the delicious and spicy taste, paprika chicken hot pot is the suggestion for you. Join me in the kitchen to make this delicious Spanish chicken dish for the whole family to enjoy!
The rich taste of chili and the sweetness of the chicken blend with the aroma of spices create a unique flavor that is hard to describe. What's better than a cold rainy day enjoying a hot cup of smoked paprika chicken stew? This dish can be enhanced with flavor when served with vegetables.
Bacon with dates, have you heard of it? This is a great option for you to change the normal taste of the boring dry dates. Turn it into a Spanish recipe. Bacon-wrapped with dates and some kind of sauce is an excellent choice.
This dish has the sweet taste of dates and the salty, fragrant aroma of bacon and cheese, which is exceptionally delicious. The melted cheese mixed with the dates and meat, I enjoyed it very much. You can use bamboo sticks to skewer each piece and then enjoy. Remember to eat it while it's hot.
Arroz con Pollo is simply riced with chicken meat. Arroz con Pollo has long been famous for many people because of its attractiveness in every fiber of meat. Combining with sticky rice grains and mixing with rich dipping sauce, this is the best for a family weekend meal.
If you can't bring your family to Spain to enjoy this famous dish, then why not try to go to the kitchen to make this dish for the whole family? A signature food in Honduran cuisine and many other Latin American countries, this dish has many varieties for you to try your hands at.
All in one great chicken and rice dish with chili and olives for great food! Let's have a look at the following video.
Eggs
Using eggs is a habit in Spanish cuisine. Egg dishes are available everywhere in this country. With highly creative processing, egg dishes are varied to satisfy all diners:
Egg dishes are ubiquitous in Spain, from luxury restaurants to popular or home-based restaurants. Therefore, one of the recipes made by eggs – Spanish flamenco eggs – is always delicious and satisfying with rich Spanish flavor. This soon became a feature of Spanish cuisine.
Tortilla has a thick and dense structure like a cake when finished. What makes the attractive dish lies in the ingenuity of the chefs in preparing the potato egg dish so that it has a distinctive aroma and is cooked evenly on both sides.
In addition, this dish is prepared on a fire, and you have to flip the pan to flip this dish. If done correctly, someone will admire it. Otherwise, you will have a half-ripe Tortilla splattering everywhere.
Rice & Pasta
Surely you must have heard of the famous Paella or Spanish rice dishes. Today the most elite recipes will be in your hands, right below:
Again, this is one of the most famous Spanish dishes you must know. The word "paella" in Latin means "pan". In fact, this is a mixed fried rice dish with vegetables and typical meat or seafood of the country of gaur. Paella has a very long origin, and is the soul food of the Spanish.
Seafood paella is the newest variation of this dish. Valencia is a city on the coast, so it's no surprise that different types of seafood have been added to recipes for generations. Interestingly, this dish has a "distant relative" in Bengal gastronomy called Muri Ghonto.
Today, Paella is not only a dish but also associated with the community activities of the Spaniards. Paella appears a lot at restaurants, parties, festivals, picnics in the daily life of the people here.
Fideua – Spanish pasta is a very famous dish in Catalonia and Valencia, but it is very little known to tourists. This is a mix of pasta and Paella.
This noodle is similar to Paella but is cooked more complexly. This dish also has seafood as the main ingredient. Usually, shrimp and squid, seasoned with spices and broth through more stages.
Spanish rice pudding is a highly nutritious, delicious, and comfortable dish. The dish has a smooth texture, fragrant with milk flavor. Soft and sweet rice milk pudding will melt in your mouth.
This dish only uses Spanish rice, milk, cinnamon powder, and a little sugar to process. Very simple, isn't it? This is really nutritious, cool Spanish rice pudding on this hot summer day. Just a few minutes, and it's done!
The texture of this dish is more like a thick porridge than a pudding. Although it is not difficult to eat, it will be a bit strange to eat rice with a sweet taste if you are not used to it.
Bread
The crispy slices of bread and the ingredients and spices will elevate its flavor many times over. Try to make your bread the most Spanish way to light up your dining table right now:
Migas is a symbolic dish for the farmers here, and it is also a symbol of a past historical period. Migas were born from pieces of dry bread torn, fried up to combine with other things that are mostly spicy sausages.
Simple and easy to make, this garlic and olive oil bread crumbs will make you fall in love like never before when mixed with spicy peppers and bold marinated meats, especially the chorizo sausage.
The ingredients of the dish have been all inspired by the simple cuisine of Spanish farmers for many years. Migas is being served on the menus of the most famous Spanish restaurants.
Basically, torrija is a dish that the Spaniards learned from a famous French breakfast dish, toast. Easy to make and loved for its sweet taste, the Spaniards make torrija by soaking hard bread in eggs, milk, and sugar.
This dish is usually served during the Easter holidays. Sprinkle with sugar or cinnamon on top, torrija served with a glass of hot chocolate is a delicious and nutritious breakfast.
A fan of Spanish torija? Then you'll love the Basque variation of this dish. Instead of serving torija with hot chocolate, you should enjoy this classic Basque dish with brioche bread, a sprinkle of cinnamon, and some sweet, citrusy orange syrup.
Well, as the name suggests, this dish is incredibly simple. Just a slice of bread, spread with finely crushed tomatoes, add a little olive oil, add a little salt, and you have the appetizer. It sounds so simple, but it's incredibly delicious. Served with jámon, it's delicious!
Other Ideal Spanish Recipes
Finally, I will introduce you to some of the great Spanish fusion dishes that you can't help loving. Please don't miss the last recipes!
Churros are a delicious, crispy, spongy snack that you can easily find at street stalls or festivals and street parties in Spain. To enjoy Churros in the best way, you can combine this food with hot chocolate to increase the deliciousness of the dish!
Churros in recent years have captivated many young people with their delicious taste and stunning appearance. Perfect churros are freshly fried, hot, and crispy, topped with a layer of cinnamon sugar.
The creamy taste of butter, the sweetness of sugar and chocolate mixed with the strong aroma of cinnamon has created an addictive dish that anyone who has not tried it will be inquisitive about when the churros plate has run out.
Leche frita is the fried milk, formerly a dessert prepared by Spanish housewives on holidays or certain special occasions. Gradually, this dish became more and more popular, becoming a typical dish of Spain in general.
It is simply fried milk, but its taste will stimulate many of your senses. Its name is Leche Frita, made from milk that is condensed into whipped cream, mixed with egg yolks and flour, then rolled in bread crumbs and fried until golden brown.
The sweetness is often homemade, so there are variations on how Leche frita is prepared and presented. They all have in common: boiling milk with sugar, cinnamon sticks, and sometimes lemon zest. A hearty meal in Spain cannot be complete without this dish.
Red Sangria is a traditional Spanish cocktail. Its unique recipe usually varies depending on the region of this country, but the common ingredients are red wine, fruit, and sugar.
Authentic Spanish Sangria is brewed in a large jug. The fresh berries are dropped into a red wine jar and soaked overnight, allowing the wine to infuse with the fruit and berries to release the aroma. The acrid taste of red wine fades, replaced by the sweet and fragrant aroma of fruits.
Because Sangria contains quite a handful of fruits, many worry that Sangria's average shelf life might not be very long. And that's a legitimate concern, and it's always recommended to finish Sangria quickly. That's why you should only make Sangria the day before you serve it.
This dish is quite similar to Creme Brulee, with caramelized sugar on top. Crema Catalana is very easy to make, has a distinctive scent, suitable for children too. With the recipe I introduce, you can completely make your own delicious soft creme brulee at home!
They stand out for their soft custard and burnt sugar on top. Surely this will be an exciting experience and should not be missed! Don't hesitate to try them now!
Nutrition Facts
8 servings per container
---
Amount Per ServingCalories553
% Daily Value *
Total Fat 24.6g

37

%
Cholesterol 194mg

65

%
Sodium 781mg

33

%
Potassium 324mg

10

%
Total Carbohydrate 30.5g

10

%

Dietary Fiber 2.4g

8

%
Sugars 4g

Protein 52.6g

104

%
---
* The % Daily Value tells you how much a nutrient in a serving of food contributes to a daily diet. 2,000 calories a day is used for general nutrition advice.