What do you know about Basque foods? If you don't know much about them, let me introduce them to you some more.
Not only will I give you the famous foods in Basque, but I will also help you understand the general ideas about this specific culinary culture a bit clearer. Not going to waste your time anymore; it is time to move on to the next section and have a deeper look!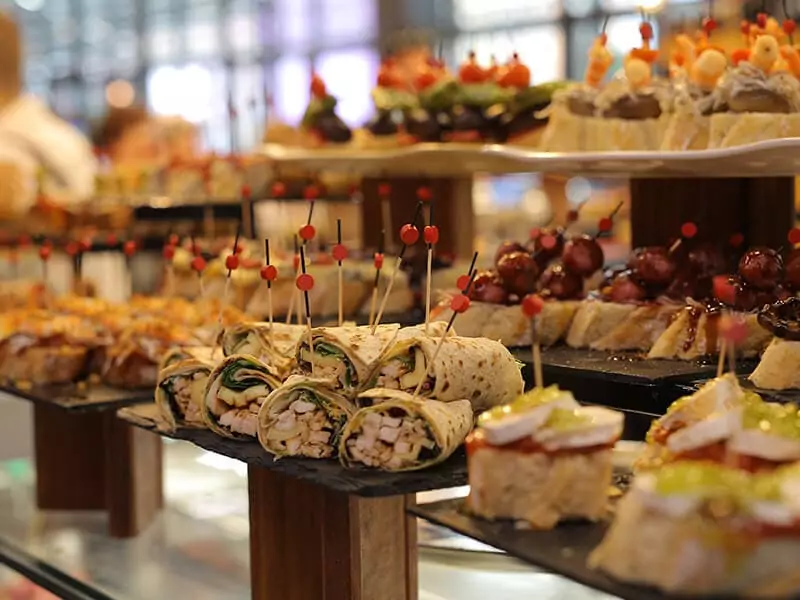 Brief Talk About Basque Cuisine
Basque Country ("Euskal Herria") is an extensive territory in the West of the Pyrenees mountain, between Spain and France. Their 3 Northern regions now belong to France while the other 4 Southern areas belong to Spain.
Because of that, once you mention the cuisine of this specific Basque culture, I have to say it will surprise you with its diversity. It is not Spanish or French totally; it is a distinguished, note-worthy culinary culture that you should experience once in a lifetime.
People living in these regions balance and harmonize the goodness from Spanish and French cuisine while still preserving their ethnics' distinctive features. That signature beauty in their cuisine helps their foods become more notable.
The town of San Sebastián or Donostia in Basque has a total of 19 Michelin stars, including three three-Michelin-starred restaurants. So you can expect a lot more from this taste experience.
Now, moving on to learning more about how Basque people express their aesthetic preferences through their delicate cooking.
This short introduction will surely help you know more about Basque cuisine.
Basque Seafood Dishes
Because the Basque people did not eat fish very regularly in the Middle Ages, fish dishes appeared later than other traditional foods. Nonetheless, I assure you that these treats will be nothing less than excellent.
1. Bacalao Pil-Pil
(Cod In Pil-Pil Sauce)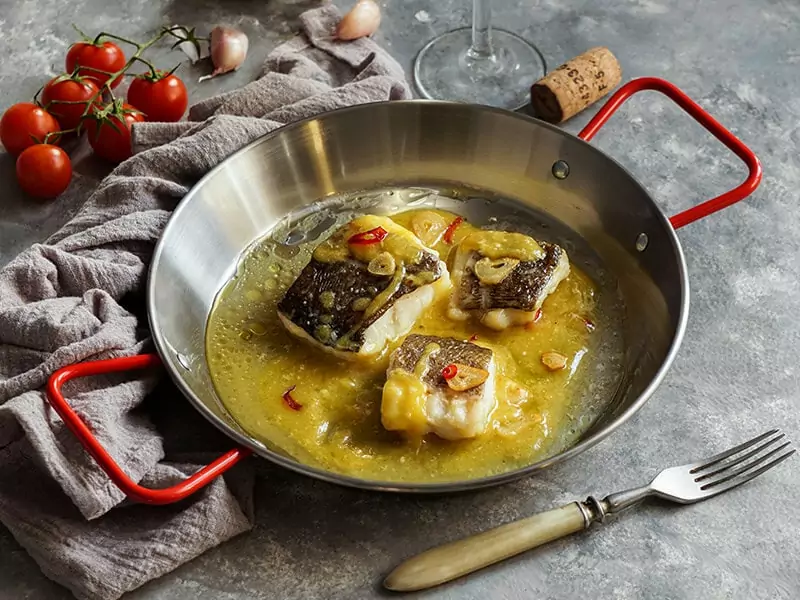 Salted cod is possibly one of the most famous Basque ingredients, and bacalao al pil pil is one of the most famous dishes made with that ingredient.
There is a fascinating myth around the use of cod in Basque. Dating back to the 19th century, during the Second Carlist War, a merchant ordered 20 or 22 specimens of cod before the situation got worse.
He accidentally received 20,022 specimens of cod instead of the amount he ordered. He then tried to sell all of those fish in Basque which indirectly helped the place with the famine.
People only had fish and olive oil at that time, so they think this bacalao pil-pil was created in this period. The dish is called "pil-pil" because of the sound it makes when it's fried, and the splashing oil makes the skin of the cod more crispy and leaves you craving more.
It's a straightforward recipe: it's just cod fried in garlic and olive oil. By gently cooking it in a frying pan, gelatin-like oil from cod infused with olive oil creates a thick sauce. That is the best accompaniment to this delicacy.
Should you want a suitable codfish accompaniment food, there are plenty of choices for you to consider. Personally, I find couscous salad and French ratatouille the best match for Basque Cod in Pil-Pil sauce.
2. Bacalao A La Vizcaina
(Basque-Style Codfish Stew)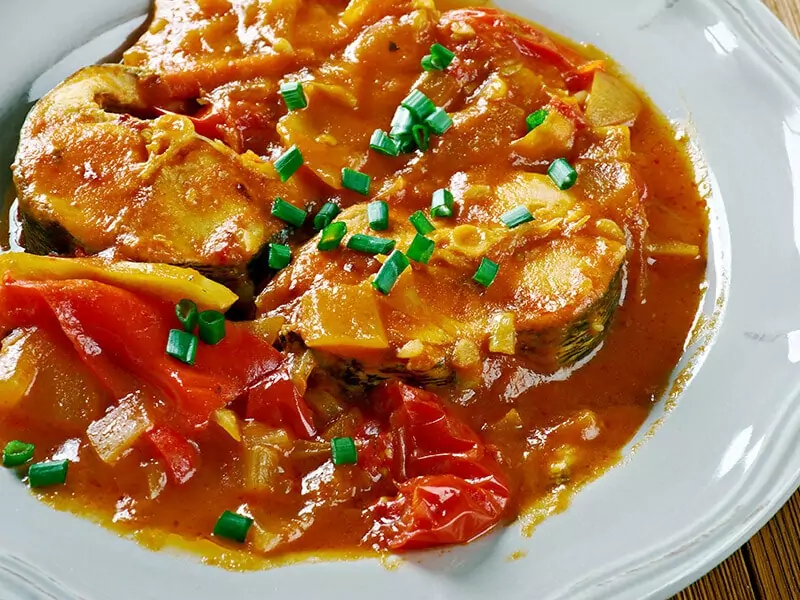 Besides the bacalao pil-pil, this bacalao a la vizcaina is the second most famous. In Basque, this dish was first created in Vizcaya province, and this variation is entirely different from the other countries' versions of stewed codfish.
In the motherland of bacalao a la vizcaina, they don't use fresh cod for these Basque-originated dishes but use the salted and dried ones.
Although the flesh will not be as fresh, the taste will be deeper and flavorsome with no hint of fishy scent. With the addition of fresh veggies and spices, your fish stew pot will be refreshing and harmonious.
3. Bacalao Ajoarriero
(Salt Cod with Garlic)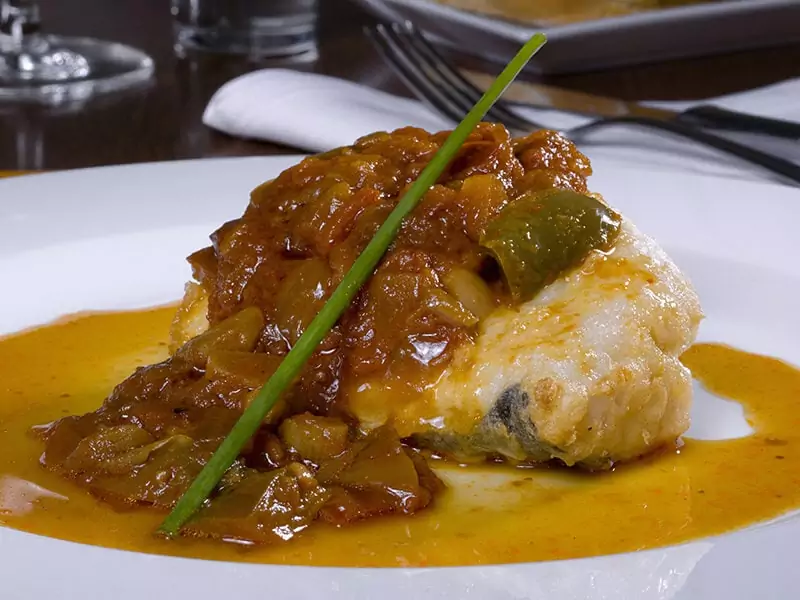 Bacalao ajoarriero is a simple dish that requires almost no complicated ingredient and still accentuates the goodness of the main component, cod.
There is no verified history about the origin of this dish, yet people believe that it is related to the old mule drivers or muleteers. These people have to travel all the time, and their most common food is salted cod with some kinds of veggies.
So, they started to create this dish out of all they had on hand at that time. The theory is proved more solidly when the word "ajoarriero" also means "mule driver's garlic".
4. Bacalao Con Gulas
(Cod Fish With "Faux Baby Eels")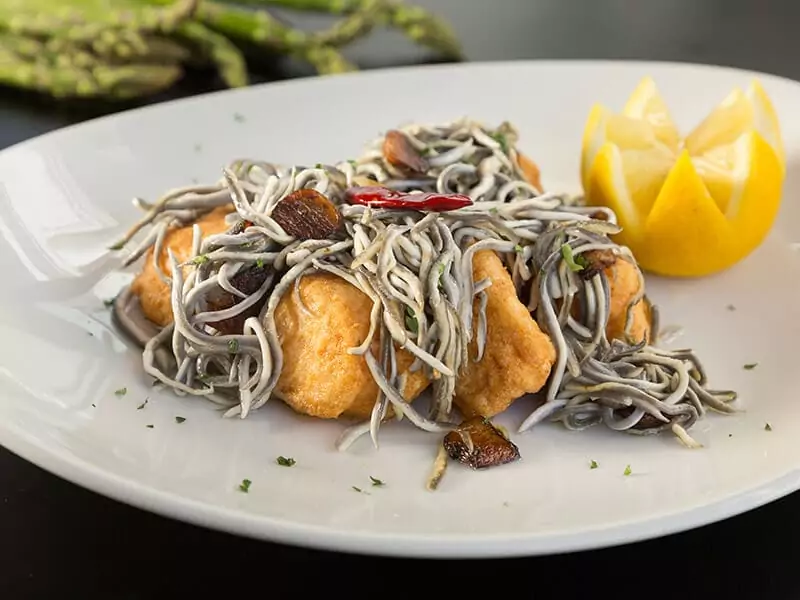 The fact behind this dish is they don't use the actual glass eels. Instead, the chef will use the specially processed fish paste to fake the eel part. Then why do they have to do so?
Glass eels are a type of tiny eels, and their sizes make them look more like an earthworm than fish. People who live in Biscay Bay have been fishing for glass eels for years, and this seafood has been considered a specialty in Biscay or Basque cuisine.
The glass eels can offer a palatable chewy texture, absorb the sauce quite well, and there will be no fishy odors. One big drawback of using this exquisite seafood is that they are expensive.
Although the original version of this dish included eel, they needed to change the ingredients to make the dish more popular. But don't worry, bacalao con gulas is surely delicious.
5. Marmitako
(Basque Tuna Pot Stew/Tuna And Potato Soup)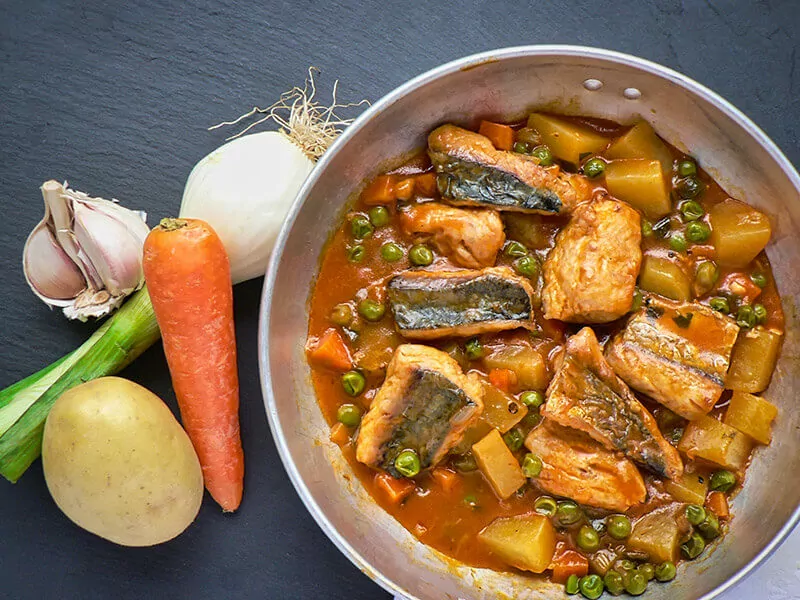 By looking at the picture, I want to have a bowl of this food as my first dinner in Basque already. With all the root veggies, many fish, and spicy tastes, this marmitako will not disappoint the eaters.
The term "marmitako" means "from the pot," which also tells much about the way to process it. This marmitako first existed as a familiar hearty soup that tuna fishermen usually ate when they had to stay offshore for a long time.
After a time, the food becomes more popular on the peninsula and now is prevalent comfort food in many households.
6. Txipirones En Su Tinta
(Basque Baby Squids Cooked In Their Ink Sauce)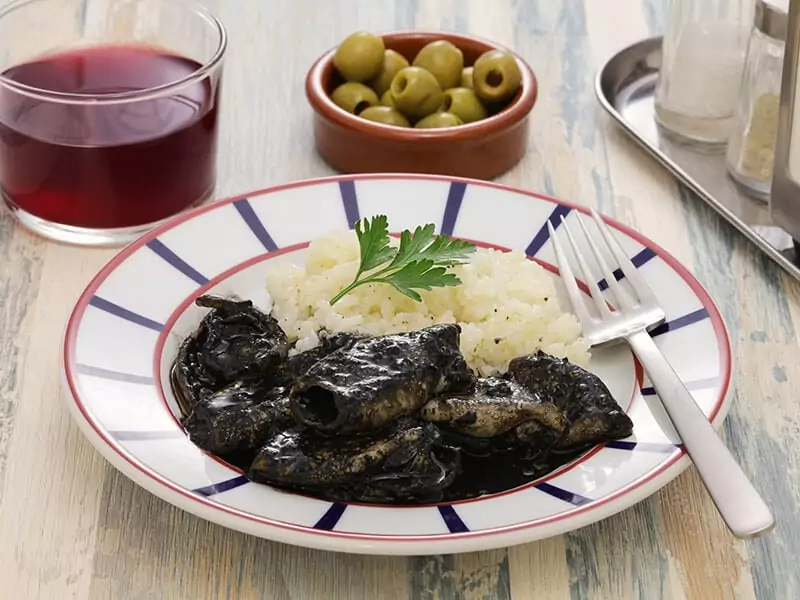 This Basque dish uses baby squid cooked on its own ink. The squid part is often mixed with white wine and garlic to enhance the food's flavors and eliminate the fishy smell.
Imagine eating it with white rice; the rice will also be coated with a nice black consistency and a lovely taste balancing effect.
Although the distinctive black color may make you feel strange, it is worth the experience once you try it. The only deterrent when ordering this is the color it can leave on your teeth, so you should remember to brush your teeth after eating.
7. Pintxos/Pincho
(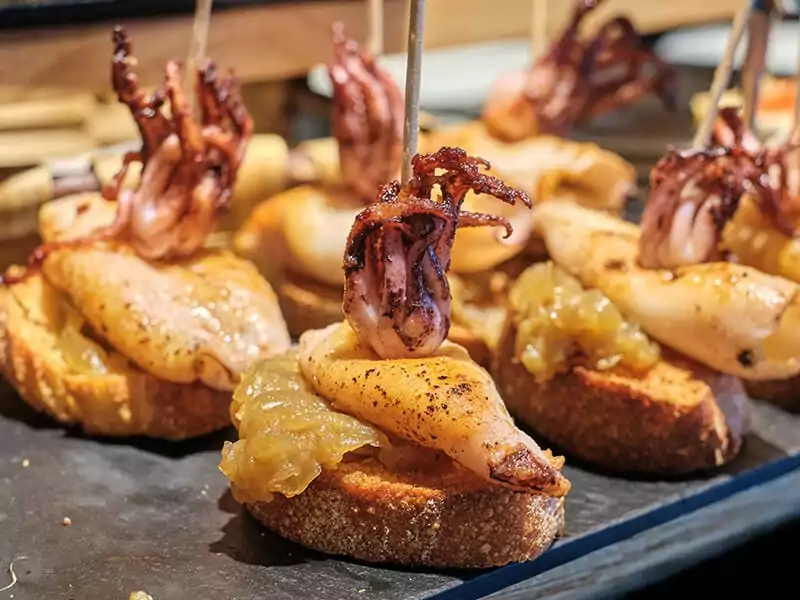 The Basque's pintxos is probably a familiar appetizer to Spanish foodies. This treat is globally famous for its delicate appearance and exquisite taste. The name "pincho" means "spike", they call it that way because there is always a toothpick to fasten the layers.
All in one bite, and you can feel all the layers of goodness rush into your mouth. How about the story behind these pintxos? Don't confuse it with the Spanish tapas; they are two totally different things.
Yet, there was a trend also called "tapa" (which means "lid" in the early 19th century). The waiters would put a piece of bread over diners' drinks so that there would be no flies able to invade their treat.
This trend came to San Sebastian later, and pintxos appeared in the 1930s. A bit later, this trend also came to Bilbao and other places of Basque. That was how these toothsome pintxos were created.
8. Tigres/Mejillones Rellenos
(Spicy Basque Stuffed Mussels)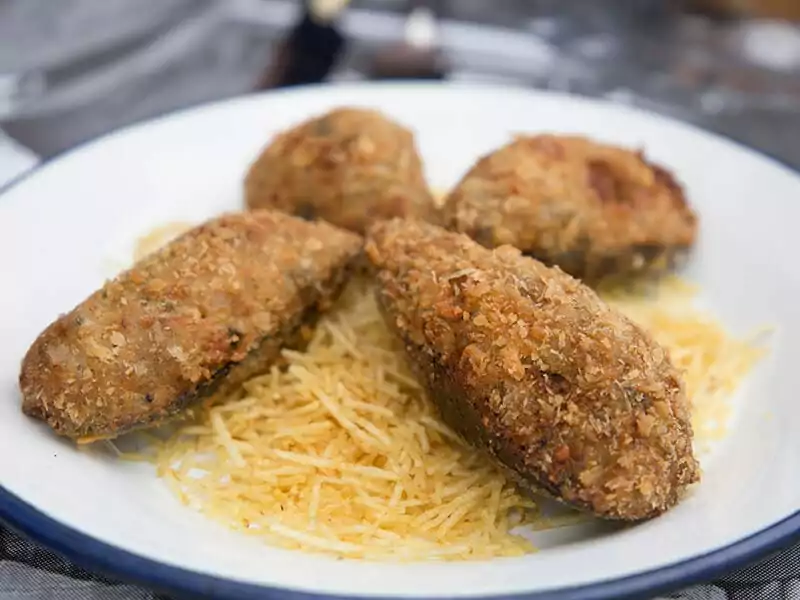 Instead of using codfish as the main ingredient, these unique pintxos are made from chopped fresh mussels mixed with spicy spices. So, you can expect a mouthful of robust flavors and spices.
People will put that mixture of oysters back into the mussel shell, deep-fry it with bread crumbs and drizzle a layer of fatty cheese sauce on top. For a more flavorful bite, you can get some scrumptious mussel side dishes to enhance the overall taste of the stuffed mussels.
After finishing a bite, the Basques will throw the mussel shells on the floor. You might be a little surprised at what they do, but that seems to be the right way to enjoy this dish.
9. Lamperna/Percebes
(Basque Goose Barnacles)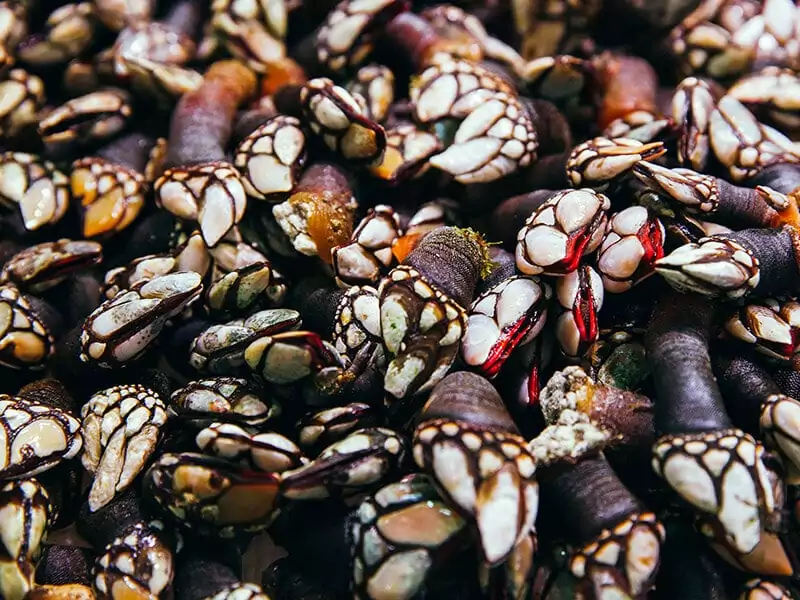 In the Basque country, the official name of goose barnacles is lamperna, but in Asturias or Galicia, people will call them percebes.
Because of the strange habitat of these exotic mollusks, they are expensive. Therefore, you should immediately grab the chance to try them if there is one.
To consume the food, the best way is to process it as simply as possible. The locals will only boil them directly in the seawater and take the interior out when eating. After cooking, you can feel its taste remind you of the beautiful sea.
Basque Meat Dishes
Following seafood dishes, meat dishes are also popular dishes in Basque. The locals have also created delicious meat dishes that might get you to this place faster than expected (just because you want to try the original).
10. Poulet Basquaise
(Braised Chicken With Peppers)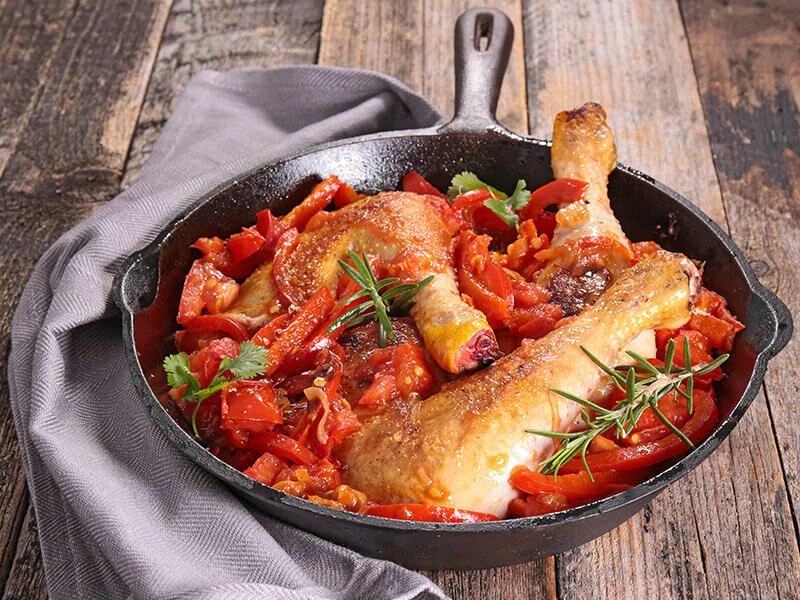 One signature of Basque cuisine is their dishes usually include tomato, chili, bell peppers, or spicy peppers, and this poulet basquaise has all of those features.
This dish is not inspired by Spanish cuisine; poulet basquaise is inspired by the elegance of French culinary culture. The original French version, poulet, includes only roasted chicken with seasonings.
When the food came to Basque, the people here tried to do some twists (adding peppers and tomatoes) to enhance the Basque signature tastes and the nutrition level of the treat.
11. Txuleton
(Steak)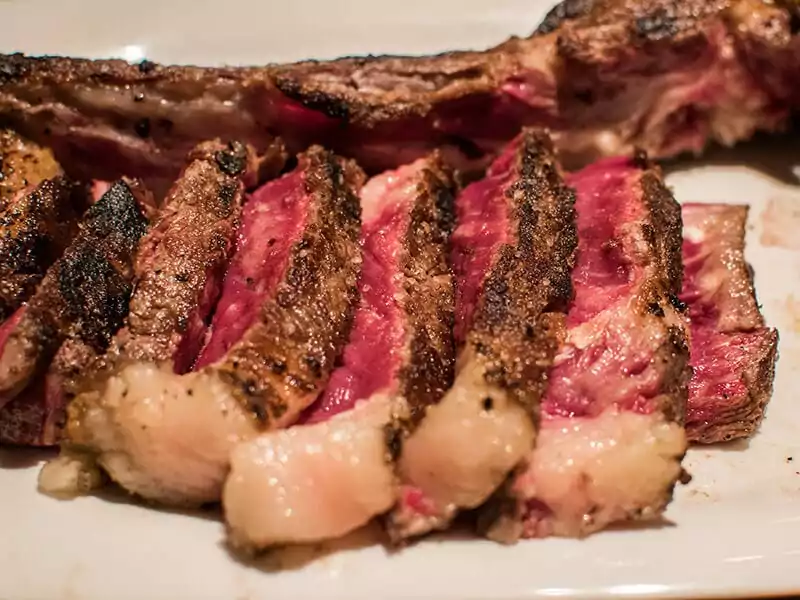 This txuleton seems like a luxurious Basque-style lunch with all the grilled meat and veggies. Don't call it chuletas in Basque country since that term is more frequently used in Spain. If you want to order rib steak in Basque, ask for txuleton.
The story behind the origin of this txuleton is also fascinating. It originates from Astigarraga village, a small village in the suburb of San Sebastian. The steak also stuck to traditional Basque cider tasting culture and was commonly used in the 1960s.
They said the best txuleton comes from Galician cuisine and are made of the highest quality beef. The only way to verify that is to experience it with your own taste buds.
12. Basque-Style Lamb Stew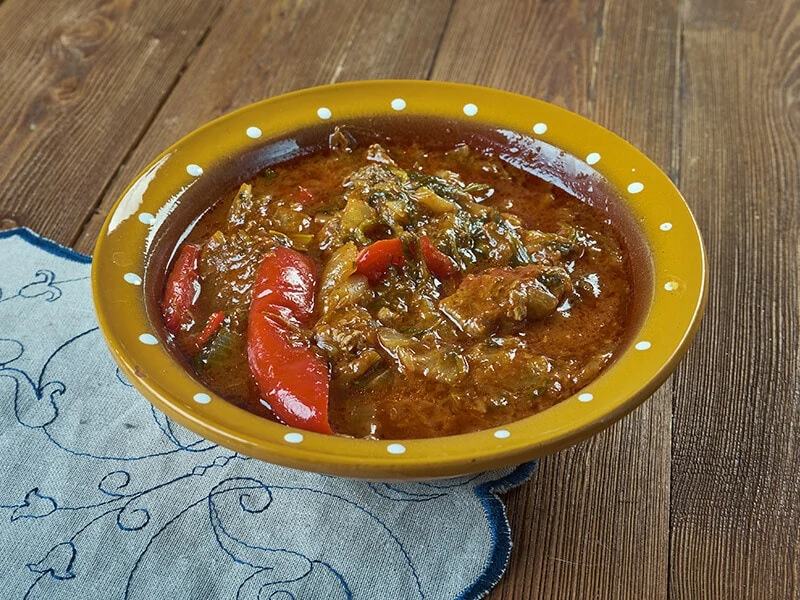 Lamb is the preferred meat of the Spanish, who use it in various dishes. The Basques, whose cuisine is heavily inspired by Spanish cuisine, developed their own version of lamb stew. You can even find something reminiscent of French cuisine through this hearty treat.
Instead of using solid flavors, Basque people prefer applying mildening condiments or fragrant herbs (rosemary) to enhance their tastes.
There are various ways to enjoy this lamb stew, from having it with pieces of bread, rice, or talo. When you sit at a Basque restaurant, the hospitality waiter will sincerely suggest you the best pairing, so don't worry if you don't know where to start first.
What if you want to try making this dish yourself? Fear not. Complicated as it may seem, lamb stew is a simple dish you can make in Dutch ovens. As long as you follow the instructions, you're guaranteed to end up with delicious, authentic-tasting Basque lamb stew.
13. Txistor/Chistorra
(Fast-Cured Sausages)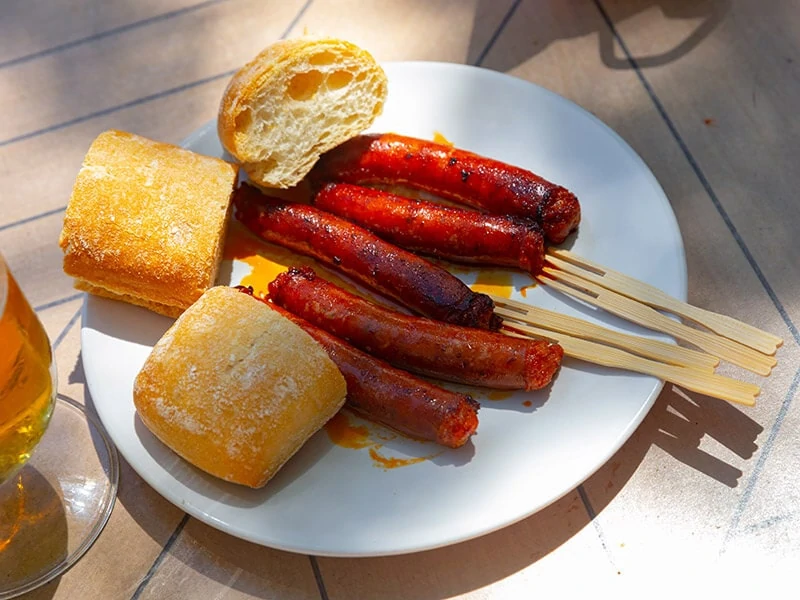 When you come to the Basque country, txistor is the food you have to try there because its flavors are distinguished. This sausage's Spanish name is chistorra, yet, people call it txistor in Basque.
Txistor is considered a fast-cured sausage type or a variation of the famous chorizo. There are 2 main varieties of txistor, one requiring minced pork, beef, and lamb tripe while the other one calls for lungs, pancreas, boned pig head and some other things.
The second variety is not as famous as the first one with minced pork. Some most popular ways to eat txistor/chistorra is as a side dish for huevos rotos con chistorra y patatas (rice with potatoes and fried eggs), in a stew, or as a part of pintxos.
Of course, if you prefer something more familiar as accompanying foods for sausages, I'd suggest eating potato salads, stewy white beans, or grilled veggies. However, if possible, you should definitely enjoy these Basque sausages the way the natives do.
This sausage is also loved on Thomas the Apostle's Day (December 21st each year) in San Sebastian.
Basque Desserts
Now, moving on to the next section with Basque-style sweet treats! The subtlety in these recommended dishes will absolutely amaze you.
14. Torrijas
(Basque-Style French Toast)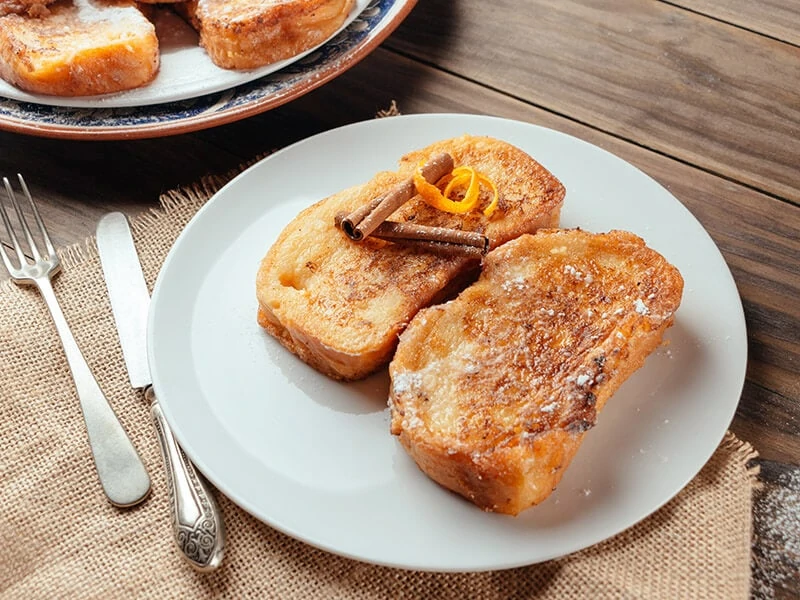 The French toast has a long history since it first appeared in the 5th century BC and is called "Pan Dulcis" in Rome.
If I have to choose a dish for my first Basque breakfast, I will opt for this torrijas recipe. The idea of dipping bread into milk and egg before pan-frying was so creative, and the food was so tempting that it had gradually become more famous globally.
Basque people also created a French toast variation in their cuisine's style, but the toast did not directly come from France to Basque. It was derived from the original Spanish torrijas created in the 15th century by the nuns.
Nowadays, Basque people love eating this treat with brioche bread, cinnamon, and orange syrup.
Aside from Basque cuisine, torrijas is also a prominent recipe in the Spanish culinary world as well. However, the Spanish enjoy torrijas differently from the Basque. Notably, Spanish people usually sprinkle some cinnamon and sugar onto the toast and eat it with a cup of hot chocolate.
15. Etxeko Biskotxa
(Basque Cake)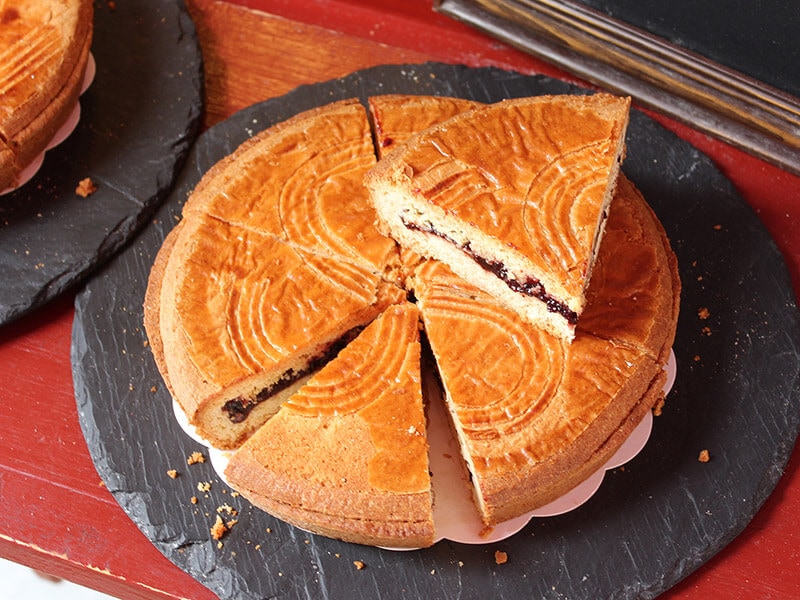 This Basque cake has two other names: as a French dessert, it's called Gâteau Basquek and as a sweet treat in Spanish cuisine, it's called Pastel Vasco. But in the Basque country, they call it etxeko biskotxa, which means "cake of the house".
Just as its name implies, every family in Basque has their own recipe to make, this cake and all have distinctiveness.
The cake's origin, Cambo-Les-Bains, Labourd in the 18th century, and its first form (called bistochak) were made of bread.
Later on, when the commercialization became more developed, they started to add rum in this Basque cake which helped to add a new allurement point.
16. Mamia/Cuajada
(Sheep's Curd Dessert)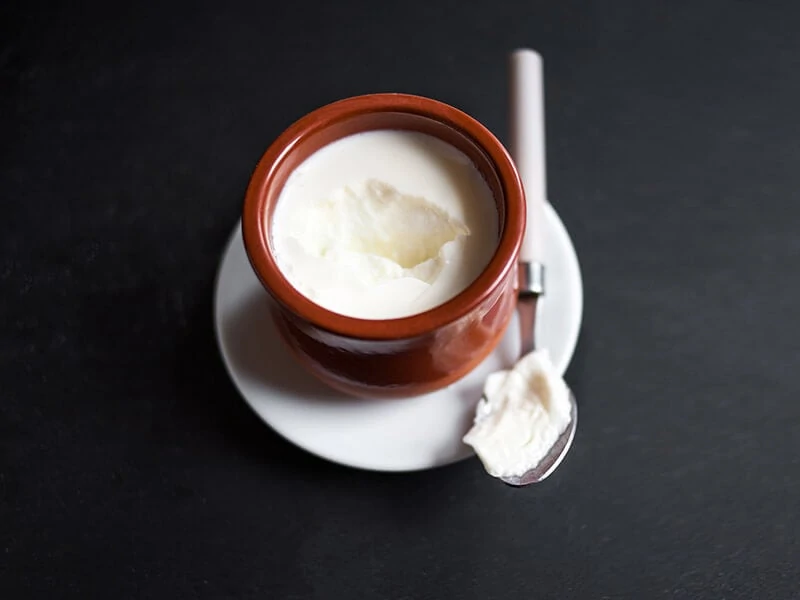 This Basque mamia is solid proof of the quote "The allurement lies in the simplicity" since there is nothing else but sheep milk in this delicacy. Mamia appeared a long time ago in the region of Basque.
The traditional way to make the treat is to put the sheep milk into kaiku (a type of burnt wood receptacle) to lend the delight a lovely rustic, smokey scent. You can hardly find that flavor in today's industrial products since they apply chemicals to increase the yield.
Although you can find those manufactured mamia products in stores, to experience the authentic taste, you should come to Basque country once.
17. Trainera
(Basque Apple Cake)
It is not a coincidence that this Basque apple cake is called trainera. The term "trainera" means a traditional boat of the Bay of Biscay, and the areas abound. The boats' bodies are described to be elongated. Their width is small and enough for only one person.
Looking at the picture above, you can easily see the apple cake of Basque looks reminiscent of that boat.
The topping of this apple cake is also simple. It only requires caramelized apple and some almonds above the broken dough base, yet, the flavors it lends to your taste buds are phenomenal.
Other Basque Dishes
Do you want some more suggestions? Don't miss this part because the food below will surely be worth waiting for!
18. Talo/Talau
(Flatbread)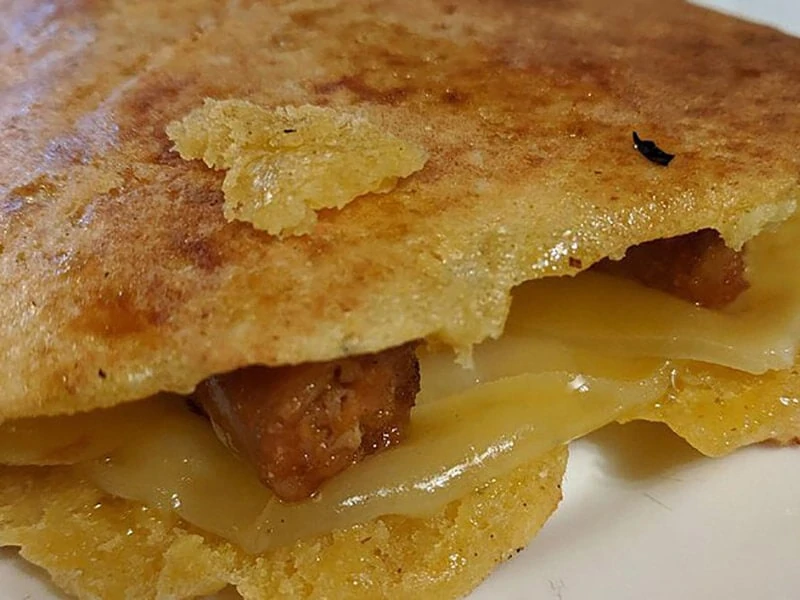 Basque flatbread or talo is made of cornflour. Does that feature remind you of something? If you think about corn tortillas, you are correct since the ingredients are nearly the same.
The Basque talo is the flattened dough cooked on the hot talo burni (a unique metal plank). It can be used to wrap food, serve with toppings or eat alone. Each way will deliver an extra deliciousness.
Talo is not an ancient Basque food; the talo powder mix was first made after 1520 when people brought corn from America to the Basque country. Since then, this specific food has gradually become an irreplaceable food in Basque meals or any special occasions.
19. Piperade
(Tomato-Pepper Stew)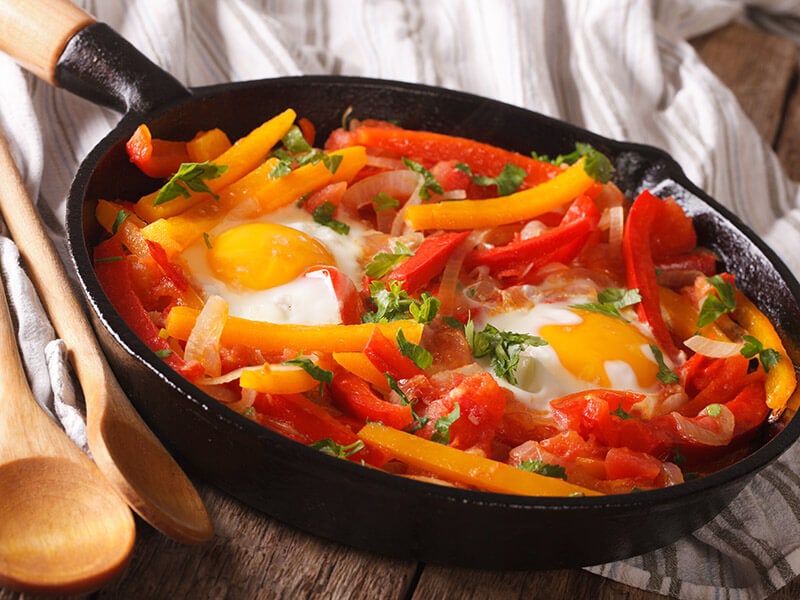 As I mentioned, tomato and pepper play a vital role in Basque culinary culture, so how about combining these two ingredients in only one dish?
The name of this food, piperade, was derived from the Latin term "piper" (which means black pepper). The dish was also created in the 19th century in the Basque region that belonged to France.
One funny fact about this treat is that all of its ingredients reflect the colors of the Basque country's flag. It has enough of those green, red and white shades.
Basque people will love eating this delicacy with crispy bread for a light main course or a Spanish-inspired side dish. I have to say that it is a genius idea. Dipping the crunchy bread piece into the saucy stew takes a big bite. Just thinking of that makes my mouth water already.
20. Tolosako Babarruna/Alubias De Tolosa
(Black Beans and Onion Stew)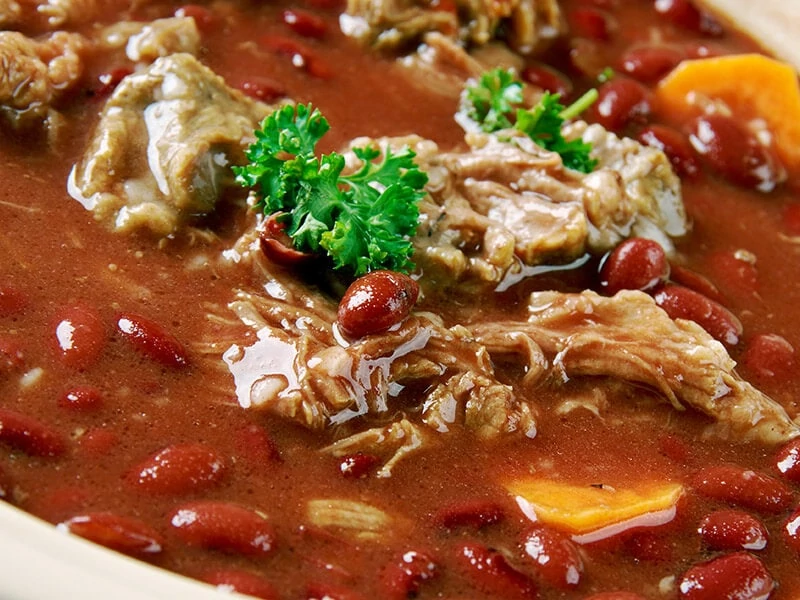 The next stew is made of dark purple kidney beans and onion. The beans used are from Tolosa (a town and municipality of Basque in the north of Spain) and lend a luscious buttery taste. Basque people love the special beans and call them "black pearls".
There are many confusing theories about the beans' origin. Some say that the beans came from Venezuela in the 18th century, while some say this treat was sold in Tolosa's weekly market from the 12th century.
The only thing I can confirm with you is this stew is phenomenal. The way to enjoy it is also simple since you only need to serve it with kale (with a splash of olive oil and some garlic) or wilted cabbage. If you love more meat, you can also add some Basque sausages.
21. Idiazabal Cheese
(Smokey Basque Shepherds' Cheese)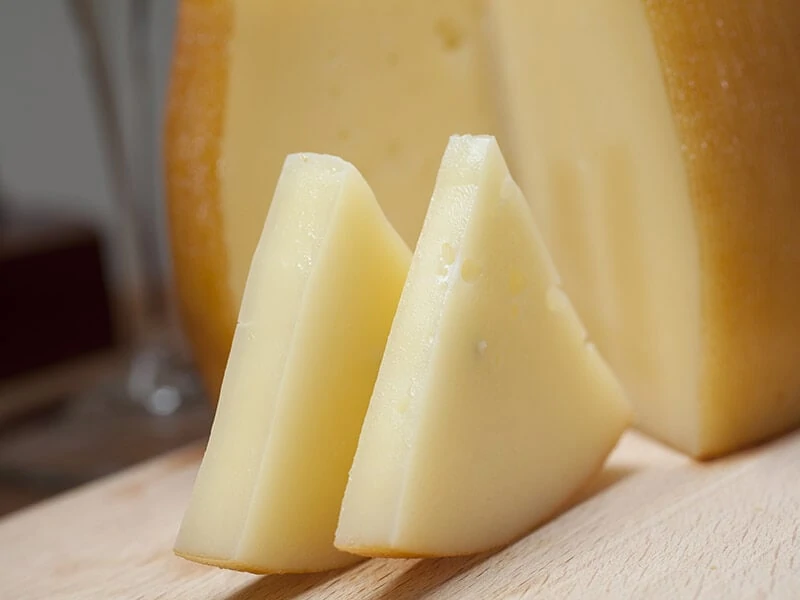 Idiazabal is a kind of pressed cheese made of sheep milk, the same ingredient as the previously mentioned mamia. Therefore, the texture of this specific cheese type is quite hard, making it perfect to be eaten fresh by bare hands or being grated as a topping.
The name of this cheese is inspired by a Basque village named Idiazabal, and the Basque people first made this cheese in 1987. It is loved thanks to the charming nutty and buttery taste with a hint of smoky scent.
A signature feature of this cheese is it is covered with hard and lightly brown rind. My tip for you is to try matching it with quince jam; you won't regret doing so.
---
Don't Wait To Give These Recommendations A Try
If you have the opportunity, pay a visit to San Sebastian, a city famous for its pomp and impressive architecture in Bilbao. Visiting the Basque region, you can experience delicious dishes with excellent sophistication, beautiful scenery, and friendly people.
I hope that the dishes I introduce to you today will help you have a memorable culinary travel experience. Please share these suggestions with your loved ones and friends if you find them helpful. Sharing is an act of love!