These easy Italian appetizers will turn your next family dinner into a delightful meal with authentic Italian flavors. With various options for you to explore, these simple recipes are just too good to turn down.
During my short trip to Italy, I've got to eat many different Italian dishes, many of which are simple yet delicious appetizers. From then on, I've developed an obsession with these easy Italian appetizers.
After trying to replicate these starters many times myself, I can say with fair confidence that the Italian appetizers below are both easy and delicious. In fact, they're so flavorful that as soon as you get a taste of these, you'll probably go, "Oh, Mamma Mia!"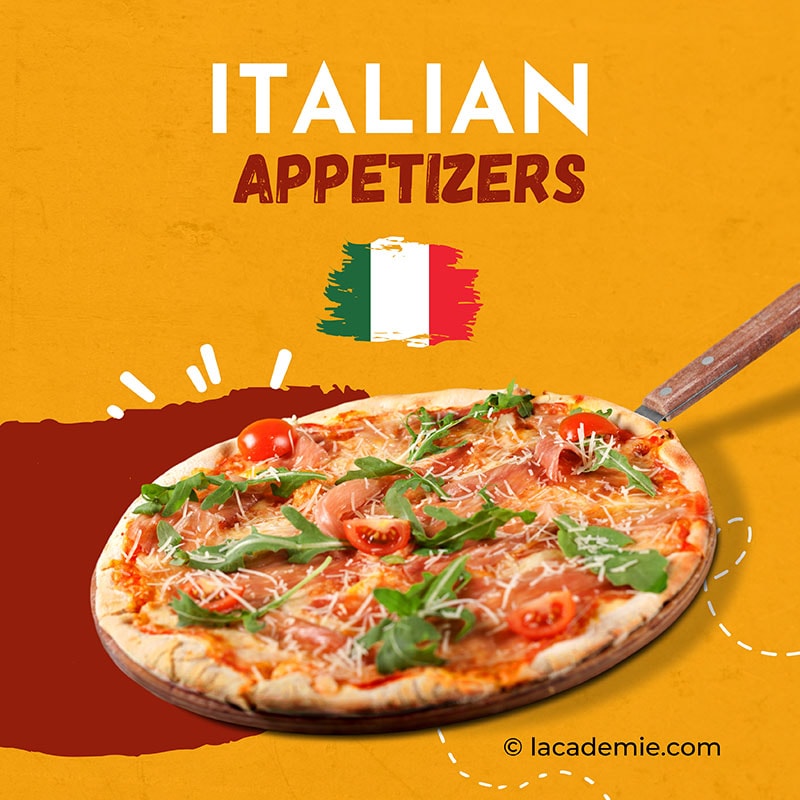 Easy Italian Appetizers To Start Your Perfect Meal
Every meal needs to start with tasty appetizers. And with these easy Italian appetizers, there's no need for you to worry that your family won't like it.
Bread Or Pastry Appetizers
Crostini (Little Crusts)
Whipped Ricotta Crostini
Italian Cheese Pull-Apart Bread
Pizza Stick
Bruschetta
Calzone Pinwheel
Cheese Breadstick With Herbs
Caprese Flatbread
Vegetable Appetizers
Antipasto Salad
Marinated Olives
Italian Stuffed Mushrooms
Italian Green Beans
Italian Roasted Cauliflower
Zucchini Garlic Bites
Antipasto Skewers
Caponata
Caprese Salad
Meaty Italian Appetizers
Crockpot Italian Meatballs
Italian Style Meatball Kabobs
Italian Marinated Shrimps
Prosciutto Rolls
Spicy Italian Ham And Cheese Cup
Italian Meatball Buns
Cheesy Italian Appetizers
Burrata (Italian Cheese)
Mini Lasagna Rolls
Marinated Mozzarella Balls
Eggplant Parmesan Bites
Caprese Skewers
Tuscan Truffles
Garlic Herb Cheese Bombs
Cheese Straws
Cheesy Italian Arancini Balls
Italian Appetizers With Ravioli
Ravioli Nachos
Oven Toasted Garlic Herb Ravioli
Crispy Wonton Pea And Ricotta Ravioli
Italian Appetizers With Delicious Bread Or Pastries
When it comes to classic starters, you can't skip these lovely bread varieties from Italy below. Easy to make but yummy to taste, these Italian appetizers will surely not disappoint.
Crostini is a sliced piece of bread that is drizzled with olive oil before being toasted or grilled. It's usually seasoned with salt and flaky peppers. At its core, crostini is truly a simple dish. You can prepare it within minutes and still end up with a tasty and scrumptious appetizer.
If you like crostini but want it to be more luscious and savory, you'll love whipped ricotta crostini. This appetizer starts with your typical crostini. Then, it's topped with ricotta cheese for extra flavors. Yearning for some fresh bites? Juicy tomatoes will make the perfect addition.
This Italian cheese pull-apart bread will bring about an incredibly cheesy, buttery, and garlicky bite. As delicious as it is, this pull-apart bread is very easy to make. You can start with bakery bread, cut it diagonally and fill it with as much butter, cheese, and herbs as you can. Yummy!
You can start your meal with these tiny but savory pizza sticks, which are stuffed full of cheese, pepperoni, and pizza sauce. Boasting a similar taste to pizzas, these hearty sticks are insanely addicting. These are so good that just one stick is never enough to satisfy anybody.
Bruschetta is a popular Italian appetizer, which consists of fresh tomatoes served on top of a piece of toasted Italian bread. And if you add some Burrata cheese to your bread, they become a simple-and-tasty treat for any Italian night. And I believe you will devour them in a sec.
For a more satisfying bite, the tomatoes are often seasoned with garlic, olive oil, and fresh basil. Refreshing and tasty, bruschetta is ideal as a summer appetizer.
Watch this video: Make the tastiest bruschetta with this easy recipe.
Calzone pinwheels are a quirky twist on your typical, traditional pizzas. These tiny, adorable bites are made with scrumptious crescent roll dough and stuffed full of pizza ingredients. With their crispy layer and cheese stuffings, calzone pinwheels are truly a memorable appetizer.
Tiny breadsticks with a cheesy, aromatic coating. Now that's what I call an excellent Italian appetizer. These breadsticks are easy to make, but they will impress everyone on the dining table. You should make these right before the meal, as these breadsticks taste best when warm.
Are you a fan of Caprese salad or cooking recipes with basil? If the answer is yes, why don't you consider changing it up a bit and making this delicious salad into a savory flatbread? Scrumptious, hearty, and enticing, Caprese flatbread is ideal as both an appetizer or a quick dinner.
Amazing Italian Appetizers Prepared With Vegetables
Packed with veggies, these easy Italian appetizers will bring nutritional balance to your meaty main course aside from their mouth-watering flavors.
Antipasto salad is a harmonious combination between meat, cheese, and various types of vegetables. This salad is usually dressed with olive oil. In antipasto salads, you can get creative with the ingredients by adding your favorite veggies and subtracting the ones you don't like.
Who knows that when marinated, olives can be so tasty and excellent as appetizers. Juicy olives packed full of flavors – these Italian appetizers are also ideal as a healthy snack. For the best results, use all types of olives you can find: red, green, and black.
Marinating is a good way to extend olives' shelf-life. Should you be concerned with the likelihood of olives getting spoiled, marination is worth your consideration. This process can preserve the freshness of your olives while improving the fruits' flavors.
Can you fault these Italian stuffed mushrooms for being so perfect? Succulent mushrooms stuffed full of parmesan cheese and topped with garlic, shallot, and fresh herbs. Perfect for vegetarians, these Italian stuffed mushrooms are delicious to the very last bite.
Making Italian stuffed mushrooms will be easy as pie with this recipe. You can see this video to know more:
When you don't know which appetizers to choose, you can always opt for something simple and tasty like Italian green beans. You'll only need 10 minutes to sauté these green beans in butter and garlic and season the appetizer with peppers. Perfection can be achieved in 10 minutes.
Or if you want to mix it with other ingredients, like tomatoes, you will transform an appetizer into a quick Italian dish to pair with main courses. Indeed, green beans and tomatoes will add fresh flavor to your pork, steak, or chicken meals.
Before you skip this section just at the mention of cauliflower, let me tell you that this Italian appetizer tastes absolutely amazing. Roasted with olive oil and pepper, the vegetable is then spiced up with various seasonings. This dish is proof that cauliflower can taste delicious too.
These zucchini garlic bites are a blend of grated zucchini, Parmesan cheese with herbs and spices. These zucchini bites can be covered with a layer of bread crumbs for an extra crispy bite. Serve these with a marinara sauce for a burst of authentic Italian flavors.
It's your choice whether you eat these antipasto skewers as snacks or appetizers, but you'll find it hard to deny the enticement of these. With cherry tomatoes, decadent cheese balls, bell peppers, and thin meat strips, these skewers have all the best classic Italian flavors.
Caponata is a beloved Italian appetizer made with a concoction of eggplants, tomatoes, bell peppers, and various other veggies and herbs. In this dish, red wine vinegar is indispensable as it lends the dish a signature vibrant and tangy flavor.
You can see this video to know more:
As I've already mentioned before, Caprese salad is a popular dish in Italian cuisine, and they are flawless starters for any BBQ party. If you look at the recipe, you'll see the reason behind its popularity.
In this appetizer, juicy tomatoes are thrown together with creamy mozzarella cheese and then dressed with classic Italian sauce.
Savory Meaty Italian Appetizers For A Wholesome Bite
When you crave something packed with proteins, these meaty Italian appetizers will surely satisfy you. Be it classic Italian meatballs or savory prosciutto rolls; you'll find these appetizers a perfect start for whatever you have as the main course.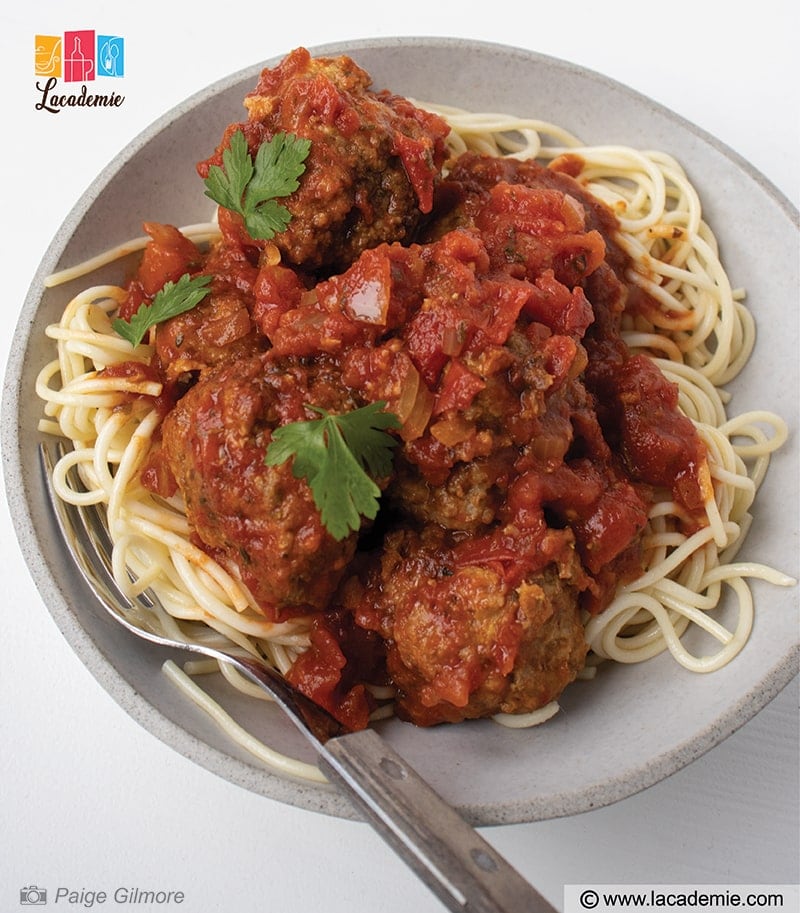 A staple in many Italian dishes, these luscious meatballs are an instant win as an Italian appetizer. You can make them into a delicious keto dish cooked in air fryers: less oil and low carb, such a perfect combo for a healthy diet.
With ground beef cooked to perfection and simmered in delicious marinara sauce, these Italian meatballs will satisfy your appetite. Serve these as starters for the Italian main course.
A staple in Italian cuisine, this appetizer features luscious meatballs with bell peppers and onions. Aside from these Italian classics, you can add zucchini, squash, or mushroom to these Italian kabobs. For a change in flavor, you can substitute beef with chicken or pork.
You can start making Italian marinated shrimps by flavoring them with lemon juice and a handful of herbs. Then, you can jazz this tasty appetizer up with onion, tomatoes, olives, and cheese. With its combination of classic Italian flavor, this dish will be a hit with Italian cuisine lovers.
These savory prosciutto rolls will be a hit anywhere with their delicately sweet, salty, and cheesy flavors. With prosciutto – a common kind of ham as the main star, these meaty rolls are smeared with tangy goat cheese and then seasoned with black pepper and zesty lemon juice.
22. Spicy Italian Ham And Cheese Cups
Crispy, golden wonton wrapper topped with ham, genola salami, and a touch of cheese. Jazzed up with a kick of spice, these scrumptious Italian ham and cheese cups are incredible in every way possible. With their tasty blend of flavors and texture, these cups are great as appetizers.
You can see this video to know more:
Step up your Italian meatballs by making these immensely enticing buns. Behind golden, crispy bread dough is a savory meatball bite laced with creamy parmesan cheese. You can pair these with any sauce you want, but I'd recommend using the marinara sauce for dipping.
Irresistible Italian Appetizers Featuring Cheese You'll Love
Impossibly cheesy, these easy Italian appetizers are the perfect addition to any meal you might whip up. And if you're a cheese lover, you certainly won't want to miss these cheesy appetizers.
Burrata is a classic Italian cheese that everyone should try at least once in their lives. At first glance, burrata might look similar to mozzarella cheese, but this soft, fresh cheese is a lot more flavorful than mozzarella. You can add herbs and spices to burrata to make it a quick appetizer.
Packing all the highly sought-after lasagna bites, these mini rolls will be a big hit among the crowd. Tiny but cheesy, these miniature lasagna rolls are fun to prepare and delicious to enjoy. For an impressive Italian appetizer, this is an excellent choice to consider.
This cheesy Italian appetizer is basically tasty mozzarella balls marinated in balsamic vinegar and olive oil. The marinating juice is usually spiced up with garlic and herbs, resulting in astonishingly flavorful mozzarella balls. These take around 30 minutes to finish.
Nobody will be able to turn down the delicious mozzarella balls made with this recipe. You can see this video to know more:
Even if you're not a fan of eggplants, you'll still love these cheesy parmesan bites. Crispy to the point of perfection and unimaginably cheesy, these tiny parmesan bites are a great way to sneak vegetables into your dish. If your kids refuse to eat veggies, consider making these.
If you prefer a chill-out or cold appetizer, you will love this recipe. Obviously, Caprese skewers are a quirky take on the classic Caprese salad.
With ingredients like tomatoes and mozzarella, these skewers are truly a fancy and fabulous version of the traditional Caprese salad. They're easy and quick to prepare, and they will definitely be welcome at any table.
Upon first glance, you might not expect these Tuscan truffles to be remotely cheesy. However, these round Italian balls feature up to three different kinds of cheese. To bring a balance to the appetizers, savory prosciutto and crunchy nuts are definitely a must-have.
These fantastic garlic herb cheese bombs will bring an explosion of tasty flavors to your meal. Requiring less than 20 minutes to make, these cheesy biscuits hide oozy cheesy goodness inside a crispy layer. Double the recipe if you can, or these will be gone in a flash.
What's one way to guarantee that everyone will love your Italian appetizers? By making these easy and savory cheese straws, of course! Warped in a thin layer of crispy pastry, these cheesy appetizers are creamy, flaky, and unbelievably flavorful. Nobody can turn these down.
Hidden inside these crispy golden Italian arancini balls are a blend of fragrant rice and decadent cheese. When you bite into these enticing Italian rice balls, you'll notice incredibly creamy goodness with a hint of herbs and onions. Do be careful, for these balls are very addicting.
You can see this video to know more:
Scrumptious Italian Appetizers With Ravioli For A Tasty Bite
Ravioli is an Italian type of pasta that features a savory filling inside the chewy pasta dough. If you like this food with an "R-something" name, perhaps you should consider making Italian appetizers with this.
Take your favorite ravioli to the next level by combining it with crispy nacho and creamy cheese. This excellent combination of Italian and Mexican cuisine results in a savory, enticing, and addicting appetizer. Great for feeding a crowd, ravioli nachos will steal everyone's heart.
When you're in a pinch, oven-toasted garlic herb ravioli will come to the rescue. This easy Italian appetizer can be prepared within a short time, and its taste is mind-blowing. Serve these savory with some warm marinara or ranch dressing for a well-rounded appetizer.
You can add some greens to your ravioli for a more nutritious, healthy ravioli. A great way to do so is to make this crispy wonton pea and ricotta ravioli. This scrumptious pasta features tasty green peas and savory ricotta cheese – an excellent combination for an Italian appetizer.
Did These Italian Appetizers Make Your Stomach Rumble?
As the Italian appetizers I listed here are all easy to make, I hope that their simplicity will encourage you to try your hand at the right today. With these easy appetizers, you'll be able to bring authentic Italian flavors right to your dining table.
Have you ever tried any of these easy Italian appetizers before? If you have, feel free to share your experience with these Italian dishes in the comment section below. Don't forget to share this article with your friends so they can try out these scrumptious appetizers too.
Nutrition Facts
12 servings per container
---
Amount Per ServingCalories278
% Daily Value *
Total Fat 14.9g

23

%
Cholesterol 37mg

13

%
Sodium 708mg

30

%
Potassium 900mg

26

%
Total Carbohydrate 26.8g

9

%

Dietary Fiber 10.5g

42

%
Sugars 5.9g

Protein 14.1g

29

%
---
* The % Daily Value tells you how much a nutrient in a serving of food contributes to a daily diet. 2,000 calories a day is used for general nutrition advice.