Asia is home to diverse, unique, fantastic, sometimes strange foods, especially side dishes which are easy to make for your meals.
If you are looking for easy-cooking but suitable Asian side dishes for your already prepared main savory, you are in the right place.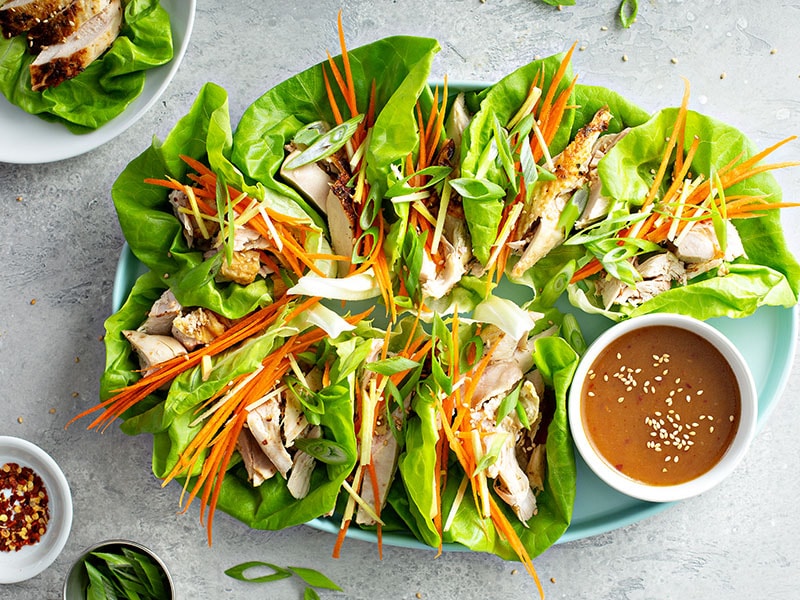 In the passage below, I am grateful to recommend various side dishes which are from China, Japan, Korea, Viet Nam, and Thailand. Of course, each country has its distinct side dishes, which play an important role in emphasizing its national identities.
What Are Good Easy Asian Side Dishes?
I find it impossible to list all easy-cooking Asian dishes siding with other dishes, so I just let you know the top 36 excellent Asian side dishes you must try when enjoying Asian main savories.
Outstanding Side Foods Originated From Vietnam
Rice
Banh Mi
Stir-fried Water Spinach
Vietnamese Mango Salad
Sticky Rice
Prawn And Sweet Potato Fritters
Vietnamese Shrimp Tacos
Vietnamese Fish Sauce
Typical Side Dishes From Chinese Country
Soy Sauce Fried Rice
Panda Express Chow Mein Copycat
Scallion Pancakes
Wood Ear Mushroom Salad
Stir-Fried Baby Bok Choy
Chinese Okra Salad
General Tso's Cauliflower
Szechuan Noodles
Renowned Japanese Side Dishes
Teriyaki Tofu
Cold Tofu
Japanese Chicken Wings
Japanese Potato Salad
Japanese Cabbage Pancakes
Must-Try Korean Side Dishes
Kimchi
Spicy Bean Sprout Salad
Egg Roll Omelette
Korean Cucumber Salad
Korean Braised Potatoes
Korean Crispy Mushroom
Steamed Eggplants
Appealing Thai Side Foods
Thai Slaw Salad
Saucy Stovetop Thai Green Beans
Thai Peanut Salad Wonton Cups
Thai Chicken Lettuce Wraps
Vegan Thai Corn Fritters
Special Side Recipes From India
Naan Bread
Rasam
Keema
Description Of Top 36 Good But Easy Asian Side Dishes
Here is the overall description of the 36 Asian dishes and highly recommended recipes for you. Let's discover together!
Outstanding Vietnamese Side Dishes To Go Well With Your Savory
Vietnamese dishes, generally, never let you down, and side dishes from this country are no exception. Let's try and feel how wonderful they are!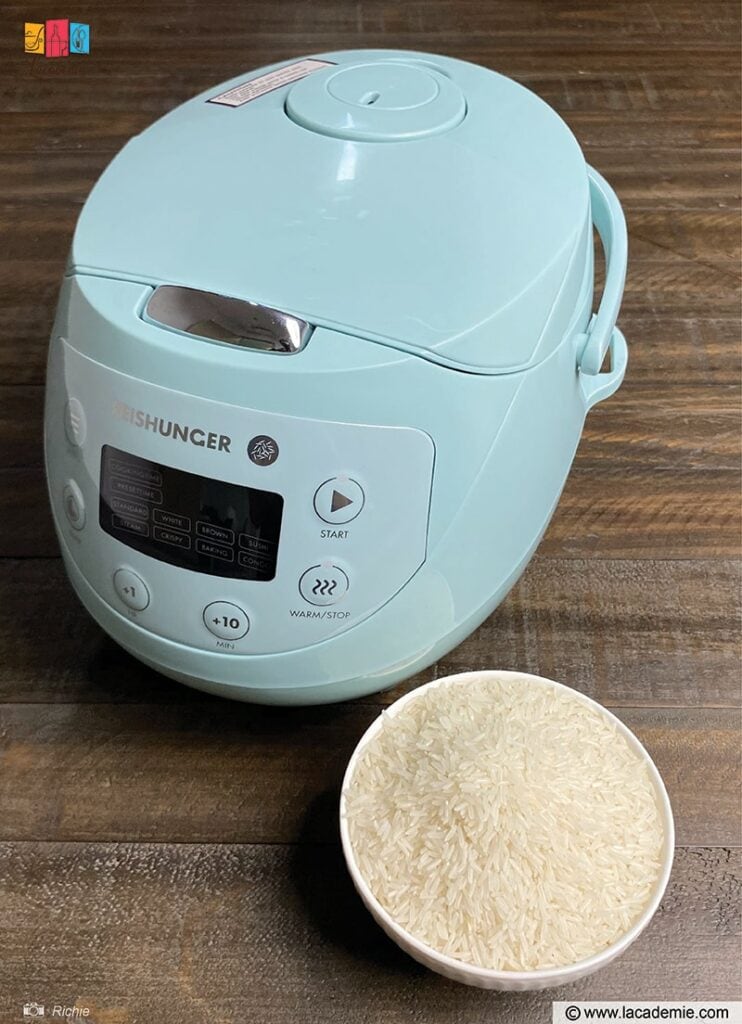 As one of the two most rice-exporting countries globally, the Vietnamese combine rice with other dishes made out of meat. For a casual table meal of the Vietnamese, you always see simple steamed rice or fried rice together with other main savories.
Perfect Vietnamese rice will be your choice if you want something to fill your empty stomach up.
Another specialty as a Vietnamese side dish is banh mi which is served with various foods from juicy meats, sauces, fried meatloaf, salads, and so on.
Banh mi is known as a distinctive food of the Vietnamese, and it can help them save much time, so it is significantly popular among teenagers or employees.
Another delicious variation of the Vietnamese Banh Mi is Khao Jee Pâté, a scrumptious dish from Laos. This dish was created thanks to the arrival of the French baguettes.
Stir-fried water spinach is an easy-eating dish for Vietnamese children. Most of them love water spinach, and I believe that you will love it when eating it because sometimes it reminds you about your childhood memories.
Chopped water spinach, stir-fried with sliced garlic, ginger, star anise, and soy sauce will be versatile to go with rice.
Mango salad is considered a delicacy of the Vietnamese that is a perfect balance: not too sour, not too sweet, making it an easy side dish to go with many dishes to stimulate the flavor of other dishes' taste.
The salad will be more fabulous if you add shrimps or dried shrimps, added vegetables, and good sauce.
If you want to find a side dish to serve with fried chicken, duck, or pork, sticky rice must be the best option.
The combination of sticky rice and fried meat gains popularity among children, teenagers, and even adults because it is easy to eat and tasty.
Another Vietnamese side dish you must try is prawn and sweet potato fritters which are quick, crispy, and tasty.
What makes the dish perfect is getting the right batter, but you just need a few pantry ingredients for this.
It will be perfect if you eat this dish with fish sauce!
One more dish made from shrimp is Vietnamese shrimp tacos flavored with lime juice, classic Vietnamese spices, and coconut sugar. They are like pancakes but smaller and have some different fillings.
The salsa and pickled veggies that combine tangy and spicy flavors will amaze you. Believe me!
The video will show you how to make Vietnamese Shrimp Tacos!
If you have never known about this, Vietnamese fish sauce is famous for going with boiled veggies, fried dishes when it is added with lime, sugar, garlic, and chili peppers.
You also can use it as a salad dressing. That's so amazing!!!
Easy-Making But Good- Tasting Chinese Side Dishes
The huge population brings China a variety of cultures and especially foods, which reflects in various accompaniments in any Chinese meal. Now, you will have a chance to look around some of their tastiest recipes.
The most remarkable thing of Asian or South Asian is rice, and it plays a vital role in the daily meals of each Asian family. Hence, if you want to experience Asian culture, rice-based foods should not be missed.
Soy sauce fried rice is simple but very indulgent for you to enjoy with meat-based savory because it is a combination of butter, soy sauce, eggs, tons of green onions, and leftover rice as the main ingredient.
Traditional Chinese soy sauce, fried rice, and animal fat (lard or chicken fat) create a delectable taste. However, replacing it with butter is also good for you if you don't have animal fat right now.
Another worthy-trying Asian fried rice dish is Nasi Goreng Kampung, a signature food that comes from Malaysian cuisine. This version doesn't feature soy sauce heavily but instead is a blend of diced vegetables, eggs, as well as anchovies.
If you are a mein lover, panda express chow mein copycat must be your choice as an Asian side dish. However, don't be surprised if the food can be served as an entire meal. That's good!
This is one of the easiest recipes you can make. I kid you not. What you need are:
Make the sauce with soy sauce, garlic, ginger, pepper, and brown sugar.
Boil mein for 1-2 minutes, then let it dry.
Stir cabbage with onions and celery.
Stir your mein together with your mein and sauce mixture until well combined.
These pancakes usually appear as a starting course in most Asian parties. Now it's time to think again. Scallion pancakes can be used as a savory side dish you can combine with any meal.
The secret to scallion pancakes is the flaky and crispy outer, making them perfect for snacking. When fresh-off-the-stove, the cakes are crunchy and fragrant, making it suitable to go with all stir-fry dishes.
If you have a plan to cook for your children, they will adore them.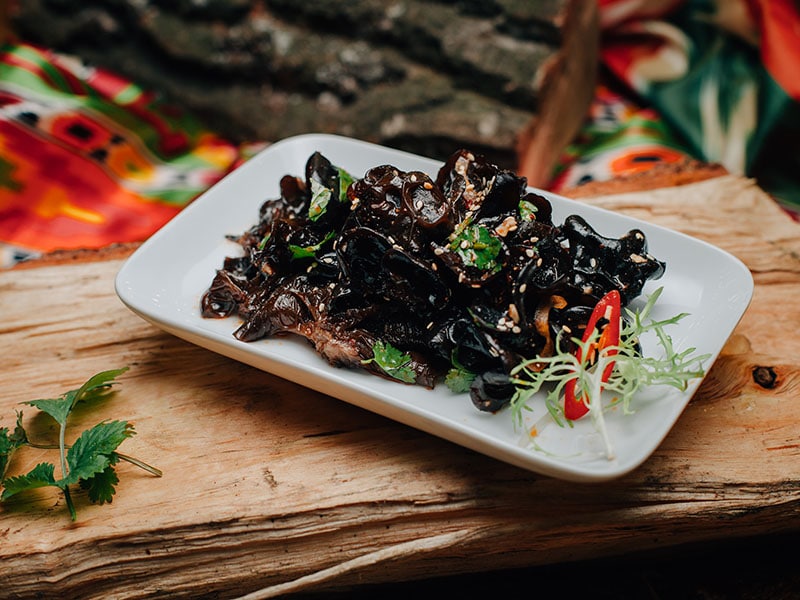 If you are a vegetarian finding Asian dishes to diversify your meals, try eating wood ear mushroom salad once. Maybe you will get addicted to it.
The side dish is tasty, appealing but healthy because wood ear mushrooms can be like a purifier in the human body. (1)
It's hard to find fresh wood ear mushrooms, but you can find dry black mushrooms more easily.
To make a salad with this kind of mushrooms, what you need are wood ear mushrooms and some essential spices, such as garlic, Chinese black vinegar, fresh red chili peppers, light soy sauce, and sesame to stimulate the main savory.
One more option for you to enjoy if you go for Chinese food is stir-fry baby bok choy cooked with a small amount of meat. Although it is easy to prepare and cook, it tastes enjoyable and delicious.
If you are worried about bitterness, don't worry. Young bok choy plants are not bitter as adult ones.
This baby Choy stir fry is a great option to add nutrition and color to your dinner table. The green color and yummy taste will make your meal fresher, especially make a great contribution to stress reduction.
Hence, if you feel tired, try enjoying some dishes with green color!
Okra, a vegetable with a gooey and slimy texture, is often used as a stir-frying side ingredient or the main ingredient to make a quick summer salad.
Chinese okra salad is flavored with chili peppers and sesame seeds for a tasty and warm salad experience. Moreover, dipping the okra in soy sauce provides the dish a little bit of a salty flavor, making it one of the most popular side dishes in Chinese table meals.
The video will let you know how to make a healthy Chinese okra salad in five minutes:
If you have enough time to enjoy your cooking time, I suggest you cook general tso's cauliflower because it will not let you down.
The cauliflower is flavored with a mixture including essential spices and rice flour before being fried, so the dish will taste crispy on the outside but juicy and adorable inside.
The spices from the dish can stimulate your taste and make you crave to eat. That's good for those who are exhausted after a day of working hard.
The last Chinese side dish I want to whip up is Szechuan noodles, which are good for those who want to feed their stomach.
These Szechuan noodles will bring a huge kick of flavor when their spicy sauce is made with fresh garlic, dark soy, ginger, a spicy chili oil condiment, and Chinese black vinegar.
Additional ingredients for the noodles, such as pork, chicken, or beef, tofu, sliced mushrooms, or some kinds of veggies: carrots, broccoli, or zucchini, will make the dish nutritious, appetizing, and tasty.
Stunning-Tasted Japanese Side Dishes
Japanese people are well-known for healthy but flavorful foods. Now, let's take a look at some common Japanese side foods
Teriyaki tofu, crispy baked tofu, will make your meals more appealing than ever. Before making this dish, check the consistency of your teriyaki sauce, if it's too thin, you should utilize some techniques to make teriyaki sauce thicker. This allows the sauce to stick to the tofu.
Crispy tofu nuggets smothered in sticky sweet and teriyaki sauce and served with rice; steamed veggies will be a knock-your-socks-off meal.
For those who think that tofu is bland and boring to eat, they have never eaten teriyaki tofu, so if you have the same idea, this is a chance for you to change your thought. Let's try it to know how awesome that is!
Japanese chilled tofu or hiyayakko is an adorable appetizer or side dish which you can instantly whip up. I'm sure that you will love how silky and smooth it tastes.
Hiyayakko will be versatile if you combine it with some toppings and seasonings to complement a wide range of flavors, texture, and colors, making the Japanese chilled tofu simple but amazing food to taste.
Eating this amazing dish on summer days is an ideal idea for your family meals. Let's try!
This video will let you know what wonderful chilled tofu is!
Being packed with a sweet and savory glaze made out of garlic, ginger, and pepper, Japanese chicken wings are oozing. The chicken is covered with potato starch, which makes the skin crunchy.
Japanese chicken wings are so easy to make. Just batter and fry the wings, make a sauce to pour it all over the fried wings. Your dish is ready to serve. That's so amazing!
If you are a potato lover, you must try making potato salad with Japanese styles because the dish is crunchy but full of textural cream.
With this recipe, I've heard some questions about whether you should put this potato salad in the freezer to enhance its flavor. The answer may depend on the ingredients but you can try different versions to see which one suits your palate the most.
The dish is made of mashed potato, carrots, eggs, hams, and sliced cucumbers. Besides, the presence of mayo and a bit of rice vinegar makes the salad a delicious, nutritious, and tasty side dish you must try.
Japanese cabbage pancakes or okonomiyaki, also common Japanese side dishes, are made out of shredded cabbage, bacon, flour, and eggs.
Perfectly crisp and savory, these pancakes are surprisingly tasty. Its flavor will satisfy you. Believe me!
Besides, the pancakes' color -light yellow will make your meals appealing to enjoy.
Some Irresistible Korean Side Foods
When it comes to side foods, it would be a fault to miss some dishes from Korea. Here are some highly recommended Korean foods you should try! Simple and delicious, these amazing dishes will certainly keep you coming back for more.
Kimchi is considered one of the most common dishes in Korea, and you can combine it with various main savories as it holds a spicy and salty fermented cabbage, making it easy to serve with other foods.
Kimchi's taste is unique from a paste made of chili pepper flakes, garlic, apple, and ginger.
So, is kimchi a vegan-friendly dish? Well, the answer depends on whether you choose to use animal-based products, such as fish sauce, or not.
One more thing that makes kimchi the best is also from vitamins and minerals it can provide your body.
This video will teach you how to make the perfect kimchi at home to save costs:
This Korean salad is a spicy bean sprout salad which you can enjoy by itself or as a side dish or even a kind of topping.
It is extremely easy to make and takes you a bit of time to finish it. However, it is good for your health, especially during hot days as bean sprouts are full of water.s
Set time aside for making this simple salad to diversify your meals!
Together with Kimchi as easy but famous side dishes, it should be an egg roll omelet. You often see the egg roll omelet matched with steamed rice, soup, or fried rice. That must be flavorful and worth trying.
There are many kinds of cucumber salad, but cucumber salad with Korean style will amaze you and make you addicted to eating it.
You might see this kind of salad served at your BBQ feast or backyard cookout, so if you want to find an easy-cooking salad for your BBQ, take it into consideration!
Braised baby potatoes with soy sauce are very popular as a Korean side dish that is served with many meat-based savories to balance nutrition values consumed and make you attracted by its color.
Baby potatoes have a natural sweetness, soft texture, sticky layer, and an especially irresistibly delicious taste.
However, what makes them unique is the soy sauce which is sweet and salty, making it an incredibly perfect dish to go with simple steamed rice.
Make your shiitake mushroom even more irresistible with the Korean cooking style. Thanks to this, this yummy cultivar of Japanese mushrooms will get a crispy outer and a distinctive sauce. Once you bite into the mushroom, you'll get a slight sweetness and a sour and spicy kick.
The sauce will take you just a few minutes by combining rice wine, rice syrup, vinegar, Korean red chili pepper paste, and soy sauce in an appropriate ratio.
Eggplant can be cooked with many styles to create outstanding side dishes to go with ground meats like beef, chicken, pork, but if you have no time, steam it. That's also good!!
This simple side dish from Korea will satisfy you if you combine it with steamed rice in your meals. They are easy-cooking but irresistible!
Thai Side Specialties Make You Feel Good!
If you have a chance to eat signature foods from Thai cuisine, here are some typical side dish suggestions you should consider!
You must combine Thai slaw salad with grilled chicken or shrimp for a perfect taste!
The blend of flavors and textures when mixing the green onions, crispy bell peppers, cabbage, fresh cilantro, crunchy carrots, creamy peanut sauce will make the salad irresistible.
You will feel a sense of sweetness, salt, cream, crunch, sourness, and spiciness when you eat this kind of salad.
Moreover, it can help you to balance nutrition consumption when you eat too much meat for a day.
You must have struggled with green beans because sometimes it's hard for you to make them attractive. However, I will blow your mind with an amazing peanut sauce.
You can serve it with a ground turkey burger, chicken or eat them as a favorite snack. That's good! Just don't forget to see if there are any indications of spoilage in ground turkey or chicken. It can be quite tricky, especially for beginners, to easily see that their ground meat is spoiled.
An eye-catching side food is Thai peanut salad wonton cups because they're a perfect light appetizer for a party or just a normal meal. I think that it can help your children like to eat more vegetables.
Besides light colors, you will be attracted by the dish's taste. It's wonderful when you enjoy it because of the crispness from the outside, crunch, and good taste from the inside toppings.
If you are a veggies lover and love something good-looking, here is a fantastic side dish for you, Thai chicken lettuce wraps, a good but also healthy dish.
Can you imagine how amazing it is? The lettuce wraps are packed with so much flavor, while the filling is full of chopped veggies, protein, and especially a delicious peanut sauce that will leave you feeling satisfied.
I have been waiting for a chance to introduce vegan Thai corn fritters to you because it's so wonderful the first time I have eaten it. They are the perfect balance of spicy, crispy, savory, and sweet to make them perfect fritters.
What you can feel when eating the fritters are extremely delectable, fragrant, soft in the middle but crispy on the outside, and the harmony of sweet and spicy taste.
Strange But Good Indian Side Dishes For A Perfect Meal
Many think Indian food is weird. But these traditional compliments from India will prove otherwise. When all the ingredients mix together properly, they taste fabulous.
Naan, a fluffy flatbread, is a very tasty and popular side dish in India. You can enjoy it with tandoori chicken, curry, and kebab.
You can also taste naan when being buttered or stuffed with mutton, potatoes, and garlic.
You might be amazed at rasam when you taste it. Rasam is a tamarind juice-based soup flavored with pepper, cumin, chili, tomatoes, and lemon, making it a tangy and wonderful appetizer.
The dish is especially famous in Tamil Nadu and many South Indian regions. Rasam is commonly gone with plain rice and a vegetable side dish to have an exact balance of nutrients with the meals.
If you have got naan or chapati already, to make your meal irresistible, keema should be chosen next.
Keema includes curry meat stew which is combined with potatoes, green peas, and flavored with ghee, garlic, onions, ginger, garam masala, and chili. The blend of these things makes your food taste fabulous.
What Else As Easy Asian Side Dishes?
There are still numerous Asian dishes you have never known, such as Nasi lemak, Ulam, Roti Jala, Tempoyak, Poqui poqui, Puto, Lumpia, and so on.
Side dishes from various countries will taste different, even for the same ingredients, but the cooking styles are different, the dishes will have their distinctive flavor as a result. Thus, sometimes, you should taste as you want.
Please share the post and leave your comments below if you discover new and delicious Asian side dishes.
Nutrition Facts
3 servings per container
---
Amount Per ServingCalories293
% Daily Value *
Total Fat 2.9g

5

%
Sodium 2mg

1

%
Potassium 74mg

3

%
Total Carbohydrate 59.1g

20

%

Dietary Fiber 0.9g

4

%
Sugars 0.2g

Protein 5.7g

12

%
---
* The % Daily Value tells you how much a nutrient in a serving of food contributes to a daily diet. 2,000 calories a day is used for general nutrition advice.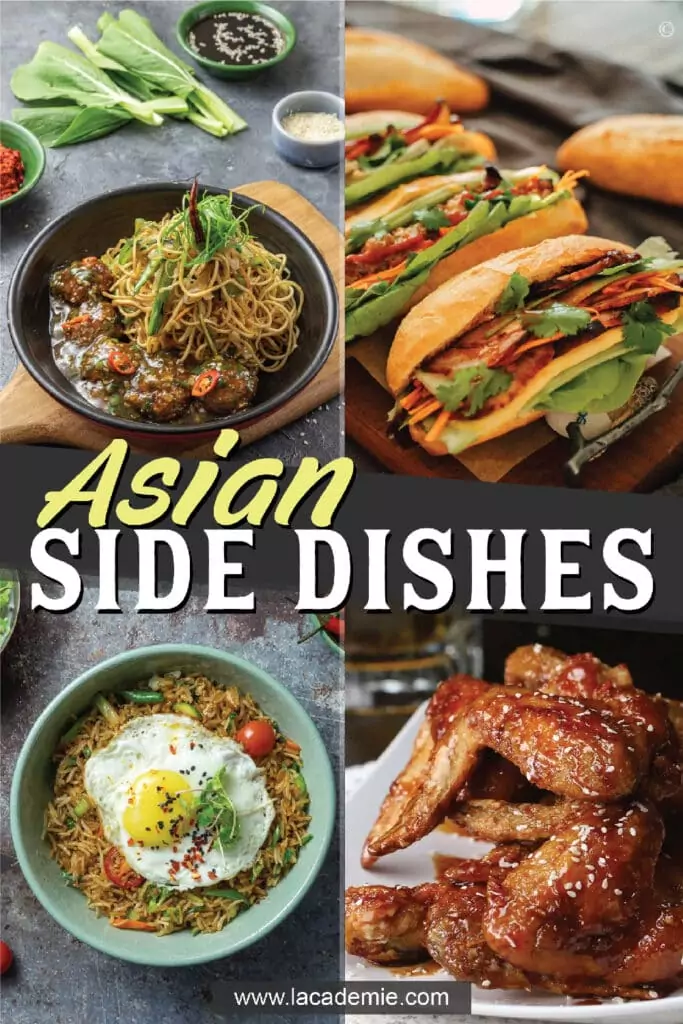 References
Healthline. 2021. Black Fungus: Nutrition, Benefits, and Precautions.