When you get to know easy Chinese side dishes, you will realize the shared feature among them is that they are so versatile to be served with every main course. In addition, they can be prepared quickly and consumed for light meals, lunches, or dinners.
To me, Chinese cuisine is so special, with ultimate cooking methods that turn simple ingredients into glorious dishes.
For example, to make the sauteed broccoli dish, the veggie needs to be poached before it is stir-fried with traditional seasonings. This creates the desired color, texture, and of course, flavors of the veggie.
Chinese-styled sides do not require you to spend much time on the dishes' appearance. Instead, savory flavors are the main focus.
Everything seems to be simple at first glance until you taste them. I must say that it will be an explosion and bursting with flavors in your mouth!
For these reasons, I have decided to bring you 28 Chinese-themed side dishes that you can use to round out any meal for fast preparation and cooking. Now, let's enjoy some Chinese flavors in your home kitchen!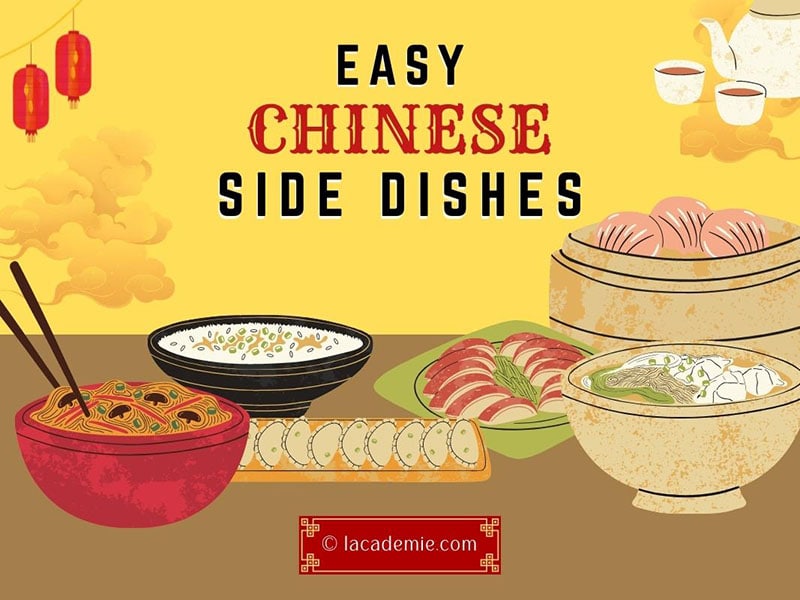 Let's Take An Adventure Of 28 Easy Chinese Side Dishes!
When you step into traditional Chinese cuisine, you should not miss the 28 easy but super addictive Chinese side dishes!
Noodle Recipes
Crockpot Chicken Lo Mein
Simple, Spicy Pan-Fried Noodles
Spicy Szechuan Noodles
Shanghai Noodles
Glass Noodles Stir Fry
Chinese Vegetable Side Dishes
Veggie Soups
Chinese Egg Drop Soup
Authentic Hot and Sour Soup
Garlic Spinach in Chicken Broth
The Best Ham and Bean Soup
Winter Melon Soup with Meatballs
Salad Recipes
Chinese Cucumber Salad
Wood Ear Mushroom Salad
Okra Salad
Chinese Coleslaw
Spicy Asian Zucchini
Chinese Chicken Salad
Chinese Stir-Fried Side Recipes
Chinese Broccoli Stir Fry With Garlic Sauce
Chinese Mustard Greens
Stir-Fried Baby Bok Choy
Stir-fried Eggplant And Green Beans
Chinese-Inspired Tofu Dishes
Crispy Sesame Tofu
Tofu Stir-fry With Peanut Sauce
Chinese Tofu Salad
Salt and Pepper Tofu
Chinese-Style Side Dishes Made With Rice
Shrimp Fried Rice
Tomato Egg Fried Rice
Chinese Sausage Rice
Vegetable Fried Rice With Cashews
28 Easy Chinese Side Dishes Effectively Complementing Every Meal!
Whether you love vegetables, chicken, pork, or noodles, I have various Chinese side options fulfilling your choices. So, let's see what I bring you today!
How About 5 Better-Than-Takeout Chinese Noodle Side Dishes?
Just spend a couple of minutes to boil or fry noodles, and then you will have a quick and super tasty noodle dish. Just seek your favorite from the following recipes!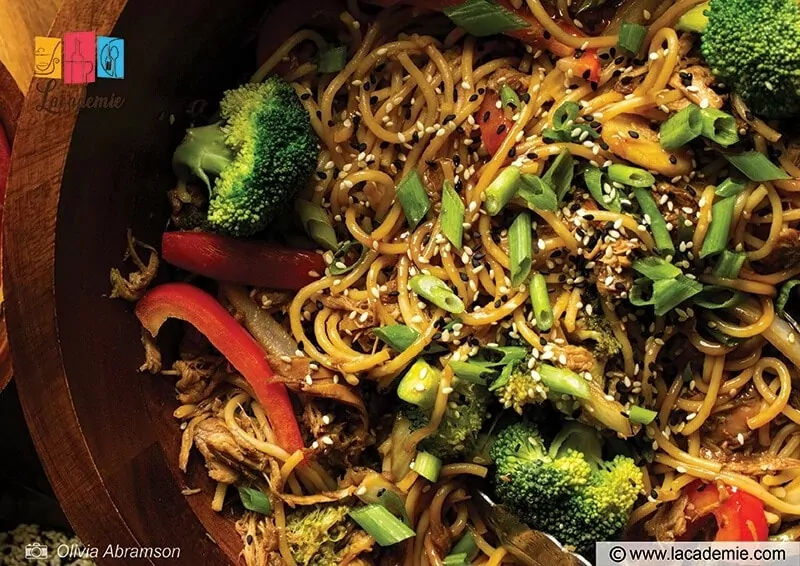 The vegetable lo mein is not only perfect for fans of noodle dishes but also a great treat for children who hate veggies. The savory flavor will allow them to forget that they're eating vegetables!
Hence, if you want to provide some green content to your children's meals, this noodle recipe would be a wise choice. Besides lo mein noodles, you also have different noodle choices, such as egg noodles, soba noodles, and others.
The noodles, chicken, and veggies will be cooked to perfection in a crockpot. All you need to do are some simple preparations!
This recipe contains no meat or veggies. What you have is crispy noodles with a spicy soy sauce flavor. That's simple, and you can serve it with stir-fried dishes in your meals.
All you need to do is boil the noodles and then deep-fry the drained noodles until they become flaky and golden. Serve it hot on a plate with a drizzle of soy sauce, sesame oil, and chili sauce.
Crispy noodles melting gradually in your mouth with a delicious taste will surely rock your world!
Needing the visual instruction for making crispy fried noodles? This video is for you!
To make this spicy dish, you do not need to put any kind of meat in it. It is because the addictive flavor is a special note in the recipe rather than protein. This creates a simple but super appetizing noodle every spicy lover should not miss!
It is made of wide Chinese noodles that are coated with a spicy sauce containing Szechuan chili peppers, ginger, soy sauce, garlic, and vinegar.
The tender and flavorful noodles with a touch of spiciness and garlic will be a nice side for every chicken, shrimp, or beef main course.
I must say that this Shanghai noodle recipe made my mouth water a lot at first glance! The quick, light meal just takes you 15 minutes for the whole cooking process.
This will be a crowd-pleaser that housewives should make to wow their whole family! This Chinese recipe calls for pork, but you can replace it with chicken or beef if you like.
The keynote of this recipe is its savory cornstarch mixture that creates an appealing oily brown coating for pieces of meat, veggies, and noodles that no one can turn down!
This stir-fry recipe requires glass noodles that are transparent and usually used in savory soups and stir-fries.
The glass noodles' texture allows it to absorb full flavors, which will bring you wonderfully delicious dishes.
The blending of glass noodles, eggs, and veggies tossed with seasonings and garlic chili paste will be your new favorite!
Chinese-Themed Vegetable Sides No One Can Turn Down!
In comparison with meat or starchy side dishes, the vegetable ones will not take you much time and effort to make. Hence, it is a great idea to complement your meal with healthy veggie sides.
5 Authentic Chinese Veggie Soups
With me, starting a meal with some soup just like you ride a bicycle down a slope. Everything is so smooth and enjoyable! Just try the following soup recipes for this feeling!
This simple soup is perfect for cold night dinners when you crave something hot and delicious. With a handful of main ingredients, including chicken or veggie stock, eggs, and whole-kernel corn, you can make a quick hot soup within 15 minutes.
In this recipe, the cornstarch will be added for a thick soup. Beaten eggs are also poured and stirred gradually in the broth so that you can create a marble-like pattern for the egg drop soup. The eggy and flavorful soup will never dissatisfy you!
7. Authentic Hot and Sour Soup
This traditional Chinese soup will give you a new soup flavor that I think will surely wow you and your family members! The hot and sour soup contains egg, mushroom, bamboo shoots, tofu, and poultry or pork.
These ingredients will be cooked in broth with a touch of chili, pepper, and ginger. To create the sour flavor for this soup, you use a combo of rice vinegar and soy sauce that will bring you a typical Chinese taste.
Just try this recipe once, and you will never feel bored with it!
This video will give you a step-by-step direction for making hot and sour soup.
8. Garlic Spinach in Chicken Broth
As you know, baby spinach is a healthy and beautiful veggie for sauteed dishes. But today, you will put the spinach in a rich chicken broth soup instead. That sounds great!
To maximize the rich taste of soup, you need some thickened chicken stock rather than the thin one. It is because when being cooked, the spinach will release a high content of water that can make your soup bland.
The tender spinach soaked up in rich and garlicky stock will surely blow your mind!
The recipe title generally indicates that this is a combination of ham and beans in the same pot.
Let's see in detail how this Chinese-style side can be made! This soup comes with a thick consistency and contains various types of beans, veggies, and of course, smoked ham hocks.
All the ingredients will be simmered from 4-5 hours in chicken broth for a desired soft texture when it comes to your mouth. Hence, remember to take notice of the heat and water level to avoid food burning during the simmering time.
And the result will be savory soup with a hint of smoky that will be great to be served with some pieces of bread.
10. Winter Melon Soup with Meatballs
On cold days, what could be better than enjoying some delicious meatball soup with your family members? If you have not experienced this wonderfully warm feeling, try this soup recipe on the nearest cold day!
To make the soup, you will make use of sweet and spongy winter melon that is diced and cooked with meatballs in simmered shrimp and scallion soup until the meat turns tender. That's easy and convenient for your quick meals!
6 Chinese-Style Salads That Are Perfect For Every Meal!
When being compared with Western-style salads, the Chinese ones are much more simple in terms of ingredients and presentation. Actually, the unique flavor is a key point of every Chinese salad.
If you feel bored with creamy salad, you can start your meal with this simple cucumber dish! The mashed and drained cucumbers will be tossed in refreshing and spicy salad dressing made with sesame oil, vinegar, soy sauce, and chili peppers.
The result will be a crunchy and flavorful salad that can be served with different main courses, especially grilled meat recipes!
As the recipe's name points out, this salad calls for wood ear mushroom. To be more specific, this is a popular edible mushroom in China. Commonly presented in most signature Chinese foods, this scrumptious mushroom bears a close resemblance to an ear.
In this unique salad, the shredded crunchy ear mushrooms will be folded with a sour-sweet soy sauce mixture made of vinegar, sugar, salt, soy sauce, sesame oil with a touch of spiciness, and aromatic onion.
Garnishing the salad with some grated red onions and fresh cilantro will bring you a new favorite!
13. Okra Salad
I guess many of you have tried fried or baked okra, but have you ever made okra salad? It sounds weird but actually better than what you imagine!
To make the salad, you need to poach the prepared okra in boiling water with a little salt and oil, which will make the veggie keep its stunning green color.
Then the poached okra will be soaked up with a garlicky and spicy soy sauce mixture. That's simple, but each bite of slimy and gooey okra will amaze you a lot!
If you need a visual guide for how to make okra salad, this video is for you!
14. Chinese Coleslaw
Different from regular creamy coleslaw, the Chinese version has a sour-sweet flavor of soy sauce dressing. All the fresh veggies, including napa cabbage, carrots, green onions, and water chestnuts, will be shredded or sliced into small pieces.
After that, the salad content will be drizzled with a soy sauce mixture made with white wine vinegar, soy sauce, sugar, sesame oil with a touch of ginger, salt, and pepper. Serving the refrigerated salad with chicken or beef main courses will bring you a nice meal!
If you are a big fan of healthy zucchini, you should not miss this recipe. With a handful of ingredients, including zucchinis, onions, garlic, soy sauce, sriracha sauce, honey, black vinegar, sesame oil, and seasonings, you can enjoy the delicious green salad in no time.
To make it, the stripped zucchinis will be poached to reach a soft texture. Then the poached zucchinis are tossed with Chinese-style soy sauce dressing and topped with some aromatic fried garlic for a better taste.
If plant-based salads are not your top choice, some Chinese chicken salad will satisfy you a lot! It is a perfect combination of fresh veggies consisting of carrots, cabbage, and green onion with crunchy noodles and tender shredded chicken.
The salad taste will be highlighted with savory gingery and garlicky soy sauce dressing. For a more yummy salad, do not forget to top it with some more crunchy noodles and sesame seeds!
Are you ready to make Chinese chicken salad?
4 Chinese-Inspired Healthy Stir Fries
I must say that the Chinese keep so many secrets of making ultimate stir-fried recipes, from the beautiful texture and flavors to a nice appearance. Just discover useful cooking tips through the below recipes!
17. Chinese Broccoli Stir Fry With Garlic Sauce
In Chinese, the word for broccoli is Xi Lanhua, so you can say that broccoli also belongs to the group of vegetables and fruits whose name begin with "X". Now, let's make an authentic Chinese Xi Lanhua saué!
Before the broccoli is stir-fried with cloves and oyster sauce, it needs to be boiled for a tender texture, which also helps the broccoli remain its original green color. When the cooking is done, just serve the dish immediately with white rice and other main courses for optimal food taste!
This video will show you how to make Chinese broccoli stir fry.
The slightly bitter taste of mustard greens allows them to be used in savory sauté or soup recipes. When being sauteed over high heat, the mustard greens turn tender and crunchy rather than soft texture.
Moreover, the veggies still retain their eye-catching green color. In this recipe, some simple ingredients like garlic, dried red chili pepper, and sesame oil are used to spice up the mustard greens with a touch of sweetness. All the flavors are full-packed in each gentle bite.
If you are not sure about what to serve with main dishes at tonight's dinner, some Chinese-inspired sauteed baby bok choy should be considered! In case you do not have baby bok choy leaves, you can substitute them with large ones.
However, you need to cut them into bite-sized pieces before cooking. The garlic stir-fried bok choy will have a crunchy and tender texture rather than soft and mushy. This will surely satisfy you in every single bite!
20. Stir-fried Eggplant And Green Beans
In the list of vegetarian recipes, you should not miss the eggplant and green bean stir fry! What you need for this sauté are shredded eggplant and green beans.
They will be stirred and flavored with soy sauce, salt, sauteed garlic, and ground white pepper with a touch of ginger and spiciness.
Adding your favorite oyster sauce to this dish while cooking will give it an appealing dark brown color and effectively enhance its flavor. If you don't want to ruin the recipe's balance, you can pour a little bit at first, and increase until satisfied.
4 Addictive Tofu Chinese Side Ideas
For those who hate bland tofu, you should try the following Chinese tofu delicacies. And you will change your mind about this healthy plant-based ingredient!
When it comes to cooking tofu, you do not have to spend much time preparing. You just need to gently rinse it with water, cut them into desired portions as your recipes require, and then start your cooking!
This also applies to this recipe. After being cut into cubes, the tofu will be coated with sesame oil, soy sauce, and cornstarch. Then, they will be baked until they reach a golden brown color.
When the baked tofu is ready, it will be tossed with the flavorful sesame sauce. The savory tofu crispy on the outside while soft and moist from the inside will surely be a crowd-pleaser!
It's time for you to wow your whole family with crispy sesame tofu.
If you don't want to turn on the oven that will heat up your whole kitchen on hot days, making stir-fry tofu with a single skillet will be an ideal choice for you. It is a combination of fried tofu, sauteed veggies, and blended peanut sauce.
You will prepare them separately and then put them together for a whole addictive dish. You can serve it as either an appetizer or a side dish. As an entree, it can be considered a "stir-fried" salad with tons of veggies and savory dressing.
For those who are following all green diets, you should not ignore this tofu salad! Despite the bland taste of tofu, it will become much better when being tossed with a savory Chinese-style salad dressing.
This is a healthy treat containing baked tofu, green veggies like shredded carrots, red cabbage, cucumber, and Mandarin oranges. Such a nice salad with multi textures!
Besides a side dish, this crispy and salty tofu recipe can be served as an appetizer in your Chinese meals. It is easy for you to make it at home with a handful of ingredients, including tofu, cornstarch, and seasonings.
The cubed-shaped tofu will be coated with a thin layer of cornstarch and seasoning mixture and then deep-fried until it turns golden brown and has a crispy texture on the outside. When it comes to serving the tofu, you will garnish on it some chili peppers, scallions, and fresh ground black pepper for the best result!
Do you know how to make salt and pepper tofu?
It's Time To Talk About 4 Chinese Rice Recipes For Any Full Meals!
Rice dishes are perfect for every full meal. The combination of rice and meat or veggies flavored with classic Chinese seasonings and spices will be a worthy treat you should not miss!
This recipe is a great solution to use up the leftover rice before it goes bad. To make the fried rice, you start with stir-fry shrimp in a skillet.
Next, cook the eggs and chopped veggies, including onions, carrots, and peas. To finish the cooking, you just assemble everything together with cooked rice. Don't forget to make your fried rice flavorful with soy sauce and sesame oil.
As the last step before serving, you will garnish the rice with sliced green onions. You can consume this delicious Chinese-originated shrimp recipe on its own or serve it with main courses for your full meal. You can also drizzle some spicy soy sauce over the rice for a sharper taste!
How many dishes can you make with eggs and tomatoes? A savory soup or hearty tacos? That's beautiful! But today I have a more special dish for you.
This is a combination of tomatoes and scrambled eggs flavored with a savory sauce made of ketchup, oyster sauce, and sugar.
It just takes you a couple of minutes to cook the simple recipe that can match well with white steam rice. The delicious tomatoes and eggs with a soft texture will complement the bland rice. So easy to make but super tasty!
This is one of the simplest rice dishes I have ever seen. No skillet, cooking oil, and even seasonings are required here. Everything will be done in a cooker with a "single step" recipe. Is it amazing?
The steam will cook rice and sausage evenly. The fat and flavors derived from the sausage will be absorbed by rice grains, which naturally make your rice flavorful and rich. Moreover, unlike fried sausage, the steamed one is not greasy and even moister from the inside. This rice recipe is perfect for your busy days!
It's time to cook Chinese sausage rice!
One of the most important reasons why I love fried rice is that I can add to it a variety of ingredients such as veggies, nuts, beans, meat, and more. The more ingredients the rice contains, the more appealing it is.
And vegetable fried rice with cashews is one of the stunning recipes I would like to offer you. The fried rice comes with tons of veggies, including carrots, peas, mushrooms, and corn kernels.
You can also substitute some of them with what you have or add other preferred veggies. The savory rice and tender veggies with a twist of crunchy cashews will be a hit for your whole family!
Are You Ready For Chinese-themed Dinner Tonight?
With useful cooking tips and a handful of ingredients such as vegetables, shrimp, tofu, meat, rice, or noodles, you can create tons of Chinese soups, salads, stir fries, or deep-fries to perfect your meal.
It will not take you much time to prepare the different dishes simultaneously. For example, while waiting for boiling water to poach some green beans, you can manage to cut up some tofu for your salt and pepper tofu recipe. It's just joyful cooking time!
Moreover, despite the fact that the Chinese seasonings and spices like soy sauce, sesame oil, oyster sauce, and others are a spirit of every Chinese dish, you can omit some of them to satisfy your own taste.
Let's take my example; I don't usually add sesame oil to homemade Chinese dishes just simply because I don't really like its flavor. That's fine!
Do you have any other ideas of easy Chinese sides? Or Do you usually cook Chinese-style side dishes at home? Please feel free to share your experiences with me by posting your comments below this post.
I highly appreciate all the contributions from you. If my post is useful for you, just drop me a like or share! Have a nice day!
Nutrition Facts
6 servings per container
---
Amount Per ServingCalories480
% Daily Value *
Total Fat 18g

28

%
Cholesterol 109mg

37

%
Sodium 2317mg

97

%
Potassium 680mg

20

%
Total Carbohydrate 40g

14

%

Dietary Fiber 4.5g

18

%
Sugars 14.7g

Protein 36g

72

%
---
* The % Daily Value tells you how much a nutrient in a serving of food contributes to a daily diet. 2,000 calories a day is used for general nutrition advice.