When it comes to Chinese soup recipes, not a lot of people know about them. After all, when China already has a world-renown menu, including Peking Duck and Dim Sum, soups can be a bit underwhelming.
However, it does not mean Chinese cuisine is lacking on that front. On the contrary, due to China's vast geography, the country contains so many regional cultures. And each community has its way of making soup, creating a diverse set of dishes.
To help you appreciate this side of China, I've already prepared some of the most refreshing Chinese recipes that you can try out yourself. With a bit of effort and the right type of ingredients, you will be able to discover another side of the country. Let's go!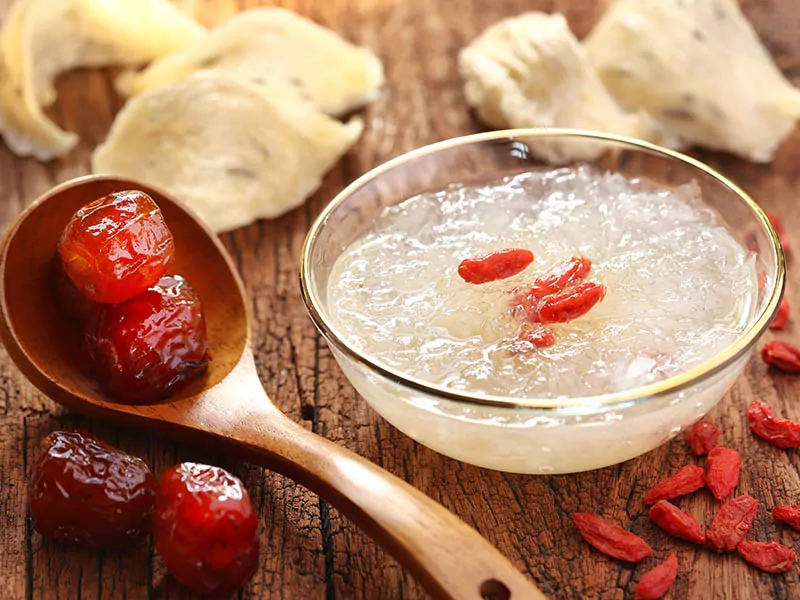 Experience These Signature Soups From China
The best thing about specialties from China, especially soups, is that they are perfect for any season. If you're feeling the scorching heat from the summer, just make a cool bowl of sweet soup. If you're suffering through the long winter, there will always be a steamy dish to try.
Total times: 25 minutes
As part of the very-popular Sichuan cuisine, Shuang La Tang, or Hot And Sour Soup, might give you a very special first impression. That's because most of the dishes from the Sichuan province can be very overwhelming if you can't handle spicy food well.
To make this version of appetizing Chinese starters, the most important ingredients are Chinese vinegar, white pepper, and sesame oil. This vinegar gives the soup a suitable level of tanginess. The heat comes from a generous amount of white pepper.
While the peppery aroma might give you an increased appetite, it can numb your taste buds a bit. That's why, to offset it, you can add sesame oil to have the nuttiness balance things out. Eating Shuang La Tang with a side of noodles will reduce the spiciness.
You can make a bowl of authentic Shuang La Tang with this recipe.
Total times: 1 hour
As I have discussed above, Chinese Hot And Sour Soup is a very delicious yet spicy delicacy from the Sichuan region. That's why people have come up with ways to enjoy the soup better without suffering through the effect of the heat.
One of the most popular ways is to add Chinese dumplings, or Jiaozi, into the soup. If you don't have time, you can buy frozen dumplings in the supermarket. But I recommend making Jiaozi yourself to get an authentic Chinese culinary experience.
The beef dumplings are quite simple to recreate. You need to wrap the minced beef with a flattened piece of dough. You can boil the dumplings first before adding them to the soup. This will keep Jiaozi very moist and improve the texture of the wrapper.
This beef-focused recipe from China has a very special flavor. The dumplings will soak up the broth, blending the beefy aroma with the sourness. This combination also keeps the peppery heat to a more manageable level.
Total times: 10 minutes
Noodle Soup is a staple not just in Chinese cooking but in other countries, including Japan, Korea, and many Southeast Asian nations. Even since its creation during the Han Dynasty, noodles have been an integral part of the Chinese diet.
That's why I want to introduce an Asian-inspired chicken delicacy from China that you can make at home. Ji Mian Tang, or Chicken Noodle Soup. This soup is very great if you're feeling under the weather or you have to endure an extra cold winter period.
The rich broth coming from the chicken will fill you up easily. Not only that, the noodles will absorb all of the great flavors, making each bite a new experience for your taste buds. The tender chicken meat adds a lot of savoriness to the overall aroma.
Total times: 25 minutes
To a lot of Cantonese people living in China, as well as those in other countries, Wonton Soup brings a lot of nostalgia. The origin of Wonton goes as far back as the ancient Han Dynasty (3rd century B.C – 3rd century A.D).
While Jiaozi and Wonton might share some similarities in design, there are still many clear differences. Wonton dumplings are usually smaller. The dough is thinner, so it cannot carry as much filling as Jiaozi. However, the smaller size allows the flavors to concentrate better.
Usually, it's good to make your own Wonton. However, you can substitute it with frozen Wonton to save a lot of time like this recipe. The taste will be the same: The chewy dough still contrasts well with the meaty filling.
The soup is just a mix of chicken stock with typical seasonings from China like chili oil, soy sauce, and rice vinegar. They make the stock very rich and aromatic. With soy sauce and vinegar, you can feel the savoriness and acidity underneath.
During a cold winter, this Wonton Soup recipe will be a lifesaver.
Total times: 1 hour
I want to introduce you to another noodle-based Chinese specialty from Yunnan province. In many places, you will come across this dish with the name "Little Pot Rice Noodles". That's because they will serve the noodles to you in a small clay pot.
The ingredients are quite easy to find if you have an Asian grocery store near you. Just look for ground pork, chicken stock, and rice noodles. To give the broth a distinct Chinese taste, you further add soy sauce, Chinese cooking wine (Shaoxing wine), and sour green mustard leaves.
The chicken stock is already aromatic. The addition of ground pork and the usual Chinese condiments further improve the flavor even more. If you want to experience the noodles like many Yunnanese people, throw in dried chilies for that extra kick.
Total times: 4 hours 30 minutes
In Chinese cuisine, dried vegetables are very popular because they have a long shelf life. And these vegetables taste rather good if you correctly hydrate them. And, of course, there's also a Chinese dish that uses mostly dried vegetables as the main ingredients.
What you will need is dried bok choy (Chinese cabbage), dried Shiitake mushrooms, and dried dates. These veggies can be found in many Chinese grocery stores. For the mushrooms and dates, toss them into the boiling broth.
On the other hand, you have to soak the dried bok choy in cold water until the leaves puff up. Chop them up, then throw the leaves into the pot as well. Simmer until everything turns extremely tender to the point where the vegetables melt in your mouth
Total times: 42 minutes
With a very balanced set of ingredients, it's no wonder that Hong Cai Tou Tang often appears on so many Chinese dinner tables. With its interesting appearance, this version of beetroot soup is certainly pleasing to the eyes.
There is nothing more heart-warming than eating a bowl of steaming soup of vegetables and meat. And Hong Cai Tou Tang has both ingredients, including the starchy beetroot, the sweet corn, the savory chicken feet, and incredible meat stock.
The beetroot adds a lot of its signature color to the soup, turning it purple-red. The mild bitterness of the vegetable is reduced when you pair it with the sweetness from the corn and the flavorful meat stock. Overall, the soup is quite a nice meal for a chilly time.
Total times: 2 hours
While the most widely used translation of Niu Wei Tang is Oxtail Soup, the consistency of this dish might be a bit thicker than just soup. The broth is quite thick, and many of the main ingredients are in big and solid chunks.
To get the recipe to turn out perfectly, the core components have to include oxtail, tomatoes, and carrots. First, simmer the oxtail until it releases a chemical called collagen. Similar to gelatin, collagen will bind the broth together to create a stew-like texture.
Both the tomatoes and carrots provide two different flavors to the soup. The acidity from the tomatoes makes the broth more appetizing. On the other hand, the carrots offer some sweetness to balance out the over-abundance of the savory aroma.
Making Chinese Oxtail Soup will help you fight off the cold winter months.
Total times: 50 minutes
Dong Gua Tang, or Winter Melon Soup, is also a very vegetable-heavy soup from China that can be beneficial to your health. This recipe requires only a few essential ingredients, yet the flavor will not leave your mind for a while.
For starters, you need to find a winter melon. This slightly sweet fruit from China is also grown in other Asian countries so you wouldn't have any trouble finding one in your area. Winter melons are sweet and refreshing. The core can be very moist and tender.
Because of that sweetness, winter melons are a perfect ingredient to go with the savory chicken broth. Both flavors blend most harmoniously, creating a fantastic fragrance. You can also improve the taste with the addition of shiitake mushroom and sliced ham.
Total times: 45 minutes
For another option that you can make during the cold months, Dun Ji Tang is a suitable choice. This Chicken Soup With Mushroom offers some of the most filling ingredients you can find in any Chinese delicacies.
The history of this soup comes from China in the 1960s, during the so-called Cultural Revolution. During this period, many people had to find a way to make something nourishing to keep themselves moving forward. That's where Dun Ji Tang got its start.
By using chicken thighs, mushrooms, and water, you will have a satisfying bowl of soup. The broth, when combined with mushrooms, will release a very delightful aroma. Apart from that, you can enrich the soup with soy sauce, salt, and sugar for an extra layer of goodness.
Total times: 3 hours 30 minutes
Soup has always been an essential part of Chinese family dinner for many years. It's no wonder that so many Chinese soups exude that familiar feeling of home. And Xi Yang Cai Tang, or Watercress Soup, is what represents that feeling the most.
What is watercress, you might ask? Well, it is a type of weed-like plant that can be found in many parts of Europe and Asia. It has a very grassy texture, but underneath, you can find a hint of herbal flavor.
To be able to bring out the full aroma of the soup, you also have to add dried scallops, pork ribs, and almonds. The scallops have a mild saltiness that you can taste in many kinds of seafood. The pork ribs provide an irresistible savoriness, and the dates a bit of sweetness.
Total times: 15 minutes
Egg Drop Soup, or Dan Hua Tang, thrives in its simplicity. Despite being one of the easiest Chinese delicacies to make, there is no denying that the texture and taste of the soup have captured the hearts of many.
Like I said above, Dan Hua Tang is super simple to make with things you can find at home. They include chicken stock, cornstarch, and whipped eggs. By using these three ingredients, you can make a very thick and runny soup that exudes such great flavors.
Like many dishes with chicken broth as a base, you can sense how filling the broth is. The cornstarch only helps to concentrate everything more. Aside from that, the eggs give the soup a unique creaminess. A drizzle of nutty sesame oil will top off the soup nicely.
Egg Drop Soup is a quick dish to make if you're short on time.
Total times: 30 minutes
Ji Dan Yu Mi Geng, or Creamed Corn Soup, has a very similar texture to that of the Egg Drop Soup. It's very thick and creamy, thanks to the use of both egg whites and cornstarch mixed with water. But unlike Egg Drop Soup, the base is from creamed corn.
So what is creamed corn exactly? It's a combination of sweetcorn and the soupy liquid from the mashed corn kernels. This mixture adds a ton of sweetness to the soup. Other than creamed corn, crab meat also provides its type of sweetness from the sea.
To make Ji Dan Yu Mi Geng, you just boil the liquid before adding creamed corn and crab meat. Then, you add the cornstarch mix to the simmering pot and finally the egg whites. Top the final product with a little garnish of sesame oil and green onions.
Total times: 30 minutes
Let me introduce you to a staple of Shanghainese cuisine, the Nian Gao Tang, or simply, Rice Cake Soup. For such an easy dish to make, Nian Gao Tang packs full of goodness to your mind and your body.
A special aspect of this soup is how the Shanghainese people manage to incorporate rice cake into this savory broth. From the texture alone, it makes a great contrast to the broth. The chewy rice cake is full of sweet and flavorful chicken broth.
Of course, you cannot discount other ingredients which make up the majority of the dish. The addition of white mushrooms enhances the umami goodness as well as sweetness. On top of that, the pork loins provide so much protein and meaty texture.
Total times: 5 hours
While many people are more familiar with the sweet version of Ching Bu Liang, with seaweed and lotus roots for the summer, this pork-based delight from China is more suitable for the winter. This fragrant soup can bring your spirit up in no time.
To help extract the flavors from the bones, you must soak them in water to clean out all of the dirt and scum. This process will help the broth become clear, and you can taste more of that liquid gold.
A bowl of Ching Bu Liang is not complete if there are only pork bones. You can also add in a few more accompanying veggies like lotus seeds, ginger, and dates. The seeds have a lot of starchiness. The ginger adds a strong aroma to that of the soup.
Total times: 2 hours 15 minutes
During a festive season like the Chinese New Year, you can expect a bowl of Pai Gu Lian Ou Tang, or Lotus Root And Pork Soup ready to be served. According to Chinese tradition, lotus roots represent prosperity and fulfillment. That's why it's popular in many celebratory feasts.
This combination contains so many great flavors. First, there are the pork ribs that give a very satisfying richness to the broth. Next, the lotus roots have a mild sweetness with a pleasing crunch. Both are quite nutrient-rich, and filled with protein and fiber.
You can add a few more ingredients to enrich this Chinese New Year delight. For example, dried scallops are popular in many dishes in Chinese cooking due to their special umami taste. Another type of seafood you can try is cuttlefish, which is a type of squid that gives a mild milkiness to the broth.
Total times: 15 minutes
Aside from red bean soup, there is also another nutty ingredient that can turn into an exotic soup: It's sesame seeds. Hei Zhi Ma Hu, or Black Sesame Soup, is not only available in China but also in many countries with a huge Chinese influence, like Taiwan, Singapore, and Vietnam.
Upon taking the first look, you might think that the consistency of this delicacy is rather dense for a soup. And you would be right since Hei Zhi Ma Hu is somewhere between a soup and a paste. However, it's this texture that makes the dessert so delightful.
Grinding the sesame seeds finely until you get a powder will help the nuttiness spread even further. Mixing that powder with sugar, rice flour, and water on a heated pan will result in a sweet and warm soup that no one can resist.
This Black Sesame Soup recipe helps you create a special dessert.
Total times: 1 hour 18 minutes
Other than the wide selection of savory soups that China has to offer, the country's menu is also filled with many delectable sweet soups. These delicacies, called Tang Shui, will help you understand more about the creativity of the Chinese culinary world.
For this section, let me first introduce you to Hong Dou Tang, a refreshing sweet treat from China with huge cultural significance. This version of Red Bean Soup is very versatile as you can eat it hot during the winter and cold during the summer.
The main ingredients are red beans, rock sugar, and tangerine zest. When you boil the beans, their starch will thicken up the consistency of the broth. Add a few bits of rock sugar, and the sweetness will appear. On the other hand, the zest provides a bit of tanginess.
Total times: 2 hours
With China spanning from east to central Asia, it's no wonder that the country's ecosystem is fairly unique and diverse. And snow fungus, or Yin Er as locals call it, is a part of that huge system. This specific type of fungus is well-known for its uses in Chinese cooking.
One of the most popular snow fungus-based delicacies is Cheng Teng. It's a refreshing and sweet soup that can help reduce stress. The ingredients are mostly nutritious dried fruits and nuts like dates, lotus seeds, and longan (a succulent tropical fruit).
The texture of the soup is interesting. The snow fungus feels almost like you're chewing on a beef tendon but somewhat blander. There is a slight crunch to the fungus as well. On the other hand, the dried fruit, after being hydrated in the soup, is very tender.
Total times: 40 minutes
Hailed as one of the most luxurious dishes in the world, Yan Wo, or Bird's Nest Soup, will make you feel like a royal. According to many Chinese people, Yan Wo became a prized delicacy during the Ming Dynasty (14th – 17th century A.D).
Why is Yan Wo so valuable? Because it is very difficult to harvest these nests. It's only possible around three times a year. Due to its high price, Bird's Nest Soup is only available during important celebrations.
Traditionally, Yan Wo is a bit bland and gelatinous. Most of the recipes do not require a lot of seasonings. People believe that keeping the bird's nest pure will retain more nutrients. The only flavoring agent is a piece of rock sugar that has a mild sweetness.
This Bird's Nest Soup recipe will make you feel very classy.
Chinese Soups Are The Best Comfort Food
As you can see, Chinese cooking is more than just Dim Sum and stir-fry dishes. If you look a little deeper than what's on the surface, you will begin to discover the hidden side of China's culinary wonders.
To many Chinese people, soups are more than a simple type of food. It's part of a family-oriented culture. Soups are comforting and relaxing like an embrace of a loved one. And I hope you will be able to experience the same feeling through the recipes that I've shown above.
And with that, I can finally conclude the journey. Make sure you hit the like button and share this article on your social media accounts. Thank you so much for being such an attentive audience, and have a nice meal!
Nutrition Facts
6 servings per container
---
Amount Per ServingCalories63
% Daily Value *
Total Fat 2.9g

4

%
Cholesterol 93mg

31

%
Sodium 533mg

23

%
Potassium 47mg

2

%
Total Carbohydrate 3.5g

1

%

Dietary Fiber 0.2g

0

%
Sugars 0.4g

Protein 6g

12

%
---
Calcium

15

%
Iron

1

%
Vitamin D

9

%
* The % Daily Value tells you how much a nutrient in a serving of food contributes to a daily diet. 2,000 calories a day is used for general nutrition advice.