One of the most important things to making a good salad is the dressing, and Japanese salads have some very delicious dressings that you cannot get over. That said, there are other great qualifications to these green dishes.
Japanese-style salad plates comprise ingredients native to the country, offering nutritional values, amazing flavor experience, and aesthetic satisfaction. Curious why these dishes are so good? Take a look at these recipes; you may find your new favorite salad in this article.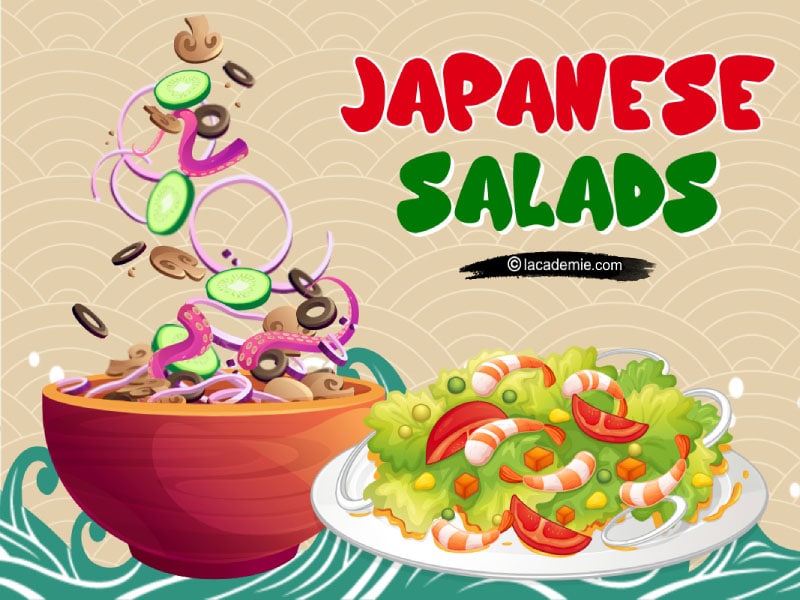 Pocket These Simple Recipes For Japanese Salads
The special thing about Japanese-style salads is that they feature the country's signature veggies, foods, and other ingredients. For example, instead of lettuce, you will more likely work with seaweed.
What else is different? Let's go through these interesting dishes and find out together!
Total time: 5 minutes
Horenso Gomaae is a traditional salad dish in Japanese cuisine, featuring spinach as the main ingredient, paired with soy sauce, sugar, salt, Tahini (sesame paste), and sesame seeds. However, the recipe I'm introducing is a simplified one, and Tahini is off the table.
This Japanese spinach salad is often served as a side dish, featured in bento boxes. It is a bit savory and sweet due to the soy sauce. The dish also has a nutty, earthy, bitter flavor derived from the sesame paste.
To make the best Horenso Gomaae, you need to cook the greens properly by following this instruction.
Total time: 25 minutes
If you love mushrooms, this salad will be one of the most delicious Japanese dishes to include in your meal. It uses four types of mushrooms: Enoki mushrooms, Baby King Oyster mushrooms, Gold Enoki mushrooms, and Shimeji mushrooms.
In general, mushrooms have a mild, earthy, lightly sweet flavor with a chewy, a bit crunchy texture. However, each type of mushroom used in this salad adds a different touch to the dish.
While Enoki mushrooms are mild and slightly sweet, Baby King Oyster mushrooms are more savory with a creamy smell. The special flavor Shimeji mushroom brings to the dish is nutty and buttery.
Total time: 20 minutes
Yum Yum sauce is a type of Japanese sauce usually served with steak. It's mayo-based and tastes sweet, tangy, and light.
Regardless, you can always try pairing various Japanese shrimp delights with this sauce. It will produce a unique, refreshing flavor for your meals.
To make shrimp and avocado salad, you first need to boil or fry the shrimps quickly, and peel them. Meanwhile, mix all the veggies in a bowl, put all the dressing ingredients in a second bowl, and whisk them together. Once done, pour the sauce into the first bowl.
It's worth noting that though the recipe states specific amounts for each ingredient, you can adjust the amount of shrimp, avocado, veggies, and sauce as you like.
Total time: 10 minutes
Those into Japan's vegetarian dishes will find their new favorite salad here. This seaweed salad is a tangy, refreshing dish that is both delicious and healthy.
If you have tried Japanese meals before, you must have seen that seaweed is a very popular and nutritious ingredient. As for Japanese seaweed salad, you can eat it with miso soup or Ramen during a primary meal of the day.
On a side note, the recipe requires rice vinegar, but you can replace it with white vinegar if there's some available.
If you want to add more ingredients to this Japanese seaweed salad, try this version.
Total time: 10 minutes
Among all the yummy meal-starters in Japan, Sunomono is arguably the simplest to make. You only have to slice cucumbers into thin slices, rub them with salt, let them sit for a few minutes, then mix with dressing and sprinkle sesame seeds on top.
If you have little time to prepare a meal, Sunomono may be the best option. Despite its minimalist ingredient list and instruction, the salad is yummy thanks to the crunchiness of the cucumber, along with the sweet and tangy flavor of the dressing.
Total time: 15 minutes
Have you ever ordered this salad at a Japanese restaurant and wondered how it's made? In Japanese, Kani means crab, but this salad is not made with real crab meat. Instead, you will use an imitation crab stick, which comes in small bars the size of your index finger.
When comprising all needed ingredients and seasonings, Kani salad offers a blast of flavors. Each bite is a mouthful of mango, cucumber, crab stick, carrots, etc.
You will immediately realize the signature seafood taste from crab sticks. Then comes the crunchiness of cucumber, the juiciness of mango, the sour taste of lemon, and the salty feel from spices. This salad is complete with the fatty taste of mayonnaise.
For those who don't know what Kani salad looks like, take a glimpse.
Total time: 7 minutes
Daikon, or white radish, comes with a slightly spicy, earthy flavor. More importantly, Daikon tastes differently depending on which part you use, the upper or lower part.
For Daikon salad, I recommend using the upper part because it's better to eat raw than the lower one, which is peppery.
This salad is suitable for beginners who have never made any salad before because it's super easy, requiring minimal ingredients and no techniques. As long as you know how to use the knife to slice Daikon, you'll be fine.
Total time: 45 minutes
This dish is not meant for quick meal preparation as it may take up to 40 minutes to boil the potato to reach the needed state. Yet, it's worth the wait.
The finished Japanese potato salad features a thick, dense texture that makes you feel you have to chew it, but it's just very starchy and smooth.
Apart from the outstanding flavor of the mashed potato, you will also be treated with crunchy cucumber slices, soft carrot cubes, chewy ham pieces, and creamy flavor from mayonnaise.
Total time: 55 minutes (including chilling time)
Soba noodle salad is the savior for hot summer days. Whether you're cooking lunch or dinner, this recipe will provide you with a plate of refreshing food.
Soba noodles, originating in Japan, are made from buckwheat flour and prove a good plant-based protein source. The Japanese often resort to soba noodles when it gets hot, and it makes a great ingredient for light dishes.
In this refreshing Japan-origin noodle treat, the main ingredient is combined with veggies like pepper, onion, carrot, and cucumber. Together, they create a flavor-rich dish without requiring much effort from you.
Check out how to make soba noodle salad and two more ways to enjoy soba noodles.
Total time: 8 minutes
Gomaae is a type of side dish popular in Japan, consisting of vegetables mixed with sesame dressing. It's served on tiny plates during the main course.
Ingen No Gomaae is actually easy to make, and you don't necessarily use sesame dressing. That said, you need to focus on the green beans and avoid overcooking them.
For this salad, the beans must have a crunchy texture, so don't cook them for too long. Otherwise, the beans will turn soft and ruin the entire dish.
Total time: 5 minutes
Of all healthy treats from Japan, this salad combines two of the most common ingredients: seaweed and tofu.
While seaweed comes in with its impressive flavor derived from the ocean, tofu hardly has any flavor. The most special trait of tofu is its soy smell, a good trace you can feel when taking a bite of this soft food.
As contrast as it may seem, it helps tofu absorb any dressing or seasoning you add to it. In turn, the ingredient can easily blend in with seaweed to create a complete, harmonious salad.
Total time: 12 minutes
Okra, a beloved vegetable to the Japanese, used to be a summertime ingredient only. But it has now been found all year round, which is why I'm introducing this delish salad recipe to you.
Okra salad in Japanese style is the easiest thing I have ever had to describe to anyone. It has only three ingredients: Okra, bonito flakes, and soy sauce. It is so easy that you can already imagine how to make the dish by looking at the ingredients.
The only note I'd like you to write down is how long you should boil the okra. It varies depending on your preference because the longer you boil it, the softer it will be.
That said, 10 minutes is the ideal boiling time, enough for the seeds to be completely cooked but not overcooked.
Refer to this Japanese okra salad instruction if you haven't figured out how to make it.
Total time: 15 minutes
Originally, Furikake is a condiment made by mixing seaweeds, sesame seeds, fish flakes, herbs, and salt. However, I decided to pass the fish flakes and introduce this vegan version of the salad to you.
Vegan Furikake edamame has a pleasant flavor and an eye-catching appearance. The purple cabbage is added to this recipe to add some color contrast, bringing out the tone of both these ingredients, hence the amazing look.
You can use this salad as a meal starter or a side dish by pairing it with rice and other vegetables.
Total time: 20 minutes
Ponzu is a popular sauce from Japan featuring a sharp, slightly bitter flavor with a watery texture. Ponzu sauce, also called Ponzu Shoyu, is ponzu mixed with soy sauce and has a dark brown color.
Avocado is soft and thick, while watercress is more crispy and has a signature smell that may be stronger than the avocado scent. When combined with each other on a plate, topped with Ponzu dressing, they form an interesting salad.
If you are not familiar with watercress, don't worry. Just follow the steps, and you may discover a new favorite recipe.
Total time: 15 minutes
If you crave Japanese-style seafood treats, why not try Tako To Kyuri No Sunomono? This octopus salad can make a great side dish or appetizer for seafood lovers.
Unlike the texture contrast in tofu and seaweed salad, Tako to Kyuri No Sunomono showcases consistency among all main ingredients.
Boiled octopus is chewy, salted cucumber is crunchy, and Wakame seaweed has a certain crunchiness. When mixing these three ingredients, you obtain a bowl of crispiness and juiciness that's fun to eat and look at.
Besides making the salad, you will also learn how to work on an octopus from this chef.
Total time: 20 minutes
Sesame dressing is made by mixing ground sesame seeds with soy sauce, dashi stock, and sugar. This dressing is a bit sweet, quite nutty, and has an overall great flavor that contributes a lot to a wonderful salad.
When making broccolini salad with sesame dressing, there's one thing to keep in mind: don't overcook the broccolini.
To be exact, you only need to blanch the vegetables, meaning dipping them in boiling water for about two minutes. If you overcook the broccolini, it will be too soft to serve and ruin the dish's texture.
Total time: 15 minutes
Harusame regularly means spring rain. But in food terms, Harusame is dried vermicelli. This type of noodle can't be used instantly. You need to blanch it in boiling water for a few minutes. It will absorb water, become softer, and be ready to serve.
Harusame earns a place on this list for being a light, refreshing dish featuring tangy and savory flavors. It's also low in calories, so you can rely on this glass noodle salad for a snack, an easy lunch or dinner, whatever your preference is.
Total time: 19 minutes
Ramen noodle is popular in Asia in general and specifically in Japan; when talking about Ramen, the first place you think of is Japan.
This noodle salad is my go-to dish on hot days when I'm too lazy to cook. It's yummy, it's effortless to make, it can fill my empty stomach, and it can be served cold, which is a huge plus.
There's one thing to note, though. The amount of ingredients in this recipe may result in more than the needed amount for one use.
So, if you plan to make this dish again soon or if you like to have a lot of sauce, follow the quantity in this recipe. Otherwise, consider reducing the amount of each ingredient to make less sauce.
Total time: 10 minutes
Mizuna is a leafy mustard green native to Japan. It has a crispy yet tender texture paired with a mild flavor. Meanwhile, Myoga is Japanese ginger. It's crunchy, sharp, refreshing, and has a mild ginger taste.
Combining these two ingredients, you get a green salad as a great dish to start a meal. Besides Mizuna and Myoga, Ponzu dressing completes the dish by adding a salty, sweet, sour, and bitter flavor.
This recipe for making Mizuna Myoga salad is straightforward and totally fail-proof.
Why not add some fried tofu for more crispiness with this Mizuna Myoga salad?
Japanese Salads Are The Refreshments You Need Today
Salads are overall quite simple to make as they involve little to no cooking. More importantly, most of the time, you just need to chop everything and then mix all the ingredients with seasonings and spices together.
If you have a special love for Japan, I hope you have found these great dishes for your meals. Should that be the case, why not share the articles with your friends and family so that everyone can enjoy tasty salads from this admirable culture?
Nutrition Facts
4 servings per container
---
Amount Per ServingCalories57
% Daily Value *
Total Fat 1.6g

2

%
Sodium 1089mg

46

%
Potassium 89mg

3

%
Total Carbohydrate 7.3g

3

%

Dietary Fiber 1g

4

%
Sugars 2g

Protein 2.6g

4

%
---
* The % Daily Value tells you how much a nutrient in a serving of food contributes to a daily diet. 2,000 calories a day is used for general nutrition advice.