One of the most captivating aspects of Chinese breakfast recipes is how diverse they are. Thanks to China's vast geography, different regions have come up with creative ways to make meals with similar ingredients.
Unlike many Western nations, where eating sugar treats in the morning has become a norm, Chinese breakfast still maintains a balanced mix of nutrients, including protein, carbohydrates, and even fiber. This combination is a booster shot to help you get through the day.
Sounds interesting, right? Well, you're in luck since I've already prepared some of the most special Chinese dishes on the menu today. It's finally time for you to throw away that sickeningly sweet cereal box for a better alternative. Let's get into it!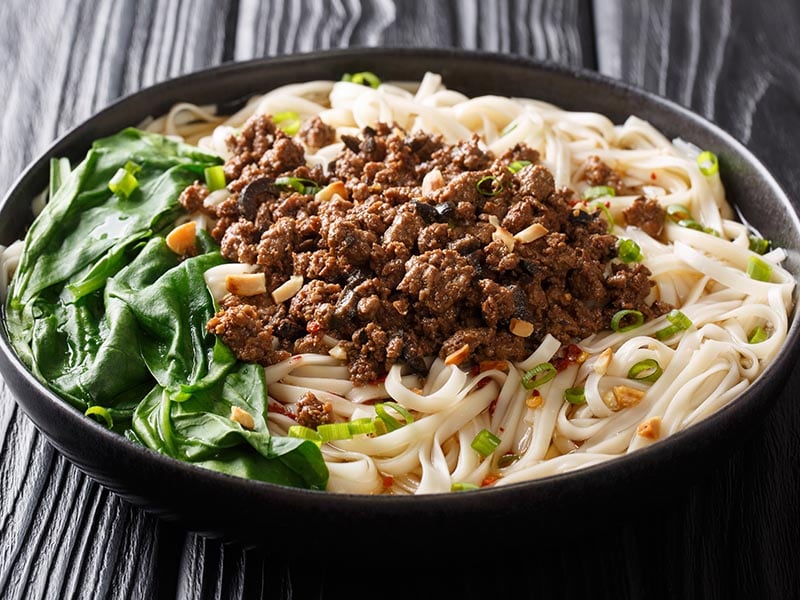 Chinese Recipes To Change Up Your Breakfast
These are some of the most delectable recipes from China that you can prepare in the morning. They can range from simple porridge and drink to more complicated recipes like wonton, meat bun, and even spicy noodles.
Total time: Around 1 hour
While being unknown in the south, Shao Bing, or sesame flatbread has taken over the northern region of China. According to a popular legend, a general named Bao Chao brought the bread back to China from Central Asia during the Han Dynasty (3rd century B.C – 3rd century A.D).
Due to this origin, Shao Bing looks similar to another type of flatbread in Central Asia called Naan. However, Naan has a more circular shape while Shao Bing is rectangular. This Chinese pastry is flakier thanks to a folding process that combines a layer of dough with a layer of fat.
You can enjoy it in any way you want in the morning, but there are 2 common ways to consume it. The first way is to enjoy the bread with soy milk. The second way is to slice open in the middle and stuff the bread with whatever you like.
In my opinion, a nice and flavorful omelet will be enough. The nuttiness of the sesame seeds makes the bread fragrant. And it goes well the creaminess of the omelet.
Total time: 35 minutes
When it comes to a reliable breakfast item, Youtiao, or Chinese Fried Dough, is always a good choice. Despite the fact that no one knows how Youtiao got its start, this fried pastry soon spread all over China and its neighboring countries.
By combining flour, salt, and eggs to form a perfect dough, the texture of Youtiao becomes very spongy and airy. The air pockets inside the dough increase the lightness. When you bite on the Youtiao, the outer shell isn't crunchy but it's rather chewy.
This pastry is naturally bland, maybe with a little bit of saltiness from the ingredient. That's why Chinese people have it as a side dish to rice porridge or soy milk soup, both of which I will discuss further in the entries below.
This tutorial can show you how to make Youtiao for the family.
Total time: 15 minutes
Did you know that soy milk can be more than just a simple beverage? It is indeed true since Dou Jiang, or Soy Milk Soup is a very delicacy that many Chinese people enjoy in the morning.
Simplicity is the main reason why this type of Chinese soup dish is so beloved. You only need soy milk with no sugar, salt, and vinegar. When you boil the ingredients in a heated pot, the milk will thicken to a soupy consistency.
The soup has a very mild acidity due to the vinegar. The amount of salt you need to add is very small, but you can still feel a hint of savoriness. You can drizzle in a bit of sesame oil and pickled radish for a blend of nutty sourness.
Like I said above, one great way to have Dou Jiang is to have it with Youtiao. You tear the dough into smaller pieces and dip them in the soup.
Total time: 1 hour 30 minutes
This is another Chinese breakfast delicacy that goes really well with Youtiao as I mentioned above. Congee is a very popular recipe in many Asian countries. With a few simple ingredients, you can get yourself a steaming bowl of rice porridge.
The most important thing to note is the rice itself. The consistency of the congee can differ widely based on the amount of time you boil. Thicker congee will soak in other flavors much better, but a thinner version can make the meal a bit more refreshing.
There are other ingredients including eggs, peanuts, and cilantro. The eggs provide a certain richness to the porridge and the peanuts have their own nutty aroma. The cap it off, you can drizzle in vinegar and soy sauce for extra savoriness.
Total time: 1 hour 10 minutes
Baozi, or Steamed Meat Buns, made its first appearance during the Song Dynasty (10th-13 century A.D) of China. This delicacy drew heavy inspiration from northern China's filling-less steamed buns called Mantou.
However, Baozi's popularity soon spread all over China and even other countries. And it's thanks to the uniqueness of this dish. With just flour, sugar, and baking powder, you get a very soft, and almost elastic type of dough.
When it comes to the filling, there are many different variations to choose from, but I suggest Char Siu – a famous Chinese pork delicacy, to give the buns a bit of a smokey taste. The combination of soy sauce and oyster sauce contrasts well with the slightly sweet bun.
Total time: 2 hours 30 minutes
Zongzi is a holiday specialty that you will see during the Dragon Boat Festival, also called Duanwu. Based on the Lunar Calendar, this holiday is on the 5th day of the 5th month. In spite of this, you can still have Zongzi as an everyday breakfast, appetizer, and main dish.
One of the most noticeable things about this rice dumpling is the texture. You have to use sticky rice to make the outer shell, it helps the shape of Zongzi stay together during the wrapping process. It also makes the Zongzi a bit gelatinous to the touch.
In order to help the Zongzi stay in a pyramid shape during the cooking process, the maker has to wrap the rice tightly in bamboo leaves. The side effect of using the leaves will give the rice a unique hint of grassy scent.
The filling packs a lot of extra flavors to complement the sticky rice dough. First is the umami of the mushroom which gives the dish extra savoriness. Pork is the main protein, and it has the most richness in the meat. The salted egg yolk keeps the zongzi from being too bland.
Total time: 30 minutes
Shumai are these steamed dumplings that originate as a type of street food in China. In many Cantonese-speaking regions, Shumai is an important part of the Dim Sum cuisine. This interesting cuisine includes small dishes that Chinese people eat during brunch time.
For starters, you have to know about the filling of Shumai since it's where most of the flavors are located. Normally, you mix pork and shrimp to create a minced paste. After that, drizzle in oyster sauce and sesame oil. The seasoning really improves the overall aroma.
People often confuse this dumpling with the potstickers, an idea below. However, to make Shumai, you need to steam it after wrapping the meat to keep the moisture inside. In this recipe, you can make vinegar soy sauce as a dipping sauce to give a slight tanginess to the dumplings.
Shumai is a very delightful dish to make for your breakfast.
Total time: 1 hour 10 minutes
Without a doubt, the dumpling has been one of the most important dishes around the world. Despite the cultural differences, many countries share a very similar delicacy. China's version of the dumpling, Jiaozi was invented back during the Three Kingdom Era of the 3rd century A.D.
Normally, steamed dumplings are a popular Asian morning dish for many Chinese. However, I want to change that up a bit with this pan-fried version. Instead of being chewy, the pan-fried version has a crunchy layer at the bottom, giving the dough a very interesting texture.
However, that doesn't mean the inside of the Jiaozi will become dry. On the contrary, the meat stays very moist and flavorful. The tender meat blends absolutely well with the wrapper. The dipping sauce is the usual combination of vinegar and soy sauce, with garlic for an extra kick.
Total time: 25 minutes
In this next entry, Wonton is another variant of Chinese dumplings that you have to check out. Although its appearance can be similar to Jiaozi, Chinese people often have Wonton dumplings with soup instead of by themselves.
Wonton has less filling compared to Jiaozi, and the wrappers are not as thick. Of course, this is not a bad thing since you can have more Wonton in one sitting than Jiaozi. This helps the Wonton soak up more of the flavors from the soup.
For this recipe, I opted for frozen Wonton dumplings to save some time. But if you have more time, you can make fresh Wonton with dough wrappers and minced pork.
Combine the chicken broth with mushrooms and bok choy to make the soup. The ingredients release a lot of sweetness into the broth. To balance out that, throw in some ginger, vinegar, and soy sauce to increase savoriness.
Total time: 30 minutes
Originating from the northern side of China, Jian Bing, or Chinese Crepe is wildly popular across China thanks to its simplicity as one of China's top fast foods. Thanks to its existing reputation, Jian Bing has slowly been conquering other countries as well.
So what makes Jian Bing such a delight to eat? It is due to the complex texture. The outside of this dish is made by spreading the batter very thinly on a griddle. The edge tends to be thinner so it's very crunchy while the center stays chewy.
Other than the batter, the filling attracts a lot of attention in this recipe. It consists of eggs and a special cracker from a wonton wrapper. The eggs add a bit of richness and the cracker improves the texture with its own crispiness.
Before wrapping the Jian Bing, brush a layer of soybean paste and chili garlic paste to improve the savoriness of this special pastry.
Total time: 1 hour 30 minutes
If the thin Jian Bing might not be enough to fill you up in the morning, let me introduce you to Cong You Bing instead. Instead of being a sweet pastry, this more savory version from China might be a positive change to your diet.
The biggest difference between normal pancakes and Cong You Bing is the consistency. Standard pancakes are made from a wet batter while Cong You Bing uses a more solid dough. This gives the pastry a chewier core and not the usual airiness of most pancakes.
And when it comes to the scallions, you have to chop them into slices. Combine the scallions and a little bit of salt into the dough. Thanks to the scallions, Cong You Bing has a mild pepperiness. This pastry goes well by itself or with soy sauce.
Total time: 2 hours 30 minutes
Lou Pak Gou, or Turnip Cake is a must-have if you ever get a chance to visit a restaurant that specializes in Dim Sum dishes. Aside from being a well-known brunch menu, a lot of Cantonese people love to eat Lou Pak Gou as a Chinese dish to celebrate New Year.
If you don't live near Chinatown but still want to have a try at this delicacy, don't worry because this recipe is now your solution.
What makes Lou Pak Gou so good is its overall presentation. You get a rectangular packed with goodness inside. The white part, or batter as I call it, consists of chopped turnip, rice flour, and cornstarch. This combination creates a sticky and starchy texture.
After you get the batter, add in dried shrimp, mushrooms, and Chinese sausage (Lap Cheong). These are the ingredients that will give the Lou Pak Gou its signature southern flair. The sweetness from the sausage clashes nicely with the salty dried shrimp.
Lou Pak Gou is a staple Dim Sum food that's very simple to make.
Total time: 25 minutes
If you're a vegan that wants to experience Chinese breakfast in your own way, I have a perfect Chinese vegan recipe for you. Cong You Ban Mian, or simply Scallion Oil Noodles is a variation of a popular Chinese cooking style called You Mian (oil noodles).
Despite having the word "oil" in its name, this dish is not at all unpalatable. When you mix the scallions with the oil, the aromatic plant will absorb much of the oiliness. This combination will create a very fragrant sauce.
You only have to fold the sauce in with the noodles. You can use any type but I highly suggest wheat noodles for the best result. It's doughy, chewy, and has a slight acidity. Sprinkle in sugar and soy sauce will balance out the flavors with a blend of sweetness and savoriness.
Total time: 20 minutes
If you're not a vegan, I have an alternate noodle recipe from China. Introducing Dan Dan Mian, a delicacy from the spicy capital of China, Sichuan province. The name "Dan Dan" comes from the carrying pole that street vendors used to sell this noodle in the past.
The most important part of Dan Dan Mian is actually the chili oil. Some of the most authentic recipes of the Chinese noodles are also the spiciest. This is because the cooks use a special type of pepper called Sichuan peppercorn. It will blow your mind and your tongue away.
But don't worry, the spiciness can be adjusted by using just a little chili oil. There are also pork and noodles to increase the palatability while reducing the effect of the oil. Last but not least, add the chicken broth for the extra depth to the flavor.
Total time: 20 minutes
Whenever you feel like not eating much in the morning, you can always go for Chinese Steamed Eggs or Zheng Dan. It's quite easy to make with only a few ingredients, and the smoothness of the eggs will float down easily.
In order to recreate this recipe, you will have to whip up some eggs with chicken stock. Strain the eggs multiple times until you get a very refined mixture. This is the secret to getting a smooth Zheng Dan. Steam until you see the eggs turn solid.
The final step is to drizzle a Chinese-style sauce consisting of soy sauce, sugar, and sesame oil when the steaming process is done. This sauce adds a lot of sweetness and nuttiness to the already rich and creamy steamed eggs.
Total time: 15 minutes
Dan Hua Tang, or Egg Drop Soup is usually a very quick way to energize yourself in the morning. This Chinese delicacy is a great breakfast dish in the summer, but a life-saver when the cold winter months come.
Compared to other versions, this recipe of Dan Hua Tang has a thicker consistency. This thickness usually helps you stay full longer. On top of that, the flavors from soup broth will be more condensed so your taste buds will feel a lot more impact.
The ingredients are simple, you only need eggs, tofu, and crab meat. The eggs give the soup a hint of savoriness. The tofu adds a mild sweetness with its own sweetness. Crabmeat provides the taste of seafood to the soup.
Total time: 40 minutes
Chinese Egg Tart or Dan Ta is a clear example of China taking a foreign dish to make it their own. Originating in the 20th century as part of Guangdong cuisine, Dan Ta has slowly taken over the southern part of China for many years.
Two of the biggest reasons why Dan Ta is so popular are the texture and the taste. With the texture, you have an interesting experience where the soft center contrasts with the crunchy edge. When you bite on it, this combination adds to the uniqueness of this pastry.
When it comes to the taste, there is a similar feeling with different flavors being layered on top of each other. In the center, where the egg is more prominent, you can get a hint of creaminess. Moving out from that, the sweetness starts to become a bit overwhelming.
Chinese Egg Tart can be a good breakfast and an even better dessert.
Experiencing Authentic Chinese Breakfast Foods
A good morning meal not only helps to feel full after 8 hours of sleep but should also give you enough nutrients to help you last until lunch. The Chinese people obviously understand this, that's why they have created such an extensive breakfast menu full of fantastic dishes.
With the recipes above, I hope you will be able to make your breakfast a little bit less monotonous. And this might be a good chance to develop a healthier eating habit as well.
And this is where I will conclude the journey. If you like the article above, don't be shy and hit that like button. You can also share this post on your social media so others can see it. Thank you, and see you next time.
Nutrition Facts
4 servings per container
---
Amount Per ServingCalories306
% Daily Value *
Total Fat 8.9g

13

%
Cholesterol 167mg

56

%
Sodium 413mg

18

%
Potassium 256mg

8

%
Total Carbohydrate 40.6g

14

%

Dietary Fiber 3.8g

12

%
Sugars 1.1g

Protein 16.2g

32

%
---
Calcium

100

%
Iron

4

%
Vitamin D

15

%
* The % Daily Value tells you how much a nutrient in a serving of food contributes to a daily diet. 2,000 calories a day is used for general nutrition advice.