Potstickers vs. dumplings, what exactly are the differences between them? If this knowledge can aid you in your gourmet life, then you should read this article. I will let you know how to tell them apart as well as some interesting information about these delicacies.
Everyone has heard of dumplings, but what about potstickers? Have you tried them before? The relationship between these two delicious foods can surprise you. They may seem quite similar to each other, but this article will reveal to you something else. Let's scroll down and find out!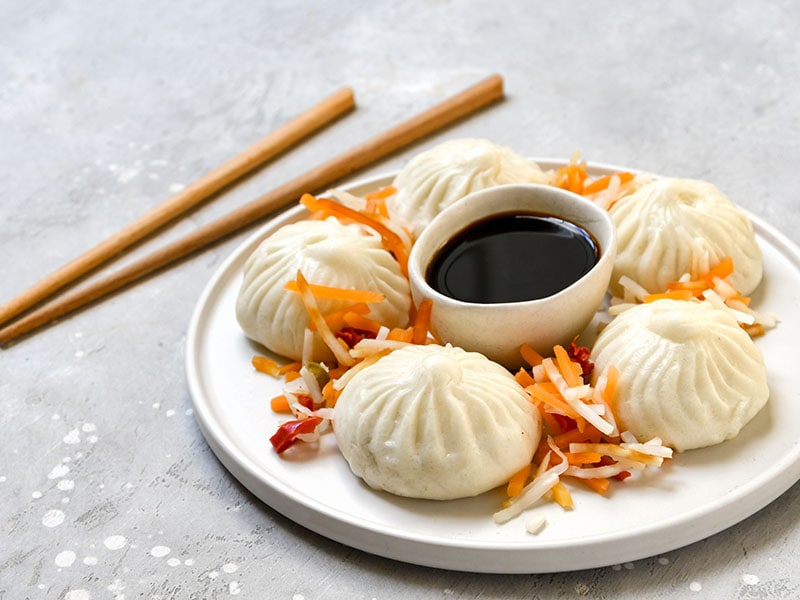 Dumplings 101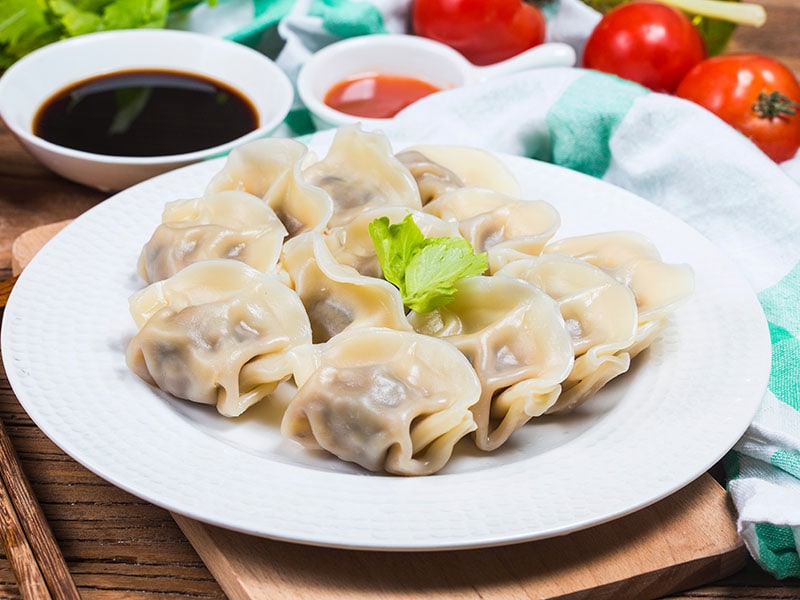 Dumplings are one of the most famous foods in the world. You can go to every country, and they are guaranteed to have some form of dumplings available.
A Brief History Of Dumplings
They are one of the most ancient foods in the world. Though their recipes were mentioned in ancient Roman texts, scholars argue that Chinese dumplings are even older.
Most experts believed that Zhang Zhongjing, a medical practitioner who lived in the Eastern Han dynasty, which lasted from 25 AD to 220 AD, was the first person to have created this delectable delicacy (1) . A popular Chinese name for the dish is Jiaozi.
However, ancient China isn't the only birthplace of dumplings. Many countries around the world have their own recipes for this food that appeared at different times, though perhaps none is as ancient as the Chinese one.
The Art Of Making Dumplings
Dumplings are essentially a broad category of food. They consist of dough wrapping various kinds of fillings. Common options are chicken, cheese, beef, vegetable, noodle, etc. Some kinds of dumplings can have no filling at all.
The filling can be vegetarian or packed with meat, sweet or savory. Meanwhile, the dough is usually based on wheat flour, buckwheat, potato starch, cornmeal, and the like.
People prepare dumplings with various cooking styles: boiling, simmering, steaming, baking, or pan-frying. The last method may create a different dish (I'll discuss it more in the next section). The final product should have white, elastic skin that is soft to the touch.
Dumplings are so famous that every culture has its version of dumplings.
Popular Type Of Dumplings You Should Know About
As dumplings are a wide category of food, their variety is simply more than you can imagine. There are numerous types of them across the four corners of the world. Let's check out a few household names.
Wonton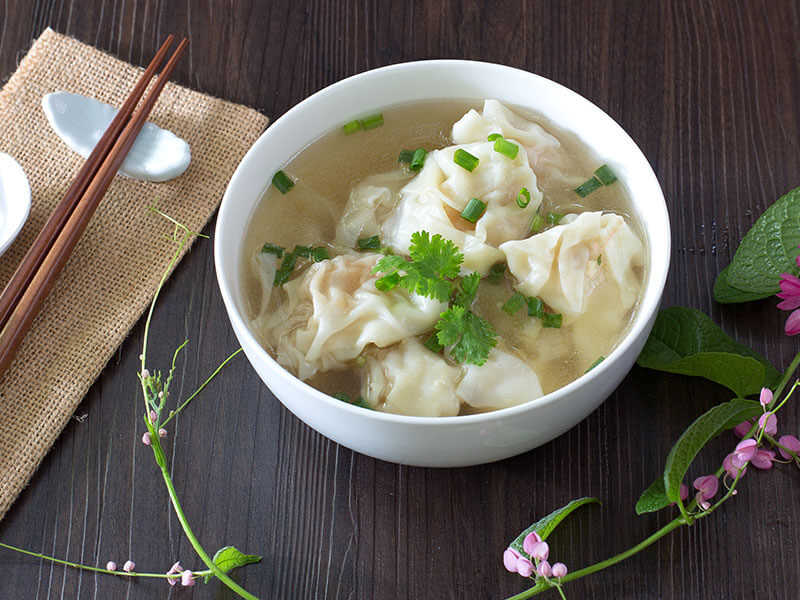 Wonton is classified as another type of dumpling, but it is more particular in its broth. This dish is commonly found in China (especially Shanghai and Hong Kong) and Taiwan. Nowadays, it is also popular in East Asian and Southeast Asian cuisine.
Technically, you can fill Wonton with anything you want, but normally you will find them stuffed with ground pork or shrimp (whole or paste shrimp). Wonton can be served in a thick or clear soup.
Gyoza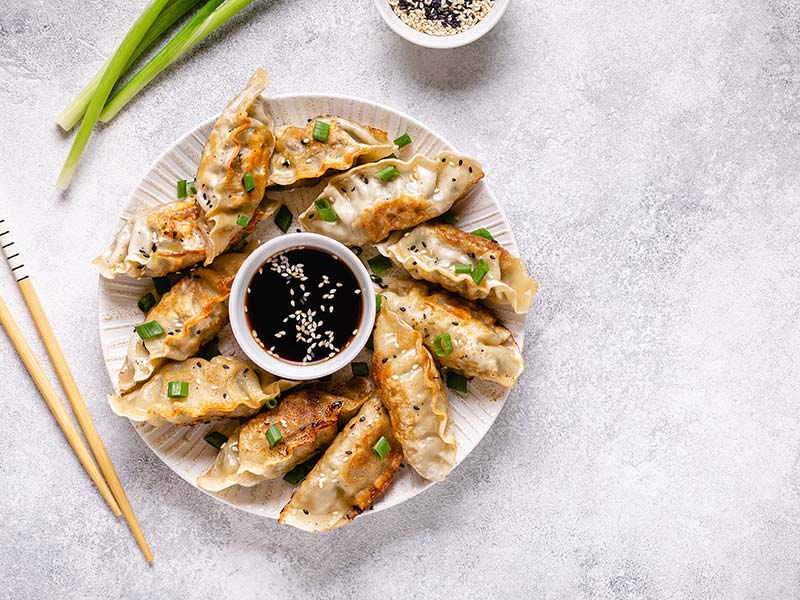 This dumpling is a common food at any Japanese eatery or ramen shop. It is a mouthwatering delicacy made from a thin dough wrapping around ground meat, mushrooms, and vegetables. People usually boil it in a light broth or pan-fry/ deep-fry it until crispy.
Banku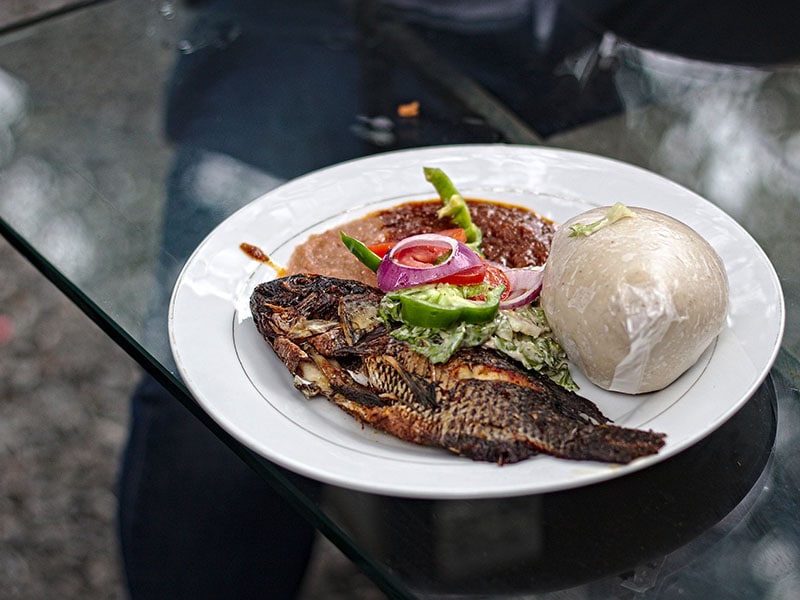 Banku is a popular dish in Ghana and other African countries. It has no filling and consists of fermented corn, cassava dough, water, and some seasoning. Locals usually enjoy it as a side dish with soup, stew, or meaty dishes.
Joshpara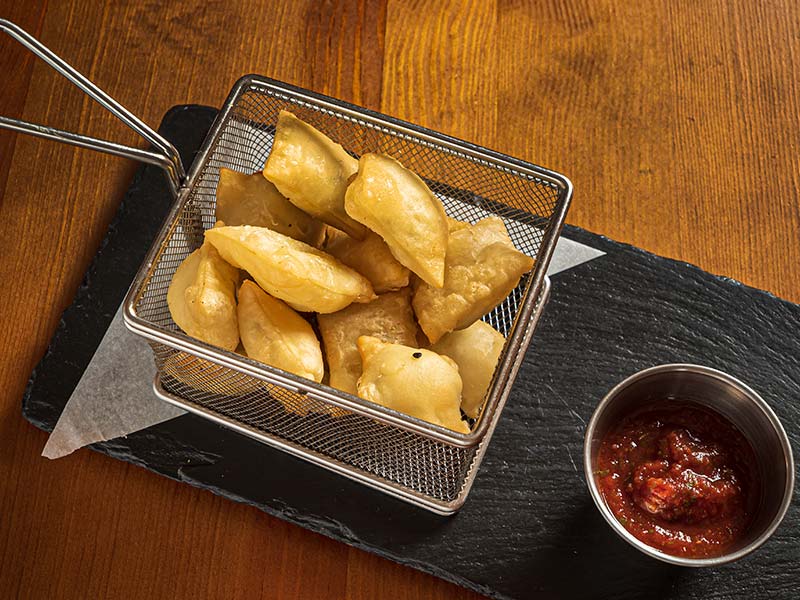 Popular among the Muslim communities in Central Asia and the Middle East, Joshpara is never filled with pork. Instead, this type of dumpling includes unleavened wheat dough, onions, spices, seasoning, and other kinds of ground meat. Its Arabic variant is called Shishbarak.
Banh Bot Loc (Vietnamese Tapioca Dumplings)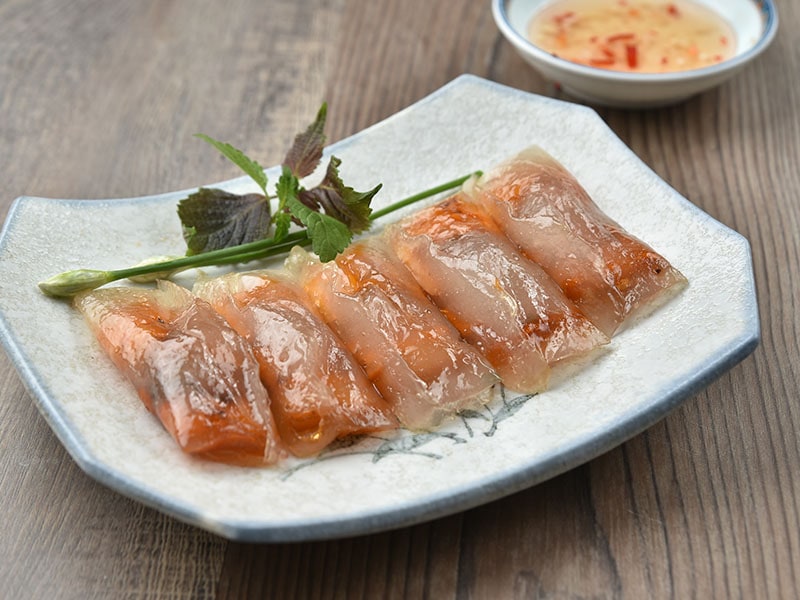 Banh Bot Loc is a staple food in traditional Vietnamese cuisine. It has a chewy texture thanks to the tapioca starch. It gives Banh Bot Loc a smooth, transparent appearance so you can see the shrimp or pork filling inside. Locals usually enjoy this dish with sweet chili fish sauce.
Gnocchi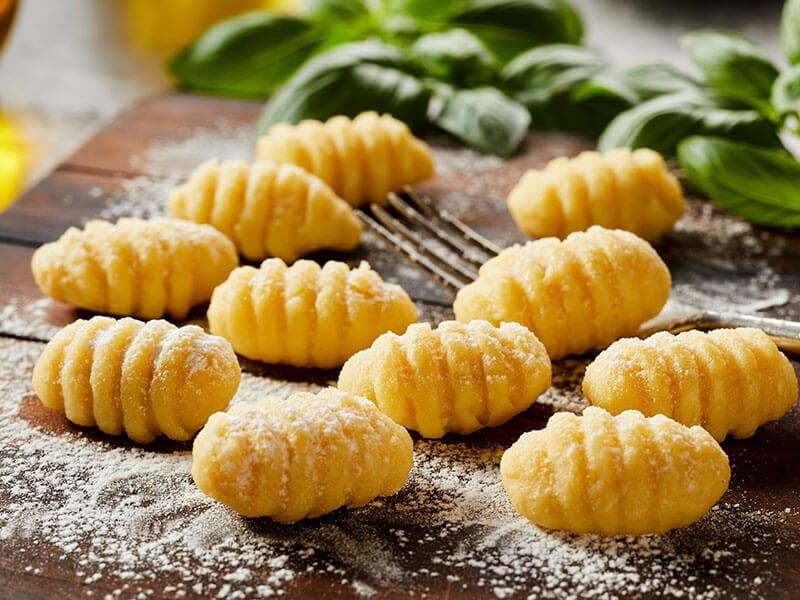 Gnocchi is a special Italian delicacy that has no filling. Italians created it by cutting and pressing a big piece of dough into smaller lumps (the size of a wine cork). Its main ingredients are potatoes, eggs, cheese, and, sometimes, wheat flour.
Gnocchi is always served as a side dish (or first course) in Italian cuisine. People love to drizzle melted butter or many kinds of sauces over it
Poutine Râpée
Poutine Râpée is a staple dish of Canadians that belongs to the Acadian people. Its shape resembles a big ball, filled to the brim with minced pork, and is usually served together with beer, corned beef, and duck stew. It is a perfect side dish for the colder region of the world.
Poutine Râpée is the Acadian proud version of dumplings.
Everything You Need To Know About Potstickers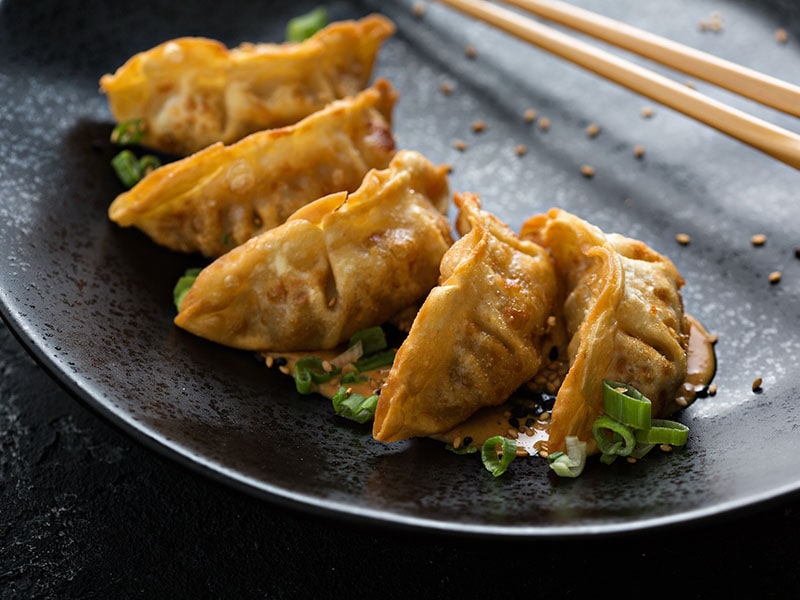 To be clear, potstickers are a type of dumpling. This is where most of the misunderstandings come from. In short, all potstickers are dumplings, but not all dumplings are potstickers. They are essentially dumplings that are crispy in the bottom half.
Where Does It Come From?
The exact point of origin of potstickers is lost to history, but traces of it remain in myths. It probably appeared during the Song dynasty, which rose 7 centuries after the demise of the Han dynasty.
According to a Chinese legend, they were the creation of a royal chef in the imperial court. He accidentally left some dumplings on the stove for too long. With no time to create a new batch, he chose to serve the burned dumplings anyway.
Yet, his peers loved this new kind of dumpling avidly. Gradually, many people adapted this way of making dumplings. The recipe spread across the empire, and potstickers have become a cornerstone of Chinese cuisine ever since.
How Do I Make It?
People usually make potstickers in the same way as dumplings, only adding a few extra steps at the end. First, you make the dough and the filling before wrapping the former around the latter.
The important thing now is the cooking method. Pan-fry the potstickers until their bottoms get golden brown, then add water and steam it for about 3 – 5 minutes. As long as the filling is cooked and the bottom half of the dough is crispy, you are good to go.
Potstickers are essentially dumplings that are pan-fried.
Variety In Potstickers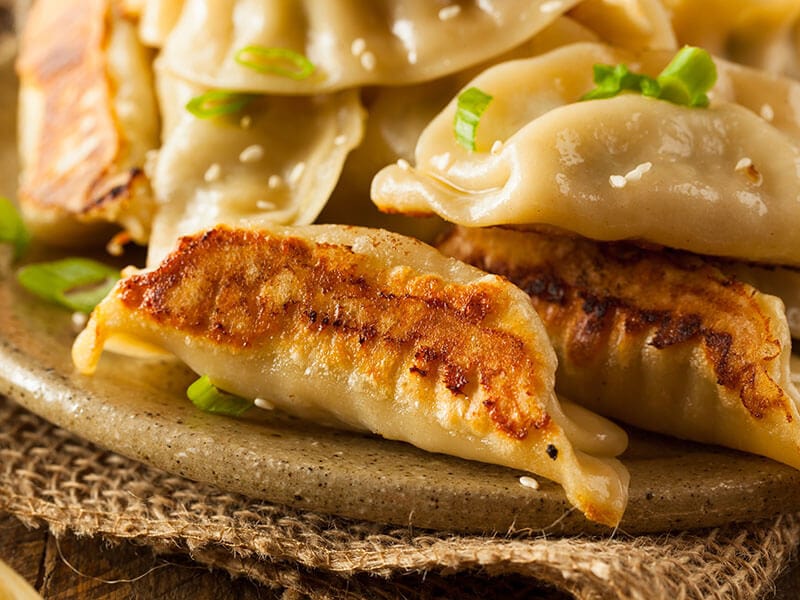 As you may have known, potstickers are a type of dumpling. But because of that, it is heavily lacking in what it can do compared to the variety of dumplings recipes. Simply speaking, they have little to no diversity.
Different types of potsticker simply mean that their filling is different. Some examples are chicken, lamb, beef, shrimp, and fish potstickers.
Potstickers vs. Dumplings – Differences And Similarities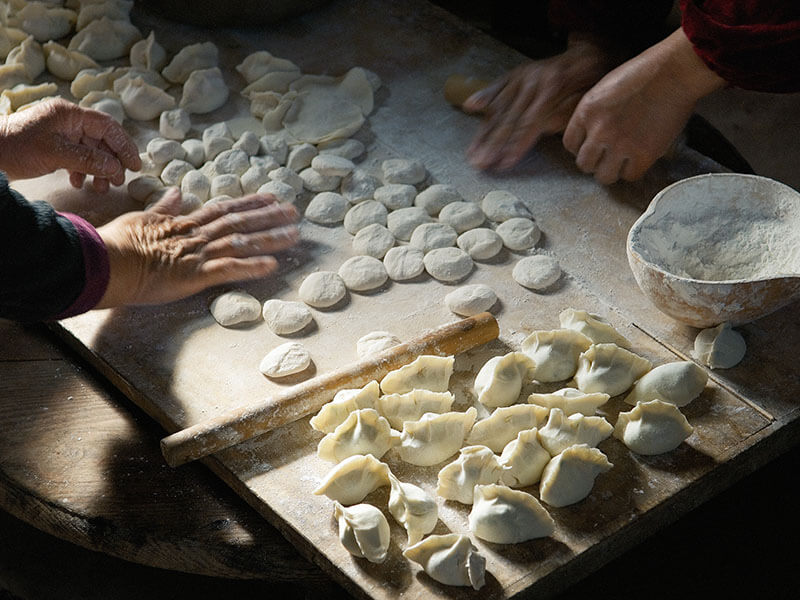 While potstickers are a type of dumplings, there are still some clearly defined similarities and differences between them.
| Criteria | Dumplings | Potstickers |
| --- | --- | --- |
| Origin | Multiple countries | Unknown, but possibly China |
| Definition | An umbrella term for any food that is made from wrapping dough around a filling | A type of dumpling |
| Dough | Thick or thin with a rounded shape | Very thin with the shape of a crescent or half-moon |
| Filling | May or may not have a filling | Always have some kind of filling |
Similarities Between Potstickers And Dumplings
Technically, they are both called dumplings, so it stands to reason that people perceive their inner values and expectations similarly.
Cooking Method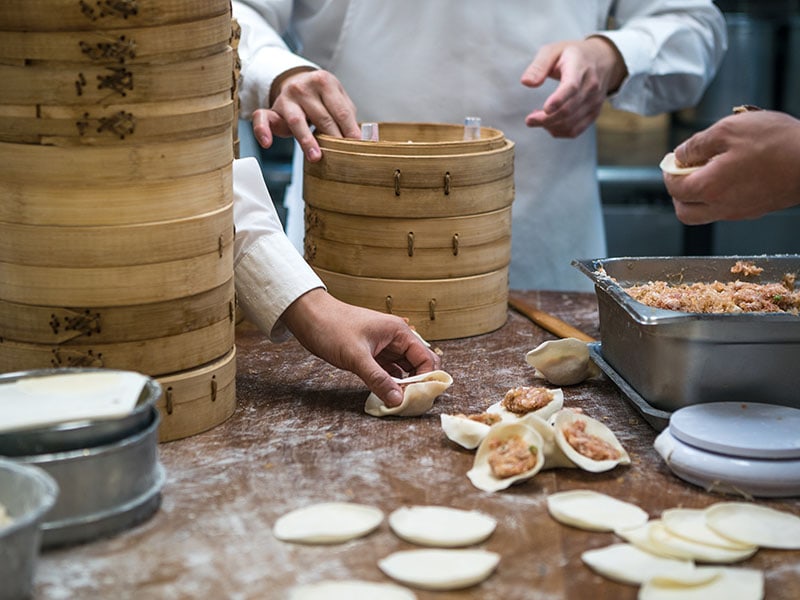 With dumplings, some popular ways are boiling, frying, baking, and simmering. Depending on how big you made them, cooking time can vary but expect at least 15 – 20 minutes. Steamer baskets, pans, and pots are what most popular Chinese food joints use to cook them.
You can do pretty much the same thing to potstickers, but another step is required. To make potstickers, you need to make the bottom half crispy.
The most popular method is to fry the potstickers in a skillet or a wok on one side, then move them to a steamer basket or boil them in a pot of your choice to fully cook the filling.
Nutritional Value
They both contain the same type of nutritional value, as their filling is not so different from each other. You can expect a good amount of calories, fat, sugar, fiber, carbohydrate, and protein for each serving.
Generally, dumplings and potstickers can supply you with a lot of nutrients, perhaps enough for a full meal. But if you look at the bigger picture, most of these nutrients come from carbs and fats, which are not exactly healthy when consumed in large quantities.
So, to survive solely based on them is a fool's errand. But if you can control your portion size properly, they can be beneficial to your diet.
Dining Etiquette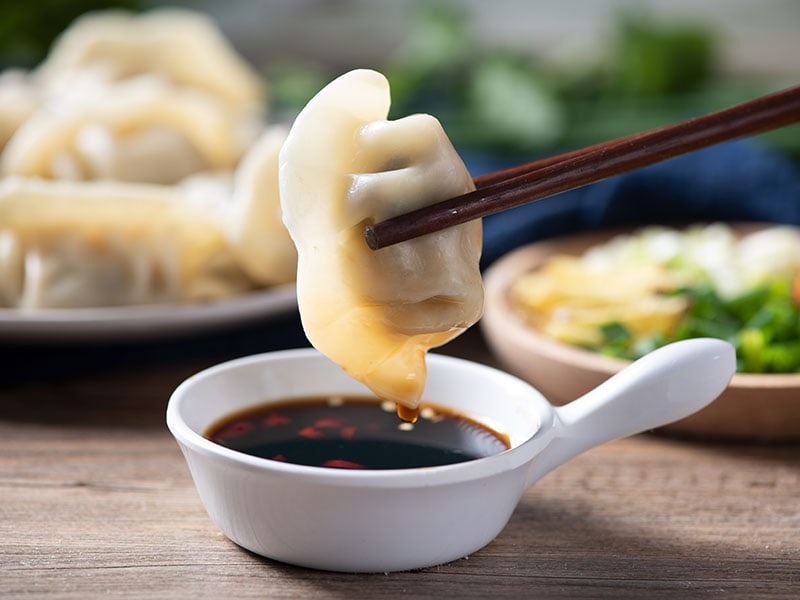 They can both stand on their own as a stand-alone meal, which means you don't need to order any side dishes to go with them.
But most of the restaurants that serve them will not do that. They most certainly pair them with teas, a small serving of stir-fried noodles, or at least a bowl of salad. So don't be shy when you are planning to enjoy such combos on a Friday night.
You can eat them directly with your hands or use chopsticks to slowly consume each one in a formal setting. But be careful, freshly cooked potstickers and dumplings are very hot, so a little time spent waiting might be required.
Differences Between Potstickers And Dumplings
With similarities come dissimilarities. Some are big, while others are small. Let's dive down into what makes them different from each other. This knowledge will probably help you next time you order some Chinese specialties.
Ingredients
With dumplings and potstickers, you might think they are the same ingredients-wise, but that is wrong. Some subtle differences do exist. With a little observation skill, you can discover them.
Whatever filling is available for dumplings, potstickers can do the same. You can use any type of meat or vegetable, either ground or whole. The presence or absence of the filling marks the difference between the two.
While some kinds of dumplings have no filling, potstickers always have it (meat, seafood, or vegetables). So the next time you are not in the mood for dumplings with fillings, remember not to order potstickers.
The dough is made with flour and water, just like any old bread. But what sets potstickers and dumplings apart is their thickness.
A dumpling's skin can be thick, thin, or whatever you want. But that of potstickers is noticeably thinner. This kind of skin will help potstickers achieve their crispness later when they are pan-fried.
Overall Shape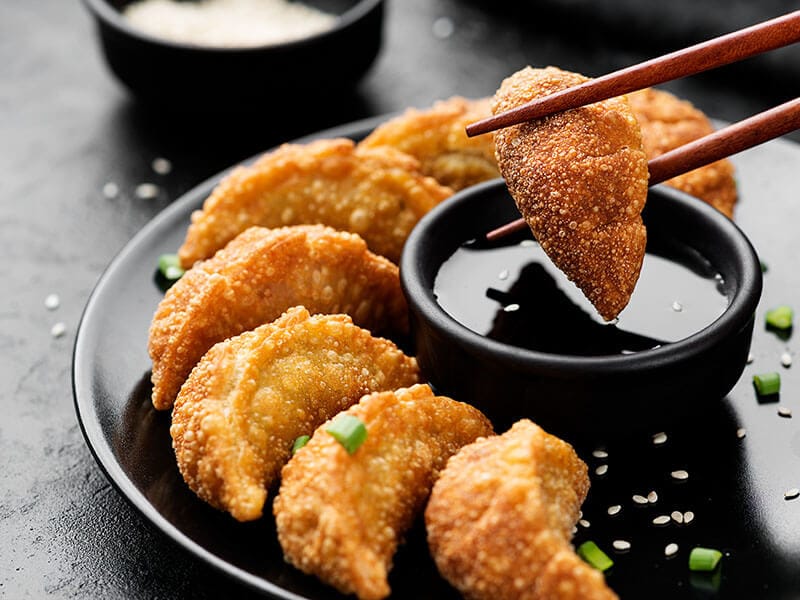 Another peculiar dissimilarity is their shape. Dumplings can have many kinds of shapes but mostly retain their overall rounded form. Meanwhile, potstickers can only have one uniform look: a crescent or half-moon shape with edges pinched tightly together.
Popularity Between Potstickers And Dumplings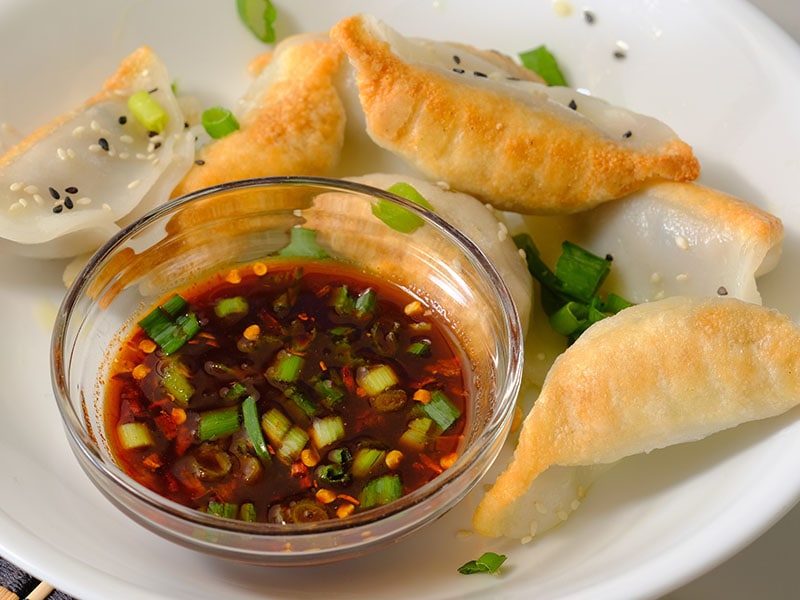 In other regions of the world, dumplings' presence is undeniable, with every major region (Africa, Latin America, Central Asia, East Asia, Europe, Middle East, etc.) in the world having some form of dumplings in their local cuisine (2).
Potstickers are a subset of dumplings and are mostly only known in their region of origin, namely East Asia and Southeast Asia, but especially in China. Because of this fact, I can confidently say that dumplings are more popular than potstickers.
But that doesn't mean that dumplings and potstickers are a rarity in North America. Nearly every supermarket has frozen dumplings and potstickers. And if you want them fresh, visit your nearest Chinatown or Asian store for a chance to try these delicacies.
Are Potstickers And Dumplings Healthy?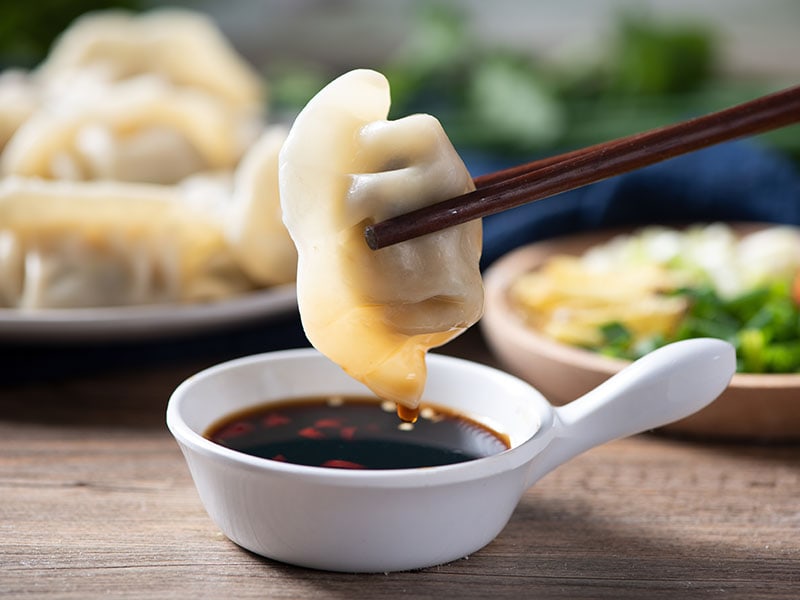 If this question is nagging at the back of your mind, rest assured that both potstickers and dumplings are safe to consume daily. They are a reasonable source of calories, fat, carbohydrate, fiber, and protein that your body needs.
Compared to Western fast food, both dumplings and potstickers are healthier in terms of fat and cholesterol intake. However, potstickers require to be fried and consequently have a higher oil content, making them perhaps not as wholesome as steamed dumplings.
In fact, boiled and steamed dumplings are the only varieties you should consume in case you have chronic diseases, such as diabetes, gout, or high blood pressure. You can also make dumplings healthier by replacing certain ingredients, like all-purpose flour or meat in the fillings.
One more thing to watch for is the side dishes for potstickers and dumplings. They usually come with rich, creamy broth and savory dipping sauces. Such accompaniments can be high in calories, fat, and salt.
Therefore, you should consider eating your dumplings on their own or, at least, pairing them with something lighter.
If you are interested in healthy dumplings, check out this Mandu recipe from Korea.
FAQs
Now, you can proudly say you have known more about dumplings and potstickers than an average person. But I am sure there are still some more questions on your mind, so let me answer them and quell your curiosity.
Different Yet Similar In So many Ways
Potstickers and dumplings are similar yet so different. Choosing one over another is an extremely hard task. I love them both; eating them not only invigorates me but also teaches me so much about diversity in cuisines worldwide.
That is my opinion, but what about you? Surely you can recognize them and understand what makes them different now? Do you prefer potstickers or dumplings? If you are as enthusiastic about them as I am, then I am glad that this article has helped you.
Please comment down below to let me see your opinion and share this article to help me spread the word to someone else.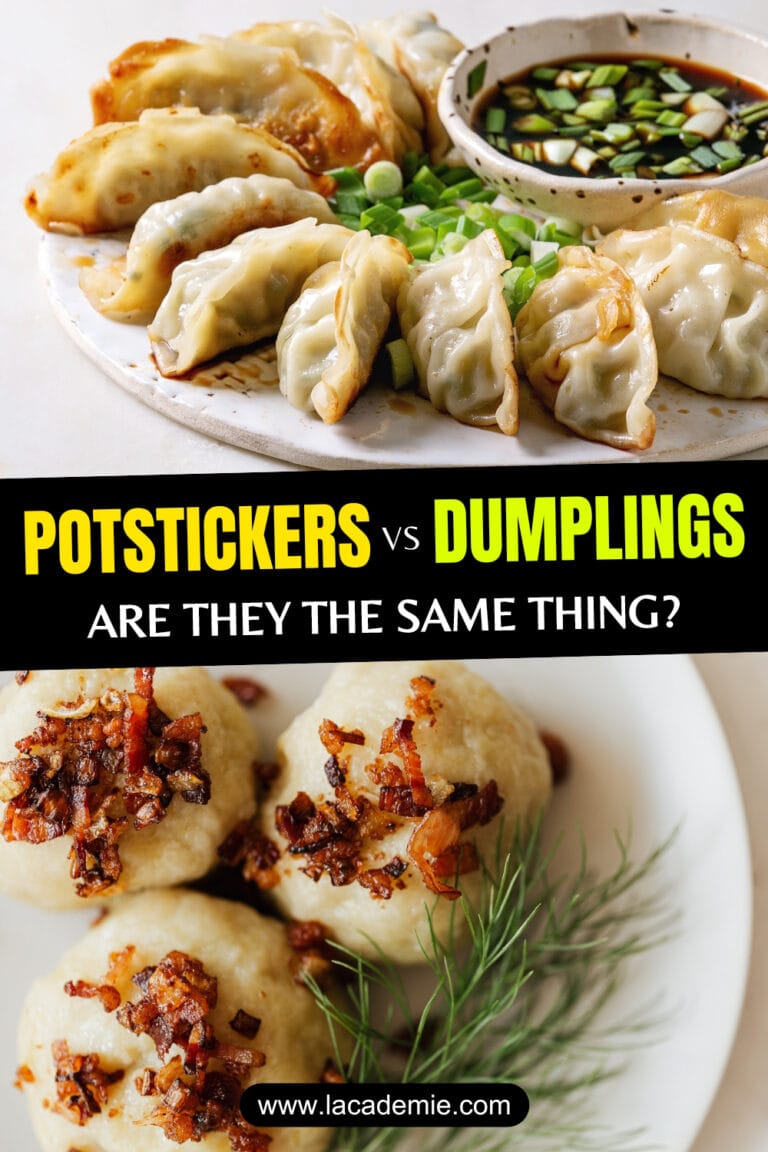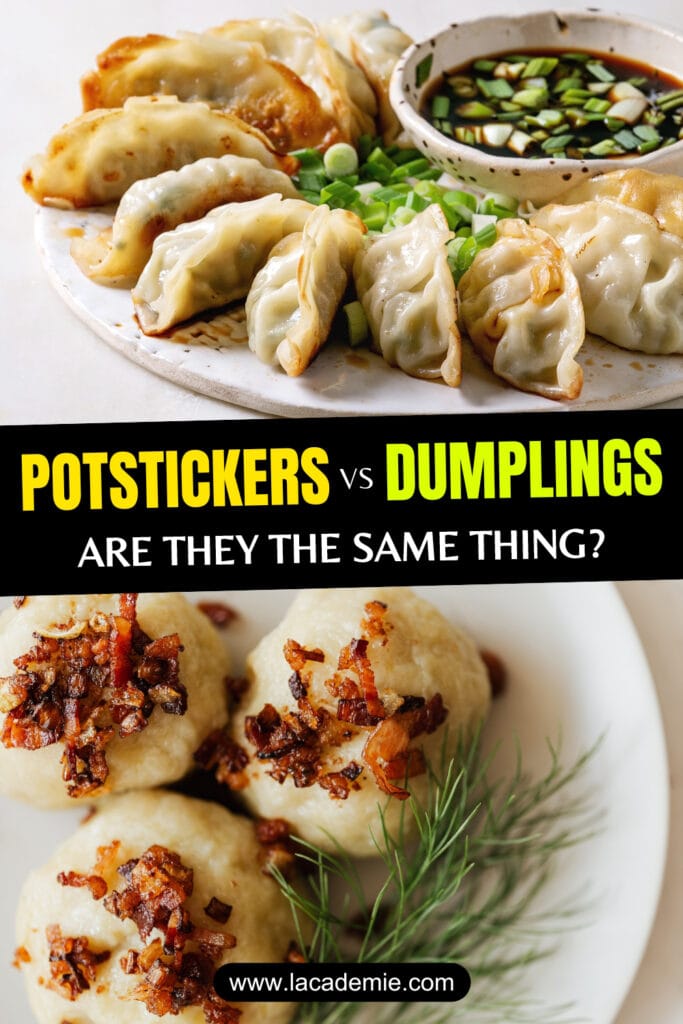 References
HISTORY. 2022. Delightful, Delicious Dumplings.
En.wikipedia.org. 2022. Dumpling – Wikipedia.