What do you know about Lao foods? Lao cuisine impresses people with the freshness of ingredients and the combination of many natural spices in each dish. The processing method is not too fussy but creates frugal dishes with unique flavors.
Laos attracts visitors not just because of its nickname, "the country of millions of elephants", but also because of many other features. The friendliness and hospitability of Laotians and their unique culinary heritage also help the visitors remember them.
Let's look at some of the distinguishing characteristics of Lao gastronomy.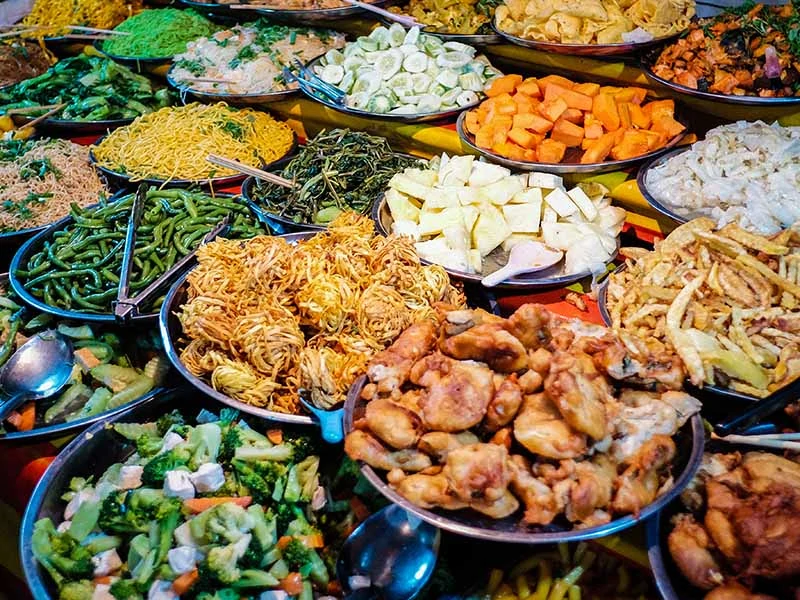 Laotian Rice and Noodles
Like many other agricultural cuisines in Asia, Laotian foods include various rice and noodle dishes with several distinctive cooking methods. Let's see what delicacies I will recommend you here!
1. Khao Niao/Khao Niew (Sticky Rice)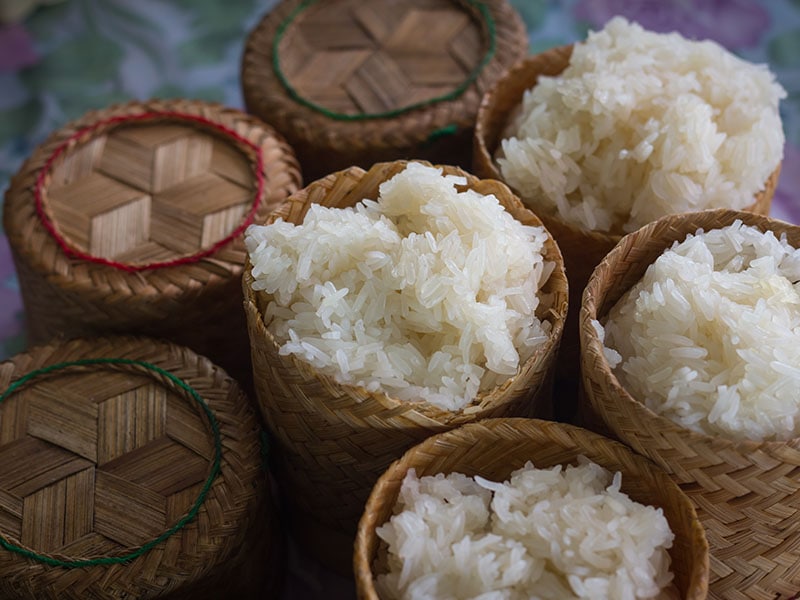 Sticky rice is an essential Laotian dish, indispensable in parties and family meals. Lao people do not eat regular rice every day like most other Southeast Asians; instead, they eat sticky rice.
Glutinous rice for cooking sticky rice grown on the upland fields; therefore, it brings a beautiful, unique ivory white color with a chewy texture and fragrant rice aroma.
Laotians will put the cooked sticky rice in a woven bamboo basket to keep it warm longer. They often serve Khao Niew for almost everything, grilled chicken, boiled vegetables, and jaew boong (a sauce). Absolutely tasty!
2. Naem Khao (Crispy Rice Salad)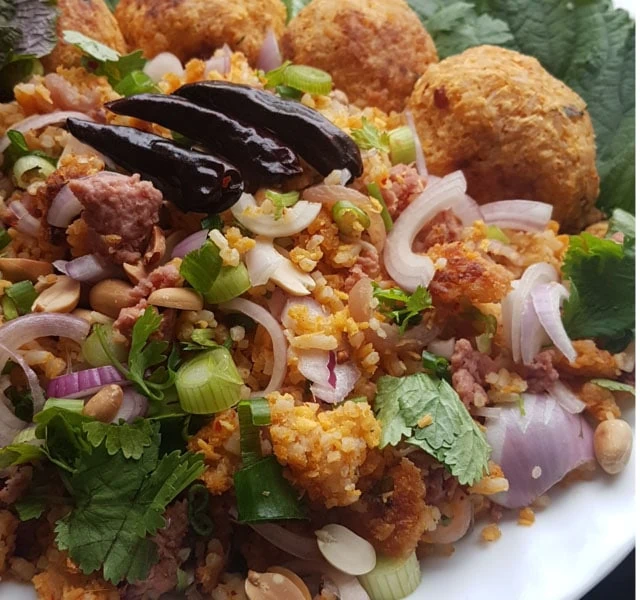 Naem Khao, Nam Khun, or Nem Khao is a popular Laotian appetizer originating from Tha Deua (a small village in Vientiane, Laos). This treat originates from Laos, yet, it also gains popularity in Thailand and Vietnam as exquisite and favorable street food.
Naem Khao is a kind of crispy rice salad including mixed sliced onions, peanuts, herbs, and some slices of som moo (fermented pork sausage).
The idea to make this Naem Khao is to make the rice bowl out of the sticky rice, deep-fry the bowl until crispy, and break them into small chunks to eat.
Since Thailand also has a variation of this salad, you can distinguish the two by noticing pickled garlic and granulated sugar.
Only the Laotian version applies those mentioned components, so you can base on that to identify. The sourness from the som moo pairs well with the green, refreshing veggies, and the overall flavors will surely please your taste buds.
The Bibb lettuce is frequently used since this green-leaf veggie can become an "edible utensil" and an additional fresh ingredient.
3. Khao Niew Ma Muang (Mango Sticky Rice)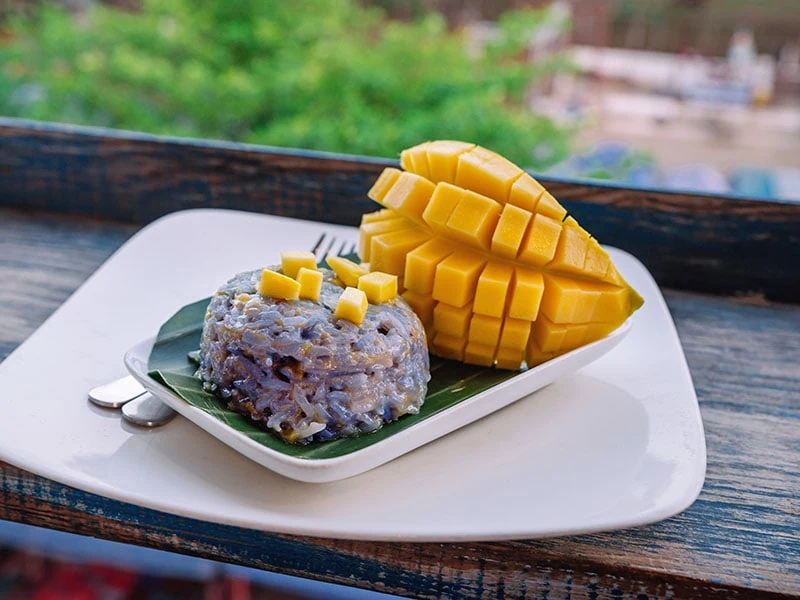 The idea of pairing sticky rice with mango might not be a surprising thing anymore, but believe me, this Khao Niaow Mak Muang is worth craving for. Lao Sticky Rice With Mango has become a prevalent street food in Laos thanks to its exotic deliciousness.
The name of this food shows you a lot about its ingredients, with "Khao Niew" meaning "sticky rice" and "Mak Muang" meaning "mango". In Southeast Asia, you will easily find another variation of this food, but each of them hides a gorgeous highlight point.
The Khao Niew in this food is beautifully cooked with rich, milky, and fragrant coconut milk. When eating it with some fresh mango, the slight sourness and sweetness from the fruit help upgrade the dish's harmony.
If you don't like mango, you can ask for other fruits like durian or Lao hog plum (mak gawk).
4. Khao Piak Sen (Laotian Rice Noodle)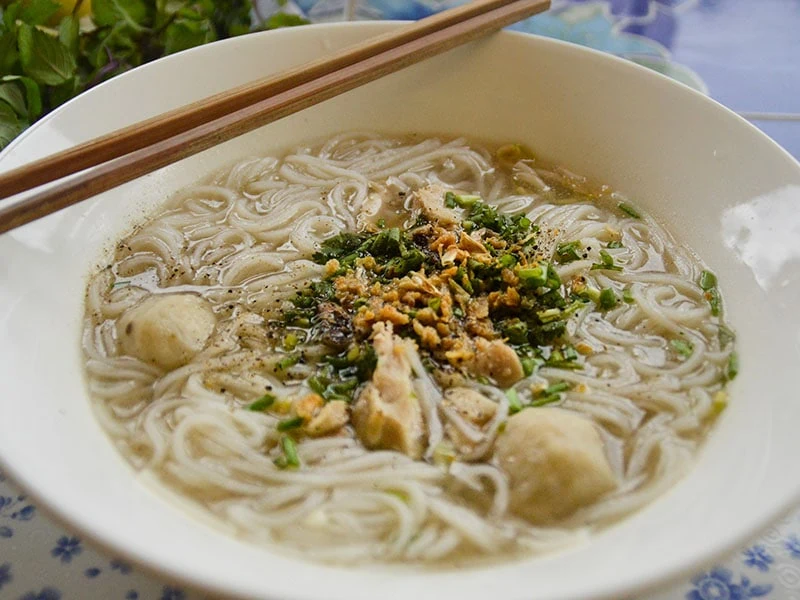 It looks like my first Lao-style breakfast option since it is light (enough to avoid overeating) and nutritious. The broth of Khao Piak Sen is chicken or pork bones broth with hints of aromatic spices (galangal, kaffir lime leaves, and lemongrass).
The fresh noodles in this dish should be chewy and pliable enough to sustain under high heat as the sellers will cook them directly in the broth before serving. The process helps to utilize the delicious starch from the noodles and make the broth denser.
The most favorite topping for Khao Piak Sen is chicken, yet, sometimes, Laotians enjoy consuming it with pork belly. Just imagining having a steaming hot bowl of Khao Piak Sen for a cold morning meal makes my mouth water already.
5. Khao Poon (Soup with Fermented Noodles/Curry Rice Noodles Soup)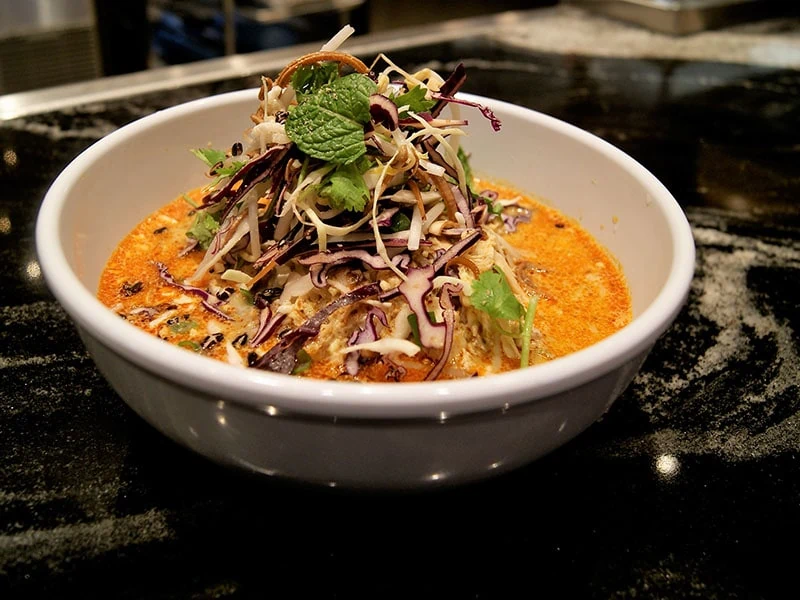 Although you can sometimes find Khao Poon in Thai restaurants, this noodle dish is an authentic Lao dish. The treat will definitely offer you a flavor kick from the first spoon, so you shouldn't miss this chance to know more about it.
A standard Khao Poon bowl includes fresh vermicelli mixed with galangal, lemongrass, and chili peppers but adjusted to offer a mild spiciness. With variations with coconut milk topping, they will drizzle the liquid when eating to increase the dish's richness.
When eating this dish, people can add shrimp paste, galangal, lemongrass, green vegetables, snake beans, and mung bean sprouts depending on their taste when enjoying.
In Laos, people serve the treat on special occasions like weddings, but you can find it easily on the street year-round now.
Laotian Meat and Fish Dishes
Although a landlocked country, Laos's cuisine is still very diverse, with dishes from meat to freshwater fish. Here are a few recommendations that you should definitely try.
6. Ping Hua Jai Kai (Grilled Chicken Hearts)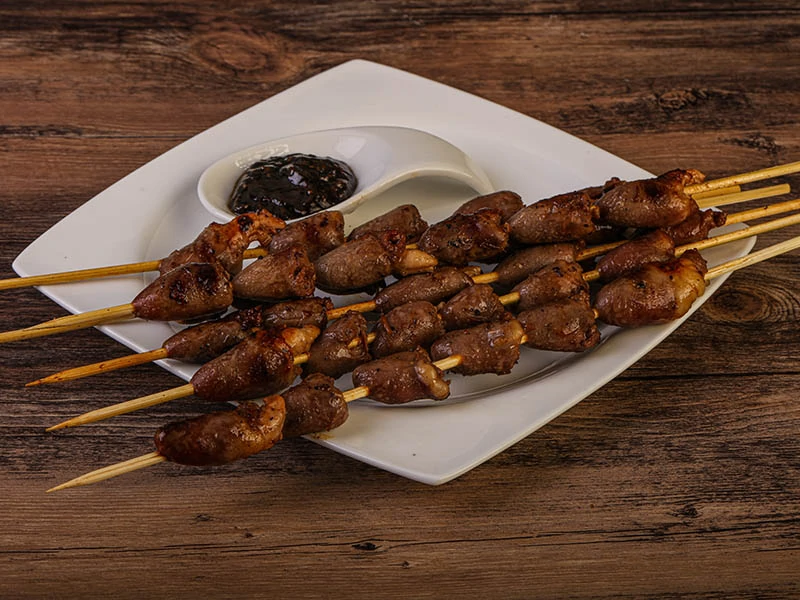 Have you ever tried chicken hearts in particular or chicken offal in general? You might think those ingredients are difficult to eat because of the smell; believe me, there is none! The unpleasant odor will be gone once the sellers clean the offals thoroughly.
The hearts are also the best parts of chicken intestines because of the distinguished texture and taste. To make these flavorsome ingredients into an exquisite treat, Laotians will marinade them with various iconic spices from Asian cuisine like lemongrass or galangal overnight.
Mixed sauces like soy sauce, oyster, and fish sauces are also applied to add saltiness to the food. You should eat Ping Hua Jai Kai when it is still hot. It is because the chicken hearts will be more tender when hot, and they will turn out unpleasant to eat when getting colder.
7. Savannakhet Ping Gai (Savannakhet Grilled Chicken)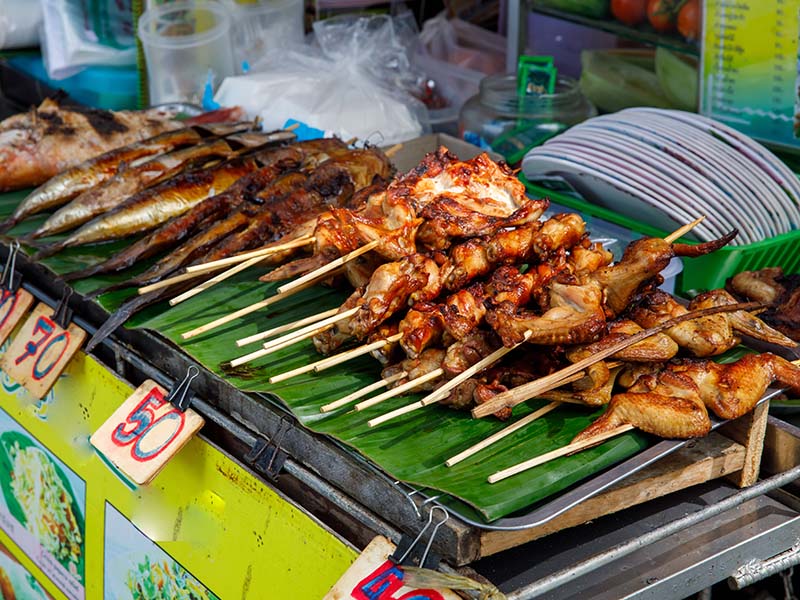 The next time I visit Lao, I will have this Savannakhet Ping Gai for my Lao-style lunch since this type of Ping Gai is absolutely exquisite and memorable. Once you experience it the first time, you will want to have a second trial right away.
For this chicken dish to be delicious, fragrant, and sweet, the Lao people of Savannakhet will choose the right type of free-range chicken raised naturally here.
It is because that type of chicken lends an extremely firm meat texture and is moderately sweet when chewing. At the same time, it also offers a distinctive natural rustic smell that exudes from every chicken meat fiber. You can only find those features in this particular poultry.
Usually, Laotian grilled chicken is served with Khao Niaw sticky rice and spicy Jeow Bong dipping sauce. You have to come to Laos and taste this unique dish for yourself to understand its mesmerizing deliciousness fully.
8. Sai Oua (Herbal Pork Sausage)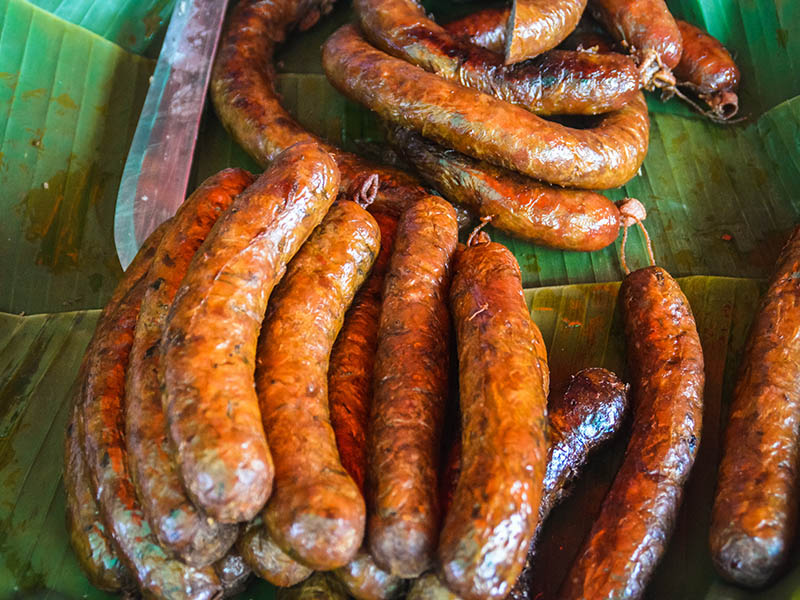 If you haven't come up with an idea for your first dinner meal in Lao yet, opt for this scrumptious Sai Oua, and you won't regret it! It is because Sai Oua is a staple for Laos's night markets so that you can have it on the road as a light dinner/supper.
Sai Oua consists of coarsely chopped fatty pork lard, boiled pork skin, rice, and condiments like lemongrass, galangal, ginger, and garlic. These Lao-originated sausages have various varieties in both Laos and some regions of Thailand.
Pork (moo) is not the only ingredient in Laos's Sai Oua; there is also a buffalo meat variation called Sai Oua Kwai. These ones are also palatable, and you should experience them once you have a chance.
9. Lao Larb Moo (Pork Larb)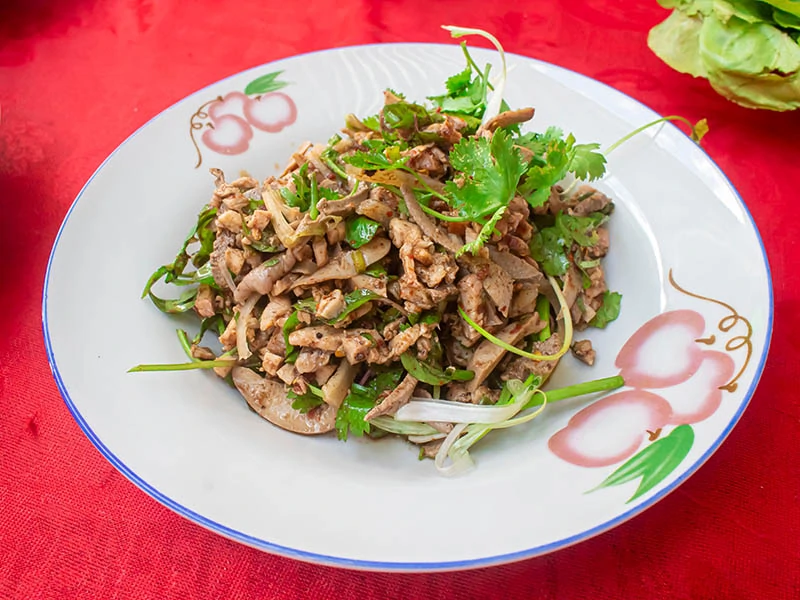 Larb is a traditional dish in Laotian festivals with the meaning of good luck. Lao Larb is made from all kinds of meat, usually pork, beef, deer, buffalo, or fish. The most commonly used meat is pork, and that is also my suggestion today.
Lao people will mince or thinly slice the meat, blanch it in boiling water until it is cooked before using (or using the rare meat).
After that, Laotians mix those proteins with finely chopped spices such as mint, chili, and galangal. Mix well with lemon juice, roasted hearing powder, and especially without added sugar.
When eating, it can be served with lettuce, cowpea, etc., to help increase the prominence of the irresistible sour and spicy flavors from the ingredients.
If Lao people offer you a plate of Larb, appreciate their manner. It is because Larb is a dish that Lao people use to treat distinguished guests to express their blessings to the visitor.
10. Ping Pa (Grilled Fish)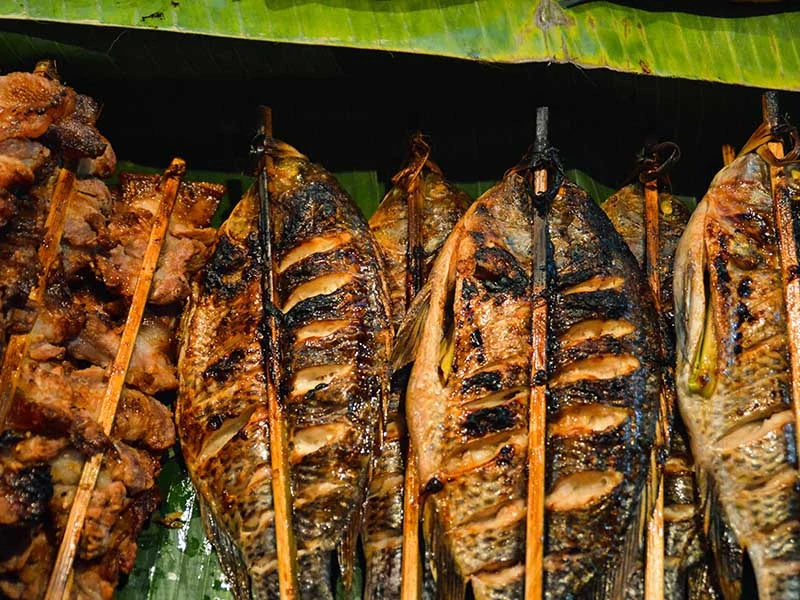 Ping Pa is definitely a Lao-style grilled fish with soul! This Ping Pa is one of the must-try delicacies in Laos or especially in Vientiane, where you can find stalls selling it in most markets and eateries.
The smell of grilled fish fills the area, and you'll instantly know where they're making it.
Lao-style grilled fish is well-seasoned with typical local spices, and people often eat it with sticky rice for a Laotian lunch (or several other meals in a day).
The most popular fish for making Ping Pa is usually snapper (or other fish with white flesh), so you can expect more layers of exquisite taste from it.
Before grilling, the cook will sprinkle salt and stuff the fish belly with a mixture of lemongrass, lime leaves, garlic, chives, galangal, fish sauce, and lemon juice to eliminate the fishy smell completely.
The fish is grilled on fire until golden brown and emits a faint appealing aroma. I recommend dipping it with jaew bong (sweet, spicy sauce) to add more flavor to the dish.
11. Mok Pa (Steamed Fish in Banana Leaves)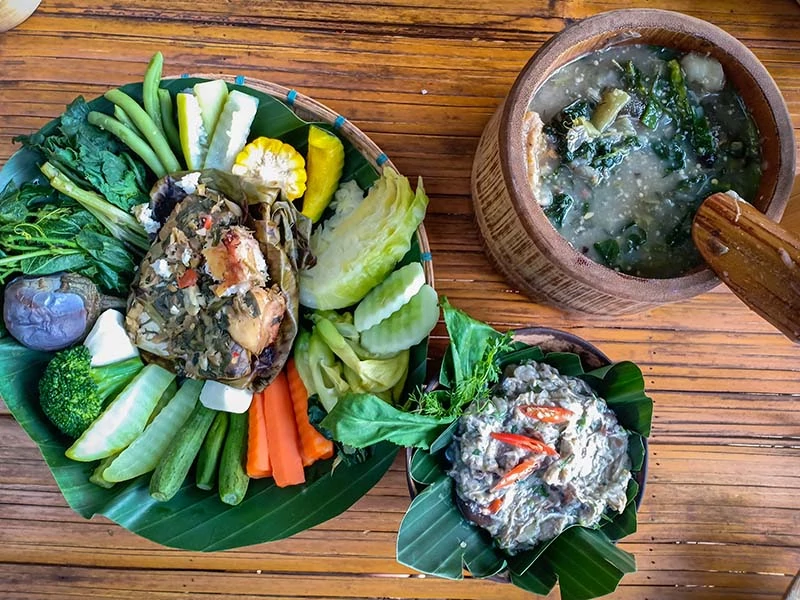 Mok Pa is a typical steamed fish dish of Laotian cuisine that is usually wrapped in banana leaves and tied with a strong bamboo string before cooking. Although there are various types of freshwater fish in Laos, they enjoy catfish the most.
Fish will be processed with lemongrass, kaffir leaves, green onions, fish sauce, green chili, shrimp paste, and fresh dill to remove the unpleasant smell. All these ingredients are mixed well to marinate and steam with the fish.
You should not eat this Luang Prabang specialty alone; my advice is you should eat it with sticky rice (and be placed on a whole banana leaf as decoration). The softness and sweetness of sticky rice will pair well with the sweet milky white fish flesh.
Do you wonder how this Mok Pa is made? Here is your reference!
Other Laotian Dishes
Besides those mentioned treats, there are a lot of other delicacies in Lao. Don't miss the below category to know more about them.
12. Khao Nom Kok (Coconut Cream Cakes)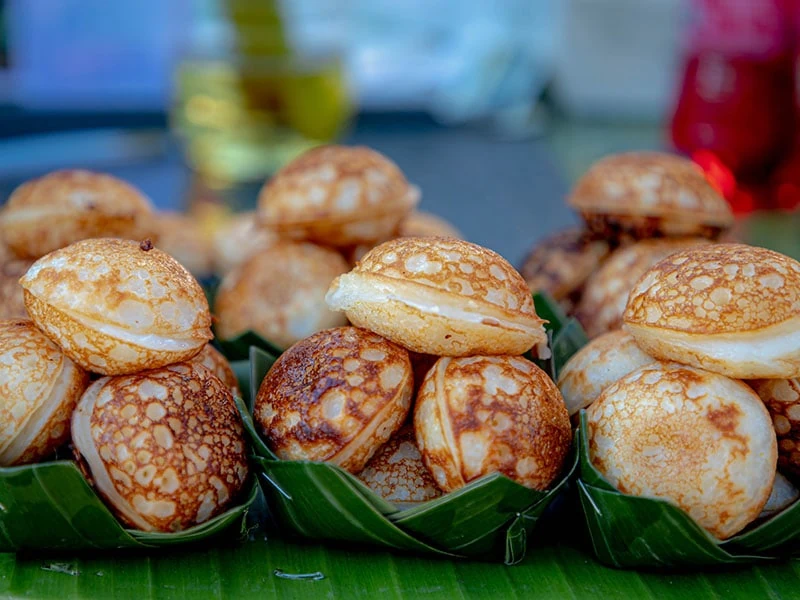 It is time to talk more about Laos's sweet treats, and my first suggestion here is Khao Nom Kok. This treat has existed in Lao since ancient times. Its motherland is the former capital of Lao, Luang Prabang.
As you can see in the illustration, these Khao Nom Kok cakes are not regular sponge cakes; the only common thing is they are also a kind of sweet treat made of sweetened batter. In Lao, this treat is considered a snack, so they eat Khao Nom Kok almost any time of the day.
When going to a night market in Lao, you can easily see many vendors stooped over big steel pans covered with half-moon mini trays, producing these exquisite foods.
They will bake these cakes slowly over a charcoal brazier until cooked and covered with an amber crust. You can find some other variations of Khao Nom Kok in Thailand's food culture, yet, they require minced pork and sweet-acrid sauce.
My tip for you here is to pair the sweet, coconut scent filled Khao Nom Kok with some coffee to balance the taste. They will work well with each other.
You will know some interesting information through this Khao Nom Kok guide.
13. Kanom Tuay (Coconut Milk Pudding)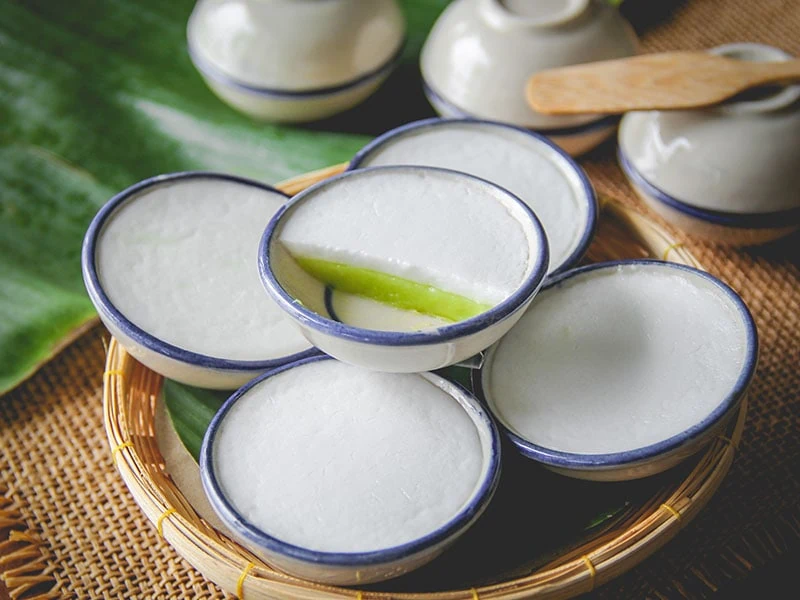 This cup-like-shaped cake has many other names, such as Kanom Tuai, Khanom Thuay, or Kanom Thuay. You can use these names and ask for these unique cakes in Lao.
Kanom Tuay is not a cake made by the traditional method of baking the wheat flour mixture. Instead of that, Laotians steam the rice-tapioca flour mixture in a special metal tray.
To offer a more colorful appearance, they will add some bright green pandan juice into the gelatine-like mixture before cooking to provide a brighter and colorful look.
The toppings for this sweet dish are usually yellowish soybeans, grated coconut, or coconut cream. Some variations even have the crunchy base as sweet corn kernels. They also serve this dish on banana leaves, making Kanom Tuay look more rustic and tempting.
14. Jaew Bong (Hot Pepper Dip)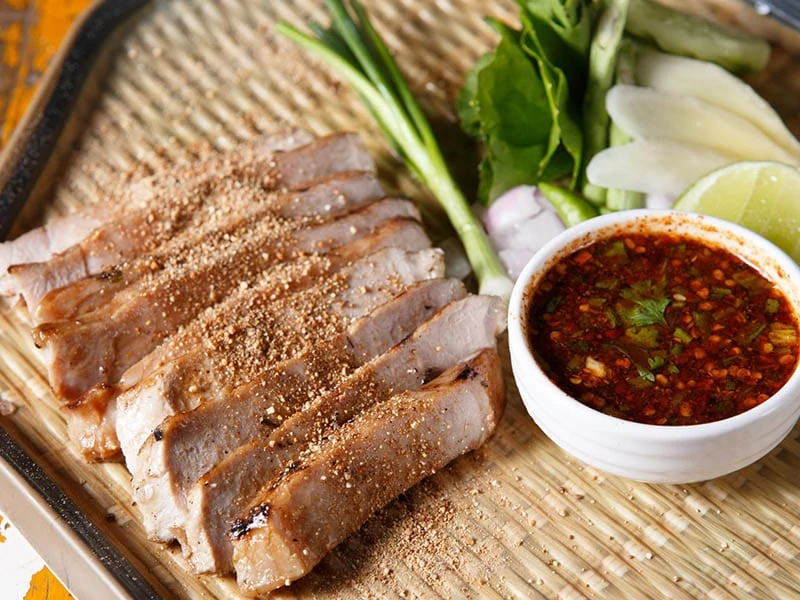 Don't focus on the pork, the highlight on the plate here is the small bowl of Jaew Bong sauce. Jaew Bong is also known as Luang Prabang chili sauce because it has its origin in Luang Prabang, a city in the North Central of Lao.
This savory, sweet and spicy sauce requires galangal, garlic, fish sauce, and the irreplaceable sundried chilies. The other secret ingredients for Jaew Bong are varied, yet the shredded skin of water buffalo or pork is most favored.
Laotians can serve this condiment with various foods, from simple boiled vegetables to grilled meat. Anything can go well with Jaew Bong. If you are curious, you should taste the sauce once to know how "magical" it is!
15. Tam Mak Houng (Green Papaya Salad)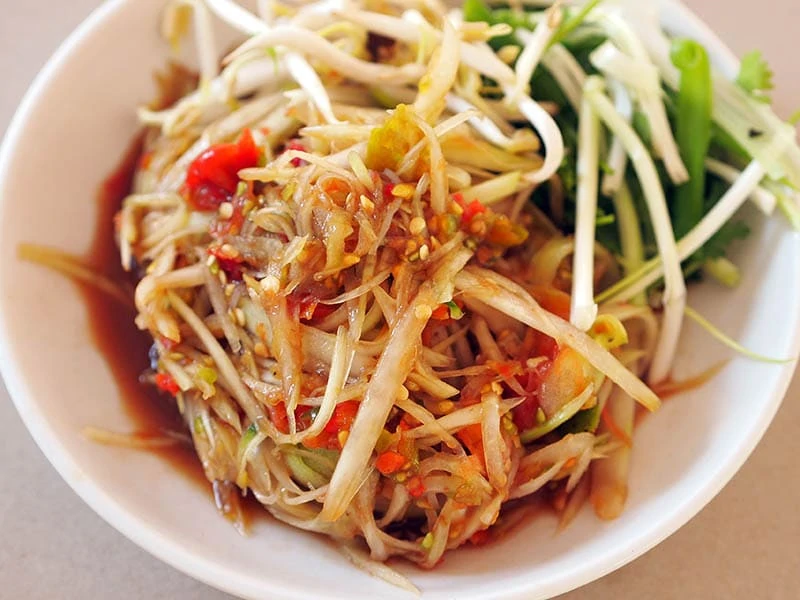 Tam Maak Houng, a Laotian green papaya salad, is quite similar to the Som Tam salad – a famous appetizer in Thailand, but their taste is actually slightly different.
Tam Maak Houng consists of papaya that is washed, grated into fibers, along with eggplant, cowpea, and then put together in a small mortar to pound. Then, the cook will add spices including chili, garlic, salt, and lemon juice and mix well.
You can find this treat in another variation with the main component changed into shredded unripe mango (Tam Muk Muang), which is more sour. The best pair of Tam Maak Houng does not need to be too fussy; just sticky rice or Lao beer is already more than enough.
16. Khao Jee Pâté (Lao Baguettes)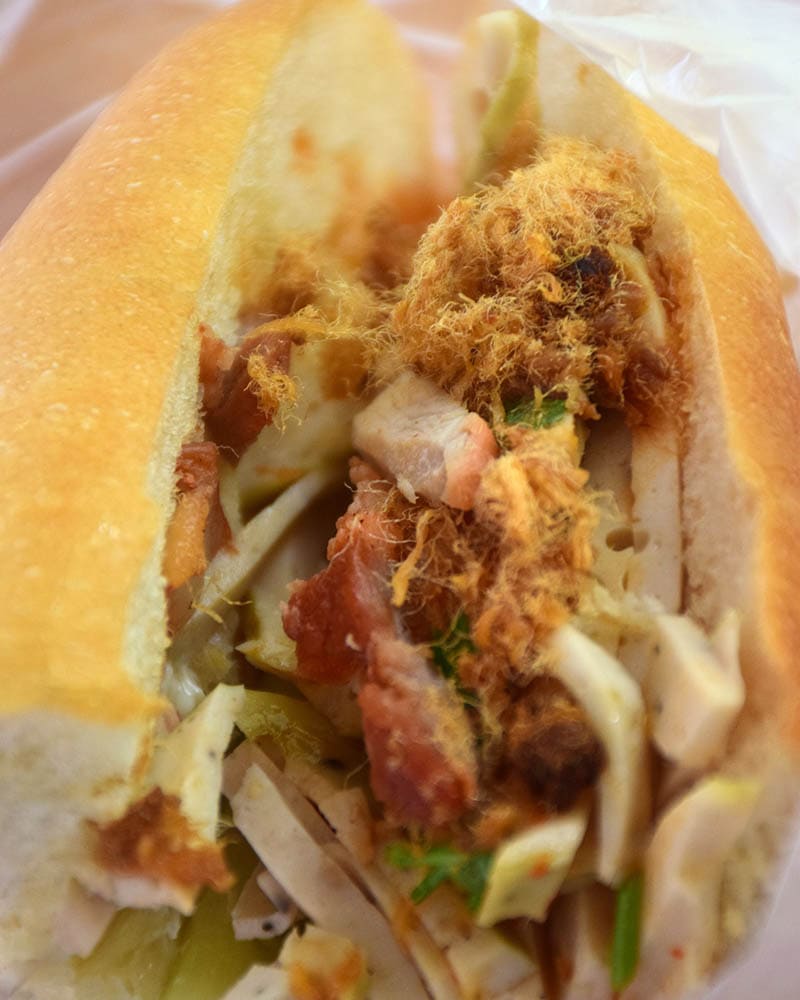 Khao Jee Pâté is a Lao-style baguette that looks like the well-known Vietnamese street food banh mi. The Laotian variety originated from the arrival of long baguettes or French bread, which was introduced into Laos during the French colonial period.
The original meaning of "Khao Jee" was to refer to a baked sticky rice dish. It is recognized as bread when followed by the phrase "Pâté" (indicating a French paste made from liver).
Therefore, when asking for this baguette, ask for the full name to avoid being mistaken for another dish. To make this Khao Jee Pâté, they will use a knife to cut the bread and spread a thick layer of pork liver pate into the filling.
The seller will then stuff pork or Lao sausage, add sliced papaya, carrots, shallots or onions, cucumbers, cilantro, and sometimes Jeow bong or Lao-style chili sauce. All ingredients make the dish full of nutrition but not overwhelming.
17. Cheun Yaw (Laotian Spring Roll)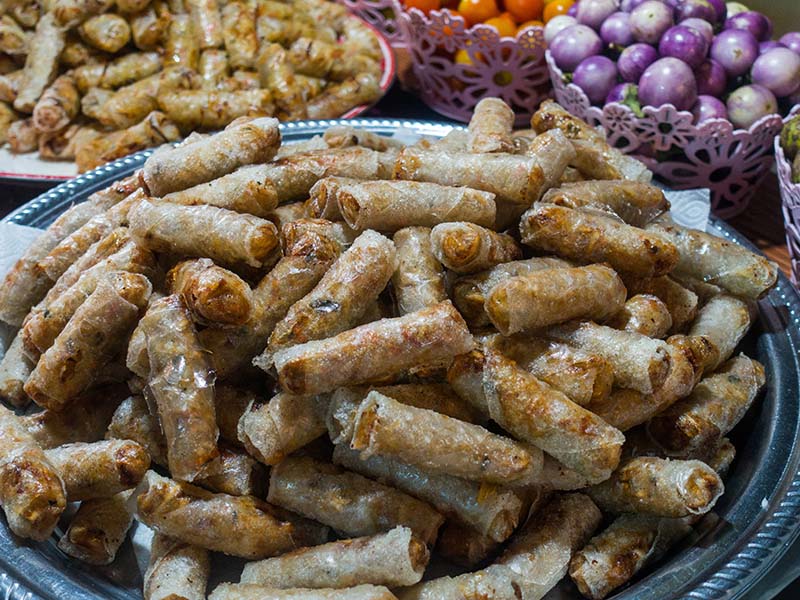 Cheun Yaw is not a strange dish if you love Asian food. The idea of using rice paper to wrap some kinds of fillings and fry them up is frequently applied in many other cuisines. But believe me, the Laotian variation has many unique points that make it stand out.
Each household will have their recipe to create the fillings for these Cheun Yaw rolls. The most famous components are minced pork, bean sprouts, or some herbs and simple condiments to taste.
Since the dish is deep-fried, Laotians will pair Cheun Yaw with other foods to decrease the greasy feeling when eating oily dishes. Some are fresh green veggies like lettuce (to wrap) or rice vermicelli noodles (Pun Cheun Yaw) for a bland base.
---
Let's Have A Good Meal!
Although directly influenced by many cultures, Lao cuisine still retains its own style that every visitor who has enjoyed it cannot forget. I hope my recommendations today will help you on your food journey in Laos.
If you find my article useful for you, please leave a comment and share. Or if you think there's anything that deserves to be on the list, please suggest it to me. Sharing is an act of love.