What comes to your mind when I say "Panamanian foods"? Sadly, most people will automatically think of bigger, richer Latin American countries. To counter that effect, this post will give you a glimpse of the culinary diversity of the Caribbean country.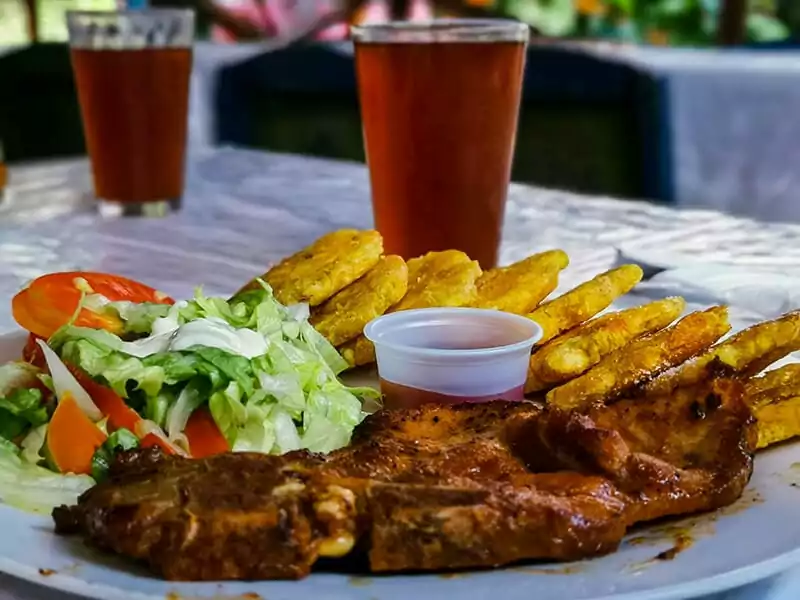 You're going to see that small size has little influence on the quality of Panamanian foods. Let the underdog show you how tempting and attractive its cuisine is! Join me in this journey to the heart of scrumptiousness!
1. Patacones – Fried Plantain Chips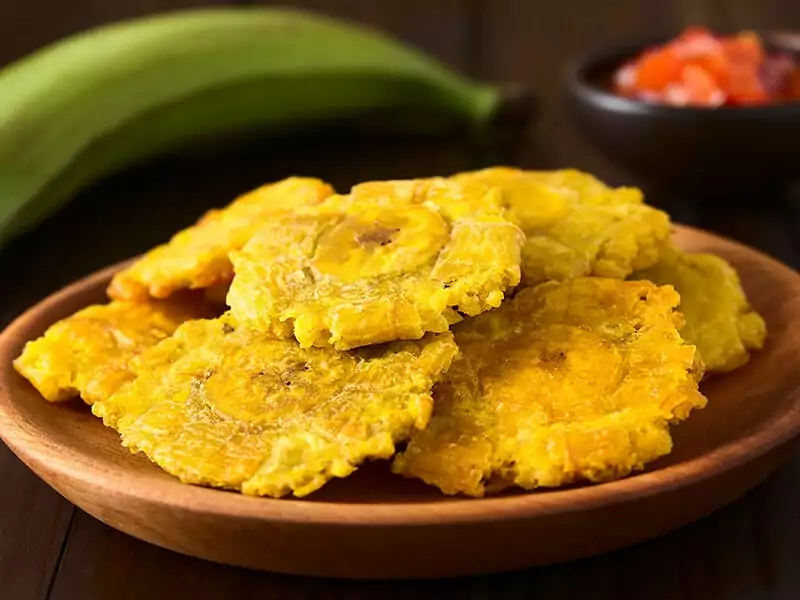 You're probably familiar with normal sweet and fruity bananas but not necessarily with their cousin, plantains. Also known as cooking bananas, they are tougher, starchier, but not very sweet when green. But ripe and cooked plantains are incredibly sweet and savory.
This enhanced type of banana is the staple food of many Latin American countries, including Panama. It is the main ingredient for Patacones, or Tostones, a traditional Latin American dish made from lightly salted and doubled fried plantain slices.
Patacones are as important to Panamanians as French fries are to Americans. People eat crisp, fatty, fried plantain both as a yummy snack or side dish with more filling Panamanian dishes, such as beef stews and potato salads.
2. Tortillas – Corn Flatbread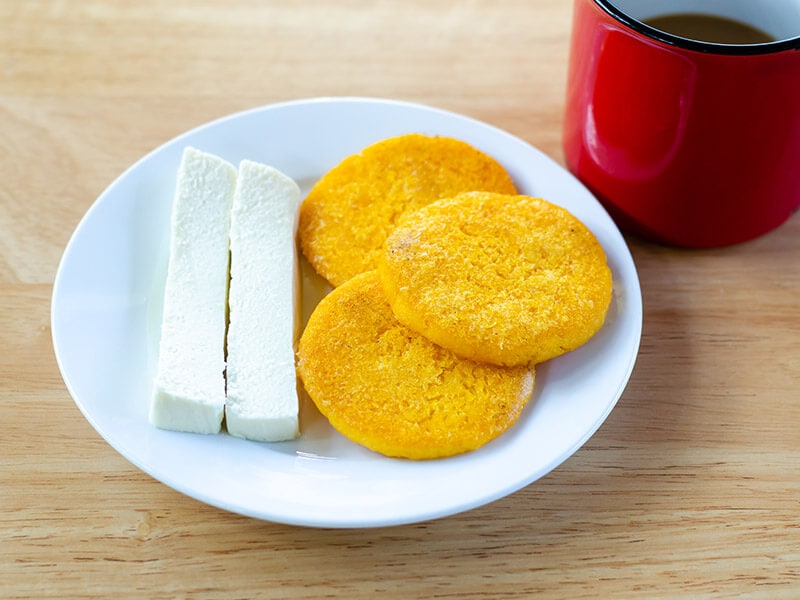 When advanced Mesoamerican civilizations sprang up, tortillas were there. When the fearsome Aztecs ruled the land, tortillas were there. When present-day Latin American people, such as Panamanians, need a convenient starchy food, tortillas are always there.
The flatbread is very easy to make but rather difficult to achieve perfection. All you need to do is to knead cornflour (wheat flour is also acceptable, but it's un-Panamanian) with water, divide the dough into thin circles, and cook them in a skillet ( with no butter or oil) until lightly browned.
The instructions sound simple, but it takes care and experience to make unbroken, thin, sweet tortillas that have a nice, nutty smell of fresh corn. A hearty Panamanian breakfast dish usually has tortillas, eggs, or meat. But Panamanians eat tortillas for other meals as well.
3. Carimañola – Yuca Fritters Stuffed with Meat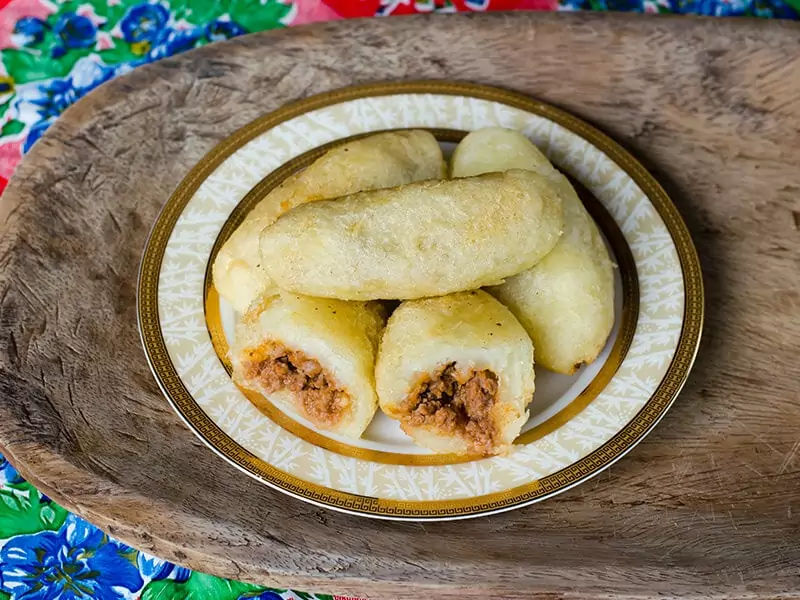 It won't do justice to Panamanian cuisine if you leave out yuca (or cassava), one of the most ubiquitous root vegetables in Panama as well the region. It is only inferior to rice and corn in terms of popularity. Carimañola, or yuca fritters, is a delicious proof of its culinary excellence.
It is a torpedo-shaped meat pie whose main ingredient is fresh yuca mashed and mixed with cornmeal, butter, eggs, and seasoning. Carimañola also has minced meat or cheese filling inside. Deep-fry it in hot oil, and you have a delicious snack or side dish to pair with other foods.
4. Yuca Frita – Fried Yuca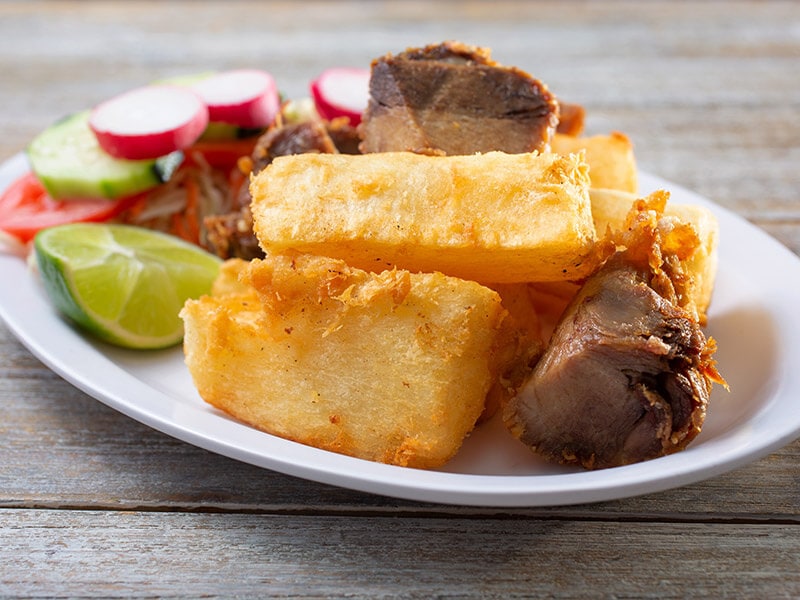 If you want to experience the pure, undiluted, rich, starchy taste of yuca, this is the thing for you. Rather than mashing it with other stuff, Yuca Frita is simply fried yuca that you can eat with sauces, cheese, salads, meat dishes, etc.
Panamanians prepare Yuca Frita by boiling yuca chunks in water first before deep-frying them until crisp and golden. If that sounds like making French fries, it is. Sometimes, people whip up a garlic sauce with mayonnaise and sour cream to serve Yuca Frita with.
Fried Yuca is crisp on the outside but incredibly tender on the inside, a tempting dish that makes you crave more. An added bonus is that it is richer in fiber and nutrients than French fries, so you may want to change your favorite fried food.
5. Hojaldras – Puff Pastry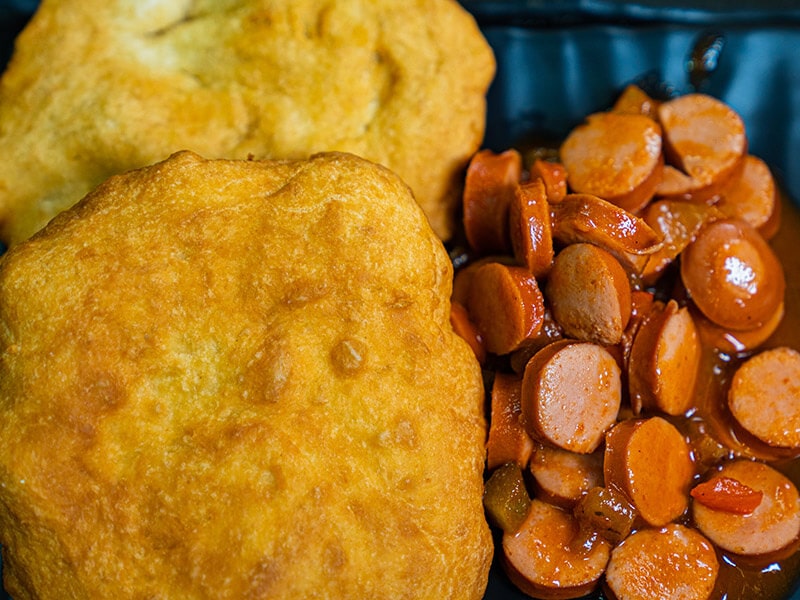 This delicious pastry took a long way to reach Panama. Originally a Moorish specialty in North Africa and the Iberian Peninsula, it was spread by the Spanish to the New World and flourished there. Hojaldras, also known as Hojaldres or Hojaldas, are now a common sight in Panama.
Essentially, Hojaldras are fried bread made from flour, butter, sugar, and baking powder. After being mixed, the dough might take a few hours or even a whole night to rise. The rest is to fry it in oil until golden brown on both sides.
Panamanians usually eat Hojaldras with steak, beans, and tomato sauce for breakfast. But don't limit yourself to those choices. Try pairing it with fried eggs, cheese, soups, or anything you like, and you will find it always delicious.
6. Ensalada De Feria – Potato Salad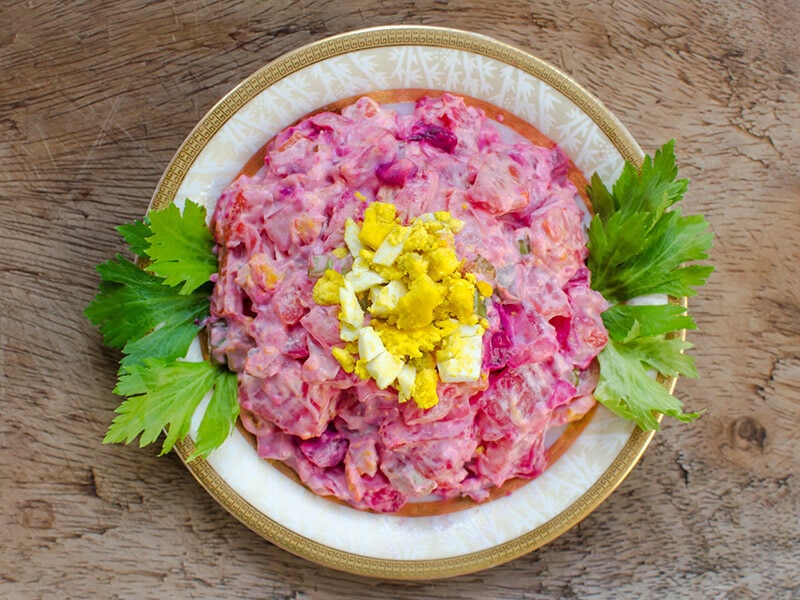 Potatoes, the popular vegetable that you take for granted, come from the Americas. So it's natural that the plant is the star in one of the most important Latin American dishes, Ensalada De Feria, or potato salad. It is suitable for both ordinary meals and big celebrations.
There are many varieties across the region, but the Panamanian one involves mixing boiled potato chunks with chopped hard-boiled eggs, black pepper, mayonnaise, and boiled beetroot. The last one is crucial because it gives Ensalada De Feria the unique, pretty pink color.
Discover the Panamanian way to make potato salad here.
7. Arroz Con Guandú Y Coco – Rice with Pigeon Peas and Coconut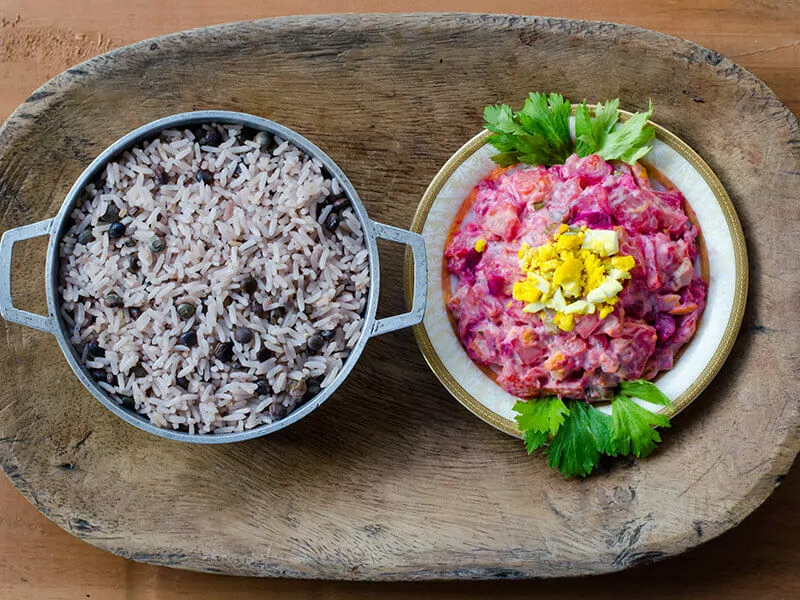 It would be a mistake to name Panamanian rice dishes without this one. Arroz Con Guandú Y Coco is a wonderful combination of fine rice with coconut milk and pigeon peas. The last one is an Indian legume that Europeans brought to the Americas in the 17th century.
To make this creamy, delicious side dish that goes great with vegetables and meat dishes, you need the three namesake ingredients, some garlic, and spices. Saute the garlic with coconut milk in a large pot before adding the rest and cook for half an hour.
Your hard work will be rewarded with an attractively sweet, rich, aromatic rice dish. Since rice and pigeon peas are extremely popular in Panama, Arroz Con Guandú Y Coco is something of their staple food.
8. Ceviche – Raw Seafood and Fish Cocktail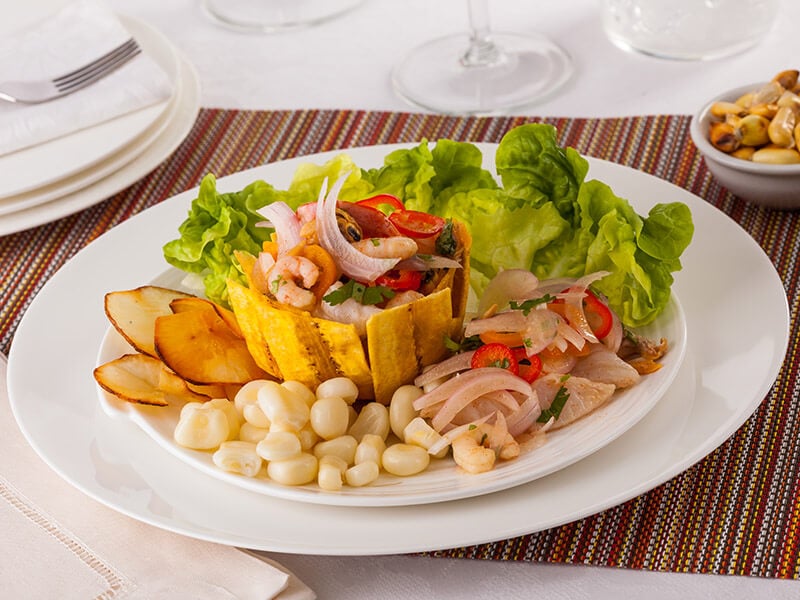 It is common for a Latin American dish to start out as the specialty of a country but soon become a culinary cornerstone of another. That is the case with Ceviche, a cocktail made from raw fish or seafood. It is a Peruvian dish, but Panamanians adore it deeply.
Ceviche involves refrigerating raw fish filets, shrimps, onions, garlic, and potent spices with a lot of lime or lemon juice. An important element to the flavor of this dish is the use of Corvina, a local sea fish that is sweet, savory, and infused with the briny taste of the ocean.
Trolling along Panama's stunning beaches, you can easily find Ceviche on offer. It is more popular near seafood markets which secure a reliable supply of ingredients. Ceviche can be served with salty crackers or tomato sauce as a great appetizer.
9. Carne En Palito – Beef Skewers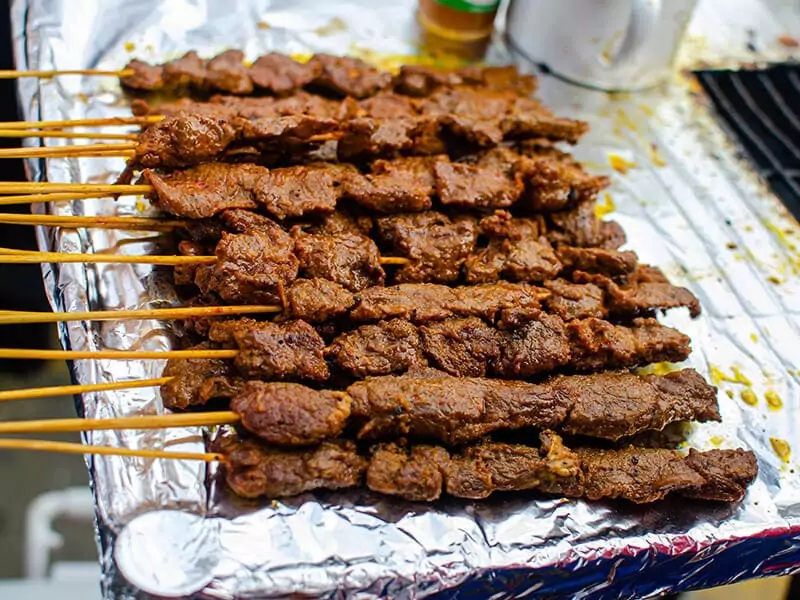 Wandering through Panamanian streets, it is all but impossible to see street vendors selling Carne En Palito. The exact translation of the name is "meat on sticks". That's exactly what this savory, delicious snack is all about.
It is made from thin slices of beef (or pork and pork) seasoned with garlic, achiote, cumin, and orange juice. The next step is to skewer them with wooden sticks and grill them on both sides until they have a fatty, aromatic smell and an appealing reddish-brown hue.
Carne En Palito is popular throughout Latin America. In Panama, it is a delicious dish to go with salads or plantain-based foods.
10. Sancocho de Gallina – Chicken Stew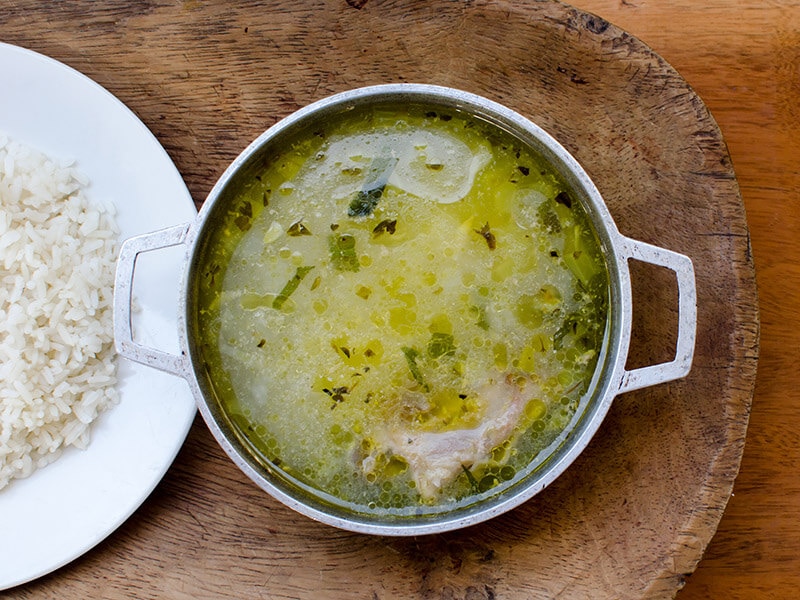 In the south of Panama lies the Azuero Peninsula, one of the most beautiful places in the country. This is the birthplace of one of the best Panamanian recipes, Sancocho de Gallina. It is a popular chicken stew that some people consider to be Panama's informal national dish.
Sancocho de Gallina's highlight is, of course, chicken, but it also requires a vast array of spices and vegetables representative of the whole country. Notable ingredients include corn, plantains, potatoes, yuca, ñampi (a root vegetable), cilantro, cumin, saffron, and an avocado garnish.
Chicken pieces are sauteed and braised in a rich broth and decorated with avocado slices. Containing the essence of Panamanian cuisine, this healthy and yummy soup aptly represents the country's solidarity in diversity.
Check out this detailed guide on how to cook delicious Panamanian chicken stew.
11. Sopa de Pata – Cow's Feet Soup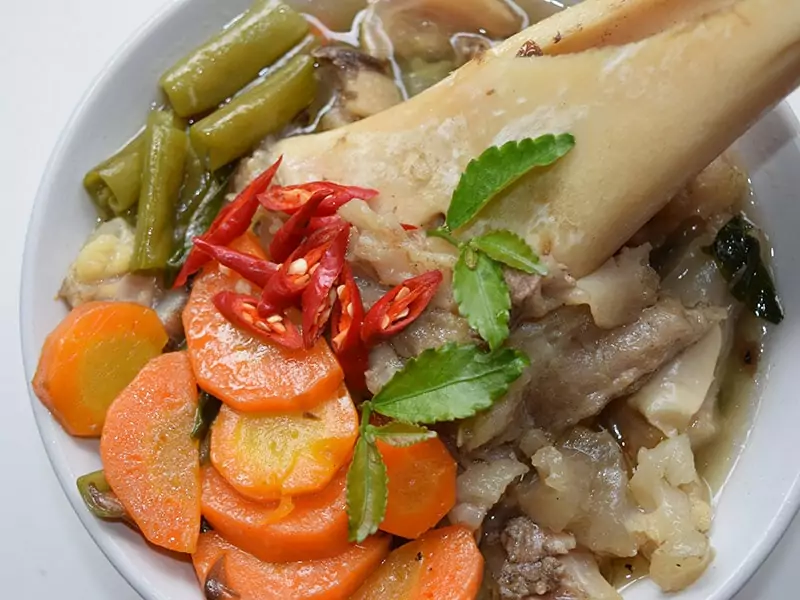 A cow's feet, or cow's trotter, isn't exactly a popular item in Western cuisine. But Many South American people consider it a delicacy. Sopa de Pata, or cow's feet soup, is a popular dish, a great comfort food that you should try in Panama, even if against your better judgment.
This soup requires fresh cow's feet, herbs, spices, milk, butter, and as many vegetables as you can get. Cook them slowly and carefully until you have a steaming soup to go with white rice, tortilla, or cooked plantains.
The dish takes a long time to prepare, so it's more suitable for a weekend meal. You may get squeamish or picky about Sopa de Pata, but give it a try anyway. Who knows, perhaps you will experience love at first bite?
12. Ropa Vieja – Shredded Beef Stew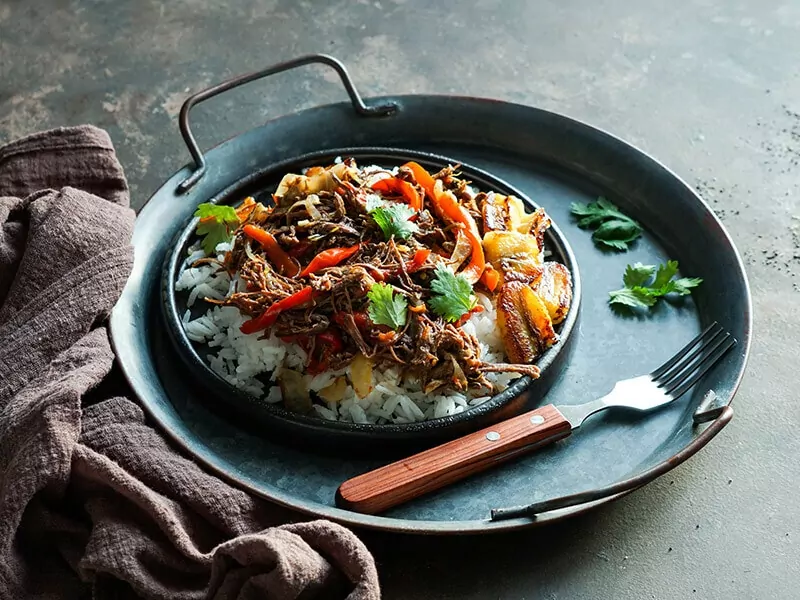 Ropa Vieja is one of the most popular Panamanian dinner recipes and an iconic comfort food for every family. It is popular in other Latin American countries as well, especially in Cuban gastronomy, where it is the national dish.
Legend has it that there was once a Spanish man so poor that he had to cook his old clothes into a stew for his family, but it magically transformed into a delicious beef stew. And so the mouth-watering dish of Ropa Vieja, literally "old clothes", was born.
But it's more believable that people just give the dish that name because of its appearance. Ropa Vieja consists of shredded beef simmered with potatoes, onions, and a lot of spices. It is a pleasantly sweet and spicy food to go with white rice and cooked plantains.
13. Carne Guisada – Latin Beef Stew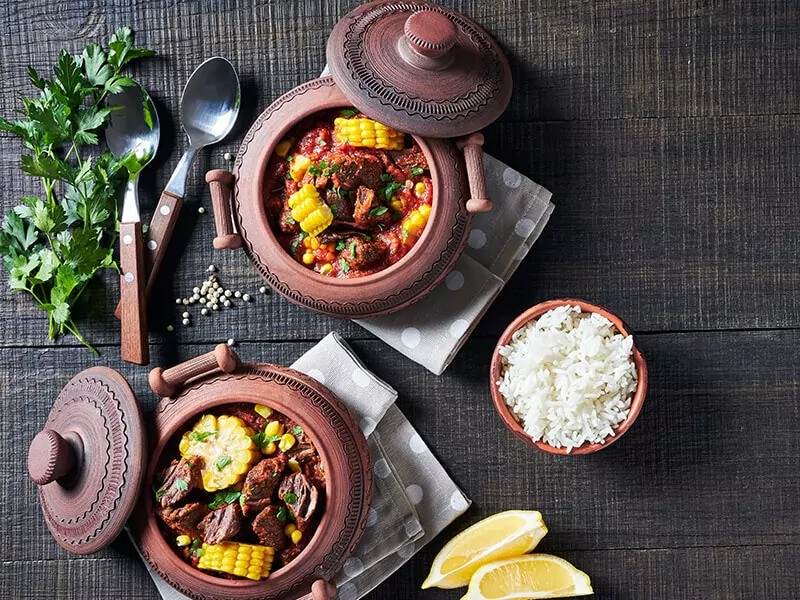 Hot and passionate, that's usually what outsiders think about Latin America. It's kind of a stereotype, really, but that description fits nicely with Carne Guisada, a Latin beef stew in the rage in Panama.
Carne Guisada takes about one hour to make. That time is usually spent simmering chunks of beef with water, onions, garlic, tomatoes, strong spices, and all-purpose flour to thicken the gravy. Cilantro and cumin are some popular choice spices to turn up the heat.
People usually serve this stew with white rice, tortillas, or Patacones. Full of vigor, this spicy stew is an object of love for many Panamanian foodies.
14. Bistec Picado – Minced Steak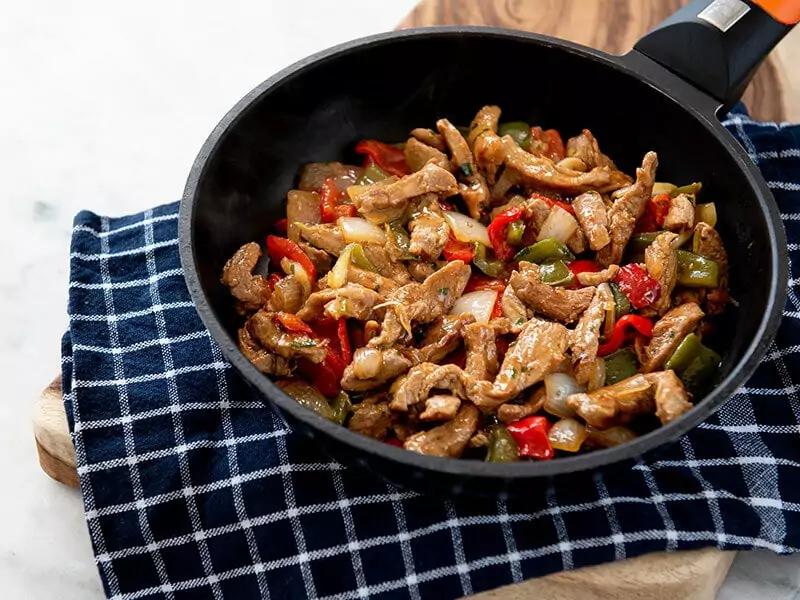 The name says it all: "Picado" means "minced" and "bistec" is for "steak". Bistec Picado is plainly a mix of shredded steaks with spices. But behind that veneer of simplicity is an ocean of nuances of flavors that wins over the pickiest eaters.
Panamanians prepare Bistec Picado by stewing or stir-frying chopped steaks with onions, coriander, and tomato sauce. But don't forget to add the spicy stuff: chili peppers, chili powder, jalapeno, etc.
Mix everything together well and serve with white rice or salads. Sink your teeth into this yummy, fragrant dish and let your taste buds scream with joy!
15. Arroz Con Pollo – Rice with Chicken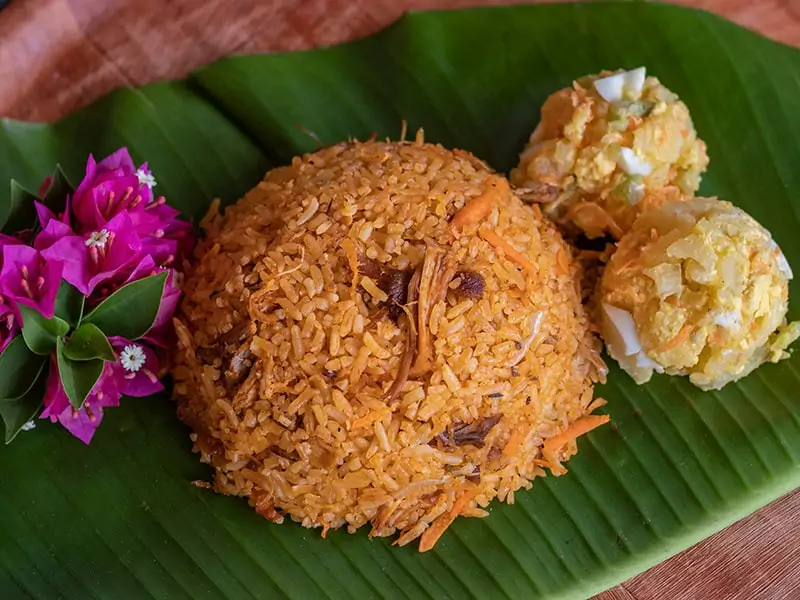 The influence of Spanish gastronomy is palpable in this classic Panamanian dish. Some people compare Arroz Con Pollo, or Latin American chicken rice, to Spanish Paella. But there are distinct differences between the two, such as a tropical element in the former.
Arroz Con Pollo leaves a lasting impression with its brilliant golden hue, which it acquires with the use of saffron. The Panamanian version also has rice, shredded chicken, carrots, tomatoes, and various vegetables.
This amazing rice dish is usually served at big parties. But you can easily look for it at any Panamanian restaurant.
Learn how to cook Arroz Con Pollo like a local with this tutorial.
16. Tamale – Corn Dough Wrapped in Leaves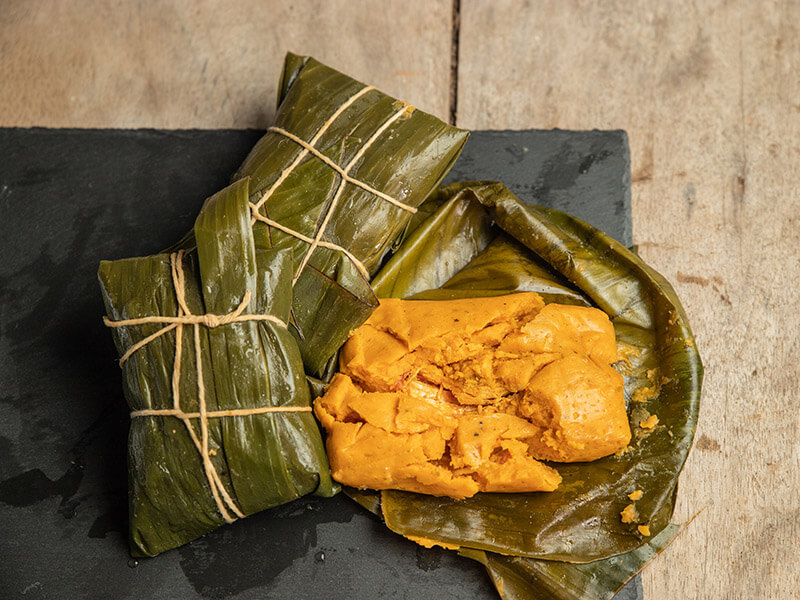 You will be pardoned for thinking this leaf-wrapped stuff is a cake or a light snack. In truth, Tamale is one of the greatest Panamanian options for the main course. It is convenient to carry around and very delicious to enjoy.
Tamale is a popular Latin American steamed dish wrapped in banana leaves or corn husks. Therefore, you can detect a grassy scent preceding its rich, savory, flavourful taste. It is made from corn dough and stuffed with a variety of fillings such as chicken, olives, vegetables, etc.
Tamale looks like a cake, but it is nutritious enough to be a meal in its own right. You can eat it alone or with rice or fried plantains. The dish is pretty, and it comes with eco-friendly and biodegradable wrappings, too.
17. Tamal De Olla – Pot Tamale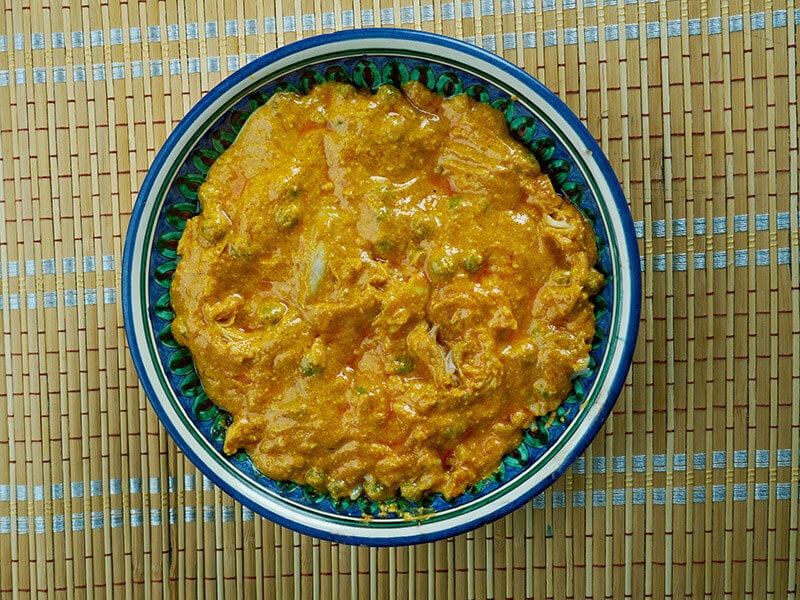 Tamal De Olla, or "Tamale of the pot/pan" in Spanish, is another version of traditional Tamale. A significant difference is that the former is like a wrap-less casserole and baked in the oven, not cooked in a steamer like the latter. Also, Tamal De Olla is a distinct Panamanian dish.
People prepare delicious Tamal De Olla by packing cornmeal, chicken or pork, onions, and spices on an ovenproof dish and baking it. After 20 minutes or so, out of the oven will come out a smoking, rich, gold-hue embodiment of scrumptiousness that fully indulges your appetite.
While some other Latin American countries have Tamal De Olla, remember that Panama is the cradle of the good stuff. Panamanians usually cook it for special meals and holidays, but you may come across it on the menu of many restaurants.
18. Plantinta – Plantain Tart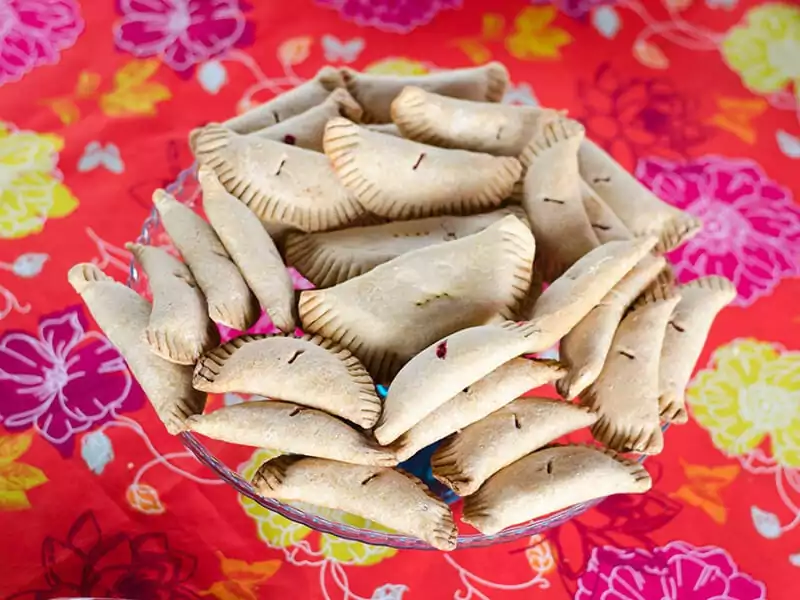 If you're planning to taste the best Panamanian desserts, don't leave out Plantinta under any circumstance. A recipe with influence from classic African desserts, this delicious dish comes from the Panamanian island of Colon, a beautiful and popular tourist destination in the country.
As its name indicates, Plantinta consists of a plantain filling inside the flour dough. People usually use red food coloring to give it a distinct ruby color and lemon cream to enhance its flavor even more. A couple of Plantinta is a nice conclusion to any meal.
19. Bollo De Maiz – Boiled Cornmeal Dumpling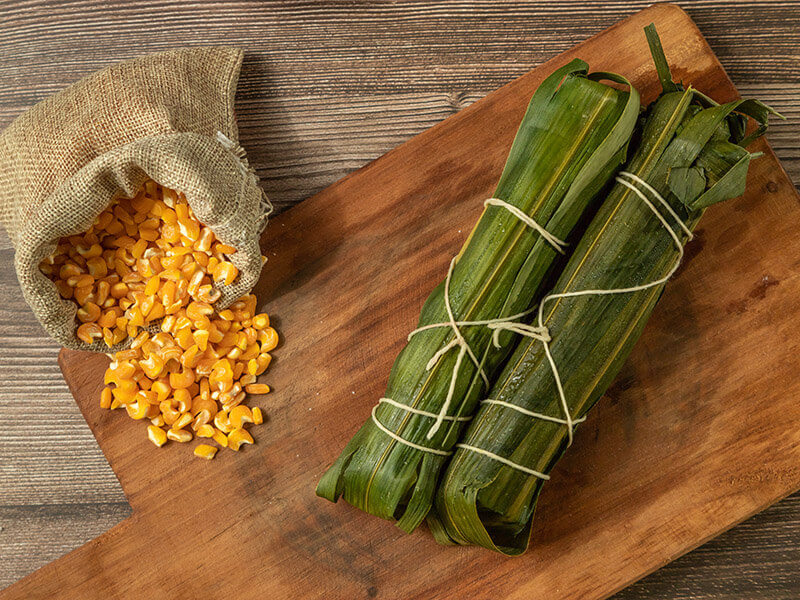 Cornmeal and banana leaf wraps feature heavily in Panamanian cuisine. Bollo de Maiz is a good example of that wonderfully eco-friendly combination. It is a delicious Latin American snack or side dish made from cornmeal or pureed corn kernels cooked in banana leaves.
There are several varieties of Bollo de Maiz, depending on the type of corn. Fresh corn will yield a sweeter, more fragrant flavor, while the dried corn-based version has a chewier and munchier texture. Some people enrich the dish with minced meat, but that isn't very common in Panama.
20. Raspado – Shaved Ice Dessert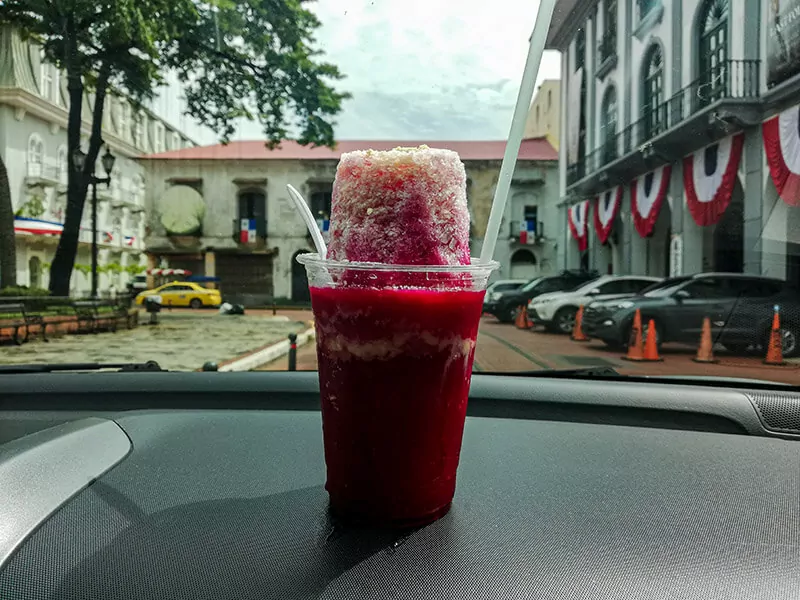 Like everyone else around the world, Panamanians often rely on ice for relief from the summer heat. So Raspado, shaved ice with condensed milk and fruit juice, is a must when you talk about Panamanian cuisine.
It is popular throughout the region (actually known as Mexican snow cone). The most accepted Panamanian variety is Raspado with strawberry juice and spices, although there are other flavors. Sweet, cold, and irresistible, Raspado is perfect for an escape from a hot day.
21. Cocada – Coconut Candy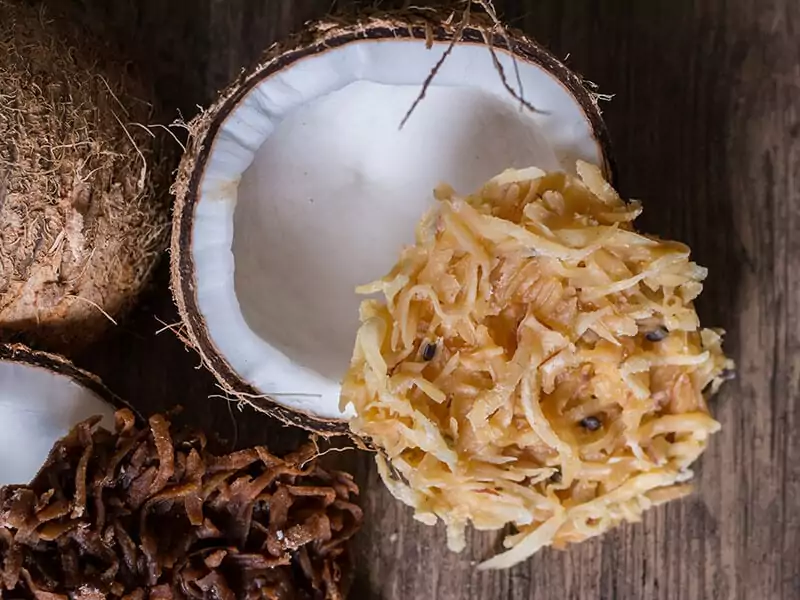 With beaches and a tropical climate come coconut trees. And with coconut trees come delicious coconut foods. In line with that unspoken, universal truth, I give you the sweet, savory Panamanian candy made from coconut meat, Cocada.
It is easy to prepare. All you need to do is to mix together shredded coconut meat, cornmeal, evaporated milk, and vanilla extract for flavoring before dividing them into small balls with a tablespoon and baking them. Now you have crisp and fragrant Cocada to enjoy.
22. Empanada De Maiz – Empanada with Corn Flour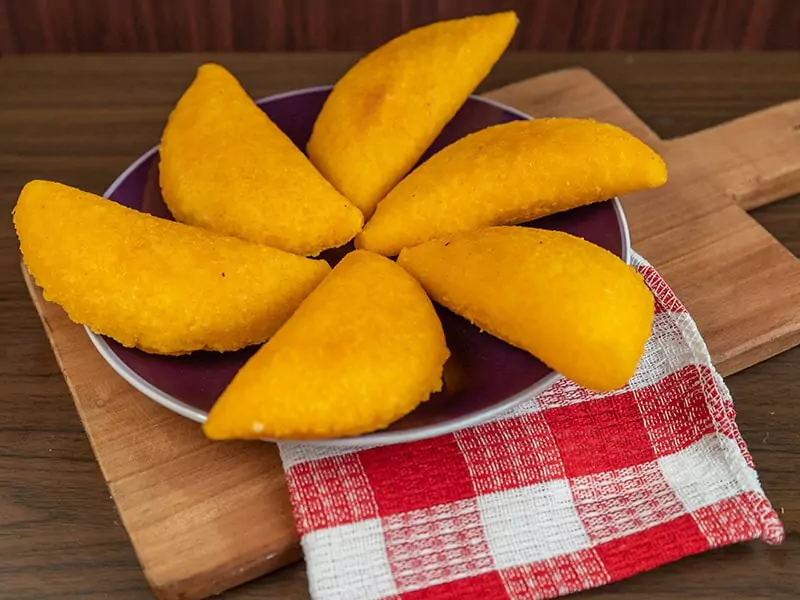 Empanada is a popular treat in Spain and its former colonies. But Latin America introduced a twist into this classic turnover recipe by substituting wheat flour with its iconic corn flour, creating Empanada De Maiz.
Most people consider it a snack or street food, but you can take it as a compact Panamanian lunch dish as well. Stuffed with fatty pork or chicken, tangy tomatoes, nutty avocados, and a touch of cheese, Empanada De Maiz can provide you with a nice energy boost in just several bites.
Munch on the crisp, fresh corn-scented crust and let the diverse flavors of the meaty filling rush down your mouth. Search your feelings, and you will feel inside it the tropical, vigorous essence of Panamanian cuisine.
23. Huevitos De Leche – Milk Candy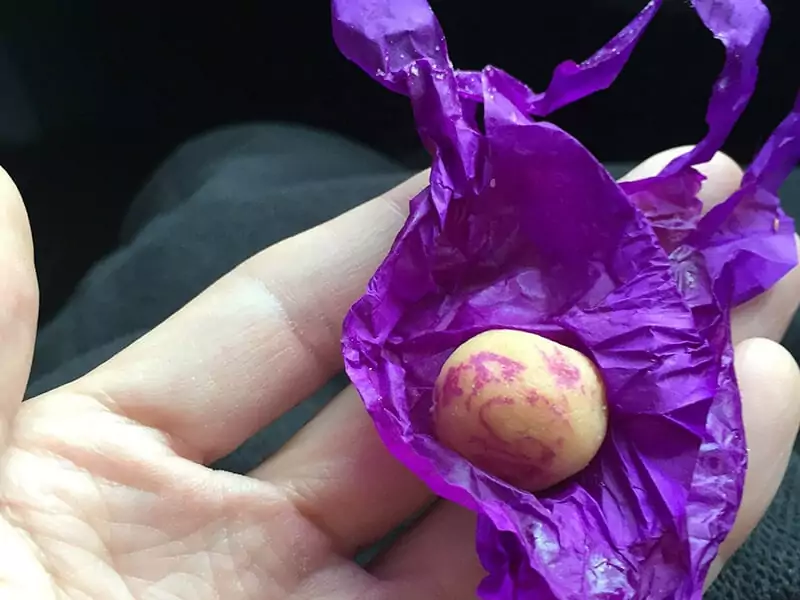 Many Panamanians have fond childhood memories with Huevitos de Leche, a type of milk candy. It is a beloved homemade treat that many doting parents prepare for their children or loving grandparents for grandchildren. It is as sweet and simple as family love.
The main ingredients of Huevitos de Leche are milk (both whole and condensed), sugar, and cinnamon. Panamanians mix them together and cook into a soft, sweet mixture. The last step is to scoop it into small balls and wrap them in colorful kid-attracting tissue papers.
24. Bocado De La Reina – Bread Pudding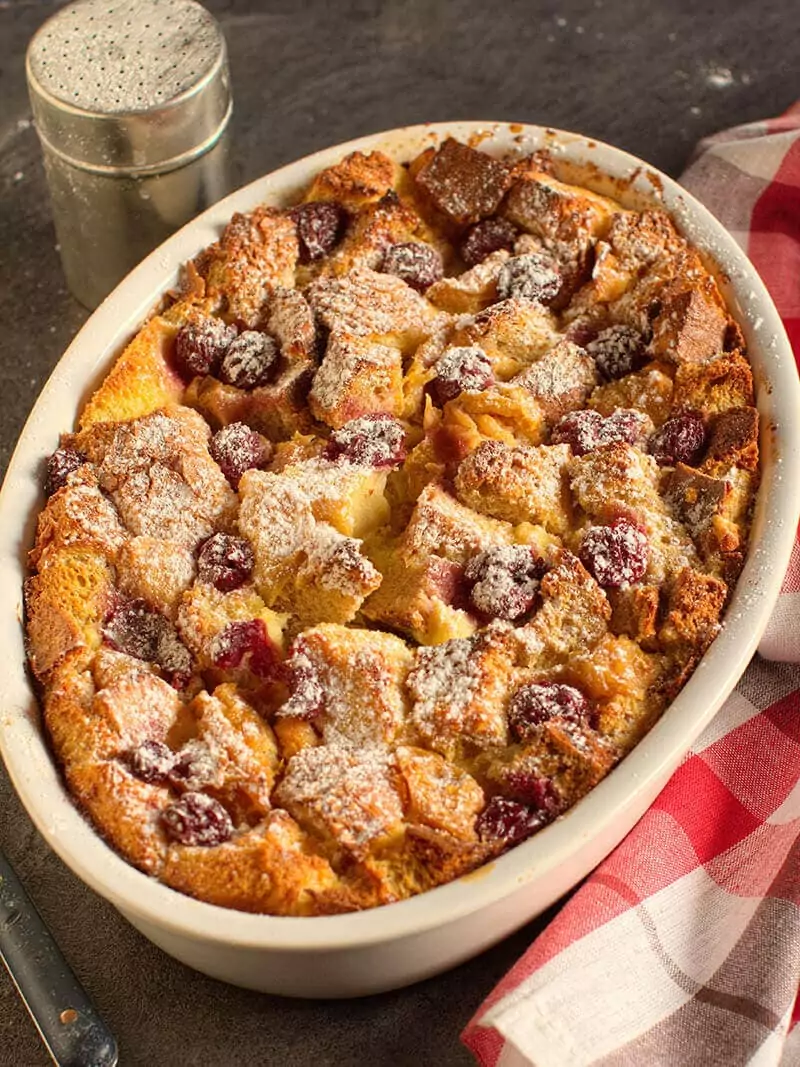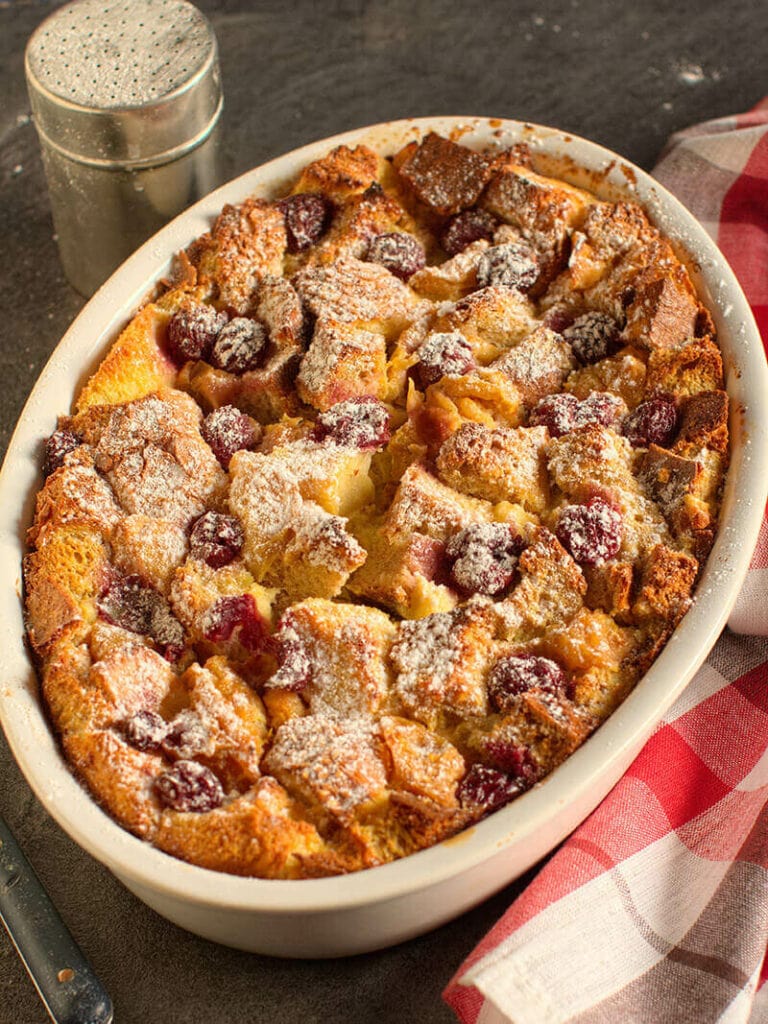 Perhaps few Panamanian dishes are as misleading or ironic as this one. "Bocado de la reina" means "the bite of the queen", suggesting something lavish or royal. But this dessert is, in fact, derived from stale or old bread.
Bocado De La Reina is made from leftover bread, plantains, condensed milk, eggs, and cinnamon. After it comes out of the oven, bakers can decorate it with raisins.
Have one bite of this sweet, spice-scented pudding, and you will consent it's a crime to throw away old bread too hastily.
25. Pesada De Nance – Corn Flour Dessert with Nance Fruit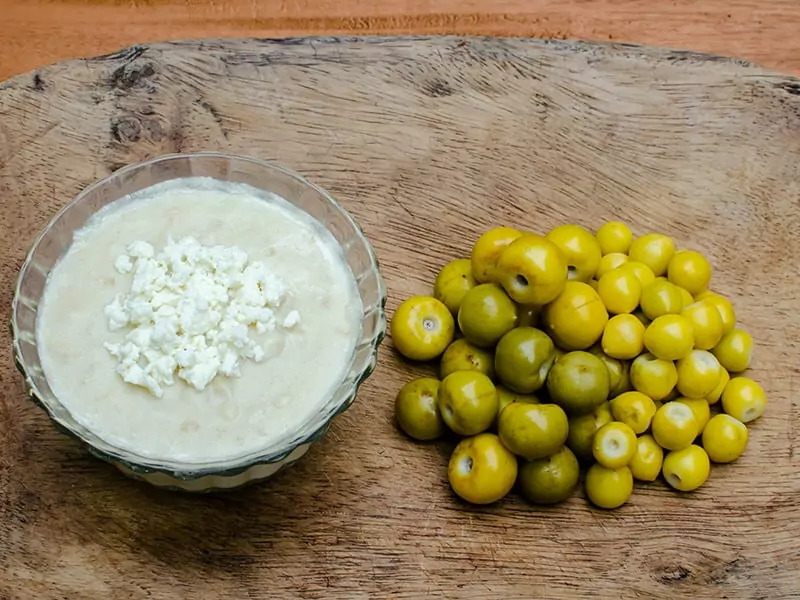 If you are feeling astonished by the innumerable Panamanian recipes with corn, don't be because there is still more to come. Let's have a look at Pesada de Nance, a fatty, sweet, and sour dessert that will make a nice finale to your rich meal.
The heart and soul of this dish is nance, a cherry-like fruit with a tangy flavor and an attractive yellow color. The making of Pesada de Nance involves pureeing these fruits beginning with N to extract the juice, which you cook with milk and cornflour. Pesada de Nance is equally good when hot and cold.
The nance tree is very common in the Americas, so Pesada de Nance is, in turn, popular as well. Topped with grated white cheese, it is a great snack for many Panamanian children.
26. Chicheme – Corn Milk Drink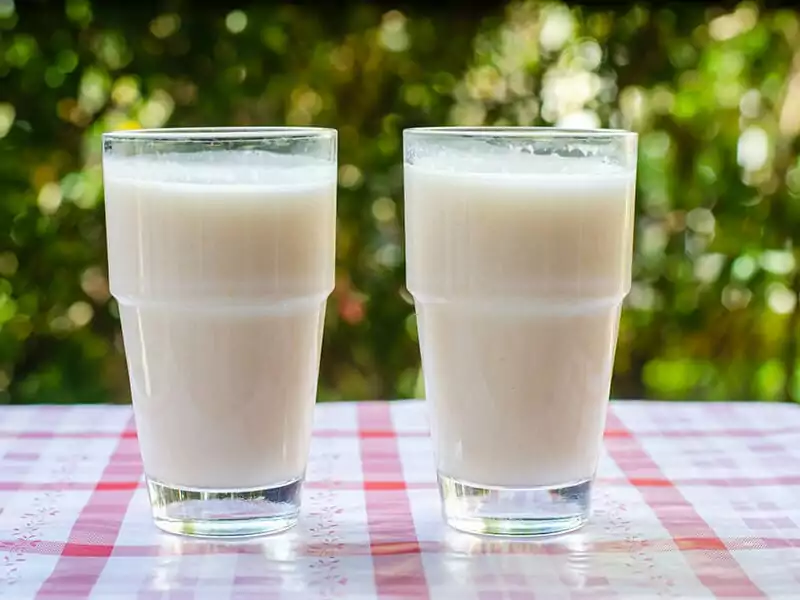 Corn is omnipresent in both Panamanian foods and beverages. Ask any local what their favorite drink is, and one of the most common answers is certainly corn-based Chicheme. A refreshing, healthy, kid-friendly drink, Chicheme highly deserves your attention.
It is made from corn juice mixed with sugar, condensed milk, and spices such as cinnamon or nutmeg. Sometimes, people add corn kernels to add a chewy feel to the drink. You can enjoy it hot or with ice though Panama's hot, tropical climate usually recommends the latter.
Most sources say that Chicheme originates from the city of La Chorrera in central Panama. Paying a visit to this place and treating yourself to a cup of excellent Chicheme is an excellent way to spend a sweltering day.
---
Turn On The Heat With These Panamanian Foods
Most people admire the impressive Panama Canal, but they tend to overlook the people living alongside it and the equally impressive cuisine they possess. I hope this post will spark your interest in discovering delicious and heart-warming Panamanian foods.
You can prepare and enjoy them from the comfort of your kitchen, or you can go out there and experience them in their proper context. Either way, the scrumptiousness of superb and savory Panamanian dishes will always be there for you.
I value and cherish your thoughts very much, so don't hesitate to leave a comment and tell me what you think. It would be doubly great if you could share this post with your friends and loved ones to popularize the richness of Panamanian cuisine. Many thanks and bon appétit!