If you are looking for Malaysian foods, this post contains everything you need. I will provide a list of the most common and prominent Malaysian dishes in this beautiful country, along with helpful information about them.
After reading this article, you will know more about the cuisine of this Southeast Asian country and its traditions and customs in cooking. So the next time you find yourself in a Malaysian restaurant or travel to this country, be sure to savor the complex flavors and appreciate the history behind every dish.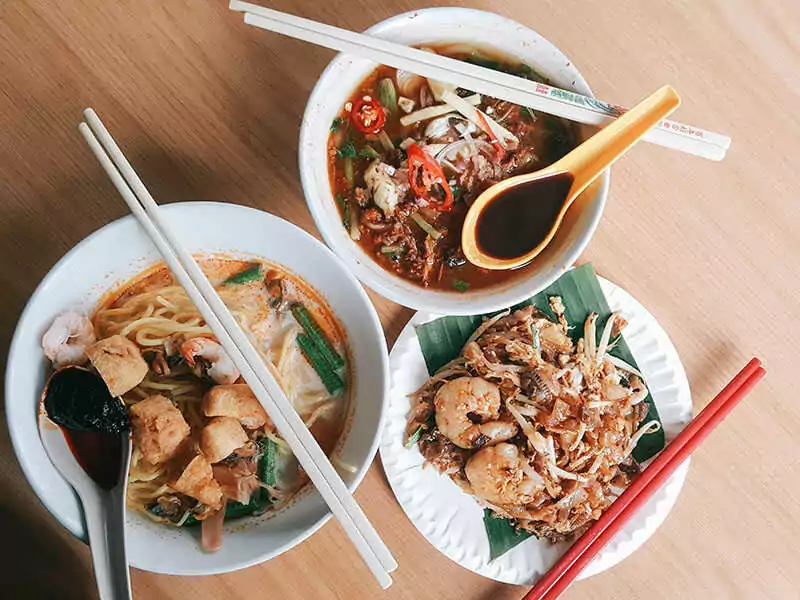 Overview of Malaysian Cuisine
Malaysia's culinary traditions are diverse and reflect the country's rich history and culture. Here are some key characteristics of this cuisine:
1. Nasi Kerabu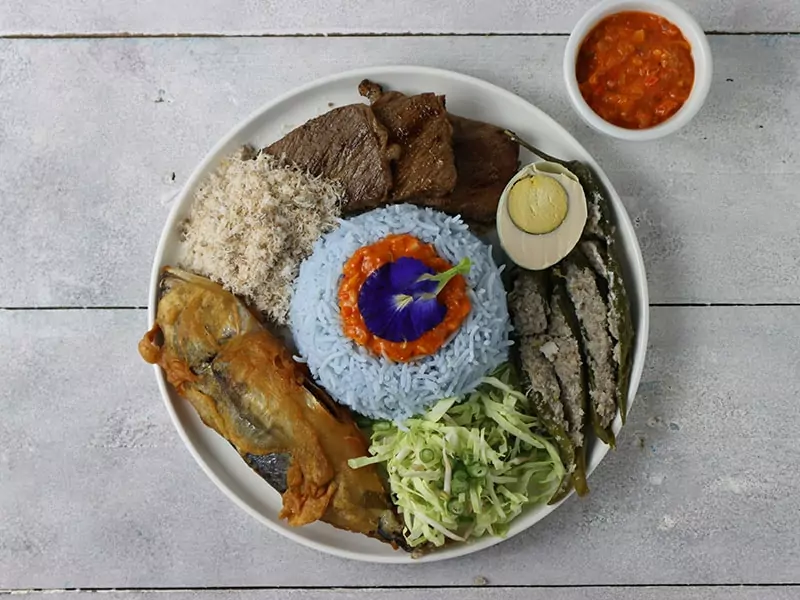 Nasi Kerabu (Blue Rice With Meat And Veggies) originates from the Eastern coastal regions of Peninsular Malaysia, such as Kelantan and Terengganu. It is also popular in the South of Thailand, where it is known as Khao Yam.
This blue rice dish is a type of Nasi Ulam (a rice-based dish mixed with a lot of herbs). Its main ingredients include jasmine rice, Clitoria ternatea flowers (for the blue color), coconut, kaffir lime leaves, and herbs. 
Nasi Kerabu is typically accompanied by different side dishes, such as shredded vegetables like long beans and bean sprouts, grilled or fried fish, fried chicken, and pickles.
Some variations may contain plain white rice or rice cooked with turmeric. These versions often appear with Solok Lada (Malay stuffed chilies) and fried Keropok (deep-fried crackers). Overall, this is a loved breakfast dish in Malaysia, but it can also be a hearty main course.
2. Lemang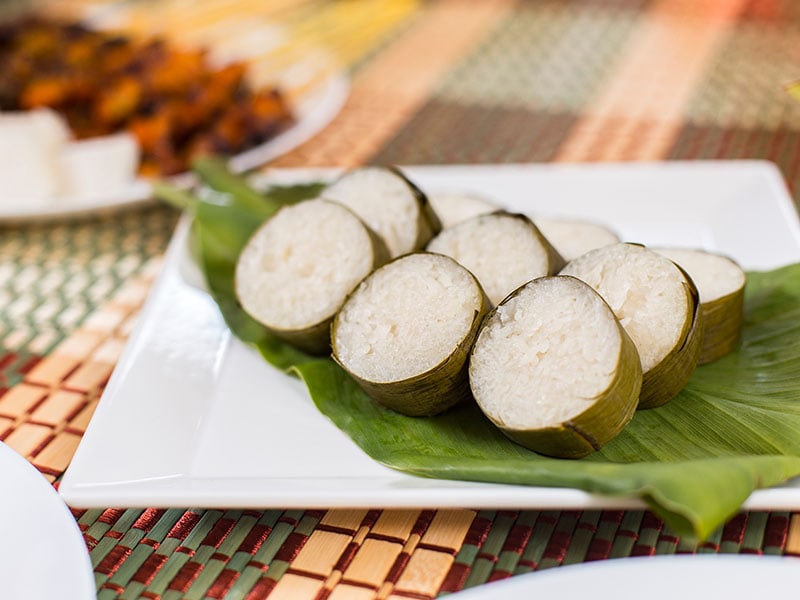 Lemang (Glutinous Rice Cooked With Coconut Milk in Bamboo) is a Minangkabau food, a traditional Malay rice dish, traces its roots back to the Malay people who migrated to various Indonesian islands, including Sumatra, Borneo, and Sulawesi. This scrumptious delicacy is primarily made from glutinous rice and coconut milk cooked inside bamboo stalks.
To prepare Lemang, start by washing and soaking the glutinous rice for at least three hours. Then, wilt the banana leaves over a stovetop flame, making them soft and pliable.
You can find Lemang in various local food markets throughout Malaysia. Traditionally, it is eaten to mark the end of daily fasting during the annual Muslim holidays of Eid-ul-Fitr and Eid-ul-Adha (also known as Lebaran).
3. Nasi Kandar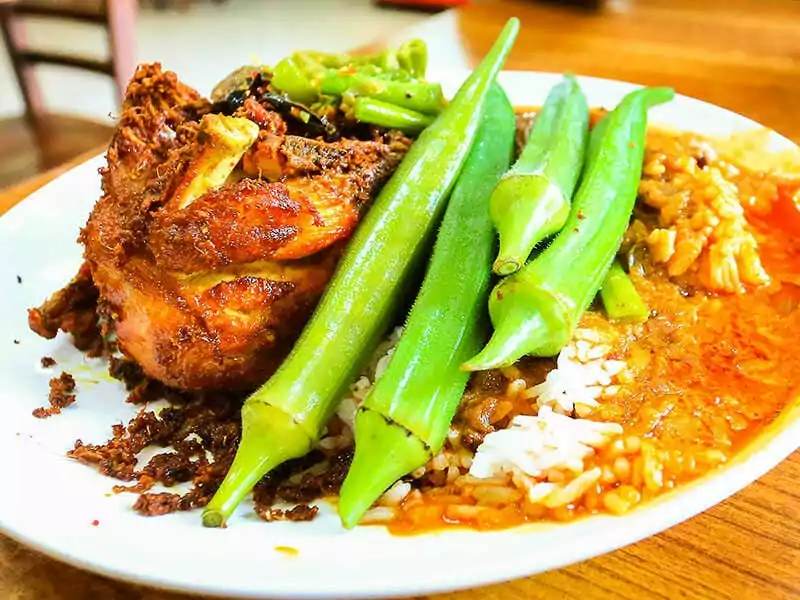 Nasi Kandar (Penang Rice With Curry And Vegetables) is a popular northern Malaysian dish originating from Penang, and Tamil Muslim traders from India first introduced it. In the past, Nasi Kandar typically comprised fish curry with eggplant or okra, fried curry beef, boiled eggs, and fried fish.
Today, this classic Malaysian dish combines steamed rice with curry and side dishes. The rice is occasionally seasoned, and the choice of curries includes vegetables and meat (or seafood). Overall, this allows diners to customize their meal according to their preferences.
Hameediyah is recognized as Penang's oldest Nasi Kandar eatery, which has served this feast to the public since 1907. With a rich history and a reputation for quality, Hameediyah has become a local favorite for those seeking authentic Nasi Kandar in this nation.
4. Nasi Goreng Kampung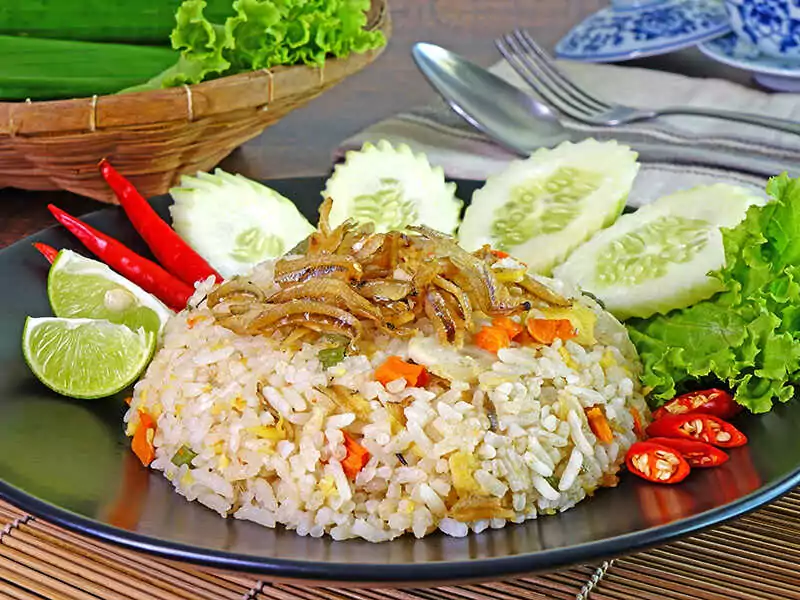 Nasi Goreng Kampung is a traditional variety of Nasi Goreng (fried rice) that originates from the Malaysian countryside. And it is also a speciality in Singapore and Indonesia.
The dish typically consists of a combination of fried rice with various veggies and eggs. The plate of rice will be fuller and more complete with tomato or cucumber slices and dried anchovies on top.
This rice dish is very quick to prepare, making it an ideal treat for busy days. Plus, serving hot is the best option to enjoy the full flavor of Nasi Goreng Kampung.
5. Nasi Lemak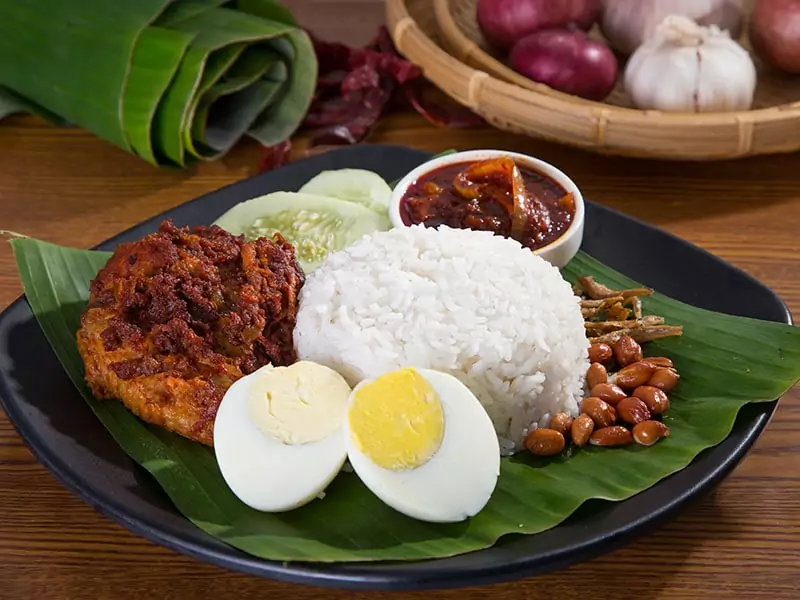 Nasi Lemak (fragrant rice cooked in coconut milk and pandan leaf) first appeared in 1909 in the book "The Circumstances Of Malay Life". It is not only a beloved Malaysian dish but is also recognized as the national dish of Malaysia. Therefore, you can easily buy it in a kopitiam (a coffee shop in this country).
The star of Nasi Lemak is undoubtedly rice, which is cooked in coconut milk, infusing it with a creamy flavor. This coconut milk-infused rice is then typically paired with Sambal (a spicy chili paste) and served on pandan leaves.
Other key ingredients that contribute to the distinction of Nasi Lemak include crispy fried anchovies, roasted peanuts, sliced cucumber, and a hard-boiled or fried egg. All together creates a perfect symphony of flavors, textures, and colors.
Nasi Lemak is often enjoyed as a breakfast with saucy side dishes, like chicken curry or beef rendang.
6. Mee Rebus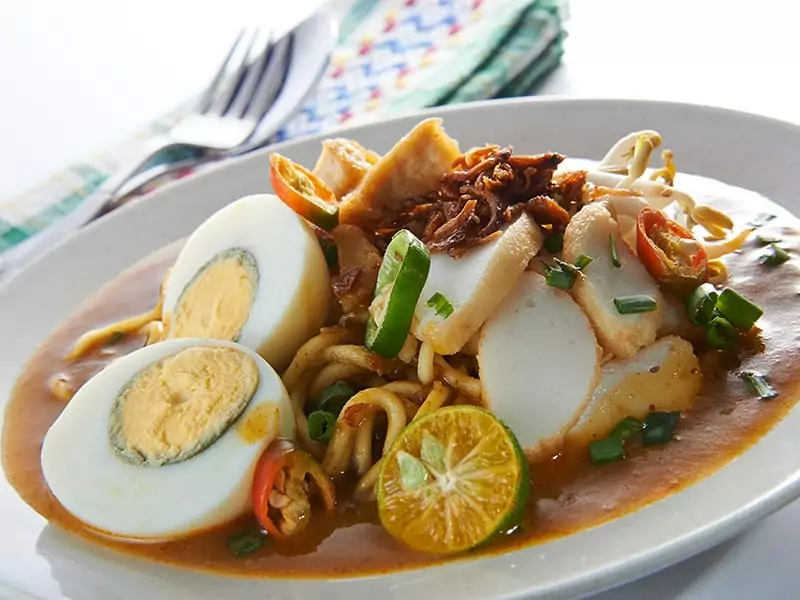 Mee Rebus (mie rebus or mi rebus) is a popular noodle dish that originated in Southeast Asia. Its popularity extends across Singapore, Malaysia, and Indonesia, where it is cherished as a satisfying meal.
In Malaysia, this dish has become a renowned hawker fare, often found at bustling street food markets and casual dining establishments.
The main ingredients of Mee Rebus are yellow egg noodles, which are cooked to perfection and then smothered in a thick, savory gravy. The gravy is typically made from various components, such as sweet potatoes, lemongrass, and spices.
In the Malay language, "Mee Rebus" translates to "boiled noodles," which aptly describes the process of cooking the noodles before they are served with rich gravy. The dish's typical garnishes are sliced green onions, bean sprouts, fried tofu, boiled egg, and a squeeze of lime, adding a burst of freshness and texture.
7. Mee Goreng Mamak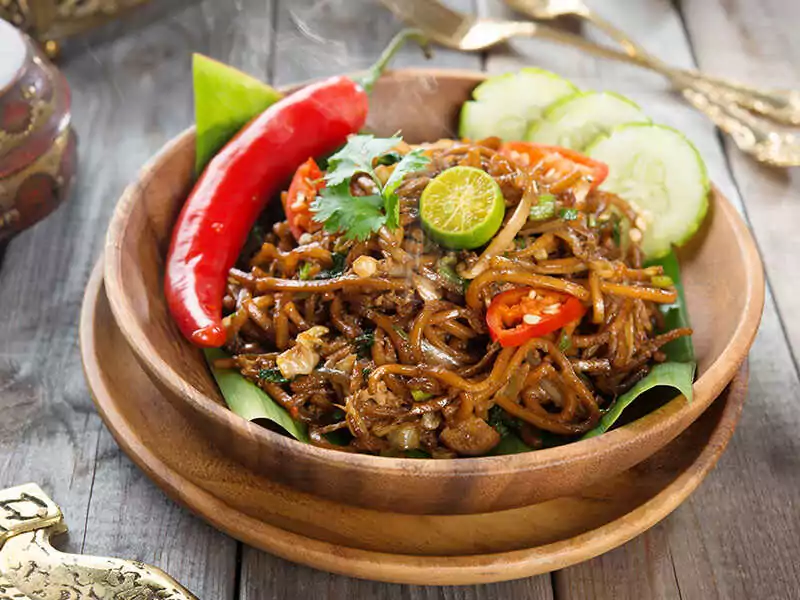 Mee Goreng, also known as Mie Goreng or Mi Goreng, is a beloved Indonesian fried noodle dish that has also become a staple in Malaysian cuisine.
One of the most notable variations of this dish is Mee Goreng Mamak, a Malaysian interpretation with a unique twist. FYI, this specialty is also famous in the Indian-Muslim community.
The dish owns a vibrant yellow color that stems from the noodles. It is a stir-fried delight that is elevated by the addition of various proteins from meat (or shrimp), tofu, and a medley of sauces and spices. The combination of these ingredients creates spicy, sweet, and savory flavors that you can hardly refuse.
In Malaysia, you can buy this noodle dish in many roti canai eateries/restaurants or Mamak stalls (open-air food establishments).
8. Wonton Mee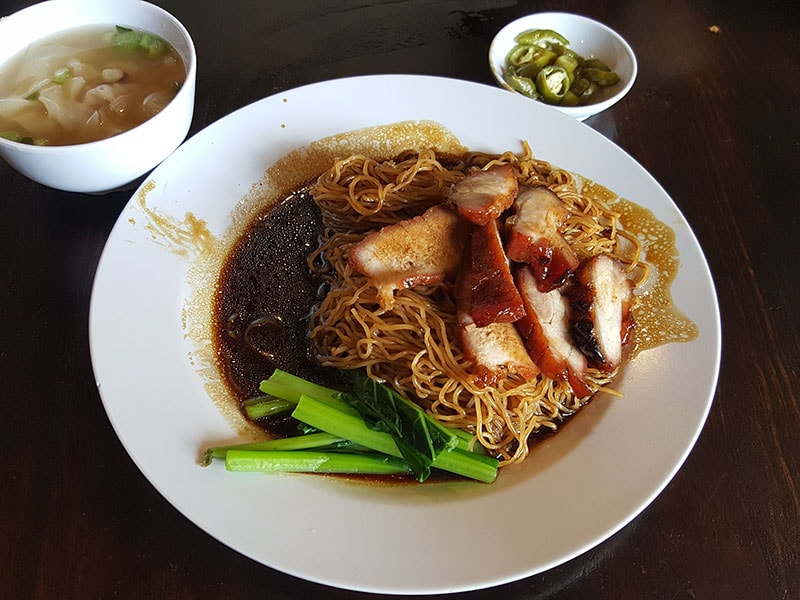 Wonton Mee (or wonton noodles) is a Cantonese-origin dish hailing from the Tang Dynasty (618-907 CE). This noodle dish has gained popularity in various countries, including Southern China, Hong Kong, Indonesia, and Malaysia.
The main ingredients mainly consist of chewy egg noodles, a few slices of delectable char siu, and wonton dumplings. They are served in a flavorful broth made from pork or chicken.
Regarding dumplings, the filling is a combination of minced pork and shrimp, lightly flavored with egg, sauces, and other seasonings.
In Malaysia, other varieties can be found in the form of dry wonton mee. Meanwhile, in Indonesian Chinese cuisine, where wontons are called pangsit, they can be served fried or in soup, often accompanied by Chinese noodles. Regardless of the varieties, people usually relish this delicacy as a main course.
9. Penang Hokkien Mee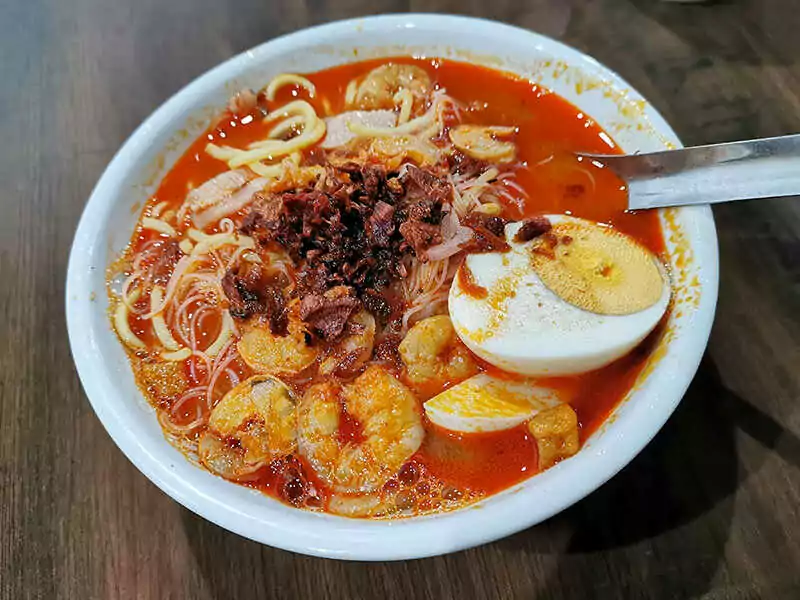 Penang Hokkien Mee is another beloved Malaysian noodle dish in which prawns and pork ribs are the main ingredients, served with flavorful broth.
Other components that enhance the flavor are sliced pork, water spinach, boiled egg, and bean sprouts. In addition, a cup of chili-based sauce is typically served alongside a bowl of Hokkien Mee.
As the name suggests, Penang Hokkien Mee's roots can trace back to the Hokkien community in China. When these immigrants settled in Malaysia, they brought this delightful dish with them.
Nowadays, Penang Hokkien Mee is a famous hawker and street food in Malaysia, where it can be found at numerous food stalls and street vendors.
While both Penang Hokkien Mee and Hokkien Mee share some similarities, the former is known for its rich, prawn and pork rib-based broth, whereas the latter is characterized by its stir-fried ingredients and soy sauce marinade.
10. Mee Siam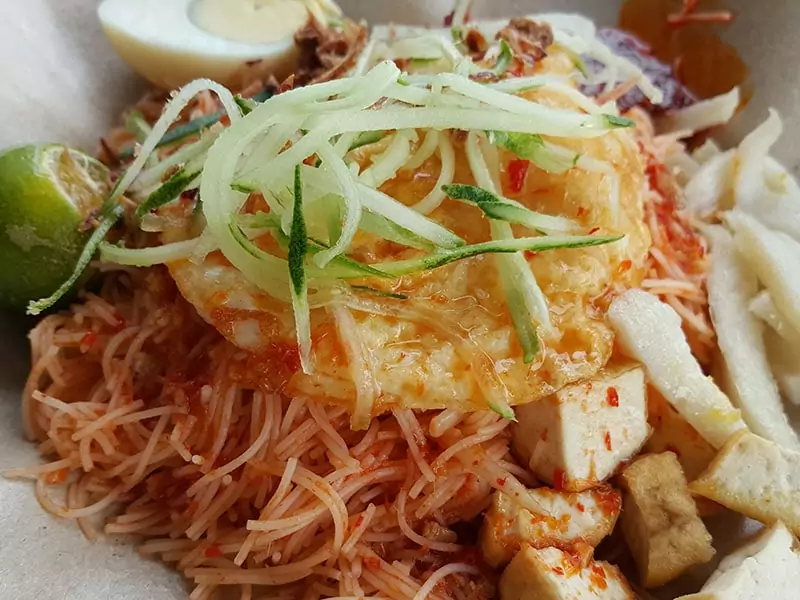 Mee Siam is a flavorful dish made of thin rice vermicelli with hot, sweet, and sour flavors. It originated in Penang but has become popular among the Malay and Peranakan communities in both Malaysia and Singapore.
The name "Siamese noodle" suggests Thai dishes influence, as Thailand was formerly known as Siam. For more specifically, Mee Siam is related to Kerabu Bee Hoon, a vermicelli salad with Thai-influenced marinade.
You can find it in many parts of Malaysia, like Johor, Malacca, Kuala Lumpur, Mersing, Kedah, and Perlis, as well as in Singapore. Next to thin rice vermicelli, shrimp, chicken, fried tofu, and spice paste are other additions that add depth to the dish.
Mee Siam is a versatile dish that you can enjoy for breakfast, lunch, or brunch. There are several regional varieties of Mee Siam, such as the dry-fried version from Johor, the wet version in Malacca, and other adaptations in other cities.
11. Mee Bandung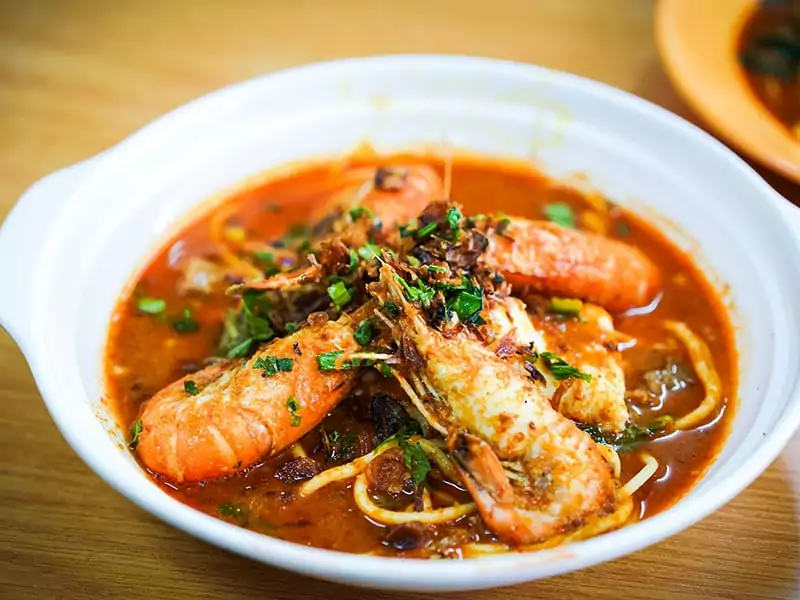 Mee Bandung (or Mee Bandung Muar – Malaysian Bandung noodles) is a culinary pride of Muar, Johor. Its name "Bandung" means "mixture" or "combined".
This flavorful dish has a rich history, with some sources attributing its creation to a Muslim man from Madras, India, who opened an eatery in Muar in 1930 and introduced Mee Bandung to the area.
Similar to the above dishes, Mee Bandung consists of yellow noodles combined with egg and a thick, savory broth-gravy made from dried shrimp, onion, spices, shrimp paste, and chilies.
The dish can also be customized with the addition of sour-flavored ingredients, like tomatoes and tamarind.
12. Char Kuey Teow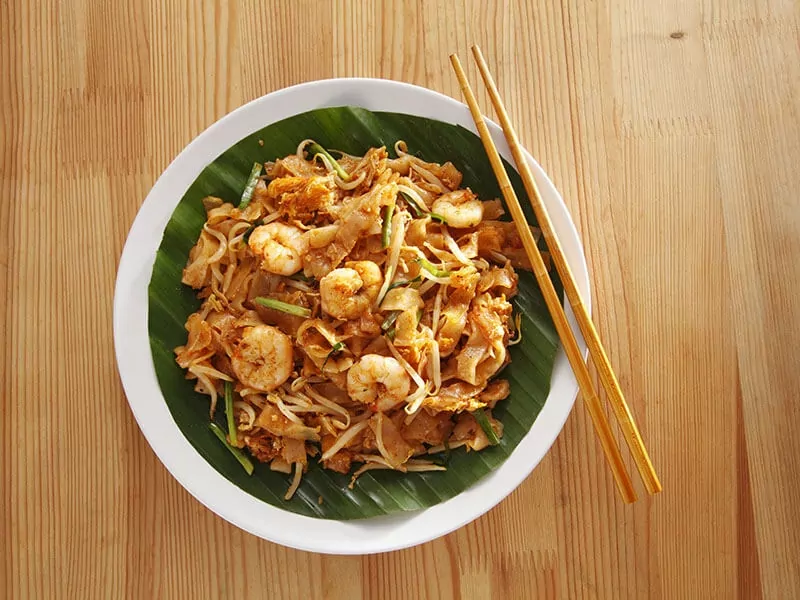 Char Kuey Teow is a symbolic dish of this beautiful country. In the past, it was a creation of fishermen, farmers, and cockle gatherers selling prawns and blood cockles. You can find king prawn versions of this noodle dish.
Originating from Maritime Southeast Asia, this delicious stir-fried rice noodle dish is popular street food in both Malaysia and Singapore. They are also available in numerous regional varieties.
The main stars in Char Kway Teow are flat rice noodles, shrimp, eggs, blood cockles, bean sprouts, and chives. All of these ingredients are stir-fried and coated in soy sauce, while some versions also incorporate shrimp paste.
The name Char Kway Teow itself reveals the cooking method, as "char" means 'stir-fried' in Hokkien and Teochew, while "kway teow" means "flat rice noodles". To make it, chefs will use a cooking technique called "wok hei" (breath of the wok) and use the wok's high heat to create a mouth-watering flavor.
As one of the most well-known dishes in Malaysia, Char Kway Teow can be found in many food stalls, restaurants, and kopitiam throughout the country.
13. Bak Kut Teh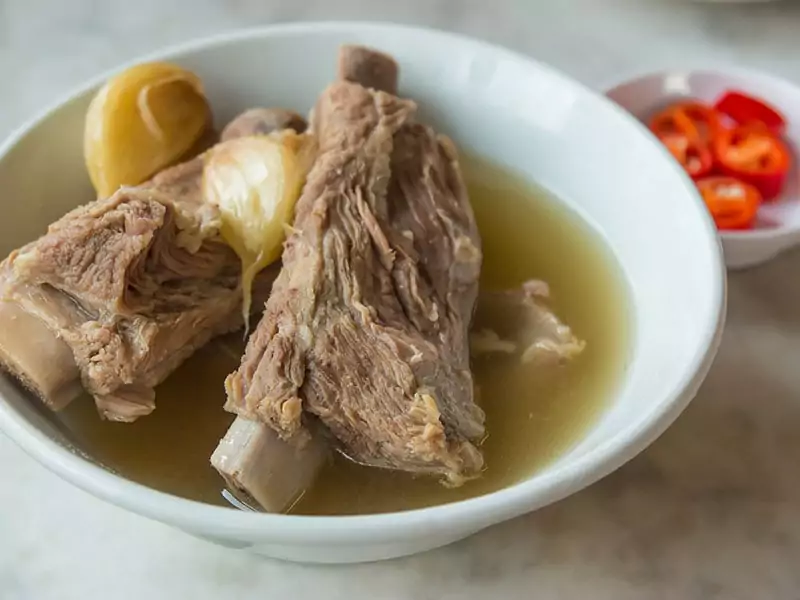 If your favorite meat is pork, you shouldn't miss this one. Bak Kut Teh – a Malaysian and Singapore pork rib dish that is particularly prominent within the Hoklo and Teochew communities. Its name translates to "meat bone tea" in the Hokkien dialect, referring to the dish's primary ingredients – pork ribs bathed in a flavorful broth.
With a touch of herbs and spices, such as Chinese angelica root (Dang Gui), Bak Kut Teh is famous for its herbal and slightly medicinal flavor profile.
To cook Bak Kut Teh, the water is first brought to a boil in a clay pot or soup pot, and then add all components to simmer on low heat for approximately 1-2 hours.
Bak Kut Teh is often enjoyed with yam rice and a dipping sauce made from a mixture of ingredients such as soy sauce, chili, and garlic.
14. Ayam Percik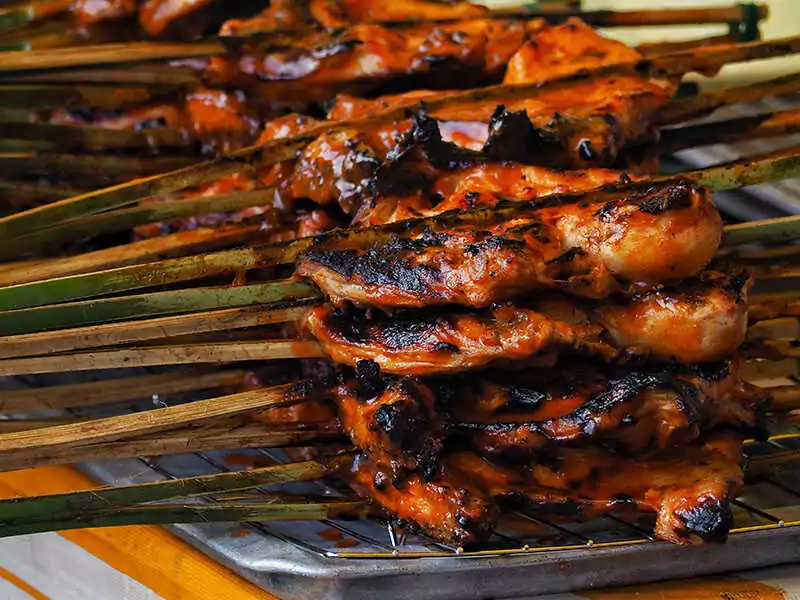 Craving some grilled chicken? You must try Ayam Percik when visiting Malaysia. It is a flavorful delight from the state of Kelantan, featuring tender chicken marinated in a rich and aromatic spice blend. Traditionally, people cook them to perfection over charcoal, so they will have an irresistible smoky essence.
The marinade is a nice blend of flavors, like coconut milk, cumin, turmeric, coriander, lemongrass, ginger, and chili peppers.
The result is a fragrant and slightly spicy chicken dish that will leave you craving more. Finally, you can use a whole chicken or cut it up into quarters to prepare Ayam Percik.
15. Lor Bak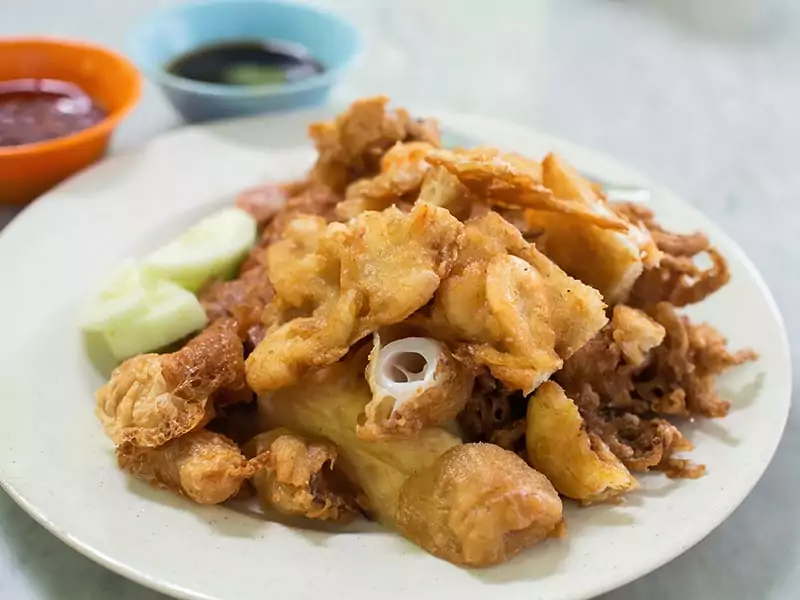 Originating in southern Fujian, China, Lor Bak is known by several other names, including "lobak putih" in Malay or "ngo hiang" or "heh gerng" in Chinese. They are meat rolls that are different from spring rolls due to the distinctive components.
Lobak's key ingredients are pork tenderloin, jicama, and water chestnuts, seasoned with spices, especially five-spice powder, then wrapped in beancurd skin. However, there are various Lobak variants available, depending on the region.
In general, this one is not a complex recipe to prepare at home so you can try it yourself. For more information, locals normally eat Lobak with 2 key sauces: spicy red chili sauce or a sauce made from beaten egg and cornstarch (lor).
16. Kari Kapitan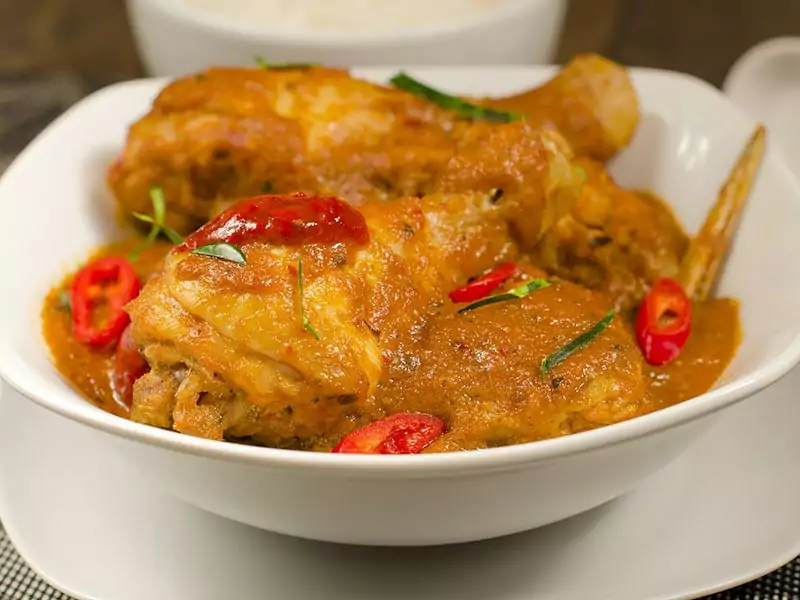 Kari Kapitan (Kapitan Chicken Curry), a classic Nyonya dish, has made its way into the tapestry of Malaysian cuisine and gained immense popularity over time. Although the origins of the name remain debated, a popular suggestion points to the dish's association with a ship's captain.
With a unique blend of Malay and Chinese cuisine, this delightful dish owns a distinctive flavor profile. Plus, unlike the standard local chicken curry, Kari Kapitan is thicker, richer, and drier.
The heart and soul of Kari Kapitan lie in its main component: tender chicken simmered in a rich and fragrant curry paste, which usually includes onion, shallot, lemongrass, shrimp paste, etc.
What's more, thanks to a touch of creaminess from coconut milk, this fusion of flavors creates an unparalleled sensory experience. For a complete meal, serving it with steamed rice is an excellent choice.
17. Satay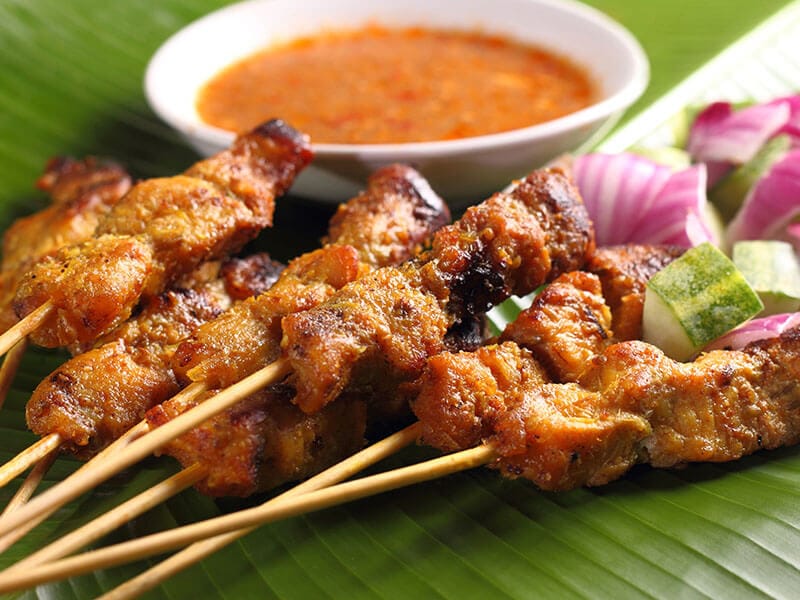 Satay, though considered the national food in Indonesia, has become a common hawker food in Malaysia. This tantalizing dish is simply skewered and grilled meats, such as chicken, beef, mutton, or pork.
To prepare Satay, marinating the meat is a must. They should be bathed in a spice blend (e.g., turmeric, lemongrass, garlic, and chili) to add flavor to the meat.
Once the meat has soaked up the flavors for several hours or even overnight, it is skewered and cooked over a charcoal fire, imparting a smoky flavor.
The crowning touch to Satay is in its accompaniments. It is customarily served with a spicy peanut sauce, which adds a rich and savory dimension to the dish, along with refreshing cucumber slices to cleanse the palate.
It is also a very affordable delicacy here. So let's book a flight to this place and experience these juicy meat skewers.
18. Karipap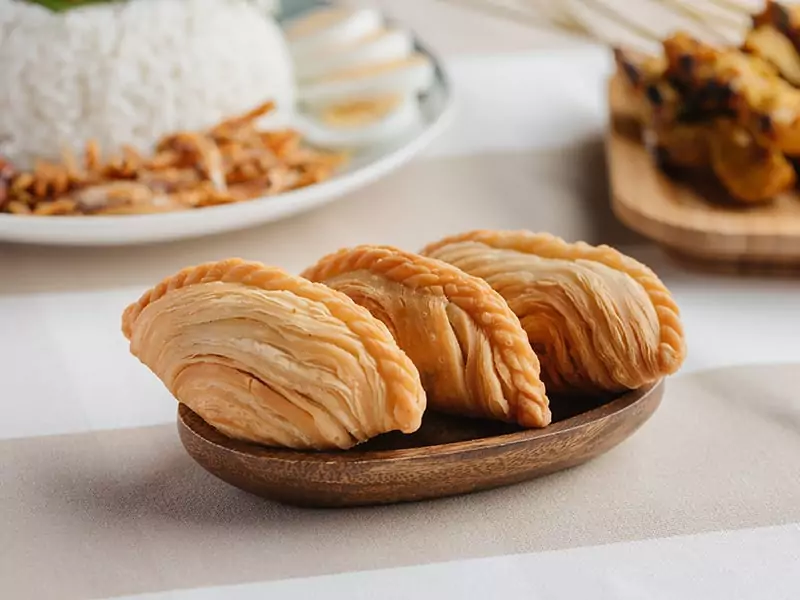 Karipap traces its origins back to the Malays from the Malay Peninsula, Sumatra, and Borneo, and is also known as the curry puff. It is a scrumptious snack typically sold freshly fried to eager customers looking for a flavorful bite.
The Karipap has a unique crescent shape, encasing a flavorful filling within its crisp pastry shell. This filing is a delightful mix of chicken and potatoes infused with curry flavors.
Plus, as a deep-fried snack, Karipap has an attractive golden brown color with perfect crispness.
You can enjoy it on its own or serve it with a dipping sauce to complement the snack's savory flavors. Whether indulging in Karipap as a breakfast item or an afternoon treat, this beloved Malaysian curry puff never fails to lighten up your day.
19. Murtabak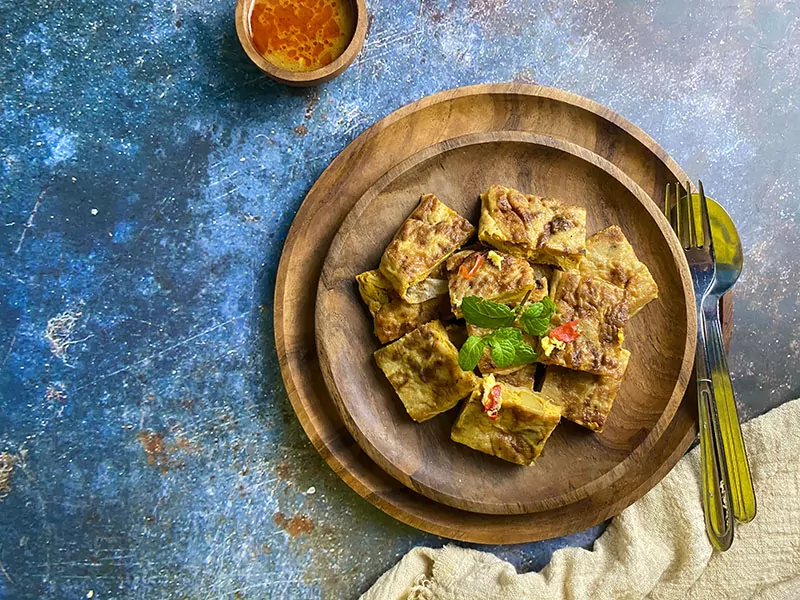 Murtabak is believed from the Yemeni food culture, then was introduced by Tamil Muslim traders to South East Asians. Also known as "mutabar" in other languages, this layered pancake is known for its crispy exterior and tender filling.
Often enjoyed as a main course, Murtabak showcases a square shape, with the dough folded over the filling to create a mouthwatering parcel.
The dish's primary components include minced meat, typically beef or chicken (occasionally goat or mutton), egg, and onion.
Murtabak can be served alongside various accompaniments, such as pickles, cucumber, or delicious curry or gravy. Besides the savory version, you can enjoy the sweet version of Murtabak Manis.
Seafood-based dishes are always the favorite choice of many natives and tourists. If you want to enjoy the flavor of the sea from Malaysian dishes, you should not neglect these suggestions in this part.
20. Laksa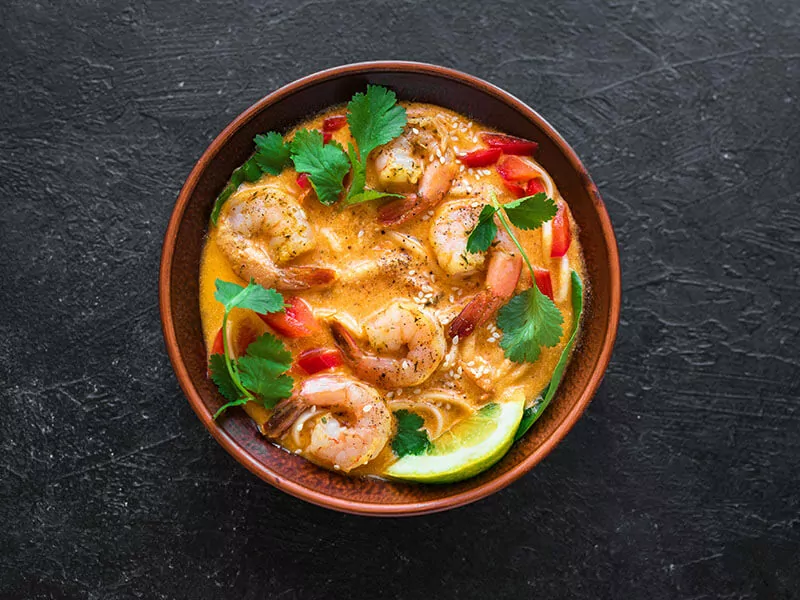 Laksa (Malaysian Shrimp Soup) is an iconic spicy coconut noodle soup with rich flavors and a creamy texture. As a hearty dish, it can be your new favorite Malaysian dinner recipe.
Rice noodles topped with succulent prawns (or fish) and tofu are some key food in Laksa. Plus, the flavor profile of Laksa is an amazing blend of spicy, savory, and slightly sweet, derived from a base of aromatic laksa paste, coconut milk, and other spices.
Laksa can pair with different sides, such as fresh vegetables, hard-boiled eggs, or bean sprouts, which add a pleasant contrast to the dish. There are numerous variants of Laksa in Malaysian cuisine, including Curry Laksa and Penang Assam Laksa.
On the other hand, many people confuse the difference between curry and laksa, but it is easy to clarify. While both dishes are known for their rich flavors and use of spices, curry is typically thicker and often made with a spice blend containing turmeric, whereas Laksa is a soupier dish that features a spicy coconut milk base and noodles.
21. Asam Pedas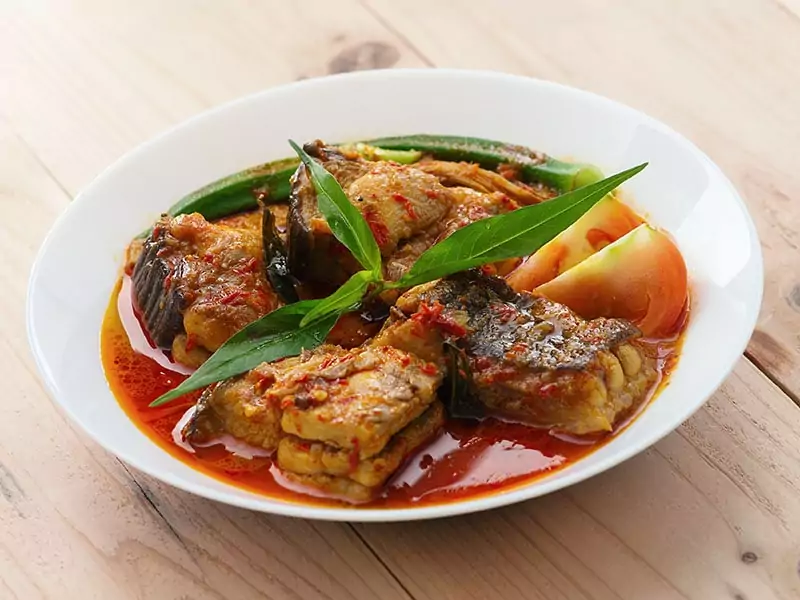 Asam Pedas (Maritime Southeast Asian sour and spicy fish stew dish) originate from the Minangkabau cuisine of West Sumatra, Indonesia. It has become popular not only in Malaysia, particularly in Malacca, but also in Singapore and, of course, Indonesia.
The main components of this flavorful dish typically include fish, okra, tomatoes, and various seasonings, all cooked in a zesty, rich broth.
In fact, the name "Asam Pedas" simply means "sour" and "spicy", showcasing the essential characteristics of this delicious stew.
22. Lekor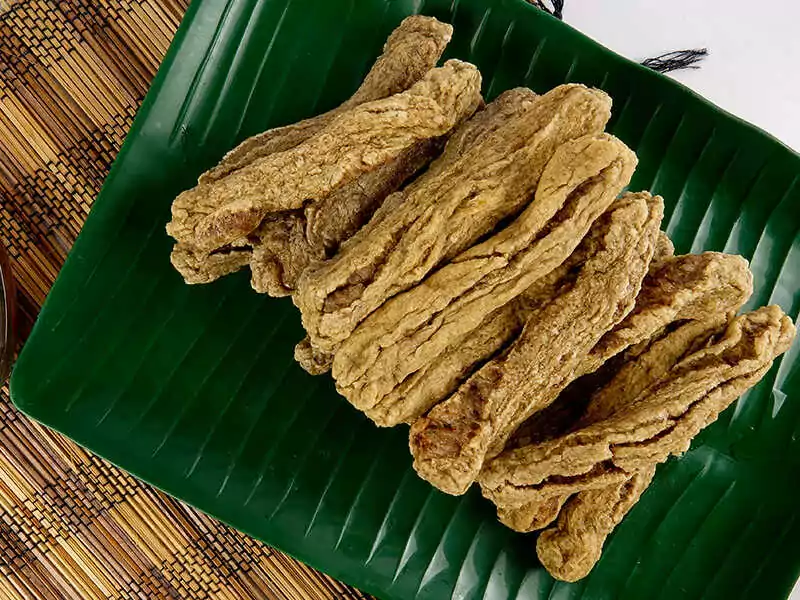 Lekor (Keropok Lekor), a traditional Malaysian fish cracker snack, is a vital component of Terengganu's culinary heritage and a recommended experience for Malaysian cuisine explorers.
This delectable treat was created over 30-40 years ago when fishermen returned from their fishing trips with an excess of fish, leading villagers near the beach to invent a new snack.
Apparently, fish is a key food here, along with sago flour, salt, and sugar. These ingredients give the snack a slightly grayish appearance, with a fishy taste and aroma that becomes more pronounced as it cools down after frying.
Keropok Lekor is best enjoyed freshly fried and crispy. Moreover, it is often served with a specially made chili sauce.
23. Sata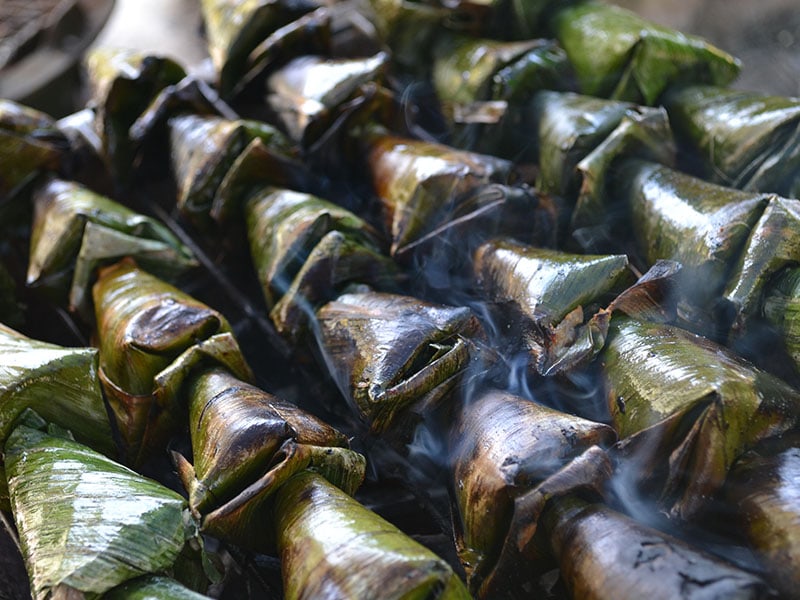 Another delight from the state of Terengganu is Sata or Satar. It is a traditional fish cake that consists of spiced fish meat wrapped in banana leaves and cooked on a grill.
It is important to note that Sata is completely different from Satay, a popular skewered and grilled meat dish in Malaysia. Plus, their appearance is also dissimilar.
In Sata, the spiced fish paste is packed into banana leaves and folded into tiny pyramid shapes before being skewered and grilled on hot coals.
Its overall flavor is a delightful mix of savory fish, aromatic spices, and a hint of smokiness from the banana leaves and grilling process.
As a tasty Malaysian street food, you can find these tasty fish cakes at night markets and some Malay restaurants, as well as in the form of frozen Sata available at supermarkets. Remember that Sata is best enjoyed hot immediately after grilling.
The seasoning used in it is not too much to retain the authentic taste of the fish.
Have you ever tried any Malaysian desserts and sweet snacks? This place is well known for its diverse and delicious cuisine, and its sweets are no exception. Keep scrolling down the page to uncover these gems.
24. Apam Balik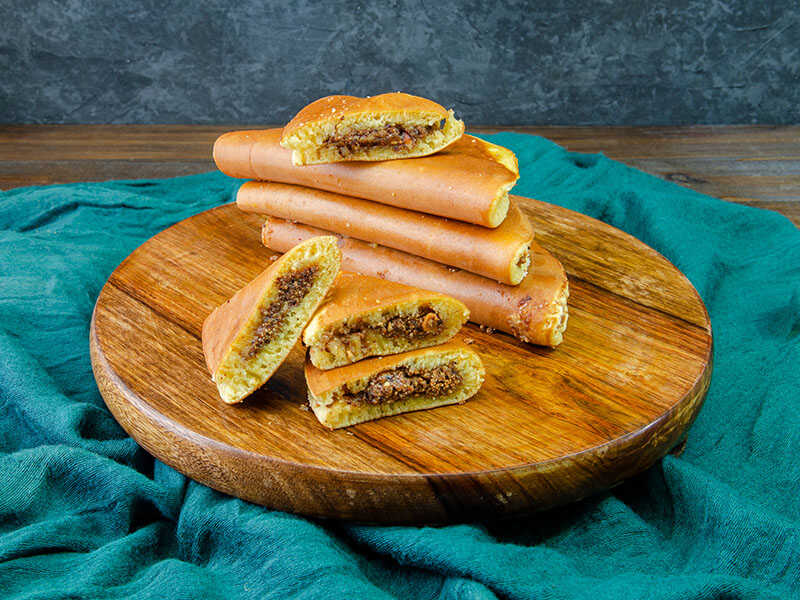 Apam Balik (or Kuih Haji) is a fantastic idea to start your adventure with classic Malaysian desserts.
This is a Chinese-style food first invented by General Tso of the Qing Dynasty. Gradually, this food spread to areas, such as Fujian, Quanzhou, and, of course, Malaysia.
In general, it is a smooth, slightly sweet pancake made from flour, sugar, eggs, and coconut milk. This treat's base is then filled with a scrumptious mixture of crushed peanuts and other components.
The true magic of Apam Balik is its balance of sweet and savory flavors, coupled with the nutty crunch of peanuts.
Venturing through Malaysian streets, you will often find specialist roadside stalls or restaurants dedicated to serving this delicious snack. Enjoying it with a cup of tea after a meal is preferred.
25. Kuih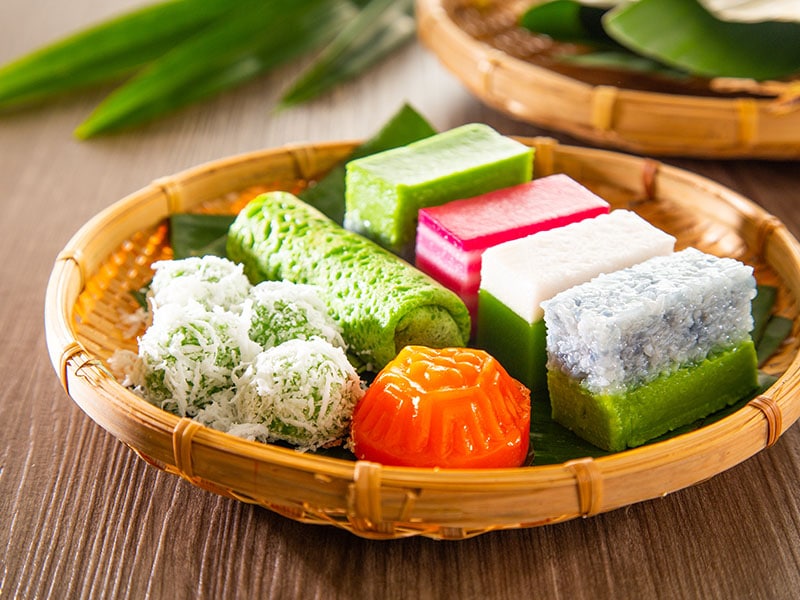 Known as "kue" in Indonesia and "kueh" in Singapore, Kuih is another must-try sweets.
With its combination of rice flour, mung bean starch, coconut milk, pandan leaves, and more, these bite-sized treats are truly amazing. Its soft texture with creamy and buttery flavor will leave a deep impression in your mind.
As a visual feast for the eyes, Kuih comes in different colors and shapes. And each piece is carefully crafted and presented.
You can taste Kuih Bingka Ubi with a brown crust baked with sweet pandan-flavored custard. If you want a lighter version, you can choose Kuih Cara Berlauk, which contains eggs, coconut milk, flour, and turmeric.
26. PappaRoti Buns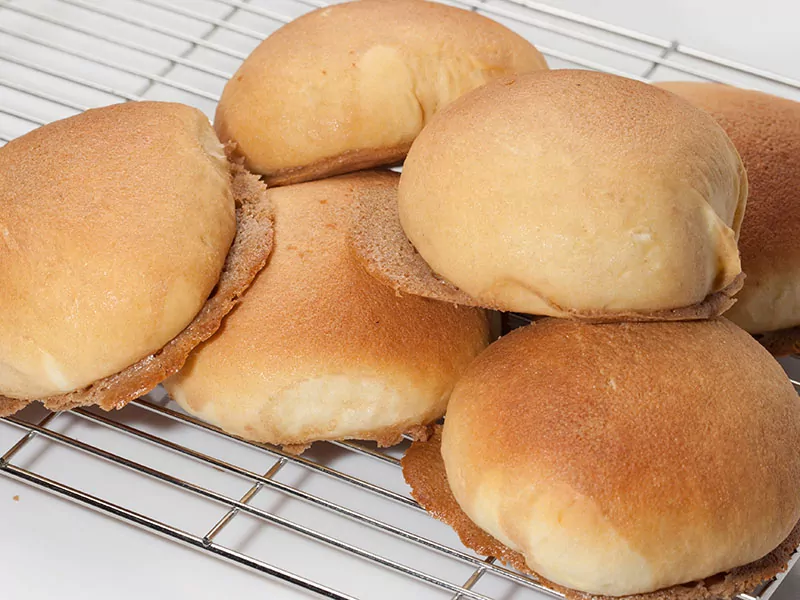 PappaRoti is not a long-standing sweet course in this nation. It is a type of bun that is believed to appear in the country in 2002. Until now, Papparoti has gained global acclaim for their unique taste.
At the first look, this bun is a reimagined version of traditional roti flatbread with a beautiful golden hue, accentuated by the signature coffee-flavored icing that graces their surface.
The main ingredients of Papparoti buns are flour, yeast, milk, butter, eggs, etc., which come together to form a soft, pillowy dough. Regarding its texture, each bite takes your palate on a journey through layers of crunchy, coffee-tinged icing, followed by the tender, buttery dough within.
For those eager to savor authentic Papparoti Buns in Malaysia, the PappaRoti chain with over 400 outlets throughout the country provides an ideal setting to taste the delectable flavor of these delights.
27. Tepung Pelita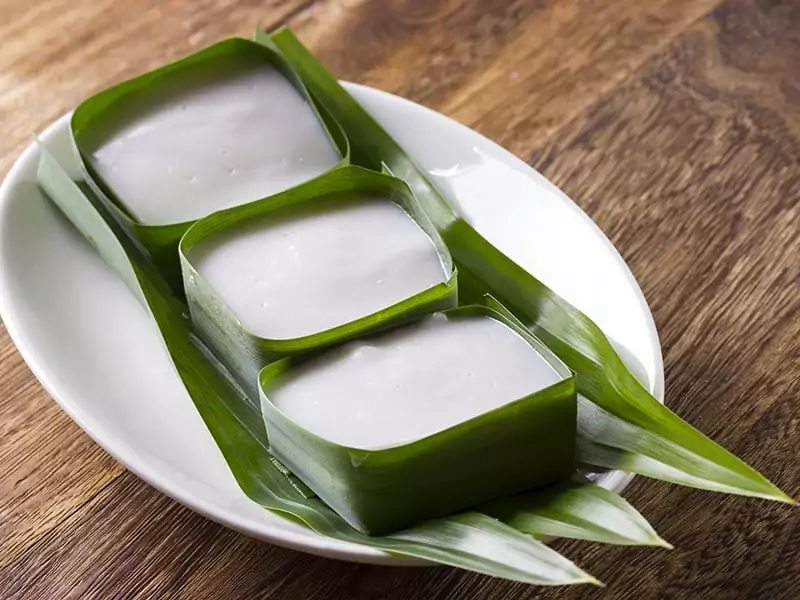 Tepung Pelita is one of the famous types of Kuih. Thanks to its distinctive dual-layered presentation, it is easy to recognize among many Malaysian desserts.
Coconut milk, rice flour, and pandan juice are the prominent ingredients of this food, so you will feel the creamy taste when enjoying this dessert.
The dessert is often served in small, banana leaf containers called temelong, which not only add to the overall appearance but also enhance a subtle, earthy flavor to the treat.
The dessert is traditionally steamed, so in terms of texture, Tepung Pelita has a delicate, melt-in-your-mouth texture.
28. Putu Piring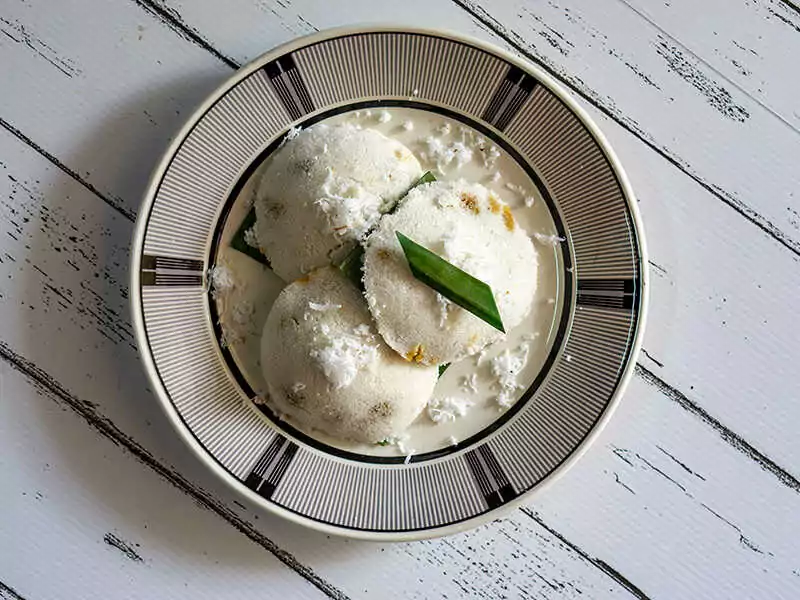 Putu Piring is also a type of Kuih of Malaysian cuisine. This steamed rice cake has a round shape, often featuring a beautiful flower pattern imprinted by the stainless steel molds used in its preparation.
Putu Piring comprises rice flour, palm sugar (aka gula melaka), and freshly grated coconut. The rice flour mixture is carefully shaped into a circular mound, with a spoonful of gula melaka nestled in the center.
These lovely cakes are soft and tender, while the palm sugar filling delivers a sweetness that is perfectly balanced by the fresh, grated coconut garnish.
You can find different Putu Piring in Southeast Asian countries with various names. They also come in various shapes and sizes between the Singaporean and Malaysian varieties.
For instance, the Singaporean version, known as kuih tutu, tends to be thicker and rounder, while the Malaysian and Southern Thai versions are generally flatter in shape.
29. Pulut Durian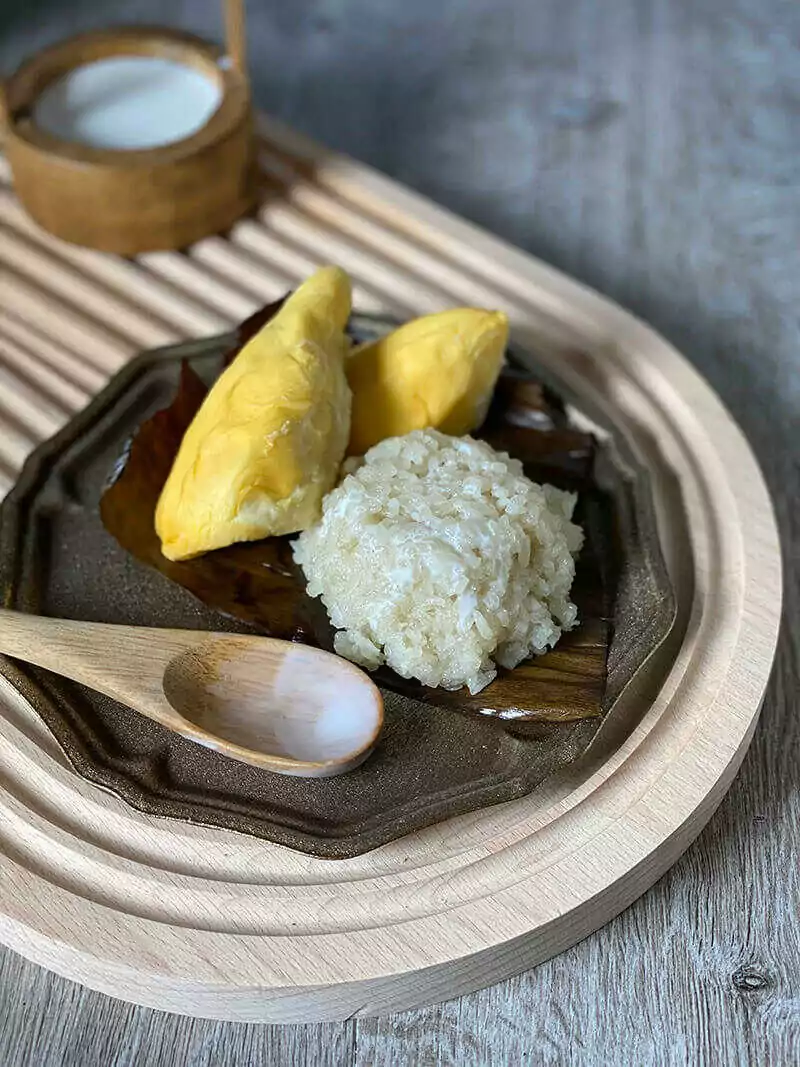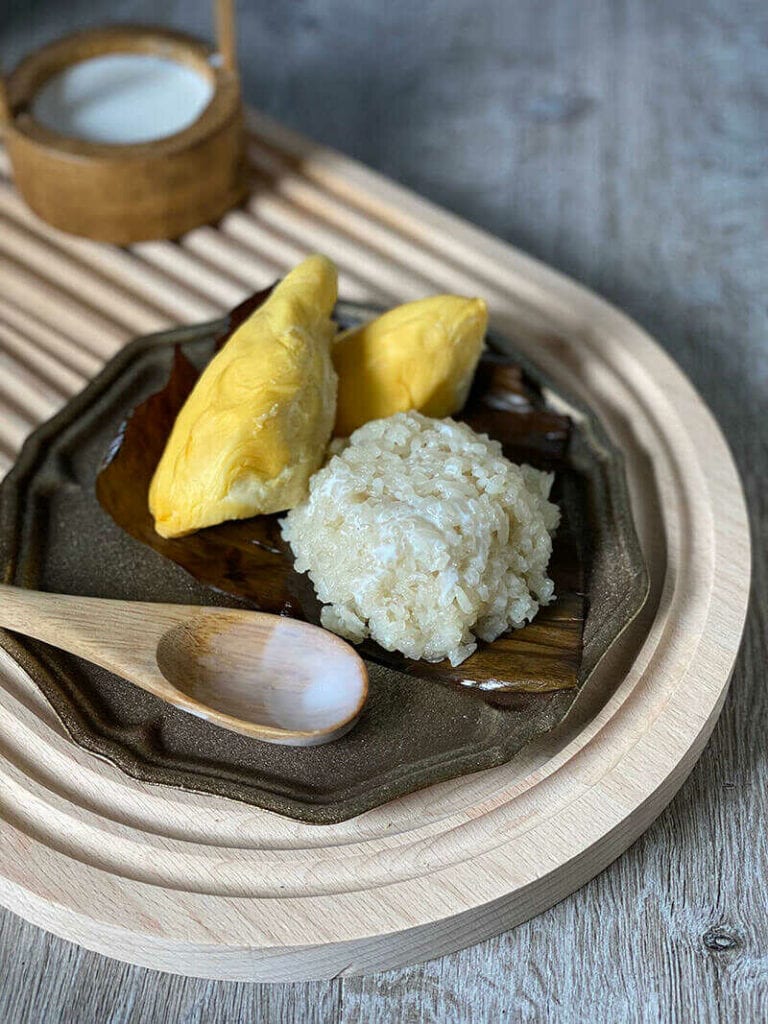 Durian is a common fruit in Malaysia. It is often referred to as the "king of fruits," which is a large, spiky, greenish-brown fruit native to Southeast Asia. 
Although durian has a sweet and mild taste, its pungent odor can be quite overwhelming, leading to its ban in some public places and mass transportation systems.
Pulut Durian is a traditional Malaysian dessert made with durian flesh, glutinous rice, coconut milk, and a hint of pandan leaves.
Rich and creamy durian flesh perfectly complement the mildly sweet glutinous rice. The aroma of this dessert is quite potent, as is the durian's characteristic smell.
A similar dessert found in Thai cuisine is mango with sticky rice, which also features glutinous rice as the base ingredient. Overall, it is clear to see that Southeast Asian cuisine always finds ways to create unique desserts. Who would have thought the combination of fruit and rice can be that good, right?
30. Teh Tarik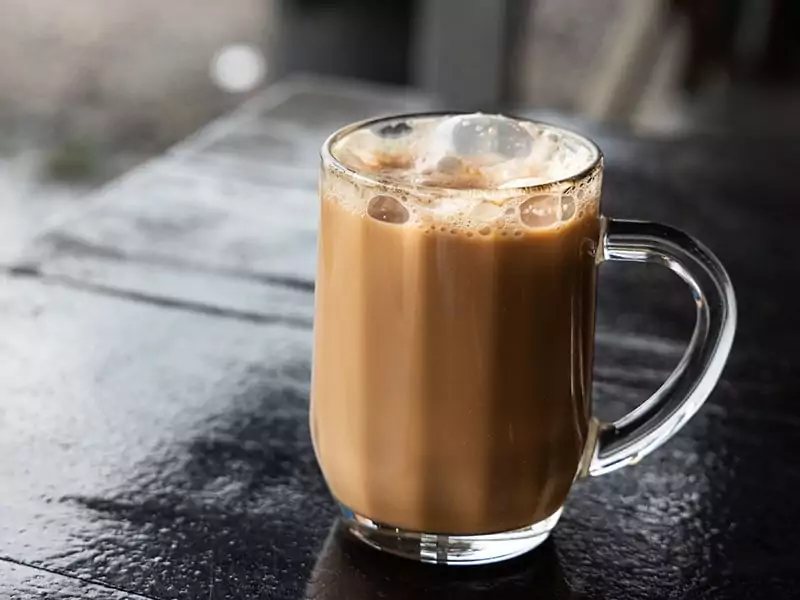 Originating in Malaysia, Teh Tarik has become the country's unofficial national drink. Teh Tarik, which translates to "pulled tea" in Malay, is a popular hot milk tea beverage commonly found in other nations like Indonesia, Singapore, and Thailand.
The name is derived from the unique process of preparing the drink by repeatedly pouring it from one container into another, or "pulling" it, with arms extended. This pulling method helps to mix the ingredients and create a frothy texture.
This beverage is made from a strong brew of black tea, combined with condensed milk and a pinch of salt. The result is a velvety, creamy beverage that everyone will love.
In Malaysia, you can buy Teh Tarik at various locations such as restaurants, outdoor stalls, mamaks, and kopitiams.
31. Air Tebu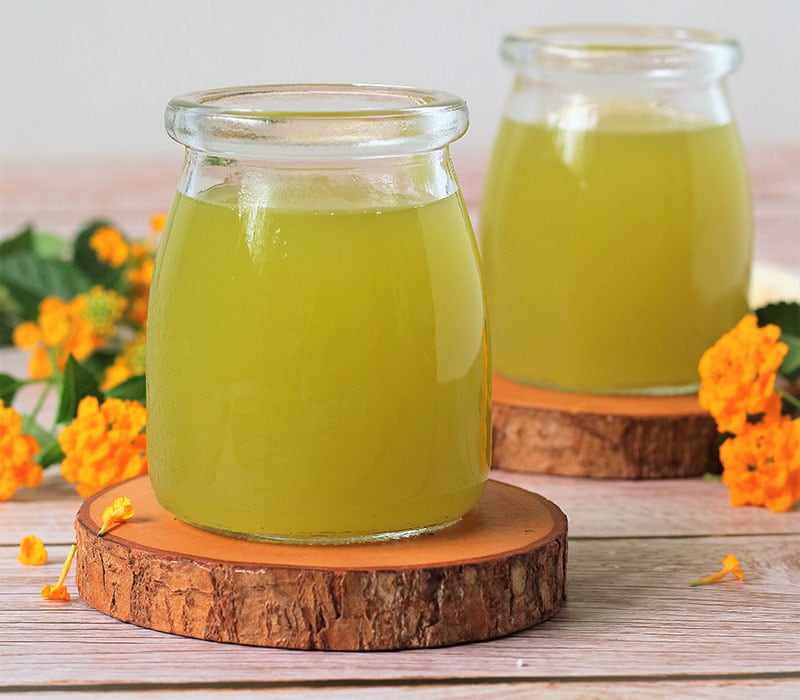 Air Tebu (aka sugar cane juice) is a refreshing and sweet beverage loved by locals and visitors. It is typically made by extracting juice from sugar cane stalks using a press or roller. This freshly squeezed juice is then served chilled, often with a splash of lime to enhance its flavors.
Sold in bags or bottles from street stalls,, mamaks, and kopitiams, Air Tebu can be enjoyed on-the-go or while exploring vibrant local markets. The taste of this beverage is praised by its natural sweetness and subtle grassy undertones.
Its aroma is light and fresh, evoking the tropical ambiance of the country. Therefore, it is a perfect thirst quencher on a hot day.
32. Bahulu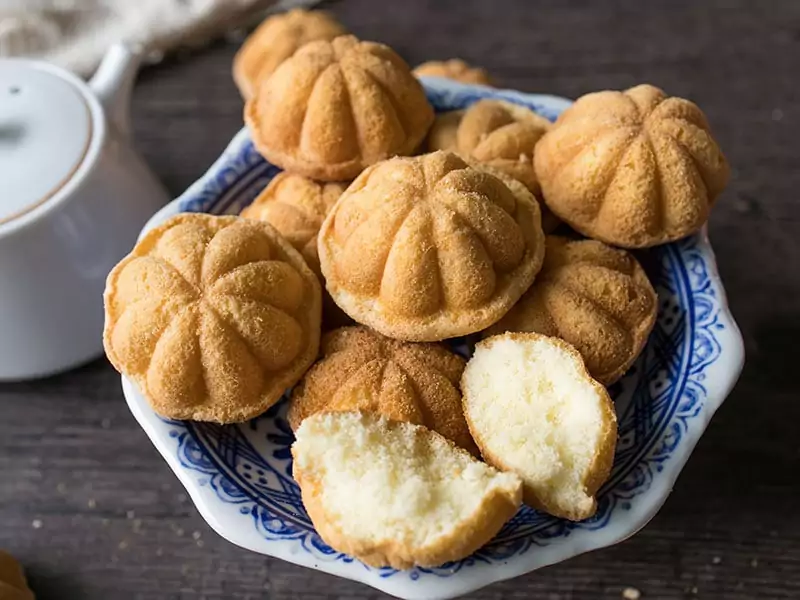 Bahulu (baulu) is a traditional Malaysian pastry (kuih or kue). It is a small cake baked in a mold. The cake is light and fluffy, with a slightly sweet and eggy taste. Its main ingredients include wheat flour, egg, sugar, and baking powder, with no oil added to the batter.
Once baked, the cake is golden brown in color and is ideal to be dunked in hot coffee or hot tea.
There are three versions of Bahulu with various shapes that you can choose from, including star-shaped (Bahulu Cermai), roll-shaped (Bahulu Gulung), layered (Bahulu Lapis).
FYI, this dessert is a creation of the people of the Malay Peninsula during the Portuguese colonial period. This food often appears during essential occasions, such as New Year or Eid al-Fitr (end of Ramadan). It is on the list of Malaysian national Heritage.
33. Ais Kacang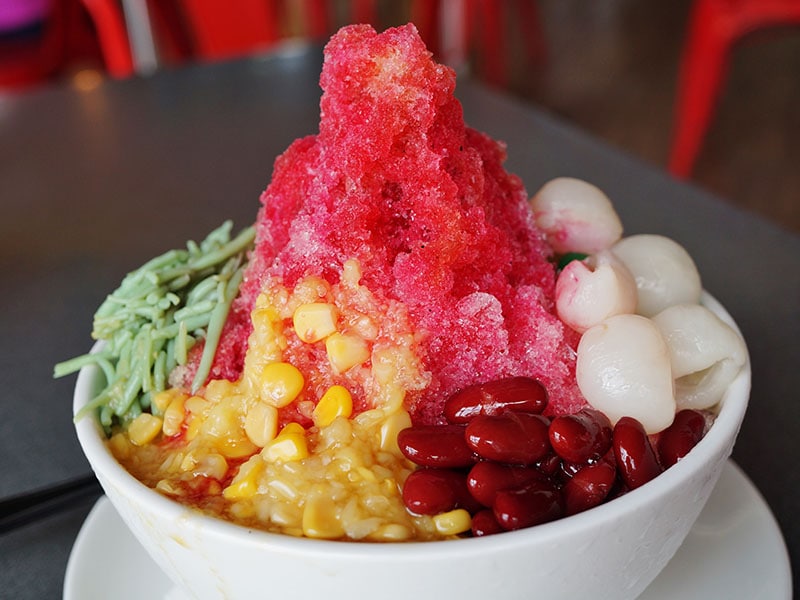 Ais Kacang, also commonly known as ABC (air batu campur), is very popular in Malaysia, Singapore, and Brunei. The name "Ais kacang" literally means "bean ice," implying the main ingredient of red beans used in the dessert.
Besides red beans, the dessert also consists of shaved ice and a fruit cocktail, topped with various dressings such as sweet syrup, condensed milk, and flavored syrups. It is typically served in a bowl or a tall glass, making it a perfect treat for hot and humid days in this country.
In addition, there are many variants of Ais kacang that have evolved over time. Some vendors add fresh fruit such as mango, lychee, banana, or even durian, while others add grass jelly or palm seed to the mix.
Ais kacang is readily available at food courts, hawker centers, and dessert shops. There are even specialty shops that sell only Ais kacang, with a wide range of toppings and dressings to choose from.
In Malaysia, some of the most famous Ais kacang stalls can be found in Penang, where the dessert has become an integral part of the island's food culture.
34. Pisang Goreng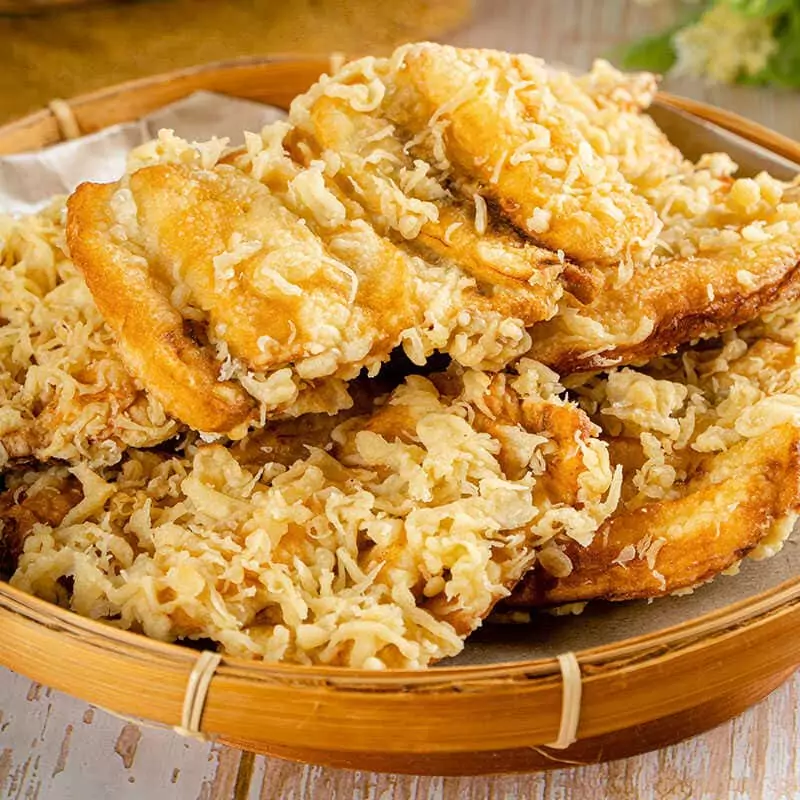 Pisang Goreng (cekodok pisang and jemput-jemput pisang) is a Southeast-Asian street snack made from fried bananas. In the past, the Portuguese made banana fritters for the first time in 1511 for breakfast. Before the Portuguese arrived, the Malays only ate raw bananas.
Moreover, the name "Pisang Goreng" translates to "fried bananas" in English. Today, this snack is a favorite in some South East Asian nations, where it is commonly sold at street stalls and food carts.
Pisang Goreng's ingredients are bananas, flour, sugar, baking powder, and salt. The bananas are deep-fried until they are crispy on the outside and soft and creamy on the inside.
The bananas used for Pisang Goreng should be ripe but not too soft, as overripe bananas may become too mushy when fried.
If you want to make it at home, it is essential to fry them in small batches to ensure that the oil temperature remains consistent and the bananas cook evenly. After frying, the bananas are usually placed on paper towels to absorb excess oil or on a cooling rack.
Pisang Goreng is often served as a teatime snack or a dessert, and it pairs well with coffee, tea, or Milo. In Indonesia, they are often dusted with powdered sugar and cinnamon or drizzled with chocolate. Some even serve them with jams or ice cream.
35. Rojak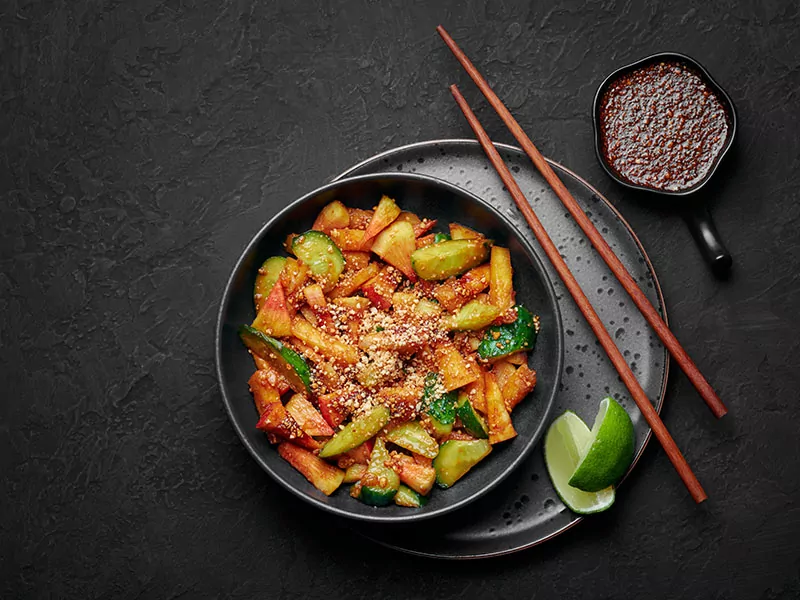 Rojak is a popular salad dish of Javanese origin. It is normally known as Rujak, while in Malaysia and Singapore, it is known as Rojak.
This salad is made up of a mixture of sliced fruits and vegetables served with a spicy dressing. The most popular variant includes pineapples, jicama, cucumber, bean sprouts, and tofu, but there are many variations available.
Rojak in Malay means "mixture". Malaysians often serve it with shrimp paste, so it has the full flavor of sour, salty, spicy, and sweet.
The salad is ideal to enjoy at room temperature and they should be fresh. As a result, it is a perfect dish for hot weather due to its refreshing taste.
36. Honeydew Sago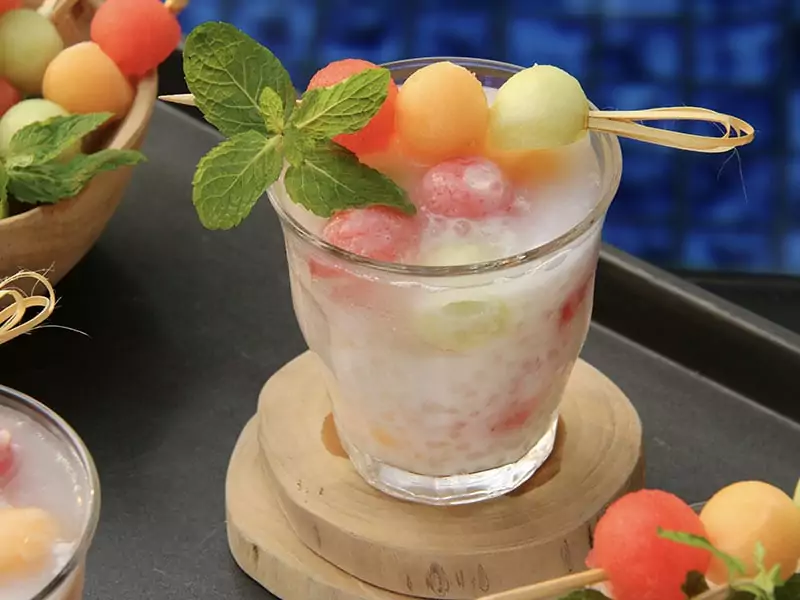 Another amazing dessert I would like to introduce is Honeydew Sago. It is a harmonious blend of honeydew melon, sago pearls, and coconut milk.
With its delightful combination of flavors and textures, Honeydew Sago offers a refreshing escape from the heavier dishes, which is typically found at Chinese wedding banquets in Malaysia.
Additionally, this elegant dessert is best served chill. In Penang, you can find it in some Chinese-based restaurants' menus.
37. Cendol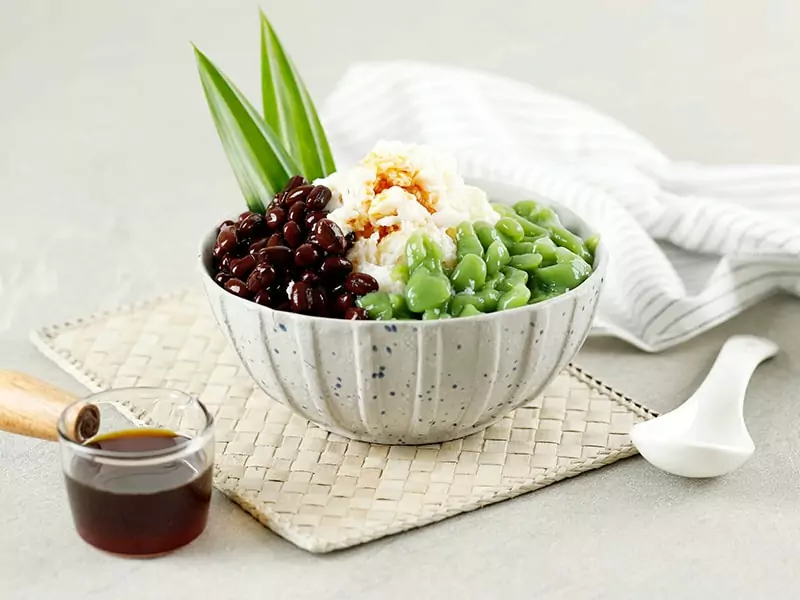 With a rich history dating back 900 years, Cendol has undeniably stood the test of time. Believed to have been first mentioned in a 12th-century text from Java, this dessert has continued to evolve, adapt, and enchant generations of dessert lovers across Southeast Asia.
This chilled, colorful creation is known for green worm-shaped jellies, which are made from rice flour. Combined with rich coconut milk and a sweet, fragrant sugar syrup made from palm sugar, the dessert offers a perfect balance of flavors.
As you indulge in this dessert, you'll experience the refreshing crunch of coarsely shaved ice, the smoothness of the coconut milk, and the satisfying chewiness of the pandan-flavored jellies.
What's better, Cendol's fame stretches far beyond the borders of Malaysia, as it is considered one of Southeast Asia's top desserts. The dish enjoys popularity in countries such as Vietnam, Cambodia, Myanmar, Thailand, Singapore, Indonesia, and beyond.
38. Bubur Kacang Hijau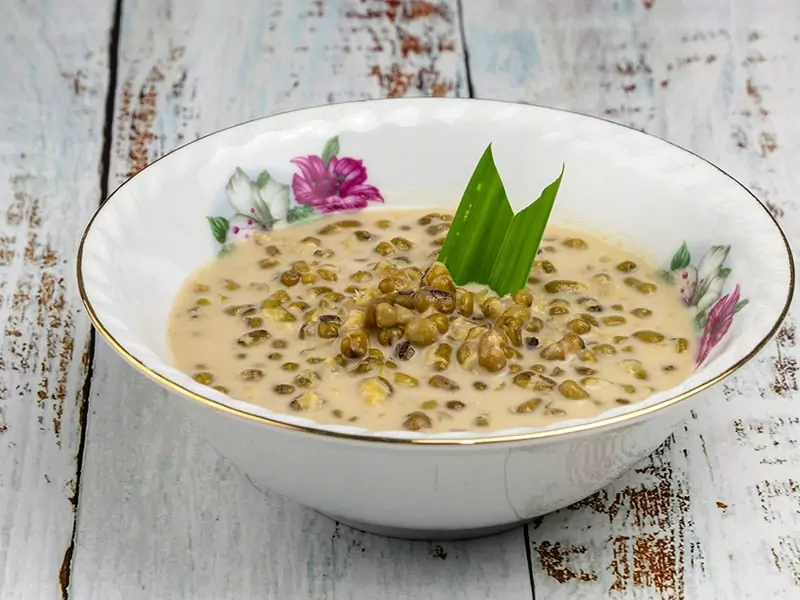 It is refreshing to start a new day with Bubur Kacang Hijau. You can find stalls with giant steel pots selling this porridge in Malaysia. In reality, it is a versatile dish that can be a dessert, snack, breakfast, or even a late-night supper.
The name Bubur Kacang Hijau directly translates to "green bean porridge," which aptly describes the main ingredient of this delicious concoction. At its core, Bubur Kacang Hijau consists of mung beans, coconut milk, and palm sugar or cane sugar.
With its delightful taste and comforting texture, Bubur Kacang Hijau is sure to please any palate. So, next time you crave something wholesome and delicious, don't hesitate to give this sweet porridge a try.
39. Roti Canai
Roti Canai (roti prata) known as roti chanai and roti cane is a flatbread influenced by charming Indian dishes, especially that of the Muslims. Its introduction to the region dates back to the 19th century when Indian Muslims brought it to Southeast Asia during the British Malaya era and the Straits Settlements.
Wheat flour, water, salt, and sugar are the main things to create smooth dough of Roti Canai. Its taste varies depending on the accompaniments or fillings, but the bread itself has a slightly sweet and salty flavor.
Malaysians typically enjoy Roti Canai with a variety of curries. It is available in both sweet and savory versions, featuring ingredients like eggs, meat, and cheese. This flatbread can be found at street Mamak stalls, especially in Kuala Lumpur.
40. Roti Jala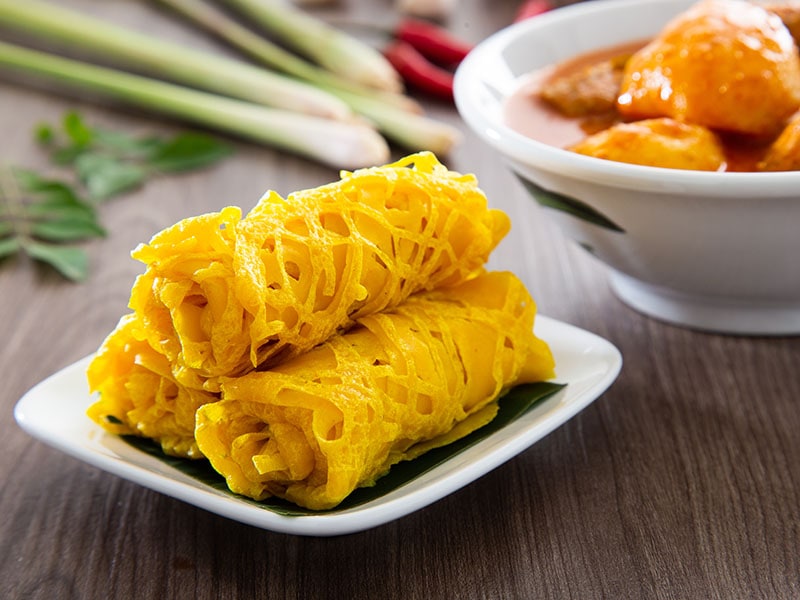 Roti Jala (or roti kirai, roti renjis) is a savory crepe made from flour, eggs, milk, and turmeric powder. The name "Roti Jala" translates to "net bread," which emphasizes the intricate net-like design inspired by the nets of local fishermen.
It is typically served in sets of three to four pieces with curries, such as chicken or potato curry, as a substitute for rice. In Malaysia, Roti Jala is often featured at special events like weddings and festivals, rather than in restaurants.
Roti Jala includes flour, water, coconut milk, eggs, salt, and turmeric. That's why the taste of Roti Jala is savory, with the turmeric adding a hint of warmth and earthiness to the crepe.
While both Roti Jala and pancakes are made from similar ingredients, such as flour, eggs, and milk, there are distinct differences between the two. The most notable difference is the appearance. Additionally, Roti Jala is a savory crepe served with curries, contrasting the often sweet and fluffy nature of pancakes.
41. Kaya Toast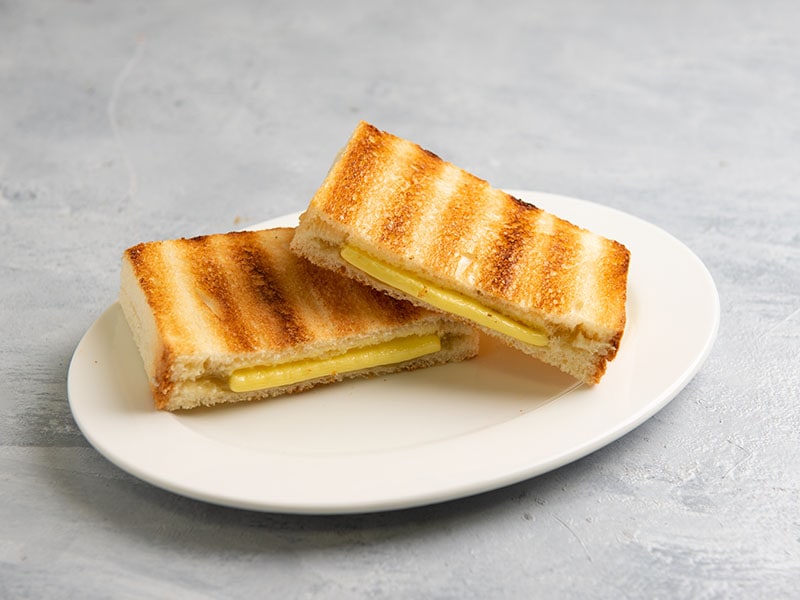 Kaya Toast is a beloved breakfast dish in both Singapore and Malaysia's culinary practices. It is a toasted bread spread with a delicious layer of kaya jam, made from coconut milk, eggs, and pandan leaves.
A thin slice of cold butter is typically placed on top of the kaya jam, adding a creamy note to the dish. Kaya Toast is often served with black coffee, which complements the dish's sweetness.
For a more complete breakfast, Kaya Toast can be enjoyed alongside a soft-boiled egg, seasoned with dark soy sauce and a pinch of ground white pepper.
42. Chai Tow Kway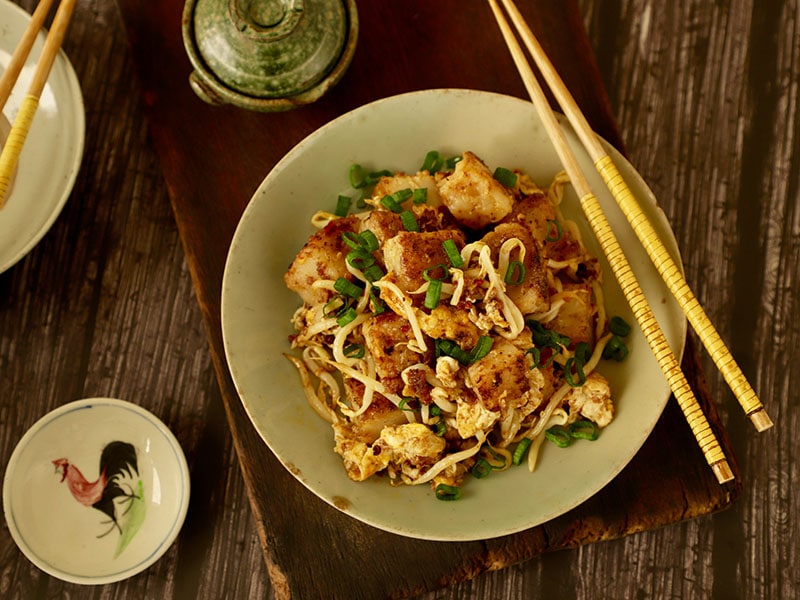 Chai Tow Kway is a course often enjoyed during Yum Cha. This flavorful dish has its origins in Teochew cuisine and is a common dim sum choice in Chaoshan, China.
It is a steamed radish or turnip cake, which is then cut into cubes for stir-frying. Radish cake is made by combining shredded daikon, rice flour, and water. People will stir-fry it with eggs and various seasonings, creating a flavorful dish.
The dish is often garnished with scallions, which adds a touch of freshness. The overall texture of Chai Tow Kway is soft and slightly crispy.
Plus, this dish has 2 prominent versions: white and black. The difference between them is that the black version contains sweet sauce (molasses), while the white one does not.
43. Rempeyek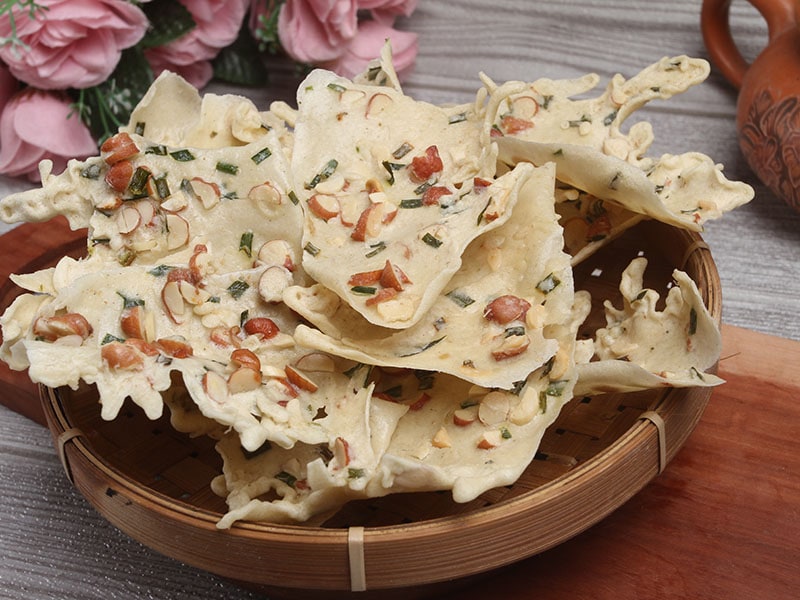 Rempeyek or peyek originally an Indonesian-Javanese cracker, has become a popular snack in Malaysian cuisine as well. This deep-fried savory cracker is enjoyed as a stand-alone snack, perfect for munching during leisure time or when socializing with others.
Rempeyek are normally made with flour (mostly rice flour) combined with various other ingredients and coated with a crispy flour batter. One of the most popular variants is "peyek kacang," which features peanuts as the main ingredient. However, other variations use ingredients like dried anchovies or small shrimp instead.
The flavor of Rempeyek also varies based on its ingredients. But their texture is renowned for its crispiness, which comes from the deep-frying process.
In terms of appearance, Rempeyek has an irregular shape due to the various ingredients mixed into the batter. The surface of the cracker showcases the chosen ingredient, like peanuts or anchovies, embedded into the golden-brown, crispy look.
44. Roti John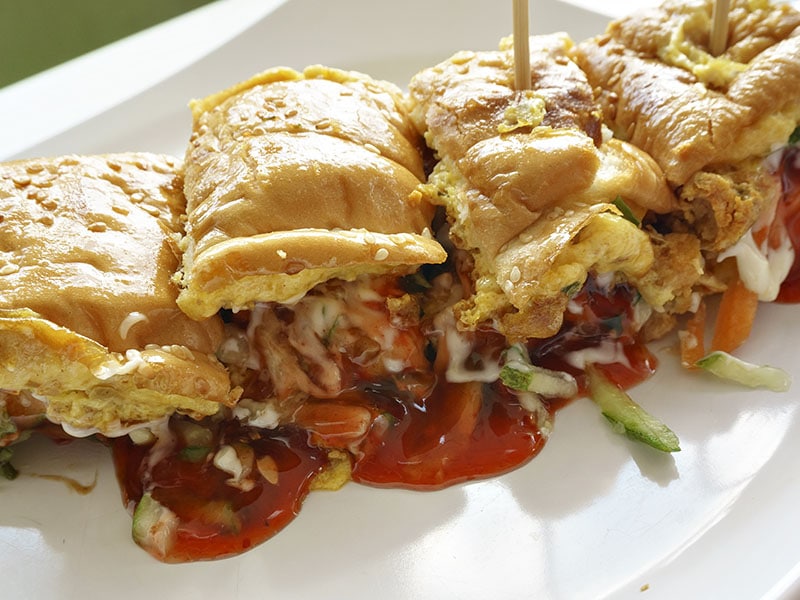 Roti John is a famous bread on the streets of Malaysia that hailed from Singapore, particularly during the 1960s or 1970s. The slim and tender slices of bread will combine with minced meat, eggs, and condiments for an appealing overall taste. You can eat it with ketchup, chili sauce, or mayonnaise.
Regarding its origin, this fantastic recipe comes from vendors at Koek Road. However, another anecdote suggests that it was invented by a Malay hawker in Sembawang in the 1960s while making an omelet sandwich for an Englishman.
Furthermore, the word "Roti" in its name comes from the Sanskrit word "Rotika", which means "bread". Today, this food is famous all over the Malay Peninsula with many different variations.