Indonesian street foods are palatable and renowned for using various spices, condiments, and ingredients that help to offer an unforgettable taste experience.
Because of its convenient geographical location close to several nations, Indonesia boasts a rich and diversified cuisine that synthesizes various delicacies from across the world.
Furthermore, those delicacies are usually very cheap, and you can easily find them on the roadside vendors. Therefore, don't miss my recommendations below!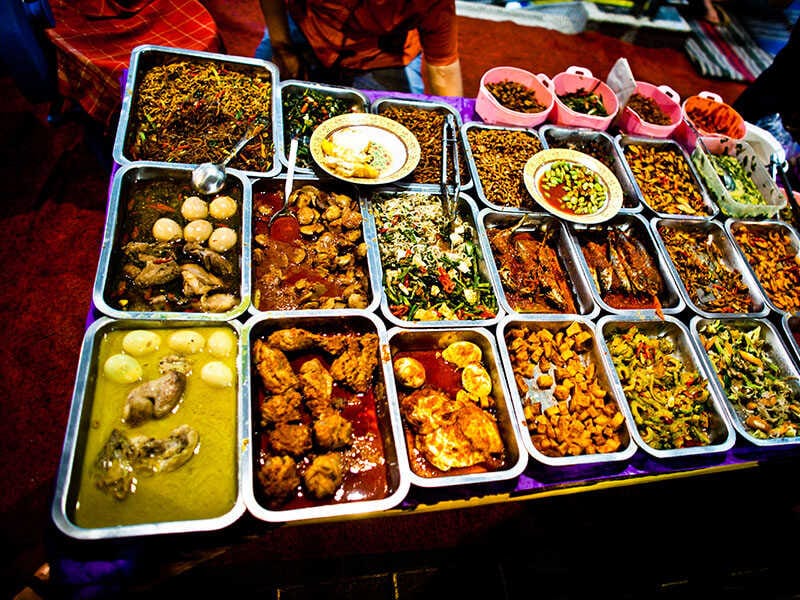 Just like many other prominent cuisines in Asia, Indonesia also has many noodle dishes that include various features of this specific cuisine. Here are list street food in India below:
1. Mie Ayam or Chicken Bakmi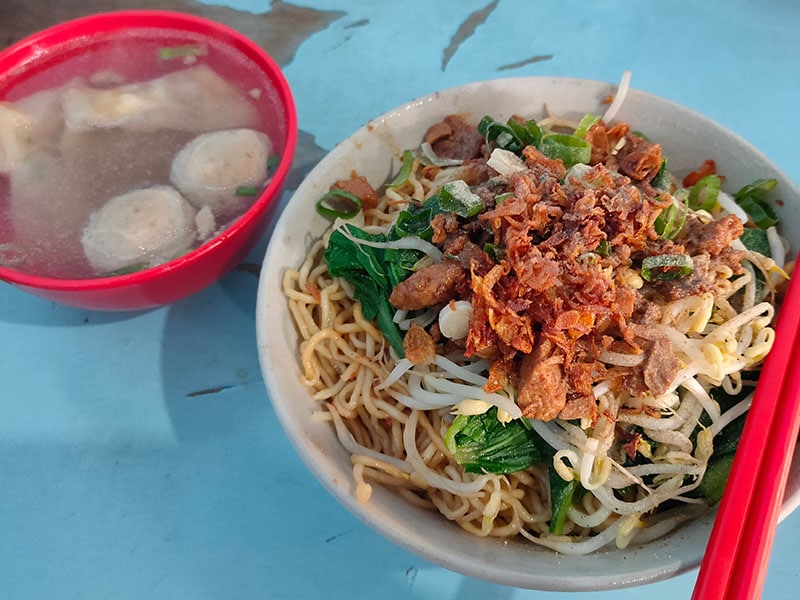 Having its origins from the Chinese communities living in Indonesian years ago, Mie Ayam and many other noodle dishes in this country have become staples in everyday meals. Therefore, you can easily find Mie Ayam in many small restaurants or street vendors.
The cooks will offer you a base of yellowish wheat noodles mixed with soy sauce, oil, and garlic for more flavors in this delicacy. The chewy and yummy noodles are the heart of this dish.
Besides, as the food's name states, Mie Ayam (meaning "chicken noodles") also includes diced flavored chicken together with some other toppings. Some of those are Bakso (meatballs), Pangsit (Indonesian wonton), and different fresh herbs. They all contribute to a delicious combo.
2. Mie Goreng or Mee Goreng
(Fried Noodles)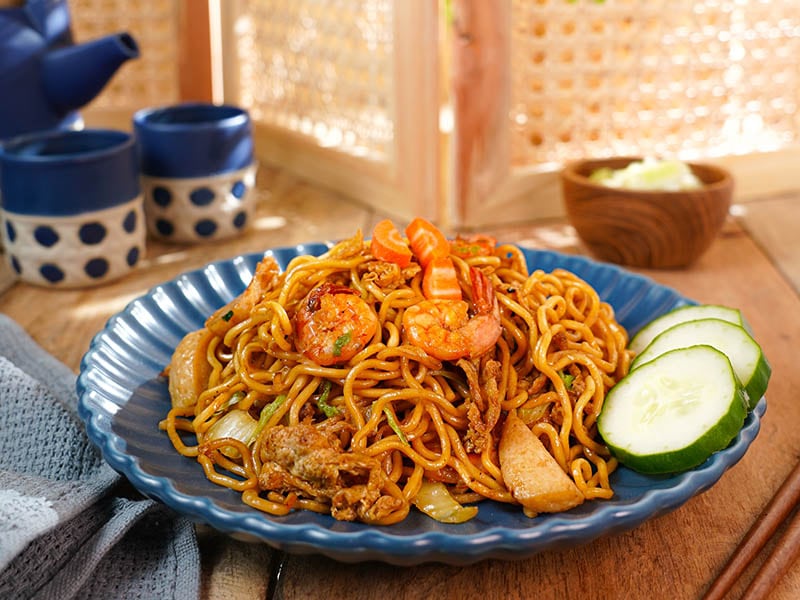 Talking about Indonesia but ignoring the specialty of Mie Goreng is indeed a mistake. While this Indonesian fried noodle dish is derived from another Chinese dish called Chow Mein, it is utterly yummy in another way.
After bringing the food to Indonesia, Chinese immigrants added twists to make it more "Indonesian". This popular Indonesian version includes noodles and proteins (seafood, Bakso, chicken, and beef) with a bold, spicy flavor.
This is a trendy dish in Indonesia that you can find almost on every street corner or street here. You should also eat this dish at many restaurants and eateries, though street vendors are more likely to offer you fried noodles with the most authentic Indonesian taste.
3. Ketoprak
(Vermicelli And Tofu Salad)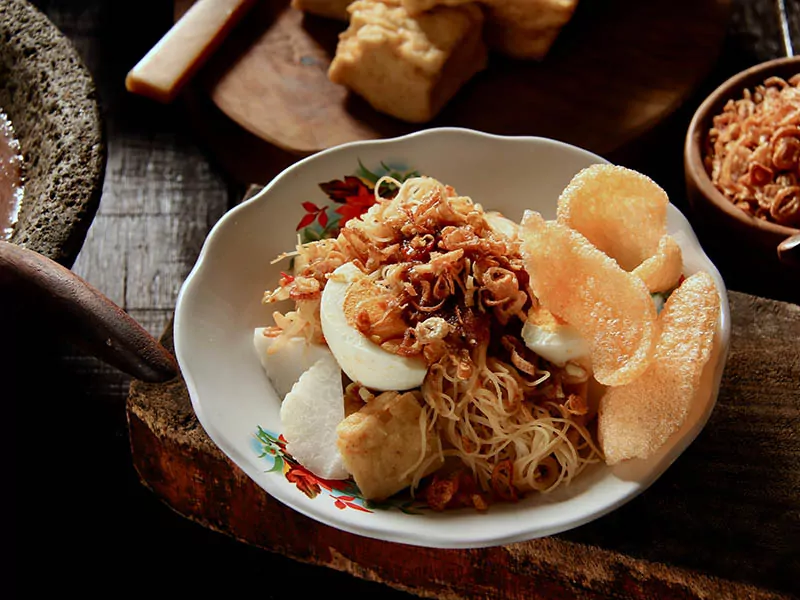 Don't worry if you're looking for a vegan dish or simply a veggie-filled side dish to go with the main course; choose Ketoprak. This Ketoprak includes only vermicelli, fried tofu, sliced ​​cucumber, and other vegetables, so it's perfectly suited to your needs.
The cooks often pour a sweet peanut sauce over the salad and some Crackers (which acts as an ingredient to enhance the texture of the food) on the side before serving it to you. So when eating, you need to mix the vegetables and noodles well with the sauce.
Those Crackers should stay crisp until you're ready to enjoy your Ketoprak plate. This dish may taste a little strange for those who have never tried sweet peanut sauce before. But believe me, it is better when you have the second bite.
4. Laksa
(Spicy Noodles)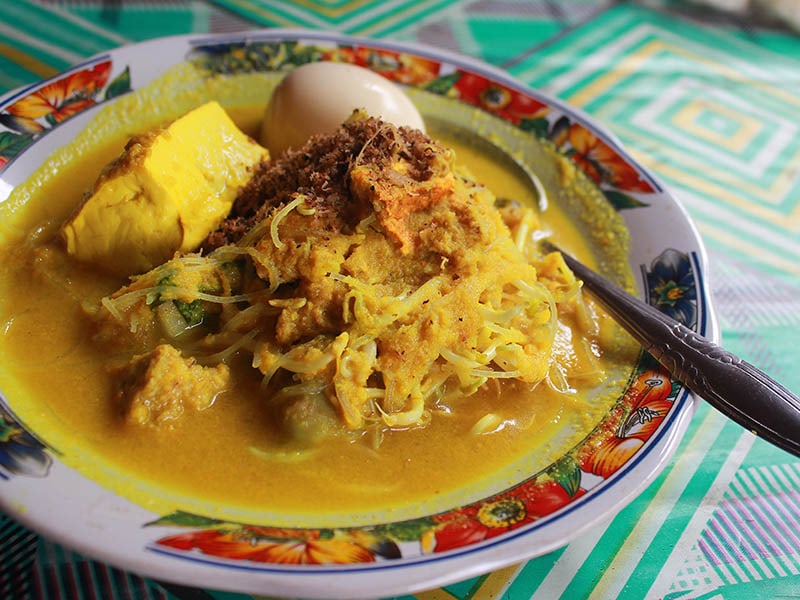 Laksa is a famous delicacy when it comes to noodle dishes from Southeast Asia. You can easily find many Laksa versions as not only a favorable Indonesian dish but also an irresistible Singaporean delicacy or a Malaysian treat.
About the origin of this delicacy, I have to say it is pretty unclear. Yet, the most supported theory says that overseas Chinese migrants were the ones who developed the first recipe of Laksa in Southeast Asia.
When the noodle dish arrived in Indonesia, locals contributed to forming this delicacy in their nation. As a result, when you take a bite of Laksa in Indonesia, you often feel rich and spicy flavors from coconut milk-based soup.
These qualities distinguish Indonesian Laksa from other variants in nearby nations. But right in Indonesia, there are still numerous kinds of Laksa with different components, providing you additional alternatives for this delicious food.
5. Mie Aceh
(Curried Spicy Noodle)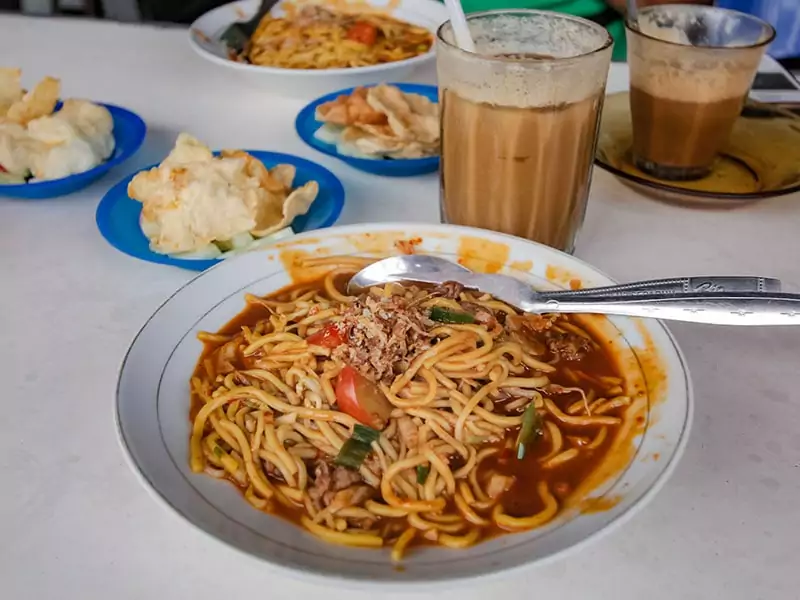 Mie Aceh is an authentic Indonesian recipe that originated from the Acehnese communities living in the northernmost area of Sumatra. With the solid influences from Chinese cooking and Indian curry recipes, local Aceh people created these flavorsome noodle dishes.
Although the noodles in this dish have their origin in China, the size of the noodle strands resembles the thick Udon noodles from Japan. Therefore, you can easily experience a hearty feeling with a mouthful of everything when eating.
Besides various spicy ingredients regularly seen in curry, Mie Aceh usually includes muttons, beef, or goat meat for proteins. If you are a fan of full-flavored noodle dishes, Mie Aceh is worth tasting at least once in a lifetime.
---
After mentioning noodle delicacies above, it is time to talk about rice dishes in Indonesia. Since rice also plays a huge part in Southeast Asians' daily meals, there are many toothsome treats that include rice to try in Indonesia. Check them out below now!
6. Nasi Uduk
(Coconut Rice)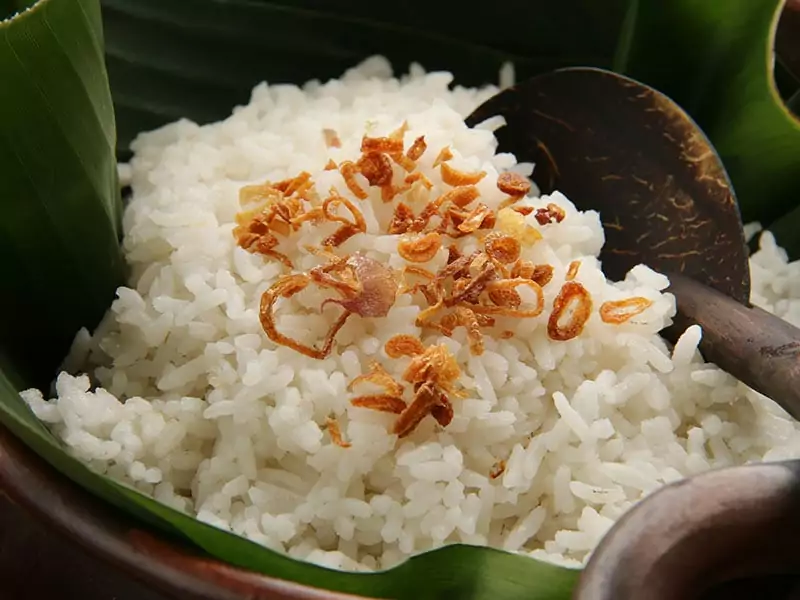 Rice dishes in Asia are varied, and you can easily find several variations of this easy-to-make Asian food. Indonesian Nasi Uduk is one of those. Jakarta, the capital city of Indonesia, is home to this flavorsome steamed coconut milk rice.
Sultan Agung was the first to create this rich coconut rice dish, with a traditional Arabic rice delicacy as his inspiration. But the sultan changed the original recipe by using local ingredients and ways of cooking, creating a yummy and more affordable dish.
Today, Nasi Uduk is available in most parts of Indonesia and is usually served with fried shallots topped with other accompaniments like eggs or savory or tofu. Because of that, you can still have Nasi Uduk as a vegan food if you pair it with tofu or veggies.
7. Bubur Ayam
(Chicken Congee)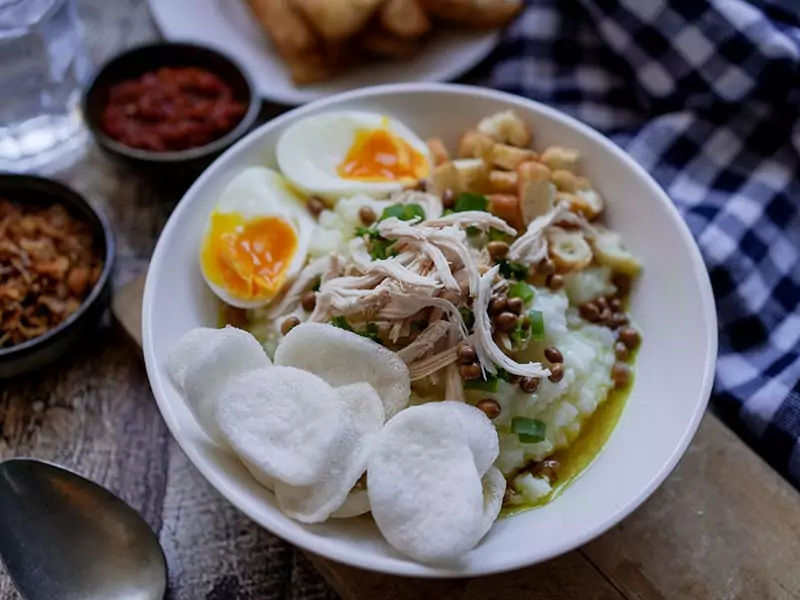 Bubur Ayam, also known as Indonesian chicken porridge, has a slightly thick texture and is loved by indigenous people. So if you are looking for a fast and nutritious breakfast or a light meal for dinner, try this one. It becomes your next heart-warming treat. 
Its taste is excellent and completely different from the porridge you have ever eaten. The shredded boiled chicken acts as an indispensable topping for Bubur Ayam alongside other ingredients (fried crullers, boiled eggs, crushed peanuts, etc.).
Soy sauce, sesame oil, and spicy sambal sauce are optional, yet you should try adding them all in your bowl to experience what the authentic version tastes like. Foreign tourists traveling in Indonesia can easily enjoy this delicious dish on the street.
8. Nasi Goreng
(Fried Rice)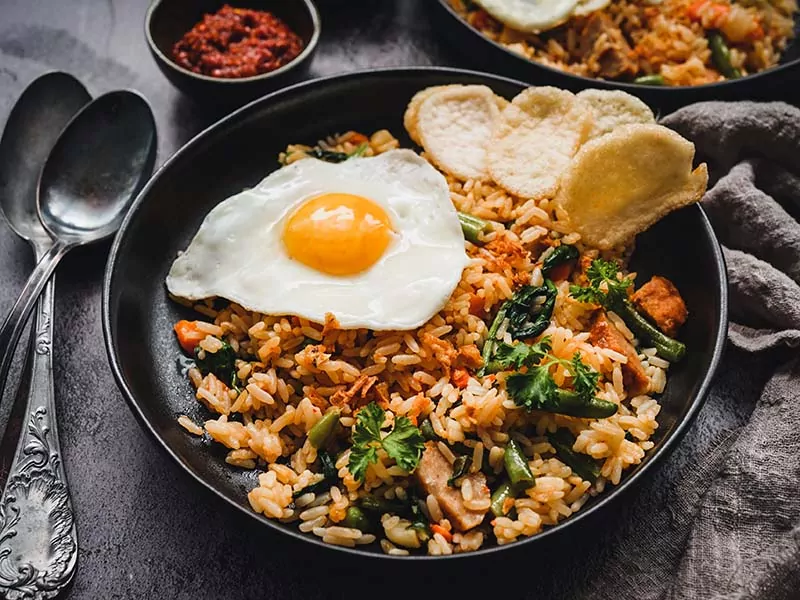 Among the most straightforward Asian food with fried rice, Indonesian Nasi Goreng is a shining example. It includes a variety of nutritious ingredients, including chicken, carrots, eggs, and spices like pepper and garlic.
Thanks to all these spices, the rice grains of Nasi Goreng have a beautiful brownish hue. The cooks will uniformly roast these condiments with rice to make a "mixed" rice meal that will satisfy even the pickiest guests.
About the history of this delectable cuisine, it first arose in Indonesia in the 10th century. Chinese immigrants brought this recipe of fried rice to Indonesia. Nowadays, this food has become a culinary treasure of Indonesia.
9. Nasi Campur
(Mixed Rice)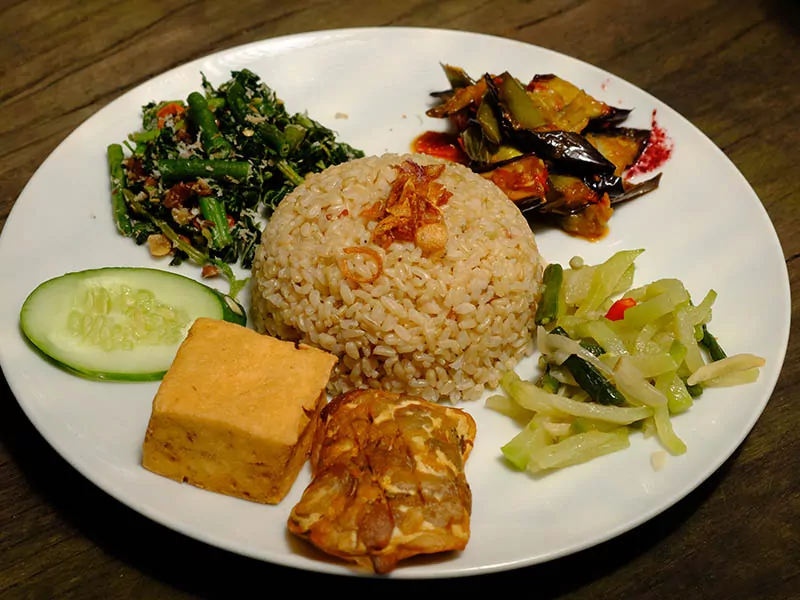 Looking at this Nasi Campur, you might think of a famous Korean recipe called Bibimbap (Korean Mixed Rice). Yet, these two delicacies don't have the same roots. Nasi Campur is an authentic Indonesian creation, and you should try it once to know more.
On a plate of Nasi Campur, you can have any food you want. Some most famous side dishes for you to opt for are beef, fish, duck/chicken, and many kinds of vegetables for more nutrition.
After all, the chefs will put some special sambal spicy sauce on the plate to bind every separate ingredient together. Since Nasi Campur is pretty hearty, you should definitely try it for any meal during your trip to Indonesia.
10. Gudeg
(Green Jackfruit Sweet Stew)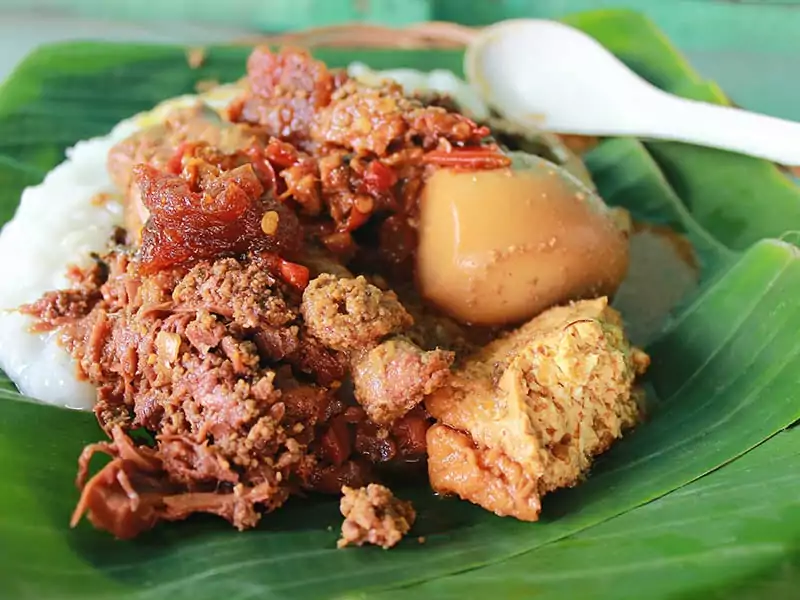 Have you ever tried having green jackfruit? If not, it is time to try this typical Indonesian stew. Gudeg has its origins in the Central Java region, Yogyakarta, and is famous for its palatableness and rusticity.
If you have Gudeg alone, it can be a perfect vegetarian-friendly stew since it includes only unripe/green jackfruits, coconut milk, and condiments. However, local Indonesians love pairing it with various proteins like boiled eggs, Ayam Goreng (Fried Chicken), etc.
When having Gudeg in Indonesia, you might have two options of consistency to choose from dry or wet. The drier variation has less coconut milk and requires a longer cooking time. When eating, the sauce is thicker and denser. They both go well with steamed white rice.
---
Having just suggested dishes with a starchy base, I will now show you more about meaty dishes in this nation. Although Indonesia is a country of islands, the livestock industry here is very developed, making delicious meat-based dishes quite plentiful
11. Babi Guling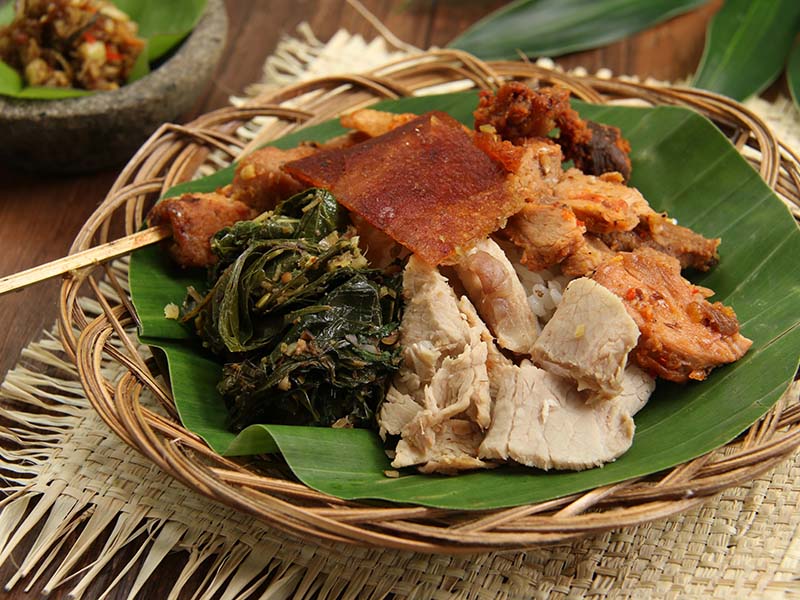 Babi Guling is a traditional dish from Bali, Indonesia. It's roasted pork stuffed with a mixture of aromatic spices such as turmeric, coriander seeds, or lemon leaves to marinate. Next, the chefs/vendors will grill the marinated meat directly over the charcoal.
As this is a dish loved by many Balinese, you can easily find stalls selling Babi Guling all over this beautiful island. Babi Guling requires long hours of processing to have a crispy skin/exterior and reduce the greasy taste from pork's lard.
But the quality of this rustic dish will be worth every effort and time waiting. When serving, the sellers will offer you the plate with various accompaniments, such as a traditional salad made from cowpeas, bean sprouts or water spinach, and hot steamed rice.
12. Bakso or Baso
(Meatball Soup)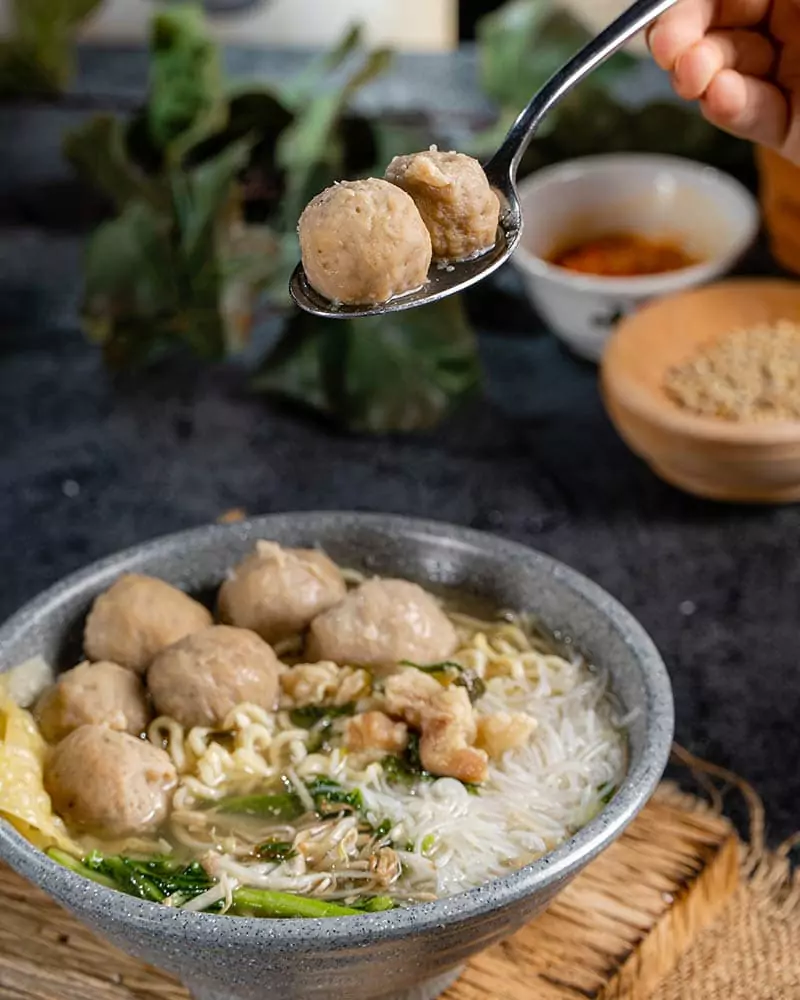 The next street food that you cannot miss when coming to Indonesia is Bakso, also known as meatball soup. This one of the Indonesians' most famous dishes consists of the freshest beef balls with a signature springy texture when chewing.
What can you enjoy this dish with? The vendors/chefs will serve a typical Bakso portion with wonderful vermicelli, Wontons, veggies, and a kind of rich broth
The two main variations of Bakso in Indonesian are the one with vermicelli (Mie Bakso) and the one without (Bakso Kuah, Chinese people love this version more). When eating, feel free to re-flavor your Bakso with chili or soy sauce if you wish to.
Nowadays, in Indonesians' hearts, Bakso is no longer just a main meal, and they might also serve it as a side dish. The ingredients list also has minor changes when people sometimes use chicken or fish balls to suit consumers' tastes.
13. Rendang
(Spicy Beef Curry)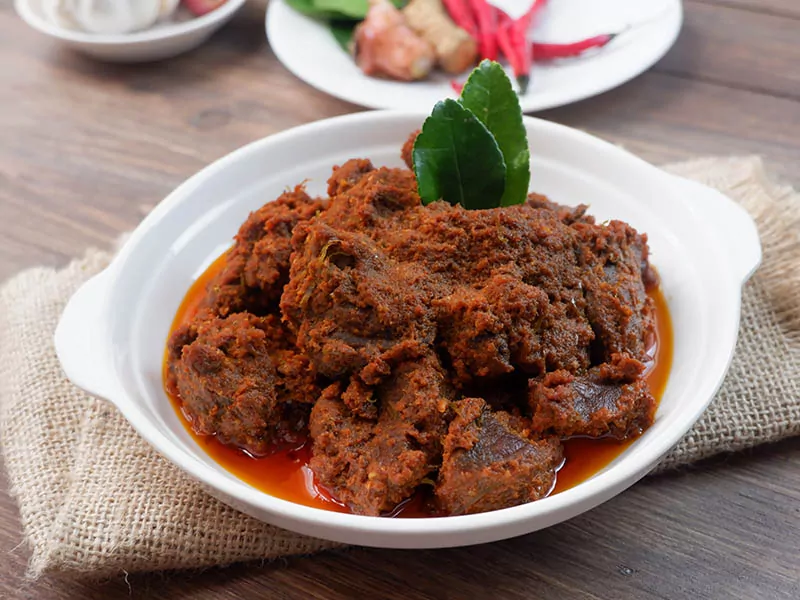 Although Rendang stemmed from a famous Northern Indian-style curry, Minangkabau people in West Sumatra of Indonesia were responsible for the creation of this delicacy. Indonesian Rendang is also different from Indian curry in terms of water content: it is much drier.
The word "Rendang" comes from the term "merendang", meaning to cook the dish for a long time in a pan/pot over low heat. While cooking, the chef must constantly observe and stir so that the curry part does not stick to the pot wall and burn.
Good Rendang should be dry with cooked beef cubes (but not crumbled). This Indonesian spicy beef curry can last for a week at room temperature. Just imagining having cool Rendang with hot Nasi Uduk (steamed coconut rice) makes my mouth water already.
14. Sate Padang or West Sumatra Satay
(Grilled Meat and Organs)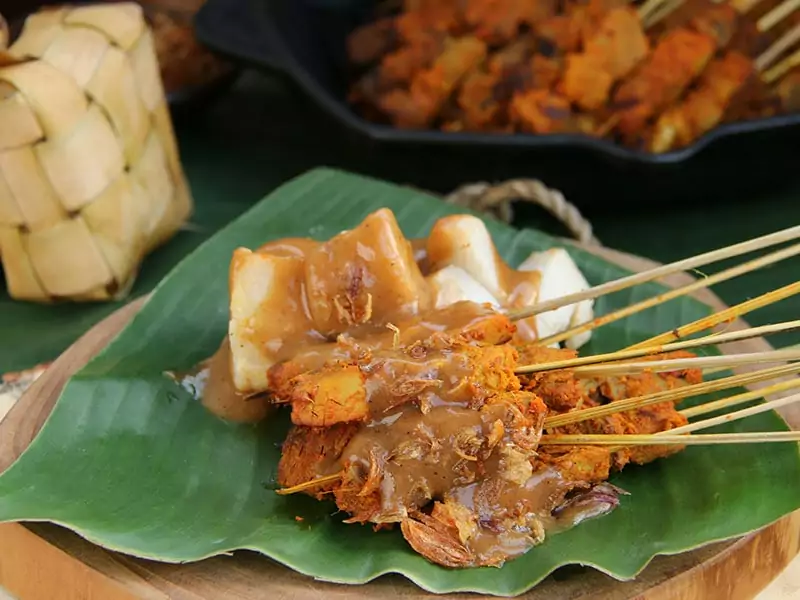 Sate Padang has become very dear to generations of Indonesians as an ideal late-night snack. The main ingredient is beef, but there are also many variations with chicken, mutton, and lamb these days.
This Sate Padang basically consists of pieces of meat (intestines or tongues) cut into cubes. The chefs then marinate these pieces thoroughly with solid and aromatic spices before skewering them on sticks and grilling them directly on the coconut shell charcoal.
Sate Padang has its name because of its true origin, Padang region of Sumatra, Indonesia. Sate Padang is so tasty that they consider it one of the most famous dishes. You can have it with steaming hot rice or a snack on the go.
My first tip is don't buy only one portion at once because you will crave another one after. Secondly, enjoy Sate Padang when it is still hot for the best satisfaction.
15. Opor Ayam
(Chicken Curry)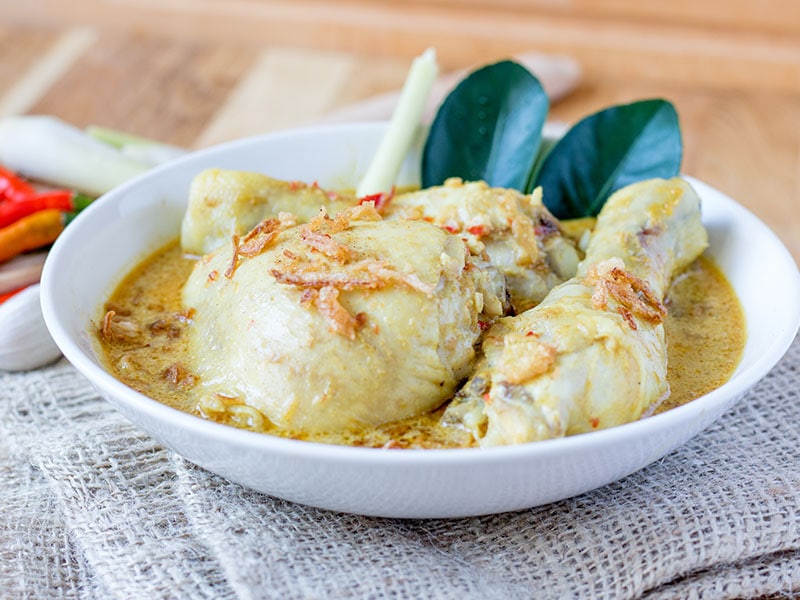 The next Indonesian food creation on this list is this favorable Opor Ayam. Indonesians love this chicken curry dish a lot, and they have it for any meal of the day or special occasions, such as Eid ul-Fitr.
While Opor Ayam is not spicy, it is extremely fragrant thanks to spices like lemongrass, cinnamon, tamarind juice, shallots, etc. Therefore, this Indonesian curry is great for everyone, even people not in love with spicy foods.
Don't forget a bowl of rice when eating Opor Ayam. Every Asian savory delicacy can taste more toothsome with rice as the base.
16. Betutu
(Grilled Poultry)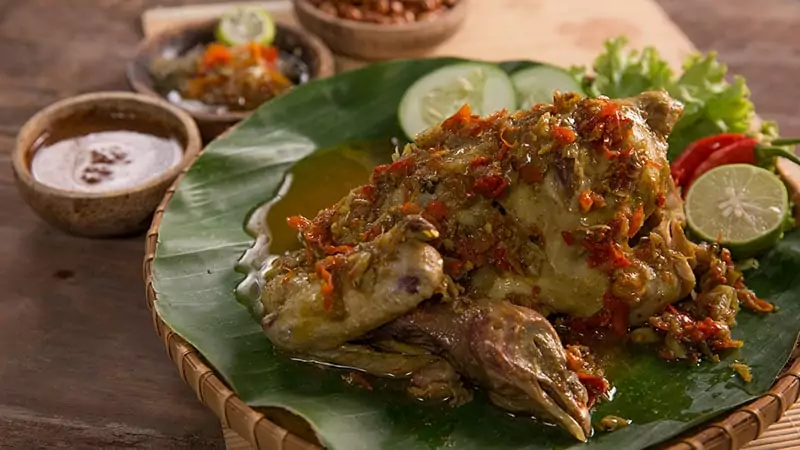 Betutu is a special Indonesian dish whose main ingredients are poultries (chicken or duck) with a typical spice mixture called Bumbu/Betutu. That is why the food has two main kinds based on ingredients used, such as Ayam Betutu (with chicken) or Bebek Betutu (with duck).
The special seasoning of this dish includes typical spices of Asian countries, like shallots, ginger, galangal, chili, or peanuts. The cooks marinate the meat with the above ingredients for a long time before use to bring a better effect.
Therefore, you can experience a spicy kick when enjoying this delicacy. The dosage of the above condiments or components varies depending on the region; some areas like spicy Betutu while a few others use fewer spices in the dish.
After preparing this dish, people serve Betutu with spicy Sambal sauce, fried shallots, cucumbers, or spinach (Plecing Kangkung). Those taste combinations are super fun and worth a try.
---
How about experiencing more about seafood in this "country of the islands"? Since Indonesia has many localities adjacent to the sea, the seafood dishes here are extremely rich. If you are a seafood lover, this category might be the one you have been waiting for!
17. Siomay
(Steamed Fish Dumplings)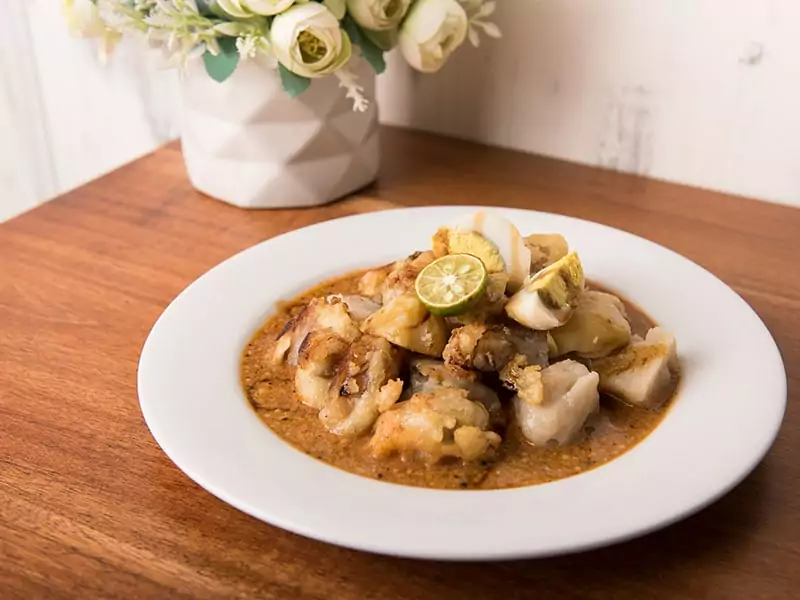 The Chinese Indonesian cuisine strongly influences the creation of Siomay (or Steamed Fish Dumplings). Many people believe that the Chinese immigrants that came to Indonesia during the Dutch colonial time were the ones who created this staple dish.
These pieces of Siomay will have a cone-shaped form that might remind you of the Chinese Dumplings, but the Indonesian variations are very different.
Instead of using pork as the main ingredient, Indonesians opt for some kinds of fish such as tuna, mackerel, or even prawn to conform to the teaching of Islam, their country's predominant religion.
You can have a portion of Siomay with soy sauce, spicy sauce, or lime juice when eating. These components can help accentuate the food's unique features. This delicacy is a favorite food for many Indonesian students.
18. Sate Kerang
(Grilled Clam Skewers)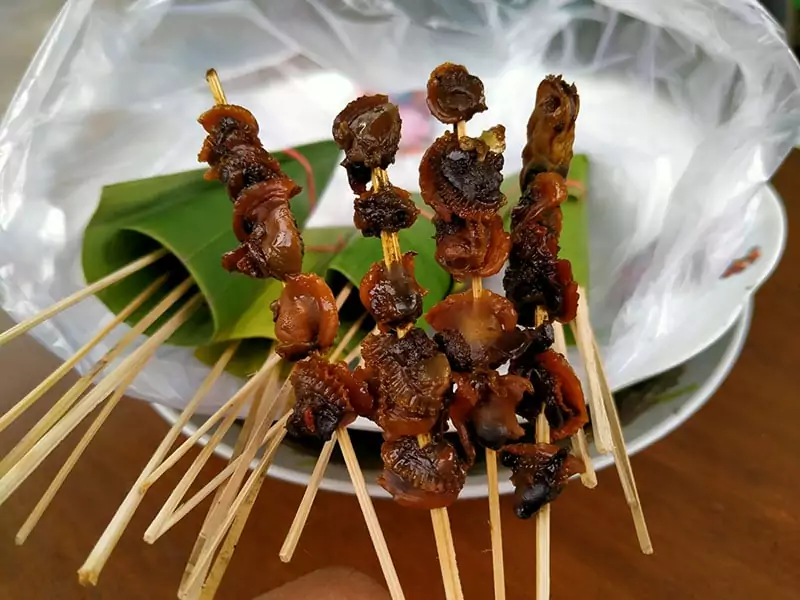 If you are too familiar with shrimp and octopus skewers, I suggest a new grilled seafood dish in Indonesia: Sate Kerang or grilled clam skewers! The most significant difference between Sate Kerang and the others is the ingredients.
Aside from requiring marinated clams instead of chicken, meats, or shrimps, Sate Kerang uses the same various condiments to marinate the main proteins is the same. The chefs also skew the clams onto sharp bamboo sticks and grill them on a charcoal stove.
Waiting beside a hot stove and dousing your whole portion of Sate Kerang in a special spicy sauce will become an unforgettable memory in your Indonesia tour.
19. Ikan Bakar
(BBQ Fish)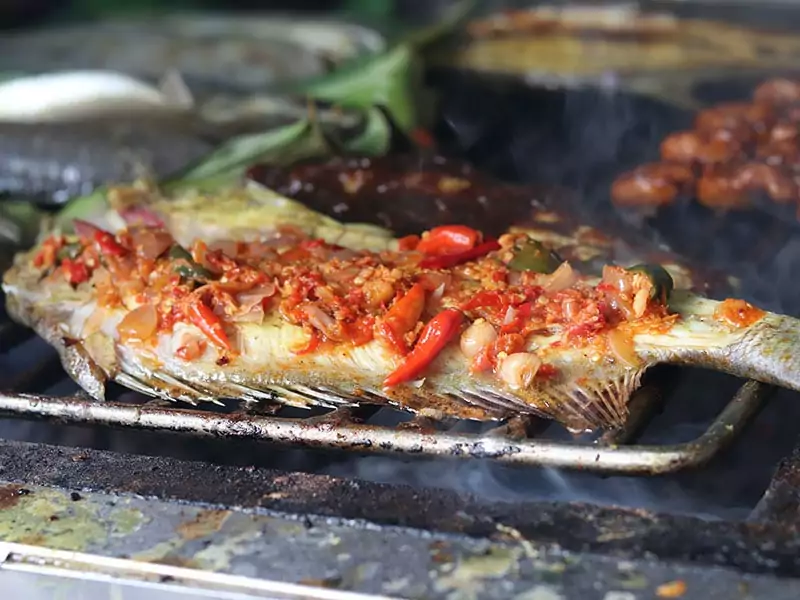 In Indonesia, Ikan Bakar is a famous charcoal-grilled fish (which you can also find as a specialty in Malaysia). This dish often consists of fish marinated in spices (bumbu, kecap manis, sambal), wrapped in banana leaves, and barbecued directly over a charcoal fire.
In Indonesia, the types of fish utilized for this dish range from freshwater to saltwater. The use of banana leaves encircling it helps prevent the fish from sticking to the grill and preserve moisture inside the flesh.
All of these benefits make the spice more profound, giving the food a distinctive sweet flavor. The sellers/cooks often grill Ikan Bakar over charcoal so that your Ikan Bakar plate offers a beautiful smoky flavor.
The most favorite partners for Ikan Bakar are steamed rice and sweet, sticky soy sauce, or chopped green peppers and red onions. These lovely companions act as a balancing factor for a whole meal.
20. Pecel Lele
(Deep-Fried Catfish)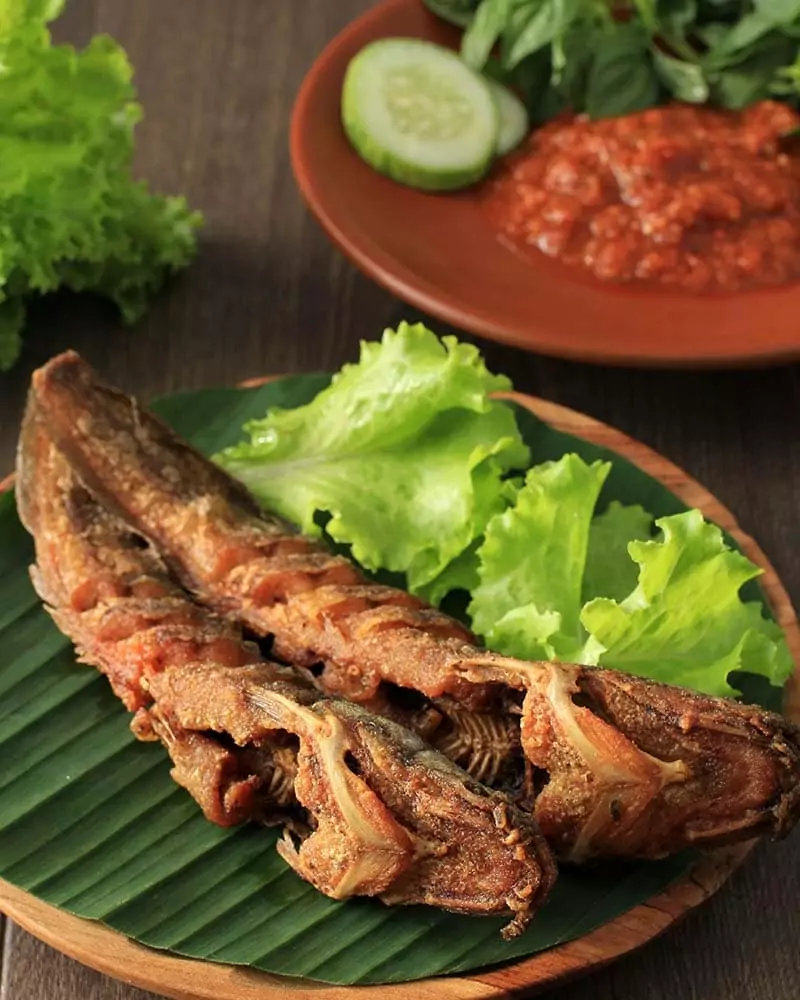 Besides the saltwater fish, catfish, a freshwater fish, is also a favorite ingredient of Indonesians. Pecel Lele is a typical dish hailing from the Indonesian region of East Java. Its ingredients include catfish and spicy Sambal sauce.
The chef regularly deep-fried the fish in the oil pan until golden brown and then served the fish with side dishes and garnishes like steamed rice, cucumber, herbs, cabbage, and fresh fruit. They help to enhance the balanced taste of the delicacy, mixing smoky deliciousness with freshness.
21. Pempek
(Egg Nested Fish Cakes)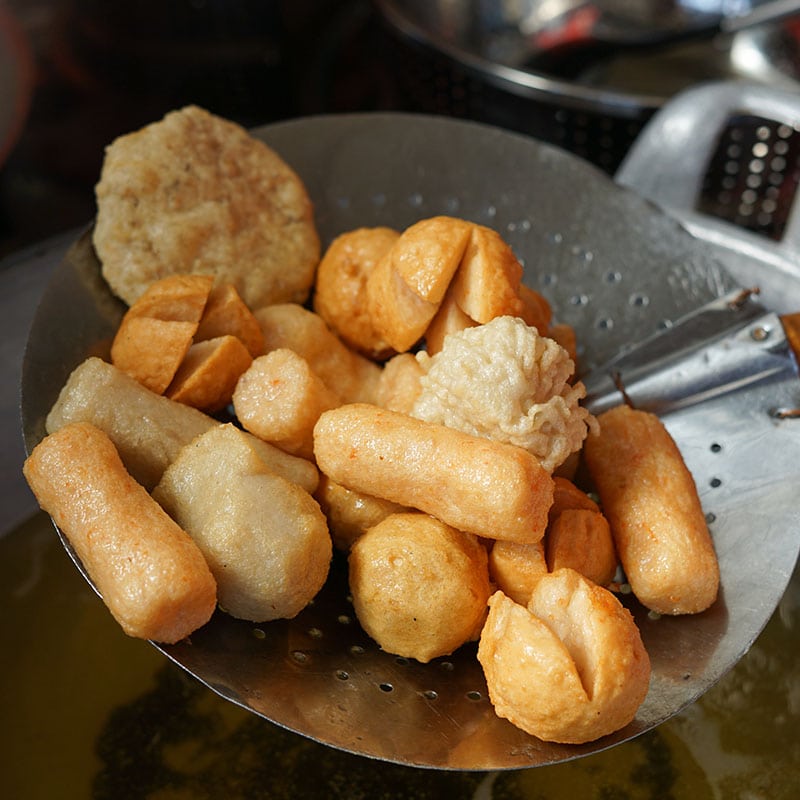 Pempek is a famous Indonesian version of fish cake, with fish, tapioca, and has an egg as the filling (wrapped inside the pempek dough/fish cake paste). Like many Indonesian specialities in this list, this one probably owes its existence to Chinese immigrants living centuries ago.
The birthplace of the delicacy is Palembang, South Sumatra. To make this dish, cooks need to deep-fry the food in sizzling vegetable oil until the fish balls achieve a crunchy exterior.
People often eat this dish with fresh ingredients like sliced cucumbers, a sweet-salty sauce with black vinegar, chili, and sugar. A starch base is a must when eating this food; therefore, you should have it with rice or noodles for a more balanced taste experience.
You will surely drool just by looking at this Pempek's taste test!
---
Even a simple dessert bought from a roadside stall in Indonesia can taste as good as one from a fancy restaurant. The delicacies I'm about to recommend to you won't let you down at all, I promise.
22. Es Durian
(Durian Ice Cream)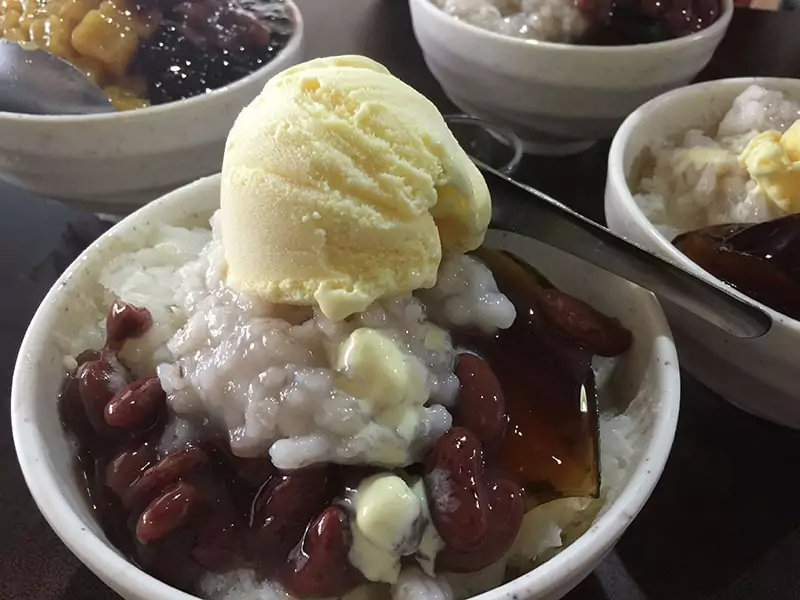 Durian is a famous Asian specialty, and people believe that the Indonesian variation ranks at the top. So it comes as no surprise when locals transform this prominent Indonesian fruit into a favorable cold dessert that can appeal to you quickly.
I can't deny that many people don't like the smell of durian. But don't worry; the signature smell is subdued when the fruit goes into this ice cream treat.
Once eating, you can feel the richness from the dairy components harmoniously mixed with the fragrance from the fruit. Trust me, instead of feeling unpleasant; you might get addicted to the durian's taste after experiencing this icy dessert.
23. Martabak
(Thick Pancakes)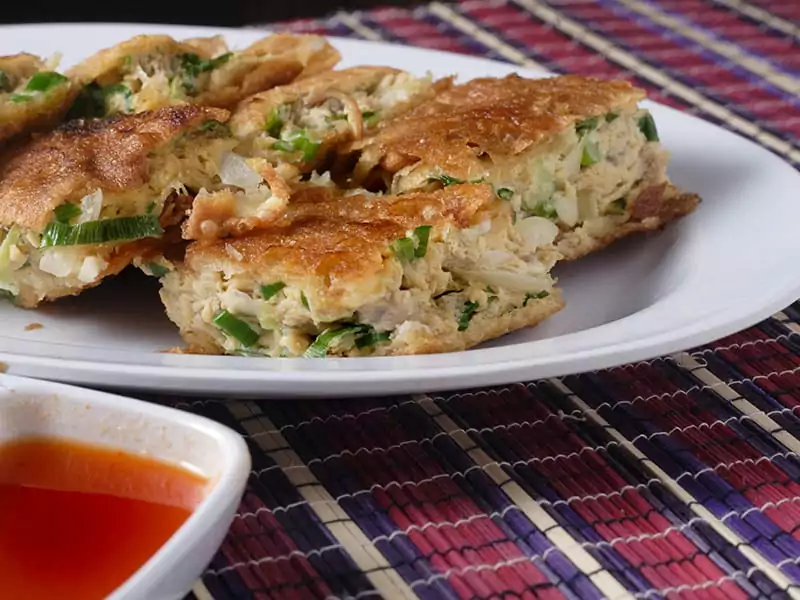 Martabak was initially a delicacy in the Republic of Yemen and later attracted Indonesian merchants. These people learned the recipe, brought it back to their hometown, and turned it into a popular street dessert.
To make Martabak, the cooks sauté them in a hot pan. People gradually add flour and wait until the base turns golden brown. When the cake is cooked, you can see many porous holes on the surface.
Once you start gnawing this treat, you feel the crust is flexible, soft, fragrant, and spongy, combined with the characteristic aroma of butter and milk.
The topping on this dish is pretty diverse, with both savory and sweet flavors. This dish is delightful and promising, from minced meat, fruits, cheese to a few curry types. I highly recommend this dish when you visit Indonesia, especially for dinner.
24. Jamu
(Turmeric Ginger Drink)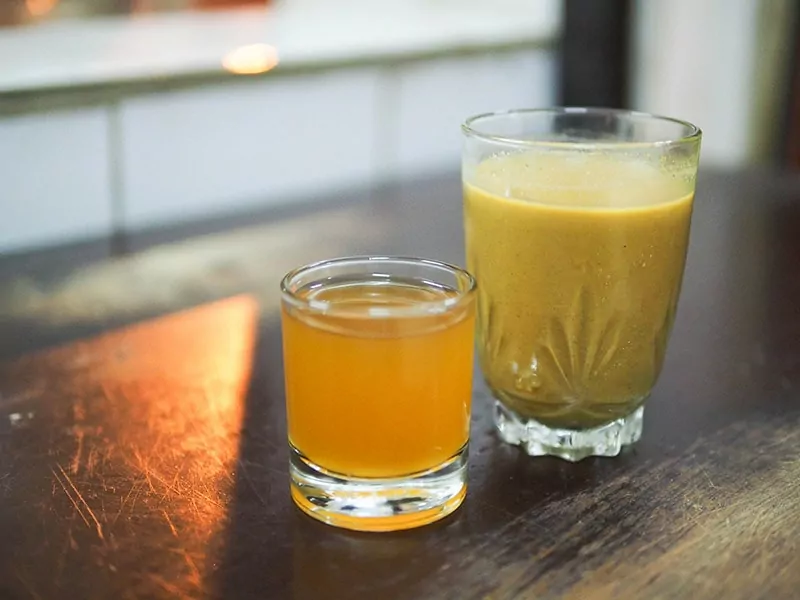 The name, Jamu, of this authentic Balinese drink, is a Javanese term meaning "mixing/gathering," which tells you how people in this country create it. Many proofs show that Jamu appeared in Indonesia from the Mataram Kingdom era, about 1300 years ago.
Jamu is a medicinal drink that includes various plants with medical properties, so it is extremely beneficial to your body. Its taste is as mild as the winds, but you will soon grow on it. Wandering around the streets in Indonesia, you can easily encounter women selling Jamu at their small stalls.
In 2019, the Indonesian Ministry of Education and Culture officially considered this drink an intangible cultural heritage. This fact shows how much people in Indonesia love this fragrant herbal drink.
25. Kopi Luwak
(Civet Coffee or Luwak Coffee)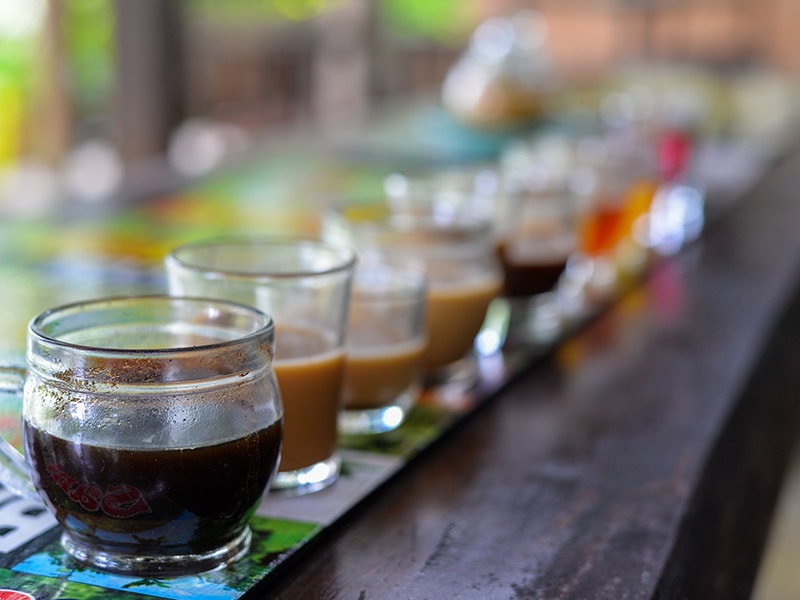 Indonesian Luwak Coffee is one of the most expensive coffee globally, and the secret lies in the coffee beans' special treatment. The story about this drink's existence is pretty lengthy, but I will make it short for you.
When Indonesia was still a Dutch colony, Dutch people forbade Indonesian farmers to use coffee beans. On that occasion, the farmers in this country noticed the beans left in the droppings of particular Asian civets/Luwak.
With a particular enzyme inside the animal's stomach, the coffee beans were magically infused with a distinctive aroma that they hardly found elsewhere.
Since then, Luwak Kopi has become a unique Indonesian drink that many coffee-holics in the world wish to taste once. Many people say that this special coffee's soothing effect can quickly make you feel refreshed.
26. Kerak Telor
(Rice Egg Snack)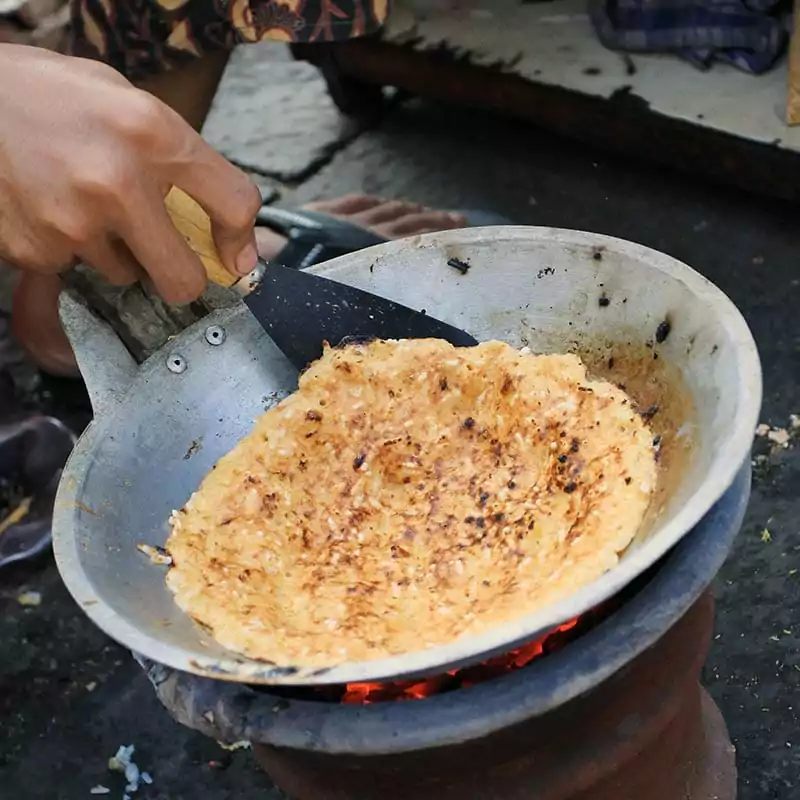 Kerak Telor is a popular snack in Indonesia and is derived from the cuisine of the Betawi ethnic group, the largest ethnic group in this country. This snack is prepared simply but very skillfully by street chefs, and you can observe their making process.
A primary Kerak Telor portion includes soft and pliable rice flour. The cooks roll out the sticky rice frittata and bake it on a charcoal stove. To make the dish more flavorful, they add some spices (pepper and salt) during the cooking process.
Next, you have two options for eggs used in Kerak Telor: chicken eggs or duck eggs. The only difference between them is the duck eggs are richer and a bit more expensive than the chicken ones.
In addition, to add variety to the dish, grated coconut, shrimp, or fried shallots can also appear in your cake. The chef will process it according to your request so that the food can suit your taste better.
27. Kue Pukis
(Half-Moon Shaped Cakes)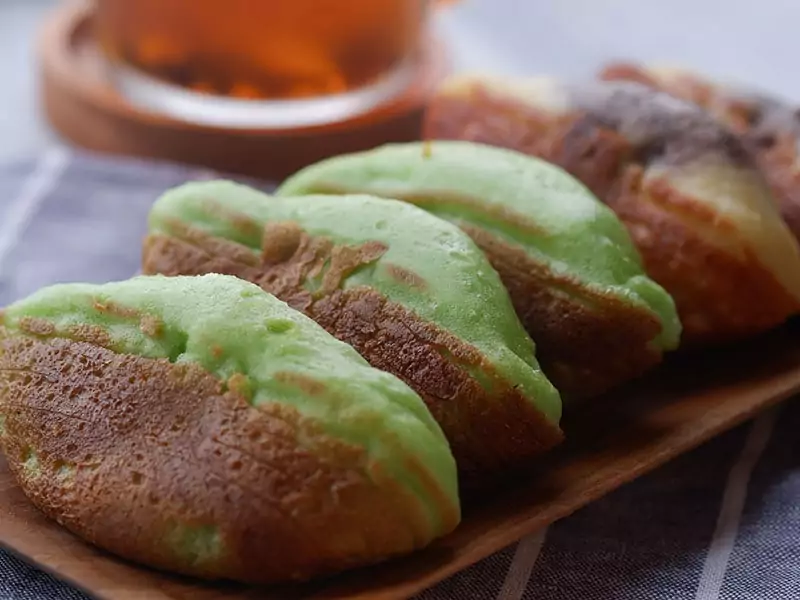 Among all kinds of traditional soft cakes in Indonesia, Kue Pukis is one of the most popular one. You can even find it everywhere, from old-school bakeries to the local markets in Indonesia. It is often served hot.
The batter to make Kue Pukis includes wheat flour, yeast, sugar, and some coconut milk for a more pronounced richness.
After forming this gorgeous dessert in a unique pan with half-moon-shaped molds, cooks often add chocolate sprinkles, crushed peanuts, or Tape (fermented cassava).
Some facts you should notice when eating this dessert are that Kue Pukis doesn't consist of grated coconut and offers you an appealing softness. Don't confuse it with Kue Rangi and Pancong. The latter is drier, while the former uses rice flour, not wheat flour.
Never Miss These Favorable Indonesian Foods!
Indonesia with interesting things always attracts visitors, especially the street cuisine with amazingly delicious dishes. Experiencing them is a must once you visit the beautiful country. This will be an extremely interesting activity to add to your to-do list!
If you don't know which food to try first, you can start with the tasty recommended desserts or noodle dishes. After tasting, feel free to leave your opinions about these delicacies right in the comment section to let me know. Your contribution will inspire me in the future.