There is hardly anyone in Bulgaria who does not have warm childhood memories of their grandma's or mom's Sarmi – Bulgarian stuffed cabbage leaves. This traditional dish is so soft and tasty that it quickly becomes a favorite for festive occasions.
Sarmi is prepared from leaves of fermented cabbage, filled with minced meat and rice, then baked in a clay pot. It is the dish that brings families together around the table, where laughter and joy intermingle with the enticing aromas filling the air.
Scroll down, and let's uncover the magic of Bulgarian stuffed cabbage leaves together!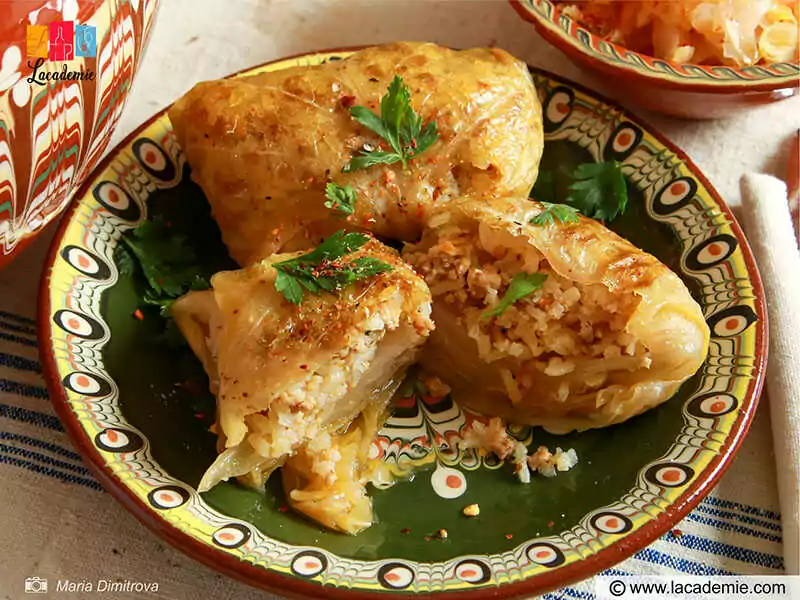 Let's Learn More About Sarmi
When winter comes to Bulgaria, a special cooking tradition starts. This tradition changes simple cabbage into a wonderful ingredient that brings people together. Fermented cabbage, a clever invention from Bulgarian history, becomes the highlight of the season.
This preserved cabbage is made at the beginning of winter and uses cold weather to stay fresh and tasty. It is used in many dishes during the colder months, adding flavor and excitement.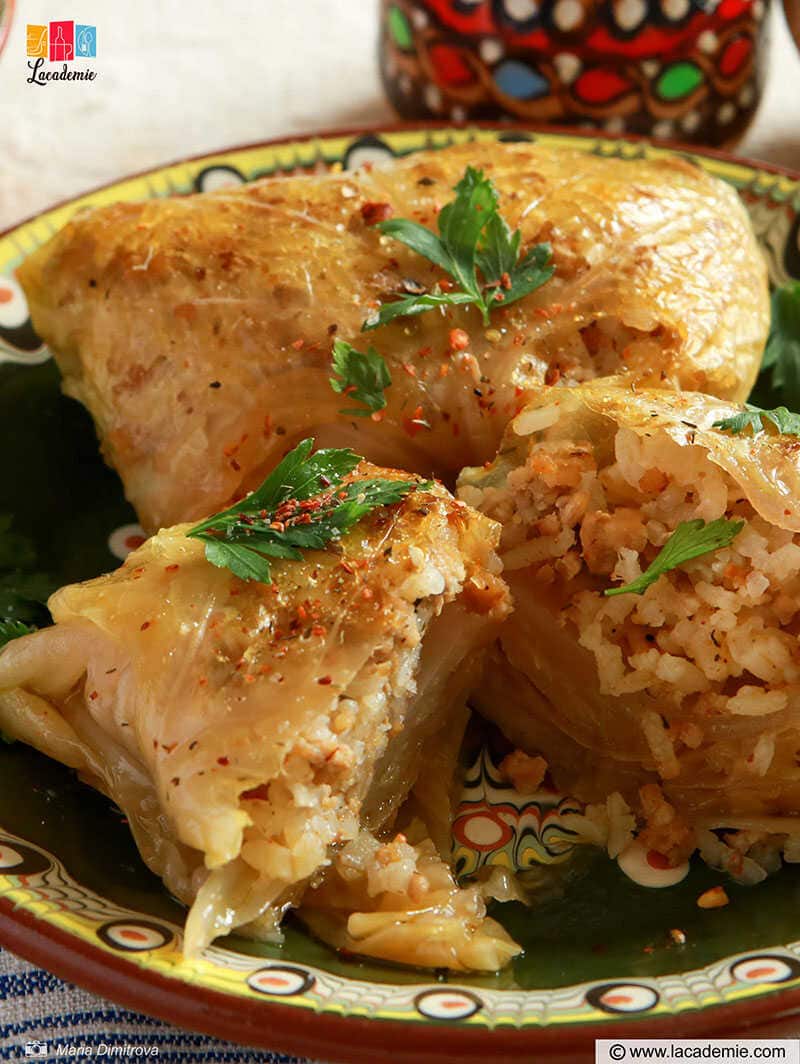 One of these dishes is Sarmi, a comforting and tasty example of Bulgarian cooking. Fermented cabbage leaves are filled with a delicious mix of minced meat and rice and a blend of spices that make each bite a treat.
The filled leaves are then placed in a "Guvech," a large clay pot representing Bulgarian culture. The Sarmi bakes slowly inside the pot until it's cooked just right. After two hours of baking, the Sarmi is ready to eat.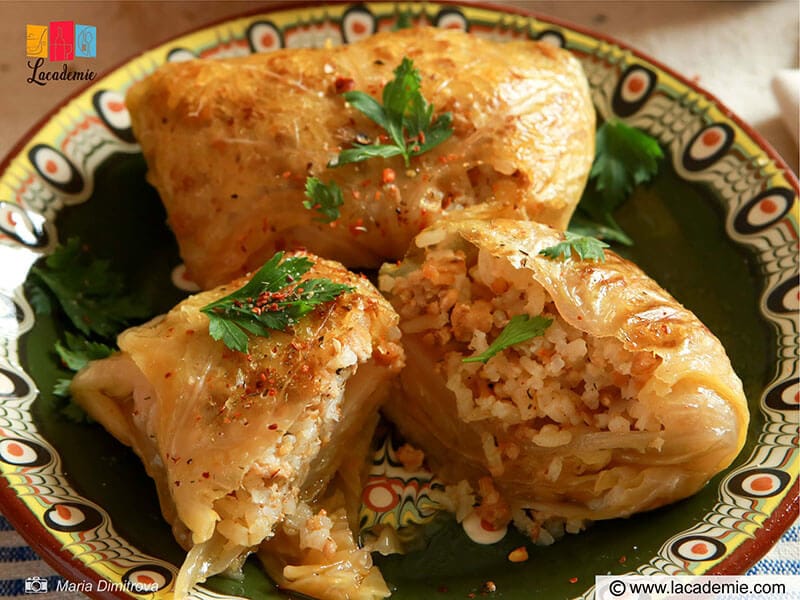 Soft and full of flavor, these stuffed cabbage leaves are a favorite among many. Friends and loved ones come together to enjoy this tasty dish, sharing laughs and good times. The story of Sarmi is an important part of Bulgarian culture that keeps on growing.
Tools
Ready to whip up this scrumptious Bulgarian dish? First, let's take a moment to gather the necessary kitchen tools that will make your cooking experience a breeze.
Clay pot with lid or ceramic casserole with lid: You will need a clay pot with a lid, in Bulgaria, it is called a "Guvech." If you don't have one, you can use a ceramic casserole with a lid that has a capacity of 5 quarts. In this dish, you will cook your Sarmi in the oven.
Stovetop pan – large size: For preparing the filling.
Kitchen turner: For stirring during the cooking process.
Cutting board: The large wooden board will serve as a surface for rolling the Sarmi.
Spoon: With the spoon, you will measure the filling for each Sarmi.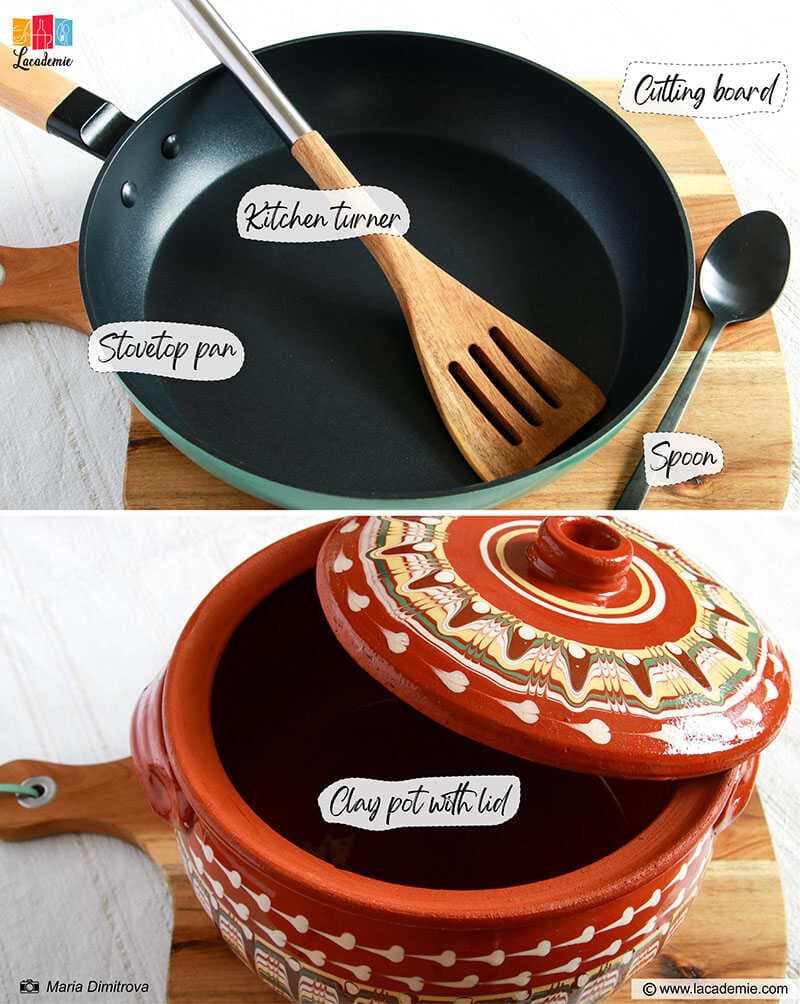 Ingredients
The magic of any recipe lies in its ingredients. Here's a list of the flavorful components you'll need to whip up delectable Sarmi in no time.
Minced meat: Opt for pork, beef, or a blend of both, but note that minced pork is more prevalent in Bulgaria, making it the preferred choice for an authentic taste. If preparing the minced meat yourself, pork shoulder is ideal, and adding pork breast can increase the fat content.
Rice: Utilize white rice, ensuring it is washed and thoroughly drained before use.
Fermented cabbage: A staple in Bulgarian cuisine, fermented cabbage is made at the onset of winter by submerging whole cabbages in a brine solution in a large, lidded container and allowing them to ferment.
Winter's low temperatures help preserve the cabbage, which can be used in salads and various dishes, including Sarmi.
The distinctive sour and salty flavor of fermented cabbage is essential for an authentic taste. If unavailable, boil cabbage leaves gently until softened enough for rolling Sarmi.
Vegetables: This recipe calls for finely chopped yellow onion.
Dried Savory (summer savory): A key spice in numerous Bulgarian dishes, savory is an annual plant harvested and dried during flowering. The dried petals and flowers are removed from the stem and used as a spice.
To achieve an authentic taste, use this spice or substitute it with dried oregano and a bit of dried thyme if unavailable.
Paprika: Another primary spice for this dish, sweet red pepper paprika, is commonly used in Bulgarian cuisine. Do not use hot paprika.
Oil: I go for olive oil in this recipe, but sunflower oil can be an alternative. Oil is needed for the Sarmi stuffing and baking process.
Salt: Add a small amount of salt if necessary or a normal amount if not using fermented cabbage. Either way, do not add salt to the filling because the Sarmi will become too salty.
Black pepper: Incorporate ground black pepper for added flavor.
Water: Use roughly 0.8 quarts of water, with half for cooking the rice in a stovetop pan and the remainder for softening the cabbage as it cooks in the casserole.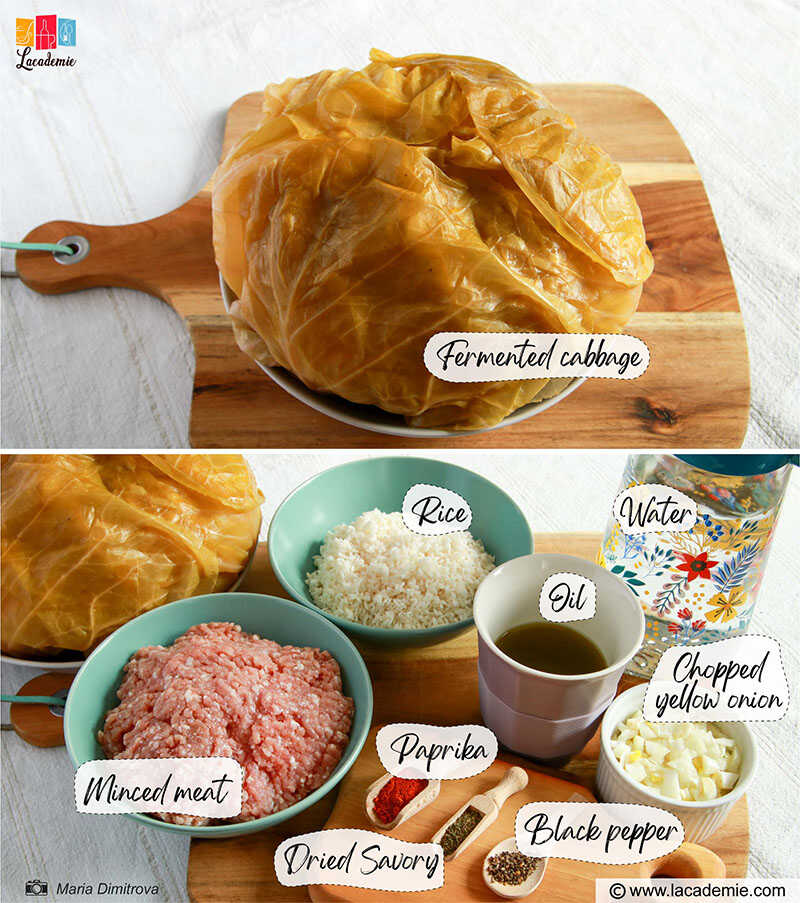 Instructions
With the ingredients and tools ready, it's time to dive into the cooking process. Follow these step-by-step directions to bring this recipe to life on your dinner table.
Step 1: Prepare The Filling
Heat up your stovetop pan with 2/3 of the oil and a little water on medium heat. Sauté the finely chopped onion in oil for about 3-4 minutes until fragrant.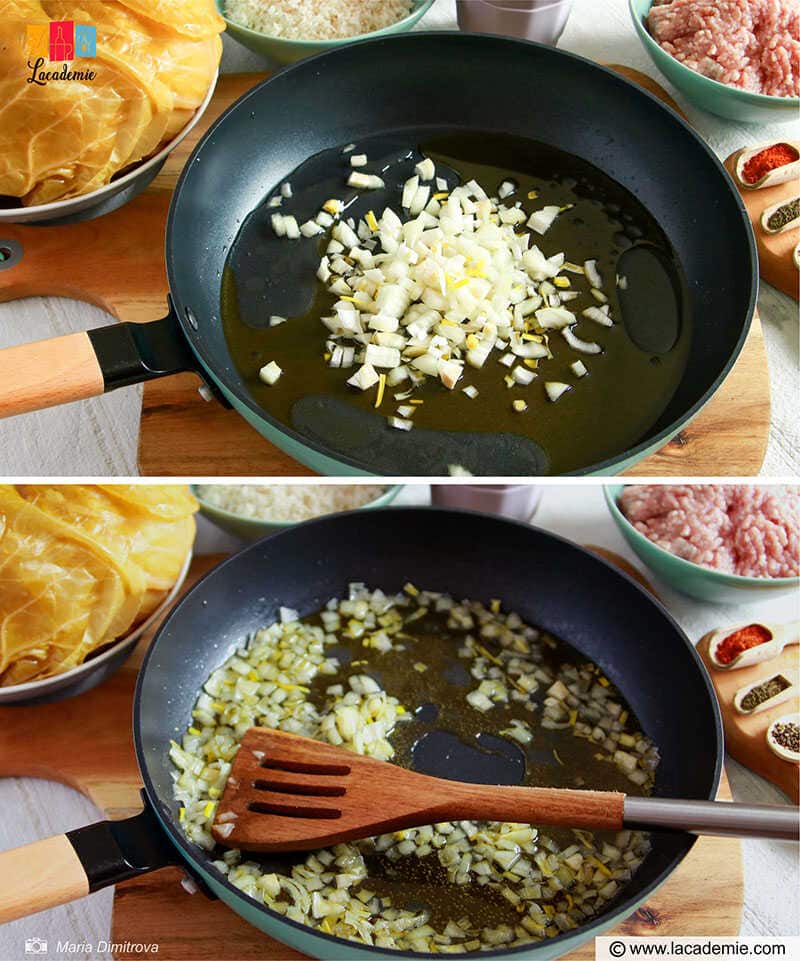 Add the minced meat to the stovetop pan, breaking it up with a kitchen turner as it cooks. Continue to cook for about 5-7 minutes, stirring occasionally, until the meat changes color.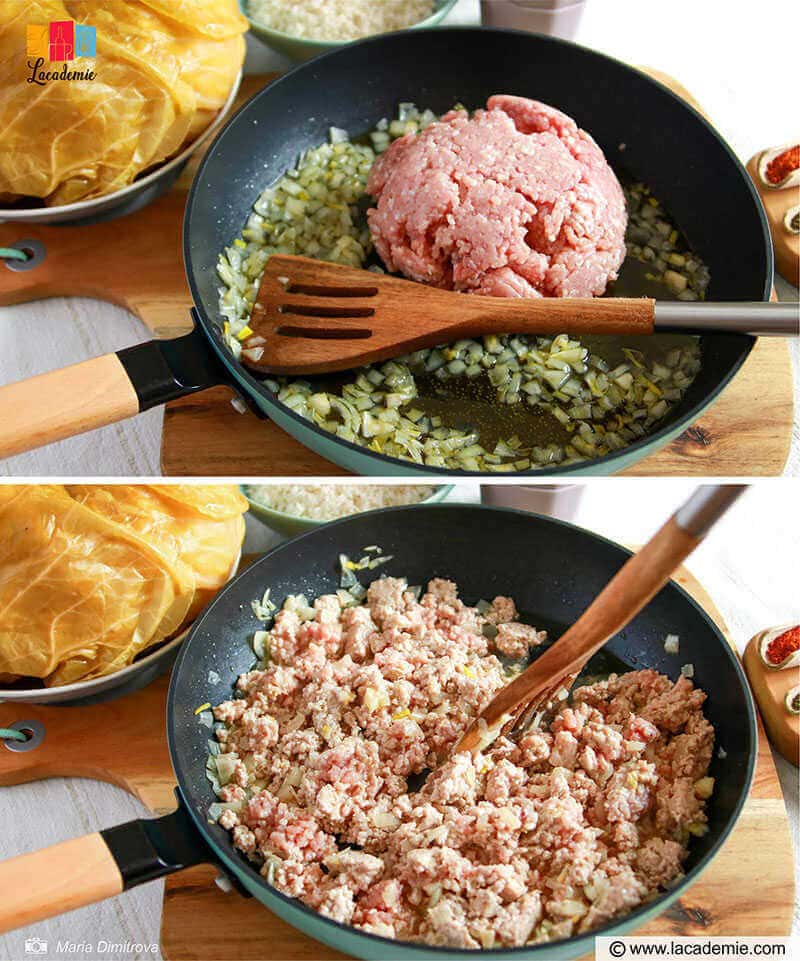 Add the paprika, ground black pepper, and dried savory and mix. Continue to cook for about 2-3 minutes, stirring occasionally.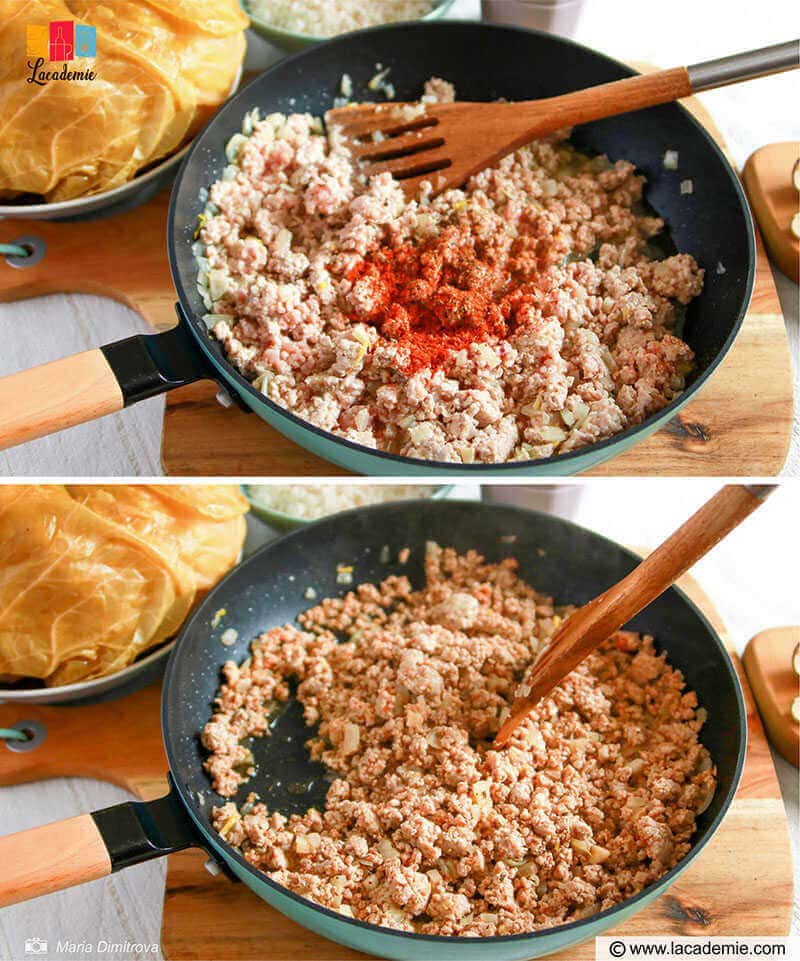 Then add the washed and drained rice and mix again. Continue to cook for another 5 minutes, stirring occasionally.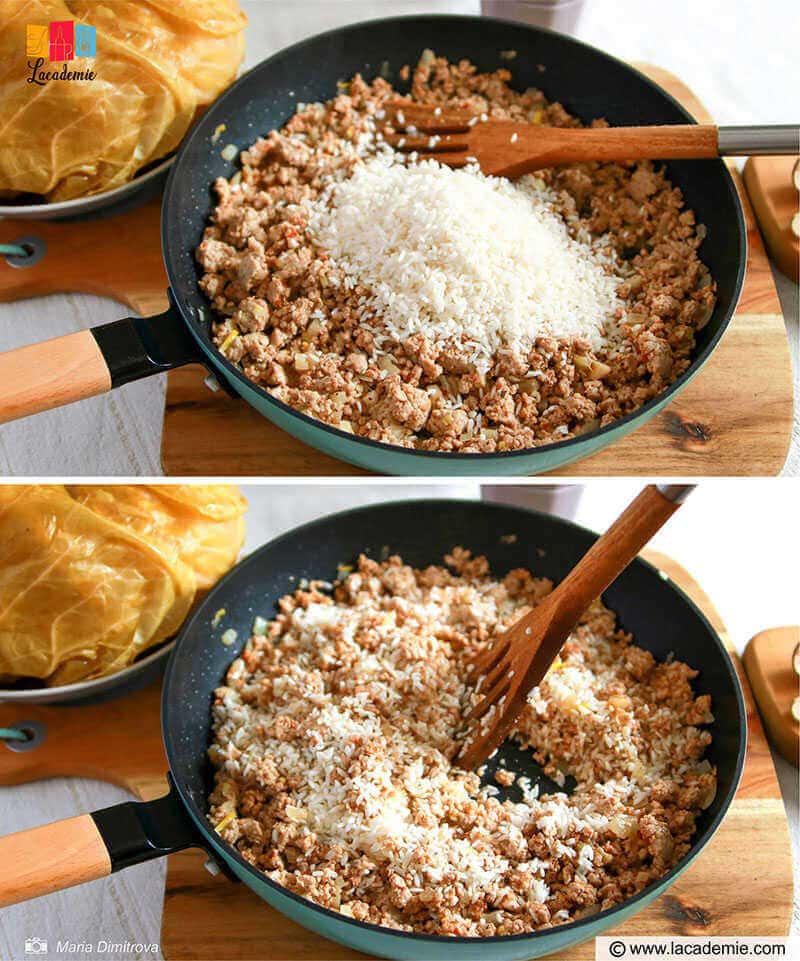 Add half the amount of water, about 0.4 quarts and mix, cook on the stove and stir regularly. After the water is absorbed by the rice, the rice should have started to soften, the filling is ready, and you can take it off the stove.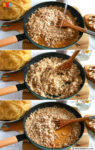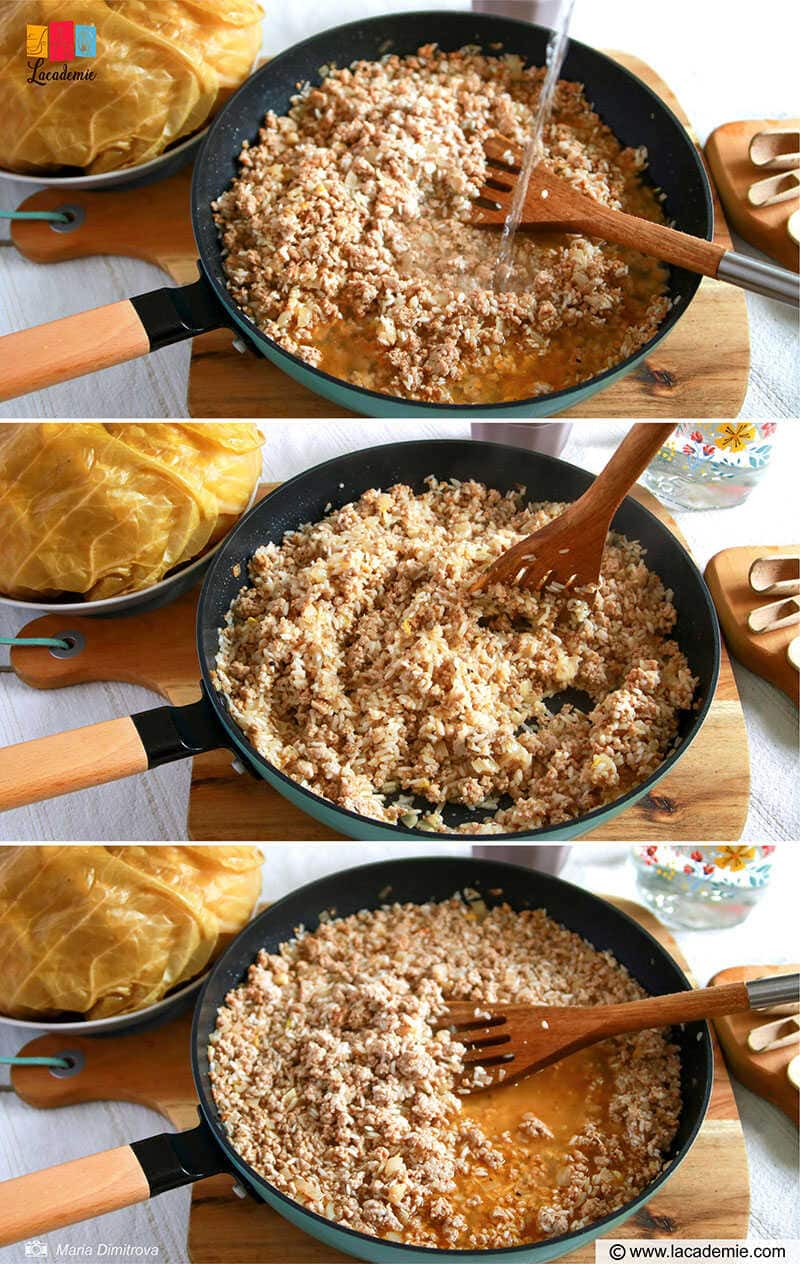 Leave the Sarmi filling aside to cool, and it's time to prepare the cabbage leaves for the filling.
Step 2: Prepare The Cabbage Leaves
Carefully separate the cabbage into leaves. You will need a few cabbage leaves to cover the bottom of the baking dish as well as to cover the Sarmi on top, so set aside any of the smaller leaves and those that have torn during separation.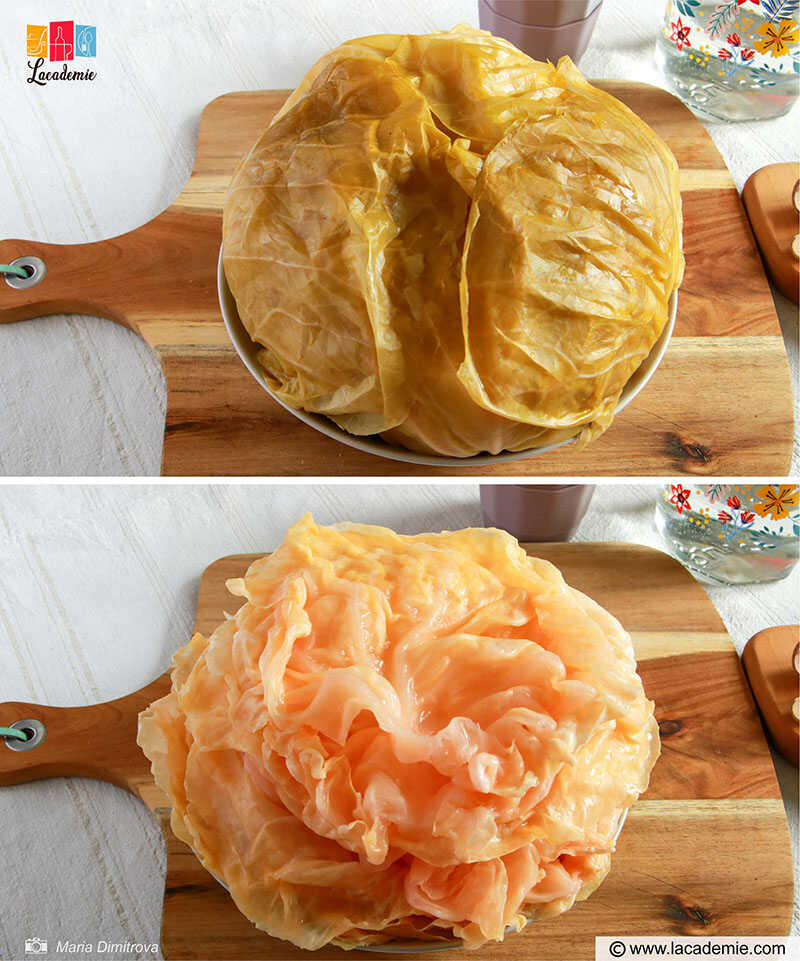 Cover the bottom of the baking dish with a little olive oil and half of the remaining water, then arrange a few leaves of the cabbage to cover the bottom, this will prevent the Sarmi on the bottom from burning when baking.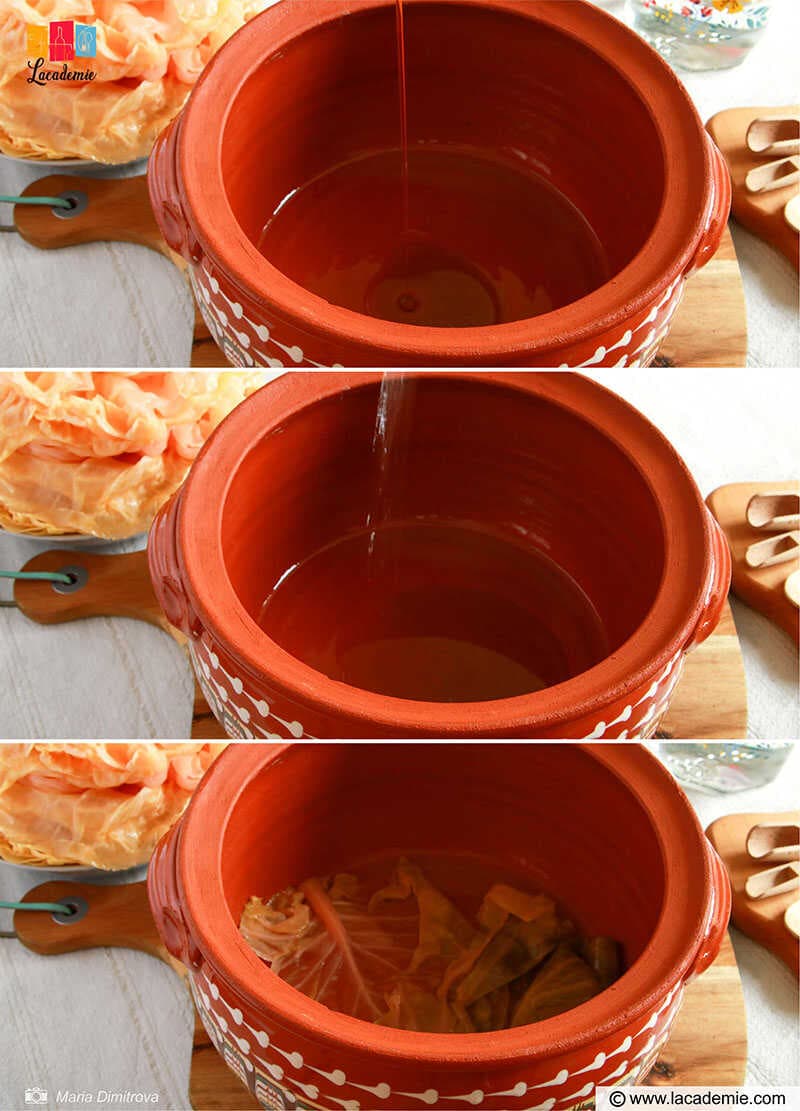 Step 3: Shape The Sarmi
Take one cabbage leaf and spread it out on a clean work surface (for example: a large wooden board) with the wider side facing you, as shown in the image.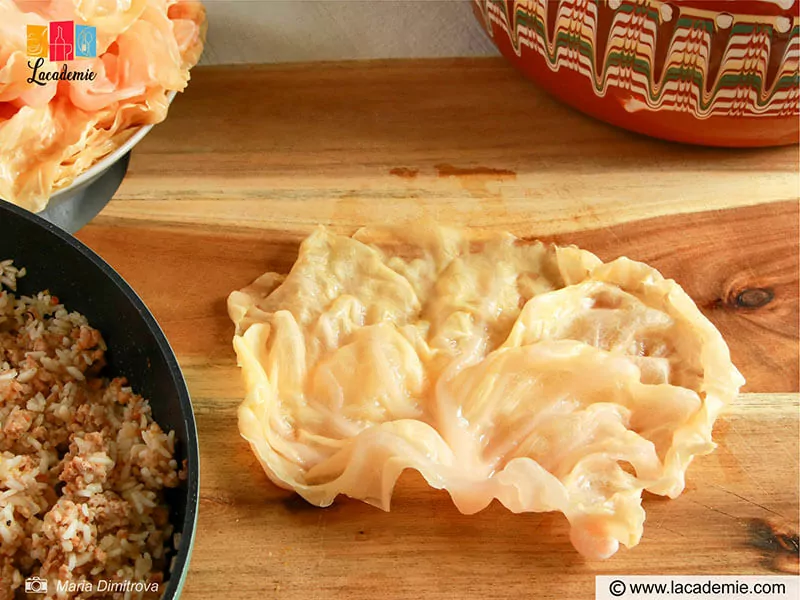 In the middle of the wide part of the leaf, place a tablespoon of the filling. Then, lift the edge of the leaf closest to you and roll/fold it. Fold first the right side, then the left side inwards, and fold again, as shown in the images.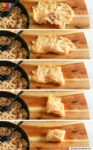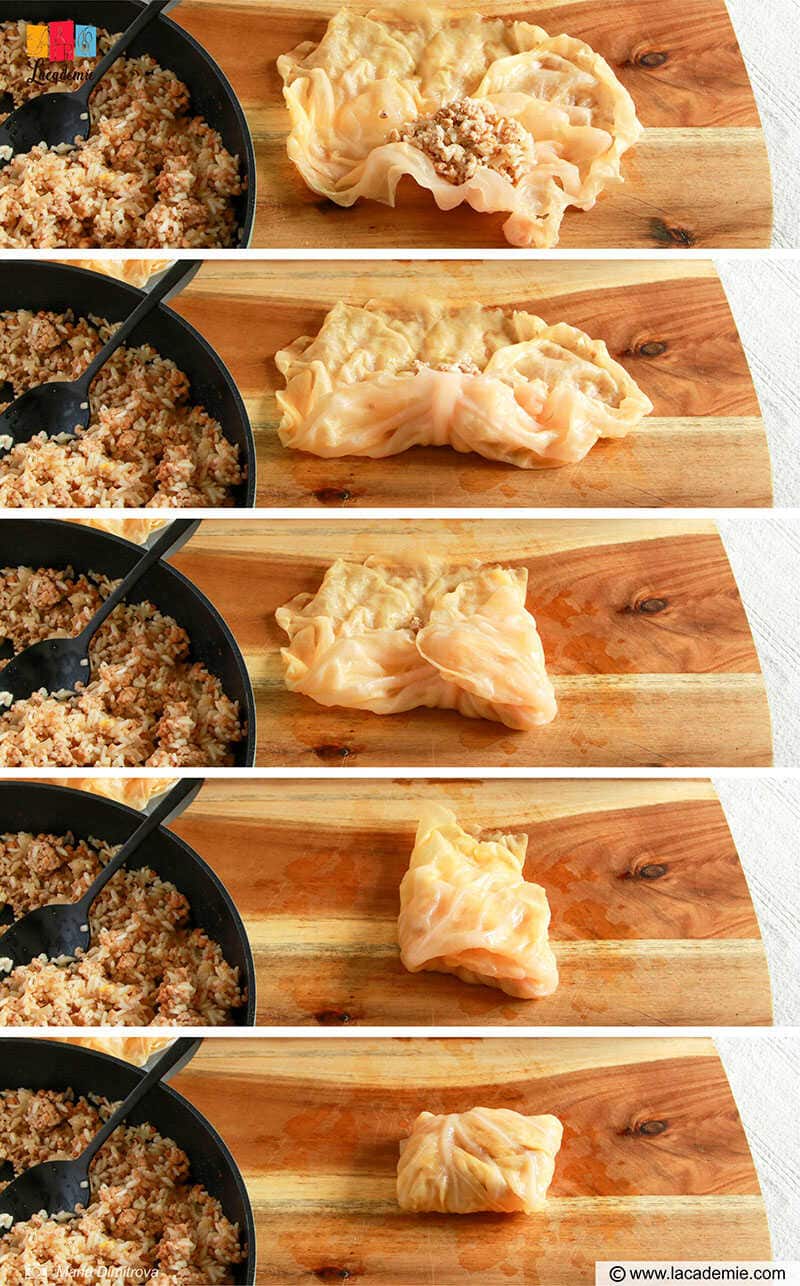 Repeat these steps with the other leaves, spreading the filling evenly. Use about 1 to 1.5 tablespoons of filling for each leaf. If the cabbage leaf is larger, you can add a bit more.
Step 4: Bake The Sarmi
Arrange the shaped Sarmi in the baking dish. First, cover the bottom, then place a second or third layer on top of the initial layer.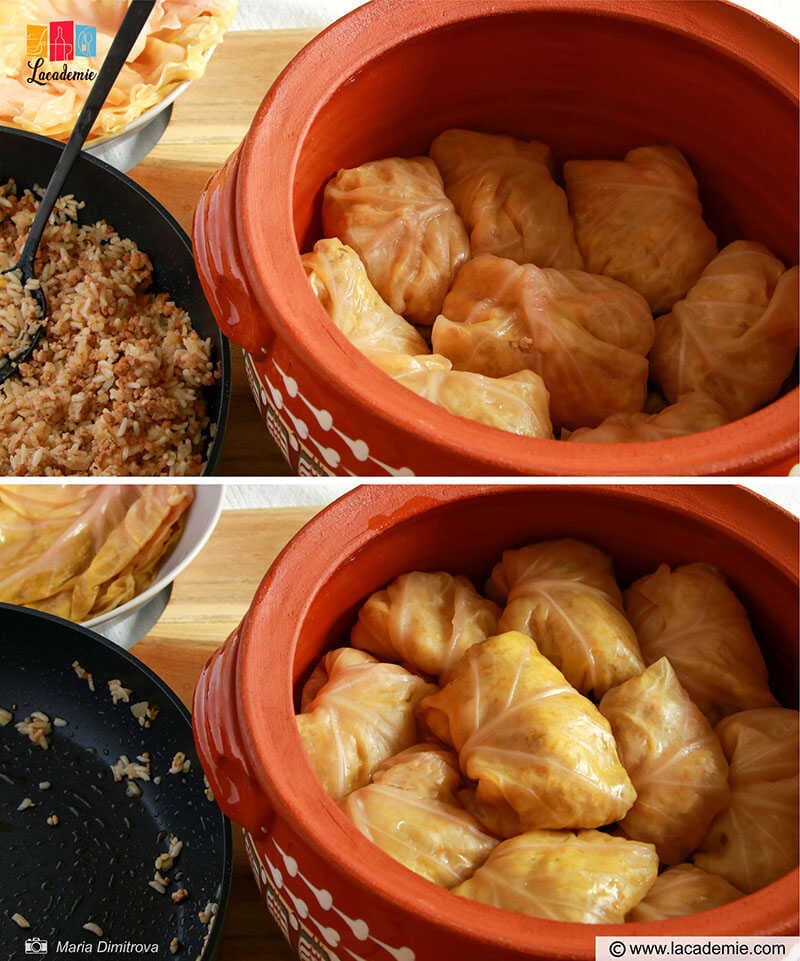 Once you have placed the Sarmi in the baking dish, arrange a few cabbage leaves on top. Then pour the remaining olive oil and water over them. Cover with the lid, and they are ready to bake.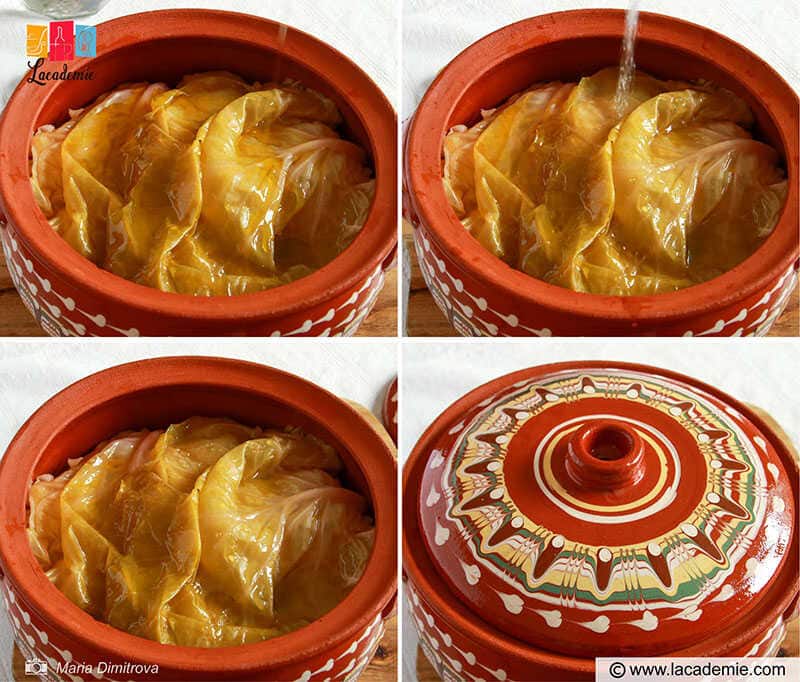 Do not preheat the oven to prevent the ceramic pot from bursting from the hot temperature. Put the ceramic pot in the oven, then set it to 356 degrees F.
After the oven heats up, bake the dish for about 2 hours with the lid closed. Then, remove the lid and the cabbage leaves that cover the Sarmi. Bake for another 10-15 minutes or until the upper Sarmis are browned.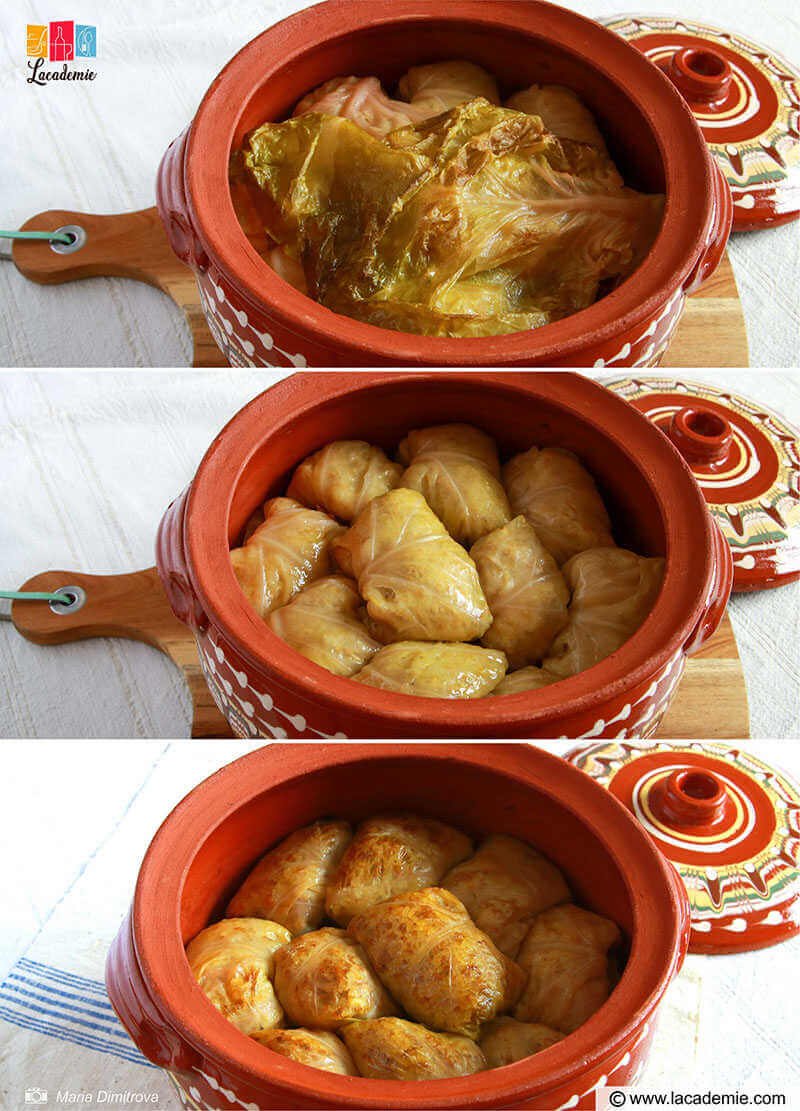 Step 5: Enjoy!
After removing them from the oven, let the stuffed cabbages cool for about 10 minutes. Your Sarmis are ready!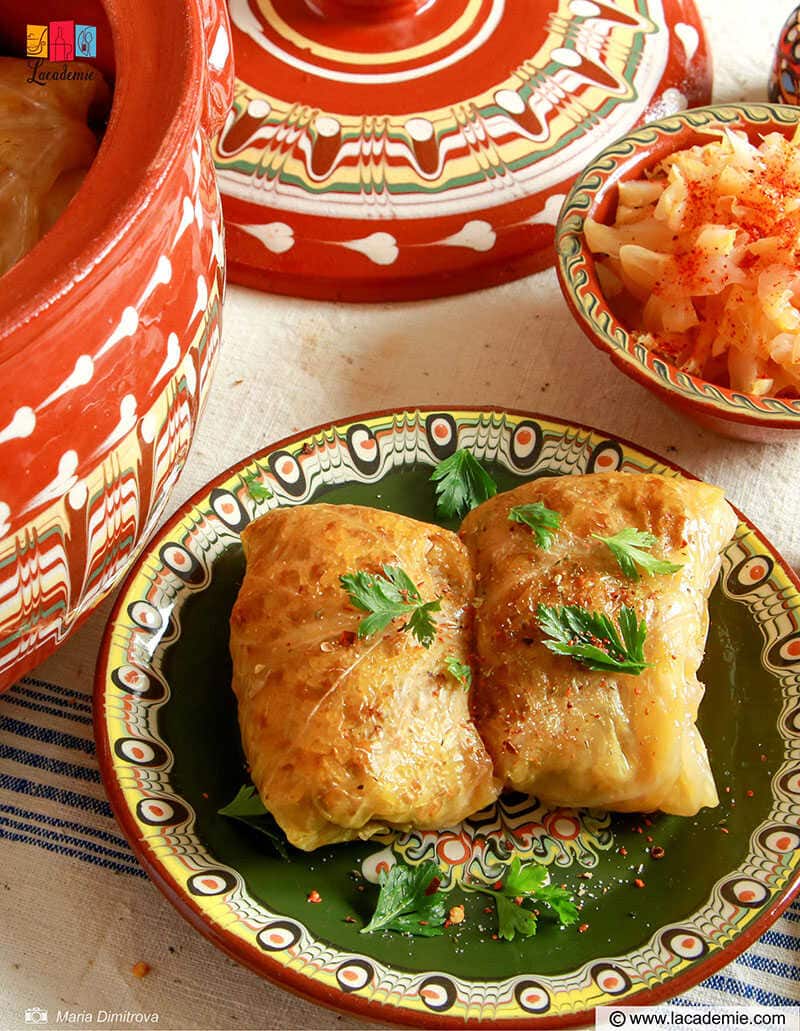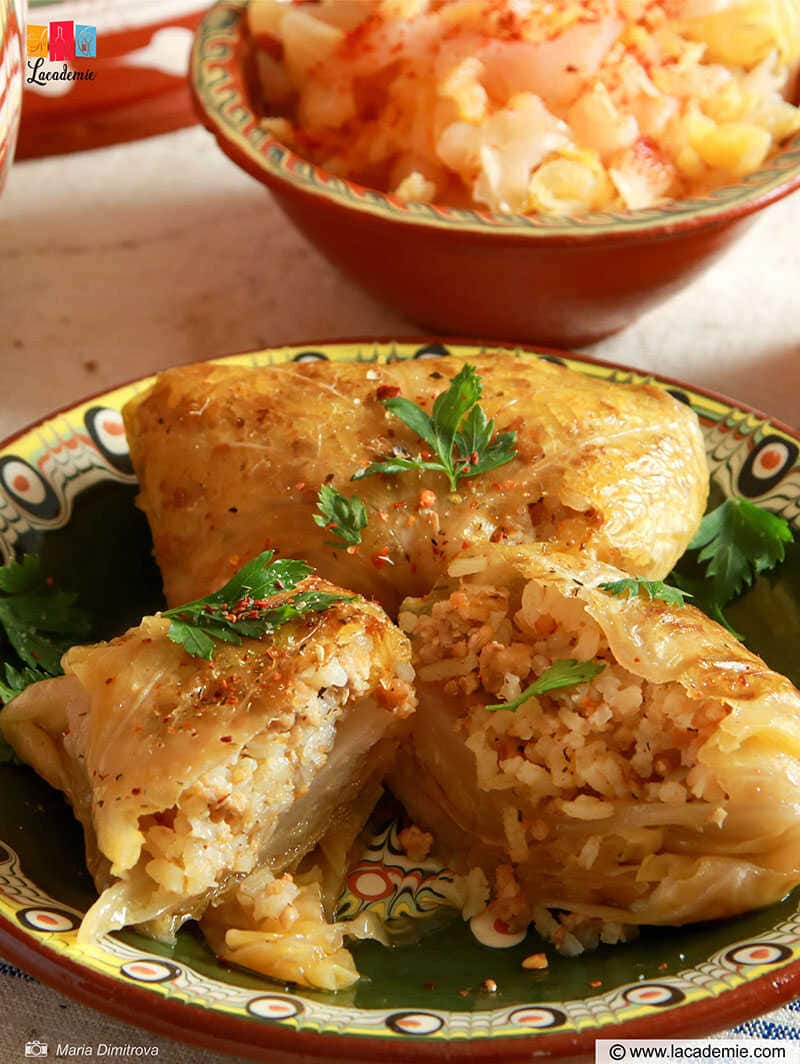 Useful Notes And Tips
I've compiled a list of handy tips and tricks that will help enhance your cooking experience. Keep these suggestions in mind when you're making Sarmi.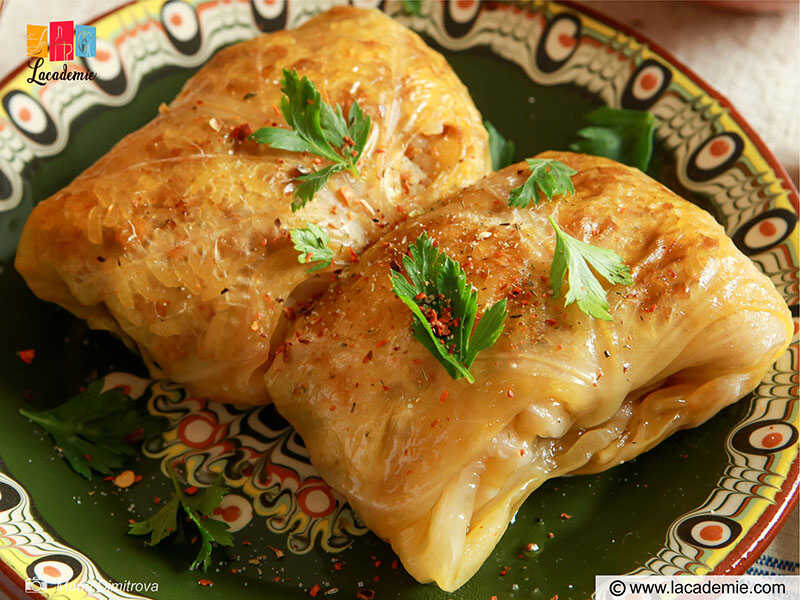 Choose the right cabbage: Opt for a fresh, large head of cabbage with tender leaves that are easy to roll. A well-suited variety for Sarmi is Savoy cabbage, which has softer and more pliable leaves.
Remove the tough stem: Trim the tough stem or central vein from each cabbage leaf before stuffing to make them more pliable and easier to roll.
Don't overstuff: Be mindful not to overstuff the cabbage leaves, as the filling (especially rice) may expand during cooking, causing the rolls to break apart.
Roll tightly: Ensure that the Sarmis are rolled tightly and uniformly to help them cook evenly and prevent the filling from falling out.
Arrange Sarmi seam-side down: When placing the Sarmi in the baking dish, position them seam-side down to keep them from unraveling during cooking.
Adjust salt content: If using fermented cabbage, be cautious with the amount of salt added, as the cabbage may already be salty. Taste and adjust accordingly.
Slow and steady cooking: Cook the Sarmi at low to moderate heat to ensure they cook evenly, and the flavors meld together.
How To Store Your Sarmi Leftovers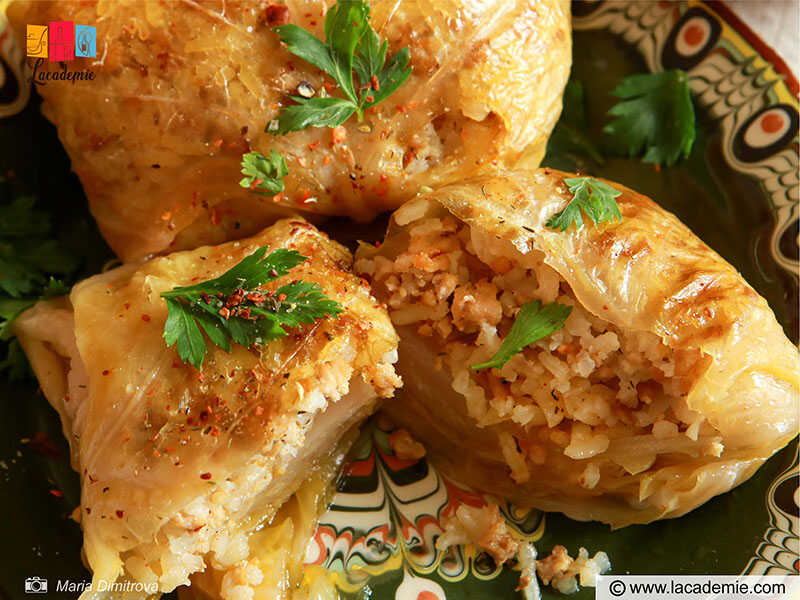 Storing Sarmi, the delicious Bulgarian stuffed cabbage leaves, is easy. First, let the Sarmi cool down entirely at room temperature. Once they are cool, gently place them in an airtight container.
Separate the layers with parchment paper or plastic wrap, ensuring they don't stick together. Close the container with a tight-fitting lid to keep them fresh and prevent unwanted smells. Refrigerate the Sarmi for up to 3-4 days.
If you'd like to keep your Sarmi fresh for longer, freezing is a great option. Put the cooled Sarmi in a freezer-safe container or a heavy-duty freezer bag, remembering to separate the layers with parchment paper or plastic wrap.
Label the date and what's inside, then pop the container/bag in the freezer. They'll stay good for up to three months. When you're craving some Sarmi, simply remove them from the freezer and thaw them overnight in the fridge.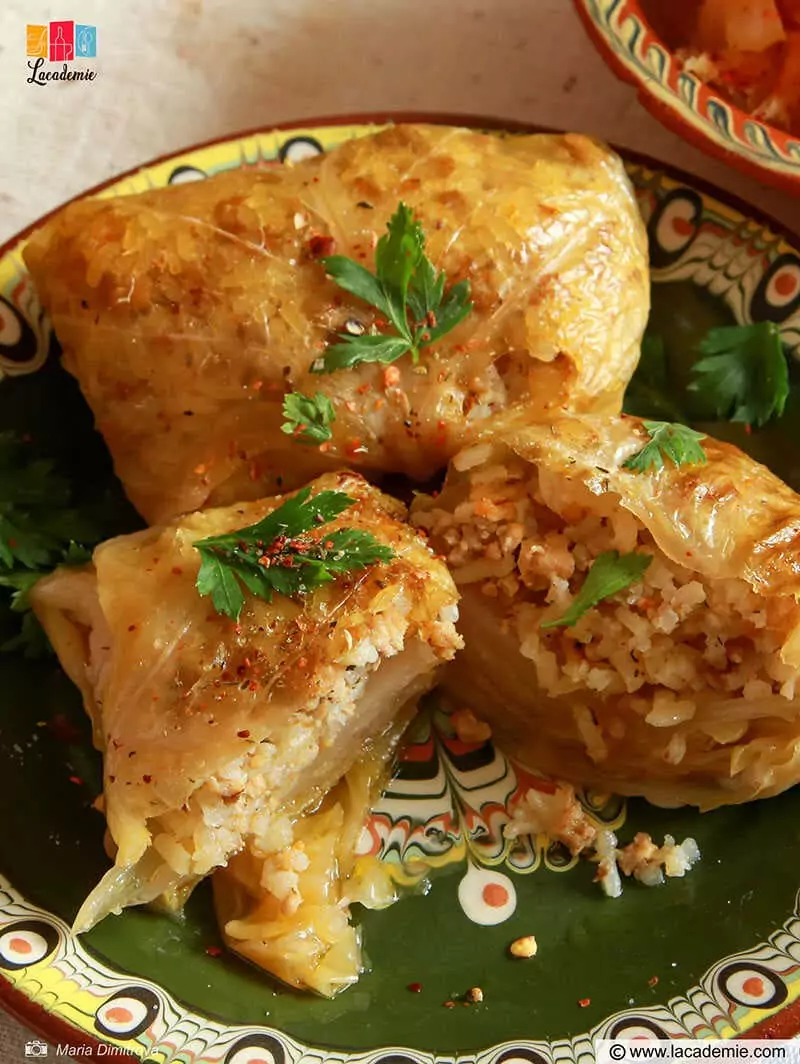 To reheat, you can either pop the Sarmi in a preheated oven at 350 degrees F (180 degrees C) for 15-20 minutes or use a microwave. If microwaving, place the Sarmi on a microwave-safe plate, cover them, and heat for a few minutes. Make sure to check on them and adjust the time as needed.
Some Variations To Explore
Why not change the recipe and try something new? These exciting variations offer fresh ideas and inspiration for putting your own twist on this classic dish, ensuring it never gets old.
Vegetarian Sarmi: Replace the minced meat with a mixture of finely chopped mushrooms, carrots, and bell peppers. This creates a hearty, plant-based filling that is delicious and satisfying.
Quinoa Sarmi: Substitute the white rice with cooked quinoa for a protein-packed, gluten-free alternative.
Spicy Sarmi: Add a touch of heat by incorporating chili flakes or hot paprika into the filling mixture.
Sarmi With Tomato Sauce: Enhance the flavor by baking the stuffed cabbage leaves in a rich tomato sauce or tomato juice.
Sarmi With Couscous: Swap out the white rice for cooked couscous, a versatile grain that pairs well with the rest of the ingredients.
Sarmi With Mixed Meat: Experiment with different types of minced meat, such as turkey, chicken, veal, or lamb, for a unique twist on the traditional dish.
Other Bulgarian Delicacies You Have To Try
Once you've mastered this delicious recipe, why not explore more of Bulgaria's culinary treasures? Here are some other mouthwatering Bulgarian delicacies that you simply must try.
FAQs
Got questions about this recipe? I've got you covered! Check out the following FAQs to find the answers that you've been looking for.
Experience the Flavors of Bulgaria With Sarmi
Dive into the world of Bulgarian cuisine and treat yourself to this delicious and satisfying Sarmi recipe. Whether you're an experienced home chef or someone looking to discover new flavors, this dish is a perfect choice.
I'd be thrilled to hear about your experience with this classic Bulgarian recipe! Did you change the ingredients in any way or find a side dish that goes perfectly with your Sarmi? Please leave your thoughts and feedback below!
If you find this recipe enjoyable, I hope you can like and share it with other food lovers, so they can also savor the incredible taste of Bulgarian Sarmi!
Nutrition Facts
10 servings per container
---
Amount Per ServingCalories313
% Daily Value *
Total Fat 18.8g

28

%
Sodium 20mg

1

%
Potassium 204mg

6

%
Total Carbohydrate 24.7g

8

%

Dietary Fiber 2.9g

8

%
Sugars 3.4g

Protein 12.4g

24

%
---
* The % Daily Value tells you how much a nutrient in a serving of food contributes to a daily diet. 2,000 calories a day is used for general nutrition advice.