Tikvenik is a Bulgarian pumpkin strudel so aromatic and tasty that it quickly becomes a favorite treat for people of all ages. It is usually made from slightly thicker rolled-out sheets of dough sprinkled with a mixture of pumpkin, sugar, walnuts, raisins, and cinnamon.
The main product in this iconic Bulgarian food is pumpkin; thus, the sweeter the pumpkin, the tastier your strudel will be. And in combination with a flaky, crispy outer layer, it becomes a delightful treat for everyone around the table.
Here is an easy-to-follow guide for making delicious Tikvenik in the comfort of your own kitchen!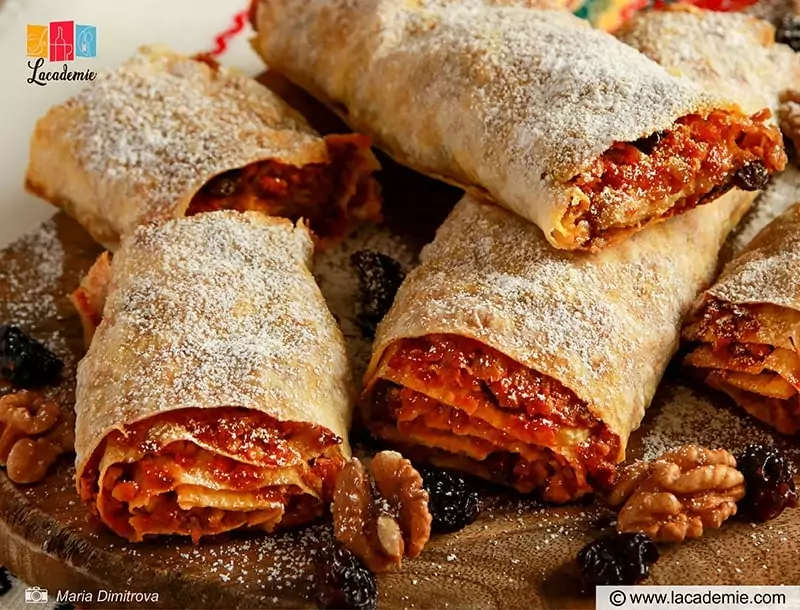 More On Tikvenik – A Traditional Bulgarian Pastry
Tikvenik is one among the many variations of Banista (a Bulgarian phyllo pastry pie). In Bulgaria, it's a popular afternoon treat and dessert. In addition, people there especially love having this hearty sweet treat during the winter season and on Christmas eve.
In the past, every housewife in Bulgaria rolled out the sheets of dough for Tikvenik by herself, as my grandmother did. But now, there is a wide variety of ready-made sheets of dough for Tikvenik in stores. Some are thicker, others thinner.
For a more authentic taste of Tikvenik, it is better to use the thicker version of dough sheets. However, if there you cannot get your hands on thicker ones, for each Tikvenik roll, you can stack two thinner sheets of dough.
Tools
Here are the tools you should prepare to make this Tikvenik – pumpkin strudel recipe.
Baking tray: Rectangular shape. For baking your Tikvenik in the oven.
Stovetop pan: Large size. You will stew the grated pumpkin until softened in this pan.
Kitchen turner: For stirring during stewing.
Kitchen grater: Helps you grate the pumpkin.
Bowl: Large size. For mixing all the ingredients for the Tikvenik stuffing.
Basting brush: This tool allows you to grease the Tikvenik dough sheets before putting the filling on them, as well as the top of the Tikvenik before baking.
Cutting board: Optional tool. You can grate the pumpkin on top of the cutting board to avoid making a mess.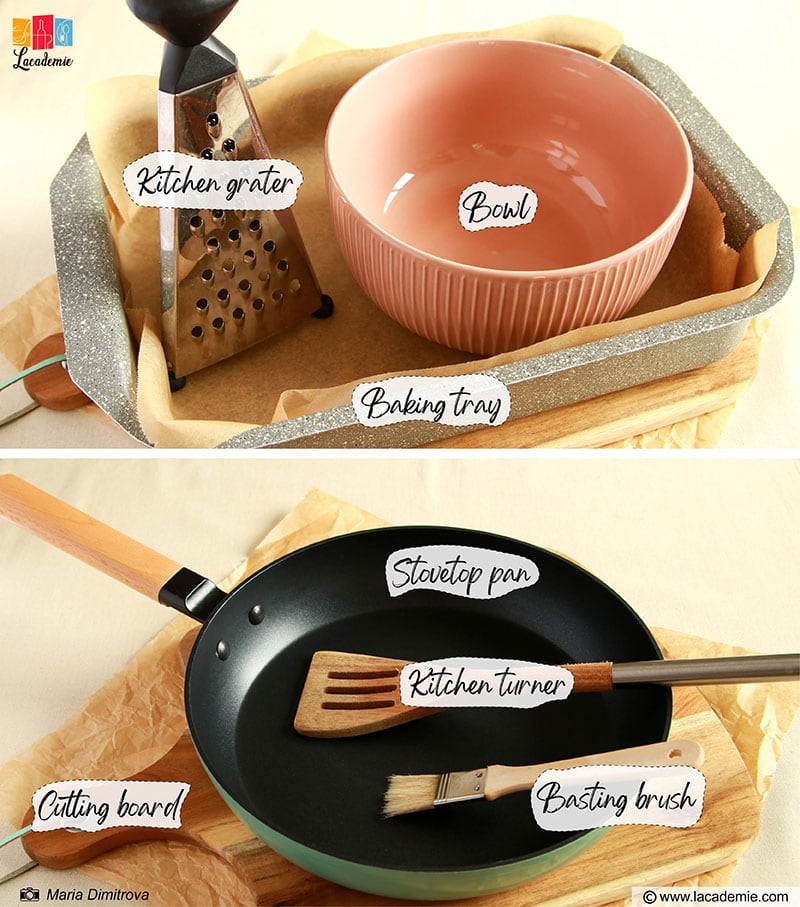 Ingredients
This is the list of ingredients needed to cook up delicious Bulgarian pumpkin strudel.
Dough sheets: For an authentic taste of Tikvenik, you need thicker dough sheets sold in Bulgarian stores.
If you can't find that kind, you can also use the so-called filo pastry, which is thinner and used to make the baklava dessert. For each Tikvenik roll, stack two sheets on top of each other.
Pumpkin: The pumpkin should be sweet and fragrant. The best varieties to use are Matilda, Sampson, Havana and the like.
Sugar: You can use white or brown sugar. I prefer brown sugar because it has a rich molasses flavor that pairs perfectly with the cinnamon and adds flavor to the Tikvenik.
Walnuts: These should be ground, not too finely, but in small pieces so that they can improve the strudel's texture.
Raisins: You can use white or black raisins. I think black ones are better because they add to both the look and flavor of the Tikvenik.
Cinnamon: Use ground cinnamon. This spice will contribute to the flavor of your Tikvenik.
Oil: The suitable oil for this recipe is sunflower oil because it does not have an overpowering taste and aroma. Butter is also suitable if you like how it tastes. You can use equal amounts of sunflower oil and melted butter.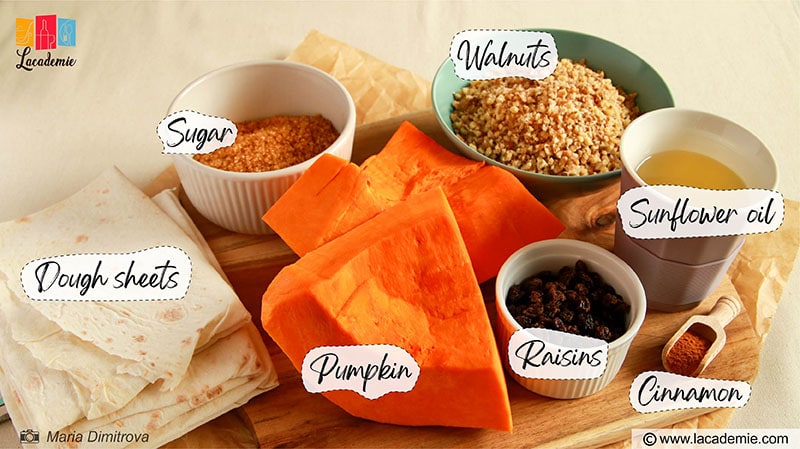 Directions
Ready to make some delightful pumpkin strudels to impress your loved ones? Follow these simple steps!
Step 1: Prepare The Pumpkin
Peel and grate the pumpkin coarsely. Next, heat 2/3 of the oil in a pan over medium heat and pour in all the grated pumpkins.
Stew for about 10 minutes, stirring regularly with a kitchen turner, until the pumpkin starts to soften.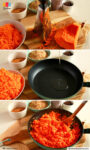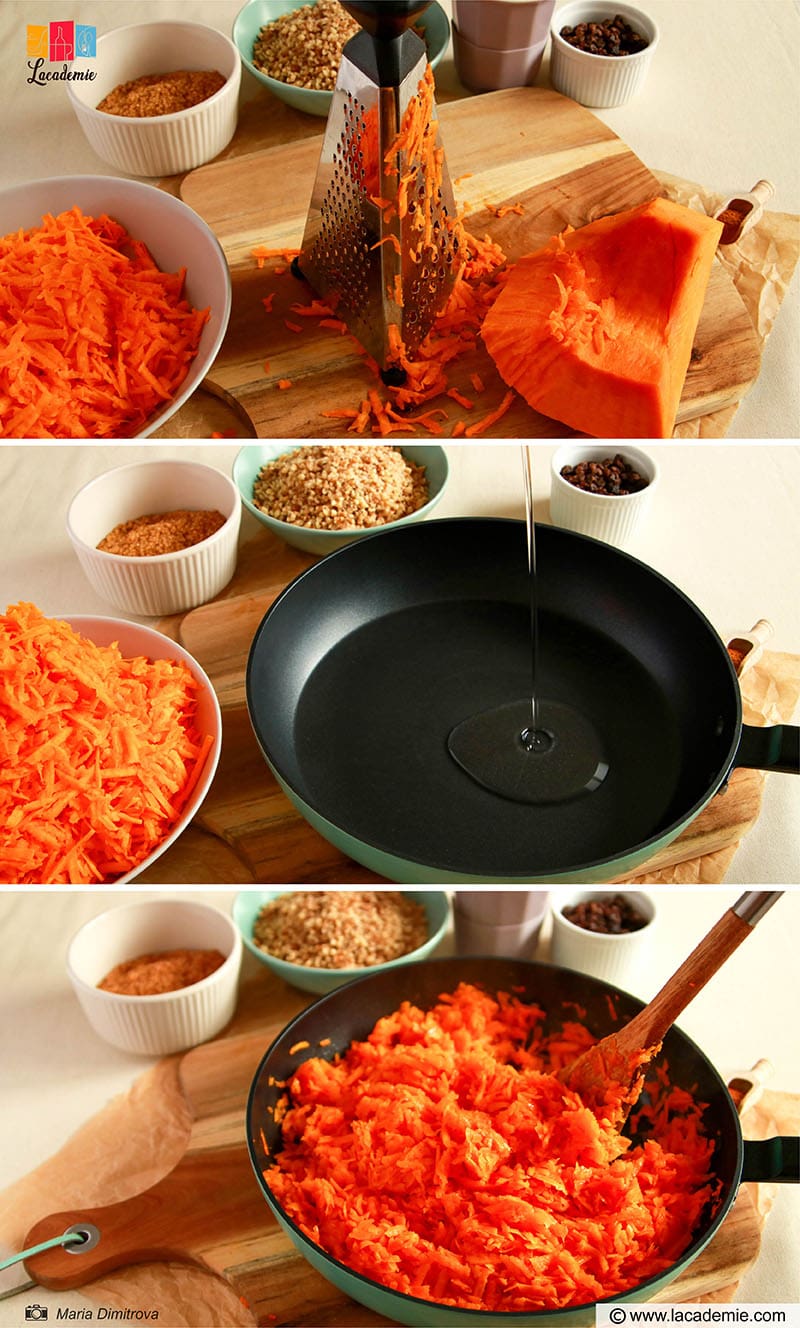 Step 2: Make The Filling
Put the prepared pumpkin into a bowl and add the remaining ingredients for the filling – walnuts, sugar, raisins and cinnamon. Mix gently until well combined.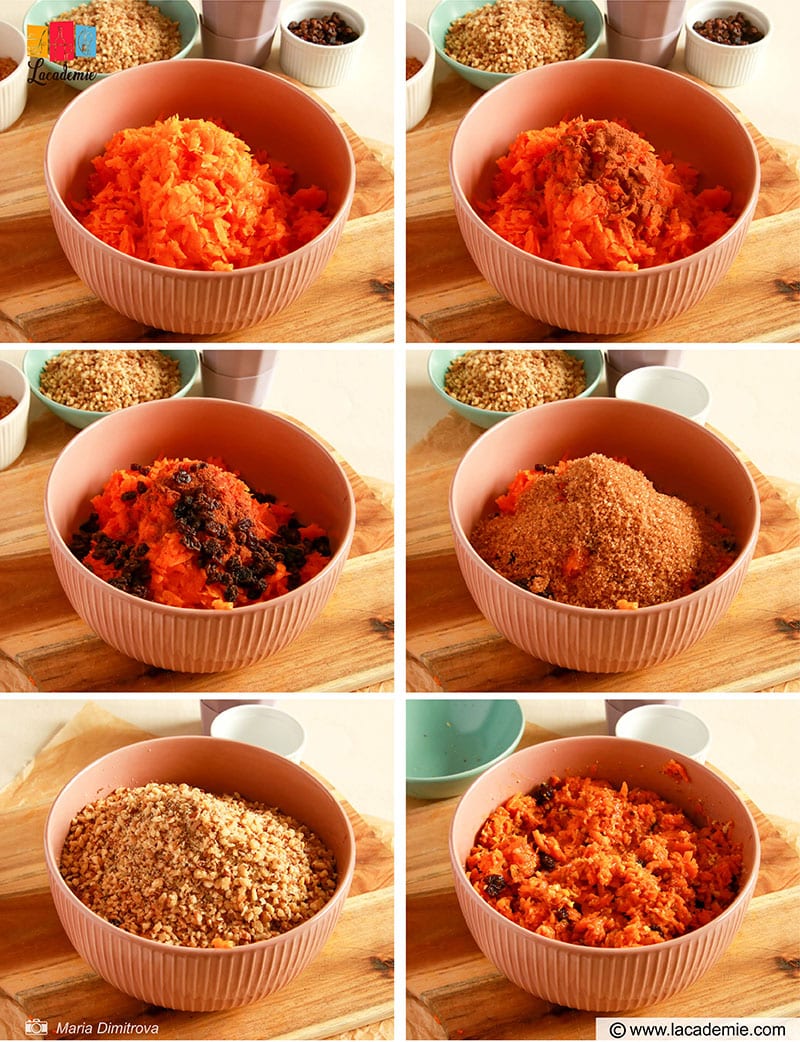 Step 3: Form The Tikvenik
Preheat the oven to 356°F (180°C). Line a baking tray with baking paper or brush it with a little oil.
Then, take a sheet of dough and lay it out on a clean work surface with the wider side facing you.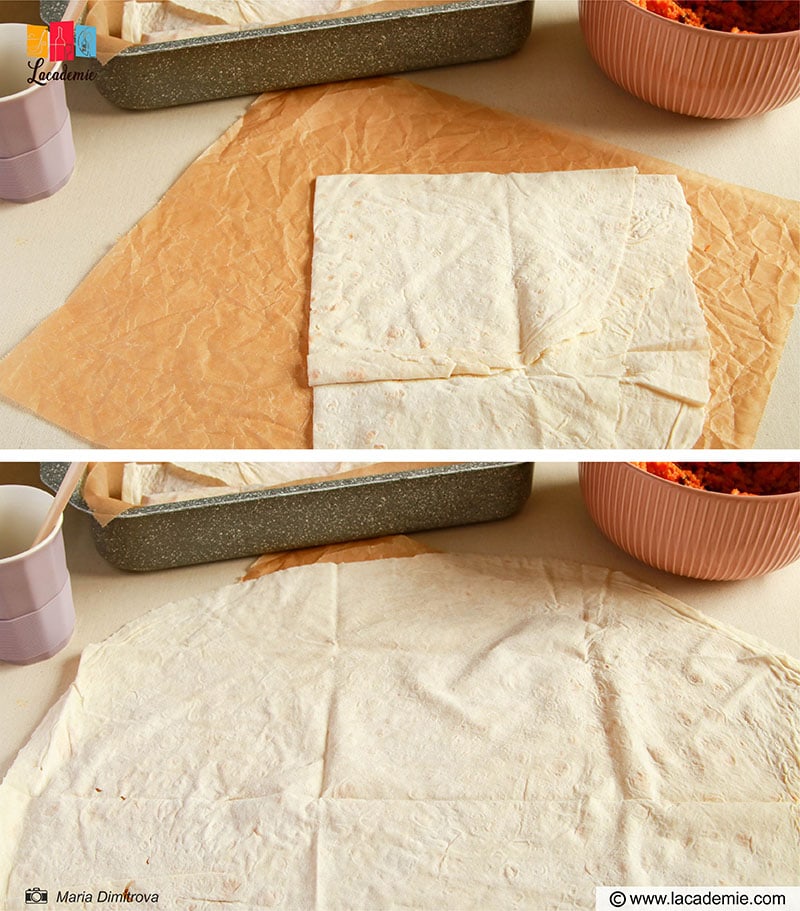 Brush some oil onto the sheet using the basting brush, then spread the filling all over it.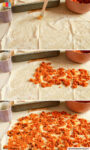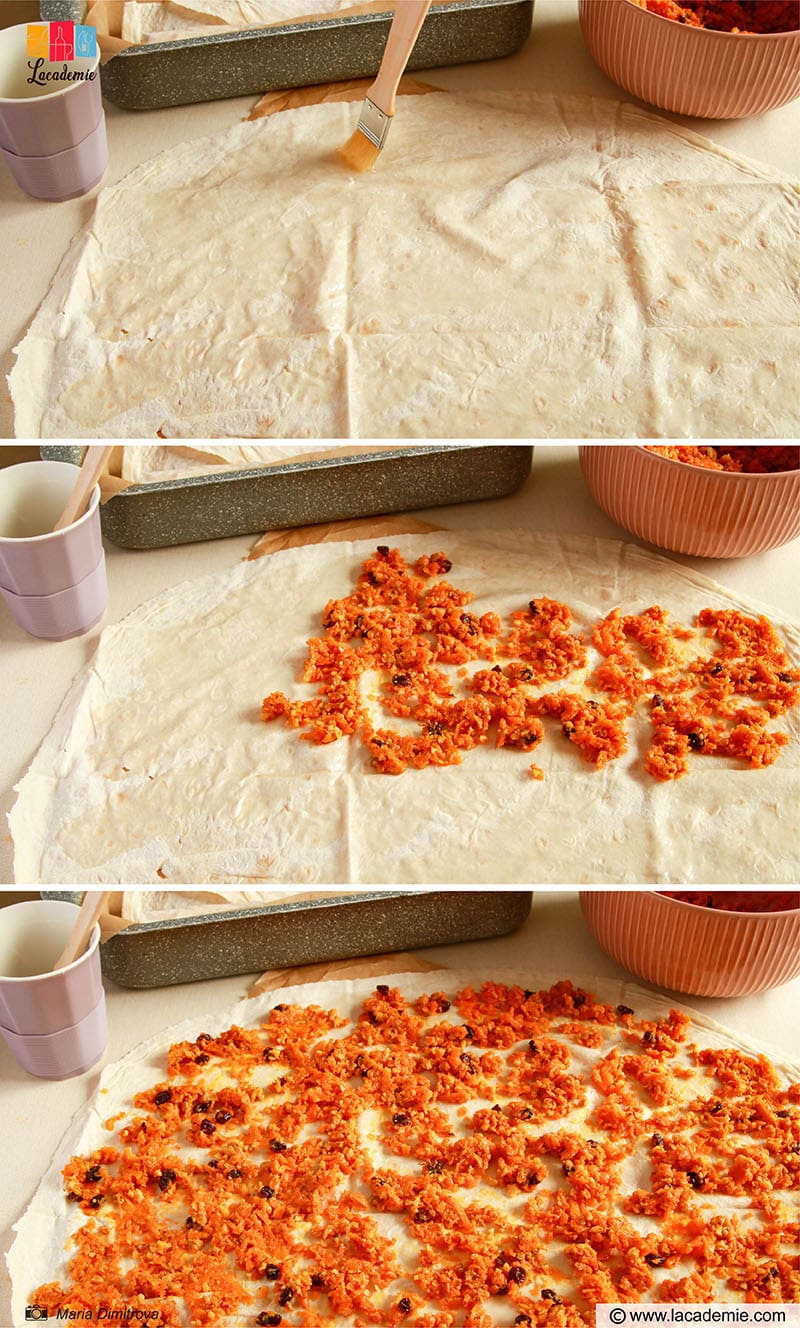 Lift the edge of the sheet closest to you and roll/fold it. Roll up the sheet. If it is too long, cut it in half and then put the two pieces in the baking tray.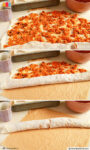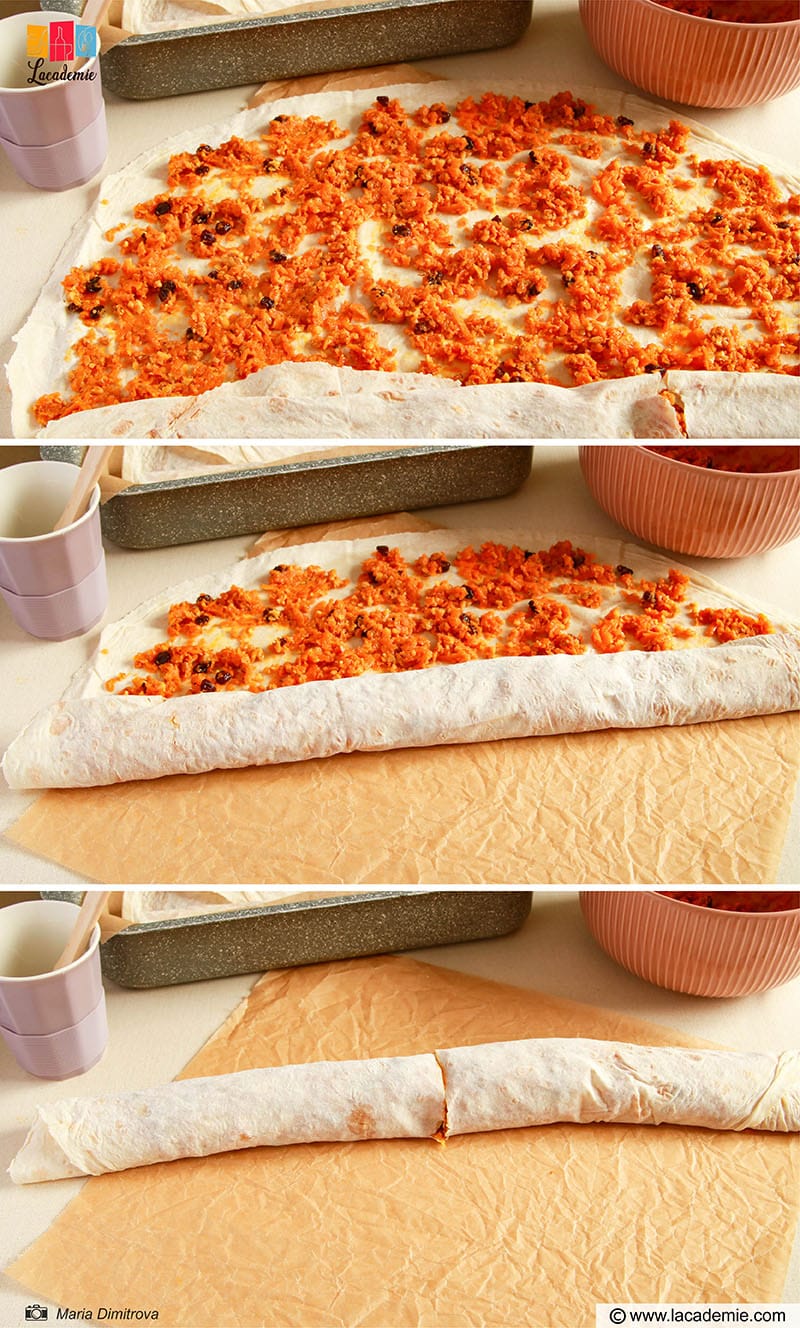 Repeat the previous steps with the remaining dough sheets until you have filled the baking tray.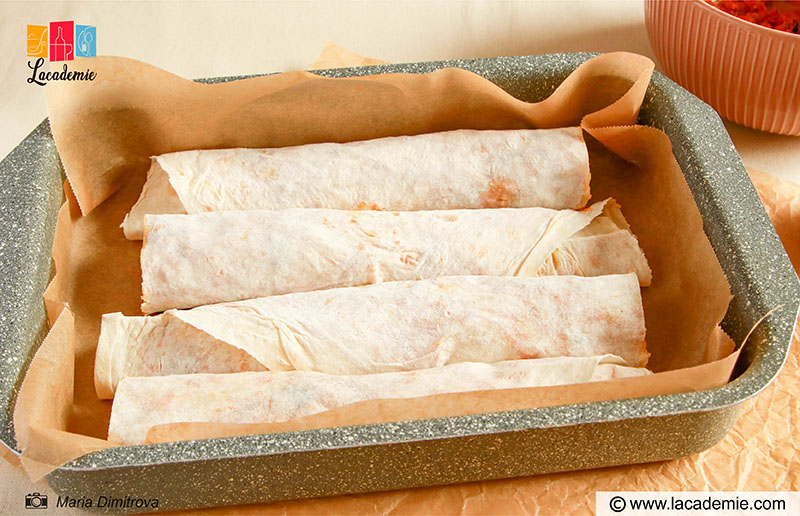 Step 4: Bake The Tikvenik
Before you put the Tikveniks in the oven, you must first grease them with oil. For more flavor, you can add some cinnamon to the oil.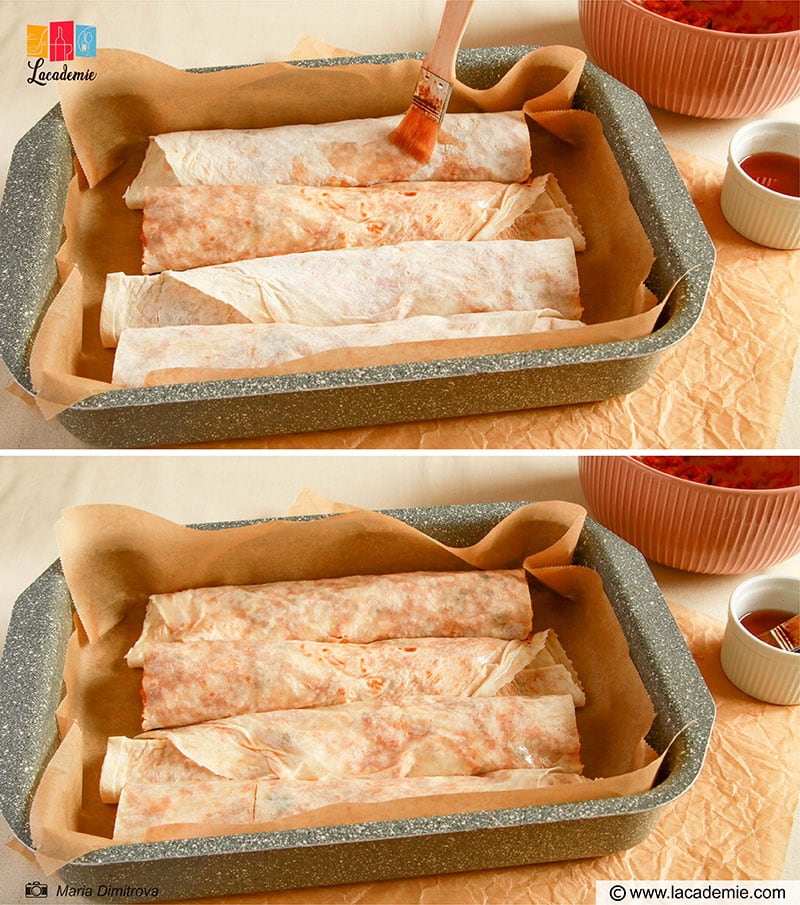 Once done, transfer the baking tray to the oven and bake at 356°F (180°C) for 40-45 minutes or until the Tikveniks turn golden brown.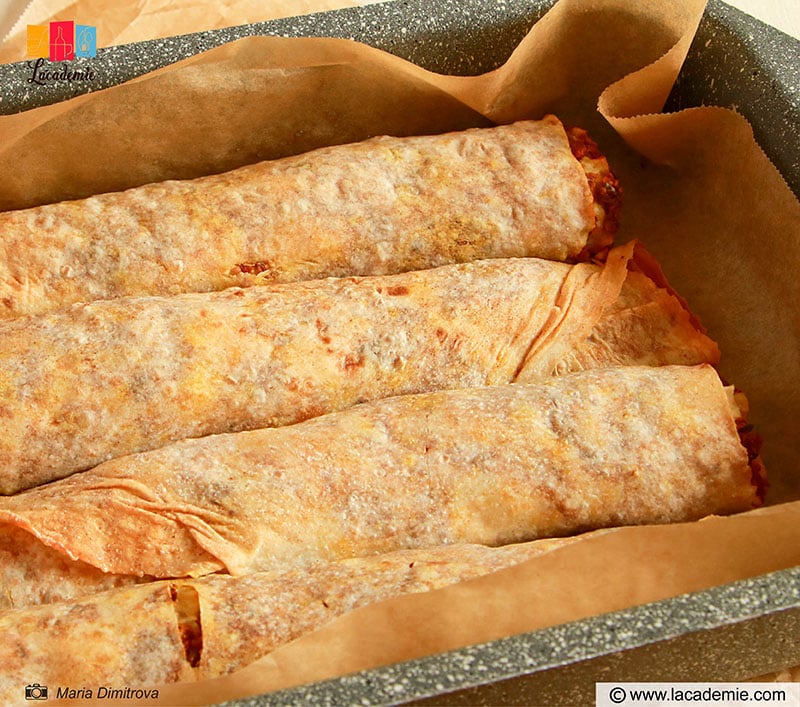 When the Tikveniks are ready, remove them from the oven and let them cool for about 10 minutes before slicing. When serving, you can sprinkle a little powdered sugar on top.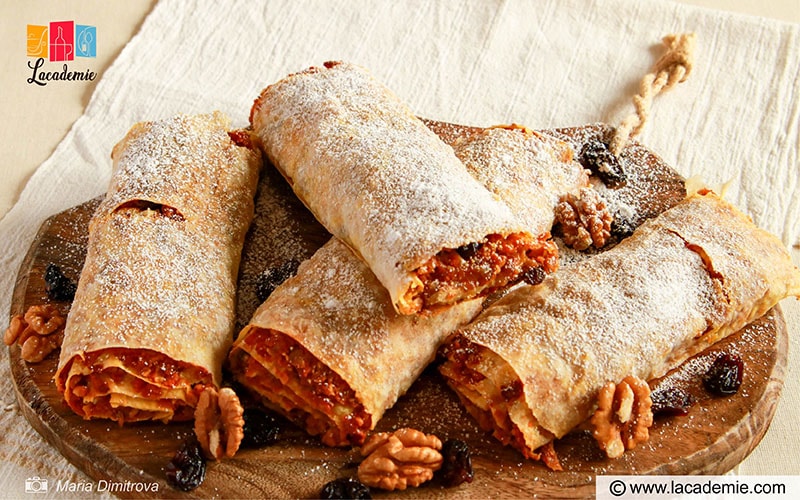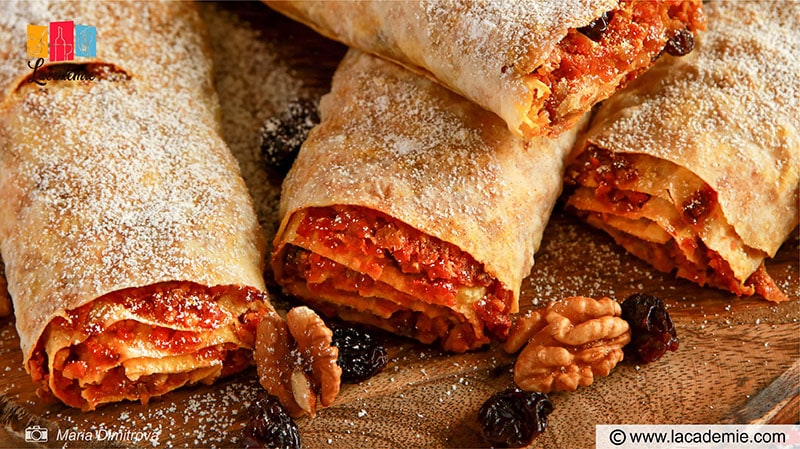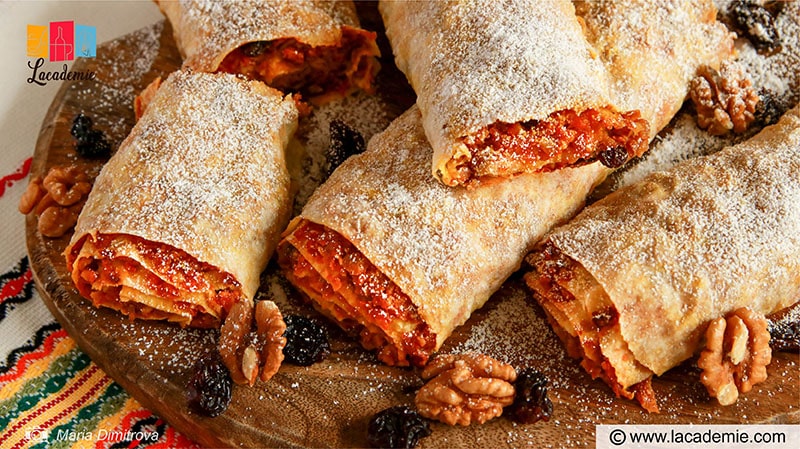 Tips And Tricks
Master everything about cooking Tikvenik with the notes and tips in this section!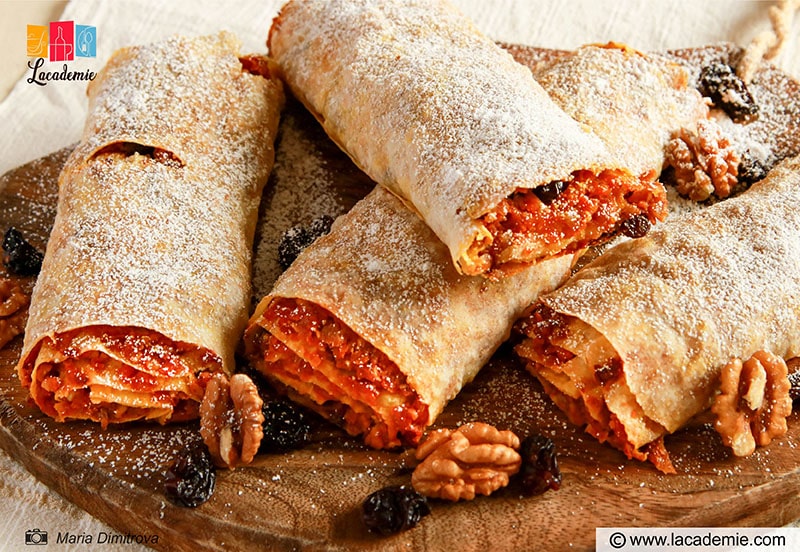 If the pumpkin is not sweet enough, you should add about 7 ounces of sugar. In case it is ripe and sweet, then about 5.3 ounces is enough.
The Tikvenik is quite delicate, so you should handle them with care. In addition, don't add too much filling.
These pumpkin strudels will last for about 2 days but will turn a bit mushy after the first one. For this reason, you should enjoy them as soon as possible.
If you want, you can pair the Tikvenik with Bulgarian yogurt for extra flavor.
Bring A Bulgarian Flair To Your Sweet Course
Tikvenik is an easy-to-make and flavorsome Bulgarian sweet treat perfect for dessert, a snack, or even a decadent breakfast. Regardless of how you choose to enjoy it, the combination of tender pumpkin and spices always makes Tikvenik a crowd-favorite.
What are your thoughts on today's dish? When are you going to try it? I'd love to hear your feedback in the comment section. Also, kindly give this post a high rating and spread joy by sharing it with everyone. Thank you so much, and have a great time making Tikvenik!
Nutrition Facts
10 servings per container
---
Amount Per ServingCalories551
% Daily Value *
Total Fat 34.8g

53

%
Sodium 7mg

1

%
Potassium 526mg

16

%
Total Carbohydrate 55.7g

19

%

Dietary Fiber 3.2g

12

%
Sugars 24.8g

Protein 9.2g

18

%
---
* The % Daily Value tells you how much a nutrient in a serving of food contributes to a daily diet. 2,000 calories a day is used for general nutrition advice.