Side dishes may not get enough recognition, even Greek ones. Compared to other cuisines, Greek delicacies have their own way to show their impression. But after a few trips to Greece, their food, in general, and especially their side dishes, are fantastic beyond words!
Greek cuisine is pretty frugal and leans more on the vegetarian side with various veggie dishes. But its simplicity is just what you need to balance back the flavor with all heavy main courses.
Thus, it doesn't harm to learn one or two Greek side dishes. Not only are they good for your health, but they can also liven liven up your regular dinner with their exotic flavors.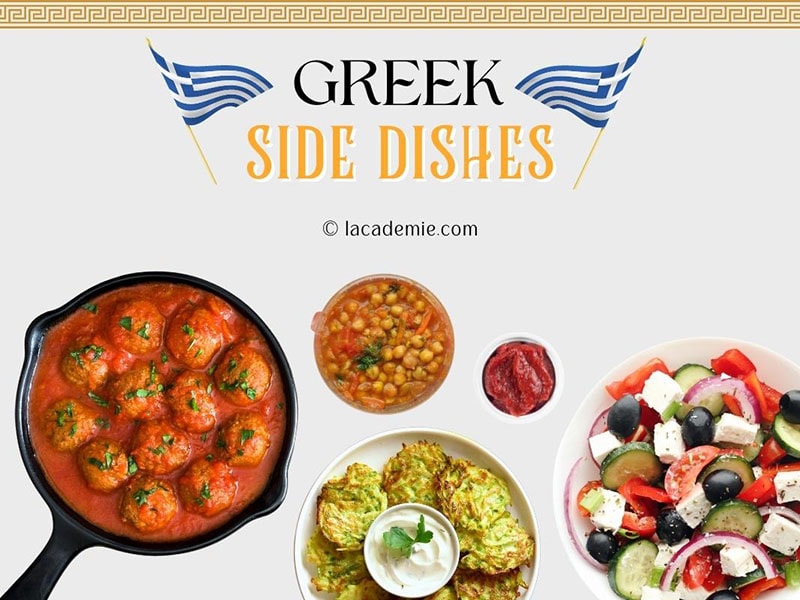 You'll Regret Not Trying These 21 Greek Side Dishes
All Greek side dishes I present right below contain various sorts of ingredients and cooking methods. Some require longer cooking time, and some need more effort. But all in all, they are pretty easy to cook, even when you are not a professional.
Rice Dishes
Spanakorizo
Greek Lemon Rice
Salads
Greek Potato Salad
Greek Salad
Frying And Baking Dishes
Greek Fried Zucchinis
Moussaka
Greek Spinach Pies
Tomato Fritters
Chickpea Fritters
Fried Feta Cheese
Greek Baked Meatballs
Stews And Soups
Greek Baked Beans
Greek Braised Okra
Greek Stewed Beans And Tomatoes
Greek Chickpea Soup
Greek Lentil Soup
Dips And Sauces
Greek Fava Dip
Tzatziki Sauce
Skordalia
Others
Greek Roasted Vegetables
Greek Stuffed Grape Leaves
Keep on reading for more information about each dish!
They Are Greek Side Dishes, And They Are Made Of Rice
Yes, I know rice tends to go by the name "main dish", but not with these. The two dishes I list below precisely reflect Greek cuisine: Simple ingredients with refreshing flavors.
You can think of spanakorizo as a healthy version of Italian risotto as both are rice cooked until it turns creamy. Basic spanakorizo only has long-grain rice and fresh spinach, so it's a suitable Greek dish for vegetarians.
However, nowadays, this dish has been innovated into multiple versions. For example, adding tomatoes to make red spanakorizo. Or meat is a decent choice if you want it more satisfying.
Never heard of spanakorizo before? Now you know it!
You'll never say rice is bland after trying this lemon rice. This dish consists of basmati rice cooked with fresh lemons. Yes, you don't read it wrong. It's rice with lemon.
And if you are searching for something to pair fajitas, this one will be your perfect treat. Though it sounds bizarre at first, this combination tastes better than I thought.
These two main ingredients with other flavor additions like onions, garlic, and herbs are cooked in a chicken broth to obtain a rich taste. You can substitute it with vegetable broth for a vegetarian version, but the flavor will slightly change.
These Geek Salads Will Bring You To Another Flavor Horizon
You can't talk about side dishes without mentioning salad. While Greek salads sound already over-familiar, I bet you'll be surprised by the information in this part.
Just like other potato salads, this must-try Greek food can go with numerous main dishes. Its core ingredient is thin-skinned potatoes so that you don't need to peel them. Accompanying them are various veggies, boiled eggs, olives, and fresh herbs.
So what are the differences? Well, this patatosalata uses lemon for extra sharpness and freshness. Also, while American versions include mayonnaise, Greek ones often go with the olive oil option.
Finally, Greek salad for a perfect Greek starter! There's hardly anyone on Earth that hasn't heard about this salad.
But one interesting fact is here: Almost all Greek salad outside Greece is not authentic. Surprise? One example is American-styled Greek salads with lettuce, while a genuine one doesn't include it.
Before, Greek salad was a breakfast or lunch for farmers as they use all the ingredients on their farms. However, nowadays, it's treated as an appetizer or a side dish, especially as side dishes for perogies. For example, in summer, this salad is the best choice for a BBQ party.
This is how Greek people make their Greek salad!
What About Greek Side Dishes That Need Frying And Baking?
Though frying and baking seem to go against all Greek cuisine is about, there's no doubt that these dishes are delicious beyond expectation. And it'd be a waste not to talk about them.
These crispy zucchinis are often served as an appetizer or a side dish with a yogurt-based dip. Greek people even enjoy them as a snack with just some salt and oregano sprinkled on top.
And while this dish is pretty easy to make, you need to remember some tips for a perfect crunchy batch. First, slice your zucchinis thin and evenly, so they are cooked at the same time. Then, deep-fry them at high temperature. Or else, all slices will get soaked with oil and become greasy.
Moussaka is the Greek equivalent of casserole or lasagna. But instead of the pasta layer, you'll have eggplants and potatoes. They are sauteed with ground meat, mostly lamb, and topped with Bechamel sauce.
Moussaka is so famous that all Middle Eastern countries like the authentic foods of Egyptian people. It has even spread to Balkan regions and become a famous dish in Bulgarian cuisine as well. This is proof enough that moussaka is a worth-trying dish.
Different countries all have their own variants. Some replace lamb with beef, while others call for different combinations of veggies. There is even a vegetarian version of this dish.
Do you want to know the key to a perfect moussaka? It's right here!
You don't have to speak the name perfectly to master this dish. Basically, spanakopita is a tasty Greek pie with chopped spinach and feta cheese for the filling. Other white, salted cheese is the preferred alternative.
Moreover, this delicious pie is also a vital part of Lent's celebration in Cypriot food culture.
Traditional recipes require phyllo dough to wrap the filling. But believe me, you don't want to use it as you need to brush melted butter on each layer. So, a more suitable option for you is puff pastry.
Do you know that one of Santorini's specialties is tomatoes? Due to its rough terrain full of volcanic rock, the tomatoes grown here have a much stronger flavor than those on the market, hence Santorini's flavorful tomatokeftedes, which can be referred to as tomato fritters.
These robust tomatoes are crushed and mixed into self-rising flour with various spices. Then, the last step is frying them until golden brown. For a perfect texture, use firm and green tomatoes instead of over-ripe ones.
In Greek, this name literally means fried chickpea balls, so you know what to expect. Some may think they are a Greek version of falafel. But let me tell you, these balls are much more delicious!
It's because this recipe uses actual chickpeas instead of chickpea flour or powdered ones like falafel. Thus, it's softer on the inside and has a much crisper exterior. Also, like other Greek foods, they only lightly season it with oregano, garlic, and parsley to keep the chickpea flavor shine.
Revithokeftedes are no longer a strange face to you with this instruction.
Frying may not be the priority cooking choice with cheese. But this saganaki proves that crowds aren't always accurate. Choose a hard cheese like graviera or feta. Then, coat it with flour and pan-fried it until golden brown. The whole process takes only about 5-10 minutes.
And there you have your luscious side dish or appetizer: Crunchy outside and melted, warm cheese inside. Nothing's better, right? Not to mention, if just cheese and flour are too simple for you, feel free to season the batter with cinnamon, red pepper, black seed, etc.
Greek cuisine often gives me an impression of light, refreshing food until I meet this dish. Minced meat is coated with bread crumbs and spiced with tons of spices, then placed in a pool of tomato sauce. This dish is what I call extravagant.
Not to mention, the seasonings in both meatballs and the sauce: Cumin and cinnamon for the former, wine and olive oil for the latter. They make this dish overwhelmingly rich and flavorful.
5 Greek Stews And Soups You Don't Think As Side Dishes
No cuisine doesn't have its signature stews and soups. And Greek is no exception. With these recipes, you'll feel like in Greece right in your kitchen.
Gigandes plaki literally means "giant beans", so don't expect tiny ones like those in traditional bean stews. Traditionally, this dish uses fasolia gigandes, a variety of white beans. But if you can't find them anywhere, feel free to switch to large lima beans.
They are first soaked overnight and then cooked in tomato sauce with onions and parsley. You can add other veggies like carrots and garlic or meat products such as sausages or smoked pork.
Baked beans sound easy, right? But for a perfect gigandes plaki, you'll need this recipe.
If you hate the slimy texture of cooked okra, this is the hero you need. Due to letting the okra rest in vinegar for half an hour, they won't release any mucky fibers when simmered.
Aside from okras, this dish also contains sauteed onions and tomatoes. All are braised in olive oil. You can choose fresh or canned tomatoes. But remember, the higher-quality they are, the better your dish tastes.
The result is delicious okra and striking red sauce, a tasty side dish with crusty bread. Or you can cook it with other meat like chicken for a light main course.
Do your children hate green beans? If yes, you can try making this fashoulakia. Tender Greek green beans swimming in olive oil with tomatoes, it tastes outstandingly delicious with crusty bread and rich feta cheese.
How does that happen? It's all thanks to the braising method that green beans can soak all the rich, robust flavor from other components. Not to mention, this recipe has so many variants that you can never get bored of it.
Known as Greek chickpea soup, revithosoupa may look bland, but its taste can blow away. If you follow the traditional way, be prepared for lots of time and effort this dish requires. You need to soak the dried chickpeas overnight and cook them for hours until they've gone soft.
That's why I suggest taking the modern shortcut with canned chickpeas and a slow cooker. It only needs an hour or so. You can add other veggies like carrots, onions, shallots, or celery to the soup for more flavor.
This is a classic example of revithosoupa that you should try right away.
Similar to hearty French side items with lentil soup, this Greek version is also a special recipe that you can try out.
The name of this iconic Greek soup may confuse you for a second: Is it fake? Or is it real? Actually, the "fakes" here doesn't mean this "fake". It's "lentil" in Greek, and this is the lentil soup in Greek style.
Fakes soupa originally is a dish born from the poverty era, when meat is hard to find. So, people use the lentil to make up for the lost protein and nutrients. Since it's just a lentil soup with tons of veggies, it's your choice to create as many versions of it as you can.
3 Greek Signature Dips And Sauces That Are Must-Try
No matter how tasty your main course is, it can go to waste without a matching dip or sauce to accompany. But don't worry, my hand-picked ideas won't let you down.
Just one look at it, and you may already know how this dip's made. Fava is kind of similar to hummus but with yellow split beans instead of chickpeas. These beans are cooked with onions and various spices until they thicken into a puree.
This dip is often served as a mezze, a part of a Greek full-course meal. As fava beans are grown in volcanic soil, they bring forth an earthy flavor, which goes the best with chopped onions and olive oil.
If you have ever come to a Greek meal, you must have seen this yogurt-based sauce. Greek people often pair this delicious treat made with Greek yogurt with bread, fried eggplants, or zucchinis as an appetizer or side dish.
Tzatziki dip is made by straining or diluting yogurt and mixing it with cucumbers and other seasonings and herbs. Sometimes, people would add vinegar or lemon juice for more flavor. And the best part about tzatziki is you can make them ahead and refrigerate them for future use,
There are thousands of tzatziki sauce recipes online but this is one of the best.
Another well-known Greek dip! With mashed potatoes as a base, chefs make skordalia by combining garlic, walnuts, almonds, olive oil, and sometimes vinegar. Before, this dish was all handmade. But today, food processors or hand mixers have saved us from all the work.
While potato skordalia is a more standard version, you can make it with liquid-soaked bread. Or add eggs to smoothen the texture. This sauce is a perfect match with fried fish, hamburgers, and boiled vegetables.
2 Greek Side Dishes That Have Different Cooking Techniques
Those Greek recipes here don't belong to any of those above groups. But this doesn't mean they aren't as delicious. Let's find out details about them!
This dish reminds me of the class ratatouille. But here, the vegetables are roasted instead of stewed. Common briam often consists of potatoes, tomatoes, eggplants, and zucchinis; all are evenly sliced.
You can switch with other veggies to your preferences but make sure to avoid ones with too soft or too hard textures like mushrooms or carrots. You need them to have the same consistency so that nothing is undercooked or overcooked.
Your briam will taste like coming out of a Greek restaurant with this instruction.
There are so many names for this well-known Greek street delight and side dish: dolma, dolmathakia, dolmade,… But let's just call it dolma in this part. Although its origin is in Turkey, many think these stuffed grape leaves belong to Greece.
In fact, almost all Middle Eastern countries have their version of dolma. Greek ones are often filled with rice and lamb, while those found in Armenian gastronomy can include almost anything, from seafood to fruits.
The vegetarian kind consists of plums, coconut, and raisins to make it sweeter.
Among These, What Is Your Favorite Dish?
Everyone has their own preference, but I believe this list can satisfy even the pickiest eater. So how do you feel about this list? Greek dishes may not look appetizing, but their taste can totally compensate for that.
If you have any friends who want something new for their dinner, don't hesitate to share this list with them. And feel free to write down your thoughts about these dishes in the comment section below.
Nutrition Facts
4 servings per container
---
Amount Per ServingCalories305
% Daily Value *
Total Fat 11.3g

18

%
Sodium 941mg

40

%
Potassium 707mg

21

%
Total Carbohydrate 46.1g

16

%

Dietary Fiber 3.9g

16

%
Sugars 4.1g

Protein 6.6g

14

%
---
* The % Daily Value tells you how much a nutrient in a serving of food contributes to a daily diet. 2,000 calories a day is used for general nutrition advice.