If you are looking for what to serve with perogies, stop here because my article will be the most informative and interesting one. Pierogies have always been one of the most popular consumed dishes worldwide since they traveled from country to country, so I guess you are already familiar with it.
People eat them at any time of the year, and they are considered to be one of the typical dishes that appear in people's daily meals or even on special events.
So, it seems familiar to everybody, right?
But do you know what is the best to serve with pierogies and the way to make it? If you are having struggles in finding different ways to enjoy perogies, then here you are! This article will help you out with all of your concerns.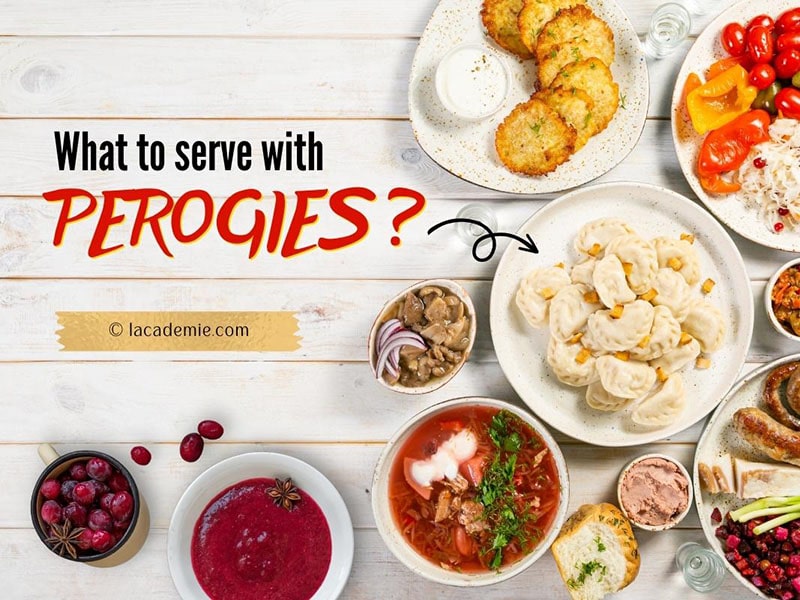 Top 15 Amazing Dishes That Could Serve With Perogies
Here are some quick and delicious recipes that you can add to your cooking list. All of them were inspired by the world's culinary recipes.
Bacon and Onions
Sour Cream, Onions, and Mushroom
Greek Cucumber Salad
Sauteed Green Cabbage with Bacon
Cranberry Relish
Slow Roasted Tomatoes
Pork Chop with Apple Chutney
Yummy Carrot, Brussels Sprouts, and Parsnip Salad
Golden Beets and Delicata Squash
Nachos
Cobb Salad
Roasted Pumpkin and Beetroot Salad
Bolognese with Parmesan Cheese
Cheesy Taco Lasagna
Broccoli Salad With Raisins
What Are Pierogies?
Pierogies are a filled dumpling made of unleavened dough stuffed with filling, including potato, quark, sauerkraut, ground meat, mushroom, or fruits; depending on the region and season, the ingredients will be changed.
It usually is eaten with fried onions, sour cream, or both. There are ways to process: boiled, pan-fried, and baked.
Pierogies are associated with the culture and have become part of European cuisine throughout the years. It's a remarkably famous dish in Slovakia, Poland, Russia, Ukraine, and many more countries across Central, Eastern, and Southeastern Europe.
It is also widely found in American and Canadian nowadays but maybe in a different name, depending on the local culture.
So, have you ever wondered where Pierogies comes from and what its history is?
The origin of this food has undergone several debates, but still, it is not definable. Some people said it was from China, and others believed that it was somewhere else in Europe.
It is now a culture of many countries in Europe and became a part of their cuisine. It is said that it first came from Kyiv (Ukraine's capital city nowadays) and was brought to Poland by Hyacinth of Poland.
On July, 13th 1238, Odrowąż visited Kościelec; a storm came up after two days of his arrival and left massive damage on all the crops. Odrowąż asked his residents to pray to make everything grow back, and it did the day after.
To express their thanks for this, people in Kościelec created pierogies made of vegetables presented to Odrowąż.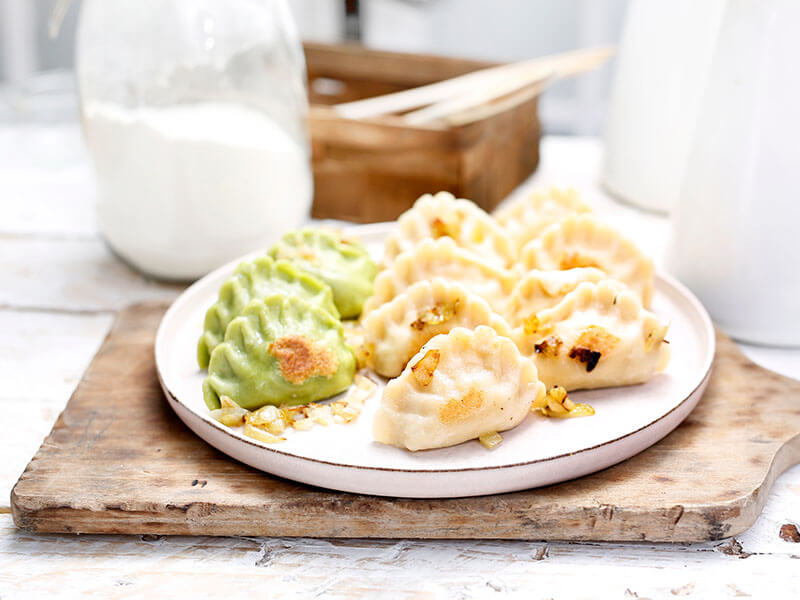 What Is The Best Way To Cook Pierogies?
There are two crucial parts of making good pierogies: the dough and the other is filling. But, how to make these two things into a suitable dish? Is it hard for an unprofessional cook to do? Don't worry about it; here we will show you how to make these two parts become an unforgettable meal.
Filling
First, you need to prepare ingredients before starting to do anything. As we already know, pierogies are consumed all over the world, so the ingredients are pretty diverse. However, filling typically had two types: savory filling and sweet filling.
Savory filling: it is made of meat such as pork, beef, chicken, fish, or whatever, depending on taste, mixed with potatoes, fried onion, sour cheese, quark, cabbage, mushroom, etc.
Sweet filling: can be stuffed with sweet fruit such as strawberries, apricots, apples, or plum.
How To Cook
The dough is made by mixing flour and warm water, adding eggs sometimes, and then rolling these mixed flat and cut into small square or circle pieces. After having the perfect dough, stuff your favorite filling onto the middle of each piece, then wrap them up.
Remember to make sure it will not leak out while cooking by pressing the seam together to seal the pierogies, which will be boiled, fried, or baked.
Then, you will have the home-cooked pierogies that take you about 30 minutes to prepare. It is simple.
How Are Pierogies Traditionally Served?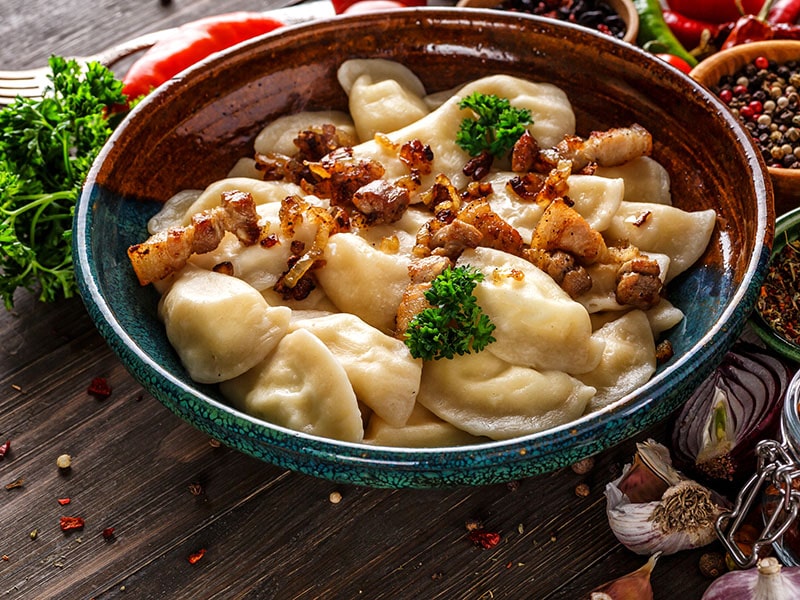 As mentioned above, the way people enjoy pierogies has been varied in terms of nations, cultures, and personal tastes. So, there are a variety of versions that traditional pierogies are served.
Back to the history of pierogies, here is what I found: in 1682, the first cookbook of Polish including a recipe of how to make Stanisław Czerniecki wrote pierogies said that there is no potato in the filling of a pierogi but chopped kidneys, veal fat, greens, and nutmeg.
However, the pierogies in authentic Ukrainian cuisine are made of fried pork or bacon, and Ukrainian think that would be the best version. The original pierogies are often served simply with a filling made of meat, potatoes, cheese and topped with fried onions, butter, or sour cream.
Are Perogies The Main Dish Or Side Dish?
Here is what I found by doing some online research:
When it comes to authentic Polish cuisine, pierogies were traditionally considered a dish of Famer and slightly became part of the nobles' meals. It served as a main dish and made different kinds of pierogies depending on each occasion.
In Ukraine, pierogies were a common main dish that can be found in their daily meal and some traditional festivals.
People take pierogies as a side dish in the US, contrasting with European countries and Canada, where pierogies are considered the main dish, usually a snack.(1)
So as we can see, there is no border in the way people experiment with making great foods. And, we sometimes get confused just because we have a bunch of choices around. However, I think that no matter which way the food is served, we still enjoy it.
Following this question, I will give you some options to make your life easier by just reading and randomly picking up a recipe, and you will have an unforgettable meal.
15 Palatable Side Dishes To Serve With Perogies
Because Perogies is now widely recognized and traveled throughout the world, there are numerous recipes. Here are the top 10 favorite side dishes that people usually have when they think of Perogies.
1. Bacon And Onions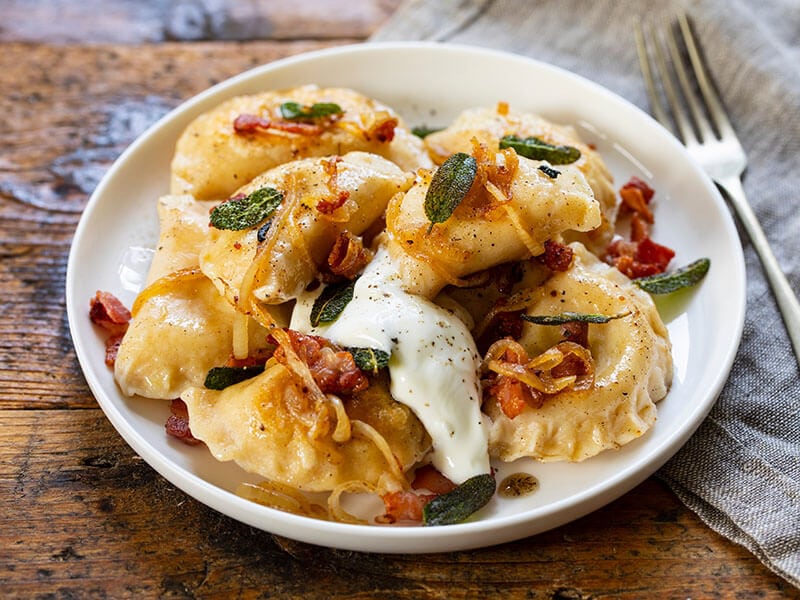 When mentioning the best topping for Perogies, it is a pity if it lacks Bacon and Onions – the traditional Polish topping. However, before going into the details of the food, I will provide you with some facts about bacon and how to make a good one. So if you are a meat lover, go ahead.
Bacon is a slice of salt-cured meat cut from the belly part of a pig. It contains such a large amount of fat, making a slice of delicious bacon crucial for a phenomenal pierogi. (2)
Now, let's have a look at the direction.
If you have an oven, it would be cool. But if you don't, no worries, a family's skillet should be fine. To make a strip of good bacon, make sure that you take it out from your fridge 20 minutes before starting.
Then, put the skillet on (do not preheat it), place the pork onto the skillet (do not overlap them), and cook them over medium heat until both sides get browned. Remove the bacon when they are done to a plate with cooking paper to drain the leftover oil.
While having a piece of delicious bacon, things would be elementary. We will have the best potato cheese perogies ever by adding bacon and sweet caramelized onions on top, making the perfect combination between the savory taste of bacon and the sweet taste of caramelized onions.
So, after frying the bacon in a pan, take it out and saute onions in the bacon. Then add some butter, season some black pepper. You can add more salt for more flavor if you like.
One thing to keep in mind is that the suggested timespan to leave cooked bacon out is not long. So it's best that you finish the cooked bacon as soon as possible. And as the shelf-life of refrigerated cooked bacon is much longer, you should store it in the fridge if you can't finish it all.
Tips:
A little bit of beer will make the caramelized onions more softened.
You can eat with some herbs: rosemary, basil, parsley, and thyme, for example.
Remember not to cook the bacon at high heat.
2. Sour Cream, Onions, And Mushroom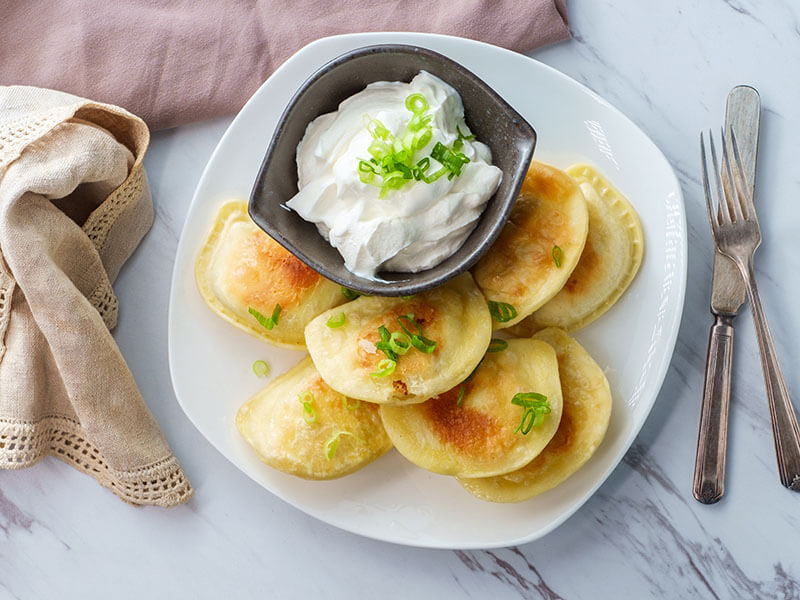 Sour cream and mushroom is a wondrous combination to pair with perogies. It has a rich, creamy flavor with strong hints of tart to accentuate mushroom's umami taste. Sour cream can tolerate high heat, allowing it to blend well in most dishes that require cooking.
When you're out of sour cream, yogurt is a viable alternative. However, one big difference between yogurt and sour cream is that yogurt cannot tolerate extreme temperatures. This means that yogurt will curd when cooked at high heat, so be careful.
Moreover, there are significant advantages of consuming mushrooms: boost the immune system, lower blood pressure, lose weight and provide nutrition. (3)
Mushrooms are also rich in species. You can try red pine or porcini or any kind of them; it's up to you, mixing with onions, then you saute the mixture in butter. You can season them with some of your favorite herbs or spices that make the food flavoury.
Use the sauce you've made, top your ready-cooked perogies, and then add a little sour cream. Easy, right?
So, with all the benefits that mushrooms definitely can bring to humans, I strongly think that it would be incredibly significant to serve with pierogies making a great meal.
3. Greek Cucumber Salad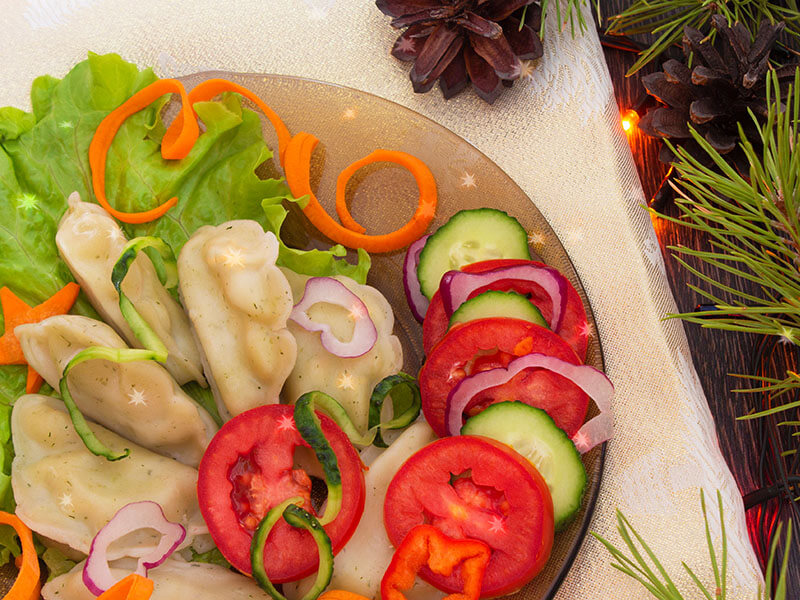 This dish is a different topping version making perogies unique. To make a successful greek cucumber salad might take you around 20 minutes.
The first thing you need is perogies, of course (you can make it yourself, or you can easily find ready-cooked perogies everywhere).
Next are veggies, such as cucumber (thinly sliced), baby spinach, grape tomatoes, onions, and dried oregano leaves. Another essential ingredient is the famous Greek yogurt to add some sour and sweet notes to your dish. Besides, some olive oil can make it more flavorful, and the last thing is the crumbled feta cheese.
Now, how to cook?
Place perogies into a large bowl and add baby spinach, cucumber, olive, and tomato.
Present the mixture onto plates and season the feta cheese and oregano; then, you have your refreshing side dish with cucumber salad.
4. Sauteed Green Cabbage with Bacon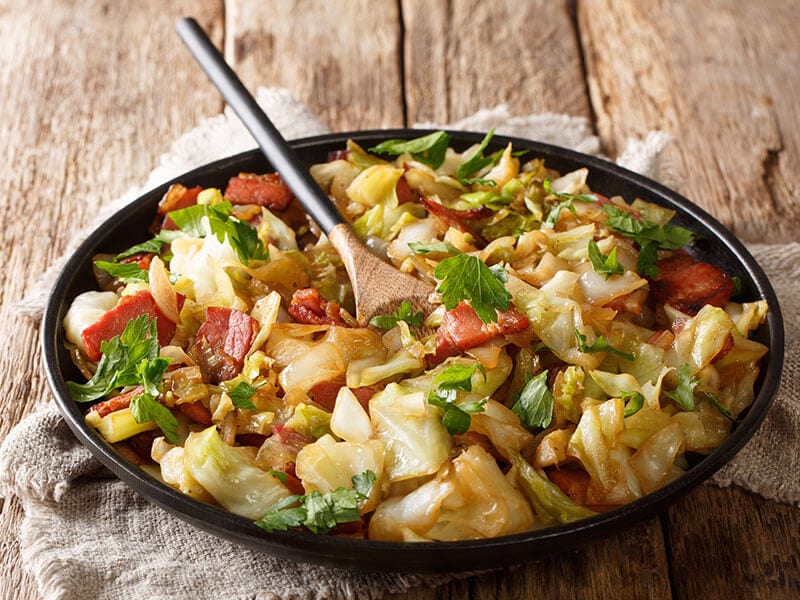 Once again, bacon is chosen to combine with pierogies. Then you see how good it is? Anyway, I am not going to talk about bacon over again; instead, let's see what it is like to have bacon and cabbage together?
Cabbage belongs to the Brassica genus of vegetables and has a collection of shapes and colors. It is seen everywhere and appears in our daily meals. It seems like something normal, right? So, what makes cabbage special?
Cabbage also provides a considerable amount of vitamins which are essential for our body. It is packed with vitamin C, which plays a crucial part in our body and skin's health.
It is an integral part of collagen production that helps the skin and assists in the proper function of the bones and muscles. (4)
Combining pierogies with cabbage and bacon is such a clever choice for all the reasons mentioned above.
Cabbage and bacon together make a smoky and flavoury salad. Bacon needs to be fried, and then used the grease to saute cabbage. If you wish, you can add some unsalted butter to it and season it with garlic powder. That's it.
5. Cranberry Relish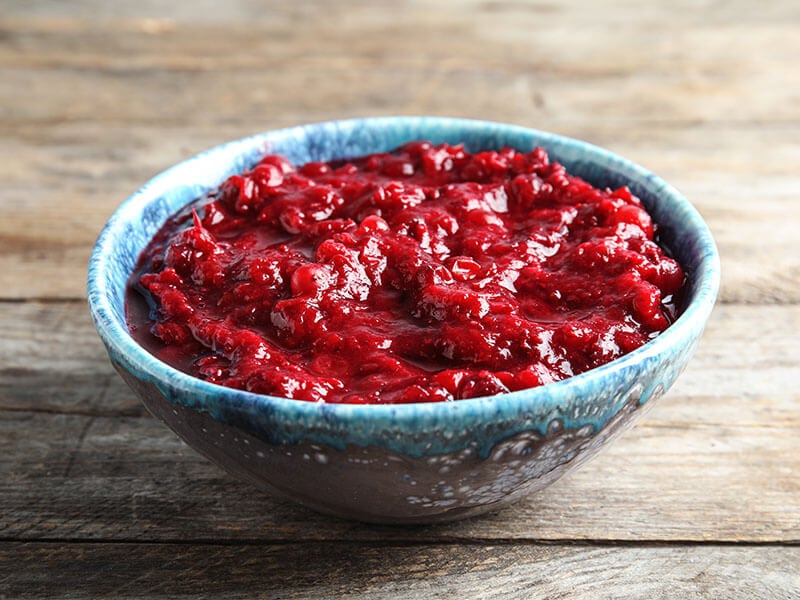 Perogies with cranberries are the option for people who have a sweet taste. We can make a cranberry sauce with apple, ginger, and pear, or if you love the simple thing, you do not need to add anything but cranberries.
The first step, boil cranberries with water, add some sugar and salt, keep simmering them until you get a thick sauce. After you're done with the sauce, pour it into a bowl and let it cool at room temperature for about 30 minutes; then, you have a nice pop of color and yummy sauce.
But, this dish is not only about cranberries. We need to prepare the dough and filling for making pierogies as well.
And wait! Do you know that there is no need for you to try that hard by making homemade pierogies while you do not have enough time? You just easily find them at any store in town, and all you need to do is follow the label printed on the packet.
There you are, quick, effortless and straightforward.
6. Slow Roasted Tomatoes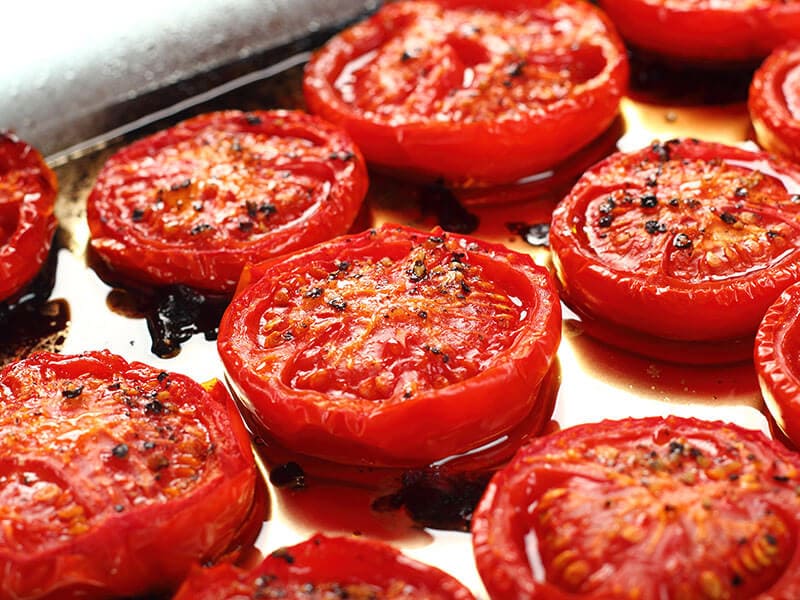 I love slow-roasted tomatoes with perogies. It's one of my favorite things in the world. But, the ingredients of this recipe may overwhelm you at first.
Here are what you need: Packed pierogies (or you can handmade it, either way, it is good), tomatoes and baking sheets to slow roast, dried sage, and Balsamic vinegar. Besides, you need some primary seasons like garlic, brown sugar, olive oil, pepper, salt, and butter.
Before starting, turn on your oven, preheat it at 375 degrees, and prepare cooking sheets.
Let's begin by roasting tomatoes. All you need to do is slice tomatoes into thin and small pieces, mix them with garlic, brown sugar, balsamic vinegar, sage, olive oil, salt, and pepper. Now, place the mixture on the baking sheet and bake them using that heated oven for about 20 – 30 minutes.
Once it's ready, take some butter, melt it at medium heat, add perogies and roasted tomatoes, and then saute them for 5-10 minutes until the perogies get brown on both sides. You can turn off the heat and season some pepper and salt on top of the food.
7. Pork Chop with Apple Chutney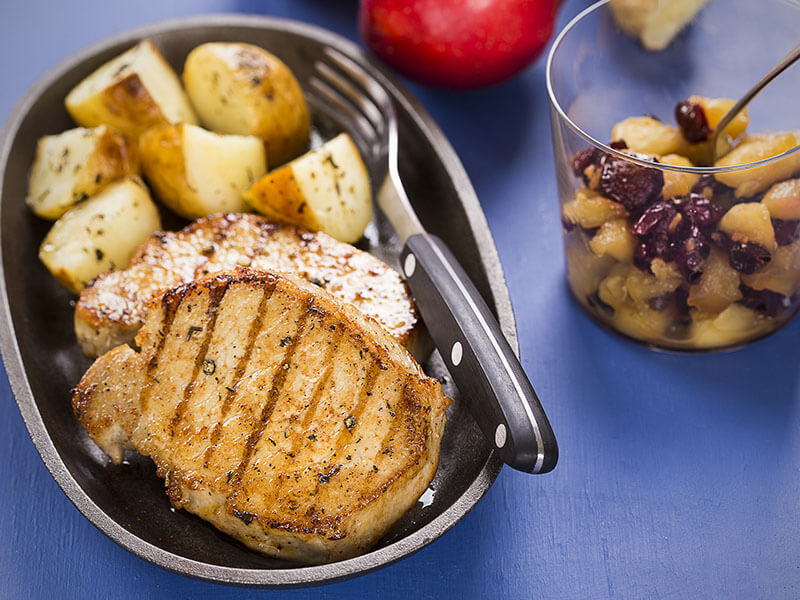 Let's get a salt pot of water boiled. While waiting for that, season pork chops with a little bit of salt and spice. Turn on the heat and remain medium; melt a spoon of butter in a skillet. After the butter melted, place the pork chops on the skillet and cook until both sides are browned.
Remember to adjust the heat to make sure the butter does not get dark. The expected time will be approximately 2 minutes. After that, you need to take the pork chops out and present them on a plate.
Add apples and shallots to the skillet, toss them well in about 3 minutes until they turn brown, and remove them into an empty bowl.
Now you continue by adding tomato paste to the skillet and cook for a minute. Then, add vinegar, honey, thyme, and the mixture in the bowl to the skillet, pour a cup of water from the pot and cook until the apples are flimsy and the sauce thickens.
Take the mixture you've made and pour it into the ready-cooked perogies and add pork chops. Cook them with a slice of butter until the pork is medium-cooked and the perogies are coated. Place them on a plate and put some chives on top and enjoy.
8. Yummy Carrot, Brussels Sprouts, and Parsnip Salad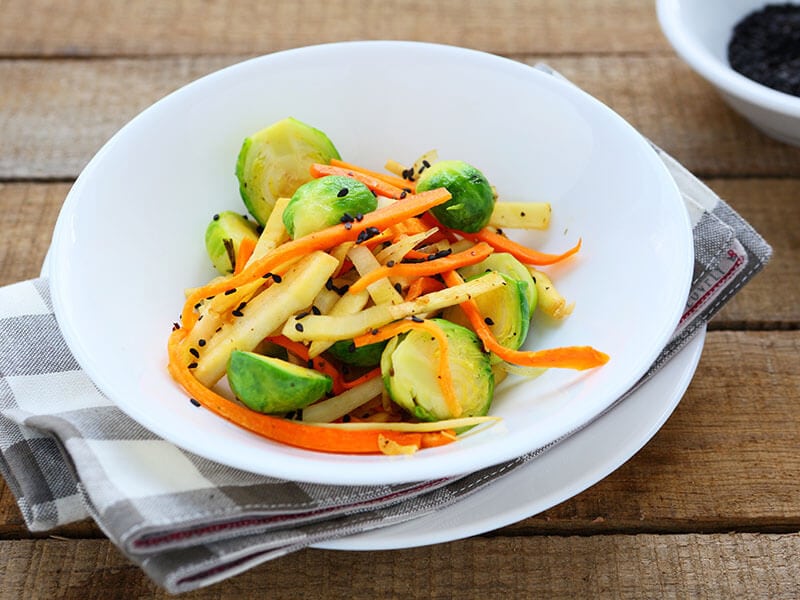 This recipe seems to be a healthier version of traditional Perogies with three kinds of vegetables mixed, making a perfect combination of flavor and colors. So, if you are a vegan, you should not go through this post without reading this.
The ingredients for this recipe are simple. Most of them are good for our health, and you can easily find these ingredients anywhere. The main three things are already named in the title: parsnips (FYI: they are similar to carrots), brussels sprouts, and carrots. Thyme is optional, but I love the smell of it. This dish is not complete without thyme.
To make this salad, we need an oven set at 400 degrees F. Then, use olive oil to grease a baking sheet pan, put vegetables on, and add salt, pepper, and dried thyme. Toss them well, and if it is too dry, you can pour more olive oil.
We need a large baking sheet and place vegetables on, put the baking sheet onto the oven, and bake for about 30 – 40 minutes. Then you will have a healthy and delicious meal.
9. Golden Beets And Delicata Squash Soup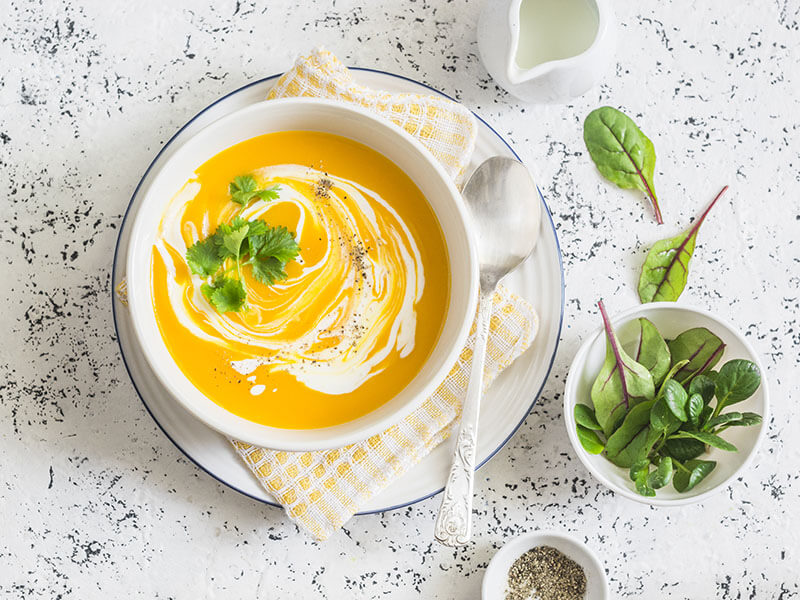 Golden Beets and Delicata Squash are famous for their high in Vitamins A and C, antioxidants, minerals, and fiber. So if you are looking for both delicious and healthy dishes, you should try this Golden beet and Delicata squash with perogies.
In order to make this dish, besides the two main ingredients that I mentioned in the title, you would need to prepare the vegetable broth, coconut milk, turmeric, fresh ginger, pumpkin seeds, and other essential seasons in your kitchen.
To create a smoky and butternut taste, you could spread the oil, salt, pepper, onions, and garlic on both sliced beets and squash, then roast the beets in the oven at 350 degrees Fahrenheit for about half an hour. The squash needs a little more time, about 45 minutes.
After roasting, peel off their skins and put them all in a hot pan with the rest of all ingredients that I listed above and simmered for 15 to 20 minutes.
The last step of making soup is to use a blending mixer and blend until smooth and creamy. Garnish with pumpkin seeds, add more salt and pepper so it can fit your taste. Pour a drizzle of coconut milk and serve with your favorite perogies.
There you have it – the perfect combination between vegetables and meat. Share with us your results if you try to make this wonderful dish!
10. Nachos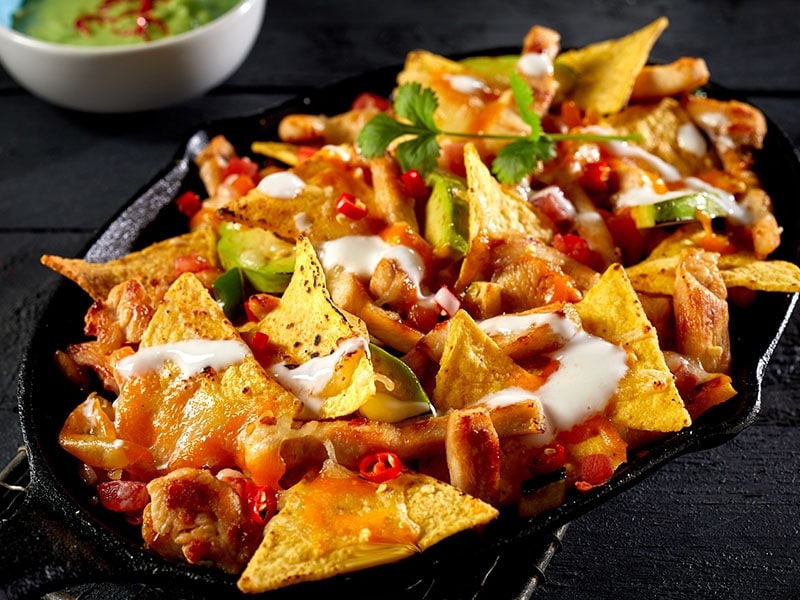 Nachos are one of the rare dishes that could be served with pretty much any meal. This tasty appetizer from Mexican cuisine can easily balance out the flavors of perogies. So it's not an exaggeration when I say that nachos plus perogies equal the best dish on earth, period.
One of the best things I like about this combination is the endless topping you could put in. Besides the typical cheese, you can change to sour cream, diced avocado, chopped cilantro, corn, or sliced green onions.
You can prepare nachos the way you usually eat. Or you can check out this best Nachos recipe and make a new one. I love this recipe so much that I've made nachos at home countless times until it became one of our family traditional foods on a Sunday night watching movies.
Remember to put a whole lot of cheese in nachos and perogies. I know, it would contain so much fat and not really good for our health. But I mean, we're not going to eat this dish the whole 365 days of the year, right? It's okay to indulge yourself sometimes. Let your soul enjoy the full flavor of food.
11. Cobb Salad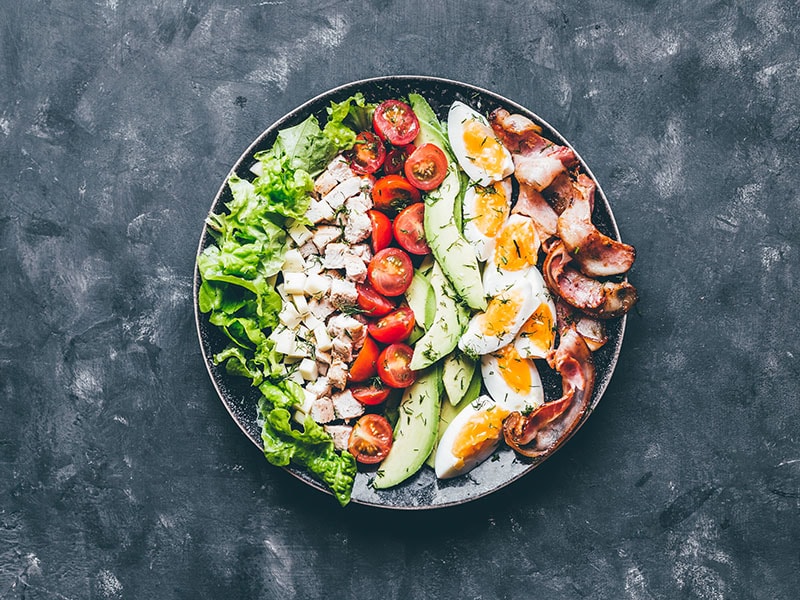 Nothing can beat the cobb salad with perogies, at least not for me. This is the dish that my husband makes for me whenever I'm mad at him. I mean, who could resist the colorful appearance, the flavorful taste, and the wonderful benefits of this humble combination?
I'm not a veggie-lover before. But since I first ate this amazing cobb salad with perogies, I know something in me has changed. The freshness of the vegetables, mixed with the tenderness of meats and the softness of the perogies, makes this dish uncomparable.
You can be flexible and creative on this plate. It doesn't have fixed ingredients because all of them depend on your imagination and your preference.
In my case, I prefer adding rotisserie chicken thigh (or chicken breast if you want a more healthy choice). By preparing the dish with unfinished rotisserie chicken from previous meals, I can cut down the preparation and cooking time required and use up all the leftovers.
Other fantastic additions to cobb salad are avocados, bacons, boiled eggs, lettuces, and shredded cabbages. These are all nutritious and lip-smacking ingredients that will elevate your salad to a whole new caliber.
Some people say it serves best with boiled perogies. But in my opinion, the fried perogies would bring a more magical aroma and taste to the food. Even though it's a little more oily, you already had your salad to balance it all. If you only boil your perogies, the flavor would be plain and boring.
12. Roasted Pumpkin and Beetroot Salad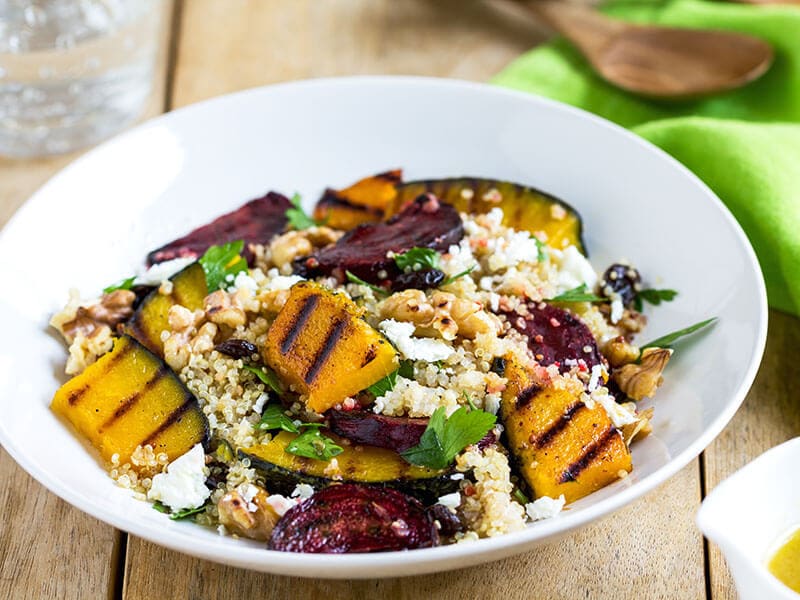 When I enjoyed this dish, I was confused because I don't know which one is better: the salad or my favorite perogies. I don't know the answer, but I know it suits each other in every little bite.
It's the crunchy, sweet, fresh taste with a slightly creamy note from the dressing, and the eye-catching color from its combination makes this roasted pumpkin, and beetroot salad deserves 9 points on the 10 grading scale.
The ingredients you need are not really complicated. You need, of course, pumpkin (squash) and beetroot (beet) that are cut in cube shapes. Then you need crumbled or diced Feta cheese, toasted pine nuts, Arugula, and the last one: Vinaigrette (olive oil, apple cider vinegar, maple syrup, salt, pepper, and chili flake)
After preparing those ingredients, you bake the pumpkin and beetroot until the beetroot is tender and the color of the pumpkin turns golden. Next, mix all the ingredients and pour the dressing on. Seasoning so that it fits your taste.
Easy, pretty, and healthy are the three keywords to describe this dish. Together with perogies, they could rock the world! Skeptical? Try this dish, then share with us your thoughts in the comment section!
13. Bolognese with Parmesan Cheese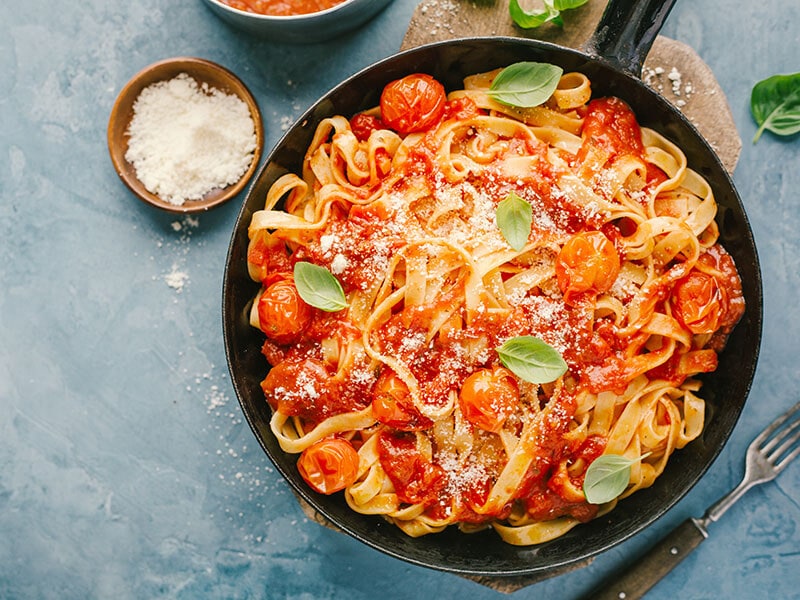 If you like Italian food, you might be familiar with Bolognese and Parmesan Cheese. And I'll tell you, these foods topped with those dumpling perogies upgrade your typical meal to a whole new level.
I used to prepare this dish for my late-night dates to warm up the relationship. Candles, a new Italian recipe, and wine could melt your heart entirely and give your belly a warm hug. I love eating this sauce with boiled perogies, but sometimes I change to fried perogies to not get tired of it.
To have the best appearance, place those perogies on a plate first (put spaghetti in if you like it), then pour the sauce and parmesan cheese on it.
I love cheese, so I usually put a little more cheese on my plate, even though that means I have to do the extra exercise the next day to make up for the enormous calories I've consumed the day before. But it's worth it because the dish was so delicious.
14. Cheesy Taco Lasagna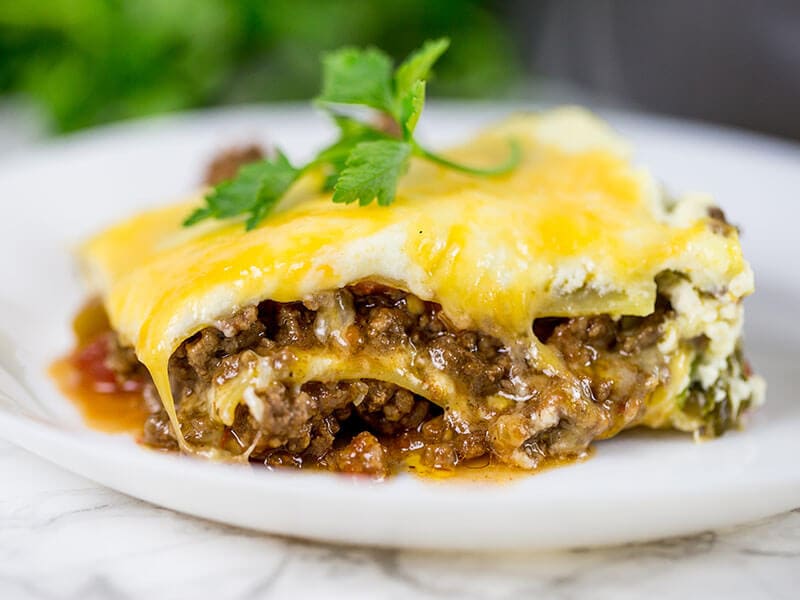 Mexico culture mixes with Poland culture; what a great combination! The mixture of the glorious taco lasagna goes with the well-known perogies in one dish, making the eating experience up on cloud nine.
If the title of this dish caught your attention, you might be a fan of Mexican food. But I think you never imagine that you would eat a bowl of cheesy taco lasagna with perogies, right? If the answer is yes, I will show you the new taco world.
The simple flavors of perogies will create a balance for the complicated and spicy taste of the taco. You would be surprised by how the perogies can change the regular taco lasagna just by adding a little sweet and salty note in.
Besides, the firm texture of the perogies also harmonizes with the softness of lasagna and the crispy form of taco, making you impressed at the very first bite. I wouldn't think of anyone who could say no to this inspiring dish.
One small suggestion for my fellow wine lovers out there: lasagna goes well with many wine varieties. Personally, I always pair lasagna with acidic red wine such as Pinot Noir or Nero d'Avola. These also go well with any dish that features lots of cheese and meat.
15. Broccoli Salad With Raisins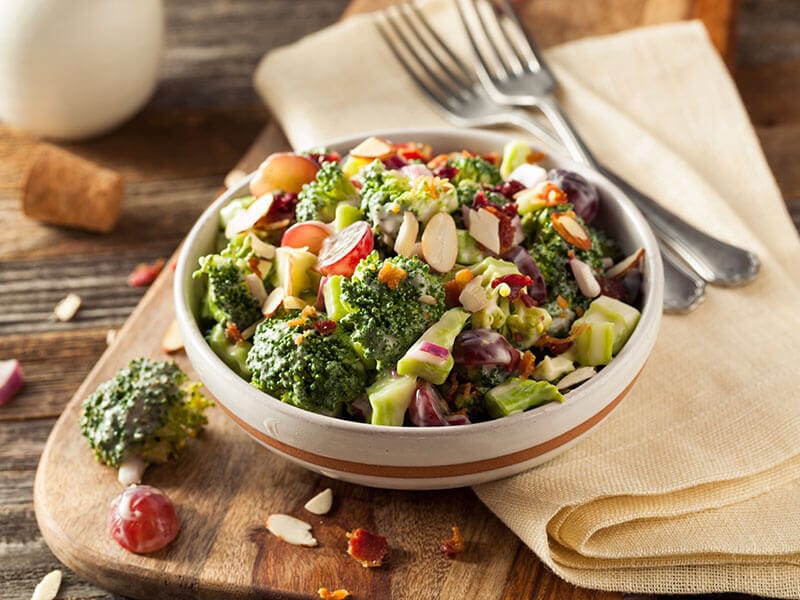 The last dish I think serves best with perogies is the broccoli salad and raisins. This dish is super easy to prepare but still very healthy and tasty.
At first, I wasn't sure that broccoli and perogies could make a perfect couple since I hate broccoli. But then my friends persuaded me. I eventually gave up on it and hesitantly chewed one piece of this combination. The result? More than awesome!
From that on, whenever I go to that restaurant, I always order one broccoli raisin salad with perogies. I did try to make this at home, so I've searched for thousands of recipes on the Internet. Luckily, I ended up with one that could satisfy my taste.
All you need are broccoli, raisin, red onion, cooked bacon, and almonds. Mix them up and dressing with mayonnaise, sugar, and vinegar. Just that simple, you've already had the side dish that you could enjoy with your favorite perogies!
FAQs
After knowing what to serve with perogies, you should check out this FAQ section to find the answers to some of the most frequently asked questions. Maybe you can find your struggles here too. So before reading another article, let's check out this part!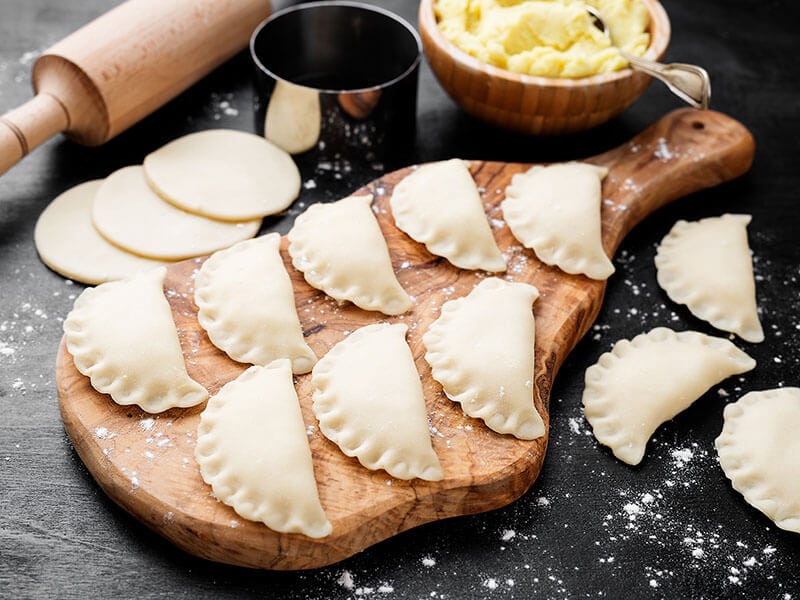 Like This Recommendation?
So, we've gone through what is going around pierogies. As we probably know, due to the cultural exchange, it witnessed significant changes in how people worldwide enjoy them.
However, one thing that remains is that pierogies are a good side dish that one should try. You can follow the recipes/options that I already presented above or just experiment with your recipes to make a new taste.
Let's save this post to your phone and start making your pierogies for you and your beloved ones.
Remember to show me your work by leaving comments right below, including pictures or your personal opinion, or even your recommendation to make our meals diverse.
Thank you for reading!
Nutrition Facts
4 servings per container
---
Amount Per ServingCalories147
% Daily Value *
Total Fat 9.2g

14

%
Sodium 443mg

19

%
Potassium 284mg

9

%
Total Carbohydrate 10.9g

4

%

Dietary Fiber 4.2g

16

%
Sugars 5.7g

Protein 6.1g

12

%
---
* The % Daily Value tells you how much a nutrient in a serving of food contributes to a daily diet. 2,000 calories a day is used for general nutrition advice.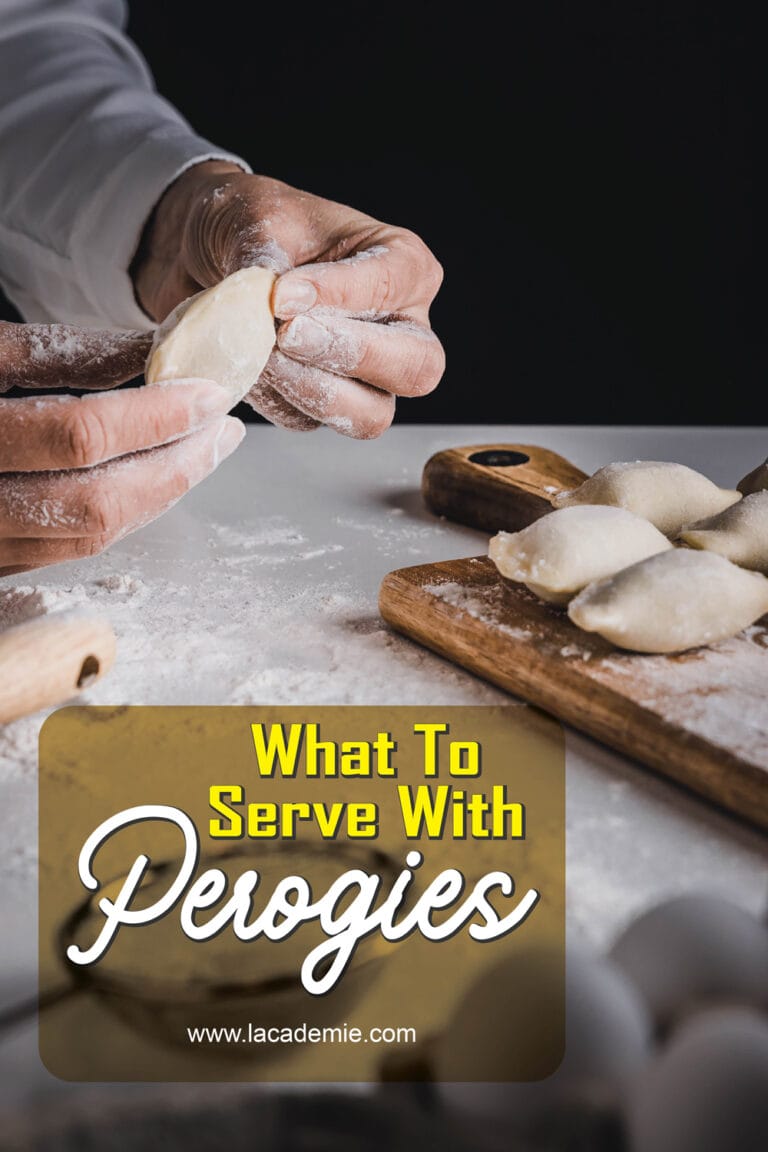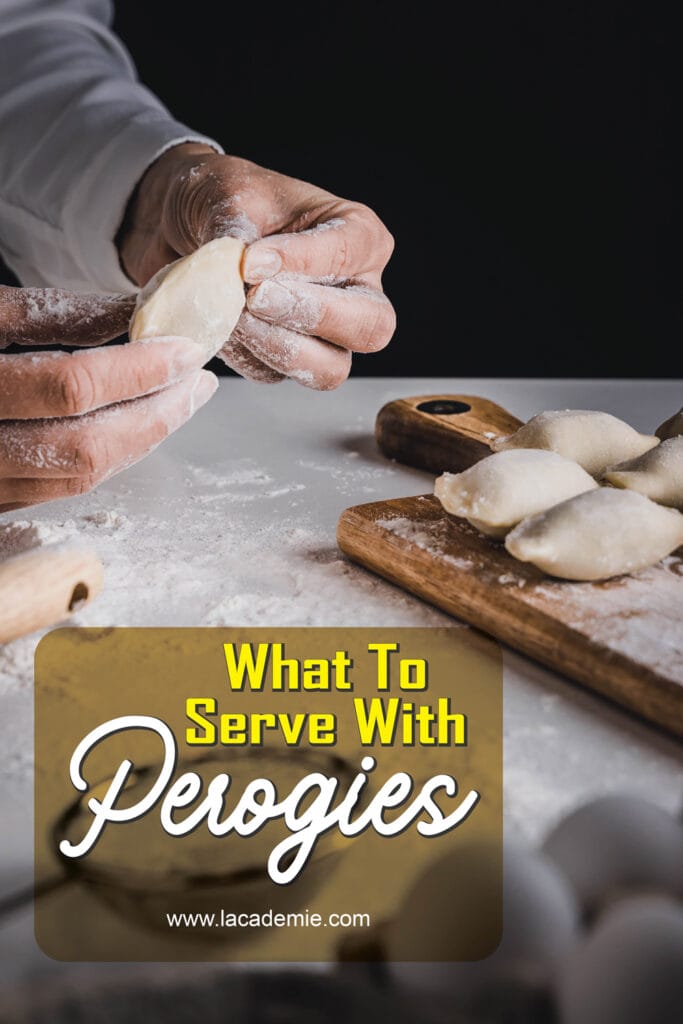 References
Bit.ly. 2021. Pierogi – Wikipedia.
The Spruce Eats. 2021. Where Does Bacon Really Come From?.
(COVID-19), C. and Blogs, W., 2021. Health Benefits of Mushrooms.
Healthline. 2021. 9 Impressive Health Benefits of Cabbage.