Yogurt vs. sour cream might look so similar with some common uses in culinary as both of them are tangy. However, they are 2 different things with other distinct characteristics.
Obviously, yogurt and sour cream are 2 important dairy ingredients that you apply in many cooking recipes to add the tangy taste. Plus, they are both excellent substitutes for mascarpone cheese. And sometimes they are used interchangeably as well.
But today, in this article, I will mainly analyze the similarities and dissimilarities between these 2 so that you can see which one is more suitable for you. Let's get started.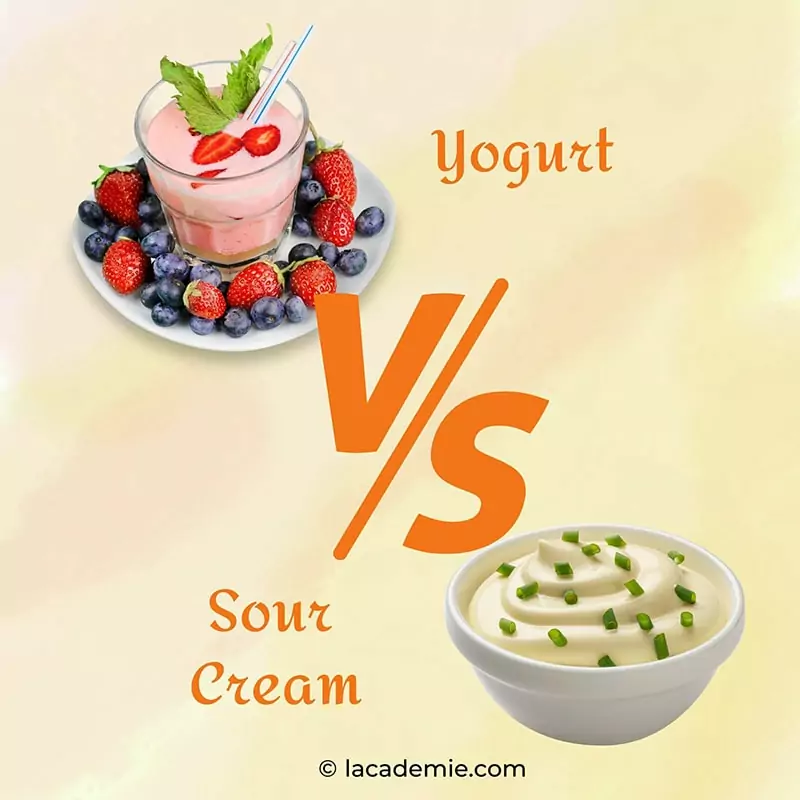 The Experiment To Differentiate Between Yogurt and Sour Cream
Yogurt and sour cream – these tangy dairy foods might look similar as they are both creamy, but they also have various distinctions to clarify. These dissimilarities are from their process, ingredients, textures, flavors, nutrient elements, uses, and more interesting characteristics.
But let me give you the biggest hint about their differences; if someone asks you about yogurt and sour cream, you can confidently say that yogurt is made from fermented milk, and sour cream is made from fermented cream and milk.
Yogurt – Everyone's Favorite Fermented Product
Indeed, yogurt has played an essential role in people's lives for so many years. You can eat yogurt alone or serve them with other foods, making them so versatile. Here are some fun facts about them that you might not have known.
10 Fun Facts About Yogurt
You all know what yogurt is, but I bet you have not known the standard temperature to make them, what bacteria that people use to make yogurt, or anything else relating to their origin. So here they are, a list of 10 short facts about them.
Yogurt is made of bacterially fermented milk with a fat content of around 10 to 12%.
To produce yogurt, milk will undergo a heat process at 185 F degrees (85 C degrees), then let it cool down at 113 F degrees (45 C degrees) in the next 4 to 12 hours for the fermentation process (1).
The bacteria added to make yogurt are Lactobacillus bulgaricus, Lactobacillus lactis, Lactobacillus helveticus, and Streptococcus thermophilus. Of course, they are beneficial bacteria.
Cow's milk, the most popular milk, is mainly used to make yogurt.
Yogurt is believed to have emerged in Mesopotamia in 5000 BC.
People also believe that yogurt was invented by accident. A shepherd forgot his milk, and when he realized, milk had already transformed into yogurt – a thicker and tangier product.
The term 'yogurt' is not originally English. It is from Turkey.
Yogurt was introduced to Americans in the early 1900s.
Yogurt consumption in the USA is approximately 300,000 tons annually.
Yogurt is a perfect remedy for your skin, gut, and immune system.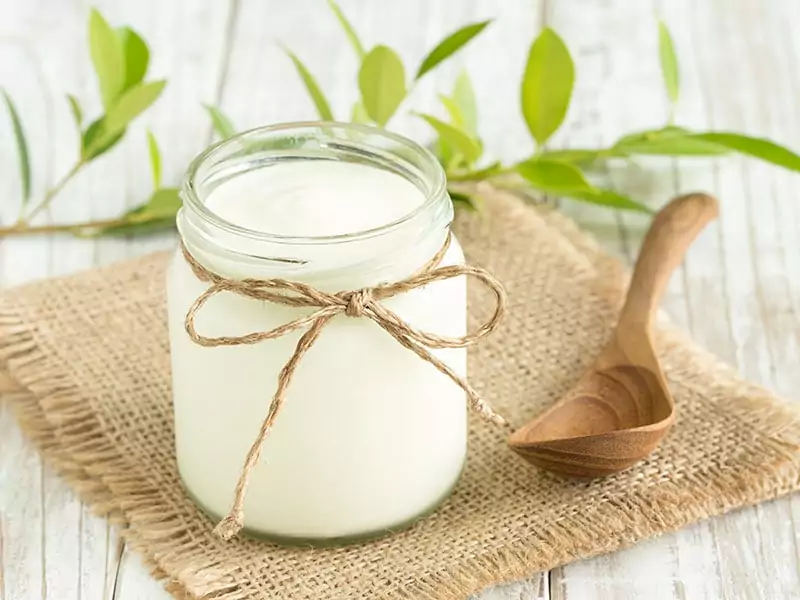 Type Of Yogurts That You Might Want To Try
Besides the main ingredient is milk, yogurt also comes in various types with distinctive characteristics. Following are 10 basic types of yogurt around the world.
Original Yogurt: This one is the most popular yogurt. It has 3 main options as low-fat, fat-free, or sugar-free yogurt. There are also various brands with different flavors or fruit ingredients that you can find in the supermarkets.
Probiotic Yogurt: This one is a trendy yogurt these days as it is packed with active probiotics. And your guts would thank you for it.
Greek Yogurt: Or called Labneh, is a filtered yogurt to make a thicker texture that is perfect for various tasty Greek desserts. Compared to original yogurt, Greek yogurt is sourer. It also has higher protein, sodium, and carbohydrates than regular ones.
Icelandic Yogurt: This is another common choice in yogurt. However, compared to the Greek type, Icelandic yogurt is less sour. And as the name suggests, this one originated from Iceland.
Swiss Yogurt: Or called stirred yogurt because it has to be stirred to have a thick texture. Swiss yogurt is often added with fruits or flavors to make it yummier. You can consume it in drinks or desserts.
European-Style Yogurt: The biggest difference between this yogurt and other types is the way they make it. Milk and lively bacteria will be kept in a small container to ferment, while other yogurts are processed in a big container.
Australian Yogurt: This yogurt type is an unstrained one. People use whole milk to make Australian yogurt, so it has a creamy texture. They also add honey to this yogurt.
Non-dairy Yogurt: It is a perfect choice for lactose intolerance, yet still wants to consume yogurt. This one could be made from soy, coconut, rice, or almond milk. However, it might contain a little bit of milk, so check the label carefully before buying.
Lassi: This one is a famous yogurt drink in India and its neighbors like Nepal, Sri Lanka, etc. This yogurt's texture is smoothie-like and can combine with flavorings that can be both sweet or savory. The sweetened version is a popular dessert in Pakistan and India.
Kefir: Last but not least, this yogurt is another yogurt drink like lassi. But unlike other types, kefir's fermented process is implemented at room temperature instead of heat.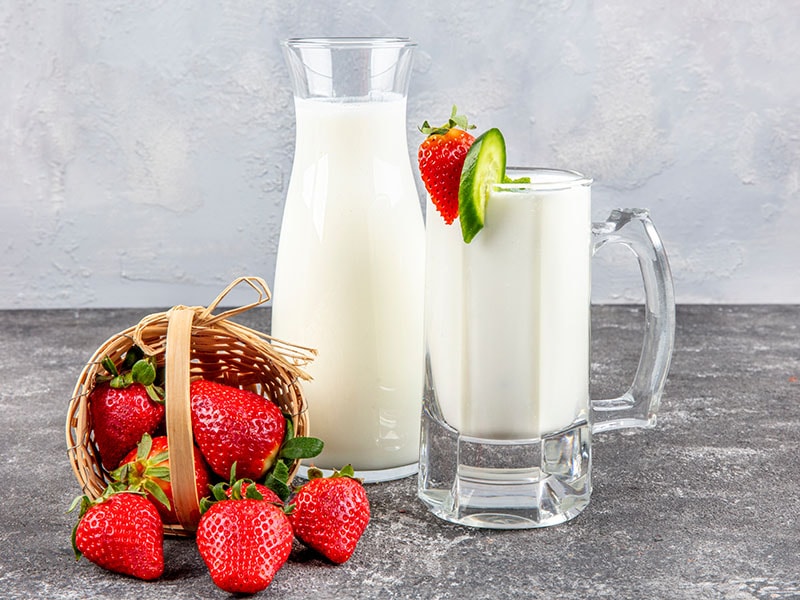 Sour Cream – Another Dairy Item That You Might Be Enchanted
Sour cream is another staple ingredient in worldwide culinary. But is this cream really sour to have the name 'sour cream'? Let's find out.
What Makes Sour Cream Sour Cream?
Have you ever wondered how sour cream is made? Sour cream, indeed, is a fermented heavy cream and milk product that consists of around 20% fat content.
Streptococcus diacetilactis, Streptococcus cremoris, Streptococcus lactis, Leuconostoc citrovorum, and Leuconostoc dextranicum are the main bacteria in sour cream.
The bacteria are added to the cream and milk mixture, then heated altogether at 73 F degrees (23 C degrees). Leave it to cool down and age in 12 to 48 hours. It is also re-pasteurized to kill the bacteria afterward and end the process.
Sour cream will produce lactic acid during the process, making them acidic, richer, and thicker. There are 4 main sour cream varieties: regular, light-fat, fat-free, and dairy-free.
"But is sour cream suitable for a gluten-free diet?", you might be wondering. Well, the good news is, sour cream usually doesn't contain gluten, so everyone can enjoy it.
But if you want to make sour cream at home, no big deal. All you have to prepare is a clean jar, heavy whipping cream, whole milk, white vinegar as a fermented and thickening agent for your cream and milk, and a clean cloth.
Mix everything in a jar, then cover the jar with a clean cloth and let them sit at room temperature for 24 hours. And voila, now you have homemade sour cream.
Do not want to spend too much money on sour cream? You can make it at home effortlessly. The video below should be able to help you:
Other Interesting Fact About Sour Cream
Do you know when the first emergence of sour cream was? Or what cuisines commonly use sour cream? The following sour cream facts will tell you.
People think sour cream's first appearance was in Russia before the 1600s.
They also believe the first form of sour cream was a Mongolian alcohol drink called 'Kumis' made from horse milk.
It has gained popularity in Western countries from the mid-1990s and has played an important role in Russian, Ukraine, German cuisines.
Sour cream is an ideal replacement for crema in Tex-Mex dishes.
The term 'sour cream' is derived from 'souring', the process of bacterial fermentation.
Sour cream is a fermented cream and milk, but fermented cream cannot be counted as sour cream if the milk fat content in them is less than 18%.
Commercial sour cream also contains gelatin and guar gum.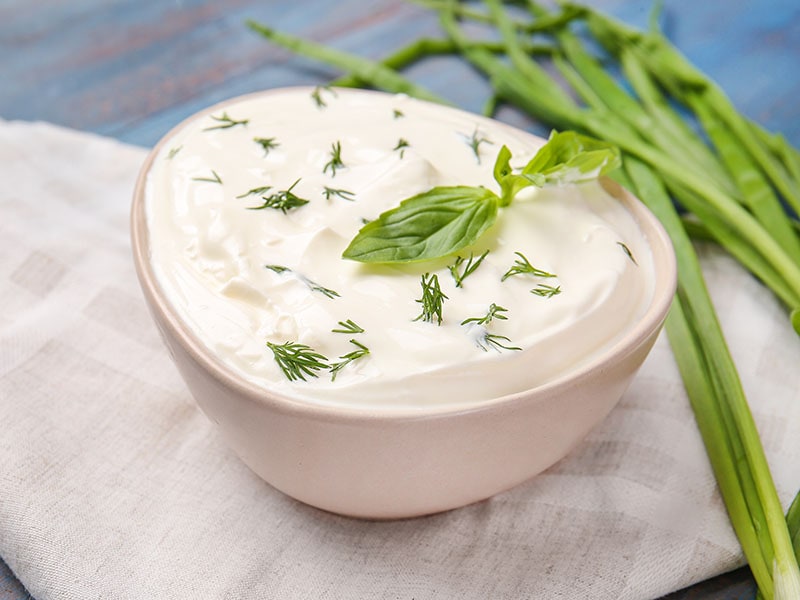 The In-Depth Comparison Between Yogurt And Sour Cream
The best way to differentiate one from another is by making a comparison. The following table will show you how yogurt differs from sour cream in the shortest form so you can remember it easier.
| | Yogurt | Sour Cream |
| --- | --- | --- |
| Discovery Location and Time | In Mesopotamia in 5000 BC | In Russia before the 1600s |
| Result From | Fermented milk | Fermented milk and dairy cream |
| Bacteria Used | Lactobacillus bulgaricus, Lactobacillus lactis, Lactobacillus helveticus, and Streptococcus thermophilus | Streptococcus diacetilactis, Streptococcus cremoris, Streptococcus lactis, Leuconostoc citrovorum, and Leuconostoc dextranicum |
| Re-pasteurization | Not compulsory | Compulsory |
| Taste and Texture | Taste sour and bland but tangier than sour cream; Texture Thinner and softer than sour cream | Taste: Tangy, rich, and tart; Texture Creamier and thicker due to high-fat level |
| Nutrient Levels | Lower fat content compared to sour cream (around 10 to 12%); Lower in calories (only 61 calories); Higher in protein, potassium, carbohydrate, and sugar; Less cholesterol, making yogurt healthier than sour cream | Very high in fat (around 20%); Higher in calories (193 calories); Also higher in calcium, sodium, vitamin D3 |
| Uses | Can be eaten as a snack (on their own); Variety of uses in recipes and beverages | Used as a condiment, dips, toppings, spreads, soups, etc.; Work well to make baked dishes like cakes, cookies, etc. |
| Heat Reaction | Easily turn into curd and whey in high heat | High-fat levels in sour cream allow them to work fine with high heat |
| Storage | In the fridge: Lasts for around 1-2 weeks; In the freezer Up to 2 months | In the fridge Lasts for up to 3 weeks; Does not freeze well |
Alright! Let's dig into the detailed information about these two.
1. Taste and Texture
As explained above, the ingredients in yogurt and sour cream are pretty different. The main ingredient in yogurt is milk, while sour creams are made from cream and milk. The bacteria in yogurt and sour cream are also different.
Moreover, yogurt might (or might not) undergo re-pasteurization, whereas this stage is compulsory in making sour cream. As there are differences in ingredients and processes, it affects the taste and texture of yogurt and sour cream.
Unsweetened yogurt's taste is sour and pretty bland, while sour cream's flavors are tangy, tart, and rich. But if I bring them to the taste test, I believe yogurt is sourer than sour cream.
Moreover, yogurt's texture is thinner and softer as the fat content in yogurt is lower than sour cream, whereas sour cream is thicker and creamier.
2. Culinary Uses
Overall, both yogurt and sour cream can pair well in both sweet and savory dishes.
However, as yogurt and sour cream have different textures, the ways they are used in cooking are also different.
Yogurt can be eaten alone as a snack or combined with other foods like fruits , salads, stuffed eggs, etc., to make a perfect breakfast to enjoy in the summer. You can even make beverages with yogurt.
Sour cream is mostly used as a condiment or any recipes that require a thicker texture, like dipping sauces, toppings, spreads, or soups, to add a savory taste.
It can be an ideal ingredient to prepare side dishes to go with prime rib. Or you can also use sour cream in baking to increase the moisture for cakes, cookies, or baked desserts.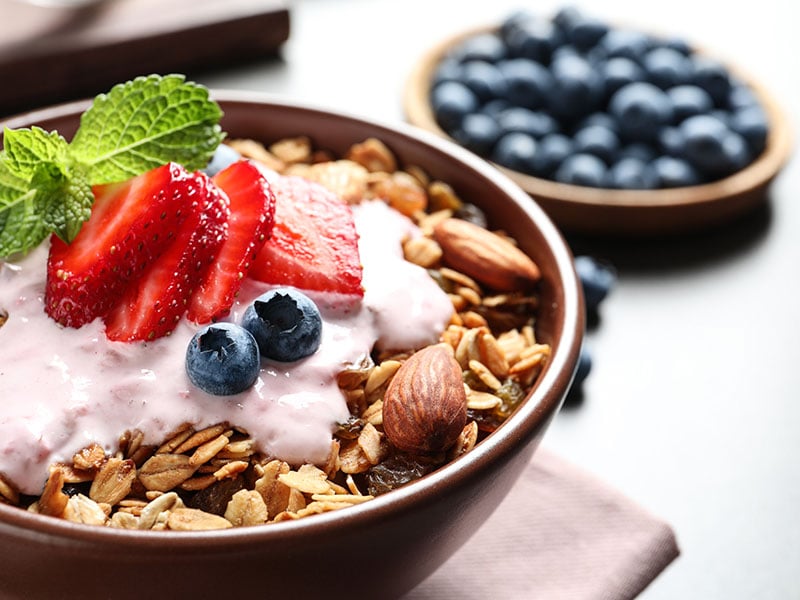 3. Heat Reaction
Yogurt and sour cream have different reaction levels to heat. Yogurt can be curdled when added to hot soups or sauces. In contrast, you will not face the same problem by using sour cream. You can remember the simple rule: high-fat levels can work well with high heat.
So if you want to add yogurt into any hot dish, for example, soup, you should temper it by adding some spoons of hot soup to yogurt first, and slowly whisk the mixture before you pour it into your bigger hot soup portion.
Another way to deal with this problem is to keep the heat low or let your cold yogurt to room temperature prior to adding in any hot dish.
4. Nutrient Level
As mentioned above, yogurt's fat content is only around 10 to 12%, while sour cream is considered high-fat food with about 20% fat content. Here are other nutrient elements of both yogurt and sour cream for you to compare.
| Elements (per 100gr) | Yogurt | Sour Cream |
| --- | --- | --- |
| Calories | 61 | 193 |
| Total Fat | 3.25 g | 20 g |
| Cholesterol | 13 mg | 52 mg |
| Sodium | 46 mg | 80 mg |
| Potassium | 155 mg | 141 mg |
| Total Carbohydrate | 4.66 g | 2.90 g |
| Sugar | 4.66 g | 2.9 g |
| Protein | 3.47 g | 2.1 g |
| Calcium | 9% | 11% |
| Vitamin C | 1% | 1% |
| Vitamin D | 0% | 3% |
With 100 grams of these 2 dairy products, the calories in yogurt are much lower than in sour cream, which is 61 and 193, respectively. Moreover, the cholesterol, sodium, and calcium in yogurt are lower than in sour cream.
Overall, if you are looking for a good dairy product for your diet, yogurt is better with a higher protein, less fat, and less cholesterol than sour cream.
5. Shelf Life
Most dairy foods do not have a long shelf life; yogurt and sour cream are not the exceptions. Both of them cannot be stored at room temperature. Therefore, they must be kept at a cooler temperature to avoid bacteria growth.
However, with proper care, the shelf life of yogurt in the fridge is from 1 to 2 weeks, whereas sour cream might be up to 3 weeks.
Also, many of you are unsure about the possibility of freezing yogurt, like Greek yogurt. Well, you can store it that way and it can be safe to eat within 2 months. However, it is not that simple in the sour cream case.
Whether freezing sour cream is good or not might not be a new question. Technically, you still can freeze sour cream, but there are many things to be noted as sour cream does not freeze as good as yogurt (2).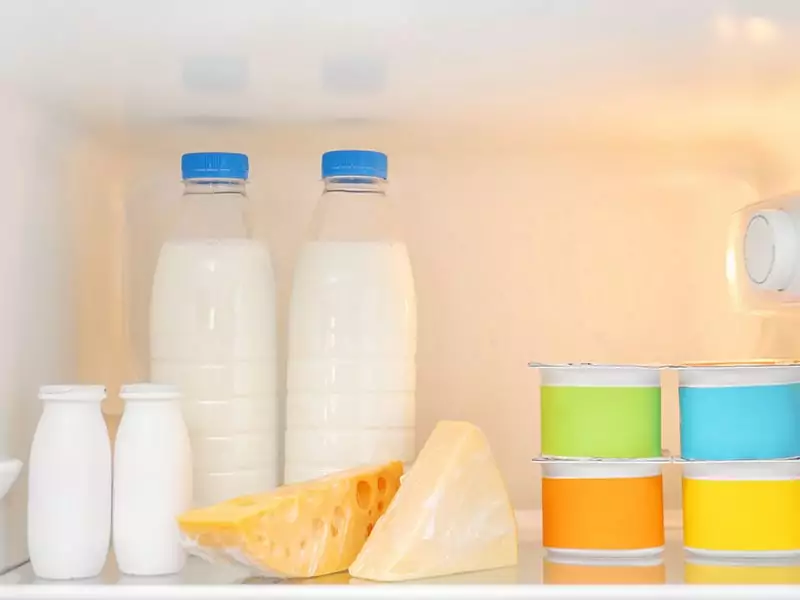 What Benefits And Cautions Of Eating Yogurt and Sour Cream?
Yogurt and sour cream have various health benefits as well as disadvantages that people have to be aware of. Now I will show you some of them to consider which one would be better for you.
Yogurt's Positive and Negative Impact On Human
Yogurt and its health advantages are undoubted. Here are 6 good key impacts of eating yogurt.
Good For Your Digestive System: Some types of yogurt contain probiotics, like Bifidobacteria and Lactobacillus, which can decrease some bowel problems.
Boost Your Immune Health: Once again, the probiotic in some yogurt will prevent the chances of minor illnesses like cold, flu, and inflammation.
For A Better Skin: The anti-inflammatory compounds and probiotics in yogurt can restore the skin and treat acne well.
Can Improve Your Bone Strength: The nutrients in yogurt are a good source for your bone health. Consuming yogurt can reduce the risk of osteoporosis.
Ideal For Weight-watchers: Yogurt can help you maintain a good diet, lower body fat and weight as they are low in calories and fat.
Can Prevent Heart Diseases: Some low-fat yogurt types are perfect for your heart. It also maintains the function of your blood to reduce high blood pressure.
A Great Choice For Gluten-Sensitive People: If you are considering adding yogurt to a gluten-free diet, feel free to do so! However, some manufacturers might include seeds or grains in their products for more flavor, so always check the ingredients list.
Probiotic – a microorganism that you can find in yogurt is a good doctor for your gut. And this presentation will show you why.
However, yogurt has also proved that they might not be made for everyone, such as:
Milk-allergic Person: Whey and casein in yogurt can cause allergic symptoms like swelling or, worse, jeopardize milk-allergic people's lives.
Lactose-intolerance Person: The lactose level in milk products, like yogurt, is not ideal for those people. They might suffer stomach aches, diarrhea, or basically, any digestive problems when they consume yogurt.
Diabetes or Obesity Patients: Some yogurt types contain a high quantity of sugar, making them not good for diabetes and obesity diseases. So if you look for the ideal yogurts for diabetes, Greek or unsweetened plain ones are way better.
Pros And Cons Of Sour Cream About Health
Similarly, sour cream also has both good and bad sides that you must know before using. There are 2 key health benefits that you can get to your body with sour cream.
Can Increase Vitamin Absorption: In reality, some vitamins need a high level of fat so they can work well. And as the high-fat food, sour cream should be a suitable candidate in this case.
Improve Digestion and Immune Function: Some sour creams have probiotics that bring many benefits to your guts and overall health.
And lastly, here are 3 drawbacks that you might expect in using sour cream.
High in Saturated Fat: This kind of fat is associated with many cardiovascular diseases. Therefore, sour cream might not be too good for your heart.
Lactose Intolerance and Milk Allergic: Like yogurt, sour cream will never be a good option for those people.
Gain Weight: If you over-consume sour cream, it might ruin your summer body. However, you can also lose weight by eating a small amount of sour cream as the fat will make you feel full longer.
At this point, you can clearly make up your mind about which one is healthier, right? It is yogurt for sure.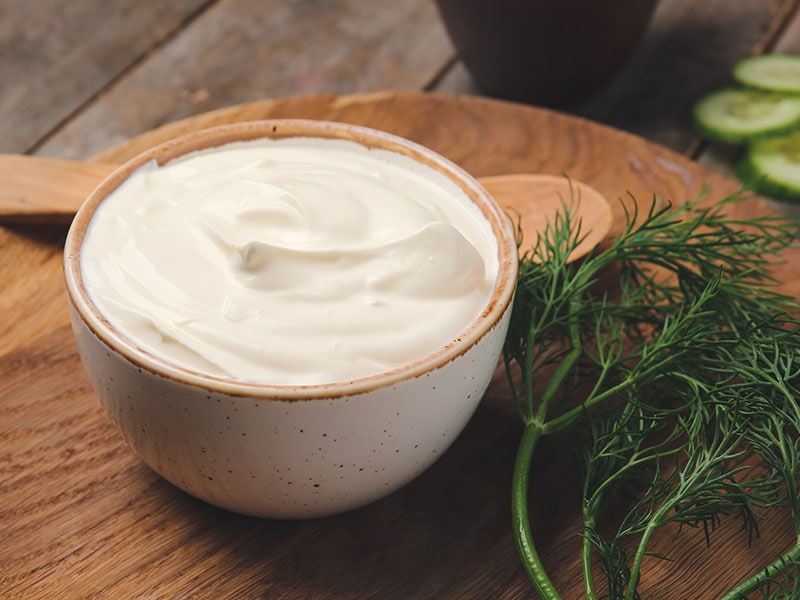 Let's Make Your Family Happy With Some Yogurt And Sour Cream Ideas
A foodie article will never be completed if there are no cooking recipes for these foods, right? So here are 4 treats that upgrade the use of yogurt and sour cream to another level of deliciousness.
Do not let a hot summer day bother you, and let this luxurious-vibe dessert blow away the heat. Yes, I give you: Frozen strawberry yogurt pie.
With this treat, there are 2 options for you. One is for your lazy weekend, and one is for your leisure time. Either way or regardless of what type of yogurt you choose, this pie still satisfies your stomach and your heart.
This flatbread is made of flour, yogurt, and/or baking powder. The technique to knead the drought is not tricky at all because you do not have to make your flatbread in the perfect shape.
You should use a non-stick pan and set the heat at medium-high to cook the dough for the best result. Each side of it might require 1 to 2 minutes to cook, so do not overcook them. Finally, serve it with veggies for the fullest meal.
Wait, what? Does this flatbread only need 2 ingredients? Sounds so amazing.
If you are a fan of Mexican cuisine, you might be too familiar with enchiladas. But have you ever tried this dish with sour cream and chicken? If not, it is time to make this dish, because I guarantee you and your family will love it.
Other ingredients such as cheese, onions, or green chilies combined with mentioned components will provide unforgettable enchiladas. And guess what, the leftovers are even tastier on the next day. Pin this recipe and make it this weekend.
Last but not least, sour cream and potatoes can be a perfect combo for a salad dish. This recipe is a no-fuss idea for an easy side dish that everyone will enjoy at the party.
Of course, even if you are not good at cooking, you will never fail in making this salad. Because all you have to do is cook potatoes, then mix it with seasonings, sour cream, and some chopped herbs if desired. See! Super simple, isn't it?
If sour cream is not creamy enough for you, adding mayonnaise is absolutely fine to make this simple potato salad.
Can Yogurt Substitute For Sour Cream And Vice Versa?
Technically, yogurt is an excellent alternative for sour cream and vice versa. Why? Because they are both creamy with a tangy flavor. Greek yogurt is seen as a perfect substitution for sour cream.
Regular yogurts might not be strained; therefore, they still have a lot of whey. But Greek yogurt is strained, making them have a similar texture profile as sour cream. So you can use the ratio of 1:1 to substitute.
However, as yogurt cannot pair well with high heat while sour cream can, so make sure you check the temperature before replacing one with another.
FAQs
Do you want to grasp more information about these 2 but in the shortest way? I have 5 frequently asked questions with their answers about yogurt and sour cream that are waiting for you to find out. So please do not skip it.
Yogurt and Sour Cream Are Delicious In Their Own Way
Yogurt and sour cream have both pros and cons, but I guess you all will agree with me that these 2 are wonderful ingredients to make various dishes.
If you want a healthy snack to maintain your healthy diet, yogurt will make you happy. But if your cooking recipes need something thick, then sour cream is a better choice. So it all depends on your needs and preferences.
Finally, if you find this article just showed you a detailed look at yogurt and sour cream, please click like and share. And your opinion about these 2 are all welcomed here, so please feel free to speak up if you have something in mind about them. Thank you.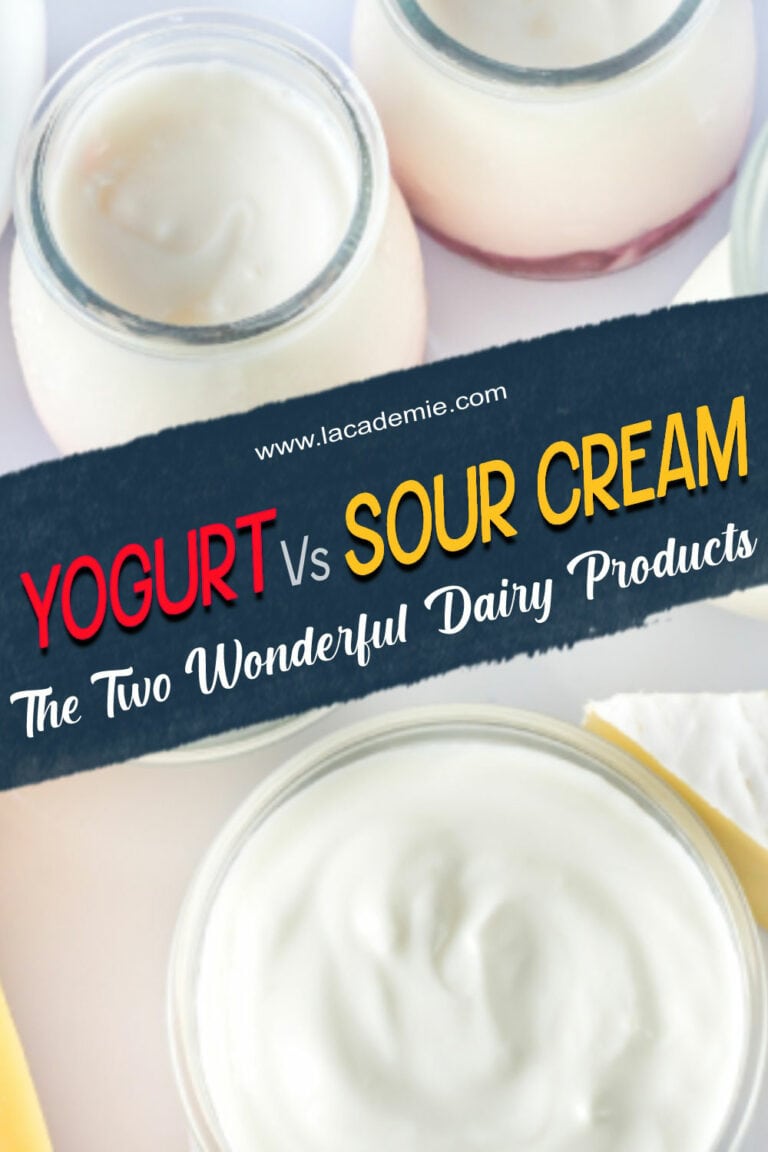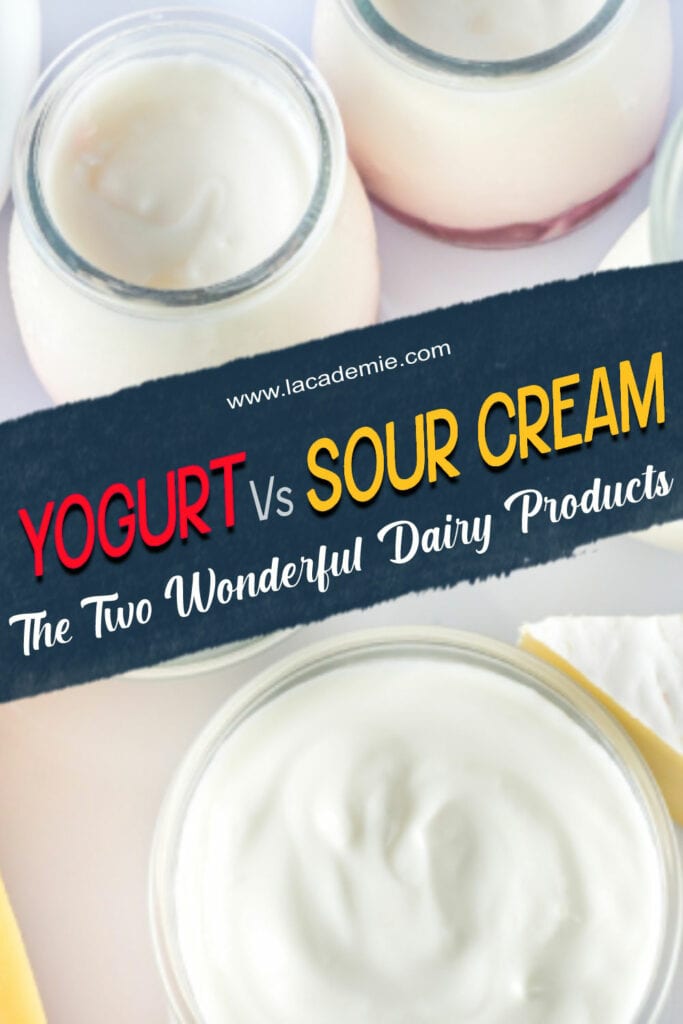 References
En.wikipedia.org. 2021. Yogurt – Wikipedia. [Online]. Available at: https://en.wikipedia.org/wiki/Yogurt.
USDA, 'Food Storage Guidelines'. [Online]. Available at: https://foodbanksbc.org/wp-content/uploads/2014/12/Food-Storage-Guidelines3.pdf