The base of classic Japanese sauces and condiments consists of the five mains: sa (sugar), su (vinegar), shi (salt), se (soy sauce), and so (Miso). Under heavy influences from Chinese and Western cultures, the Japanese have spiced up their spice diversity.
The variety of Japanese cuisine does not only stop with Ponzu or Teriyaki sauce. Japanese Mayonnaise and Tonkatsu sauce are two representatives of the modern food culture in Japan.
This post will give you descriptions and stories about the epitomes of Japanese condiments and sauces. You will learn how to make some of the most outstanding sauces in Japan. So, are you ready to join me in this journey of flavors and aromas?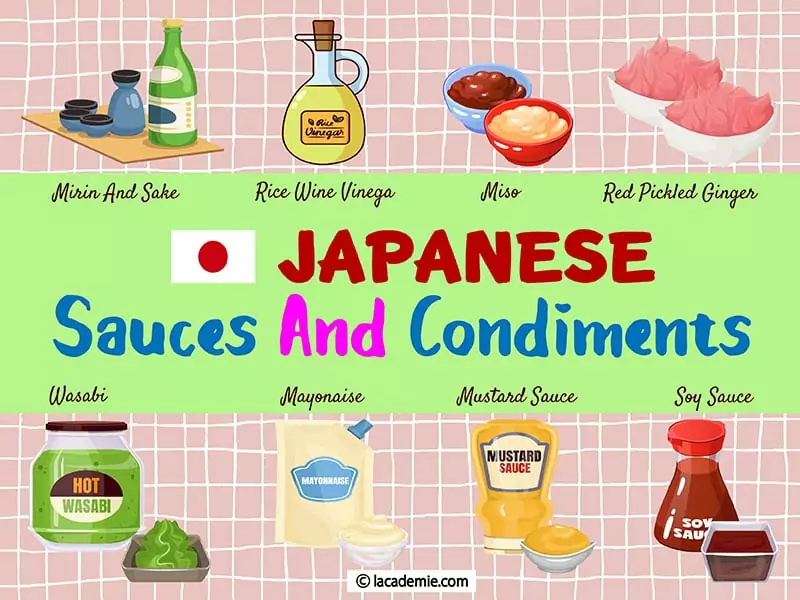 A Detailed Guidance About Japanese Condiments
If you've read some popular cookbooks about Japanese cuisine, you probably know that Japanese people love having umami in their food. Therefore they add condiments like soy sauce, Miso, Bonito flakes, etc., to enhance this favorite Japanese flavor.
But umami is not the only trademark of the Japanese delicacy in cooking. The Japanese need other tastes in their food. So they learn how to mix the condiments and spices to get the flavors they desire.
In this section, I will introduce you to these main condiments that are responsible for almost every dish in Japanese cuisine.
1. Shoyu (Soy Sauce)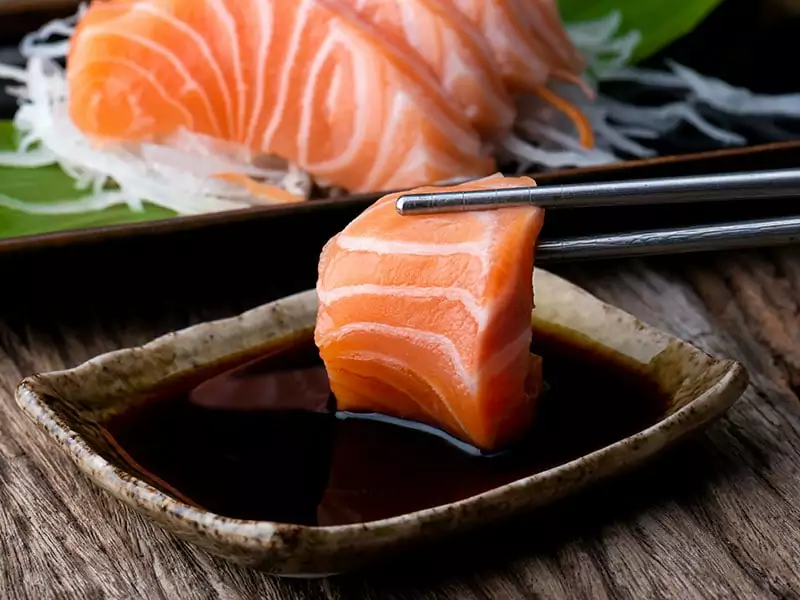 Japanese soy sauce, Shoyu, actually differs from the Chinese soy sauce you have always known and used. To make Shoyu, the Japanese ferment soybeans with wheat and salt. This addition of wheat makes their Shoyu sweeter.
The problem with wheat in their soy sauce is its gluten content. People with gluten-sensitive disorders should not consume Shoyu without reading the label carefully. You can use Tamari Shoyu from the Chubu region. This Shoyu contains no wheat, so it's very rich and dark.
Another Shoyu kind that you learn about is Shiro. In Japanese, "shiro" means white, and it indicates the color of Shiro Shoyu. Since it contains little to no soybean, its taste is sweet (completely opposite to Tamari Shoyu).
Shoyu serves many purposes in Japanese recipes, including seasoning, coloring, flavoring, and enriching the broth for noodles. In fact, the three main soup bases of noodle recipes in Japanese cuisine have Shoyu.
2. Miso (Fermented Soybeans)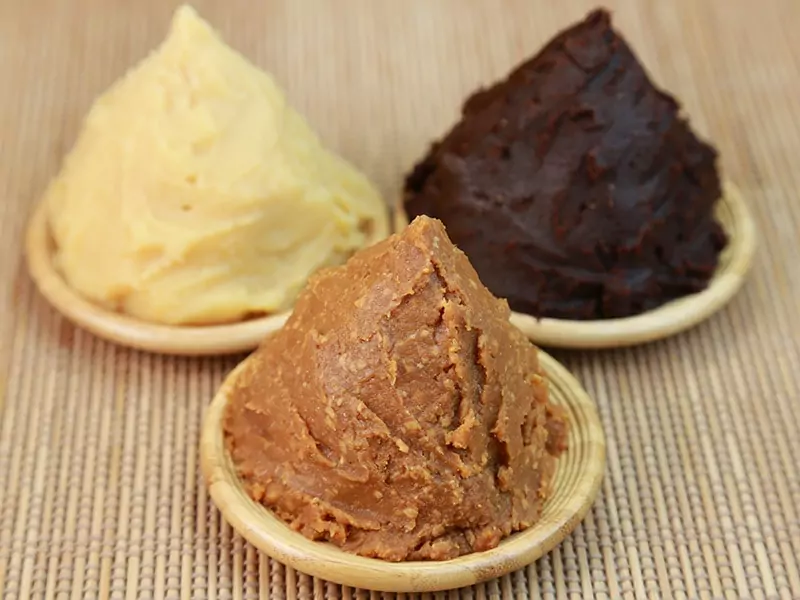 Miso is the production from fermenting soybean with salt and Koji mold (Aspergillus oryzae). Sometimes people add other ingredients along with soybeans like rice or hemp seeds. This distinguishes the local Miso from other regions in Japan.
For example, Hatcho Miso from Aichi prefecture is made by fermenting 100% soybeans and salt. It has an extremely dark color and a rich flavor. In contrast, Mugi Miso from the Kyushu region is fermented soybeans, barley, salt, and water. Its flavor is mild and slightly sweet.
There are two main types of Miso which are Red Miso and White Miso. You regularly see them in the market, and these two are drastically different in flavor and aging time.
White Miso (Shiro/Sweet Miso) has sweetness and mild umami. It's made of rice, barley, and soybeans. People use this Miso mostly for salad dressing and making Awase Miso. This Miso is a mix between Red Miso and White Miso, so it has a sour-and-sweet taste.
Red Miso needs to age for at least a year. Its taste is extremely strong and acidic. People like to use this for seasoning and making sauce. Red Miso is also well-known for basing the broth.
3. Shio (Salt Seasoning Sauce)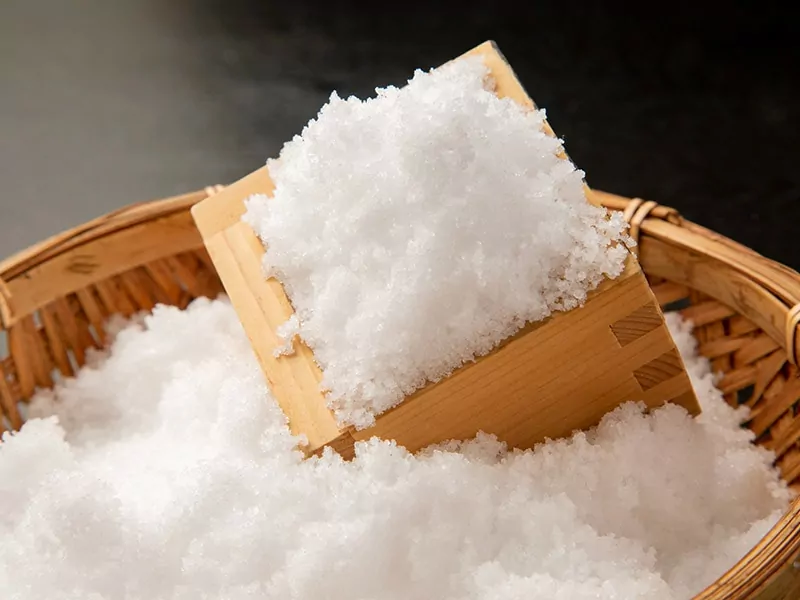 In every food culture, salt plays an impactful role for different reasons. After the other two sections of Shoyu and Miso, you know that the Japanese have to use salt in producing those two. And salt also appears in Japanese cuisine as a seasoning and broth basing.
There are many types of salt in Japan as well. Matcha salt is a Japanese specialty. You probably know Matcha as an ingredient in Japanese sweeties like milk tea or cake. Matcha salt is the salt blended with Matcha powder.
Another salt application in Japanese cooking is Shio Koji. This traditional seasoning is for tenderizing or marinating foods. To make it, you need to leave rice Koji, salt, and water in a jar for two weeks. The result can be an umami enhancement for your dish.
Shio base is also one of the three classic broths for making mouth-watering Japanese noodles. As you can see, Shio is in almost every Japanese sauce.
Here is an instruction on how to make Shio Koji for your future marinade.
4. Su (Rice Vinegar)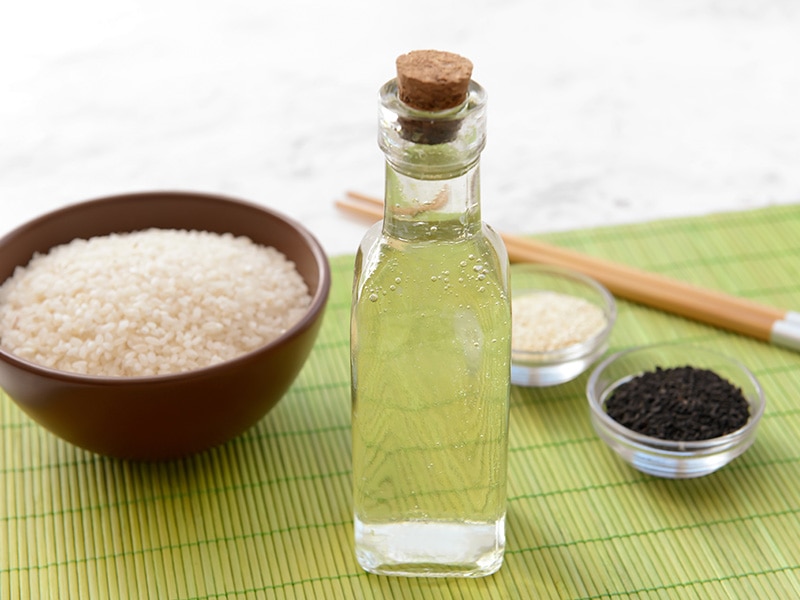 The sourness of Japanese rice vinegar is lighter than its foreign counterparts in China, Korea, and Vietnam. It is regularly used as a tenderizer or for pickling vegetables. You also see this ingredient in sauces like Ponzu and Chuka Tare (Japanese spicy sauce).
A notable type of Su is black rice vinegar which is aged for 1 to 3 years. The taste is less sour but smokier than regular rice vinegar. This vinegar is mostly produced in Kagoshima prefecture. People use this condiment in their stir-fried vegetable dishes or their Yakisoba.
There are two highlighted seasoned kinds of vinegar which are Nihaizu and Sanbaizu. Nihaizu includes rice vinegar and soy sauce while Sanbaizu contains vinegar, Mirin, and sugar.
Nihaizu and Sanbaizu are relatively salty and sweet vinegar. They are mostly applied in marinating and dipping. Another usage is for dressing Sunomono (Japanese cucumber salad).
5. Japanese Sugar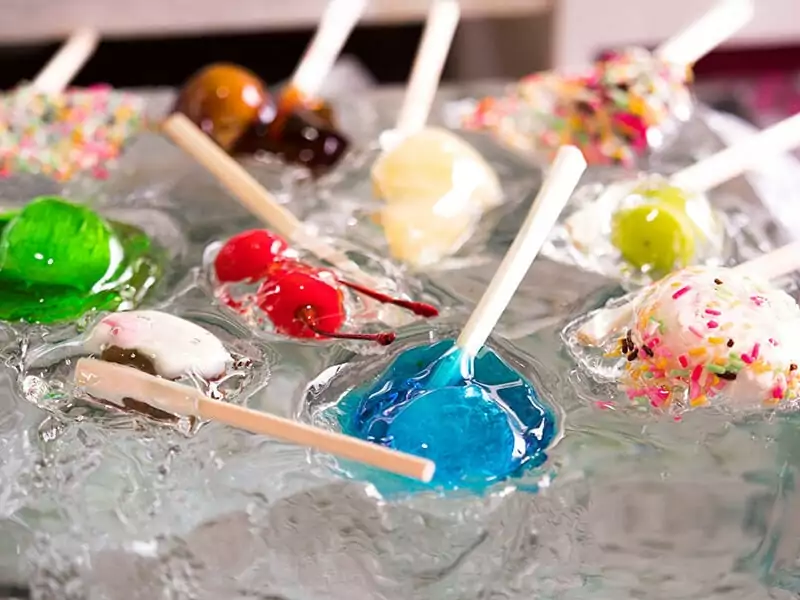 The Japanese show the world that they have a partially different niche with their sweet choice. Unlike sweeteners from the rest of the world, Japanese sugar is finer, sweeter, and healthier due to the addition of glucose and fructose.
Scientifically, glucose and fructose have more simple structures than regular granulated sugar. Therefore, it takes less time to break them down, so they are sweeter and healthier. You don't have to use too much sugar to get to the level of sweetness that you want.
The Japanese develop some sugar types based on this technique, and one of them is Johakuto. This kind of sugar was first made during the Meiji period (1868 – 1912). It is popular in every Japanese household for daily cooking.
Another sugary specialty from Japan is Wasanbon. This sugar is made from Taketo (Shikoku's thin sugarcane), and it has been regularly an ingredient in making Wagashi (Japanese confections) since the 1970s.
Lastly, I have to mention Mizuame. Before modern sugar was popular in the market, people used Mizuame instead. It is a sweetener made of potato or sweet potato starch. It appeared during the Heian period (794 – 1185), and now, people still use it to make Amezaiku candy.
6. Mirin And Sake (Japanese Cooking Rice Wine)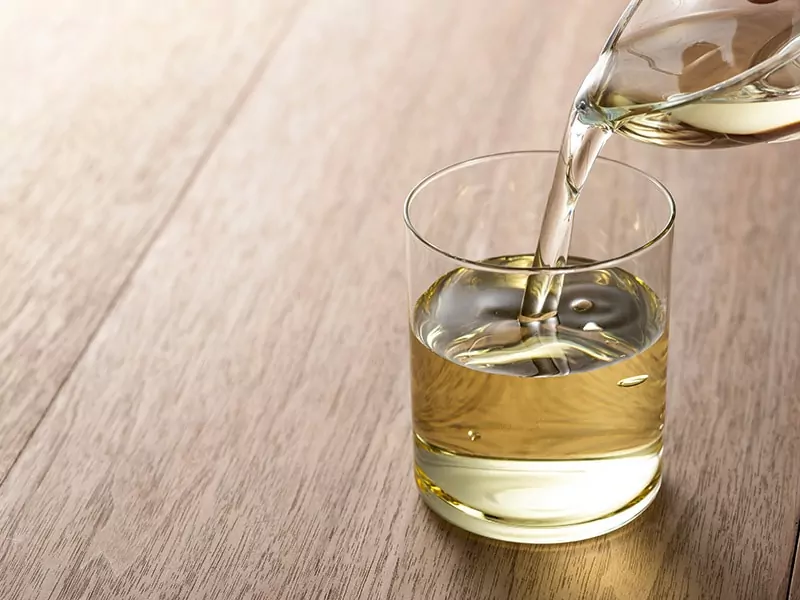 You can almost see either Mirin or Sake or both in every dish in Japanese cuisine. The two alcohols are frequently used for adding natural sweetness to the food or the sauce. The differences between the two lie in their sugar and alcohol content.
Mirin has a sweeter taste and lower alcohol content. Also, you are more likely to see Mirin sauce in cooking than Sake.
In contrast, Sake is the opposite of Mirin. People prefer drinking Sake to using it for cooking. However, have you seen people use both wines in their recipes?
Cooking Sake is what people use when you see the word "sake" in the recipe. This kind of Sake has the same alcohol content, but it also contains salt. Adding Sake will give your sauce or dish a more pleasant sweetness and saltiness.
7. Bonito Flakes (Fermented Smoked Tuna)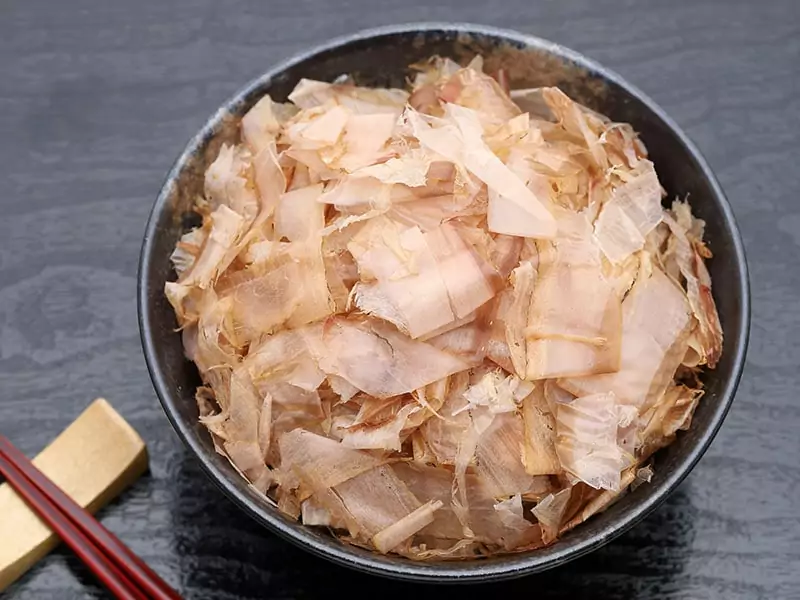 If you love Japanese noodles, this is an ingredient that you have to know. It is Bonito flakes, or Katsuobushi, which are basically shredded meat of skipjack tuna.
The traditional procedure of making Bonito flakes include several steps of cleaning, cooking, smoking, and shaving. The fish needs to be cleaned (beheaded, gutted, and fileted) before being simmered for several hours.
The smoking period is the fussiest part since the fish needs to be smoked for a month with oak or Castanopsis wood. The shaving requires a special grater called Katsuobushi Kezuriki.
You normally see people use Bonito flakes for decorating their rice balls or dressing salad. However, the greatest application of this condiment is for making Dashi broth. With Kombu (dried kelp), Bonito helps create the base of many dishes in the Japanese food culture.
You can try to make your own Bonito flakes with this instruction.
8. Aonori (Powdered Seaweed)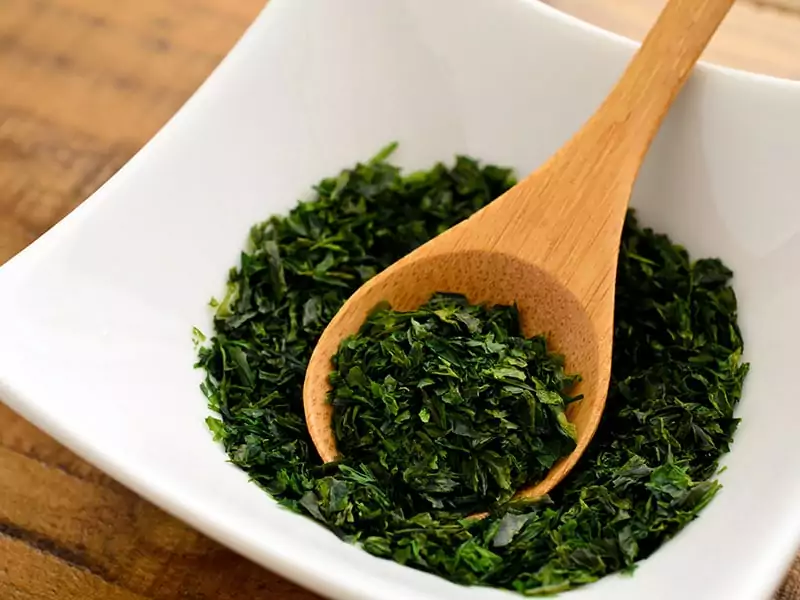 Green laver is an edible seaweed that you can find in many Asian dishes. In Japan, people call it Aonori. Besides using it to make seaweed soup, they also dry this ingredient and grate it. The next step is to turn it into powder form and use it as a condiment.
You regularly see Aonori sprinkled on fried or stir-fried dishes like Yakisoba (stir-fried Chinese noodles) or Takoyaki (Octopus balls). In addition, some people prefer enjoying raw Aonori as a snack. It can also be an ingredient to make other condiments like Togarashi.
9. Wasabi (Japanese Horseradish)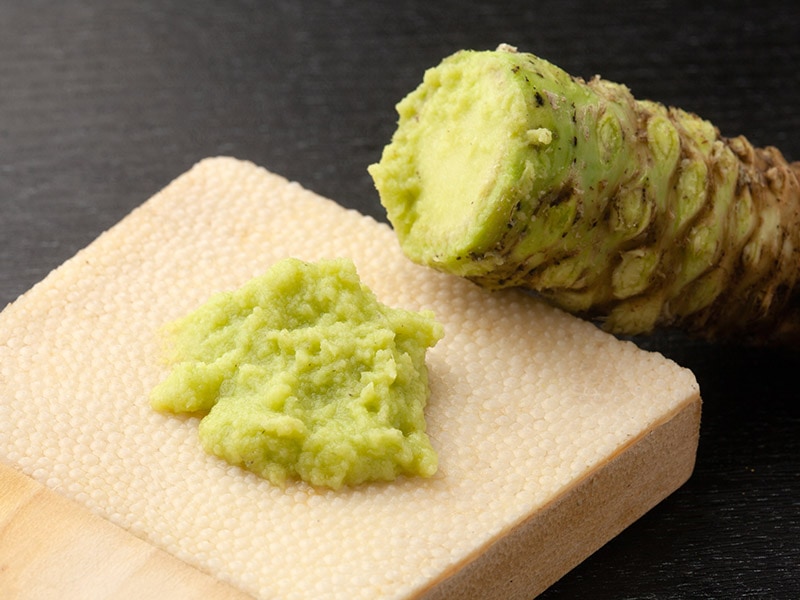 Some people say that Wasabi is like mustard, but they are very different in many ways. Mustard is from the mustard plant, while Wasabi is grated from Japanese horseradish. This condiment is one of the Japanese specialties, and it has a crucial role in their cuisine.
There are many records about Wasabi, but the first was in the 8th century. It is famous for being a dip in raw dishes like Sushi or Sashimi. The heat of Wasabi is distinctive from the regular heat of chili and pepper. It hits pungently hard on your taste but then quickly disappears.
You can find Wasabi in some other Japanese Soba recipes. Adding it can make the broth taste more hearty. In some cocktail recipes, like Wasabi Martini, Wasabi acts as the flavoring ingredient.
10. Karashi (Japanese Yellow Mustard)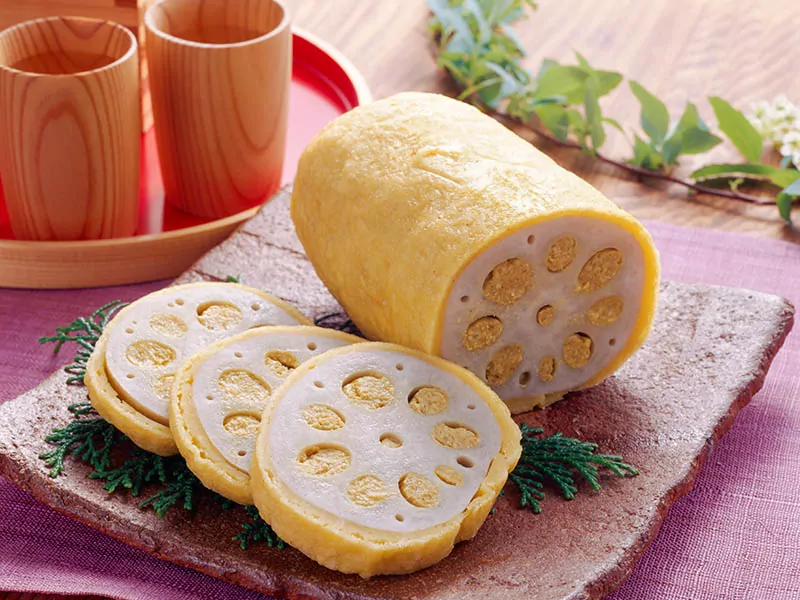 Karashi is a special yellow mustard from Japan. It is made by crushing the seeds of the mustard plant (Brassica juncea) and turning them into powder or paste form.
In Japan, Karashi acts as a dipping sauce or salad dressing. People also combine it with mayonnaise to create more flavor.
Additionally, Karashi is also part of many remarkable dishes like a delicious Japanese starter – Karashi Renkon (lotus root with Karashi) or Karashi-nasu (pickled eggplants with Karashi).
Karashi gives you a strong vinegar taste compared with American mustard. You can also spread Karashi in your sandwiches or on your hot dog, and I bet that it would taste so much better than regular mustard.
Karashi Renkon is the perfect dish for you to get used to with the intense peppery taste of Karashi.
11. Goma (Sesame Seeds And Oil)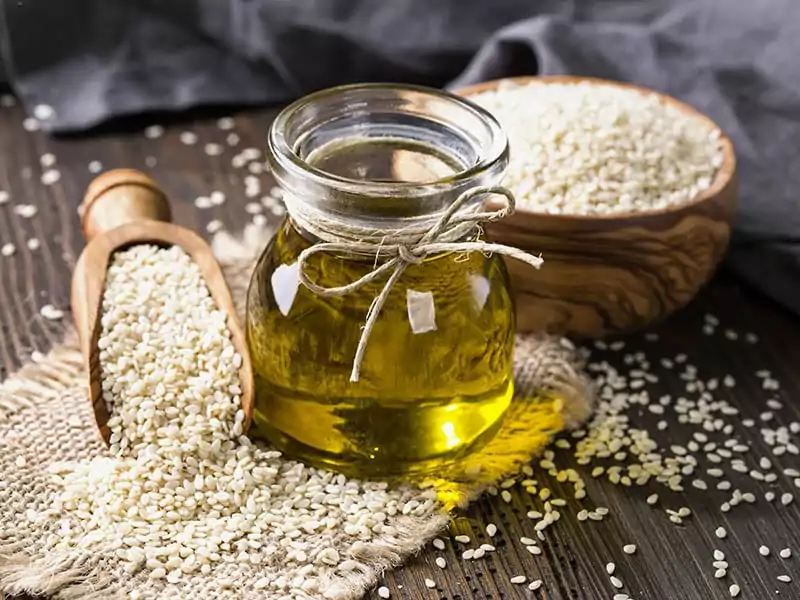 Sesame appears in many Japanese dishes, from desserts, like Mochi, to appetizers, like Shirataki salad. The Japanese use it as a dressing and garnish most of the time. Another usage of sesame is to make Goma tofu (sesame tofu).
Sesame oil (Goma Abura) is another application of sesame seeds. The Japanese use sesame oil to make sauces or other condiments like Rayu (chili oil) or Teriyaki sauce. The addition of sesame oil gives the sauce a strong aroma and nutty taste.
In Japan, sesame oil is made by extracting roasted sesame seeds. You can also use sesame oil to replace vegetable oil since it has a high smoke point. It prevents your food from being burned, so it's good for deep-fried food like Tempura.
12. Shichimi Togarashi (Japanese Seven Spice Blend)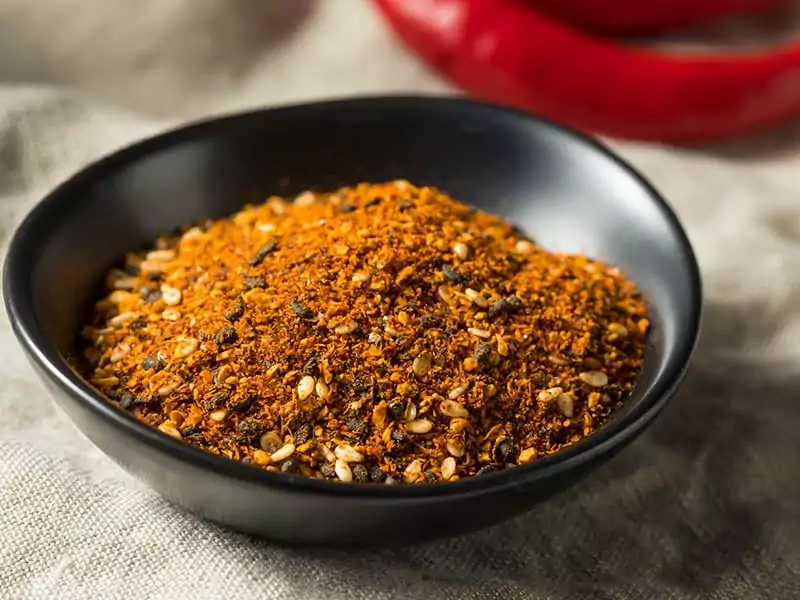 Togarashi is the Japanese name for Capsicum Annuum, a much-loved pepper cultivar in Japan. It is also famously known for being the name of pepper powder in Japan.
There are three types of Togarashi in Japanese cuisine. They are Shichimi, Ichimi, and Nanami. The most widely used one among the three is Shichimi Togarashi which consists of seven other spices and condiments.
The seven ingredients are red chili peppers, Sansho pepper (a Japanese pepper with citrus flavor), hemp seeds, sesame seeds, ginger, citrus peels, and Aonori. This combination is often used as a seasoning in soup or as dressing on the salad.
Since Shimichi Togarashi is a mixture of spices and condiments, its taste is like its components. You can taste the citrus bite from the peels and Sansho, spiciness from chili, and strong aroma from ginger.
Let's learn how to make the colorful Shimichi Togarashi with this guidance.
13. Furikake (Rice Seasoning)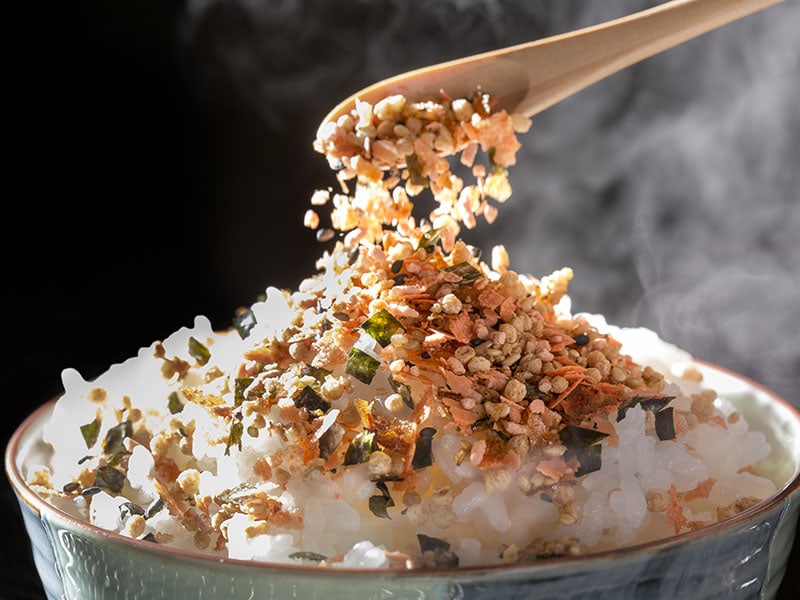 Furikake is kind of like Togarashi since it is also a mixture of powders and blended spices. The typical elements that you can find in Furikake are dried fish (like Bonito flakes), sesame seeds, Aonori, salt, sugar, and monosodium glutamate (MSG).
The Japanese enjoy having Furikake on their steamed rice or rice balls. The seasoning gives bland rice so much more flavor. Furikake can be stored for a long period, so it is very useful for people who are busy and don't have time to make side dishes for their rice.
Furikake's taste is chaotic but extremely good at the same time. You can taste the saltiness from salt, Aonori, and Bonito flakes, sweetness from sugar, umami from MSG, and the top-notch aroma from sesame seeds.
14. Rayu (Sesame Chili Oil)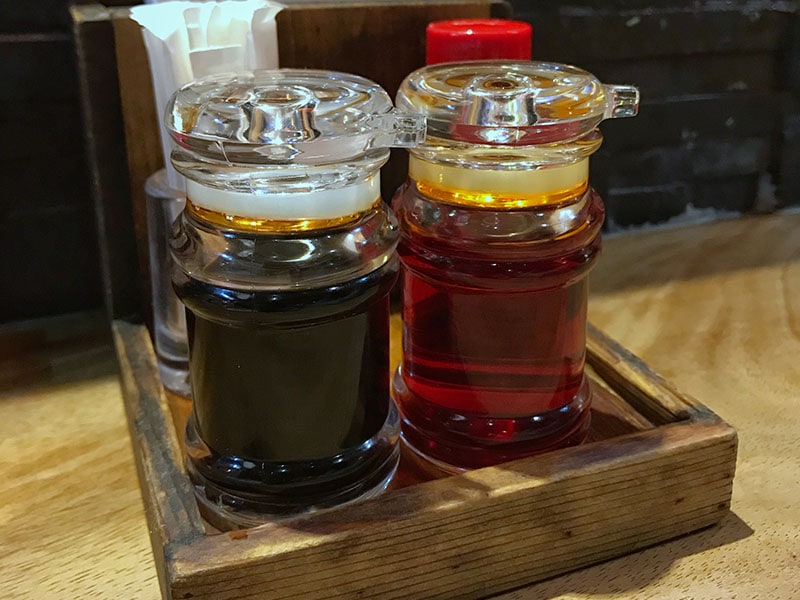 You can find Rayu at every noodle store and Gyoza (Japanese dumpling) restaurant. Dipping Gyoza with Rayu or adding it to the bowl of Ramen is how the Japanese use this condiment.
With just two main ingredients (sesame oil and Togarashi), you can easily make your Rayu at home. People often add other materials like soy sauce, vegetable oil, ginger, and garlic to increase the complexity and flavors of the relish.
Usually, when the Japanese want to add more heat to their food, they prefer Rayu to Togarashi, but this is optional. Therefore, Japanese restaurants usually have Rayu on the table for the customers to use if they want their food to be spicy.
Total time: 30 minutes.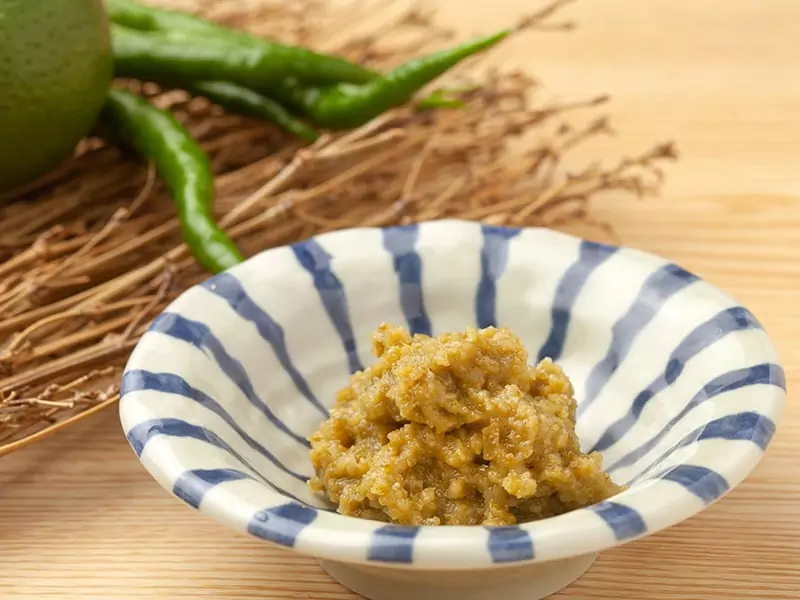 Sometimes you have to admire how beautiful Japanese food can be. The color of Yuzu Kosho is mesmerizing with the light lime color.
With salt (best is sea salt), Yuzu zest (a type of Japanese citrus), and green chili. You can replace green chili with red chili to make red Yuzu Kosho, but in my opinion, the taste and the color of green chili are more ton-sur-ton with the Yuzu zest.
The taste of Yuzu Kosho can be described simply as citrus and salt. The mixture of sea flavor from the salt and land taste from Yuzu zest is like a metaphor for Japan being an island nation.
You can use Yuzu Kosho to flavor your dipping sauce. Gyoza with Yuzu Kosho dip is one of the best combinations of flavors. People use Yuzu Kosho to marinate their meat before grilling as well.
Total time: 10 minutes.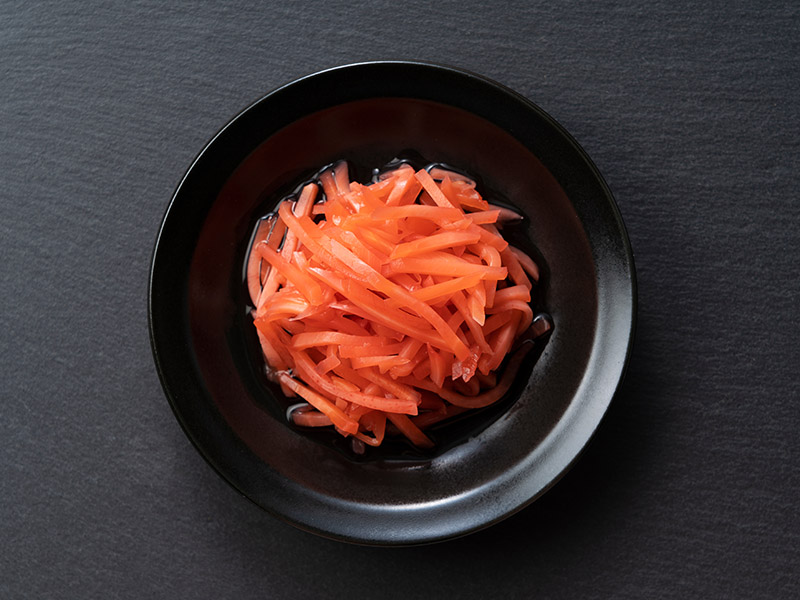 Have you ever wondered about that red crunchy sweet pickle on your Yakisoba? That pickled vegetable is Beni Shoga. Its vivid red color makes Beni Shoga an amazing ingredient to garnish.
The pickle juice for Beni Shoga is not regular vinegar. You need plum vinegar to ferment your Beni Shoga. This element is also the reason why the young ginger turns from light yellow to that beautiful red color. Beni Shoga can be refrigerated for over a year.
Another type of pickled ginger that you would find in Japanese cuisine is Gari. They are totally not the same, from their looks to their taste. You only want to use Gari with your Sushi or Sashimi. Meanwhile, Gari juice is just a mix of rice vinegar with sugar.
Here's the way to make both Gari and Beni Shoga for you.
Some Japanese Sauces That You Must Definitely Know About
Those condiments are everything you need to know for the next part of the post. In this section, I will introduce to you nine Japanese sauces and how you make them from the condiments in the previous part.
Total time: 25 minutes (plus 12 hours of chilling).
Tsuyu is one of the most popular Japanese condiments. You can make it by cooking together four simple ingredients: Dashi broth, soy sauce, Mirin, and sugar.
If you don't want to make Tsuyu from scratch, you can buy the processed sauce in the supermarket. The taste of Tsuyu sauce is pretty salty and sweet with a slightly smoky flavor. You can use it to dip your Tempura or your Ramen toppings.
The Japanese also use this sauce to add flavors to noodle dishes. You can also find Tsuyu sauce in typical Japanese breakfast, like Soboro Don, or famous Japanese snacks, like Okonomiyaki. Almost every Japanese stew needs this sauce in its broth.
Total time: 10 minutes.
With the penetration of Western culture, especially after World War II, the Japanese started to develop many culinary adaptations. They received many condiments and sauces from the West, and one of those was mayonnaise.
Like other recipes, people in Japan flexibly change the recipe so the mayonnaise can be suitable for the Japanese taste. They use their rice vinegar and Dashi broth to add umami and light sourness to the mayonnaise. In some recipes, Sake is also necessary.
Japanese mayonnaise is sweeter and tangier than its Western counterpart. People use it to dip their Tempura, Karaage, Takoyaki, etc. They also dress their salads with it. To add spice to the dip, they also use hot sauce or Togarashi.
Total time: 2 minutes (plus 3 hours of cooling).
You can see Ponzu in so many recommendations for noodle toppings and dipping sauce. The Japanese really love the citrus factor in this salty sauce. Some places call this sauce "Ponzu Shoyu" since citrus juice and soy sauce are the main ingredients.
To make Ponzu sauce, you need Mirin and Sake to add more sweetness to the sauce. Vinegar is to enhance sourness since citrus is mainly for aroma. The umami is mostly from soy sauce. Due to Ponzu's mixture of flavors, your noodle will be imperfect without it.
Besides being a great dipping sauce, you can use Ponzu sauce for marinating your meat or fish. Another usage is to dress your salad with it. In some cases, people even use Ponzu sauce to improve the flavor of their Yakisoba instead of soy sauce.
Total time: 20 minutes.
Usually, you see people dip their Sushi in Nihaizu (salty rice vinegar) or just soy sauce. However, there are more options for you to submerge your Sushi in, and Unagi is one of them.
You can easily make this delicious variety of sauce with three simple ingredients, including Mirin, soy sauce, and sugar. It mainly delivers sweetness, umami, and saltiness to your tongue.
It's called eel sauce since traditionally, people only use it to marinate eel before grilling it or dress the eel in dishes like Unagi Don (eel rice). It sounds like BBQ sauce, right? Well, the Japanese also use Unagi as a Yakitori (Japanese grilled skewered meat) marinade also.
Total time: 10 minutes.
The salty-and-sweet flavor is why the Japanese use Teriyaki to marinate their food all the time. The "teri" means "gloss" while "yaki" means "grill" or "stir-fry". Therefore, you can say Teriyaki is the Japanese BBQ sauce.
To make Teriyaki sauce, you need four main ingredients: Mirin, Sake, sugar, and soy sauce. Since there is soy sauce in the ingredient list, some people might be worried about teriyaki sauce's gluten content. The good news, there are many gluten-free options on the market.
The Teriyaki sauce gives food a glossy and more appetizing look. If you follow a plant-based diet and hesitate to use it since you're unsure whether Teriyaki sauce is vegan-friendly, make sure that you check the ingredients carefully.
Besides being an excellent marinade, you can use Teriyaki sauce to stir-fry your noodles. People rarely use this Teriyaki sauce to dip, but if you want to, it is not a bad dipping sauce option.
Total time: 5 minutes.
Tonkatsu is one representative of Yoshoku cuisine (the modern Japanese food culture). In this sauce, you can taste Worcestershire sauce, ketchup, sugar, and soy sauce. In some recipes, people also add vinegar or oyster sauce.
The flavor is all about sweetness and saltiness. And you would see many Western-influenced dishes that need this sauce to serve with, like Korokke (Japanese Croquettes) or Tonkatsu (Japanese meat or fish cutlet).
People also use this sauce to marinade their barbecue. With this usage, they often add celery, chopped scallions, grated ginger, minced garlic, and other vegetables to the sauce. This addition gives the sauce more fragrance and flavors.
You should learn how to make Tonkatsu Sauce in your next Yoshoku meal.
Total time: 20 minutes.
Yakiniku sauce is a special condiment for a dish of the same name. In Japanese, "yakiniku" means "grilled beef". And this sauce is used as a marinade and the dipping sauce for the cooked meat.
You can marinade other food with this sauce as well. Yakiniku can only be enjoyed the right way when you have it right after cooking. Additionally, the best beverage to go with this dish is the famous Japanese alcohol – Sake.
The main ingredients of Yakiniku sauce are White Miso, soy sauce, Sake, Mirin, sugar, and Bonito flakes. Some people also add sesame seeds, minced garlic, and ginger juice. The sauce is sweet, salty, sweet, and tangy with a rich aroma.
Total time: 30 minutes.
One of the elements, which you need to be skillful if Japanese food is your passion, is Dashi broth. You have learned about Bonito flakes in the previous section, and with this recipe, you need to cook your Bonito flakes with Kombu (dried kelps) for a long time.
Dashi broth appears in almost every savory Japanese soup and broth since it is the best way to deliver the umami in watery dishes. Another usage of Dashi is making sauces.
In case you are making an authentic Japanese vegan dish, like Kenchinjiru (vegetables and tofu soup), you can make Shiitake Dashi. Instead of using Bonito flakes, people use dried shiitake mushrooms as a substitute.
You might wonder: "Why would you add such a non-condiment to this list?" Well, the cruciality of Dashi broth in Japanese cuisine is incomparable and irreplaceable. Until now, Dashi has appeared in many sauce recipes on this list. Therefore, having it is a must for you.
You should learn how to make Dashi broth since this is the most versatile ingredient in Japanese cuisine.
You Are Now Thorough About Japanese Sauces And Condiments
To defeat your enemies, you need to thoroughly understand your alliances. In the constant war in your kitchen, condiments and sauces are your comrades. Here are the results after this post: you are now ready to defeat any Japanese recipe.
You have learned the origin, the components, and what the base of Japanese cuisine tastes like. And I'm sure that you understand where your food should go along with which sauce.
After this post, I hope that you are satisfied with all of the gathered knowledge. If you enjoy the post, please let me know by commenting under. And if you find it useful, you should share it with your beloved ones.
Anyway, I hope that I can see you on another journey. Goodbye!