I'm a fan of the spicy taste of sambal oelek in typical Asian dishes, so I know many sambal oelek substitutes very well in case this spice is no longer in my kitchen cupboard. If you're like me, you can't live without this spicy paste!
I believe that sambal oelek is one of the essential spices in every family's kitchen, whether you are a fan of Asian or Western dishes. Because not only can it be used for dipping, but sambal oelek can also be combined with many dishes, from grilled, boiled, fried to soups.
Then suddenly, one day, your cabinet no longer has sambal oelek. You must immediately find a replacement! Or simply, you want to add spice to your dish in a new way! Whatever it is, let me help you with 10 excellent sambal oelek substitutes today.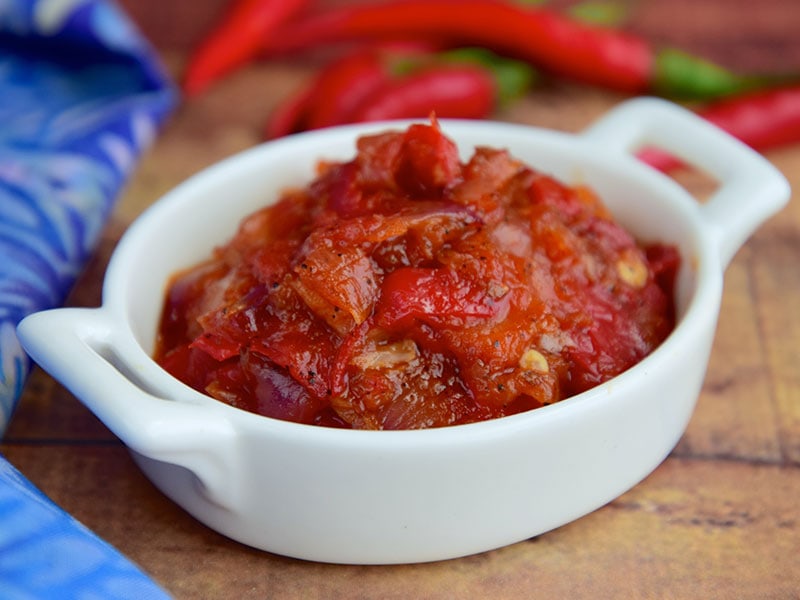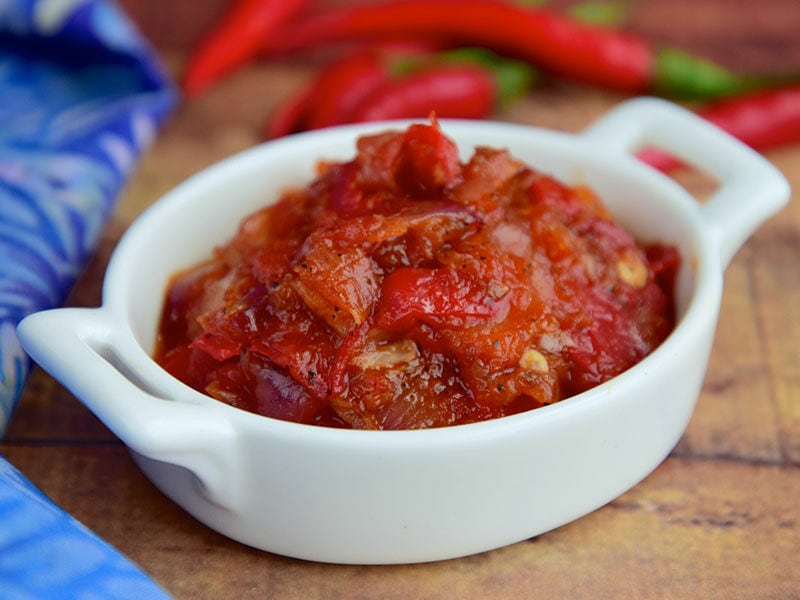 Which Are The Best Sambal Oelek Substitutes? Find The Answer Right Now!
In today's list of 10 sambal oelek substitutes, you will find the best seasoning for your dish. They all have an irresistible spicy taste to elevate your dishes:
Sriracha Sauce
Chili Garlic Sauce
Fresh Jalapeno Chili
Harissa Chili Paste
Chinese Chili Sauce
Tabasco Sauce
Gochujang Chili Paste
Cayenne Pepper Flakes
Crushed Red Pepper Flakes
Homemade Sambal Oelek
Fast Facts About Sambal Oelek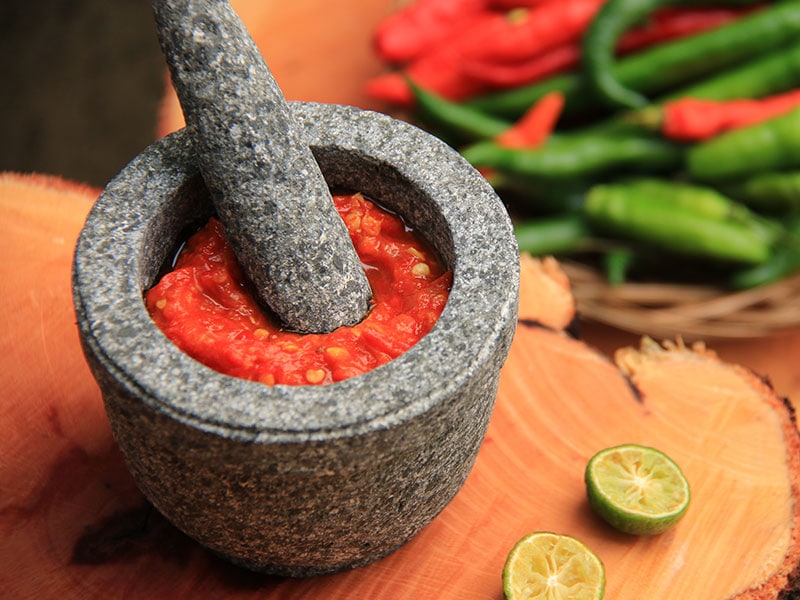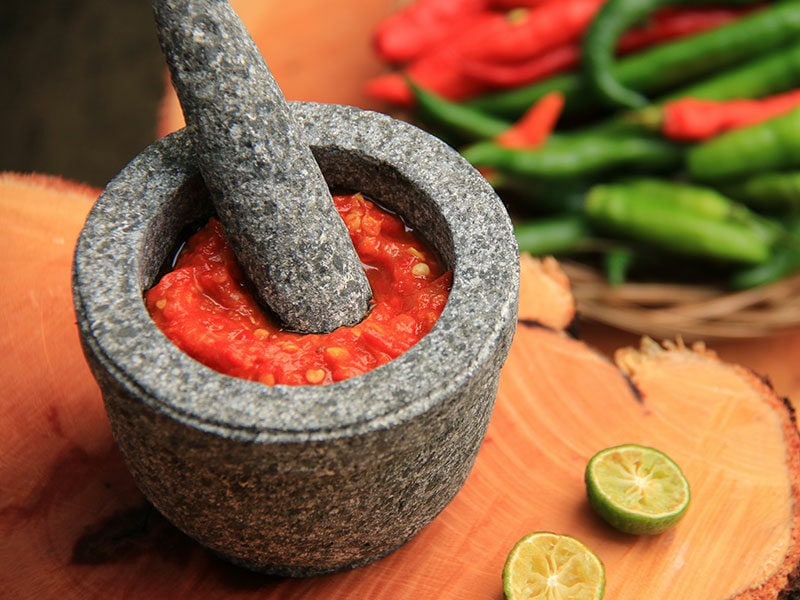 Sambal oelek is a spicy paste that originated in Southeast Asia. It is made from hot red peppers and salt. Some other versions of sambal oelek may also contain other ingredients such as onion, garlic, lemon juice, and sugar.
A little about its name, "oelek" is the word used to refer to the molcajete that appears in every kitchen to make this type of sambal. "Sambal" is a term used to refer to a paste made from chili as the main dish and contains many other ingredients.
In terms of texture, sambal oelek is a slightly thick and viscous paste with a seemingly transparent color. Of course, it is accompanied by an attractive spicy taste that stings your tongue.
The Usages Of Sambal Oelek
Due to its spicy flavor, combined with a salty and a bit sour taste of vinegar, sambal oelek is especially suitable for starchy dishes, making the food taste richer and reducing boredom.
While it's considered as an efficient alternative to sriracha, sambal oelek is less acidic and has less vinegar than the original ingredient. So, it can be heated along with the dish without negatively affecting the taste.
In addition to being used directly to eat dishes such as pho, noodle soup, tacos, noodles, sambal oelek also becomes a unique flavor for snacks, popcorn, french fries, and fast foods.
Moreover, sambal oelek also appears as a condiment commonly used to dip spring rolls, beef balls, grilled squid, fried chicken, etc.
Every Clever Sambal Oelek Substitutes You've Got To Try
Are you too eager to make your amazing spicy dish? The excellent alternatives of sambal oelek that I present to you will not disappoint you. A cold day with spicy food, too chilling, right?
1. Sriracha Sauce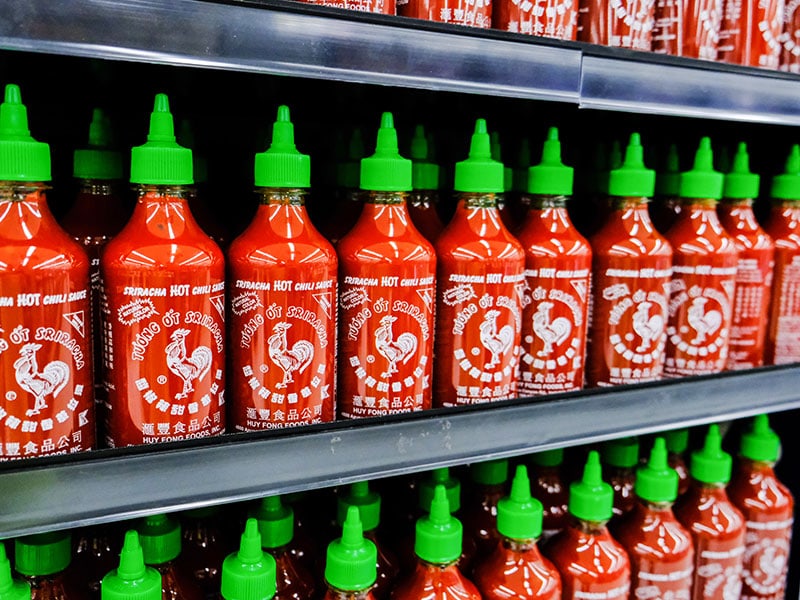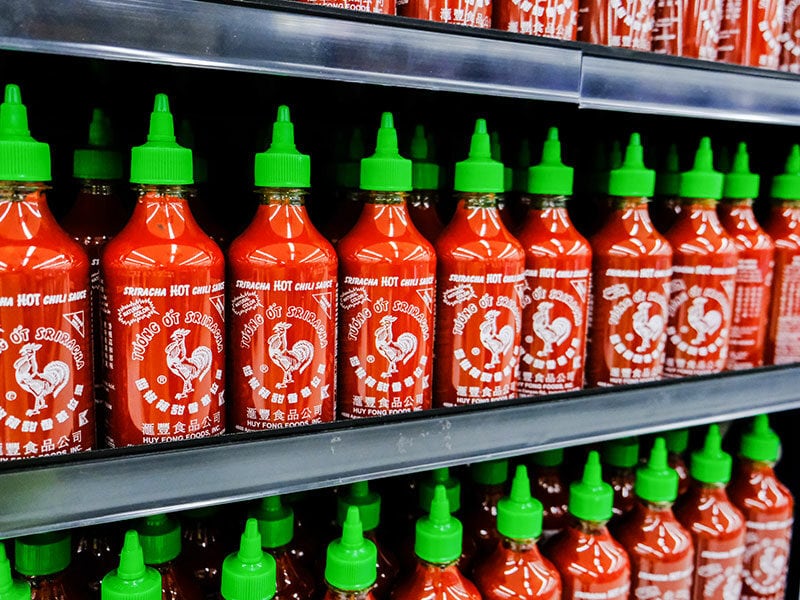 When searching for a perfect alternative to sambal oelek, Sriracha hot sauce should not be missed! With almost the same ingredients, texture, and taste, Sriracha sauce is even more impressive with its popularity.
The only difference is that Sriracha hot sauce contains less vinegar and more garlic, so you can consider using a little more in your dish if you love the sour taste. Moreover, Sriracha is a sauce, not a paste like sambal, so you can consider using it in the right dishes.
Referring to Sriracha, Americans will immediately remember Huy Fong Foods' chili sauce, which was chosen by NASA to be used in space more than a decade ago. This sauce is easily identifiable by its distinctive red color in a blue bottle.
Sriracha is a famous product. The main flavor is spicy chili, suitable for all the Asian dishes, and Huy Fong is the first company to produce this chili sauce in the United States. It is a famous brand around the world, sold in many American supermarkets.
This sauce has grown in popularity now that there are cookbooks with recipes using it as their main condiment.
For example, sriracha appears in several side dishes to go with mac and cheese. Also, many famous restaurants use Sriracha in their dishes: fried food, pizzas, sandwiches, etc. It can also be used as a base sauce for cooking or a marinade for meats.
2. Chili Garlic Sauce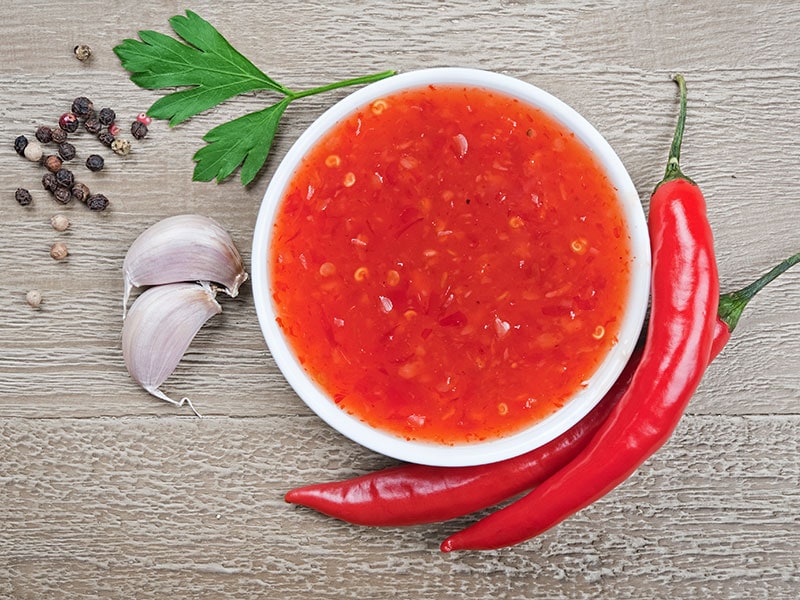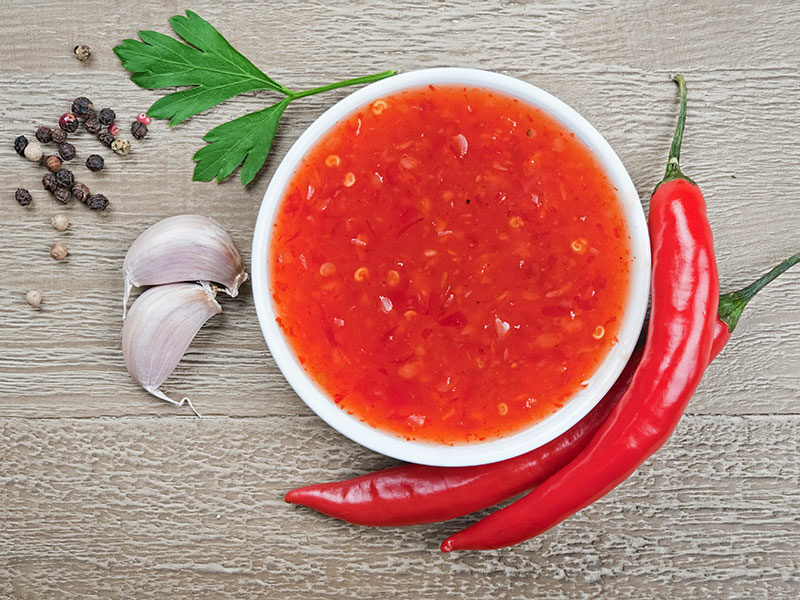 This sauce has the spicy taste of chili and the smell of garlic with almost the same ingredients as sambal oelek, such as salt and vinegar, and some added components as sugar and garlic. It makes the dish more delicious and full of flavor will be a good substitute for sambal oelek.
Made from fresh ingredients, chili garlic sauce is suitable for eating beef noodles or marinated and grilled dishes. You can use this recipe to eat with duck breast, spring rolls, fried seafood, roast pork, etc. The natural spicy flavor makes the dish more delicious and attractive.
For more information, chili garlic sauce is usually produced by vacuum pasteurization technology to retain the spicy aroma and natural color state of chili and garlic while still ensuring food hygiene and safety.
Yes, chili garlic sauce is delicious and decadent. However, you should carefully choose sauces made from fresh chili and pure fresh garlic without using artificial spicy powder and garlic flavor.
3. Jalapeno Chili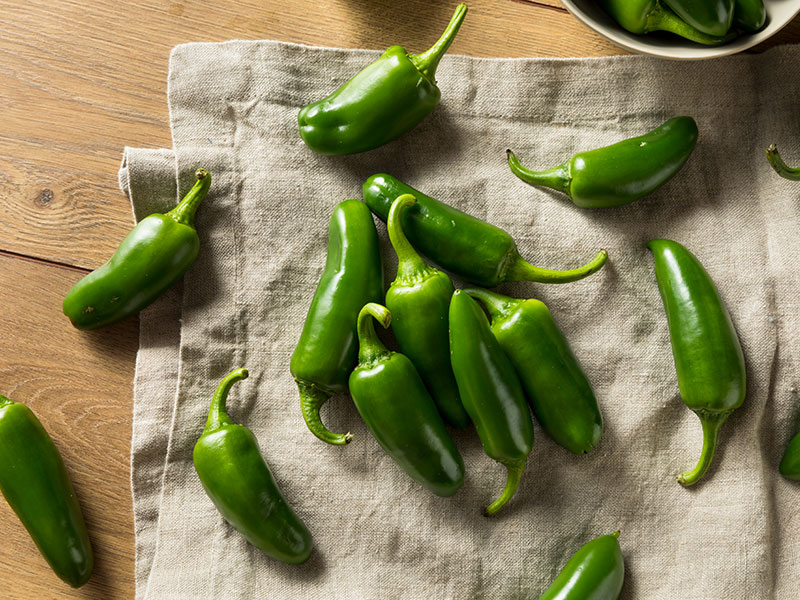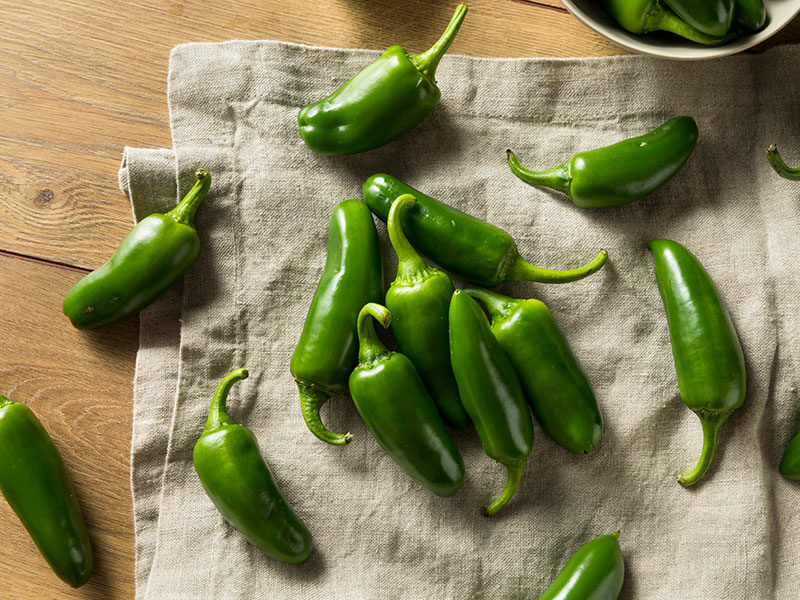 For those who like to eat chili, the discovery of extra spiciness always makes them curious. And recently, Jalapeno chili has attracted the attention of many people with its extremely spicy and stimulating taste.
Jalapeno chili is one of the popular chili pepper varieties in Mexico because of its hot spicy taste, thick skin, few seeds, and easy to separate seeds. Jalapeno peppers are green when harvested and will turn red if left unused for a long time, causing them to ripen.
Like sambal oelek, jalapeno peppers have a distinctive spicy flavor to spice up your dish. Add some onion and garlic, and you get an even better sauce than sambal oelek that people will barely notice.
So long as you know the correct technique to store jalapenos, you can use fresh jalapeno chili instead of sambal oelek in common dishes such as salad, pizza, soup. This chili is also especially suitable in case you want to make pickles.
4. Harissa Chili Paste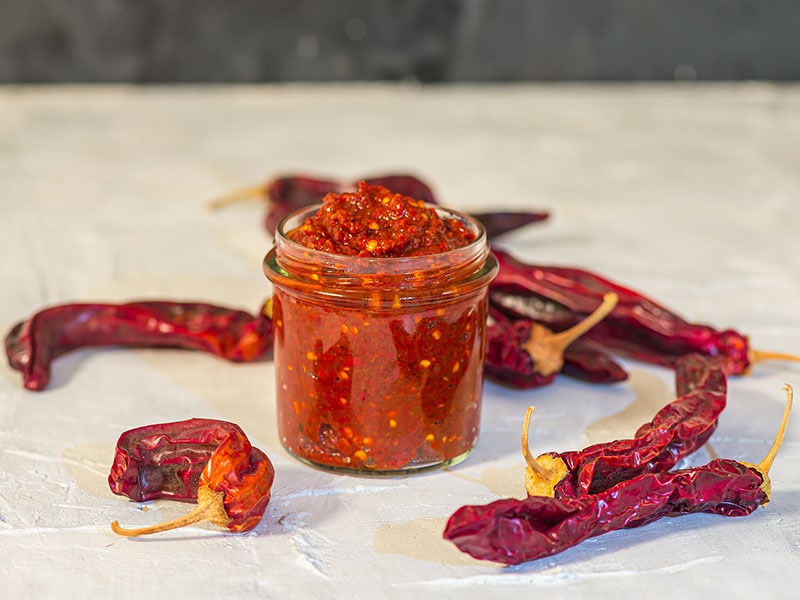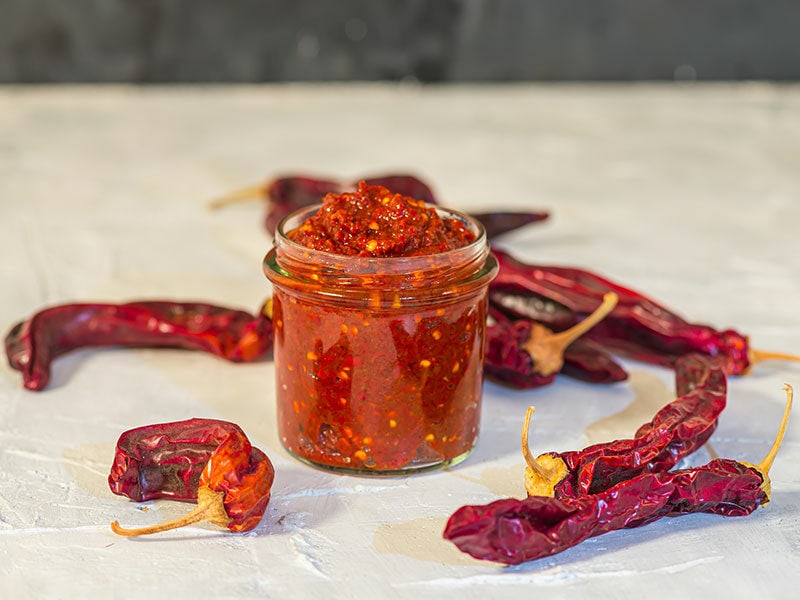 Harissa is an irreplaceable part of Tunisian cuisine and the culinary culture of many other African nations. Its main ingredients are roasted red pepper, Baklouti pepper, and Serrano pepper. Therefore, it created a silky paste texture and spicy flavor similar to sambal oelek.
Besides, this paste contains other seasonings such as garlic, caraway, cumin, coriander seeds, herbs, and olive oil. Therefore, it will add these herbal flavors to your dishes. Then you should notice this difference to avoid unsuitable recipes.
This paste appears in numerous dishes in African countries, from falafel to grilled meat with its spicy taste, making a good sambal oelek alternative. It gives food a rather spicy taste like sambal oelek. People also use it to marinate meats, soups, and vegetables.
Harissa is usually sold as a paste available in jars and cans. It is also produced in a powdered version. To be sure, you can find harissa in Middle Eastern stores, specialty stores, and most grocery stores.
5. Chinese Chili Sauce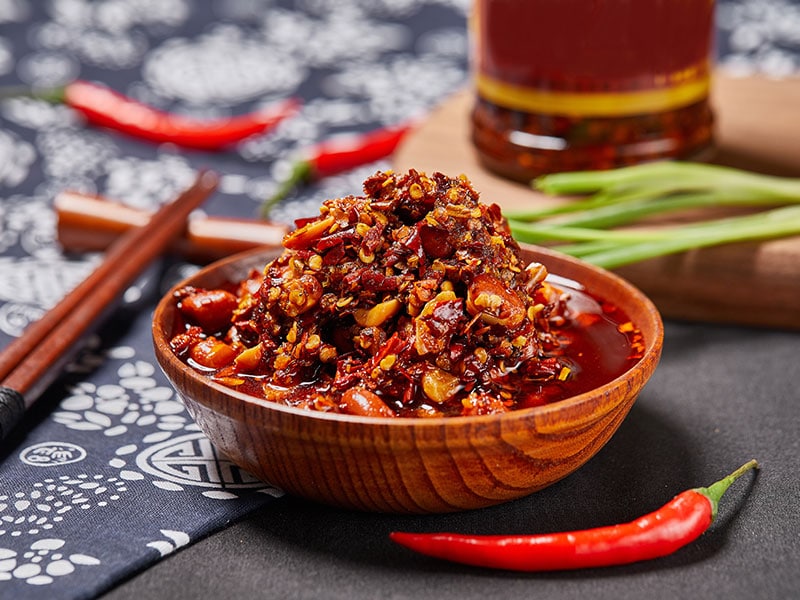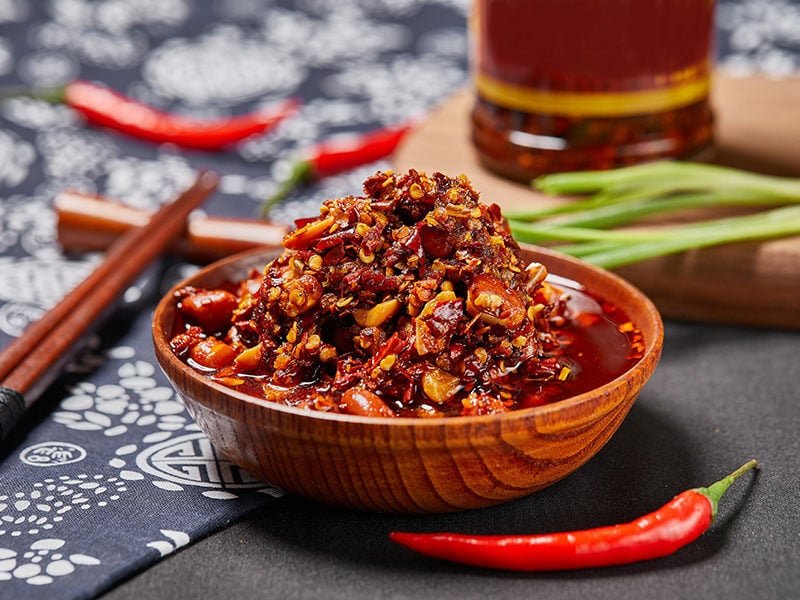 Chinese chili sauce is also a good candidate to replace sambal oelek. Originating from China, this spice is commonly used in daily meals to add a silky texture and spicy flavor to dishes.
This sauce is a mixture of food additives made from main ingredients such as dried or fresh chili peppers and cooking oil in terms of ingredients. Depending on the type, the sauce can be added with minced lemongrass and some other ingredients.
The only difference is that cooking oil is one of the main ingredients of this sauce. So it may be more suitable for hot sauce dishes or stir-fried or fried dishes. Oil is better cooked so that you don't get bored.
With a strong spicy taste, Chinese chili sauce is often used to marinate ingredients, creating an attractive taste, distinctive red color, and passionate aroma for hot pot dishes, grilled dishes, and other soups.
Thanks to Chinese chili sauce, grilled dishes or hot pot dishes become more attractive, delicious, and beautiful. Therefore, this sauce gradually spread and became a popular condiment in many countries around the world.
6. Tabasco Sauce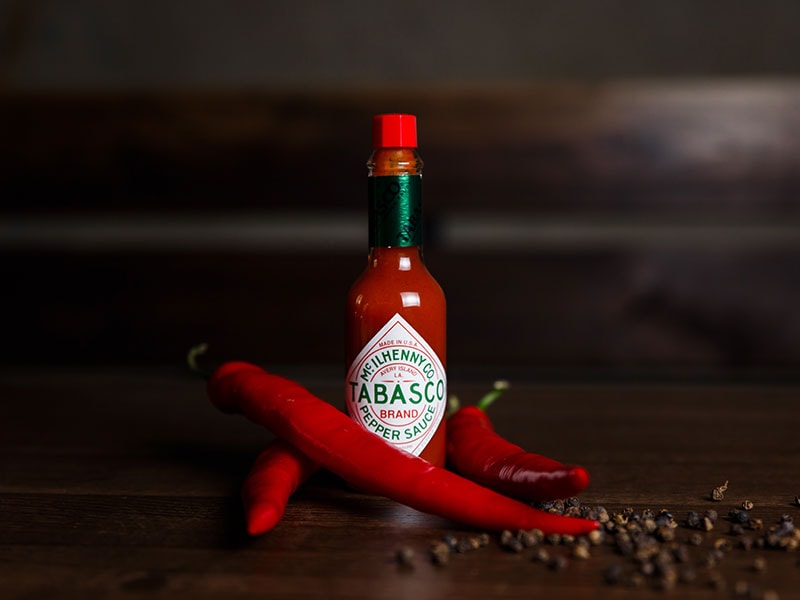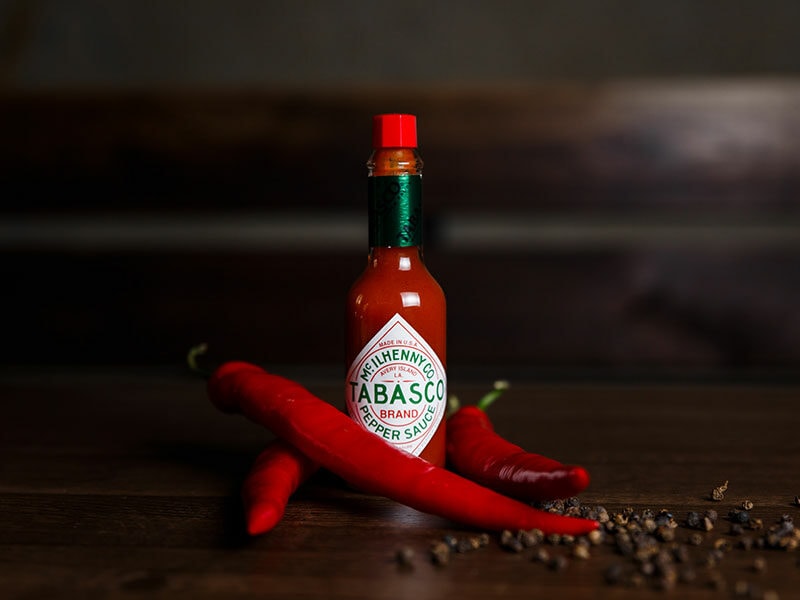 Pizza or pasta addicts around the world are probably familiar with a chili sauce called Tabasco. This is the most commonly used chili sauce in restaurants and hotels and is the first choice of consumers. If you like a more sour taste of vinegar, which sambal oelek only has a little, try tabasco!
Tabasco hot chili sauce is made from tabasco peppers with salt, aged in oak barrels for three years, then mixed with vinegar to create the very characteristic red Tabasco hot sauce flavor to make the dish richer.
However, you need to keep in mind that Sriracha hot sauce contains more vinegar ingredients, so consider using a moderate amount in your dish, and don't cook it for too long. Remember to use a haft amount because it has more vinegar!
Tabasco is certified gluten-free, which can cause digestive upset for people allergic to this substance. It can be used to replace sambal oelek with beefsteak, pizza, pasta, fried noodles, omelets, fried rice, etc. Or you can use it to marinate spicy grilled dishes.
7. Gochujang Chili Paste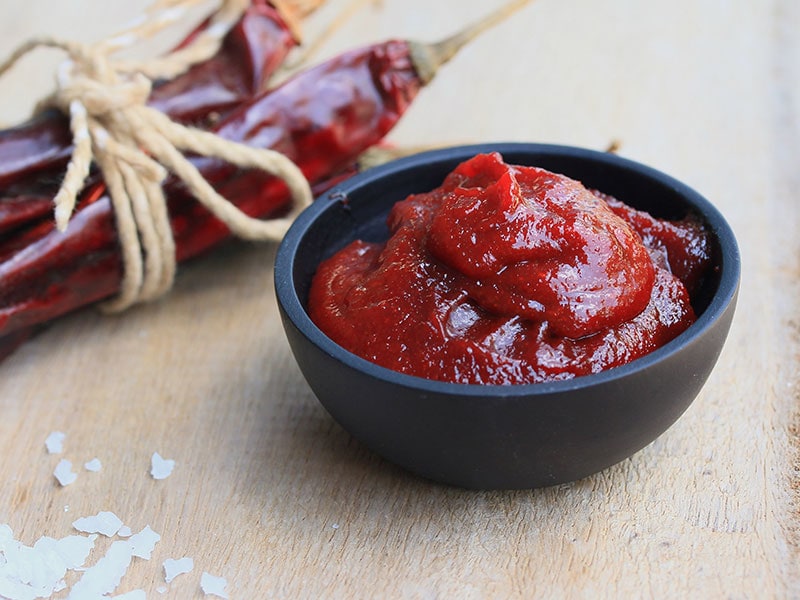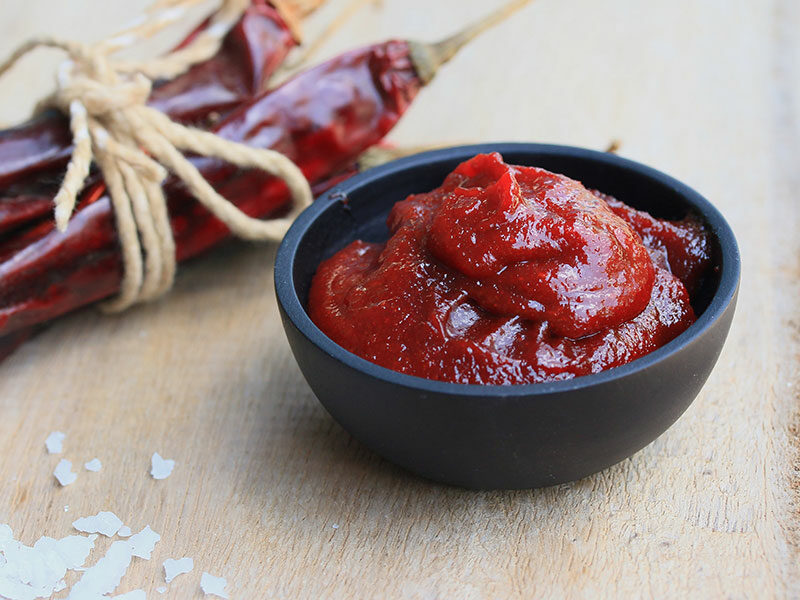 For Korean cuisine lovers, having a bottle of Gochujang chili paste at home is indispensable to prepare bibimbap, spicy rice cakes, spicy fried chicken, spicy meatballs, etc. It's great, and you can also use it if you're missing sambal oelek!
Gochujang chili paste is suitable to replace sambal oelek because it has a thick and consistent texture exactly like sambal. Its only significant difference is slight sweetness. This is also great because you can use it to marinate food or eat with a burger.
In traditional Korean food, Gochujang chili sauce is the main ingredient to create the famous spicy dishes of this country. It also won't let you down when it comes to blowing a breath of fresh air into your menu.
This chili paste is enough to challenge anyone's ability to eat spicy food with a little chili powder and malt, rice flour, barley flour, soybean meal, salt, etc. The aromatic, fleshy taste of grilled meat plus the rich, spicy flavor on the tip of the tongue makes no one want to refuse.
One mistake many people tend to make with this Korean chili is mixing it up with Gochugaru. Despite sharing the same origin, Gochugaru and Gochujang have many differences. That's why you'll need to read the label carefully when shopping for either of these two Korean products.
8. Cayenne Pepper Flakes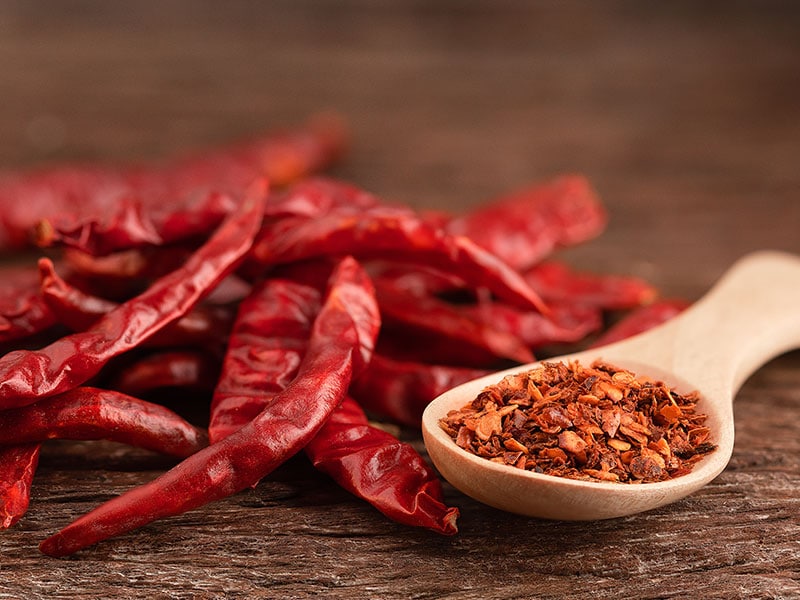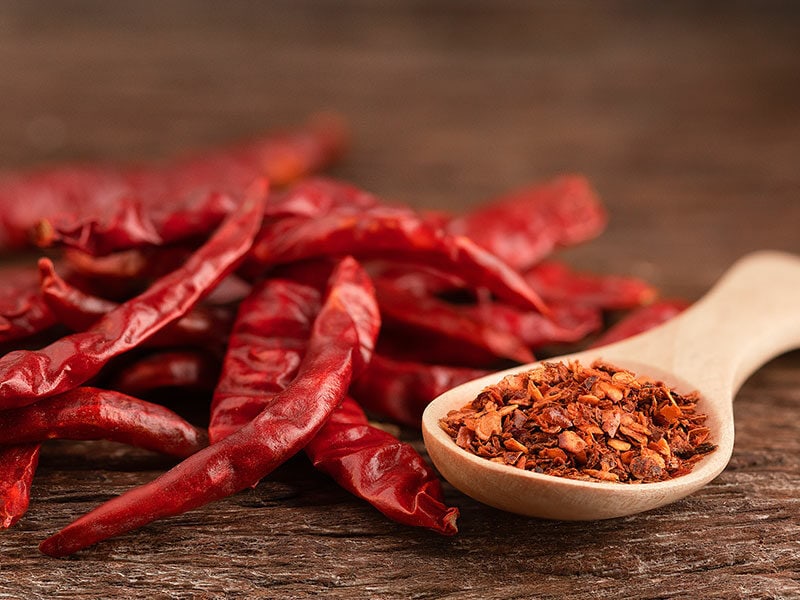 Every pepper we eat has its own unique shape and flavor, and so does Cayenne pepper. This is a type of pepper with a particular spiciness, making it difficult to eat once. This pepper has a beautiful bright red color with a spicy taste that stings your tongue, such as sambal oelek.
Because Cayenne pepper is very spicy, when using it to replace sambal oelek, you should only use a small amount, about 1/4 of the recipe. To make it a paste that is most similar to sambal oelek, you should combine Cayenne pepper flakes with your favorite soy or fish sauce.
Previously, Cayenne pepper was best known for its yellow color. Many years have passed, this pepper is no longer only yellow and red but also has beautiful blue and purple colors to decorate your dishes.
In cooking, Cayenne pepper is often pureed into seedless flakes, the same form you can use in place of sambal oelek. This pepper is great to boost the taste of Indian curry, cheese omelet, or some chili con carne.
In addition, this pepper also contains many healthy minerals such as calcium, iron, magnesium, zinc, and capsaicin, the special active ingredient in cayenne pepper which makes it medicinal and gives it its characteristic spicy taste.
9. Crushed Red Pepper Flakes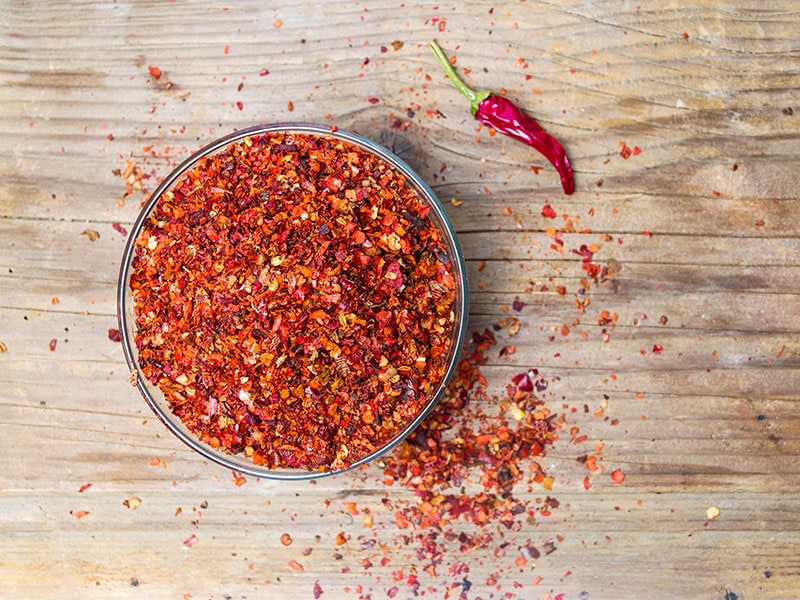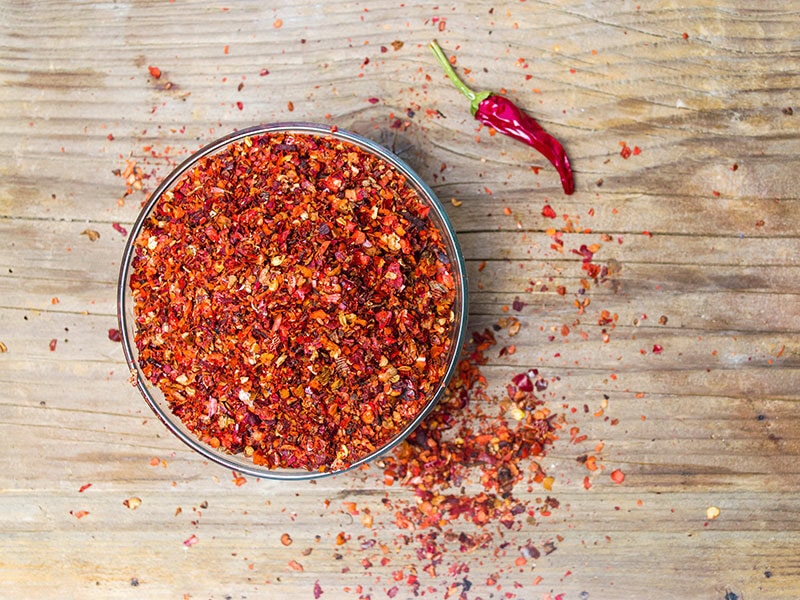 Crushed red pepper flakes have the main ingredient of fresh pepper, which is dried and crushed. Although it does not have a gelatinous texture, it can add a spicy flavor to your dishes like sambal oelek.
Similar to Cayenne pepper, you should mix crushed red pepper flakes with suitable soy sauce, sauce, or fish sauce to create the texture of sambal oelek. In addition, the ideal ratio for replacing sambal oelek for these spicy flakes should be around 1 sambal oelek: 1/4 crushed red pepper flakes.
In terms of taste, these red pepper flakes are medium spicy, with a hint of garlic and pepper. It is a topping seasoning for many hot pot dishes, beef steak, pizza, and delicious snacks. In addition, it also helps to stimulate the taste buds, create a sense of appetite, and color the food.
Moreover, this type of pepper does not contain chemicals and does not affect the health of consumers. This will be an "expensive" condiment for family dishes to be more attractive!
10. Homemade Sambal Oelek
Suppose any alternative doesn't work for you. In that case, you can try making sambal oelek at home with these common ingredients: 20g dried red chili, 5 fresh red chilies, 1/3 cup purple onion, 3 tablespoons garlic, 1/2 cup roasted dried shrimp, 2 tablespoons olive oil, 3 tablespoons tamarind juice and 3 tablespoons brown sugar.
With 3 easy steps, you can make your own delicious spicy sambal oelek:
Step 1: Put the dried (pre-soaked) chilies, shallots, garlic, roasted dried shrimp, and fresh red peppers into any type of blender that you are familiar with using. Blend it all together.
Step 2: Heat the pot and add some olive oil. Fry the sambal mixture and constantly stir until a red oil appears. Finally, add brown sugar and tamarind juice.
Step 3: Pour the sauce into the jar while still hot, and close the lid to preserve.
You can learn how to make two sweet or salty sambal oelek with just one ultimate recipe in this tutorial video!
FAQs:
The things you still have questions about are right below. Do not hesitate to consult the FAQs section, you will surely find useful information!
What Is Your Best Sambal Oelek Substitute?
With my 10 ultimate suggestions today, you will definitely find the best sambal oelek substitute for your meal. Maybe you have to try again and again, but why not? You will find many creative flavors for your recipe!
If you have tried and succeeded with any substitutes, let me know in the comment section! I believe that many spicy fans like you and me are keen to know about it. And please do not forget to share this post with the spicy lovers around you!
Nutrition Facts
4 servings per container
---
Amount Per ServingCalories146
% Daily Value *
Total Fat 7.7g

11

%
Cholesterol 71mg

24

%
Sodium 227mg

10

%
Potassium 198mg

6

%
Total Carbohydrate 15.7g

5

%

Dietary Fiber 1.7g

4

%
Sugars 10.5g

Protein 6g

12

%
---
* The % Daily Value tells you how much a nutrient in a serving of food contributes to a daily diet. 2,000 calories a day is used for general nutrition advice.