What comes to your mind when thinking about duck breast recipes? Do you have any idea about what to serve with duck breast?
Many people crave duck breast because of its tenderness, flavor, juiciness, and sometimes crispiness. It is an awesome choice for dinner with your family. So if you haven't known what to do this weekend, don't miss out on duck breast dishes.
Enjoying duck breast alone can be fine, but it could become boring without any side dish that can elevate the flavor to the maximum and satisfy your every taste bud.
Luckily, duck breast is a fantastic food that can go well with various sauces, vegetables, and other ingredients.
Below you'll find numerous ideas for side dishes that help balance your meal with duck breast. So let's pick your favorite and impress all your guests.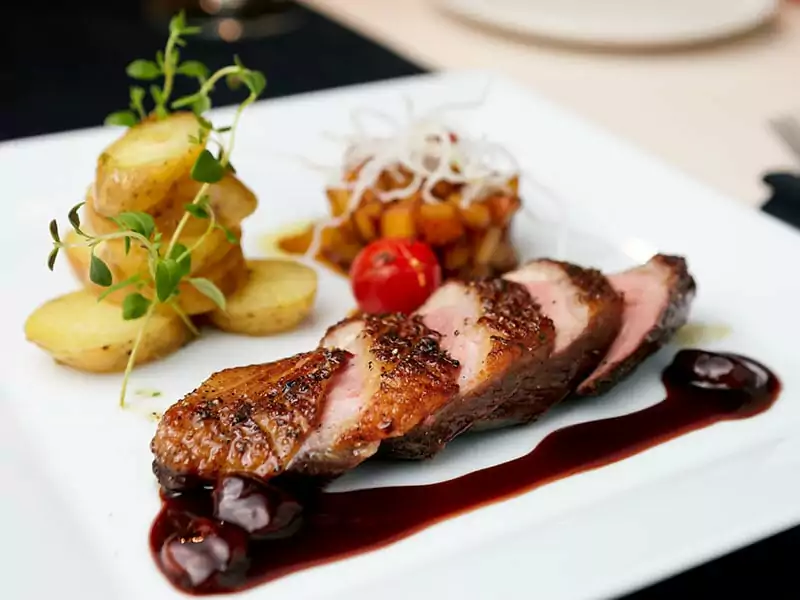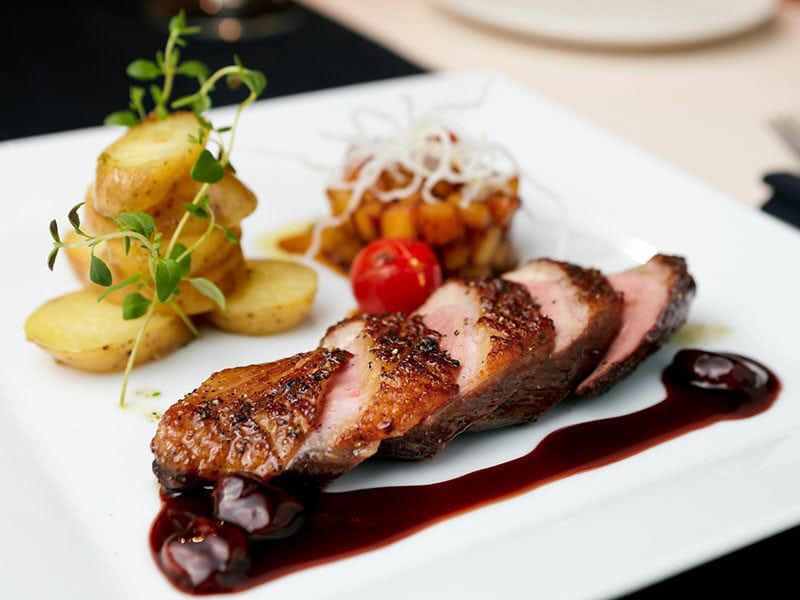 What To Serve With Duck Breast – An Useful List You Should Know
If you are running low on ideas for a side dish serving with this delicious food starting with "D", here's a list you're looking for:
Sauce Recipes
Orange Sauce
Cherry and Red Wine Sauce
Plum Sauce
Sticky Marinated Duck Sauce
Thyme and Redcurrant Gravy
Sweet Chili and Tomato Jelly
Salad Recipes
Spicy Red Cabbage and Potato Knodel
Red Beet Salad
Spinach, Mushroom, and Pomegranate Salad
Root Vegetables Recipes
Potato Dauphinoise
Zucchini Noodles
Sweet Potato Mash
Mashed Potato
Pumpkin Mash
Fried Egg and Potatoes
Brussels Sprouts
Glazed Carrots
Roasted Vegetables
Rice
19 Duck Breast Side Dishes And Sauces Worth Trying
Whether how good your main course is cooked, the side dish plays a crucial role in the quality of your meal because choosing the wrong one could ruin the appetite of your guests and waste all your effort. With my experience and love for food, I have taken great care to introduce you to the following dishes. Read on to learn more
Sauce Recipes
Tired of store-bought sauces because you have no idea what's in it? You might want to make some homemade sauces for your duck breast recipes. This way, it's easier to adjust the flavor which fits your fancy.
Orange juice is fantastic, and when it comes to duck breast, it works. It's not only easy but also quick to prepare. This sweet and sour sauce is made with all-natural ingredients such as orange juice, soy sauce, vinegar, garlic, red chili flakes, sugar, ginger, and zest.
Orange juice lends a tangy, fresh, and savory to your high-fat duck breast and makes it more enjoyable.
On the other hand, you can serve the orange sauce pairing with your coconut shrimp meal. But the recipe for it might be a little bit different. Overall, these sauces will provide the sweet-and-sour taste to balance the flavor of your main course.
My favorite part of eating a cut of seared duck is to sopping up cherry and red wine sauce along with it. Believe it or not, cherry and red wine sauce and duck breast are an amazing food combination you must try.
This flavor-packed sauce can be prepared in advance and stored in the fridge for later use. It's also suitable for ham, pork, and turkey.
If plums are available in your pantry, why not try making some plum sauce for your duck breast? Like many other fruit sauces, the plum sauce can infuse sweet and sour flavor to the meat.
According to the chef, you will need plums, soy sauce, star anise, and brown sugar to make the sauce.
When serving, pour the sauce around the duck breast and enjoy it!
As its name implies, sticky marinated duck sauce makes poultry more tender and adds extra flavor to the dish, especially making crispy duck skin more great-tasting. To get the best result, you should marinate your duck breast in this mixture overnight.
For people who wonder about the recipe, it's quite simple to make. Just mix balsamic vinegar, rapeseed oil, honey, Worcestershire sauce, garlic, grated lemon zest and soy sauce together until they blend well.
If you can't buy Worcestershire sauce, try other alternatives of Worcestershire. There are many replacement options that are made from familiar ingredients. Next, paint this mixture on the skin of the duck, then dip it in the rest of the blend and leave it overnight in the fridge.
Roasted duck always goes well with redcurrant sauce, so if you're looking for a safe choice for duck recipes, look no further; redcurrant gravy is my top suggestion.
Many people are familiar with gravy's formula, including meat dripping, stock, and seasoning. And for redcurrant gravy, all you need to do is to add redcurrant jelly into the above meat juices, and everything is done.
This way, you don't waste any part of the cooking process and create a rich and delicious dressing to serve with duck breast.
Taking a spoonful of sweet chili and tomato jelly and enjoy it along with duck breast could be one of the most satisfying eating experiences you've ever had. This homemade jam is incredibly delicious and can be prepared in less than an hour.
You will need garlic, chili, cherry tomato, and other spices. Some people might think it's like ketchup, but it appears much more flavorful. Besides the sweet taste, it's also spicy and savory.
Due to its bright red color, you can use this concoction as a decorative sauce for your duck recipes.
Salad Recipes
These salads are nutrient-dense, fresh and bright. Feel free to enjoy them with duck breast recipes and thanks me later.
Let's have fun with this traditional German site food, which is a fantastic combination with duck breast.
It might take you some time to figure out the right way to cook the red cabbage and potato dumplings, but the result is worth your while.
Make the potato dumpling first by mixing mashed potato, egg yolks, flour, nutmeg, butter, and salt until you have a kind of dough. Then form the dough into balls and boil them well.
You need to prepare sugar, vinegar, red wine, orange juice, apple juice, cinnamon, and butter for red cabbage. You start by caramelizing the sugar, adding vinegar and red wine, and then adding red cabbage and other ingredients. Please bring them to boil and keep simmering with low heat for about 1 hour.
Have you ever tried eating red beet salad instead of drinking its juice? Well, here's a recipe that will widen your culinary knowledge. To make this salad, you need to prepare beets, carrots, chopped cilantro, diced onion, mayonnaise, salt and pepper.
First, you boil beets in water or put them in the oven for about 50 minutes until they get soft, then cut them into small cubes. Do the same thing with carrots. After all, put all of the ingredients into a large salad bowl and mix them well before serving.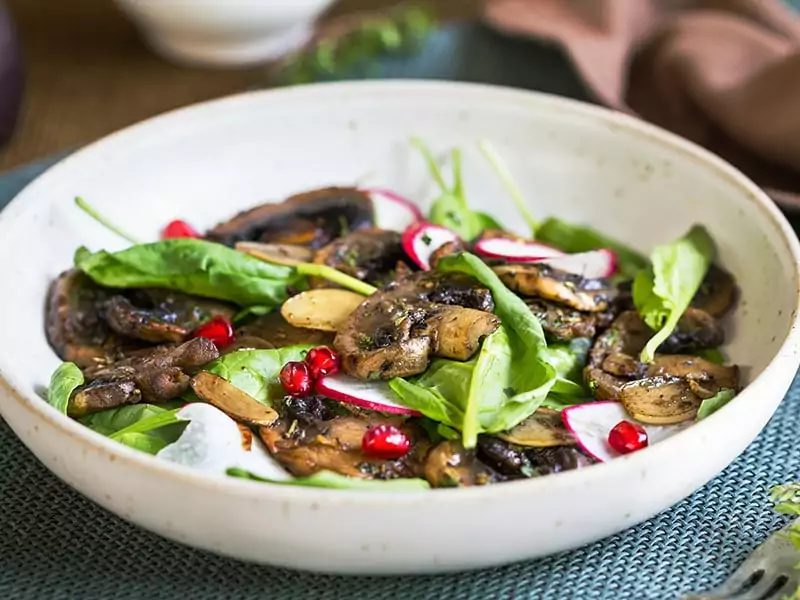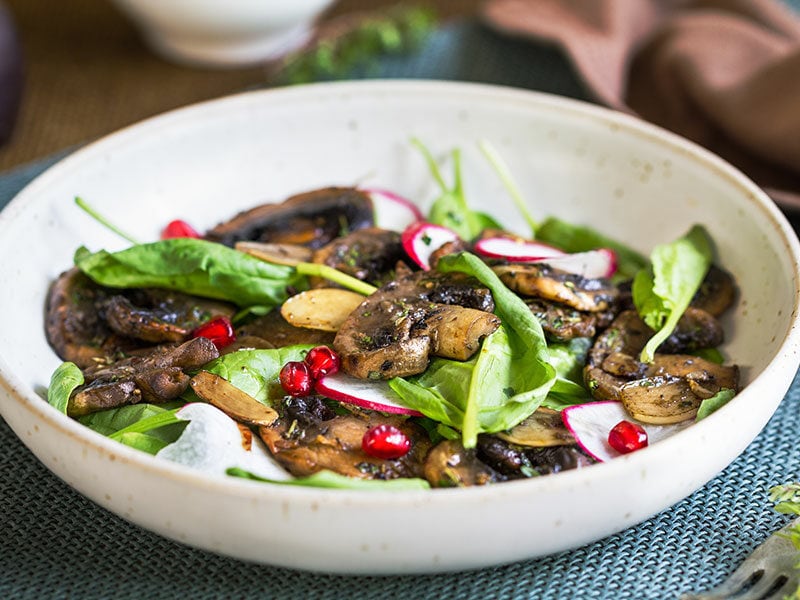 What to cook with pomegranate? This delightful and refreshing salad could be a perfect option that complements well for duck breast. It's also versatile and can be suitable for all meals and seasons.
As you know, eating too much meat can make you feel a little heavy. For this reason, this side dish adds a bit of sweet and sour aroma, which can quickly uplift your taste.
Crunchy pomegranate seeds bring all the differences to this salad compared to other salad recipes. Spinach is added to infuse freshness for each bite, and mushroom helps it combine well with duck breast.
Root Vegetable And Grain Recipes
Looking to get more root vegetables and grains in your meal? Nothing can't beat some simple yet hearty side dishes I have listed below
Potato dauphinoise comes with various name such as potatoes à la dauphinoise, potatoes au gratin, pommes de terre dauphinoise, and gratin de pommes à la dauphinoise.
It's a classic French dish that contains butter, cheddar or mozzarella, sliced potato, cream, thyme, garlic, pepper, and other spices. Bake and wait until you can see layers upon layers of potato under a golden cheese crust. This dish tastes savory and creamy, which pairs well with duck breast because both have a rich flavor.
Let's Find Out How Chef Jamie Oliver Cooks His Potato Dauphinoise. You can see this video to know more:
If you're a fan of noodles and pasta, give zucchini noodles a try, and you won't be disappointed. Regardless of the difference between pasta and noodle, this dish can suit both. Moreover, it's a gluten-free and healthy dish made only from zucchini.
When cooked, it becomes tender and absorbs seasonings very well. Apparently, this pasta substitute can combine perfectly with roasted duck breast.
Sweet potato mash is a fantastic side dish you can whip up if you're short on time. It's comforting, filling, and has such a sweetness that makes your tummy happy.
There are various recipes for sweet potato mash, but sweet potato and some butter alone will work. People can add chopped herbs and spices to enhance their aroma and upgrade this plain dish to a new level.
Similar to sweet potato mash, you can try to match duck breast with this palatable food whose name begins with "M". There are endless ways to make your own mashed potato by mixing it with cream, butter, cheese, and garlic powder. Either way can pair well with your duck.
Another reason why you should prepare some mashed potatoes is that because they can absorb meat juice from your plate.
Hearty, creamy, and mouth-watering, pumpkin mash can satisfy anyone's appetite at your party. It seems to be better when pairing with a cut of duck.
All you need to do is bake the pumpkin in the oven, mash it well and mix it with butter, milk, and other seasonings.
First, you peel the potatoes and cut them into small cubes, then fry them all in hot shimmering oil until they become golden or brown on all sides. You can use butter instead.
The tip for a tasty fried egg is to crack it into a bowl and gently slip it in the skillet. It's a safe bet that this simple dish can go perfectly with your duck breast.
Are you curious about the flavor of brussel sprout? In fact, health-conscious people might be familiar with Brussels sprouts due to their high content of fiber and vitamins. How about combining them with duck breast?
Many people agree that you can cook Brussels sprouts with duck fat and expect a delicious output. I suggest that you shred your sprouts before cooking to make them become more tender and quickly soak up the juice from the duck.
To enhance the overall flavor, sprinkle it with crispy bacon and a handful of your favorite nuts.
Glazed carrots are another classic dish that never comes out of style and is welcomed by most people.
It's always my go-to side dish because it's budget-friendly and easy to prepare. In addition, this orange color can brighten your meal and make it more appealing.
Carrots are cut into thin sticks or small pieces, then add butter, honey, or brown sugar to complete. You can serve them alongside roasted duck breast and please all guests.
Let's watch the following video and find out how to make this simple glazed carrot snack.
Roasted vegetables might be essential to a dish that has a high content of fat and protein, like roasted duck. They are made as a side dish to balance the meal and go easy on your tummy.
Collect some vegetables in your pantries such as carrots, onions, garlic, zucchini, tomatoes, broccoli, Brussels sprouts, and more, then cut them into small cubes and sprinkle some herbs and spices onto food. Add olive oil and stir them well before putting them into the oven for about 50 minutes.
Rice, especially brown rice, is a good source of fiber and protein. It has a mild flavor and can go well with various ingredients, including duck breast.
If you crave a filling meal, rice could be an excellent side dish that requires no preparation other than hitting a rice cooker button.
I suggest adding a bit of orange sauce as a dressing to elevate both rice and duck meat flavor.
Let's Choose Your Favorite Side Dishes!
You can use my above list as an inspiration when preparing a meal for your family and guests. Believe it or not, you're bound to find a perfect idea that suits all tastes.
Duck breast can be good alone but will become even more delicious if combined with the right side dishes and sauces. That way the dish will not be boring and you will be excited every time you enjoy it with your family and friends.
You can choose to cook one of them or combine two recipes for a meal with various textures and flavors. Creativity can make cooking more accessible and more fun. What about you? What is your favorite side dish with duck breast? Do you plan to try any dish on my list at home? I would like to hear from all of you, so please leave some lines in the comment section below.
Nutrition Facts
8 servings per container
---
Amount Per ServingCalories427
% Daily Value *
Total Fat 35.9g

54

%
Cholesterol 37mg

13

%
Sodium 425mg

18

%
Potassium 363mg

11

%
Total Carbohydrate 14.1g

5

%

Dietary Fiber 0.8g

0

%
Sugars 3.2g

Protein 12.4g

24

%
---
Calcium

368

%
Iron

1

%
Vitamin D

25

%
* The % Daily Value tells you how much a nutrient in a serving of food contributes to a daily diet. 2,000 calories a day is used for general nutrition advice.