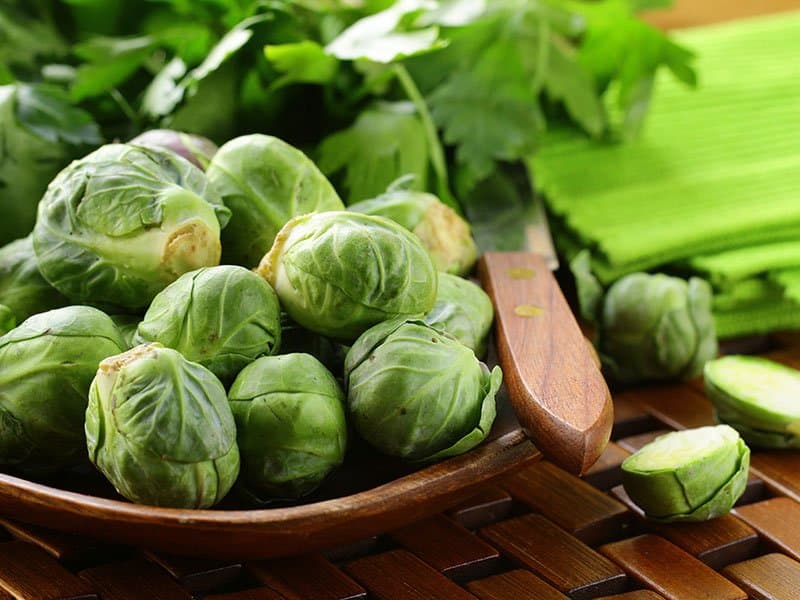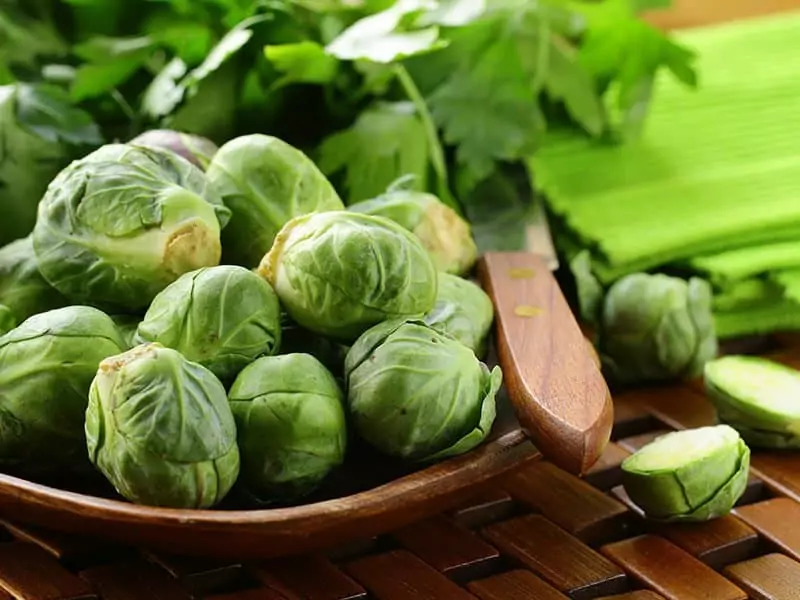 I am sharing with you that the brussels sprouts date back to Ancient Rome; it is named for Brussels, Belgium, which is now known from the 14th century. The brussels sprout is a part of Brassica oleracea (the Gemmifera cabbage group), cultivated with its edible buds.
The Brassica oleracea family contains cauliflower, kale, broccoli, collard greens, cabbage, or lettuce. The cruciferous vegetables are made of sulfur-containing phytochemicals known as glucosinolate. They are quite a bitter flavor and a distinctive odor.
The leaf vegetables typically have a diameter from 0.6 to 1.6 inches. Brussels sprouts have thick, nearly rubbery layers; whenever you bite into them, crunch and snap.
The softer they get, the more you cook your brussels sprouts. However, beware of overcooking them, or they're going to get mushy. Let's dive in to know more about this low-calorie veggie!
Brussel Sprouts vs. Cabbage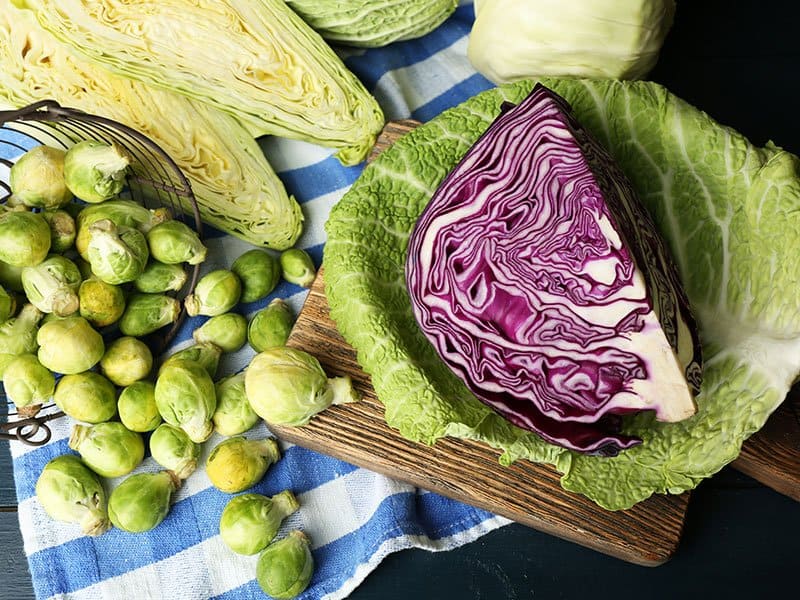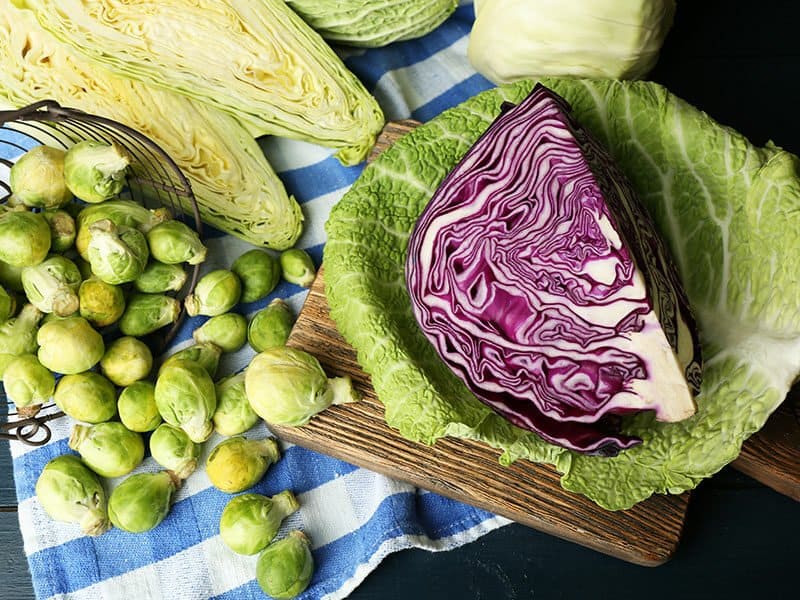 The brussels sprout and the cabbage come from the same plant species, but this does not imply that brussels sprouts are baby cabbages. Both plants have different nutritional values and tastes. Still, in the ground, they are remarkably diverse, too.
The cabbage grows a broad, single head close to the ground, while the high center stem grows with several tiny sprouts clustered around. Right here, you will find the differences:
Storage
In the refrigerator, place brussels sprouts up to five days covered but not washed. If unwashed, the average shelf life of most cabbage when stored in the fridge is around two weeks. With the proper method for freezing Brussels sprouts, its shelf life can last for even longer.
Flavor
Though not as foul, the cabbage is still sulfur, releasing an unpleasant odor when you cook it too long. So, please don't. The brussels sprout is quite bitter if eaten raw, but cabbage is relatively mild, as you can use it for a slaw or wrap.
Nutrition
The brussels sprouts and cabbage are known as low-calorie food and healthy vitamin C sources as much as a cup of prune or plum juice. Brussels sprouts, however, contain double the calories and vitamin C as cabbage.
Shape
Usually, the heads of cabbage weigh 1 to 12 pounds; every plant generates a unique head. The heads are round, pointed, conical, or elliptical, depending on the species.
The brussels sprouts grow along the leaf axils of the main plant stem. On each plant, there are up to 100 sprouts. Brussels sprouts range between a walnut and a golf ball in size.
Grow-Up Conditions
The cool climate is suitable for both cabbage and brussels sprouts. Cabbage grows well in USDA (U.S. Department of Agriculture) plant hardiness zones three and higher, while Brussels sprouts prefer USDA zones 4 to 7.
The optimum growth temperature for cabbage is between 60°F and 75°F, and a lower overall 58°F to 66°F for the brussels sprouts. The cabbage of the early season ripens in just 50 days after plants have been transplanted, while the growing season of brussels sprout lasts 90-120 days.
Brussels Sprout's Benefits You Will Get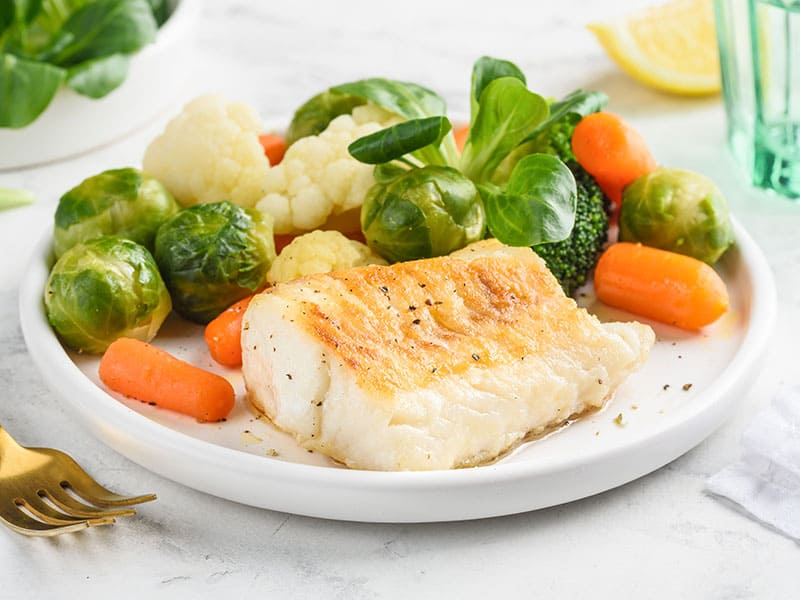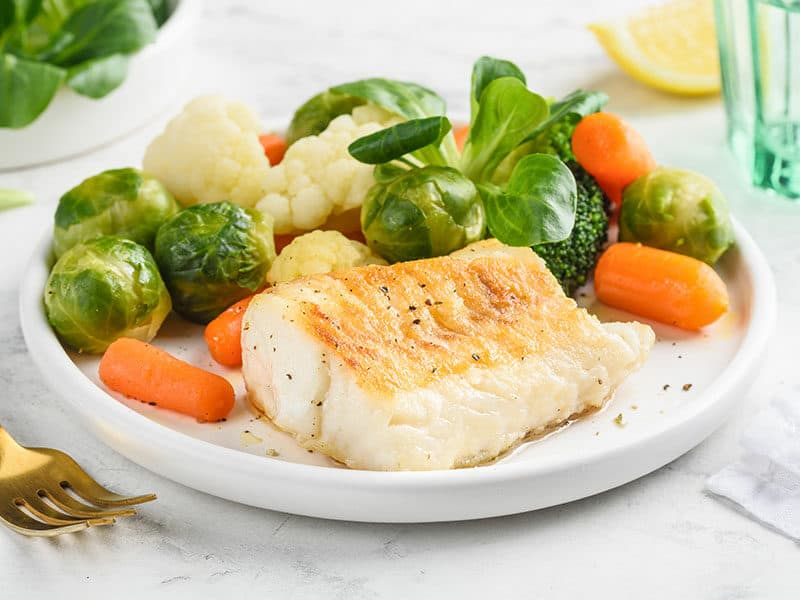 The fibers, vitamins, minerals, and antioxidants in brussels sprouts are rich and make them a nutritious added to your diet. Soon you would decrease the risk of cancer, reduce inflammation and increase the balance of sugar in the blood.
Brussels sprouts make this vegetable worth eating, ranging from smoothing skin to improving gut health. Track it up now!
Lower Heart Disease's Risk
A basic fall side dish is more than about enjoying everything there is about Longaniza sausage. The Brussels sprout is full of nutrients such as vitamin C. A diet rich in fruit or vegetables vitamin C has been linked to a lower risk of chronic cardiovascular disease in studies.
Pack Antioxidants
Brussels sprouts are richly antioxidant, lead to healthy cells, and lower cancer risks. Try chopping fresh brussels sprouts for chicken salad as such and roasting with garlic and mustard sauce for a tasty and straightforward weeknight side dish.
Supply Plant-Based Protein
One cup of brussels sprouts supplies 4 grams of plant-based nutritious protein. It is beneficial when you follow vegetarian meals; you need more natural protein sources in your diet.
Don't know how to improve brussel sprout's flavors? Try to roast brussels sprouts in the top-notch truffle oil or avocado oil or add pleasant flavors such as hazelnuts and pomegranate.
Strengthen the Bones
Vitamin K rich in brussels sprouts that can strengthen your bone strength and prevent injury. A 2017 study revealed a lower risk of fractures in the intake of vitamin K-rich diets every day. Treat your bones to a dose of vitamin K and calcium!
Enhance Gut Health
The tasty tiny vegetables are filled with fiber, which in various ways will boost your gut health. A fiber-rich diet is crucial for a healthy body and gut, from constipation prevention to decreased colorectal cancer risk.
Lessen Inflammation
A healthy diet full of cruciferous products like broccoli and brussels sprouts will reduce your body's unwanted inflammation. Inflammation can lead over time to chronic disease and can help protect your cells, such as in this roasting, green vegetable mixture.
Prevent Defects of Birth
It is time you add some brussels sprout recipes to your diet. Brussels sprouts are a potential source of folate, an essential nutrient to avoid congenital disabilities.
To prevent defects in the spine and brain, it can benefit from eating foods that are folate to take prenatal vitamins.
Empower Eye Health
Brussels sprouts are high in carotenoids – a nutrient that can be converted to vitamin A in your body – much like carrots and sweet potatoes. Carotenoid food is associated with better protection of the eye and prevention of blue light eye damage.
Control Diabetes
Reduce the diabetes risk every day you start to cook cruciferous vegetables. In a 2016 report, people who eat these crunchy vegetables daily have a relatively lower chance for type 2 diabetes.
Glow Up Skin
When you start adding brussels sprouts to your diet, say bye-bye to tired, dull skin. This yummy veggie helps produce collagen because it is full of vitamin C, ensuring that your skin remains shiny and glittering.
Supply Balanced Fats
You will find it challenging to get enough fatty omega-3 acids in your diet if you're not a fish fan. Fortunately, the brussels sprout is high in alpha-linolenic acid (ALA), which in your body is converted into omega-3.
These nutrients have been shown to lower blood pressure, increase cholesterol levels and reduce heart disease.
Taste The Brussels Sprouts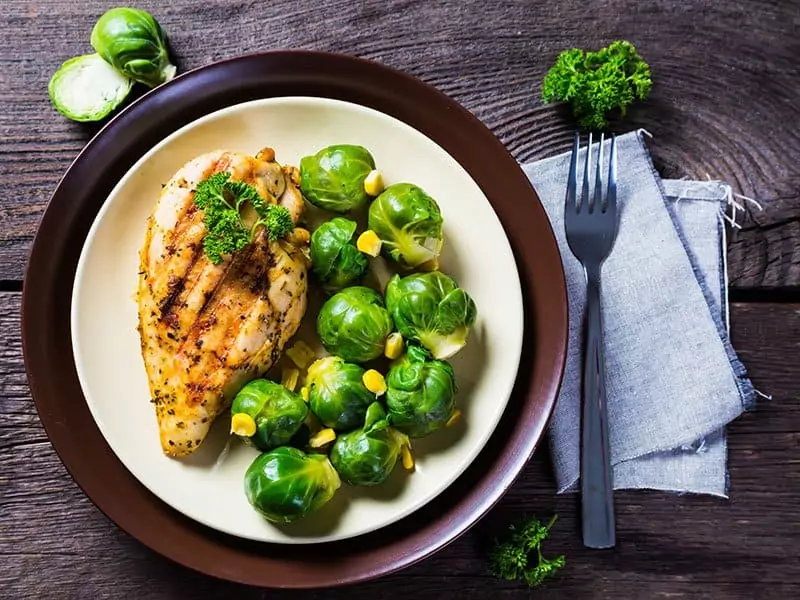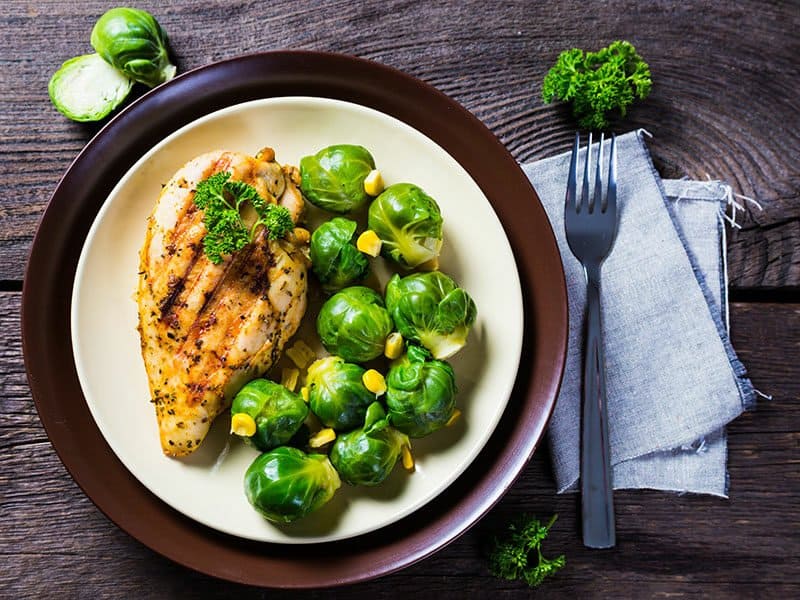 There is a simple way to make brussels sprouts taste nice. Really, delightful. Don't boil for 40 minutes in water; the trick is to fry in a pan. You can make brussels sprouts into a truly delicious dish with salt, olive, garlic, pepper, and chili flakes, bacon, and parmesan for something extra.
While brussels sprouts can taste buds quite bitter, mainly if eaten raw, they can taste sweet and nutty when properly cooked. The taste of sprouts in Brussels depends significantly on the way of cooking. But the taste is relatively mild when compared to cabbage, I can confirm.
Baby brussels sprouts, particularly the smaller ones, are delicious and sweet as other fruits and vegetables. Brussels sprout is richer in glucosinolate content than the other members of the cruciferous family.
For a low-carb, gluten-free keto diet, brussels sprout is healthy. It has around 4.5 grams of net carbs per cup, making them a low-carb option as your pumpkin juices.
Give it a go. Just give it a try. Seriously! Seriously!
Cook Brussels Sprout In A Proper Way
Sure, it's not the Brussels sprouts' fault. Indeed, these tiny, leafy buds are very delicious when cooking them right. They deserve profound love, savory and nutty, soft and crunchy. The critical thing is to know how to cook it.
4 Main Ways To Cook
You might be shocked at what you taste depending upon how you stir-fry, roast, steam, or grill them. Let's taste all types of brussels sprouts!
In this step-by-step guide, I will go through every technique.
1. Roast Brussels Sprouts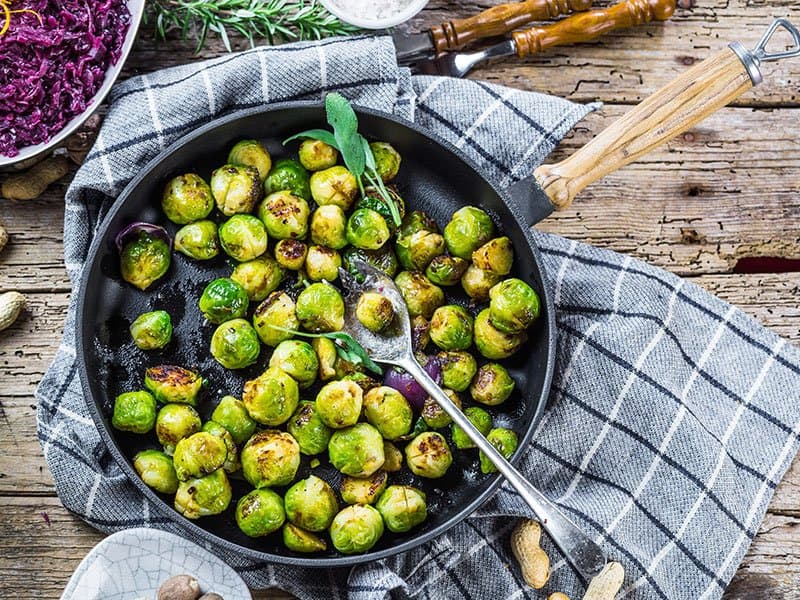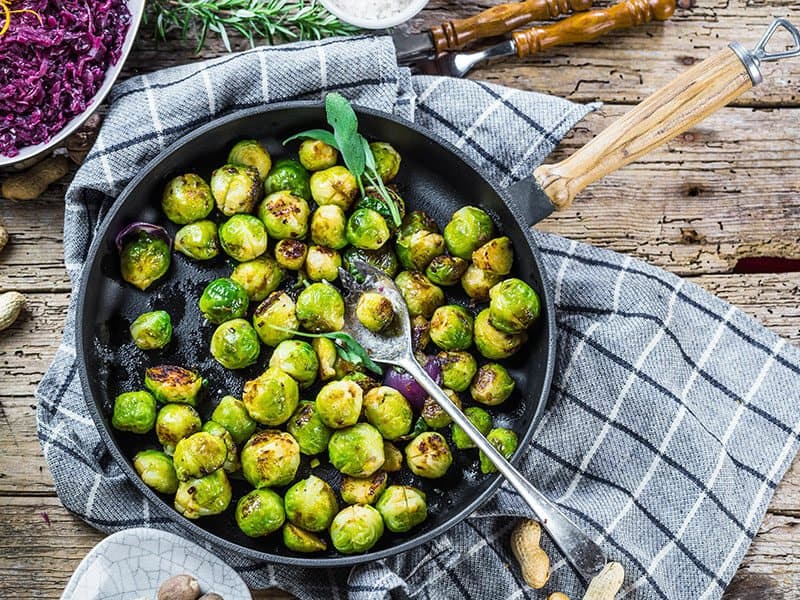 One of the most accessible and tasteful ways to cook brussels sprout is to roast. It takes one saucepan; they caramelize when cooked, adding tons of aroma as in a brussels sprout pancetta roasted vinegar recipe.
Ingredients
1 pound Brussels sprouts (fresh, trimmed, halved)
2 tablespoons olive oil
1/2 teaspoon salt
1/4 teaspoon pepper
Method
Coat in oil: Preheat the oven to 400o Toss brussels sprouts with oil, pepper, and salt in a 15 x 10 x 1-inch baking pan, then roast for 15 minutes.
Stir: Cook through by giving the brussels sprout a halfway stir. It ensures even cooking. Cook for 15-20 minutes, or tenderly cook for a little more.
Try to add fresh herbs, balsamic vinegar or its substitutes, or even fresh lemon juice before tasting with the oil and seasonings. Tackle how to roast for simple dishes, all sorts of vegetables.
2. Steam Brussels Sprouts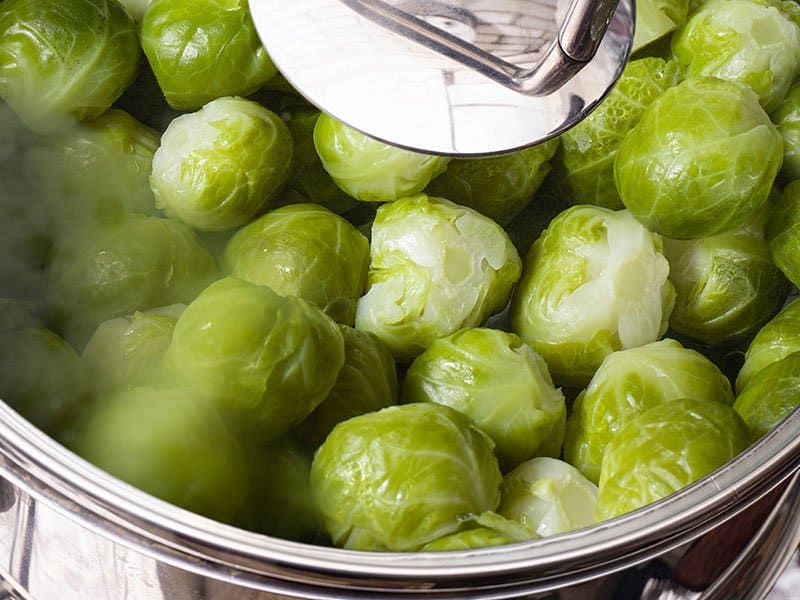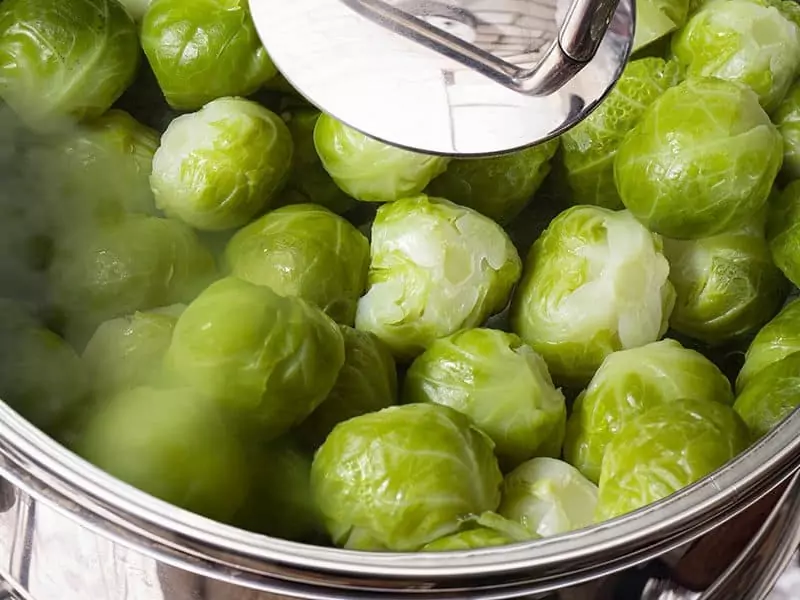 Steaming the brussels sprouts goes fast and gives you an authentic taste because they do not caramelize. Your oven is free of charge because it cooks on the stovetop.
Try your next holiday meal with a bright steamed brussels sprout recipe!
Ingredients
1 pound brussels sprouts (fresh, trimmed)
Salt
Pepper
Method
Cut an "X" at the sprout's center and allow the steam to penetrate the veggies. Spread sprouts over the slowly simmering water in a steamer basket. The water should stay below the steamer's bottom. Cover and cook for 9-11 minutes until tender.
Toss with melted butter and fresh herbs before serving, or drizzle with a lemony cream sauce.
3. Stir-Fry Brussels Sprouts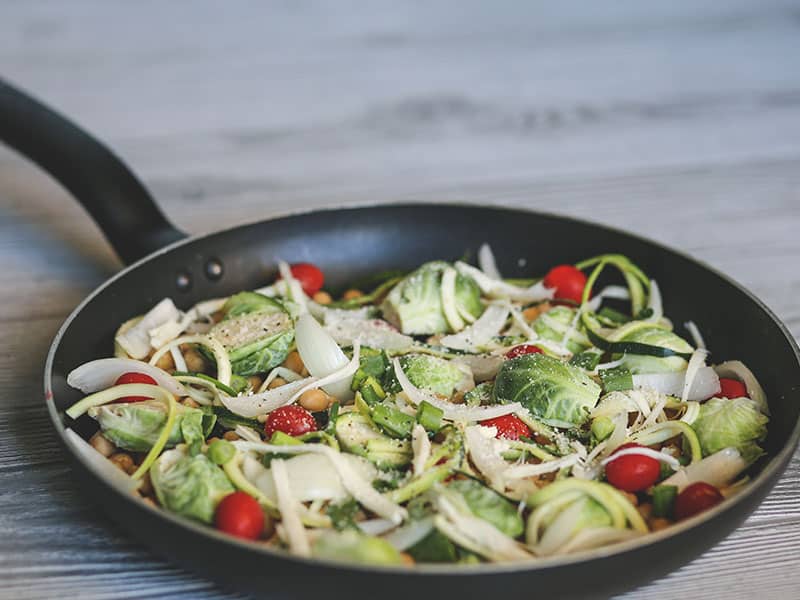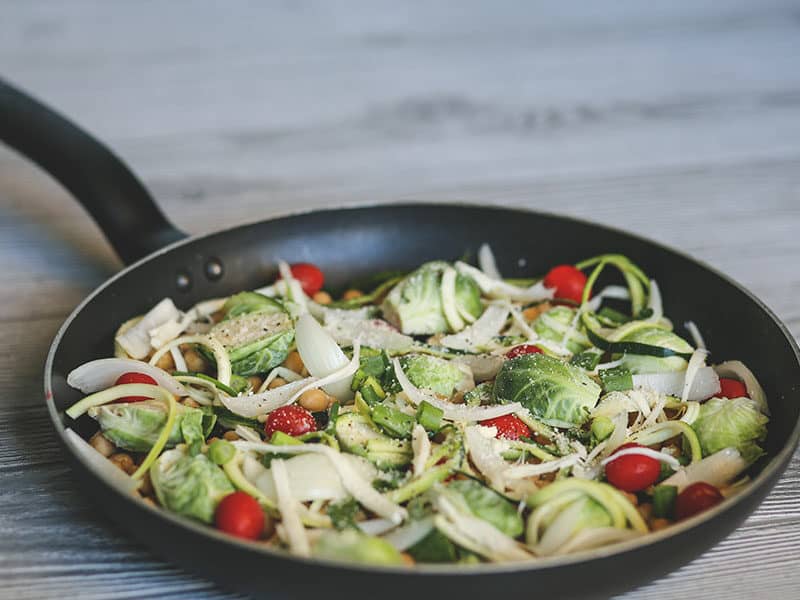 Brussels sprouts thinly sliced take extra time to prepare but cook in the pan faster. The shredded cuts are also excellent for shaved salads.
Ingredients
1 pound brussels sprouts (fresh, trimmed)
2 tablespoons water
1 tablespoon olive oil
1/4 teaspoon pepper
1/2 teaspoon salt
Method
Cut In Half: Halve every single sprout half lengthwise
Cut Crosswise: Turn each half flat side down on a cutting board for balance and then cut into thin slices.
Stir in A Dry Skillet: Over medium-high heat, heat a large skillet or wok. Stir the sprouts will no oil for about 2-3 minutes until they start to brown lightly.
When you first add shredded sprouts, it is vital not to use any oil. They're not going to brown, so that's a lot of taste you'd miss out on.
Add Oil: Fill in oil and toss. Add salt and pepper to the mixture.
Add Water: Pour water, lower to medium, and cook, covered, for 1-2 minutes until tender.
If you want to spice the green sprouts with lemon or lime, use grated zest rather than juice, as the acidic juice will make them grey.
4. Grill Brussels Sprouts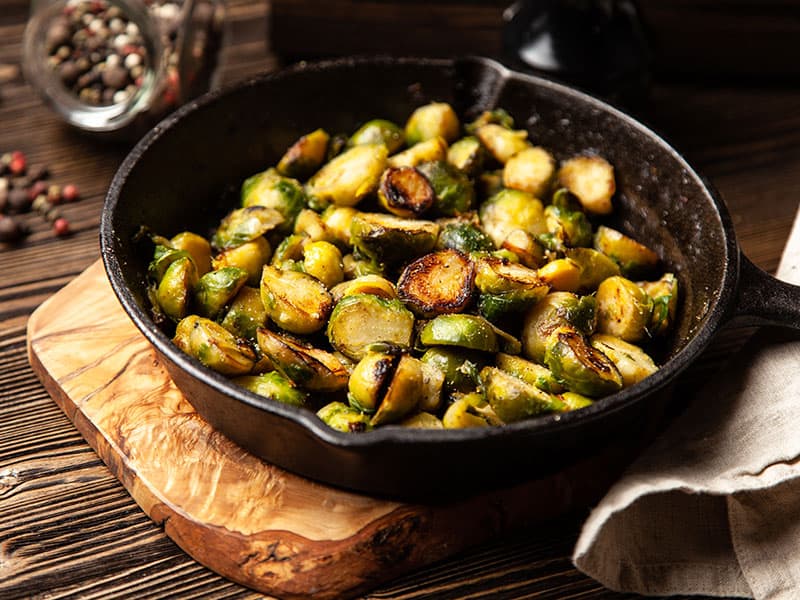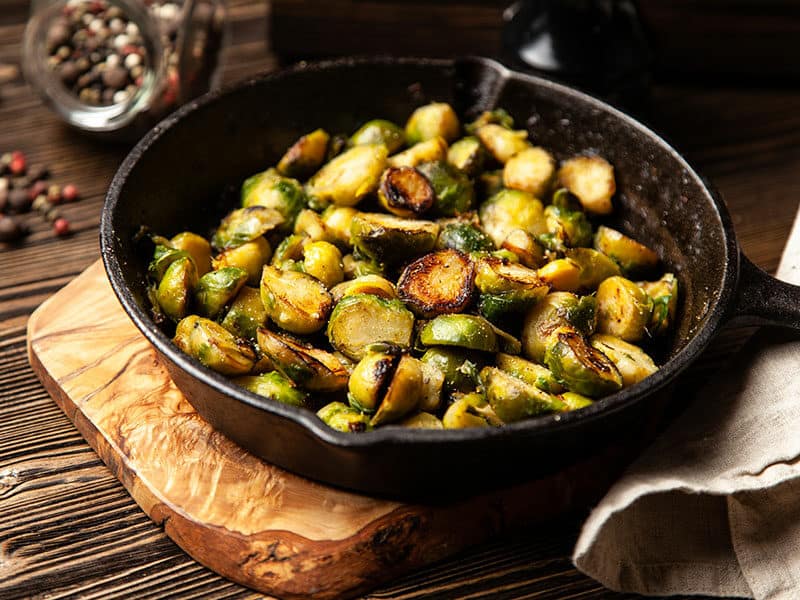 Nothing is like cooking vegetables on the barbecue. These charred sprouts, you'll love the smoky fragrance. You want to see some fantastic roasted vegetable recipes if you like to grill as much as I do.
Ingredients
1 pound brussels sprouts (fresh, trimmed)
2 tablespoons olive oil
Pepper
Salt
Method
Cut an "X" in the sprout's core. Place the sprouts gently over simmering water in a steamer basket. Cover and cook for 6-7 minutes until tender.
Grilled brussels sprouts must first be par-cooked. If you grilled them for the whole time, the outside would become dry and too browned until the inside was tender.
Thread sprouts onto soaked wooden or metal skewers with caution. Brush with olive oil and season with pepper and salt to taste. Sweet red pepper and sweet onion are added to the skewers for color and flavor.
It will help them cook evenly by leaving a small space between the sprouts instead of tightly packed on the skewers.
Grill, covered, over direct medium-high heat for 10-12 minutes, or until tender and lightly browned, turning regularly. This lively action clips will tell you more!
You got it there. Try roasting, stir-frying, steaming, and grilled, and discover your favorite way of cooking sprouts in Brussels!
8 Add-In Flavors To Try
If you've only ever eaten brussels sprouts boiled, steamed, or microwaved, you can despise them for their limp texture and bitter taste. To ensure the brussels sprouts are delicious, they should be nicely browned, caramelized, and extra crispy.
Here's all you need to do to get the most out of this veggie!
1. Eat Brussels Sprout Raw
Shred brussels sprout blooms with a mandolin or a grater and creates a tasty, refreshing salad or slaw. The slaw of brussels sprout has crunchy pecans and lively citrus.
2. Sauté Brussels Sprout
Brussels sprouts with a bit of butter or avocado oil add some flavor by caramelizing and sautéing. A great example of the sauté technique is brussels sprout with bacon and peaches. Check out this video to find out the best way to sauté!
3. Braise Brussels Sprout
On the stove, braise Brussels sprouts by first sautéing them in a bit of fat, then finishing with a fast simmer in a flavorful sauce, only until tender. Great picks are white wine or apple juice. Brussels sprouts and chestnuts are a classic pairing for your knowledge.
4. Nuke Brussels Sprout
Get on the table quickly by putting the brussels sprouts in a microwave-safe bowl. Add two tablespoons of water, a little seasoning, pepper, and salt will never go wrong and cover. Microwave up for 4-6 minutes or tenderly.
5. Cheese & Brussels Sprout
Cheese is salty and fatty; for instance, premium string cheese can help entirely with the whole issue of bitterness. The best bet is salty and creamy cheeses. Go for aged cheddar cheese, goat's cheese, creamy ricotta, or pecorino.
6. Sour & Brussels Sprout
Sourness helps to balance the flavors in a dish. Try a lemon juice, a tangy Dijon mustard, a sprinkle of white wine, cider vinegar, or a drizzle of salad dressing to cut the strong scent of brussels sprouts.
7. Sweet & Brussels Sprout
Why do people have coffee with sugar? And the bitterness is neutralized. Dried cranberries or cranberry juice, apples or apple cider/juice, basil, sweet white wine, fudge, brown sugar, flat-leaf parsley, molasses, and maple syrup are sweet flavors to put on.
8. Salt & Brussels Sprout
You've heard of adding salt to a bitter cup of coffee, right? I think it doesn't work, but I know salt brings the bitterness out of this veggie.
At first, make sure that you salt brussels sprouts. Then go in before you serve a nice pinch of kosher salt or sea salt. For the addition of salt's impact, you may add ingredients such as pancetta or bacon.
9. Fat & Brussels Sprout
It can help to remove bitterness by using some fat either while cooking or just before serving. Fat and bitter are paying off well. Butter, bacon fat, or olive oil are fats to try with brussels sprouts. Either right before eating, drizzle with heavy cream.
Top-Seeking Handful Recipes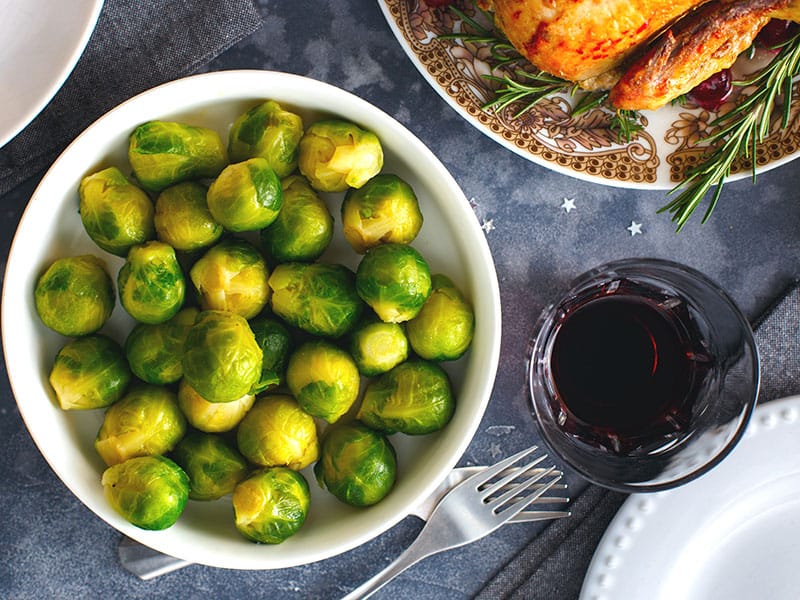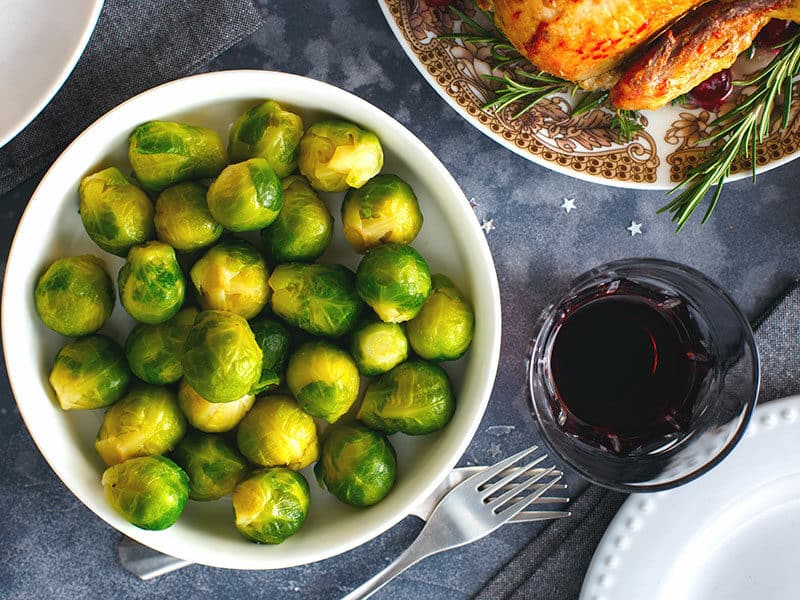 Will you ever ask how brussels sprout tastes nice? Stay tuned! It's time to reach the top-seeking recipes.
Lemon Risotto & Brussels Sprouts
Sliced and sautéed in oil for a vivid taste, the little veggies are then combined with creamy risotto and plumped figs. Formed into cakes directly from the fridge, dip it into beaten egg and panko if you have any left.
Then pan-fry for creamy-on-the-inside, crispy-on-the-outside cakes for dinner. Simply serve with a salad on the side.
Broccoli Slaw
When mixed with Greek yogurt, cranberries, walnuts, raw brussels sprout, and red cabbage blended with bagged, shredded broccoli tastes fantastic. Serve with some roasted pork.
Colcannon (Potato & Cabbage Hash)
Buttery onions, twice-fried potatoes, and crunchy sprouts make an Irish treat too good to save for St. Patrick's Day.
Larb With Lime, Sriracha, and Green Beans
Larb is a spicy Thai or Lao meat base of the salad, typically stir-fried, with flavors such as lime, chilies, green onion, mint, and oyster sauce. It's about 35 minutes for the whole dish.
Though steamed rice is always delicious, Brussels sprout' leaves provide a refreshing, crunchy, low-carb carrier that no need any other bowl.
Shaved Brussels Sprouts Salad
Well, scratch the brussels sprouts in this recipe. They're anything but impressed with the additions of pine nuts, lemon juice, hard-boiled egg, and cheese.
FAQs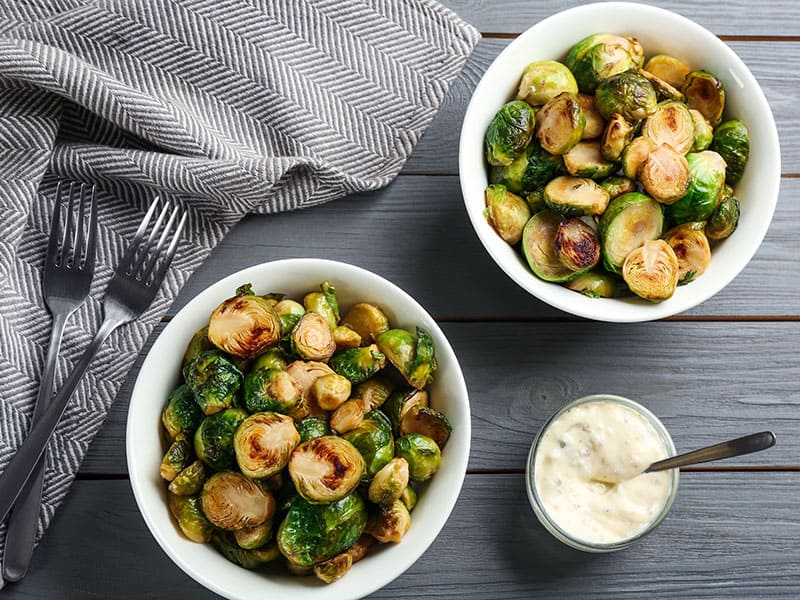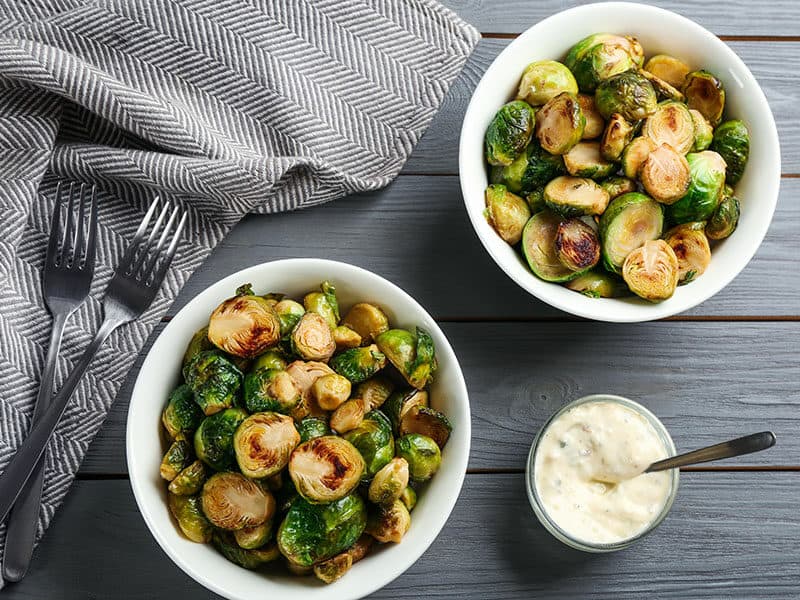 Is Your Nose Still Hold?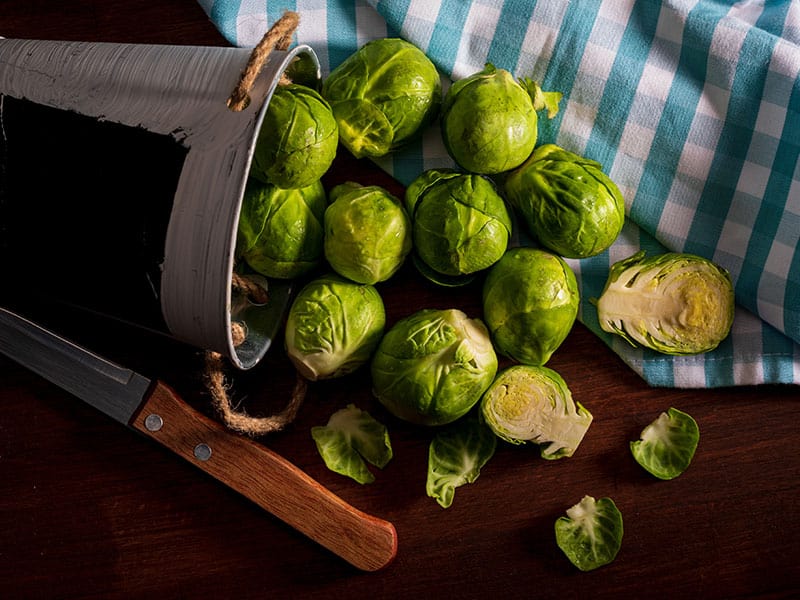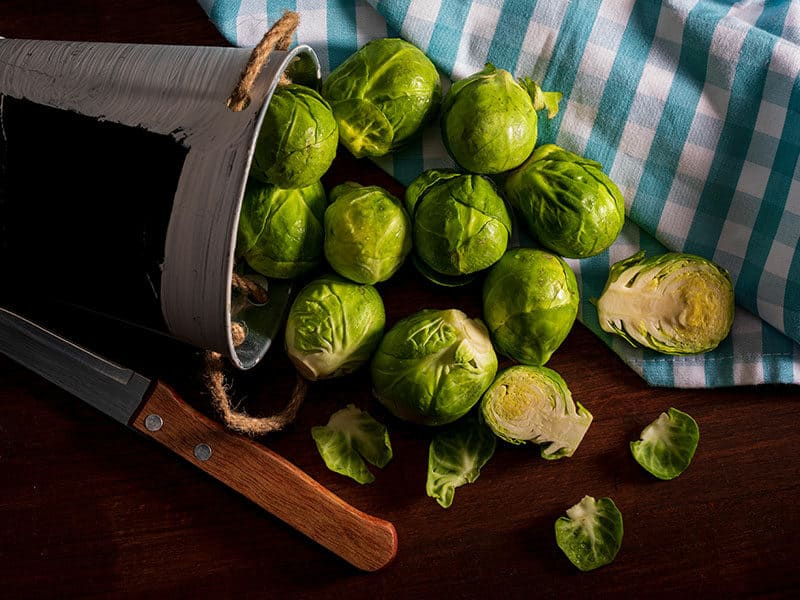 The outside is crispy and charred, the inside is meaty and softly caramelized, and it's ready to serve quicker than you would ever say "hustle!". Brussels sprouts have become my favorite fast and simple side dish.
These greenish recipes have been devoured by me. New and nutritious way to cook brussels sprouts is pan frying. Try it a weekend, and for dinner parties it is also a simple recipe.
Are you cooking brussels sprouts at home? I'd love to hear from you now in the comments! If not, try my suggestions above and share this review with your friends. Soon they'll get a try!