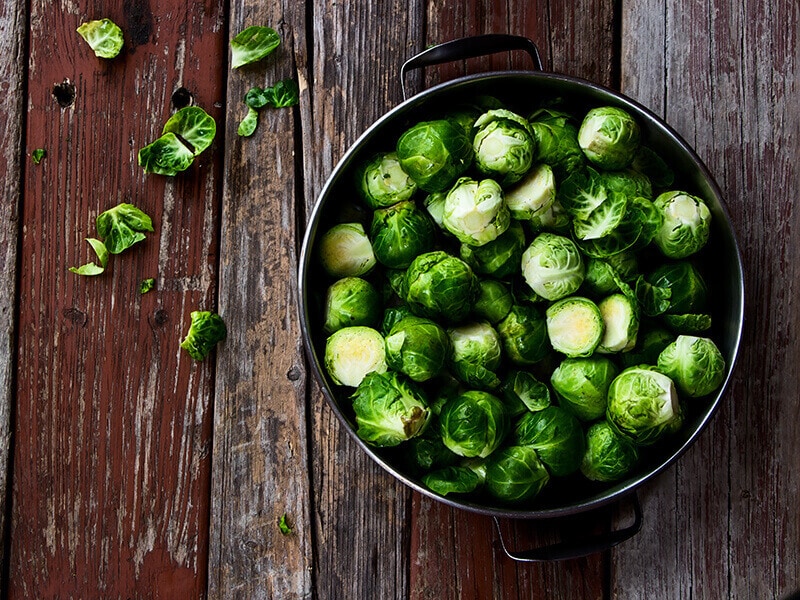 Do not worry about not knowing how to freeze Brussel sprouts effectively in order to prolong their shelf life. This article will help you find out the most detailed guide to freezing Brussel sprouts and other related information about them.
As you know, fresh vegetables will spoil in a wink if they are not stored precisely. And Brussel sprouts are not an exception. However, not everybody knows about the effective methods to keep them.
Short on to explore the excellent ways to make the last-long frozen Brussel sprouts when you have a surplus of them.
How To Freeze Brussel Sprouts Thoroughly?
Apart from other vegetables, people prefer freezing cooked Brussel sprouts to the raw ones. There are two common ways to prepare Brussel sprouts before freezing them:
Blanching The Brussel Sprouts: This is the most common way that you can use to prolong the freshness of Brussel sprouts while storing them.
Toasting The Brussel Sprouts: Toasted Brussel sprouts are tastier and easier to reheat and serve.
Keep on reading to discover the step-by-step instructions to freezing Brussel sprouts effectively and other helpful tips and tricks related to storing Brussel sprouts.
A Brief Description Of Brussel Sprouts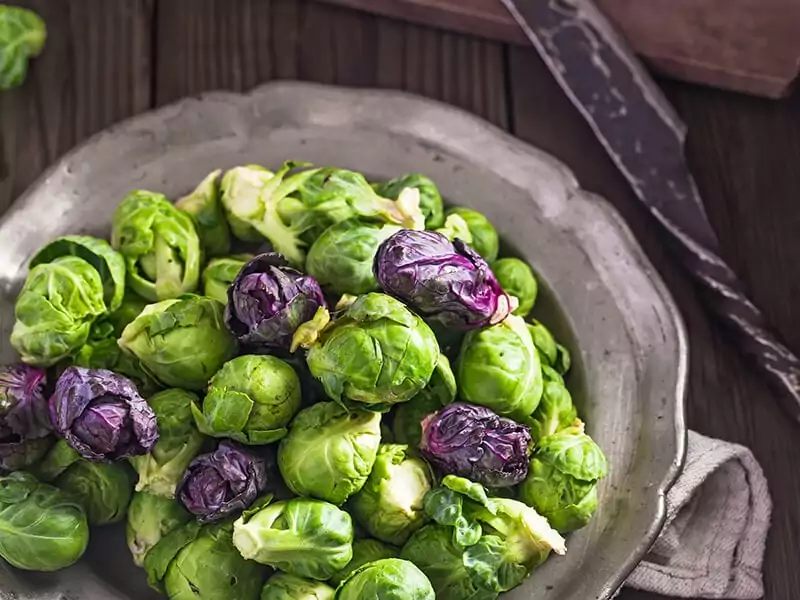 Brussels sprouts originate in Ancient Rome, but they have been widely used in Brussels, Belgium, for a long time. Nowadays, Brussels sprouts gain popularity in Europe, especially in the Dutch culinary world as well Germany, and the U.S, especially North America.(1)
There are a lot of variations of Brussel sprouts. However, they are most recognizable by their small leafy ball appearance with bright green color. Other types of Brussel sprouts are dark emerald or reddish-purple. They are also different in size.
How Do Brussel Sprouts Taste?
As they belong to the same family as cabbage, you can describe the taste of Brussels sprout as somewhat like cabbage but milder. They taste subtly sweet and nutty if cooked properly. In contrast, Brussels sprouts will have a bitter flavor when overcooked.
Furthermore, the larger Brussel sprouts are, the more cabbage-like flavor they have. Because of the diversity in variations, some types of Brussel sprouts taste slightly different from others.
When it comes to the texture, Brussel sprouts are crunchy on the outside and tender on the inside.
How To Choose High-Quality Brussel Sprouts?
You need to choose high-quality Brussel sprouts for storing to extend their shelf life. Some noticeable signs when choosing Brussel sprouts are:
You can buy Brussel sprouts that are on the stalks or individuals. The Brussel sprouts on the stalks tend to stay fresher and longer than the loose ones.
Choose those that are in bright color without lumps and blemishes.
The smaller Brussel sprouts (one to two inches in diameter) that are firm and fully closed are preferred.
Although they are mostly available all year round, their peak season is from late autumn to early winter. This is the best time to buy Brussel sprouts.
What Is The Best Way To Freeze Brussel Sprouts?
Among the ways to store Brussel sprouts, freezing is considered the most popular and effective way.
People tend to cook Brussel sprouts before storing them to capture the fresh flavor and extend their shelf life. The two most common ways to cook Brussel sprouts are blanching and toasting.
| | |
| --- | --- |
| Cooking Methods | Estimated Time Needed |
| Blanching Brussel sprouts | 1 hour |
| Toasting Brussel sprouts | 40 minutes |
However, before kicking off to cook Brussel sprouts and freeze them, you need to prepare them well for the best storing results. You should remove the outer leaves and trim the base of Brussel sprouts. You can store the whole sprouts or cut them in half. It is optional.
Freezing Blanched Brussel Sprouts
Blanching Brussel sprouts may appear in everyone's mind when talking about a cooking method to freeze them. Let's find out what you will need to blanch and freeze Brussel sprouts successfully:
Fresh Brussel sprouts
One tablespoon of salt
A large stockpot
A bowl of ice water
A large rimmed baking sheet
Freezer bags or containers
Here are the step-by-step instructions to freezing the blanched Brussel sprouts:
Step 1: Wash the prepared Brussel sprouts under the cold water added with one tablespoon of salt.
Step 2: Trim the Brussel sprouts and cut them in half. You can cut them in quarters if your Brussel sprouts are larger and keep the whole ones if they are tiny. Then, cut an X or I in the bottom of the Brussel sprouts to ensure they will be blanched finely.
Step 2: Boil water in a stockpot and add the Brussel sprouts to the pot to blanch them. It takes five minutes to blanch large sprouts, four minutes for the medium ones, and three minutes for the smaller ones.
Step 3: Place the blanched Brussel sprouts into the bowl of ice water as quickly as possible to retain their texture and color.
Step 4: Take them out and then spread them on the baking sheet and allow them to cool and dry completely in a colander. Then, freeze them for one hour.
Note: You can flash freeze them by packing them in freezer bags if you do not have enough space for freezing on the baking sheet. Do not overpack them, just pack your sprouts in a single layer.
Step 5: Transfer the frozen Brussels sprouts to heavy-duty freezer-friendly containers or airtight bags. Try to push out as much air as possible. Do not put anything on top of the containers or freezer bags to prevent the sprouts from being smashed.
Step 6: Write the date on the label and stick it outside the bags or containers to remember to consume them within their shelf-life.
Freezing Roasted Brussel Sprouts
Roasted Brussel sprouts bring a delightful taste when they are seasoned with salt and peppers, combined with the smoky taste. Grab these couple of things to roast Brussel sprouts and freeze them precisely:
Brussel sprouts
A conventional oven
Olive oil
Baking sheet
A rack
Freezer bags or airtight containers
Follow these detailed instructions:
Step 1: Wash the Brussel sprouts thoroughly with salt water. Then, pat them to dry, trim the bottom, and cut them in half.
Step 1: Preheat the conventional oven to 400 degrees Fahrenheit
Step 2: Add extra virgin olive oil to the prepared Brussel sprouts and spread them on the oven baking sheet. Make sure the Brussel sprouts do not overlap.
Step 3: Allow the Brussel sprouts to cook for 40 minutes. Then, take them out and let them cool completely.
Step 4: Spread the Brussel sprouts on a baking sheet and allow them to freeze for 1 hour in the freezer. Make sure they do not stick to each other.
Step 5: Transfer the flash-frozen Brussel sprouts in the heavy-duty freezer bags or airtight containers, label the date, and put them back into the freezer.
How To Thaw Frozen Brussel Sprouts Effectively?
Below are some quick and easy methods to defrost frozen Brussel sprouts:
Thawing in the refrigerator: Spread the frozen Brussels sprouts on a good defrosting tray and allow them to thaw in the refrigerator for 30 minutes. Remember to remove the excess water before cooking.
At room temperature: You can take the frozen sprouts out from the freezer and let them defrost for 5 to 10 minutes before cooking.
Using water: All you need to prepare is a bowl of cold water and submerge the frozen Brussel sprouts into the bowl to thaw them for 10 minutes. If your sprouts are not wholly defrosted, change the water and repeat the step until they are not frozen.
Microwaving: Remove the sprouts from the bags or containers and add them to a microwave-safe bowl or tray. Turn on the microwave with a low heat setting and thaw the sprouts for 3 to 4 minutes. Remember to soak up the excess water before using.
However, thawing frozen Brussel sprouts will make them soggy, mushy, and unappetizing. You can cook the frozen sprouts directly to enjoy their best taste. Stay tuned for instructions on how to make your frozen Brussel sprouts taste like when they are fresh!
Can I Store The Brussel Sprouts By Refrigerating Them?
Definitely yes. You can refrigerate the whole of chopped Brussel sprouts without washing, trimming, and cooking them. If the sprouts are on the stalk, do not cut them off.
Before refrigerating Brussel sprouts, discard if there are any low-quality sprouts, including yellowed and wilted leaves or damaged sprouts.
Store them in airtight containers or plastic bags before putting them in the crisper drawer.
Remember to prepare the Brussel sprouts within 3 to 4 days after buying since they will start to lose their fresh sweet taste with time.
Take A Look At The Shelf Life Of Brussel Sprouts
You should pay attention to the shelf life of Brussel sprouts to avoid eating spoiled vegetables that may cause you to suffer from food poisoning.
Pay attention to the table below. It indicates how long the Brussel sprouts last in different conditions. Do not consume them after their shelf life.
| Types | Refrigerator | Freezer |
| --- | --- | --- |
| Individual Brussel sprouts (whole) | 5 days | Not necessary |
| Individual Brussel sprouts (chopped) | 3 days | Not necessary |
| Brussel sprouts on the stalks | 1 week | Not necessary |
| Blanched Brussel sprouts | Not recommended | 1 year |
| Roasted Brussel sprouts | Not recommended | 1 year |
Some Identifying Signs Of Spoiled Brussel Sprouts
After the date listed above, the Brussel sprouts will degrade gradually. Discard your Brussel sprouts if you can notice any symptoms such as:
Harsh smell like old cabbage
Sour taste
Brown edges
Wilted leaves
Off-color
Grayish black color inside
Soggy and slimy texture
Consuming rotten vegetables will cause you to suffer from nausea, diarrhea, stomachache, headache, and other digestive problems. Do not hesitate to toss the Brussel sprouts that have any rotten signs.
How To Cook Frozen Brussel Sprouts To Make Them Tastier?
So many people hate to eat frozen Brussel sprouts because they are often soggy after being frozen. They also said that frozen Brussel sprouts would lose the fresh flavor during the freezing process.
Excluding the roasting and blanching methods I have mentioned above, the table below contains five standard cooking methods to enhance the flavor of brussel sprout.
| | |
| --- | --- |
| Cooking methods | Time Needed |
| Sauteed Brussel sprouts | 20 minutes |
| Steamed Brussel sprouts | 8 minutes |
| Braised Brussel sprouts | 20 minutes |
| Boiled Brussel sprouts | 6 minutes |
Sauteed Brussel Sprouts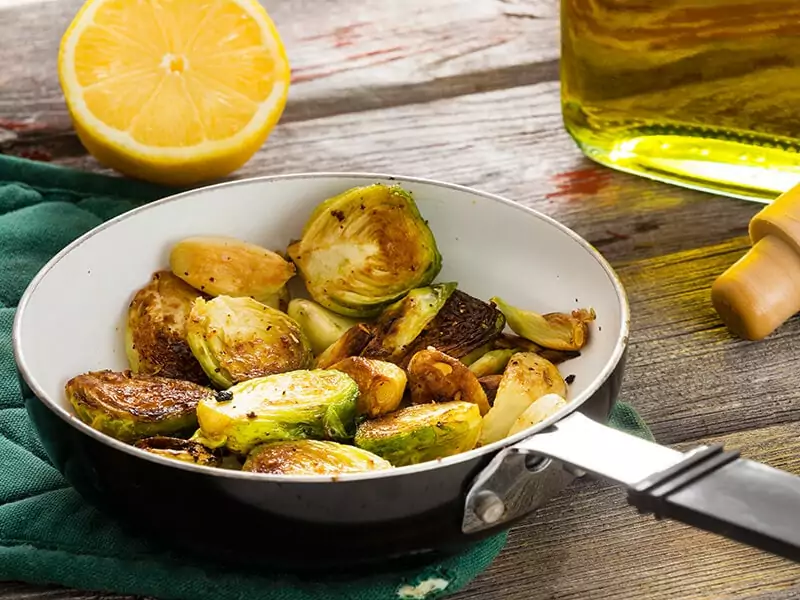 Most people usually cook Brussel sprouts by sauteing them on the skillet. Sauteed Brussel sprouts taste slightly sweet-savory and smoky. You will need these things to saute Brussel sprouts:
A skillet or frying pan (There are quite a few aspects that distinguish skillets from frying pans, but you can use them interchangeably in this case)
Trimmed and halved Brussel sprouts
Two tablespoons of lemon juice (optional)
Two tablespoons of extra virgin olive oil
Two tablespoons of minced garlic
Salt and pepper
Let's discover the foolproof guide to saute Brussel sprouts:
Step 1: Heat the olive oil with the skillet over medium-high heat
Step 2: When olive oil boils, add minced garlic and stir for one minute until it turns golden yellow
Step 3: Then, add the halved Brussel sprouts to the pan and stir for ten to twelve minutes until they are golden brown and tender.
Step 4: Season your sauteed Brussel sprouts with a pin of salt and pepper. You can add lemon juice if desired.
Do not miss this easy and quick instruction to make the perfectly sauteed Brussel sprouts! Watch this video:
Steamed Brussel Sprouts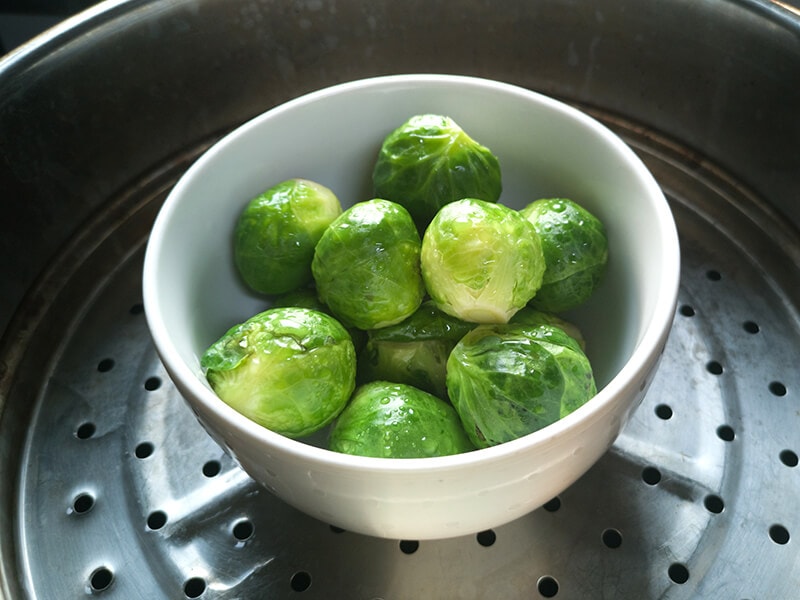 Steamed Brussel sprouts are perfect for those who are sticking to a balanced diet and do not have much time to use complicated cooking methods. You can also keep the vibrant green color of fresh Brussel sprouts. Prepare these simple equipment to steam Brussel sprouts:
A steamer basket
A large pot
Halved or quartered Brussel sprouts
Salt and pepper (optional)
Melted butter (optional)
Lemon juice (optional)
Let's follow these instructions to make the perfect steamed Brussel sprouts:
Step 1: Add water to the pot and place the steamer basket in it.
Step 2: Place halved or quartered Brussel sprouts on the steamer basket and boil them for six to eight minutes.
Step 3: Take out the steamed sprouts. You can add salt, pepper, lemon juice, or melted butter to enhance the flavor if you like.
Braised Brussel Sprouts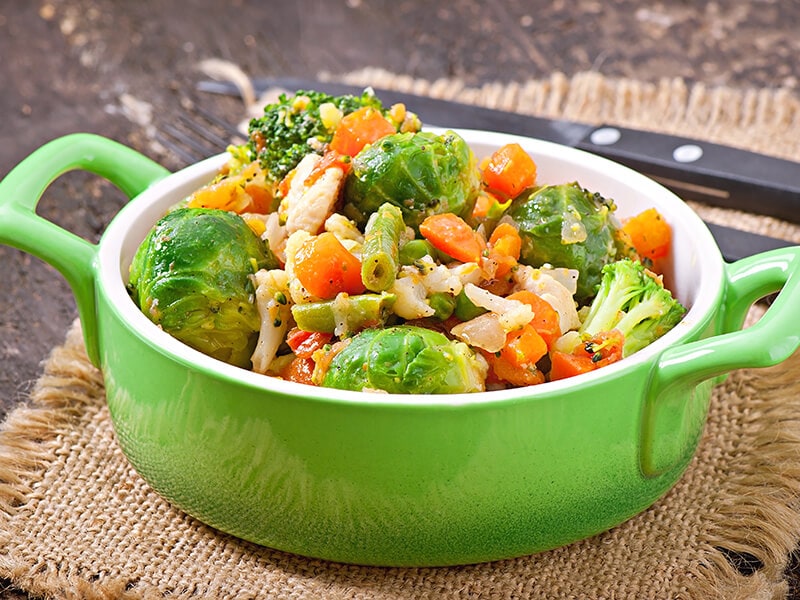 This way to cook Brussel sprouts may sound strange to you. Do you wonder about the taste of braised sprouts? Braised Brussel sprouts taste savory with an aromatic smell of herbs. The ingredients required are also simple:
A skillet (frying pan or saucepan is acceptable)
Halved Brussel sprouts
Two tablespoons of minced garlic
Two tablespoons of extra virgin olive oil
A half-cup of chicken stock
One tablespoon of chopped parsley
Salt and pepper
After all the ingredients and equipment are ready, let's begin to braise Brussel sprouts:
Step 1: Heat the olive oil added to the pan over high-medium heat.
Step 2: When the olive oil boils, add minced garlic and stir for about one minute until golden yellow.
Step 3: Add the prepared Brussel sprouts to the pan and stir them for two to three minutes.
Step 4: Pour the chicken stock over the stir-fried sprouts, cover the lid and let it cook for eighteen to twenty minutes at medium-low heat.
Step 5: Remove the lid and season the mixture with salt, pepper, and chopped parsley. If there's no chopped parsley around, you can swap parsley with other ingredients such as green onions or cilantro.
You can also cook braised Brussel sprouts with beer! Sound interesting! Watch this video to know:
Boiled Brussel Sprouts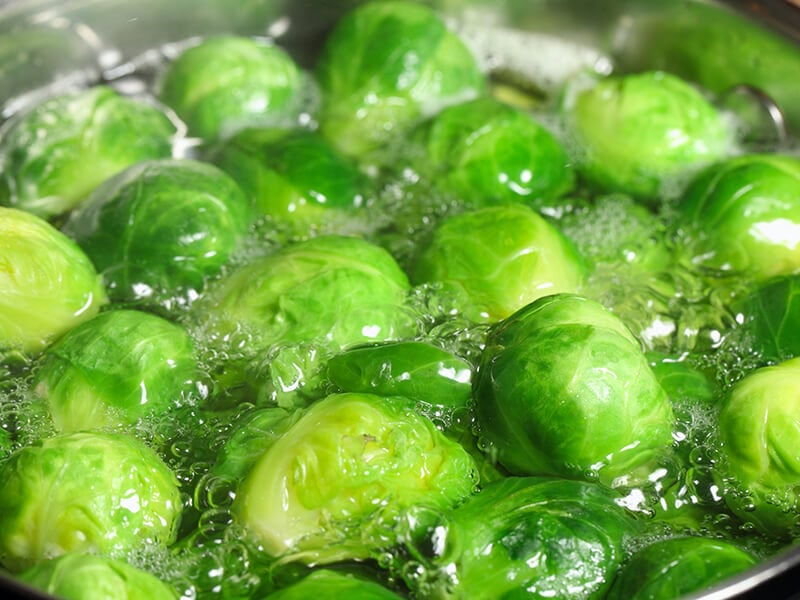 This is the final way to cook Brussel sprouts that I want to introduce, the easiest and quickest way to cook this vegetable if you do not have time or wish to add any spices to your dish. All you need to prepare in a pot, prepared sprouts, and a pin of salt.
To boil Brussel sprouts, you just need to boil water in a large pot. Then, add a pin of salt to the boiled water and place Brussel sprouts into it. Finally, let them cook for six minutes until tender.
FAQs
In case you have further questions about Brussel sprouts information or cooking recipes, take a look at the answer below!
Give This Delicious And Nutrient-Rich Vegetable A Try!
After knowing about Brussel sprouts and ways to store as well as cook them, will you decide to give them a try? Brussel sprouts are also packed with essential nutrients besides the adorable appearance and fantastic taste if appropriately cooked.
Although Brussels sprouts are low in calories (56 calories/ cup), they are rich in vitamin K, which is beneficial for blood clotting and your bones. In addition, they also contain a great source of vitamin C, vitamin A, and other essential minerals. (2)
Do not forget to like and share this post if it is helpful. Please share with me your freezing or cooking Brussel sprouts results and what you think about them by leaving some words in the comment section. Thank you for spending time!
Nutrition Facts
1 servings per container
Serving Size8 sprouts (168g)
---
Amount Per ServingCalories60
% Daily Value *
Total Fat 0.8g

0

%
Sodium 35mg

2

%
Potassium 533mg

16

%
Total Carbohydrate 12g

4

%

Dietary Fiber 4.4g

16

%
Sugars 2.9g

Protein 4.3g

8

%
---
Vitamin A

26

%
Vitamin C

174

%
Calcium

4.7

%
Iron

11

%
* The % Daily Value tells you how much a nutrient in a serving of food contributes to a daily diet. 2,000 calories a day is used for general nutrition advice.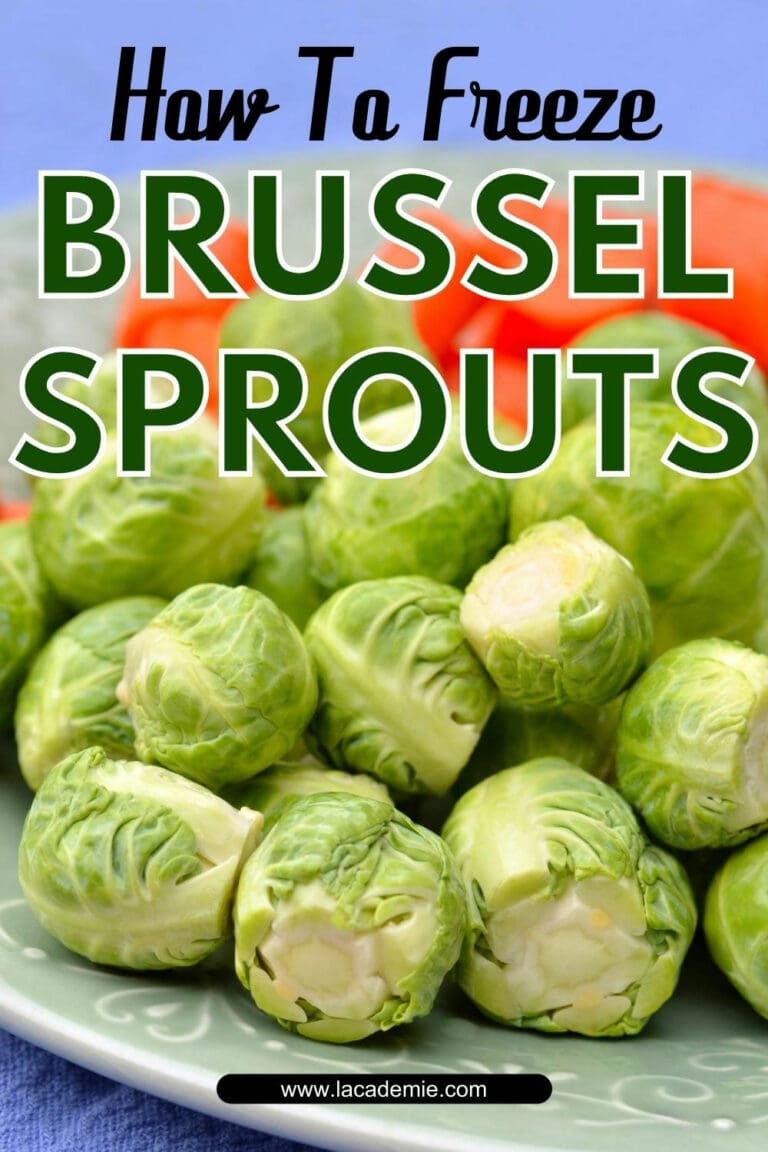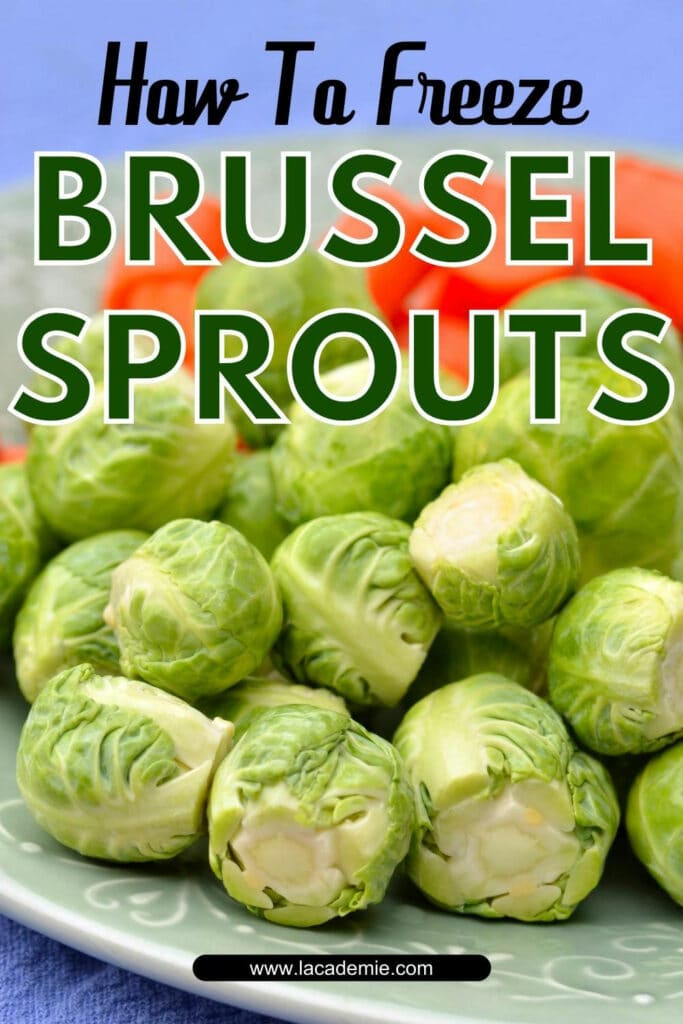 References
En.wikipedia.org. 2021. Brussels sprout – Wikipedia.
https://nutritiondata.self.com