Can you freeze stuffed peppers? It is the question everyone is interested in when it comes to extending the shelf life of stuffed peppers. It is a delicious, easy-to-make, and convenient dish that allows you to make a variety of recipes with your favorite ingredients. As a result, you can have your special batches of stuffed peppers that range from meaty, extra cheese, or vegetables.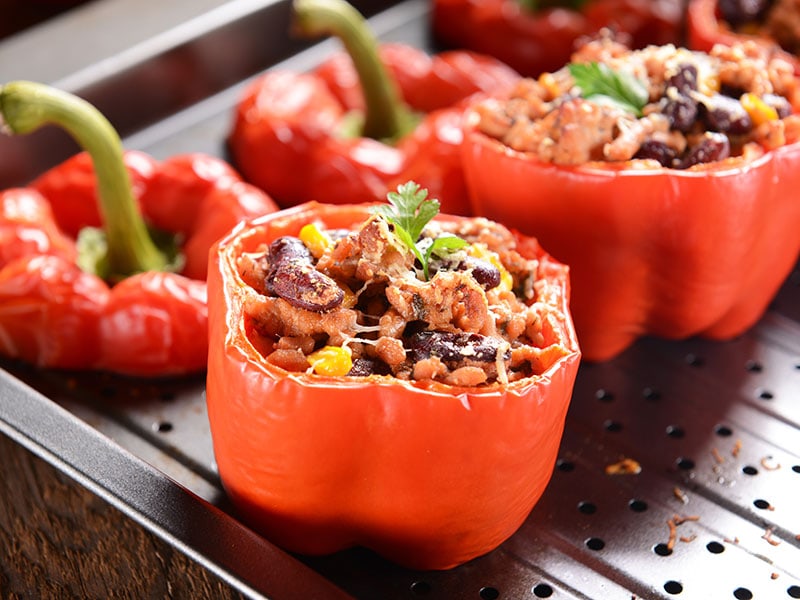 It is a snack, side dish, or even main course in meals, and it is healthy. However, these peppers come in season, and you don't always have them available to make your favorite stuffings, or you're too busy to prepare stuffed peppers often.
Fortunately, you can freeze stuffed peppers like any other food to make them always available when you need them.
The article below will give you the way to properly freeze stuffed peppers to preserve their flavor and shape and defrost them effectively. In addition, it also contains a lot of interesting information for you to discover. Let's find out together!
Can You Freeze Stuffed Peppers?
I am sure that you absolutely can freeze stuffed peppers. It is the best way to prolong its use time with just simple steps below:
Stuffing: You can freeze chili with raw or cooked filling
Wrapping: Use plastic wrap, or wax paper to wrap the peppers in bulk with a baking tray or dish or individually wrap stuffed peppers.
Freezing: Write the freeze date and place them in the freezer.
Why Do You Need To Freeze Stuffed Peppers?
You will not regret freezing stuffed peppers because it gives you a lot of following benefits:
Time-Saving: You can make a large batch of stuffed peppers when you have free time, freeze it and use it whenever you want with no extra prep time.
Easy Meal-Prep: With frozen stuffed peppers, it's quick to have a delicious and nutritious breakfast or lunch.
Avoid wasting food: Now you don't have to worry about not using all the stuffed chili you have made because you can freeze it for the next use.
Save Money: Not having to waste those peppers that you don't use can also save you a considerable amount of money.
If you want to make stuffed peppers, watch the following video to do and freeze them for a long time using:
How Long Do Stuffed Peppers Last In The Freezer?
Freezing stuffed peppers isn't as simple as just putting them in the freezer. If you want to make their shelf life long and keep their original taste and appearance, you need to store it properly. And then, your stuffed peppers can last in the freezer for months or even a year.
This long shelf-life also extends to seemingly delicate dishes, such as salmon-stuffed peppers, especially if it's canned food. So if you're having a surplus of canned salmon in your house, don't hesitate to try stuffing them in peppers—it's among the best recipes with canned salmon.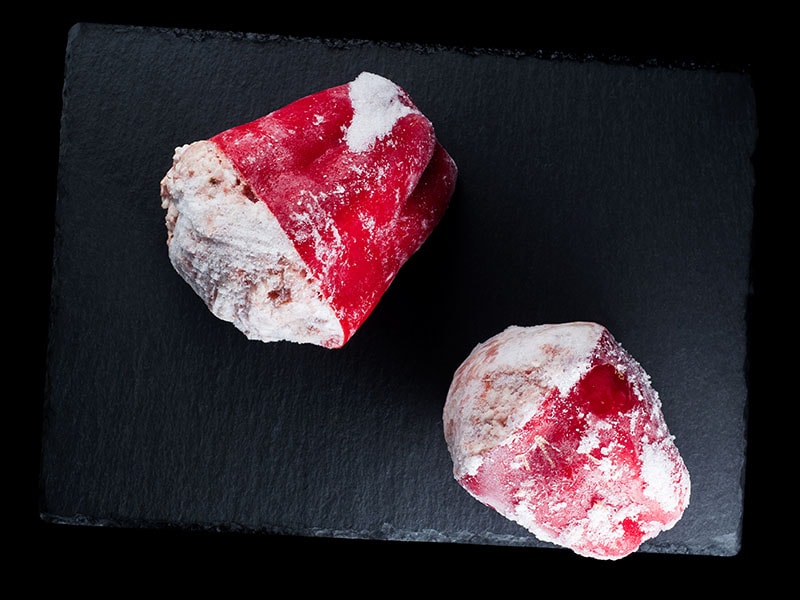 Should You Freeze Cooked Or Raw Stuffed Peppers?
Before freezing stuffed peppers, you need to decide whether you want to freeze stuffed peppers with a cooked filling or a raw filling.
If you want to eat them quickly after defrosting, you should cook the filling before freezing. It will be very convenient for quick and straightforward meals. However, you can choose to freeze stuffed peppers with raw filling and cook them after defrosting for a slightly better taste.
The important thing for you to decide between frozen cooked or raw stuffed peppers depends on how much time you can spend baking the peppers after taking them out of the freezer.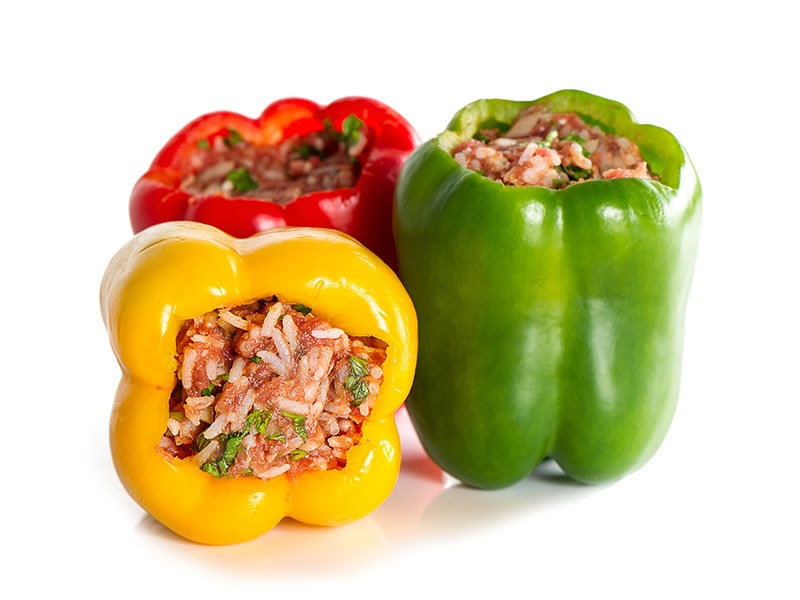 How To Freeze Stuffed Peppers Properly?
To have delicious frozen stuffed peppers to use every day, you should properly keep them in the freezer. In this section, I suggest you the steps for freezing cooked and raw stuffed peppers.
Method 1: Freeze Cooked Stuffed Peppers With Baking Tray
This is the way I usually use to freeze stuffed peppers because I want to save baking time after defrosting them.
Step 1: Blanch the peppers in boiling water until they are soft, let them cool, and stuff the cooked food.
Step 2: After the stuffed peppers have cooled down, place them neatly, upright in a good baking pan.
Step 3: Cover the entire plate with plastic wrap. You should use 2 layers to make sure to cover the whole dish and stuffed peppers. Then you should wrap it with aluminum foil to avoid freezer burn.
Step 4: Record the frozen date on the outside for easy tracking and use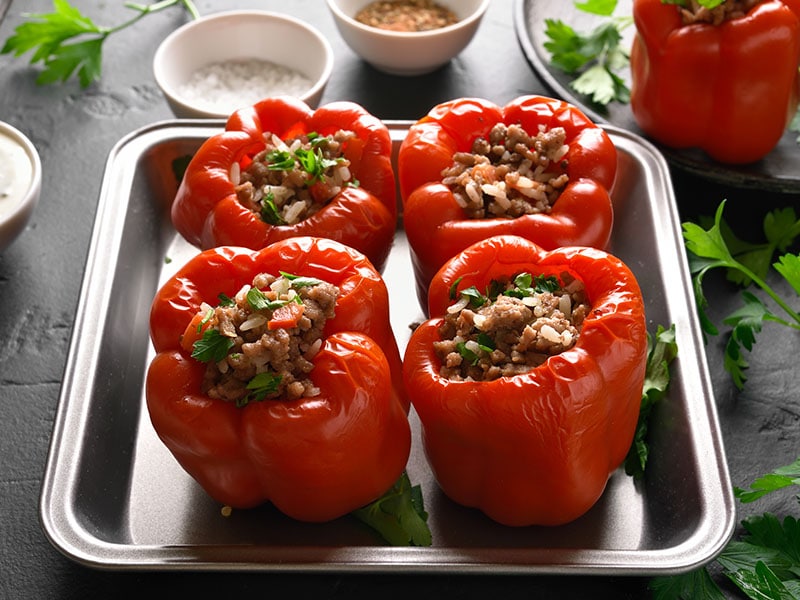 Method 2: Freeze Cooked Stuffed Peppers Individually
You can wrap each stuffed pepper individually to make it convenient to use in small quantities by following the steps below
Step 1: Wrap each stuffed pepper with plastic wrap, keep the stuffed pepper upright when wrapping and try to stretch the wrapper. You should use 2 layers of wrap to make sure the stuffed peppers don't be freezer burn.
Step 2: Put the wrapped stuffed peppers in a freezer-safe bag, suck out the air in the bag and seal it.
Step 3: Write the frozen date on the outside of the bag for easy tracking and use of stuffed peppers in time before they go bad.
Step 4: Put the stuffed peppers in the freezer.
Useful Tips:
When following this method, make sure all the filling inside the pepper is cooked through to prevent them from becoming runny after defrosting.
If you are wondering how to make and freeze stuffed peppers, watch the video below. It will help you to have a more specific picture.
Method 3: Freeze Uncooked Stuffed Peppers
You no need to cook the filling before freezing with the freezing method
Step 1: Place the stuffed peppers on a plate or baking tray
Step 2: Wrap the whole plate and stuffed peppers with 2 layers of food wrap and cover with an extra layer of aluminum foil. Make sure they are completely sealed.
You can also wrap the stuffed peppers individually with two wrappings for each and put them all in a Ziploc or airtight bag.
Step 3: Record the date of freezing outside to manage and track their usage time easily
How To Defrost Stuffed Peppers Properly?
After a period of storage in the freezer, to have delicious stuffed peppers, you need to know how to defrost them. Understanding the correct method to rewarm stuffed pepper.
Step 1 : You should move stuffed peppers from the freezer to the fridge a few hours before cooking or reheating.
Step 2 : Remove layers of foil, or aluminum foil, and food wrap.
Step 3: Put stuffed peppers in the oven
For cooked frozen stuffed peppers, bake them at 350 degrees F for 30 minutes or until they're entirely defrosted and warmed up. If you want to bake stuffed peppers quickly, you can defrost them in the refrigerator overnight.
You can bake at the same temperature for uncooked frozen peppers, but it will take a little longer, maybe 1 hour.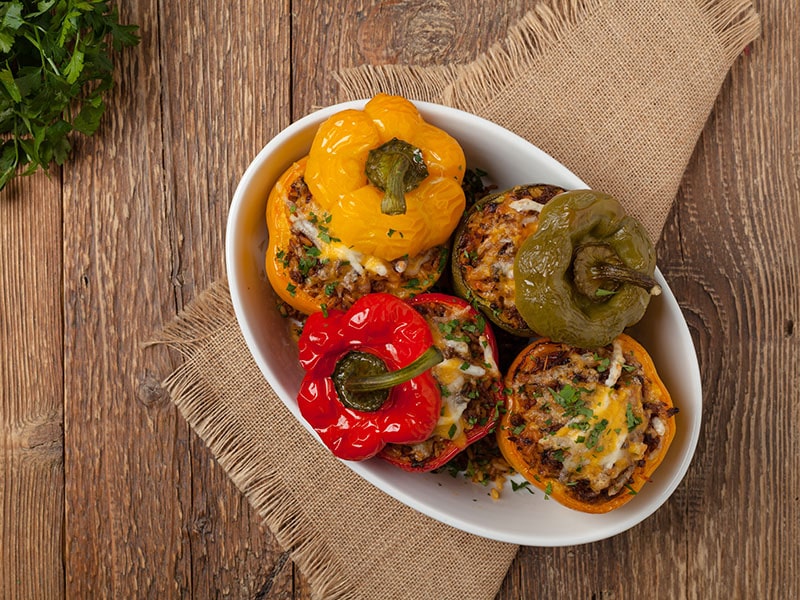 If you forget to thaw the stuffed peppers before putting them in the oven, don't worry, you can use the oven to defrost and cook them, but remember to remove all the wrapping.
Useful Tips
Baking time can change depending on the number of peppers and how frozen they are.
Never refreeze thawed stuffed peppers.
Pair thawed stuffed peppers with another dish to improve its taste. For instance, stuffed pepper is one of the best side dishes for serving with sloppy joe.
Bonus Tips To Freeze Stuffed Peppers Effectively
Here are some tips that I think will be very helpful for you to have delicious stuffed peppers, and properly freeze them for long term use. Keep reading!
If your stuffing recipe includes cheese, you should not freeze it with pepper; add it before baking so the cheese will melt and taste better.
If you're only serving 1 or 2 stuffed peppers at a time, it's a good idea to wrap each one individually to facilitate defrosting without affecting the other stuffed peppers.
To save baking time, cook the filling before freezing and defrost it before baking.
Although stuffed peppers can be kept in the freezer for up to 1 year, you should consume them for several months to get as much of their fresh flavor as before freezing them.
FAQs
Let's read the following frequently asked questions and answers about stuffed peppers for more great tips on making and freezing them.
So, What Freezing Method Is Good For You?
Stuffed pepper is a dish that can be frozen and does not require sophisticated freezing techniques. Moreover, it is one of the dishes that can keep its great taste after defrosting and reheating. Depending on your habits and needs, you can freeze cooked stuffed peppers or uncooked stuffed peppers, store them in bulk, or wrap each stuffed pepper individually.
However, you should also be careful to wrap stuffed peppers when freezing to prevent them from freezing and do not freeze them for too long as any frozen food will lose flavor and texture over time.
Are stuffed peppers your favorite dish? What ingredients do you usually make stuffed peppers with? I'm looking forward to seeing your thoughts on making and freezing stuffed peppers, so please share. In addition, your questions related to this article I will help you troubleshoot, feel free to leave a comment!