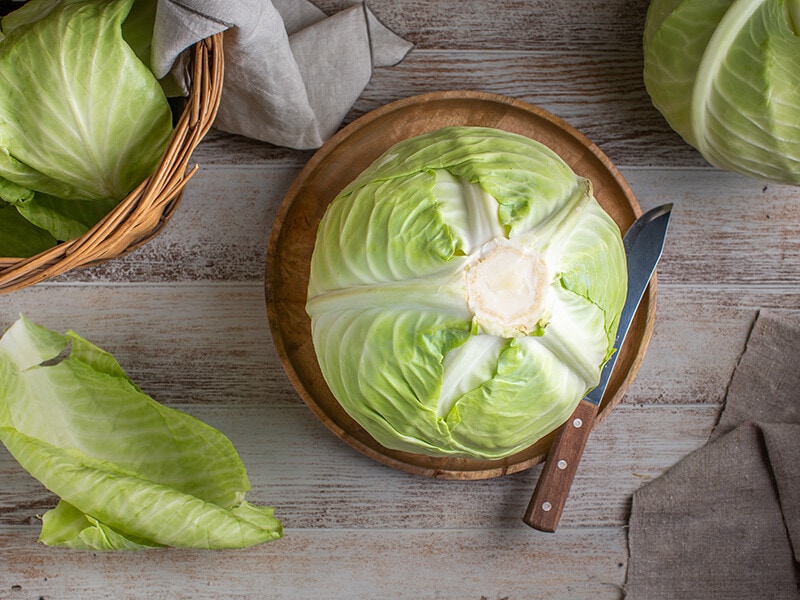 Can you freeze cabbage? Why not? You're living in an era where frozen foods are constantly on the rise. Billions of frozen foods are produced every year to meet human needs, such as meats, fish, shrimp, nuts, fruits, and vegetables as well!
And cabbage, of course, is also one of the vegetables that can be frozen for storage. In this article, I will not only simply answer your question, but I also will show you how to properly freeze your cabbage!
If what I'm saying is exactly what you need, then what are you waiting for? Quickly scroll down to know more useful information!
Can Cabbage Be Put Into The Freezer?
"Can you freeze cabbage?" One short answer: Yes! Then how can I freeze cabbage properly, and how long can cabbage stay fresh? You'll find out the answer to all those questions soon, so keep calm and keep reading.
But you probably don't know how to freeze your cabbage? Just calm down. You can choose one of the following three ways to freeze your cabbage:
Freezing blanched cabbage
Freezing fresh cabbage
Freezing the whole cabbage
And now, don't waste any moment! Let's get started!
Cabbage & Its Typical Uses
Cabbage (Brassica oleracea var. capitata L.) is a herbaceous plant in the family Brassicaceae with a 2-year life cycle, grown for its densely leaved heads.
Cabbage has been widely known as a cooking ingredient for a long time. This vegetable has a very long and extensive history in the culinary world. Since the Middle Ages, they have been seen as an essential vegetable in every meal.
However, for some reasons, cabbage is often confused for lettuce. So, how to tell lettuce and cabbage apart? Among the various signs you can rely on, the most obvious one is that lettuce is noticeably greener than cabbage, whereas cabbage can look almost white at its short stem.
The ancient Romans once classified this vegetable as a "superior vegetable," appearing only on the nobles' meal. Later on, cabbage became more popular. (1)
Currently, cabbage's available around the world. Countless cabbage recipes were born, from boiling, stir-frying to pickling, salad-making, etc. In Polish cuisine and its recipes, cabbage is prepared, served as the most popular side dish, and considered a prominent ingredient here.
Cabbage's agreeable flavor makes it suitable as a stand-in ingredient for other vegetables as well. When used in sandwiches, salads, and soups, cabbage is one of the best alternatives for arugula. Once cooked, cabbage can lend a pleasant taste to pretty much any dishes.
Health Benefits Of Cabbage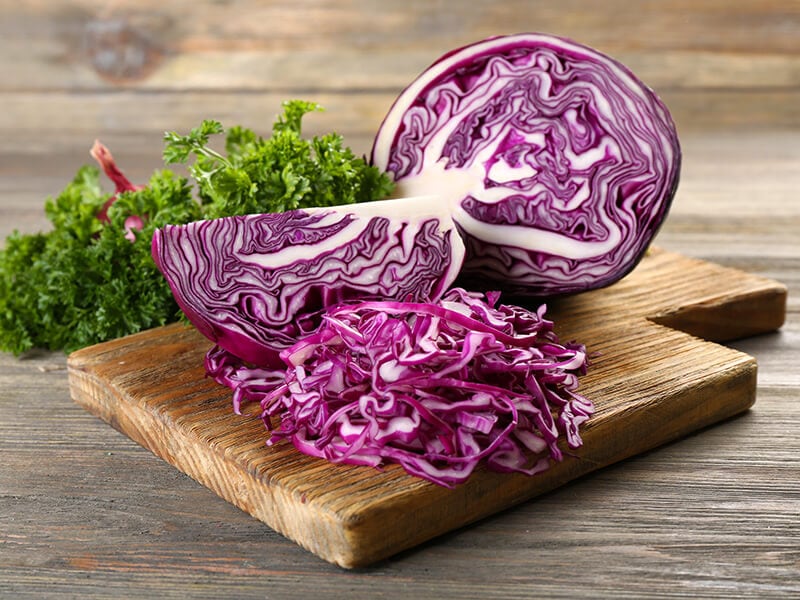 The health benefits it also brings partly make cabbage one of the most favorite vegetables. Here, I will reveal the five most prominent advantages it brings to your body!
A Package Of Nutrients
Cabbage does not contain too many calories. However, you will be surprised by its impressive nutrient profile.
Specifically, this vegetable is an ideal source of vitamins C (54% of the RDI) and vitamin K (85% of the RDI) for the human body. To put it in other words, it provides a significant amount of antioxidants and strengthens your blood clotting ability. (2)
Good For Your Digestive System
Like almost all kinds of vegetables, cabbage provides a large amount of fiber for your body, especially insoluble fiber.
This type of fiber is the main fuel source for friendly bacteria in your body, such as Bifidobacteria and Lactobacilli, helping you to improve and protect gut health.
Heart Health Protector
Another notable benefit of consuming cabbage is that it helps you keep your heart healthy.
In other words, purple cabbage provides powerful pigments called anthocyanins. Many studies have shown that this pigment plays an essential role in reducing the risk of heart disease and coronary artery disease.(3)
Regulating The Blood Pressure
Eating cabbage will add potassium to your body, helping your body to resist the negative effects of overwhelming sodium – one of the main reasons for high blood pressure. In addition, it also relaxes blood vessel walls, helping to lower blood pressure.(2)
Beneficial Ingredient For Your Diet
Excluding its fresh and sweet taste, as mentioned above, cabbage is also rich in fiber. This makes cabbage a suitable ingredient for your diet.
Depending on your preference, you can make them into different dishes like stews, soups, salads, slaws, or sauerkraut. Is it possible to freeze sauerkraut or other dishes made from cabbages?
Before Freezing: What You Need To Keep In Mind
Before you freeze your cabbage, I have some important notes for you. These notes below will help your freezing process more effectively!
1. Freshest Cabbages Should Be Your Priority
It is obvious that you should buy the freshest ones to freeze. However, maybe some of you don't know how to pick the right ones. Now, don't wait any longer. Look down to figure out what fresh cabbages are!
Choose Bright And Shiny Cabbages
Choose cabbages that have a bright and shiny appearance without any signs of scratches or bruises Furthermore, cabbage usually has 2 basic colors: green cabbage and red cabbage.
For green cabbage, choose ones that are almost lime green in color. For red cabbage, choose those with a deep maroonish-purple color.
Firm Heads And Crisp Leaves
When choosing cabbage, touch them to make sure they are not soft and spongy. Soft and spongy can be signs of inside rotting.
Also, observe the leaves of the cabbage. Do not pick ones with wilted and too soft leaves.
2. Cleaning Your Freezer Space
One of the most important factors when freezing cabbage is the freezer. Keep your freezer space as clean as possible to limit bacterial growth.
Also, you need to seal all other frozen foods in the freezer carefully to avoid affecting the taste of your cabbage. I think you wouldn't want to eat weird-tasting cabbage, would you?
3. High-Quality Airtight Containers Will Be Your Best Assistants
This is obviously an indispensable tool in the cabbage freezing process, especially when you plan to keep your cabbage in the freezer for at least 3-4 months.
Prepare for yourself the best quality airtight containers. A good airtight container won't make your cabbage smell weird after defrosting. Moreover, they also contribute to extending the shelf life of your frozen cabbage.
Most importantly, they will not contain substances that are harmful to your health.
Note: In case you don't have an airtight container, airtight bags are not a bad choice.
Freezing Cabbages – 3 Ultimate Guides For You
Welcome to the main part! In this part, I will show you three effective ways to freeze your cabbages. And you know what? One of them can help to store your cabbages for up to 1 year!
1. Freezing Blanched Cabbages – My Top Recommended Way!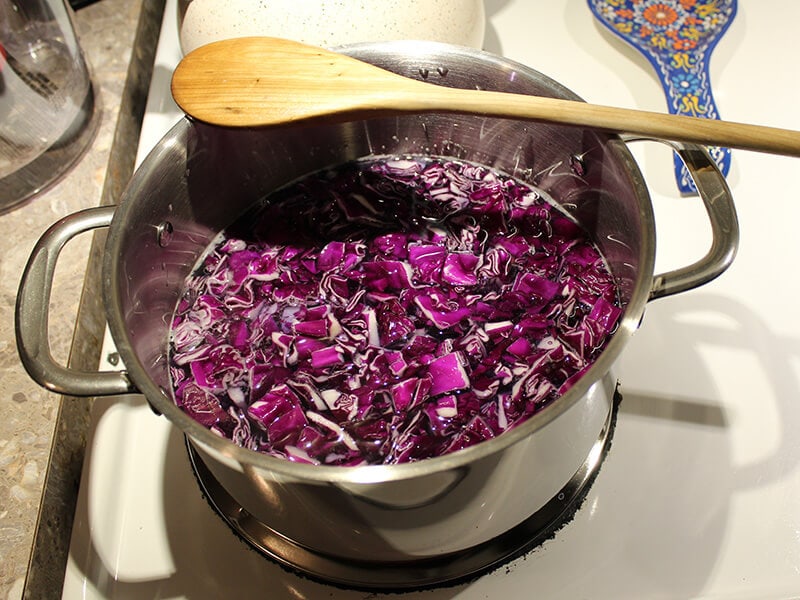 First, I will guide you on how to freeze your cabbage with the blanching step. This is the best way that I want to recommend to you. This method will help to store your cabbage in the freezer for up to 1 year!
What You Need To Prepare
Of course, the indispensable ingredient – Cabbage
A knife
A cutting board
A pot
A bowl of ice water
A clean basket
Airtight containers
What You Need To Do
Step 1: First, cut the cabbage according to your preference. You can separate each whole leaf of the cabbage, or you can slice your cabbage into 1/8ths, or shred them.
Step 2: Wash them well to make sure that there isn't any sand left on your cabbage.
Step 3: Boil water. Once the water has boiled, add your cabbage and blanch them for about 90 seconds (for cabbage wedges, blanch for about 180 seconds).
Step 4: Take them out and then put them into the ice water bowl to stop the blanching process.
Step 5: Put your blanched cabbages in a basket and leave them in a well-ventilated place for better drying. The drier, the better. Otherwise, they will develop freezer burn, which makes your cabbage mushy after defrosting.
Step 6: It's time for flash freezing! Place your cabbages on a baking or cookie sheet, then put them directly into the freezer for about 2-4 hours (uncovered).
Step 7: Take the frozen cabbage out of the freezer, then put them in an airtight container.
Step 8: Label and note the frozen date to make sure you will use it by the expiry date. Then, put it back into the freezer.
If you still don't get it, this video can help!
2. Freezing Unblanched Cabbages – Why Not? It's Possible!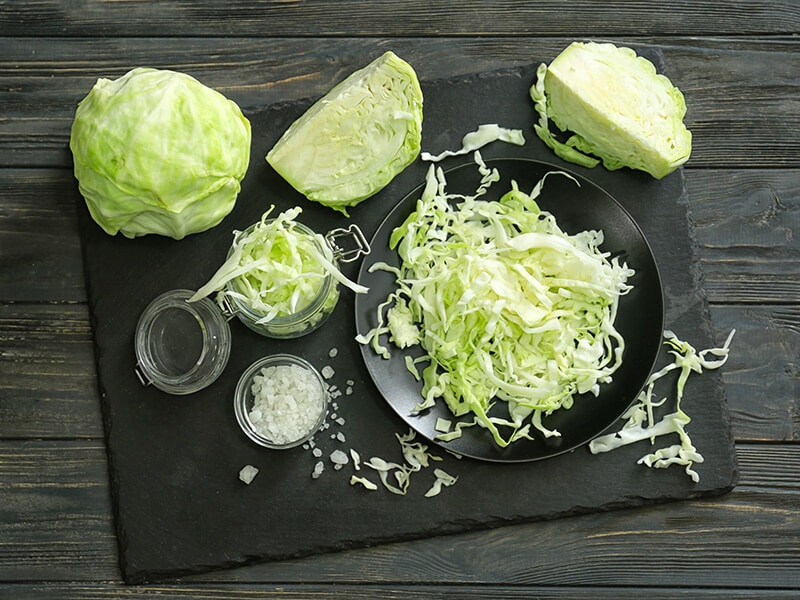 If you don't want to blanch your cabbage, it's okay. In this second method, I will tell you how to freeze your raw cabbage properly. However, keep in mind that this storage method doesn't offer as long a storage time as the first one. It only can help them to freeze your cabbage within 8 weeks.
Moreover, without blanching, your cabbage may lose some nutrients after a long time in the freezer.
What You Need To Prepare
Sure, you need cabbage first!
A knife
A basket
Airtight containers
What You Need To Do
Step 1: Cut cabbage as you want (whole cabbage leaves, sliced ​​cabbage, or shredded cabbage).
Step 2: Rinse your cabbage carefully. Since you don't plan to blanch your cabbage, add some salt and soak them for about 1 hour. Salt can partly help your cabbage get rid of some bacteria.
Step 3: Take the cabbage out and put them into the basket. Next, leave them in a well-ventilated place. Make sure all your cabbage is completely dry.
Step 4: Put your cabbage on a baking or cookie sheet. After that, put it into the freezer for 4 hours to flash freeze the vegetable.
Step 5: Take out the frozen cabbages, quickly put it in an airtight container. Remember to seal tightly to prevent your cabbages from being exposed to air, making them lose their nutrients and become spoiled.
Step 6: Label and note the frozen date to prevent accidental consumption of expired cabbage
Step 7: Put it back into the freezer.
It's easy to freeze your cabbages without blanching! You can see this video to know more:
3. Whole Cabbage Freezing – The Best Solution For Busy Housewives!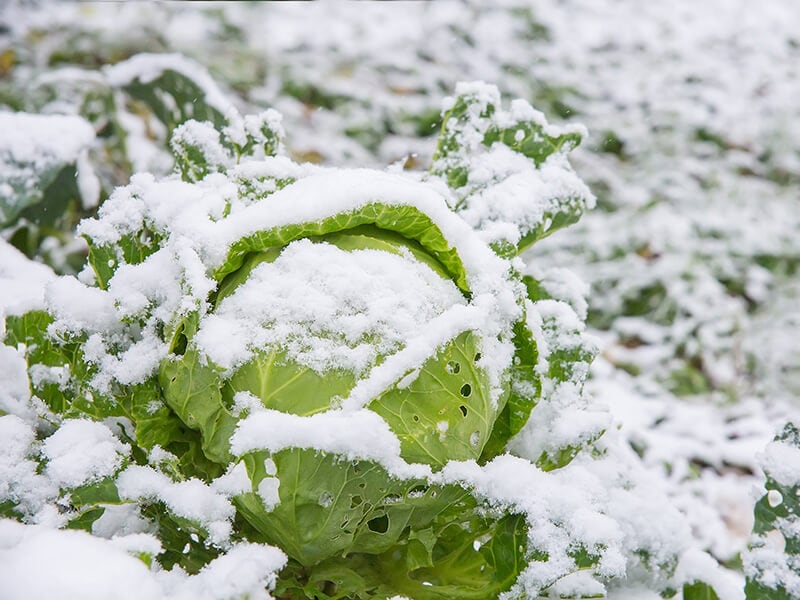 In case you have a large amount of cabbage that needs to be frozen, and you don't have so much time to cut and blanch your cabbage? Don't worry. This last method will help you out!
What You Need To Prepare
Your whole fresh cabbage!
A clean basket
Airtight containers
What You Need To Do
Step 1: Remove the wilted outer leaves.
Step 2: Wash your cabbages meticulously. Next, add a little salt and soak them for about 1-2 hours to get rid of the sands, soils, and bugs that might be living inside your cabbages (1 liter of water requires 1 tablespoon of salt).
Step 3: Put your cabbages into the basket and leave them in a cool place until dry. To save time, you can use a towel to dry them. But no matter which way you choose, make sure your cabbage is completely dry.
Step 4: Flash freeze your cabbage for about 8 hours.
Step 5: Remove your frozen cabbage and place it in airtight containers. Be sure to pack carefully to ensure the quality of the cabbage.
Step 6: Label and note the frozen date, then put it back into the freezer.
How Long Does Frozen Cabbage Last In The Freezer?
| | |
| --- | --- |
| Methods | Available Storing Duration |
| Blanched Cabbages | 9 – 12 months |
| Unblanched Cabbages | 8 weeks |
| Whole Raw Cabbages | 5 – 8 weeks |
How To Defrost Frozen Cabbage Properly?
It seems easy to defrost frozen vegetables. Just take them out of the freezer and let them thaw, right? Not really. This step needs to be more careful than you thought. Here I will tell you the decent way to defrost your frozen cabbages!
The best way to defrost cabbage is to put your cabbage into the fridge. Follow these steps below to preserve their cabbage nutritional value.
Step 1: Take the amount of cabbage you need out of the freezer. Do not take them all out, as re-frozen food is prone to spoilage and nutrient erosion.
Step 2: Wrap them in plastic wrap and put them in the fridge to avoid exposure to the smells of other foods and let them defrost completely. This process will take about 12 – 24 hours, so you better take them out about a day before cooking.
Step 3: Take the defrosted cabbage out of the fridge. Drain all the liquid out and use them as you want!
Plus, cooked or blanched cabbage that has been defrosted in the refrigerator can continue to be left for 3 – 4 days. However, if your frozen cabbage is defrosted in the microwave, you need to eat it right away to avoid poisoning.
Is It Possible To Refreeze Your Frozen Cabbage?
Re-freezing frozen cabbage is not a good idea.
When you defrost cabbage, it's very easy to develop bacteria at room temperature. As a result, your cabbage will be at risk of spoilage if it is put back in the freezer.
Furthermore, it's best to use them right away after defrosting. Refrozen cabbage will be damaged in texture and taste. This means, you'll end up with mushy or weird-tasting cabbage the next time.
But there is good news: If you defrost cabbage in the fridge, they can be refrozen again in the freezer (as long as they're not exposed to more than 40°F room temperature).
FAQs
If you have any other questions related to the frozen cabbage, you can check this section out to get the answers. I believe that these frequently asked questions below can be helpful!
So, What Is Your Pick For Freezing Cabbage?
Like some other vegetables, cabbages can also be frozen. However, you have to know how to freeze them properly to preserve them longer. In addition, cabbages should also be defrosted properly to retain their nutrients.
Until now, I hope my article has provided you with valuable and necessary information. Furthermore, no matter which freezing method you choose, be sure to use your cabbage within its shelf life.
If you found my post useful, please share it or leave a comment in the comment section below. I look forward to hearing from you!
References
Cabbage – Wikipedia. 2021. En.wikipedia.org. Available at: https://en.wikipedia.org/wiki/Cabbage
Jillian Kubala. 9 Impressive Health Benefits of Cabbage – Healthline. 2021. Available at: https://www.healthline.com/nutrition/benefits-of-cabbage
Wang, X., Ouyang, Y. Y., Liu, J., & Zhao, G. (2014). Flavonoid intake and risk of CVD: a systematic review and meta-analysis of prospective cohort studies. British Journal of Nutrition, 111(1), 1-11. Available at: